Madison, Wisconsin wasn't on our radar as a must-see destination, but we were like "Sure, let's go and see what we can see." It turns out that there are so many awesome, unique things to do in Madison and around. It's a great summer destination whether you want the city experience or to explore the outdoors.
So, what do you know about Wisconsin? Before we started planning our trip all we knew was cheese, beer, and the Green Bay Packers. We had a goal to find the best things to do in Madison during the summer (it's already known for being a beautiful fall colors destination).
Check out LGBTQ Friendly Madison Pride ideas!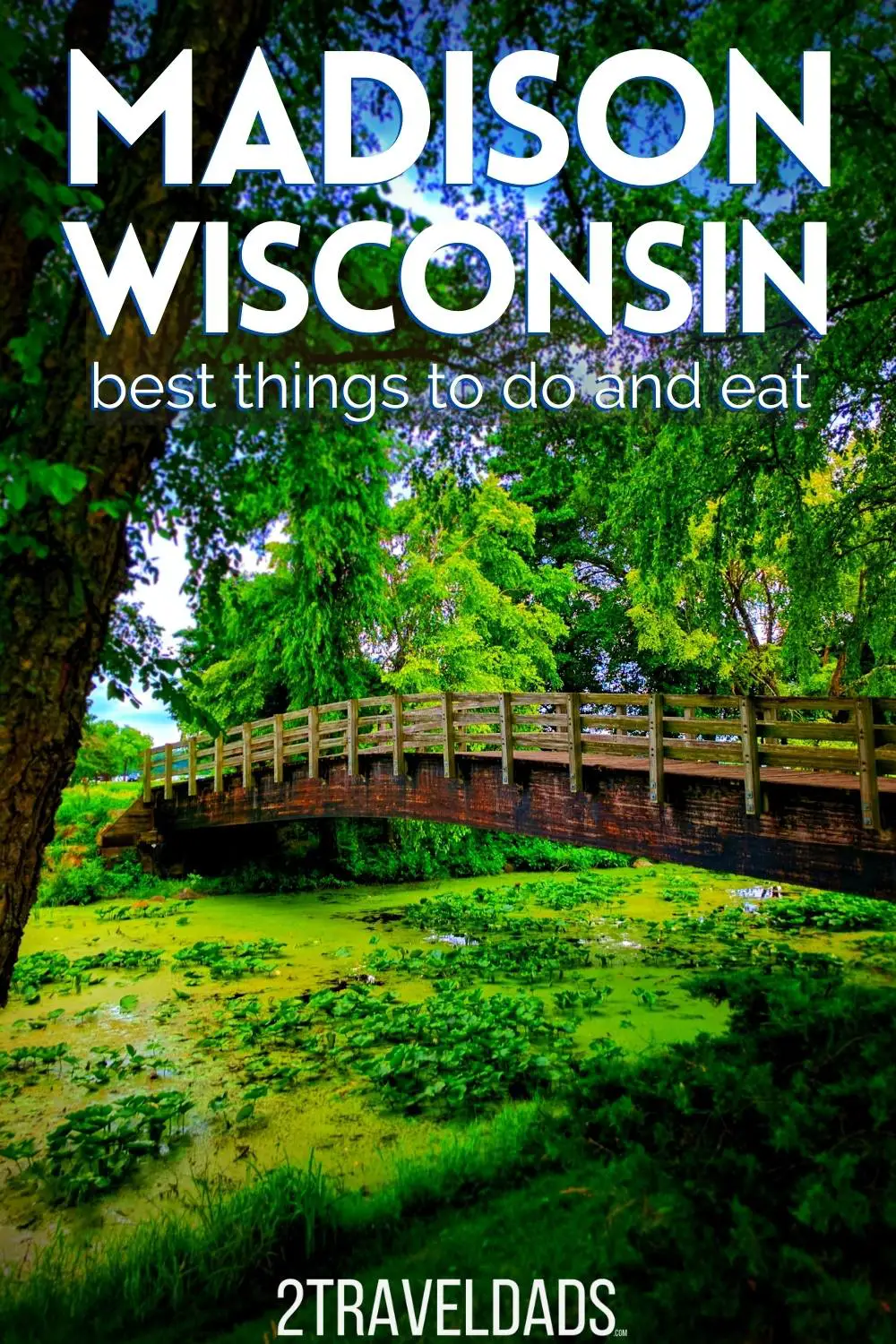 Getting to Madison, Wisconsin
Until our first trip to Madison, we'd always considered Wisconsin as a fly-over state, meaning that we only just flew over it and didn't need to explore it. So, turns out that it's actually really easy to get to with plenty of flight options into Madison or Milwaukee, typically with connections. Also, southern Wisconsin, which is where this article is focused, is really close to Chicago, so a Wisconsin family trip could be an easy add-on to a trip to the Windy City.
Driving, I-90 and I-94 are the two biggest interstates to get you into the southern parts, so if you're coming from the Pacific Northwest and really want to create an epic Midwestern road trip, you're set! If you're an east coaster, plot out some cool adventures heading out of Boston, also driving I-90. Wisconsin is your reward for such a road trip, and you'll find really wonderful things to do in Madison.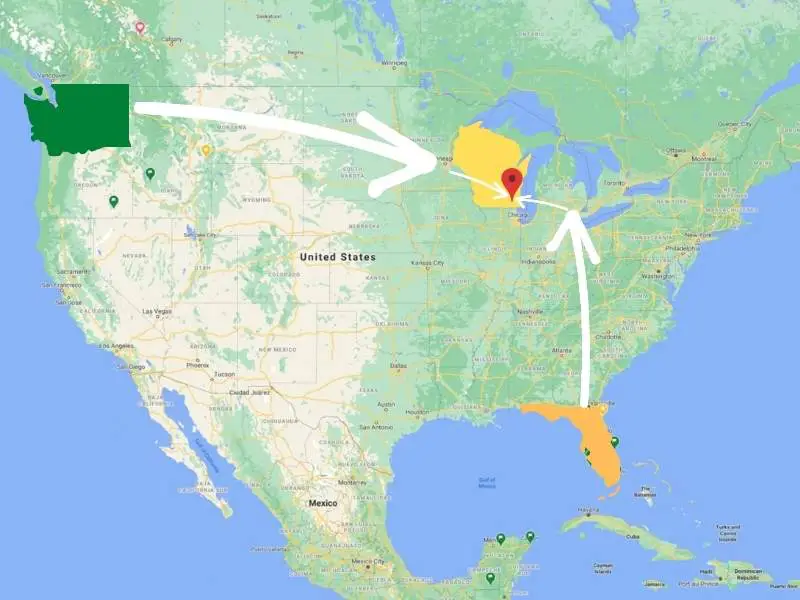 Where to Stay in Madison, Wisconsin
Being a college town AND the state capital, Madison is full of cool, fun places to stay. The downtown area has very nice upscale travel brand hotels, while there are more family friendly and affordable hotels as you get out of town a bit, and near the University of Wisconsin.
AirBNBs and short term rentals are aplenty in Madison, and if you're going to be there for several days, or perhaps doing a college visit to check it out, a short term rental may actually be the best option.
HotelRED: our Madison, Wisconsin accommodations
We really loved the HotelRED (no longer in operation 🙁 ). Located right next to Camp Randall Stadium, where the University of Wisconsin Badgers play, it was centrally located for kayaking, finding the best Wisconsin grub and branching out beyond Madison. There were many things to do in Madison within walking distance or a two minute drive.
We had tons of space for the kids (and dads) to relax, a kitchenette and an awesome balcony overlooking the city. It was great to have a home away from home to return to each day. Book the HotelRED here!
Tip: HotelRED has some great setups in place with local vendors from bike rentals or kayaks to grocery delivery. Check with the hotel concierge for current guest benefits.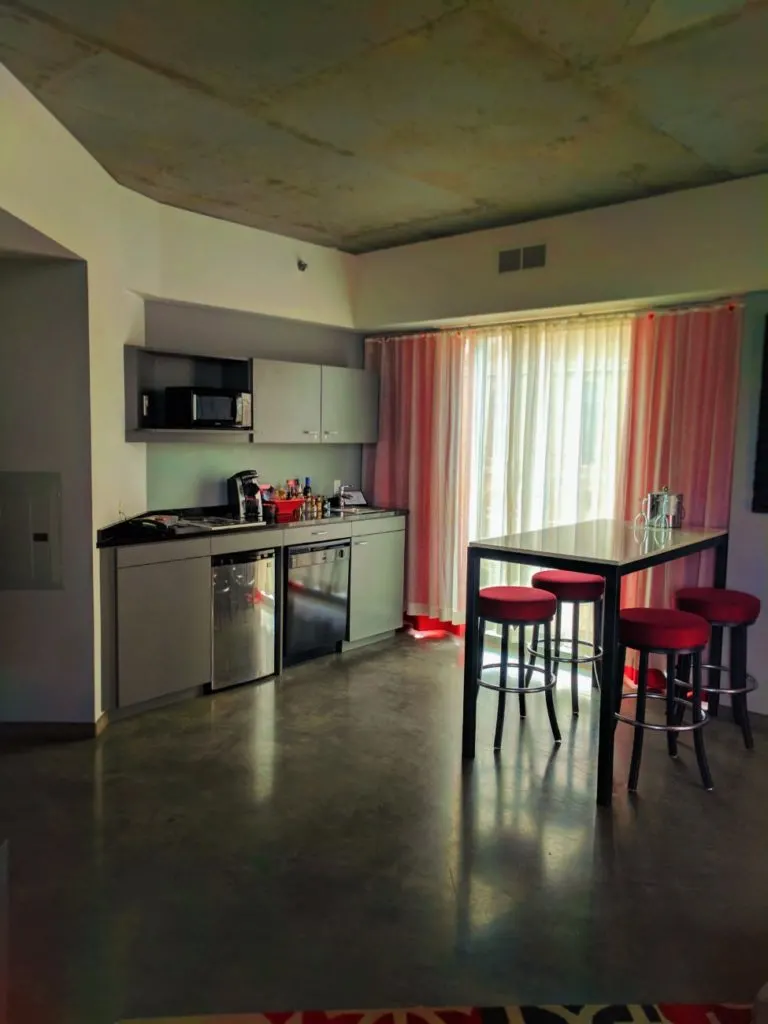 Best Things to do In Madison, Wisconsin
We don't do a ton of city travel with the kids because we know how much fun we have out in nature, but we really enjoyed staying in Madison. There were ample opportunities for both indoor and outdoor exploring. Madison for a home base made our Wisconsin family trip really simple and fun.
Olbrich Botanical Gardens
We love visiting gardens and conservatories locally or when we're traveling. At home we have the Bloedel Reseve and Volunteer Park Conservatory which we frequently visit, so adding Olbrich Botanitcal Gardens to our Wisconsin family trip was a no-brainer. Located at the east end of the Madison isthmus (awesome high school vocab), Olbrich is easy to get to via car or public transportation, or even bike!
Olbrich is free to the public with sprawling gardens of every style to explore. The kids loved the winding pathways and variety of water features all through the gardens. The highlight though was the conservatory. Complete with a waterfall, stream and beautiful birds, the conservatory was truly impressive.
We've been to Butchart Gardens in Victoria BC and the Balboa Park Conservatory in San Diego, which are both amazing collections, but just the conservatory alone at Olbrich Botanical Gardens is worth the visit. The smells of all the blooming tropical flowers was a bit overwhelming at first, but it was incredible. The kids really were wowed by the bananas. Growing inside. They were speechless.
Being across the street from the lake AND free, the Olbrich Botanical Gardens is one of the best things to do in Madison.
Note: while the Olbrich Botanical Gardens are free to the public (by donation) the Conservatory does have it's own fee per person, but it's only a few dollars. Totally worth it.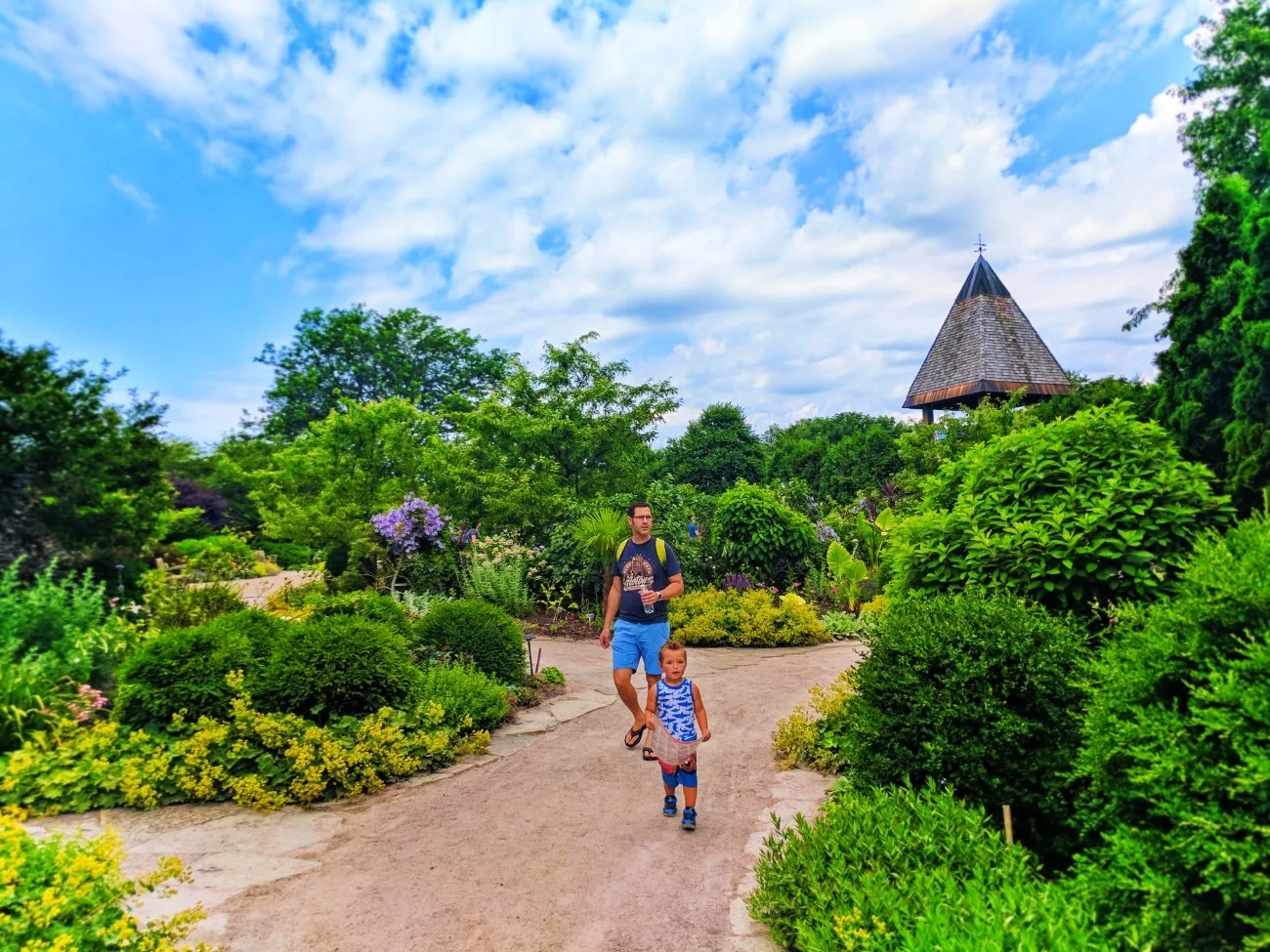 Madison Childrens Museum
We've been to our share of children's museums and some are really fun, others crazy and wild. The Madison Childrens Museum was really ideal for both older and younger kids. There was a great balance of tactile exhibits as well and crazy energy spenders, like the wild Hodge Podge Mahal climber.
Highlights were definitely the water flow greenhouse-style exhibit and the Frank Lloyd Wright building center. Yes! Madison is a hot spot of Frank Lloyd Wright architecture and the Children's Museum has done a great job explaining the artistic inspiration and mathematics of his work. Really well executed.
Don't miss: be sure to go all the way to the roof of the Madison Childrens Museum, as it's a beautiful urban garden complete with a stream. They've got chickens, animal exhibits and a stunning view of the Capitol Building. It's a must-visit on a Wisconsin family trip.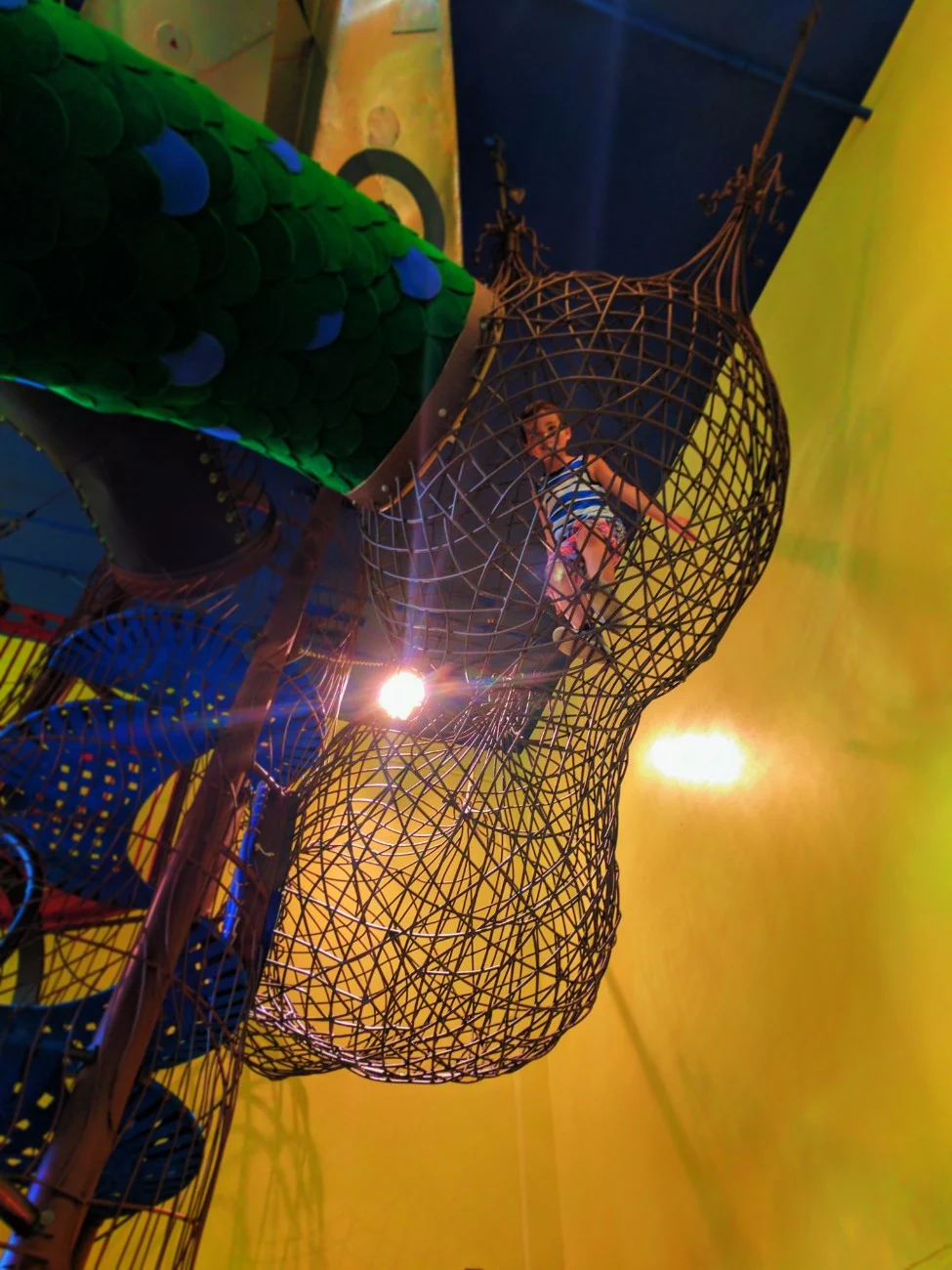 Touring the Wisconsin State Capitol Building
This is a stop more for the adults than the kids, but everybody enjoyed touring the Wisconsin State Capitol Building. The kids tackled the steps heading inside like they were hiking at Mt Rainier, hitting the top and surveying Capitol Square around them. Once inside there was a big "woahhhhhh" in unison at they looked up at the ceiling of the rotunda. Yeah, we also gasped it was so beautiful.
Tours of the Capitol Building run several times throughout the day, but you can also do a self guided tour anytime. We opted to explore on our own, spotting badgers around every corner. It was like a scavenger hunt for the kids. The Capitol Building tour is one of the best things to do in Madison.
Set in the middle of downtown Madison, we kept joking that all roads lead to the Capitol Building… but then upon climbing up to the observation desk outside the rotunda we found that it's true. The view from the top was awesome, looking over Lake Mendota to the north and south across Frank Lloyd Wright's Monona Terrace to Lake Monona. Aside from the architecture and grandeur of the building, the setting of the Capitol Building makes for a cool stop on a Wisconsin family trip.
Note: being a really progressive city, we experienced quite a few protesters inside the Capitol Building. It was perfect to be there on Independence Day watching Freedom of Speech at work as the people spoke out about their elected Rep, Paul Ryan. Explaining to the kids what was going on was simple and it seemed like our oldest understood it, at least a little.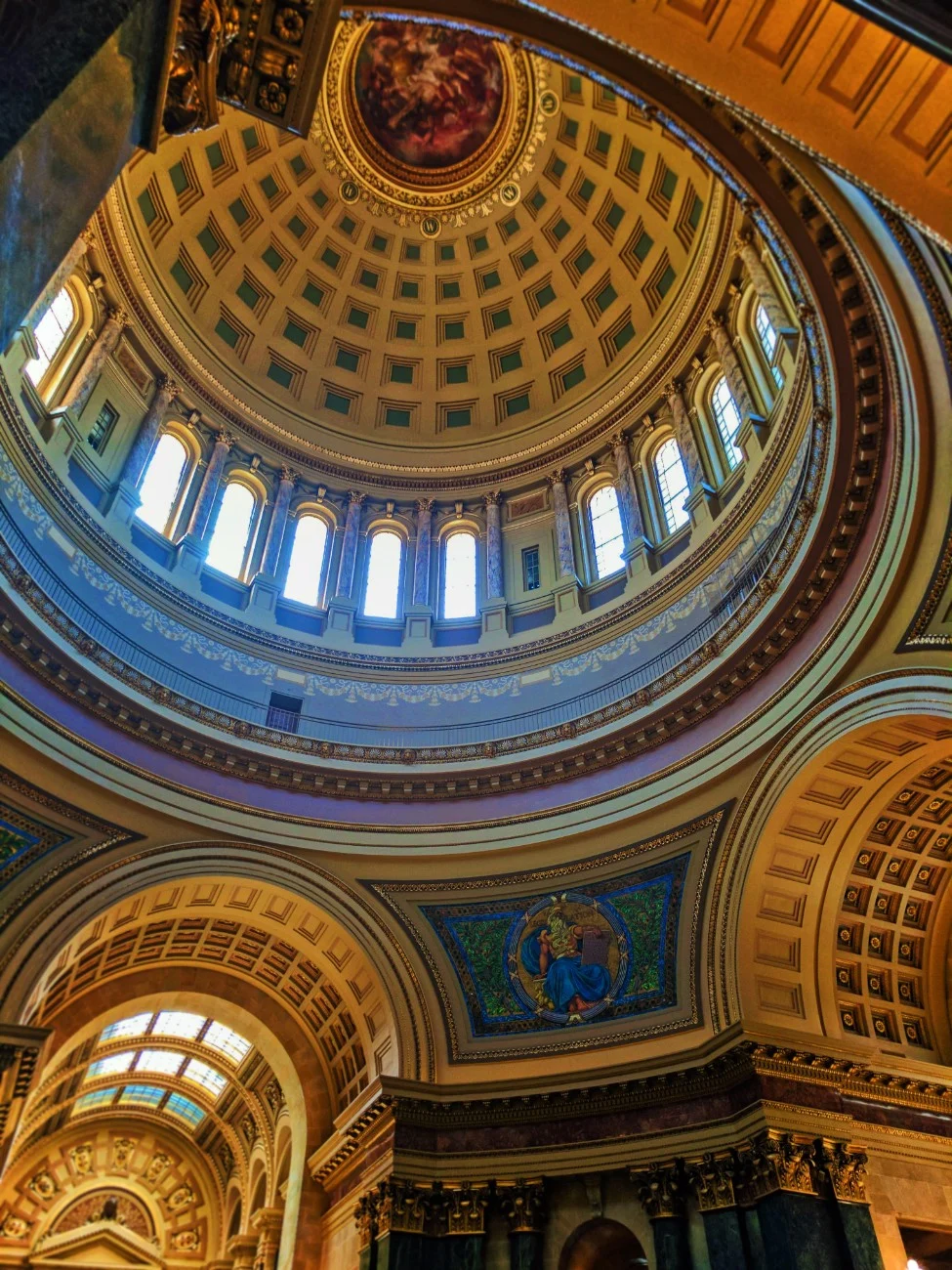 Nature Things to Do in Madison
We'd heard from friends that are familiar with Wisconsin that it's a very outdoorsy place. Madison for sure was with its never-ending bike paths and ample public parks. We made sure to take advantage.
Tip: if you're visiting in fall, there are some incredible pumpkin patches in Wisconsin near Madison that are fun to visit, even if you don't want to bring back a pumpkin.
Getting out on the water
Kayaking is something we love to do, whether at home in the Pacific Northwest or off in Florida doing ecotours and spotting dolphins. In Wisconsin kayaking is a must, for visitors and residents alike. Our awesome hotel, Hotel RED, had a partnership with the primary local boating vendor and got us set up for three different expeditions.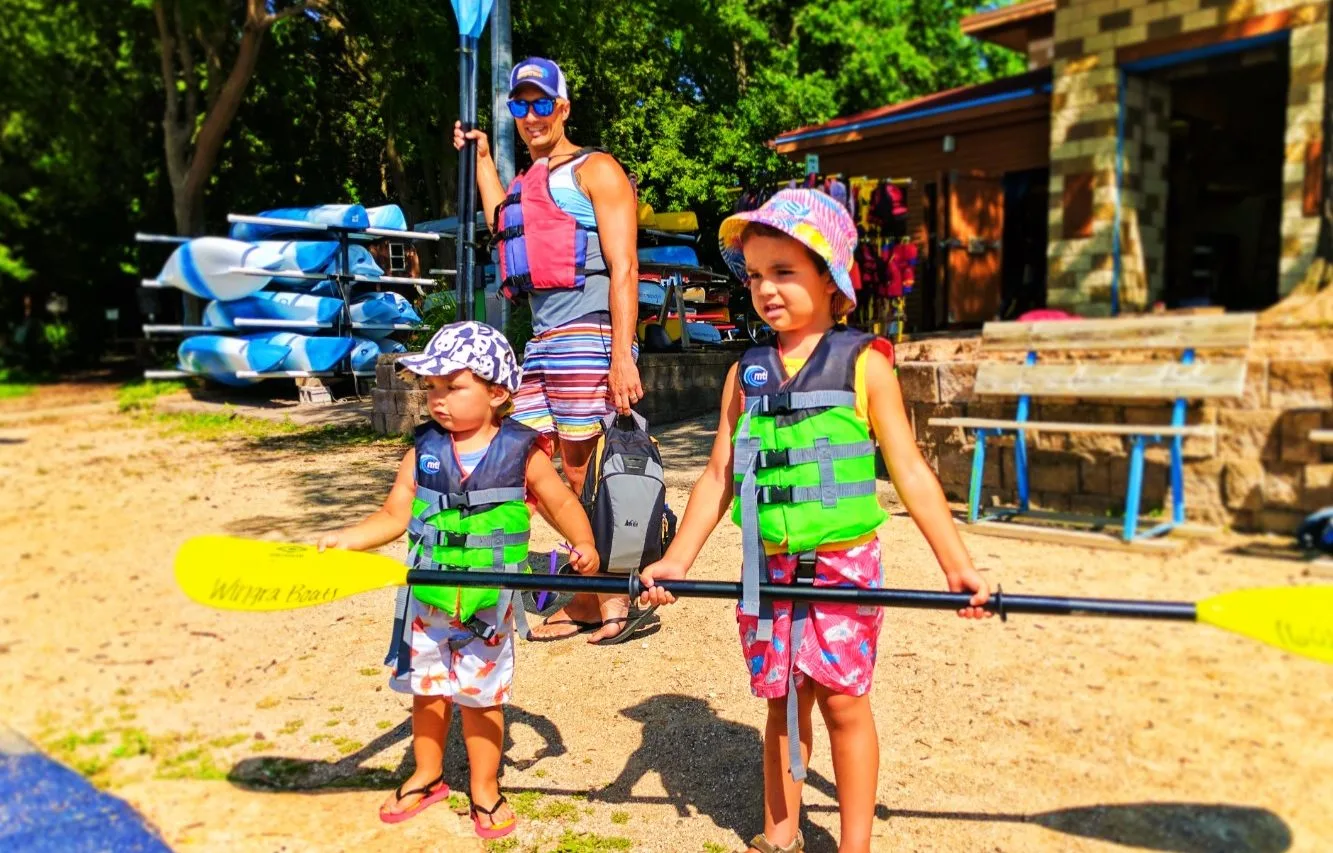 Kayaking on Lake Wingra
If you've not tried kayaking before, just do it on your next trip wherever that may be. Our family trip to Madison was made complete by getting out on the water with the kids and spotting turtles and ducks. Quietly paddling through water lilies and up cool, spring-fed streams was just what we needed to really fall in love with Wisconsin's nature. The lake was calm, the wildlife abundant and the kids totally at ease.
Kayaking on Lake Wingra is gorgeous and relaxing, one of the best things to do in Madison, especially as a family.
Tip: even if the law doesn't require it, be a good example and wear a life jacket when kayaking with kids. You'll probably never need it, but wear it to show them how important water safety is.
Rental info: Wingra Boats is located near Vilas Park on Lake Wingra.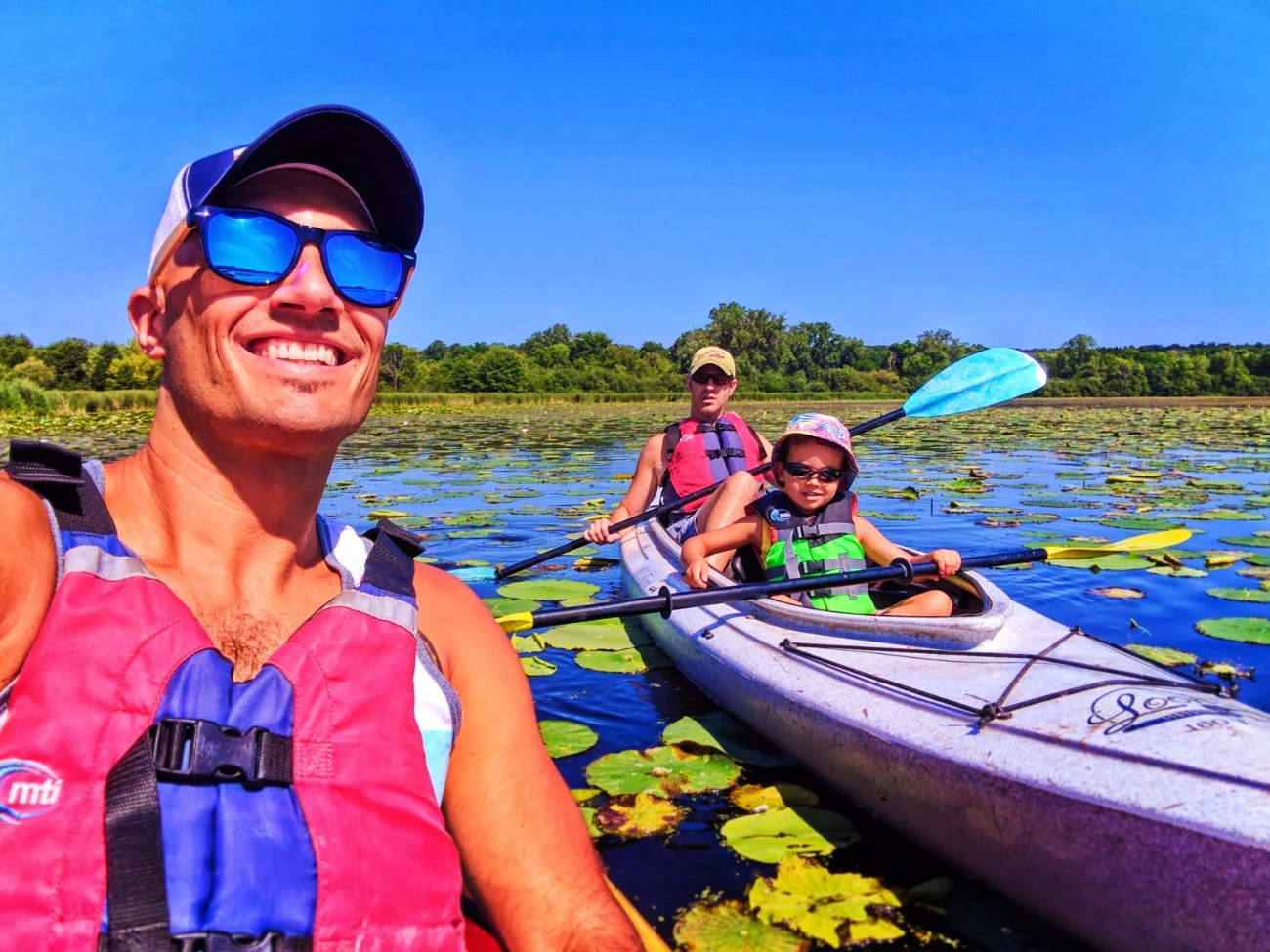 Stand Up Paddle boarding (SUP) on Lake Mendota
Even though Lake Mendota is a busy lake, I'm still going to say that you need to try stand up paddle boarding (SUP) here for the spectacle of the lake. Lake Mendota is on the north side of Madison and is the water playground of the city. With a lot of speed boats on the water on a beautiful day, you're looking at some choppy surf to cross, but the challenge is half the fun.
Lake Mendota is a very different SUP experience than paddle boarding with manatees in Florida or exploring quiet canyons paddling in Arizona, but still fun.
Tip: do your SUP in Madison on either Wingra or Monona Lakes, as they're more calm with fewer private docks to paddle past.
Rental info: Marshall Boats is located in Marshall Park on the west end of Lake Mendota. They have kayaks, SUP, canoes, pontoon boats…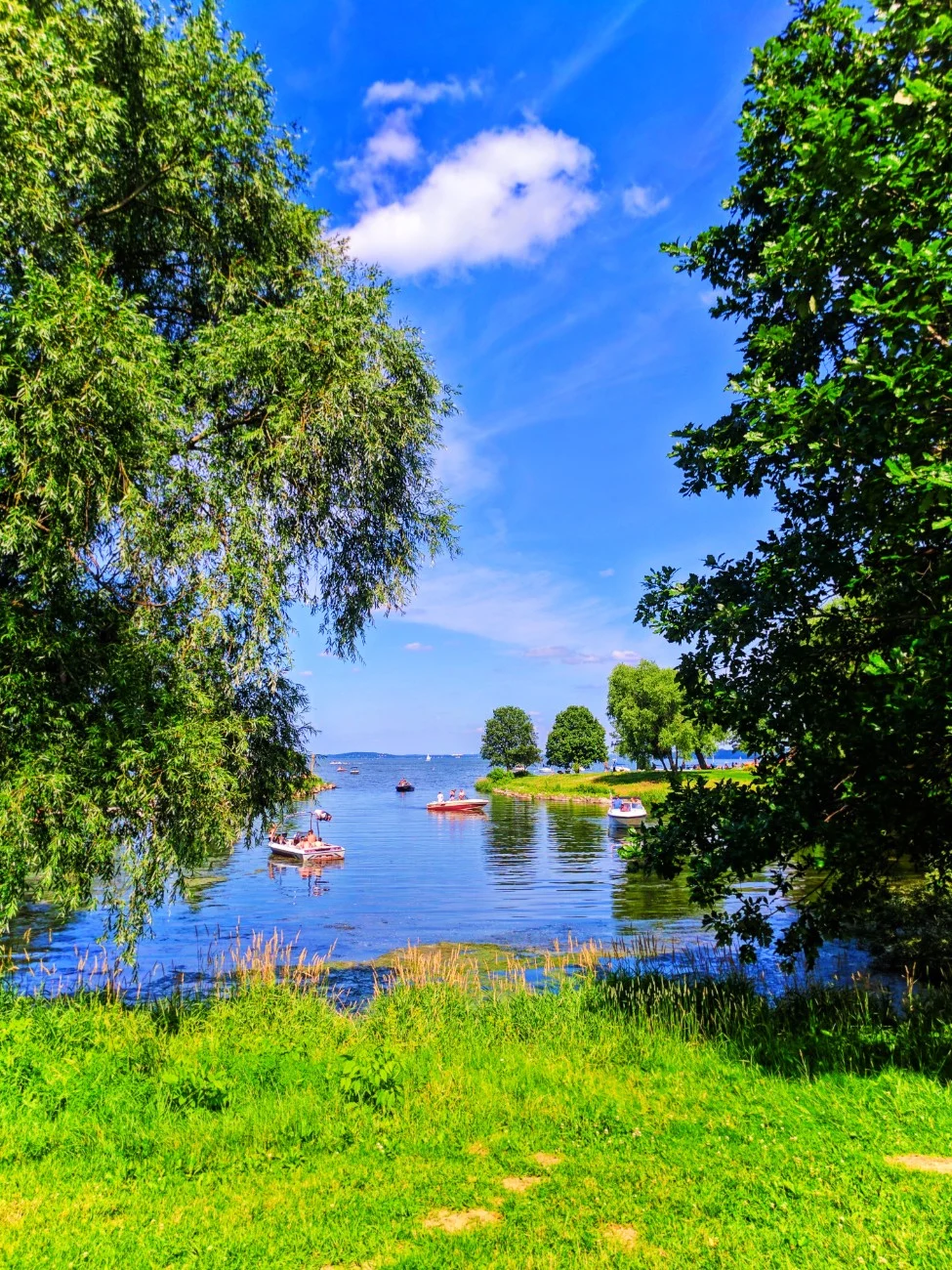 Paddle boating on Lake Monona
Paddle boating: the best workout you never knew you always needed.
Actually, this is a great way to get kids out on the water if they don't spend a lot of time on boats and one of the best things to do in Madison. Paddle boating is very stable and chill for the passengers, which is why it's a great family activity, but it really is a workout for the ones peddling and moving the boat. Lake Monona is split up by some different roadways and train tracks, but this makes for smaller, more calm and quiet areas to explore.
Tip: go with another adult to share the work, otherwise you'll tire yourself plenty far from the dock. Also, be aware of paddle boating on windy days as you'll have to fight against the breeze at some point.
Rental info: Brittingham Boats is located on Lake Monona near Lake Wingra and the Henry Vilas Zoo.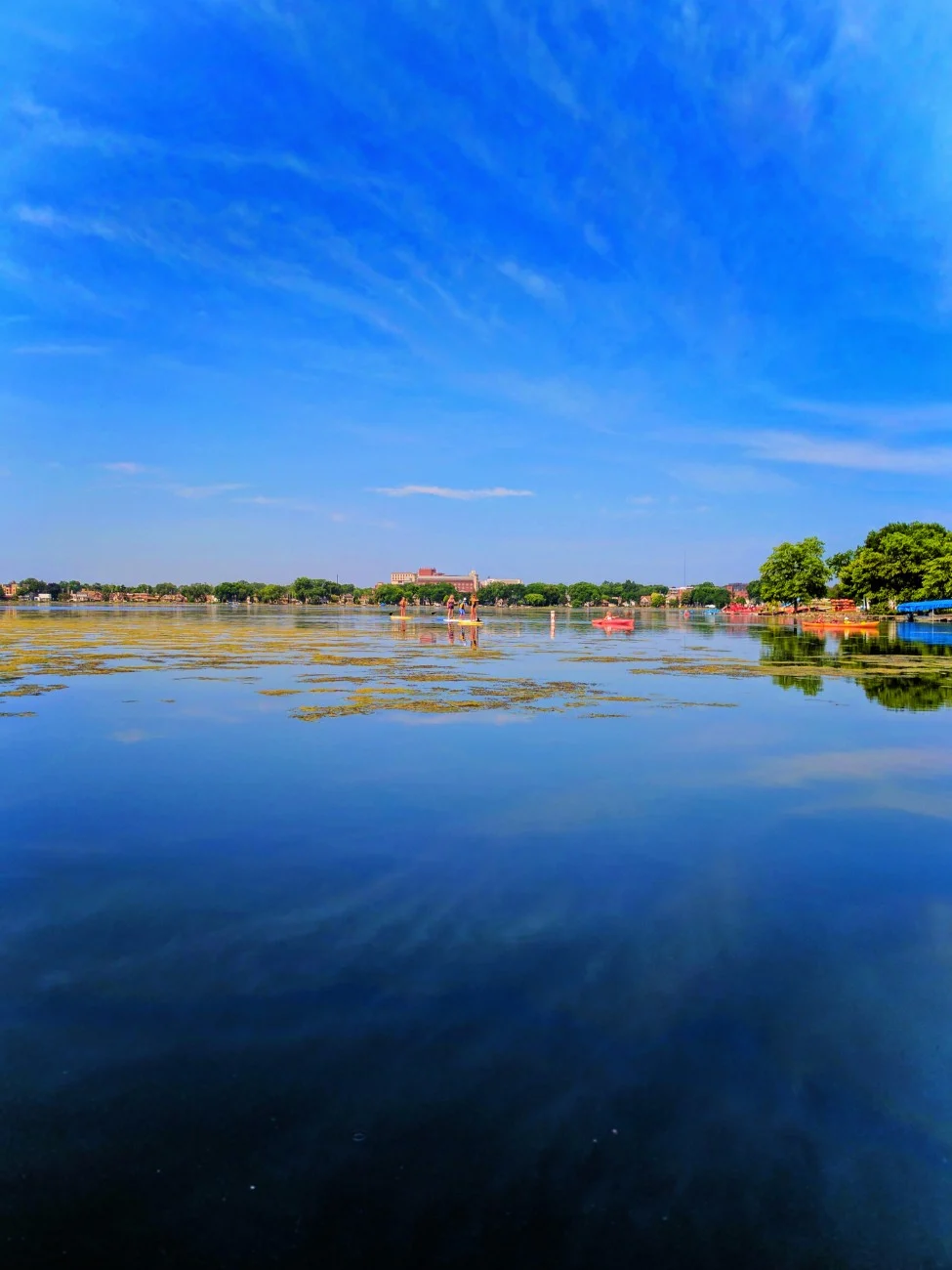 Tour Caverns at Cave of the Mounds
Our kids love caves, both on television shows and in real life. When we discovered that there was a cavern system close to Madison we put it on our itinerary immediately. It was a good move. Cave of the Mounds is one of the best things to do in Madison, especially for nature loving kids.
On two previous trips we've had to cancel caving plans due to height/age restrictions within the caves. Our youngest had to miss out on Oregon Caves National Monument and others, but not here! Cave of the Mounds is open to anybody who's able to walk through the paths and stairways themselves.
Cave of the Mounds gave our Wisconsin family trip an adventurous side that we don't often get traveling with a toddler. Besides the well run and informative tour below ground, there is a visitors center, turn-of-the-century farm, butterfly gardens, and a mining operation for kids. Yes, this cave site is more touristy and commercial than Lewis and Clark Caverns in Montana or Crystal Cave in Sequoia National Park, but it's for sure worth the half hour drive out of Madison.
Tour info: check the website for current ticket rates. Tours go every 30 minutes.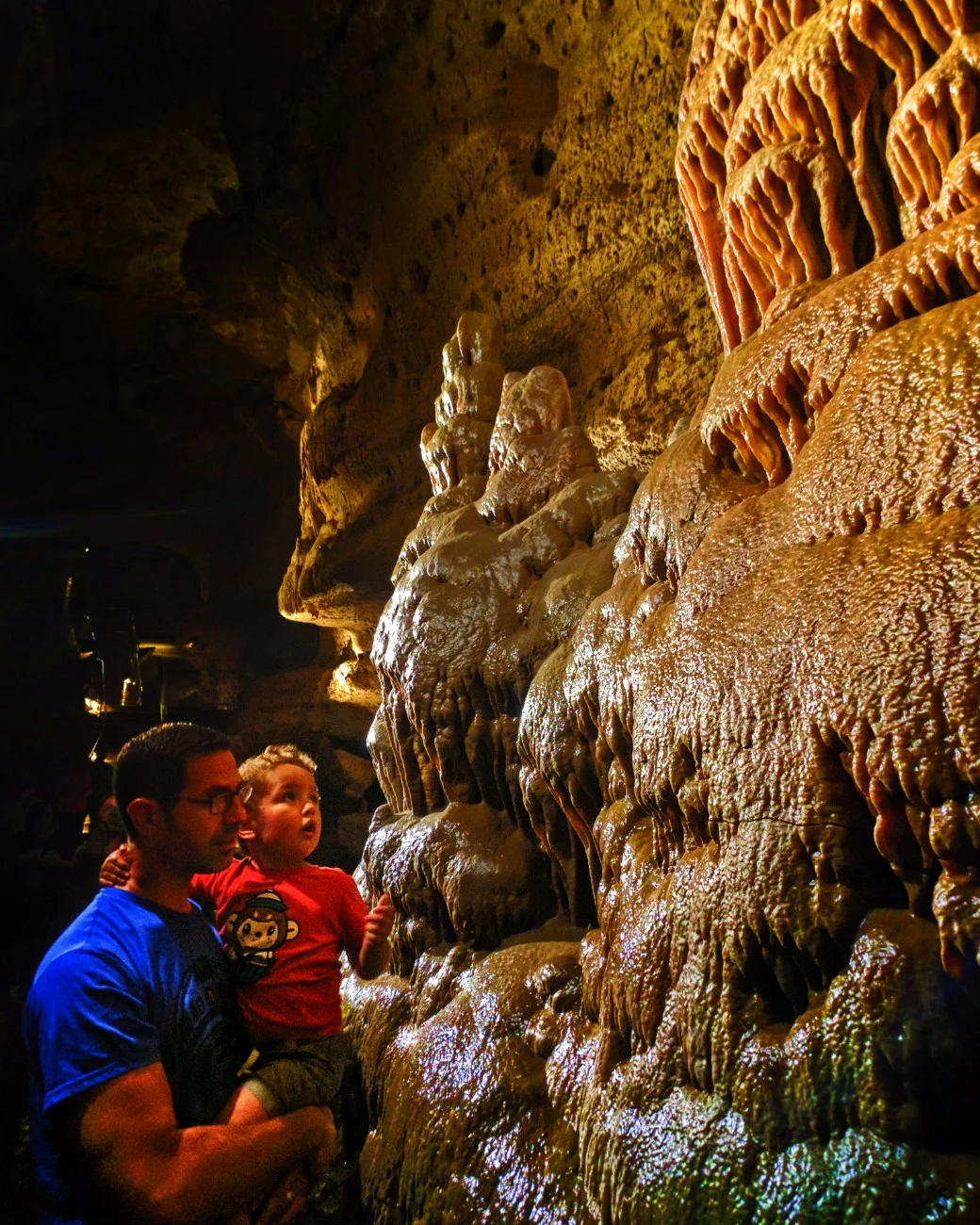 Beyond Madison: a Milwaukee day trip
How can you do a Wisconsin family trip and NOT visit the shores of Lake Michigan? While visiting Madison doesn't bring you directly to the shores of the Great Lakes, one of the best things to do on a trip to Madison is visit Milwaukee.
Our day trip to Milwaukee was actually our first time at any of the Great Lakes with the kids and it rocked. We visited during Summerfest, which is one of the largest and longest running music festivals in the USA, so it was a bit crazy, but we still had a blast. Since we were based in Madison for this trip, we made sure to do the hour and a half drive to Milwaukee just in case we weren't back anytime soon.
There are tons of things to do in Milwaukee with kids, so if you have more than a day to spend there, arrange to spend a few nights exploring this awesome city!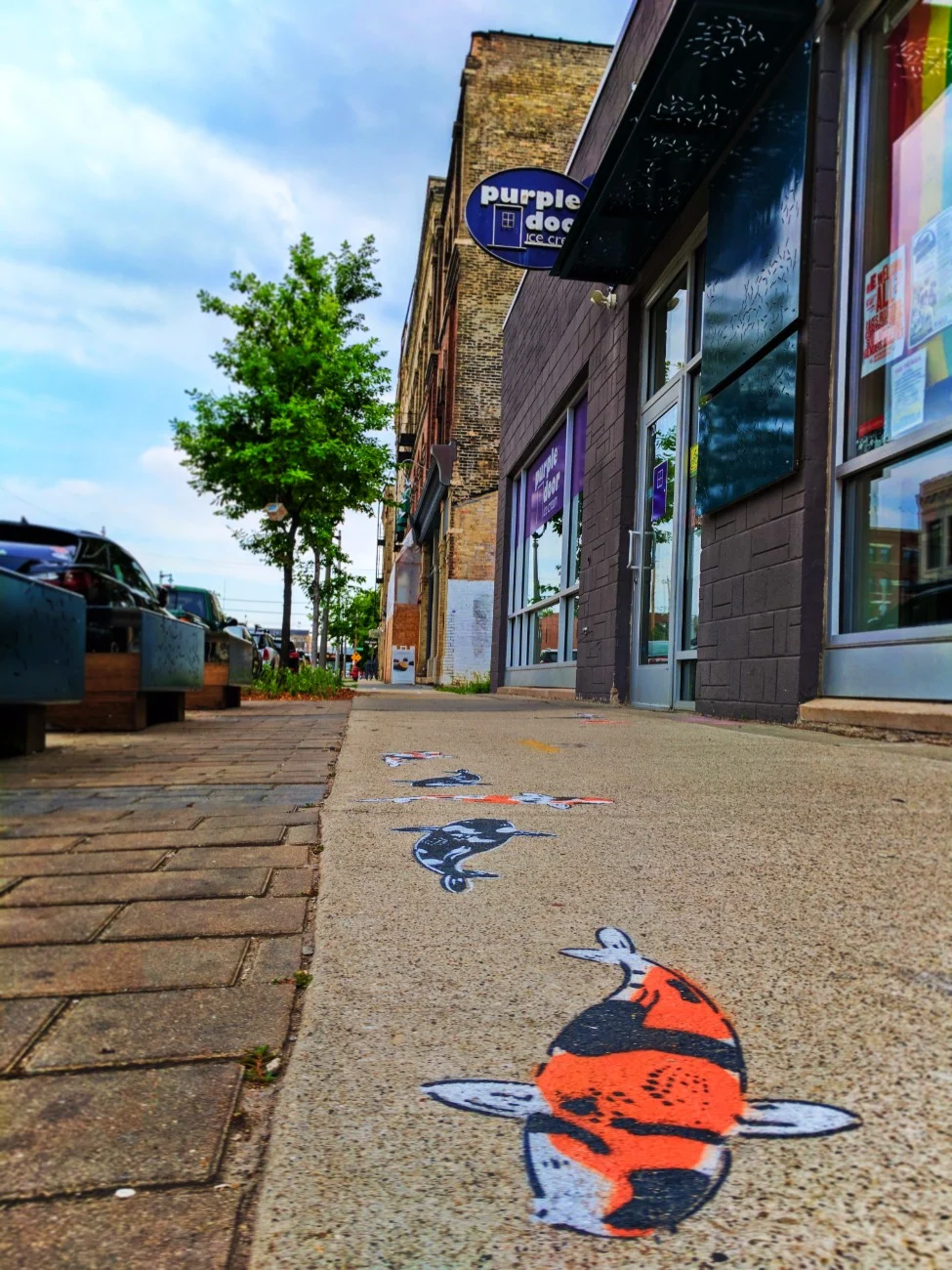 Discovery World in Milwaukee
Unlike any other children's museum we've visited, Discovery World on the shore of Lake Michigan is great for adults too. We began our visit in the Aquatarium where the history, current state and future of the Great Lakes is laid out in some really involved exhibits. We learned about the water cycle, maritime history, simple machines and visited an aquarium all in this portion of Discovery World.
Heading into the Technology Building the kids were lost in mechanics and learning about automation and the principles of physics. Seriously, we could've spent all day here and the kids would've been fine with it.
Tip: allotting three hours for Discovery World is a good idea if you can. We felt bad making the kids leave before they were ready.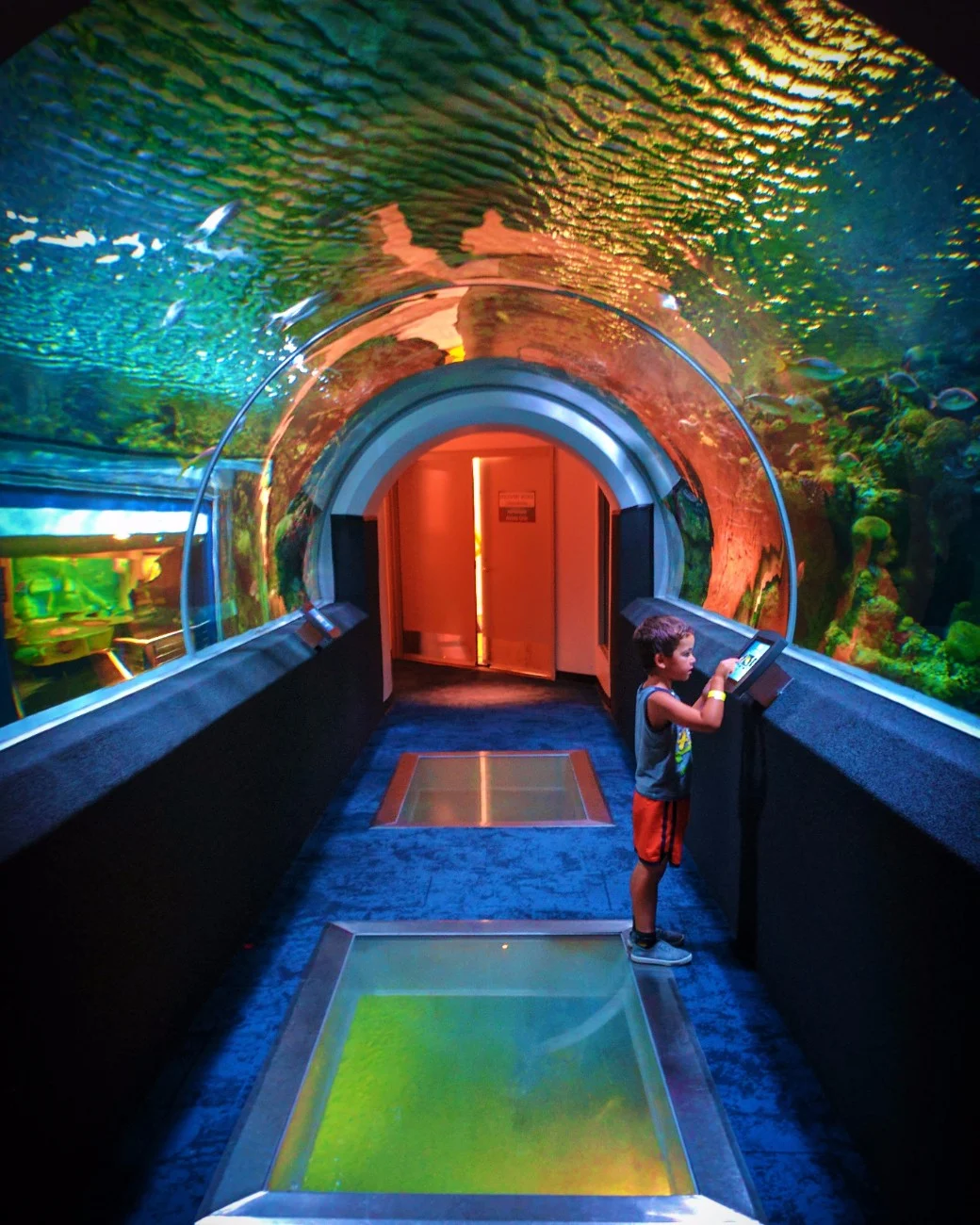 Walking Milwaukee's Historic Third Ward
Seattle has Pioneer Square and Pike Place Market, San Francisco has SOMA and Jackson Square… Milwaukee's Historic Third Ward is really different. Being comprised of mostly old factory buildings from the late 1800s it's got a strongly industrial feel with gritty brickwork everywhere. The cool thing though is the little shops, bars and restaurants you'll find at street level. The district is located along the banks of the Milwaukee River, so it also kind of feels like the industrial version of Venice.
The Public Market in the Historic Third Ward is fun for the gourmet shopper. We arrived thinking it would be like Pike Place Market in Seattle and were wrong. The stalls and counters are fairly permanent with really great confections and wine options as you stroll through. It's got the fun stuff too of some outside dining and tables for relaxing, but it's more of a place to find some delicious, fine Milwaukee snacks.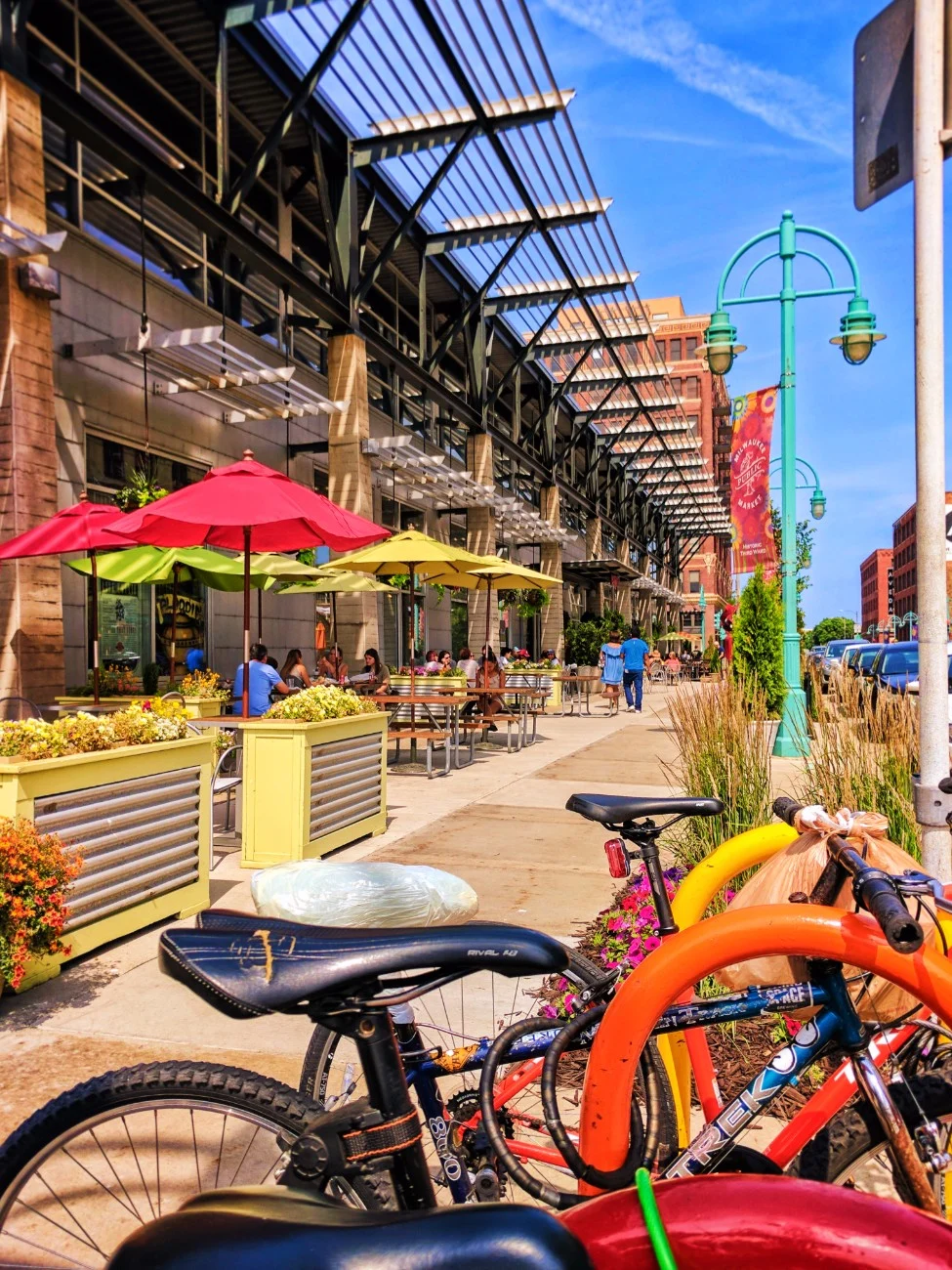 Beerline B District for beer culture
Can you mention Milwaukee without talking about beer? Not really. For our beer experience in the land of the Brewers we headed for the Lakefront Brewery… located on the Milwaukee River. We had lunch in the grand beer hall and ate German inspired dishes, from pretzels to pulled ham Rubens, it was a welcome change to the standard brewery foods we're used to.
The Lakefront Brewery tour itself was pretty good too. FYI, it's not for conservative beer drinkers or kids that understand inappropriate jokes. Our kids came along because they dig the science and appreciate a good performance. Visiting the Lakefront Brewery is one of the best things to do in Milwaukee, even if you're not interested in doing the brewery tour.
Following the tour and lunch we hung out in the sunshine strolling along the river and enjoying a different view of Milwaukee. It was the perfect and a great way for the kids to expel some energy.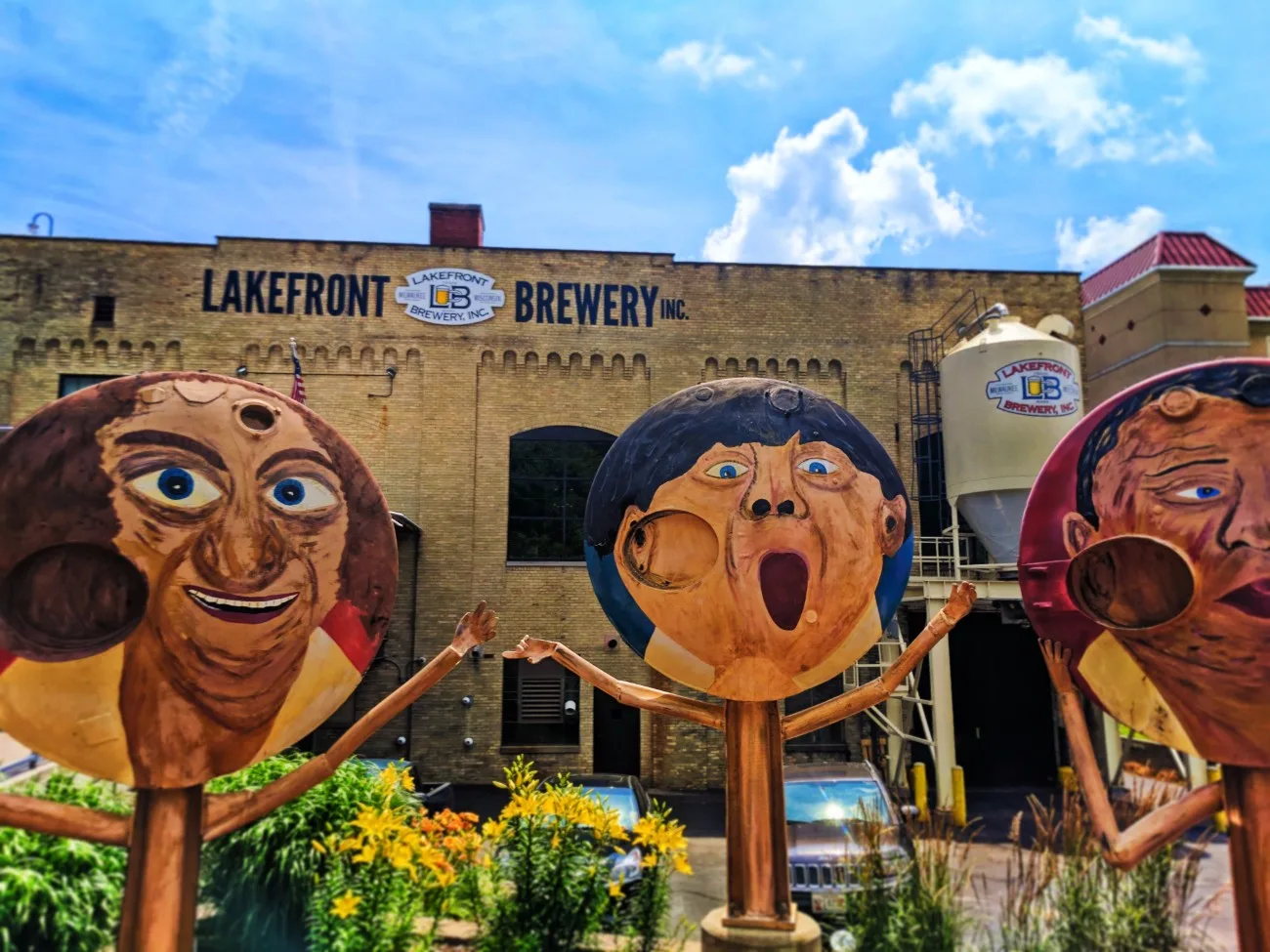 Small Towns Near Madison, Wisconsin
We didn't just stick to the big cities during our Wisconsin family trip. We sought out some smaller communities to get a feel for the rest of the state too. We weren't disappointed! There are lots of unique things to do around Madison, especially once you expand your day trips to the smaller towns.
Mount Horeb for trolls
Only a half hour from Madison, Mt Horeb has the perfect main street… and it's lined with trolls. Mt Horeb is the troll capitol of the USA and if you're visiting with kids you'll love it. The Trollway, also known as Main Street, has over 50 troll carvings and troll themed businesses. Looking for trolls is one of the best things to do with kids in Mount Horeb near Madison, Wisconsin.
And of course there is a troll themed craft brewery. We had lunch at the Grumpy Troll Brew Pub and enjoyed beers named for trolls and other Scandinavian elements. We always love to find craft breweries outside of the Pacific Northwest that offer IPAs and other non-lagers. Their brews were legit and diverse.
Note: if you're new to exploring craft beers you'll find a love of bold beers, like IPAs on the west coast, and more traditional styles in the Midwest and eastern seaboard. In talking with a brewmaster on a recent trip to Mobile, Alabama he told me that brewers across the country are making an effort to put a local twist on the craft brew tastes of the West Coast. Success so far!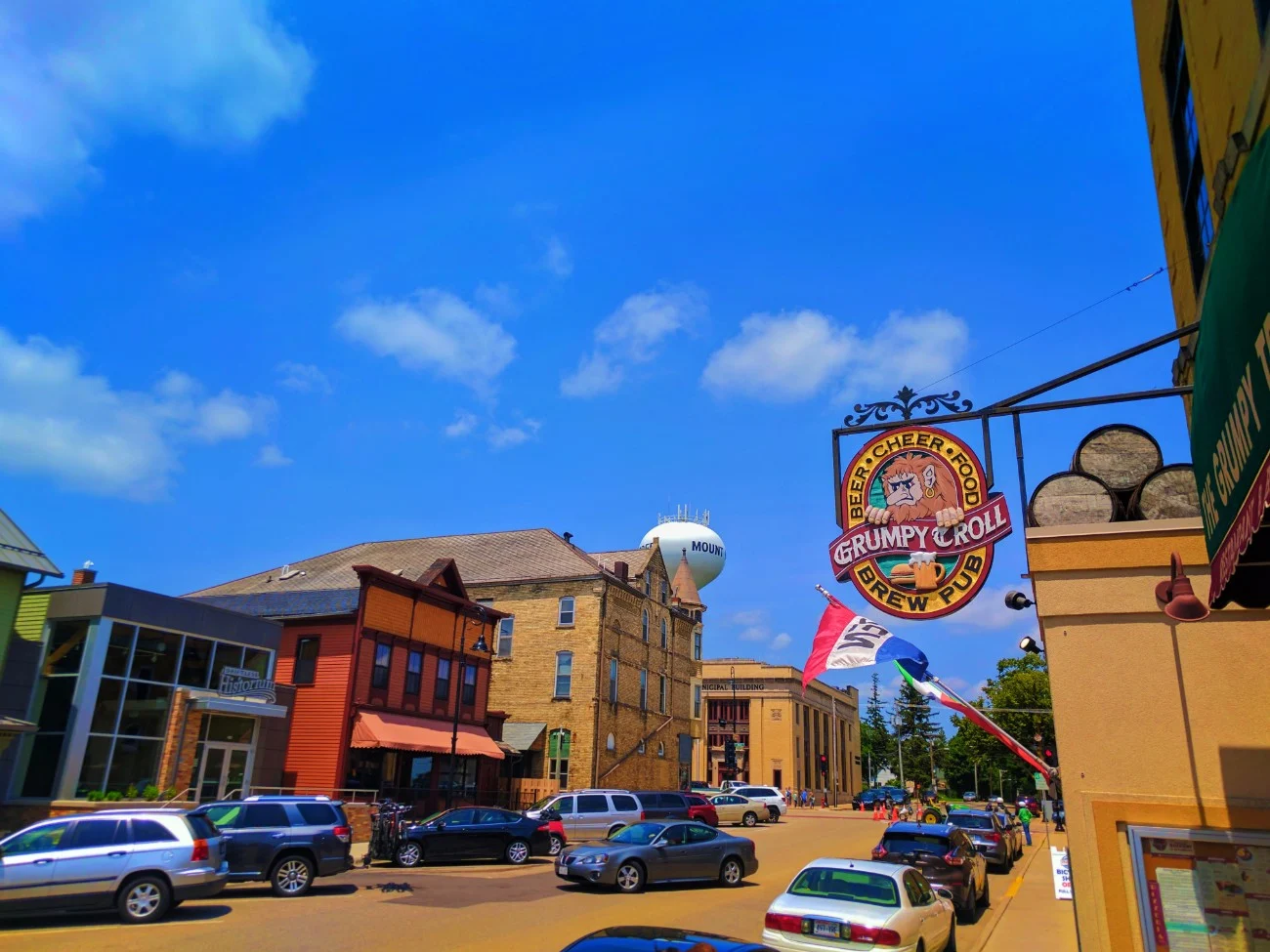 Monona for the ultimate community festival
If you're unsure of when to plan your Wisconsin family trip do it over the 4th of July. Independence Day is always a fun experience, but the town of Monona really does it up big time. With a full carnival, music, booths, and the honest to goodness best fireworks display we've ever seen outside of Disneyland, it's a must-visit. And if you're not here for the 4th, but are visiting later in the summer and into fall, this is a great area for Wisconsin apple picking.
Tip: like with any public festival, plan your day to arrive while things are still hoppin' but also so that you can aquire a smart parking spot. With the Monona Community Festival, when the fireworks finished thousands of people were on foot and no cars could move. Park smart, have fun!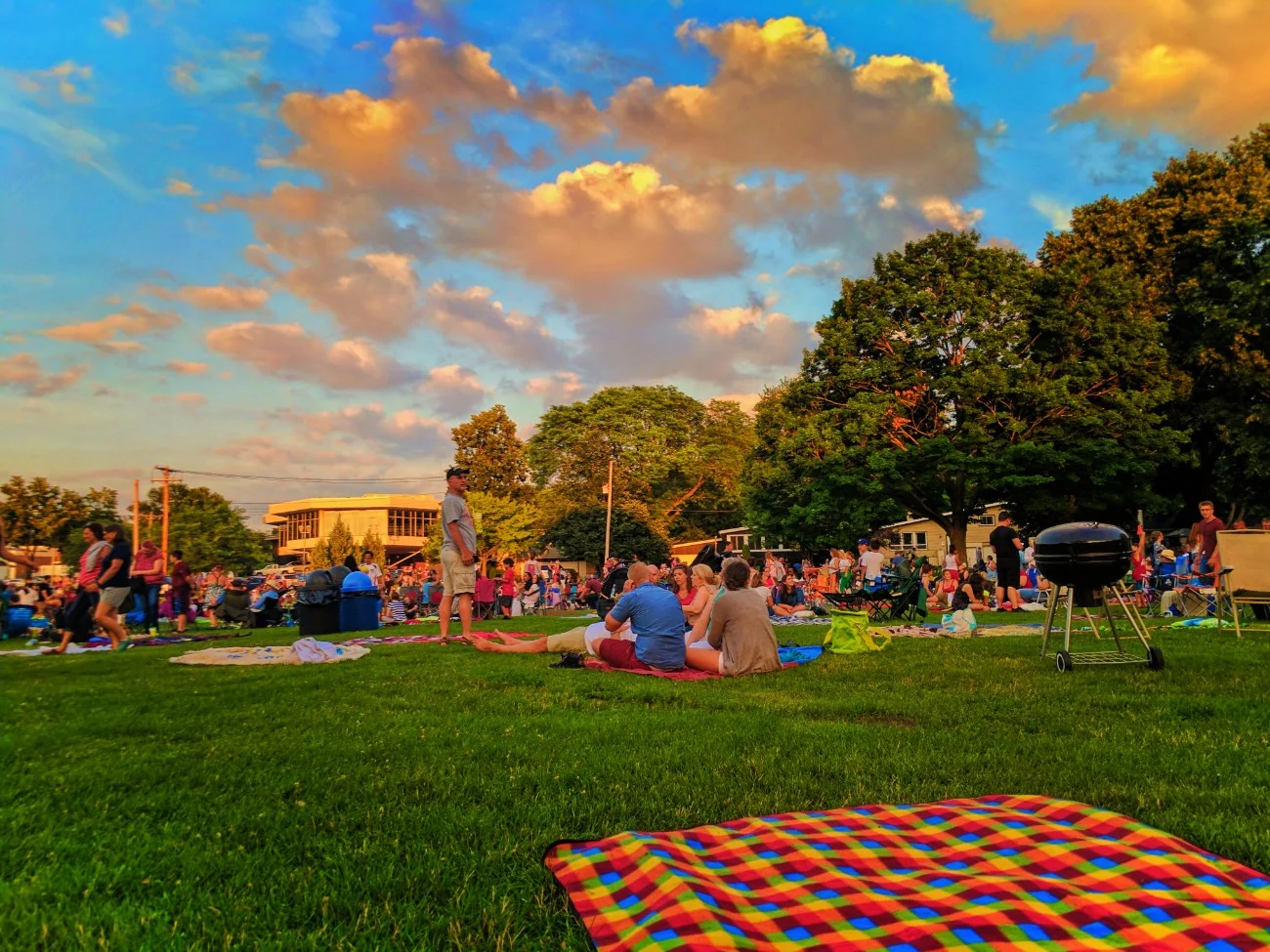 Waunakee for a last beer experience
We love to make travel itineraries and plotting out how we could maximize our Madison, Wisconsin experience up until the last moment was fun. We found a small town about fifteen minutes north of the Madison airport for our final stop. Waunakee is small but a perfect snapshot of main street America. Our goal was to have a relaxing, family friendly lunch in a cute town and we totally scored. There are quite a few things to do in and around Waunakee.
Across from the old train depot and close to the vintage ice cream parlor we found Lone Girl Brewing Co. A fairly new establishment, they've also mastered the art of interesting, complex beers in a totally family oriented environment. A hall of cisterns, modern-rustic (totally Wisconsin) design, and butcher paper for lunch time art made for a great afternoon. Must try: Harry's Coconut IPA. It's genius.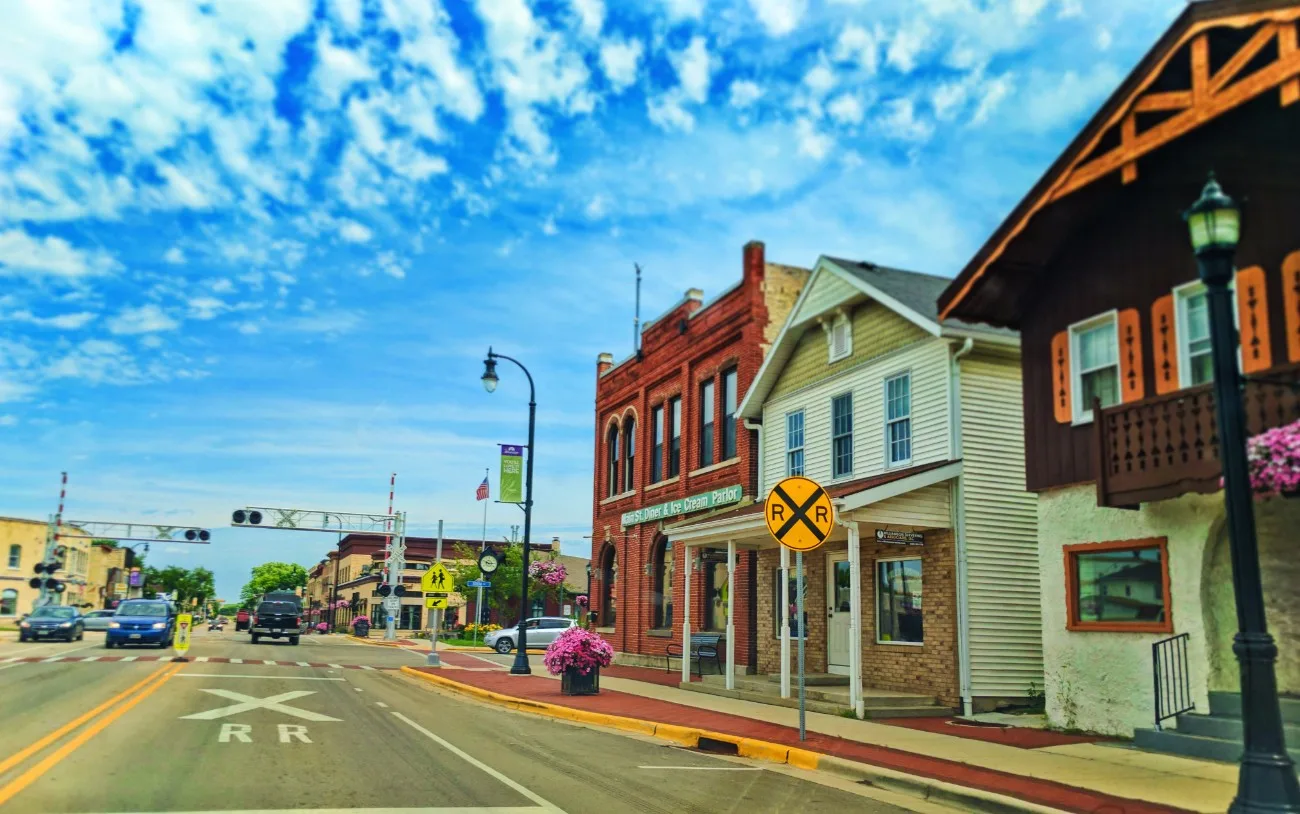 Can you tell that we loved our Wisconsin family trip? We went in with no expectations and left ready to return ASAP. Southern Wisconsin was loaded with great outdoor experiences and some of the coolest cities we've visited. Hopefully we'll be back soon to explore more of the Lake Michigan shores and dig into northern Wisconsin. We can only imagine it's just as awesome. We'll have to see…
Want to pin this for planning your own Wisconsin family trip? Go for it!!!