Fall colors are a great reason to travel when summer vacation is over. There are a lot fewer tourists, but that is not the only plus. Some destinations turn into a unique spectacle of colors, with gorgeous fall foliage. These are some of the best places to visit in Autumn for fall colors (or to steal a slice of good weather)
Fall is also a perfect time for romantic escapes. Beautiful cabins surrounded by colorful forests are the perfect place to snuggle in a warm blanket in the arms of your loved ones. And if you are autumn obsessed, North America won't disappoint you with so many places in the USA to visit, including National Parks for fall colors. At this time of the year, it's a perfect place to immerse in local festivals that reveal all of autumn's beauty.
Here are some of the best places in the United States (and a Canadian gem!) that you can visit to fully enjoy the fall season.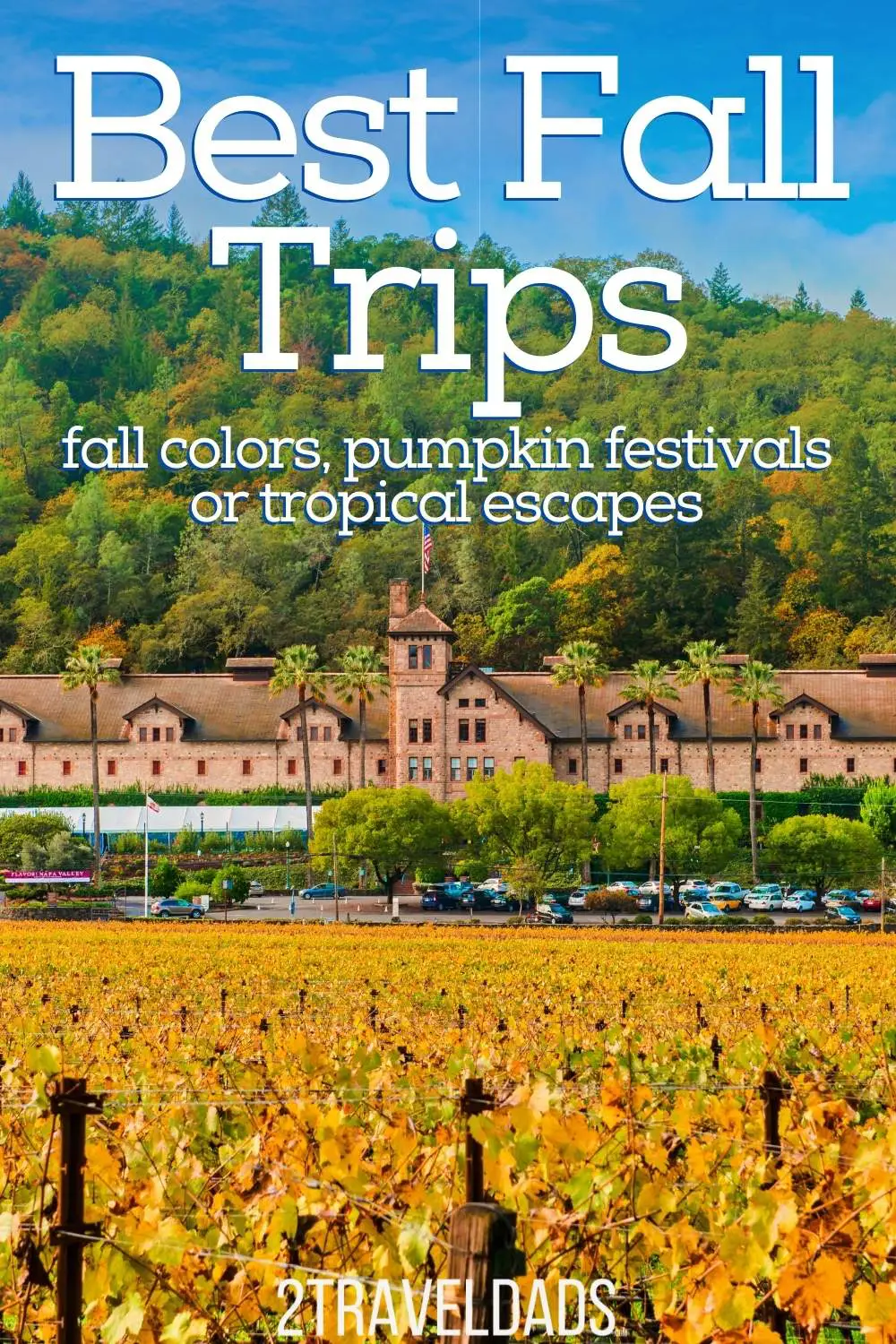 Fall Colors in the Northeast and East Coast
The Northeast of the USA is famous for its fall foliage. New Hampshire and Vermont have a dedicated leaf-peeping season and attract people from the big cities of Boston and New York. Maine is also a great destination for fall colors paired with epic lighthouses.
If you're planning a trip for leaf peeping in the Northeast, know that it's a very popular destination in October and November. We recommend planning ahead and booking accomodations as soon as you put it on your calendar. Whether you want to do a hotel or a short term/vacation rental, things book up fast, so plan ahead!
Take a Ride Through Blue Ridge Parkway, Virginia
The Blue Ridge Parkway is one of the best roads to admire stunning views in the USA. But when it comes to autumn, it has to get first place. The end of September till the end of October is the best time to take this spectacular ride and immerse in the natural, colorful beauty of this area.
The Blue Ridge Parkway officially starts just south of Shenandoah National Park, one of the best National Parks to visit with kids, and continues on for quite a ways.
The road winds through Virginia, North Carolina, and gets to its culmination point in the Great Smoky Mountains of Tennessee. Lush trees, with a whole spectrum of autumn colors, create a gorgeous background that includes southern Appalachian conifers.
A highlight of the Blue Ridge Parkway is that is also scoots by some North Carolina ski resorts and areas, so when you're on the prowl for fall colors, you can also scope out some great options for winter travel… if you need some snow in your life. Extend your fall colors trip west a bit and head into Kentucky for a different show of autumn, even visiting Louisville for a gorgeous city in fall.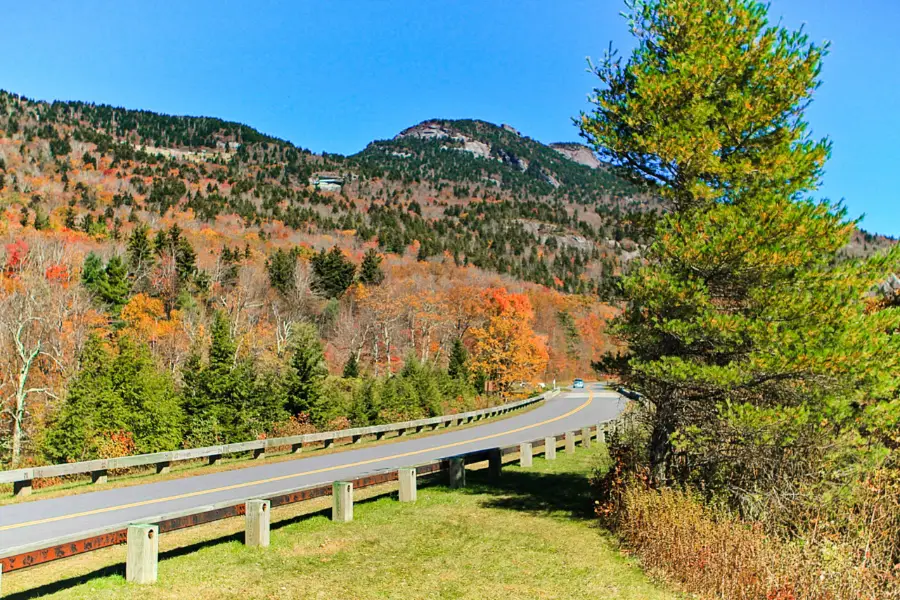 Fall Foliage Festival Art Show in Waynesboro, Virginia
Once you hit the road mentioned above, you can also enjoy this great local festival in the Shenandoah Valley of Virginia. Organized annually, it has a lot to offer. It lasts only two days but features over 150 artists. You can enjoy great food trucks, wander around to the rhythm of live music, and admire various artworks. Paintings, pottery, sculpture, jewelry, glass, and photography are just a few things that you can admire in Waynesboro.
And you cannot overstate the beauty of the Shenandoah Valley in fall. The fall colors are reason alone to visit this part of western Virginia in autumn.
Also check out Colonial Williamsburg in Autumn for fall colors and living history. Do a Virginia and Washington DC road trip for a great fall color experience!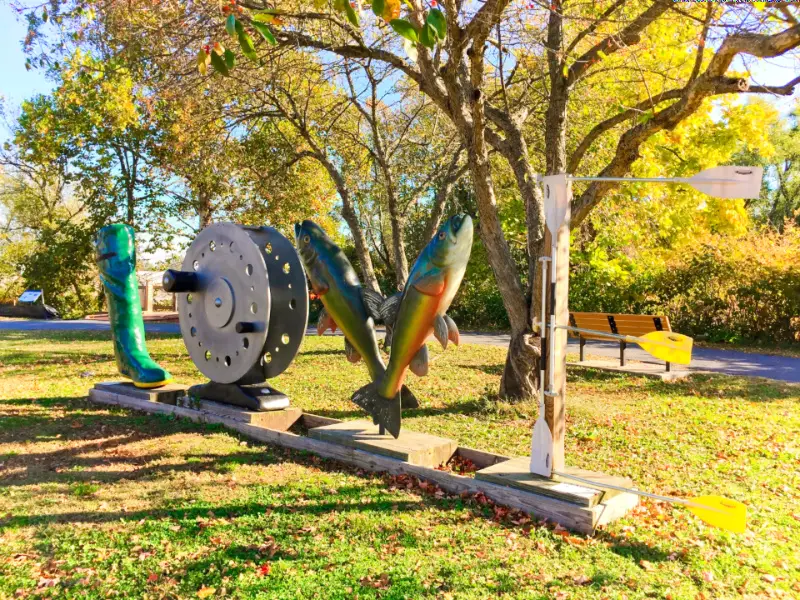 Autumn Lake Views in Inland New Hampshire
Autumn is a perfect season to visit the inland part of New Hampshire. The Lakes Region offers spectacular fall colors around their many bodies of water, including Winnipesaukee (a popular getaway from Boston), Squam Lake, Lake Ossipee, Mirror Lake, Newfound Lake, and Lake Winnisquam. The most common tree here is the maple, with its spectacular red autumn leaves. If you think that colorful autumn leaves are stunning, try to look at them reflected in the surface of clear water, or above a waterfall gorge near Lincoln, New Hampshire.
Also an easy day trip or secondary plan is visiting Vermont for fall colors. Being a small state like New Hampshire, a few days is plenty to get a good taste of the state and beautiful autumn sights. There are lots of things to do in Vermont before the snow falls!
The best time to arrive here is between late September and late October. As the area is secluded, you will be protected from the strong coastal wind. If you like active rests, jump into a canoe or kayak and enjoy the breathtaking views.
Bonus idea: If you're in the Northeast but don't want to head to New Hampshire, take a trip to Nantucket or Martha's Vineyard for fall colors. The beautiful community is perfect for peak colors, and there are lots of opportunities if you want to kayak Martha's Vineyard.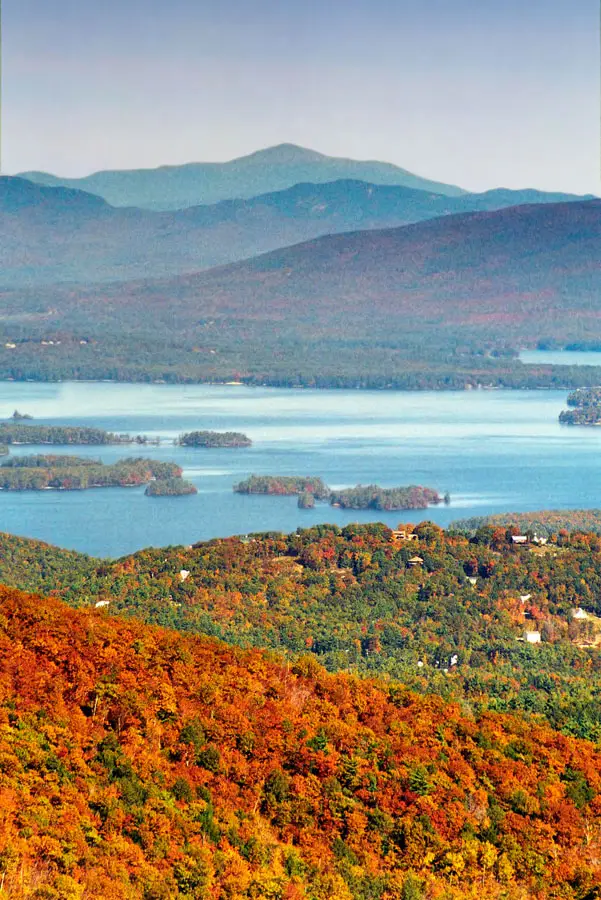 Enjoy the New Hampshire Pumpkin Festival, Laconia NH
Autumn without pumpkins is like summer without the sun. Together with tourists, residents of Laconia, New Hampshire try to break the record of jack-o'-lanterns made each year during the NH Pumpkin Festival. The carved pumpkins are varied. Some are simple, while others could easily be qualified as pieces of art. This year's festival (2022) is planned for October 14th-16th.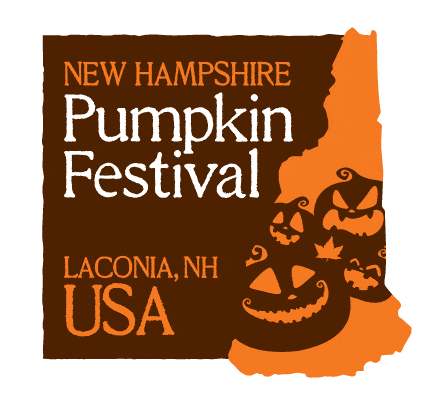 Spooky Visit to Sleepy Hollow, New York
If you love Halloween and horror movies, this destination is a great choice for you. Is there a better place to get scared than the town where the Headless Horseman was born? Historic buildings and parks give a unique vibe to this place, especially when fog hovers over the road, making your imagination spin.
Halloween in Sleepy Hollow is epic. You can immerse in this place on your own or find a tour which is going to present you with all the creepiest stories connected with the area. To release the tension, you can stay in a hotel with a spa, and give a twist to your tour.
Traditionally, the Great Jack O'Lantern Blaze is THE event (running Sept-Nov) so plan your Sleepy Hollow visit around seeing more than 7000 hand carved pumpkins! PS: the town is cute tooo.
If you're all about fall colors and want to see Sleepy Hollow and the Hudson Valley at its peak, book a helicopter tour over the incredible fall foliage. There's no better way to see the colorful landscape than the air.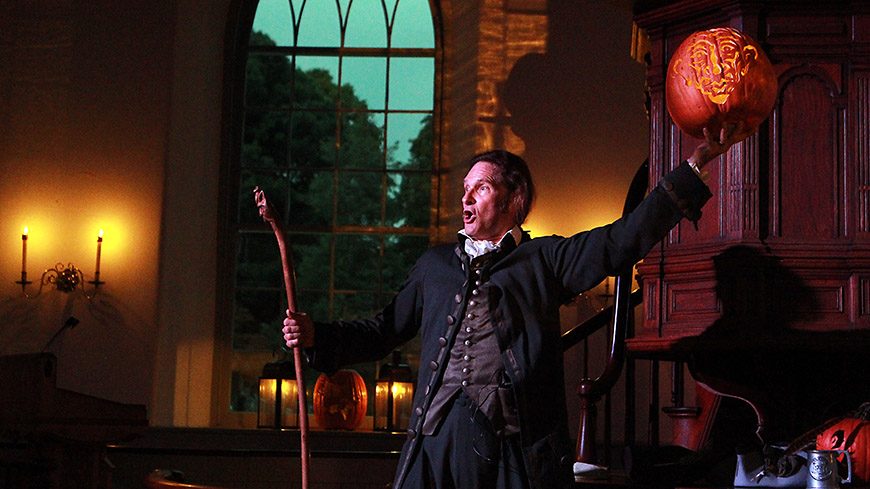 Upstate New York's Adirondacks
Adirondacks aren't just chairs. Upstate New York has an amazing region called the Adirondacks. A very old mountain range, the rolling hills and waterfalls make it a gorgeous destination for fall colors in the Northeast. With camping even being an option into October, there are lots of state conservation areas to explore and stay within.
One of the best autumn activities here is kayaking in the Adirondacks. With designated canoe trails and several chains of lakes, Adirondacks Park and the surrounding area are a must for kayak and canoe lovers.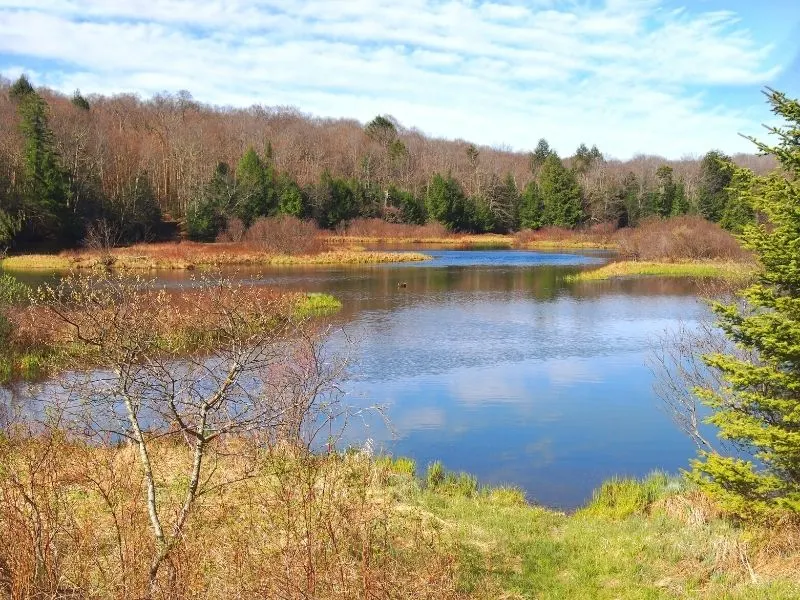 Best Places on the West Coast to Visit for Fall Colors
While it's true that the east coast of the USA is famous for being the best place to visit for fall colors, the west coast has some colorful gems too! There are many evergreen forests on the west coast, but peppered into all the firs and pins are plenty of deciduous trees that turn flaming yellow and orange in autumn. These are our top picks for the best places to visit for fall colors on the west coast.
And you cannot forget that the west coast has some of the best National Parks to visit for fall colors too. If you need to enjoy hiking as a part of your fall foliage trip, add some time in a National Park to your itinerary.
Fall Colors in McKenzie Pass-Santiam Pass Scenic Byway, Oregon
If you are looking for a bit of a different autumn landscape, the route McKenzie-Santiam Pass Scenic Byways can be a perfect choice for you. Running from Bend to Salem, Oregon it passes through various areas, including lava flow and high desert climates.
As the environment is so different here, you can admire various colors, not only the autumn-like shades. Red maples create a perfect contrast to the dark lava fields. Other trees turn their color yellow, in front of lush green Douglas firs or ponderosa pine.
McKenzie Pass-Santiam Pass Scenic Byway is 51 miles long and is a circular route, so it's a wonderful choice for very active people who would like to hike for a long time and stop on the way. Exit the loop to the north and visit Silver Falls State Park. Exit to the east and drive out to the Painted Hills and John Day Fossil Beds National Monument. Cut to the coast on Highway 20 and you'll be starting an Oregon Coast road trip.
The McKenzie Pass-Santiam Pass Scenic Byway is perfect for fall colors and for launching into even more excited Oregon road trip adventures.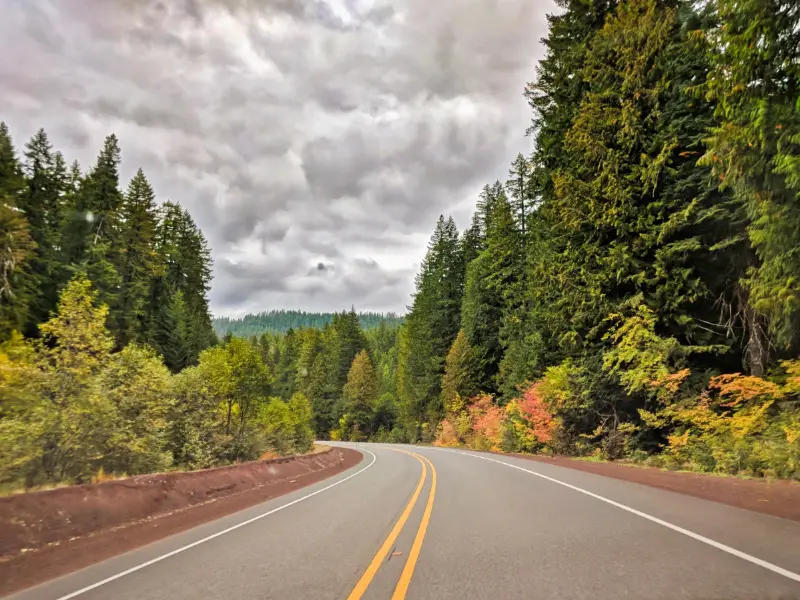 Oktoberfest in Leavenworth, Washington
If some towns have perfect autumn-vibes, Leavenworth must be one of them. This place, with its cute Bavarian-style houses, is located on the eastern slopes of Washington's Cascade Mountains. Even though Leavenworth is best known for its amazing Christmas lights, it's also absolutely stunning during autumn. And don't forget, Oktoberfest happens in Leavenworth each year, so sausages, craft beer and polka music make for the best fall colors trip additions. There are many things to do in Leavenworth, so spend time in the town before hitting the road looking for fall colors.
And if you delay your trip a month or two, the town turns into an amazing holiday retreat. Leavenworth at Christmas is beautiful and so much fun. We love staying at the Sleeping Lady Resort during the holidays. It's the perfect home base for cross country skiing and sleigh rides!
From Leavenworth, you can start your autumn leaves adventure. Highway 2 and Highway 97 are perfect roads to take to see the full spectacle of wonderful colors. Cottonwoods, aspens, and red huckleberry bushes are some of the many trees you can admire nearby.
Tip: watch for wild donkeys along Highway 97 as you head south.
The best time to visit this place if you want to see autumn foliage is the two first weeks of October. Also, the Columbia River Gorge can easily be accessed from this town with just a short drive south. It's one of the prettiest places in Washington!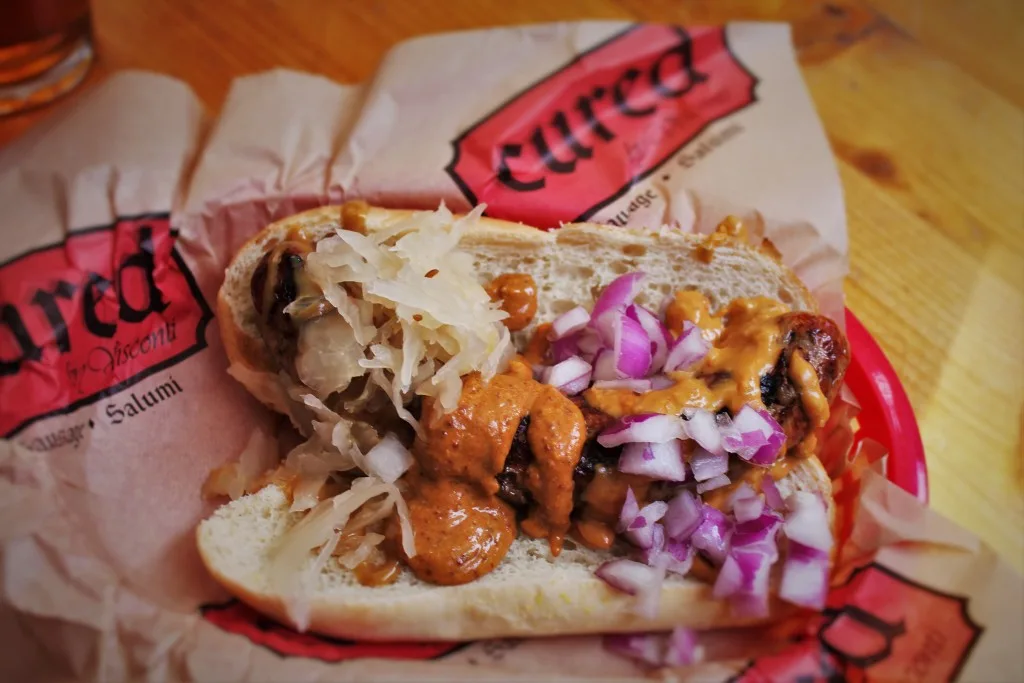 Autumn Wine Tasting in Napa Valley, California
The Napa Valley tourist season lasts till the end of October. Until November you can expect some crowds there, and finding accommodation can be problematic. During harvesting season, you can enjoy harvest balls and grape smashing.
However, if you decide on a late autumn escape, you can still enjoy Napa Valley's beauty. The weather is a bit colder, but you can still admire the vine leaves as they change their colors and make this place look like it's from a tale. You can expect much lower prices for accommodation and activities. Moreover, it's a time when many food festivals take place in Napa Valley.
After some time enjoying Napa, head west and enjoy an autumn California Coast road trip. As you head south, the moody skies clear up and you can enjoy more wine country along the coast in Cambria and the Santa Maria Valley wine region.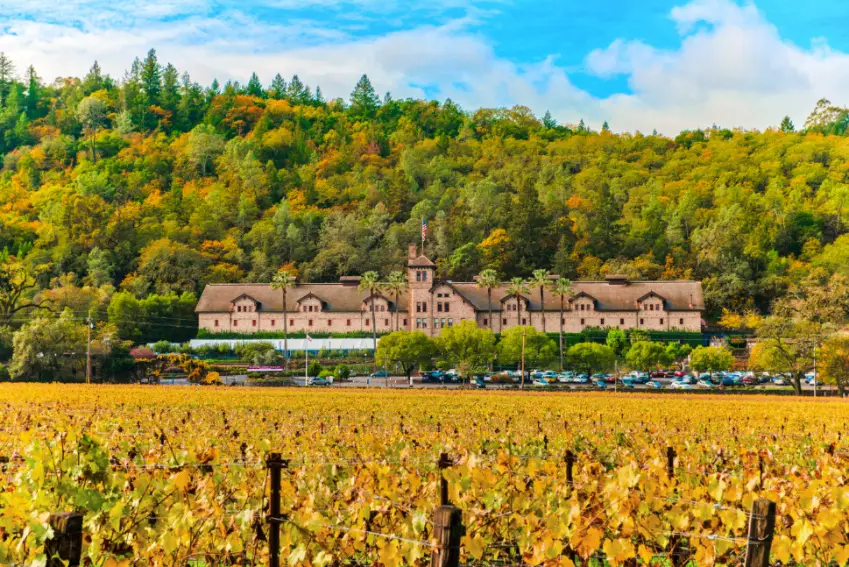 Warm-Up with Fall in San Francisco
If you are not a big fan of autumn weather, you can pick San Francisco. It's a perfect destination for those who love a bit of a warmer climate and would like to enjoy the vibrant city life. It's a perfect time to catch some sun, visit museums, enjoy art, and take a ride on the famous cable car line. With the right San Francisco weekend guide at your hand, travel in autumn in this city is not only about yellow leaves, but also places that can warm you up.
A highlight of visiting San Francisco in fall is the moody weather that blows past the Golden Gate Bridge. One of five Bay Area National Parks, the Golden Gate bridge is the perfect fall backdrop from any viewpoint.
Visiting San Francisco in fall is really great if you're interested in seeing one of the most unique sights in the city: the parrots of Telegraph Hill. Head to Coit Tower for a view of the city and then walk down the Filbert or Greenwich Steps to see the famous parrots flying overhead and sitting in the trees.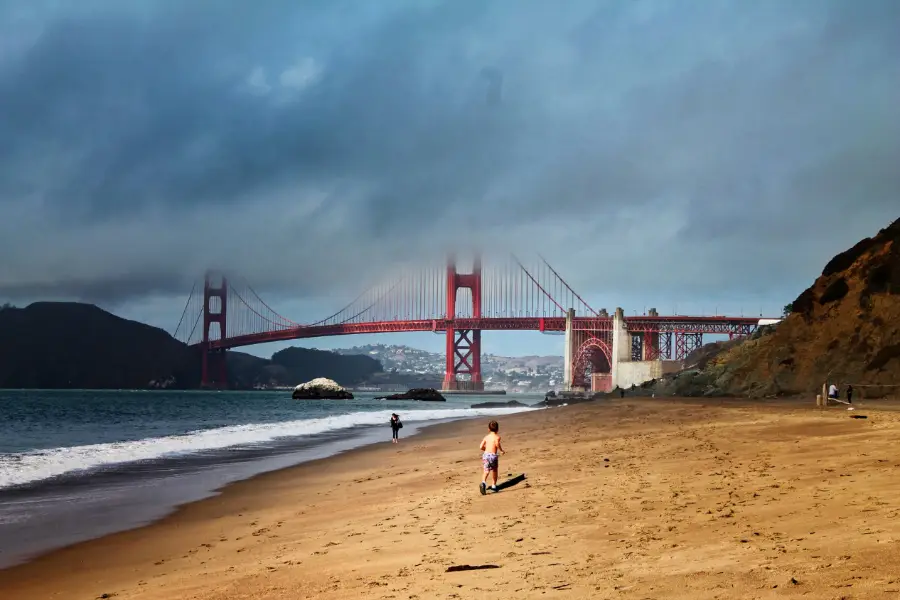 Remarkable Midwest and Rocky Mountain Fall Colors to Visit
It's so easy to overlook the mid-drift of the United States when you're talking about the best places to visit for fall colors. Yes, the Midwest has amber waves of grain, but did you know that Wisconsin and Minnesota also have gorgeous colors around their lakes and hill country?
And the Rocky Mountains that stretch from Mexico to Alaska are gorgeous in fall too. Whether you want small towns or to escape to the wilderness, the Rockies have some wonderful gems to visit for fall colors and fun experiences. While places like Glacier National Park close as fall sets in, you can still visit some of the most beautiful, colorful Rocky Mountain destinations WITH VIRTUALLY NOBODY AROUND!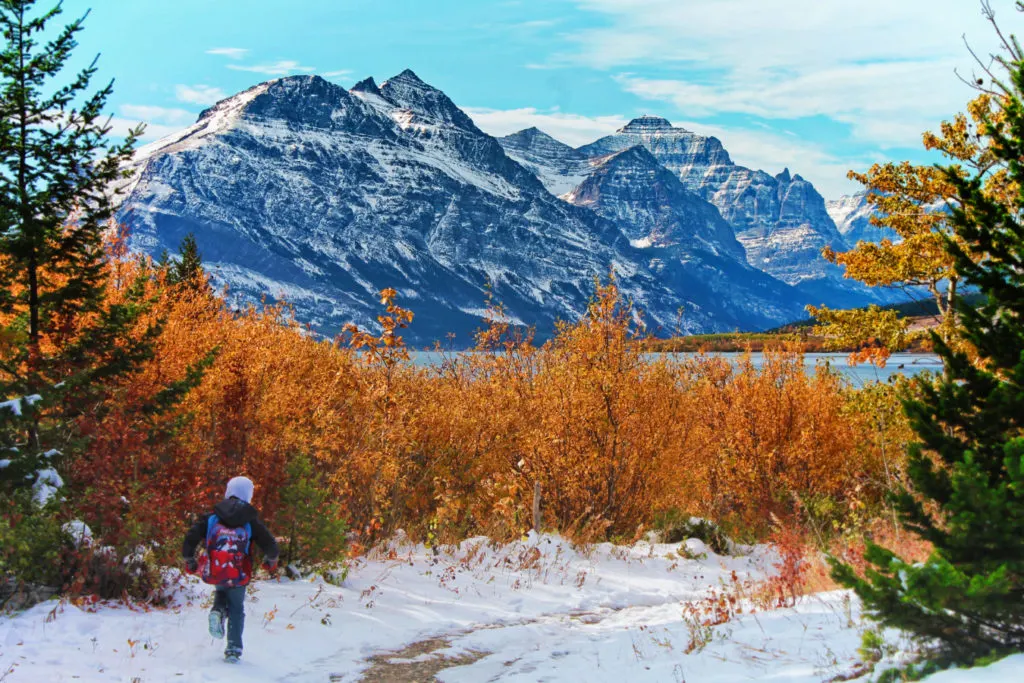 Changing Seasons in Yellowstone National Park
Yellowstone National Park is one of the most popular attractions in the USA. Because of that, during the peak season, you might feel like you're in a crowded metro station. So, if you don't mind the cold, you would do best by visiting Yellowstone in autumn. Don't forget to take warm clothes for your Yellowstone weekend trip because the strong gusts of wind can be freezing. And you could get a surprise dusting of snow.
A bit of cold is totally worth enduring so that you can see this spectacular park in its unique beauty, without a noisy crowd. In October, the trees should have colorful foliage that gives this place a fairytale spark. The bursting geysers of Yellowstone look even better with such a background.
Before planning your trip, be sure that you check the park's website. Some roads and paths might already be closed before the winter, so access my be limited to the Mammoth area, but when it comes to fall colors, the Mammoth Hot Springs portion of Yellowstone is the most beautiful anyways!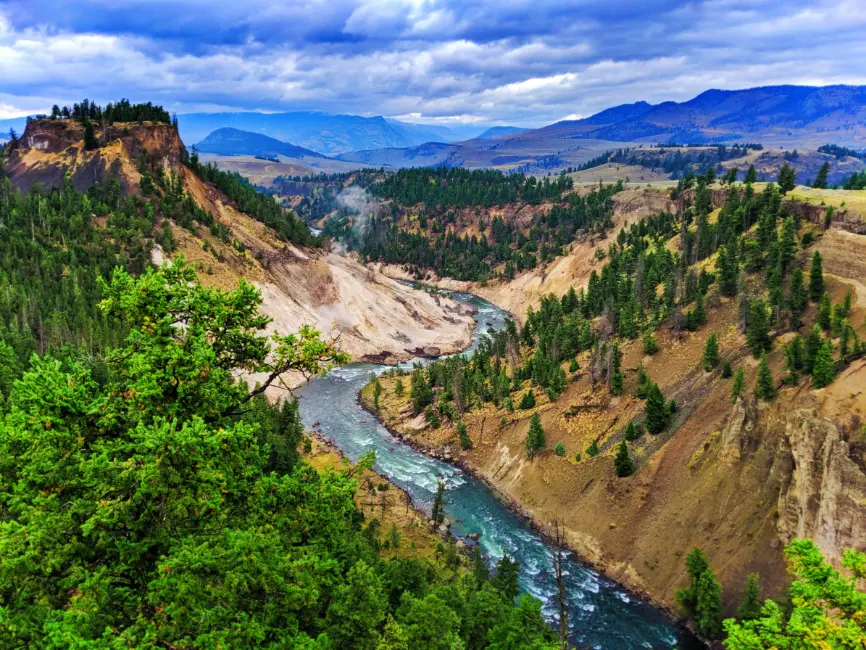 Estes Park, Colorado in Fall
Just west of Denver, Colorado you'll find the charming mountain town of Estes Park. Surrounded by groves and groves of aspens, Estes Park is one of the best places to visit for fall colors. The town may be overrun with elk, but head up into the hills or visit the valleys of Rocky Mountain National Park for a quite, colorful autumn escape.
Estes Park is perfect in fall with its numerous log cabin resorts on the river and looking down the valley. A stay at the McGregor Mountain Lodge or the Stanley Hotel will make for the perfect getaway, either from Denver or as the main destination for a fall trip to Colorado.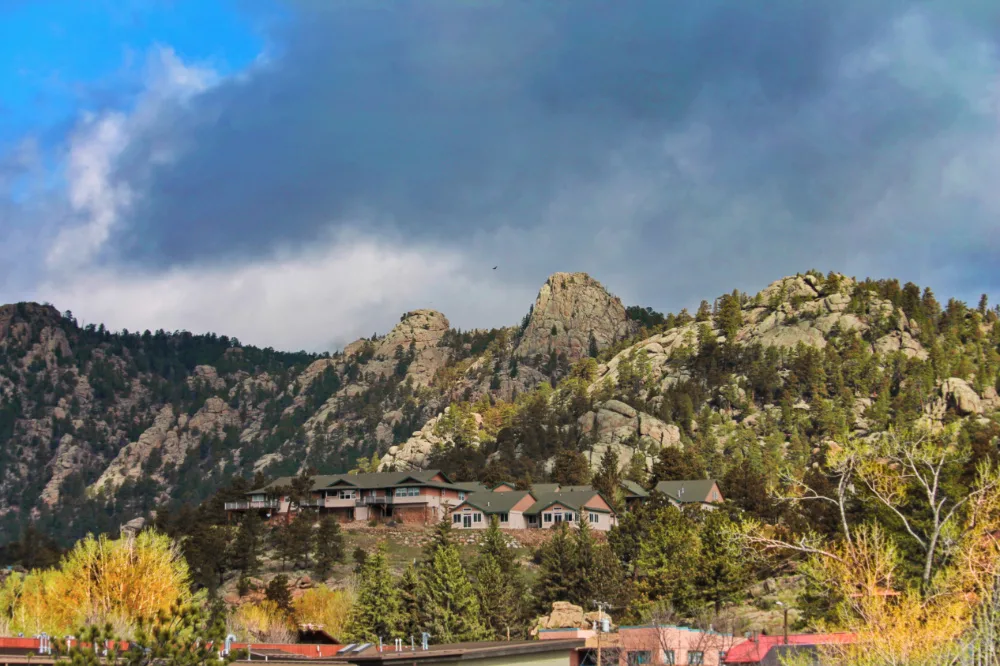 Zion National Park in Fall
We love hiking in Zion National Park, especially in spring, but in the fall it's also gorgeous! For the best colors, visit in September and do the Paras Trail along the Zion Canyon floor. The fall colors along the Virgin River are beautiful, and visiting when the leaves start to change also means that you'll have much more doable temperatures than in summer.
There are actually lots of great places to enjoy fall colors in Utah. From Zion to Park City, you won't be disappointed. Plan your travel to happen before the first snows though, as Utah can get some weather surprises starting in early October.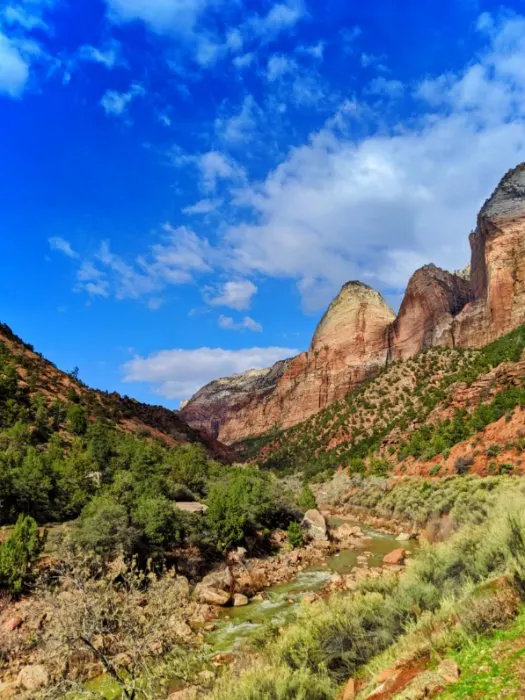 Famous Fall Foliage in Door County, Wisconsin
If you want to admire spectacular colors, this Door County in Northeastern Wisconsin is a must. You can see wonderful old forests and lakes, while lighthouses and white-frame buildings located in the area give this place a picturesque vibe. Vermilion, russet, scarlet, and gold blend into a perfect mix, mostly in the second week of October, best captured by a selfie drone.
The area is famous for its apple orchards, so you might enjoy apple picking too. It's also a perfect place for people who love hiking and admiring nature along the shore of Lake Michigan.
Door County is a great weekend trip from Chicago, Milwaukee or Madison. Plan a day or a weekend to go explore and enjoy one of the best places to visit for fall colors. Door County is also a logical continuation of a southern Wisconsin road trip, giving a totally different view of the state.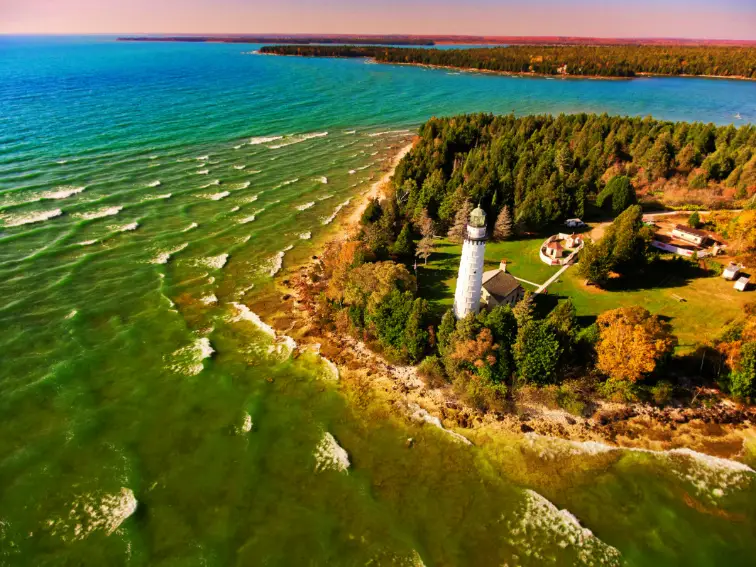 Sunny Getaways with Palm Trees Instead of Fall Colors
If fall colors aren't your thing, that's totally fine. There are some wonderful escapes to plan for autumn that bring you to warmer climates and outdoor adventures. There's no shame in escaping the cold for adventures like kayaking in Arizona or doing a Florida Keys road trip.
Tropical Autumn Trip to Hawaii
Hawaii is a perfect place to be, no matter the time of year. With great temperatures, a unique culture, and wonderful cuisine, it has a lot to offer during the autumn season. It's a great place if you want to avoid cold weather and recharge your batteries in a perfect climate.
If you decide on your autumn break in September, you can enjoy the Aloha Festival. The six-island celebration lasts six weeks and is a real homage to Hawaiian culture. It offers more than 300 attractions, including parades and the Miss Big Island Pageant.
If you are a fan of sport, you are going to be excited to hear that in October you can participate in the Ironman Triathlon. If you are more of a foodie rather than an athlete, visit the Big Island, Oahu, and Maui in the second half of October to enjoy the Hawaii Food & Wine Festival. The best places to eat on Oahu bring out all the most delicious Hawaiian foods for this event.
And you cannot forget all of the normal, year-round fun to be had in Hawaii. Beach days in November are great. There are so many things to do on the North Shore of Oahu, and lots of wonderful outdoor activities AWAY from the beach, that you'll love doing a fall trip to Hawaii.
Visiting Kauai is also a favorite in the fall. Known as the garden island, Kauai is all about waterfalls, and quiet tropical escapes.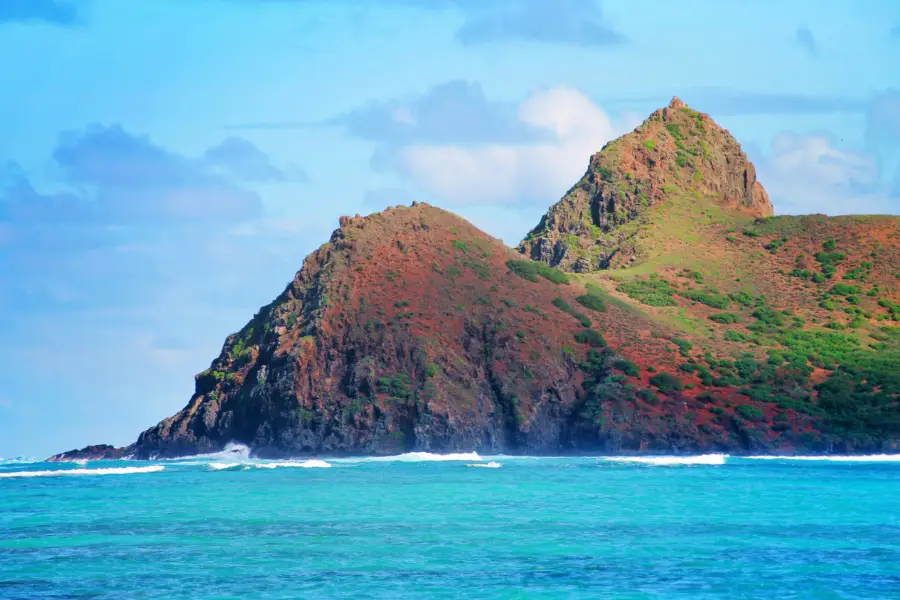 North Florida in Fall: Easy and Beautiful Autumn Trip
North Florida is rather overlooked when it comes to planning a Florida vacation. Plan a visit to the nation's oldest city and you'll see that there are endless things to do in Saint Augustine. Jacksonville is urban but also is right on the beach. Daytona is more than a spring break destination.
Fall in Florida is also when the manatees head to the springs. Enjoy kayaking or SUP with these gentle creatures as they swim and play in the beautiful rivers of the Ocala National Forest. North Florida is one of the best places to visit in fall, particularly if you just want to enjoy warm weather and amazing nature.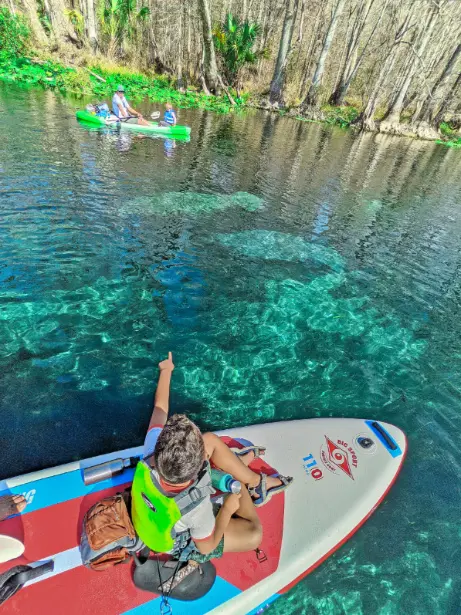 Whether you are a super active person, a Sunday hiker, or enjoy city life, you are going to enjoy fall in the USA. When the great outdoor temperature drastically drops, you can find shelter in a warmer area or enjoy a fireplace in one of the countless cabins hidden in golden forests. If you feel more adventurous, you can take a ride or hike in the woods where the fall foliage is breathtaking. And when you feel like some company, you can always remove yourself from the wilderness and join some of the cool autumn festivals.
There is no doubt that whether you like autumn or not, and whatever your needs are, you can find a perfect fall vacation destination for yourself.
Thank you to our pals at ETramping for joining us in sharing the best places for fall colors and fun during autumn.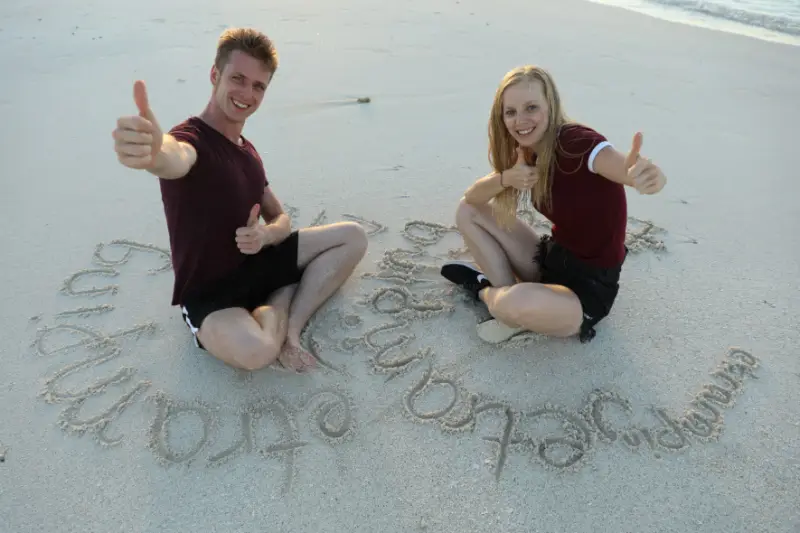 Want to pin this for planning a trip to one of the best places for fall colors in the USA? Go for it! And as always, please let us know if you have any questions or need help planning your travels.