Taking your family to Hawaii for the first time is typically a pretty big deal. It was for us, and we were sure to use the precious time we had there to get the full Hawaiian experience. Oahu's North Shore was scenic, full of fun, and exactly the Hawaii we were looking for, the West Side from Ko'olina to Waienae was busy but quiet with sweeping views of the mountains and sea. And then the Eastern shore… full on Hawaii, but there are lots of great non-beach activities on Oahu too.
Have you been to Oahu or one of the other Hawaiian Islands? They are pretty fascinating. The culture is this interesting blend of mainland-US, native Hawaiian influence, and pieces of Japanese life. There's nothing else like it. The landscapes range from island to island, but on Oahu we found beaches, rocky breakers, lush mountains, grassland, jungle, and farm country. Check out our guide to family friendly beaches on Oahu to plan water time, but for everything else these are our favorite non-beach activities on Oahu.
Awesome non-beach activities on Oahu
Now remember, these are our NON-BEACH activities on Oahu, not our guide to snorkeling and lounging in the sun. If you think there's a non-beach activity that's a must that we didn't do or mention, please let us know in the comments or send us a note. And remember, besides our suggestions, there are tons of free or cheap things to do on Oahu.
Exploring the mountain jungles of the Waimea Valley
There are lots of hiking opportunities around Oahu, but we didn't get to do much hiking… cuz we were at the beach so much! But hiking and exploring the jungles is not to be missed. There's nothing like dense vegetation and colorful birds to get you into the tropical island mood. Or swimming in the splash pool of a waterfall.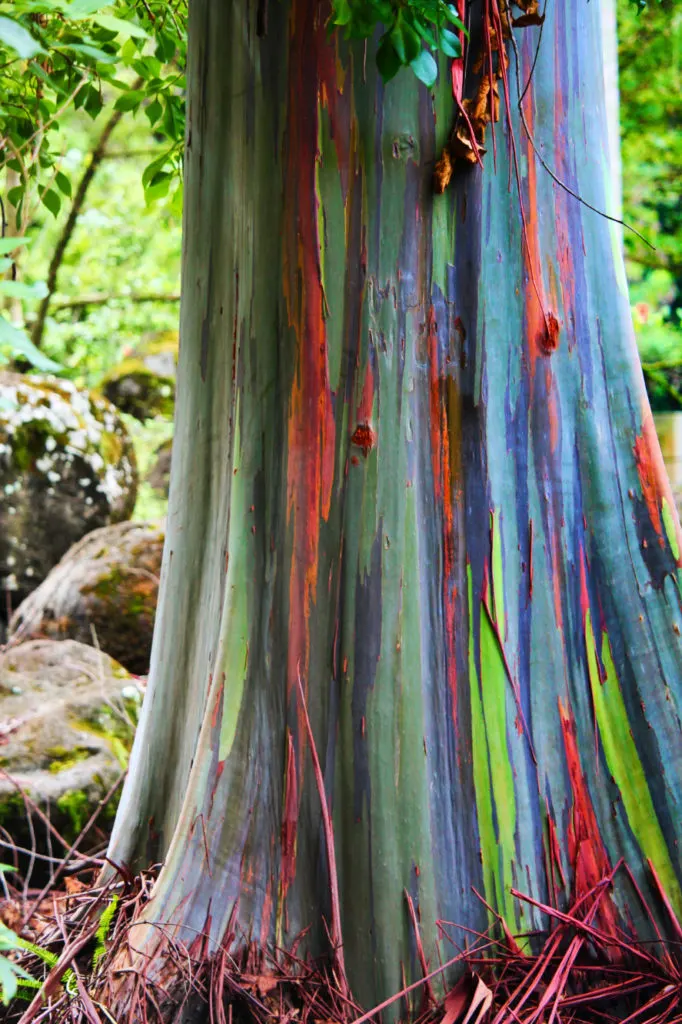 The Waimea Valley on the North Shore of Oahu has all of this and more. A botanical garden and privately managed park set just up from Waimea Bay Beach Park, it's got a visitor's center, interpretive trails through an incredible botanical garden, rugged trails through the trees and along the stream, and a waterfall that you can swim at.
Swimming at Waimea Falls is a fun activity with kids for a few reasons:
it's a jungle waterfall (duh)
there are shallow spots to splash and play
there are park staff providing life jackets (required here) for swimmers to go directly under the falls
The Waimea Valley was perfect to do with kids because the elevation gain was so mellow and the park facilities were nice. If you only get one day for hiking and jungle activities with the family, plan to visit the Waimea Valley.
Tip: for less crowded areas or more intense hiking, be sure to check out All Trails and search for "waterfalls Oahu". You'll find a lot of hikes all around the island. Be sure to note the level of difficulty for the hike you choose.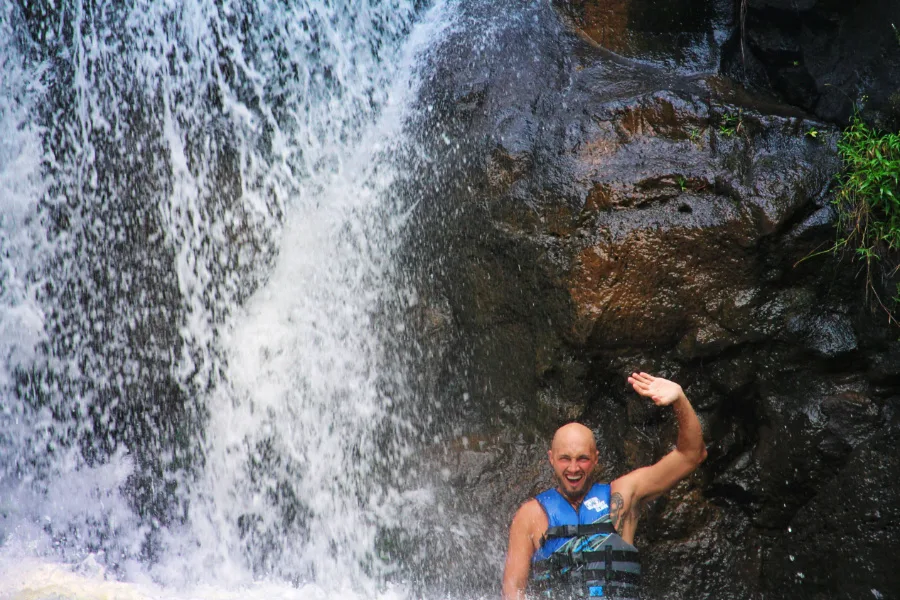 2. Eat poke and kalua pork
Hawaiian food is crazy delicious, so much so that we had to write a whole article on how to find the best places to eat on Oahu. If nothing else listen to this piece of advice: seek out kalua pork recommended by a local AND if you see a Hawaiian poke bowl on a menu, order it. Trying new foods was one of our favorite activities on Oahu because it gave the kids a chance to expand their palates with food we rarely get at home in the Pacific Northwest.
Favorite food finds: Kono's in Haleiwa for a Kalua Pork Bomber; Aji Limo in Pupukea for all kinds of poke bowls.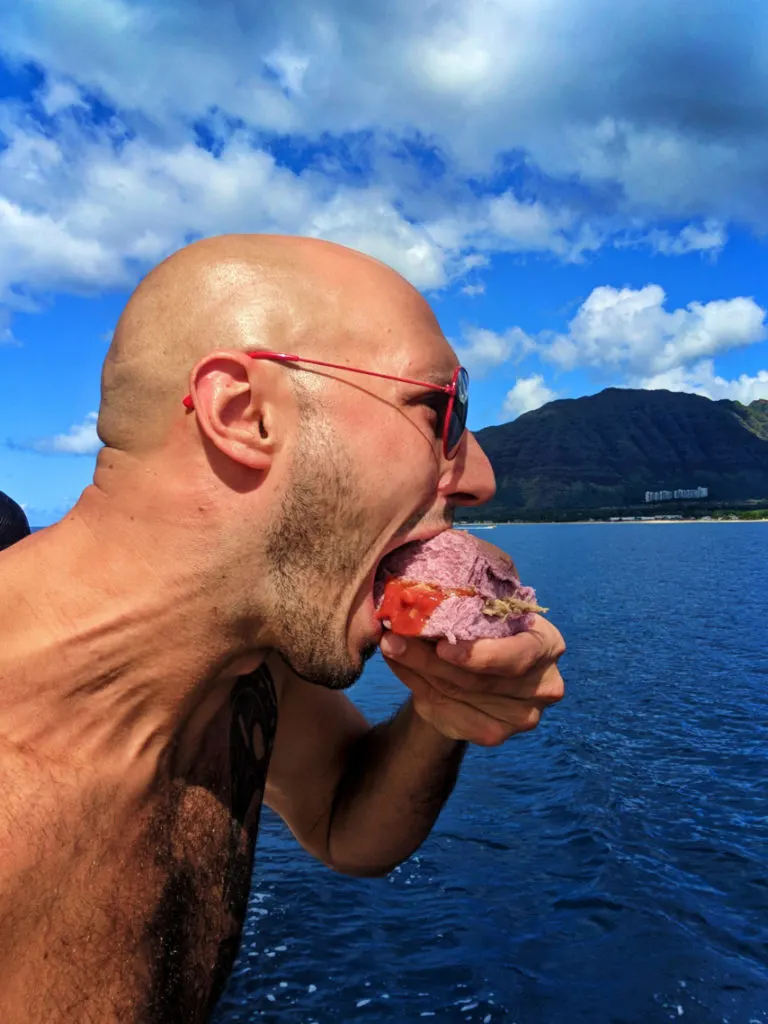 3. Do a traditional Hawaiian luau
You'll find several luaus all around the Hawaiian Islands. As touristy or cheesy as it may sound to do, it's absolutely not. What we learned about the Hawaiian people is that they are warm and friendly, and they have a long history that they LOVE to share. Yes, luaus are 1 part spectacle and 1 part buffet, but they're also a cultural education.
Top things to look for when picking a luau to attend:
food selection / buffet style / bar service
performance types – research what the luaus you're considering actually do
activities / involvement – some luaus have activities to bring guests into the cultural aspect of the luau and to share stories before the even begins
duration – a luau may last for several hours, so plan for this when attending with children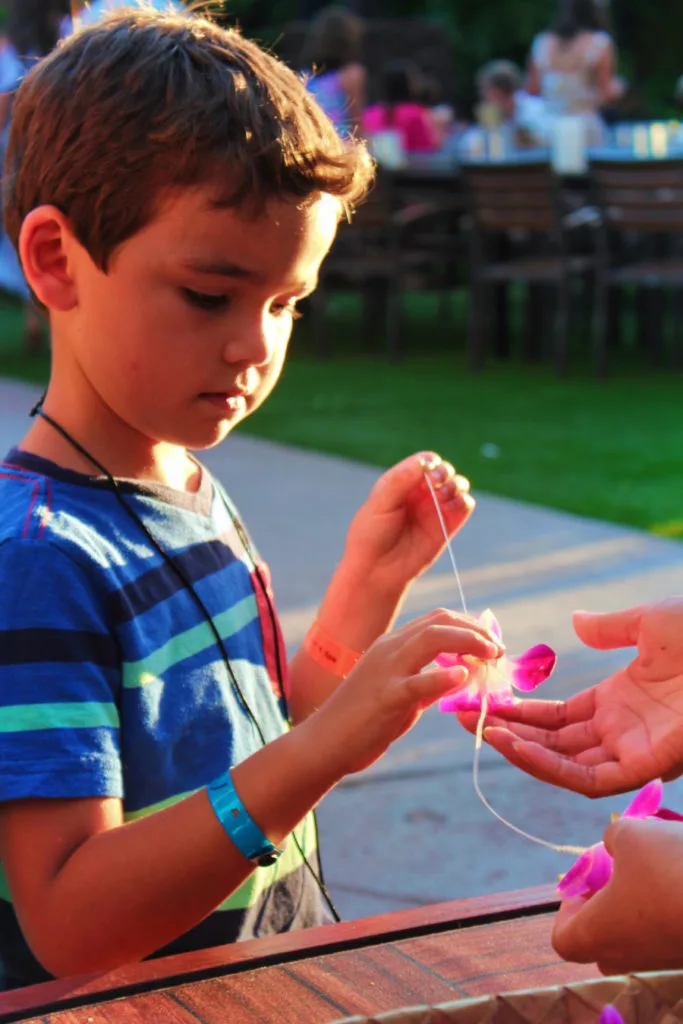 Pictured above: the Ka Wa'a Luau at Disney's Aulani in Ko Olina. A really wonderful show with the family.
4. Check out island farms
As you drive around the island seeking out fun activities on Oahu you'll probably end up on the Kamehameha Highway at some point. This loop takes you across the central part of the island, along the North Shore and then down the eastern side, much of which is farm country. If you don't notice the farms surrounding you, perhaps you'll notice the farm stands and stop at one.
In addition to pineapple farms (the Dole Plantation is in the heart of Oahu), you'll find all kinds of other produce being grown and cattle being grazed. You'll find small coffee farms on the western part of the island, while on the eastern side there are a variety of botanical farms.
Note: there are more than 30 good sized ranches on Oahu also… but only one butcher (as of winter 2017). If you go shopping for "Hawaii raised" beef, you'll find it probably, but chances are it was actually raised in the Islands and then sent to the mainland for butchering and processing. If you're goal in visiting local farms and supporting locally is to minimize your tourist footprint, think twice before going for beef products, as the back and forth of Hawaiian beef isn't always a sustainable model.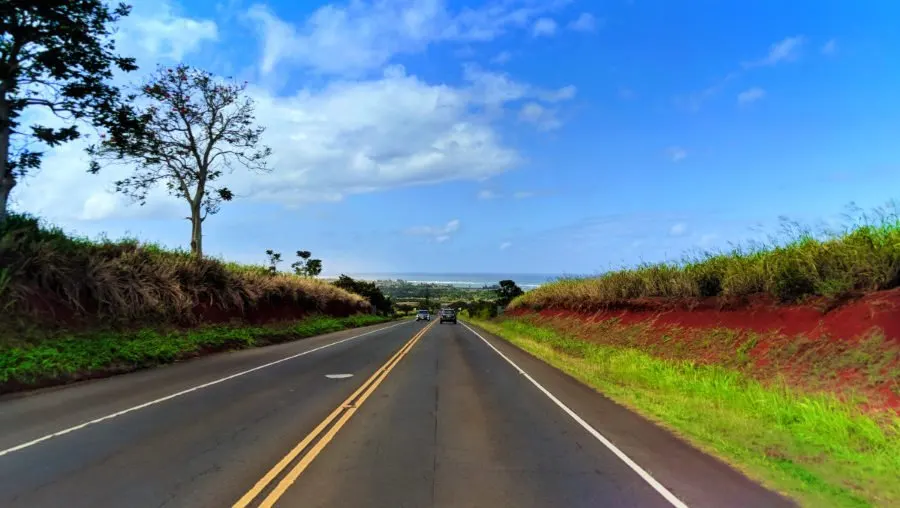 5. Visit with the Hawaiian people
We're not shy and we'll talk to anybody about almost anything. And in Hawaii that can only do you good. Like we said when we were talking about visiting a Hawaiian luau, the Hawaiian people love to share their history and stories. There's been a cultural awaking in the Hawaiian Islands over the last 40 years that's seen a new pride and appreciation for the people and their past.
Besides just striking up conversation with the people you meet at the beach or in the market, you can visit with and learn more about the Hawaiian people by visiting the many art galleries around Oahu or spending a day at the Polynesian Cultural Center. Coming from the mainland, getting to talk to men and women who've got an immense sense of pride and passion for their past, that was a treat and hopefully the kids remember it.
Tip: to have a down to earth Hawaiian experience, ask a local for their recommendation for live music. Chances are you'll be pointed to a place with both great tunes and a wonderful sense of community.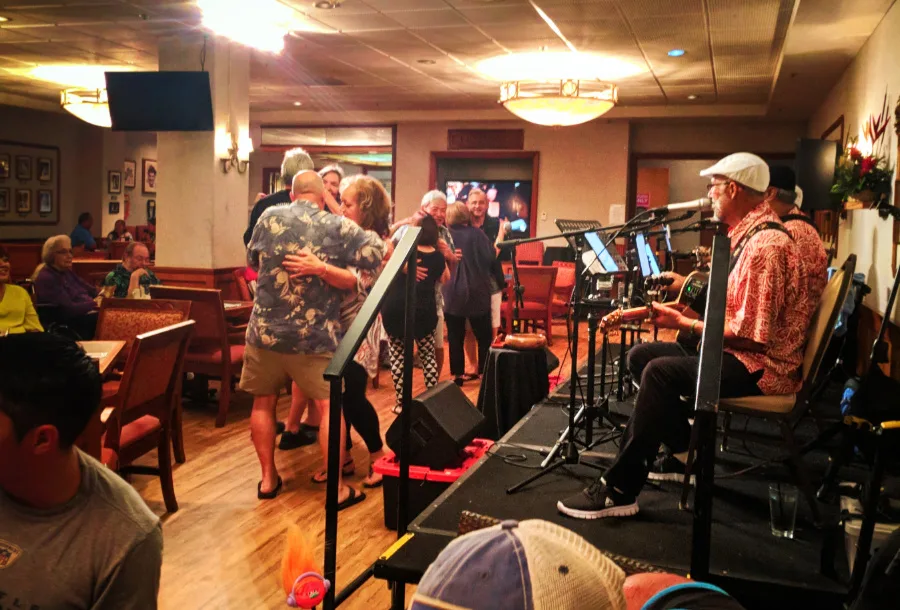 Even though we also loved all of our beach time, we really did enjoy that many activities all around Oahu that weren't on the beach. Additional non-beach activities for a fun Oahu trip include watching the Hilton Hawaiian Village fireworks (even if you don't stay there), getting out on the water, visiting the many museums in Honolulu, and also just relaxing at your resort (we loved staying at Aulani).
We found plenty of activities on Oahu in addition to our beach days and could've easily spent four or five more days exploring.
Did we miss any major experiences or activities on Oahu that you think we need to share? Leave a comment or send us a note so we know for next time!
And if you' want to pin this for planning your own Hawaiian holiday, go for it!