We've had the question countless times about whether or not we've been to Disney's Aulani on the Island of Oahu… and now we can say yes. We got to partner with Aulani to take the kids and experience the resort. It was some amazing family time and I'm so glad we can say yes now when somebody asks us about it.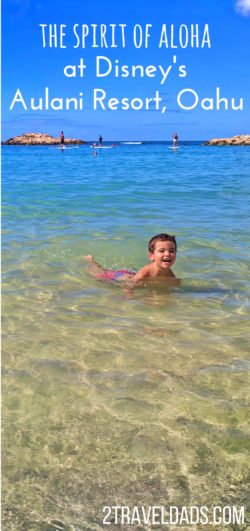 Disney's Aulani is a very cool spot, a resort unlike any other we've visited. We've got some details about rooms, dining, activities and more, so take a look at our trip and you will probably have all your questions answered. And FYI, if you have more thoughts or questions about Disney's Aulani,
send us a note
and we'll get back to you with more info ASAP.
Locale of Disney's Aulani Resort and Spa
So, you have to fly into Honolulu. That's your first step to getting to Disney's Aulani. Once you're there you can rent a car, catch a cab or book transportation to the Resort via Aulani itself. The drive is around a half hour and then you're there.
Disney's Aulani is located in the village of Ko'olina, Hawaii. There isn't a ton there besides the Resort and some other vacation lodging but it's got some service options, including a small grocery store. If a stay at Aulani is part of a bigger Oahu vacation, you'll find that you're about 45 minutes from Haleiwa or Kaneohe Bay. It's a pretty great place either to escape to or to use as a home base.
Tip: if you do go the rental car route, we recommend booking it out of HNL (the airport) as that'll save you $20+ per day vs having a pickup location AT Aulani.
Activities at Disney's Aulani
We love to explore when we go someplace new, but many families like to check into a resort and call it good. You can do either here at Aulani. The ideas below are all available directly at or through Aulani, but if you'll be on the island for longer, you can do many of these things on your own too.
Aunty's Beach House
We're going to start here because this is a huge offering from the resort that is kind of incredible… and it's FREE. Aunty's Beach House is a club for kids that they love beyond love. We weren't planning on using Aunty's Beach House before we'd gotten to Disney's Aulani but changed our mind pretty quickly. While technically a day-care, it's a safe, secure spot for kids ages 3-12 to hang out with cast members of the resort, to play games, to do crafts, and even to take hula lessons.
Aunty's Beach House was perfect for our family to leverage in the afternoon when our youngest needed a nap and our oldest was bursting with energy. He was all about getting some time away from us and also it allowed us to actually relax fully for a while without worrying that he was safe or having fun.
Tip: as soon as you know that you'll be at Disney's Aulani, register your kids online for Aunty's Beach House. It is a free resource that allows the adults some extra freedom. You don't have to use it as an actual daycare, but maybe just as a short break from time to time. Why not?
Idea: check to see what planned activities you can register your kids for in advance. There are all kinds of things, both for free and at an additional cost that your little people might enjoy (like surfing lessons with Chip and Dale!)
Waikolohe Waterpark and pools at Aulani
Finally we've found a waterpark situation the kids both think is awesome. In the very center of Disney's Aulani is the Waikolohe waterpark/pools. With several pools, hot tubs, a splash pad, water feature playground-type structure, waterslides and a lazy river, it's everything you could want with kids.
The biggest hits with our kids (2 and 6 years old) were the splash pad and the lazy river. The splash pad is great for just chillin' out in a place with no more than 2″ of water and endless entertainment of fountains. The lazy river is perfect for non-stop surprises around every corner, from waterfalls and geysers to spotting Mickey Mouse or Goofy from an inner tube.
Tip: if you're planning any pool time within a day, check in at one of the pool area towel stands early to get life jackets for kids that need them. While they have an impressive supply of vests, they do run out until families start returning them.
Also a good thing to know: there are adult pools too. Set away from the primary kid areas you'll find a quite 18+ pool as well as lots of lounge space. There's an adults only hot tub as well that looks out over the cove and to the Pacific Ocean… if you're into that sort of beautiful and relaxing sort of thing. 😉
Beach time on the cove at Aulani
We love a good beach with waves that are fun but not too big. The cove at Disney's Aulani is ideal for all ages when it come to water and waves. With breakers at the cove entrance and a reef just offshore, the tide pulling in and out of the cove is super mellow and offers just the right level of fun for smaller kids.
For big kids there is plenty of space for swimming, snorkeling around the rocks and even paddleboarding. For parents there are loads of beach chairs and umbrellas. For adults at Aulani without kids wanting some peace and quiet, there is a good portion of the beach set apart from everybody else where you can just lie and swim… and then go back to lying in the sun.
Tip: if you're spending time in Rainbow Reef (see below) you can show the attendants at the beach your pool bracelet or key card to get snorkel equipment for free.
Snorkeling in Rainbow Reef
What is Rainbow Reef: this is a Mickey-made reef in the middle of Disney's Aulani that's been stocked with hundreds of native Hawaiian fish, including the humuhumunukunukuapua'a. It's got a shallow area and a deeper reef for a controlled snorkeling experience.
Disclaimer for adults: if you've been snorkeling in the real world, you have already had an incredible encounter with nature. Rainbow Reef is cool, but is far from a natural snorkeling experience.
Big huzzah for kids: this is a great opportunity to teach your kids to snorkel in a fully controlled, very safe environment without the pull of tides or the fear of the open ocean. It's an incredible first experience to get kids psyched for snorkeling in the real world.
Access to Rainbow Reef is an additional cost, but if you're not planning on leaving Aulani or want to use it as a teaching tool with kids, it's totally worth the money. There are tons of beautiful fish in Rainbow Reef and you're guaranteed some wow moments, but go into it knowing that it's not snorkeling in the wild and is different than anything you've experienced before.
The Ka Wa'a Luau at Disney's Aulani
Wow. This was such a cool, unique experience and I'm so glad we got to do it. With delicious food (yummm, poke) and a really impressive show, the Ka Wa'a Luau on property at Disney's Aulani is phenomenal. The pre-show is all about the kids: from lei making and poi pounding to getting temporary Hawaiian tattoos and bamboo stamping.
The show itself was exactly what we hoped for from a luau and more. The singing, the dancing, the fire throwing… We were all pretty captivated from start to finish. The Ka Wa'a Luau was hosted by and centered around the people of Oahu and was all about the culture and heritage, but since it was a Disney production Moana, Mickey and Minnie all made very subtle appearances.
Like with everything at Disney's Aulani, the Luau was very much Hawaii first and then Disney second. It was a great representation of the history and art of the Island of Oahu.
Note: while off-property and eavesdropping on a conversation a local was having with a visitor to Oahu, I heard him recommend Aulani's luau as one of the best on the island. He stated that he brings his family from the mainland to this luau when they visit because it's so well done. I love hearing such solid recommendations.
Other Aulani activities
Other activities available through Aulani include visiting Pearl Harbor and the WWII Valor in the Pacific National Monument, exploring parts of Oahu with a guide, or even getting out on the water on a catamaran.  We did this last one and had an incredible time with the kids spotting sea turtles (and snorkeling with them), watching spinner dolphins jump, learning from a naturalist and more. It was the perfect Hawaiian family activity.
Dining around the Aulani resort
When you commit to a resort vacation it typically means that you'll be spending almost all of your time there on the property. This isn't a bad thing, but it's something you'll need to plan for. Dining at Disney's Aulani can be expensive for a family of four, but it's doable with a little pre-thought. Here are a few tips before we share some dining details:
check Yelp for restaurant ideas in the area just off property you can walk/Uber to
stop at a store prior to arrival to get snacks and wine. Units ALL have full kitchens that are well stocked for budget/family travelers that want to prepare some of their own meals.
for those with food allergies, try to review the on property menus ahead of time to plan, as there are few quick-service options for people with multiple allergies
The Ulu Cafe
We'll start here because this was our favorite. A quick-service restaurant near the pools, Ulu Cafe has a lot of grab-and-go options for lunch and snacks. This is also where you can get a pretty delicious kalua pork flatbread or you can build your own poke bowl.
Tip: if you haven't gotten to explore Oahu on your own yet, be sure to get a poke bowl at the Ulu Cafe. They have a great selection of quality ingredients to build poke bowls. Also, for dining on property at Aulani, the poke bowls at Ulu Cafe are for sure the best value for their cost.
Character dining in Makahiki's at Aulani
On our last two Disneyland trips we skipped doing any character dining with the kids. We got to do it at Disney's Aulani! It was so fun! If you're unfamiliar, character dining is where you go for a meal and then certain notable friends happen by your table. At Aulani these friends included everyone from Mickey and Minnie to Aunty (the Hawaiian spirit of ohana, or family).
The food at Makahiki's was really good too, so that was nice. The breakfast buffet included your standard offerings, but also had all kinds of local dishes and Asian influenced cuisine. There was a great spread for all kinds of palates and appetites.
Note: since the kitchen knew about the food allergies in our family the chef came out and talked us through offerings and then made a special plate just for our youngest. Wonderful service!
Upscale dining at 'Ama'Ama
Even though we like to keep things chill and simple, sometimes it's nice to have a nice meal in a nice place and to feel a little bit fancy. Dinning at 'Ama'Ama was just that. Breakfast looking out at the Pacific Ocean is a beautiful experience, but add to it some quality dishes with a local flare and you've got something special.
We had lots of fresh fruit and some amazing macadamia nut pancakes, but the thing that really stood out was the Loco Moco. For those who aren't quite down with the food of the Islands, Loco Moco is an awesome and delicious combo of a hamburger patty (or S.P.A.M.), rice, onion gravy and an egg. Sounds bizarre, tastes like heaven.
Tip: for all mealtimes, 'Ama'Ama does have a dress code to follow. Be sure you're not wearing flip-flops, tank tops, or swim shorts to be able to dine at 'Ama'Ama.
The Laniwai Spa at Disney's Aulani
Spa day! OMG! Between varied appointment times for us dads and leveraging Aunty's Beach House for our oldest, we got to have some pretty wonderful spa experiences. The Laniwai Spa at Disney's Aulani is very special for a few reasons, but we don't want to give away the farm so we're only sharing some snippets.
We both received lomi lomi massages that had a hot stone element to them. I loved mine (Rob here!) and really appreciated the the different type of focus and pressure in the lomi lomi segment of the massage experience. Chris was fine with or without it. But is a massage ever not a complete delight?
Tip: massage is really personal, so book what you want but be clear during the actual experience what you're enjoying and not. It's your time and money, so make it count.
The other highlight of our time in the Laniwai Spa was getting to relax in the hydrotherapy garden. You're welcome to arrive early and stay as long afterwards as you like. Finishing the massage experience with a few minutes in the eucalyptus steam room and then a plunge into either the cold pool or the hot tub just makes a spa day even better, so plan a little extra time.
Accommodations at Aulani
Traveling a lot as a family of four, we know how to make any sort of hotel or condo accommodations work for us. Our one bedroom villa (condo style unit) at Disney's Aulani was ideal for us. We had a full kitchen, washer/dryer, living room (with the kids' beds), master bedroom, two balconies, a jetted tub, rain shower and complete comfort.
When we've got all four of us traveling, we've come to appreciate and always book/request accommodations with separate space. That doesn't always need to be a separate bedroom, but at least a balcony that we can relax on once the kids go to bed. We saw both the one bedroom villa (ours) and a junior suite and both had ample space for a family of four to be comfortable.
Tip: if you're interested in staying at Aulani, the Grand Californian Hotel or other Disney properties, check out the Disney Vacation Club, either online or in-person when you're at a property. There are some really cool places you can use the DVC membership and you may have a new favorite way to travel.
Note: check out our article about Timeshare Usage for our thoughts on vacation ownership.
We had a great time at Disney's Aulani. We were there for five days/four nights and that was plenty of time. With our travel style, we would've been happy with three days and then an extra day exploring the rest of Oahu, but having an extra day of relaxation was great too.
Should we return, we'd most likely book three nights so that we can enjoy the convenience of pool and beach together, as well as take advantage of Aunty's Beach House, but then seek out another part of the island. Hawaii, and Oahu specifically, has so much to offer and spending time at a resort can only give you so much of that Hawaiian experience. Having said that, Disney's Aulani is a beautiful place, true to Hawaii and we would happily add it to our next family trip to Oahu.
Want to pin this for planning your own family getaway to Oahu at Disney's Aulani? Go for it!!!