There's nothing like a Washington DC and Virginia road trip. We often talk to our kids about how important history is, even when it's been whitewashed and edited, and as such we visit a lot of historic sites on our travels. Washington DC and Virginia hold an incredible number of important sites and stories, so this road trip route will take you through a good portion of the Revolutionary War and growth of our nation.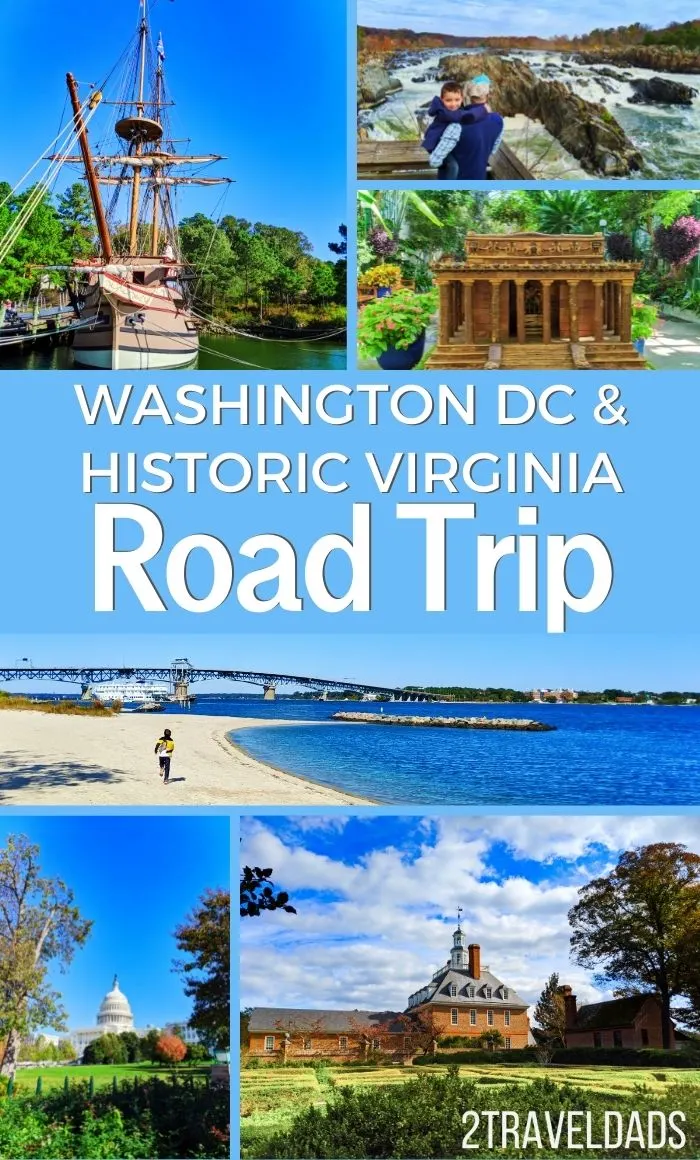 Jump to our Washington DC and Historic Virginia road trip itinerary
I love this road trip route for many reasons, and one of them is that I remember doing it as a kid. I've since gotten to relive this road trip with my own children. There's something about being able to see the places you've learned about in school, or to be able to explain to kids that "This is where…"
For my family, this was really fun, and a first-timer trip to the National Capital region. This was also the first time either of our kids genuinely were interested in history. They even wanted period costumes… but you'll have to decide if that's right for you.
Check out our Road Trip Planning Tool to set up your itinerary AND BUDGET
Washington DC Through Virginia Route
Washington DC is located between the states of Maryland and Virginia. It's easiest to start the road trip to Virginia Beach in DC because there are three airport options, all with lots of direct flights from nearly anywhere in the USA or Canada.
You can fly into Washington Dulles (DUL), Washington Reagan (DCA) or Baltimore Washington International (BWI) airports. All have all major car rental brands and are easy launch pointed for a Virginia and Washington DC road trip.
Whether you want to start in DC and head south or go from Virginia Beach to Washington DC, the route along I-95 is the fastest for your big travel day. For the fun part of the drive with all the interesting stops and activities, you'll be on Virginia state highways for most of it.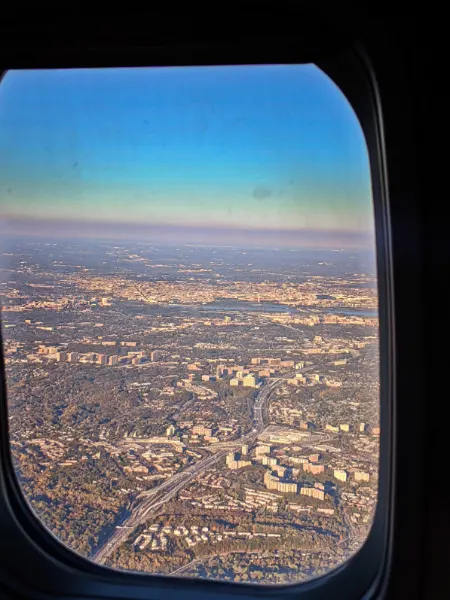 How long does it take to get from Washington DC to Virginia's Historic Triangle?
Virginia's Historic Triangle is the biggest draw of SE Virginia. We love it! This area include Jamestown, Yorktown and Colonial Williamsburg. It's about four hours drive or less from Washington DC to Williamsburg, and you'll find lots of easy stops along the way to break it up if you like.
Once in the Williamsburg area, you can stay in town or continue down toward Newport News or Virginia Beach. There are countless things to do in the area, so if you can plan an extra day to explore on your own, do it!
Something to consider when planning how long of a drive you'll have is traffic. DC traffic can be epic. Leave the Washington DC area to head south before 3:00 pm if you want an okay drive. Once the traffic begins, you'll be adding potentially more than an hour to the drive.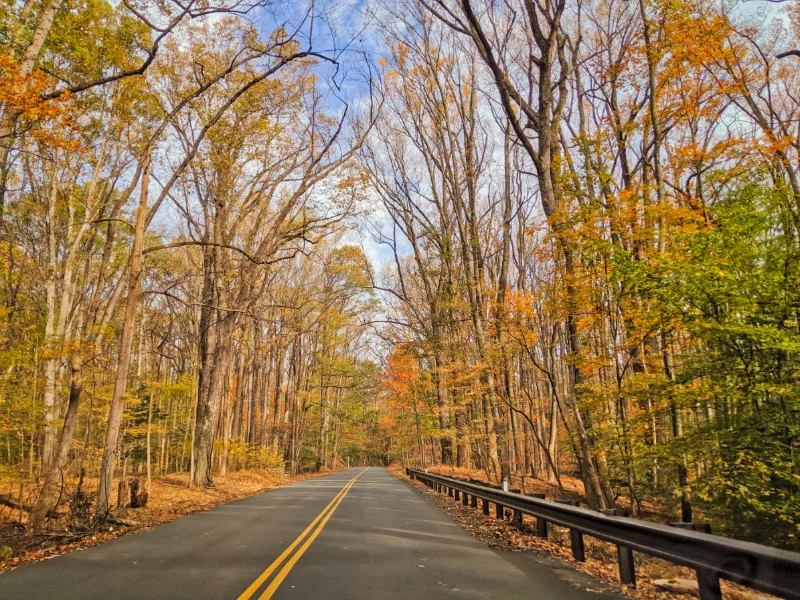 How long does it take to drive from Washington DC to Virginia Beach?
If you'd like to drive from Washington DC to Virginia Beach, it's a solid four hours. If you map it you may see a drive time of 3.5 hours, but that's not realistic. Between needing to make stops for the bathroom, food, and random points of interest it's going to take at least four hours.
Where should I go on a road trip in Virginia?
This is the part I love when writing about road trips. I love finding all the best things to do, especially in historic places like Virginia and Washington DC. Pick and choose from the following, but remember that the best way to get a sense of place is to not just see the top sights, but to meet the people. Enjoy small restaurants and pop into the shops you see. You'll be glad you did.
You'll see there are a ton of both Revolutionary and Civil War historic sites. These are very good stops to make on a Virginia road trip, as they provide tons of information about the area and how it fits into the overall history of the United States.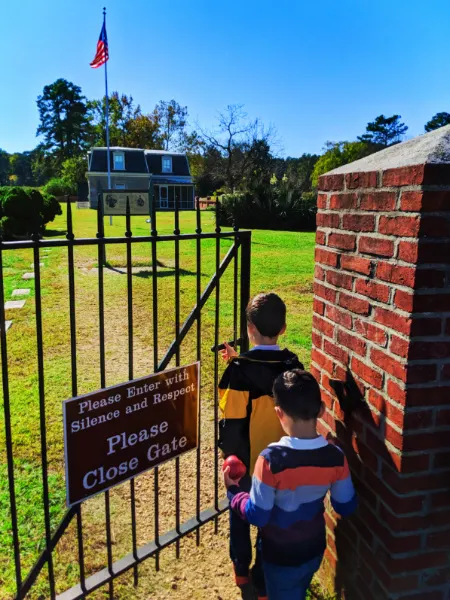 Another type of stop you may find along the Washington DC to Virginia Beach route is historic or Antebellum home sites. I would approach these historic road trip stops with caution. Although the way history is presented is becoming more accurate and less whitewashed, plantation houses still tend to paint slavery or the Civil War as less evil than it actually was. You find this a lot if you do a North Georgia small towns trip and visit privately owned homes, but Civil War battlefields and National Park sites give a pretty accurate depiction of the history of the USA.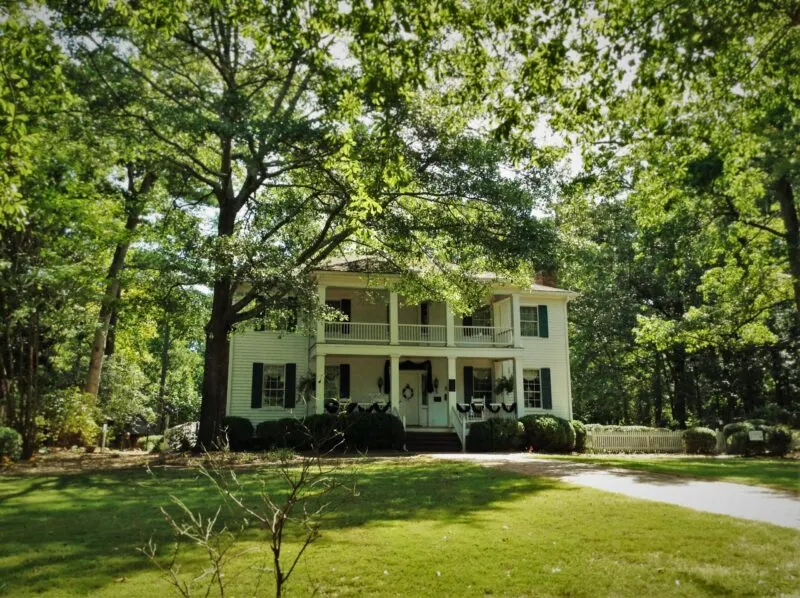 What is there to do in Washington DC near Virginia?
Washington DC is directly across the Potomac River from Virginia. You'll find that you can actually walk into DC from Arlington, Virginia, or you can take the Metro trains from nearly anywhere else around Northern VA. From the Tidal Basin, which is the PRIME place to see cherry blossoms in Washington DC, to the west end of the National Mall, it's easy to access some of the best of DC from Virginia.
If you're staying in Fairfax or Vienna for your time visiting Washington DC, you'll have lots of Metro stops to choose from depending on what things you choose to do each day. There are some wonderful hotels in Washington DC, but stay where is right for your budget.
THERE IS NO NEED TO DRIVE INTO WASHINGTON DC. There, I just saved you hours each day. Wherever you stay, you really don't need a car in Washington DC. If you're ending your Virginia/DC road trip here, you can even take boat down to Mount Vernon for a day trip. No car needed.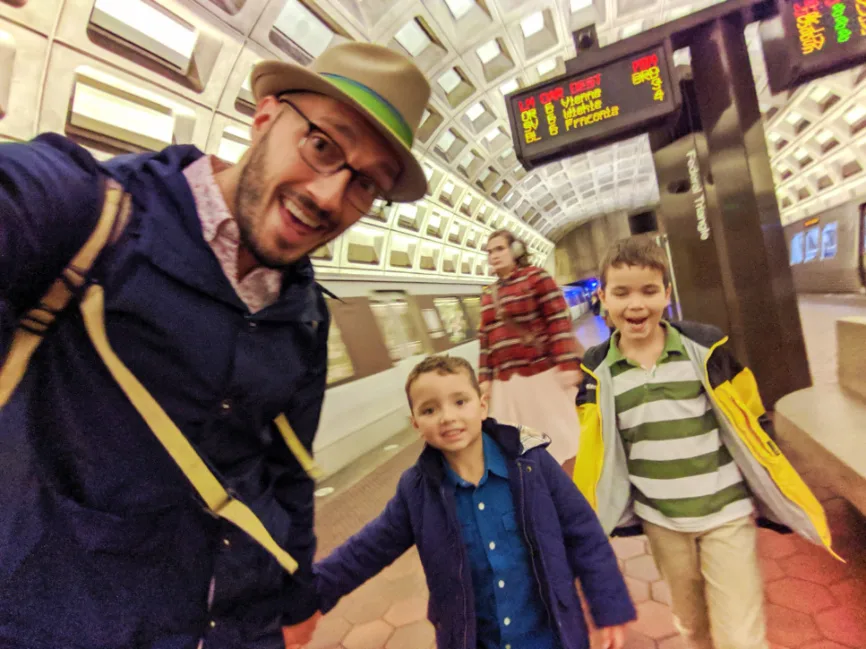 ---
Washington DC & Historic Virginia Road Trip Itinerary
Alright, here we go. This road trip plan goes from Washington DC to Virginia Beach and then you make all the fun stops for things to do as you drive north. If you happen to be driving up to Virginia from the South, just start at Day 2 and work your way up, and visa versa if you're driving down from New York or Pennsylvania or something.
This and many more road trip itineraries can be found in my book, The Road Trip Survival Guide.
Start: Fly into either Washington Regan (DCA), Washington Dulles (IAD) or Baltimore Washington International (BWI), as this is where your loop road trip will end. If you would like to do a straight shot, fly into Newport News (PHF) and then out of a Washington DC area airport. Depending on your origin, Baltimore (BWI) may also be an option instead of DCA or IAD, as there seem to be more direct flights to BWI from Washington and Oregon for some reason.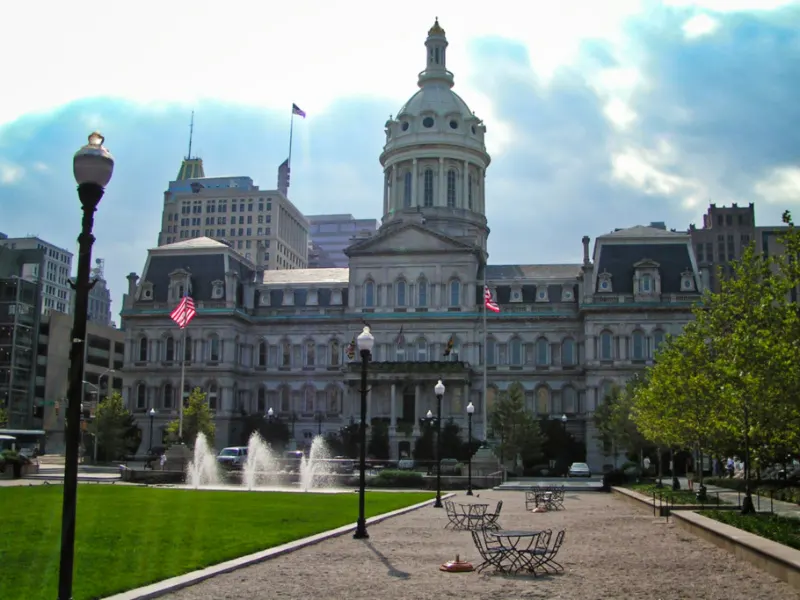 Day 1: Washington DC to Virginia Beach Drive
Drive from the Washington DC area south to the Newport News region of Virginia. It's always best to get some beach time to start a vacation, so begin with Virginia Beach and begin your road trip with relaxation and fun. There's a boardwalk and wonderful townsite to entertain you. So much fun stuff to do at Virginia Beach! It's the perfect way to start your trip feeling refreshed. Virginia Beach with kids is a blast, especially in summer.
Sleep in: Virginia Beach
Day 2: Shark Tooth Hunting and Historic Jamestown
After breakfast, make your way to Chippokes Plantation State Park to do some kayaking or tour the Antebellum mansion and farm. This is also a place known for finding megalodon shark teeth, so keep your eyes out! Next, visit Bacon's Castle, the oldest brick home in North America, before you drive onto the very small (free) ferry from Scotland to Jamestown.
Tip: if you have built extra days into your itinerary, enjoy some time in Norfolk, Virginia before heading to Jamestown and Williamsburg. There are lots of things to do in Norfolk!
At Jamestown Settlement, enjoy the very comprehensive museum detailing the history of the area and then wander through the settlement, including touring the sailing ships. Make a reservation for dinner at the King's Arms Tavern in Colonial Williamsburg for an historic meal by candlelight.
Sleep in: Williamsburg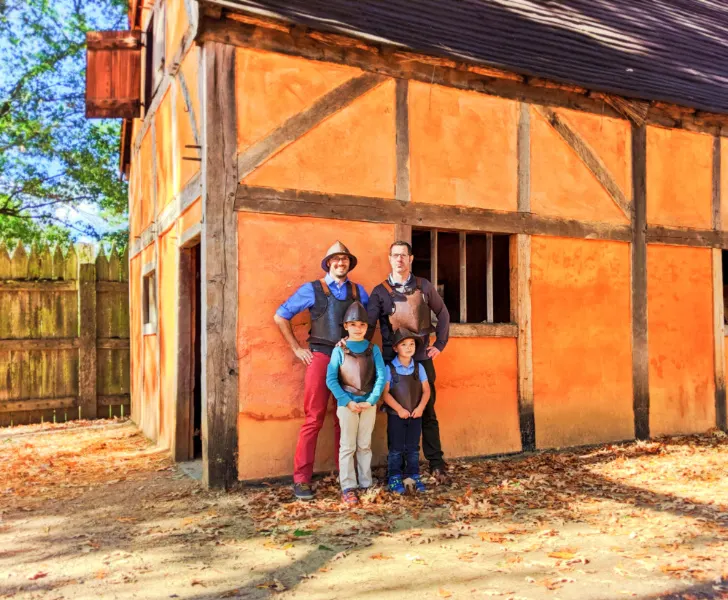 Day 3: Best of Colonial Williamsburg
Immerse yourself in living history with a full day at Colonial Williamsburg. Visiting the Governor's Mansion, Capitol Building and the many smithing shops, this is a fun day full of unique experiences. If you finish Colonial Williamsburg early, you can drive over to Yorktown to visit the American Revolution Museum and stroll along the riverwalk.
Head back to the town of Williamsburg to find dinner, winding out your day with a ghost tour by candlelight. Our favorite dinner spot in Colonial Williamsburg is the Kings Arms Tavern. Amazing historic food and you dine by gaslamp or candlelight.
Sleep in: Williamsburg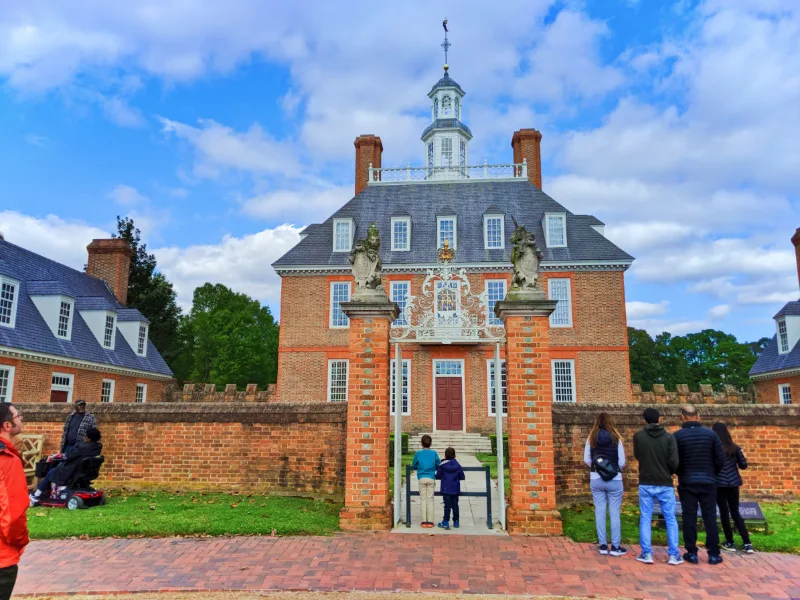 Bonus: if you have the time, add a day at Busch Gardens Williamsburg. It'll be fun to mix a day of rollercoaster thrills to your Virginia / DC road trip!
Day 4: Historic Homes and Mount Vernon, George Washington's House
Head north to Westmoreland State Park (one of the prettiest Virginia state parks) for exploring more of the coastal marsh area by kayak or look for shark teeth in one of the most concentrated fossil areas in Virginia. Plan a visit to Stratford Hall if you need another living history experience or if you just want to wander the grounds of this amazing estate.
After some lunch in Montrose, visit George Washington's Birthplace National Historic Site. Leaving this rural part of Virginia, make your way to Mount Vernon, George Washington's home, for one last historic tour.
Sleep in: Fairfax or Alexandria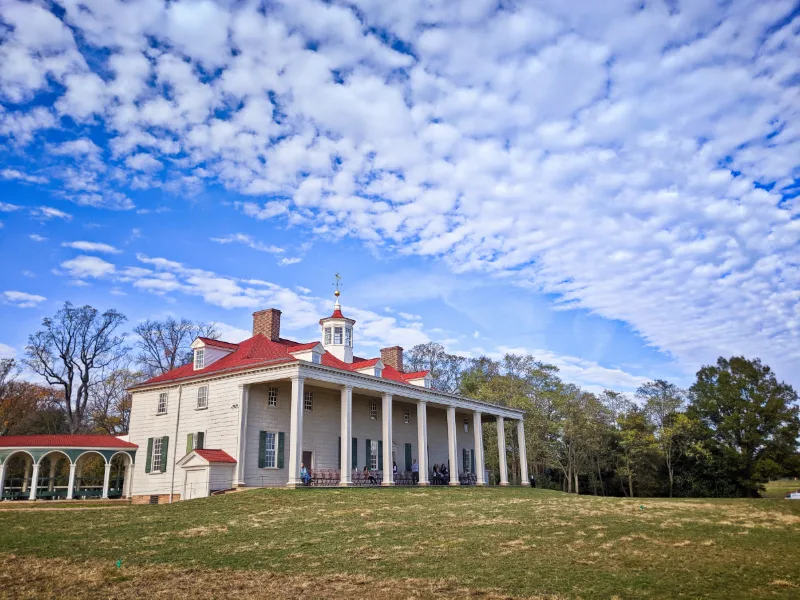 Day 5: Raging Waterfalls and the Space Shuttle
Find breakfast in town before you head west to Manassas. Even though this Virginia / Washington DC road trip focuses on the Revolutionary War, the first major battle of the Civil War happened at Manassas, and it's worth visiting for a different look into history.
By lunchtime, head north to Great Falls Park, where you'll walk along the raging, epic rapids of the Potomac River. This is really gorgeous in the fall, a wonderful place to see some of the best fall colors in a National Park.
Your next stop is the Udvar Hazy Air and Space Museum, a Smithsonian affiliate. Here you'll get to see all kinds of aircraft and even a Space Shuttle! Head to downtown Alexandria to wander around Old Town and the waterfront, eventually getting dinner in the historic quarter.
Sleep in: Fairfax or Alexandria
Day 6/7: Explore Washington DC Sites and Museums
The next day or two is spent exploring Washington DC, the nation's capital. You no longer need a car as you can take the Metro wherever you need to go, including back to the airport (DCA, IAD, BWI). Visit the greatest museums in the USA as you spend time in the many Smithsonians. Top choices:
Museum of Natural History
Museum of American History
Museum of African-America History and Culture
Museum of the American Indian
American Art Museum
National Portrait Gallery
This is a lot of museums, so pace yourself and know that you don't have to do or see them all.
In addition to the museums, there are also fascinating sites and tours to do including Ford's Theater, the National Capitol and the Washington Monument. Visit the United States Botanic Garden, walk the National Mall, and make your way to the Tidal Basin for the Jefferson Memorial. To do it all, you need three or four days, but two days is also plenty if you choose what's most important to you.
Sleep in: either continue where you've been staying or switch to a hotel IN Washington DC.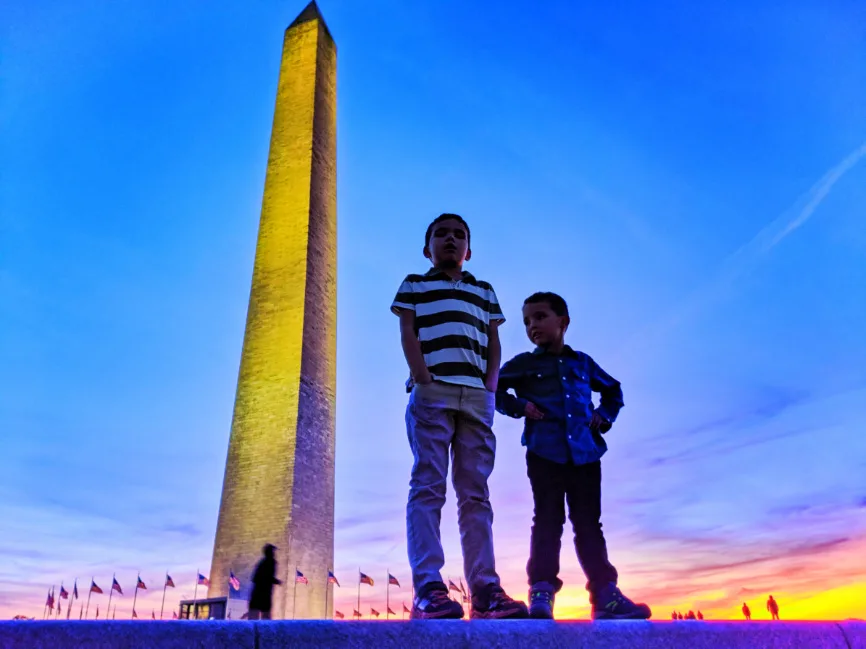 Depart: take the train to your departure airport. If you are continuing to explore the National Capital Region, it is easy to head north into Maryland or New Jersey, and Philadelphia is also rather close and an easy edition to your road trip.
---
We hope you have a great trip and discover some new aspects of US history you didn't know about before. Drive safely and check back often for fresh road trip plans!