We love Oregon and have spent more time there than any other state that we haven't lived in. The adventures in Oregon never end with countless fun things to do. Must see places and beautiful places to stay are everywhere. This is our Oregon bucket list, many of which can be done on a weekend or road trip.
So many of the unique places in Oregon are within an hour or two of a major city (Portland, Eugene, Bend…). Sightseeing in Oregon is a breeze in spring and fall, with most people traveling in the peak of summer, so plan a trip for the changing seasons and enjoy the quiet beauty!
Check out our 10 Day Oregon Loop Road Trip plan!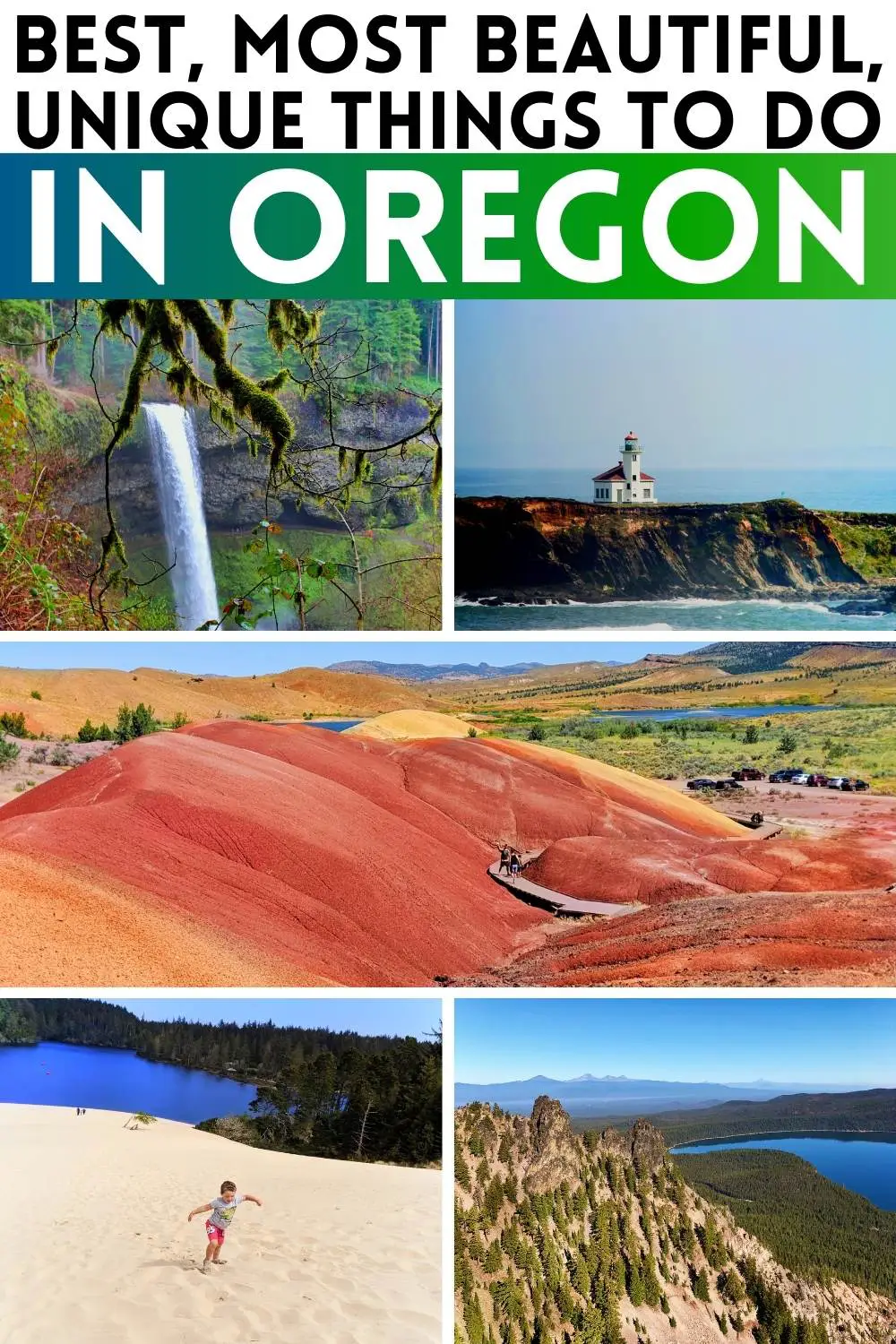 Must See Places Around Portland and Northern Oregon
Most people will visit Oregon either on a work trip to Portland or on a road trip, maybe driving up doing an Oregon Coast road trip. However you arrive, you'll find plenty of adventures in northern Oregon. Sightseeing in Portland and beyond is very easy, with many unique places and things to do. Our Oregon bucket list begins in Portland and heads east along the Columbia Gorge and Willamette Valley. There are lots of places to drive for the day or a weekend trip out of Portland.
Already know you want to visit Portland? There are some beautiful places to stay, both in and very near Portland. As you head away from the city, you'll find some very unique vacation rentals and small hotels, particularly near the waterfall areas.
Street Art in Portland
I think we can safely say that Portland, Oregon has earned a reputation for being unique, quirky, artsy and hipster all at once. With the growing popularity of Portland as a weekend trip for city sightseeing and food, street art has become more and more common.
Artist grants and public projects have given rise to beautiful walls all around Portland, from brick walls in the Pear District to new condos in East Portland. A weekend trip to Portland is the perfect time to spy street art.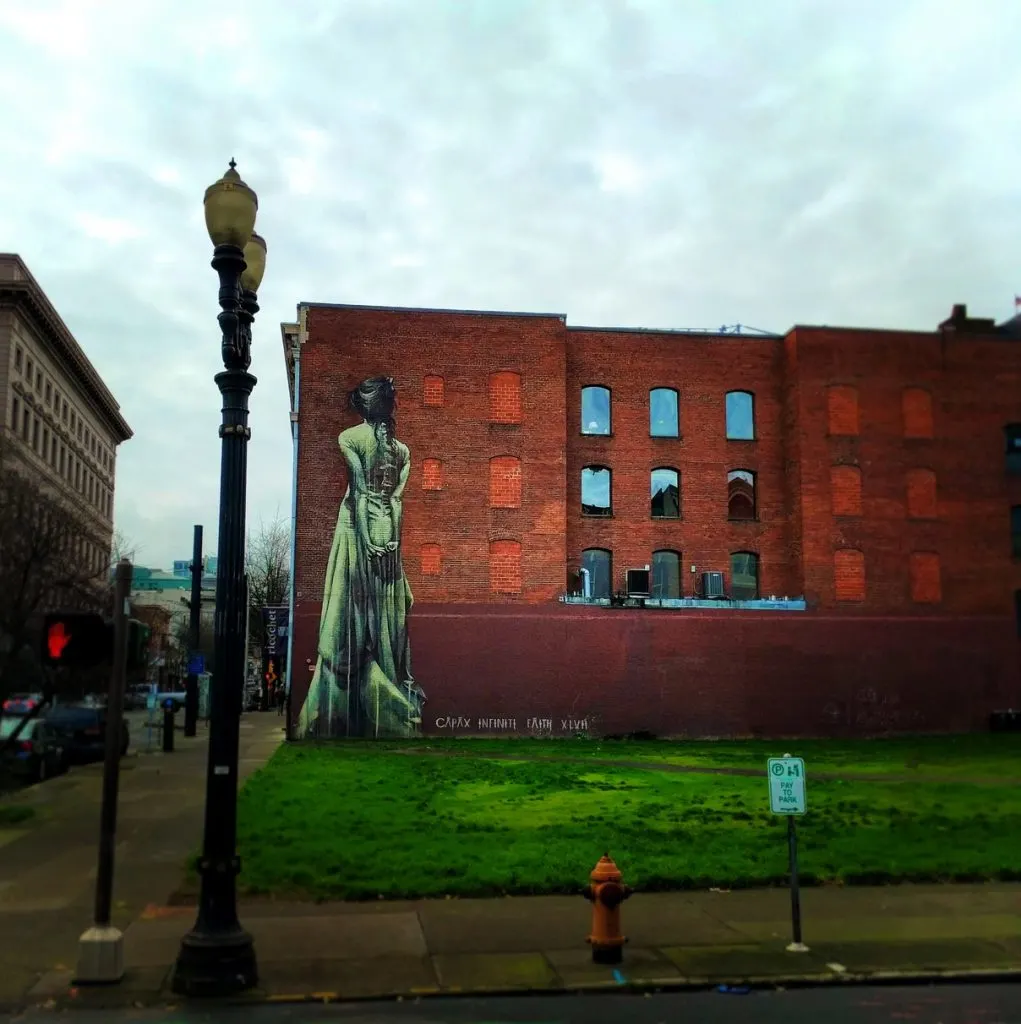 Witch's Castle Hiking in Portland
On the west edge of Portland there is a park full of hiking trails. In general you wouldn't think of Portland's Forest Park, and in particular the Macleay Park section, as an Oregon tourist attraction, but the beautiful ravines and hillsides side one of the coolest things to do in Portland: hiking to the Witch's Castle.
In Macleay Park there are ruins of a homestead built in the 1930s. Take the Lower Macleay Trail to get to the ruins, now affectionately called the Witch's Castle. A beautiful place to visit, add it to your weekend plans for sightseeing in Portland. Also, this Portland hiking adventure is very near the Pittock Mansion and Oregon Zoo, so it's an easy add to your itinerary.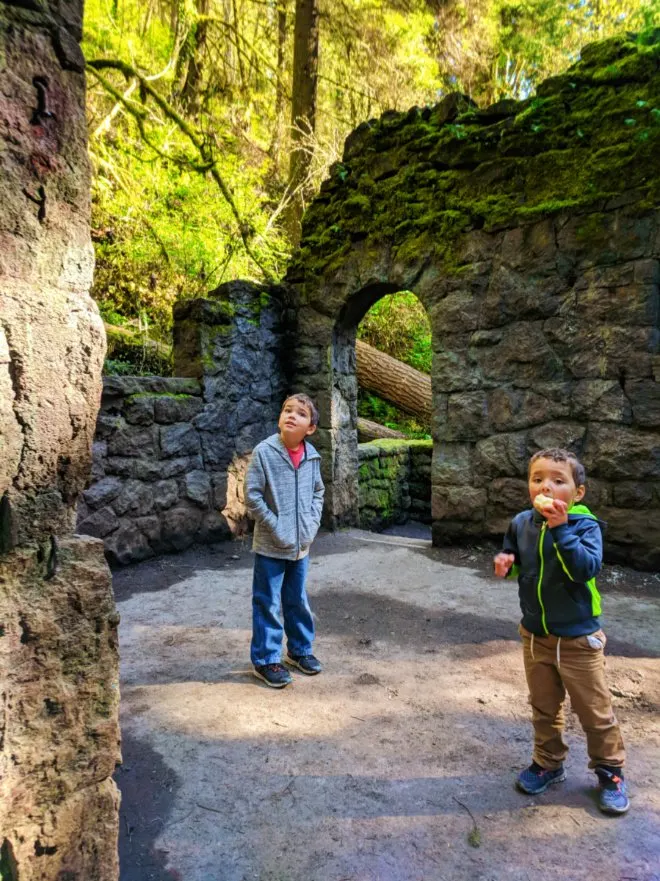 Oregon Wine Country in the Willamette Valley
Just beyond Portland lies the Willamette Valley. Yes, much of this incredible wine region is found in the I-5 Corridor, but there is a whole wine route you can travel for awesome adventures in Oregon wine!
Check out our guide to the Best Family Friendly Willamette Valley Wineries!
Between Portland and Salem you'll be able to visit more than 100 tasting rooms, wineries, wine bars and vineyards. Oregon is known for its Pinot Noir, so be sure to try as much as you can and learn EVERYTHING you can about it. See, it's a unique educational activity?! Sightseeing in the Willamette Valley is a photographer's dream.
Columbia Gorge Waterfalls
The most popular tourist attraction in Oregon is Multnomah Falls in the Columbia River Gorge. For sure, the Columbia Gorge Waterfall Area is among the must see places in Oregon. Sightseeing in the Gorge can include hiking, biking or just enjoying the drive on historic Route 30.
Visiting the Columbia Gorge Waterfall Area is a very popular weekend activity for people visiting Portland, so plan you time accordingly. The best time to actually visit Multnomah, Latourell or Horsetail Falls is during early spring when the water levels are the highest. During summer there are more tourists and the water level is typically quite low, so visit in spring instead.
Another great time to visit the Columbia Gorge Waterfall Area is in the coldest part of winter. Typically in January or February many of the waterfalls will partially freeze, creating ice castle all around their splash zones. While the falls themselves may not fully freeze over, the icicles and ice mounds are incredible, and some of the most unique sights during the Oregon winter.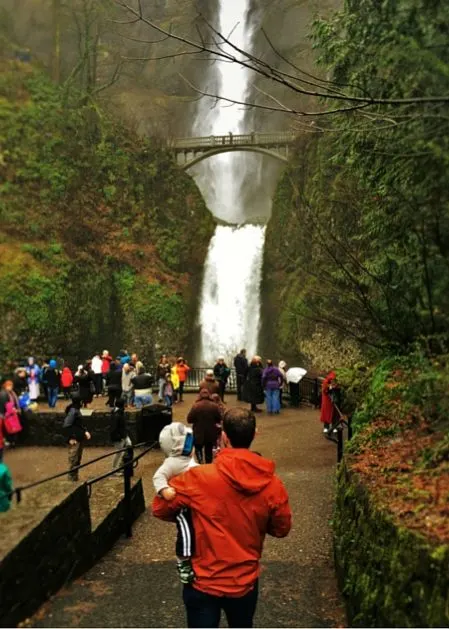 Must See Silver Falls State Park
A little over an hour from Portland, just on the edge of the Willamette Valley is the must see sight of the Cascades: Silver Falls State Park. A collection of waterfalls, hiking trails and even gardens, Silver Falls is a unique tourist attraction and natural destination.
The highlight of Silver Falls State Park is the Trail of Ten Falls, where you can hike behind South Falls and see countless streams and other cascades. Particularly beautiful when the colors are changing, the best time to visit Oregon's Silver Falls is in fall. It may be a little wet, but it's gorgeous and is truly one of the best things to do in Oregon.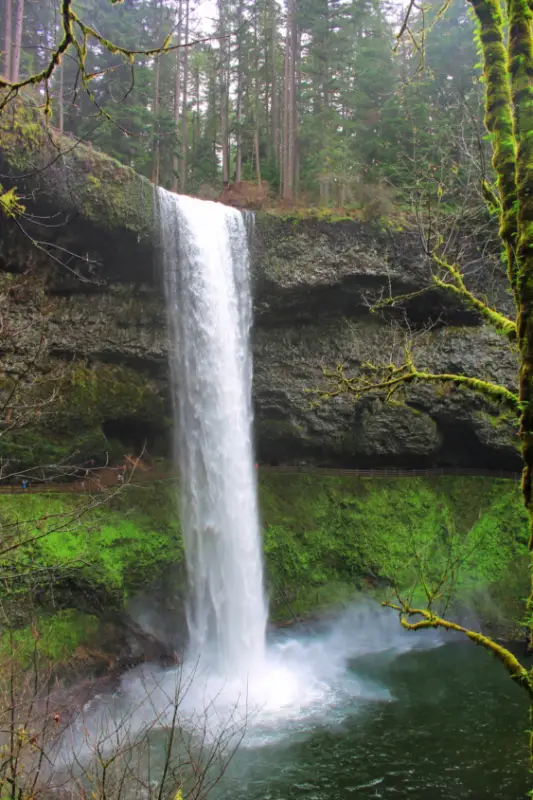 Outdoor Adventures in Hood River, Oregon
Adventures in Oregon start in Hood River. We spend a ton of time kayaking in the Pacific Northwest and Florida and will NEVER meet the level of outdoor adventuring the people of Hood River have in their lives.
Whether it's windsurfing on the Columbia River, skiing at Mount Hood Meadows or kayaking on white water rapids on the Washington or Oregon sides of the Columbia, Hood River is the outdoors destination you can only imagine. With all of the outdoor fun also comes a good collection of breweries (Full Sail), wineries, museums and the Fruit Loop agritourism route.
Hood River is a great weekend getaway from Portland or Seattle.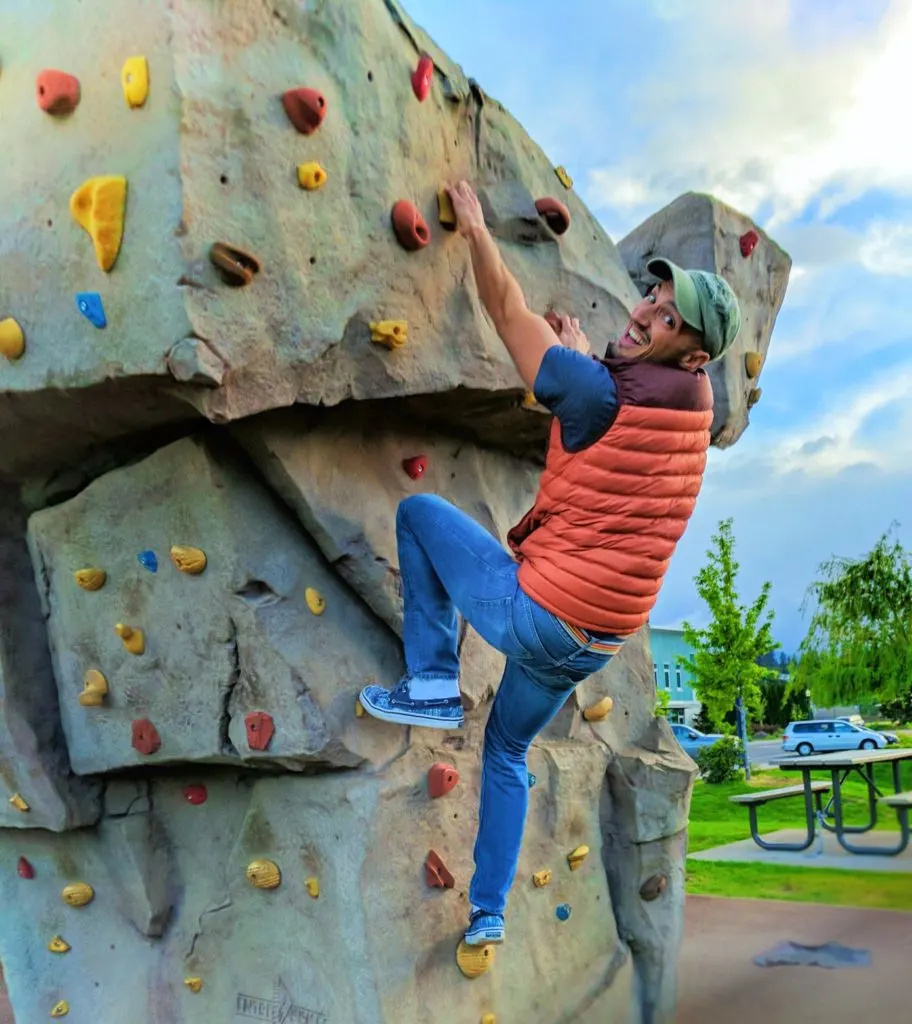 Top Sights and Places to Drive from Bend
Bend, Oregon itself is a fun, vibrant city. A town built around outdoor adventures in Oregon, Bend is a great destination for unique places with beautiful spots to stay any time of year. Close to Mount Bachelor and other ski areas, Bend is very popular even in the snow. There are so many things to do in Bend with kids or just on your own.
During the winter, many vacation rentals cater to skiers, but in the summer, Bend and the surrounding area is a hiking/kayaking/mountain biking dream with lots of beautiful places to stay very near trail and river access points. Yes, Bend is a more costly place to stay, but you'll love it.
Craft Beers in Bend
It may seem strange to call out Bend, Oregon's craft beer scene as one of the best things to do in the state, but it really is. There are so many local craft brewers here that we actually wrote a guide to the best breweries in Bend and DIDN'T include more than half of them, despite having visiting nearly every tasting and tap room.
Craft breweries are such a draw for the city of Bend that there is a brewery passport, the Bend Ale Trail and several events throughout the year celebrating the brew culture. Some breweries take the experience above and beyond, such as Worthy Brewing which has a hop garden AND a telescope for stargazing at the brewery.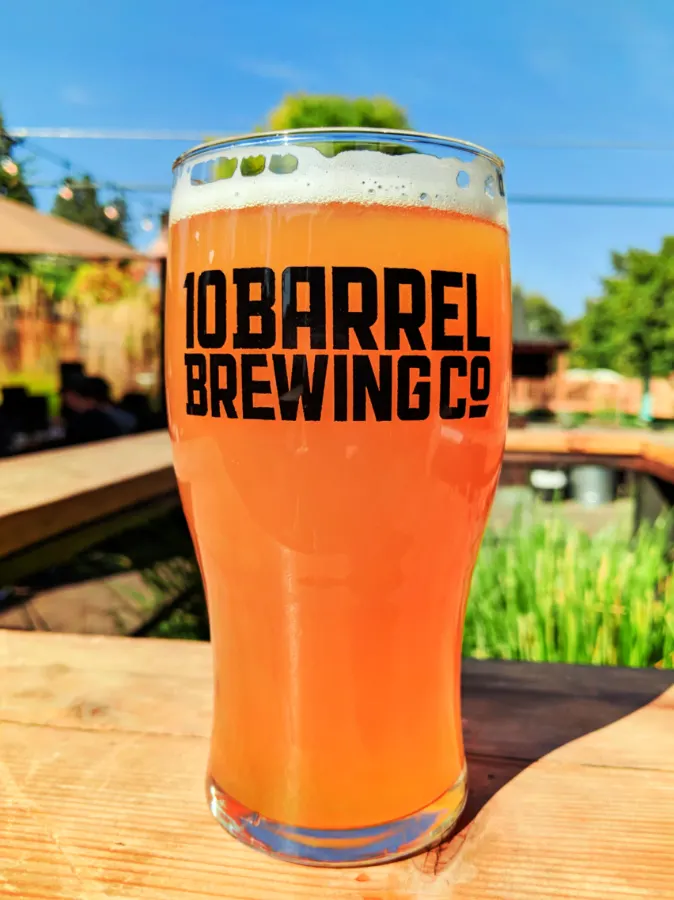 Beautiful Hiking at Smith Rock State Park
Just to the north of Bend, Oregon you'll find one of the most epic state parks around: Smith Rock State Park. A collection of unique geologic features set along the Crooked River, hiking at Smith Rock State Park is absolutely beautiful. It's one of the best things to do in Central Oregon.
The best time to visit Smith Rock State Park is early in the morning before it's too hot out. If you want to hike the famous Misery Ridge Trail, get there nice and early and bring LOTS of water. Smith Rock gets pretty busy on the weekends, so it's better to visit mid-week, and if you can go hiking at Smith Rock in the springtime, you'll be treated to desert flowers blooming and cooler temperatures.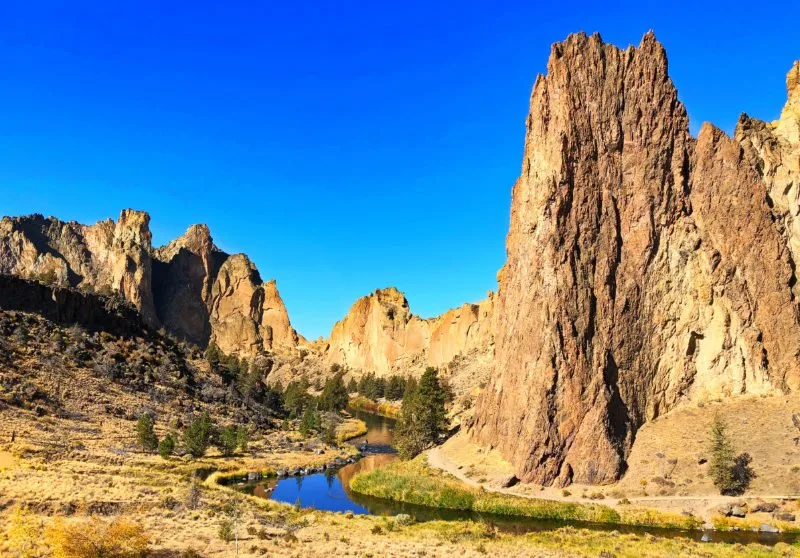 Deschutes County Hiking for Waterfalls
Deschutes County, the county that includes all of Bend, has some of the best hiking adventures in Oregon. Whether you want to walk along the Deschutes River at Dillon Falls or hike to the impressive Tumalo Falls out in the National Forest, there is no shortage of fun things to do in Deschutes County.
You'll find that a day in the Deschutes National Forest includes plenty of beautiful places to drive to for easy or difficult hiking. Also, there are some beautiful places to stay around Bend and all around Deschutes County. If you're into glamping, there are cabins, yurts, glamping tents and more all at the edge of the wilderness of the Deschutes National Forest.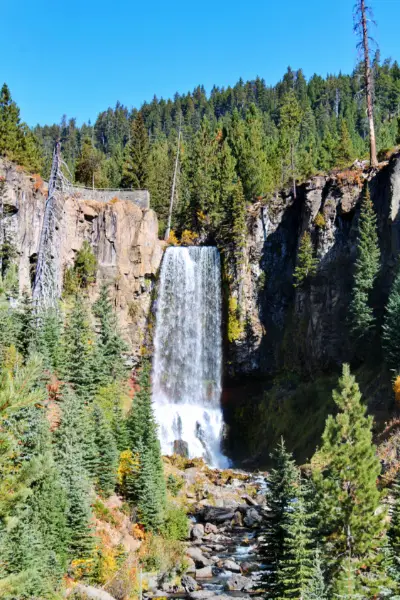 Newberry Volcanic Monument
There are a number of volcanic sites you can visit around the USA, including Mount Rainier National Park, Mount St Helens, and Lassen National Volcanic Park, but the Newberry National Volcanic Monument is really different. There are several unique things to see, including its tallest point, Paulina Peak, but the highlight is the bizarre obsidian flow.
Unlike anything I've seen anywhere else, hiking at the Newberry Obsidian Flow is one of the best things to do and most other-worldly adventures in Oregon. The Big Obsidian Flow trail is lined with shining, black glass obsidian boulders and rocks. Like another planet, the Newberry Caldera is one of our favorite must see places in Oregon.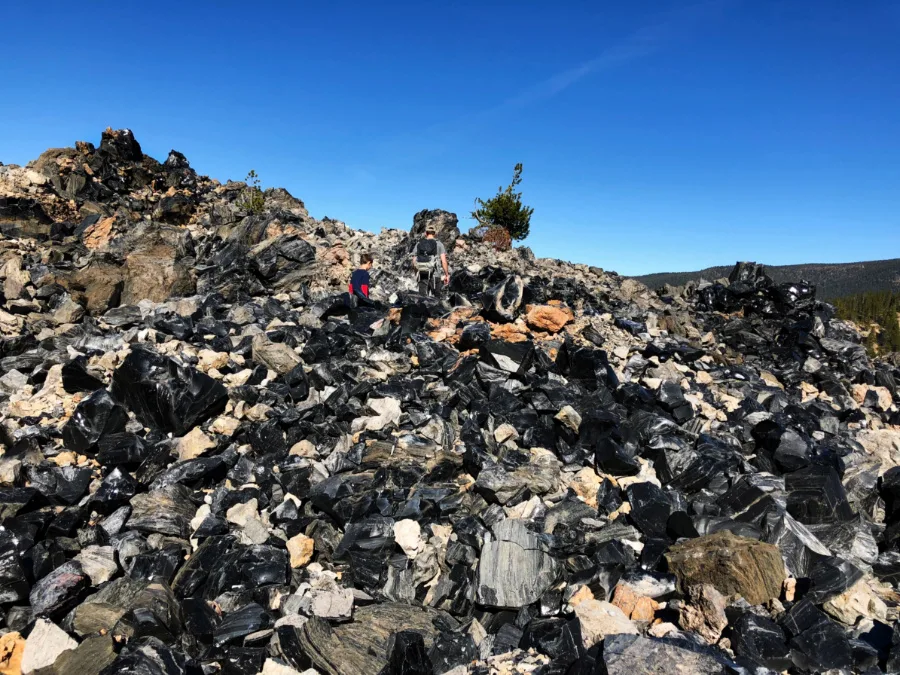 The Colorful Painted Hills
Without a doubt on of the most beautiful places to explore, the Painted Hills of Oregon are phenomenal. The best time to visit the Painted Hills is in spring or fall when the temperatures are more agreeable, but any time of year you'll be blown away. Sightseeing at the Painted Hills takes you to easy hiking trails through colorful mounds that look different in every type of weather.
An easy weekend trip from Bend or Portland, the Painted Hills are a must see sight and truly one of the most unique tourist attractions in Oregon.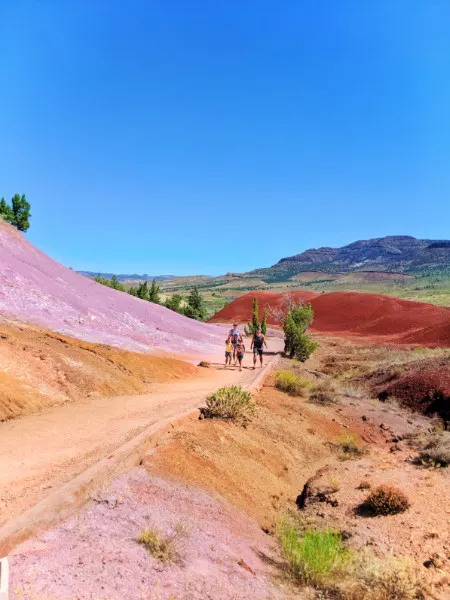 Blue Basin at John Day Fossil Beds
A part of the same National Park site as the Painted Hills, the Blue Basin is yet again another bizarre must see Oregon attraction. The Blue Basin is located in the Sheep Rock Unity of John Day Fossil Beds National Monument, just east of Bend.
The furthest away of the places to drive to from Bend, the Blue Basin is so unique that even the obsidian flow and painted hills doesn't compare. Fun things to do at the Blue Basin include the Island in Time and Blue Basin Overlook trails. The best time to visit the Blue Basin is in the mid to late afternoon so the sun shines on the blue and green canyons just right.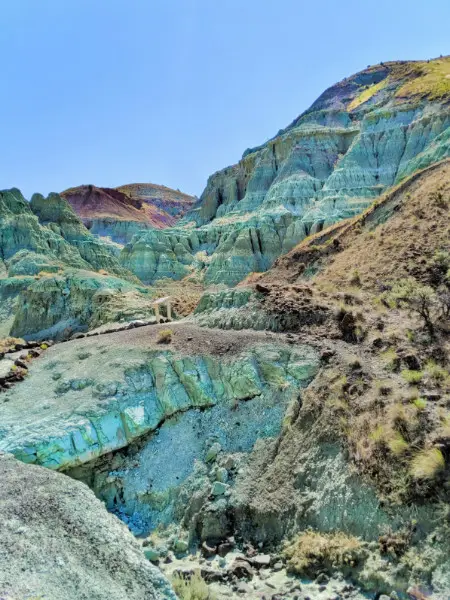 Unique Places on the Oregon Coast
The landscape of the Oregon Coast is remarkable, and the whole coastline should be on your Oregon bucket list, but there are a few key sightseeing places you can't miss. Considering the unique nature of the rugged shores of the Pacific Ocean, you could hike to a different viewpoint every day any never get bored.
Ecola State Park at Cannon Beach
Cannon Beach, Oregon is famous for its views and for being an easy weekend adventure from Portland. The sea stacks (huge rocks) just off the beach make Cannon Beach one of the more unique places on the Oregon Coast.
There are lots of fun things to do in the Cannon Beach area, particularly visiting Ecola State Park for hiking and incredible must see views. The sunset at Ecola State Park is one of the most popular tourist attractions in Oregon… and it's different every day.
Also nearby is Seaside, Oregon, which is a fun, east-coast-beach-boardwalk style town, and then Fort Clatsop at Lewis and Clark National Park is also close.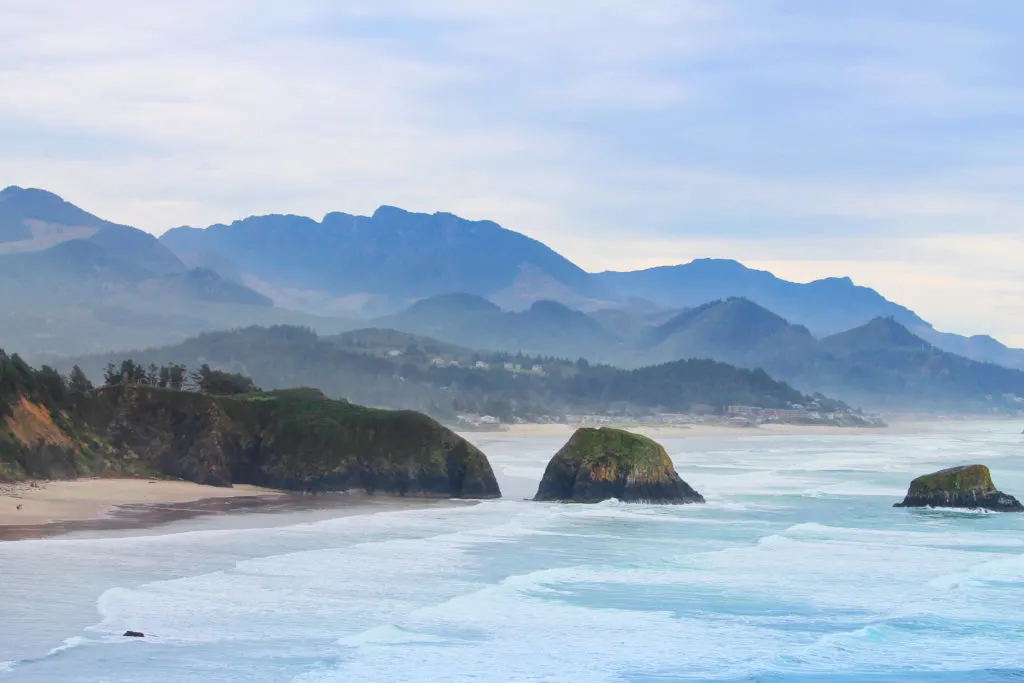 Adventures in Oregon Dunes Recreation Area
No matter how many times we visit sand dunes we're always amazing. Stretching farther and being more open than the Nipomo Guadalupe Dunes Preserve in California's Santa Maria Valley, the Oregon Dunes National Recreation are is an awesome place for adventures.
Have you hiked over the top of what looked like a never-ending sand mountain? Have you ran down a sand hill directly into a perfect blue lake? Ever gone careening over a ridge in a dune buggy, unsure of what lay ahead? The Oregon Dunes are perfect for all of these things!
Located between Florence and Coos Bay, camping or hiking at the Oregon Dunes is an easy weekend trip from Eugene or Medford, Oregon.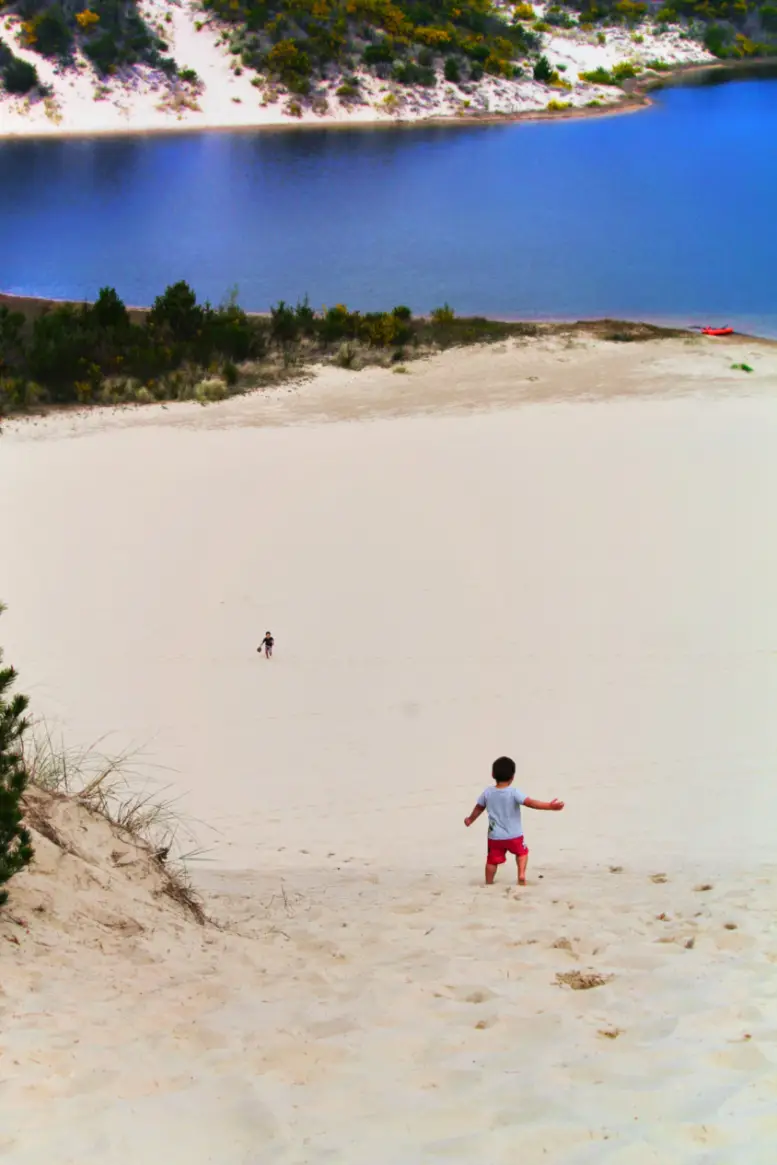 Oregon Coast Hiking at Cape Perpetua
Exploring the rugged coast is one of the best adventures in Oregon. Cape Perpetua is where you'll find such sights as Thor's Well, Devli's Churn and more unique places to explore. One of the most beautiful places to watch a coastal storm, Cape Perpetua is great to visit in any weather.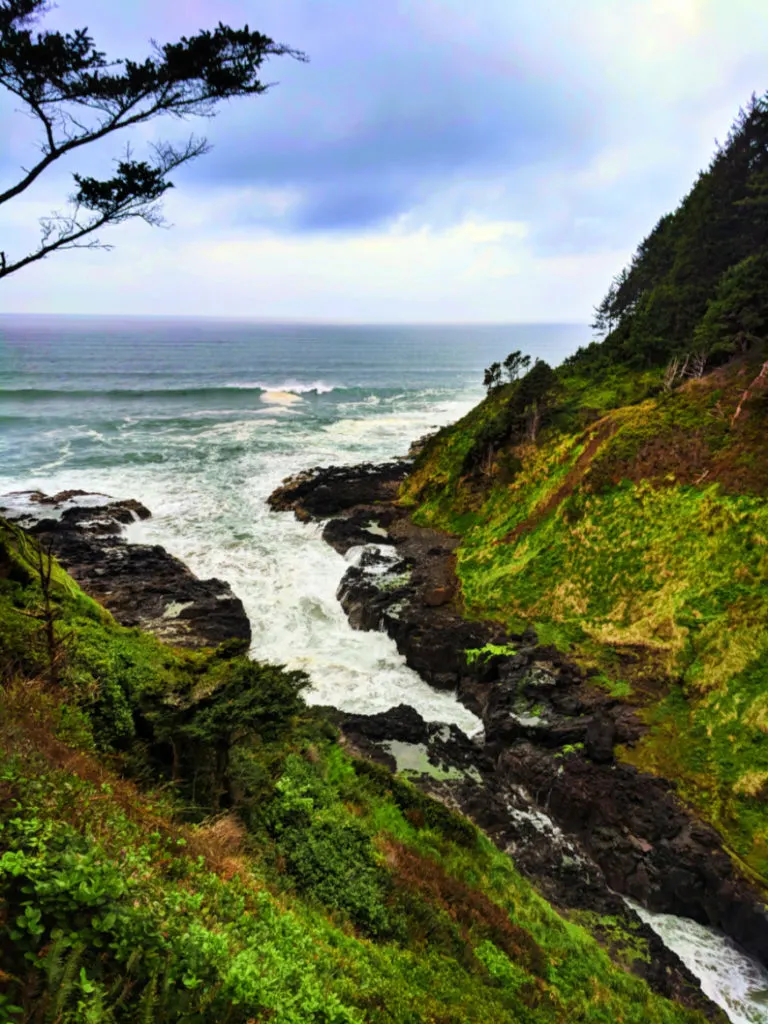 Pacific City Sunset on the Sea Stacks
Pacific City has long been our favorite Oregon Coast weekend destination, but it's also a wonderfully unique place to drive to. A small town with just a few shops, a brewery, a cafe and a kite shop, Pacific City is protected from the Pacific Ocean by Cape Kiwanda.
A mixture of sea stacks, dunes and sandy beaches, watching the sunset on the rocks of Pacific City is a perfectly Oregon thing to do. Visit in late spring or early fall for mild weather and fewer visitors.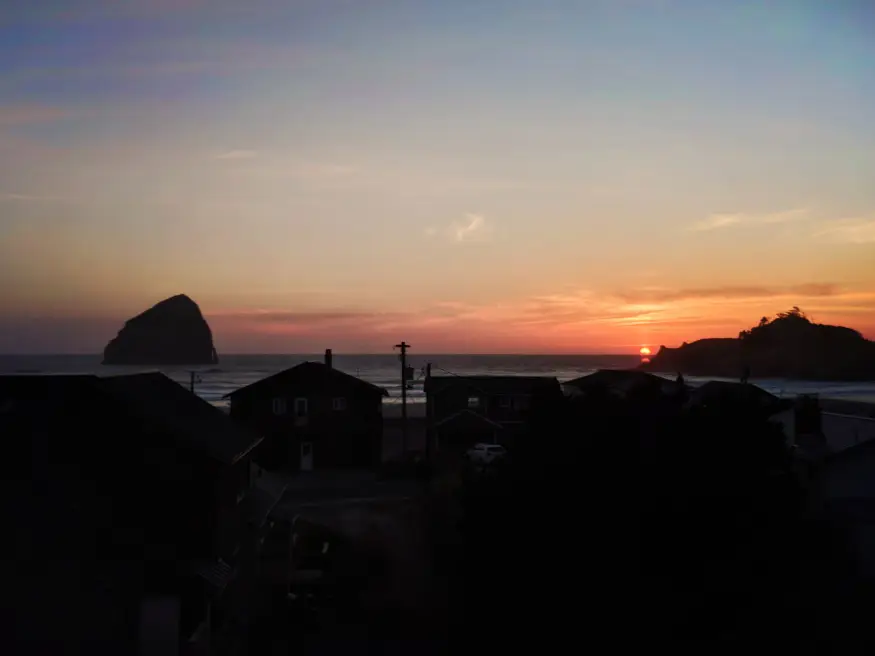 Oregon Coast Tourist Attractions
Something wonderfully unique about setting out on adventures in Oregon is that you will always be wowed by something. Whether it's having a moment of realization that you're on the set of a favorite movie or it you're jaw-dropped about how much wildlife there is, you'll never be bored. Oregon tourist attractions don't disappoint, especially along the coast.
Yaquina Head
Lighthouses are one of the biggest draws to doing an Oregon Coast road trip, and the Yaquina Head Lighthouse is one of the best attractions on the drive. What makes this roadside stop a great thing to do is the combination of trails, viewpoints, the awesome visitors center and that you can climb the lighthouse.
If you don't want to climb the tower but just admire the Yaquina Head Lighthouse and its surroundings, plan a picnic on the bluff or visit the tidepools below. There are lots of things to do at the Yaquina Head Lighthouse!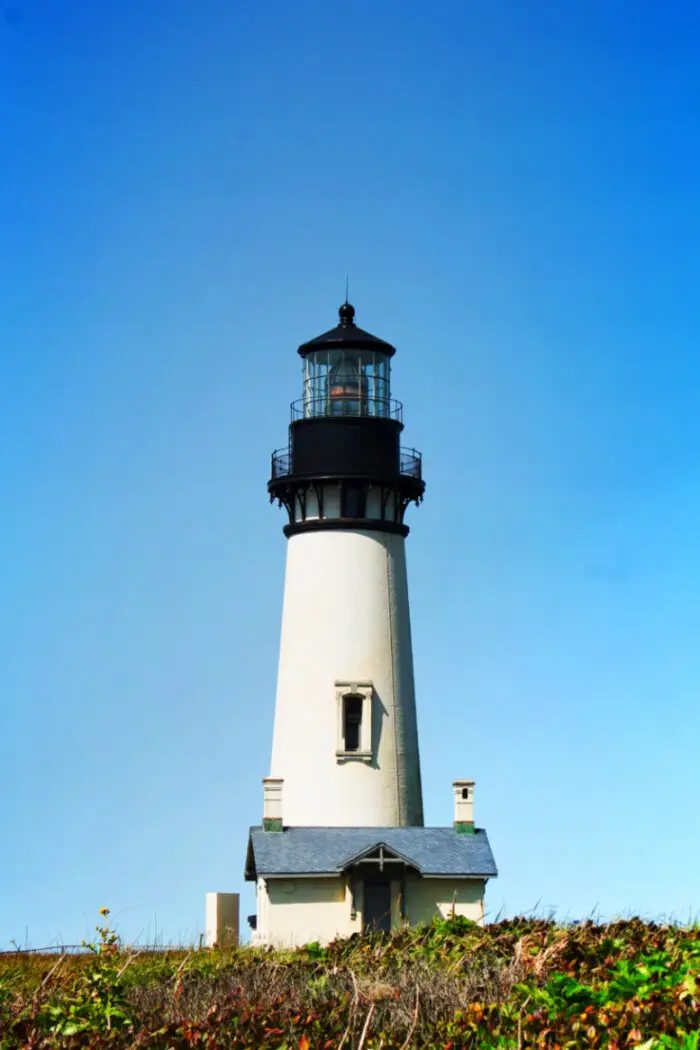 Astoria and Goonies Attractions
It's impossible to talk about Astoria, Oregon without talking about The Goonies. One of the highlights of visiting Seaside and Astoria with kids is visiting the many Goonies film locations and playing the soundtrack loudly in the car.
The Goonies house is on private property and they've posted a sign asking the visitors respect their privacy (I would too), but the jail downtown, the spots the ride bikes, and the epic landscapes are all available to explore. Go be a Goonie!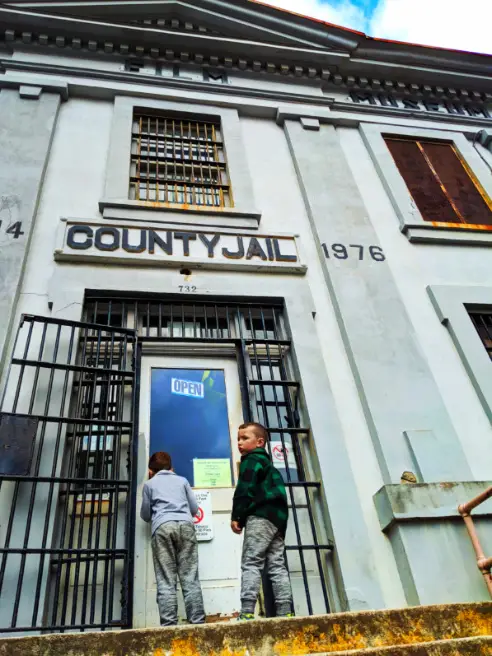 Sea Lion Caves
While the cost of doing the elevator in the cliff deep into Sea Lion Caves isn't the best investment for a family, it's still pretty cool. Sea Lion Caves is the large sea cave in North America and is one of the largest in the world, so that's pretty incredible, but what makes Sea Lion Caves so amazing is the wildlife.
Hundred of sea lions come and go from the cave as the waves crash inside. From outside of the cave you can look to the rocks below and see animals everywhere, sunning themselves or just taking a break from the exhausting swim in and out of the enormous cave.
One of the easy places to drive to from Florence, Sea Lion Caves is a must see natural wonder!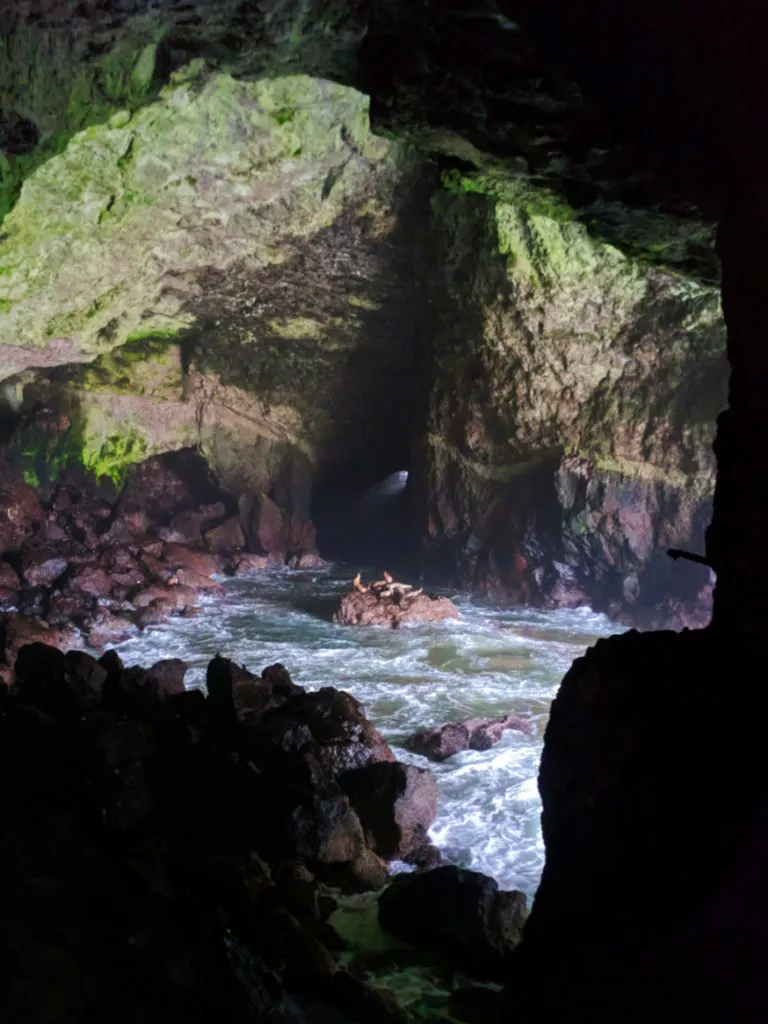 Haceta Head Sightseeing
While Haceta Head is famous for its beautiful lighthouse, it's also a wonderful place for hiking and beach time. There are three must see places at Haceta Head: the beach, the lighthouse and keepers quarters, and the viewpoint.
Haceta Head is very close to Sea Lion Caves so it's easy sightseeing. Of all the adventures in Oregon, Haceta Head provides one of the most iconic views in the whole state.
To top it all off, you can actually book an overnight in the keeper's quarters at the Haceta Head Lighthouse. One of the most beautiful places to stay in Oregon, it's truly unique and should be on EVERYONE'S bucket list.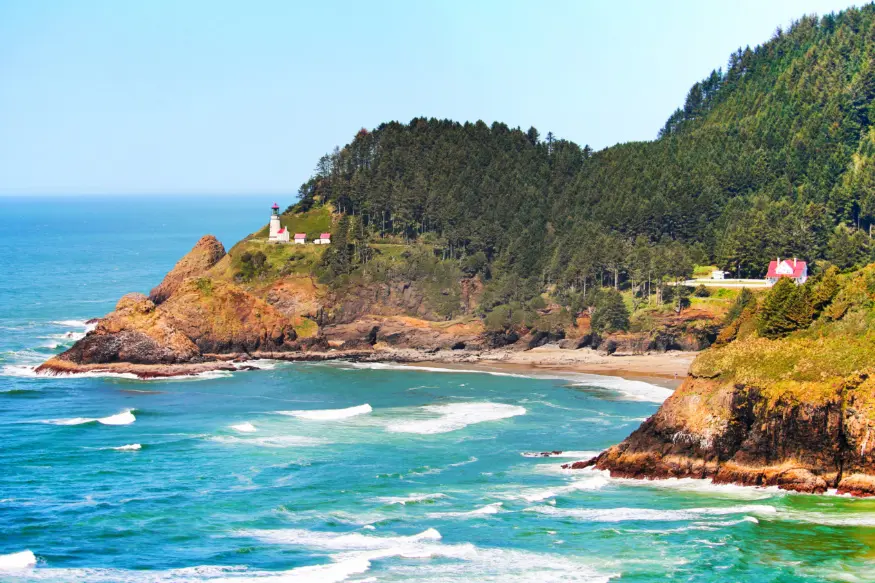 Cape Arago and Shore Acres
The area of Cape Arago is both one of the most beautiful places in Oregon AND an attraction. As you head west, far from Oregon Highway 101 you reach the remote part of the coast that's known for crashing wave and incredible views. Yes, there's the iconic Cape Arago Lighthouse, but there's more.
At Shore Acres State Park you'll find a botanical garden, a crumbling elite retreat, and bizarre rock formations. It's below these rock formations that the magic happens. One of the best things to do in Oregon is to watch the Pacific Ocean crash into the jagged coastline, and there's no better place to drive out to for this than Shore Acres State Park.
To visit Cape Arago and Shore Acres State Park, drive west from Coos Bay. Coos Bay is the closest town, and is actually a wonderful place to stay for exploring the Oregon Coast and inland toward the Coastal Range.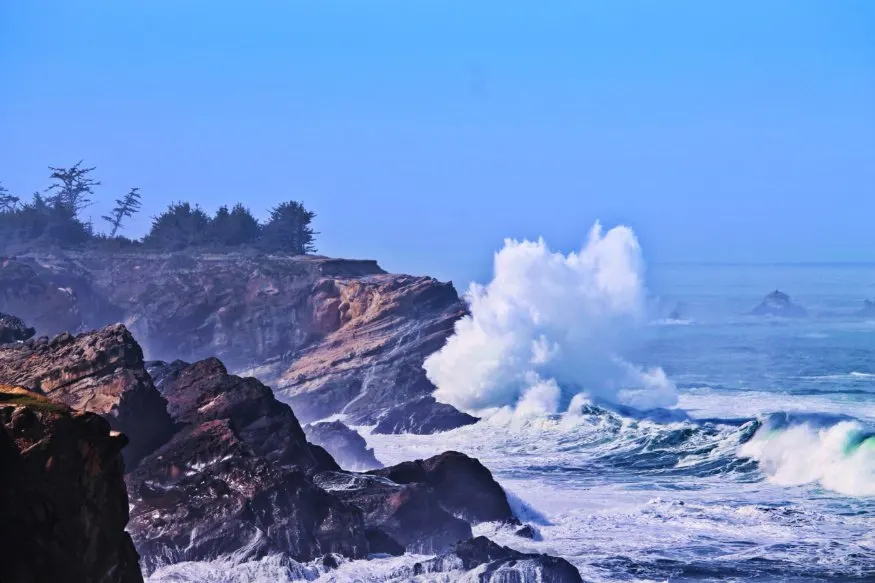 Beautiful Mountain Adventures in Oregon
You can't make an Oregon bucket list without heading into the mountains. The Cascade and Coastal Range make Oregon quite the adventure to drive through. Even if hiking isn't your favorite thing to do, you'll love the gentle trails and epic sights of Oregon's mountains.
Crater Lake National Park
One of the most beautiful adventures in Oregon that it seems like nobody's done is Crater Lake National Park. This is a great place to drive to as part of a West Coast National Parks road trip. More than four hours from Portland and two and a half hours' drive from Eugene, Crater Lake is NOT conveniently located.
The main attraction of Oregon's Crater Lake is doing the loop road around the whole, deep blue, gorgeous lake. It's one of the most unique places in Oregon, both for its sightseeing activities and for its actual geology. Crater Lake is exactly as it sounds: a lake in an extinct volcano. It's amazing. There are some beautiful places to stay near Crater Lake National Park too, including the famous Crater Lake Lodge.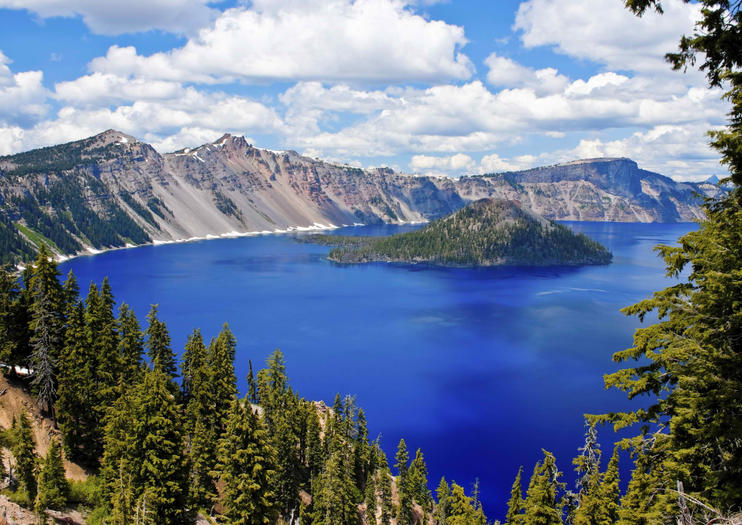 Adventures in Oregon Caves
Located between the southern Oregon Coast and the Cascade Mountains is Oregon Caves National Monument. We've visited Oregon Caves with kids several times and loved each experience. The adventures in Oregon Caves start with entering the side of the mountain and then carefully climbing narrow stairs and ladders.
While the cave system isn't as grand as Lewis and Clark Caverns in Montana, it's beautiful and is full of history. Half the fun of visiting Oregon Caves and what makes it one of the best things to do are the stories. The history of music in the caves and prohibition era events in the hills makes sightseeing to the Oregon Caves a must see attraction.
Also, one of the most beautiful places to stay in Oregon is just outside of the cave entrance. The Oregon Caves Chateau is UNREAL! An enormous log cabin chateau up in the hills is a must see / must stay spot to add to your Oregon plans.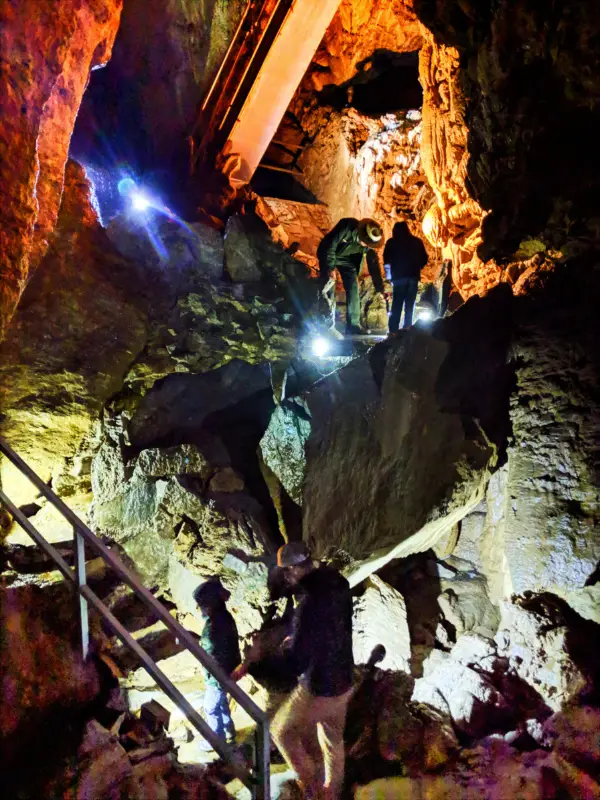 Umpqua Thundering Waters Trail
Even people who have lived in Oregon for all their lives haven't heard of this unique adventure in south-central Oregon. One of the best places to drive from Medford or Roseburg, the Thundering Waters Trail is a route through the Cascade Mountains full of waterfalls and raging river stops. For waterfall lovers, must see places and hikes are every few miles along the route.
The most famous (thanks to Instagram) is Tokatee Falls. An adventure as you hike along the mossy rocks to the overlook platforms, Tokatee Falls is unique for its beauty and geologic formation. Other notable waterfall hikes to do include Fall Creek Falls and Watson Falls.
The best time to drive the Umpqua Thundering Waters Trail is in LATE spring. The water levels should still be pretty high from snow melt and the trails will have been clean up and gotten their start-of-the-season maintenance.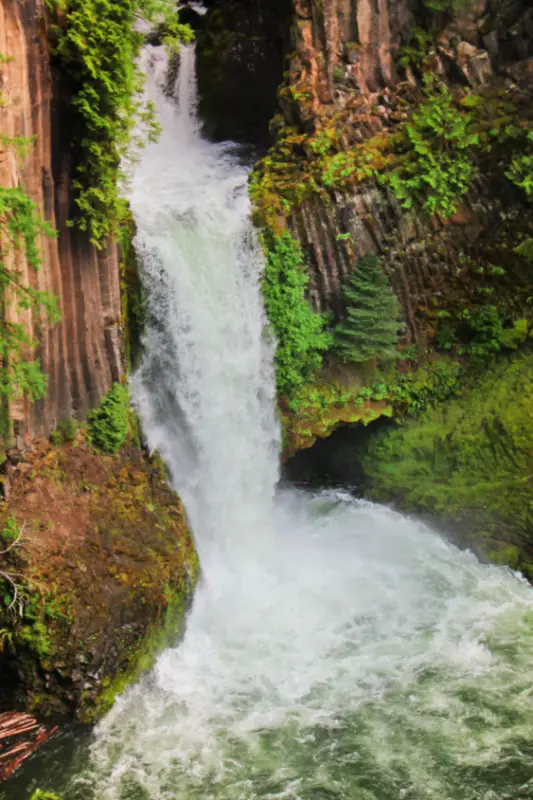 Rogue River and Grants Pass
One of the most unique attractions in southern Oregon is actually a adventure on the Rogue River. The city of Grants Pass is a great home base for exploring the Rogue River Valley, Jacksonville wine country, the Oregon Caves and more. Also nearby are the truly unusual Rogue River jet boats.
There are several guides that can take you up the Rogue River on jet boats, which skim across the water like you wouldn't believe. Besides zooming through nature faster than you can imagine, the beautiful sights and wildlife make exploring the Rogue River Valley a fun and memorable thing to do. If you'd rather, there are also lots of great rafting adventures on the Rogue River.
The town of Grants Pass is also fun to explore. With a turn-of-the-century feel and lots of Oregon character, plan an afternoon enjoying Grants Pass on foot. Also, one of the most beautiful places to stay in Oregon is in Grants Pass: the Weasku Inn. A-frame cabins and a lodge set just off the river make the Weasku Inn a charming, unique place to relax in the Rogue River Valley.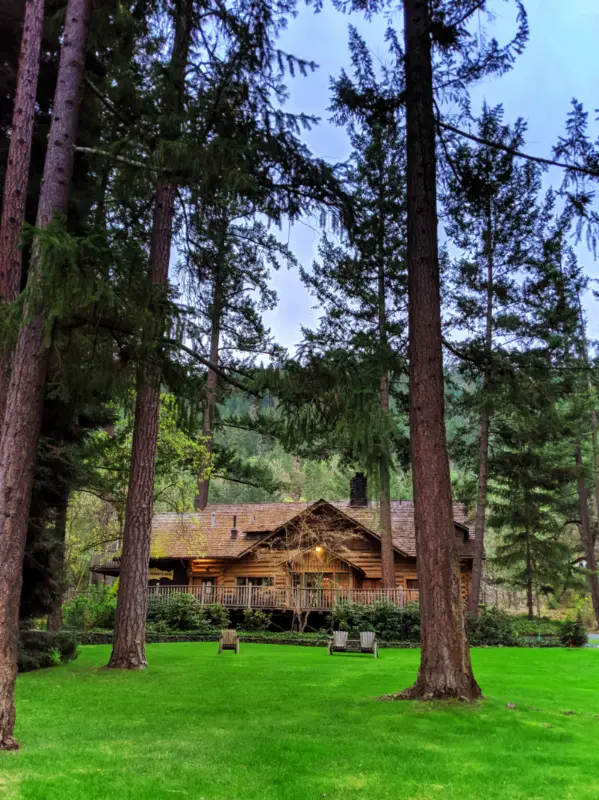 Mount Hood Adventures
You can see Mount Hood with its sharp peak scraping the sky from Portland and all around. If you ski, then no doubt you've heard of Mount Hood Meadows. If you're into movies, then you know the Timberline Lodge as the exterior of the lodge from The Shining. And if hiking is the basis for your adventures in Oregon, Mount Hood is THE spot.
Beautifully still lakes surround Mount Hood, while some more difficult hiking trails will lead you up the mountainside. Whichever activities you choose, you'll love your adventures around Mount Hood.
Undoubtedly, Oregon has some of the most beautiful, must see sights in the USA. With beautiful places to stay, unforgettable hikes and beach walks, sightseeing in Oregon is unlike any other.