Smith Rock State Park is one of the most unique and beautiful places in Oregon. We love love love the Oregon Coast and frequently visit the Columbia Gorge Waterfall Area, but Smith Rock with kids is also really wonderful and one of our new favorite Oregon sites. It's the high desert experience we were hoping for on our trip to Bend, Oregon.
If you're unfamiliar, Smith Rock is considered one of the seven wonders of Oregon and now we understand why. Take a look at our recommendations for hiking trails, safety, and things to watch for when visiting Smith Rock with kids. You'll have an incredible time and leave wowed by this unique destination.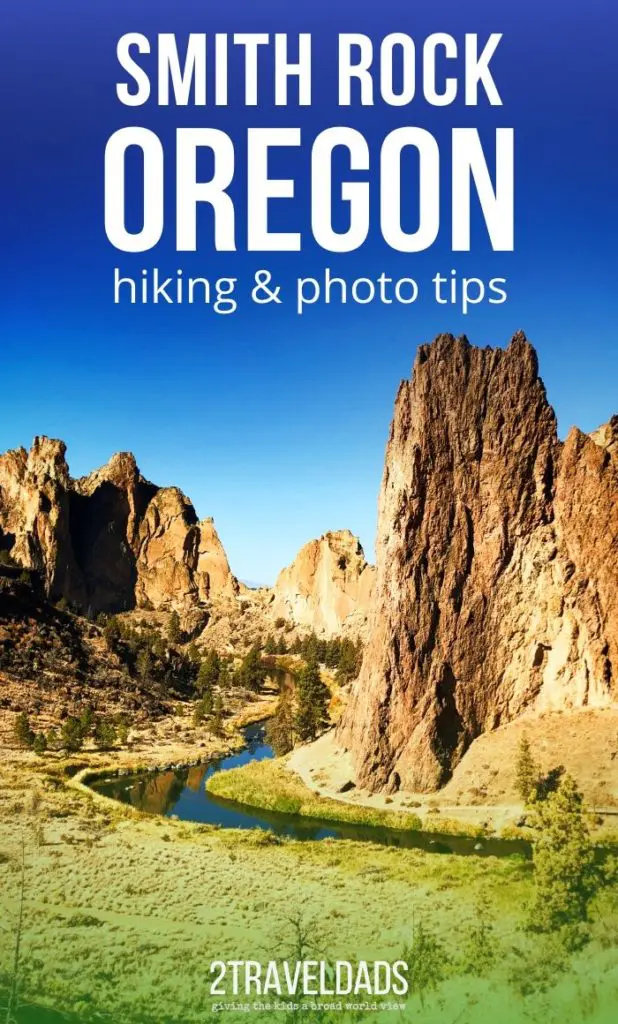 Where is Smith Rock State Park
Somewhere between dreaming and awake, that's where you'll find Smith Rock State Park. Actually, that's where you find Neverland, but it might as well be Smith Rock State Park because between the rivers, canyons, farm fields and rocks it's as close as we have in the Pacific Northwest.
Located in Terrabonne, a little north of Redmond, Oregon, Smith Rock State Park is just off Highway 97. If you're staying in Bend or Redmond, it's super easy to visit. Just ten minutes from downtown Redmond and 35 minutes from Bend, it's an ideal half or whole day trip. If you're visiting Smith Rock with kids, we recommend the half day plan starting in the morning so it's not too hot out. Bonus: stop by Peter Ogden Skene State Park to check out the canyon and preview the Crooked River before getting to Smith Rock.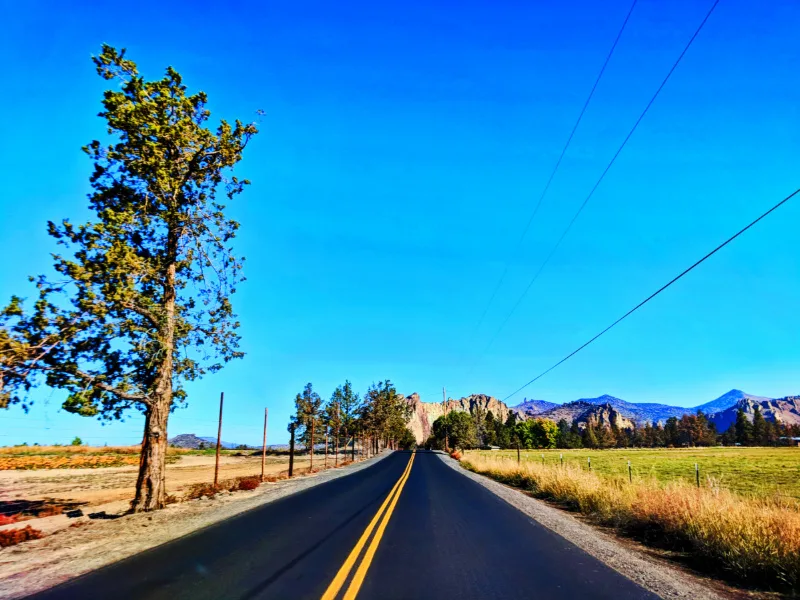 Parking at Smith Rock
As you approach Smith Rock State Park you'll see there are two parking areas. If you're early enough, you should be able to park near the main trail head, but if that's full already when you get there, there is an overflow parking area that's also used for over-sized vehicles and buses. Both parking areas have pay stations for getting a parking pass. Get to Smith Rock nice and early for the best parking closest to your trail head. Smith Rock with kids is easiest when you can finish your hike without an extra hike to your car.
Tip: do NOT forget to get a parking pass or display your Oregon State Parks pass on your dashboard before you head out to explore. It sucks to come back to a parking ticket. BE PREPARED WITH CASH as sometimes the State Park machines won't run cards.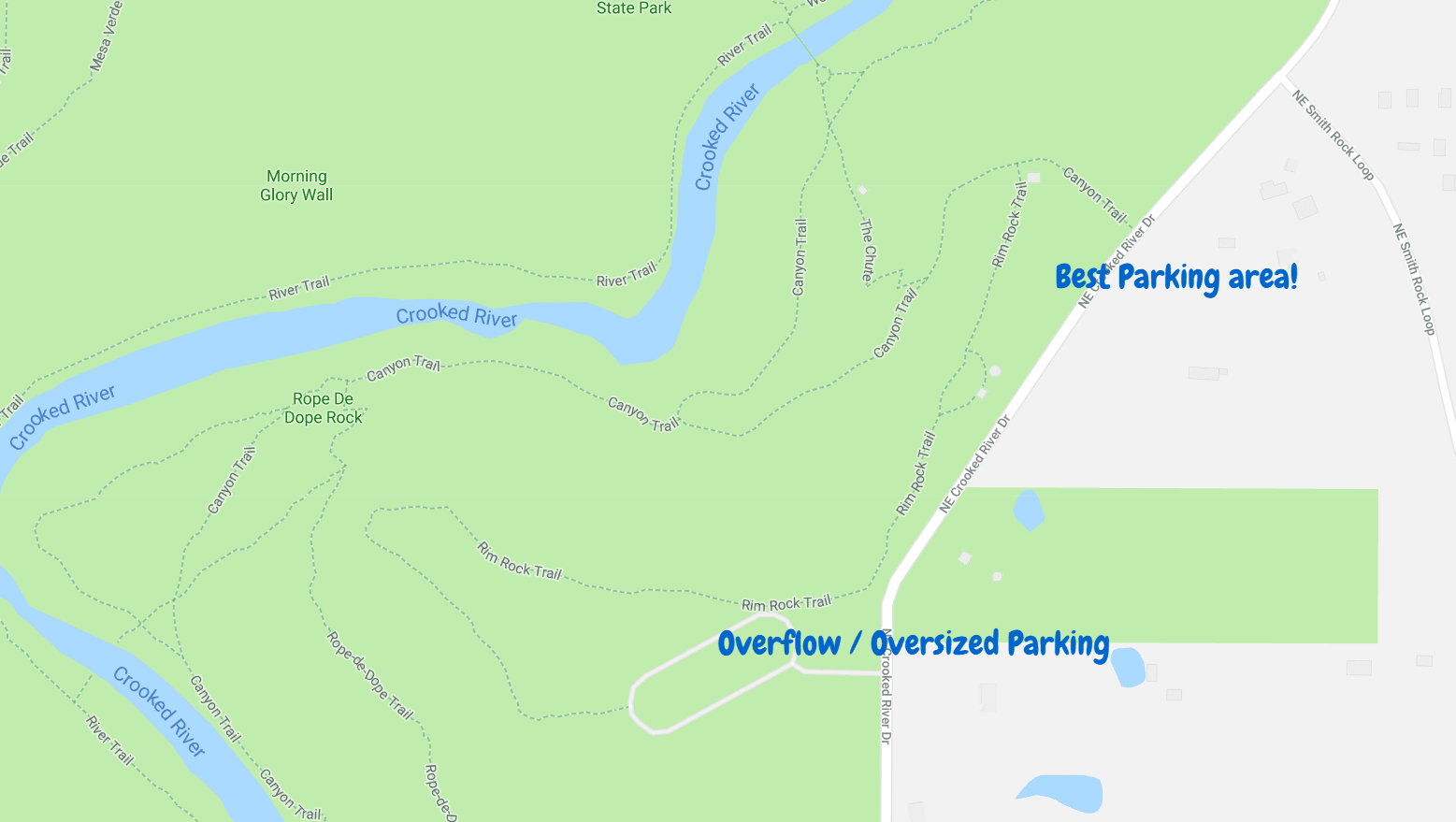 Things To Do at Smith Rock State Park
If you say "I'm going to Smith Rock State Park!" to somebody from Oregon, they probably will look at you and say "Oh, I didn't know you're a climber." Rock climbing is what Smith Rock is known for, but if that's not your thing there are other options, mainly hiking and photography, that will be just as memorable and breathtaking as climbing the sheer walls of Smith Rock.
Note: there are rock climbing guides out there that are great for booking family rock climbing. We did a family climb in Banff National Park and it was a great experience. Professional guides know how to make climbing work for most everybody and are ALL ABOUT SAFETY.
Great Hiking Trails at Smith Rock State Park
Where you hike every day or only a few times a year, Smith Rock is a great place to visit and explore. In the winter you'll find biting cold winds and probably snow, and in the summer it'll be HOT and arid. Don't let the weather deter you though, because if you're smart about it, there is a hiking trail for every skill level at Smith Rock.
Hiking the Smith Rock River Trail
If there's one trail to do at Smith Rock State Park with kids it is the River Trail. Why? It's easy enough that you can have a great experience without hearing a bunch of whining AND it's absolutely gorgeous. Starting from the lookout by the main parking area, head down to the canyon floor via "The Chute." The trail does start out rather steep from the lookout, but if you can make it down the Chute without slip-sliding to the bottom, you'll be fine the rest of the way.
When you see it, cross the footbridge and let your journey begin.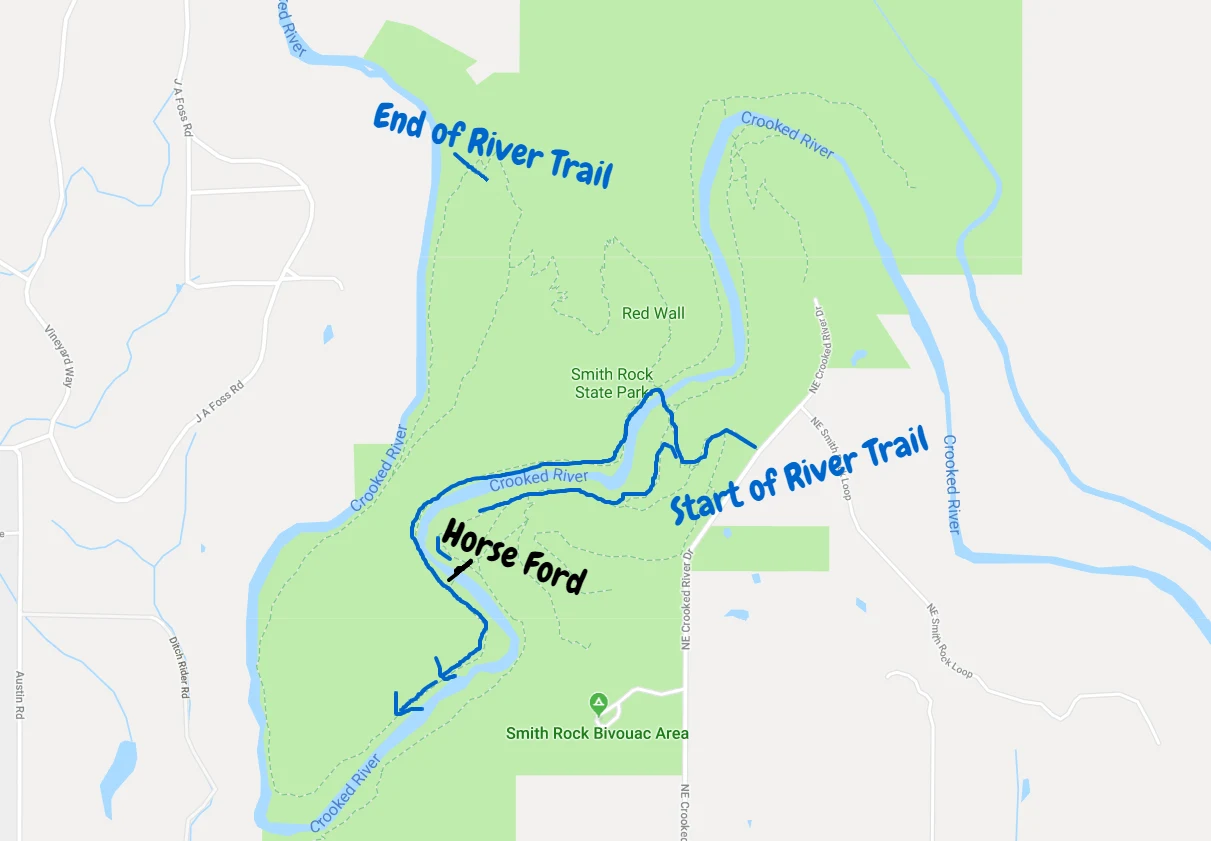 After you've crossed the footbridge over the Crooked River, you'll need to go to the left. This will take you all along the river and wind you along the base of some of the most incredible sheer cliffs. There are plenty of spots to stop by the river and just take in the scenery, as well as shaded spots to take a break and watch the rock climbers. The trail is pretty easy and level for most of the way, with just a few dips and small slopes.
The River Trail is not a loop. The trail is 2.5 miles if you do the full thing, which means you'll need to trace your steps back, which is fine and beautiful. You can't go wrong doing the full trail and will have some incredible views with the changing rocks. If you really want to do a loop, you can continue onto the Mesa Verde trail… which gets intense and will add hours to your adventure.
Trail option: if you don't want to trace your steps all the way back to the trail head, you can cross the Crooked River at the Horse Ford. This is marked with signage, but it's not for everybody. Depending on the level of the river, this could be dangerous. If you are hiking with small kids, this is only an option if you can carry them across the river with confidence. Even when the river is at a low level, it's still strong and deep.
Should you choose to ford the river, you'll join up with the Canyon trail. Unless you want to take the trail all of the way out to the main road, go to the left. If you turn right, you'll have to climb out of the canyon and then walk back to your car along the road. Not as fun at all.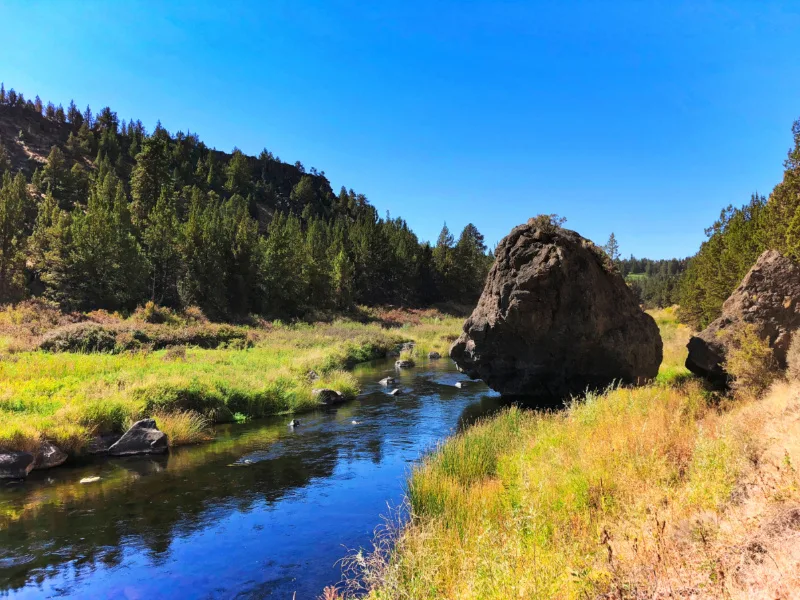 Hiking Misery Ridge at Smith Rock State Park
Oh the views! This was never on our plan for Smith Rock with kids, but when we return it's going to be the whole plan. The Misery Ridge trail is intense with very little shade. To head out on the Misery Ridge trail, after you've crossed the footbridge make a right. Pretty quickly you'll see the sign to guide you up the ridge trail. The accent is immediately steep and can be discouraging, but when you hit the top of the ridge and get the view, you'll be fine with the work it took to get there.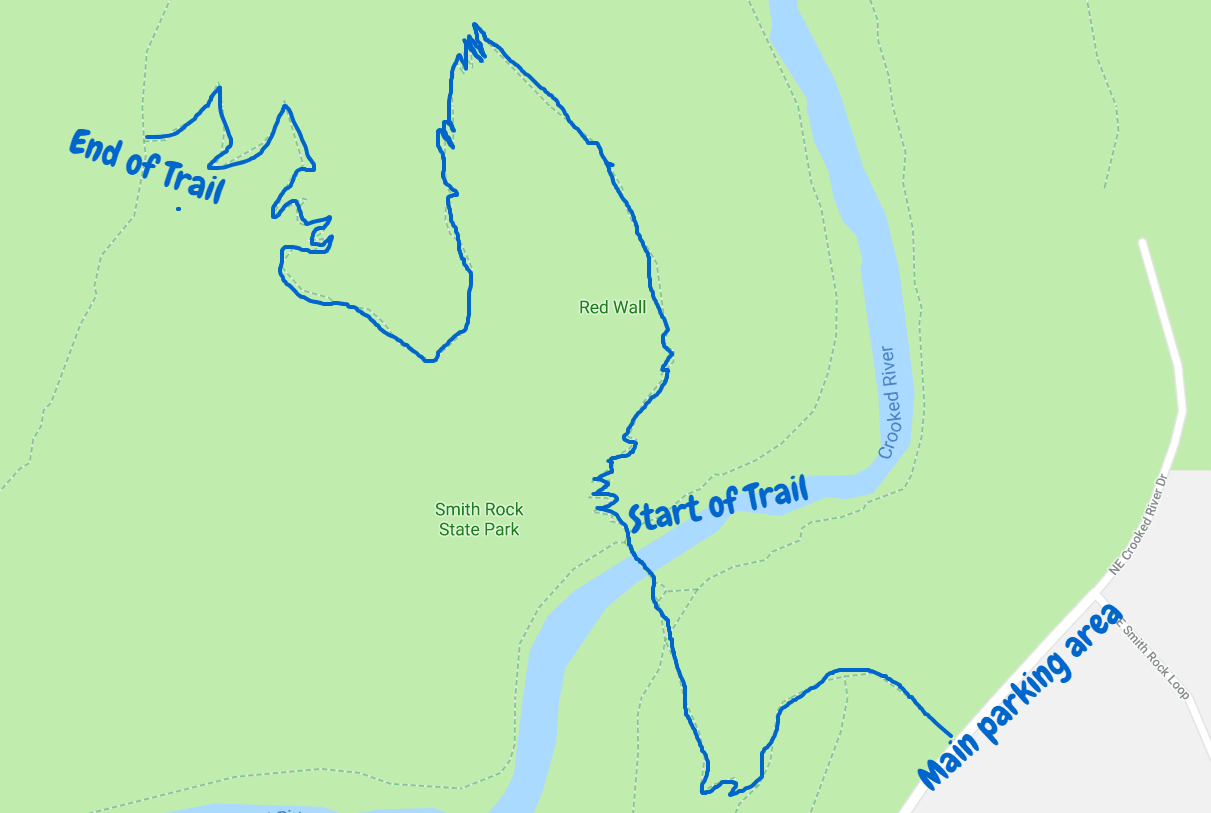 Once atop the ridge, you can complete the Misery Ridge trail loop. At just over 3.5 miles for this particular route, you'll feel accomplished by the end, for sure.
Trail option: you can either do the full Misery Ridge trail loop atop the rocks and then scale back down where you first went up, or on the west side of the ridge trail you can head down to the Crooked River and join up with the River Trail (see above). This will give you a different perspective and if you're up for it, you can dip in the river or cross at the Horse Ford.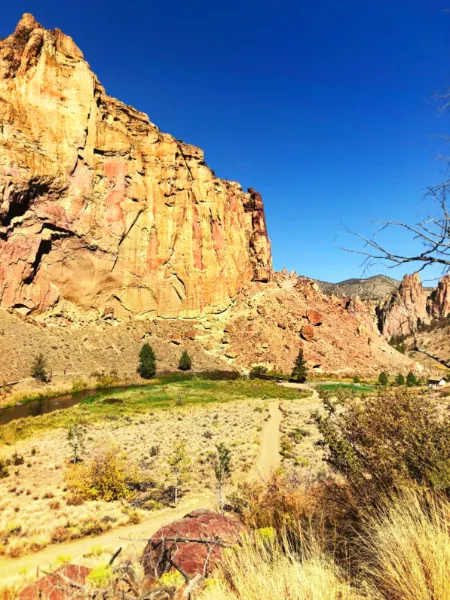 Other trails at Smith Rock State Park
Two other easy trails to tackle on a trip to Smith Rock with kids are the Homestead Trail and Rim Rock trail. Both are fairly easy and both give a different perspective of the canyon.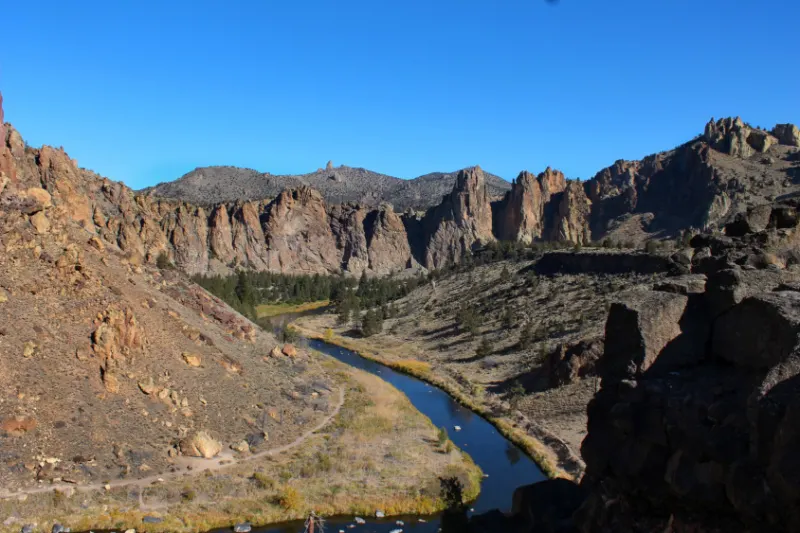 The Homestead trail heads east from the main trail head. After you've gone down the Chute to the canyon floor, don't cross the footbridge. Instead, make a right and follow the river around the bend. You'll head through the brush and rocks, hit just a few steep spots and rise from the canyon floor. As you look back, the still surface of the Crooked River will be reflecting the rocks to the west. It's gorgeous. You can then either hike the one mile back to where you started or pop up to the eastern parking area and walk back along the road.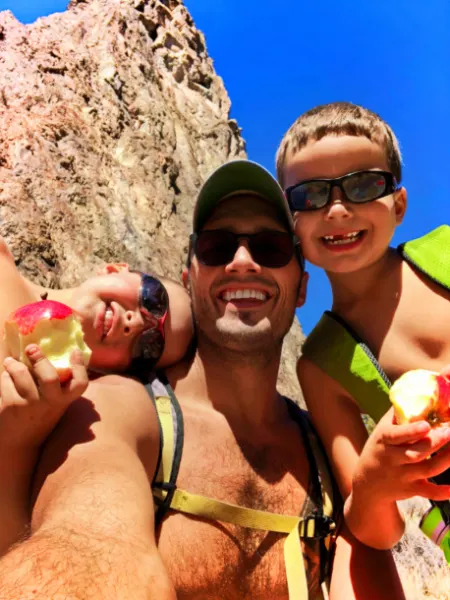 The last of the easiest hiking trails when you do Smith Rock with kids is the Rim Rock trail. This is also the perfect trail if you're just adding a quick stop at Smith Rock to your road trip to Bend or elsewhere. Going along the rim of the canyon, you'll have views of the Crooked River, the rock walls, the desert foliage and there'll be some great bird watching. While the trail isn't fully accessible for wheelchairs and strollers, a good portion is very flat, mellow and well maintained. Really easy way to check out the primary beauty of Smith Rock.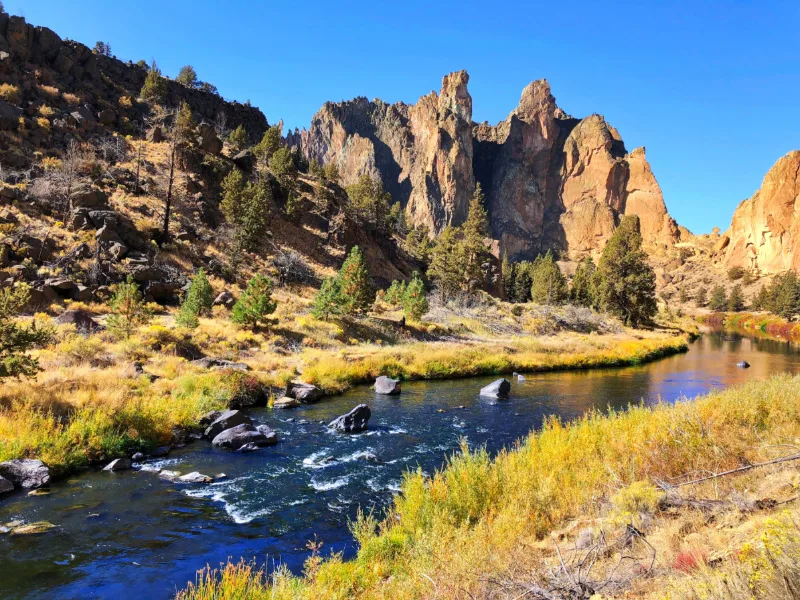 Hiking prep for Smith Rock with kids
Water. Water. Water. Even if you're hiking Smith Rock in the winter, water is a must. Being in the high desert dries you out like you wouldn't believe. For everyone's safety, staying hydrated even if you're not sweating profusely is extremely important. Be sure that you've got refillable water bottles or Camelback packs to keep everybody well hydrated.
Also, we strongly recommend hiking boots. Hiking boots for kids may not be required, but making them feel well equipped sometimes actually inspires them to be more energetic when hiking. For adults, it's also not required, but highly recommended. The trails are well maintained, but hiking at Smith Rock State Park can be quite slippery and dusty in spots. Hiking boots are ideal for preventing twisted ankles.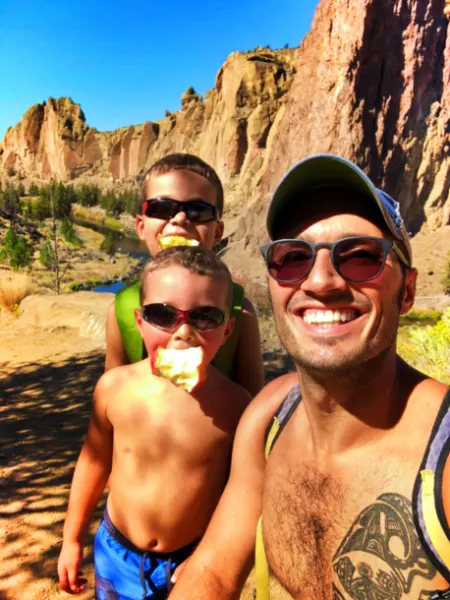 Snacks are also super important. Smith Rock is all nature, everywhere. There are no shops or concessionaires, so the only food options are whatever you bring with you. And as is always the case, LEAVE NO TRACE. Pack out what you pack in. Don't bring single-use plastics and don't litter. Be smart about snacks.
The last thing to consider for doing Smith Rock with kids is sun protection. We only mildly advocate for the use of sunblock, and when we do we have very specific recommendations. We are all about hats, sunglasses and proper clothing as sun protections. There's not a ton of shade when you're hiking Smith Rock, so be properly prepared.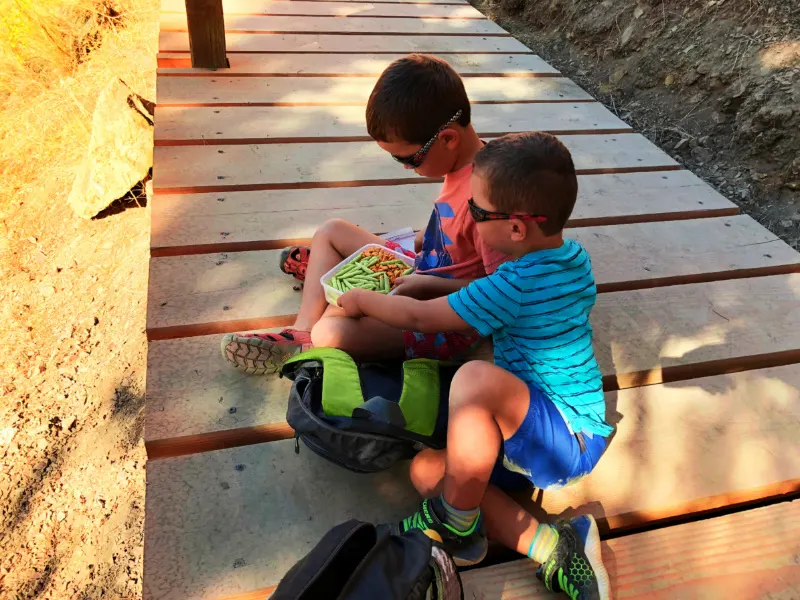 Safety Awareness for Desert Hiking
We start every hike, wherever we are, with talk about hiking safety. When you're out in nature, the elements can surprise you. The ground can be uneven. There may be wildlife encounters. Key points in hiking safety to cover with kids at Smith Rock are:
Stay together – if something happens when hiking at Smith Rock, you don't want to be alone and without help

Watch your step at all times – slipping and falling could result in broken bones, cuts, and even falling into the river

Stay on the trails – unsure footing off the trail is a surefire way to get injured

Watch for wildlife – rattlesnakes, cougars and stinging insects could make for a very dangerous experience. Be aware at all times. Wildlife safety needs to be at the forefront of your mind in any hiking situation.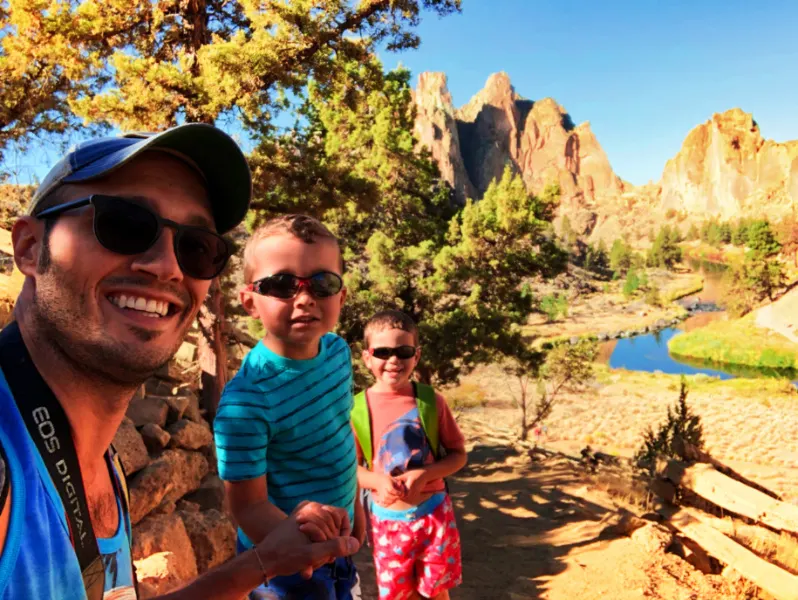 How to: Photography at Smith Rock State Park
Instagram has turned everybody into a photographer, and that's great, wonderful even, but there still is a level of skill and understanding to capturing awesome pictures. Smith Rock State Park is one big jaw dropping canvas. It's easy to start hiking Smith Rock with kids and just snap snap snap every photo, but take the time to set up some great pics too, with the kids and without.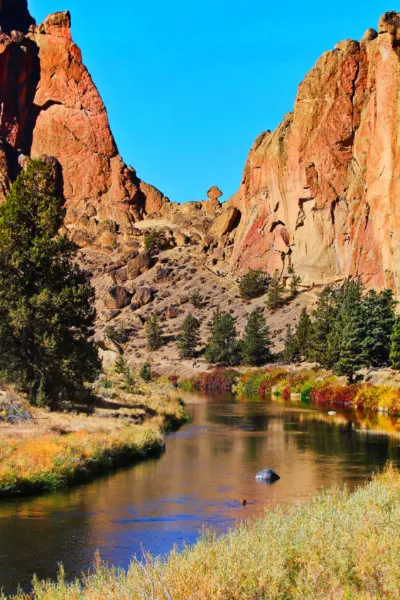 Here are our tips for producing some of the best photos you can in Smith Rock State Park (or anywhere):
follow the light – keeping the sun behind you ensures vivid images that aren't washed out.
early morning gives the best colors and shadows
a telephoto and some distance makes for better rock climber photos
including humans in photos adds scale and interest
capture the details – balanced rocks, birds on the river, kids kicking up dust…
Check out our travel photography article with more tips on how to get great shots every time. You may learn some new, fun techniques to employ beyond Smith Rock.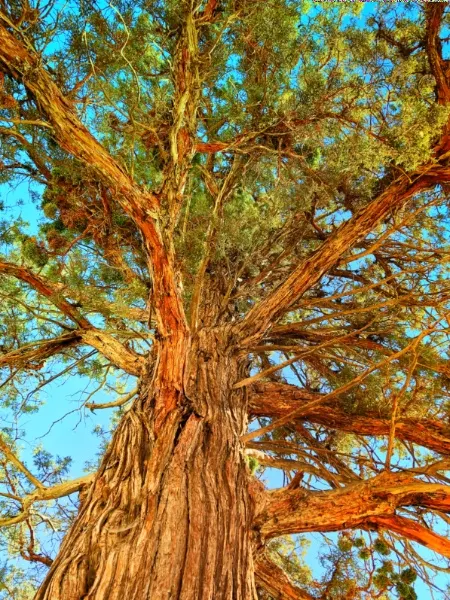 Rock Climbing in Smith Rock State Park
Rock climbing is just the coolest experience. If you've not done it before, you need to schedule a weekend in the near future to learn some climbing skills and make some climbing friends. Once you've had some practice on some easy rock walls and natural sites, you are ready to do some more serious climbing.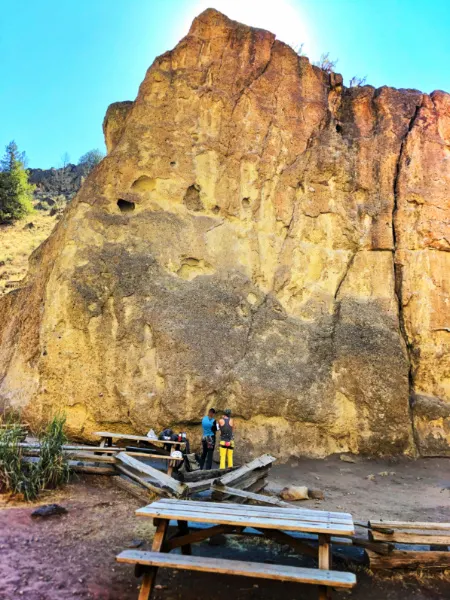 Rock climbing at Smith Rock State Park is intense. While you don't have the crazy granite overhangs like you'll find in Yosemite, you do have basalt and some other interesting flows are formations. Smith Rock has a variety of faces to climb with all skill levels represented. We recommend going with a guide unless you are VERY experienced, and even then, chat it up with the local climbers for the best climbing recommendations.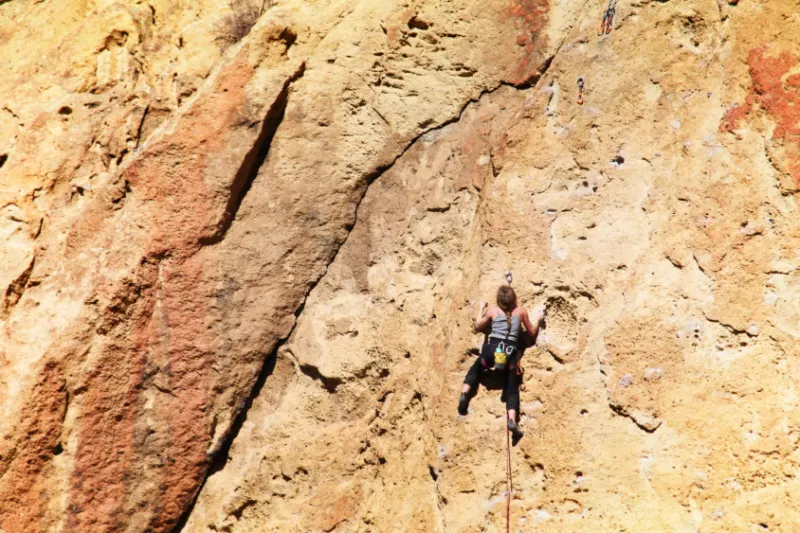 For beginners, try the Rope de Dope climb. This is off the Homestead Trail, located on the south side of the Crooked River. This is a great climb because it's mellow, not too steep, and ends with a view of the more grand rock formations in the park.
For intermediate and advanced climbers, check out Smith Rock Climbing Guides. Yes, it's the #1 Google search, but it's also the #1 recommended guide outside of Trip Advisor. We haven't gone with them personally, but we read through the reviews and this guide service scores strongly for knowledge, safety, and availability.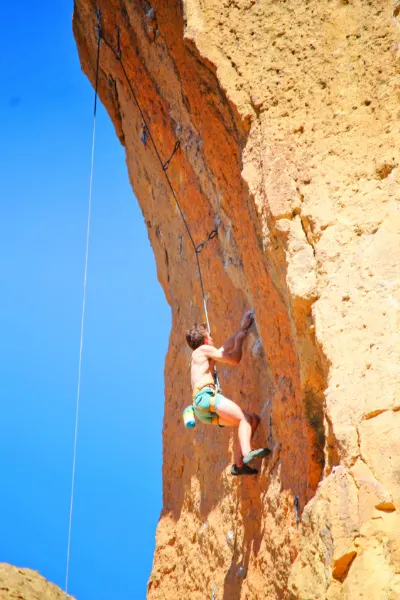 Breweries to visit in Redmond, Oregon
If you saw our article on the best breweries in Bend, Oregon, you know that we're passionate about finding great craft beer and finding spots that are family friendly. We've got some solid recommendations for where to find good beer and food in Redmond, which is really close to Smith Rock State Park. These are our top picks based both on experience and strong recommendations from locals.
First pick is Cascade Lakes Brewing Co – 7th Street Brewhouse. We really enjoyed their beer (particularly their Pineapple Kush) and loved their creative brew styles. Grab a growler to take back when you're done hiking.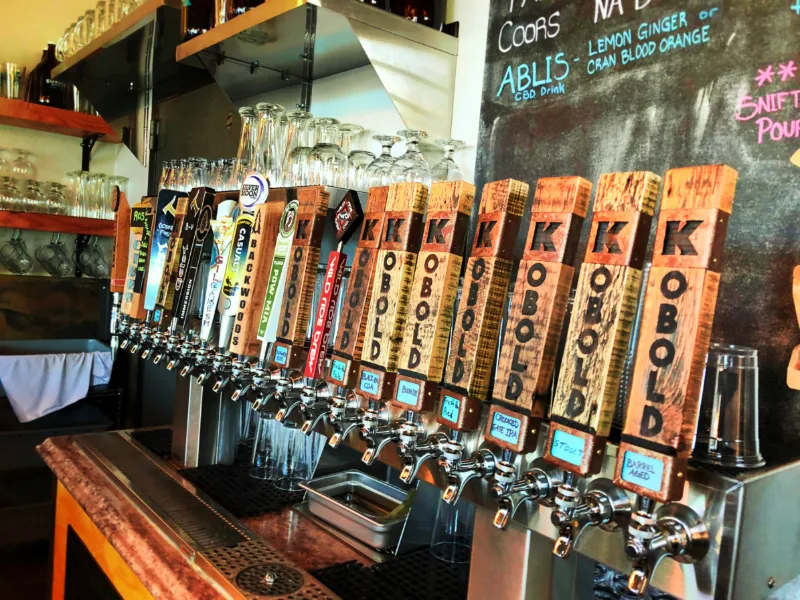 Next up, and this is the kids' favorite, is Kobold Brewing. A smaller taphouse located on the main drag (6th Street), it's got some tasty beers that are all done in small batches. That's their tagline: Small Batch, Top Notch. Totally true. We really enjoyed the outdoor area where we had lunch and played corn hole and Connect Four. LUNCH!! That's the big highlight at Kobold Brewing! They've got a couple of food trucks that set up on the patio. We opted for Westside Tacos and really enjoyed the blueberry tri-tip and adobo chicken street tacos.
The big recommendation everybody gave us AFTER we had left Redmond was Wild Ride Brewing. I tired to make it happen that we stopped back in, but couldn't, so Wild Ride is at the top of our list for next time. We were recommended to try the Nut Crusher peanut butter stout and the Hopperhead IPA. Sold. When multiple people give you the same beer recommendation, you've gotta do it. Next time…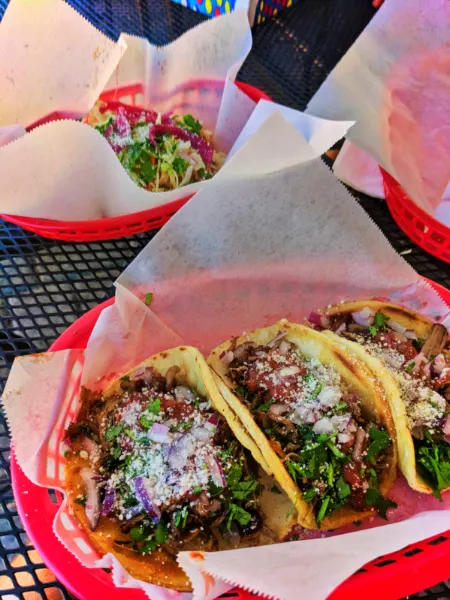 We're looking forward to visiting Smith Rock with kids again in the spring. There are most hikes to conquer and we'd love to do some climbing too. If you have additional tips or recommendations, please leave a comment or send us a note.
Want to pin this for your own travel planning for Central Oregon? Go for it!!!