Since sharing more and more of our kayaking adventures, we've gotten lots of questions about the best kayaking gear for beginners. That's a floodgate nobody should've opened, but we've narrowed down our kayaking gear recommendations to our favorite items and brands, and ultimately what we use every day (or week).
Our recommendations for kayaking gear are based solely on our own experiences, and then we have wish list items on here too. If you have any questions specifically about alternatives to our kayak gear recommendations, we've provided those as well (or you can email us). Being a part of several online kayaking communities and active with avid kayakers locally, we've polled the crowd to fill in the gaps for extra suggestions for paddling gear.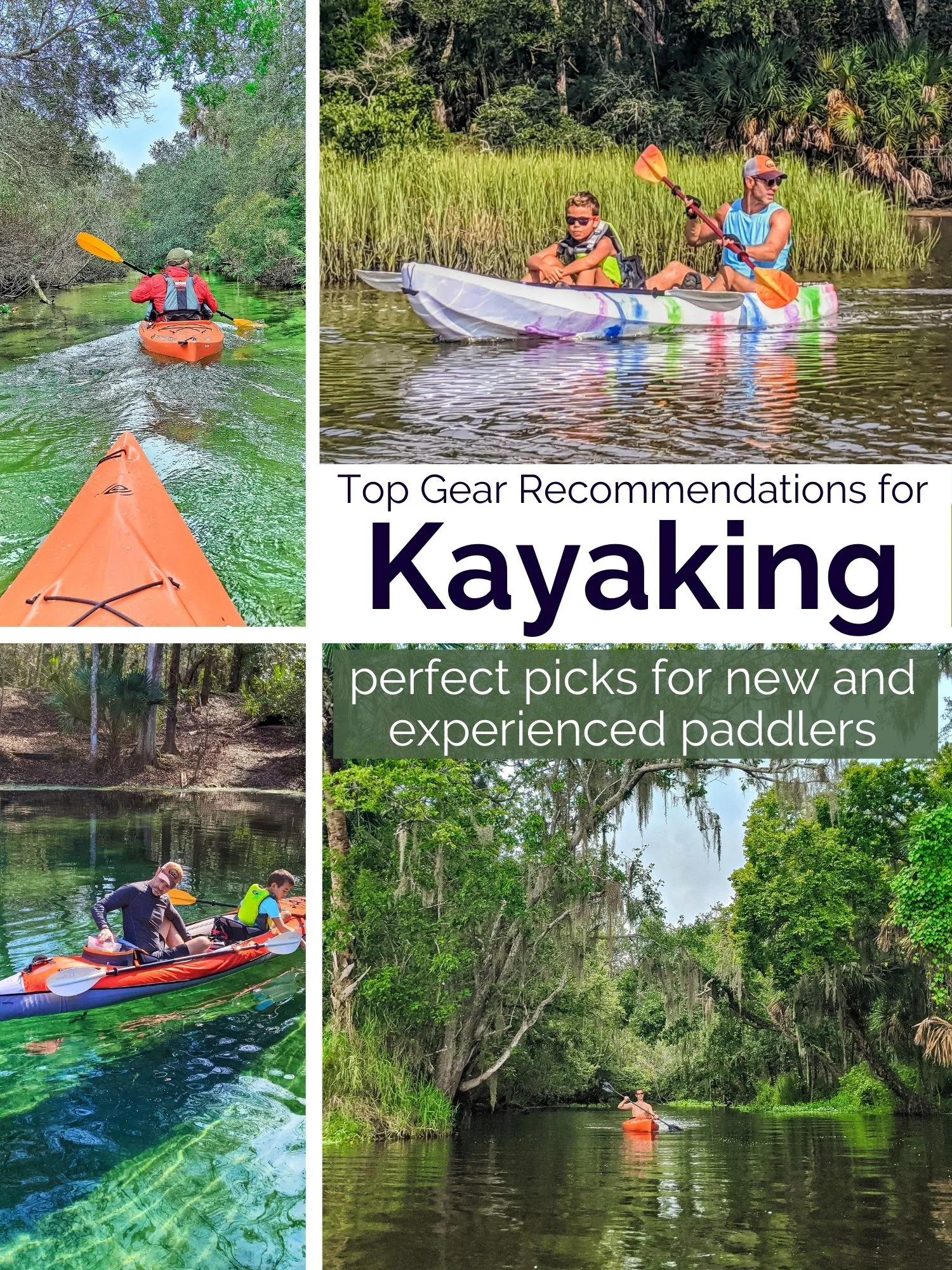 Online Kayak Shopping Recommendations
I 100% prefer to shop for outdoor gear in-person, but that's not always realistic, especially when you're shopping for kayaking gear. Very few stores keep a wide variety of kayaks in stock, but online shopping for paddling equipment is totally doable AND usually products have reviews from those who've already tried everything.
Here are our recommended online stores for kayak gear shopping:
Note: even though these are our recommendations, you'll want to be sure you are fully familiar with the shipping and return policies for whatever online store you choose.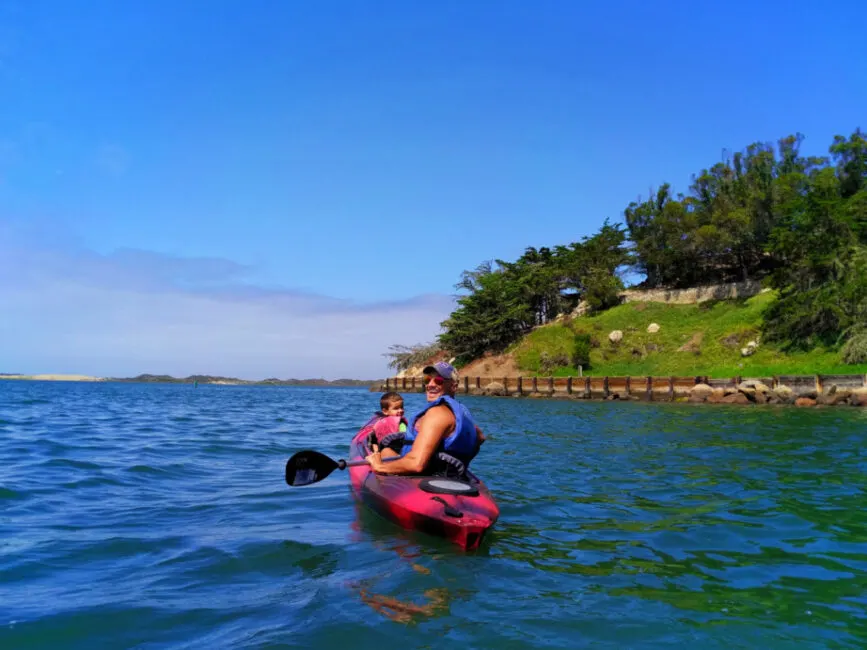 Things to Beware of With Online Kayak Shopping
Yes, you can read reviews, watch videos and usually get a really good understanding of what you're shopping for online, but buying a kayak or other large gear online can be tricky if you end up not liking what you order. Before completing an online kayaking gear purchase, confirm the return policies INCLUDING SHIPPING POLICIES. You may be able to return a kayak or paddles that you don't love, but you may have to pay for shipping… which could for $500 or something crazy. Here's how you get around it:
be thorough in your online kayak shopping; be certain
read the fine print for returns and exchanges
be aware of IN PERSON return availability, such as bringing the large kayaking gear back to a brick and mortar store location. Purchasing through REI or Dick's Sporting Goods, you can sometimes return items in person instead of shipping.
The biggest thing to consider is really not just the return policy, but the actual shipping or return location.
One other note to consider: what comes with your online purchase? Again, read the fine print and product details. We've purchased kayaks online that have come with paddle sets, life preserves and even kayak dollies… and we've purchased a kayak that didn't have any sort of seat or scupper plugs. Be sure you're fully aware of what's included with your purchase.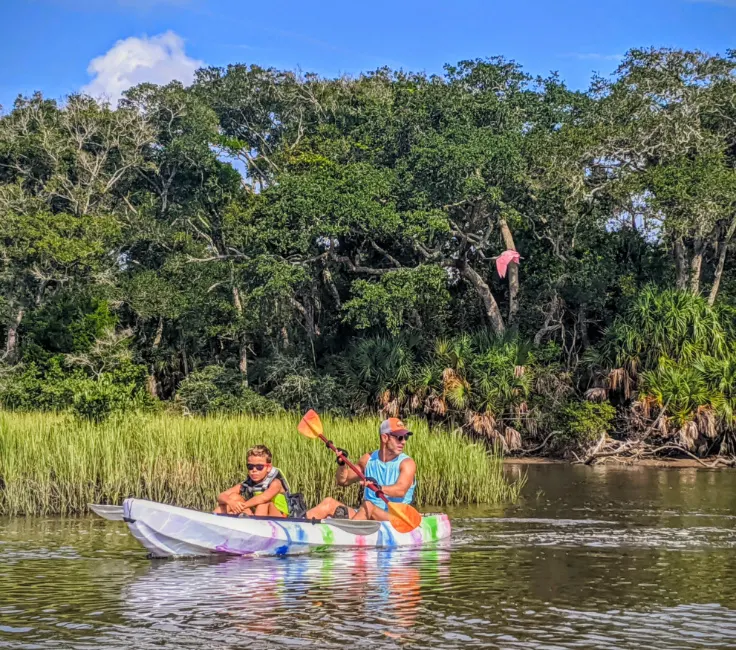 Best Single Kayaks for Beginners
Most people consider getting a single kayak before taking the plunge into tandems (two passengers) and rightly so. The best single kayaks for beginners are not fancy, but provide balance, comfort and are budget friendly. They should also be able to withstand underwater obstacles, because let's face it, kayakers of all skill levels scrape across rocks and logs unintentionally.
With the world shifting to outdoor living so much in 2020, it became quite difficult to find good kayaking gear, either in person or online. Thankfully things have leveled out and gear widely is available again!
Our picks for the best kayaking gear, starting with singles, are typically available in-person or for online ordering, and are brand standards. If something is out of stock, there is usually a VERY SIMILAR option available. Consider our recommendations for the best kayaking gear for beginners interchangeable with the slightly different versions brands may offer.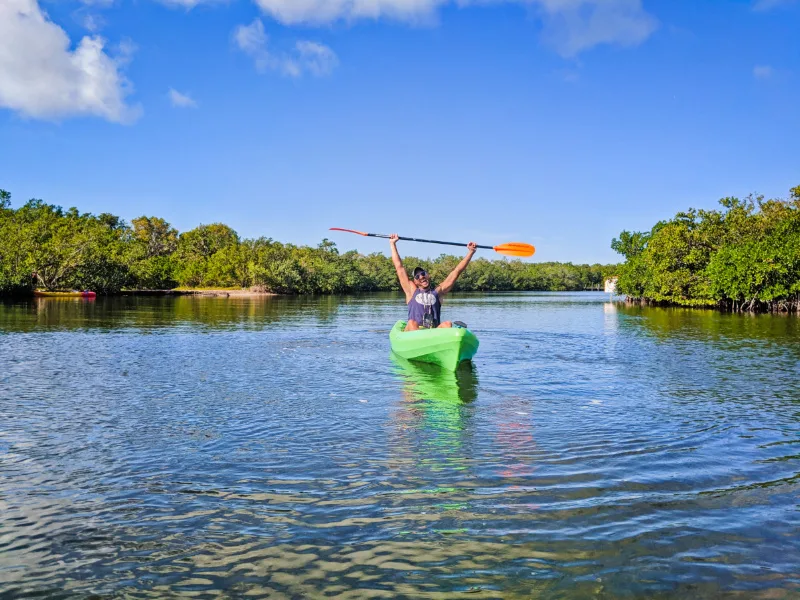 Hard-side Kayaks for Beginners
You don't have to spend a fortune to get a great kayak for beginners. Truthfully, nearly any kayak will do the job for calm water kayaking, but I think that what makes a kayak great for beginners is the price point and how easy it is to transport. If somebody is a beginner they probably aren't set up for epic kayaking voyages just yet, but just having the basic paddling gear is enough to start having awesome adventured.
Our top pick for a single kayak for beginners is the Lifetime Glide (or similar, formerly the Emotion Glide). It is THE BEST single kayak we've ever used and it's very durable. It's a polyethylene kayak with a surprisingly comfortable seat. At 9.5 feet in length, it's easily maneuverable, but it doesn't swerve back and forth on a steady paddle. I love it. We have two of them actually!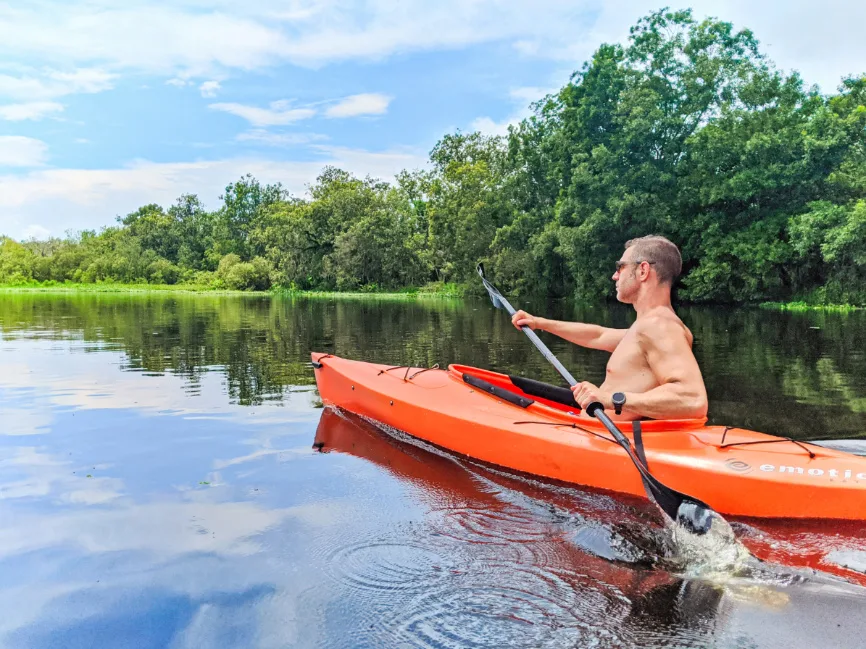 Another good beginner kayak recommendation is the Lifetime Revel single kayak. I've used this kayak several times, including on our Florida Keys road trip, and I love it. I like that it's very maneuverable and it stands up to underwater obstacles well. I also tend to get easily distracted when I'm kayaking, so the tracking channels of the Lifetime Revel are perfect for a kayaker like me.
The Lifetime Revel is only a few inches longer than the Glide, so it's not any more cumbersome to transport. It's also a little bit less expensive, so that's a bonus.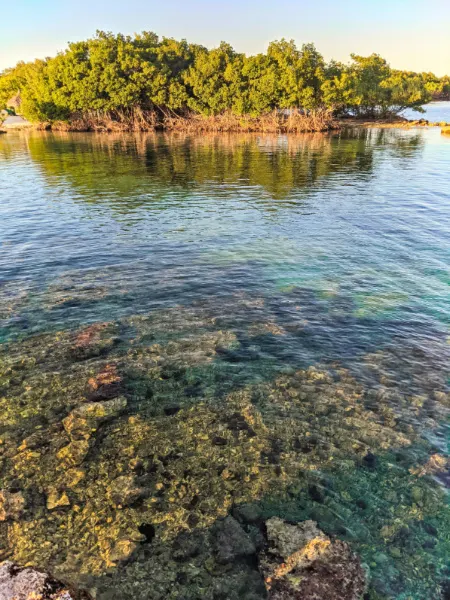 Luxury Single Kayaks
If you're looking for a top of the line single kayak, know that you'll be spending a pretty penny. While it could be worth the investment, especially if you're planning on using it for longer expeditions or frequent kayak fishing, you'll find the basic kayaks I've already noted to be sufficient, both as a recommendation for beginners or experienced kayakers.
When it comes to a luxury kayak though, I always drift towards a pedal kayak. These are great for fishing and photography. Here in Florida, I see a lot of people using them on our rivers, which tend to be very mellow. I haven't used or seen anyone use a pedal kayak on a rocky river, so I can't recommend it due to the workings, but here they're golden.
I really love the Perception Crank 10′ pedal kayak. I've used it and love it. It's comfortable, the pedal motion is natural and easy, and when it comes to maneuverability, it handles well. It's the perfect photography kayak.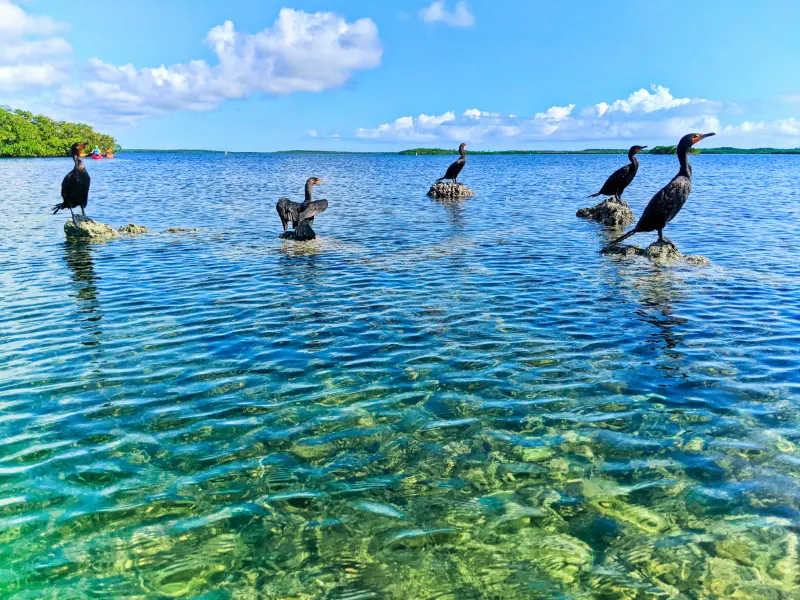 Best Inflatable Single Kayak for Beginners
There is nothing like the Advanced Elements product line when it comes to inflatable kayaks for beginners or experienced paddlers. We LOVE their products, primarily because they have the durability and rigid structure that hard-side kayaks have. The Advanced Element AdvancedFrame Single Kayak is a higher price point than nearly every other inflatable kayak, but it's well worth it and will last much longer and get way more use than other inflatables.
There is another model of the AE Single kayak that is a step up and a bit more of a splurge. The AdvancedFrame Expedition Elite is a dream inflatable. It's solid, cuts through the water due to its aluminum edge, and is 13′ long. This is for longer paddles, such as calm, broad rivers or even kayak camping. It has storage too, which is why it's the Expedition. Perfect to take to Nevada for paddling Lake Tahoe!
Shopping for a Tandem Kayak
For those just getting into kayaking or maybe branching out and adding a tandem kayak to their gear, finding the right tandem kayak is really important. You'll find lots of options out there, but they are not all created equal. While a single kayak is pretty standard, unless you get a kid-kayak, tandem kayaks are a mixed bag.
Do you know what to look for in a tandem kayak? You want to find one that is light enough that it moves through the water easily, but also wide enough that if one person moves to one side quickly you're not flipping over. You want a stable kayak, so our tandem kayak recommendations are all at least 30 inches across and 10.5′ long.
Note: most tandem kayaks are more than 65 pounds, so transporting them can be tricky. You'll want to be sure you have the appropriate roof rack and tie-down system or a trailer.
Another important element of a good tandem kayak is how well it tracks in a straight line. Either channels or a keel on the underside are very important for this. You don't want a tandem with a rudder if you're looking for a beginner kayak recommendation, as that's an aspect of paddling that you just don't need to start. Also, having moving parts makes for potential repair and maintenance issues in the future.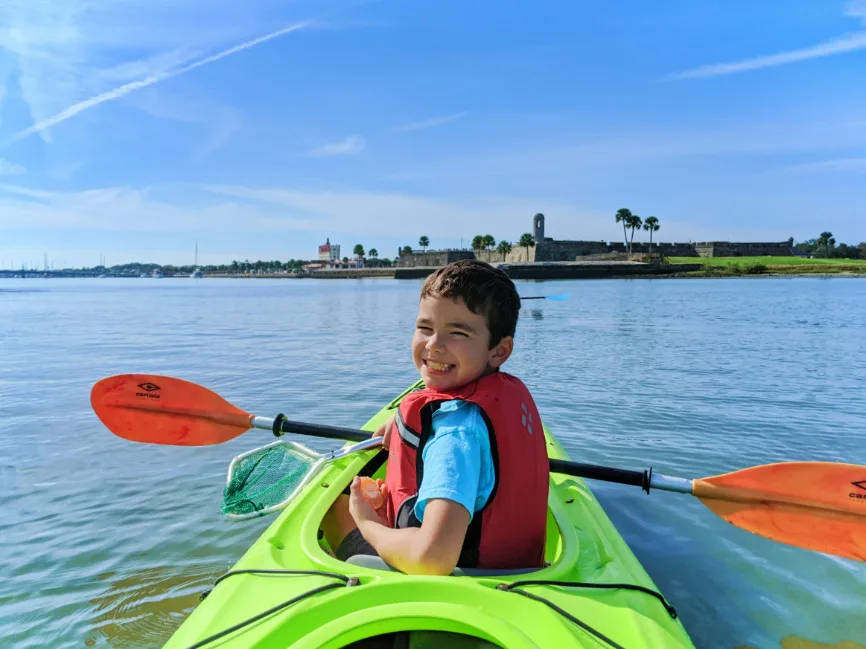 Best Tandem Kayak: Advanced Element Inflatable Tandem
Advanced Elements Tandem Inflatable Kayak is our favorite tandem kayak overall. We actually have two of them, so yes, it's our top kayaking gear recommendation. It cuts through the water like a pro, is really light, it's sturdy and hardy, and it fits in the back of the car. We use this whenever we visit the many Florida springs for manatees or when we're kayaking in the Florida Keys. It's perfect for a parent and child to paddle!
There is another version of of the Advanced Elements tandem that we haven't tried, but is very similar in construction, including the aluminum frame pieces. The AE StraitEdge 2 is available with the same warranty and is self-bailing, which is important if you're doing open water kayaking.
Either way, you can't go wrong with the Advanced Element line, and it will stay as our top recommendation for kayaking gear for a long time.
Note: be sure you have the Advanced Elements 2-Way pump. It works much faster than any other manual pump we've tried and it has the proper nozzles for each AE air compartment. A must-own pump (we use it with our SUPs too).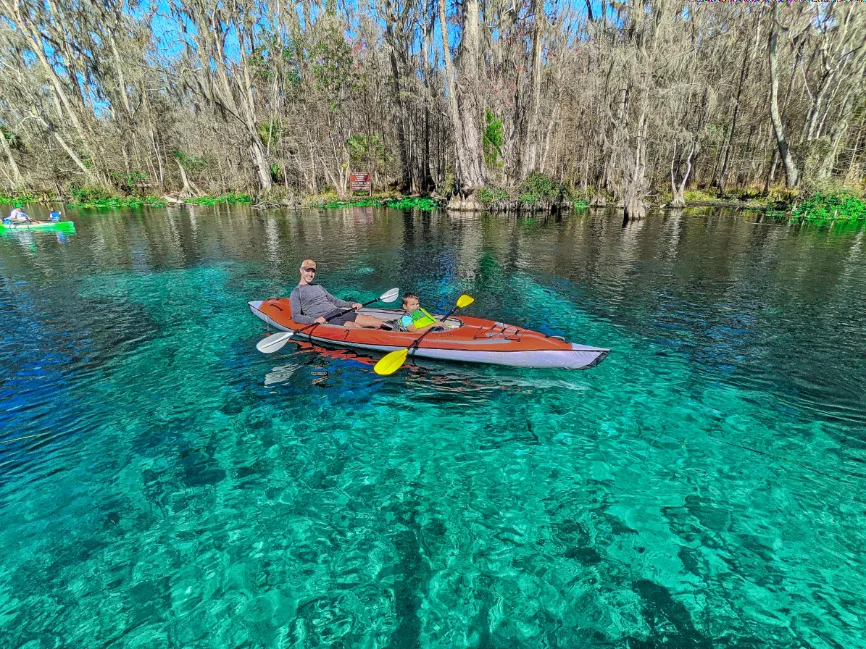 Best Hard-side Tandem Kayak for Beginners: Perception Pescador or Rambler
The Perception Pescador is the one sit-on-top kayak I can recommend. Of the many exposed kayaks I've used over the years, the Perception Pescador tandem kayak is the only that handles well enough when just the person in the rear of the kayak is paddling. If you're a parent, you know that kids tend to give up on paddling when it's not 100% required of them. For that reason, I like the Pescador.
The channels on the underside and the small keel help keep it moving straight ahead. Also, it's not terribly heavy, so it's an easy tandem kayak to transport. The Perception Rambler is also a good option, but the seats don't provide as much support (they can be changed out though).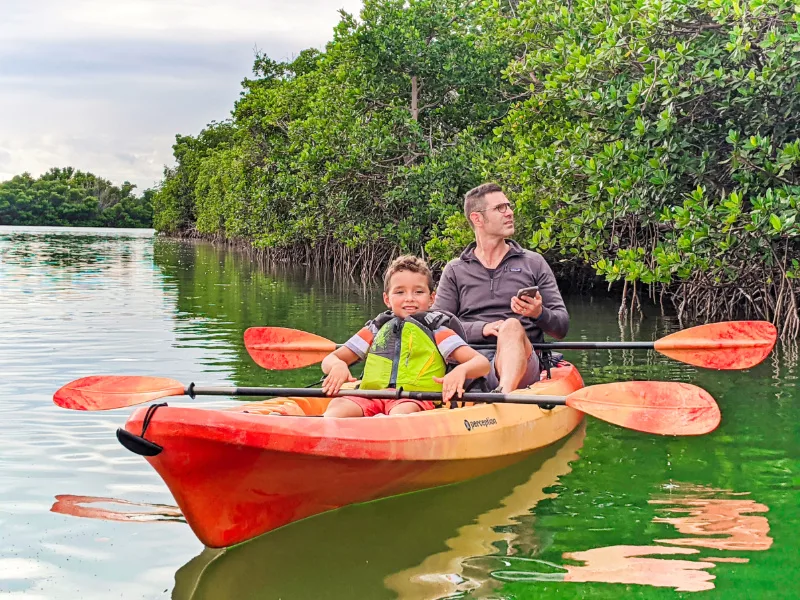 Second Choice: Pelican Premium Tandem Kayak
I've only used this particular kayak once but I loved it. I found that it tracks really well and is quite comfortable. It's a great tandem kayak to use with kids. There really isn't a downside to it, but it does cost a bit more than other tandem kayaks with similar attributes (tends to run $900 USD after tax/shipping).
The big bonus of the Pelican Premium Tandem Kayak is how light it is. Tandem kayaks tend to run really heavy and the Pelican is actually really light. At 67 lbs, you can carry this on top of most cars or SUV's stock racks. That's a really unique characteristic, and why it falls into our top kayak gear recommendations.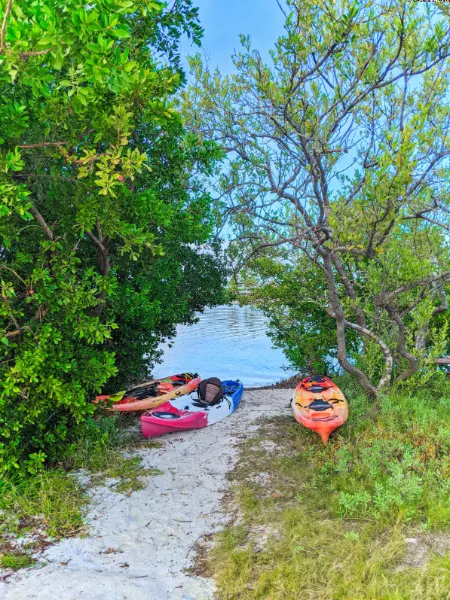 Third Choice for Tandem Kayak: LL Bean Manatee Tandem
I know, I said that a tandem kayak needs to be light, and the LL Bean Manatee Tandem kayak isn't as light as other tandem kayaks, but what I love is how swiftly the Manatee moves through the water. The shape and, in this case it's a plus, the weight of the LL Bean Manatee give it a great inertia when you've got your pace for paddling. If you're hauling, the Manatee cuts through the water and keeps going.
Yes, it's a bit of a beast and shouldn't be loaded ON TOP of a vehicle, but if you are using a kayak trailer, the Manatee is a fantastic kayak. The seats are comfortable, there is storage, it's sleek. I love it.
Note: this is a high demand item and is frequently out of stock. If you want the same experience, but in a single, there is a single Manatee version available.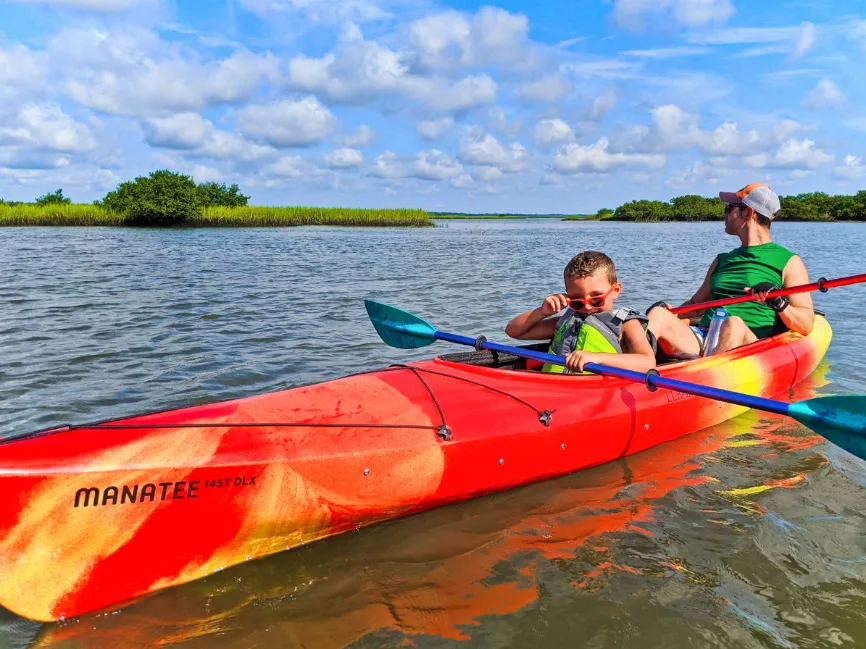 Transporting Your Gear: Kayak Racks and Trailers
It's great to get the best kayaking gear, but you need to be able to transport it to use it. There are three different ways to transport kayaks: roof rack, trailer or dolly. The latter is if you're able to walk to your kayak launch site (like us!)
As you look at our kayak rack recommendations and trailer picks, keep in mind your vehicle's towing or roof top capacity. Great gear is awesome as long as you can actually use it and use it safely.
Top Kayak Trailer Pick: Sylvan Sport GO EASY
We really love the Sylvan Outdoor brand and use their sleeping bags and self inflating air mattresses both for camping and as additional sleeping arrangements at our flat up in Savannah, GA. Sylvan Outdoor makes really thoughtful, high quality products and among those is one of the coolest, but versatile kayak trailers we've seen.
The GO EASY Kayak Trailer is the perfect solution for either new or experienced kayakers. It can hold up to four boats, has dry storage, a gear deck and can even carry bikes. It's pretty remarkable. Depending on the model you get, it ranges from $2k-$3k and with its guarantee and flexible uses, I think it's a good investment.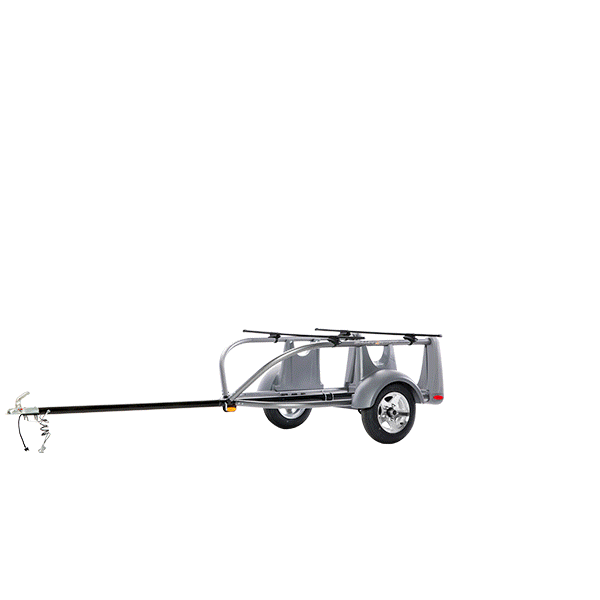 Rooftop Kayak Rack Recommendations
We've had several different rooftop kayak racks over the years and we've settles on two as being the easiest and sturdiest. Being able to throw the kayaks on top of the car quickly and feeling confident that we're not going to pull over to fix them multiple times is great.
Top Pick: Yakima JayLow Kayak Carrier
This may sound silly, but the initial reason we got the Yakima JayLow Kayak Carrier was actually because we could leave them on the car and still go through the carwash. It turns out that they are also awesome for ease of use and stability. They very easily attach and I've never felt that they weren't secure. They also pop up to load kayaks very quickly and easily.
When you first look at the Yakima JayLow Kayak Carrier, it' looks like it's maybe only for one kayak at a time, but a set is actually fit for either one or two kayaks. We typically have two kayaks on top of the car and it's always worked out great.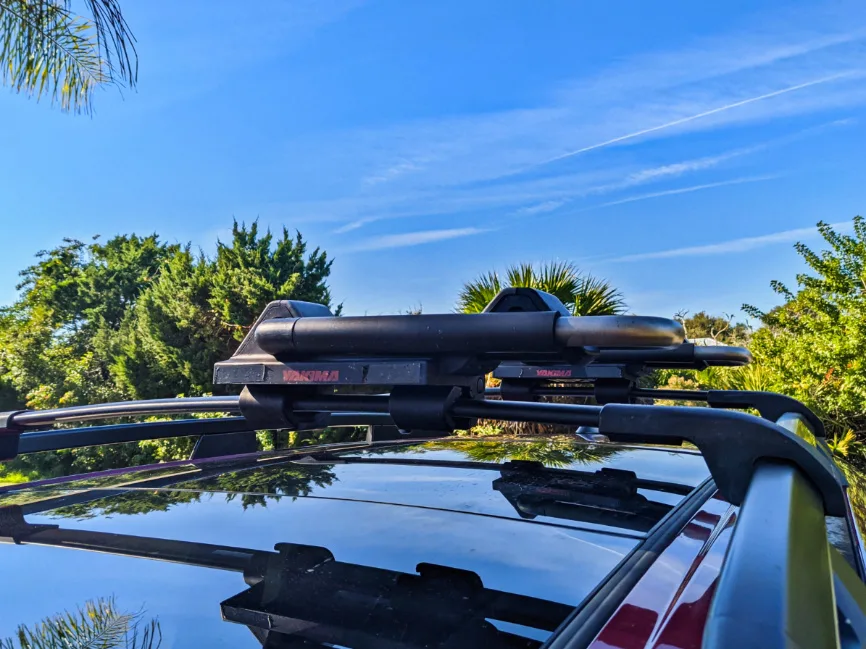 Second Kayak Rack Recommendation: Ikuram R Kayak Carrier
Our best kayaking buddies use the Ikuram R Kayak Carrier and swear by it. They like how flexible it is for whatever they need to transport, whether it's one kayak or several types of gear. Where the JayLow fails is having multiple stationary position for varying gear, and that's where the Ikuram R shines.
Thule offers the Compass 4-in-1 which is very similar but at a higher price point. Either is a great option, and I think it depends on the budget you have for beginner kayaking gear or if you're ready to make the bigger, longer term investment.
Transporting Kayaks on Foot: Kayak Dollies for Short Trips
I love having dollies, aka carts, to tow our kayaks on when we're WALKING to our launch site. Dollies ARE NOT to be used for towing behind a car or bike. Dollies make taking your kayak to the launch very easy, but they are not a solution for long distance transport.
If you're shopping for beginner kayaking gear, go for a kayak cart that is inexpensive and comes with straps. Because using a dolly for a kayak usually means that you're traveling less than a mile, but you can go farther, get something that has good reviews/good quality, but don't stress about getting a top of the line kayak dolly. As long as you're storing it properly between uses, nearly any dolly will work.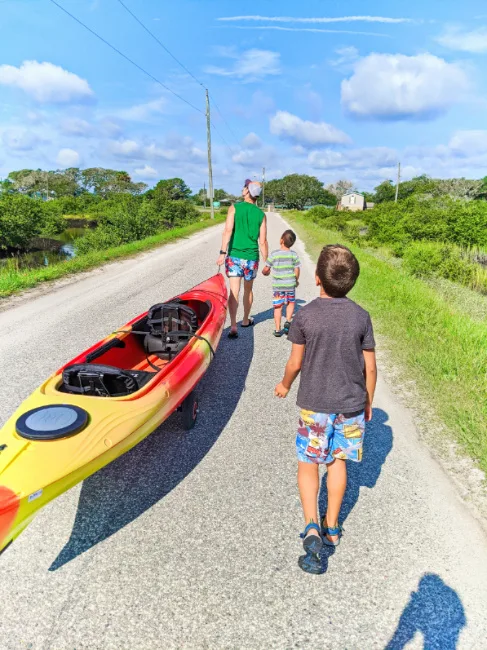 Best Life Jackets and PFDs for Paddling
When you think of a PFD (personal floatation device) you probably automatically think of the traditional, chunky life jacket. Those are great and effective for safety on the water, but there are other options that are more compact and just as effective, which can be really wonderful for active outdoor activities, such as kayaking.
Top Picks for Life Jackets
Life jackets are important for every type of boating, whether you're on a large boat, a pontoon, or if you're kayaking. For mild or lazy paddling (lakes and mellow rivers) any life jacket will do. If you're planning for longer paddle or if you're going to be doing very active kayaking trips, slim and comfortable life jackets are best.
Even if you're not planning to wear a life jacket while paddling (not always required) you need to always have one readily accessible (required). Kids ALWAYS must wear life jackets and it's extra important that they are fitted appropriately.
Here are our top picks for life jackets: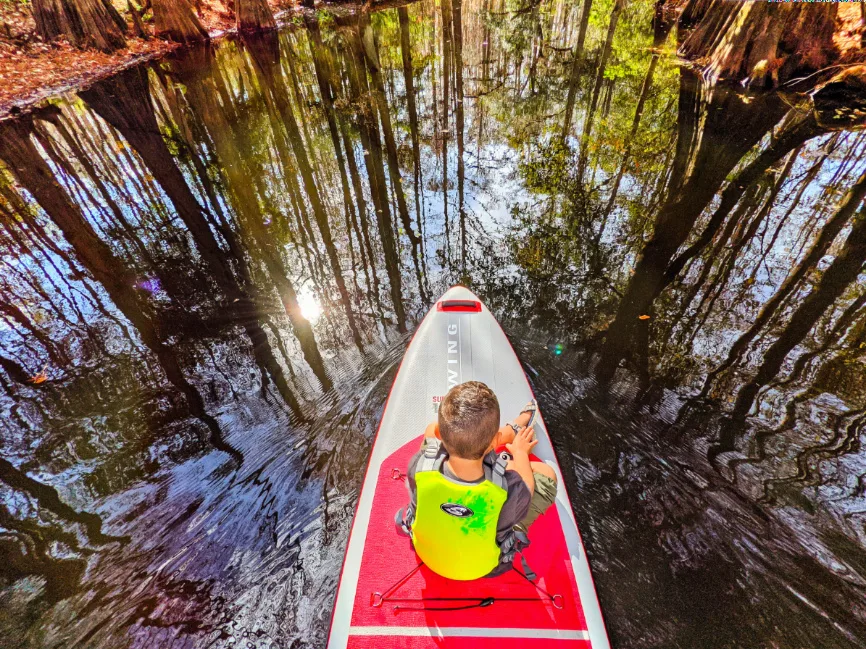 Best Inflatable Life Belts
We mainly use our inflatable life belts when we're using our SUPs, but they are also great to bring with us in the even we mis-count how many life jackets we've brought (because I do that from time to time). Inflatable life belts are great for beginner kayaking gear purchases because they don't take up a lot of space and they can be used for a variety of paddling adventures.
If you're not familiar, an inflatable life belt is worn around the waste and has a circular life ring in it. It's loaded with a pull-trigger that activates a compressed air cartridge to fill quickly in an emergency. I've never had to activate either of mine, but I've unpacked them fully to be sure I understand them and they have very easy reassembly. A great value and very versitile.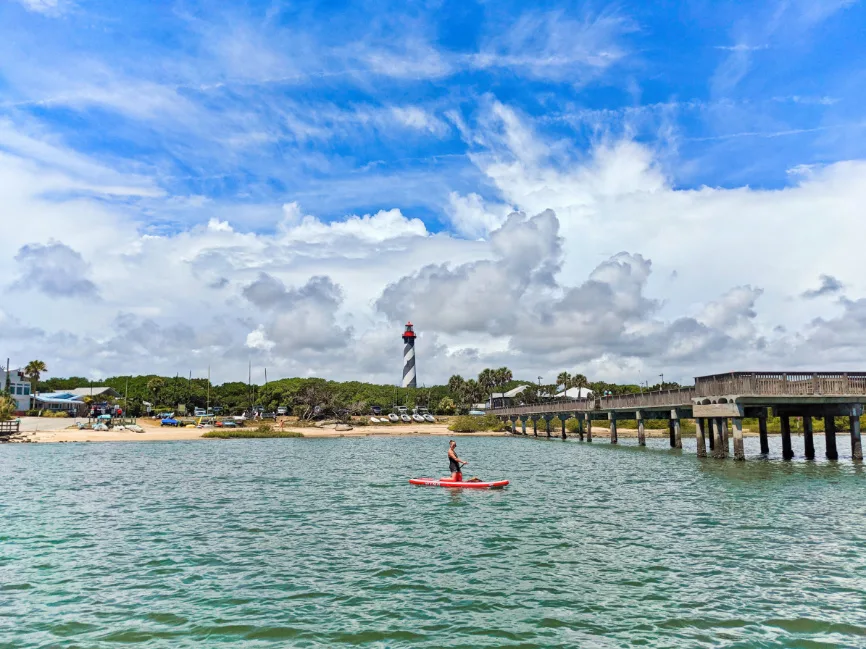 Bonus Kayaking Gear for Beginners
There are a few more kayaking gear recommendations to share, both for beginners and experienced kayakers. These items are things we've found to be very helpful over the years and that may not be required, but you'll be really glad to have.
Waterproof Phone Cases and Pouches
There are so many types of phones and so many styles of phone cases, but what's most important when it comes to one that acts as kayaking gear is to find one that is fully waterproof AND allows for high quality photos. I've tried all sorts of phone pouches and none of them have been worthwhile. They are always too loose to get a quality photo and most leak, at least just a little bit. I highly recommend AGAINST using a phone pouch. It's totally worth it to get a waterproof phone case.
I personally use the Oterkin, which is a 2nd tier brand and is actually awesome. It is watertight, really solid, has a snug yet thin camera area, and has never once leaked. I love it. It's available in nearly every type of phone size.
Note: ONLY get a case that is specifically designed for your EXACT phone model. This is the most important thing to double check before buying a waterproof phone case for kayaking.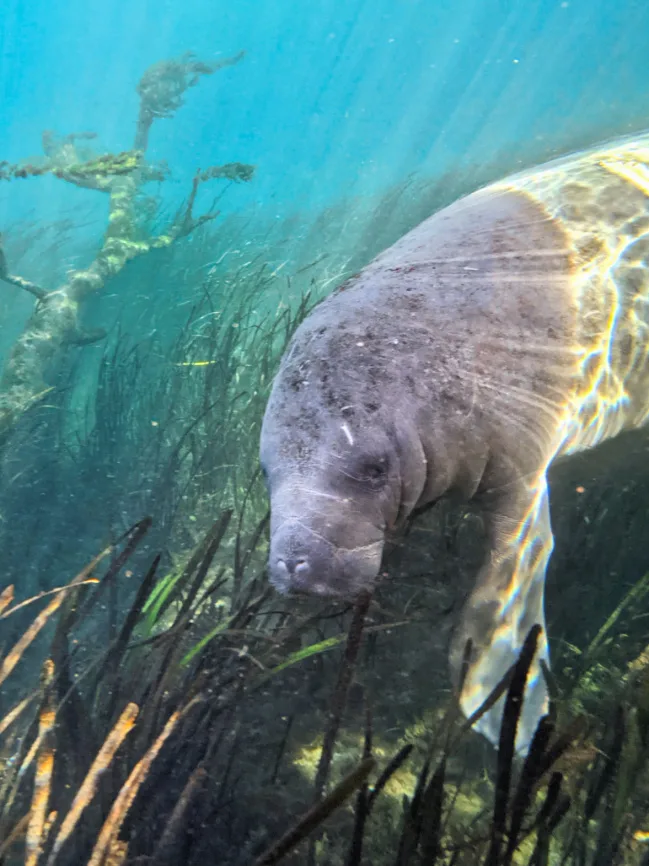 The Best Kayaking Gloves: NRS Guide Gloves
After your first long paddling adventure you'll understand the value of good paddling gloves. These are actually the best kayaking gloves I've tried. I got the NRS Guide Gloves as a back up pair to my normal kayaking gloves and they actually became my primary pair. I love them and think they're ideal for paddling in rough water or humidity.
The main thing I like about the NRS Guide Gloves is their flexibility while still providing a good grip. I found with other kayaking gloves that aren't as flexible, that they would be very tight to start and then after 30 minutes or so of activity loosen up enough to be comfortable.
I think these are the best kayaking gloves currently available for a budget price. Coming in around $20 per pair, the price doesn't break the bank and the quality is better than expected. The fit is just how you'd like (I wear a large) and the stitching/assembly doesn't leave any wear rub spots.
We'll see how these hold up after a few seasons, but for now they seem to be showing minimal wear and tear. The NRS Guide gloves are primarily neoprene, so wearing them is like wearing a wet suit for your hands. Being fingerless, these are great for easy use of a phone or camera without having to remove them. For cold water paddling, they still keep your hand warm enough, but full coverage is better if you're going to be in 50 degrees F or less temps.
Really, these are the best kayaking gloves I've found so far and highly recommend them.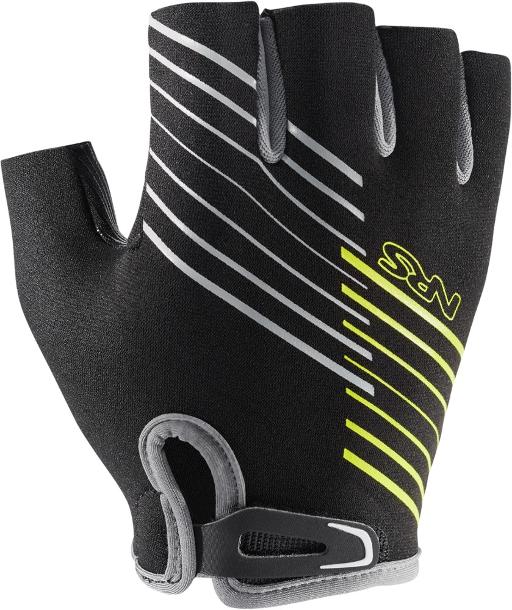 Dry Bags and Safe Storage for Kayaking
The last kayaking gear recommendation I think is pretty important is a dry bag. Even though a lot of people are paddling on calm water, they find that they still get a bit wet. And if you're bringing food, camera gear or dry clothes, you'll want those things to stay dry. Dry bags are a great idea for toting your gear and supplies and you don't have to spend a ton to get a good one.
We most often use dry bags when paddling on open water or the Intracoastal Waterway, as sometimes waves splash into our kayaks, so yeah, we'll get a bit wet. Dry bags are also helpful for when we do standup paddling as we can put stuff in them and then set them on our boards and everything stays dry.
When shopping for a dry bag, you want to be mindful of the storage size and then read reviews about how flexible it is. We love the Sea to Summit Dry Bags because they're lightweight, bendy (very important) and they come in different sizes. Hands down: this is our #1 pick for dry bags.
Hooray! That's our guide to kayaking gear and recommendations for getting set up, as a beginner or experienced paddler. You'll love being well prepared to get out on the water, or to shop for someone who wants to kayak more.
If you have any questions, always feel free to leave a comment or send us a note and we'll help you out. Happy paddling!