Reno and Lake Tahoe have so many more things to do than casinos and skiing. I've created an ideal itinerary for enjoying all kinds of outdoor adventures, history, and great food all around Carson City and Lake Tahoe. Many people consider Lake Tahoe for vacations, but there is a whole world just a few miles from the lake that is perfect for families or solo adventurers alike. Use this itinerary as a Reno-Tahoe travel / trip planner to build the sort of vacation YOU want.
This four day Reno Tahoe itinerary will give you a nice mix of culture, nature and Nevada's historic mining past. With time in Nevada's State Capitol, Carson City, and in the mountains surrounding the Eagle Valley, all the way to Lake Tahoe's shores, this travel plan will keep you busy and allow for plenty of down time to relax and enjoy the Reno Tahoe area. You'll find many things to do between Reno and Tahoe!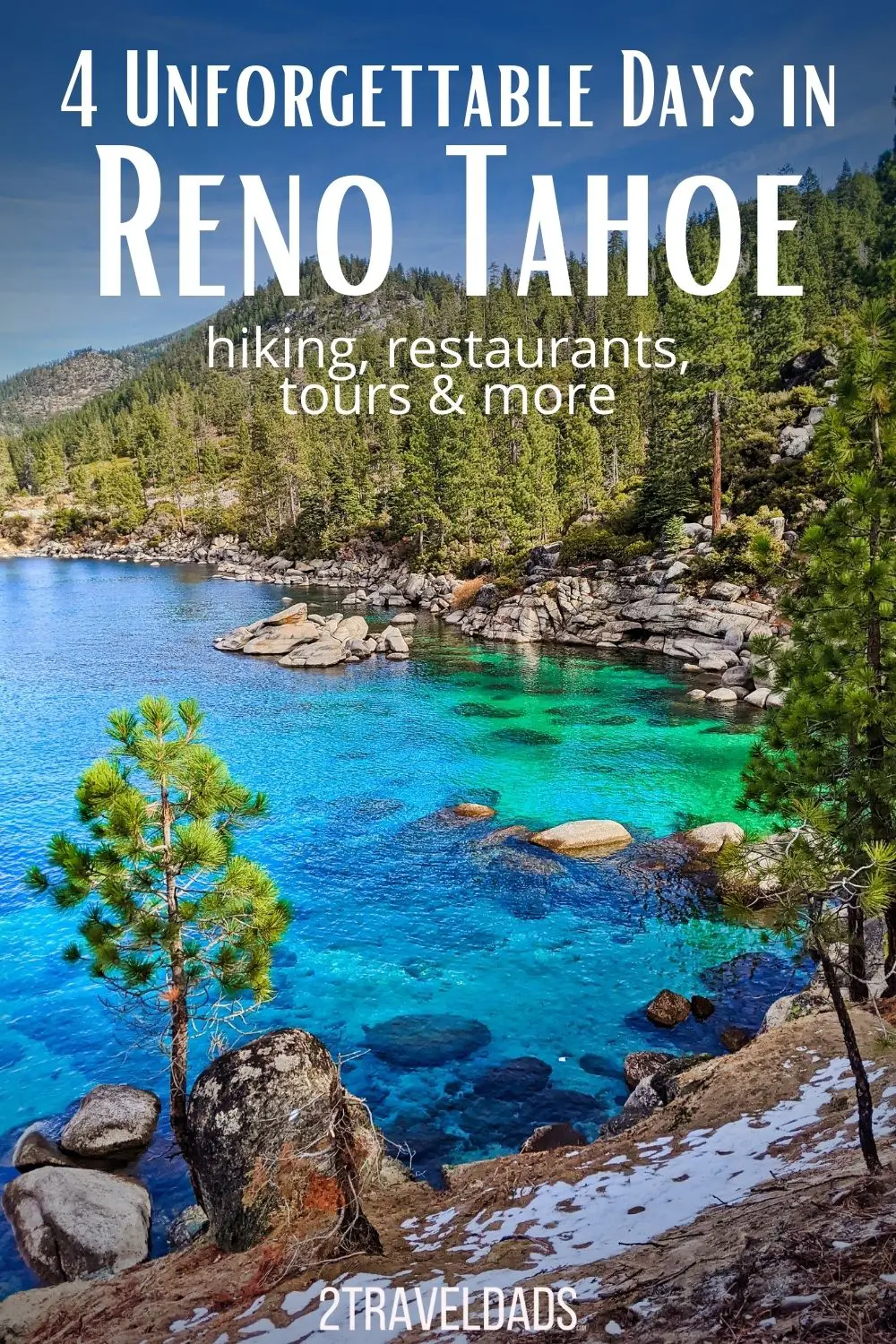 4 Days in Reno Tahoe Itinerary
As you arrive in the Reno-Tahoe airport or general area, you'll most likely fly into Reno (RNO) or be driving from the San Francisco Bay Area. Either way, you'll do some quick sightseeing in downtown Reno, driving under the Reno Arch and checking out the facades of some of the famous vintage casinos. But then you head south and start your awesome vacation.
To get from Reno to Tahoe, you'll need to go through Carson City, so that's actually the best place to make your home base. Staying in Carson City for your Reno-Tahoe vacation is smart because it's surrounded by the main nature and history sites you'll be visiting, and it's very easy access to Lake Tahoe's eastern shore.
And if you're visiting Lake Tahoe in winter, you'll be really glad to be able to escape the snow if you need. State Parks, National Forests and so many interesting things to do are all around Carson City, so you'll be glad to have a home base right in the middle of it all.  See end of post for hotel recommendations!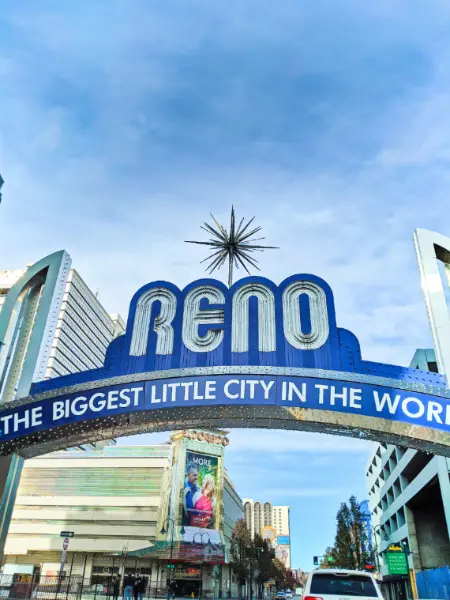 Day 1 – Things to Do in Carson City
Start your trip with relaxation and getting a view into Nevada's historic past. Carson City is both the capital of Nevada and a really cool town to explore. As you check out the grid-work streets of historic sites and beautiful homes, you might fall in love with the town. There are lots of things to do and interesting museums all within walking distance of each other.
Walk Through the Historic Neighborhood
Just to the west of downtown you'll find a beautiful neighborhood full of historic homes. When you look at the many communities around the Reno Tahoe area, there aren't any others to hold a candle to the history and charm of the Westside Historic District. The combination or Victorians, Queen Anne homes and Craftsman houses make it a fun neighborhood to walk through.
Visiting in the fall, we came across lots of wonderful autumn leaves and home decorated for the holidays, including the Governor's Mansion. Really, I love this area and would stroll through the Westside Historic District with my coffee each morning.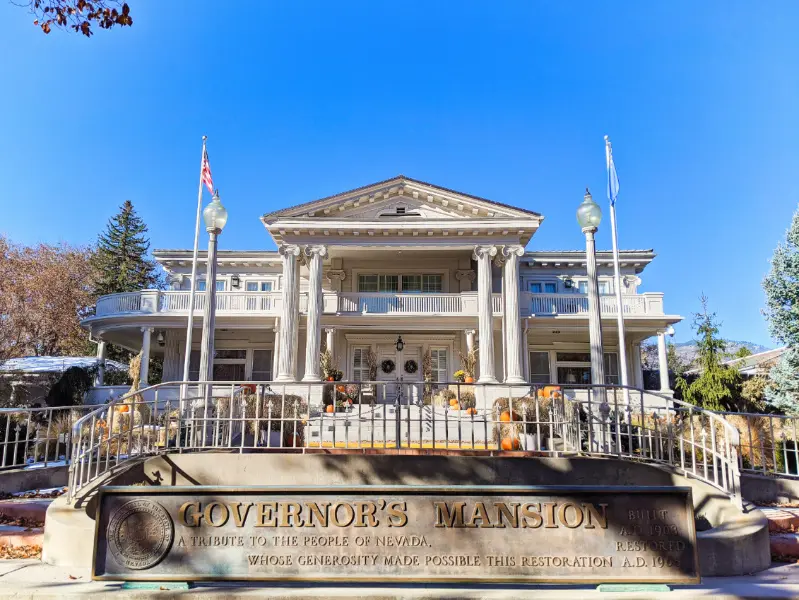 Nevada State Museum / Carson City Mint Tour
The Nevada State Museum is located in the former Carson City US Mint building. Yes, they used to make money here and now it's where you can learn all about the Silver State and Carson City's fascinating mining history. With mines all around the Reno Tahoe area, a visit to the Nevada State Museum is the perfect background to understand the rest of the region before you head out exploring. One of the best things to do in Carson City or the Reno-Tahoe area, you'll want to allot about two hours for a visit.
If you're most interested in the US Mint aspect of the Nevada State Museum, you can check out the permanent exhibits to see proofs, presses and more. It's a special, interesting museum that really exemplifies the sense of place and history of the area.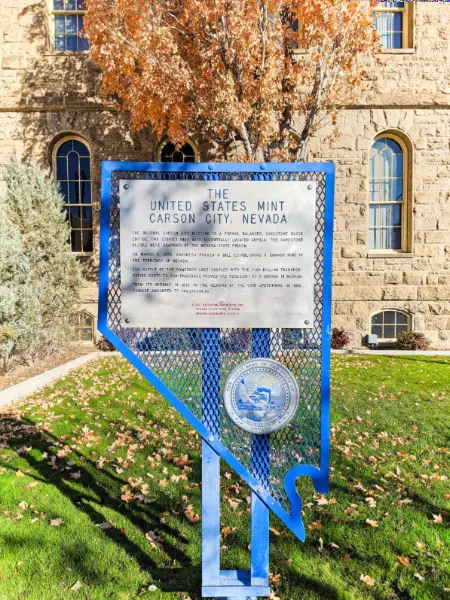 Walk the Kit Carson trail
Taking you through both the Westside Historic District and with a stop at the Carson City Mint, the Kit Carson Trail is a collection of historic sites all around downtown. It's an easy walk and will guide you through the whole city core. You can follow the medallions inlaid in the sidewalk or use the handy map you can pick up from the visitors center.
Either way, you'll get some exercise and enjoy the beautiful downtown from the Nevada State Capitol Grounds to the vintage casinos.  When you're ready for lunch, make your way to LA Bakery Cafe & Eatery at the north end of the Westside neighborhood. You'll find a wonderful selection of sandwiches, salads and even gluten-free baked goods. It's an ideal lunch spot with lots of outdoor seating.
Note:  As a reminder, if you're walking through an historic neighborhood like you may on the Kit Carson Trail, there are people who actually live there, so be respectful to the residents and appreciate the historic homes from afar. Checking out the beautiful homes is one of the best things to do in Carson City, but you need to be courteous at all times.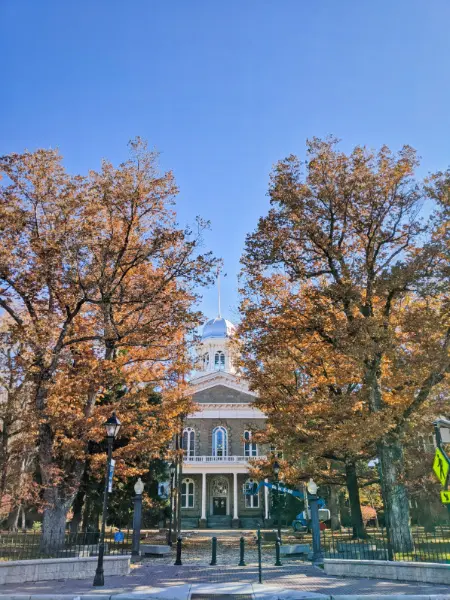 Breweries and Coffee Downtown
Throughout your day wandering historic Carson City, be sure to take time to support the locals who make the city what it is. Downtown you'll find several breweries and tap rooms, and quite a few coffee shops. The Union and Fox Brewpub are right on the main road, Carson Street, and the Westside Pour House is just a half block off.
For coffee, Old World Coffee Lab and Comma Coffee both offer outdoor seating and fresh made snacks and drinks. You'll actually find all kinds of quick and easy snacks around the downtown core, so stop in and support the local shop owners.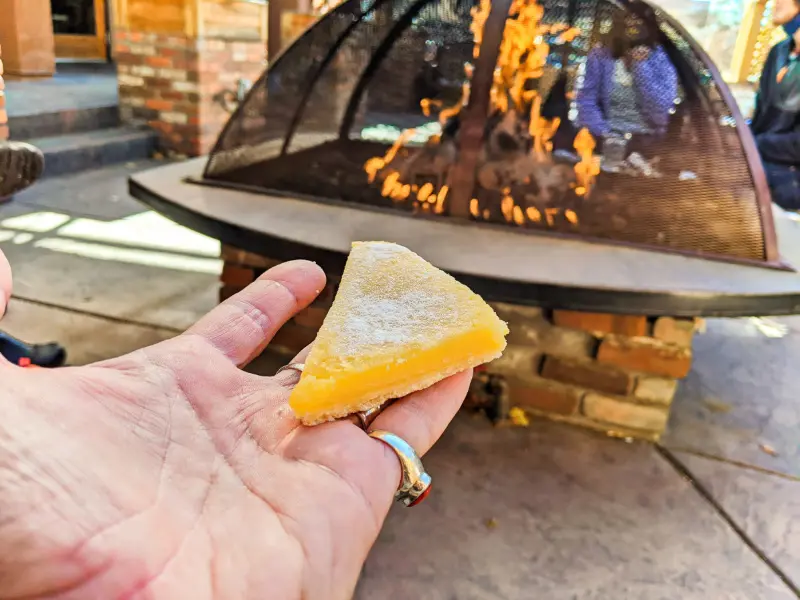 Carson City at Night – neon photography
Finish out the day with a stroll towards the casinos of downtown Carson City. The Nugget and Cactus Jack's both have really cool, vintage lights and neons to light up the night. While inside it may be a bit loud and smoky, the exterior is bright and fun. Photographing this part of Carson City is one of the best things to do, especially if you can catch it after the rain.
Day 2 – Hiking, History & Hot Springs in Carson City
After your first day in Carson City, you'll see that there is actually a lot to experience beyond the historic downtown core. Day two of our Reno Tahoe itinerary is a mix of things to do. Getting exercise in the great outdoors and also learning a little, you'll love seeing a totally different side of Carson City.
Morning Hike at Kings Canyon Waterfall
I love starting a travel day with a hike, and hiking in Reno Tahoe is abundant. Just on the edge of downtown Carson City is Kings Canyon (not Kings Canyon National Park). This subtle canyon includes a cascading waterfall, scrub and pine forests. The hike is fairly easy and well maintained, at only 1.5 miles for the loop.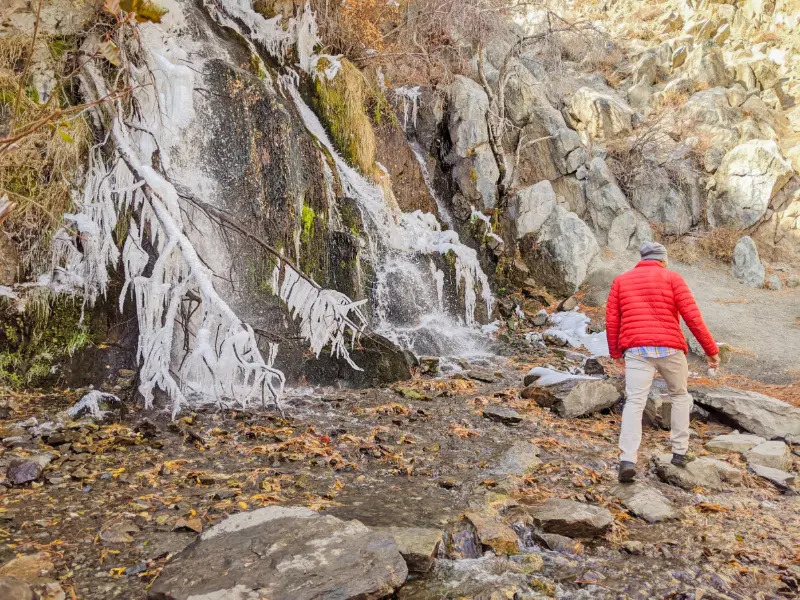 In the fall and winter it may be snowy, so bring hiking poles for support. The waterfall freezes over also, so be prepared for a beautiful sight straight out of Frozen.  In spring and summer, do your hike early so you can beat the heat. The views across the Eagle Valley are gorgeous and the bird population will keep your eyes and mind active, trying to spot them all.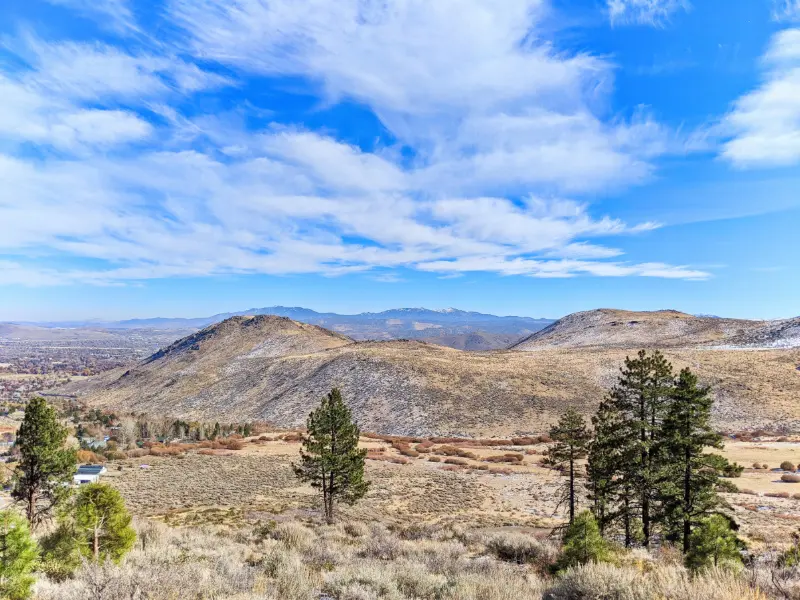 Nevada State Railroad Museum
If you're a train geek, like our whole family is, the Nevada State Railroad Museum will be one of your favorite stops. With a large collection of both locally used and internationally famous train engines and cars, the Railroad Museum is one of the best things to do in the Ren-Tahoe area and is great for all ages and levels of interest. There are even model trains if that's your thing.
The Nevada State Railroad Museum has a nice amount of outdoor space, as well as an audio tour. Allot up to two hours for a visit. After your morning hike this stop is perfect for either cooling off or warming up… because Reno Tahoe weather will give the extreme on either side.
Stewart Indian School Tour: the dark side of American History
Initially I didn't want to visit the Stewart Indian School, but I'm glad we did. This part of history in the Southwest is important to acknowledge. Opened in 1890, the Stewart Indian School was built to assimilate the local indigenous populations of the Washoe, Shoshone and Paiute Nations into the invasive white society. Their hair was cut and they were dressed in white-people clothes. Yes, there was education like you'd expect, but the big focus was erasure.
Today, the Stewart Indian School serves as a campus for government offices, but it's also a museum and a tribute to the cultures impacted by the western assimilation from 1890 into the 1960s. The buildings themselves are really beautiful, being made of local cut stone. If you can do the tour by a guide, go for it, as you'll get a deeper understanding of what happened and how the local Nations function today. There is also an audio tour you can do with your smart phone if you visit during off hours.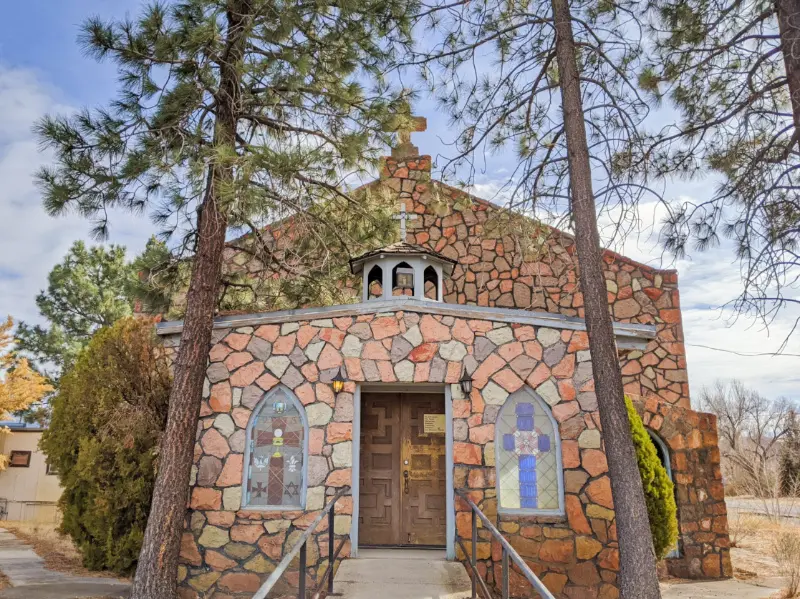 Sassafras Eclectic Food Joint for Outdoor Lunch
Yes, a specific restaurant is a part of this Reno Tahoe plan because it's so delicious and perfectly captures the eclectic nature of the area. Local food has to be on your "things to do" list. And they make infused vodkas for cocktails, so it's an awesome spot if you enjoy mixology AND great food!
Sassafras Eclectic Food Joint is located directly next to the Carson Hot Springs, so it's a great spot to enjoy an inventive salad with falafel or a pizza burger. The staff is fun and the atmosphere is relaxed.
Cocktail tip:  if you like Bloody Marys, Sassafras makes a chipotle pepper infused vodka for their Bloody Marys. It's hot and delicious, and it'll warm up your insides really quickly.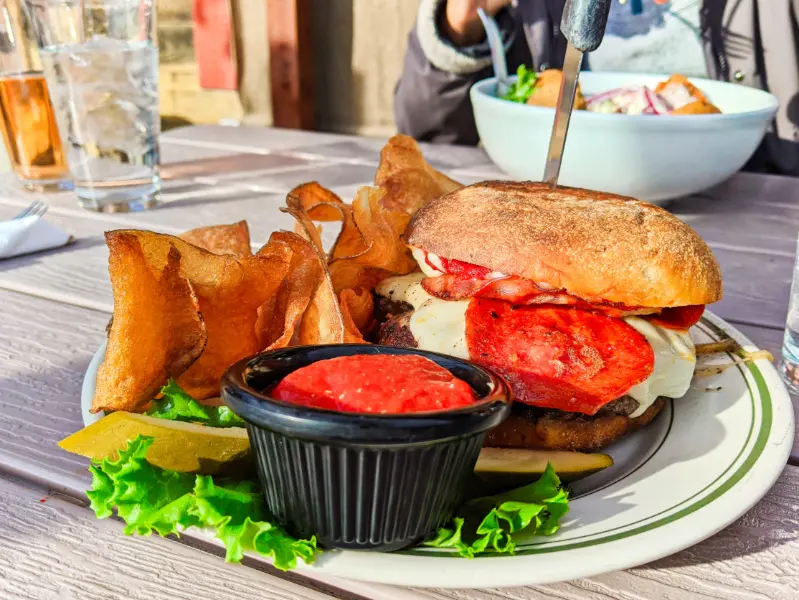 Visit Carson Hot Springs for a Soak
I love love love hot tubs and I really extra love geothermal science and the phenomena it produces. The Carson City Hot Springs Resort is a great activity for both health and enjoyment. Whether you choose to use the outdoor public spaces or rent a private soaking room, you'll feel awesome afterwards. 
The mineral-rich, 121 degree F water blasts out of the "Hammer" into the large pool. It cools to around 102 degrees F and is wonderful on a cold day or when the sun goes down. In the summer, they bring the water temperature down a bit more so it's not scorching under the hot sun. Anytime of year though, hot springs are always a good idea.
Tip:  if you want to do a private soaking room, there are a variety of temperatures to choose from, but the rooms are first-come-first served.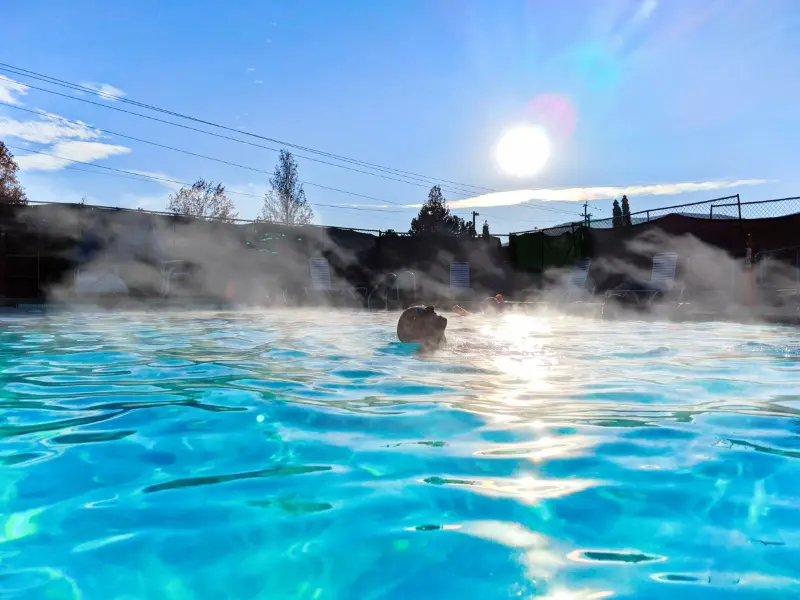 Shoe Tree Brewing
After a nice soak at the Carson Hot Springs pop over next door to Shoe Tree Brewing. With lots of outdoor space, you can enjoy all sorts of beers brewed by Shoe Tree, including a few interesting non-alcoholic drinks, such as root beer and sparkling lemonade.
I really enjoyed the Shoe Horn Double IPA and the Bob Rastafari IPA (clearly I love IPAs). They do tasting flights too, so if you can't decide, just go for the lot of them! And FYI, the locals call this the Trifecta: Sassafrass -> Carson Hot Springs -> Shoe Tree Brewing. They're all three right next to each other and make for great afternoon things to do in Carson City.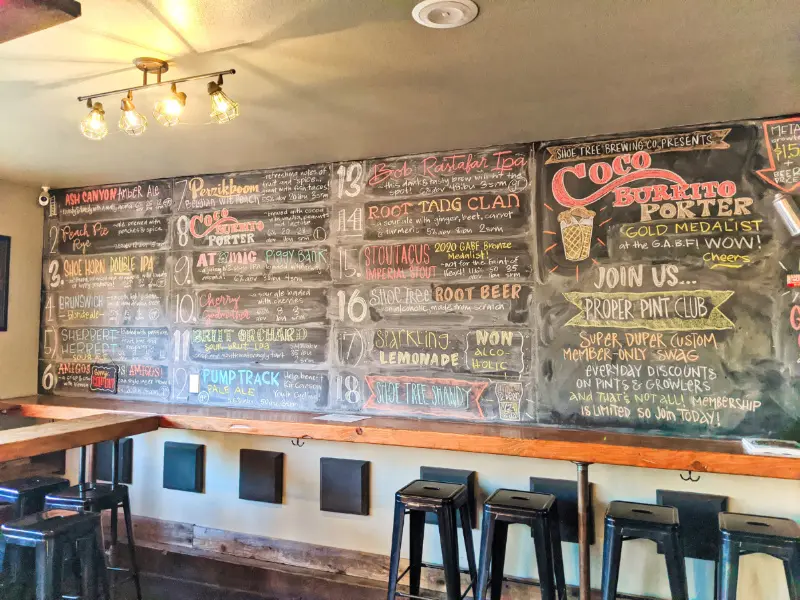 Day 3 – Lake Tahoe Day Trip
It's not strange that it's take until Day 3 to get to Lake Tahoe on our Reno Tahoe itinerary / vacation plan. Except during summer, Lake Tahoe and its shores can be pretty cold, and for sure you won't be swimming. Year-round though, Lake Tahoe is absolutely beautiful from every angle and the roads are well maintained, and plowed during snow.
For this day exploring the eastern side of Lake Tahoe, plan to either bring a picnic or have lunch in Incline Village. You'll want to see the deep blue and turquoise waters in every light, so basically you'll be at the lake all day. Exploring Lake Tahoe is unquestionably one of the best things to do in Reno-Tahoe, and you'll be so glad to enjoy the beautiful sights. If you want to add an extra day to your Reno Tahoe itinerary, there are tons of things to do in South Lake Tahoe too.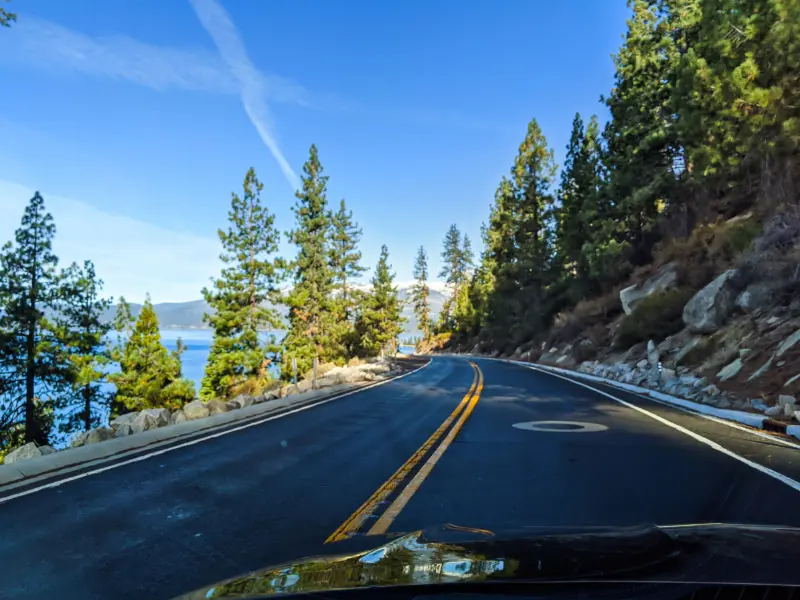 Chimney Rocks and Secret Beach OR Skunk Harbor
Technically still in Carson City, your home base for this trip, start your day with a hike at Lake Tahoe's Chimney Rocks, hiking down to Secret Beach. Park at the Chimney Beach Trailhead (map link here) and hike down to the water. It's a little over a half mile down to the water, and then you can continue south, away from Chimney Beach to visit Secret Cove, 2.4 miles in total.
You can also park at the viewpoint loop parking area (on the west side of the highway) and hike down to Secret Cove from there. Skunk Harbor is another option right in this same vicinity (map link to trailhead here) and it's less strenuous than the hike down from the parking area above Secret Cove, but is longer at 2.8 miles. Clearly, there are lots of options, so pick the one with the fewest cars at the trailhead.
Whichever hike you pick, I know it'll be one of your favorite things to do in the Reno-Tahoe area.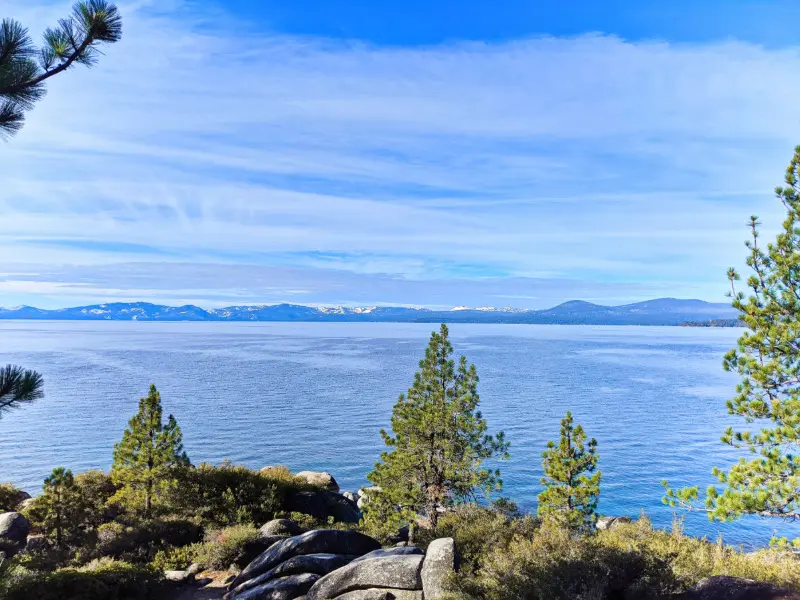 Sand Harbor State Park
Particularly in summer, Sand Harbor State Park is a great place to experience the beauty of Lake Tahoe, and it's swimable! A Reno Tahoe vacation needs to include swimming in the lake if the weather permits. Sand Harbor State Park has two different beach areas to swim at. There are also rocks to climb on, jumping spots, and plenty of boardwalks for walking. Sand Harbor is my standup paddleboard DREAM destination… in summer.
You'll also find a restaurant / snack bar, the Kokanee Grill, at Sand Harbor State Park. It's seasonally open, but is a nice spot for a simple lunch or a sunset dinner. Other season options at Sand Harbor State Park include the Shakespeare Festival (July and August) and sleigh rides. The sleighrides are on wheeled sleds, so not totally authentic, but still a fun activity with small kids or if you want an expensive photo op.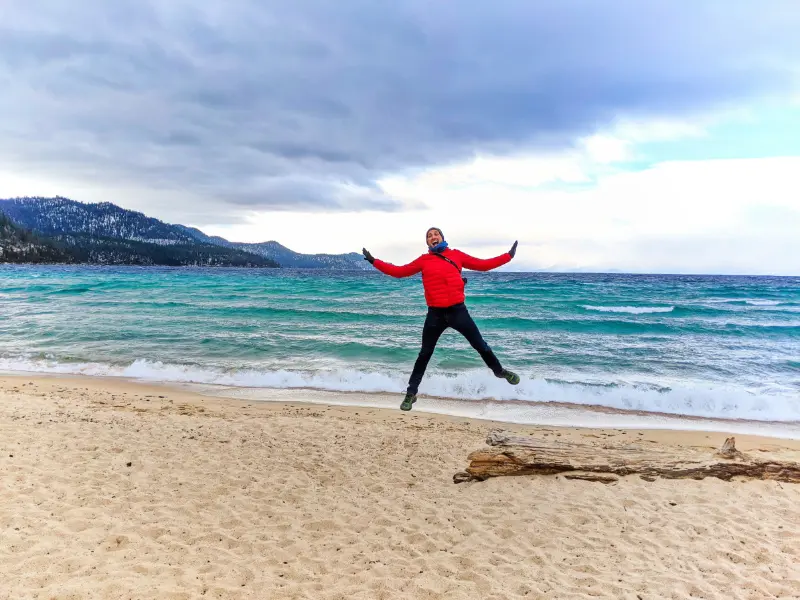 Walk the Lake Tahoe East Shore Trail
I love the Lake Tahoe East Shore Trail. There is a medium sized parking area at the trail head, and restroom and picnic facilities. The main path of the East Lake Tahoe Trail is paved, but there are lots of other trails, both established and bunny trails that leave from here as well. For the views and colors, this is THE BEST thing to do at Lake Tahoe in any season.
The shoreline along the East Tahoe Trail is gorgeous and rugged, with the most amazing clear water along the edges. There are ample opportunities to pick a boulder and just relax, staring off into the deep blue of Lake Tahoe. If you want to do the full East Tahoe Trail, it's not too long to the south and is totally jaw-dropping. If you do the northern leg, it's much more rugged and even a little stressful (precarious rock clambering), but the southern path crosses a nice bridge and has well maintained trails.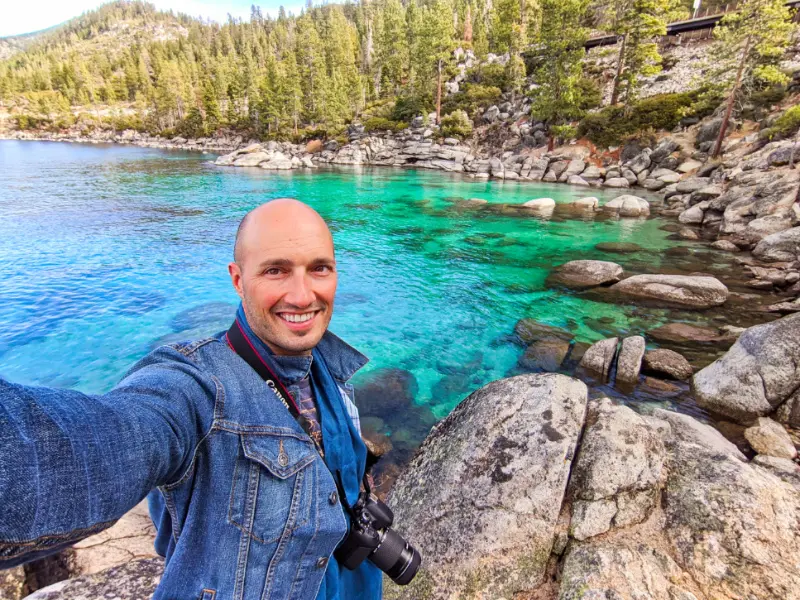 Visit Incline Village
Incline Village on Lake Tahoe's northeastern shore is just what you'd expect a resort town at Tahoe to be like. In the winter, it's basecamp for skiing and the home of countless apres ski hangouts, much like Heavenly Village in South Lake Tahoe. In the summer, it's the place to walk around and window shop, then grab a tasty locally sourced lunch. There are lots of options for biking and hiking going out of the village too, but if you want to include a bit of local culture in your Lake Tahoe day trip, this is the spot to do it.
Crystal Bay is where Incline Village touches Lake Tahoe, so to get some time on the water, rent a kayak or peddle boat and check out the crystal clear waters. You won't be bored here. If you need to, add an extra day where you spend the night in Incline Village just to be sure you feel you've had enough time.
Note: there are a few casinos in Incline Village and Crystal Bay, so that's one thing that may impact how much you enjoy your time. The area isn't void of gambling spots.
Visit Cave Rock on Lake Tahoe
A popular state park and a spot to launch boats, Cave Rock is another beautiful part of Lake Tahoe. This is just to the south of everything else you've visited so, you can add it later in the day if you would like to. You can visit two different ways: park or hike.  If you would like to park and just explore the shoreline, you can do that at the state park where you'll be able to launch a kayak or hang out at the beach or picnic area.
For a bit of a hike and to get some beautiful views of Lake Tahoe, do the Cave Rock Trail.  At less than a mile one way, it's not tough and shouldn't take too long. Because the trailhead is near the town of South Lake Tahoe, you might come across a fair number of other hikers on the trail, so if it's busy in the afternoon, maybe put it on your list to do on a morning or during your next visit.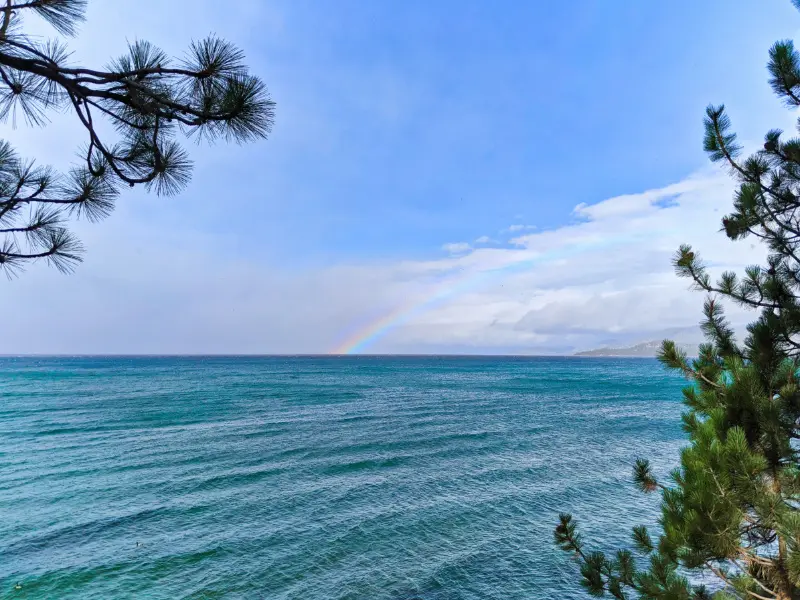 Spooner Lake Hike Near Carson City
I really enjoy the Spooner Lake Loop trail, part of the Spooner Lake and Backcountry State Park. One of the few things to do right next to Lake Tahoe that isn't ON the lake, the Spooner Lake trail gives you a different taste of the nature surrounding Lake Tahoe. A great idea for hiking with kids, Spooner Lake is a fairly flat loop that circles a pristine, small lake full of waterfowl. Pine trees and aspens add to the beauty, and if you keep your eyes peeled up into the trees, you may even spot a black bear.
When we hiked the Lake Tahoe Spooner Lake trail, we saw evidence of bears, large cats, we spotted a golden eagle, and had lots of colorful jays and flickers accompanying us on the trail. Really, a top notch idea to add to your Reno-Tahoe itinerary.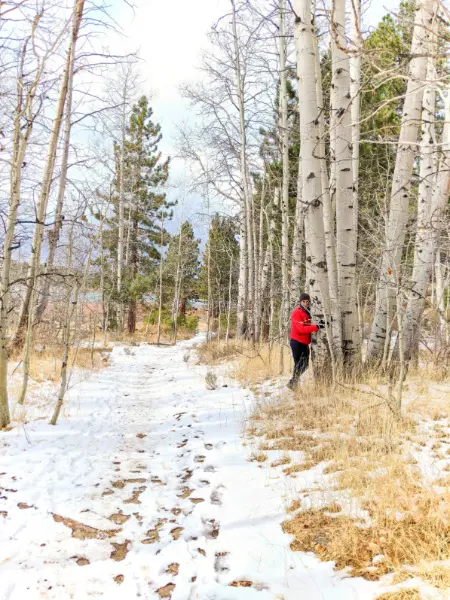 End with Sunset on Lake Tahoe
To wrap up your day exploring the shores of Lake Tahoe, head back to the East Shore Lake Tahoe trail. You've got one last, short and easy hike to do. From the parking area, head south on the paved path towards Sunset Cove. Here you'll find a beautiful view of the lake, plenty of benches and boulders, and a an unobstructed sunset. The turquoise waters near the shore will glisten and the colors will change. It's the perfect end to the day. (photo below is mid-day at Sunset Cove)
Sunset on Lake Tahoe is one of the best things to do in the whole Reno-Tahoe area. Gorgeous! When you've had your fill of sunset on Lake Tahoe, head back up the paved trail and make your way back to Carson City for the night. Enjoy dinner at The Basil where you'll find either fresh rolls to cool you down after your summer adventure, or hot and spicy Thai dishes to warm you up from the brisk breezy day.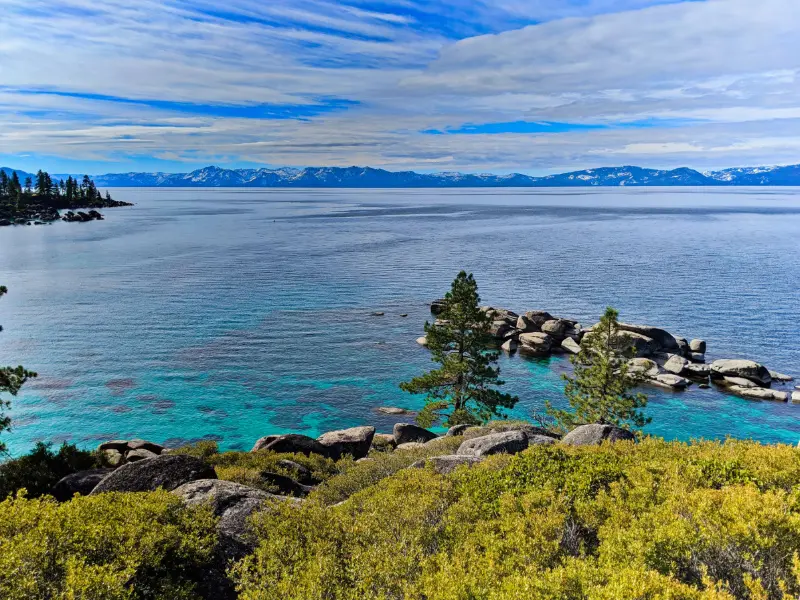 Day 4 – Reno-Tahoe Mining and Silver Country
Nevada is known at the Silver State, so it would only make sense to include mines and boom towns in a Reno Tahoe itinerary / trip planner. Each morning, as you stroll through Carson City seeking out your daily coffee, you might spy the silver domes on the Nevada State Capitol building. That's just the start of silver country as you head out for another wonderful day of exploring.
Virginia City Downtown and Boot Hill
Just to the northeast of Carson City is Virginia City. At one time it was booming with hotels and brothels as the land all around was full  of active silver and gold mines. The Comstock Lode, the largest silver strike in US history, brought thousands of miners to settle all around Virginia City. While not everybody stuck around as the hills were mined out, the remnants of the silver mining industry and silver rush are still around. 
Today, Virginia City is both a slice of time reflecting the 1850s and it's a tourist attraction, and might I say one of the best things to do near Reno or Carson City. The main street still has wooden boardwalks and many of the saloons are still… saloon-ish. There are gem shops and lots of places to seek out cool artisan and vintage silver work. There are some cool museums, including The Way We Were museum (not a tribute to Robert Redford), and you can even tour an old silver mine or two (check out the Chollar Mine!)
On the north edge of town is the historic Boot Hill, aka the Silver Terrace Cemetery. There may not be anyone famous buried here but the old gravestone and their epitaphs are really interesting to see. If you're into cemeteries… 
Fun fact:  do you know the difference between a cemetery and a graveyard? A cemetery is located on its own somewhere, but a graveyard is attached to a church area. The east coast has a lot of historic graveyards, but historic areas, particularly with mines, have more cemeteries.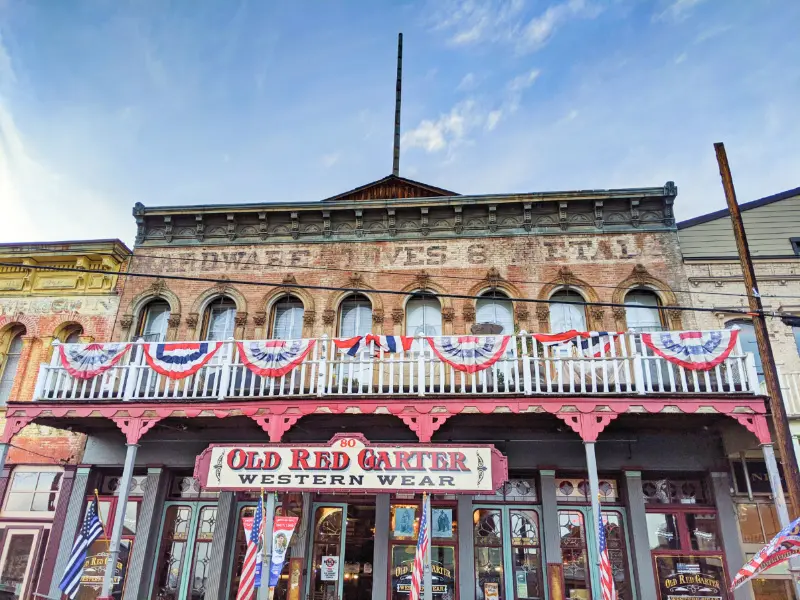 For a strange and funny stop, you need to visit the independent sovereign nation of Molossia. Yes, a slice of land that's claimed independence since 1977, Molossia is technically its own country (within another town). Pay it a visit, support its small economy!
There are lots of other small towns and ghost towns you can visit in the area around Virginia City, including Gold Hill and Dayton. In summer months, mine tours and panning for minerals and gems is a common activity. Nevada's oldest hotel, cool old store fronts and abandoned mining structures pepper the landscape, so as you go you may find yourself on a black and white photography journey. But don't go too far off track, because there's still more to see and do!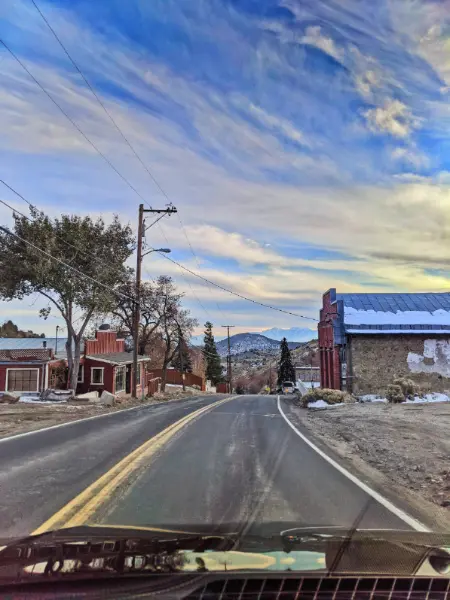 Where to See Wild Horses near Reno-Tahoe
While I wish I could snap my fingers and tell you exactly where to find wild horses around the Reno Tahoe area, the nature of being wild is that they get to roam. From directly around the outskirts and neighborhoods of Reno to the scrub and fields of Washoe Lake, there are lots of spots to see wild horses.
The best and most consistent areas to see the wild horses are along Highways 341 and 50.  The whole area between these highways, Carson City and Reno is their territory, so keep your eyes peeled! Spotting wild horses is such a fun thing to do, and it's rather rare in the USA.
Note:  wild horses are WILD. They are not tamed and just like you wouldn't walk up to a moose or a bear and start petting them, you don't want to get too close to a wild horse either. Even though they look just like domesticated horses you see on farms, these animals are in charge of their own lives and how they react to humans.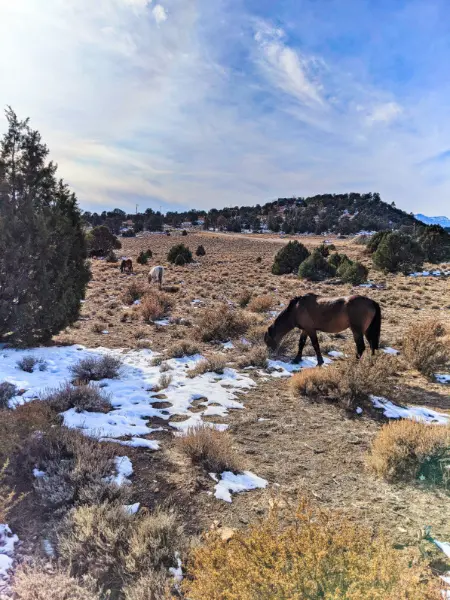 Most Unique Thing to do: V&T Railway Biking and Hiking
For your last big activity of the day, take a ride on the V & T Railway! A restored rail line that used to cart ore from the silver mines to the mills, you can actually go rail biking on the old tracks. It's actually an awesome thing to do that's both fun and a bit of a workout. 
As you bike along the old train route, you'll see remnants of mining days including stone walls and dilapidated wooden structures. Keep your eyes peeled for the wild horses too! At the end of the line, enjoy a hike down to the Carson River or along the top of the canyon, following the remaining railway path. 
Rail biking is a seasonal activity so if you're working on your Reno Tahoe travel plan for fall or winter, you may be out of luck. Check with the V & T Railway to confirm operations and visitation guidelines.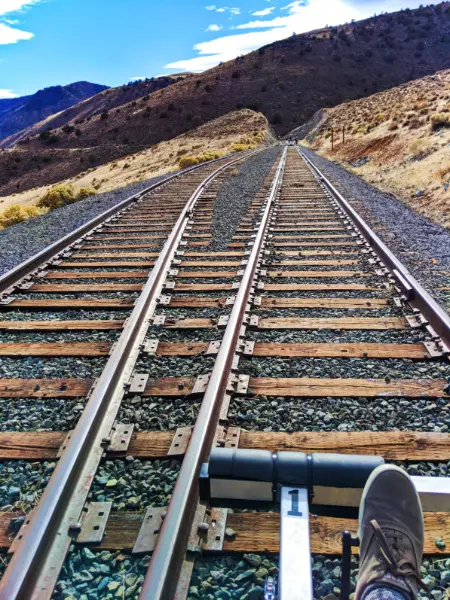 End with Cocktails Bank Saloon
Round out your last full day exploring the Reno Tahoe area with a nice dinner in downtown Carson City (or go back to Sassafras). Directly downtown along Carson Street you'll find several great restaurants, including Garibaldi's Italian Kitchen (incredible cioppino) and Union (mentioned above, brewery). For barbecue that rivals what you'll find in the south, pop down to Red's Old 395 Grill where there's lots of outdoor seating and even an old steam engine inside the restaurant.
Finish the night off in the old bank building downtown, now the Bank Saloon. Opened in 2020, Bank Saloon has metropolitan city cocktail chops with an old west feel. I really enjoyed the many gallery paintings depicting the mining and cattle industry of the Carson City area. It's the perfect night cap to four awesome days in the Reno Tahoe area. Really, a great end to such a fun Reno-Tahoe itinerary.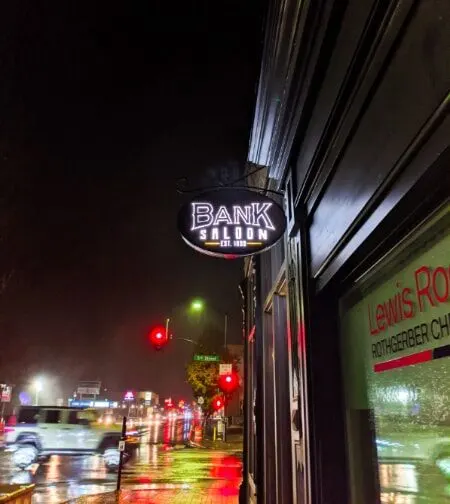 Where to stay in Reno Tahoe
I feel very strongly in making Carson City the home base for a Reno Tahoe vacation. I love the feel of the town and its central location to EVERYTHING. There aren't many options in the immediate downtown that aren't in casinos, but with a two minute drive and plenty of parking, you can be there in a heartbeat. Downtown or at the edge of town, you'll be close to almost all of the best things to do, including the highway to Lake Tahoe or freeway up to Reno.
If you want to be outside of Carson City, there are a number of vacation rentals and historic hotels peppered through the Eagle Valley and near Lake Tahoe, but they are limited with tight availability. Reno is an option too, but most of your activities aren't directly in Reno, so it's not convenient. That's why we recommend staying IN Carson City.
Hotels in Carson City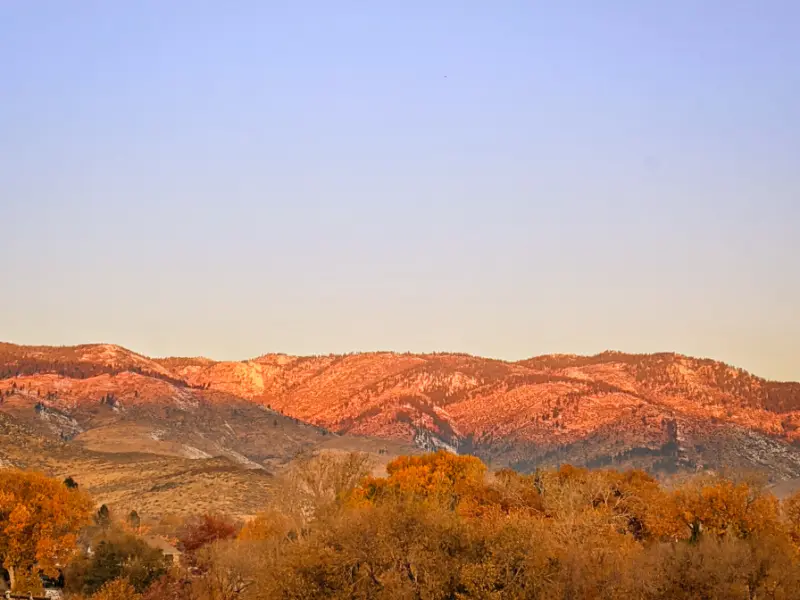 For a cool location in an historic hotel, the St Charles Hotel is located above the Fox Brewpub and is actually nicely renovated and on AirBNB and other rental platforms. I love this spot because there are lots of restaurants and good coffee within a block or two, and the Fox Brewpub downstairs has wonderful beer and a large patio with a firepit. Check out the room options and availability!
Top Pick at Incline Village
Because Incline Village is much more of a ski resort town than an exploring destination, the options here are much different. Incline Village is good to stay in if you're visiting in the winter or if a Lake Tahoe view is your goal. A bonus about Incline Village is the number of vacation rentals that are available. 
I prefer to book through AirBNB because the fees are much less than VRBO (check out the map below for options) but VRBO may be the way to go if you're planning a longer stay in the area.
Reno Hotel Options
My last pick for a home base location is the city of Reno. I say this because I prefer the quieter vibe of Carson City and I don't love the full on casino culture of downtown. Having said that, there are some very nice hotels in Reno, both on the main strip of Virginia Street and outside of the immediate downtown core. 
A bonus to choosing a Reno hotel is the proximity to the airport, but then you are still far from your activities and the beautiful sights of the Eagle Valley and Lake Tahoe. It is an option though.
Wow! I just read back through everything I wrote and now I really want to go back. If you have any questions about this Reno Tahoe travel planner or any of the things to do I've included, please let us know. Send us a note or leave a comment. 
Good luck planning your trip to Carson City and the Reno Tahoe area. Tag us on Instagram as you explore and enjoy our recommendations!