After traveling solely in Florida for months and months, I got to visit Carson City, Nevada to see how things were being handled during the coronavirus pandemic, and to find ways to visit safely. Wow! What a difference from Florida to Nevada! There were so many outdoor activities and things to do in Carson City and the surrounding areas that we weren't bored for a moment.
From walking through the historic neighborhood to hiking to a frozen waterfall, Carson City was a wonderful surprise during a time where travel is so limited. I can't wait to return in the spring or summer to explore more!
Also check out our 4 Day Reno Tahoe Itinerary for even more fun!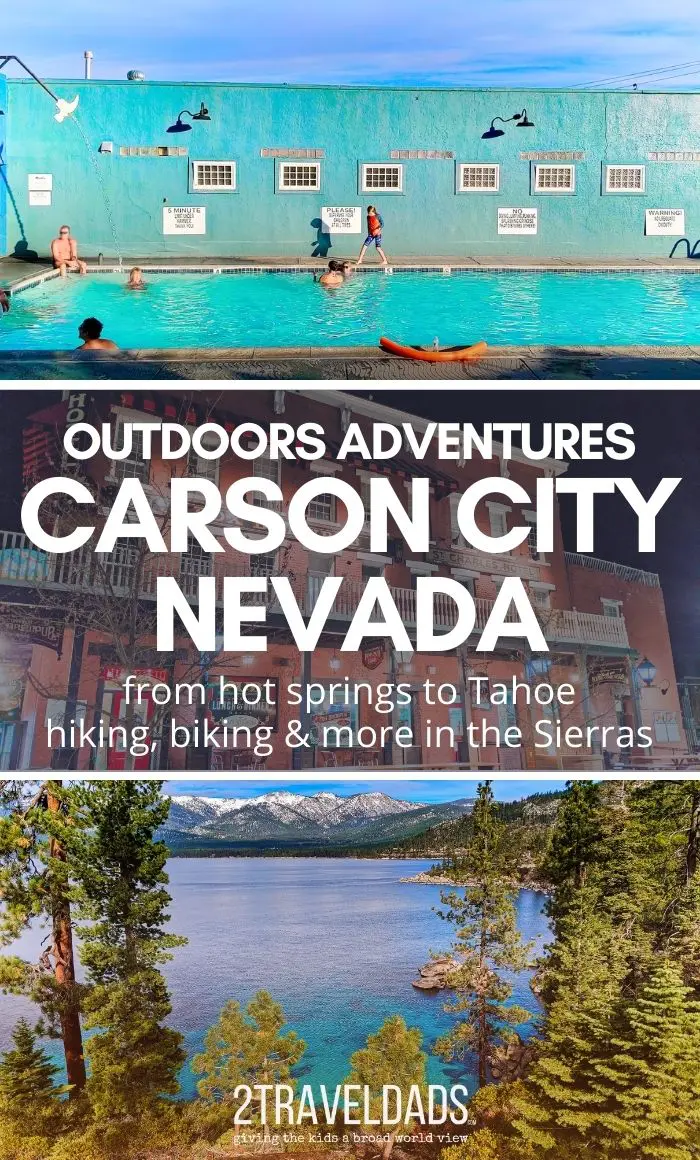 How to Get to Carson City
Carson City is the capital of Nevada. It's located just south of Reno and just east of Lake Tahoe. Set in the Eagle Valley (yes, we saw both golden and bald eagles) Carson City is surrounded by rugged hills, canyons and lakes. It's not the landscape you expect to find in Nevada! You'll quickly see that there are countless outdoor things to do in Carson City.
Fly into Reno (RNO) and then drive 30 minutes south, or take the scenic route on Highway 341 through Virginia City. You'll pass lots of casinos in Reno before the heading into the hills. Wild horses roam the land between Carson City and Reno, so keep your eyes peeled.
It's really easy to find flights into Reno, with direct flights from 22 cities (as of 2020). More than 130 daily flights means that there are lots of options, but it still is a very calm, quiet air travel experience.
Health and Safety Precautions for Travel in Nevada
The State of Nevada is taking many precautions to prevent the spread of the COVID-19 pandemic. There are mask mandates for indoor spaces, capacity limits in restaurants, and from time to time museums and indoor activities are shut down or limited to ensure public safety. Just like anywhere, there are those who choose to not wear masks for the safety of themselves or others, but the majority of people we saw and everyone we interacted with wore a mask.
Even with strict guidelines, there are plenty of activities to enjoy, and specifically in the Carson City area, outdoor adventures are plentiful. Dining is also doable with many restaurants expanding outdoor seating options (with heat lamps and fireplaces). We also saw enhanced to-go procedures in place in many restaurants so indoor time was minimized.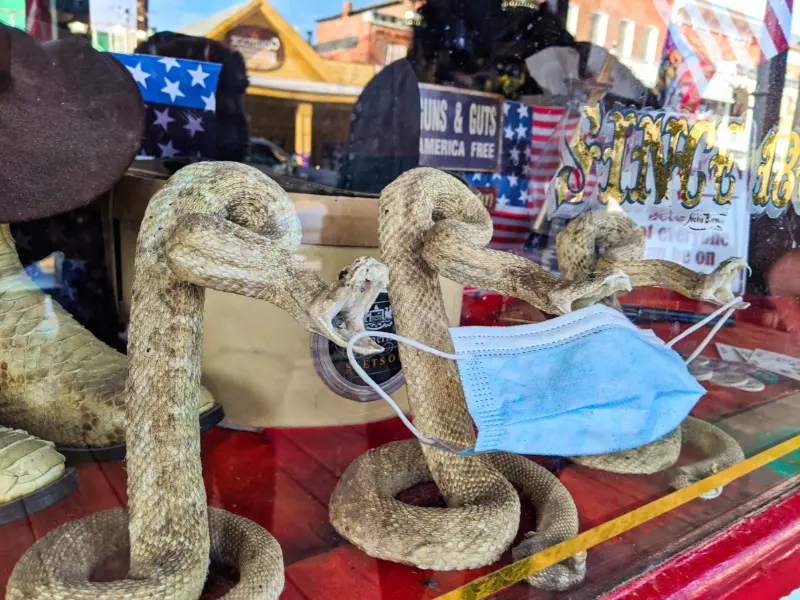 Best Outdoor Things To Do in Carson City
Even in cold weather, Carson City has countless things to do outside. Being a rather small city, the downtown core is easily walkable and actually has a fair amount of wildlife wandering around the city.
Downtown Carson City on Foot 
There's something about cities and towns that began during Old West times. Even as years go by, you can tell there were boardwalks and dirt roads, you can see where the saloon could easily be the hangout for the deputy and miners, and you feel the history just waking by 19th century building facades.
In the modern day downtown Carson City has coffee shops with outdoor fireplaces and antique stores full of treasures from mining days. It's a fun town just to stroll through. One of the other cool things about walking around downtown Carson City are some of the vintage casino fronts. Cactus Jack's and the Nugget make for the perfect yesteryear Nevada backdrop. 
Note: during pandemic precautions masks are required indoors and outdoors when social distancing isn't possible. Also, some non-essential businesses maintain limited hours.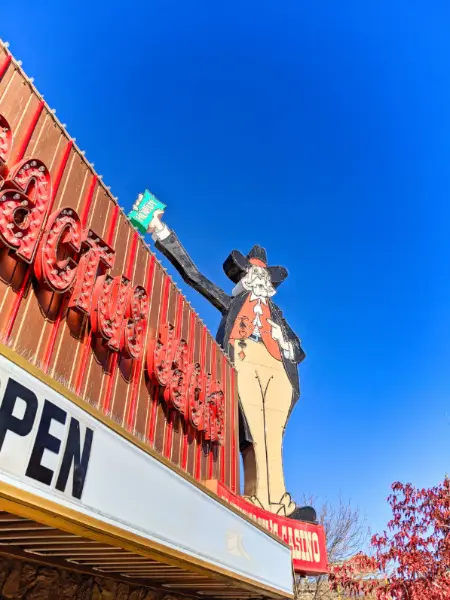 Nevada State Capitol Grounds 
I've been to many capitol buildings in my day and the Nevada State Capitol is one of my favorites. Being the Silver State, the capitol building rotunda and wings are topped with silver domes. The grounds around the capitol building are open to the public and are filled with benchers and public art.
Also on the Nevada State Capitol grounds are the Battle Born and Nevada State Veterans memorials. More art installations dedicated to Nevada pioneers and miners are found throughout the grounds, so it's interesting and worthwhile to walk the grounds and read the placards for all of them.
On sunny days and when there's not a pandemic, there is a small amphitheater on the grounds too, perfect for summer events (or a picnic lunch). There are no large events happening on the Nevada State Capitol grounds during the pandemic, but when public health concerns are lower, hopefully downtown Carson City will be hopping back into their regular schedule. In the meantime, while we walked through the amphitheater, a family of deer spied on us, eventually making their way through the park, so for the deer, they are finding wandering the capitol grounds as THE BEST thing to do in Carson City.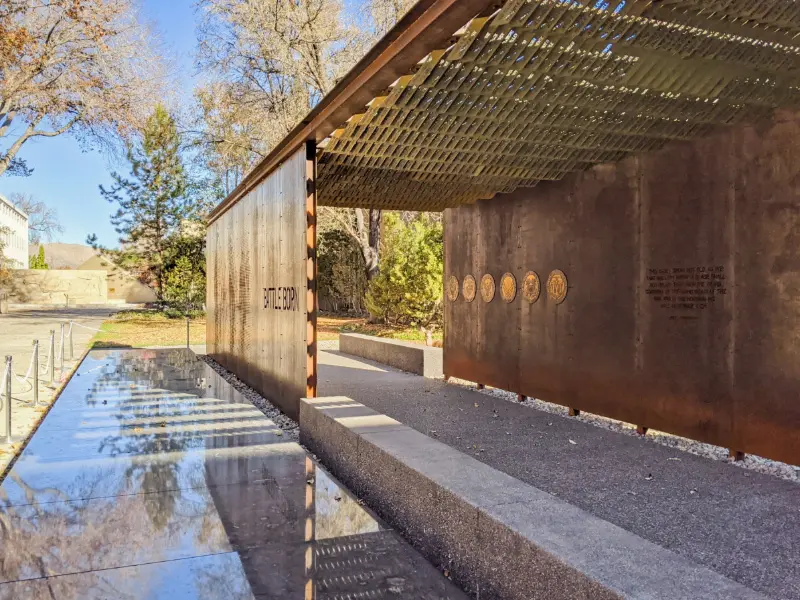 Walking the Kit Carson Trail 
Starting at the Capitol Building, the Kit Carson Trail is a fun way to explore the history of Nevada and Carson City. Inlaid into the pavement of the sidewalks, there are around 50 medallions leading you through the historic areas. With stops at the old Carson City US Mint (now the Nevada State Museum) and the Governor's Mansion, it's easy to see how the town plays into the history of the west.
A part of the Kit Carson Trail that's really interesting is the actual historic neighborhood you walk through. With homes built during the silver rush and after, the architecture and design peppered through the western half of town is fascinating and beautiful. There's quite the mix of historic homes and huge trees.
For a complete map of the Kit Carson Trail, check out the Carson City tourism site. Also, please respect the privacy of residents whose homes are a part of the Kit Carson Trail. While the homes and buildings are historic, they are not open access for the public.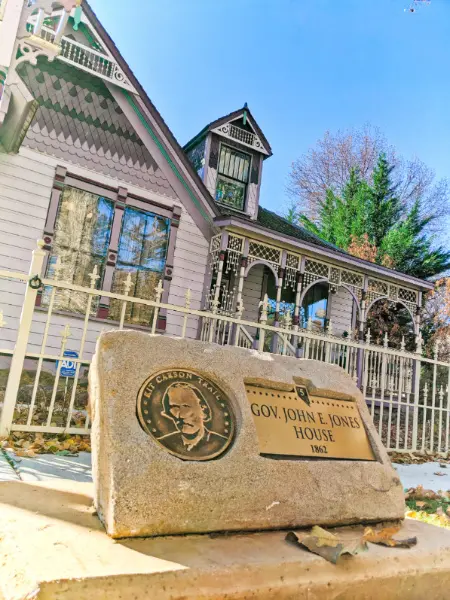 Nature Walks and Parks in Carson City
Five to ten minutes outside of downtown Carson City there are several natural areas, perfect for hiking or going for long walks. In summer, be prepared for heat and watch for rattlesnakes, but in fall and winter months, you'll find frozen waterfalls and crisp blue skies.
Riverview Park Trails
I wish it was guaranteed that you'd see wild horses when you're doing the Riverview Park trails, but it's not. You can see their paths through the brush, but not always the horses. Since they aren't a guarantee, what is for sure are the beautiful views from the park trails and along the Carson River. 
With 109 acres to explore, the Riverview Park trails include a north, south, and full loop. Each of the paths explores the brush landscape of the Eagle Valley and goes along the river's edge. Being nearly flat, all of the trails are dog-friendly and an easy hike any time of day. Visiting in fall, you'll have changing leaves, countless birds and beautiful sights everywhere.  Note: even though there is river access, fishing isn't allowed in Riverview Park.
To access Riverview Park, park at the Korean Veterans War Memorial plaza and then enter through the gate. You'll see a trail map once inside to choose your route through the park.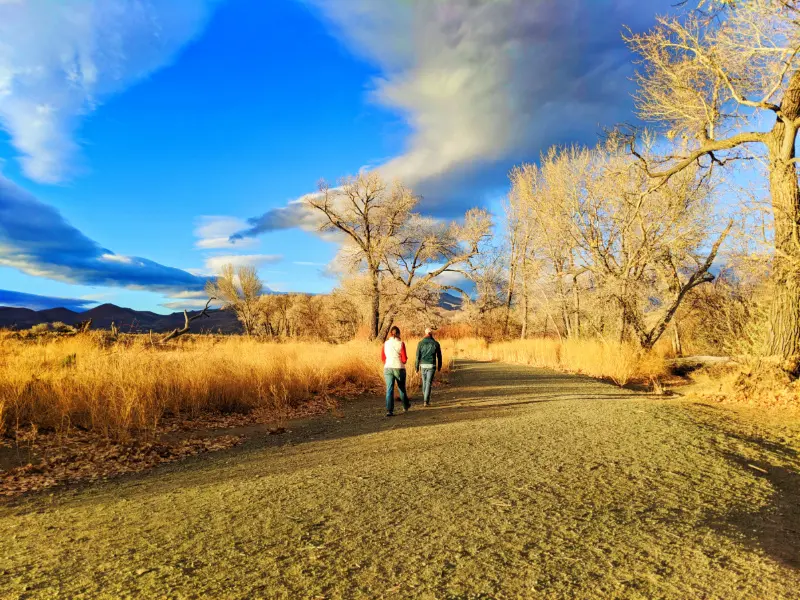 Kings Canyon Waterfall Trails
Just outside of downtown, you start to wind up into the mountains. Here you'll come to a dead end and a National Forest Service trailhead for the Kings Canyon Waterfall. There are two approaches for this trail. You can hike directly to the waterfall (about a half mile) or you can visit the falls and then do the full loop (1.5 miles).  This beautiful hike will take you to a cascading falls in the forest. In the fall and winter, the waterfall freezes, making a Nevada winter wonderland.
For more hiking trails and things to do outdoors around Carson City, check out All Trails for detailed recommendations.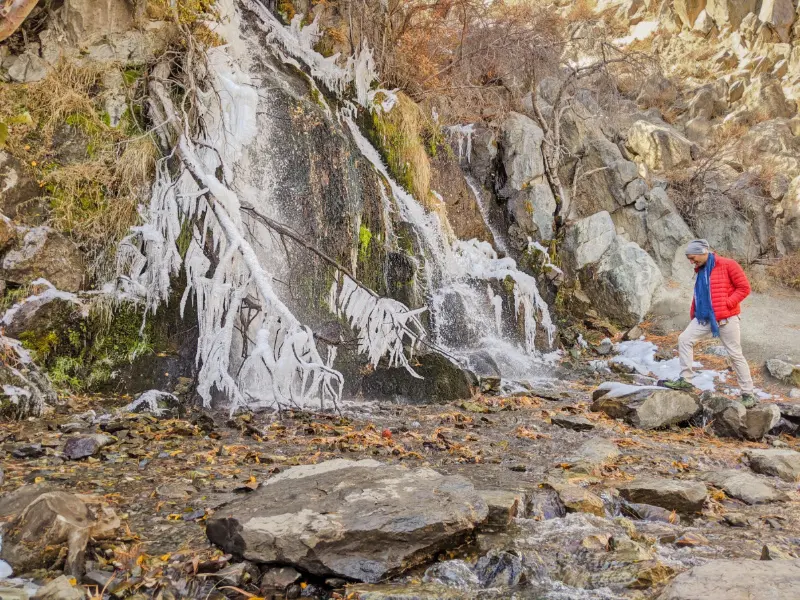 Lake Tahoe Day Trip
I could write a ton about Lake Tahoe and all the best places to visit, but to make it easy let's just approach it as a half day trip. Lake Tahoe is about a half hour from downtown Carson City. The eastern shore of Lake Tahoe is absolutely gorgeous with turquoise waters and beautiful white boulders along the shore. For an easy day trip to visit Lake Tahoe, head west out of town and once in view of the lake, make stops at Chimney Rocks or do the hike down to Secret Beach (2.6 miles, medium difficulty).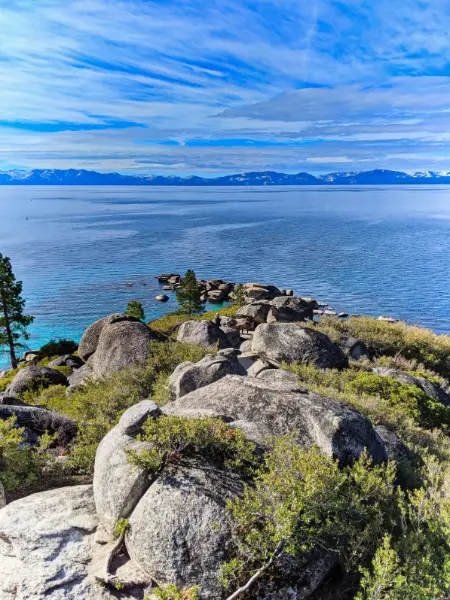 As you continue north along the shore you'll find more pull-over stops and even Sand Harbor State Park. There are actually quite a few easy hiking trails that skirt the shore from the Tahoe East Shore Trail parking area. You'll love the views and will be jaw-dropped when you see how clear Tahoe's water is. Love it!
Lake Tahoe is largely accessible to the public. There are many parking areas with trails, but entrance to Nevada State Parks does come with a fee.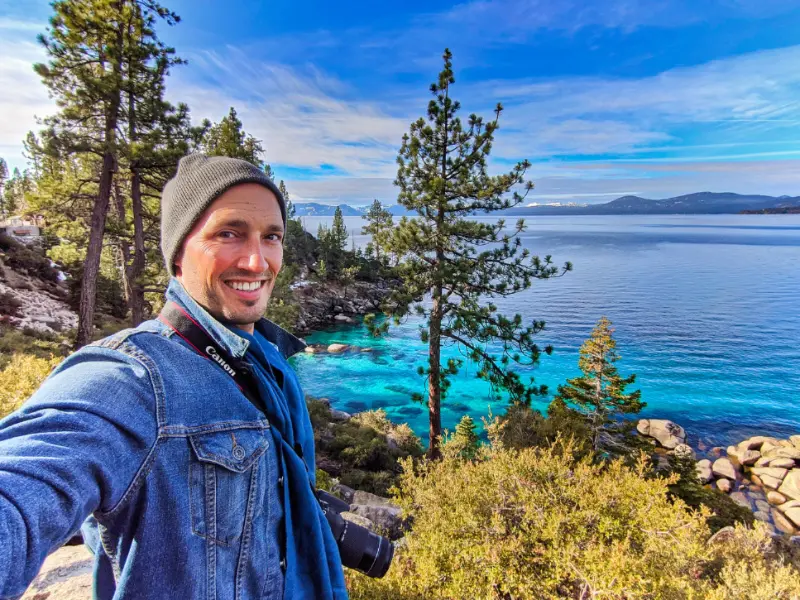 Unique Things To Do in Carson City
Besides enjoying the historic downtown, there are some unique, almost weird things to do in Carson City. There's always more fun to be had than what's on the surface of a town and Carson City has two wonderfully unique experiences that you can easily enjoy, particularly because they are outdoors and social distancing is very easy.
Rail Biking through Mine Country
I had no idea that rail biking was a thing until we showed up at the V&T Railway Depot just outside of downtown Carson City. What a cool experience! The restored railway tracks lead from the depot out into the Carson River Canyon. Here's how it all works.
You sit on a rail cart that's been outfitted with biking gear, including a motor to assist when the 2% grade makes you a bit tired. As you pedal you wind through beautiful, colorful rock valleys and along the railway grade. The views are gorgeous and the wind in your face is refreshing. It's also an easier biking experience than you might expect.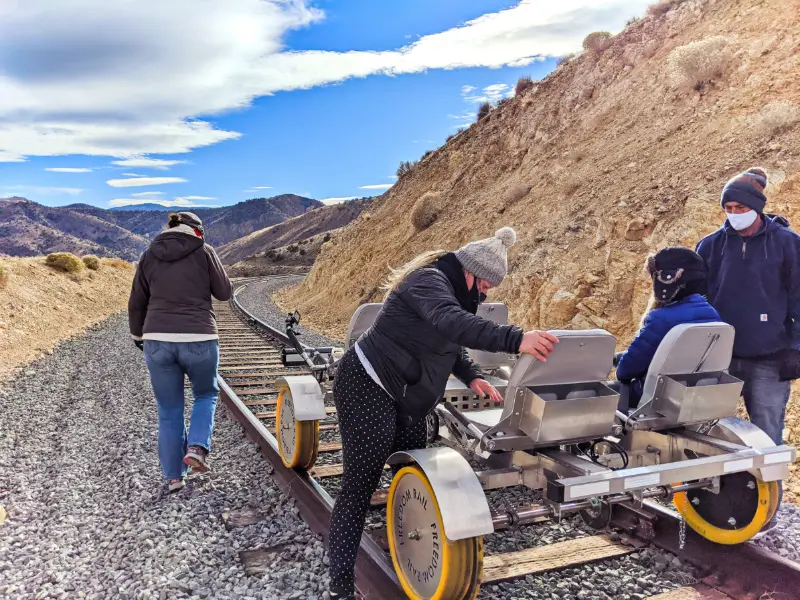 The railway was initially used to move ore from the mines to the mills, so it's almost like you get to experience a bit of Nevada mining history as you pedal along the rails. Once at the end of the restored rail line, there are several hiking options that will either take you along the old railway grade or down to the Cason River. Both options give views to a bit of old mining days' ruins and show the rugged, rough and tumble side of Nevada mine life. Hands down, this is one of my favorite things to do in Carson City, or in the whole of the Southwest for that matter.
The Carson Canyon Railbike Tours operate Spring through Fall during daylight hours. Just biking or historic bike and hike options are available. BOOK IN ADVANCE if you can.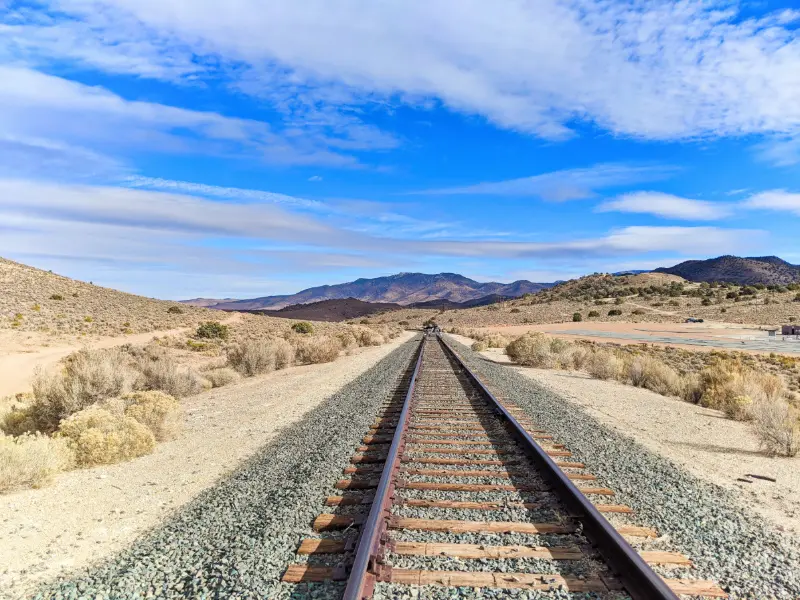 Carson City Hot Springs and Spa Afternoon
We've visited Yellowstone National Park so many times that when I hear the term "hot springs" I automatically think about the many Yellowstone geysers and pools… that are NOT for swimming and relaxing. The Carson City Hot Springs are very different, and actually reminded me a lot of Chico Hot Springs in Montana. With 121 degree F water bubbling up and being piped into the Carson Hot Springs, it's kind of amazing on a cold fall or winter day.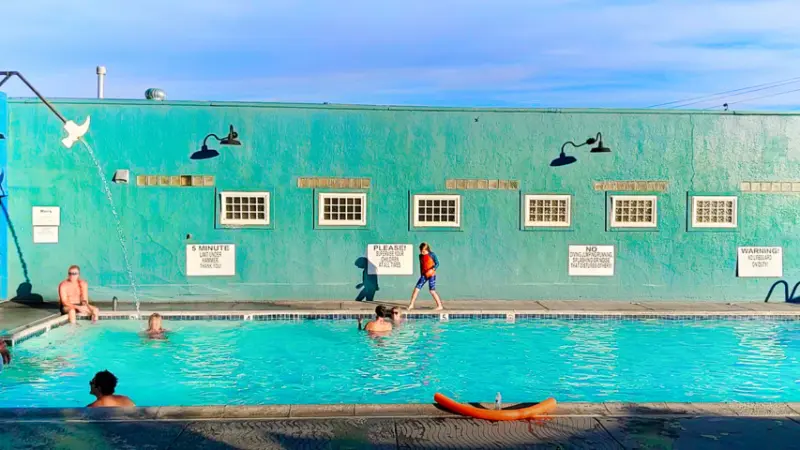 They drain and clean the hot springs each day, so it's always fresh and the mineral water adds a healthy element. To make it even more of a hot springs spa experience, you can rent one of the private rooms that have a changing area and private soaking tub (different temperature spa rooms available). We made two visits to the Carson City hot springs, enjoying one day in the outdoor hot springs pool and one doing a private spa room. I still don't know which I enjoyed more.
Carson City Hot Springs are open daily from 8:00 am to 9:00 pm.  Private spa rooms are on a first-come-first-served basis. The outdoor hot pool is quite large and very easy to practice social distancing.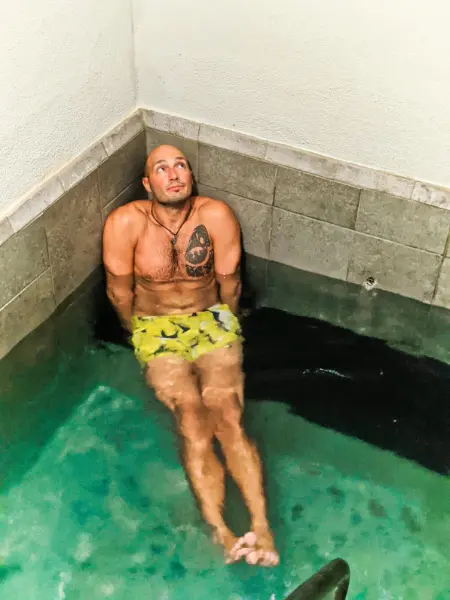 For even more great outdoor ideas and hikes around Carson City, Nevada visit the city's tourism site to check out additional activities and get up to date information about services and activities that may be impacted by the Coronavirus pandemic. They keep things current with city, county (Ormsby County) and state guidelines.
As always, if you have any questions about the best things to do in Carson City, exploring the outdoors, or if you want to hear more about travel experiences during the pandemic, always feel free to explore more blog posts or drop us a line!