Can you think of anything that is more Southern California than visiting the Santa Monica Pier? I don't think we could name a single thing. Well, maybe a day in San Diego on the Beach surfing… But no, the Pier. Even though a day at the Santa Monica Pier seems like the most touristy and convoluted Los Angeles travel plan you can ever think of it's actually well worth your time and a visit to LA isn't complete without some beach time.
Yes, there are so many wonderful free things to do in the Los Angeles area and if you're going to venture to the beach for the purpose of swimming and pretending to be from SoCal you might pick a different beach, like Manhattan Beach, but the Santa Monica Pier end beach are an ideal, easy to access destination and are just downright iconic.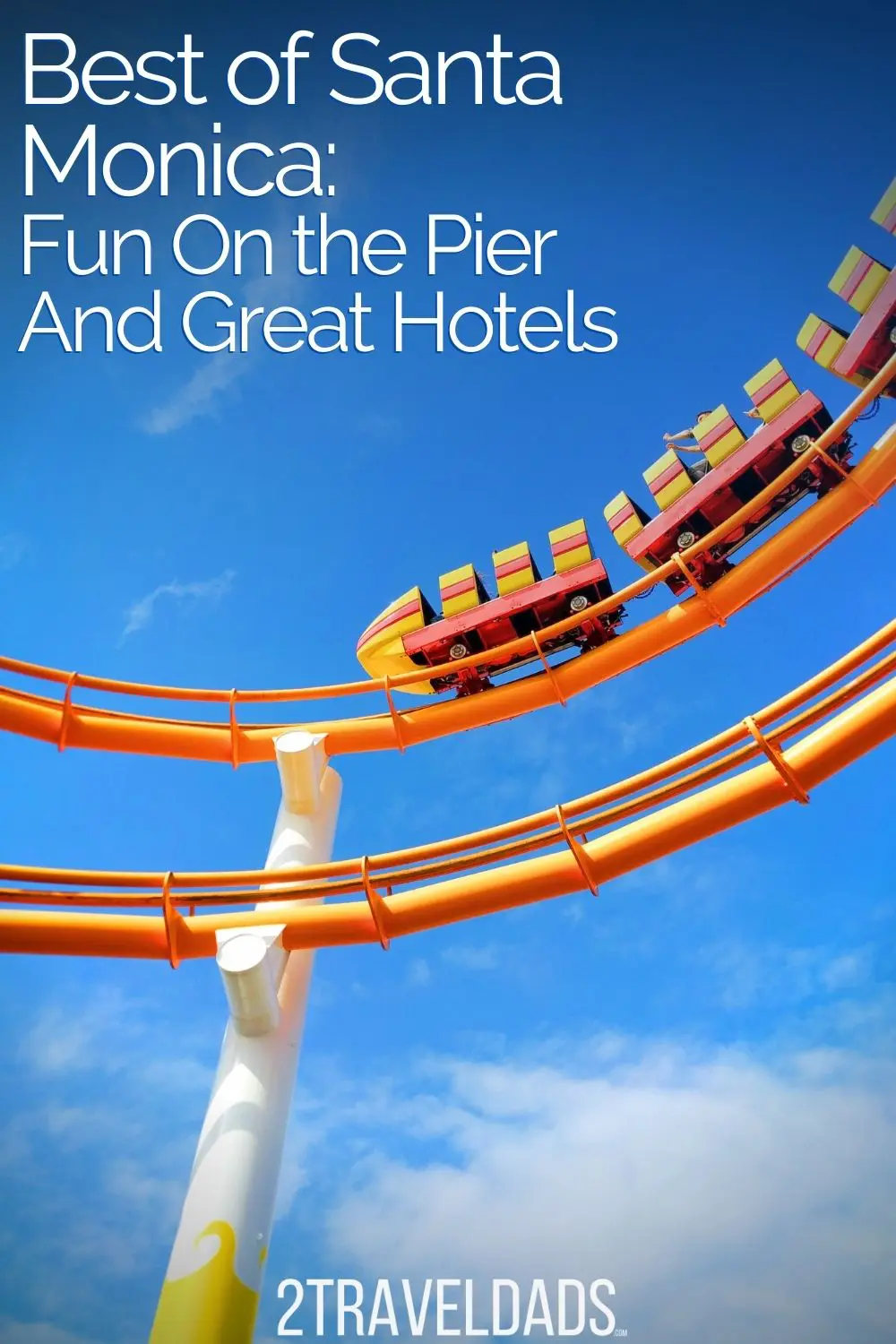 Locale of the Santa Monica Pier
When you ponder life in the West and the history of North America there are few things that pop out:   the California Gold Rush, old west towns and cowboys,  and then Route 66 and all of the struggles and stories in vintage history that are a part of it. The Santa Monica Pier is the very end of Route 66 (check out the Planet D for their Route 66 trip). As you walk out onto the pier you see the sign that calls it out.
The Santa Monica Pier is also directly next to the Pacific Coast Highway, also known as the PCH. The Pacific Coast Highway is a fantastic California road trip route.

 It's impossible to miss the Santa Monica Pier because you just drive all the way down Santa Monica Boulevard and then you hit the beach. Or you can drive all the way down Pico Boulevard and you hit the beach. Or you can drive on the 10 the entire way and then hit the beach. Or Olympic Boulevard to hit the beach. Seriously.
Basically when you're in Los Angeles you just need to head west on any of the large boulevards and they will get you there.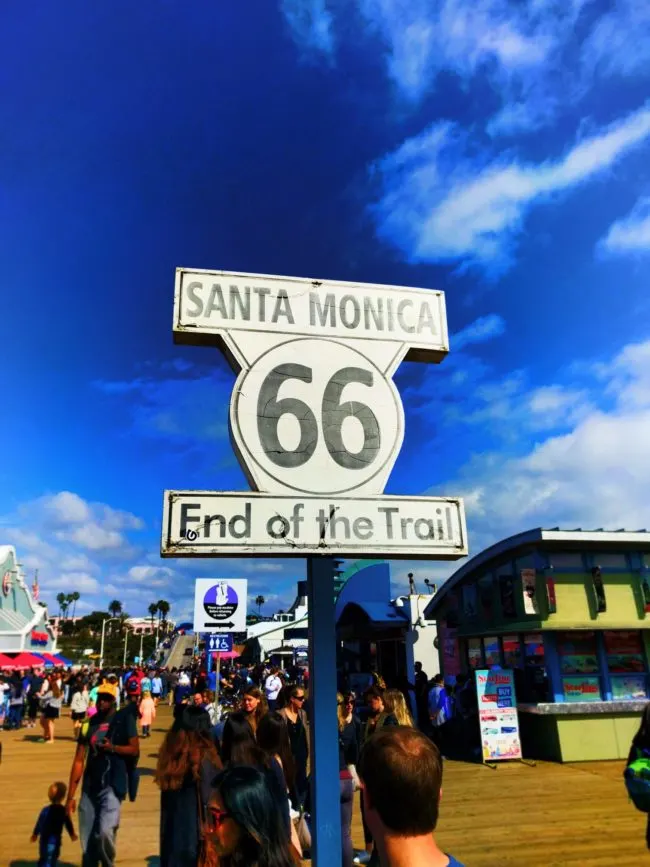 Parking near the Santa Monica Pier
Once you hit Ocean Boulevard or know that you're within a block of it you need to find your parking right away. Sure, there is limited parking at the Santa Monica Pier itself, but depending on the weather and the day of the week you might be really hard pressed.
The best places to park for a day at this awesome Southern California attraction are either in one of the five parking lots just off the beach. If you aren't lugging a bunch of stuff make a right onto ocean and head north a bit and park at the bluff. You can have a nice walk and usually awesome success with parking.
Tip: the best parking is found south of the Santa Monica Pier. The obvious choice is north, but better luck is south.
If you cannot score a spot in one of the beachfront parking lots, head a block over to Ocean Blvd. Here you'll find both paid parking lots (attended and not) as well as, dare I say it, STREET PARKING! After 6pm street parking is actually awesome and pretty easy (except on Fridays).
History of the Santa Monica Pier
Santa Monica Pier was built in 1909 and initially was two separate structures.  Over the years the pier built by the city of Santa Monica and the secondary pier, also known as the Pleasure Pier, we're joined to create the iconic Pier that we enjoy today.   Initially the Santa Monica Pier had an old wooden roller coaster but that has since been dismantled and a newer metal roller coaster is in its place. There used to be a different ferris wheel on the Santa Monica Pier as well, but that's since been replaced by the current one which has been around for 20 years.

Over the years countless movies, television shows, and music videos haven't been shot at the Santa Monica Pier so even if you've never been there before it feels like you've been a thousand times. And it's funny, but not much of the pier that you walk on today is the original 1909 pier. Year after year with storms and construction projects and life in general, pieces of the pier have either been completely removed and replaced or improved so the initial vintage Pier from the last century is kind of just a ghost. It's all so cool though and when you're there you don't even think about the fact that it's been mostly replaced.
Photo Tip 1:   One of the best places to get an actual picture of the Santa Monica Pier including Pacific Park is from the very end of the pier at the top the harbor operations building. Walk up the steps and snap your pictures in the afternoon and evening light.
Photo Tip 2:   If you want pictures of the entire pier in the morning, do it from the beach on the south side of the pier. That way you'll get the good light, the surf, the amusement park, end in general it's just beautiful.
If you're in LA and wanting to capture to beautiful views and sights you can see, check out our buddy Christina's ideas about the most Instagramable spots in LA via Happy to Wander.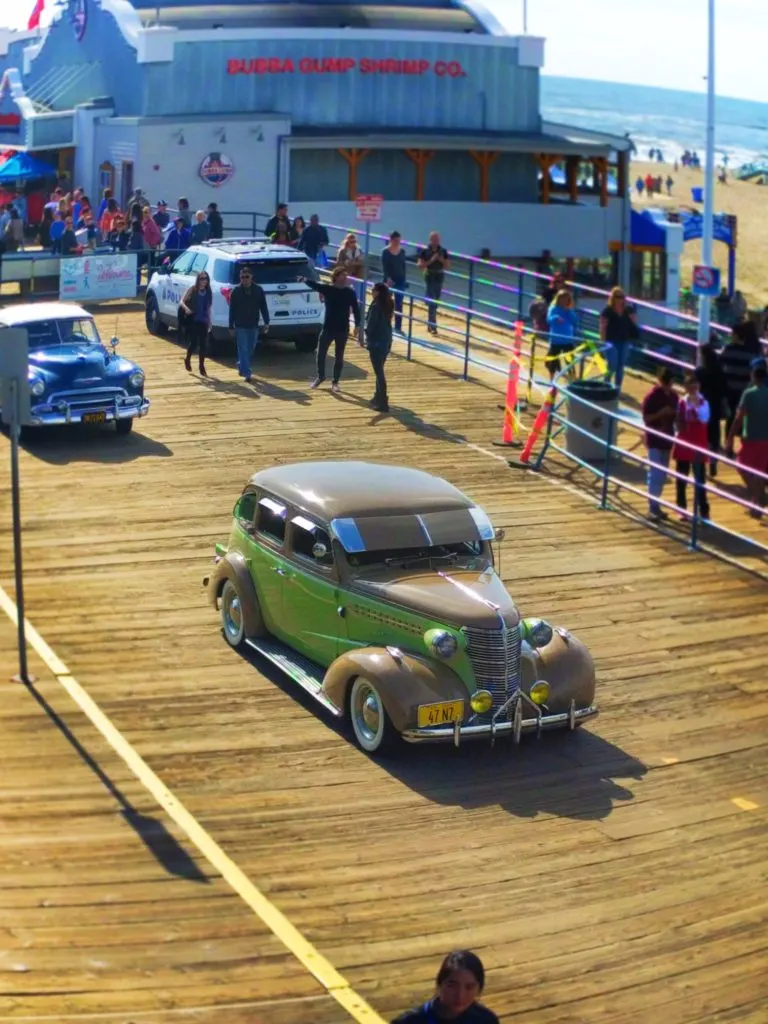 Activities at the Santa Monica Pier
Visiting the Santa Monica Pier can be a half day or whole day activity. It depends on your mood and how much you enjoy people-watching. We would definitely recommend at least two hours for the Pier and surrounding area.  On a beautiful day, maybe even longer and plan to have some lunch there.
Pacific Park on the Pier
Santa Monica Pier is so memorable both for its proximity to Los Angeles as well as the amusement park found out over the water.  Pacific Park is adorable. There aren't any thrill rides but just nice carnival-style rides.  If the carnival rides didn't make me sick we could probably spend all day out there but that's not the case.
Tip:   If you are a frequent visitor to Santa Monica or Los Angeles you can actually get an annual pass to Pacific Park. You can also buy tickets in advance on their website if you like which will save some time on a busy day.  
You don't have to have tickets to just stroll through the amusement area. Some of the best people watching in the Los Angeles area happens in the Pacific Park portion of the pier.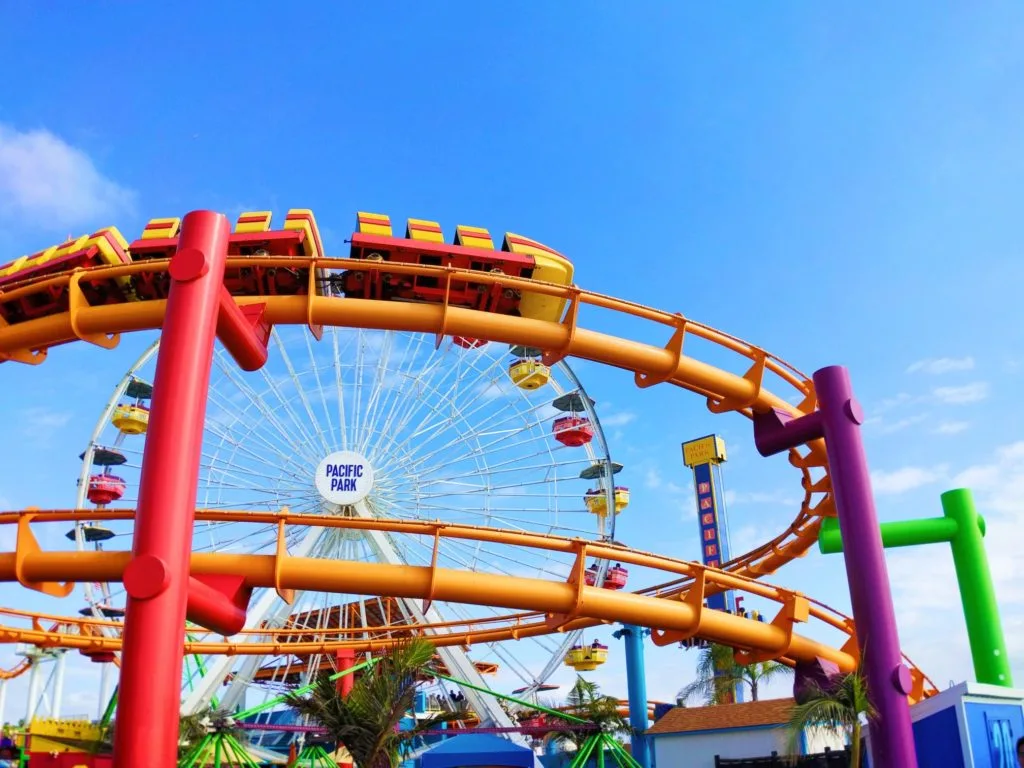 Rides at Pacific Park
If there are any must-do rides at the Santa Monica Pier's Pacific Park they would for sure be the ferris wheel and the roller coaster. The smaller rides are fun (I guess) but the ferris wheel and roller coaster give you an awesome view of the ocean and city.  On this last trip we only did the ferris wheel because the roller coaster had quite the line, and I'm so glad we did. From loading and then pausing halfway around to fill the rest of the gondolas to the continual rotation, you get a great bang for your buck with your ferris wheel ticket. We were in the air at least 10 minutes, maybe more. And we totally lucked out on the weather.
Note:  the ferris wheel on the Santa Monica Pier is solar powered which is awesome! Go California!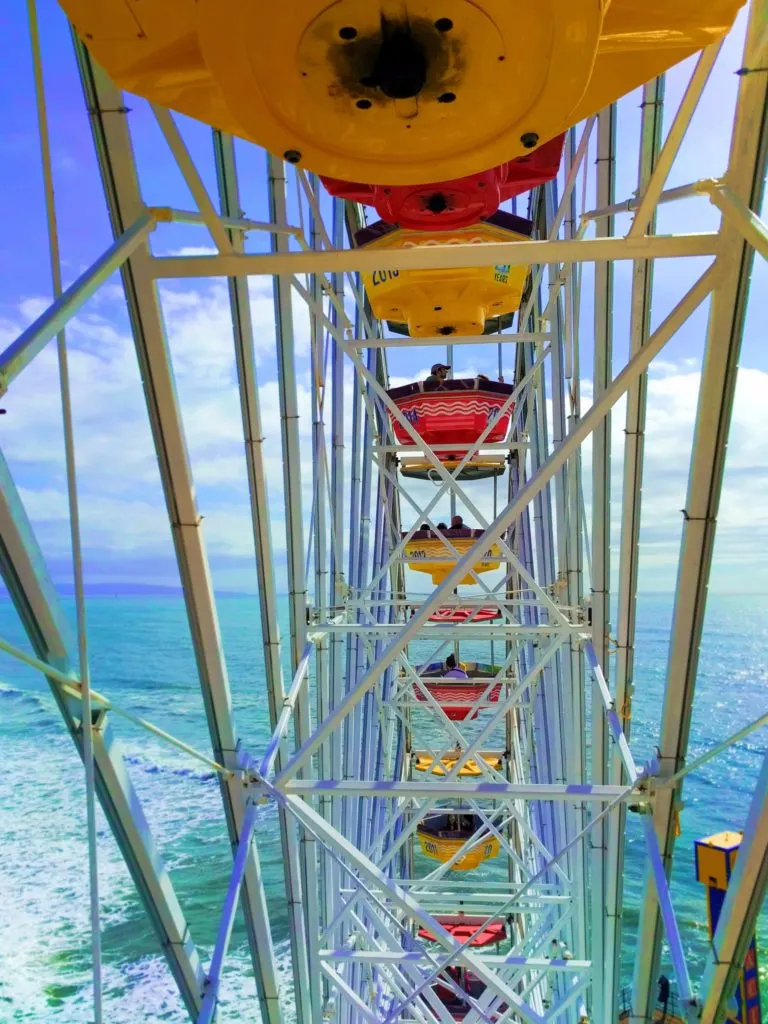 Santa Monica Beach
I love Santa Monica Beach! Even when we lived in Orange County I would find reasons that I had to go to LA so that I could go to the Santa Monica beach. When we randomly visit Los Angeles this is our beach of choice. True, Manhattan Beach is very nice, as is Hermosa Beach, and then Venice Beach has so much to do and see, but the Santa Monica beach is your perfect Southern California experience. The water is warm, they maintain this beach very well and the Los Angelinos who use the beach have a sense of pride, so the beach stays fairly clean.
Note:   it's always a good idea to check out events that are happening before you go someplace as popular as the Santa Monica Pier or Beach. Several times we've shown up and encountered either a public event or a tournament of some sort, each of which closed off a good portion of the beach and take up tons of parking.
And here's a fun tidbit of info:  Santa Monica Beach is the original Muscle Beach, not Venice Beach.  There's even an historical marker at the beach calling that out.  #TheMoreYouKnow.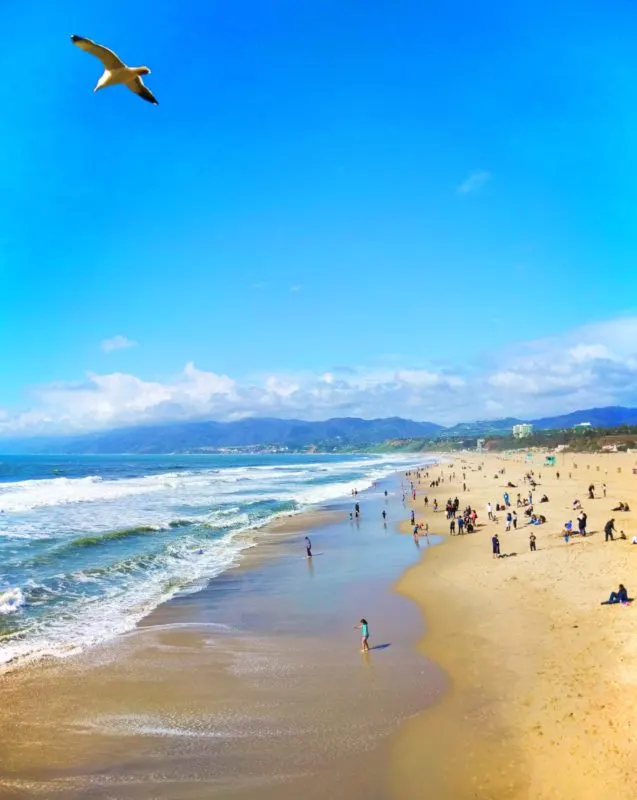 Our best beach tips
And always remember to bring your sunscreen whenever you're at the beach even if you are naturally tan. That's one can sneak up on you. If you're going to the beach with little ones they are especially susceptible to burn quickly and without notice as they have so much fun in the sand. Check out our full article on the best ideas for simple sun protection!
Tip:   If you have an OCD issue with sand something to keep your kids granule free is to sprinkle their legs and booties with baby powder before they hit the sand. That will help to keep the sand at the beach and your car clean. Sunscreen is still more important though.
And we don't recommend a ton of products on our blog, but two of our favorite beach gear items to bring both to our local beach and when we travel are our beach pop-up tent and our easy, compact beach lounge chair/mats. Both of these things are super simple to bring and really make a beach day more fun and easy.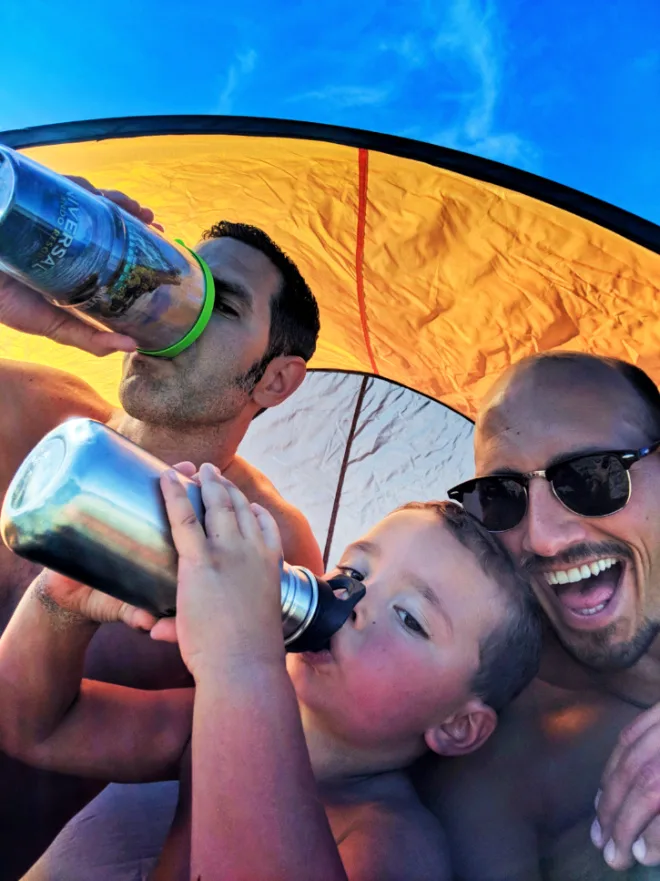 Walking the Santa Monica Bluff
Our very first time as a family coming to the Santa Monica Pier was a crazy day. We actually didn't even venture out onto the pier, but that was all right with us. We discovered that if you head north walking along Ocean Boulevard there's actually a wonderful walkway full of people jogging and just going for a stroll. This path runs through Palisades Park above the bluff and gives you a continual view of the Pacific Ocean and the iconic Santa Monica Pier.
The Veterans Memorial is a part of the park, so in addition to the view and shade, cannons and exhibits make it an interesting spot. A rose garden, trails down to the beach, and even a totem pole make Palisades Park a unique Los Angeles area park. There are plenty of benches and places to sit and it's actually ideal when you've got little kids with you.
Note: the Camera Obscura is a vintage art studio space and exhibition center in Palisades Park. It's open to the public for special events.
Of course bigger or slightly older little kids are going to see the Pier and want to go and do the rides, but when you've got a toddler having wonderful open space to run is perfect.
Tip:  end your visit to Los Angeles with a visit to the Santa Monica Pier. It's a great way for kids to burn off energy before it they have to either start a road trip to some place or fly away. And if you are flying out it's really easy to get from the Santa Monica Pier to LAX, so you might as well go for a nice walk.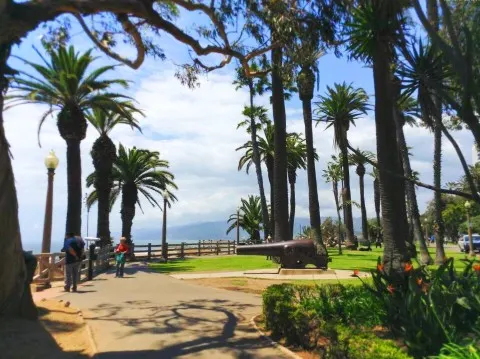 More fun ON the Pier
So of course there is the amusement park, the beach, the amazing walk you can take, but there are a few other things to do directly at the Santa Monica Pier. Because, like I said, I get sick on carnival rides I skipped out on the carousel but there is a vintage carousel from the 1920s at the start of the pier. This is right next to the Santa Monica Pier Aquarium. We have a small local aquarium at home so we didn't stop in here, but it is an aquarium with a purpose (so should be supported) and is run by Heal the Bay.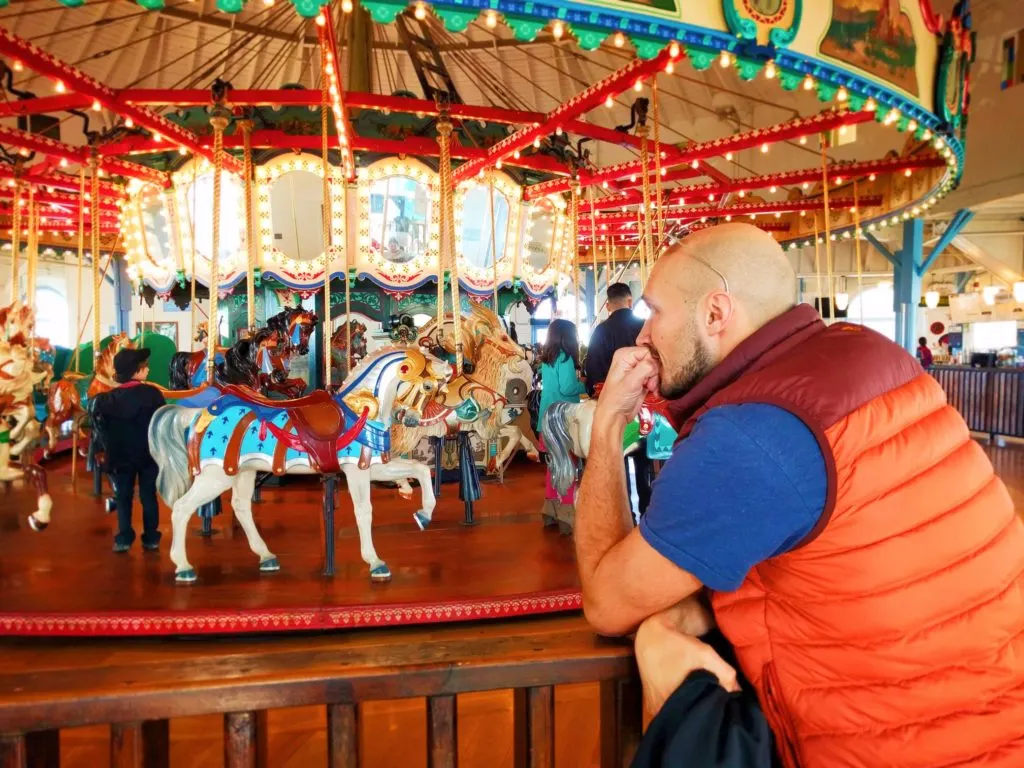 In addition to the Santa Monica Pier Aquarium and obvious attractions, you'll also find a trapeze school out on the pier. We watched the lady conquer her fear and go off the top platform on the trapeze. We saw another learn how to climb, spin and fall on long fabric strands. It was actually pretty cool.  And if you don't want to fly through the air you can always go into the huge arcade and play video games… but you're in California to go outside! 
Street performers are also very common on the Santa Monica Pier. Should you stop to listen to them or want to film them or take photos, be courteous and tip the performers. They add to the atmosphere and overall Los Angeles vibe of a Santa Monica afternoon. And fishermen too! So many fishermen!
Tip:  be cautious of fishermen casting their hooks… you don't want to be caught!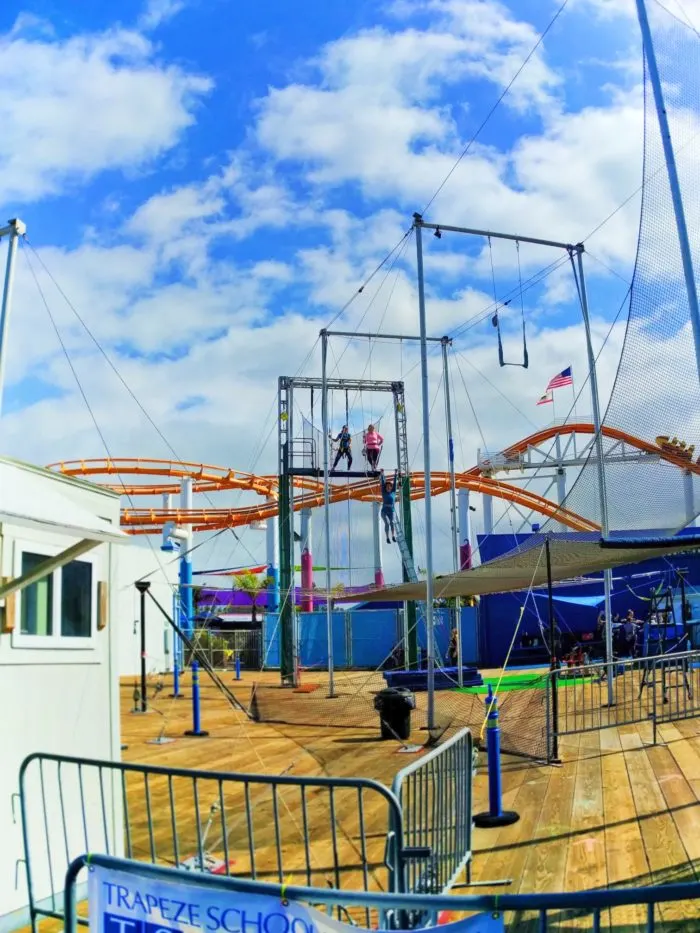 Dining on the Santa Monica Pier
The pier is perfect for going and having lunch or dinner or even just drinks. There is a restaurant at the very very end of the pier, Maria Sol, but we opted for one at the start, right by the carousel. Seaside on the Pier, which replaced Ristorante Al Mare, has a nice rooftop bar with a great view of the beach and the rest of the Pier.  The service wasn't awesome, but my jalapeno margarita was delicious and wasn't price-gouged.
Most of the other dining options on the Pier itself are very casual, including burgers, pretzels and even a Bubba Gump Shrimp location. We recommend either Maria Sol or Seaside on the Pier for the nicer, more relaxing dining on the Santa Monica Pier. The full Santa Monica boardwalk area is a three mile long stretch, so feel free to venture along the Blvd if you would like more options.
Where to stay in Santa Monica
Los Angeles is a large area. There are loads of places all over the city. You could get a swanky hotel or a cool AirBNB or something, but if you do choose to stay in Santa Monica you will be limited to some very upscale places. I'm sure there are some seedy places you could stay if you really want to do but most of the hotels at the beach are really gorgeous.

Loews Hotel Santa Monica is kind of amazing with sweeping views of the beach and the pier as well as fireplace lounge for when it actually does get cold in Santa Monica (it happens), as well as a really beautiful pool area that overlooks the beach in the Santa Monica Pier. Totally didn't stay here, but hung out in the afternoon and would stay in a heartbeat.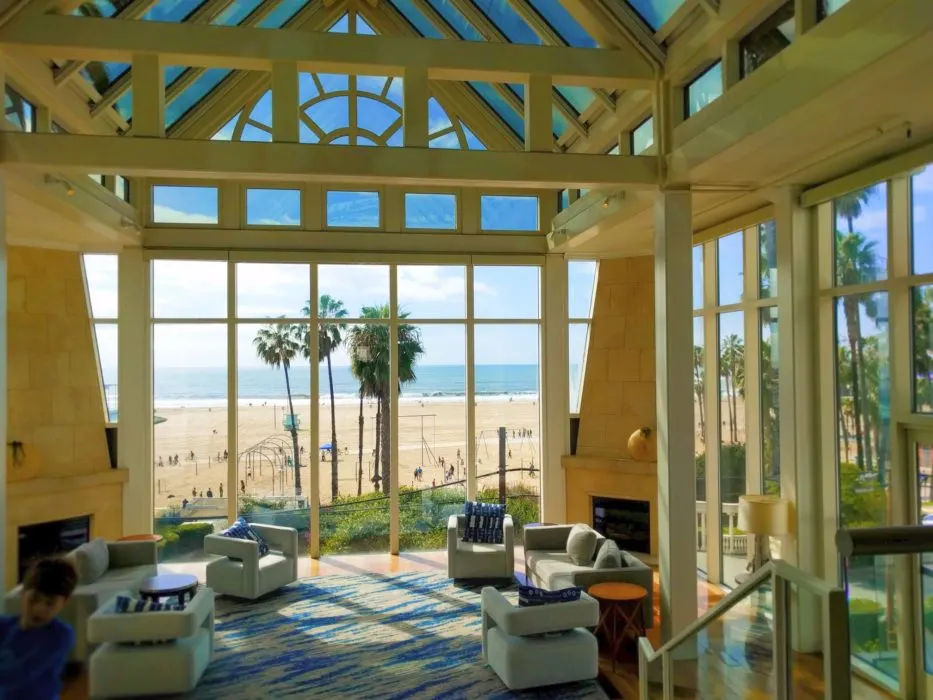 Why can't I find an AirBNB in Santa Monica?
If doing the air AirBNB thing is your preferred accommodations when you're traveling then Santa Monica used to not be the right spot for you, and still may not be due to city laws. It is not legal within Santa Monica city limits to operate a vacation rental WITHOUT a host on property for LESS THAN 30 DAYS. If you find one that advertises the whole home/apartment and allows bookings for less than 30 days, you or the host could get in trouble (fined) by the city. There are some gorgeous Santa Monica AirBNBs available, but you must proceed with caution.
Santa Monica is a different city than Los Angeles even though it does seem like one big continuous scroll of blocks. Maybe the accommodations laws will change someday but currently you can only stay places that are actually zoned as commercial lodging.
How can you not visit the Santa Monica Pier when you're in Los Angeles? It's so easy and worth every moment the traffic you have to sit through. The best time for pictures is for sure in the late afternoon, unless you really want to be there in the morning, then just do whatever. Have fun, do the rides, eat food that's really bad for you, it is the perfect Southern California adventure!
…and pin it for later if you're plotting out your SoCal vacation now! 🙂