Does anybody think of Washington State as a beach destination? Not hardly, but that doesn't mean that we don't have the most beautiful beaches around. True, Olympic National Park is missing the palm trees, but we make up for it in other ways. Of all the beaches in the Pacific Northwest, the most beautiful beach in Washington is without a doubt Ruby Beach in Olympic National Park.
What makes Ruby Beach so beautiful and dramatic? It's the sea stacks, the weathered wood, the wildlife, the perfection of it all. We've got the scoop for how and when to visit to have an unforgettable time at the most beautiful beach in Washington. And if you're lucky, maybe you'll find some of the red rocks and garnets that give Ruby Beach its name.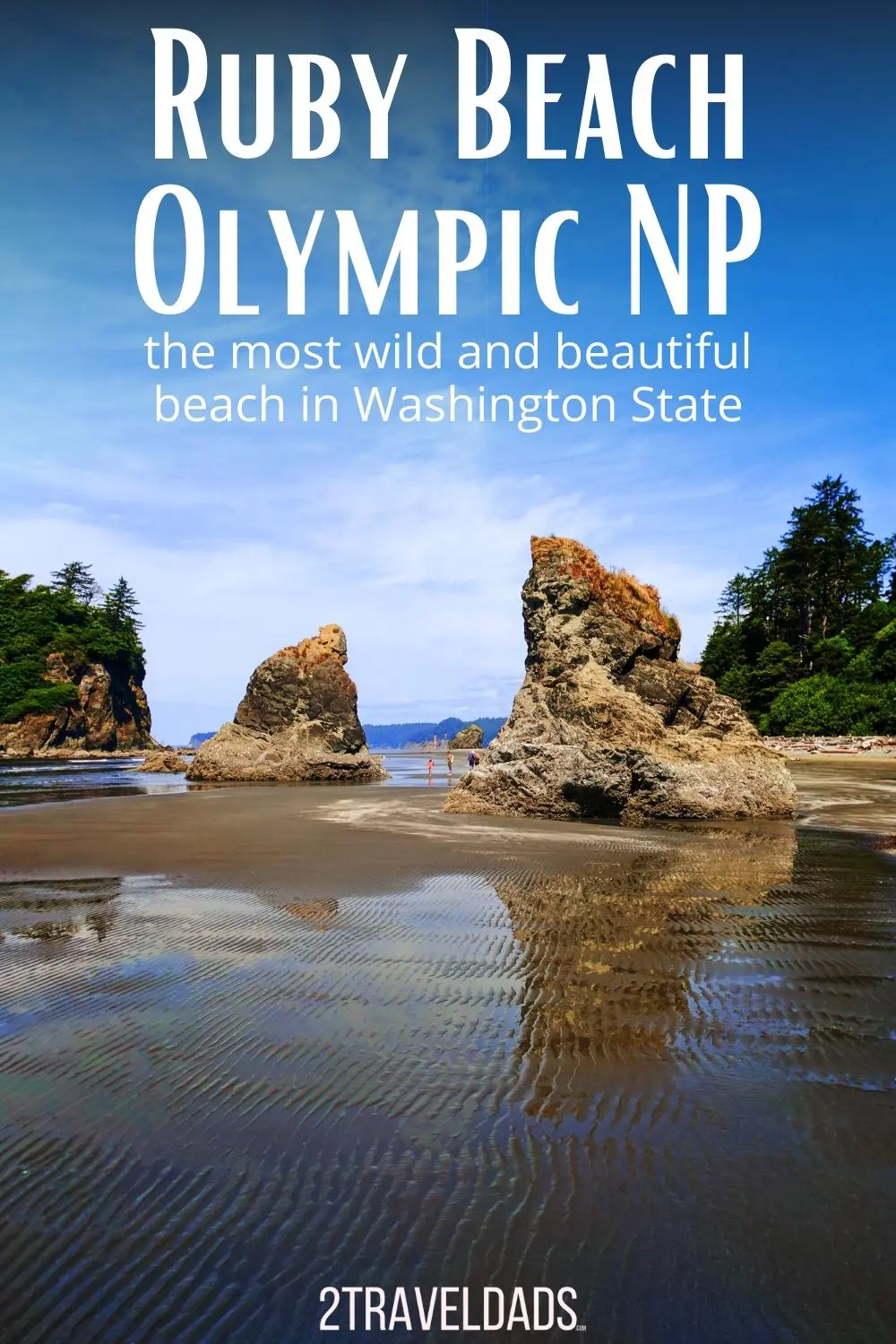 How to get to Ruby Beach in Olympic National Park
One of the things that makes Ruby Beach the most beautiful beach in Washington is its remote location. Located just over three hours from Seattle and a little more than 2 hours from Olympia, it's not exactly an impromptu day trip, which keeps the crowds down. If you're making the trek that far you should plan on spending a few days both at the beach and in the Hoh Rainforest nearby.
Yes, Ruby Beach is very near both the Quinault and Hoh Rainforest areas of Olympic National Park, either of which is easy to add to your trip to Ruby Beach. See, already you've started forming a great travel plan encompassing beaches, forests and more. Check out our Olympic Peninsula road trip itinerary to get some more ideas for interesting things to do on the Olympic Peninsula.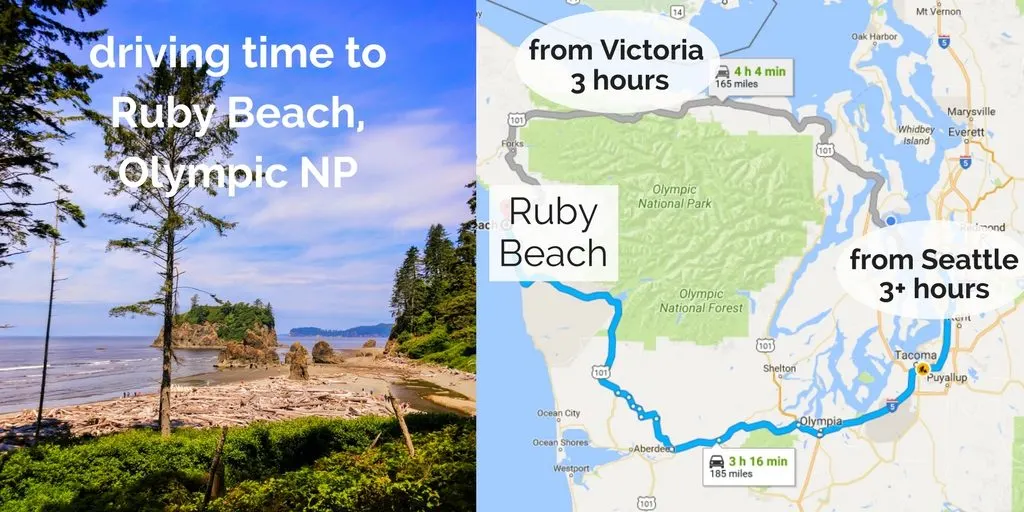 How Much Time to Spend at Ruby Beach and the Coast
While you could leave from the city really easly and just do a day trip to Ruby Beach, it's much better to plan at minimum an overnight stay. A weekend trip is plenty of time to do Ruby Beach, as well as the beaches of Kalaloch and La Push. If you can do three nights, that's really best because then you can add in some Pacific Northwest kayaking and visiting the rainforests to your plans. Add one more day and you can also do some hiking at Hurricane Ridge or Sol Duc.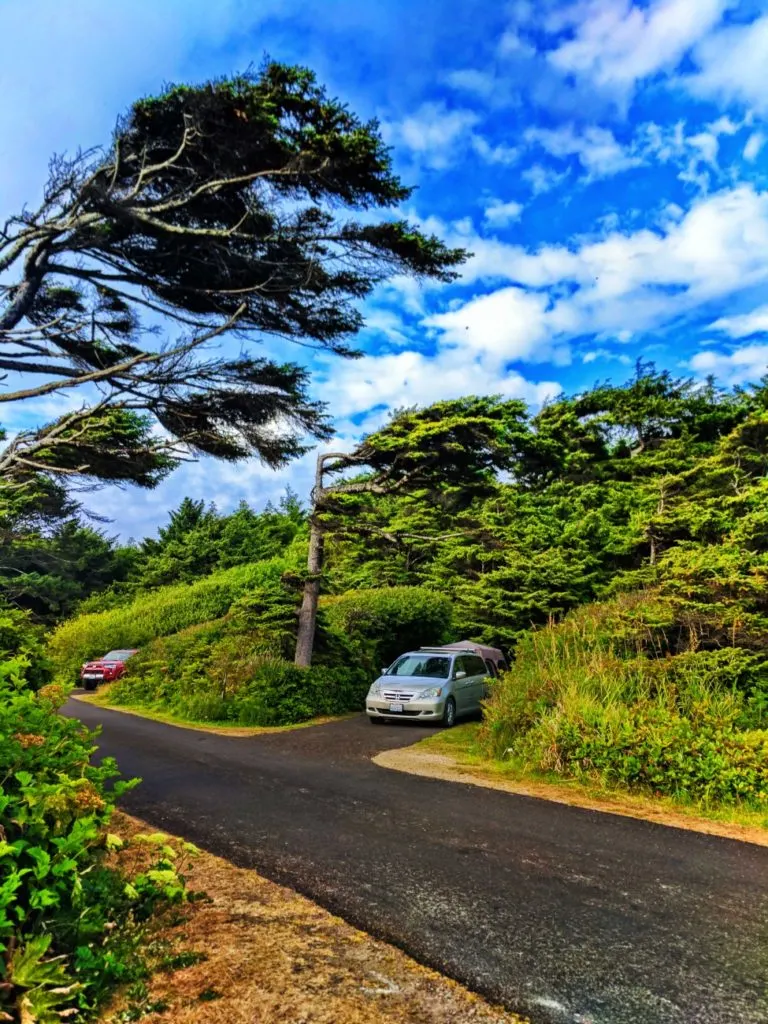 Where to stay near Ruby Beach
There are a few options for staying in Olympic National Park's western reaches. We've done a cabin on the Sol Duc River, which you can search for via VRBO or AirBNB (search "Olympic Peninsula" or "Forks"). We've stayed in a beautiful bed and breakfast in Port Angeles, Domaine Madeleine, which is just under two hours from Ruby Beach.
We've also camped nearby at Kalaloch, which is an Olympic National Park campground. Kalaloch means "a good place to land" and after visiting, you'll agree that it is. Tip: as soon as you know you want to visit Ruby Beach, make your camping reservations because they fill up fast. There are few few first-come-first-served campsites at Kalaloch and it is the best campground when you're doing Ruby Beach.
If you're looking for more specific lodging options, the Lodges of Olympic National Park have several different properties around the west side of the Park which may be good options. We've not stayed at any of them but the Kalaloch Lodge and Lake Quinault Lodge are both in the relative area and have a reputation for being quite nice.
Tip: whether it's camping or lodging, make your reservations at least a month in advance, and even then you may be cutting it close. People love Olympic National Park and will plan their trips a year out even. The Kalaloch campground has a small number of first-come-first-served sites, but you may not be lucky.
Best Things to do at Ruby Beach, Olympic National Park
What makes Ruby Beach the most beautiful beach in Washington isn't just its sand, but it's the whole experience. There are actually many things to do at Ruby Beach in any weather. It's the type of place that young, curious explorers and more mellow beach goers can all enjoy alike.
And it's a photographer's dream. Year round, the beach is photogenic, either for the unfiltered blue skies or for the thick moody clouds that roll in, you won't be disappointed.
Special Rules at Ruby Beach and National Park Sites
Ruby Beach is a part of Olympic National Park which means it's fully protected. Take nothing from the beach, because you'll be in trouble. There are many interesting shells and rocks to find, but as is the rule in any National Park, you must leave it. You should've seen the enormous shells we found at Dry Tortugas National Park, but we left them there too.
Also, know that the use of drones in National Parks is illegal and if a ranger catches you, you'll be in big trouble with fines and potential confiscation. We watched this go down here and at Zion National Park, and it's serious.
Even though you can't take anything or use drones, there is an exciting exception to what you CAN do at Ruby Beach. It is actually a dog friendly beach. That's right! Dogs are allowed off leash so it'll be a good time for all. But as with any public space, you still have to be aware of your pet's behavior and you must clean up after them.
Swimming at Ruby Beach
So can you swim at Ruby Beach? Of course you can, but remember that you're in Washington State and the water is going to be cold. At the height of summer, the temps rise enough that swimming can be enjoyable, but it's still not warm like California beaches or the Florida Gulf Coast or the Florida Keys.
Beyond the water temperature, you also need to be aware of rip tides. Between the sea stacks and the shape of the coast, there are times that strong rip tides form. If you see a rip in the water or if you feel it, you need to swim sideways out of the current. If you swim directly against the ripping current you'll be pulled out to sea. If the rip pulls you, swim to the side.
One benefit of visiting Ruby Beach after a rip tide has gone out is that a great sand bar and shallow pools form. This is a great spot to enjoy being in the water, and it's much safer than swimming out in the rough currents off Olympic National Park.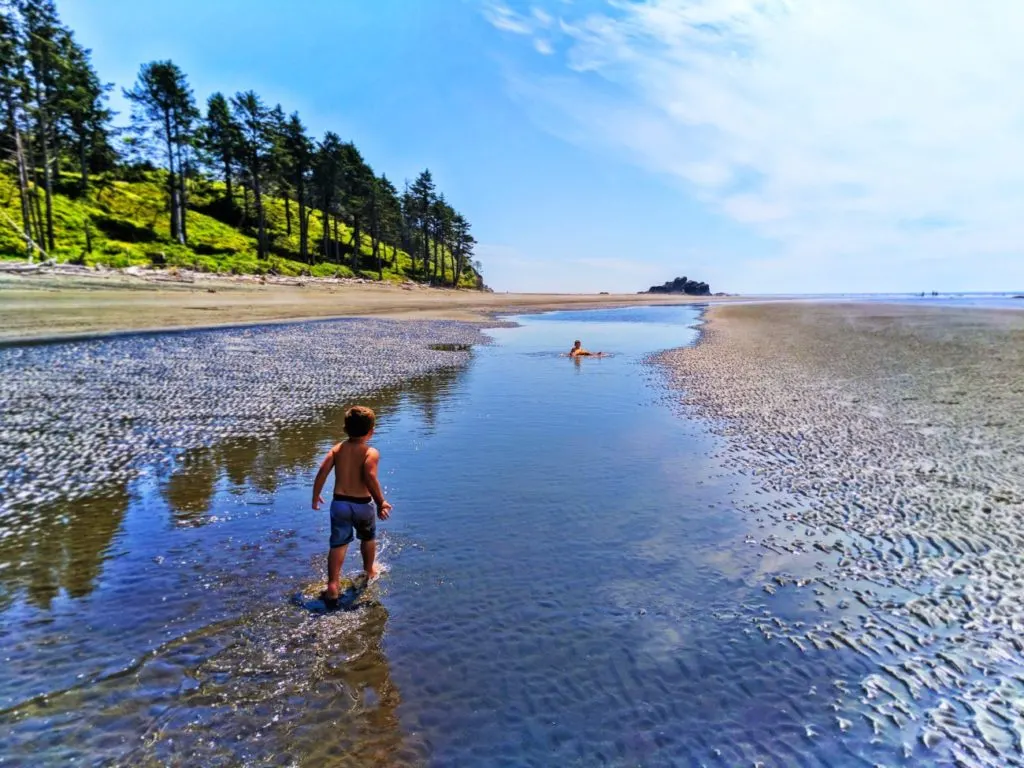 Driftwood Deposits on Ruby Beach
You know we love driftwood. From the Dungeness National Wildlife Refuge to Driftwood Beach on Jekyll Island, Georgia, we love to seek out the salt and sun bleached logs. The kids love to climb them and see what cool flotsam they can find. Ruby Beach is loaded with driftwood in its highest parts and up the creek, so there's plenty to check out.
And for the Instagrammers out there, the driftwood at Ruby Beach is the perfect backdrop for a photo shoot. We're not saying that you need to be one of those people who shows up and over-runs everything and everyone, but the drama of the site is very Instagramable.
Note: to access the beach itself you do have to cross the driftwood. There are spots where it's really easy, so don't worry if you're not surefooted, but know that you will need to crawl over a log or two.
Like with the shells and rocks, if you find amazing, beautiful driftwood on Ruby Beach, or any of the Olympic National Park beaches, you need to leave it for the next visitors to enjoy. There are other beaches near Sequim and Port Angeles, including Fort Worden State Park in Port Townsend, where you can find driftwood pieces that you may keep.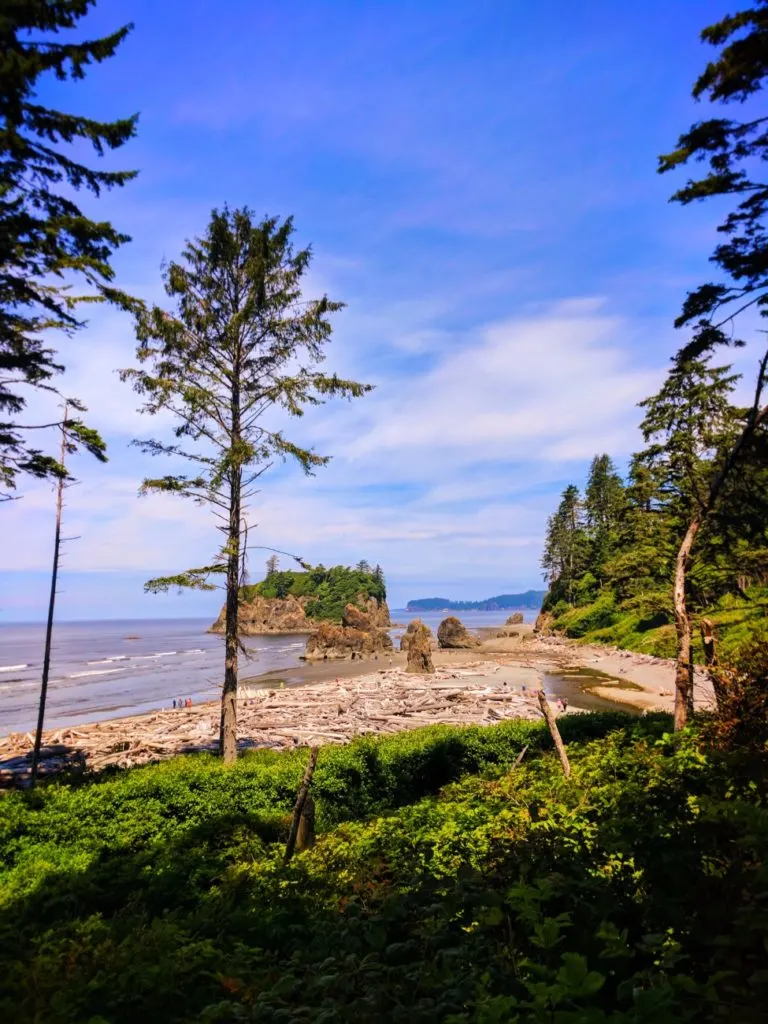 Sea Stacks and Rock Formations in Olympic National Park
If you're not familiar with the term, sea stacks are in reference to the large rock formations found just off beaches, like tiny islands. Usually home to all kinds of sea birds and sometime sea lions, bring a pair of binoculars and enjoy wildlife watching on the sea stacks.
Similar to the Oregon Coast, the Olympic National Park coast is LOADED with the sea stack rocks at nearly every beach! The stacks at Ruby Beach are gorgeous with a lot of interesting erosion and tidepools around their bases. There are a few rocks here that actually have tidal windows going through them, meaning that there are arches and holes in the middle of the stacks. Really cool.
If you want to explore the stacks and climb on the larger ones, you can access them, but remember that you're in a National Park. National Parks are protected lands with specific trail systems and guidelines around meadow-stomping. Be smart and respectful if you choose to explore beyond the beach. Also, be aware of nesting sea birds and if you see them circling, do not approach the rocks.
Tip: if you go out onto the larger sea stacks, beware of the incoming tide. You could get stuck out there for several hours if you're not into swimming in the cold water. Error on the side of safety when you visit Olympic National Park, whether it's the beach or hiking.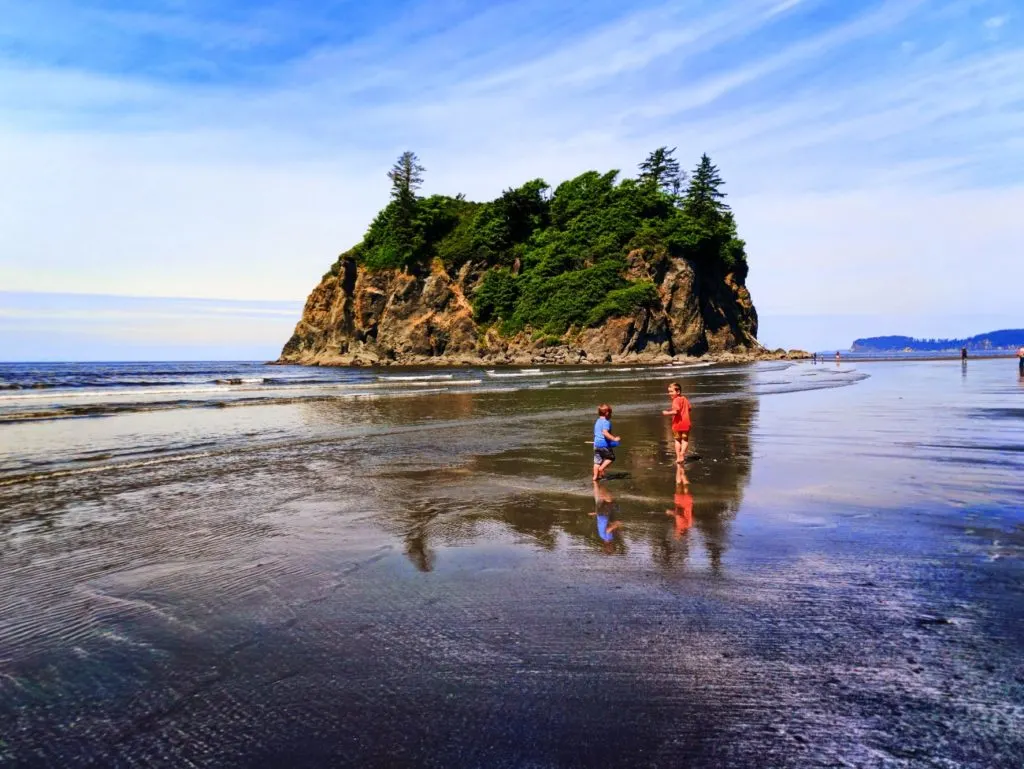 Exploring Tidepools at Ruby Beach
Who loves tidepools more: kids or adults? It's a tough call, but there are plenty of tidepools to explore here at Ruby Beach. The tidepools here are really fascinating for both their beautiful wildlife and interesting formation. Most tidepools you'll see are found on the top surfaces of rocks, exposed when the tide goes out. At Ruby Beach there are those kinds and also tidepools around the bases of the stacks, the pool having a rock wall and then sand for the rest of the edges.
The primary wildlife we usually find in the tidepools here at Ruby Beach is sea anemones. There are a wide variety of colors, from deep greens and pinks to white and grey. There are often hollows and tunnels in the deeper tidepools with thousands of anemones lining the rocks. It's really quite a treasure hunt!
Tip: if you find a rock overhang near the water, look under it and check for hanging sea anemones. They're totally weird and super cool to find.
Other wildlife in the Ruby Beach tidepools included long neck barnacles, snails, crabs, and sculpins (fish). If you're really lucky, Pacific Northwest tidepools will also sometime have creatures such as sea cucumbers, nudibranches, and sometimes even small octopuses. Keep your eyes peeled and the wildlife where you find it so the next person visiting Ruby Beach can experience it.
If you want to learn more about the creatures you find at Ruby Beach or anywhere on the Olympic Peninsula, plan a stop at the Port Townsend Marine Science Center. There are really cool tide pool exhibits and mammal skeleton collections to check out.
Walking the Sandbar at Ruby Beach
We love a good sandbar. Ft Myers Beach in Florida has an amazing one that remains mostly covered at low tide. The sandbar here at Ruby Beach is exposed at low tide and actually has a continual flow of water separating it from the rest of the beach. It's perfect for kid play time where the water is warmer than the ocean and deep enough for totally safe fun.
Note: always watch your kids carefully when they're playing in water. It doesn't take very much water for a small child to drown and it's more important to keep a safe and watchful eye on your kids than to take a nap on the beach.
In the water between the sandbar and the beach there is an awesome phenomena to check out: a sea star nursery. Here in the Pacific Northwest our sea star population has all but disappeared due to the sea star wasting sickness, which they still haven't solved. Finding young sea stars in the protected waters of Olympic National Park is always exciting and encouraging, as perhaps the sea stars are making a comeback.
Tip: respect any wildlife you encounter, ever. Whether it's bison in Yellowstone National Park or sea stars in Olympic National Park, know that they have their own struggle to survive, so let them be.
Other notable beaches on the Olympic Peninsula
Close to Ruby Beach are beaches 1-4 of Kalaloch. Each is a bit different, but they mostly have far stretches of sand and lots of space for playing and relaxing, especially at low tide. To the north, just past the town of Forks are the beaches of Mora and La Push. Again, these beaches have amazing driftwood, some beautiful sea stacks and great sand. La Push also has the Quiliyute River hitting the ocean right there, so it's a fun place for kayaking if you're into river paddling.
These beaches are also a part of Olympic National Park so are protected just like Ruby Beach. This means you take nothing from them, pack out all of your own trash, and no drone usage is allowed. Follow the rules and the protected beaches will continue to be incredible places to visit with friends and family.
Now, are you totally ready to carve out some time and make the trek to Ruby Beach at Olympic National Park? Really, it's the most beautiful beach in Washington, in our opinion, and you'll be so glad you went. If you're just now plotting out a bigger vacation to Washington State, we've got even more recommendations for the prettiest spots in Washington, so check them out too!
Want to pin this for later for you travel planning? Go for it! You'll be glad you did.