We love sharing accommodation reviews and recommendations, and we have a place we must share: Domaine Madeleine on the Olympic Peninsula of Washington. It is the most awesome and perfect Port Angeles bed and breakfast that we have visited. Domaine Madeliene really captures the quiet nature of the area and is the perfect place to stay near Olympic National Park.
You know that we typically enjoy staying places that have family friendly accommodations and are a bit extra nice as elevate our travel experience so Domaine Madeleine was just that. It's not everyday that bed and breakfast and family-friendly go together. And if you don't know Port Angeles or the Olympic Peninsula, well, you'll see why a family-friendly bed and breakfast is so important to find.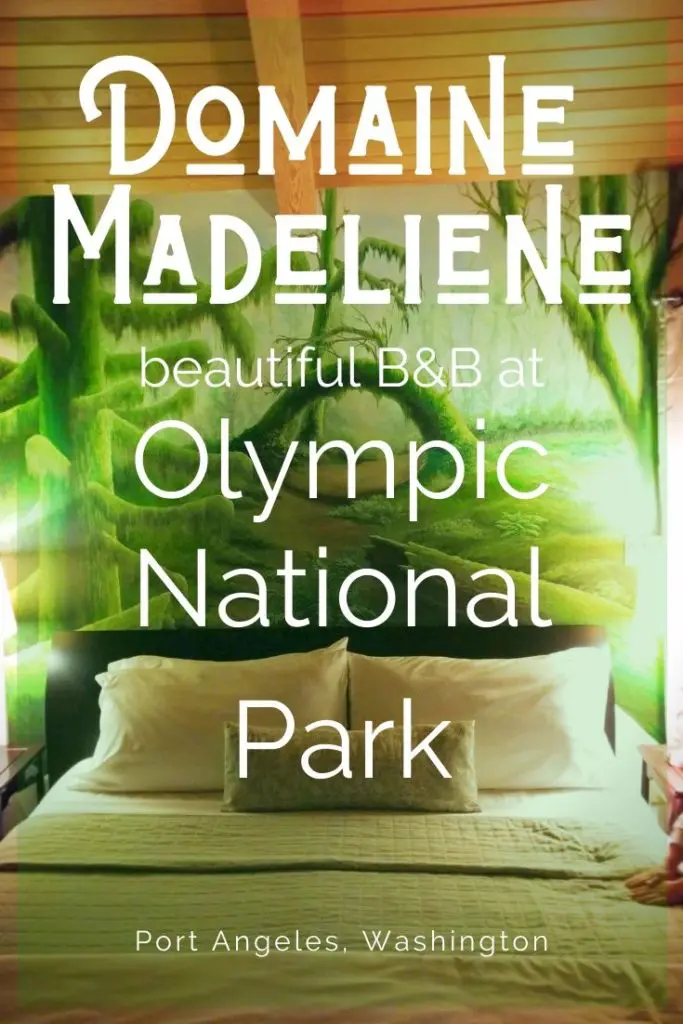 The perfect Olympic Peninsula B&B
So, just forgive us in advance because we're going to gush just a bit about Domaine Madeleine. No, we weren't paid to blab about it, but it's just such a beautiful and comfortable place, we're going to share how much we love it. When it comes to finding a great Port Angeles B&B, you've found it here. It's extremely close to Olympic National Park and some wonderful towns and we know you'll love it all!
Locale of Domaine Madeleine
Located between Sequim and Port Angeles, Domaine Madeleine is in one of the most overlooked areas of the Olympic Peninsula. Most people are heading to the Olympic Peninsula because they want to get out to the beaches of Olympic National Park (just like you see in Twilight movies) or people are heading to one of the beautiful lodges within the National Park as well. Sequim and Port Angeles kind of seem to be drive-thru towns that you don't stop in unless you need snacks or gas, but each one has its own culture and attractions and each is a great destination for couples or family travel.
This perfect little Olympic Peninsula bed and breakfast is located on a street that should just be titled B&B Drive. I think we passed four other bed and breakfasts on the way to Domaine Madeleine. Whether your goal is hiking up in the mountains or going crazy at the lavender farms Domaine Madeleine is in the perfect spot for you. Or heck, you could even just stay there and relax inside or outside for an entire weekend and nobody would be the wiser.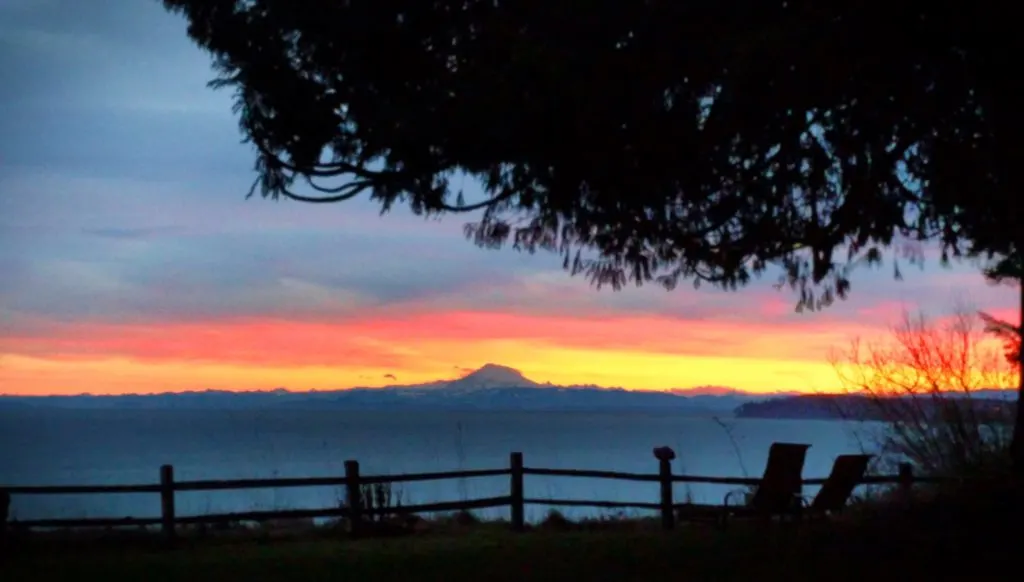 Accommodations at this Olympic Peninsula B&B
Domaine Madeleine has several different suites available. We can only tell you about our special suite that we were in, the Hoh Rainforest suite, because Domaine Madeleine was booked up for the other rooms while we were there. Our suite was perfect for family travel though, which is so amazing to find in a bed and breakfast setting. For families, this is an ideal Port Angeles B&B.
We had the main room which had the king size bed, floor to ceiling fireplace, a sitting area, and a dining area, as well as access to the lawn which overlooked the Strait of Juan de Fuca, and then we had a French-doored sitting room as well which had a very nice pull-out sofa sleeper for the kids. We also had a private bathroom, which is a total score if you are frequent bed and breakfast visitor.
Tip: when booking a room/suite, view the rooms and read the descriptions to find the accommodations that are best for you and your travel companions. B&Bs are a very cooperative type of lodging, so book what you'll use and need so others can book amazing stays as well.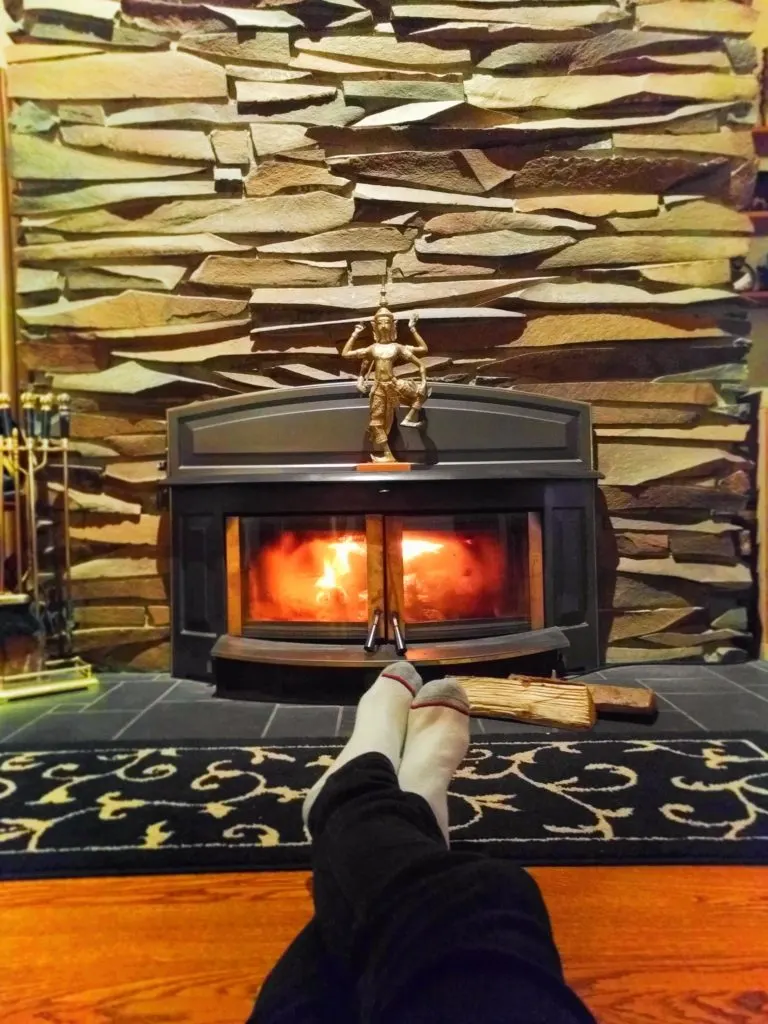 If you've been following our blog over at 2TravelDads.com for some time then you know that we don't dig too deeply into specific amenities that different properties have. We did mention when we stayed at the Sleeping Lady Resort in Leavenworth, Washington that we loved the bed sheets and even took a picture of the label. Well, Domaine Madeleine has the same linens: Comphy sheets is the brand and we are in love with them. You'll never find softer and more sleepable sheets on the face of the planet. Yes, the bed was completely wonderful as well, but it was the fact that they used Comphy sheets that sold us on having an amazing night sleep.
Note: Even before we saw the label on the sheets both Chris and I said they were the most comfortable sheets ever and I just knew exactly what they were, and lo and behold I was right!
Other wonderful aspects of this awesome Olympic Peninsula B&B were the common areas (and DVD collection such as Nell, Powder, Twins… OMG), outdoor space, which includes gardens, benches, outdoor art, a fire pit, deck areas and more, and the experience of being in a wonderfully relaxing, comfortable environment. Like I said, it's perfect.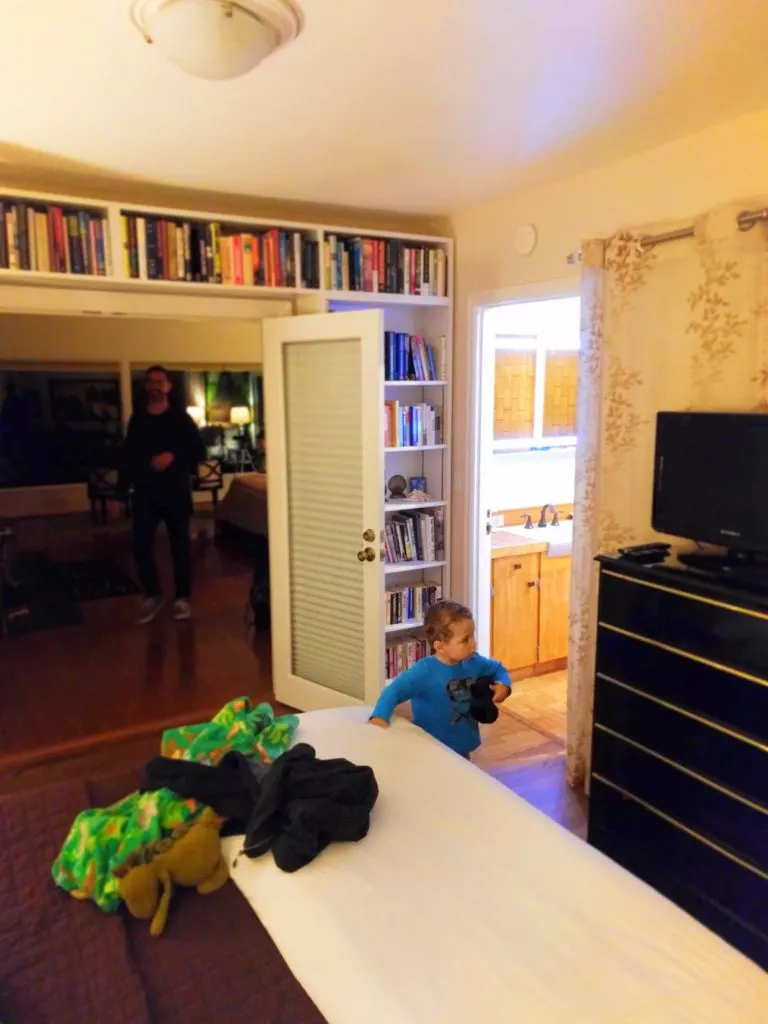 Breakfast at Domaine Madeleine
Okay confession: while we were at Domaine Madeleine we didn't actually do the full-service breakfast. They had it arranged for us but due to our plans of making it up to Hurricane Ridge to take the kids to the snow they scrapped our fancy breakfast to make it easier for us. And they packed us the most elaborate breakfasts to go.
When you stay at Domaine Madeleine you have two breakfast options: you can either have a boxed breakfast which they will prepare and place in the refrigerator for you or you can have a full-service breakfast in one of their dining areas. The full-service breakfast looked absolutely beautiful which I know because I spied on people who were taking part. It's smelled too good to stay in our room eating fruit with the kids, so I just had to peek. The table was set so perfectly and it was clear the other guests were having an amazing time. I kind of wish that we would not have skipped out on our breakfast in favor of snow. Oh well. #LessonLearned
Our boxed breakfasts were amazing though. Each morning they were a little different but we were sure to have low-fat Greek yogurt, granola, some pastries of some sort, fresh fruit, cheeses, juice and coffee, and mints to follow. We also had some awesome Pacific Northwest smoked salmon and some cured meats. You know we love our salmon in the Pacific Northwest and that's always a guaranteed way to win our hearts.
The flexibility of our Olympic Peninsula bed and breakfast hosts really made our stay excellent. They made themselves available for whatever we needed including a late check-in and varying travel plans. Thank goodness to find a bed and breakfast that understands how travel with kids works.
Note: one of our little dudes has some severe food allergies. We let them know and they were great about providing excellent options for him as well as labeling everything that he couldn't have. Such good hosts!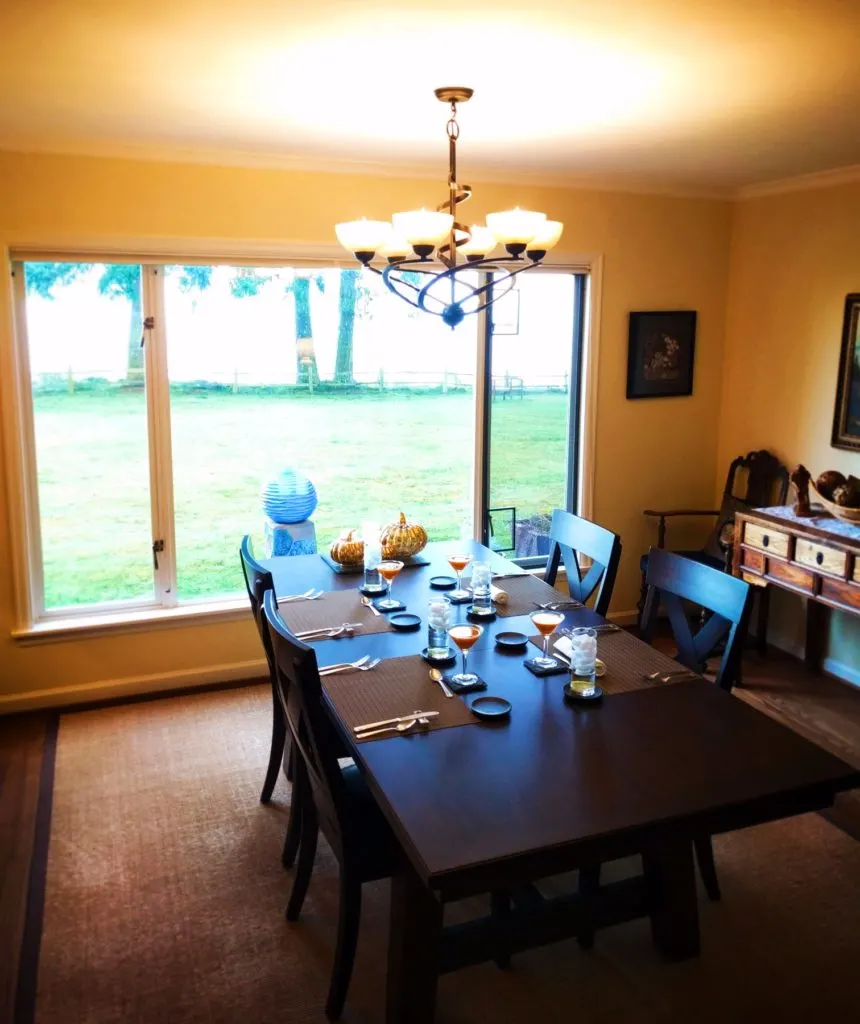 Booking a stay at Domaine Madeleine
Now you know how amazing this awesome Port Angeles bed and breakfast is so let me tell you the bummer: they do an absolutely incredible job and people know it so they book pretty far in advance. Like with any sort of stellar accommodations in Washington State, know that booking in the shoulder seasons and outside of winter holidays is a great way to secure a room. Book Domaine Madeliene here!
Note: if you don't know what a "shoulder season" is, it's the time between the end of summer travel and the beginning of holiday travel, and then that spot in between the holidays and spring breaks.
Don't let Domaine Madeleine's popularity be any sort of deterrent in trying to get a stay here. If you want to visit, just reach out to the hosts and ask when you can do it. The website is super easy as well, but working directly with the hosts you can find a time that's right for you whether it's midweek or a weekend. Trust me, it's worth figuring out.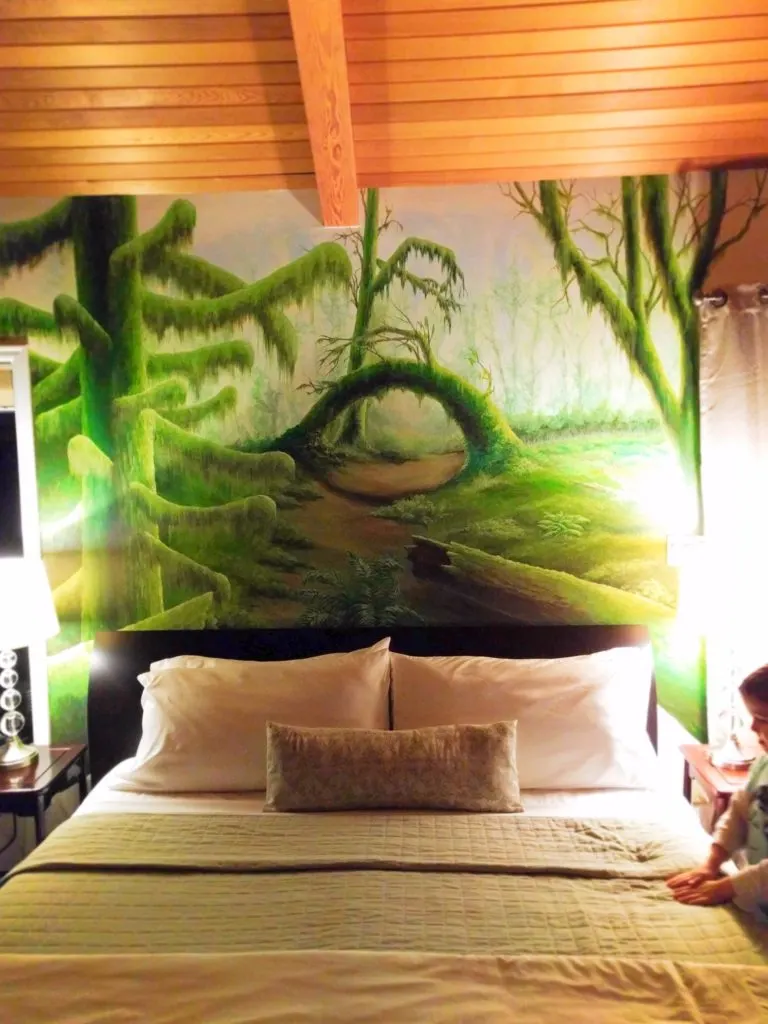 Easy nearby activities on the Olympic Peninsula
Here are five easy, fun activities to enjoy while staying at Domaine Madeliene:
Day trip to Victoria via Coho Ferry
Wine tasting at Olympic Cellars, Camaraderie Cellars, or Harbinger Winery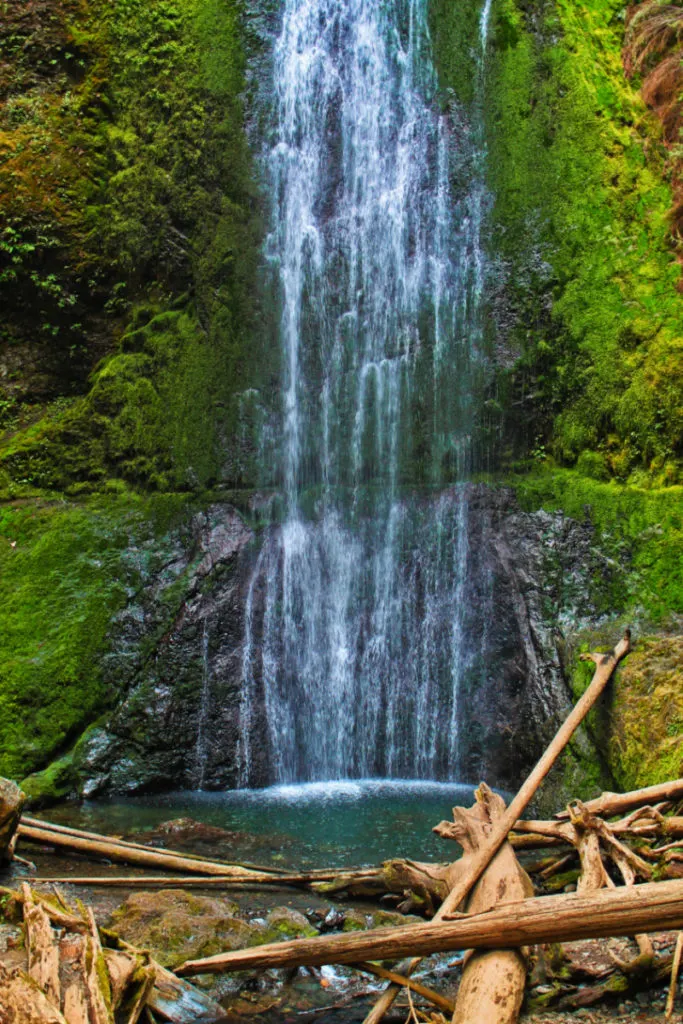 See? Booking a stay at Domaine Madeleine, the most wonderful Port Angeles B&B, is something you need to add to your travel plans for the year. The summer is great because the weather is incredible and you can do more outdoor activities than in the winter. The stillness of the winter though, including beautiful sunrises and sunsets, really, it's our favorite time on the Olympic Peninsula. Domaine Madeleine is a wonderful place to get away with our family and they were such gracious hosts. We were so thankful they welcomed us in and created a wonderful escape from our busy lives