Since the first time we visited Florida as a family we've wanted to see more and more of the Sunshine State. Florida offers a variety of family road trip options ranging from beach vacations, island hopping in the Keys, to exploring the one-of-a-kind nature on the Gulf Coast. We love doing the Florida Gulf Coast road trip, and if you haven't do it, put it on your bucket list.
Since Florida has both an Atlantic Coast and the Gulf, you're sure to weigh out the options for doing a vacation to either side. The experience is very different and both are beautiful. Here's how you can rock a Florida Gulf Coast road trip too and fall in love with Florida all over again!
Note: Hurricane Ian was HARD on Naples and Marco Island. Both locations suffered a lot of damage and many businesses were either destroyed or hit hard. While recovery efforts for some have been swift, others didn't fare as well and it will take time to get back to normal, or to their new normal. Fort Myers was also horribly damaged, with Sanibel and Captiva Islands being left inaccessible. The are now accessible, but recovery is slow (as of Feb 2023).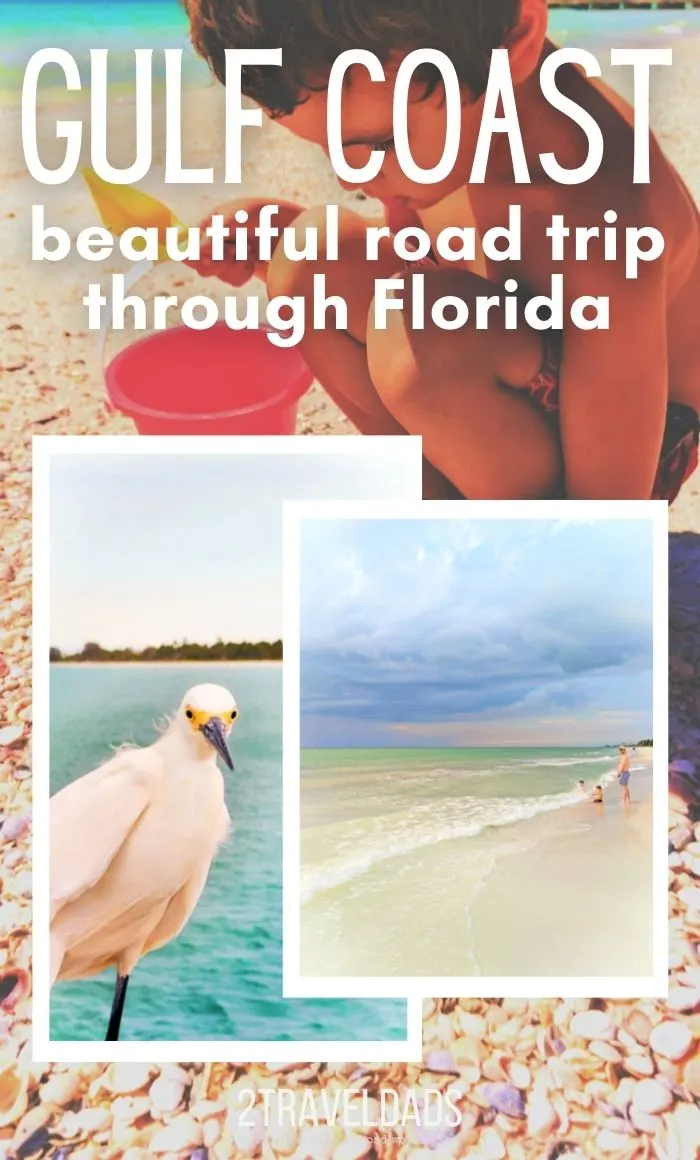 Florida Gulf Coast Road Trip Itinerary
Starting by flying into Miami (MIA) or Fort Lauderdale (FLL), grab your rental car and head west. If you need to start or end with a few days relaxing at a hotel in South Beach, do it, but don't let Miami distract you too much from the amazing Florida Gulf Coast road trip you're planning. We've got a great Miami itinerary if you need that…
Florida National Parks to Start Your Road Trip
One of the great things about Florida is the amazing nature and very unusual ecosystems. With three National Park sites just west of Miami, getting into nature is the perfect start to your Florida Gulf Coast road trip. Day one of your drive allows you to experience one or two of the parks, finishing the whole itinerary with whichever park or parks you skip at the start. And there is lots of great kayaking in Florida's National Parks, so plan for that too. Gosh, Florida is cool!
Visit Biscayne National Park
Head west from Miami to Biscayne National Park. From there your adventure begins and the wonders of Florida unfold before your eyes. Being so close to Miami you'd think that Biscayne National Park would be crazy with visitors. Nope! This gem of a park is 95% underwater, so the best way to experience it is in a kayak, on a paddleboard or from a small boat, but you can also visit on foot.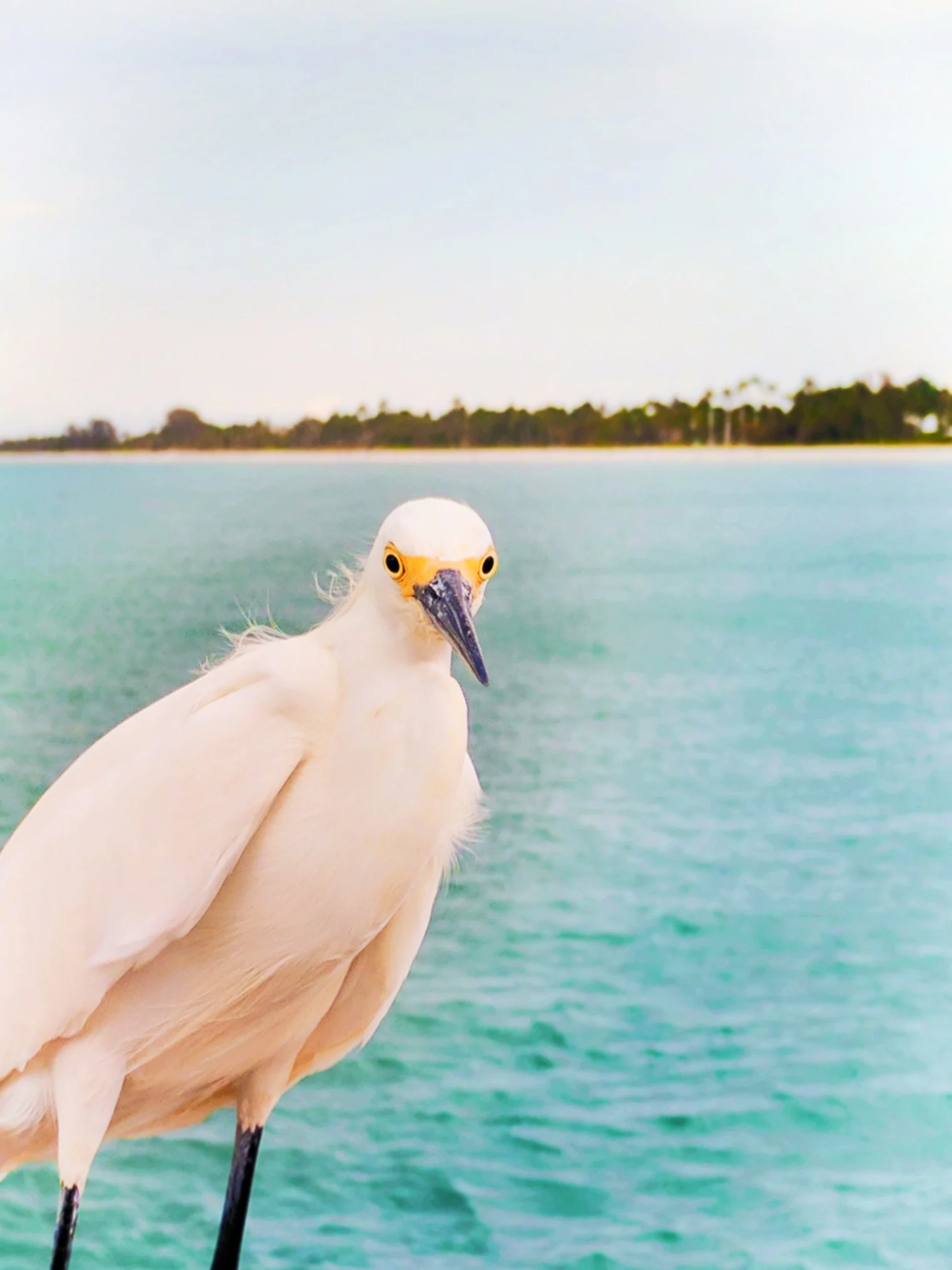 The Visitors Center in Homestead, Florida is set next to a marina and shallow launch, so going through the exhibits inside and then heading out to the nature trails makes for a fun activity. We enjoy the walk out to the end of the jetty where the bird sanctuary is, and you can even take a break to play in the water.
Tip: check with the National Parks Service regarding boat tours out to the islands and lighthouses; they don't run every day, and they do tend to sell out quickly.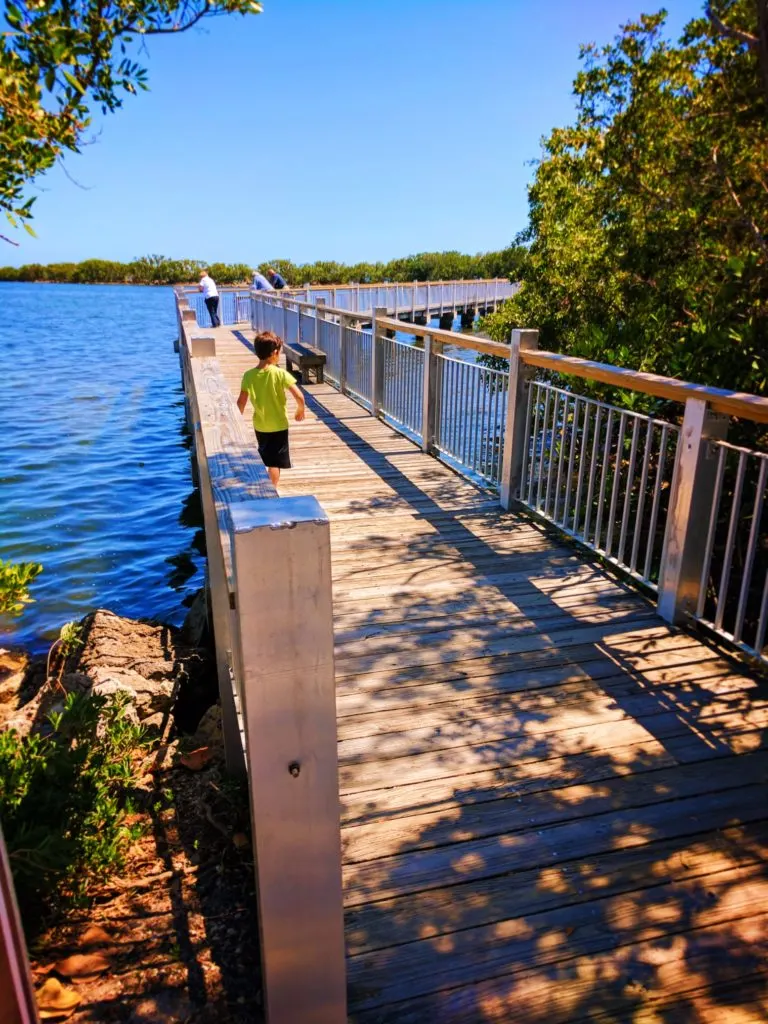 Everglades National Park Road Trip Stop
The Everglades are a unique ecosystem that pulls right up to the edge of suburban Miami, so that makes Everglades National Park an ideal stop at the beginning of your Florida Gulf Coast road trip. Discover iconic Florida wildlife by hiking the boardwalks across the grass marshes out of the west side Flamingo or northern Shark Valley Entrance. No doubt you'll see egrets and spoonbills, turtles and Florida alligators, and with luck even flamingos.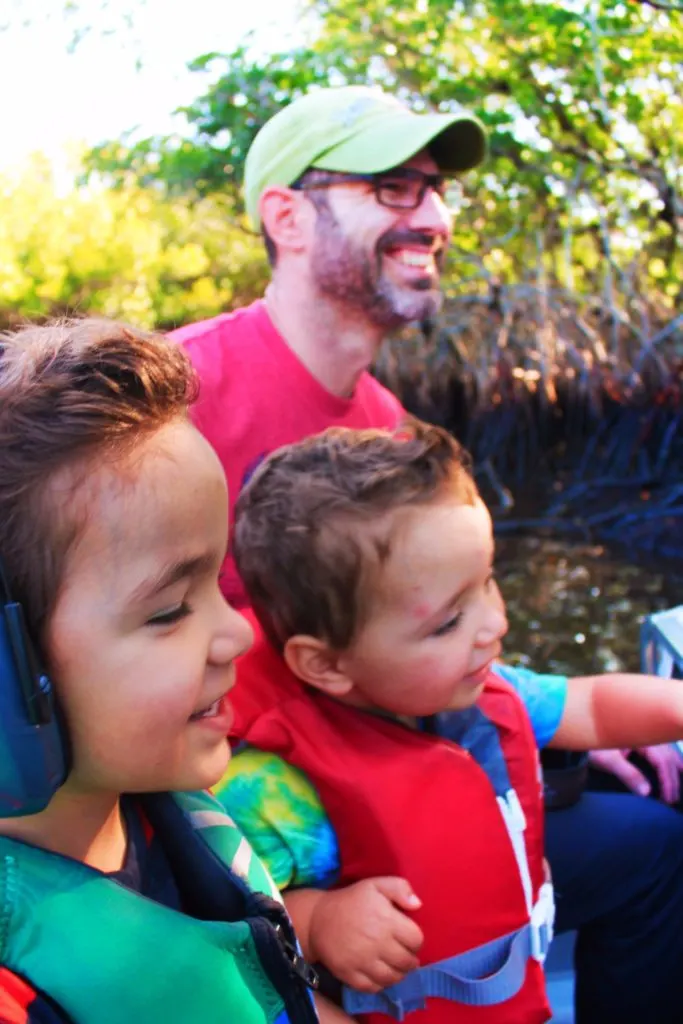 For a visit to the 10,000 islands area of Everglades National Park, the Gulf Coast Visitors Center in Everglades City has ranger led boat tours that'll take you out into the bay and then through the islands. This is a great tour for bird watching and spotting the occasional manatee or dolphin. I would consider this one of the best places to kayak in South Florida.
If you'd prefer to explore the swamp side of Everglades National Park, the Shark Valley Visitors Center is the hub for catching the Tram Tour. We did a similar tour in Yosemite National Park and loved the experience of the tram. This is also a way to get to the heart of the Everglades without doing the 14 mile round trip walk or bike ride.
Tip: Visit the National Park Service for a list of approved tour operators to explore Everglades National Park on the water. Hiking, biking, kayaks, airboats or small motorboats offer a variety experiences.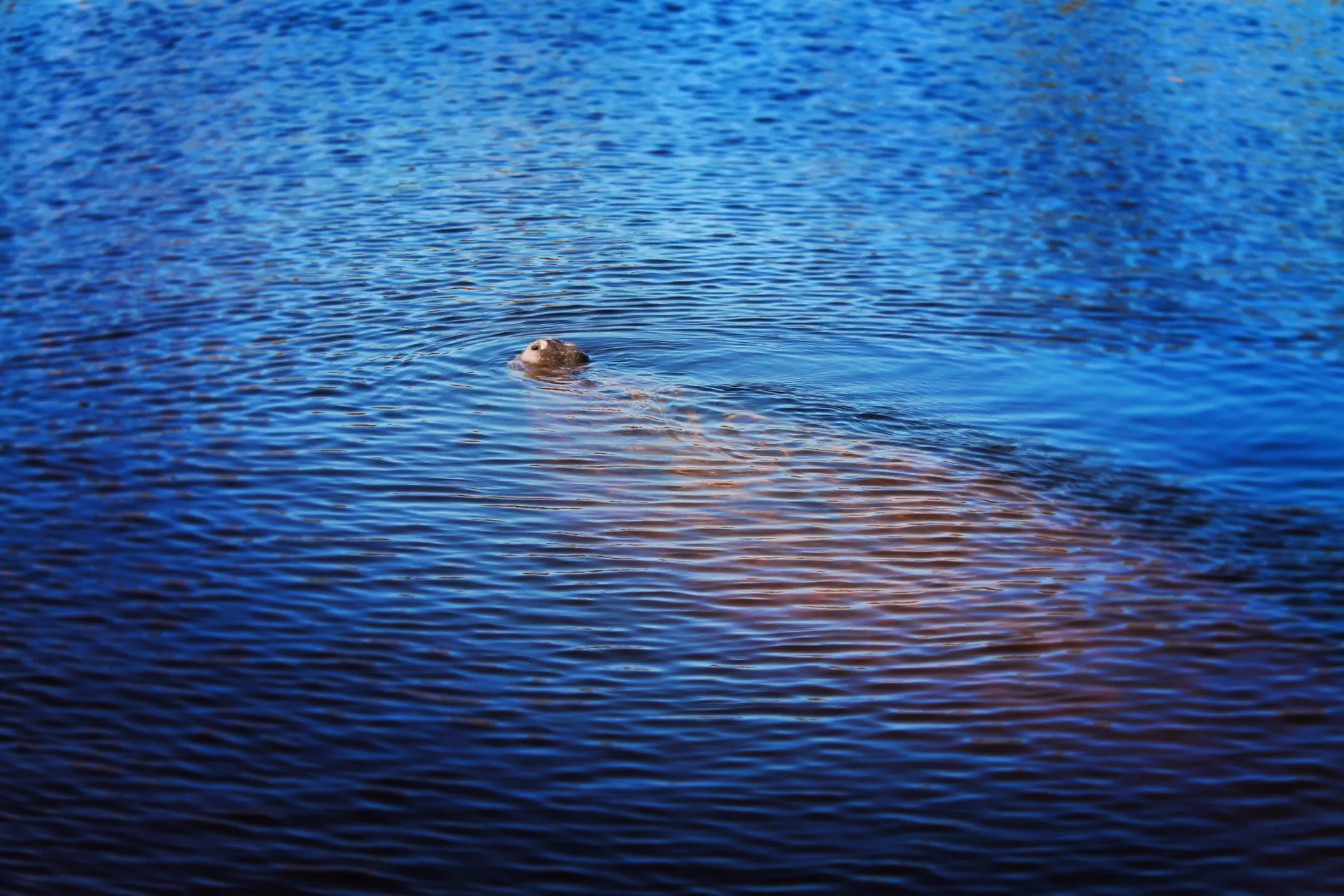 Explore Big Cypress National Preserve
Big Cypress can be done at the start or end of your Florida Gulf Coast road trip. Driving on Route 41, the Tamiami Trail, you'll pass by several Welcome Centers. Each has a boardwalk to take you to a viewing area where you'll no doubt see alligators and more. The Oasis Welcome Center was our first Big Cypress National Preserve stop and it made a great first impression.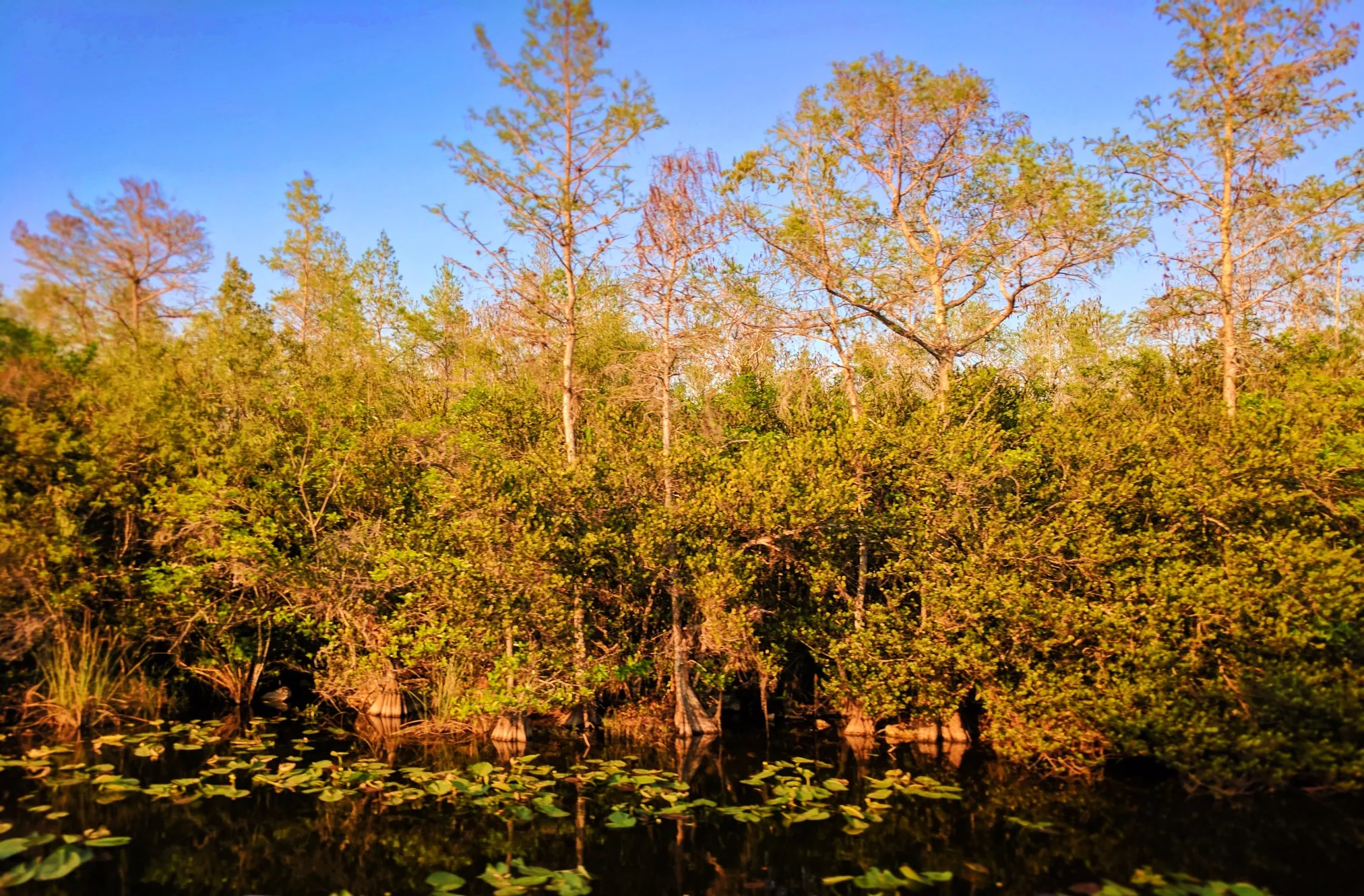 If you want to do some hiking in the Preserve, the Big Bend area is on the south side of the Tamiami Trail (alligators and crocodiles) or head north on Route 29 to the Education Center where you'll find some of the largest cypress trees in Florida.
Tip: if you're able to schedule your time in Big Cypress National Preserve early in the day, the mosquitoes and heat are less and will make for a better visit.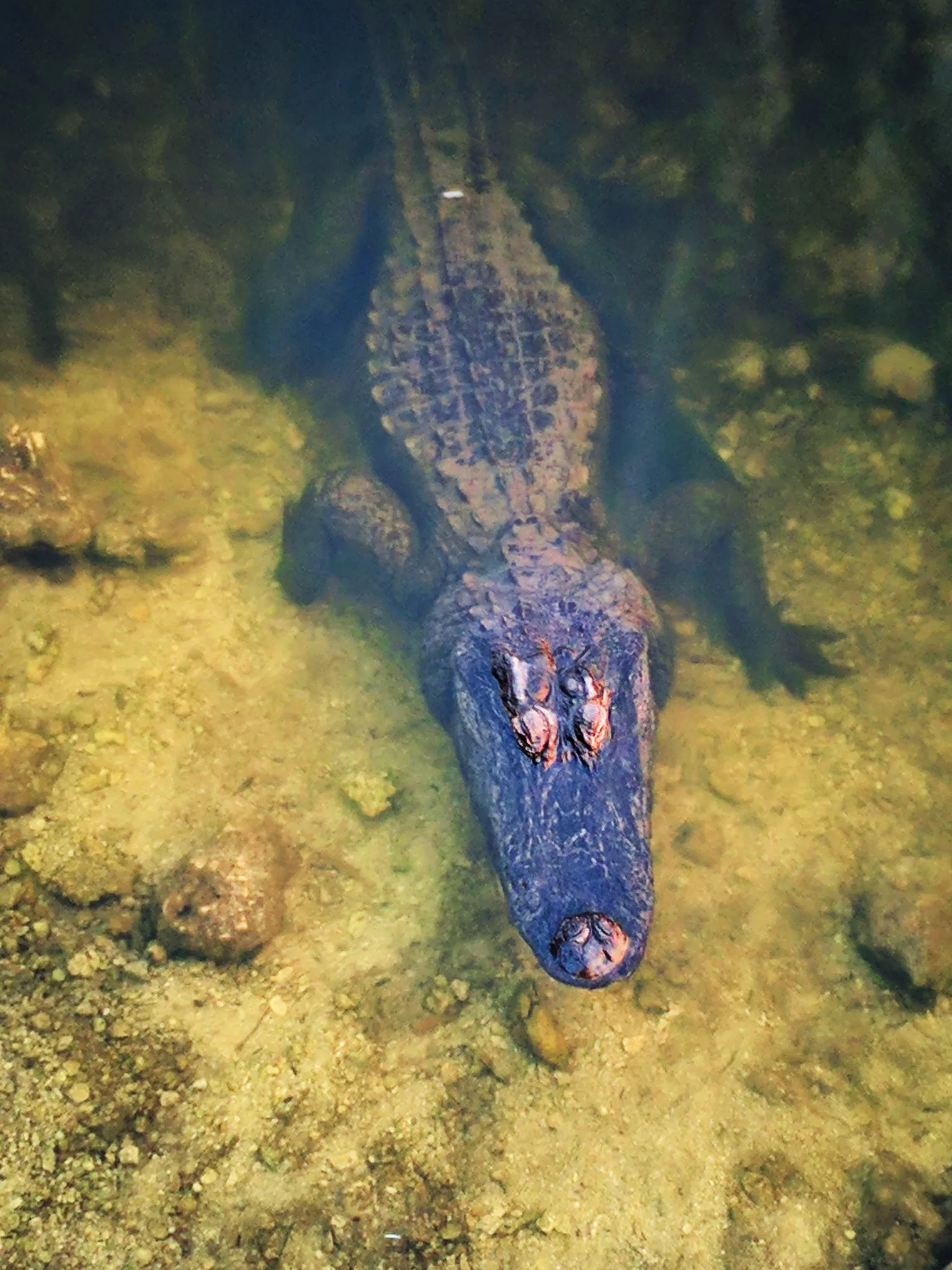 Beaches on the Florida Gulf Coast Road Trip
You're now starting the beach portion of your Florida Gulf Coast road trip. As you hit the Gulf Coast at Naples and head northward, you'll have plenty of opportunities to jump into the warm waters of the gulf. If beach time is your primary goal with your road trip, check out our Guide to Florida Gulf Coast Beaches.
Visiting the Naples Area
After immersing your family in the Everglades and all of the cool things that you'll find in the swamp, it's time for the beach! Naples is a nice stop as we head north on our Florida Gulf Coast road trip. The area is huge, but if you follow the signs towards the Naples Pier, you'll find the historic area full of beautiful Florida homes and ample street parking.
Check out our guide for Things to Do in Naples and Marco Island!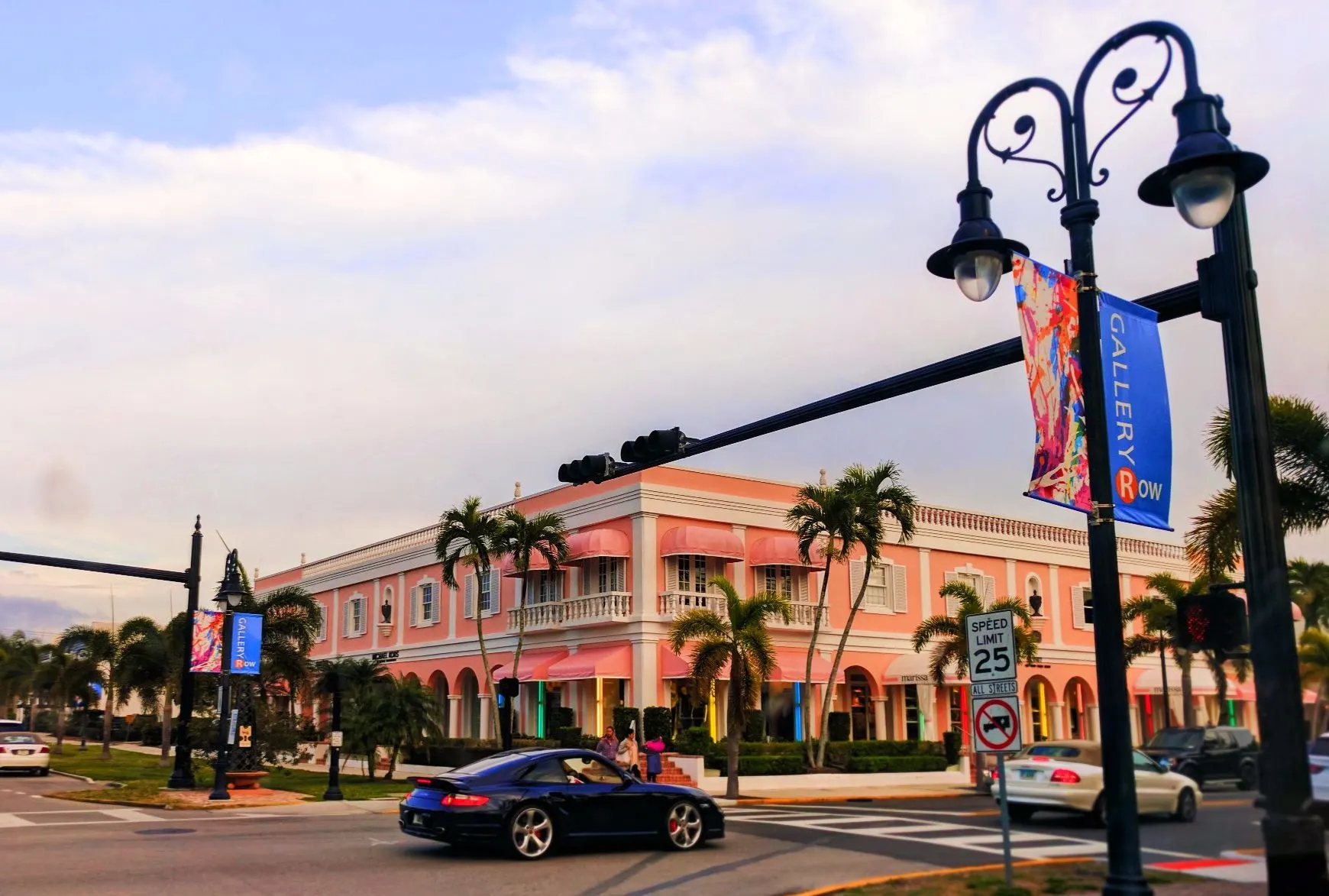 Tip: visit Marco Island for even more fun and beautiful things to do with kids! It's just south of Naples and has both beautiful hotels and several nature preserves.
It's easy to wander around looking for dinner and loving the Florida vibe, but then it's also just as easy to hit the beach. The beaches are very clean and the surf here in Naples is deep enough to swim, unlike the beaches to the north. Also, if you're lucky you'll park close to one of the beach shower sites so you can be clean before getting back in your vehicle.
Note: the city of Naples has an awesome parking meter system that will send you a text message when your parking is about to expire. Perfect for helping you relax at the beach.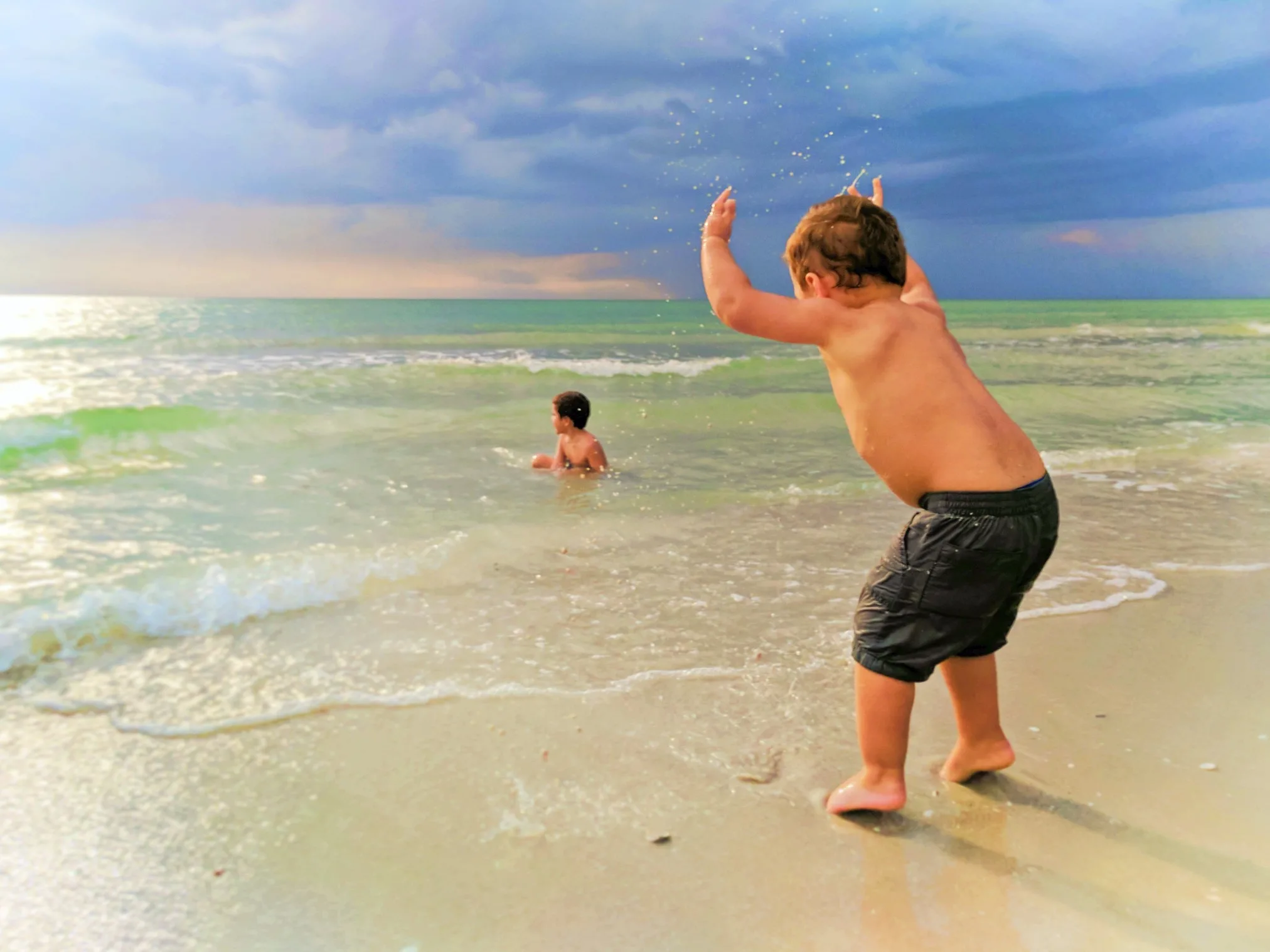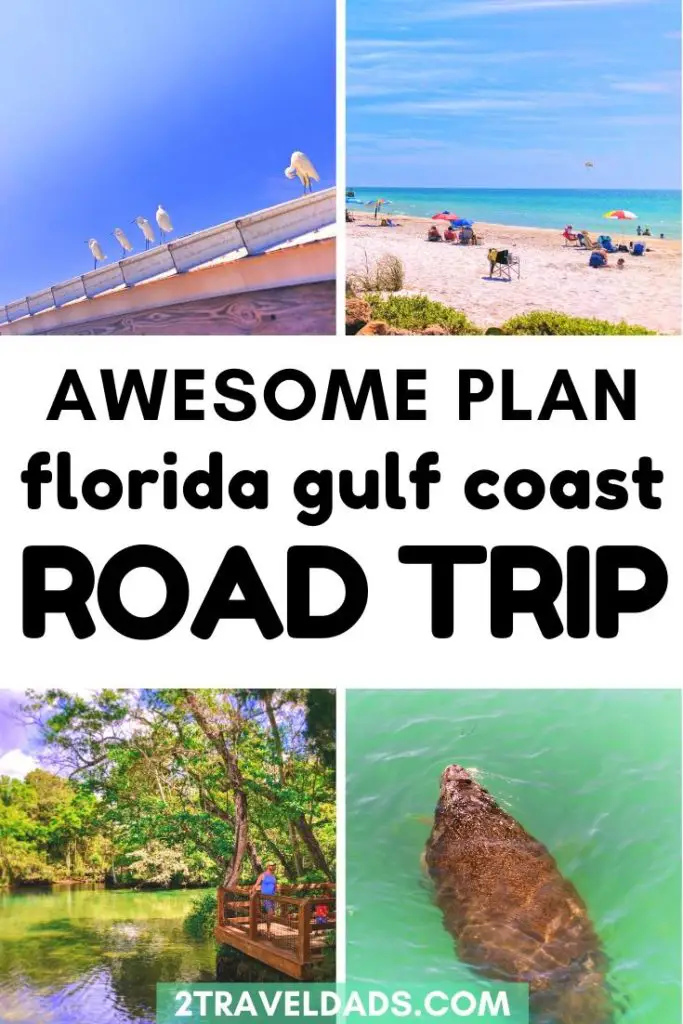 Quiet Beach Vibes in Fort Myers Beach
Matanzas Pass Preserve, a day use area in Fort Myers Beach, is another refuge for Florida's famous bird and turtle population. Hiking through the mangrove forest to an inland bay, the quiet Matanzas Pass Preserve is worth a morning visit in the sunshine, and if you're up for some kayaking Estero Bay is protected and calm.
Tip: watch for fiddler crabs scurrying past the boardwalk and through the mangroves at low tide.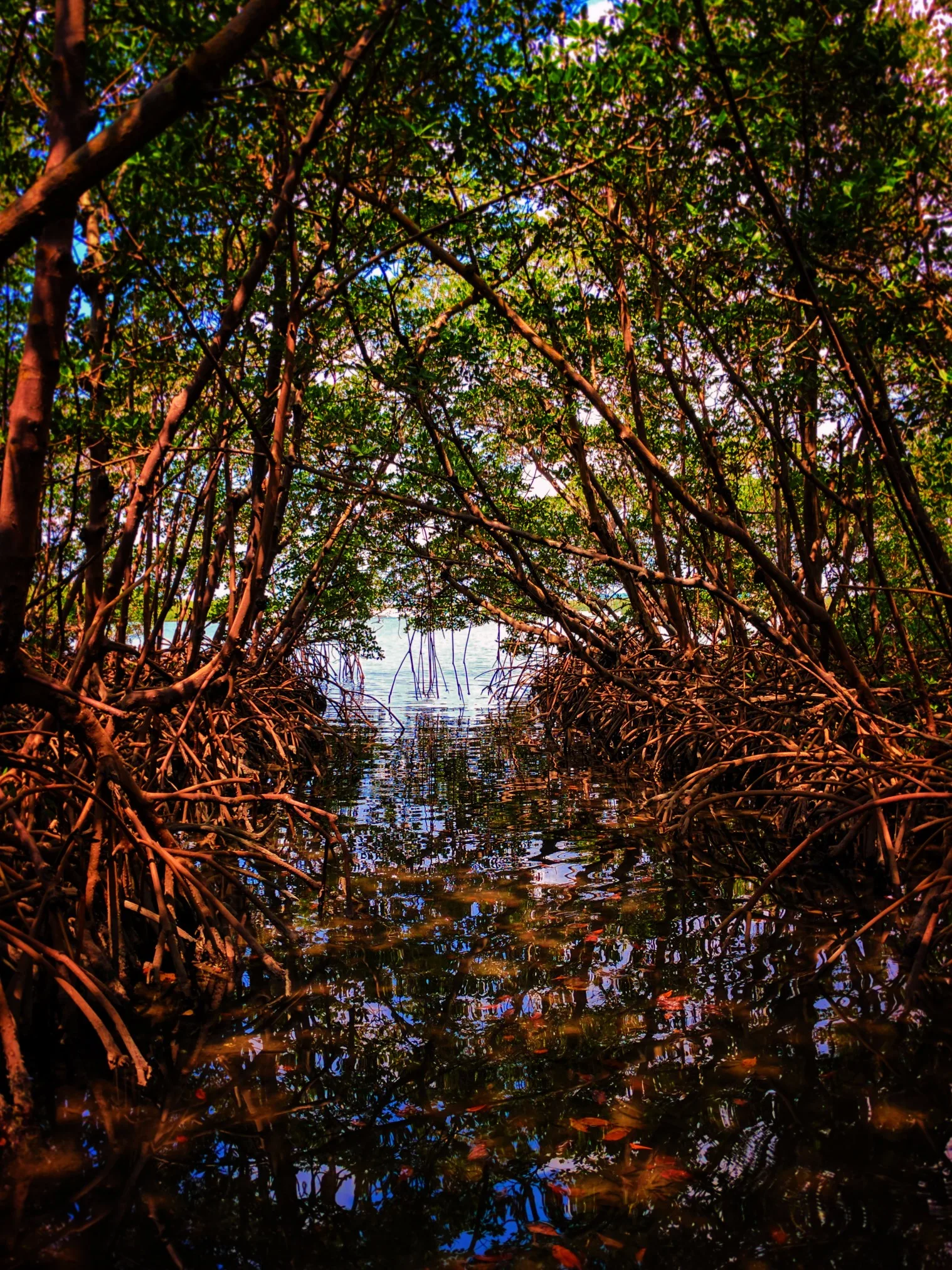 Afterwards, cross the street for beachcombing and exploring the sandbar of Fort Myers Beach. We like the Mango Street beach access to be perfect both for parking and being close to the sand bar that forms with the outgoing tides. Street parking is readily available in many of the pullouts during a mid-week visit. On the weekend, it is quite a bit busier, so get to the beach early.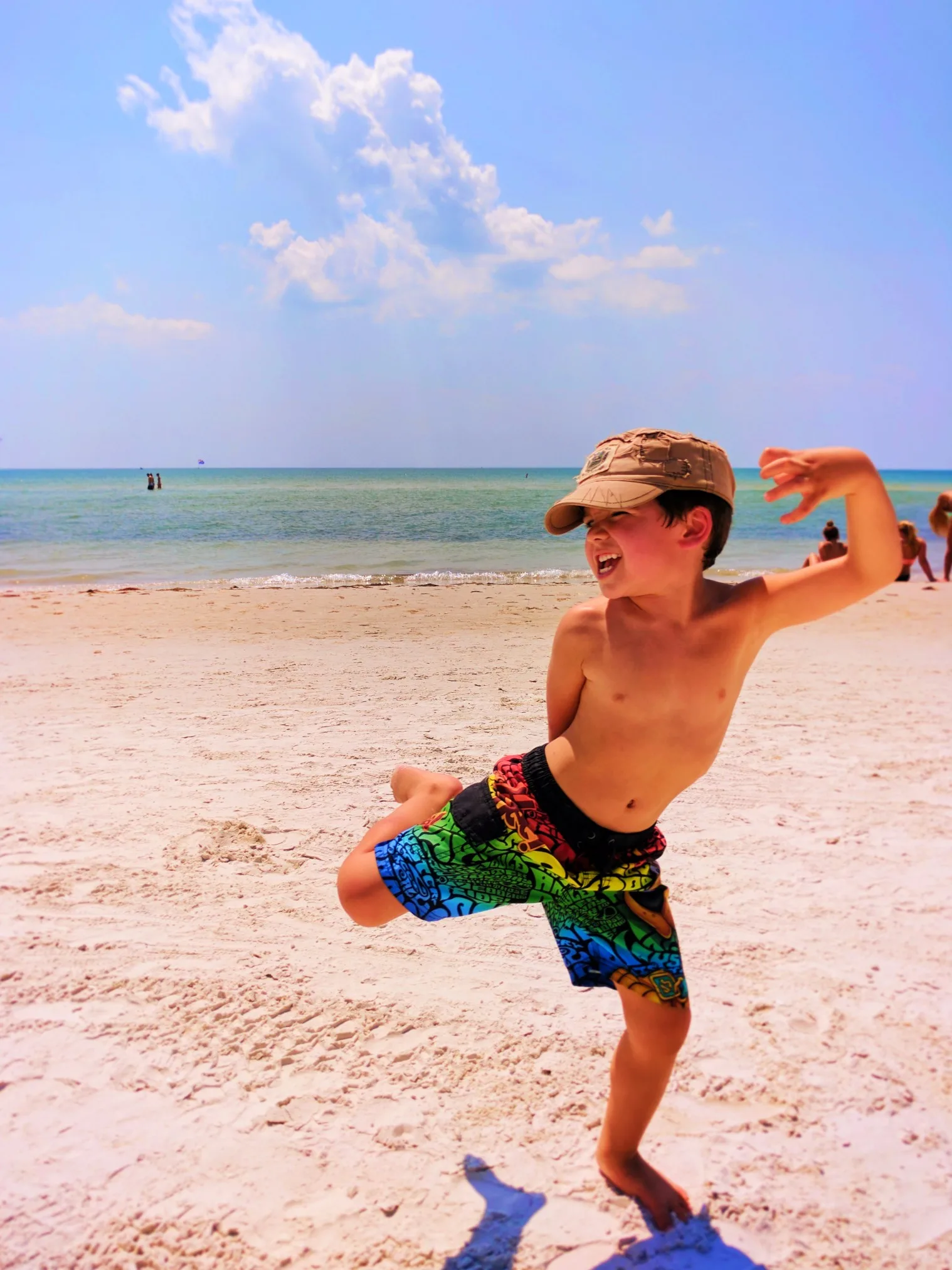 Things to Do in Bradenton Beach
We were seeking out the historic side of Florida when we ventured into Bradenton. It actually turned out to be a great addition to our Florida Gulf Coast road trip itinerary. We wound through historic downtown Bradenton, which was adorable, until we made it out to the De Soto National Memorial. While it's not as quaint or old as downtown Saint Augustine where we live, it's still a nice place to stroll.
As part of the National Parks System, De Soto is a great place for experiencing living history and reenactments, but also for strolling a beautiful nature trail out to De Soto Point. And be sure to try on the 16th century Spanish armor… cuz it's real comfy (not!).
Tip: living history doesn't occur every day so check with the Park's website for reenactment days prior to your visit.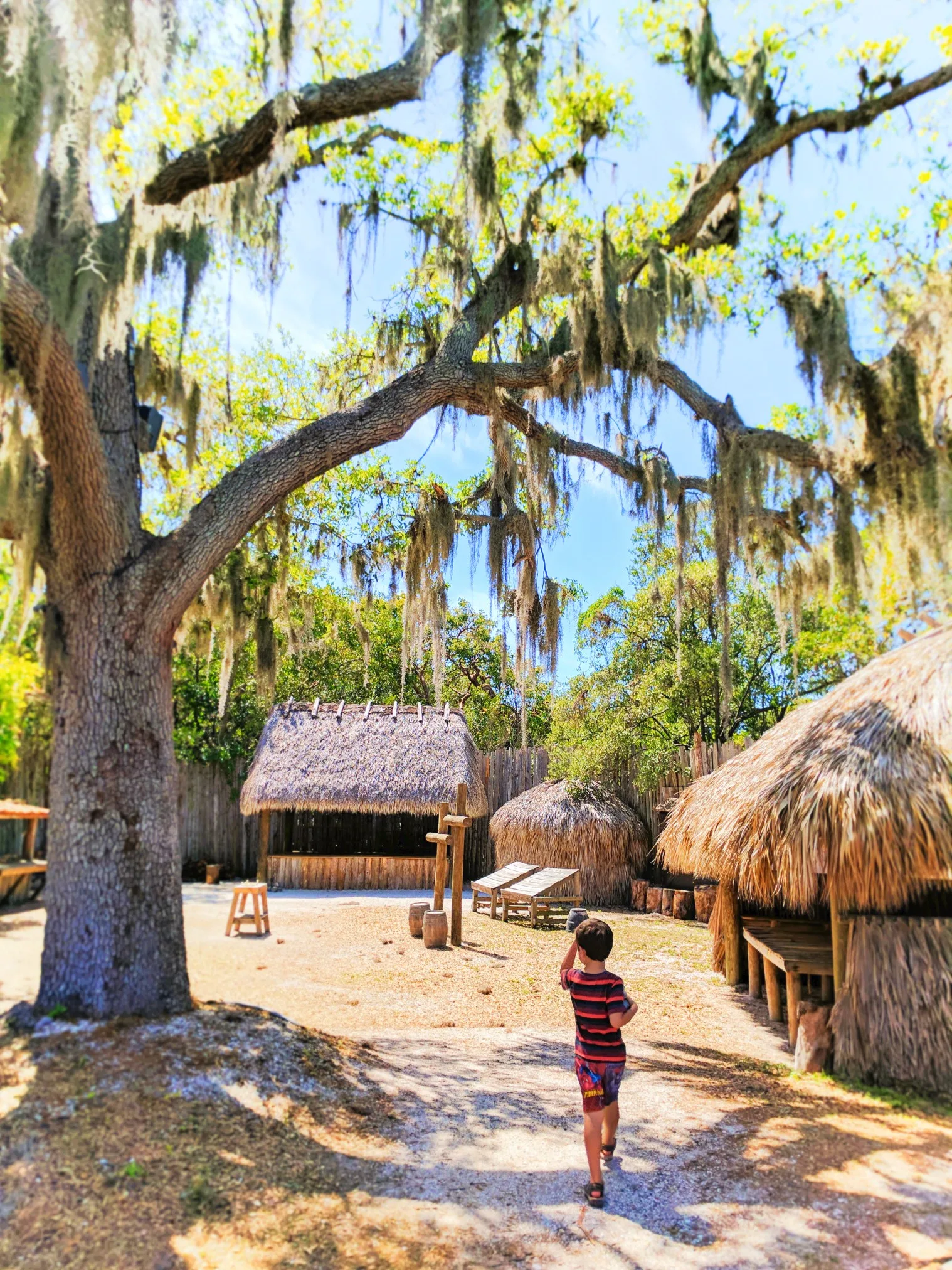 After you get your history on, head out to Bradenton Beach for an awesome beach afternoon. The shells here are more plentiful than anywhere we've been, especially the colorful snail shells. There are beach showers close to the primary lifeguard stations so you don't have to bring all of that sand back with you. Bonus: designated beach parking in Manatee County (Bradenton) is free! You'll really appreciate small things like this as you continue on your Florida Gulf Coast road trip.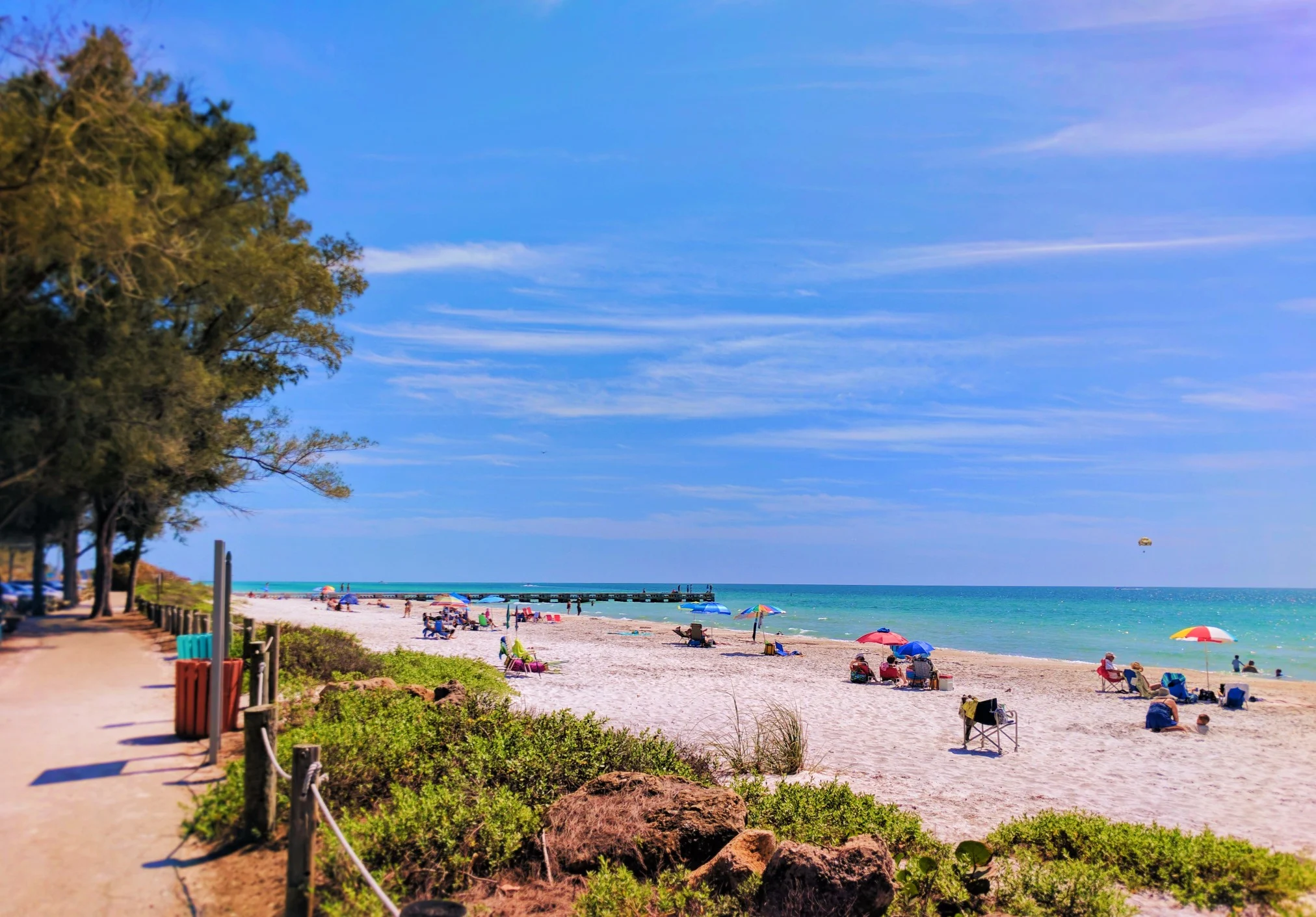 Fort De Soto County Park
Living in Washington, we used to spend a lot of time at Fort Worden State Park. Fort De Soto County Park is very similar except for the amazingly warm water, palm trees and presence of manatees. We started off by exploring the bunkers and bouncing our echoes off the depths of the hill, followed by some much needed swim time.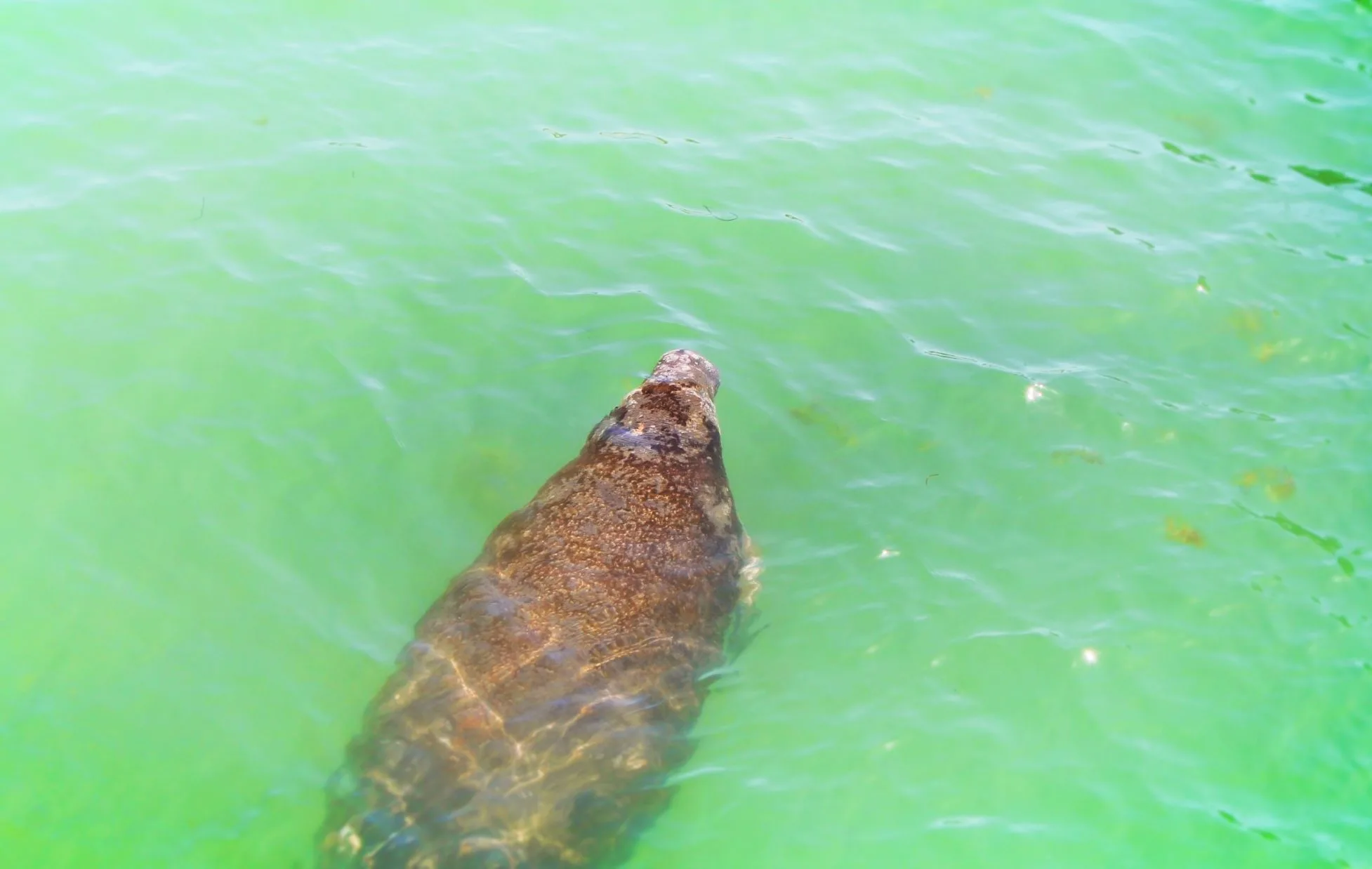 The beach near the 1000-foot fishing pier is well protected and deeper than other Gulf Coast beaches you'll find. Oh yeah, and we saw three manatees here! I almost bumped into one while swimming and then two others swam past. Such a treat!
For some added fun, walk to the end of the pier and watch for dolphins. We saw several playing in the surf as well as stealing the fish from the many fishermen on the pier. The kids were torn between watching the dolphins playing or the manatees swimming below us. Really amazing!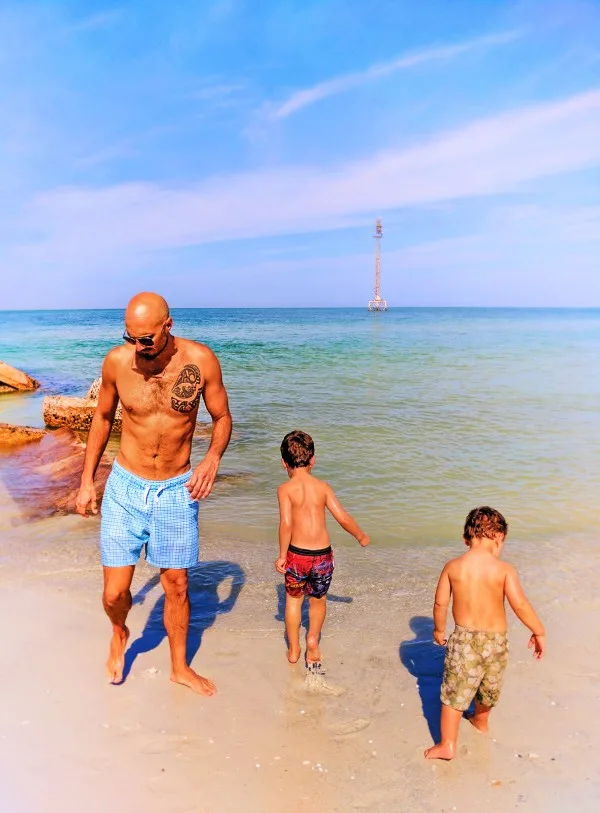 Camping at Fort De Soto County Park is ideal on your Florida Gulf Coast road trip because it's close enough to civilization that you can get what you need, but far enough away that you feel completely disconnected. Also, morning walks at Fort De Soto allow for some great bird watching, including ibises, herons and spoonbills.
Tip: plan your visit or camping time here to be able to take the foot ferry to Egmont Key State Parkto visit the lighthouse, which is the oldest lighthouse on the Florida Gulf Coast.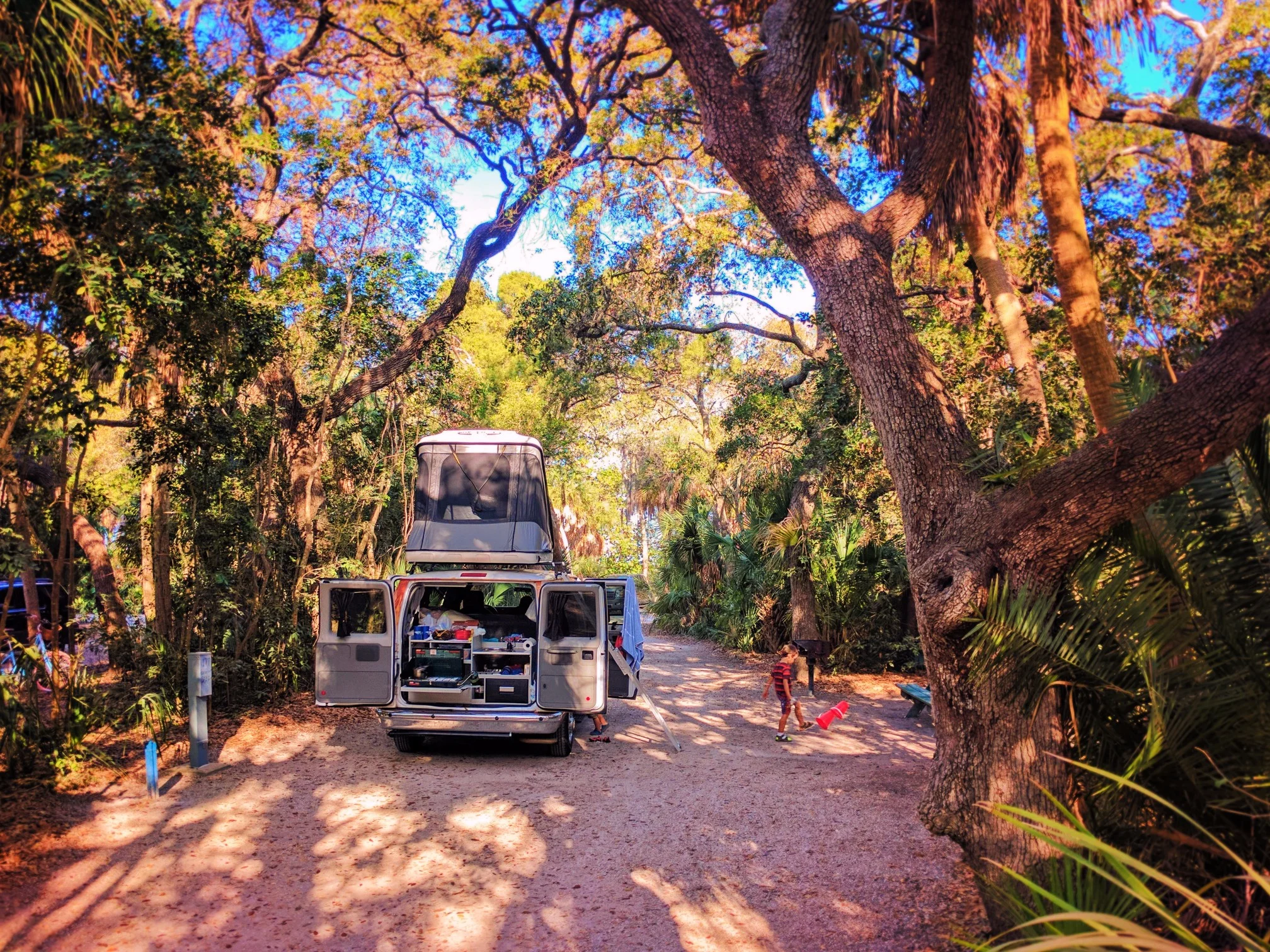 Visit Honeymoon Island State Park
If you want to add an extra beach day after you visiting Fort de Soto, plan to have a morning or full day at Honeymoon Island State Park. It's one of the best Florida state parks for kayaking that also has a beach. Enjoy several beach areas, lots of mangrove to paddle around, and some of the best beachcombing on your Gulf Coast road trip.
Tip: get there early, because the traffic on and off the island is bad. Also, parking is limited at the main beach areas.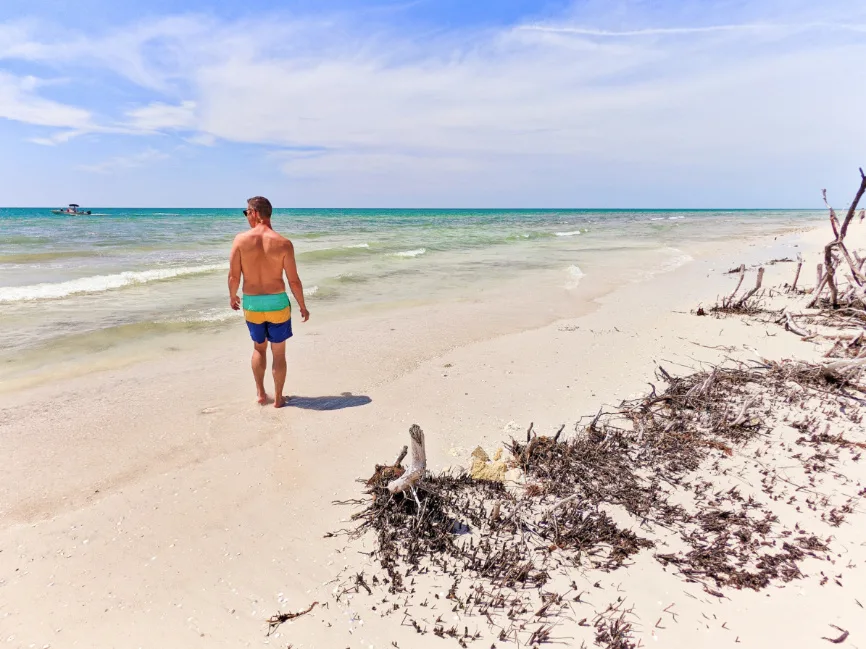 Road Trip Stop in Tarpon Springs: Greek America
Florida has some of the most vibrant towns in America with citizens transplanted from around the country and globe. Tarpon Springs is a perfect example of this cultural diversity with its strong Greek American population. If you weren't planning on digging into a Greek food extravaganza with the kids on your Florida Gulf Coast road trip, change your plans now! Tarpon Springs is nothing but gyros, baklava and dancing in the street. So much fun and a great stop between destinations!
I know that may sound ridiculous and like it can't possibly be that way, but it really is. There genuinely is music an activity everywhere. It's one of the most unique places to visit on your Florida Gulf Coast road trip.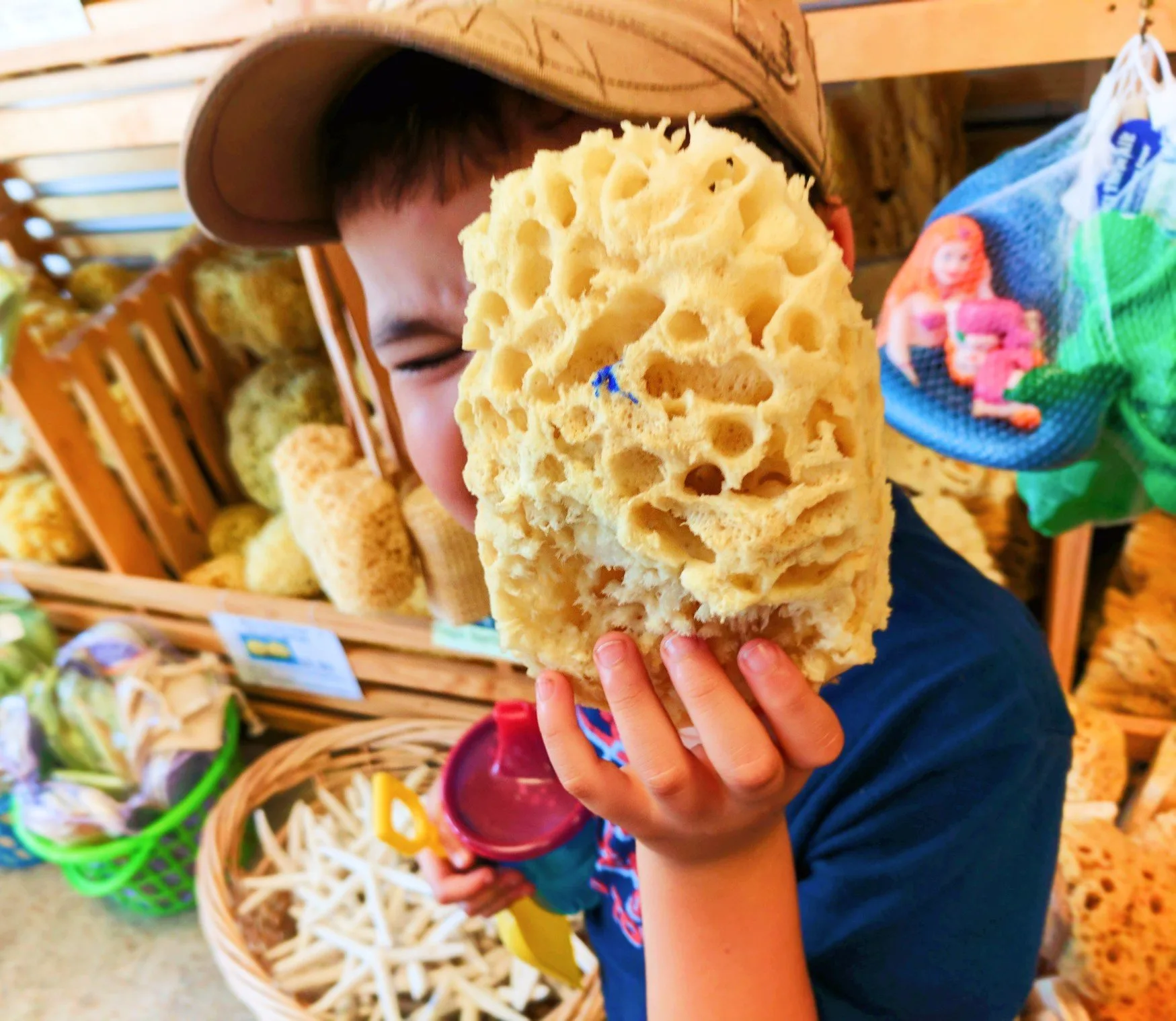 Why is Tarpon Springs so Greek?
In the early 20th century there was an influx of Greek Americans to the Tarpon Springs area as they relocated to work in the massive sea sponge farming industry. They settled, made Tarpon Springs their home and today it's a diverse and thriving community.
While other people from around the world moved in and out of Tarpon Springs, the central town and businesses were all Greek-owned and many families resiliently stayed in town. It's such a wonderful cultural phenomena in Florida!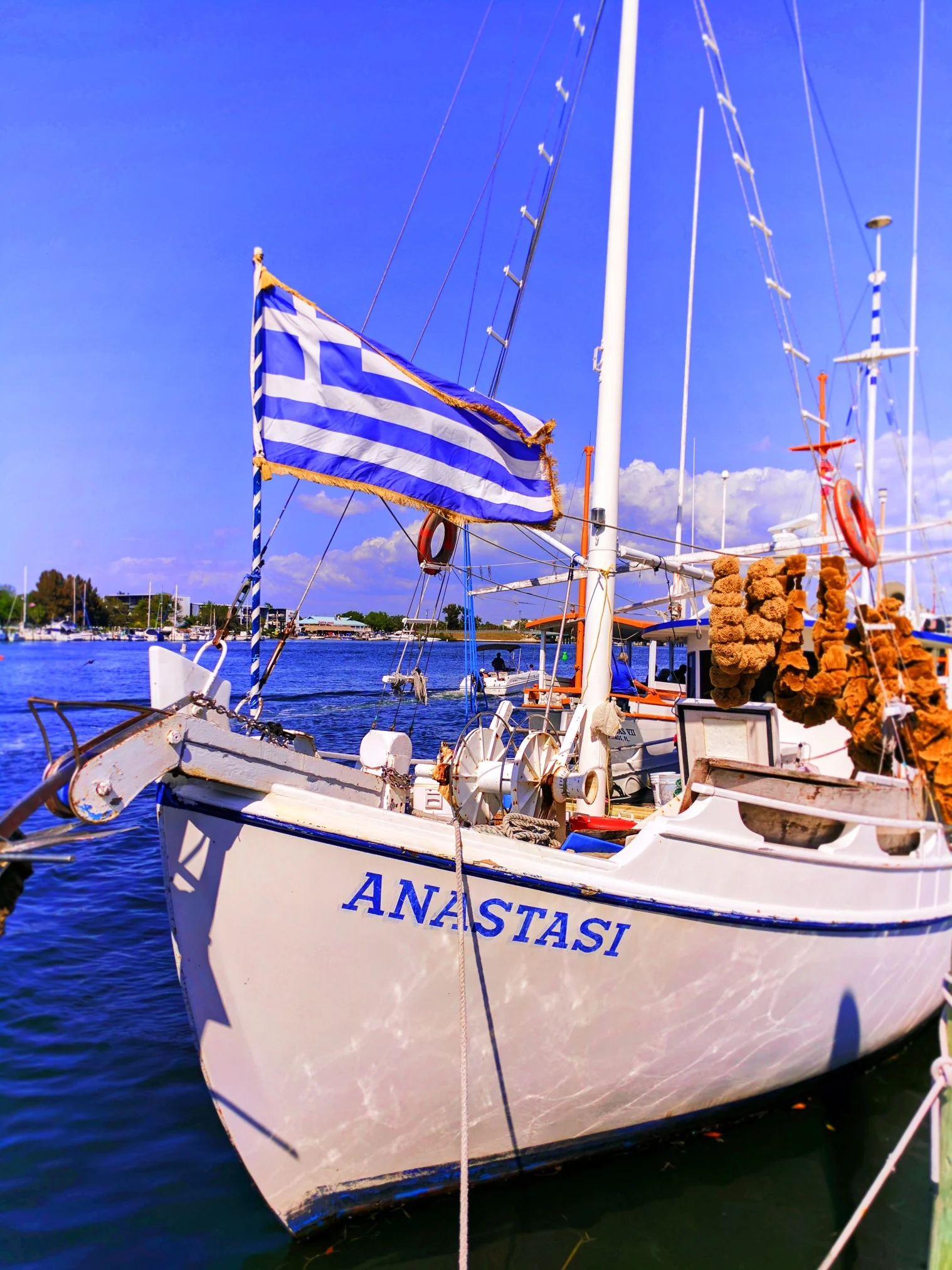 Beaches in Tarpon Springs and Northward
This is a unique part of the Florida Gulf Coast road trip as it's the start of the bend of the state around the Gulf of Mexico. What this means is that the tides are more calm and the rivers meet the Gulf in calm bays and marshes, which makes the beautiful beaches the Gulf Coast is known for fewer and further between.
Starting at Tarpon Springs and heading north and west until you make it to Alligator Point past Wakulla. The geography and geology of the area just doesn't make the best swimming beach areas, but there is plenty to enjoy besides the sand.
Beaches to visit include Pine Island, Cedar Key, Shired Island and Horseshoe Beach. These beaches are good for getting to the water, but the sand is very fine to a point of making mud in many places. You'll want to enjoy the nearby springs instead of the beach in this part of the Florida Gulf Coast.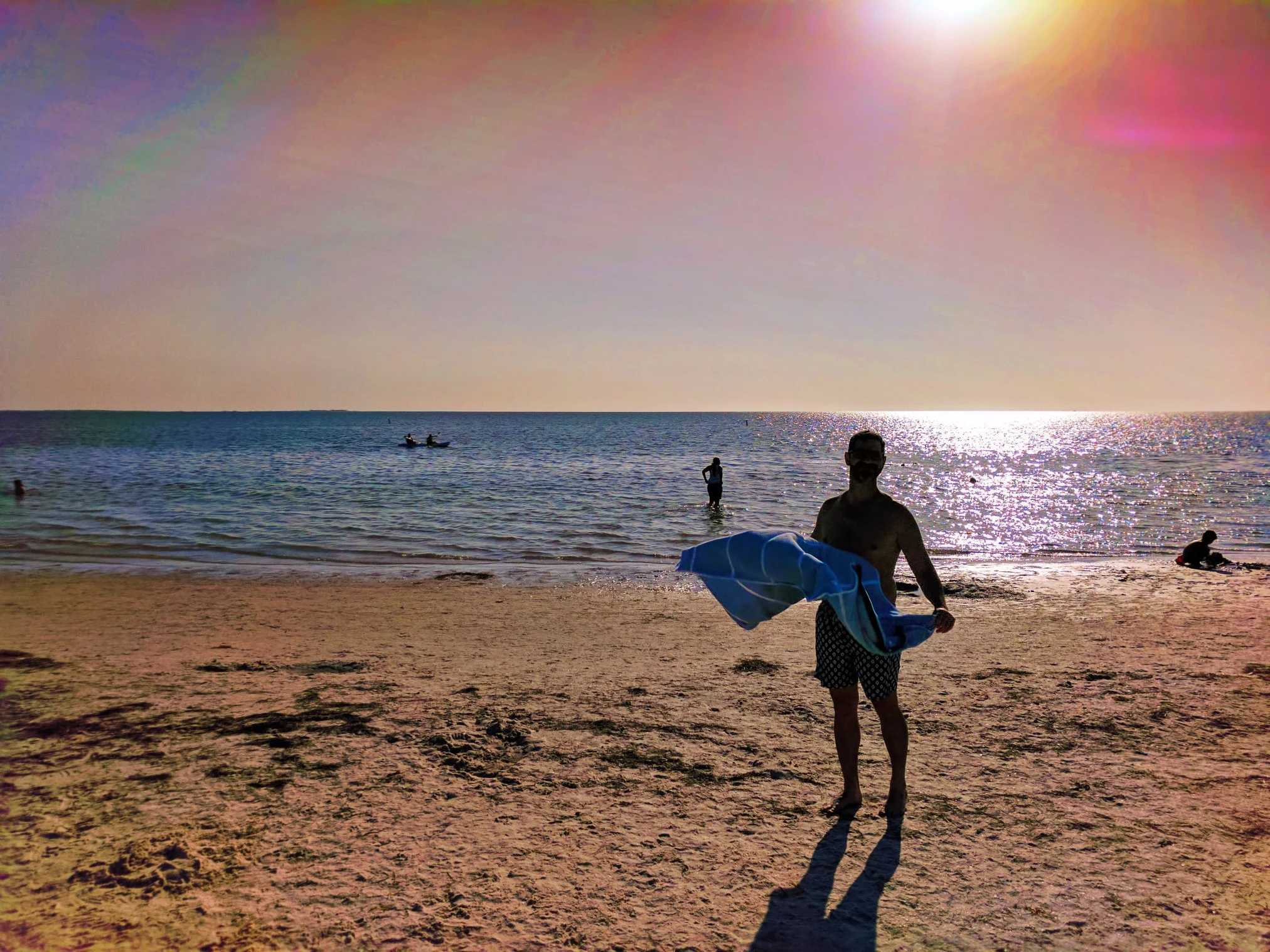 Florida Gulf Coast Springs to Visit
Undoubtedly, the true gems of Florida are the more than 1000 fresh water springs. Some of the best springs for seeing manatees are on the Gulf Coast, so it's really easy to add them to your road trip plan. I know the beaches are tempting, but just wait until you see the springs!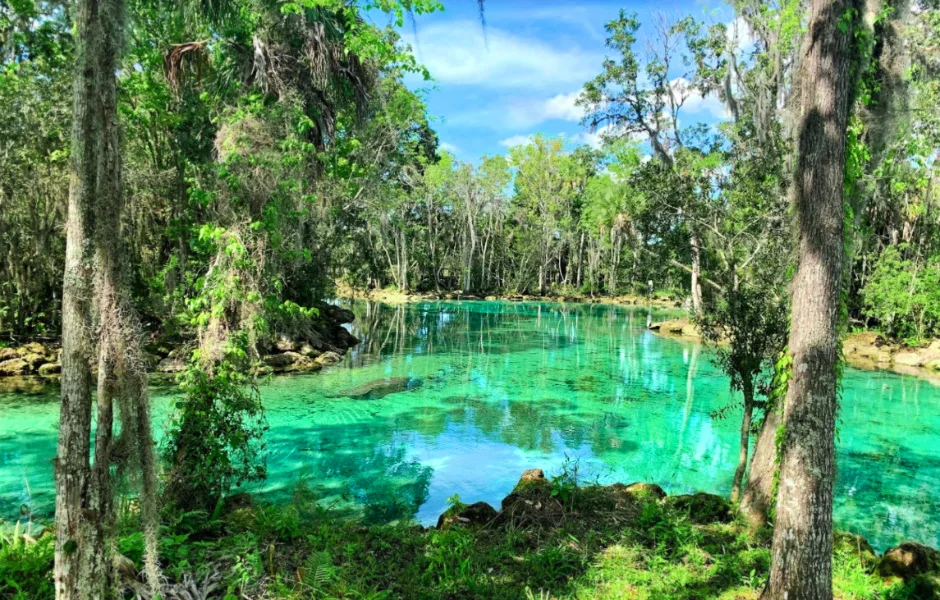 Homosassa Springs State Park
Experiencing wildlife is never guaranteed, but bringing the family to Homosassa Springs is an almost surefire way to wow them with Florida's nature. Homosassa Springs State Park is home to the largest continual congregation of West Indian Manatees. Of all the sights and activities to captivate young travelers, wildlife offers the most visible education about the natural world, and in Florida's case, a delicate ecosystem teeming with life. This State Park is known as one of Florida's attraction parks as it's both a natural spring and wildlife habitat as well as a species collection of some of Florida's unique native creatures.
We rarely refer anybody to a zoo, but Homosassa Springs State Park is more than that. It isn't a superfluous collection of exotic pets, but a preserve of Florida's wildlife gene pool with active programs to teach the public about their local environment. The discovery center is particularly good for learning about manatees and how they operate throughout Florida's rivers and coastlines.
Note: you cannot swim at Homosassa Springs State Park, as it's a protected area for manatees and wildlife viewing. There are other springs to swim at though, so don't worry.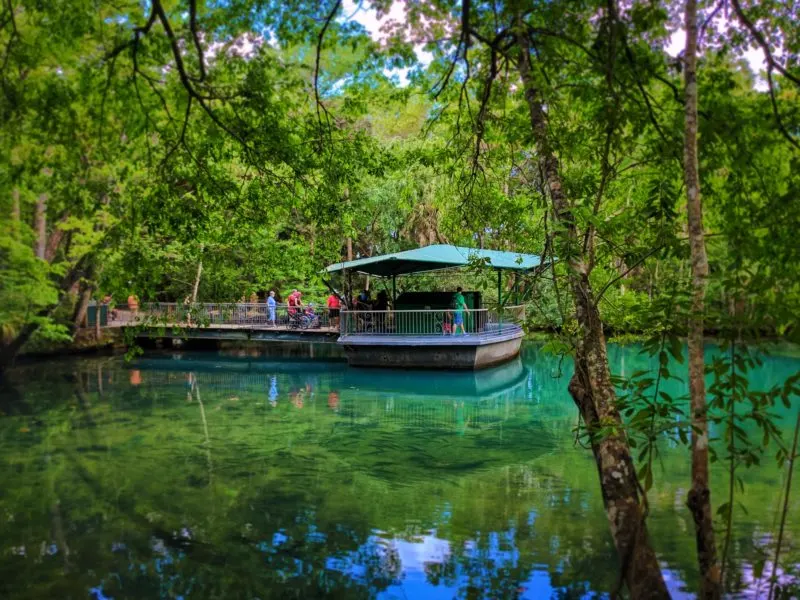 Manatees at Homosassa Springs
For the best chance of seeing the most manatees possible in a single moment, visiting Homosassa Springs in the winter is the way to go. From one to one hundred, there is almost always a manatee present in the Homosassa River, which begins here at the springs. We were here at the beginning of spring and only saw two wild manatees, but earlier in the month there had been shoulder-to-shoulder manatees pooling in the warm, perfectly clear river.
Note: there are three manatees in captivity at Homosassa Springs as part of the native species preservation. With their enclosures being joined with the river, it's a very unique set up. You can also see the facilities attached to the river where wildlife specialists can treat and study the manatees.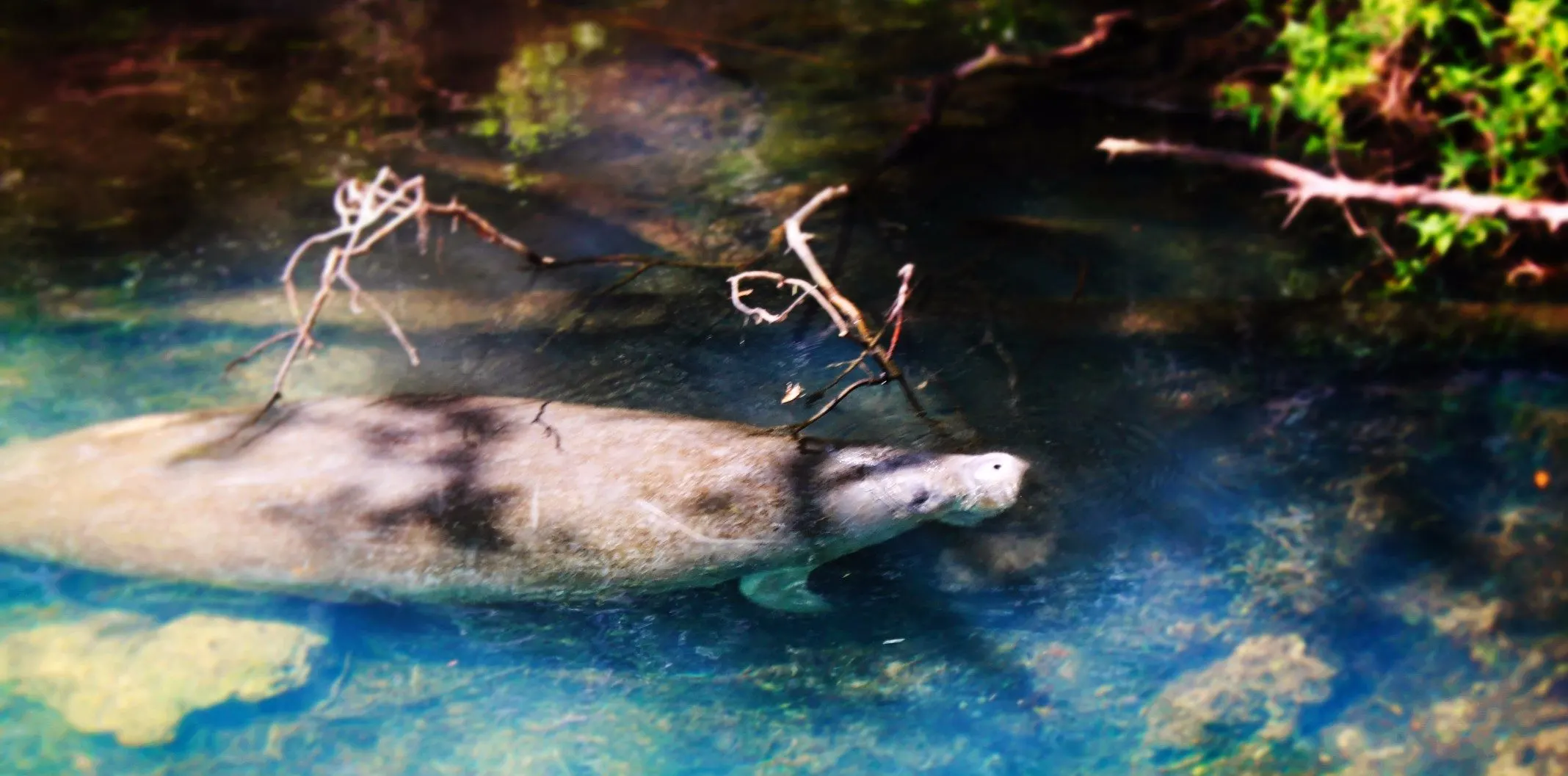 Swim with Manatees at Crystal River and Springs
Slow moving and sparkling in the Florida sun, Crystal River offers a unique opportunity to swim and snorkel in manatee inhabited waters. Guided tours on the river, including in-water experiences are available for almost all ages. It's an unforgettable Florida family road trip option.
Note: never try to touch a manatee no matter how gentle they may seem OR WHAT YOUR GUIDE SAYS. Respecting Florida's wildlife ensures enjoyment for future generations.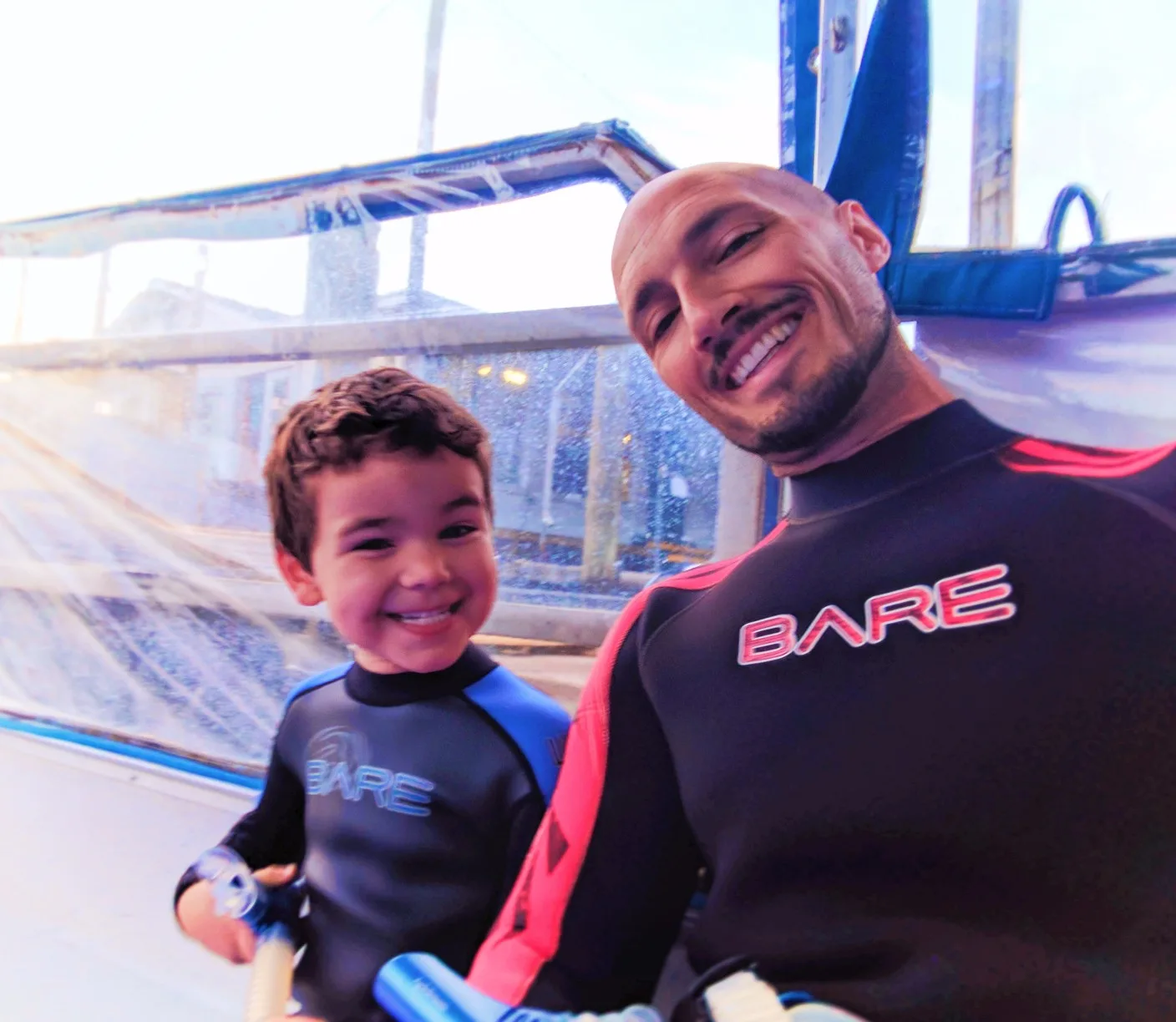 There are several access points to the river, including via the Crystal Springs National Wildlife Refuge where the Crystal River meets the Gulf of Mexico. Whether walking through the marshes or visiting the beach at Fort Island Beach, you'll be able to have three drastically different experiences in Crystal River in the same day.
Tip: we stayed at the Plantation on Crystal River and its central location made for the most stress-free visit to the area.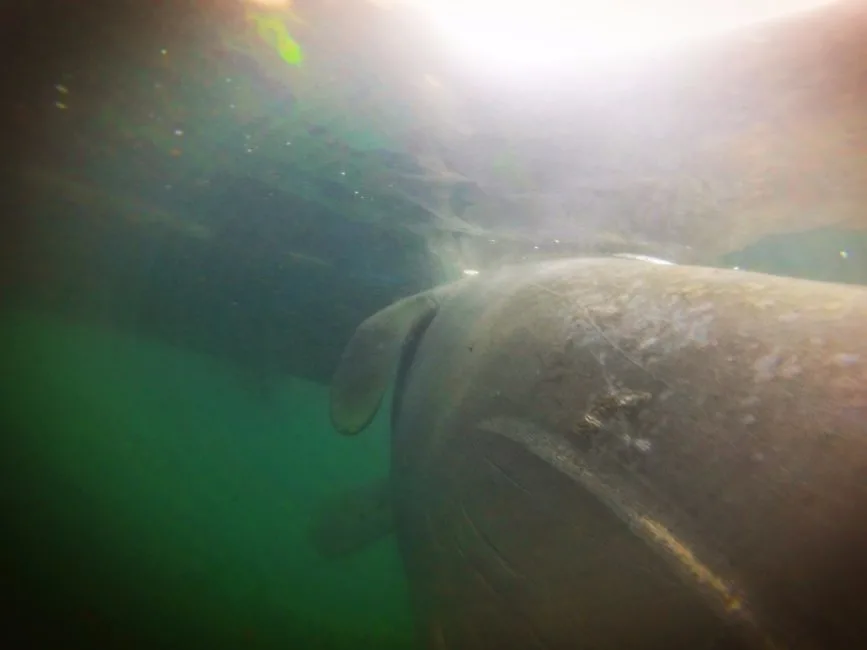 Swim in the Springs at Rainbow Springs State Park
There is no place on earth like Florida's Rainbow Springs State Park. The blue waters flow slowly towards the Gulf Coast, underwater caverns in the river with lush vegetation make this stop the perfect end to a Florida Gulf Coast road trip. Within Rainbow Springs State Park you'll find man-made waterfalls (totally magical setting), a designated swimming area directly at Rainbow Springs themselves, kayak and canoe rentals and a butterfly garden. It's really the most beautiful place in the Florida back country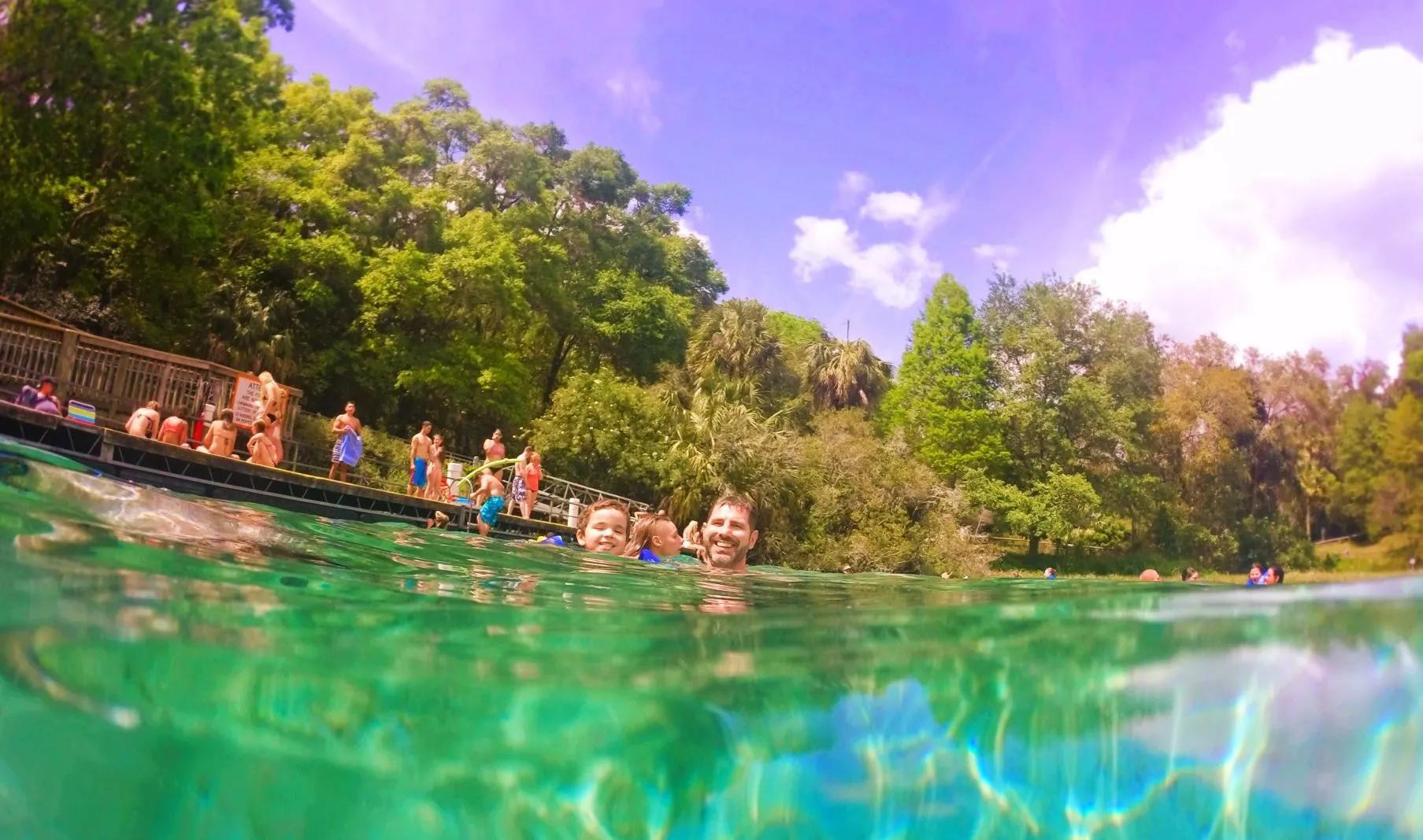 Tip: easy hiking through the subtropical forest adds a nice change of pace if the family has been in the water constantly. Head towards the butterfly garden for the trailheads.
If you want to paddle on the Rainbow River, you can either do a guided tour or launch downstream from the state park. There are places for snorkeling in the river and lots of wildlife. Always be cautious of alligators though; they aren't interested in you, but they will defend themselves if you swim towards them. Such a beautiful place to explore, and a great way to finish your Florida Gulf Coast road trip!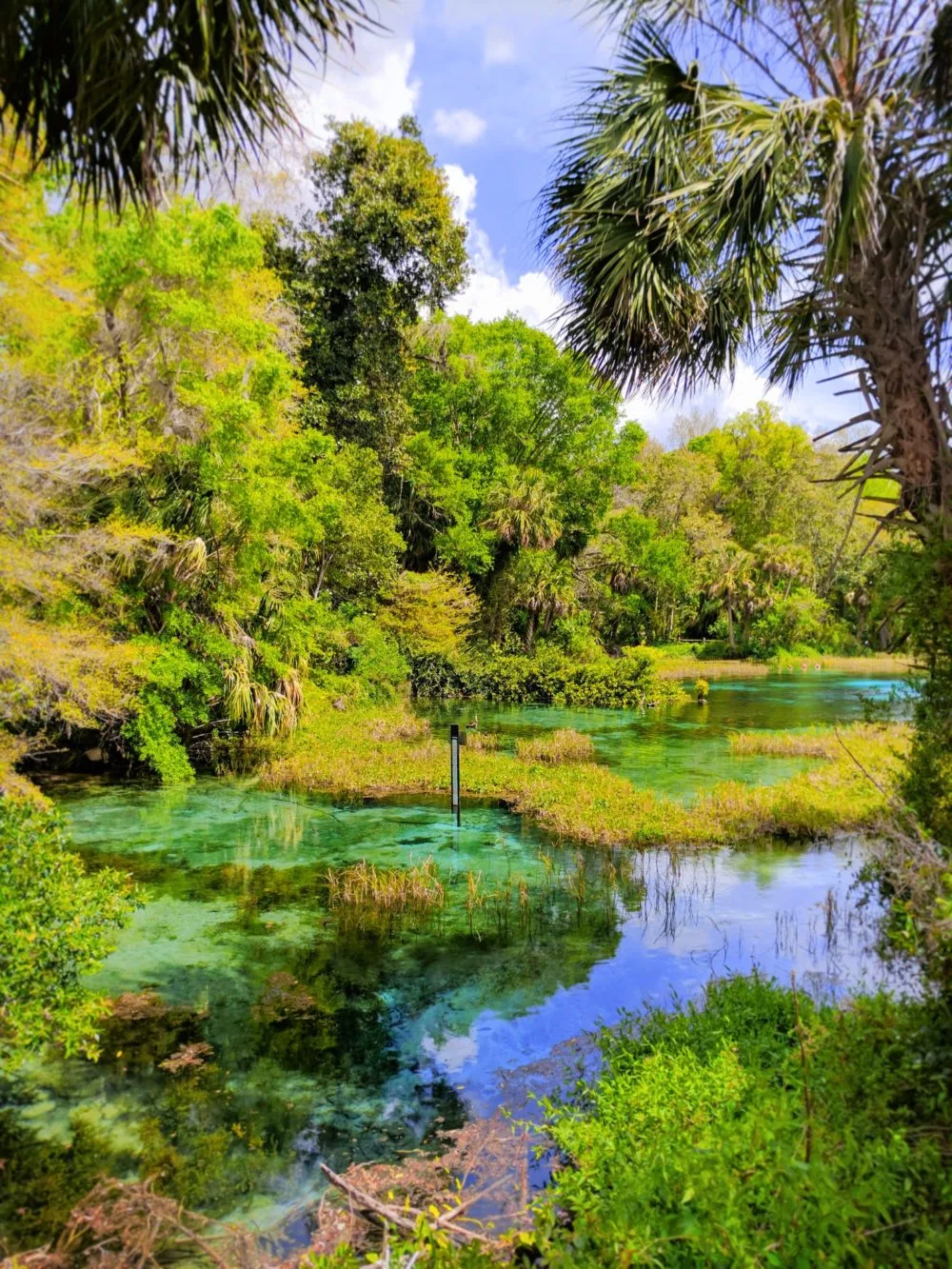 Gear for a Florida Gulf Coast Road Trip
We camp a lot at home in the Pacific Northwest or in the Rocky Mountains, but this was our first time doing coastal/tropical camping. We learned a lot so you don't have to.
Road Trip via Campervan
We knew that we wanted to camp in Florida but weren't sure how. There were fears of snakes, panthers and alligators (not our fears, other people) and we didn't really know how we could assemble our camping essentials before we took off. We were so excited when we discovered Escape Campervans. They were able to outfit us with the most stylish van ever complete with a bed, kitchen and rooftop sleeper.
Check Escape Campervans deals here!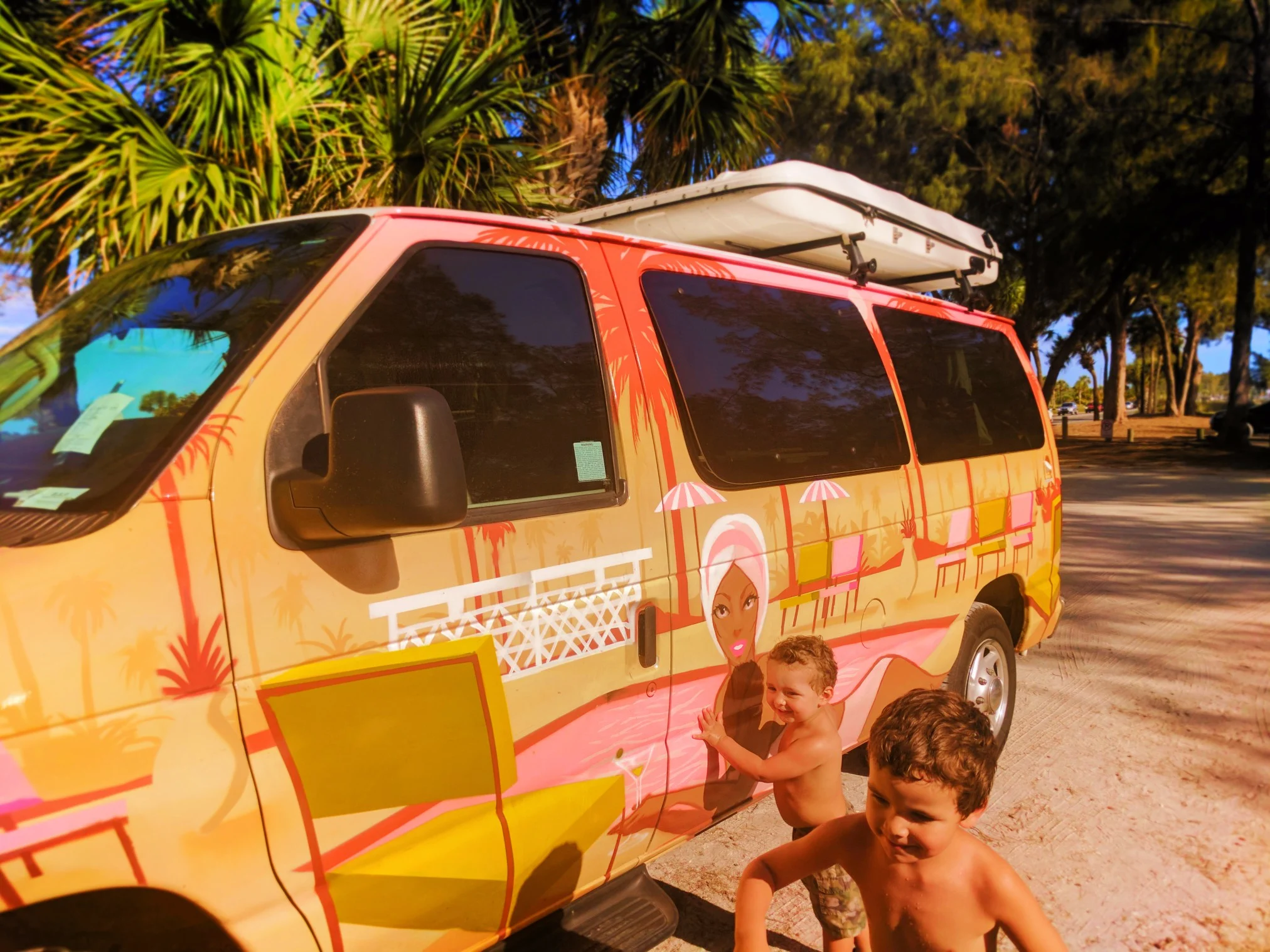 Our family of four fit perfectly in our set up and it made it so easy to pack up and go wherever we needed to. We also faced a brush fire closing part of the highway, which could've left us high and dry, but we didn't have to worry because we had everything with us and it was seamless.
Note: having the Escape Campervan with us made picnicking super easy since it was equipped with kitchen tools, sink, refrigerator and stove. Totally awesome.
Pickup location: for this Florida Gulf Coast road trip we picked up our Escape Campervan in Miami Beach. What better place to start an adventure?! The Miami Beach location has moved to Orlando now, which is actually even better for exploring more of Florida.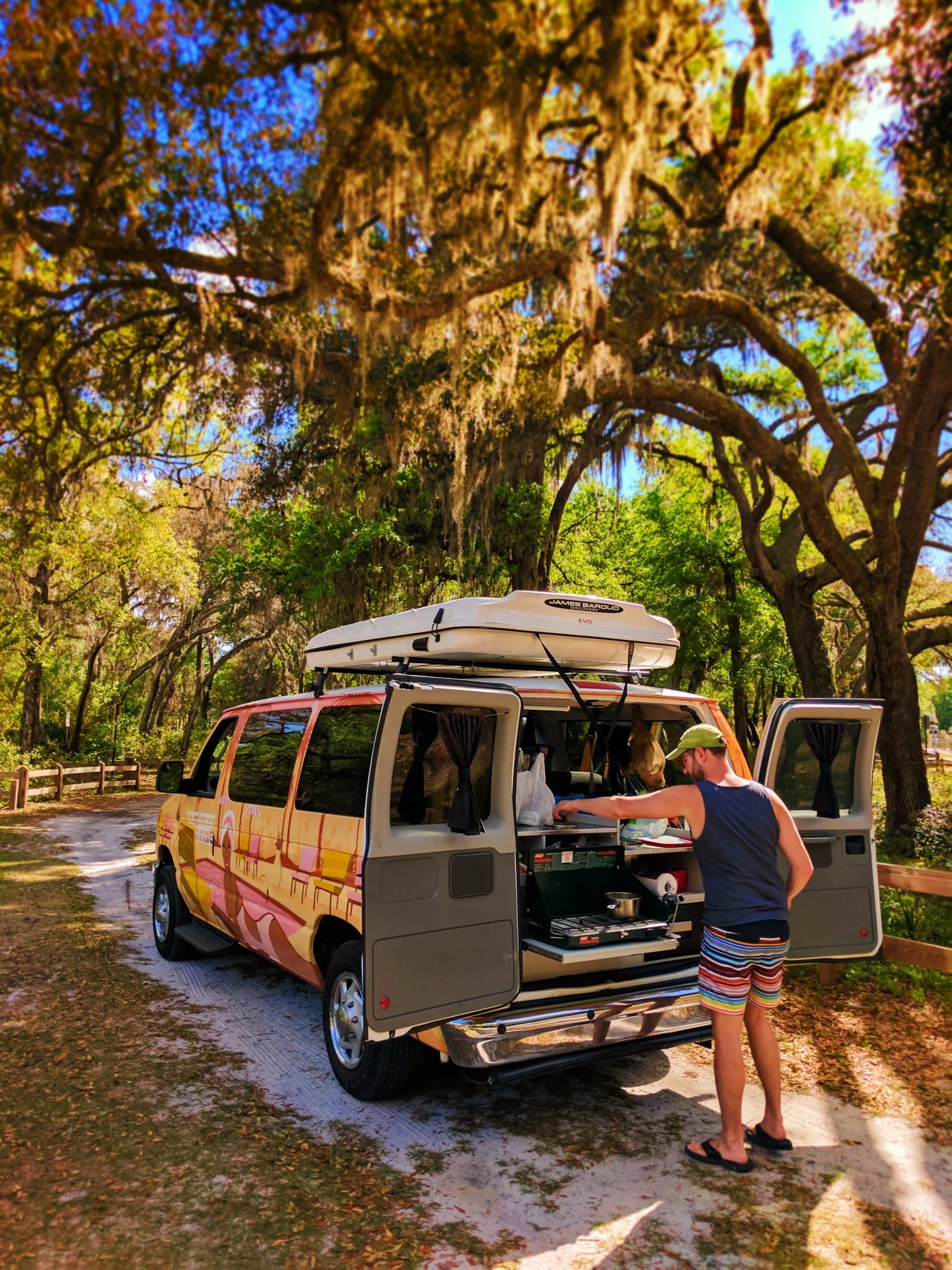 Prep for Sunshine and Mosquitoes
If you've ever put sun block on a kid you know it can be a pain. The Florida sun is hot and it's important to be protected. In addition to keeping our hats readily available, we were sure to use sunblock whenever we were hiking, swimming or just playing at the beach.
Tip: use environmentally friendly sunblocks whenever you can. What washes off your body can hurt the ecosystem you're swimming in.
And bug sprays. Repel Brand has two bug sprays we like: Natural (standard spray) and Plant Based (made from lemon and eucalyptus oils). Both are very effective and both taste awful if you get them in your mouth.
Tip: the mosquitoes in the Everglades are very bold. It's a good idea to spray your clothes in addition to exposed skin.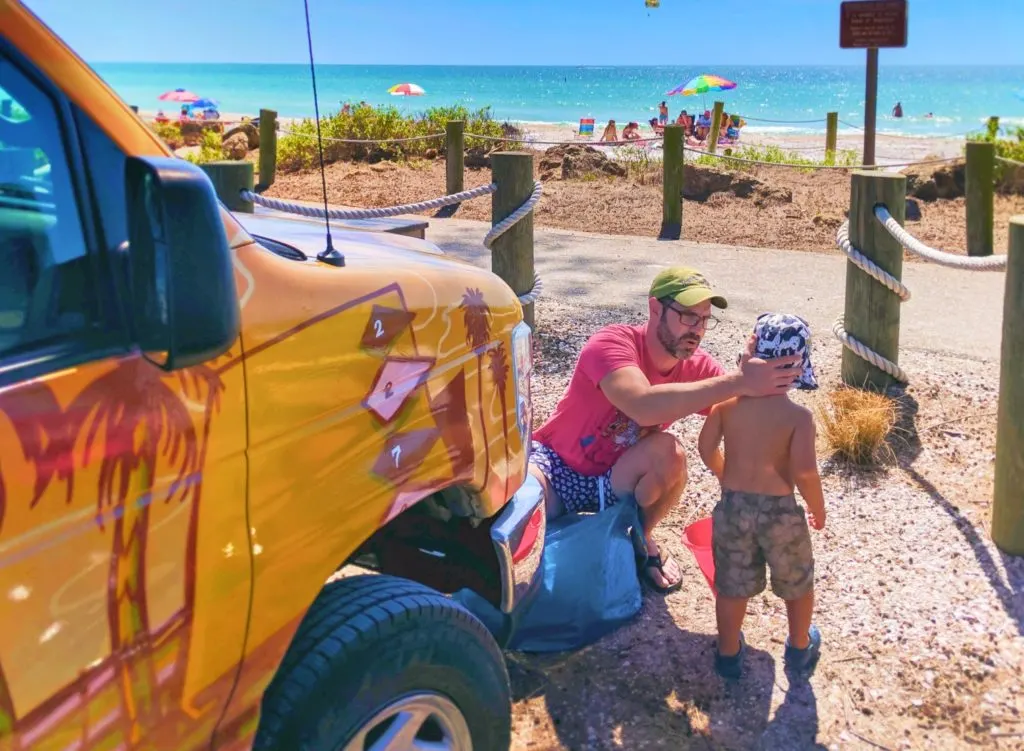 Smart Equipment for Kids
You're in Florida, right? A Florida Gulf Coast road trip is going to include beach time so you know you'll need towels and kid supplies. If you've reserved an Escape Campervan or another sort of RV, know that it usually doesn't come with towels so pack some or grab some inexpensive ones before you're at the beach.
Must-have road trip items:
Beach toys

Water wings/child PFDs

Li'l Swimmers (for the diapered kids)

Aquasocks/flipflops

Hats

Flashlights
Beach umbrellas/mats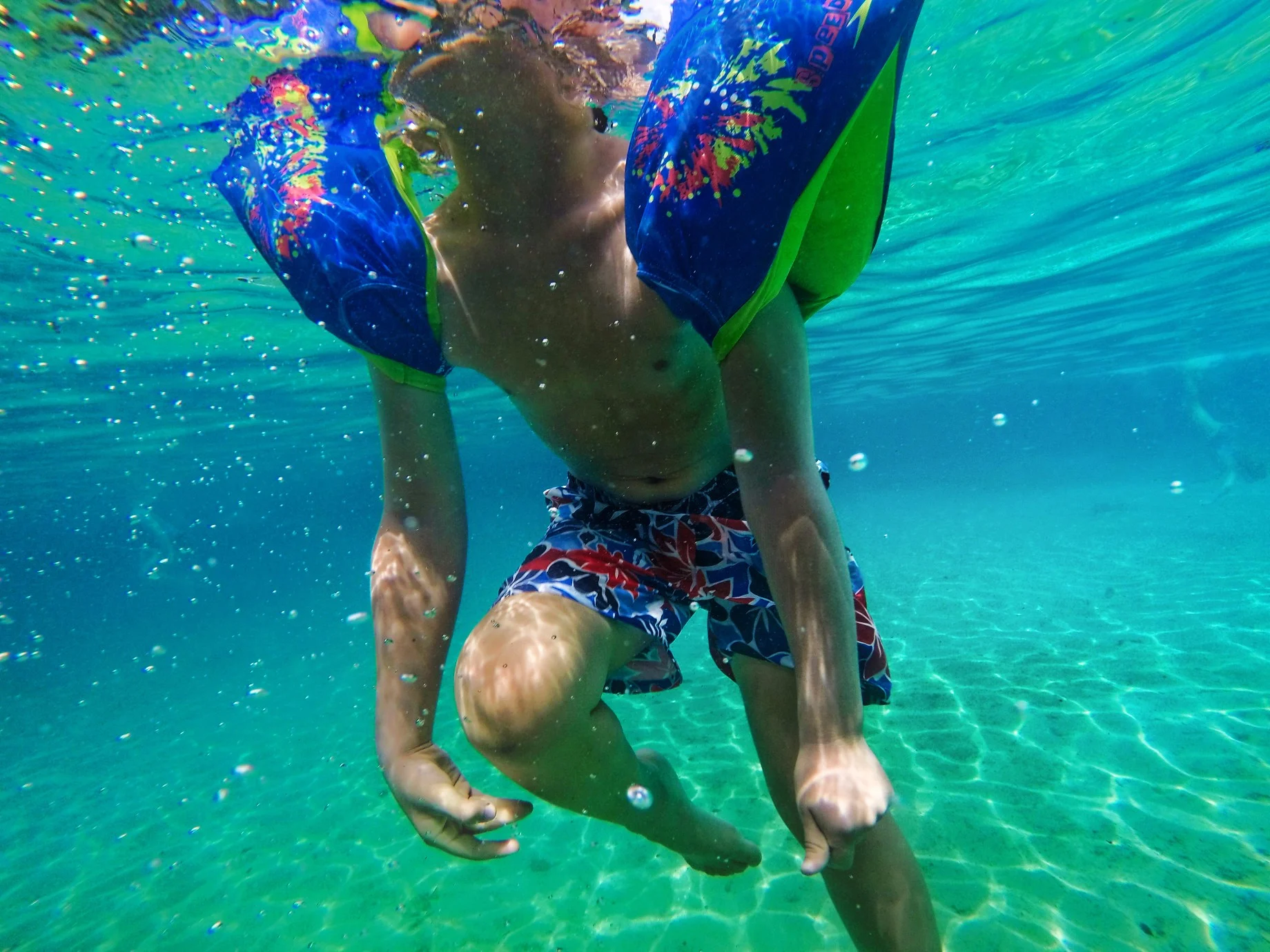 Whether you've camped the whole way or gone top down in a convertible, the route back to your start is easy, either retracing your tracks or heading down the interstate. If you want, you could even continue the trip around the Gulf enjoying tons of things to do in Tallahassee and then continuing onto Mobile, Alabama. Whichever path you choose, no doubt you'll already be plotting and planning your next Florida family road trip. And now how much do you love FL?!