Our new favorite way to explore the USA: in an Escape Campervan. Recently we completed an incredible family road trip up Florida's Gulf Coast. We visited four different National Park sites and saw more wildlife than we expected, and did it all from the comfort of our campervan.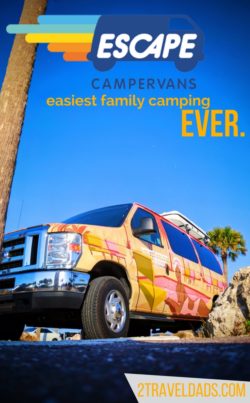 We were a little hesitant to go the
Escape Campervan
route at first just because we weren't sure how
camping-friendly Florida
would be, but it turned out to be the most fun and exceptionally cost effective way to experience the many state and
National Parks
we visited. Having just completed this one trip, we're already thinking about where we might go next in an Escape Campervan.
Picking up our Escape Campervan
We started our journey in Miami Beach, Florida. The neighborhood itself looked awesome, but we weren't there to reenact The Birdcage. We were there to get our Escape Campervan!
I went into the Escape office and met Ed who got me set up with some hand materials about camping in Florida. We went over Escape Campvan policies and I opted for the additional insurance coverage (because why not?). Then he took me to our lady.
Our Escape Campervan was called the Palm Beach. Each campervan is painted differently and all are awesome. Our particular model had a vintage Florida pinup girl sipping a dirty martini on the side. It was perfect.
Escape Ed showed us the ins and outs of converting the inside of the campervan from a kid-friendly touring vehicle to a luxury hotel on wheels. He showed us how to properly fill and use the on board water system in the built in kitchen and made sure we had all the bedding linens we needed.
Finally, he taught us how to properly operate the Escape Campervan's rooftop sleeper, which was much cooler than we expected. Boom! We had the perfect setup for a family of four to go camping up and down the Florida Gulf Coast.
Note: Florida, and many other states, has a good number of toll roads. The Escape Campervans office will help you arrange a pre-paid SunPass (or other applicable pass) before heading out.
Equipment Included with the Escape Campervan
If you're familiar with any of our camping posts, you know that we've got a system for tent camping that keeps us happy and is pretty easy to work with. Being in an Escape Campervan was an adjustment for us initially because we didn't have to worry about most of the stuff we normally tote around, which was actually really great.
Our rig included:
Seat belts for five passengers (driver included)
Convertible queen bed
Dining table in van
Storage bins
Hand pump sink with grey water storage
Propane stove w/ fuel
Small electric refrigerator (solar powered)
Kitchen supplies (utensils, plates…)
Camp chairs
Rooftop sleeper (not standard)
Seriously, all we had to supply were our clothes, towels, food and beach toys. It was the easiest camping situation ever.
Tip: check with the Escape Campervan office you're going through to confirm availability of rooftop sleeper, car seats or other equipment you might need. Also, the Miami Beach office had loads of random supplies to be helpful, from bug spray to local information.
On the road in our Escape Campervan
We set out from Miami Beach at headed for the Everglades! Luckily for us, we'd made camping reservations along our planned route, but being in a campervan you have the freedom to be flexible where you can stay.
Tip: most state parks around the USA accept reservations up to a year in advance, and many county parks do as well. MAKE RESERVATIONS if you have a set plan, as campground fill up quickly.
We took our Escape Campervan to all kinds of places. We did the swamps of Florida and were thankful to have sheltered indoor space to escape the mosquitoes at sunset. We did the beaches along the Gulf Coast and loved being able to sweep out the sand as it fell off our legs. We pulled off the side of the road in the rural back country and cooked up mac'n'cheese for the kids, creating a family-gourmet meal on the go. We swam in the crystal blue springs of the sub-tropical Florida forests and could change out of our swimsuits in private.
Really, having the Escape Campervan for our family road trip made it so easy to enjoy our time together. The kids probably won't want to go tent camping after this fun experience. We'll see…
Tip: check your campervan for a small broom before you leave the depot. You'll be living in there for a while and you're going to want to keep it clean on your adventure.
Need-to-knows for planning your Escapade
Escape Campervans is a really cool company full of really awesome people. The three I worked with to arrange and close out our trip were all so friendly and you could tell that they believe in their product and the experience they provide. We would recommend booking an Escape Campervan to almost any traveler on any budget.
Our Budget
What does it cost to do the Escape Campervan road trip? It's pretty cut and dry. Here is the fee schedule at the time we did our trip (Spring 2017), but always go directly to the source for the most up-to-date pricing, and if you're doing one of their specials, you might get a super amazing deal:
Daily rate – about $100 *includes 100 miles per day
Additional mileage – 100 more for $15 per day
Rooftop sleeper – $25 per day
Additional insurance – $9 per day
SunPass/Tolls – about $5 per day
Campsites – $17 – $35 per day w/ hookup *hookup isn't necessary if you are continuously going
Gas – $60 per fill up at ($2.40/gallon)
TOTAL for seven days in Florida:  about $180 per day
COMPARISON to rental car and hotels:  about $300+ per day
We loved our entire trip in our Escape Campervan and going with this option made our whole vacation very budget friendly. A big road trip is something that can be expensive and when you're planning a family vacation for four or more you really have to be thoughtful about it.
Feel free to ask us anything about our experience, including our road trip ideas that an Escape Campervan would be perfect for! And let us know if you book one, because we'd love to follow along on your journey too!
Current road trip itineraries we've done where Escape Campervans are available:
Florida Gulf Coast – Miami Beach
Puget Sound Area – Seattle
Washington and Oregon Coast – Seattle
California Coast – San Francisco or Los Angeles
West Coast Mountain National Parks – Los Angeles
Northern Cali Coast Experience – San Francisco
Escape Campervans rental depots include:  Denver, San Francisco, Los Angeles, Seattle, Miami, Las Vegas, New York.
So whadya think?  Are you ready to plan and book your own crazy awesome road trip in an Escape Campervan?  We're ready to do another and cannot wait!