Wisconsin is known for its dairy industry and Door County, and rightly so. This road trip plan is NOT that, but is just as fun and memorable as you visit Milwaukee, Madison, Baraboo and more. Take a moment and be flexible with your travel ideas:  Have you ever considered a Wisconsin road trip for vacation? This itinerary covers southern Wisconsin and is easy to start from Chicago!
Well, now is your chance to be convinced. I know this road trip itinerary, featuring nature, breweries and metropolitan fun will have you ready to fly into Chicago and set off on a midwestern adventure!
Tip:  try fried cheese curds or beer chips at every opportunity you can. Wisconsin has wonderful local food options. And vintage supper clubs too, because a Wisconsin relish plate is a must.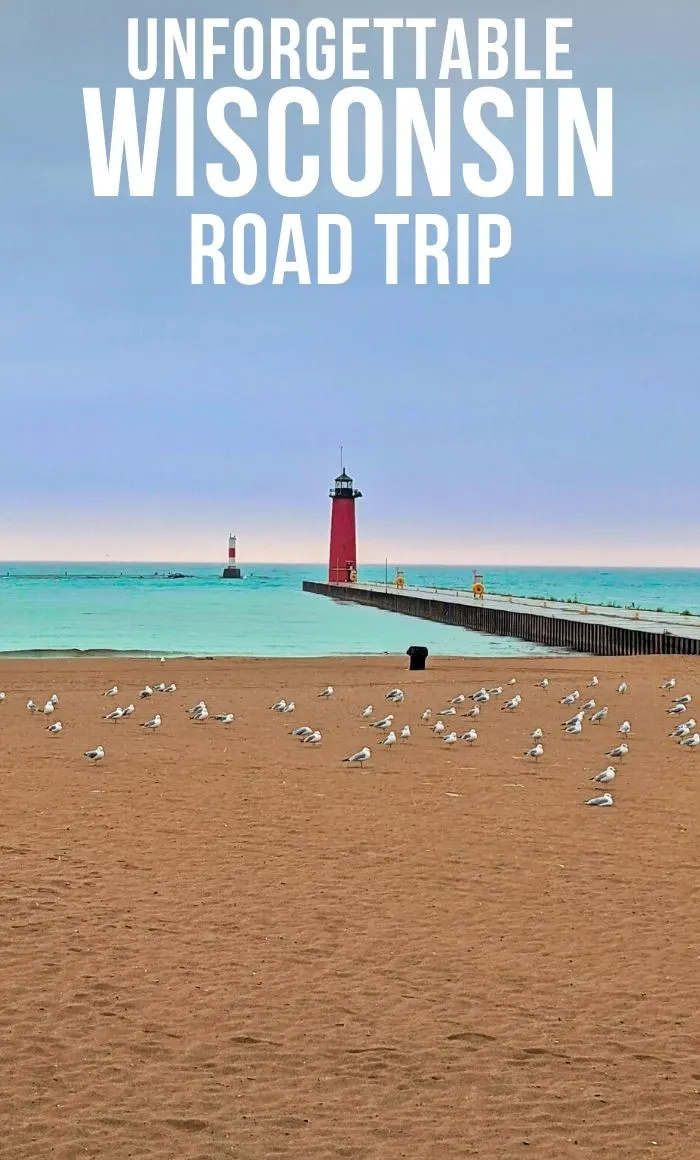 Best Wisconsin Road Trip Stops
It's always fun to talk to people about doing a Wisconsin road trip because people who've spent time in the state know it's awesome and love, and people who haven't been to WI just say "Wisconsin? Like, the Midwest? Pass." Well, this itinerary is great for getting a solid, awesome impression of Wisconsin. It's the perfect combination of beauty, nature, beer, history, cheese and Lake Michigan. You'll love it!
For this travel plan, we're hitting the best of Southern Wisconsin. I like this route because it's easy to get to from major hubs like Chicago or Minneapolis, or you can flight right into Madison or Milwaukee. If you're doing a road trip with kids, you'll enjoy the stops on this Wisconsin itinerary because there are fun activities and lots of fresh air/outdoors plans. This is also a great road trip for couples with beautiful sights and even romantic stops (if wine in the middle of a vineyard is your thing, you'll love this).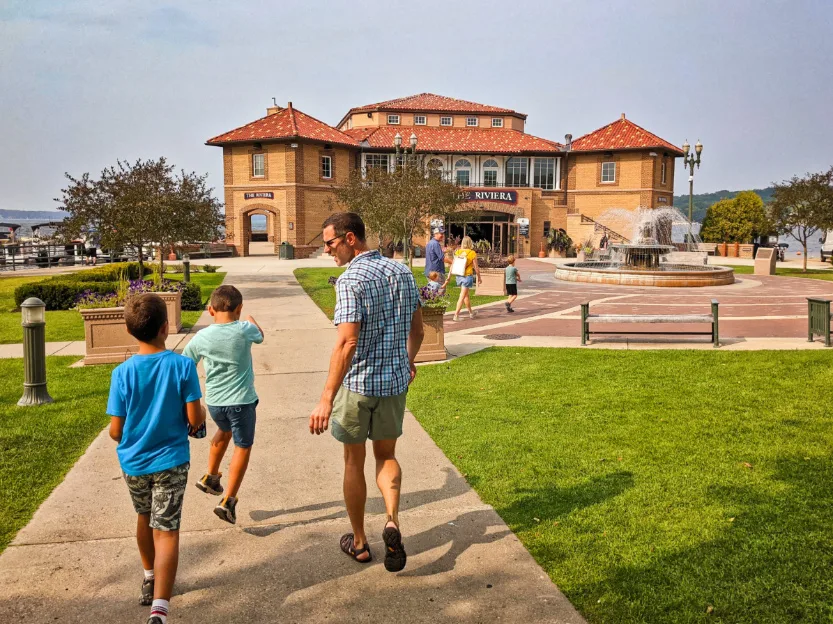 Milwaukee Sights and Activities
I really do love visiting Milwaukee. It's a fun, beautiful, historic city sitting on the shore of Lake Michigan. It's got a very industrial past, made extra famous by Laverne & Shirly as they worked in a factory and walked through the gritty streets.
Tip: if you're visiting Milwaukee during the holidays, there is a great Christmas lights festival event. And there are actually lots of great places to see holiday lights in Wisconsin!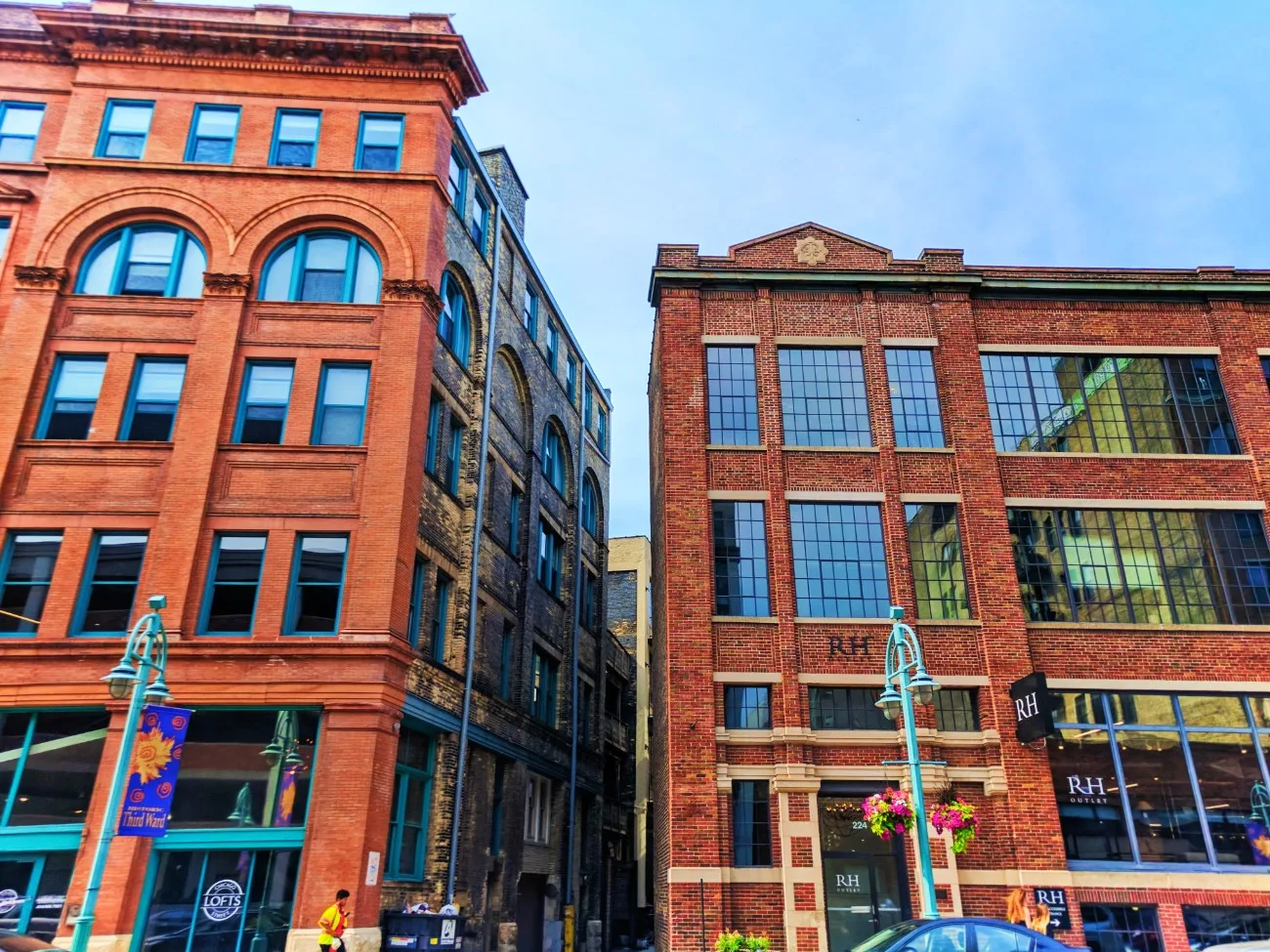 Milwaukee Museums to Visit
Metropolitan cities usually have great museums and Milwaukee certainly does. Several of them are fairly close together, so if you're planning for several days in Milwaukee, you can set aside an entire day for museum going. Our top pick is Discovery World out on Lake Michigan. It's got everything from the maritime history of the Great Lakes to fun science exhibits to an actual aquarium. It's a great stop with kids.
Other cool museums to visit in Milwaukee include the Milwaukee Public Museum (history, nature and more), Harley-Davidson Museum (motorcycles), the Milwaukee Art Museum, the historic Pabst Brewery, Mitchell Park Horticultural Conservatory (the Domes) and even the National Bobblehead Hall of Fame.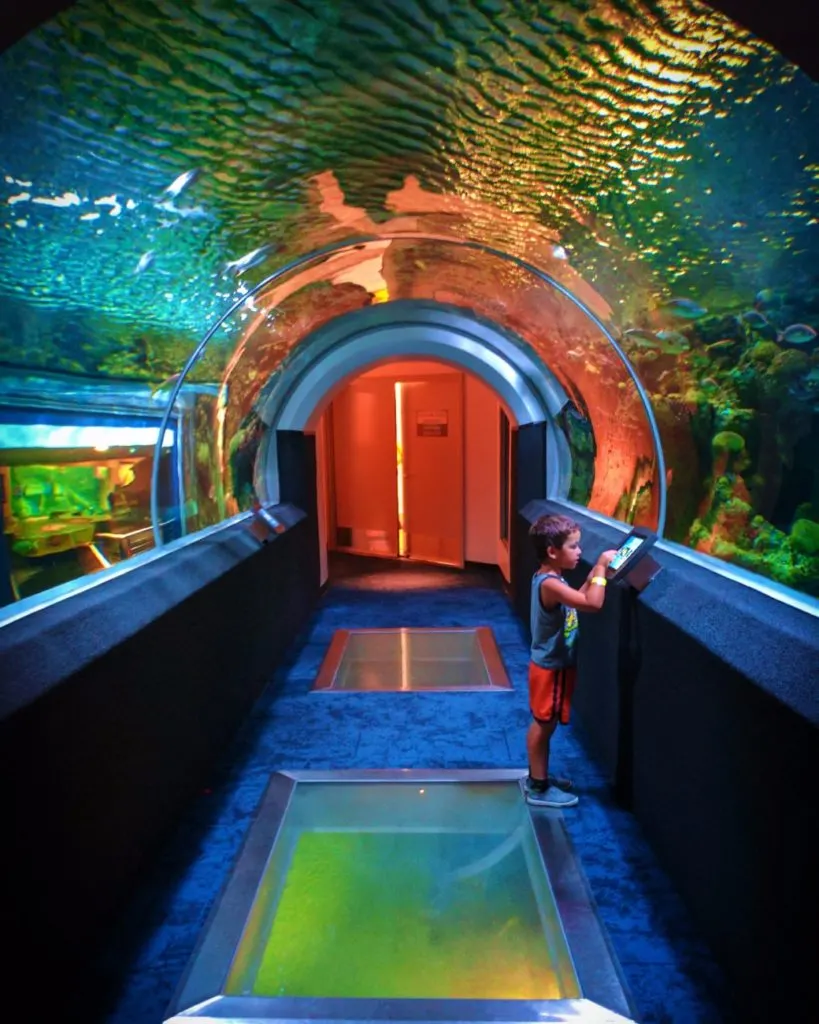 Cool Milwaukee Neighborhoods to See
I mean, you might as well just sign up for the Laverne & Shirly guided tour next time it's happening (post-covid, none currently scheduled as of Aug 2021). If you can't do that though, here are four easy Milwaukee neighborhoods to explore and enjoy:
Historic 3rd Ward
Brewers Hill
East Town
West Town
Between the cool museums (see above), the great cafes and markets, and even a lighthouse on Lake Michigan, walking around Milwaukee is fun and a great way to get a feel for the city.
Tip: another way to see Milwaukee on foot is by doing a ghost tour. I know, it may not be as old as St Augustine or Colonial Williamsburg, but the city has a cool history and during its 19th / early 20th century heyday, there was some turmoil and there are stories to hear. Book a Milwaukee Ghost Tour here!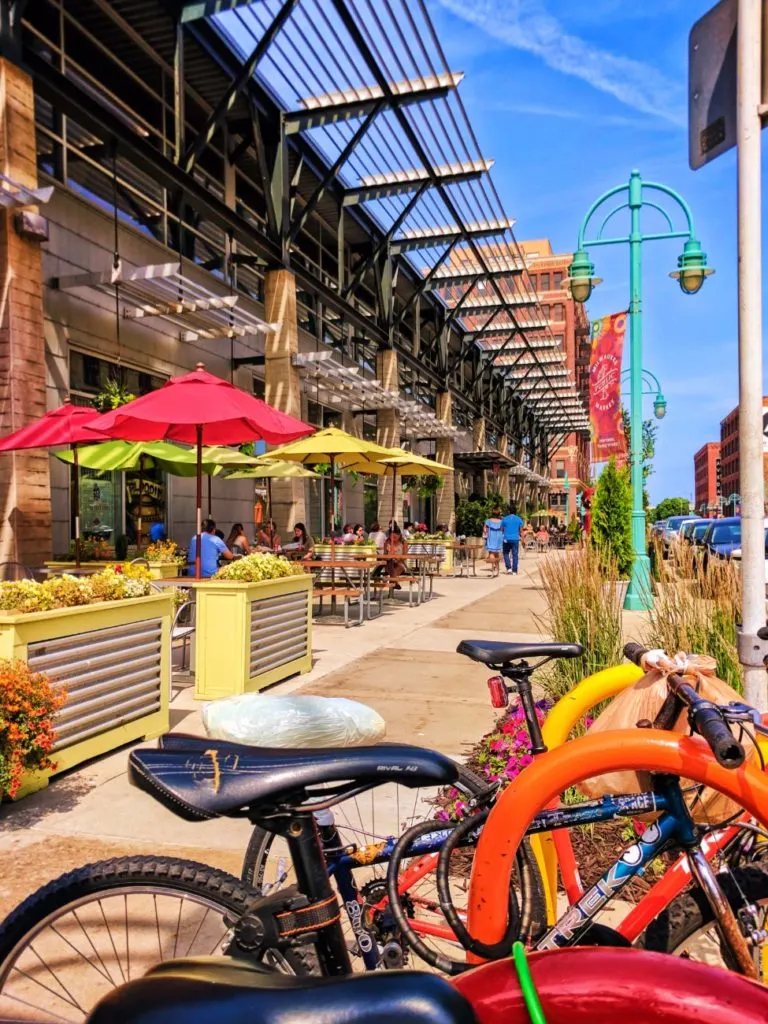 Fun Things to Do in Milwaukee
Being both historic and industrial, just walking around the downtown area of Milwaukee is fun, but there are come uniquely Milwaukee things to do too. One of the coolest activities IN Milwaukee is kayaking on the river through the city. There aren't too many US cities where you can do this (you can in Portland and Chicago), but you can here. There are several locations along the Milwaukee River to rent kayaks or take a tour.
Another fun Milwaukee activity is attending a baseball game. I know, you can do that lots of places, but Brewers fans are awesome and enjoying an MLB baseball game with this home crowd is great. If you don't want to be at a crowded game but want a slice of baseball experience, do the American Family Field tour and visit during down time, seeing parts of the stadium and baseball culture you otherwise wouldn't be able to.
Of course you need to visit a lighthouse when you're by Lake Michigan. The North Point Lighthouse is at the edge of the Murray Hill neighborhood and has a really cool museum attached. Black Cat Alley is also nearby, so that's a good art stop to make also.
There are of course even more things to do, including visiting more than 30 breweries, but these activities are a great place to start for a visit to Milwaukee.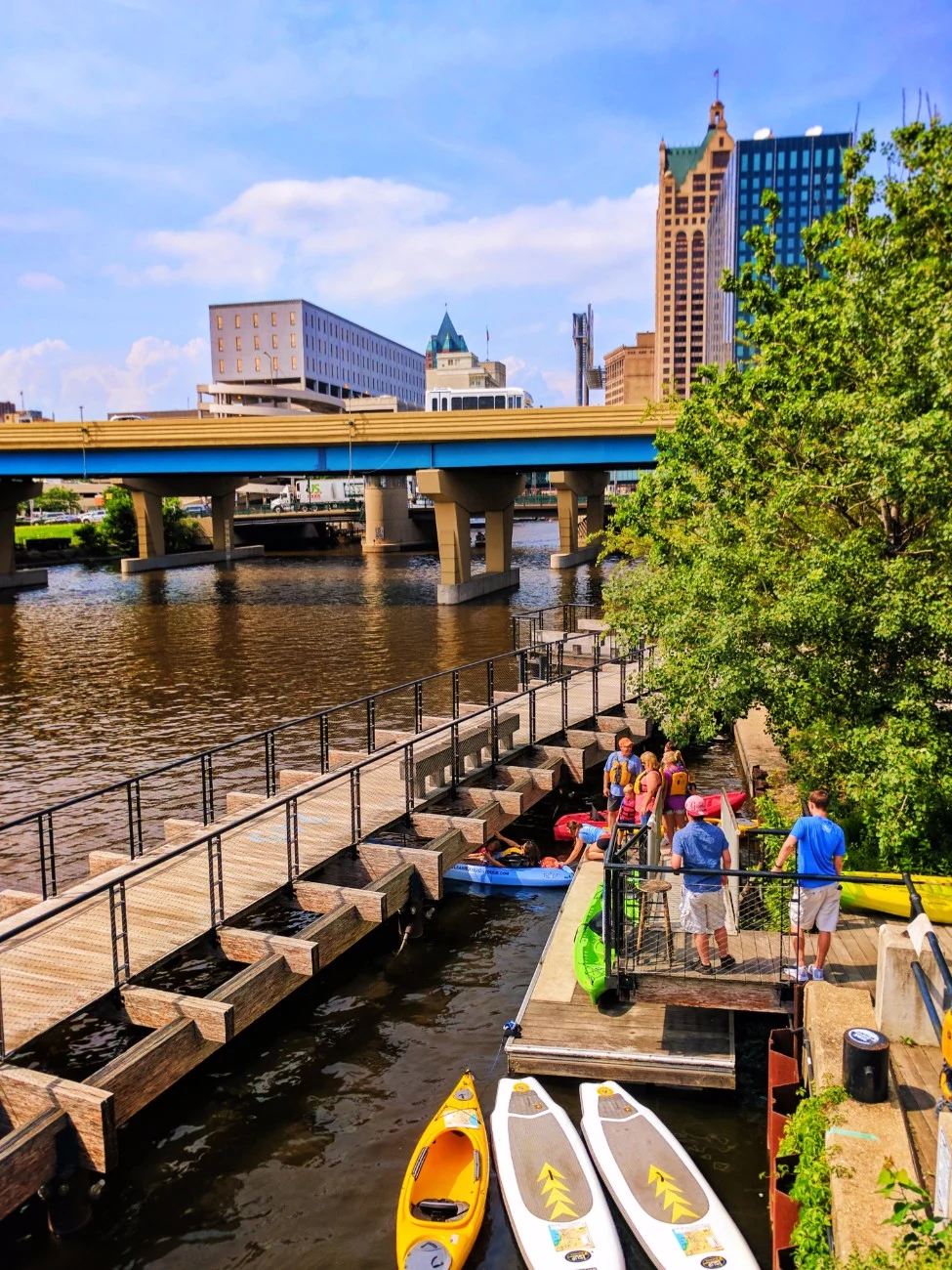 Southern Wisconsin Kayaking Spots
C'mon, you knew we were going to recommend kayaking. Whether you want to get onto one of the calm rivers or the lily pad covered lakes, there are lots of kayaking options in Southern Wisconsin. Considering that we're talking about a Southern Wisconsin road trip, we'll keep our kayaking ideas to what is specifically along our road trip route
Rivers for Kayaking in Southern Wisconsin
Heading west from Milwaukee, you'll cross the Fox River, Pewaukee River, and the Rock and Craw Fish Rivers. While you'll want to monitor water levels and check the weather reports, you should be able to enjoy any number of calm paddles in Waukesha County.
If you're not a big technical paddler, rent a kayak or go with a guide out of the towns of Waukesha or Pewaukee:
Check out this great resource for all thing paddling between Milwaukee and Madison!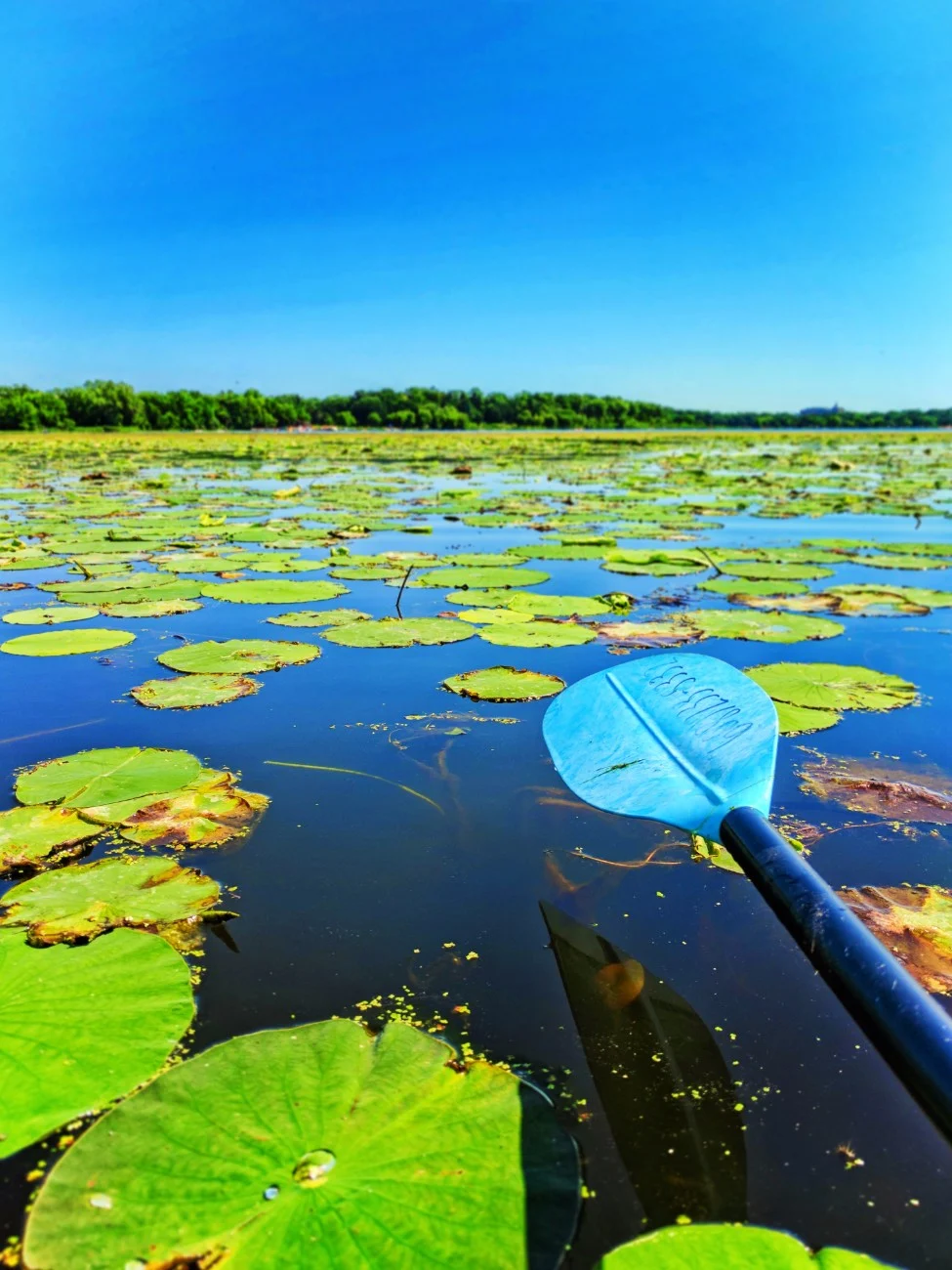 Wisconsin Lakes for Paddling
As you explore the waterways along your Wisconsin road trip, you'll see that a lot of the rivers and streams connect larger lakes. As you approach Oconomowoc and when you arrive in Madison, you'll see lakes all around! Stop at Pewaukee Lake, Lake Oconomowoc, Sandy Beach park at Rock Lake and eventually you be to Madison. While kayaking up in Door County is mostly on Lake Michigan, kayaking in Southern Wisconsin is typically on small lakes.
The Madison area is so much fun! Directly surrounding the capital city you'll find Lake Mendota, Lake Monona, Wingra and Lake Waubesa. With rentals being plentiful around the town, you'll have no trouble launching a kayak even if you didn't bring your own.
We really enjoy kayaking at the west end of Lake Monona and in Lake Wingra because they are protected and there aren't any large boats. These spots are great for paddling with kids and there is a ton of wildlife on the water here.
Check out Madison Boats (the main rental spot on the different lakes) for kayak and canoe availability.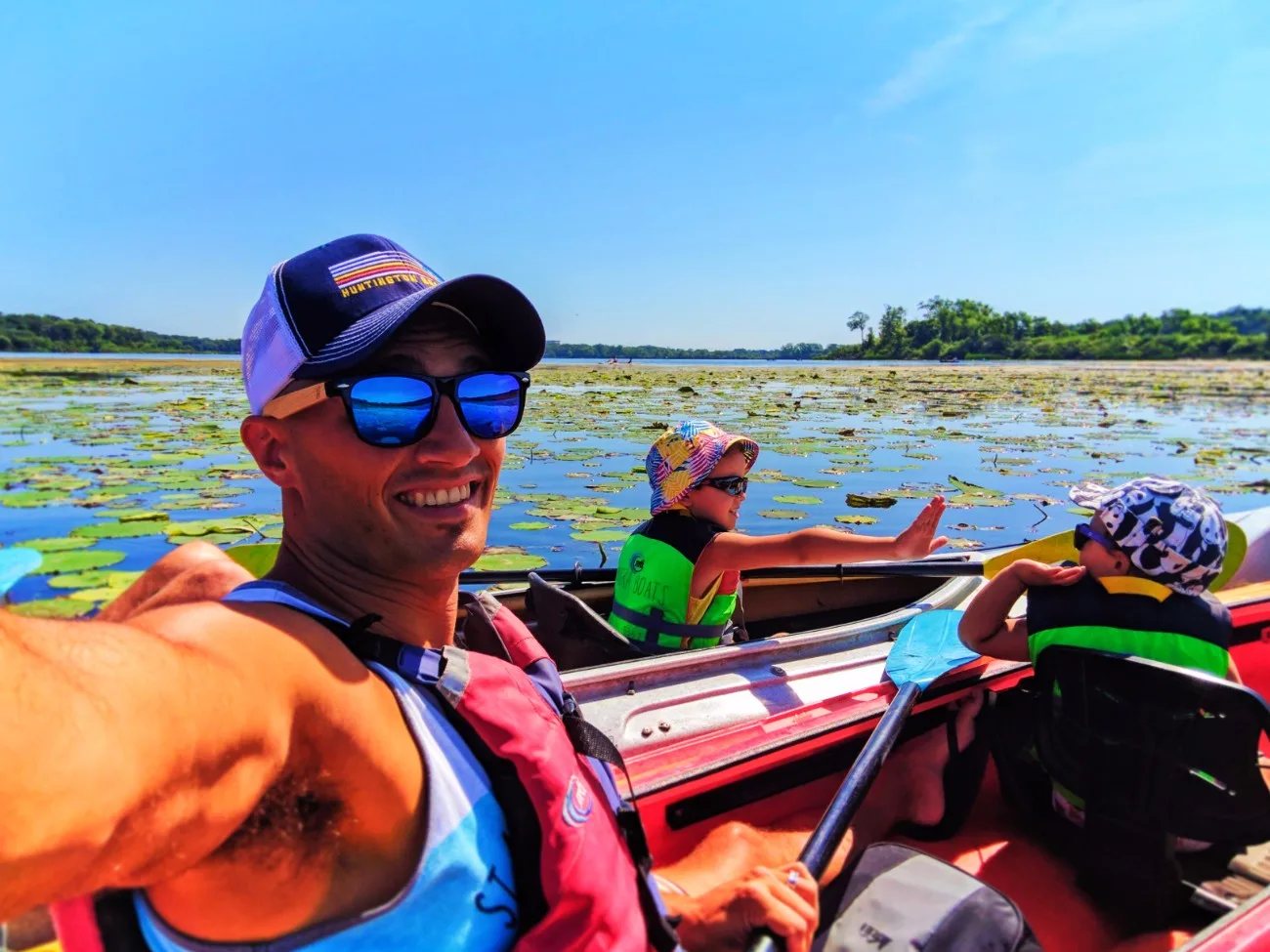 Fun Things to do in Madison
Being both the state capital and the home of the University of Wisconsin, there are so many things to do in Madison, including their amazing Madison Pride celebrations. It's a fun town that is both modern and vintage. It's cosmopolitan and salutes its farm country setting all at the same time. Madison also has wonderful neighborhoods all around the main downtown area.
Tour the Wisconsin State Capitol
I think the capitol building is a great stop on a Wisconsin road trip for many reasons: it's full of art, it's a great insight into what's happening CURRENTLY in the state, and it's got a beautiful view from the top of the rotunda. If height aren't your thing, you can still tour the capitol building but just don't go to the top. There's plenty to see inside.
The tour is free, but hours vary by season, so double check before you plan it. Once you're done touring the capitol building, enjoy walking the neighborhood around it. There are lots of cafes and nice restaurants, including the Old Fashioned, aptly named for the signature drink of the state.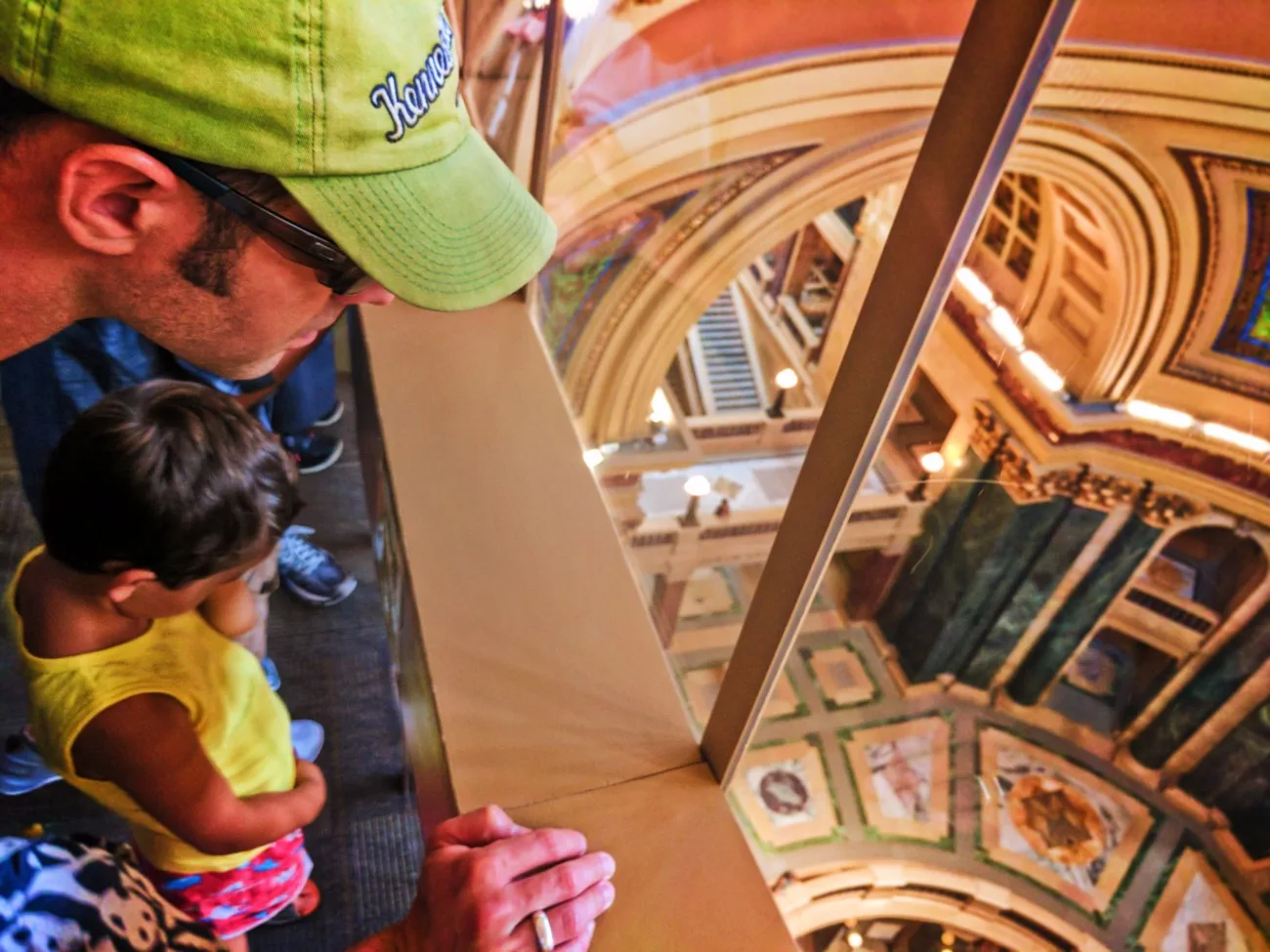 Visit the Madison Children's Museum
One of the most fun children's museums we've even been to, the Madison Children's Museum is several floors of learning and activities that will keep kids occupied for hours. We like to limit our time in children's museums to less than 90 minutes because otherwise we'll be there all day, but there are enough exhibits and interactive areas to keep it interesting for a while.
Be sure to check out the rooftop garden space and relax outside for a break. There is a lot of fun to be had here and it's a great example of urban farming and practicing sustainability (including chickens!).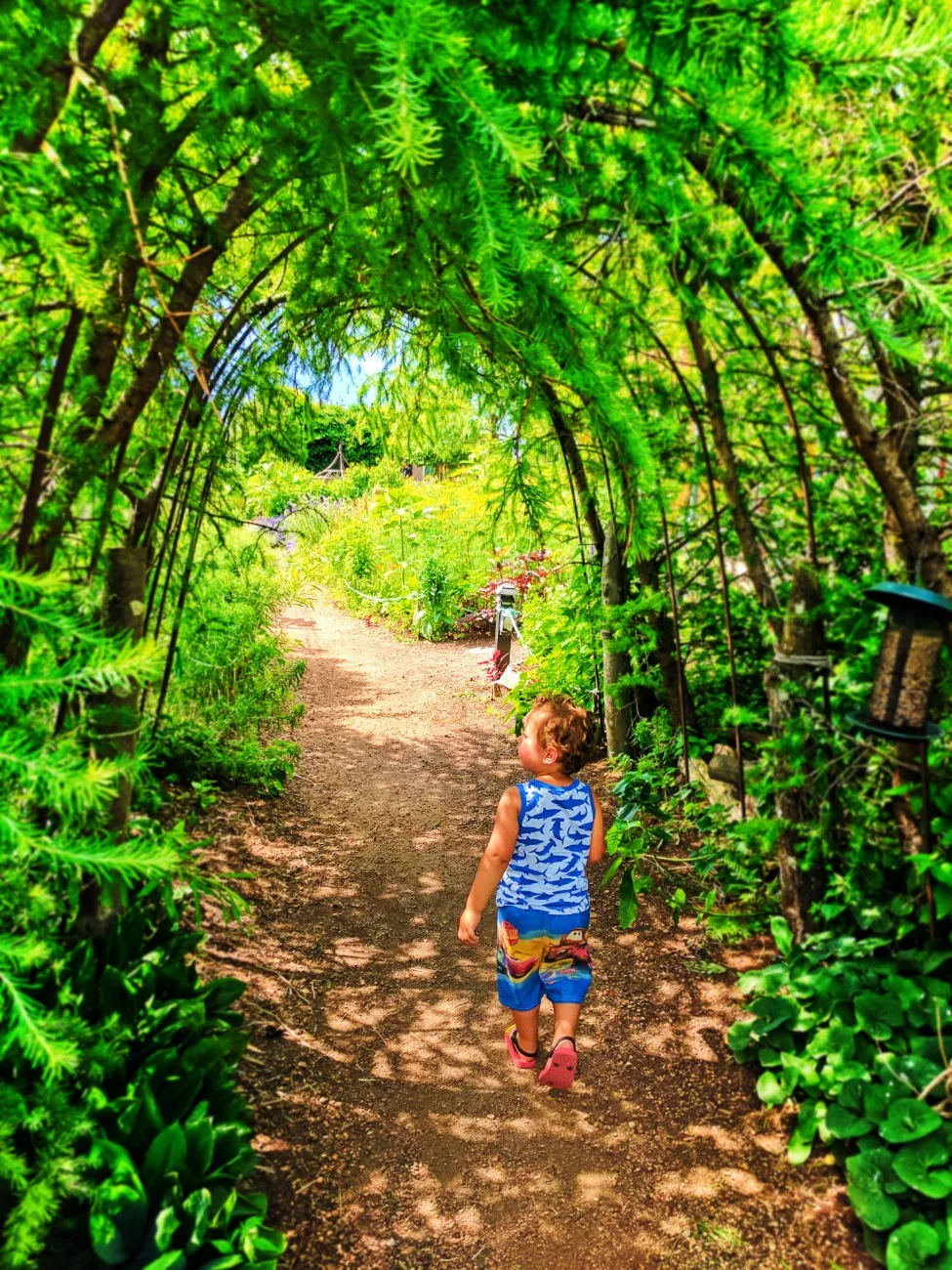 The Beautiful Olbrich Botanical Gardens
Botanical gardens are always a hit on a road trips because they are great outdoor spaces to wander and relax. And if you've been spending a lot of time in the car, the Olbrich Botanical Gardens is perfect for a nice break! One of the best Wisconsin road trip stops in the Madison area, Olbrich is just off Lake Monona and has all kinds of gardens to explore.
Open from 10:00 am to 6:00 pm everyday, visiting the Olbrich Botanical Gardens it easy to fit into your itinerary. A simple plan could be grabbing breakfast downtown or in the nearby Marquette neighborhood, visiting the gardens, and then heading to the town of Monona or back over to the other side of the lake to Villas Park for kayaking or walking the trails, or even visiting the Henry Villas Zoo.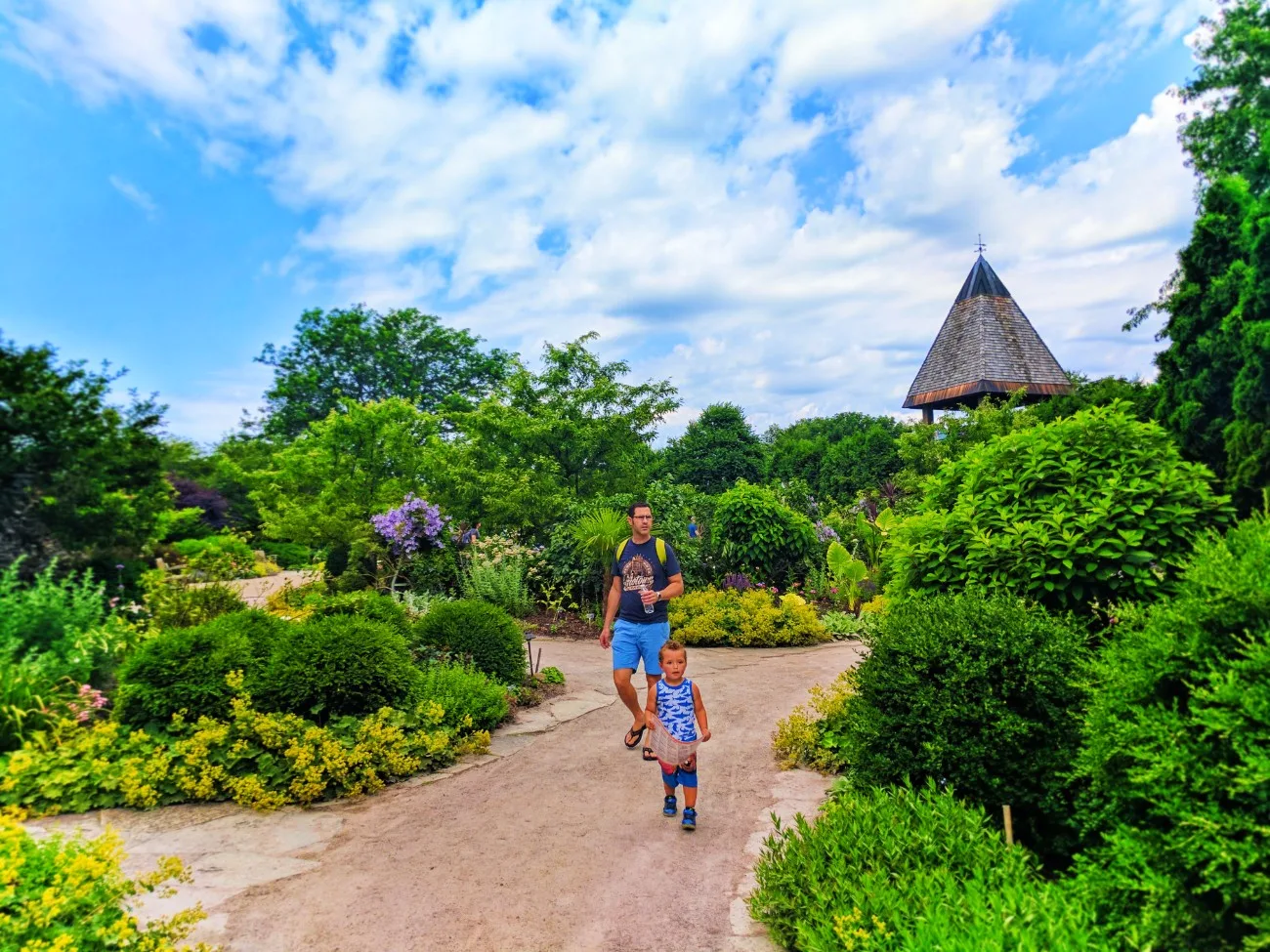 Exploring Wisconsin Nature and Geology
When we did our first Wisconsin road trip, I didn't expect the state to be very diverse when it came to the landscape. Now, living in Florida where everything is mostly flat, I fully appreciate the rolling hills and interesting geology of Wisconsin. It's gorgeous, and the combination of endless corn fields and then rugged hill country make Southern Wisconsin a great outdoorsy place to explore.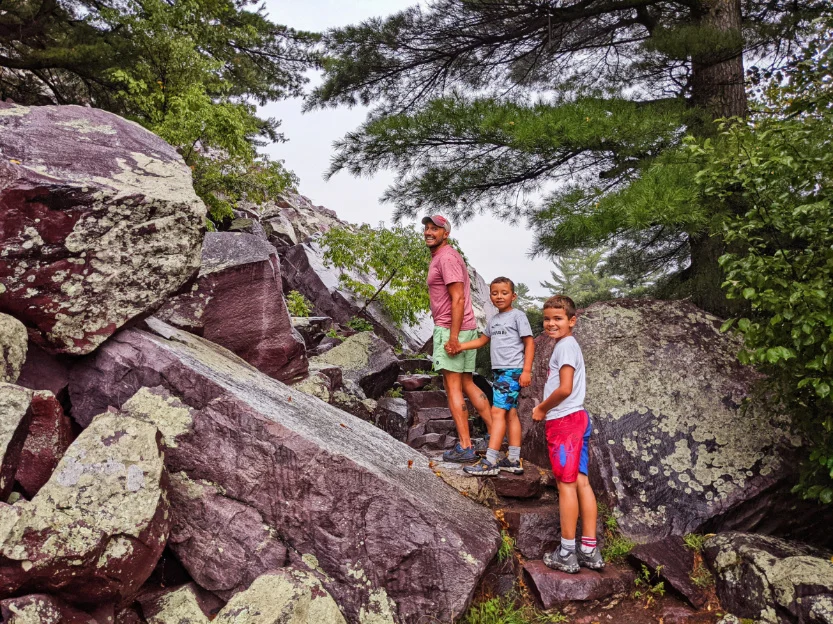 Devil's Lake State Park Hiking
I really enjoy hiking at Devil's Lake State Park. It's near the town of Baraboo and makes for a great Wisconsin road trip stop. True, it's not like hiking at Mount Rainier or Zion National Park, but there are some awesome and challenging hikes. If half of your travel crew wants to go hiking and the other wants to play in the lake, drop off hikers at the north parking area and they can hike the East Bluff Trail to Balanced Rock and down the Grottos Trail.
More fun trails include the Potholes Trail, the Tumbled Rocks Trail along the lake and the East Bluff Woods Trail. There's something for every energy level at Devil's Lake State Park, and it's one of the best places to camp in Wisconsin.
Note: if you're hiking on a wet, foggy day, the stone stairs at the Balanced Rock Trail can be slippery, so proceed with caution!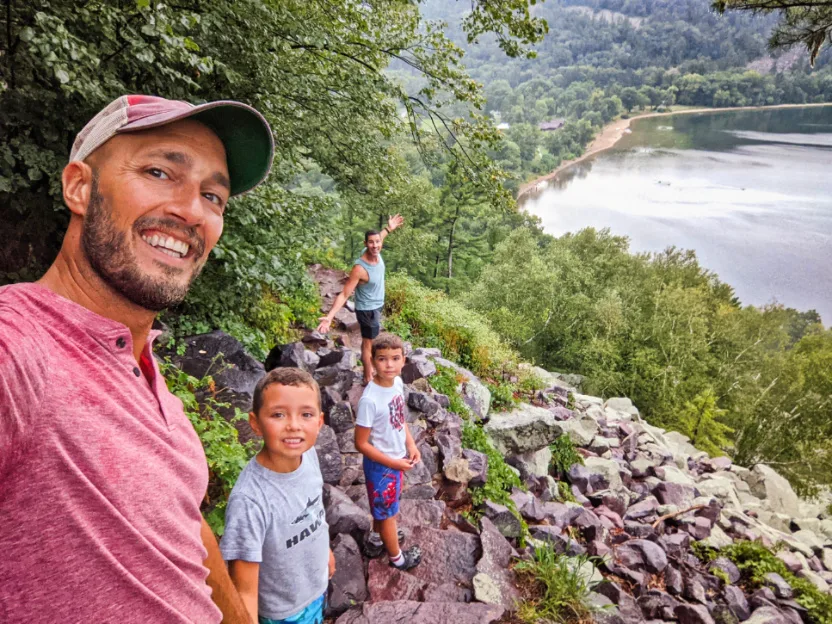 Visiting Natural Bridge State Park
Still in the Baraboo area, Natural Bridge State Park is another easy hiking spot. With trails connecting all around as a loop, this remote, small state park area is beautiful and really unique. Hiking into the thickly wooded glen to discover an enormous natural bridge in the forest.
Although this natural bridge isn't epic like some of the arches you'll find doing a Utah road trip, it's still really pretty, and so peaceful. There are very few hikers on the trail, so you can most likely enjoy the experience at Natural Bridge State Park without anyone around. Love it!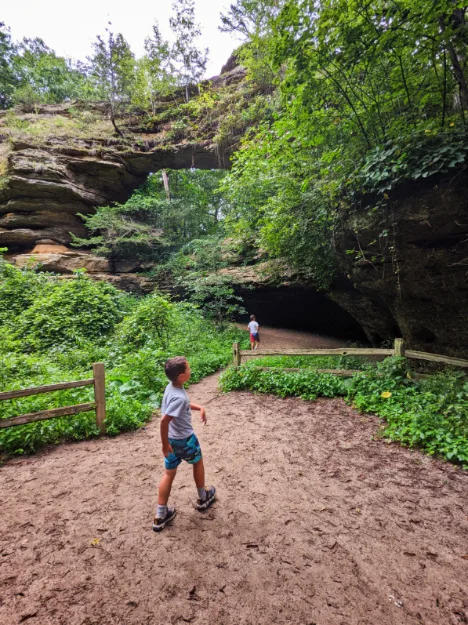 Cavern Tour at Cave of the Mounds
Heading south of Madison on our Wisconsin road trip, the town of Mount Horeb is a troll themed village in farm country. Just outside of Mount Horeb in an area called Blue Mounds is the Cave of the Mounds. This cavern system is pretty fun to explore with kids. It's done as a guided tour and it's scary or too difficult.
It's not as big as Lewis and Clark Caverns in Montana (that's a fun vacation, a Montana road trip!) but it's really neat. This is about a half hour from Madison, so planning a trip over to Cave of the Mounds is a good Wisconsin road trip stop on the way south out of the city.
Tip: if you want some more hiking, nearby Blue Mound State Park is the highest point in the area and has 20+ miles of hiking trails and an observation tower.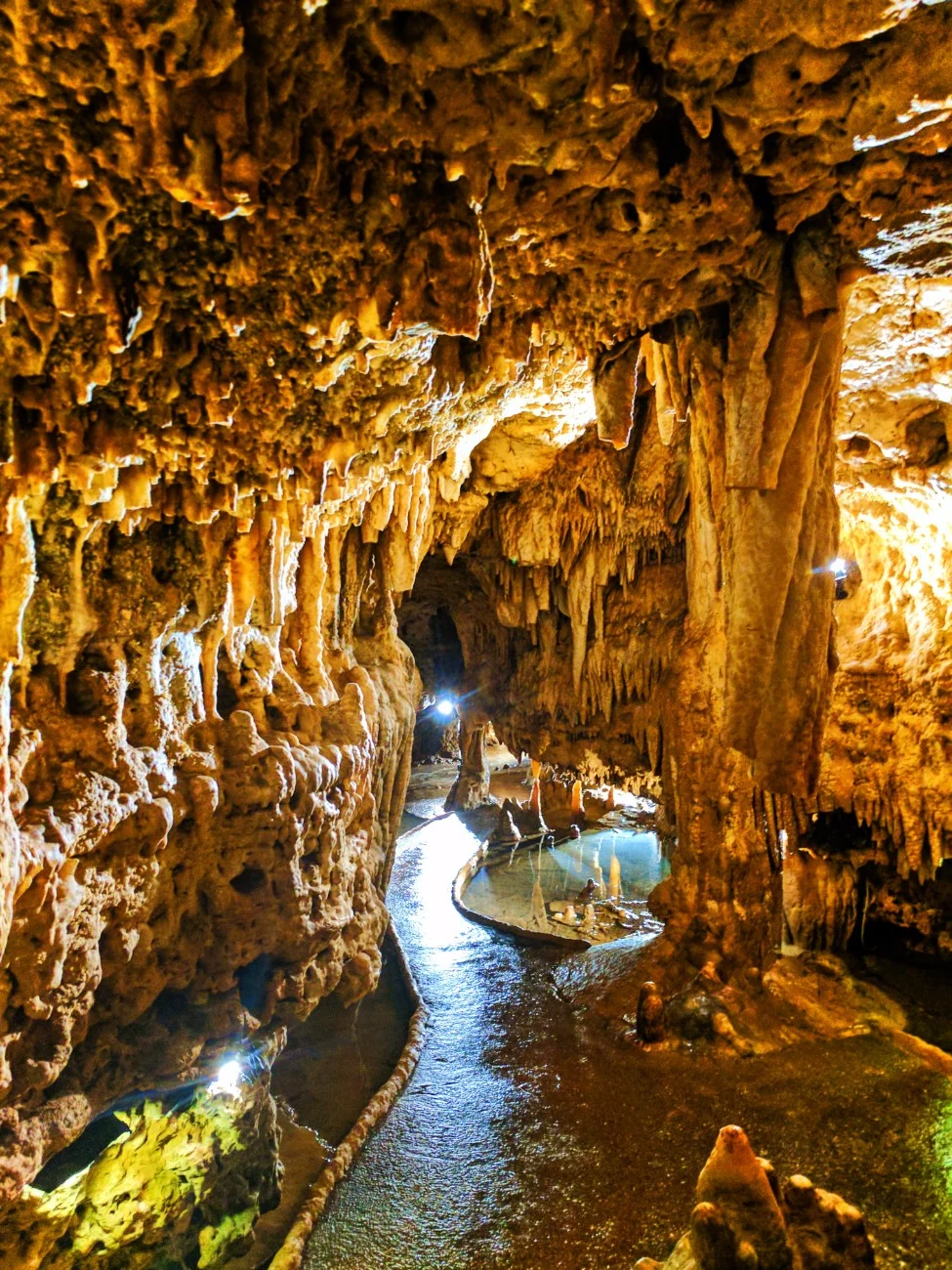 Fun in Wisconsin Farm Country
How can we even talk about a Wisconsin road trip without planning a couple of farm country stops. While the state is known for being the dairy capital of the USA, it has lots of other types of agriculture too. Since we've got another article all about fun Wisconsin farm activities and things to do, I'll just note what to watch for and enjoy on your trip.
U-Pick and U-Cut Farms
Something really fun to do, especially with kids, is to visit a U-Pick or U-Cut farm. What this is is a place that you get to wander through the fields or orchards and pick your own fruits, vegetables or flowers. It's really fun and is a great way to help kids understand part of the process of growing food and where their food comes from.
As you explore Wisconsin, watch for sandwich board style signs for U-Pick farms, or check online each day when you know your route. Because crops ripen at different rates, some farms will stagger the days they allow U-Pick so that the fruit is only picked when it's ripe.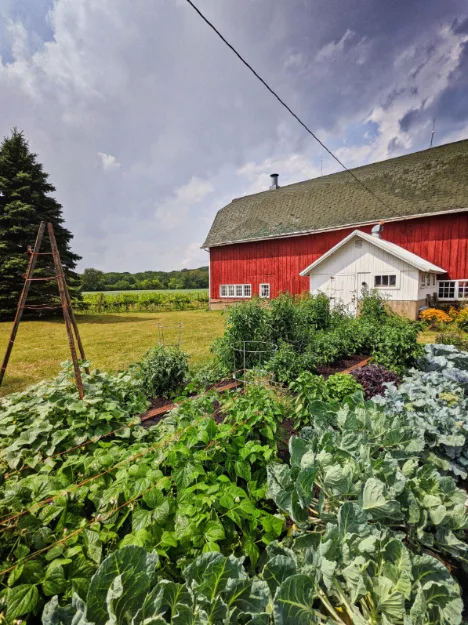 Visiting Corn and Sunflower Farms
In our family we've always been big fans of corn mazes. Do a Wisconsin road trip at the end of summer or beginning of fall to visit corn mazes all over the state, from the border at Hebron, IL all the way up north into Door County and Green Bay.
The other really cool farm mazes to watch for are sunflower mazes, and some beautiful Wisconsin pumpkin patches. That's right! Sunflower mazes are so cool! Wander into fields of sunflowers and just try to find your way back out. Actually, it's easier than doing a corn maze, but still tricky. Sunflower mazes are much more beautiful than corn mazes though, so if you have the option, choose the flowers.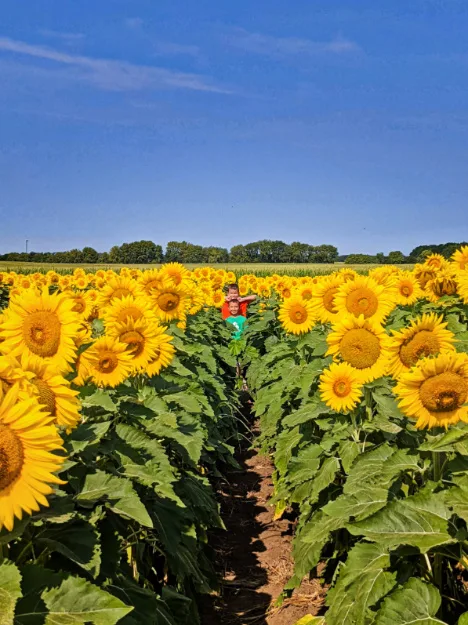 Wineries, Cideries, Breweries and Distilleries in Wisconsin
Yes, alcohol is an agricultural product and it comes in many forms, with many ways to experience it, including family friendly ways. In Wisconsin you can enjoy all of these different sorts of experience. Orchards with cideries are fun for both outdoor activities with kids to adult cider tastings. There are vineyards in Wisconsin too, making very different wines than you'll find in California wine country, and they are family friendly too!
The other two sorts of distilling to watch for are breweries and distilleries (hard alcohol). There are SO MANY breweries in Wisconsin, particularly around Madison and Milwaukee. If you're in farm country, you'll find a few in the small towns, but they're few and far between in comparison to cities. And it's the same with distilleries. Lake Geneva, Madison and Milwaukee all have distilleries making beverages from local farm products, so to keep it Wisconsin-centric, always aim for LOCAL spirits.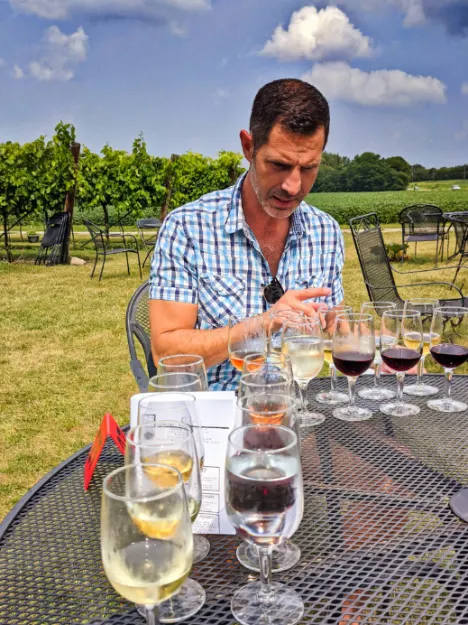 Farmers Markets in Wisconsin
Each of the towns you roll through on this Wisconsin road trip has their own weekly farmers markets (and Milwaukee and Madison do more than one), so watch for them when you're traveling. Lake Geneva's farmers market is really wonderful, featuring everything from locally grown and foraged mushrooms to local honey and vegetables.
When you're driving through Wisconsin farm country, you'll also see farm stands and markets at the actual farm sites! If you're lucky, you can stop and enjoy exploring the farm a bit (when allowed and in designated areas) and then stop into the farm's own market too. What a great way to support local!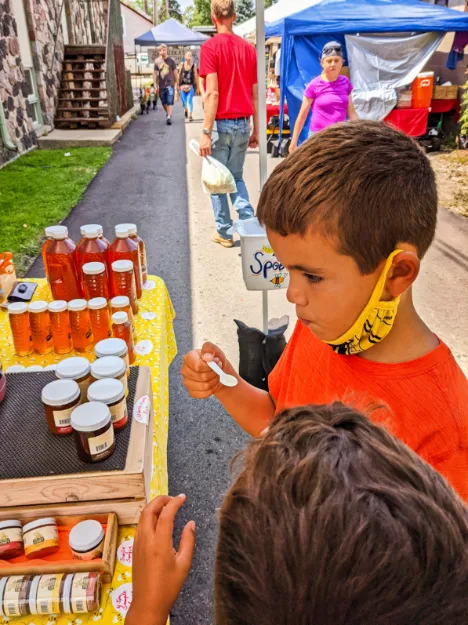 Historic Sites in Southern Wisconsin Not to Miss
Just because a place doesn't have hundreds of years of colonization history doesn't mean it's not historic. Outside of museums, it's difficult to find much mention around Southern Wisconsin of the indigenous peoples who've occupied the land for thousands of years, so much of the history you find as you're traveling is quite recent. It's interesting, but it's not the full story of Wisconsin.
Wisconsin has a modern history that's kind of quirky. From being the home base for the Ringling Brothers and Barnum and Bailey Circus to developing a speakeasy culture during prohibition (from 1920 to 1933), you never know what you'll find as you enjoy your Wisconsin road trip.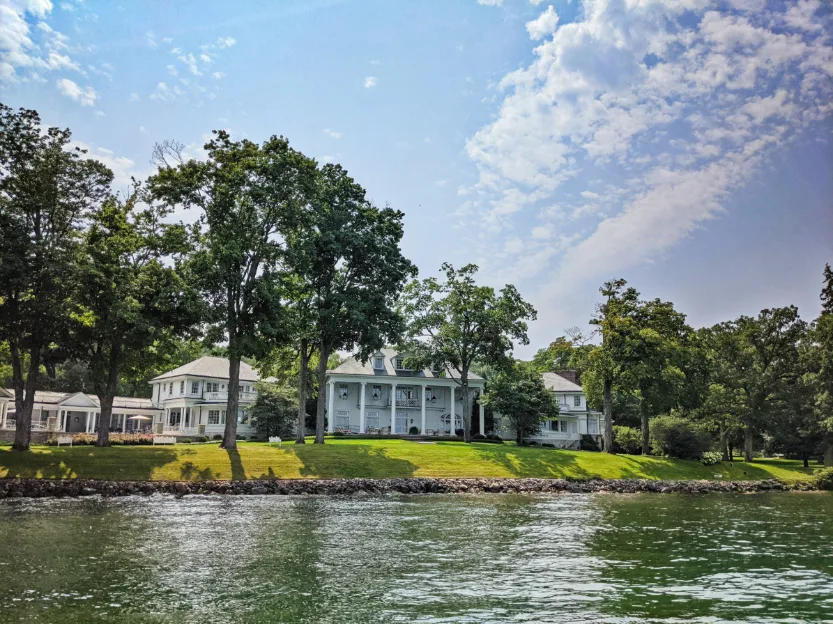 Exploring Baraboo and Circus History
It took more than a hundred years for the circus to stop touring with captive animals, and today when you visit a circus it's all full of human acts, which are amazing. It used to be though that the circus, particularly Ringling Brother and Barnum & Bailey Circus had all kinds of animal and oddity acts. Today, some of that history can be seen at the Circus World Museum.
In Baraboo, Wisconsin you'll find an enormous complex that is the current home of Circus World, a big top tent and a pretty incredible museum of fantastic carriages and circus history. The historic Ringlingville structures that housed performers, trainers and animals is still there and is full of circus history exhibits.
During the summer, twice daily there is a Big Top Circus performance (11:00 am and 2:30 pm, check times before planning a visit). Making a visit to the Circus World Museum is a Wisconsin road trip stop that's truly unique.
Note: there are elephants on-site at Circus World as a part of the Big Top Circus. For more information about the inclusion of elephants and working animals, please visit the Circus World website and make any inquiries or statements directly to them.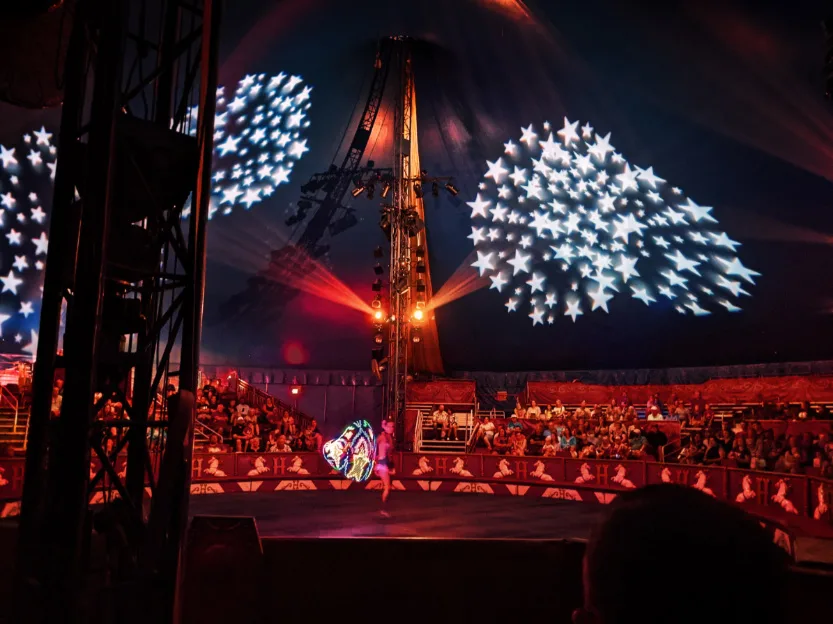 Lake Geneva Sights and Fun
The next place to relax and enjoy history and beautiful sights is Lake Geneva. Only being about an hour from Chicago (longer by train) this was the summer getaway for the wealthy industrialists of Chicago and Milwaukee. Lake Geneva is of the best stops to make on a Wisconsin road trip!
Check out our Guide to Exploring Lake Geneva, WI!
This beautiful town is set between two lakes: Lake Geneva and Lake Como. The area surrounding it is farm and wine country, with all kinds of things to do in the summer. During the winter, the lake completely freezes over, so the tourists tend to stay away, but there are still skiing and other snow activities in the nearby hills.
Walking the Lake Geneva shore path is a great way to experience this beautiful town. The path goes all the way around the lake, including crossing private property. You're welcome to walk or jog it, you just need to be respectful of the people who live around the lake and not trespass onto their lawns or boat docks. (get the audio guide for the shore path here!)
Another great way to enjoy this awesome place is to actually do a Lake Geneva cruise. Whether you want to do the historic mail boat tour (Loved it!) or do a brunch sailing around the lake, there are lots of good options for different budgets, making it one of the best things to do in Lake Geneva.
One last idea when you're in town is to do a ghost tour. With so many historic homes and buildings on the National Registry of Historic Places, you know there are some good stories to here about Lake Geneva and its wild past. Book a Lake Geneva Ghost Tour here!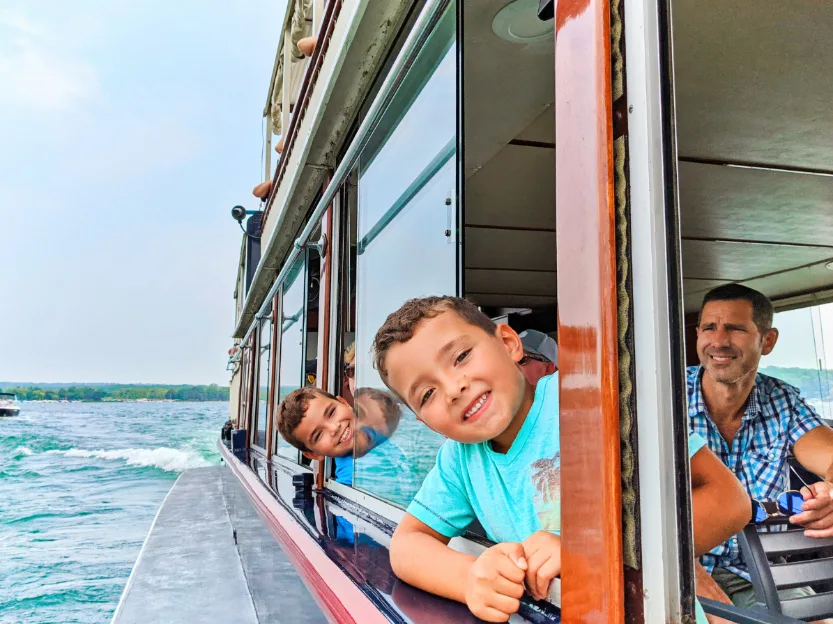 Fun Activities and Sights in Kenosha, WI
What a cool town! Kenosha is the last stop on this fun Southern Wisconsin road trip. Set on the shore of Lake Michigan between Chicago and Milwaukee, Kenosha is fun and full of things to do. Something really nifty about Kenosha is its street car / trolley that runs through town. It adds to the atmosphere of downtown. Grab a bit in one of the cute historic district restaurants and then jump on the trolley!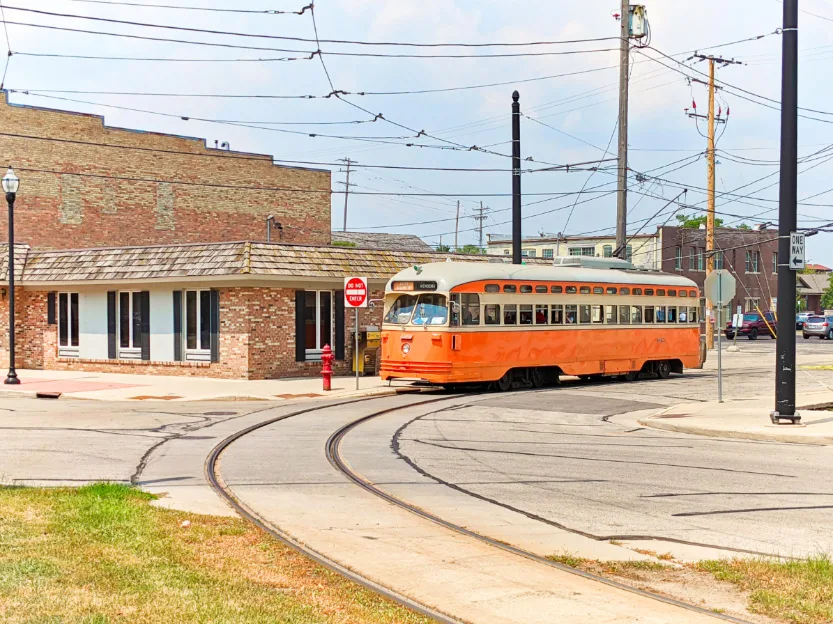 Cool Museums in Kenosha
Being a bigger city than it looks, Kenosha actually has several very nice museums. The first to stop at is the Dinosaur Discovery Museum. A Smithsonian Affiliate, it's got some amazing therapod fossils and even an active paleontology lab in the basement. It's a must-visit if you are traveling with a dinosaur lover.
Note: the Dinosaur Discovery Museum isn't big like the Museum of Science and Nature in Denver or the Museum of the Rockies in Bozeman, but it's really cool and the exhibits are great for adding some education to a vacation.
Head towards the lake and you'll come to the Kenosha Public Museum and the Civil War Museum. These free museums are great to visit on a hot or stormy Wisconsin day. Plan to have a nice breakfast downtown and then visit the Public and Civil War Museums after, and then grab lunch on the water.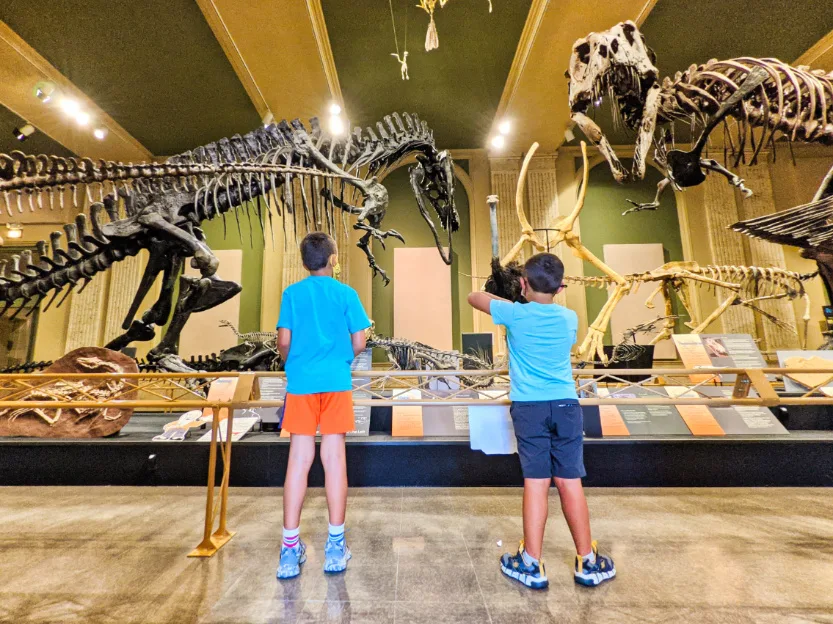 Sights on the Lake Michigan Shore Path
Kenosha has a great waterfront that extends from the Kenosha Sand Dunes to Simons Island and Ashford Park just beyond. Although the shore path doesn't directly content all of the parks, between pathways and sidewalks, you can enjoy a long stretch of Lake Michigan on foot or bike.
Very near the Public Museum is Harbor Park which has art and walking paths. Follow it along the harbor to the bridge and cross onto Simons Island (NOT St Simons Island) where you'll find an awesome park, beach access and two lighthouses. You can walk out to the Kenosha Lighthouse (built in 1906) or visit the Southport Light Station and Museum (built in 1866). It's a great afternoon plan for enjoying Kenosha and a great group of Wisconsin road trip stops!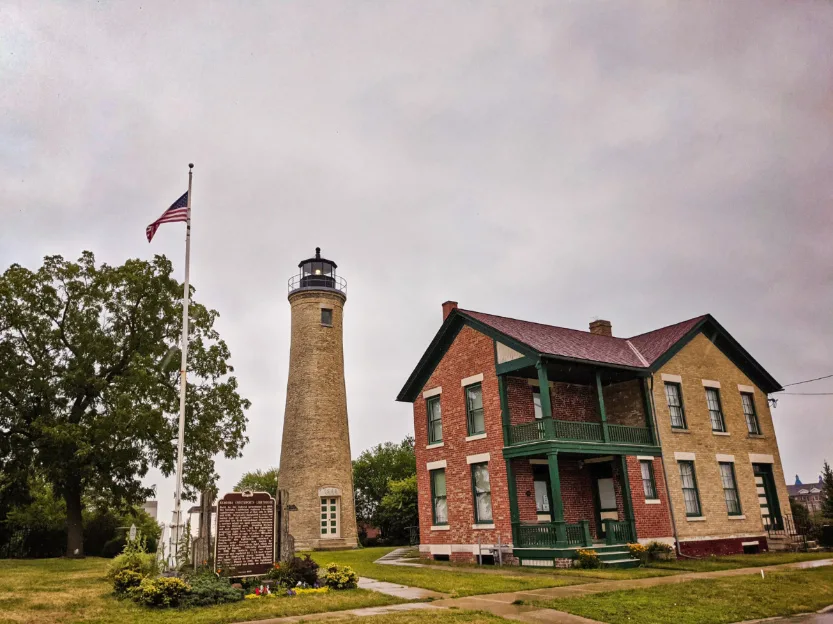 7 Day Wisconsin Road Trip Itinerary
Start:  Fly into Chicago (ORD), Milwaukee (MKE) or Madison (MSN) from most major US hubs. You can expect a layover if you're flying from the South or California to one of the Wisconsin airports, but there are many flight options. Whichever airport you choose, you'll want to spend your first night in Milwaukee so you can hit the ground running on day one. 
Sleep in:  Milwaukee
Day 1: Best of Milwaukee
Starting in Milwaukee, this is a day to explore a really industrial and yet very metropolitan city. With museums like the Discovery World, the Milwaukee Art Museum and Milwaukee Public Museum, you'll have plenty to do on either hot or rainy days.
One of the most unique activities in downtown Milwaukee is actually kayaking through the city. Wander through the Historic Third Ward district and the Riverwalk for a great understanding of the city's history and brewing culture. 
Sleep in:  Milwaukee, Wisconsin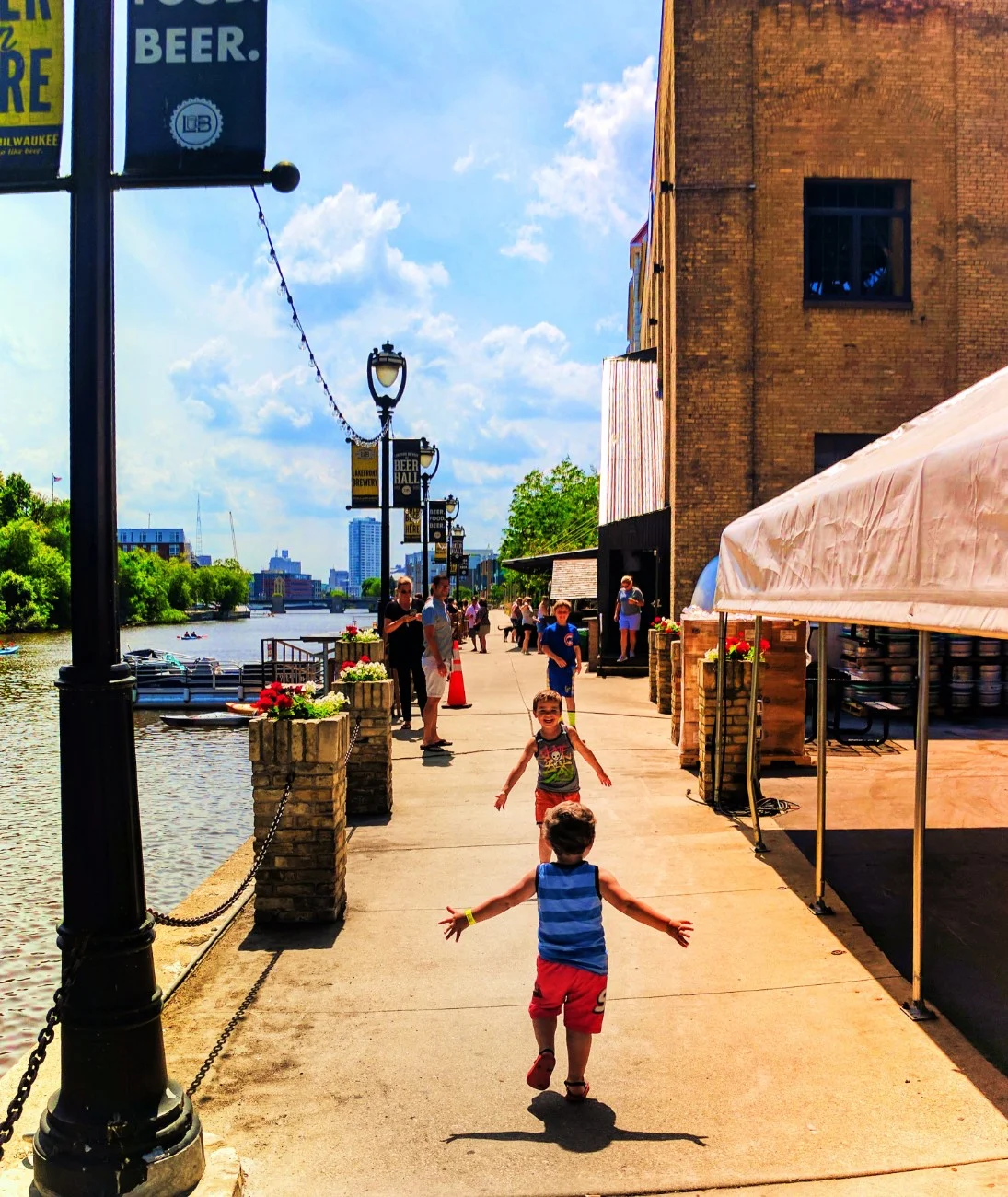 Day 2: Southern Wisconsin on the Water
Grab breakfast in the Murray Hill neighborhood and then check out Black Cat Alley, an incredible public art and mural area. As you head out of town, make a stop at the Mitchell Park Horticultural Conservatory. Drive towards Oconomowoc for lunch and to see the enormous historic homes on Lake Road before spending an afternoon kayaking on the Oconomowoc River, launching from Upper Oconomowoc Lake.
When you're done, head into Madison where you'll have a few days to explore. If you arrive early enough, go kayaking on Lake Wingra and explore the vast spreads of lily pads. 
Sleep in:  Madison, Wisconsin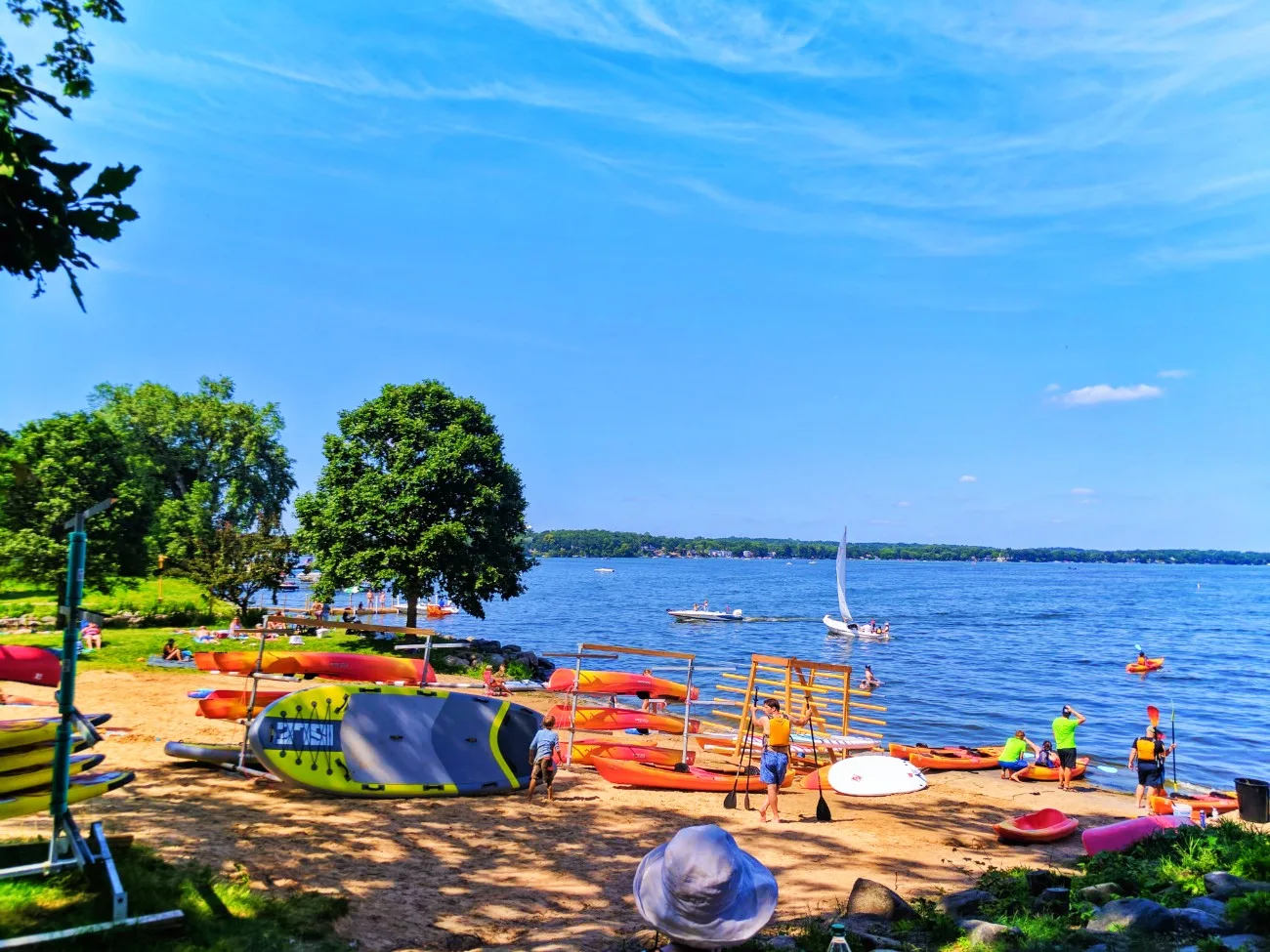 Day 3: Exploring the State Capitol – Madison, Wisconsin
Have fun exploring downtown Madison including the capitol building and Museum of Contemporary Art. Madison is full of breweries with great outdoor seating, so enjoy the local craft beers and, of course, fried cheese curds. After lunch head over to the Olbrich Botanical Gardens to enjoy one of the prettiest established gardens in the Midwest.
Finish the afternoon at Hudson Park on Lake Monona and stay for sunset if you can. Dinner downtown and you're set. 
Sleep in:  Madison, Wisconsin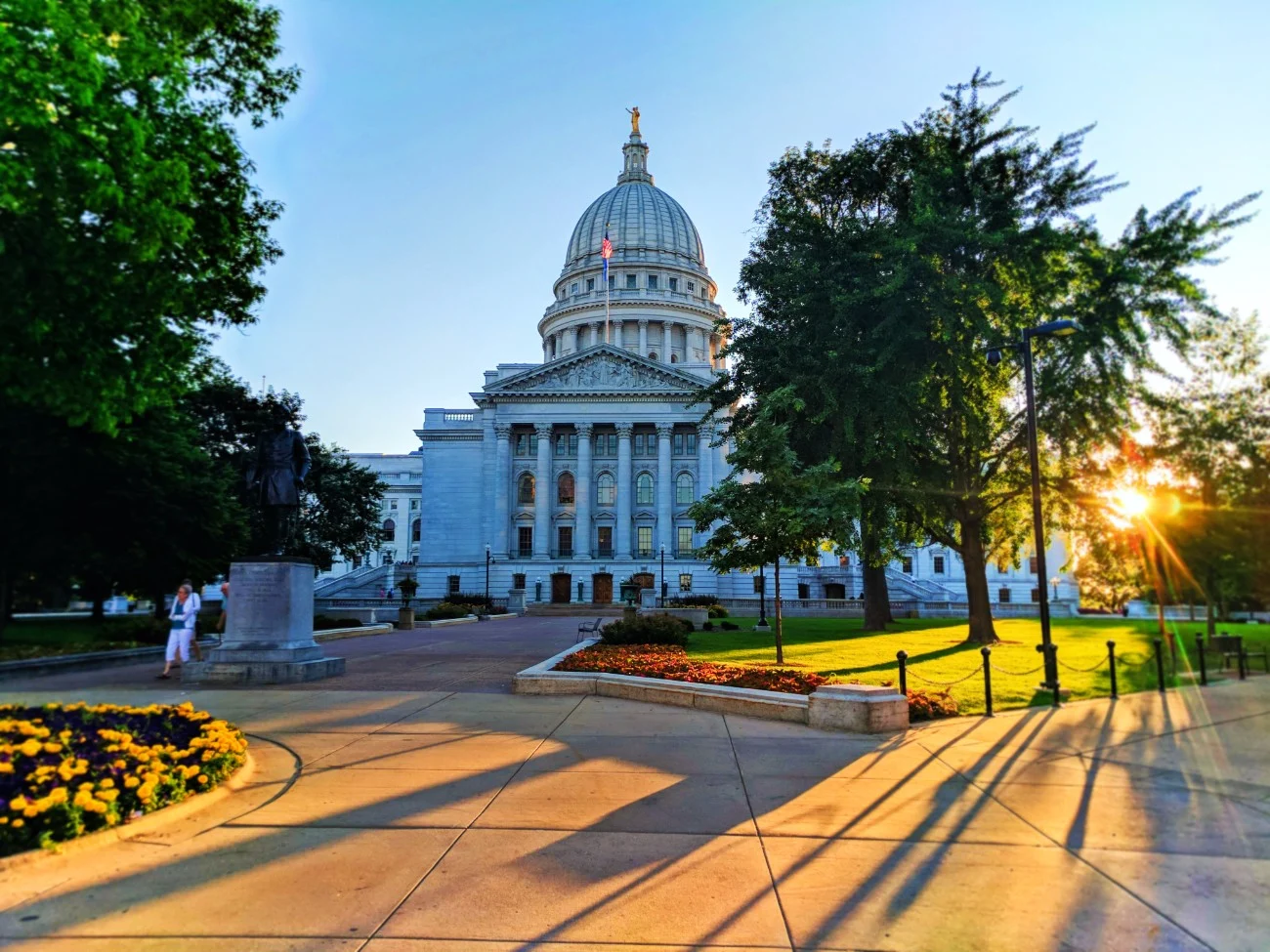 Day 4:  Hiking in the Wisconsin Hills
Get ready for a day in Wisconsin's beautiful outdoors… and underground. Begin your day by heading to Cave of the Mounds to tour a surprisingly cool underground cavern system. Have lunch in Mount Horeb, the troll capital of Wisconsin, and then head north to Devil's Lake State Park.
Pick a few short hikes to enjoy, including Devil's Doorway, Parfrey's Glen and the West Bluff Trails. If you have time, head over to Natural Bridge State Park for one more hike before grabbing dinner in Baraboo. 
Sleep in: Baraboo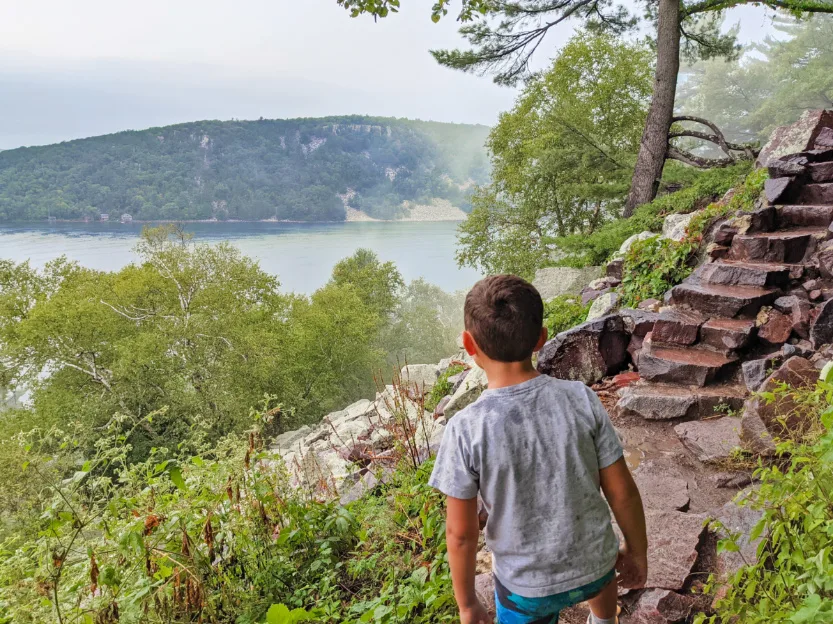 Day 5: Wisconsin Circus History and Vintage Lake Life
Wake up in Baraboo, a charming historic town that was also the home base for the Ringling Brother Barnum and Baily Circus. Have breakfast downtown in a charming cafe (we love Jen's Alpine Cafe and Soup Kitchen) before heading to the Circus World Museum. Arrive in time for a show under the big top.
Enjoy one more hike in the hills outside of Baraboo, visiting either Devil's Lake again or doing the easy trails at Natural Bridge State Park. Head south through Sauk City, stopping for lunch on the Wisconsin River, and drive to Lake Geneva. Make a stop at Staller Estate Winery or the Apple Barn Orchard and Winery before having a traditional Wisconsin supper club dinner.
Sleep in: Lake Geneva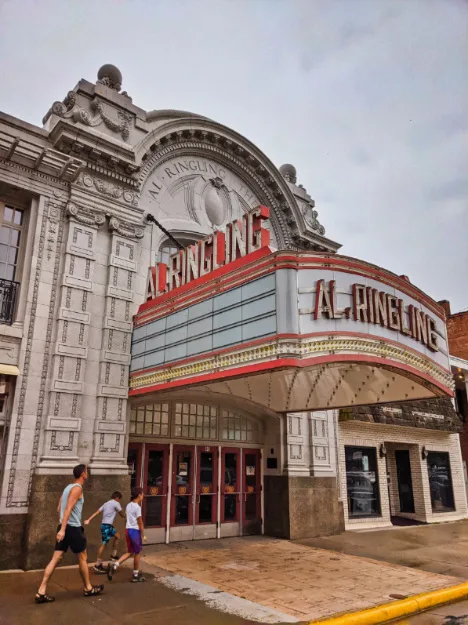 Day 6:  Exploring Vintage Lake Geneva
Wake up in this charming summer town on a gorgeous lake. Get a vintage breakfast at Joni's Diner (an airstream style restaurant) and then do a historic cruise on Lake Geneva. Head out for a walk along the Lake Geneva Shore Path as you enjoy public art and historic mansions overlooking the lake. Enjoy lunch across from Riviera Beach or stop in Williams Bay for a meal and then some kayaking on Lake Geneva.
On your way out of Lake Geneva, stop by an orchard or farm stand to either pick your own fruit or support the locals. FYI: you may cross into Illinois as you hit up the many farms of the area, but it's quick to get back into Wisconsin. When you've had your fill of farm fun, hop in the car and head for Kenosha.  Have dinner looking across Lake Michigan and be ready for an early start tomorrow. 
Sleep in: Kenosha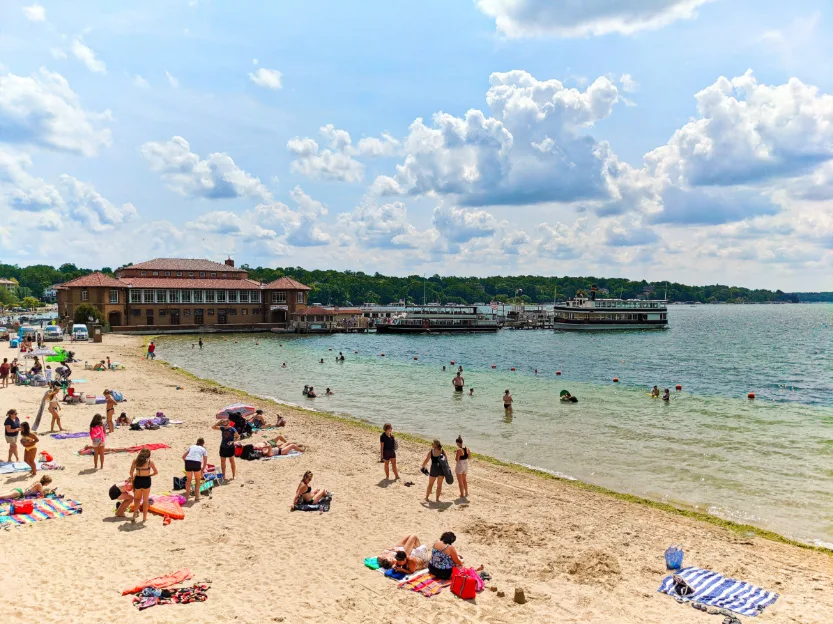 Day 7:  Museums, Lighthouses and Fun in Kenosha
Begin the day with a walk along Lake Michigan on the Promenade, the cross the bridge to visit the Southport Light Station and Kenosha Lighthouse. After you've had a relaxing morning by the water, pop over to the Dinosaur Discovery center (a must with kids) or the Kenosha Public Museum and Civil War museum, followed by lunch downtown.
If you're inspired, the Kenosha Sand Dunes is nearby and is perfect on a nice day for relaxing on Lake Michigan. Either have dinner downtown Kenosha or head north to Racine. Up in Racine is the Windpoint Lighthouse, which is beautiful and a must to cross off your lighthouse bucket list (if you're like me). 
Sleep in:  Kenosha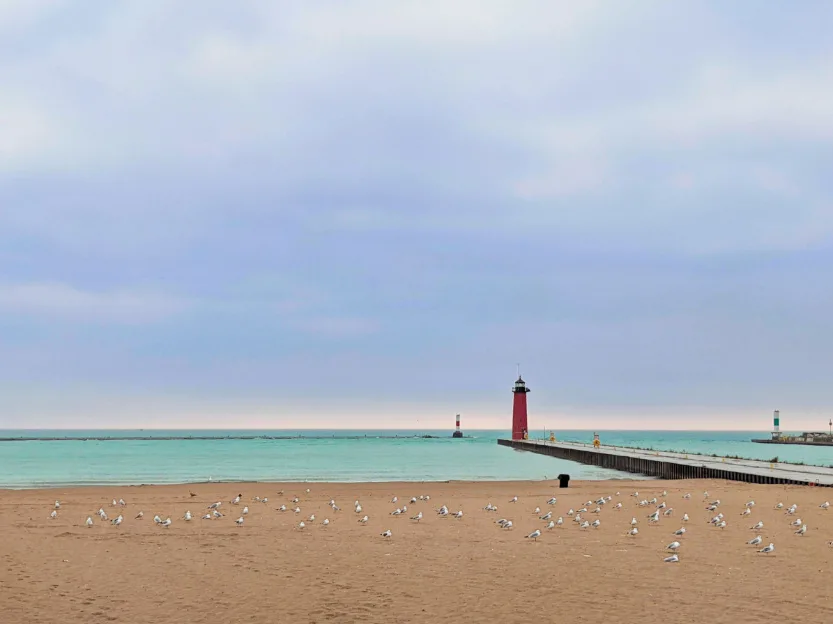 Depart:  Head back to your starting point to fly home. If you would like to add onto this Wisconsin road trip, take another three days and make your way up to Door County. The rugged shorelines and lighthouses will be worth it. Another option is to spend a few days seeing the best of Chicago.
---
I hope you're excited to tackle your own Wisconsin road trip and maybe even find some new sights. There is so much to see and do that you can do this trip over and over and never have the same experience twice.
Feel free to leave a comment or send us a note with any questions. We're here to help!