I have yet to have a Wisconsin trip that I did not enjoy, and Door County is THE destination that everyone will love. Door County is famous for being the premiere destination for fall colors, but it's also epic for cheese and lighthouses.
We've got a great itinerary for a 3 or four day getaway to Door County, Wisconsin, complete with extra ideas in case you want to stay for longer. As you read through, let us know what questions you have or if you need help planning your trip. We love exploring Wisconsin and have tips from Lake Geneva to the Great Lakes. Leave a comment or send us a note so we can be a part of your awesome trip!
Check out Where to Eat in Door County as you plan your visit!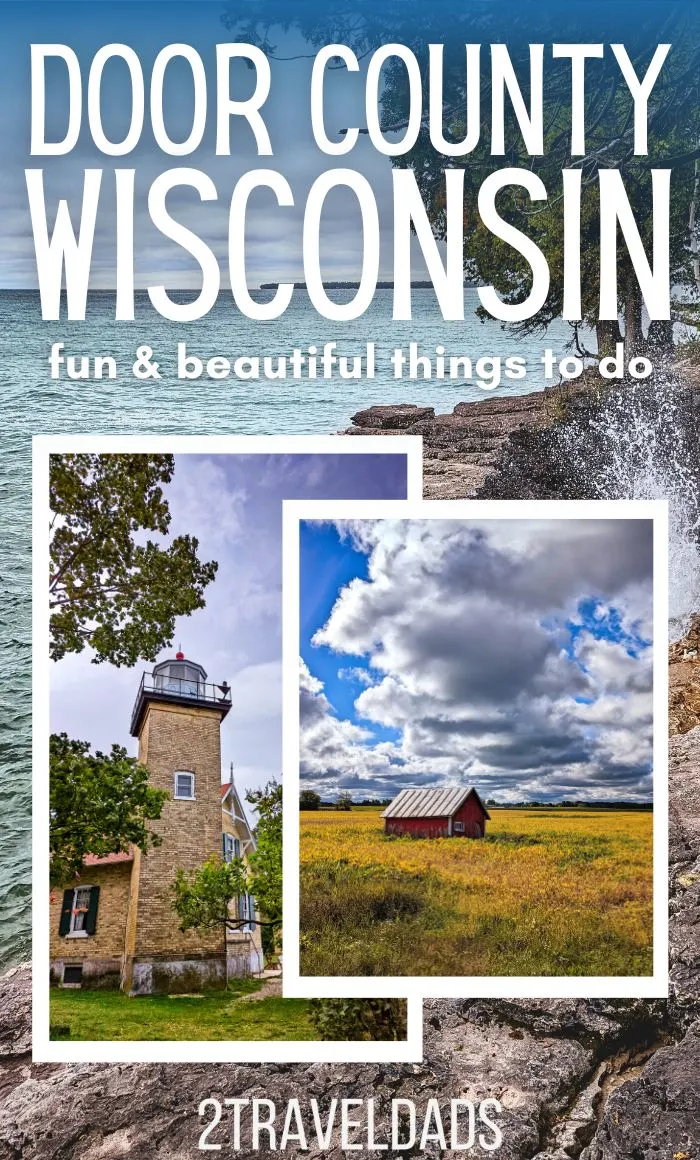 Find a Door County stay here:
Things to Do in Door County, Wisconsin
So what exactly is there to do in Door County? So much! We've broken down our top picks for activities by theme / style. We've got foodie ideas, the arts, getting on the water and exploring nature. Even though it can be a chilly place to be in the winter, the rest of the year Door County is awesome, albeit a little wild for weather in spring and fall.
Wisconsin Cheese Shops to Visit
My heart breaks for those who cannot eat cheese, especially if they're in Wisconsin. Eating cheese is one of the best things to do in Door County. Whether you're ordering fried cheese curds in a restaurant or bar, or you're doing a guided cheese tasting (yes, like a wine tasting) you're going to love it. PS: it's also okay just to buy a block of Wisconsin cheese and sit alone in your car eating it… I may have done that on more than one occasion.
Renard's Artisan Cheese
We'll start with Renard's Artisan Cheese because it is my favorite cheese shop of all that I've been to in Door County. Located in Sturgeon Bay, Renard's Artisan Cheese has everything you could want, from cheese curds of all sorts to cheese spreads. What I really love about it here though is the guided cheese tasting. Knowledgeable staff explain the different cheeses and are quite generous with the samples.
Tip: the ghost pepper Monterey Jack is my favorite! Yes, it's hot, but the heat is delayed so the flavor is actually delicious.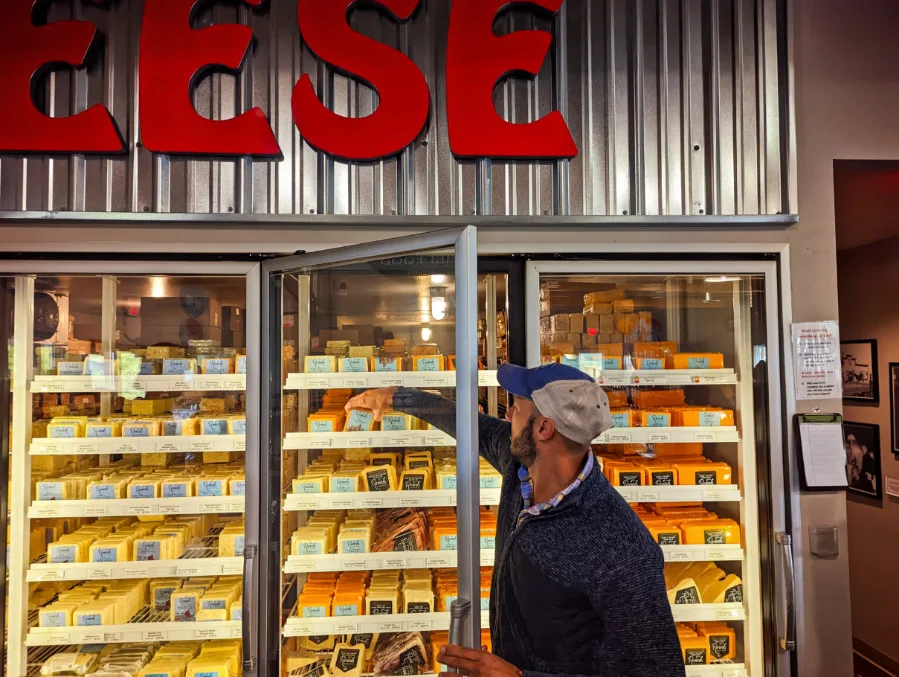 Door Artisan Cheese Co
Another wonderful cheese shop, Door Artisan Cheese is a great place to stop both for a guided cheese tasting as well as to see cheese production. We were offered wine pairings with our cheese, and even able to try some cheeses not in the normal sample set. In addition to yummy cheese (the Top Hat Aged Cheddar was amazing!) they also do picnic packs to go, or you can enjoy them in the small café area.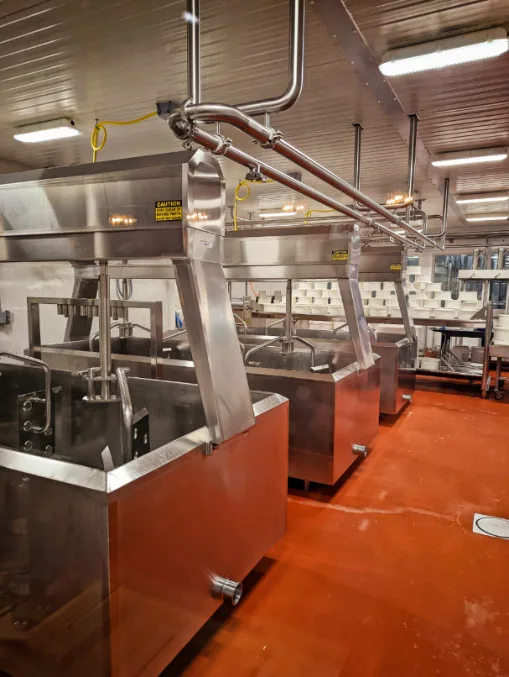 Door County Creamery
So much of Wisconsin cheese is cow milk based, but Door County Creamery in Sister Bay actually has a great selection of goat cheeses. I love goat cheese; like I can just eat it plain and often do. With everything you need to make your own picnic charcuterie board, stop into Door County Creamery before heading to the waterfront in Sister Bay to get your tub of truffle goat cheese and crackers.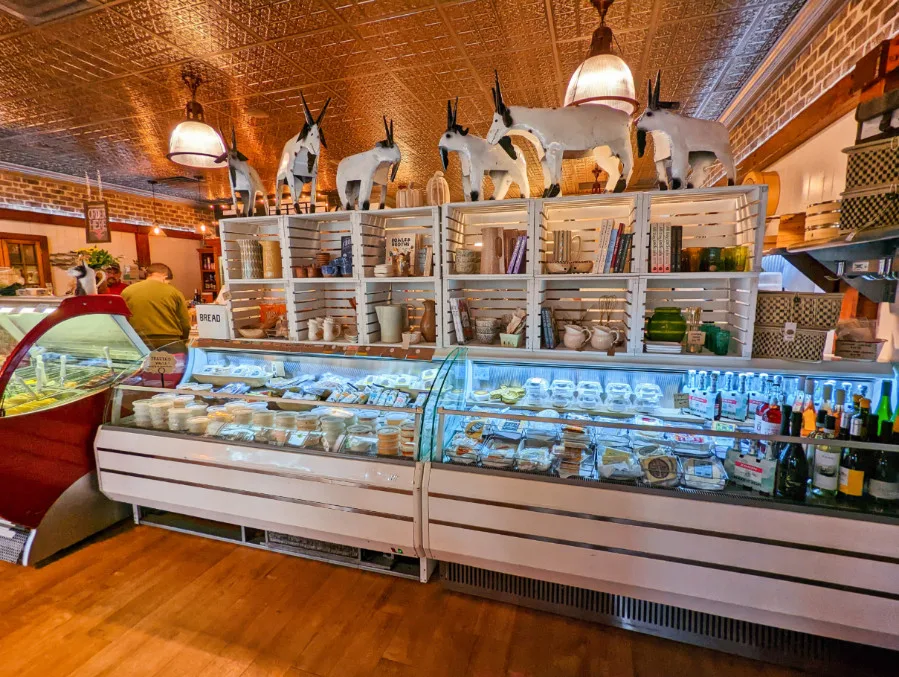 Wood Orchard Market
Maybe not the fancy cheese shop you were looking for, but you'll love stopping into the Wood Orchard Market. Here you'll find local cheeses, TONS of cherry products, and just about everything else that Door County farm country is known for. We found that the cheeses here at Wood Orchard Market were both a great value and a great deal… and we may have bought too much. This is a local, family operated business, so stopping in to support the locals is always nice to do!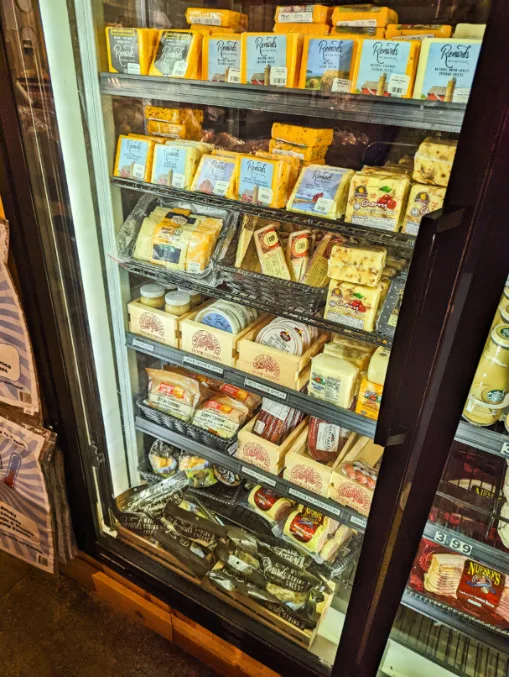 Door County Artists and Galleries
I so often read about the "vibrant art scene" of a place and never really understand what that is. Well, I get it now. One of the best things to do in Door County is to visit with and support the local artists, and there is no shortage of them here! The Door County art scene is a mix of galleries, studios and classrooms open to the public. Everyone is welcome to enjoy and the featured art and artists are very local.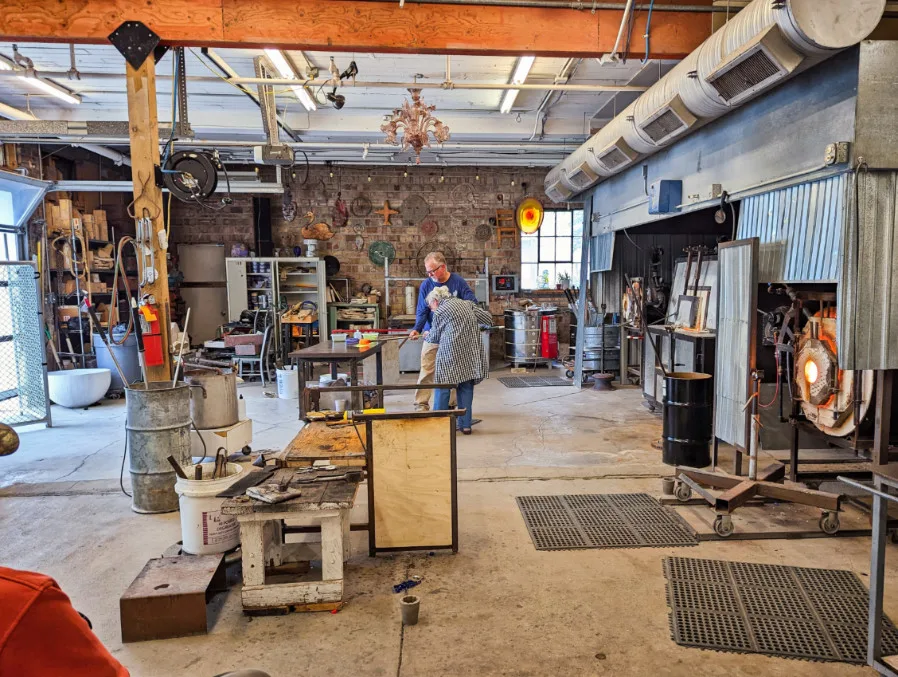 ARTicipation Studio & Gallery
Like the name suggests, ARTicipation is all about PARTICIPATION. A community space and gallery, ARTicipation showcases local artists in Sturgeon Bay and offers classes for all kinds of artistic mediums. We met Claudia, the proprietor and artist in residence, and she was so very welcoming, fostering an atmosphere of creativity and inspiration (and maybe wine). Whether you want to create art or support a local artist by bringing a piece home, ARTicipation is a wonderful stop when you visit Door County.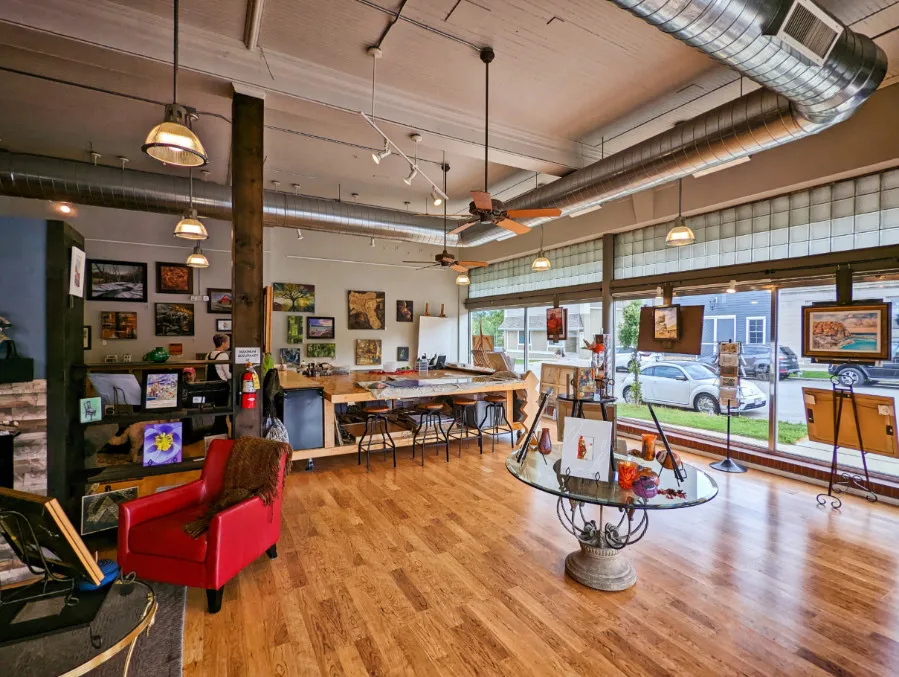 Popelka Tranchard Glass Gallery
One day I will be brave and sign up for a glass blowing class, because the artistry of professional glass artists is phenomenal. Stephanie Tranchard, one of the two artists whose namesake is on the studio / gallery space at Popelka Trenchard Glass Fine Arts, does amazing work, both like you might expect in terms of glass vessels and forms, but also with incorporating imagery and stories within blown glass pieces. Onsite is both a shop complete with furnaces and a gallery. If you do want to go through a class or instructional session, you must book it in advance, as drop-in glass blowing isn't really something you can just do.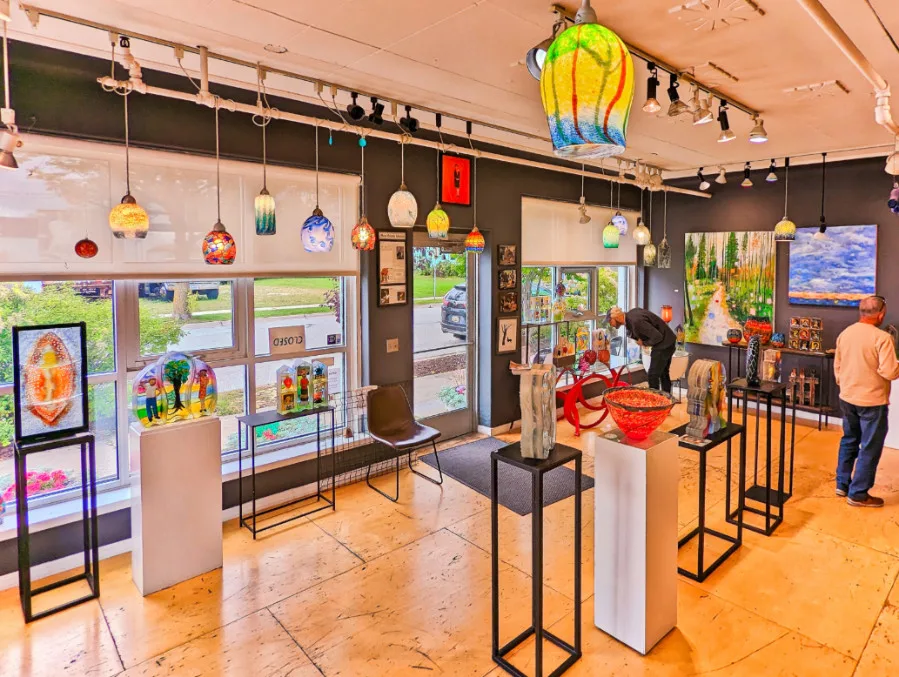 Edgewood Orchard Gallery
We initially didn't plan on stopping into the Edgewood Orchard Gallery near the town of Egg Harbor, but as we drove by we couldn't resist flipping a U-Turn and popping in. I'm so glad we did. An amazing gallery of both indoor and outdoor art, visiting the Edgewood Orchard Gallery could've been an all-afternoon stop. With both local artists and creators from around the country, this multi-building, multi-medium gallery is really cool and inspiring to visit. We really enjoyed wandering through the many rooms of galleries and the outdoor space.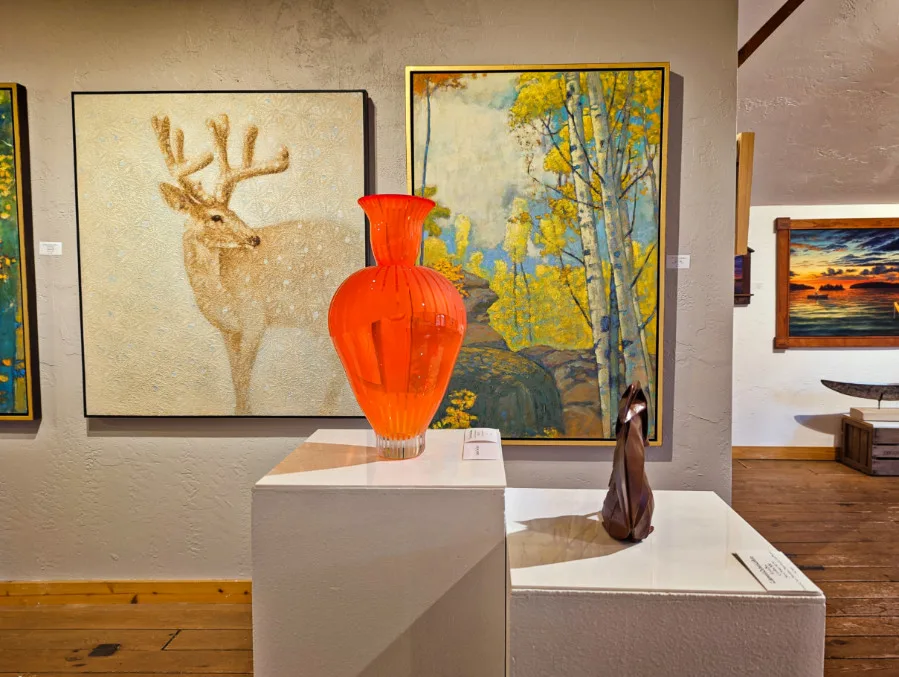 Great Lakes Things to Do in Door County
You cannot ignore the fact that Door County is heavily influenced in all ways by the Great Lakes. From the weather systems that roll in to the actual name: "Door County." Door County is called such because it is known as "Death's Door" in reference to the many maritime lives lost on the Great Lakes around the Door Peninsula. As you either cross the water or just stand on the shore on a windy day, the name makes sense. BUT there are ways to enjoy Lake Michigan and Green Bay safely!
Door County Lighthouses to Visit
I love lighthouses! One of the best things to do in Door County, and that you can spread out across your visit, is to visit the many lighthouses. Although you cannot go up into each lighthouse, some are open for the public (weather permitting).
I think the coolest and most unusual is the Sturgeon Bay Ship Canal North Pierhead Lighthouse stretching out into Lake Michigan. This vibrant red beacon out in the lake is beautiful and very unique. It's the ideal Great Lakes lighthouse, and is easy to walk out to (nearly) if you're sure footed and able to walk and chew gum at the same time. Bonus to planning this stop in your list of things to do, there is a second lighthouse on shore!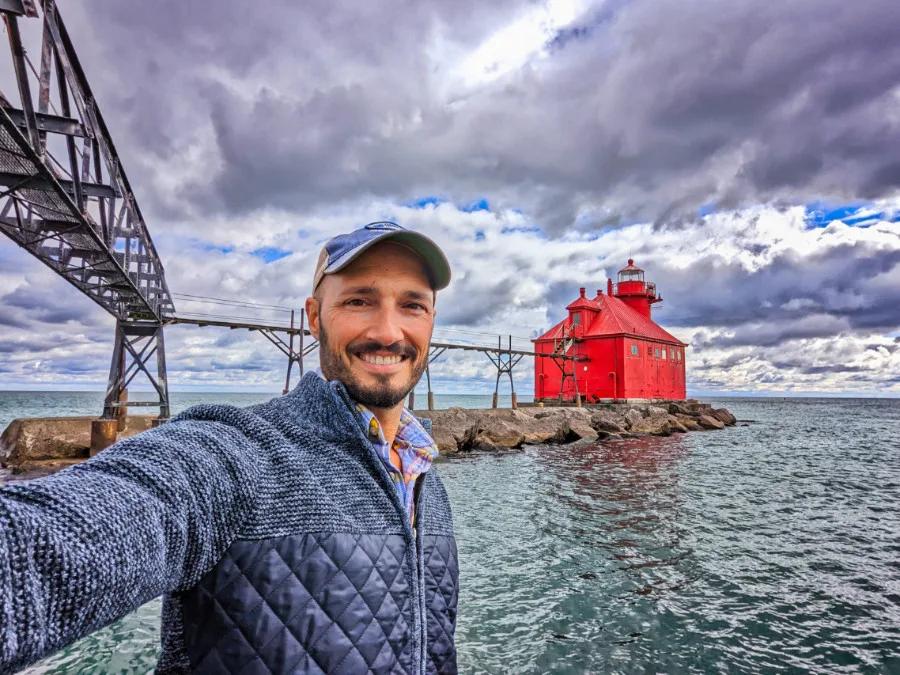 The other top pick for Door County lighthouses to visit is the Cana Island Lighthouse. While they do close the tower to visitors on a windy day, this unique lighthouse has a great museum, beautiful grounds, and you have access to the lake for epic Great Lakes views.
Note: there is a tractor that can transport visitors out to Cana Island, or you can walk across the rocky causeway.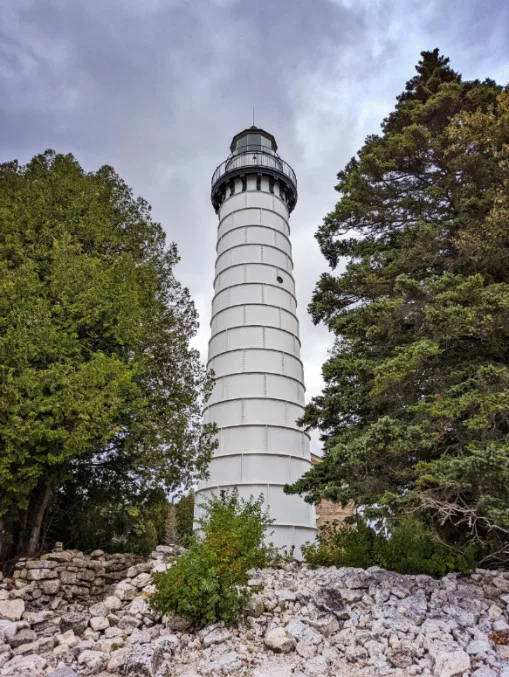 Beautiful Kayaking Spots in Door County
Besides the lighthouse stops we've already mentioned, there are some gorgeous places to kayak in Door County. Before you hit the water or book a tour, remember that the Great Lakes generate their own weather systems and just like Florida can bring in some surprising storms, so can Lakes Michigan and Superior. Check both the weather report and radar before getting on the water.
Our top picks for kayaking in Door County include Cave Point, Peninsula State Park, Newport State Park and Whitefish Dunes State Park. Each of these provides a different sort of paddling experience, with Peninsula State Park being on Green Bay and the other locations being directly on Lake Michigan.
Boat Tours on Lake Michigan
Boat tours might bring to mind sleeping Circle Line tours going around Manhattan, but when it comes to the things to do in Door County, boat tours actually hold a lot lot more than you might expect. From guided kayaking to sailing out of one of the harbor towns, you'll find all kinds of boat tours.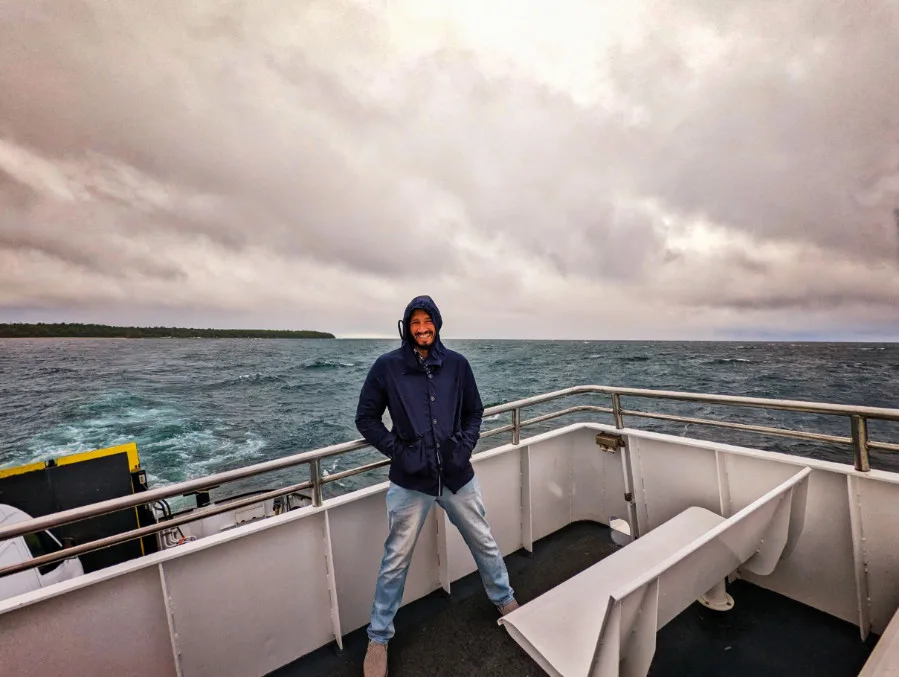 One of the easiest and most unique boat experiences you can plan in Door County is the Washington Island Ferry. Leaving from Gills Rocks at the north easternmost tip of the Door Peninsula, this half hour crossing goes out to Washington Island. You'll see two lighthouses in your round trip crossing, have the chance to visit a Norse chapel, and you can even climb to the top of Washington Island's lookout tower. It's both a boat tour and an island adventure.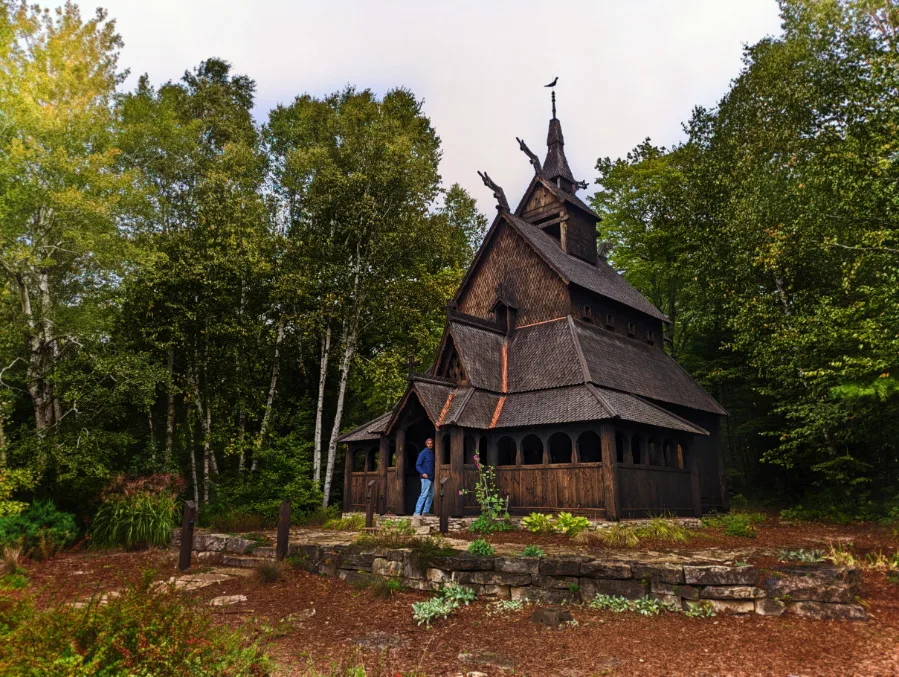 Outdoors and Nature in Door County
Door County has lots of outdoor things to do that aren't on the water. If you're into hiking, bird watching or just want to have a pleasant picnic, there are great options. With five state parks, several county parks and preserve areas, there's plenty of space to roam.
Cave Point County Park
I love love love this place! I'm a geology nerd, and I love kayaking, and turquoise waters are my jam, so Cave Point County Park really is my paradise. The limestone shoreline at Cave Point is jagged and beautiful, stretching out from the cliffs into the colorful waters of Lake Michigan. The trails along the lake's cliffs have random openings to the crashing waters below, or you can clamber down the rocks to get splashed by the churning waves of the Great Lakes. Visiting Cave Point is one of the best things to do in Door County, and one of the prettiest places in the Midwest.
This is actually a great place for a guided tour too! You can do E-bike tours, kayaking, natures walks and more: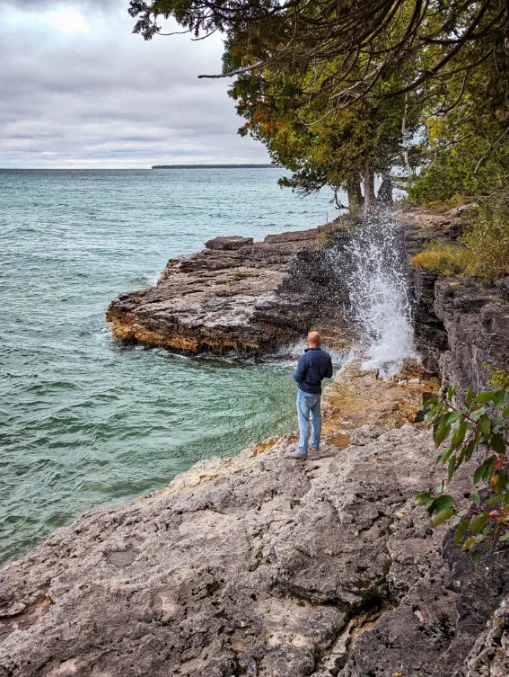 Potawatomi State Park – Ice Age Scenic Trail
A great place for hiking, especially if you're visiting Door County during peak fall colors, Potawatomi State Park offers beautiful views of the Door Peninsula in the Sturgeon Bay area. With 6 different trails, some intersecting, you can explore the Wisconsin forest, walk the shoreline of Sturgeon Bay, or (once it's open again) climb the lookout tower. This is a great stop on a sunny day, and one of the best things to do out in nature in Door County.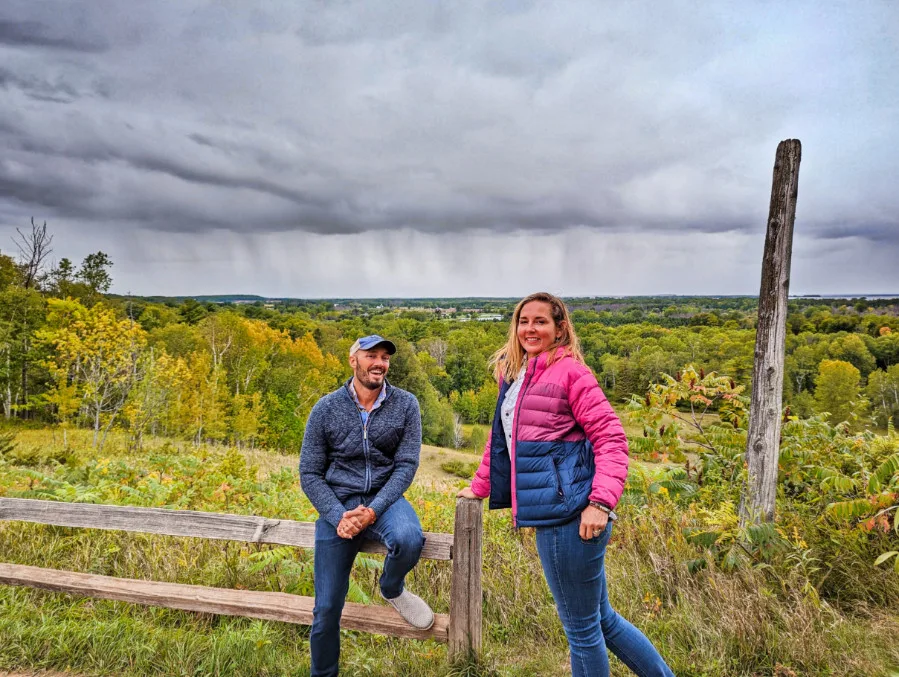 Whitefish Dunes State Park
Located adjacent to Cave Point County Park, Whitefish Dunes State Park is a great spot for a picnic and an afternoon paddle. Here you can learn about the shipwrecks of Lake Michigan, walk the sandy shore at the base of the dune, in summer you can swim, or in fall you can enjoy fall colors against the turquoise waters of the lake. There is an interpretive center, picnic areas and kayak rentals, so plan a half or full day at Whitefish Dunes and you'll be set!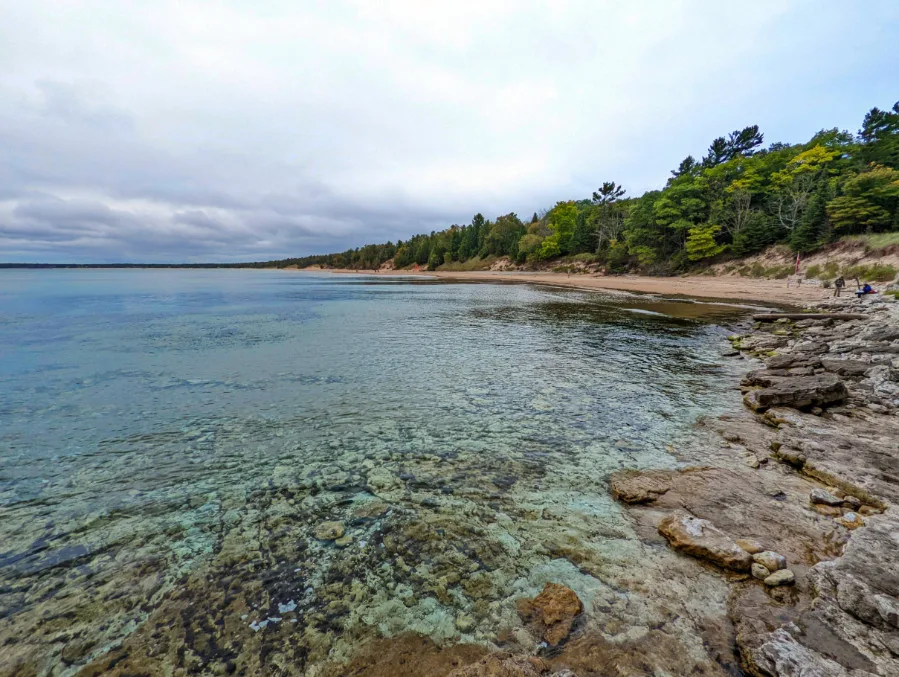 Newport State Dark Sky Park
I love photographing the stars, and especially love when we get to spend time in dark sky places, like in Eastern Utah or Montana, or here in Door County. Stargazing at Newport State Park is one of the best things to do at night on your Door County trip. With very few people around and ABSOLUTELY NO LIGHT POLLUTION the stars are just incredible. Clouds may roll in and out since you are directly on Lake Michigan, but it's worth the visit on a clear night.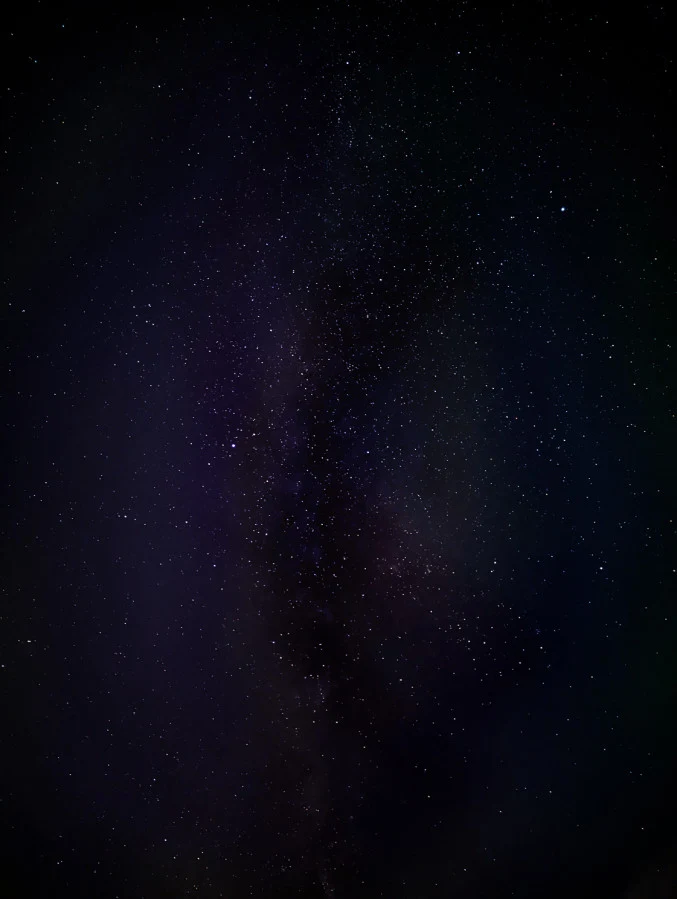 Peninsula State Park
I really enjoyed our visit to Peninsula State Park. Here you'll find lots of hiking, walking and biking trails, but also water access to Green Bay. There is an awesome overlook and treetop canopy walk, as well as the Eagle Bluff Lighthouse, which you can tour. Plan a few hours here for exploring the forest and the shore, and then head down into the town of Ephraim for lunch and to walk along the water.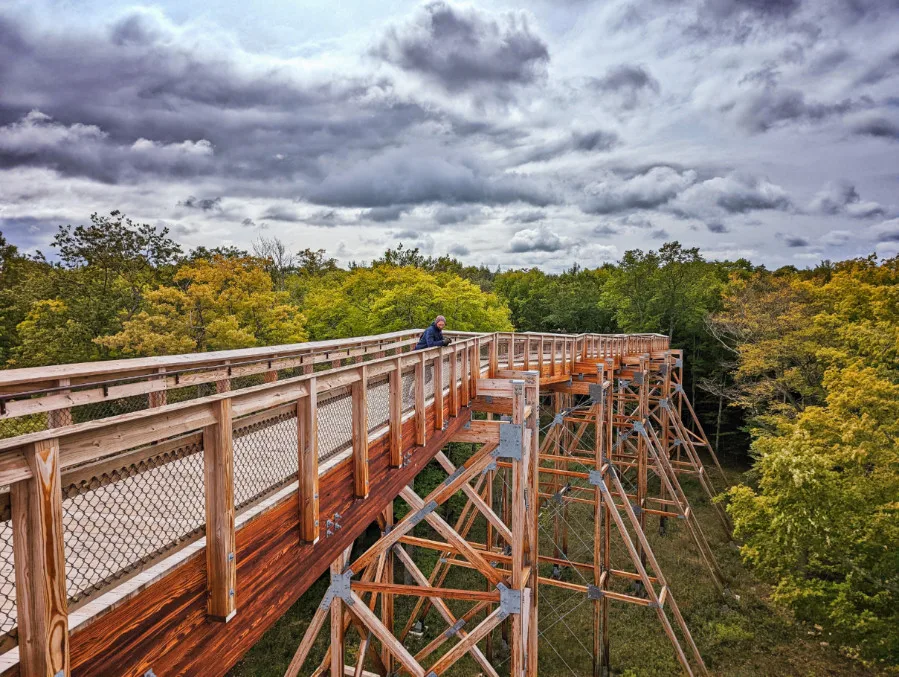 There are even more things to do in Door County, Wisconsin that what we've included here. Be sure to check out our ideas for great foodie activities and stops, as well as our 3-Day Door County Itinerary for more options.
If you have any questions or have more to add, please leave a comment or send us a note. We're always happy to help people plan unforgettable travels!