Never have I ever… had a bad morsel or drink in Door County, Wisconsin. Wisconsin is known for its cheese and dairy products, but there's a lot more to it than that. Door County, being in the northern reaches of the state and sitting on Lake Michigan has the perfect climate for a variety of agricultural products, thus making the places and things to eat very local and special. If you need to know where to eat in Door County, look no further.
We've picked some of our favorite restaurants, as well as creameries, wineries, cideries and breweries to make sure you can have a delicious and unique trip to Door County. And yes, we'll explain the whole Fish Boil thing, as you'll see that's a big thing in Wisconsin, and it's a cultural phenomena that you have to do.
Check out our Guide to the Best Things to Do in Door County!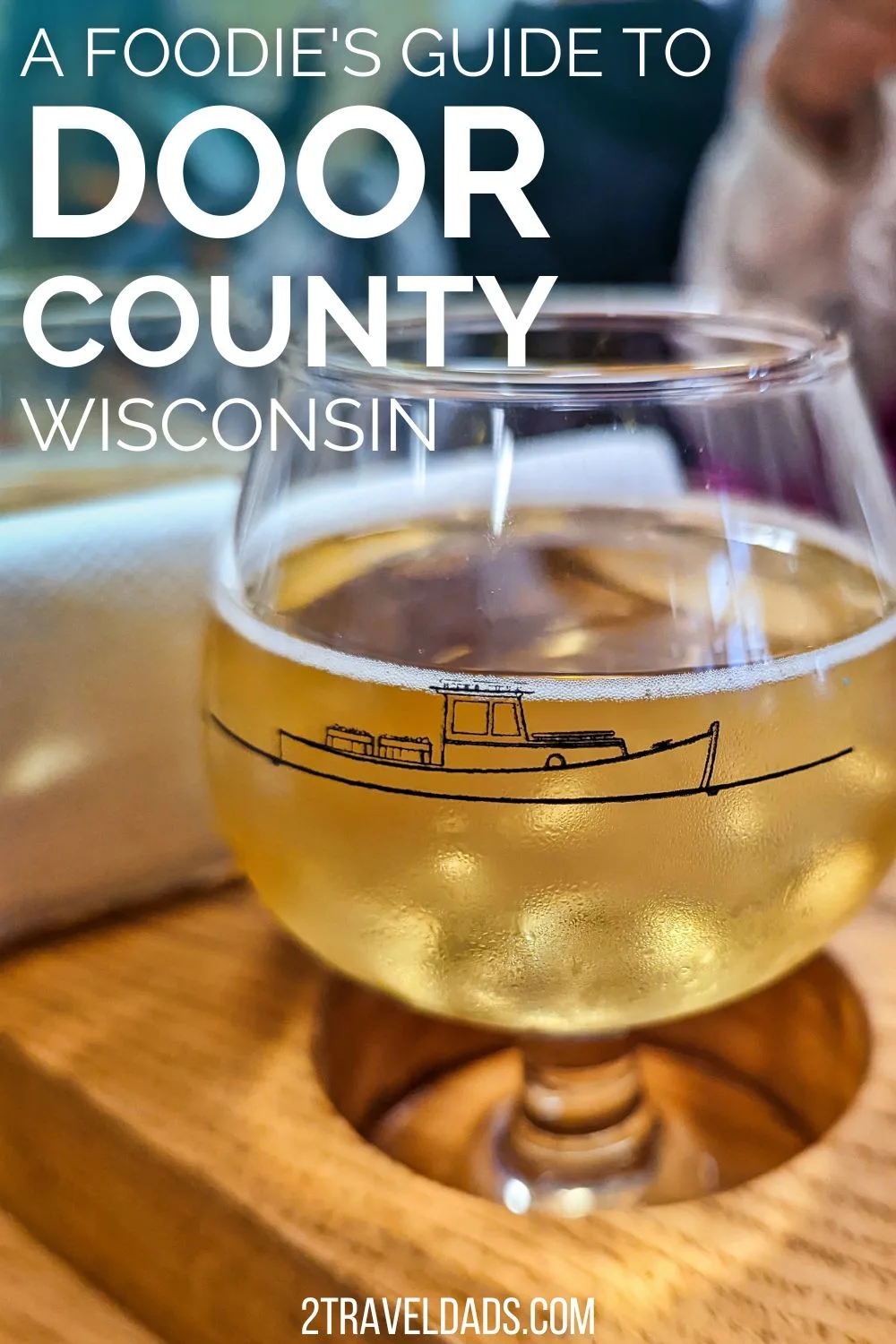 What is a Wisconsin Fish Boil?
For the longest time I didn't understand what a "fish boil" was and it really didn't sound appetizing. Growing up in Washington State and living on the Puget Sound, and then living in Florida at the beach, I have never considered the seafood element of Great Lakes living. When you consider the elements, purpose and process of a fish boil, it all makes sense. Add a fish boil in Door County to your places to eat when you're here.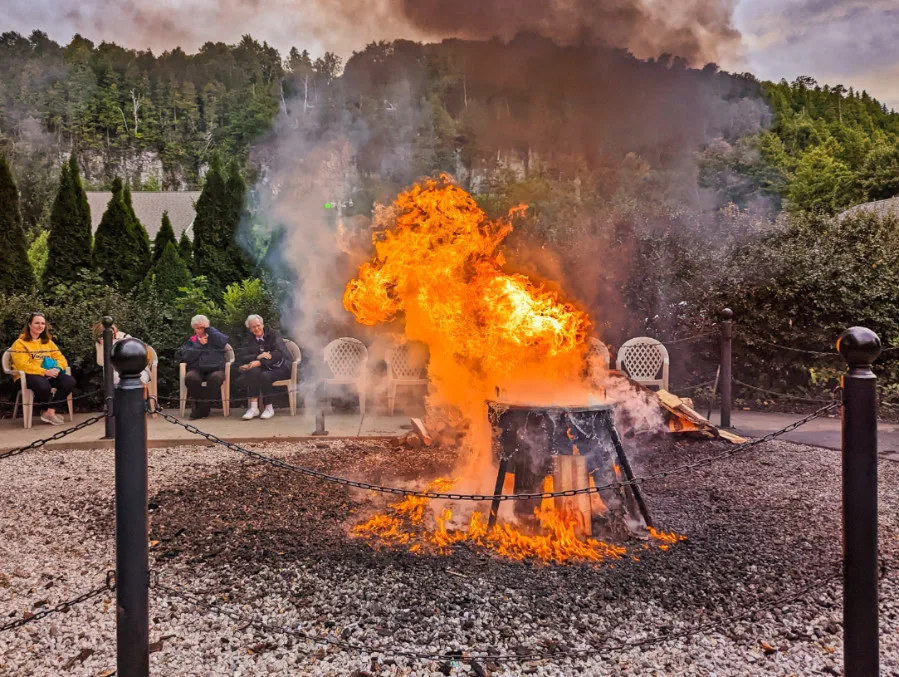 History of the Fish Boil
Door County is located between Lake Michigan and Green Bay (part of Lake Michigan) and has been a major shipping and fishing location for two hundred years. So of course, fish is a staple and feeding large groups in the community. Fish boils are pretty specific to Door County, Wisconsin culture as they were started by the Scandinavian communities that settled there. Workers living on the Door Peninsula could be fed efficiently and for a good price using the resources of the area: potatoes, onions and fish.
Over time, the fish boil event has become a cultural staple of Door County and you can find them from Green Bay to Washington Island. It's a fun event that is both a tourist attraction and a local point of pride.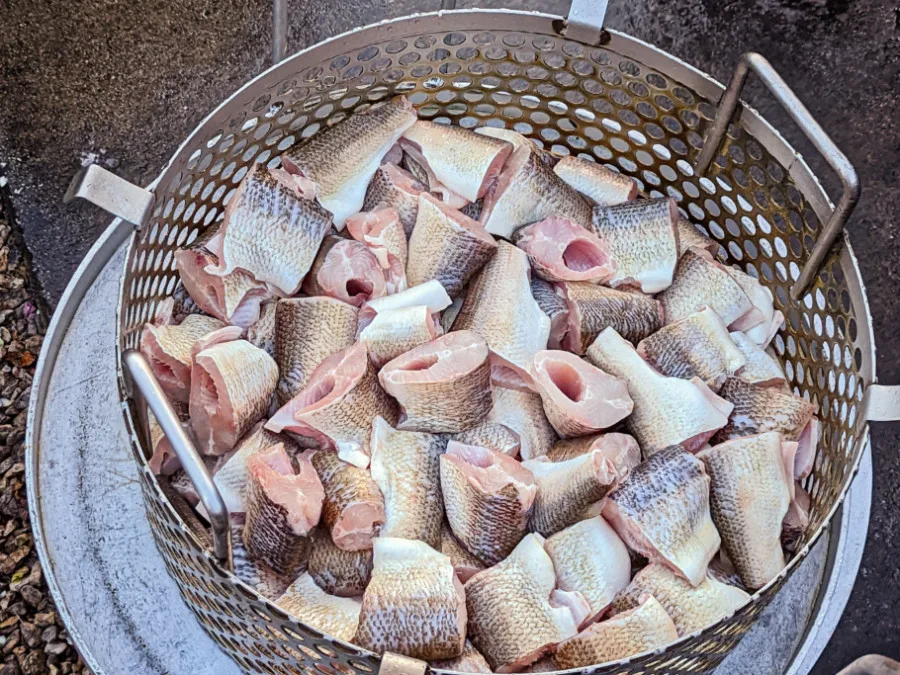 What to Expect at a Fish Boil
First off, let's be clear that this is NOT an elegant meal or process and that if you don't like fish, you may not enjoy any element of a Door County fish boil. Here's how it goes:
A large fire is started outdoors and the community is welcome to gather and hang out
A cauldron (just like a witch uses) is places on the open fire and brought to a boil
A heck of a lot of salt is added, and then onions, corn and potatoes
Large chunks of whitefish, a Lake Michigan staple, is added to the pot
The boil master then throws a fair amount of flammable liquid onto the fire and it creates a huge flame and the pot goes crazy
"BOIL OVER!"
Once the boil over happens, plates are dished up with whitefish, potatoes, corn and onions. It's pretty tasty, and you'll be surprised how delicious and tender the fish is.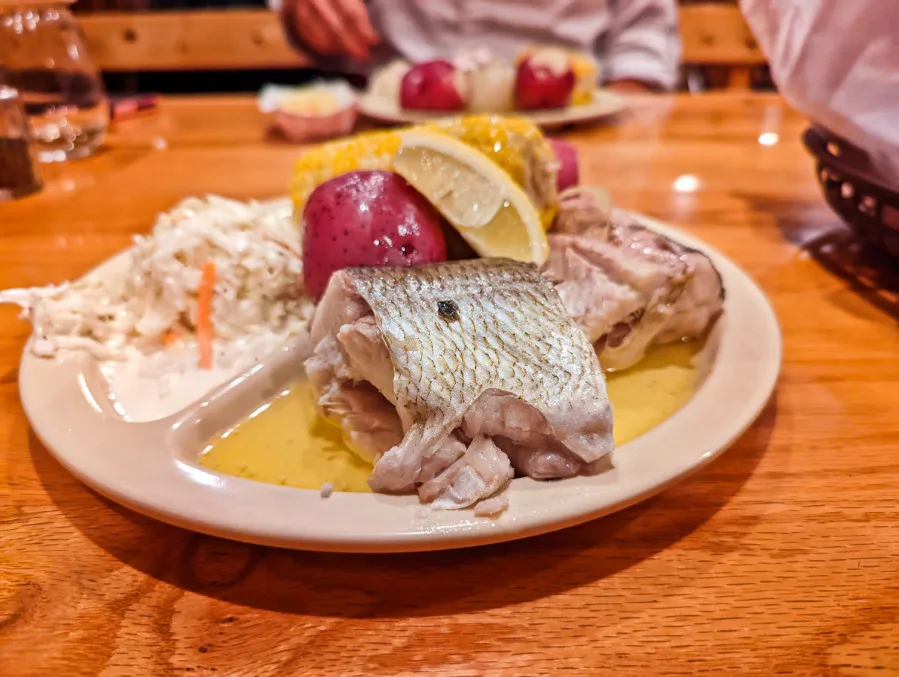 Where to Enjoy a Wisconsin Fish Boil
There are quite a few well established Fish Boil places to eat in Door County. Most do at least one boil each night, with some restaurants doing several each evening. The community and plenty of tourists show up, so this is a great chance to hang out, make some new friends, and enjoy a delicious meal.
Remember, Wisconsin gets some pretty harsh winters, so fish boil nights tend to stop in autumn and pick back up in spring, so plan appropriately. Here are some places to find fish boil dinners in Door County: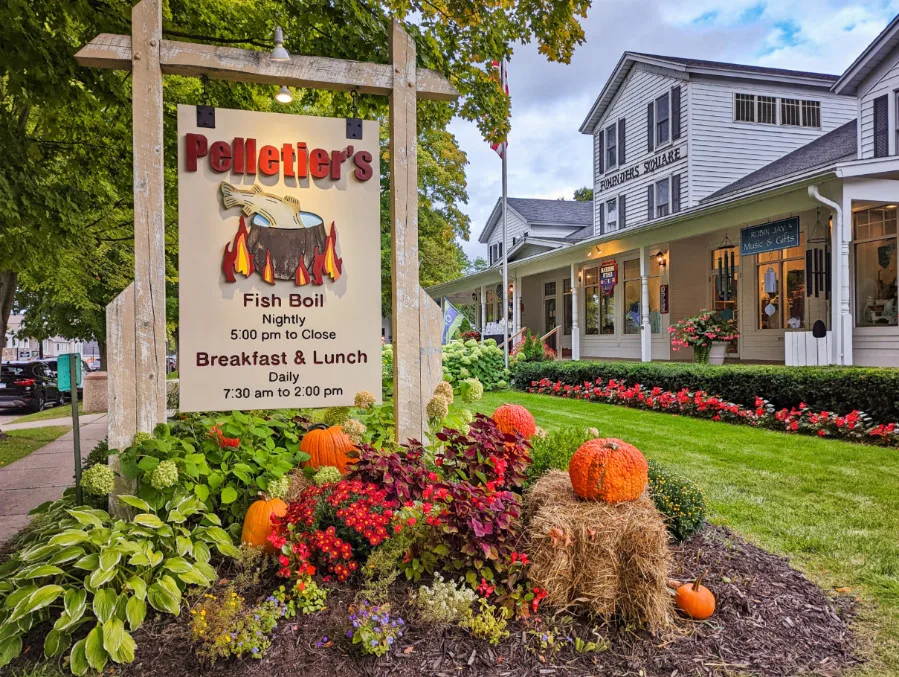 Favorite Door County Farm Stands to Visit
Farm stands are awesome for both getting great snacks and for finding souvenirs to bring home. And the bonus is that you're supporting small businesses. Farm stands offer products ranging from cheeses to baked goods, dried fruit to fresh pressed juices. If you don't have time to enjoy lots of fresh farm market snacks while you're still in Door County, many things can be brought home or shipped. Some even have small dining areas, making them the best places to eat in Door County.
Hyline Orchard Farm Market in Fish Creek
This family run farm market is a great stop for pickled products and locally cultured cheeses. The also own a few orchards so grabbing fresh produce as well is a great choice here. You'll drive by the Hyline Orchard Farm Market going between Egg Harbor and Fish Creek, so no matter where your Door County destination is, this is an easy stop to make.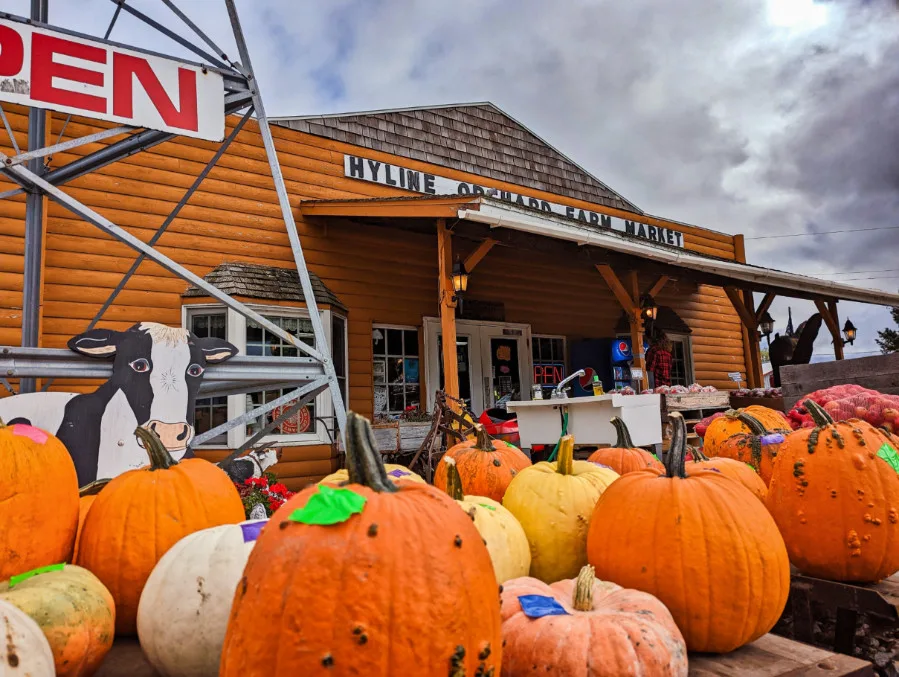 Koepsel's Farm Market in Bailey's Harbor
If you happen to be visiting Door County in fall, you'll love the gourds and pumpkin displays at Koepsel's Farm Market. Inside, they've got quite the selection of farm fresh produce, cheese, meats, fish, pickles of every sort and even local liquor if you want. It's the perfect place to grab picnic supplies!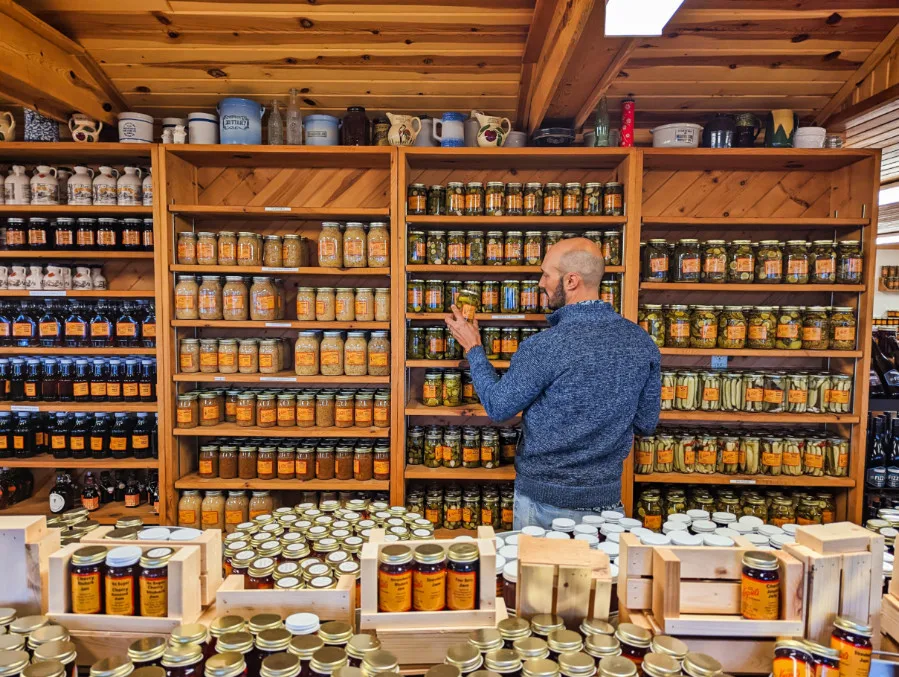 Door County Wildwood Farm Market in Sister Bay
I love the family that runs the Wildwood Farm Market. They are so much fun and love to share all the farm things that Door County has to offer. From great farm foods to a corn maze during the fall, the Wildwood Farm Market is a wonderful example of a local gem offering the best fruits of their labors. And it's charming too.
You'll see that the Wildwood Farm Market, like many others in the area, sells both their own products and those from other farms and orchards in the area. This community of food producers is great like that, and it make figuring our where to get snacks or where to eat in Door County pretty easy.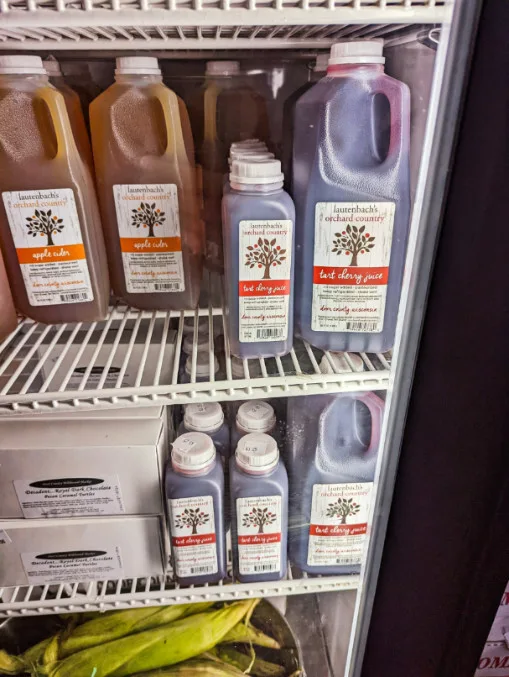 Seaquist Orchards Farm Market in Sister Bay
Wow, the Seaquist Orchards Farm Market has EVERYTHING, including pies from local fruit. This is a great spot to get desserts of every sort, jams and sauces and who knows what else. We even found the famous Wisconsin apple cider donuts here. Heads up though, when it comes to atmosphere, I wasn't a fan. The loud and in-your-face Christian church music was really too much and made it difficult to linger and really dig into the wide variety of farm food options.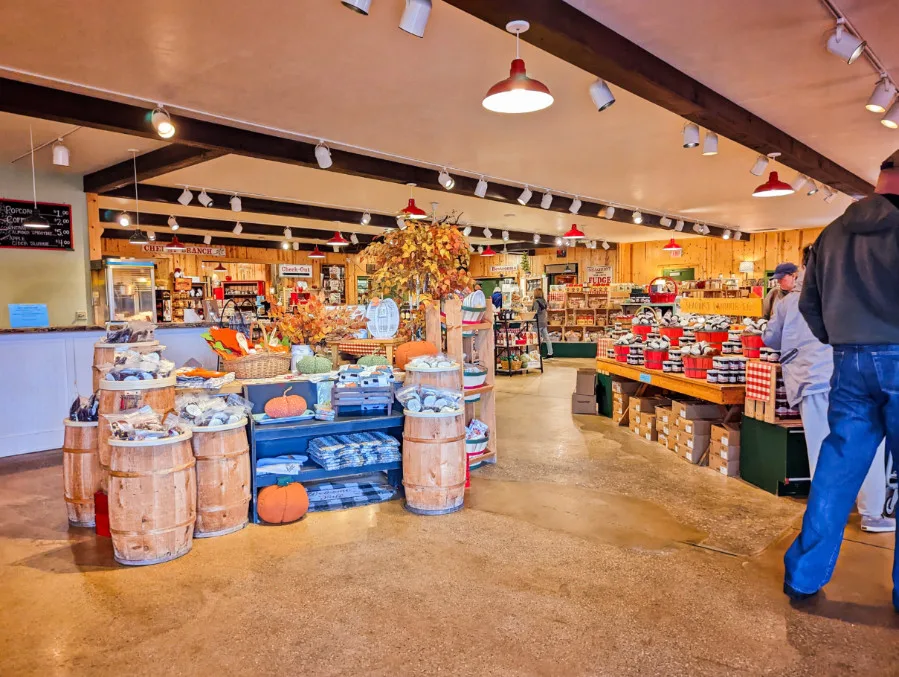 Great Cheese Shops in Door County
I do wish there were more shops dedicated only to cheese, but Door County has plenty, I suppose. Whether you're all about goat cheese or you really are just looking for that Wisconsin cheddar, you'll find it here. Also, some of the best places to eat in Door County will have cheese boards and cheese curds on the menu, so if you don't get your fill by stopping into cheese shops, add a cheesy element to your meal.
Door Artisan Cheese in Egg Harbor
A wonderful cheese shop, Door Artisan Cheese is a great place to stop both for a guided cheese tasting as well as to see cheese production. We were offered wine pairings with our cheese, and even able to try some cheeses not in the normal sample set. In addition to yummy cheese (the Top Hat Aged Cheddar was amazing!) they also do picnic packs to go, or you can enjoy them in the small café area.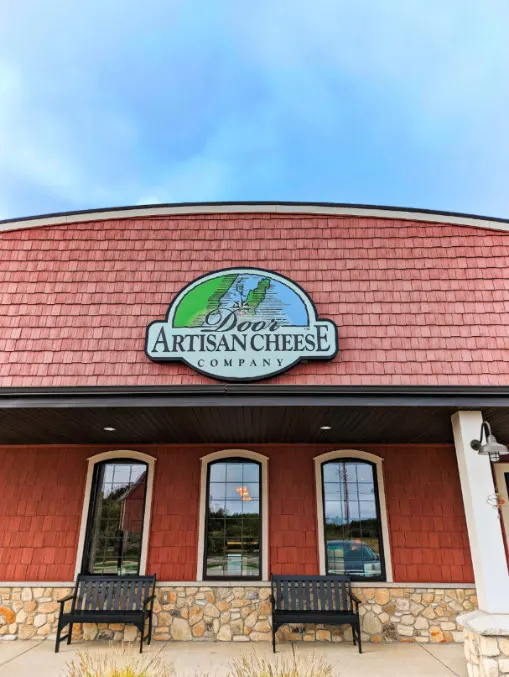 Renard's Artisan Cheese in Sturgeon Bay
We'll start with Renard's Artisan Cheese because it is my favorite cheese shop of all that I've been to in Door County. Located in Sturgeon Bay, Renard's Artisan Cheese has everything you could want, from cheese curds of all sorts to cheese spreads. What I really love about it here though is the guided cheese tasting. Knowledgeable staff explain the different cheeses and are quite generous with the samples.
Tip: the ghost pepper Monterey Jack is my favorite! Yes, it's hot, but the heat is delayed so the flavor is actually delicious.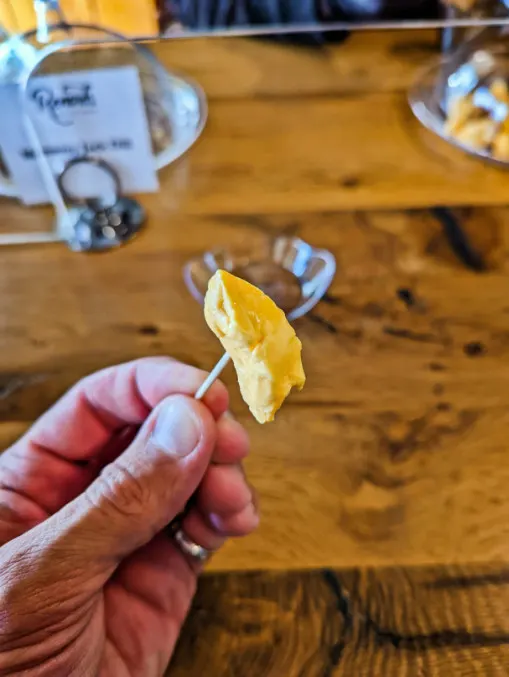 Door County Creamery in Sister Bay
So much of Wisconsin cheese is cow milk based, but Door County Creamery in Sister Bay actually has a great selection of goat cheeses. I love goat cheese; like I can just eat it plain and often do. With everything you need to make your own picnic charcuterie board, stop into Door County Creamery before heading to the waterfront in Sister Bay to get your tub of truffle goat cheese and crackers.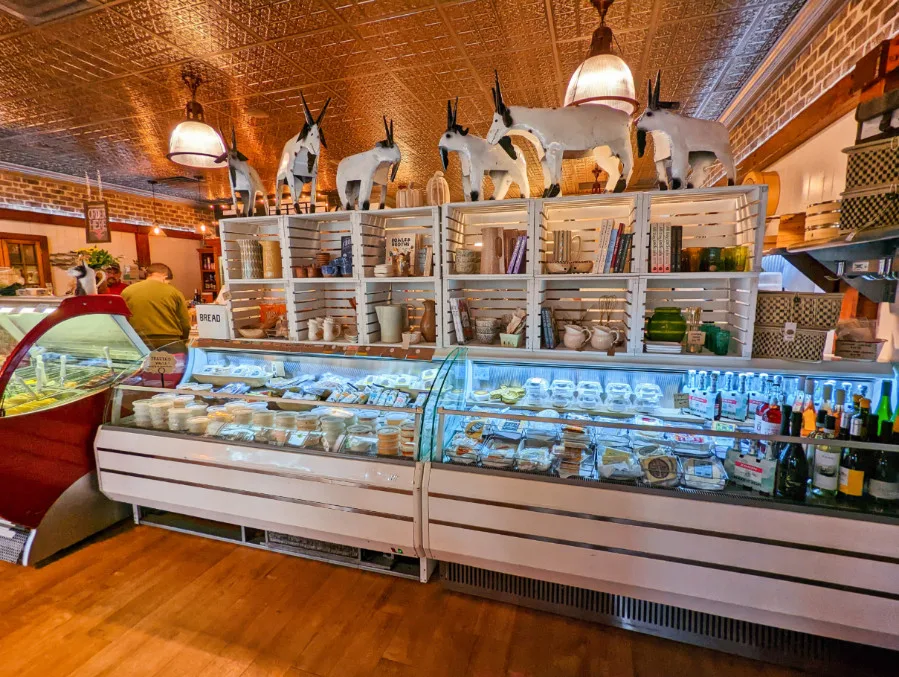 Cider, Wine and Breweries in Door County
After all of that cheese you'll need to wash it down somehow. I'm sure you've bought some bricks of cheese and maybe some local bread or crackers, so why don't you bring that to one of these great spots and turn them into a great place to eat in Door County!
Island Orchard Cider Company in Ellison Bay
Hands down, my favorite of all of the cider spots, wineries and breweries we enjoyed in Door County. The Island Orchard Cider Company in Ellison Bay is so great we visited multiple times, and I kinda want to join the cider club too. From hard pear cider to traditional hard apple ciders, you'll find a wide variety at Island Orchard Cider Company. My absolute favorite, and I bought several bottles, is the Wild Cherry Cider. So delicious and the quality is unmatched.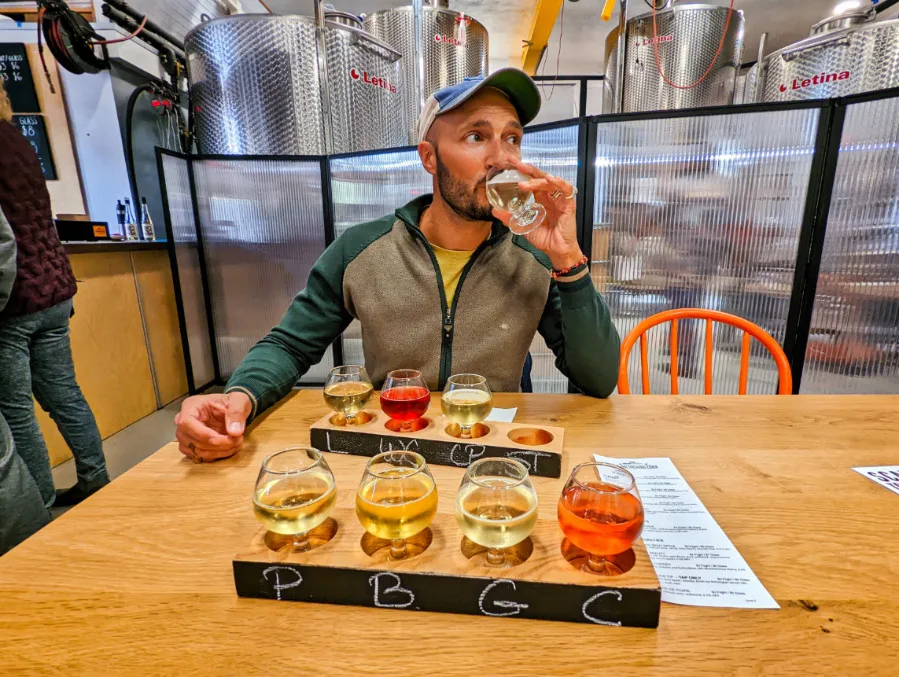 One Barrel Brewing in Egg Harbor
Funny story: I love all types of beer and can talk beer with the best of them, but I happened into One Barrel Brewing during a Green Bay Packers game… I literally was poured a beer with no conversation or information and then thoroughly enjoyed it with only my own opinions and tastebuds. And it was marvelous. Seriously though, they have some wonderful beers and offer locally made cider too, and with lots of indoor and outdoor space, it's a great place to hang out.
Tip: if you're visiting Madison, Wisconsin they also have a taproom there!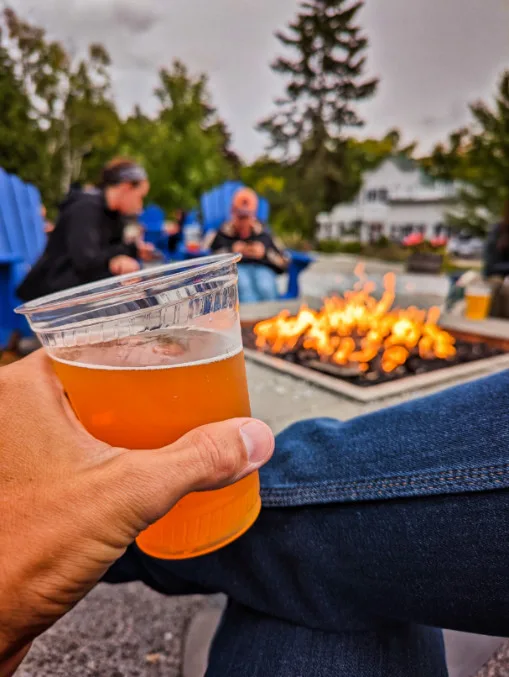 Bridge Up Brewing in Sturgeon Bay
Sturgeon Bay is a really fun town with lots of artsy Door County cafes to eat at, but there are also great shops and a couple of breweries. Bridge Up Brewing is right on the water in Sturgeon Bay and they've got some great beers. I love the Escarpment Pale Ale, it's both a terrific beer AND a geeky geology reference. They do tasting flights or pints and have both inside space and an awesome patio. Grab lunch at Sonny's upstairs (a great Door County place to eat) and then enjoy some summertime patio beers.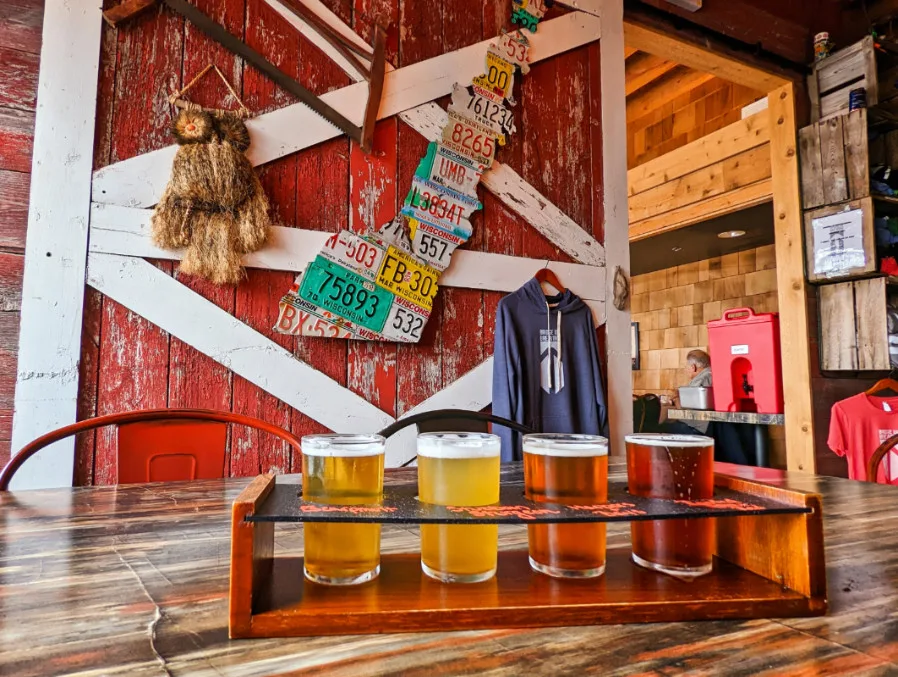 Lautenbach's Orchard Country Winery & Market for Cider in Fish Creek
I'm not recommending the wine, because being from Washington and doing a lot of work in California Wine Country, I have had much better wine, but the ciders are at Lautenbach's Orchard Country Winery & Market are great. With a wide variety of ciders, the raspberry and cherry were both unique and really hit on what makes Door County a great place to find wonderful food and drink.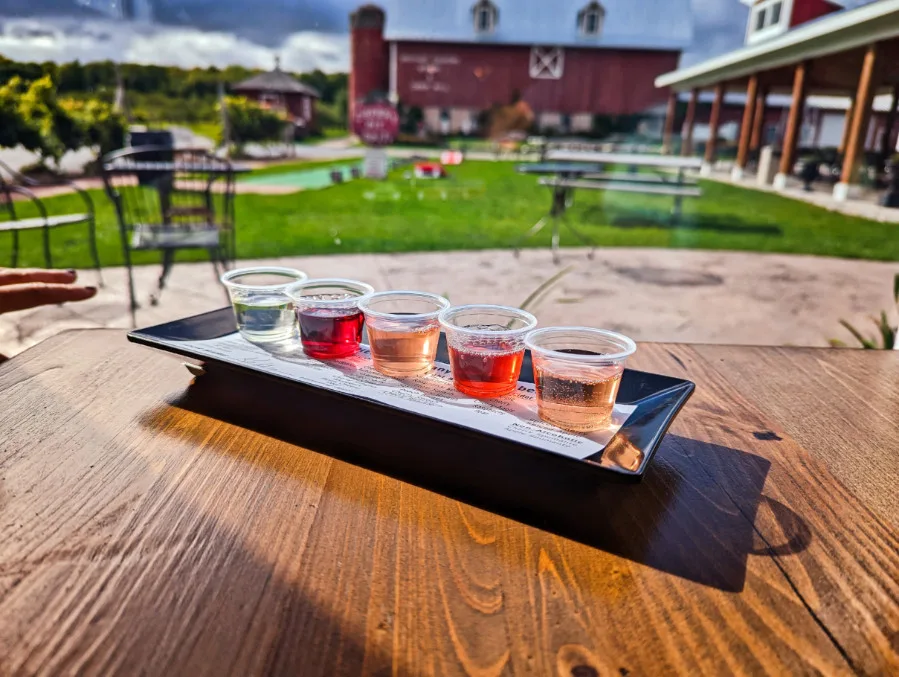 Door Peninsula Winery in Sturgeon Bay
Maybe one of the great things about Door Peninsula Winery is that it's located in the same building as Door County Distillery, so it's a double stop, but they also offer wine that's fun. Getting grapes from Wisconsin and other states, they produce both common wines (think Cabs and such) and fruit incorporated wines. You may not be doing wine tastings that compare with the top producers of Napa, but you'll still enjoy their wines.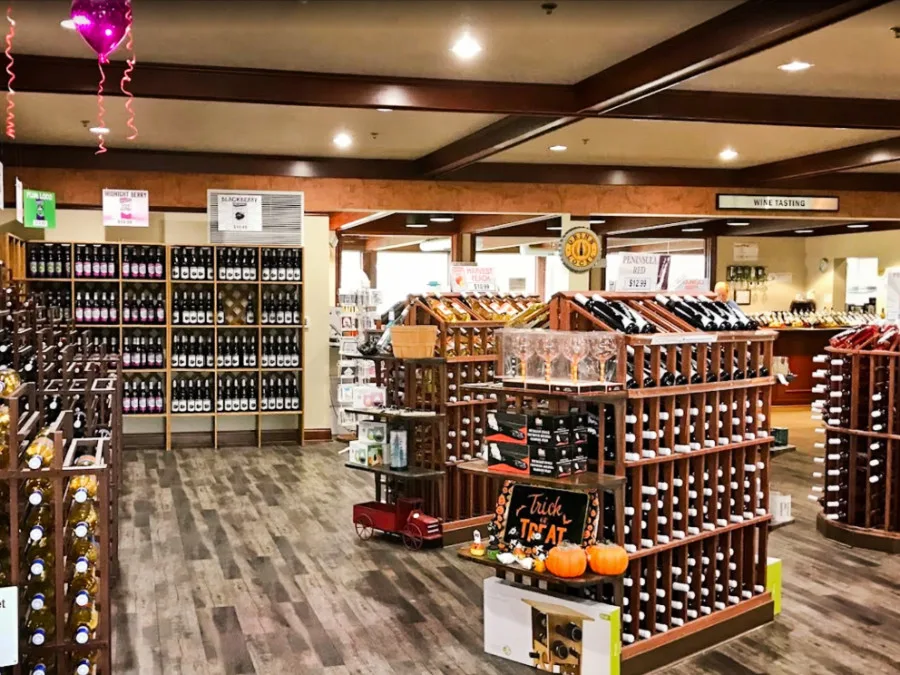 Door 44 Winery in Sturgeon Bay
Door 44 Winery in Sturgeon Bay reminds me so much of some of the wineries in the Lake Chelan area of Washington or the Lewis Clark Valley are of Idaho. With lots of offerings, fun labels and even bubbles, you'll find something that pairs well with other great Door County foods. Door 44 Winery struck me as mostly sweeter wines, but they've got some dry options too. Stop in as you head north to the upper parts of the Door Peninsula.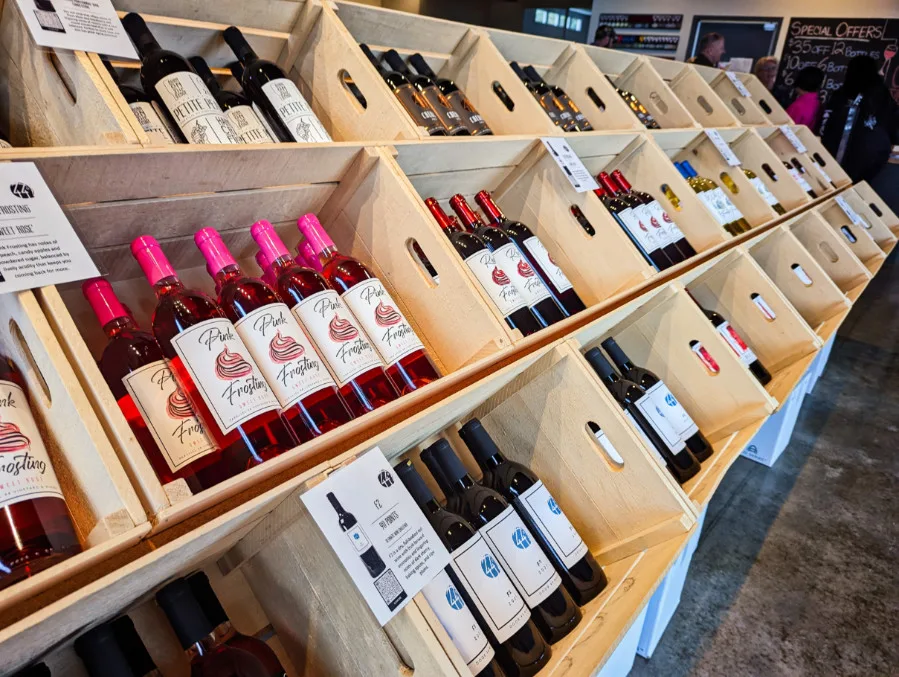 5 Door County Restaurants we LOVED
There are lots of great places to eat in Door County, and plenty of places to grab a drink, so fear not as you head out around the peninsula looking for tasty meals. We've picked five of our favorite spots to eat in Door County, and if you want to add your own favs, be sure to leave a comment or send us a note.
Wild Tomato in Sister Bay
We did find it difficult to find gluten free options as we ate our way through Door County, but the Wild Tomato was ideal for having a wonderful meal that was both gluten free AND incorporated the farm fresh foods of Door County. Pizzas, salads and more make it a great place to eat and a very flexible dining spot for everyone.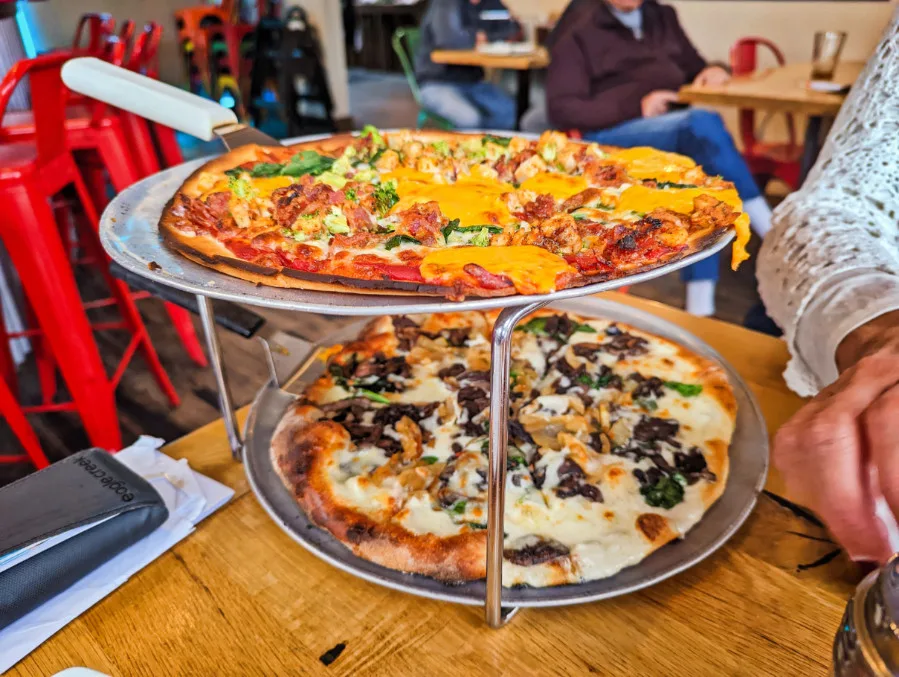 Wilson's Restaurant and Soda Fountain in Ephraim
Go with me for a second, but Wilson's Restaurant and Soda Fountain in Ephraim is a great pick and I'd say one of the best places to eat in Door County. Yes, it's the traditional diner / soda fountain fare, but it's also very vintage AND very Wisconsin. From the root beer based BBQ sauce to ice cream sodas with fresh, local fruit, it's a fun pick that everyone will love.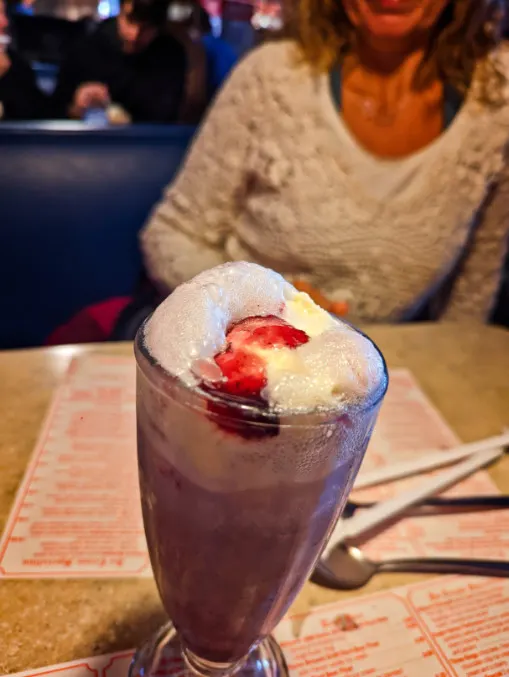 Stabbur Swedish Restaurant and Beer Garden in Sister Bay
Give me a beer garden and I'm good to go. Put it in a beautiful setting with grass covered rooves across the street from the water, incorporate local beers and ciders and you've got a winner. Stabbur at Al Johnson's and its associated shops and dining spots is a must-visit in Sister Bay, one of the best places to eat or drink in Door County. Quality food and great atmosphere make it a winner for a summer stop!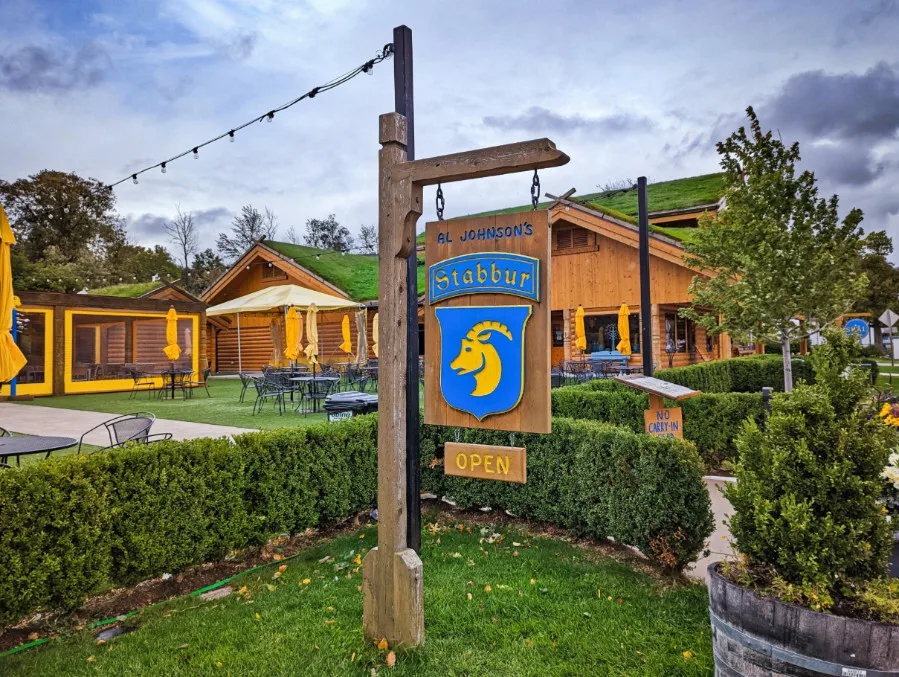 Pelletier's Fish Boil in Fish Creek
What a fun dining experience! Pelletier's in Fish Creek is THE place to experience a traditional Door County fish boil. Truly set up to encourage the community feeling, Pelletier's is a Door County establishment offering fish boils every night of the week. They do close for late fall and winter, but are open for spring, summer and half of autumn.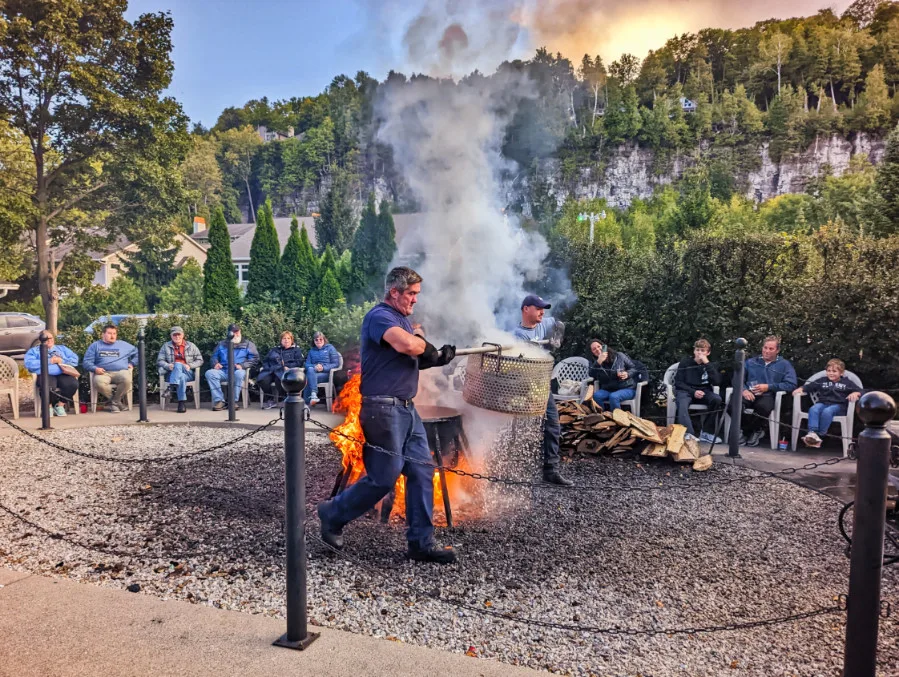 Chive's Door County in Bailey's Harbor
Fine dining, for sure. Fresh food, goat cheese and flowers on everything. Chive's Door County is actually a part of a group of several restaurants, including a food truck, a pizza place and ale house. Bailey's Harbor has several wonderful places to eat and drink right near Chive's, so get into town early for a beverage and appetizer before having a lovely meal at Chive's.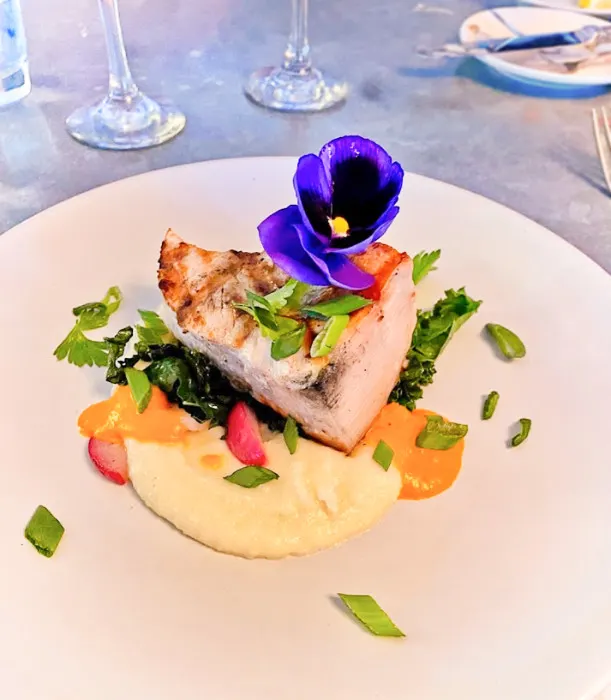 Wow! So much good food in Door County, Wisconsin. Between truly unusual cultural dining events to the best cheese you'll find, I can't wait to return and eat my way through the Door Peninsula again and again. If you have any questions or want to share more great foodie stops in Door County, please leave a comment or send us a note. We're happy to share and help people plan!