Visiting Hells Canyon National Recreation area is a remarkable experience. Being the deepest river gorge in the USA, Hells Canyon is jaw-dropping and such a unique place to explore. We've got all the info for planning a trip to Hells Canyon, including jet boats, rafting, hiking and more.
If you're looking specifically for information about doing a jet boat at Hells Canyon, we've got you covered, but don't limit yourself to this one activity. From Lewiston or Clarkston there are plenty of ways to explore the Snake River and Idaho wine country. If you have more questions than what we cover, please leave a comment or send us a note!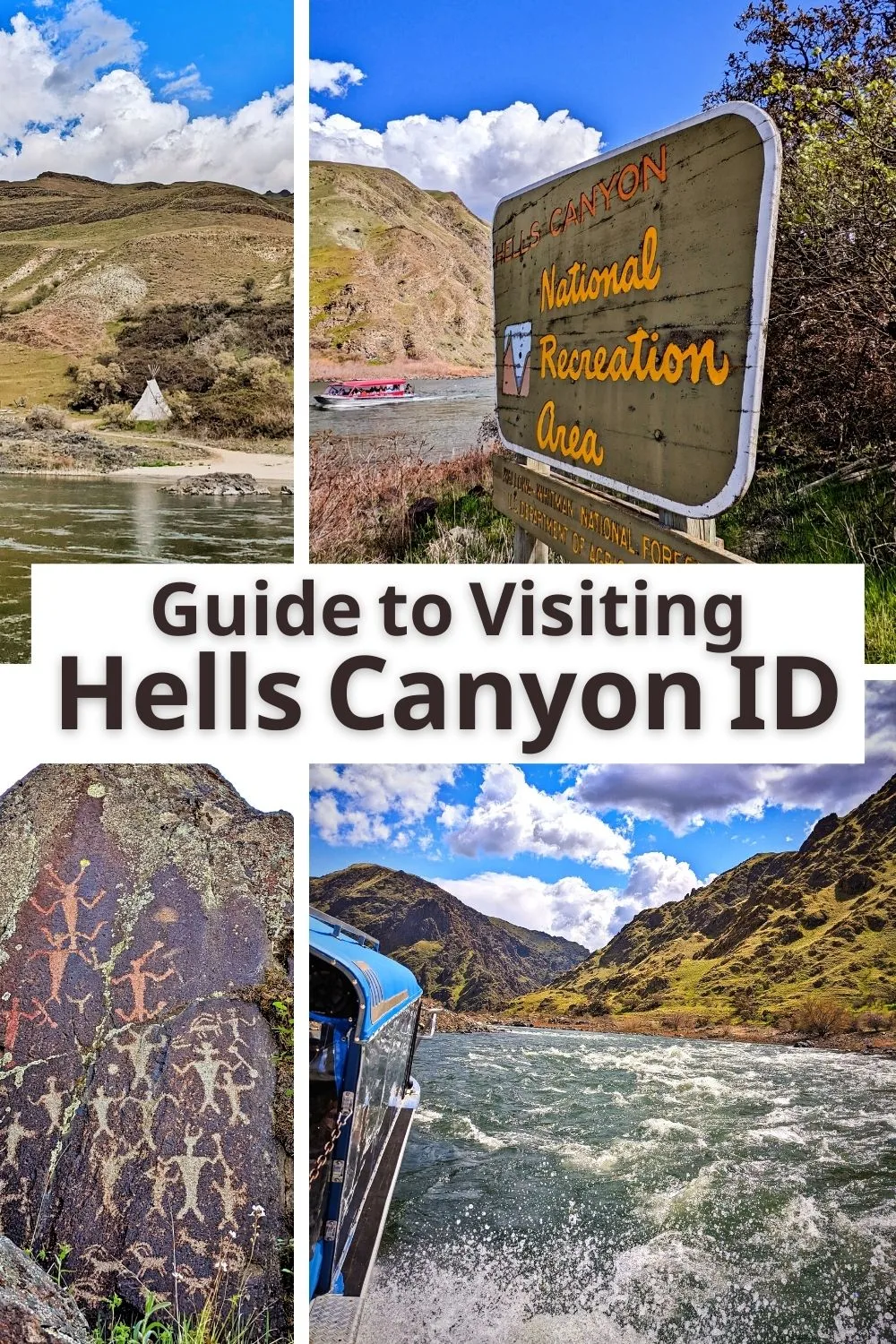 Things to do at Hells Canyon
What I love about Hells Canyon National Recreation Area is how many things there are to do in Hells Canyon AND the whole area around it. With Lewiston, ID and Clarkston, WA at the northern end of the canyon, and Oxbow, OR at the southern end, you'll never be lacking activities.
Hells Canyon Jet Boat Excursions
The most common way people visit Hells Canyon is via jet boat, and it's certainly one of the best things to do in the area. A jet boat is a metal boat that runs on water jet propulsion instead of propeller motors. This allows the jet boats to both go really fast and cover a ton of mileage, and to be able to navigate very shallow areas and through rapids. They're an awesome fete of engineering.
There are a variety of options when it comes to picking jet boat rides at Hells Canyon. You can do a short excursion just into the start of the Canyon or you can go more than 100 miles into it. A common jet boat turn around point is at Cache Creek, where there is a small visitor center and picnic area. All boats MUST stop here because the number of them is limited beyond that point and both tours and private boats must register.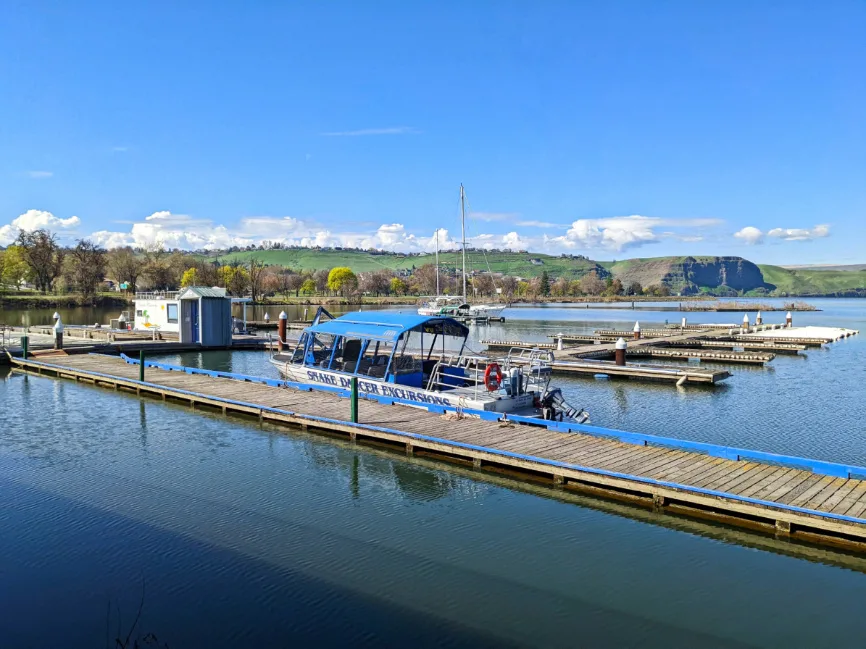 The actual Hells Canyon jet boat experience is really cool. Going upstream on the Snake River, you go about 35 miles per hour or so, going past incredible geologic formations of basalt, and even ash layers from when Mount Mazama erupted (that's Crater Lake now!) It's easy to geek out as you blast through the canyon.
Jet boats are able to go upstream through class 2 and 3 rapids, which is awesome! The captains are very skilled and navigate narrow canyon passages with ease, crossing rapids and whirlpools in the river. Since jet boats don't use propellers, they can also go through very shallow areas where the river braids back and forth.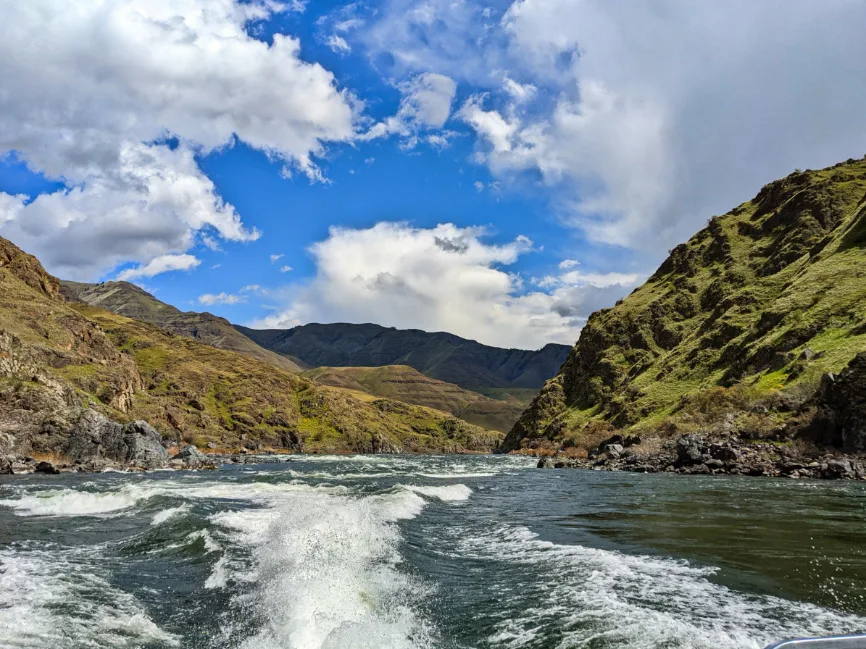 Need to Know for a Jet Boat Trip
"Will I get seasick on a jet boat into Hells Canyon?" That's a great question. I personally get sea sick easily and didn't have any problem on a jet boat. Because of the type of motion, the fresh air and the changing scenery I didn't have any moments of getting sick. On the ferry to Dry Tortugas National Park both my son and I got really sick, but on the jet boat it was a breeze.
You should dress warmly if you're doing a Hells Canyon jet boat anytime but summer, but dress in layers. There are lots of stops and you do get to get off the boat on the different tours, so you may get toasty in part of the canyon that the wind dies down.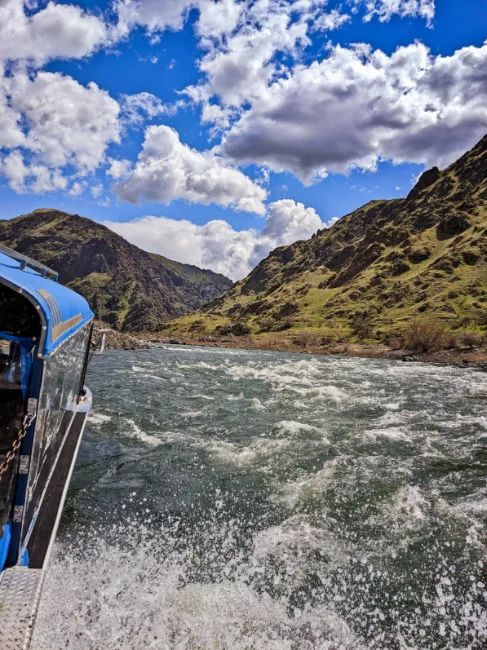 "Will I get wet on a jet boat ride?" Another good question. Depending on the season, the jet boat captain may have the cabin shielded with a pliable, clear cover, which protects from wind and water. In summer, most captains will have their boats fully open-air. If you're in the middle of the boat you'll stay the most dry, but there may be moments of splashing.
"How far into Hells Canyon do you go?" Well, that depends on the tour you choose as to how far into the canyon you actually travel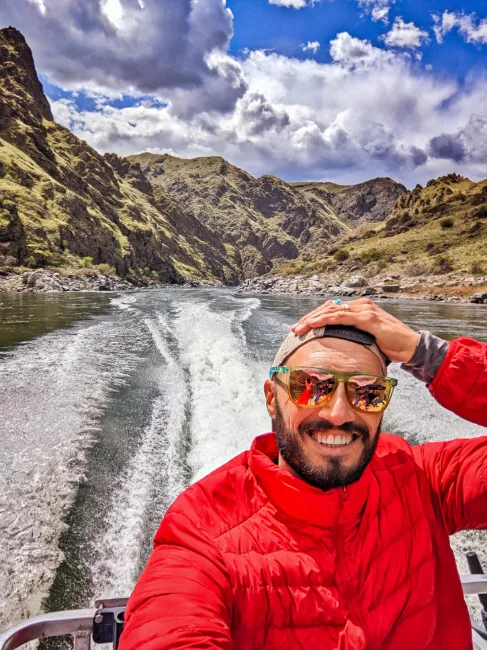 Book a Hells Canyon Jet Boat Tour
You'll find quite a few jet boat tour operators in Lewiston and Clarkston. To pick the right jet boat tour into Hells Canyon, consider the following:
Time on the boat (3-7 hours, depending on tour)
Size of boat (smaller is better for speed and tour guide interaction)
Bathrooms on board – only the large jet boats have a bathroom, but there's one at Cache Creek where everyone stops
Departure time – the earlier you can go the more active the wildlife, the cooler the temperatures
Cost – expect to pay $120+ per person for a half day tour or $200+ per person for a longer tour.
Ultimately, you need to choose the tour that best suits your schedule and budget. More than 5 hours on a jet boat ride is a lot, and yes, you'll be served lunch on longer tours, but doing the long jet boat rides is really amazing and the scenery is beyond breathtaking. You'll agree that it's one of the best things to do or ways to see the canyon.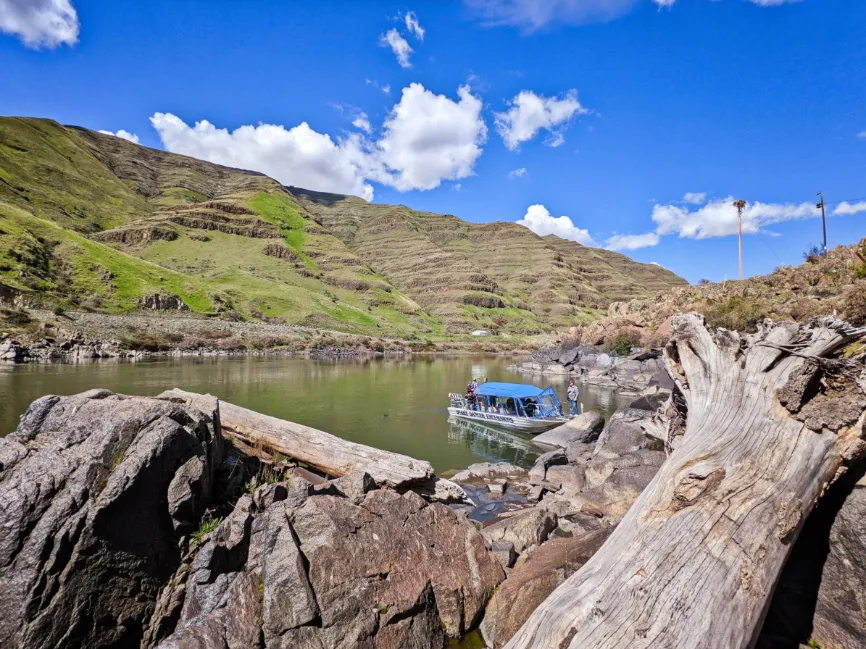 River Rafting in Hells Canyon
One of the most popular rivers in the United States for river rafting, the Snake River is a paddling dream for multi-day whitewater rafting trips. There are many class 2 and 3 rapids, with a few class 4 rapids as well. If you're not big into whitewater rafting or are nervous about it, don't worry, there's a rafting trip for every experience level.
Dream Hells Canyon Rafting Trip: OARS 3 Day Hells Canyon Rafting – most Hells Canyon Snake River trips start at 3 days and go to 5 days, beginning at around $1000 per person. (budget option below)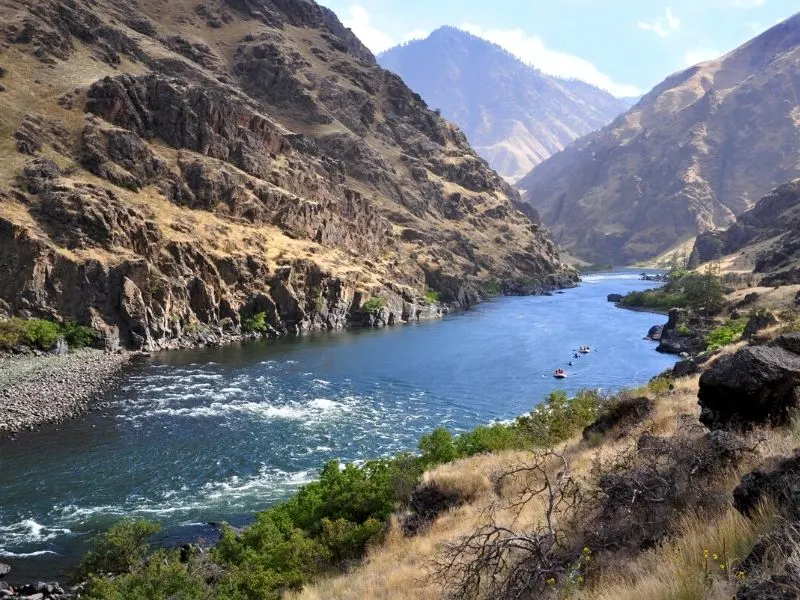 Whitewater Rafting on the Snake River
Whitewater rafting is one of the best things to do in Hells Canyon for a few reasons: the scenery is amazing, the peaceful parts of the river are simply unreal, and the rush of the many rapids will leave you wanting more. The Snake River through Hells Canyon is a good place for rafting if you're up for a multi-day rafting trip, new-to-it or very experienced. Depending on water levels, it can be very intense, but also when the river is a bit lower, it's got good stretches that are not overwhelming.
Rafting with small kids isn't really an option in Hells Canyon due to the size of the rapids and the multi-day nature of these trips, but there are float trips available at the mouth of the canyon and in other spots in northern Idaho and eastern Washington.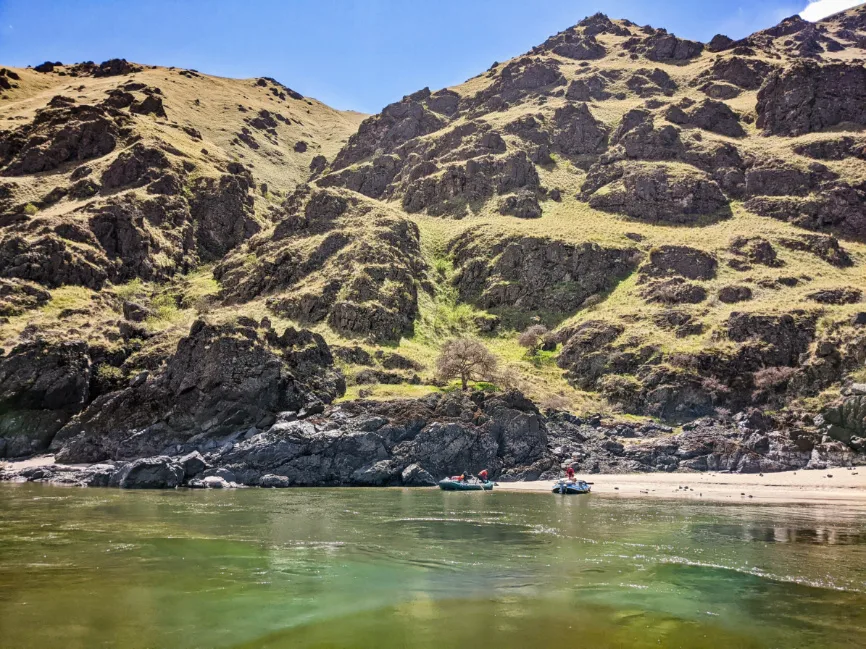 Whitewater Rafting on the Salmon River
It's funny, they call the Salmon River the "River of No Return," and the movie with Marylin Monroe was even partly filmed on it. With narrow passages and bottlenecks, it's a complex river. Many people will do rafting trips that start on the Salmon River and haul out not far after they join up with the Snake River.
Being a smaller, tighter river than the Snake, the Salmon River is a very different whitewater rafting experience. If you're not a hardcore rafter or feel like you should start smaller, choose a short Salmon River rafting trip instead of a full day trip.
Visiting Hells Canyon and rafting for single day or half day trips is nearly always a Salmon River trip. There are quite a few booking options, and since trips start at around $80 per person, it's much more affordable than a multi-day trip.
Book a Hells Canyon Rafting Trip, Salmon River
When you go to book a Hells Canyon rafting trip, be sure to pay attention to age restrictions and the type of paddling trip it is. Guides will be very clear about the difficulty level and who the trip is appropriate for. Because whitewater rafting can be dangerous, safety is always the first consideration. If you see an option for a "Float Trip" that's going to be very mellow and guests may not even be paddling at all, but just along for the ride. These aren't common on the Snake or Salmon Rivers at Hells Canyon, but will be available on other rivers in the area, including over in Washington's Tri-Cities area.
As you look at the rafting options, watch for the following for making your choice:
Length of trip (hours or days)
Difficulty – we enjoy class 2 and 3 rapids; class 4 rapids make me nervous; I had a bad class 5 experience once and won't do it again.
Age restrictions – not all rafting trips are kid appropriate, and passengers MUST be able to swim well for whitewater trips
Meals on the river – my favorite rafting trips include hauling out and having picnics or cookouts on the river
Cost – you can find great low season deals sometimes, so check if there are any great deals and if so, add rafting to your list of things to do in Hells Canyon.
NOTE: when you're booking your Salmon River rafting trip, be sure of your departure point. Nearly every rafting trip on the Salmon, even when called "Lower Salmon" starts in the town of Riggins, ID, which is about 2 hours from Lewiston.
Can I kayak in Hells Canyon?
Hmmm, yes you can kayak in Hells Canyon, and yes, it's one of the most beautiful places to kayak in Idaho, but most of the snake river through the canyon is a very technical paddle and you shouldn't attempt it on your own if its new to you or if you ARE NOT a skilled paddler.
Kayaking in Hells Canyon means navigating rapids of all sizes, depending on where you launch. You will need to be sure to inform people what you're doing, where you're kayaking, and when you're planning on being off the river. Also, kayaking the Snake River is for sure a helmet trip. Safety first, always, and especially on this wild, scenic river.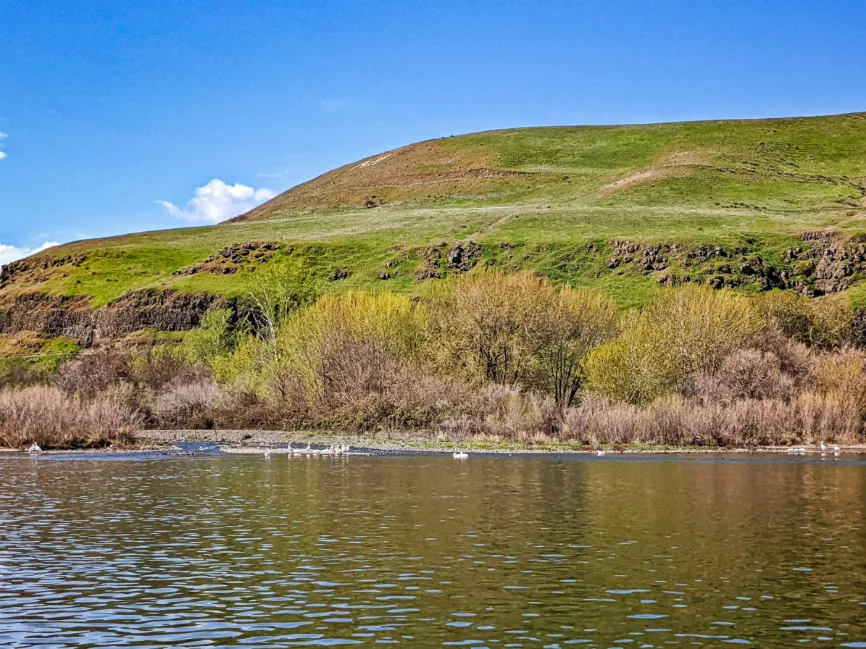 Hiking Trails in Hells Canyon
Near Lewiston and Clarkston there are quite a few trailheads to get you into the start of Hells Canyon. Day hiking is a great option on the east bank of the Snake River, especially if you love geology. The Devil's Slide and several other basalt formations are really impressive and unique. You'll love it! Most other hiking trails in this part of Hells Canyon require LONG, BUMPY drives on dirt forest service roads.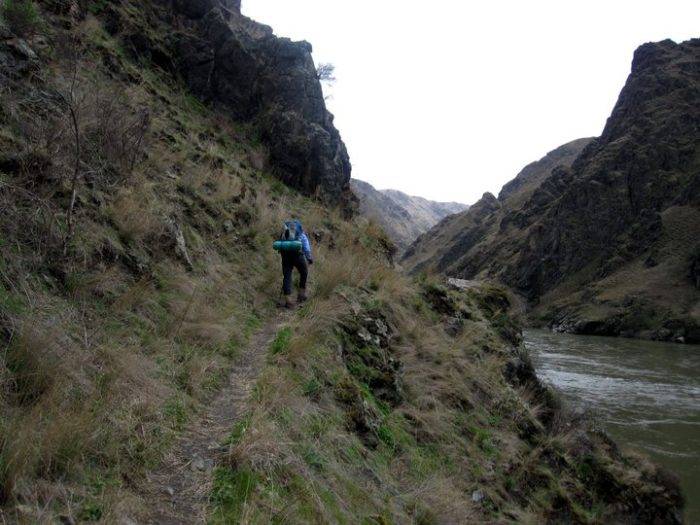 Imnaha River Trail
A six mile trail (12 round trip) starting at the Cow Creek Bridge and ending at Eureka Creek, the Imnaha River trail is really wild and beautiful. It follows the river the whole way and includes wooden bridges, creeks and waterfalls (seasonal), and almost NO PEOPLE. Dogs are even welcome if on a leash.
This is a longer day hike, but if you did want to hike and back country camp, that's an option too. Bring your gear and camp just off the Snake River north of the confluence of the Snake and Imnaha Rivers. It's the perfect Hells Canyon adventure!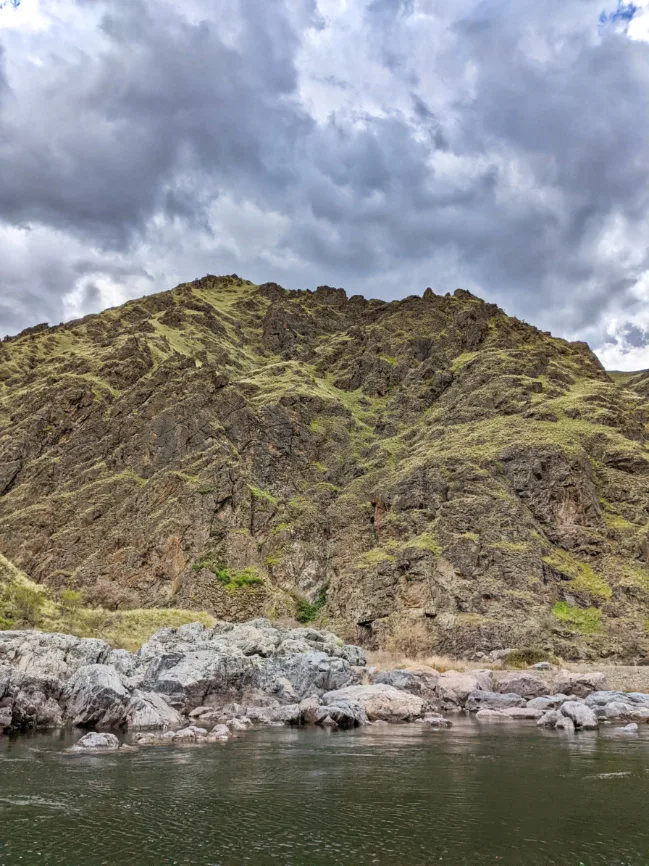 Hells Canyon Dam Trails
The Hells Canyon Dam is 104 miles upriver from Lewiston starting at Hells Gate State Park. If you want to go visit the dam and check out the area, you'll actually find quite a few trails to hike. Get views of the dam, the lake and the free-flowing Snake River.
Oxbow, Oregon is the town any trails in the dam area go from for epic Hells Canyon hiking. Here are the top picks for hikes near the Hells Canyon Dam:
More Things to Do Near Hells Canyon
Since you've made the journey to Western Idaho/Eastern Washington, you'll no doubt want to explore a bit more and have the most fun possible. There are things to do around Hells Canyon that aren't adventure based, including exploring the Lewis Clark Valley Wine Region (its own AVA), doing a day trip over to the Palouse or the Ice Age Floods Geologic Trail in Eastern Washington.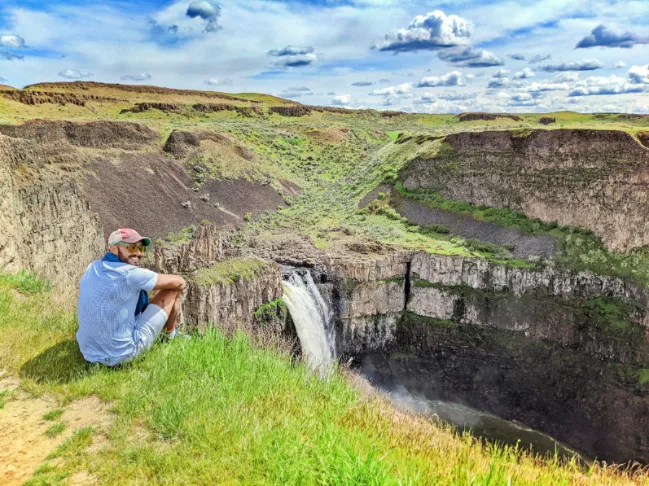 Here are ten cool things to do near Hells Canyon to pick from:
Spend a day with Nez Perce Tourism seeing ancestral lands and hearing the language and stories of the Nimiipuu people
Ice Age Floods Driving Trail – Eastern Washington, beautiful landscapes, waterfalls and hiking
Lewis Clark Valley Wine Region – as of April 2022 there are 11 wineries in Lewiston, ID, including the 2021 Northwest Wine of the Year winner at Clearwater Canyon
Explore historic downtown Lewiston
Do a fishing charter on the Clearwater or Snake Rivers (salmon, trout or sturgeon)
Take a day trip to Craters of the Moon National Monument
Visit Pullman and check out the beautiful brick town
Walk the Blue Bridge path / trail from Clarkston, WA to Lewiston, ID
Visit Spokane (2 hr drive) and see Spokane Falls in DOWNTOWN
Of course there are more things to do at Hells Canyon, but these are all easy to add to your trip and you won't be disappointed with any of them!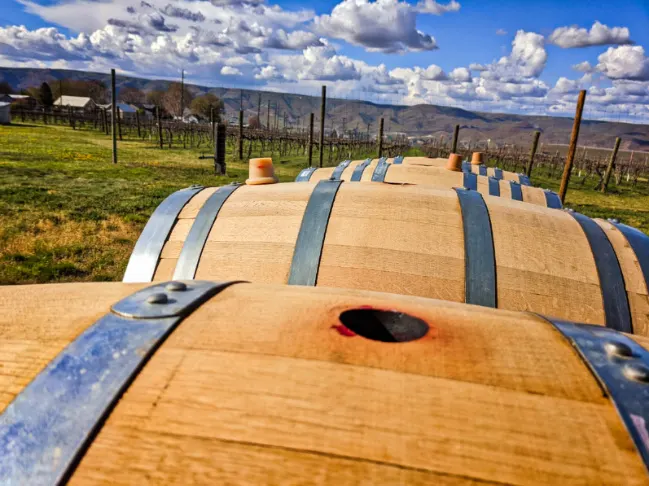 Wildlife to See in Hells Canyon
Hells Canyon National Recreation Area is wonderfully preserved and is actually also a protected Wild and Scenic River. This means that most of it is inaccessible by car and very few explore the hills and valleys around the canyon. With few people roaming the area, there is a ton of wildlife both in the main area of Hells Canyon and beyond.
Rocky Mountain Bighorn Sheep
A highlight of Hells Canyon wildlife, the Rocky Mountain bighorn sheep are really cool. They can climb nearly any cliff or hillside and because of their light colored fur, they're pretty easy to spot from a jet boat or hiking trail. They tend to be in groups of five or more, but sometimes you'll spy a random loner for whatever reason.
Both the male and female bighorn sheep have horns (not antlers), but the male's will grow and grow, and the older, stronger ones may even establish a fully curled horn. If you encounter bighorn sheep while you're hiking, give them as much space as you can. They'll defend young, and males will sometimes just want to scare humans off, so don't try to creep up or get too close.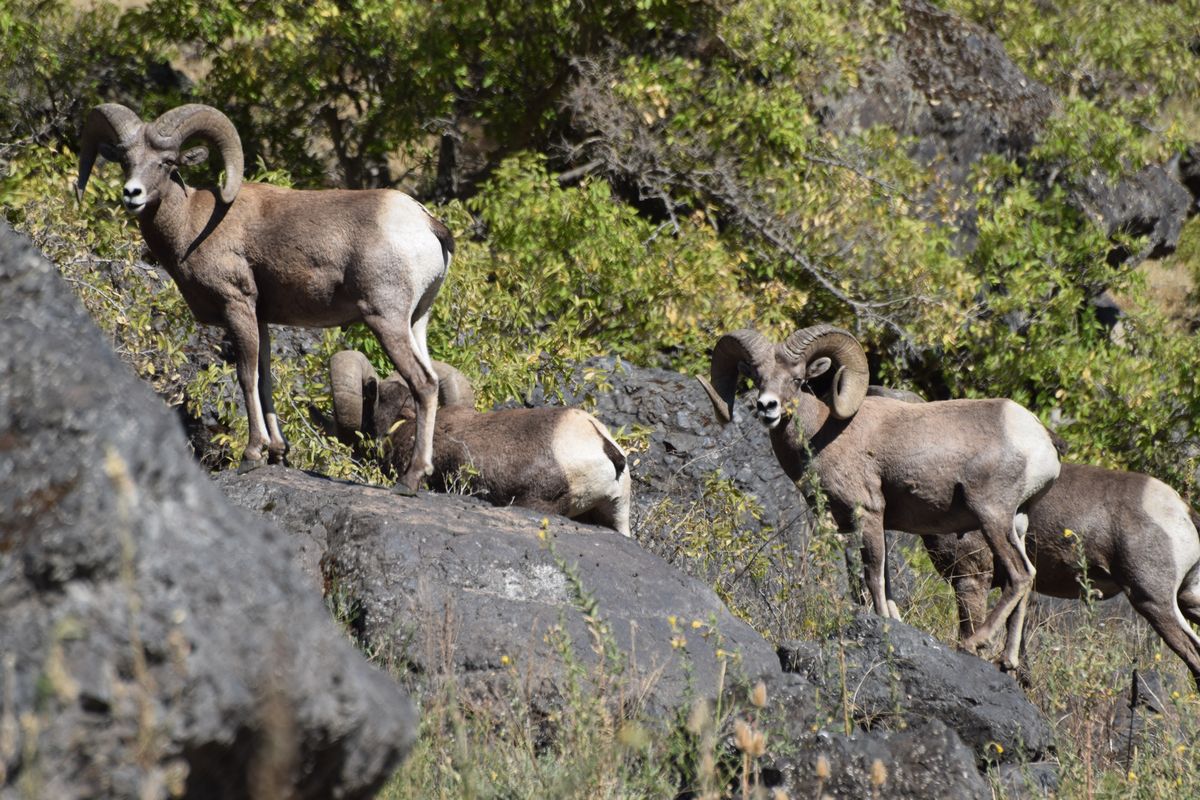 North American Pelicans
My favorite sea bird, the North American pelican is gorgeous! One of the best things to do in Hells Canyon or out on the Clearwater River is watch for pelicans. This species is much larger than the brown pelicans you see in San Diego or Florida, and they are bright white with black under their wings.
The North American pelicans actually didn't used to be on the Snake River or nearly anywhere in the Pacific Northwest. It's only since the 2000s that they've returned to the rivers. You can also see them if you go kayaking in the Tri-Cities on the Tapteal Water Trail or if you're wildlife viewing on the Yellowstone River.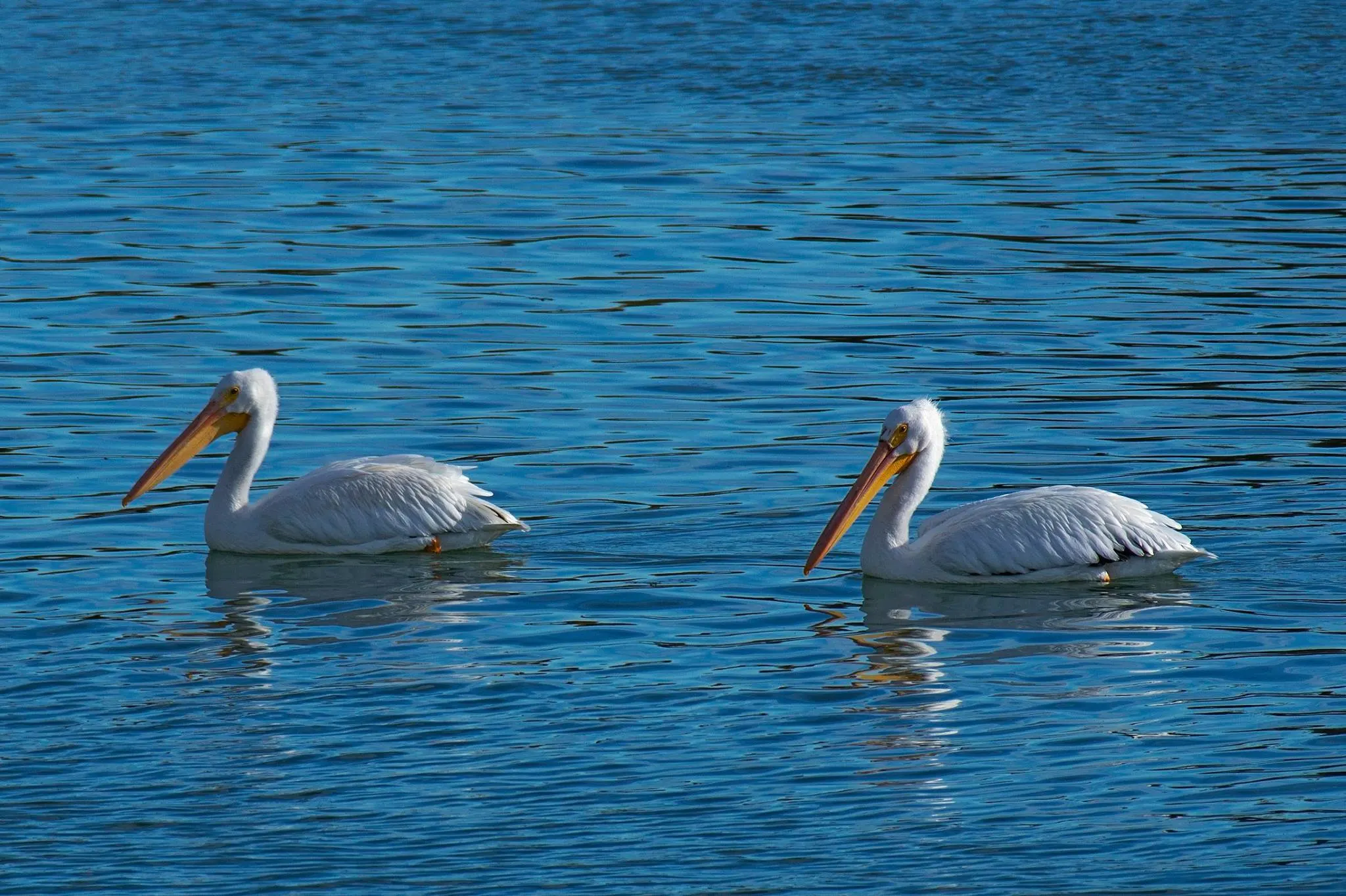 Deer, White Tailed and Mule
There are two types of deer that you'll see in Hells Canyon. The white tailed deer is pretty good sized and is very visible on the hillsides and along the river where there are beaches and riverbanks. The mule deer stand out as well, with white butts and big ears.
I know that deer may not be exciting to everyone, but if you visit Hells Canyon in spring you may get to see a lot of baby deer (fawns) and deer moving in small herds. I think that's pretty cool, and if you live in a city, it's a treat to get to see them.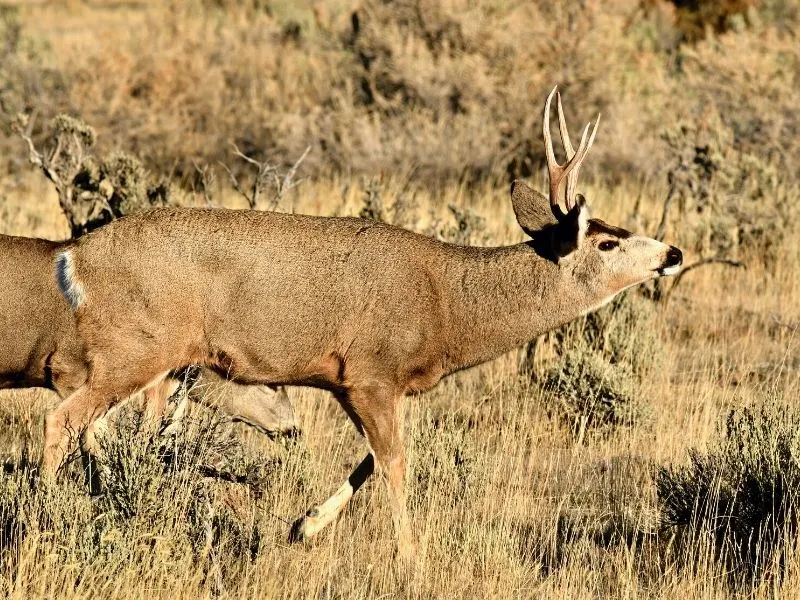 Birdwatching in Hells Canyon
There are so many birds in Hells Canyon! Of course there are the North American Pelicans I mentioned, but also you'll see a variety of ducks and geese, as well as raptors. Falcons, hawks, osprey and bald eagles are plentiful from the confluence of the Clearwater and Snake rivers and as you so upstream. Also watch for great blue herons downstream.
I think the other treat to watch for when you're birdwatching in Hells Canyon is the golden eagle. They are enormous! While they most often can be spotted soaring high above the Snake River, they will come to the lower elevation and perch on rocky outcroppings and cliffsides.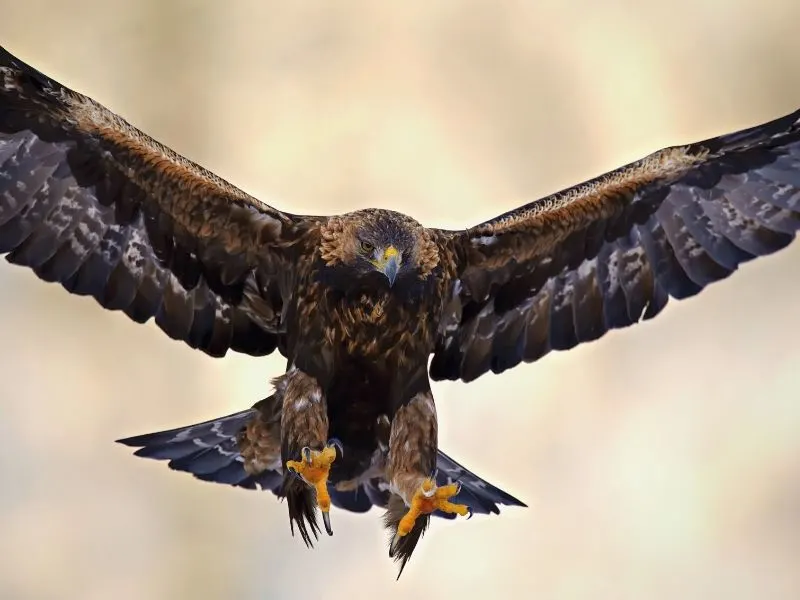 Hells Canyon Sights Not to Miss
As if the epic scenery wasn't enough, there are many unique and beautiful sights to watch for as you explore Hells Canyon. If you're on a jet boat tour or a private tour of another sort, ALWAYS ASK to stop if something interests you. The guides on the river are well learned and no doubt will be excited to talk about the various sights.
Nimiipuu Petroglyphs to Watch For
The Nimiipuu Nation, also known as the Nez Perce, have lived in the Hells Canyon area for at least 16,000 years. Their ancestral lands stretch across Idaho, Washington, Oregon, Wyoming, a bit of California and even into British Columbia. There is history everywhere, which is why we recommend the tour with the Nez Perce Tourism group as one of the best things to do at Hells Canyon.
The visible history of the Nimiipuu people in Hells Canyon can be found just above the high water line about twenty miles up the Snake River from Lewiston. There are two primary places where the petroglyphs can be seen, very near to each other on the east and also west sides of the river. If you're with a guide on the Snake, ask them to point them out.
The largest concentration of Nimiipuu petroglyphs includes about 15 human-like figures (some have antennae), seven or eight bighorn sheep, and a skull. It's very interesting and reminiscent of some of the petroglyphs that can be seen when you're hiking in Valley of Fire State Park in Nevada.
Note: if you are able to go ashore to see the Nimiipuu petroglyphs up close, DO NOT TOUCH THEM. Not only are they ancient, but visitors need to respect this piece of incredible history.
There are more petroglyphs visible on the road-side of the Snake River at Buffalo Eddy, a part of the Nez Perce National Historic Site.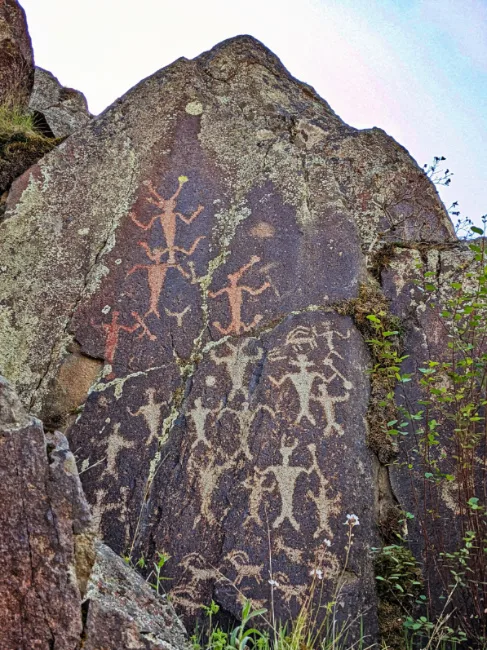 Geologic Formations in Hells Canyon
The majority of Hells Canyon is basalt lava flows, from pillow basalt formations to walls of basalt columns. One of the best things to do in Hells Canyon is just geek out at the geology. You can look at the cliffs and hillsides and see how the lava flowed and how the earth bends and moves over time.
Pyroclastic flows of granite can be seen in certain areas, while layers of ash from ancient volcanic eruptions are visible in other spots. If rocks aren't your thing, you'll at least appreciate how unusual every turn of the Snake River is, especially if you're able to visit in spring when Hells Canyon is green and the contrast of the rocks is wonderfully rich.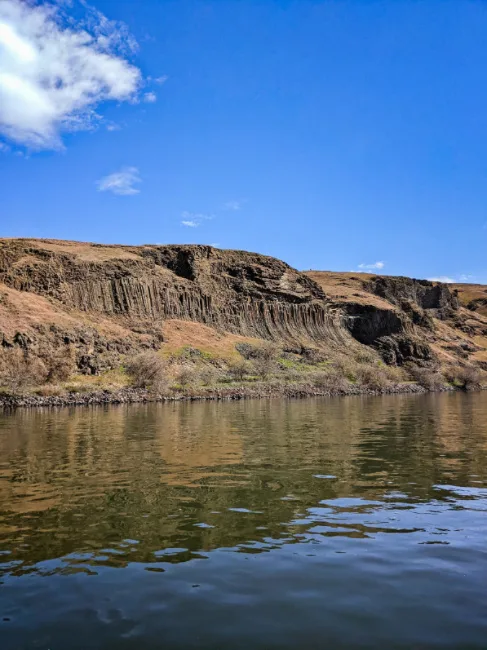 Waterfalls and Rivers to See
Exploring Hells Canyon and the Snake River doesn't get boring. As you go through the canyon, there are a fair number of rivers, streams and waterfalls joining the larger river. The Salmon River confluence is beautiful, as the water is a bit milky and when it joins the Snake River there is a clear definition in the water.
The Imnaha River is another river that flows into the Snake River. This river is very clear and comes from an extremely narrow canyon off to the west. This is also where one of the largest rapids the jet boats go through is located.
Watch for Cherry Creek Falls, Cache Creek and quite a few others as you proceed upriver. Late spring when the snow melt is nearly done and the rains are at their peak, you'll see the most waterfalls and streams, but any time of year you'll be able to spot a good number too.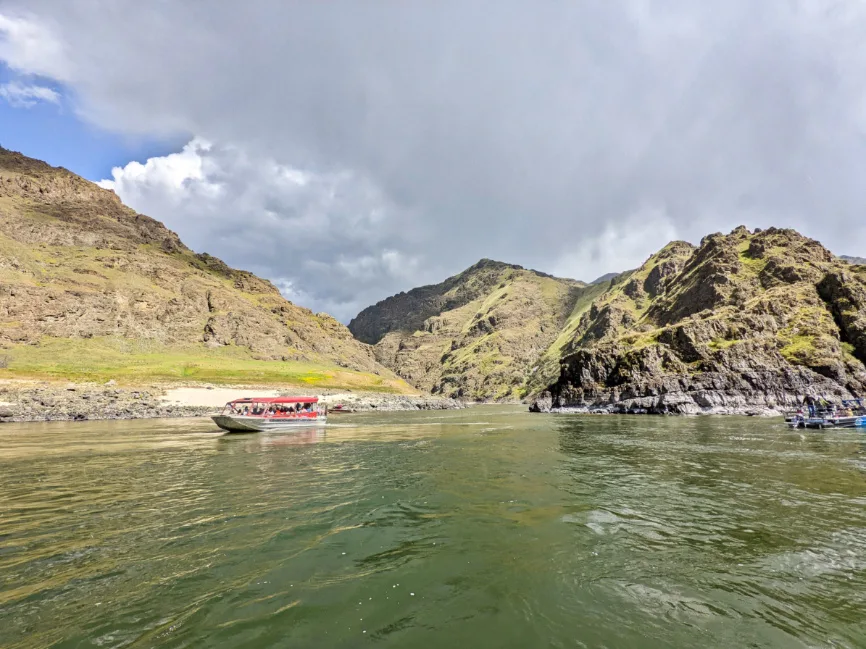 Historic Sights on the Snake River
White there aren't a great number of Western historic sites along the Snake River in Hells Canyon, there are significant Nez Perce historic sites. The most notable are the petroglyphs and the Flight to Freedom river crossing.
When the Nez Perce (Nimiipuu Nation) was forced off their ancestral lands, they had to flee by the thousands in 1877. Chief Joseph led the Nez Perce people across the Snake River at Dug Bar. In this spot, the flowing water has a slingshot effect which aids in crossing the river in buckskin rafts and on swimming horses. Not everyone made it, but many did. There is a stone pillar to commemorate the event.
Eureka townsite is another historic site along the Snake River in Hells Canyon. Now it's a ghost town, and a minimal one at that, but once upon a time there was a whole town built on the canyon slope on the Oregon side. When the mining stopped and the supply ship didn't come anymore, the town was abandoned and taken over by the wilderness. Now there are just the stone foundations and retaining walls.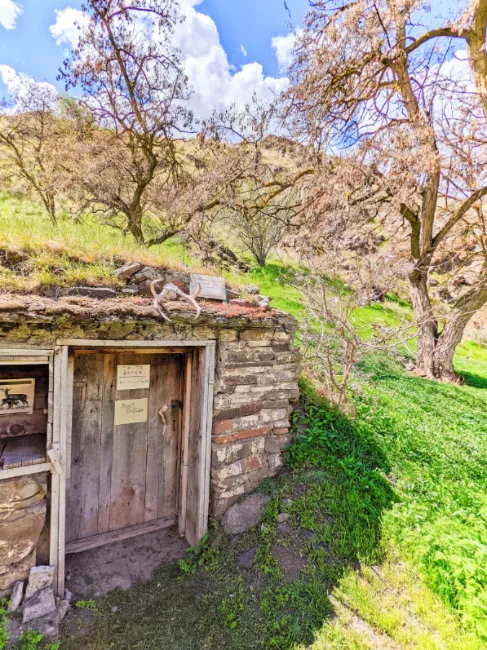 Camping Near Hells Canyon
There is so much camping all around Hells Canyon. Whether you're approaching from the Lewiston/Clarkston area or you're down on the Oregon side by the dam, there are lots of choices. You'll find a fair amount of National Forest Service campgrounds, some more primitive than others, and then also nice camping resorts that are perfect for camping with your RV and all the fun gear you need for an Idaho adventure.
If you've spent time on the Snake River, you've seen random tents along the banks and up from the river a bit. Many people will hike with backcountry gear and permits all along Hells Canyon. There are also rafting trips that go for several days, so you'll see them camping too. Those camping areas are usually accessible by boat only.
Top Pick: Hells Gate Campground in Lewiston
Hells Gate State Park on the Idaho side of the Snake River just south of Lewiston has a great campground. With river access, picnic areas and lots of hiking trails coming out of it, Hells Gate campground is ideal for a Hells Canyon camping trip. They even have cabins.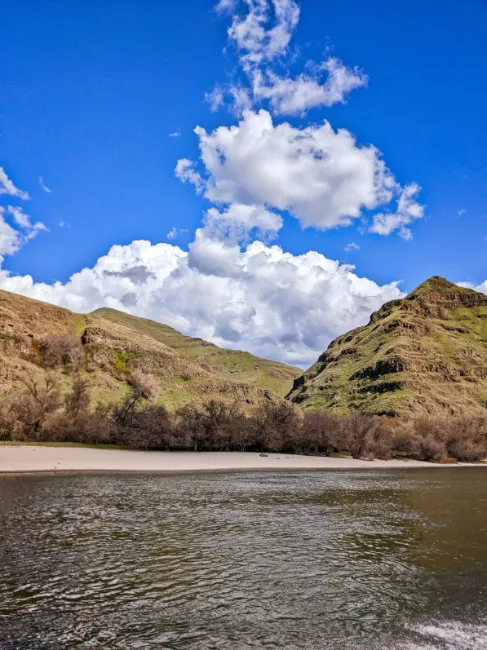 KOA at Kamiah, ID
A little over an hour from Lewiston is the town of Kamiah. Here you'll find a KOA Journey campground. This is great for new campers, people who need amenities or to NOT rough it, or travelers with RVs. We love staying at KOAs and did so during our cross country relocation, as well as for camping on the Oregon Coast and more.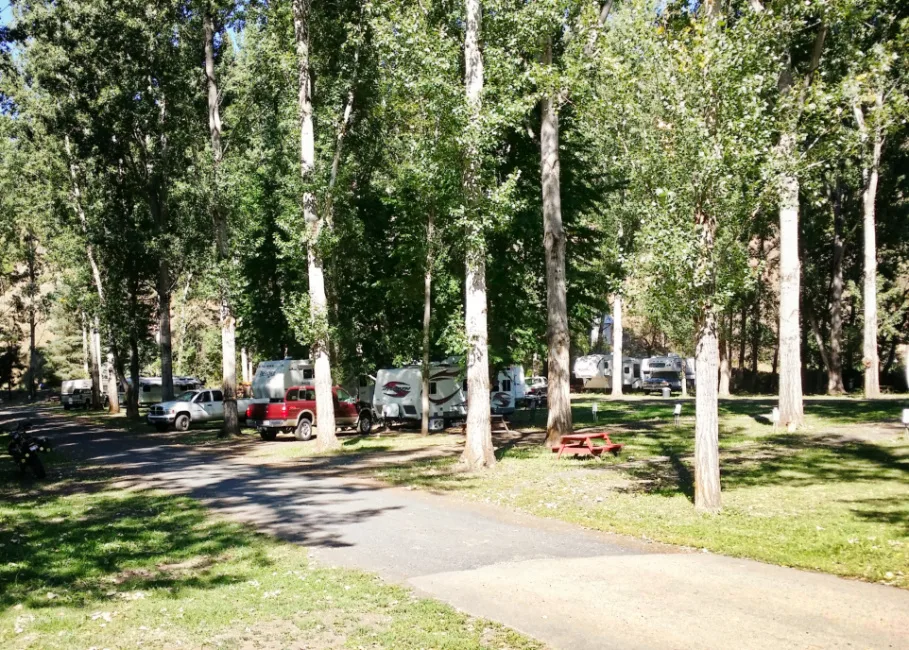 Where is Hells Canyon
I've been mentioning Idaho, Washington and Oregon as I talk about Hells Canyon National Recreation Area. The Canyon actually is located at the intersection of all three states. Most people will enter Hells Canyon from the Washington / Idaho section and then reach the Oregon section via jet boat or on a rafting trip.
Hells Canyon actually stretches for more than 100 miles from Lewiston / Clarkston to Oxbow, OR. The river is free-flowing for 104 miles until the Clearwater River joins it in Lewiston, and that's what you can explore with rafting, kayaking and jet boats. Access to the canyon is mostly via waterways, but there are a few roads at the end and beginning that can bring you into sweeping views and epic hikes.
The Snake River that runs through the canyon starts in Jackson Hole, Wyoming and is the only river you can enjoy kayaking in Grand Teton National Park. The Snake River Overlook in the Tetons is gorgeous and is amazing considering it flows from there all the way to the Columbia River in the Tri-Cities of Washington.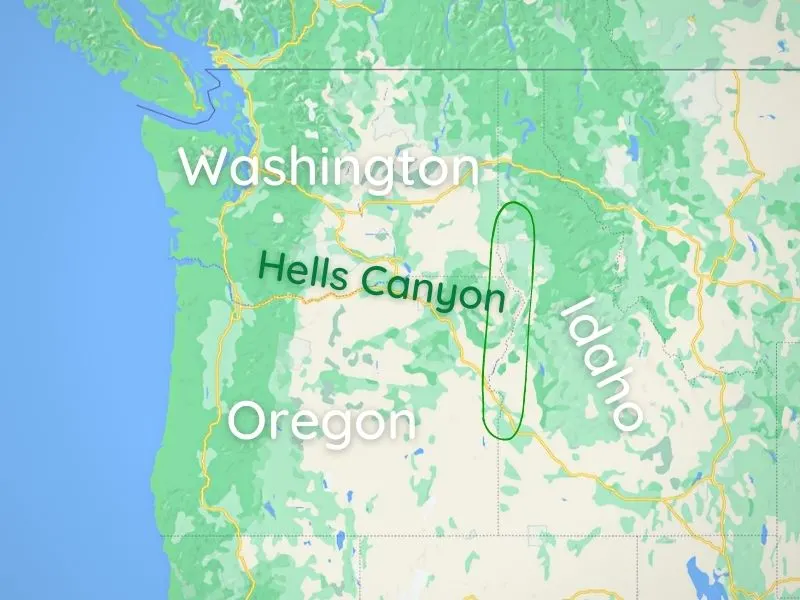 Getting to Lewiston, Idaho near Hells Canyon
With several flights coming in each day, you can fly directly into Lewiston, aka Nez Perce County Airport (LWS) from Denver or Salt Lake. It's a very small airport with just one waiting area and very few services. It's the fastest security I've ever gone through in my life.
A lot of visitors fly into Lewiston to take the American Cruise Line or the National Geographic cruise through the Columbia River Gorge. The reverse is also true, departing from Lewiston.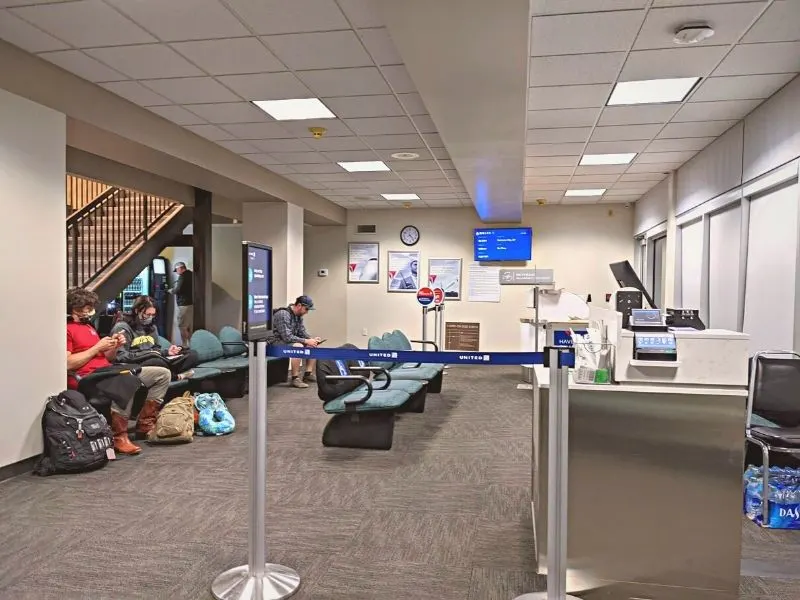 Other Airports to Fly Into
If there isn't a direct flight into Lewiston, and honestly there aren't many of those, you can also fly into Spokane (2 hour drive) or Pendleton, OR (Boutique Air, 3 hour drive). Some visitors actually fly into Portland (PDX) and drive the whole way along the Columbia River Gorge, do the Waterfall Area of Historic Oregon Highway 30, or they add Hells Canyon to a trip to Eastern Oregon and Bend. What a cool trip!: Painted Hills of Oregon, Hells Canyon and Craters of the Moon!!!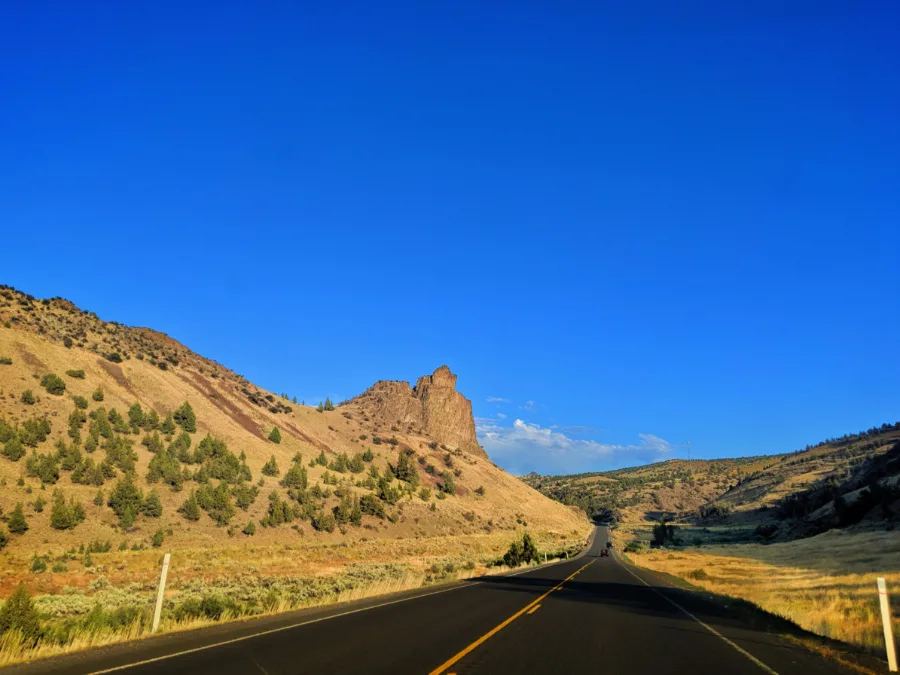 Road Trip Route to Hells Canyon National Recreation Area
We've got three options for a road trip to Hells Canyon. Pick the one that suits your interests the most, and remember that any of these can be one-way or round-trip travel plans.
Seattle -> Tri-Cities / WA Wine Country -> Columbia Gorge -> Hells Canyon -> Boise ID
Bozeman / Yellowstone -> Twin Falls ID -> Hells Canyon -> Spokane
Portland -> Willamette Wine Country -> Bend and Painted Hills -> Hells Canyon -> Eastern WA -> Mount Rainier National Park -> Long Beach Peninsula and end in Portland
Each of these road trip routes is very unique to the others and can be done with a minimum of four days. If you want to do the Yellowstone road trip, give yourself a full week or more to enjoy the National Park and Idaho State Parks. The Portland loop that goes through the Cascade Mountains is really cool and ideally would take 10 days or so.
You can craft a road trip in any variety of ways, so don't limit yourself to our suggestions. Mix and match!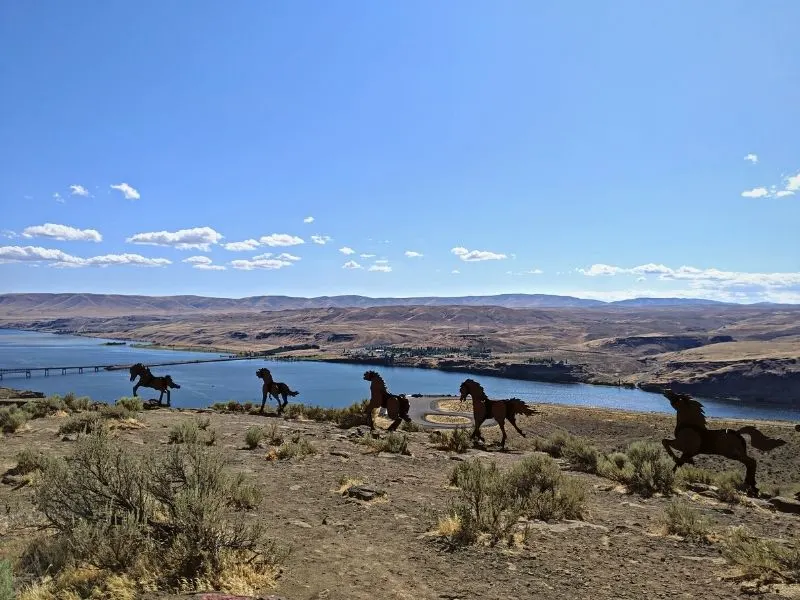 When to Visit Hells Canyon
Hells Canyon National Recreation Area is open year round for visitors. Depending on weather, the things to do are going to vary greatly. While the climate isn't as intense in winter as eastern Montana or Colorado, like in Estes Park or Breckenridge, there is still a fair amount of snow that falls from November to April.
Spring in Hells Canyon is the prettiest, with green hills and cliffsides, moderate water levels on the Snake River, and warm enough weather to enjoy boating, hiking and even camping without being miserable in the cold and wind.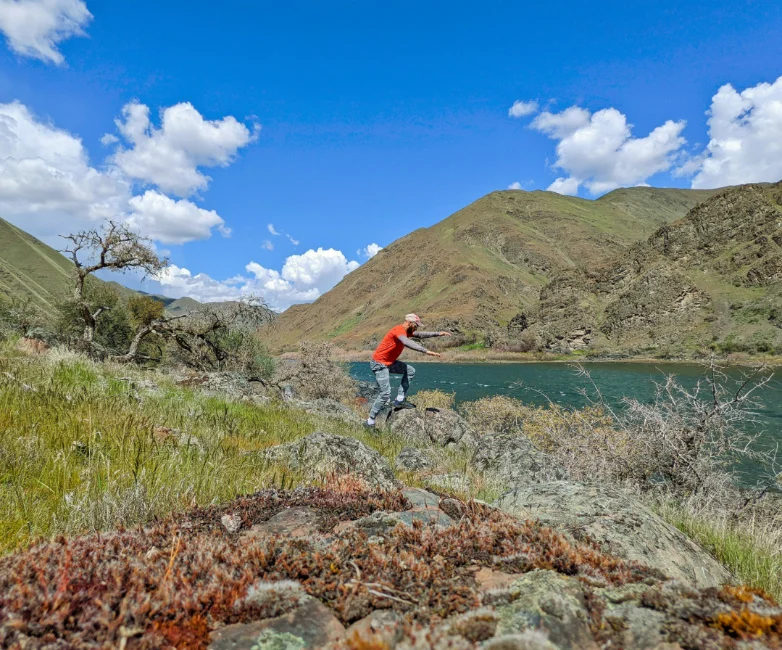 Summer can be hot. Hells Canyon and the Lewiston / Clarkston area can sometimes go over 100 degrees F in summer. The green cliffs and valleys turn brown and yellow, the air gets hot and in some summers the canyon may get smoke from wildfires. When a natural disaster impedes your vacation plan, you need to have a back up. While forest fires don't happen every year, they are becoming more common.
Fall is awesome for visiting the Snake River and exploring Hells Canyon. The temperature drops into the 70s consistently and the summer crowds taper off. Fishing season is going and you get a different sort of crowd on the water.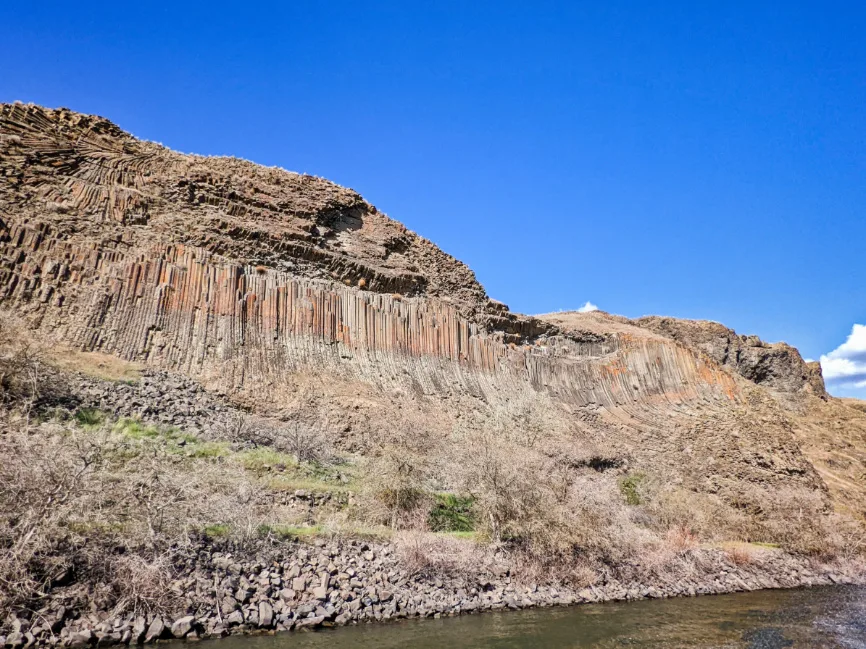 I hope you're excited to visit Hells Canyon National Recreation Area. It's jaw-droppingly gorgeous and there are countless things to do. If you have any questions about planning your visit or need to partner up a trip to Hells Canyon with Yellowstone or Glacier National Parks, we have lots of recommendations.
Please leave a comment or send us a note if you have any questions about Hells Canyon, Lewiston / Clarkston, or any other sort of road trip adventure planning!