Nova Scotia is a bucket list destination for many. After spending five days exploring and experiencing Halifax, the South Shore/Lighthouse Route and Bay of Fundy, we've nailed down 30+ things to do in Nova Scotia that are sure to be a great experience, especially in fall. From Lunenburg, a UNESCO World Heritage site, to lobster grilled cheese on a secluded cove, this is the Nova Scotia itinerary you MUST HAVE!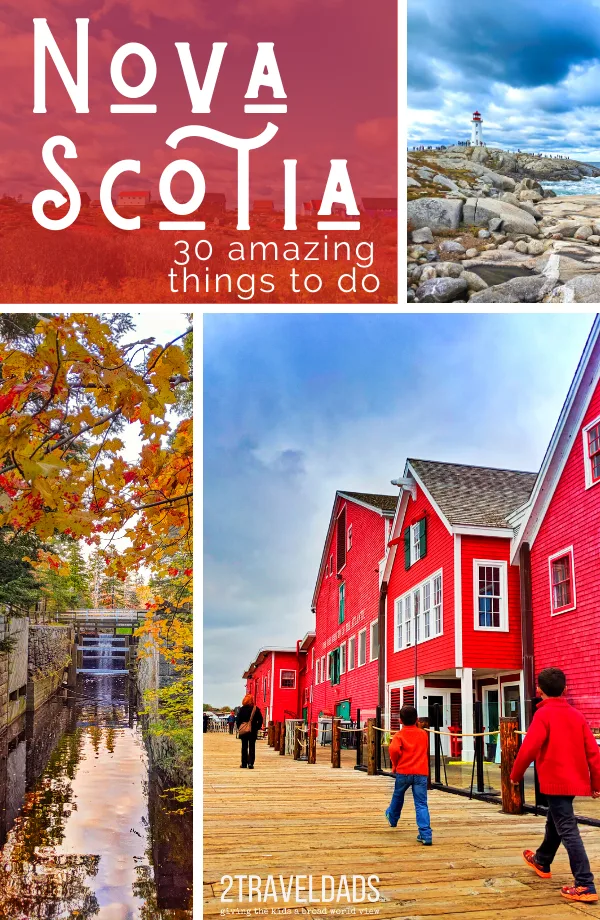 When to visit Nova Scotia
While summer is going to bring the best, most consistent weather, fall is THE time to visit Nova Scotia. Summer weather is ideal for long days of exploring and having the longest and most consistent operating hours for activities, but the fall colors make visiting just off season well worth it.
If you plan on visiting Nova Scotia in the spring, know that snows may continue to roll in through April, and many visitor services and tourist spots do not open until May.
Best time for fall colors in Nova Scotia
Being on the North Atlantic, Nova Scotia starts their fall colours earlier than other areas. The first two weeks of October are considered peak leaf peeping time, but even the last two weeks of October will give you some beautiful sights. If you can get get into the heart of the autumn foliage before the middle of the month, you'll surely be overwhelmed with the diversity of reds, yellows and oranges.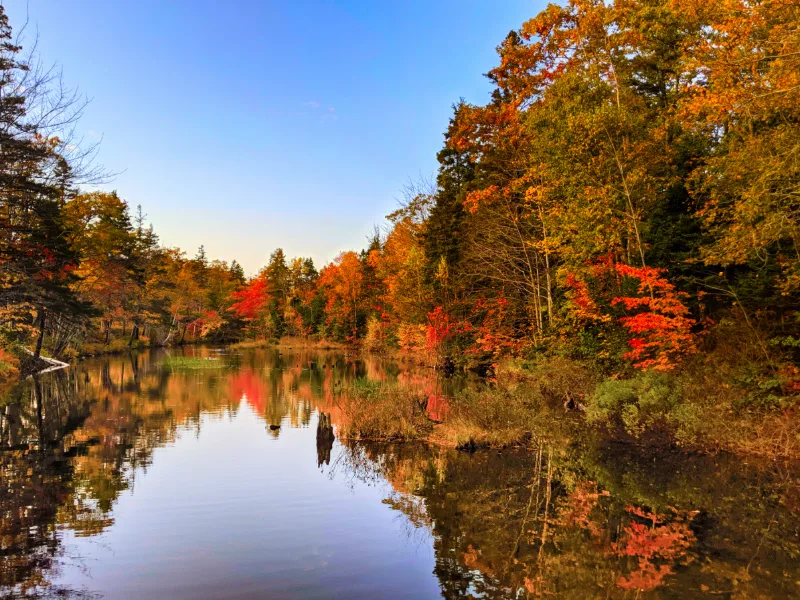 Where to stay in Halifax, Nova Scotia
Halifax, Nova Scotia is centered around a harbour, much like Victoria, BC. In fact, the Greater Halifax Area includes downtown, Dartmouth, Burnside and Bedford. If you're all about that metropolitan lifestyle, find a great hotel in the downtown Halifax core, as there are many unique, boutique options. If you're like us and aim to explore all around Nova Scotia, opt for Dartmouth or Bedford. These neighborhood-cities provide easy access to the highways AND aren't far from downtown Halifax.
Find a Halifax area hotel here!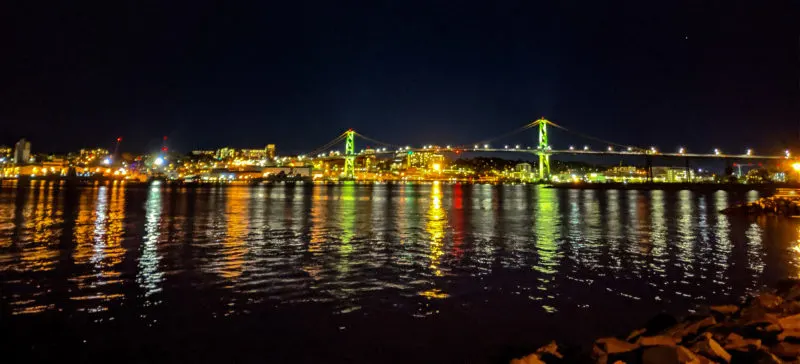 Our recommendation: Best Western Plus Dartmouth
The Best Western Plus Dartmouth Hotel & Suites was perfect for us. Close to route 111 and the McKay Bridge into downtown Halifax, we had the city just beyond our hotel room. On the upper end of the Best Western brand, I love how modern and well maintained it is.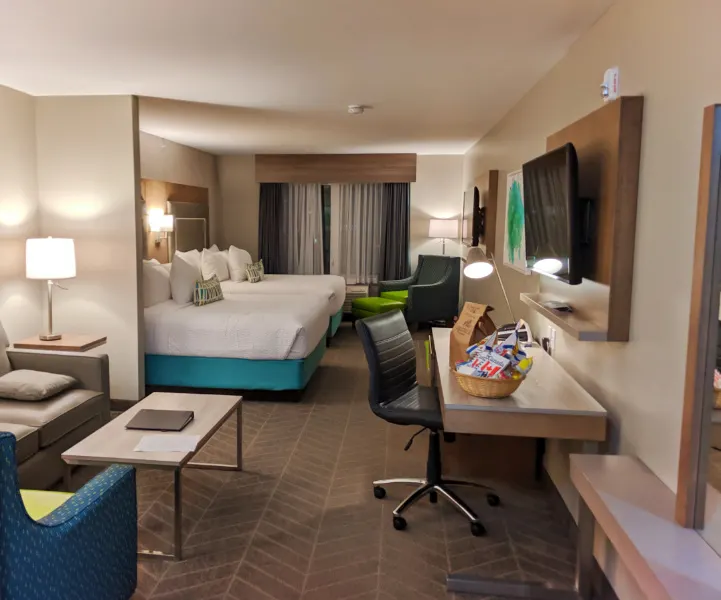 The hotel itself was wonderful, being very quiet, clean, and welcoming. The kids enjoyed the indoor pool with a water slide, us dads took full advantage of the fitness center, and each day we had breakfast available as a part of our room rate. Between the amenities and location, we'd happily choose to stay at the Best Western Plus Dartmouth Hotel & Suites for our next visit to Halifax, Nova Scotia.
Book BW Plus Dartmouth here or if you prefer Booking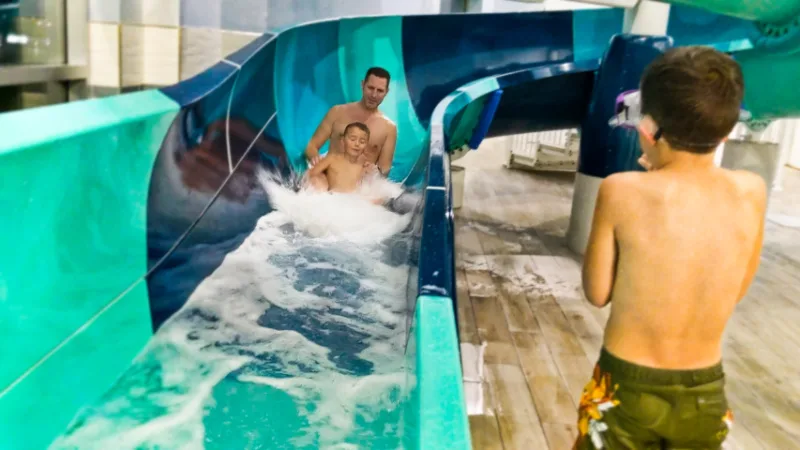 Places to Visit and Things to do in Nova Scotia
Here we cover five different regions: Halifax, the Greater Halifax area, the Bay of Fundy, the Annapolis Valley, and the South Shore. We are not covering the Eastern Cape / Cape Breton in this article, as they deserve their own complete trip and itinerary. The following Nova Scotia travel plan is ideal for five or six days; heading northeast out to the Capes requires the same amount of time.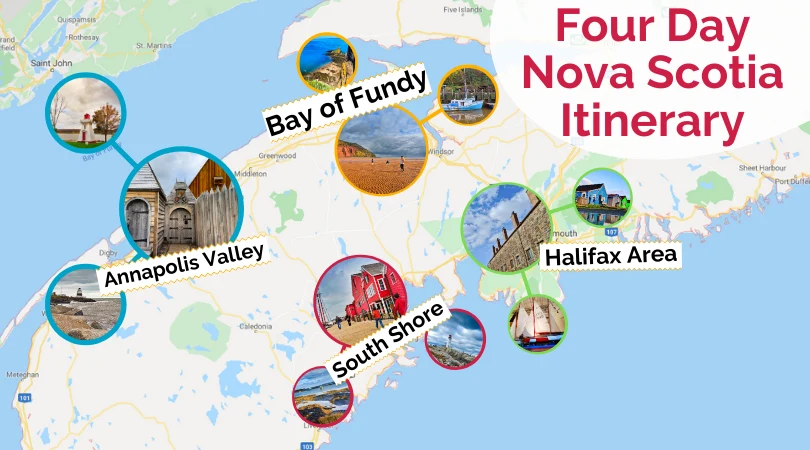 For the full Google Map of all of our recommended things to do in Nova Scotia, check out our full map here!
Exploring downtown Halifax, Nova Scotia
An historic city, named as the capitol of Nova Scotia in 1749, it's been a shipping and fishing center for centuries. In fact, early European wayfarers even set up fishing camps in Halifax as early as the 1400s. Crazy! With that, the city of Halifax has all kinds of history and culture to explore and enjoy! While the rest of the province is truly captivating, we'll start with our things to do in Nova Scotia in its biggest city.
Tip: download the HotSpot Parking app (Android or iPhone) to make parking around Halifax easier. You can load your parking wallet and easily add time or be refunded when you leave a parking space early. Best parking management ever!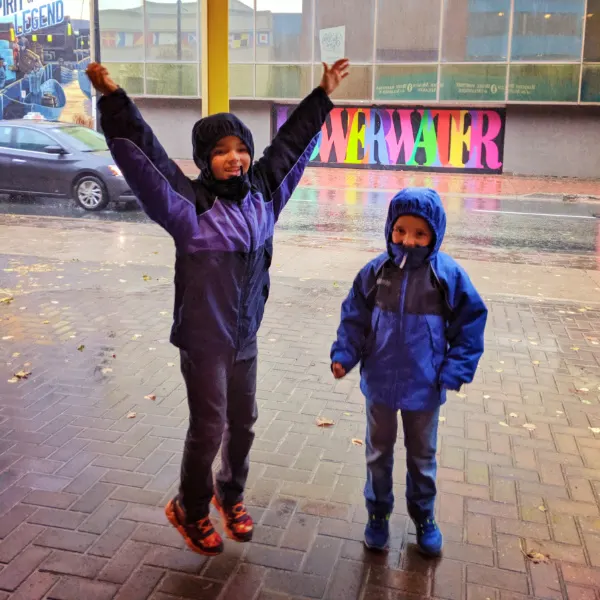 Halifax Citadel
Similar to Castillo San Marcos in St. Augustine or El Morro in San Juan, Puerto Rico, the Halifax Citadel has been looking over the city for nearly three hundred years. Part of the Canada National Parks system, it's well preserved and renovated, and is open year round.
While at the Halifax Citadel, be sure to watch the changing of the guard or take a guided tour from a costumed interpretive ranger. It's a great way to gain some insight into Nova Scotia's history and enjoy views of the city.
Visit any time of year (limited services) but for the ghost tours, historic costumes and other living history, visit Halifax Citadel National Historic Site May through October.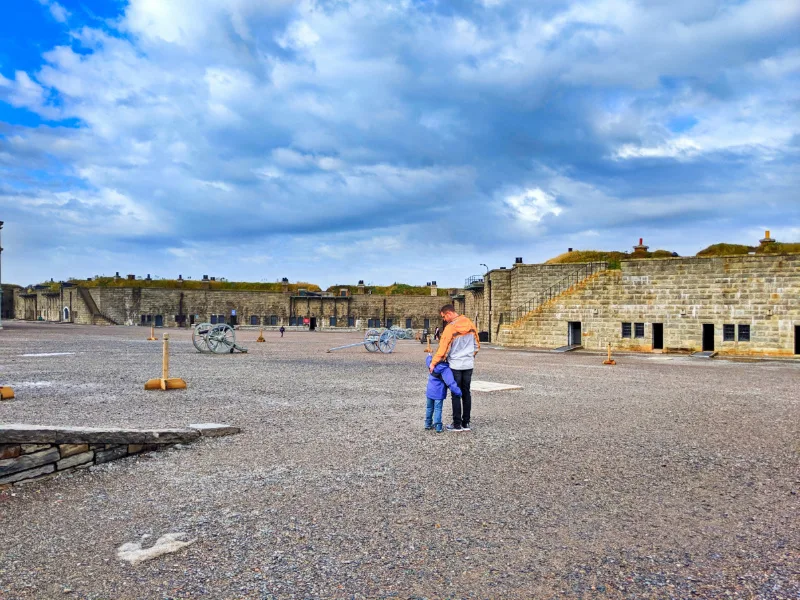 Halifax Public Gardens
Between botanical gardens and historic gardens, we are sure to visit every garden possible. Halifax Public Gardens doesn't disappoint and is a must for things to do in Halifax.
In the heart of downtown Halifax you'll find the Halifax Public Gardens. A quiet space in the middle of the city, it's home to walking paths, ponds, flower gardens, and gazebos. Designed and built in the early 1900s, it's a wonderful spot to relax within the city and feel like you've taken a step back in time.
Note: the Halifax Public Gardens are open from 7:00 am until a half hour before dusk. Online it states that they're typically open until 7:30 pm, but that's inaccurate. They lock the gates a half hour before dusk or earlier if they're hosting a special event.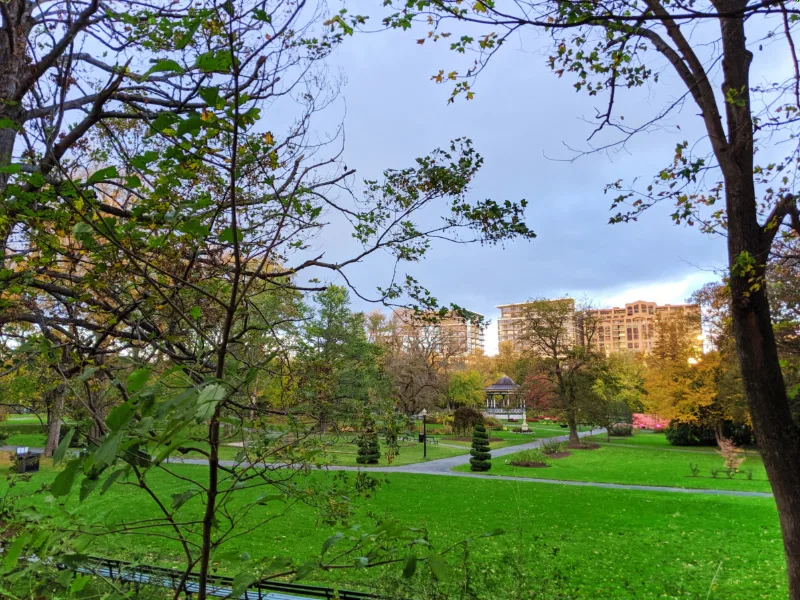 Museum of Natural History
The Nova Scotia Museum of Natural History has been open, in one form or another, since 1868. Known for its collection of animal specimens, both living and preserved, it's a great and inexpensive indoor rainy day activity in Halifax.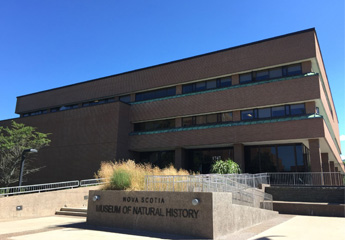 Maritime Museum of the Atlantic
If you are or aren't into boats, the Maritime Museum of the Atlantic is a really cool place to visit. Loads of maritime history are on display, including the best collection of Titanic pieces, photos, artifacts outside of the traveling Titanic exhibition. It's remarkable, and without question is one of the most interesting things to do in Nova Scotia.
If you're visiting the Halifax Maritime Museum with kids, be sure to get the scavenger hunt from the admission desk. It's great for all ages and really helps visitors pay closer attention to the displays.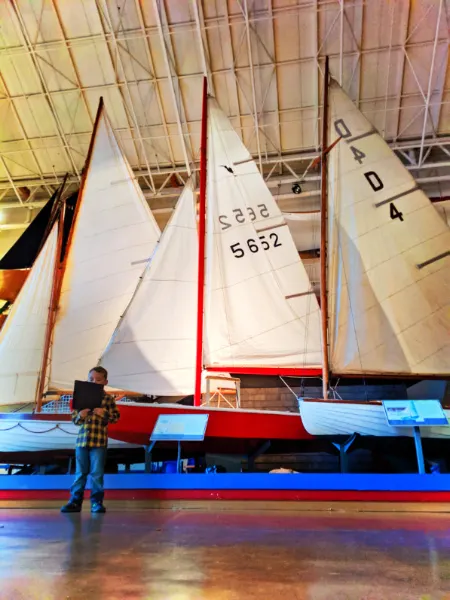 Halifax Discovery Centre
Initially the Discovery Centre wasn't on our itinerary for Halifax with kids, but we added it at the last moment and it was well worth it. Located on the waterfront near the farmers market and Maritime Museum, the Discovery Centre focuses on all things science and Nova Scotia life. It's the Maritime version of the Denver Children's Museum paired with the Seattle's Pacific Science Center.
The highlight of the Halifax Discovery Centre was the exhibit about energy and how Nova Scotia is powered. From tidal turbines to wind and solar, visitors can see just what steps the province is taking towards clean energy. There is a cafe upstairs and space to enjoy any lunch you've brought, so it's a perfect midday activity.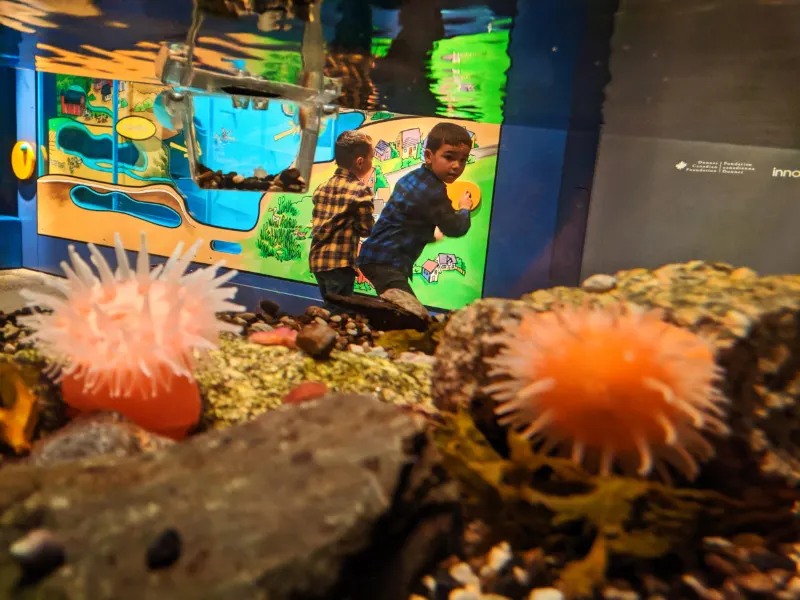 Halifax Seaport Farmers Market
An indoor shopping experience, the Seaport Farmers Market is great for getting fresh food and handmade, local goods. It's smaller than Pike Place Market in Seattle, but just as fun. Open year round, the Market is easily accessible from the waterfront area and is directly next to the cruise terminal. It does close before the dinner hour, so plan to visit in the morning or after lunch.
Greater Halifax Area
Beyond the downtown Halifax area, this part of Nova Scotia has many unique things to do and all can be done as easy trips for just part of the day. Focusing on the Dartmouth area and just to the south of Halifax proper, there are lots of wonderful side-trips you can enjoy to give you the full Nova Scotia experience.
Shubie Park Canals
Built between 1826 and 1861 the Shubie Park Canals are truly historic and are part of one of the most unique and beautiful city parks we've ever visited. If you're visiting Halifax and staying in the city, you will need to cross the harbour to Dartmouth. Shubie park is the most perfect place for fall colors we've ever been. The lock system and lakes make for a fascinating visit to Dartmouth. Google Maps link here.
Things to enjoy at Shubie Park include several kilometers of trails, a chain of canals and ponds, off-leash dog trails, and dense deciduous forests. It's a must to visit any time of year, but fall especially!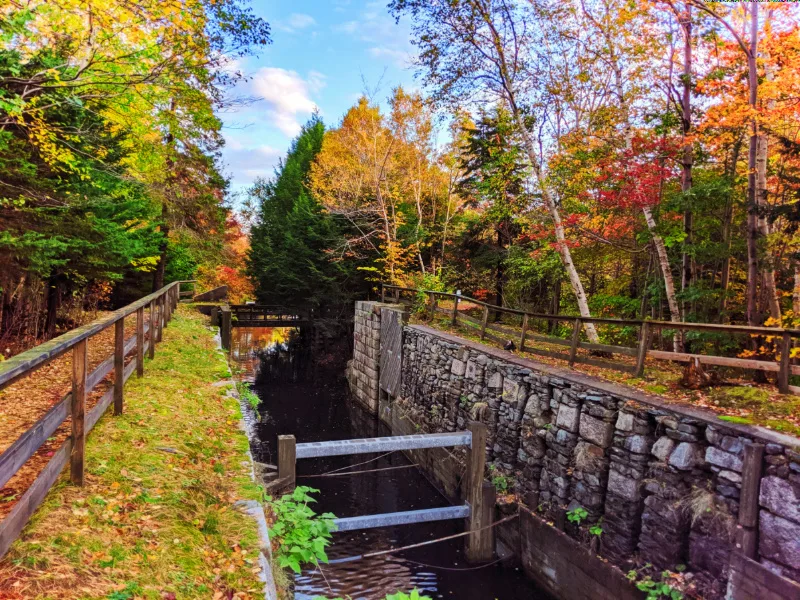 Cyril Smith Golden Acres Park
Another forested park in Dartmouth, Cyril Smith Golden Acres Park is an ideal place for walking in the Nova Scotia woods. Whether you're visiting during peak fall colours or not, walking in the woods is one of the best things to do in Nova Scotia. Birch and maple forests make for a beautiful, quiet setting close to the more urban areas. At Cyril Smith Park, also enjoy the reflections on calm Lake Albro. Google Maps link here.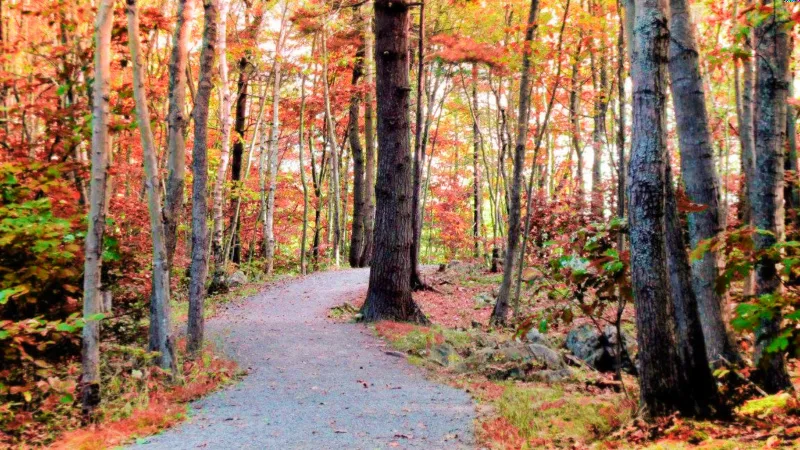 Fisherman's Cove
Located south of Dartmouth on the way to the mouth of Halifax Harbour, Fisherman's Cove is a 200+ year old community and it's perfectly Nova Scotia. Colorful fishing huts are mixed with shops and cafes, making it a picturesque living community. In the summer, it's the ideal spot for a vacation rental (when available) or a nice dinner outside of the city. Google Maps link here.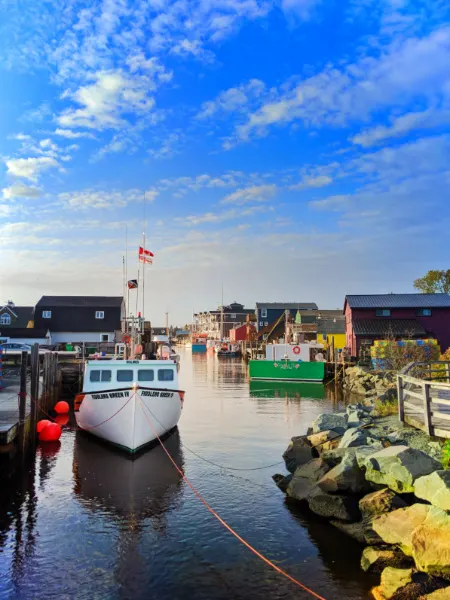 Duncan's Cove and Chebucto Head Lighthouse
On the western side of Halifax Harbour you'll find a variety of small cove communities, as well as the Chebucto Head Lighthouse and the Duncan's Cove Nature Preserve. Similar to the Peggy's Cove reserve (see below), this area is a protected example of the rugged maritime landscape where the rocky shores meet the marshy bogs. This is a top pick for fall colours in Nova Scotia close to Halifax. Google Maps link here.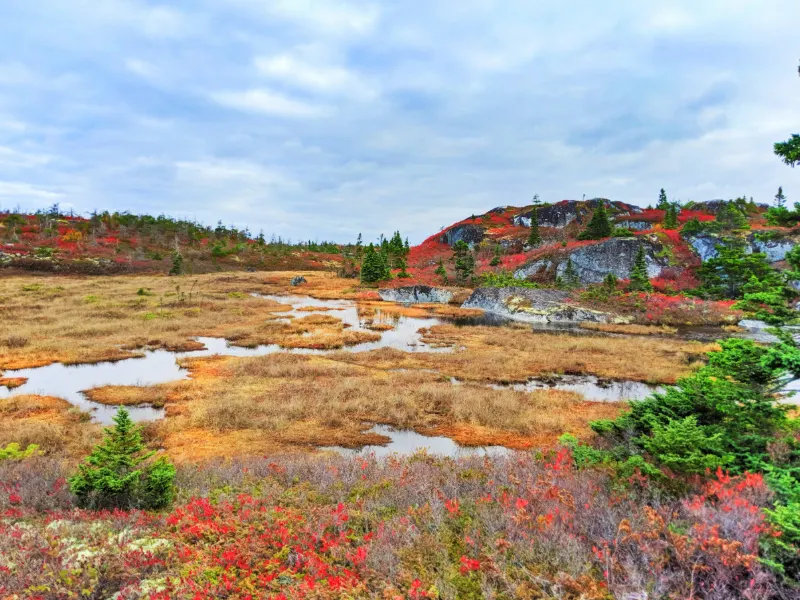 Exploring the Bay of Fundy
Many people visit the Bay of Fundy, but from the New Brunswick side, as many of the most famous sites are there. But Nova Scotia has some remarkable places to experience the changing tides too!
Most of the easily accessible communities and picturesque coves of Nova Scotia are on the South Shore, but taking the time to visit the Bay of Fundy from the Nova Scotia side is well worth the time. Tidal rivers that dramatically drain at low tide and rock formations that appear out of nowhere make the North Shore a one-of-a-kind destination.
TIP: download offline maps for the area before setting out for the day. While much of Nova Scotia has great cell coverage, the North Shore is severely lacking.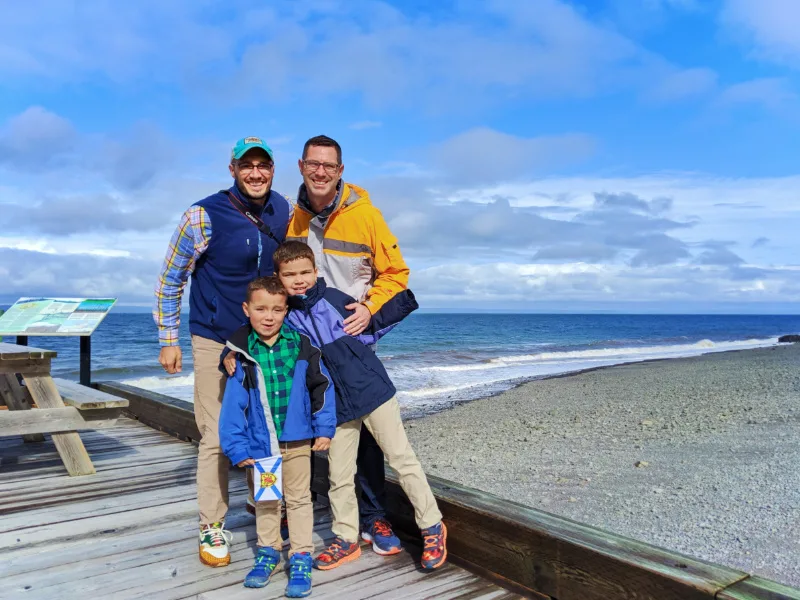 Blomidon Provincial Park
In truth few places you see on Instagram ever really live up to the hype and imagery, but Blomidon Provincial Park does, and on an epic scale. Located on the North Shore, about an hour and twenty minutes from Halifax, the red cliffs and red sand beaches are unlike anything we've seen anywhere else. It's one of the best things to do in Nova Scotia.
At the entrance to the park you'll find picnic areas and beach access, bringing you directly onto the famous red sand beaches, with waterfalls pouring down the cliffs. Since it's on the Bay of Fundy, you'll experience the dramatic rise and fall of the tide here. It's a fairy tale destination, but is 100% real. Google Maps link here.
Note: the majority of Blomidon Provincial park is closed October through May, but access to the red sand beach is available year-round (weather and tide permitting). Book a vacation rental instead if you want to stay right by the park.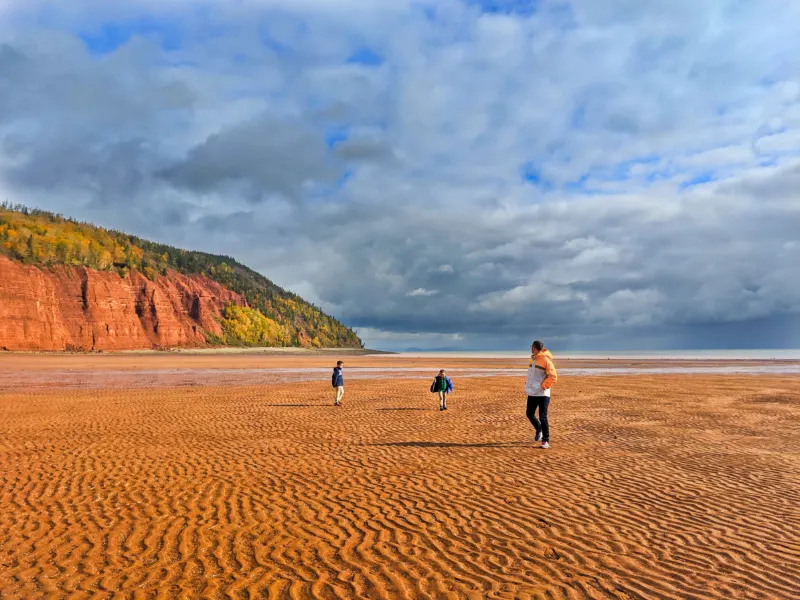 Hiking Cape Split
This is an off-the-beaten-path spot if ever there were one. An eight mile hike round trip out to the point of Cape Split and back, here you'll see the most aggressive and breathtaking tides on the Bay of Fundy. Be sure to check the tide tables before you go hiking so that you can be at Cape Split at the change from high to low tide. Google Maps link here.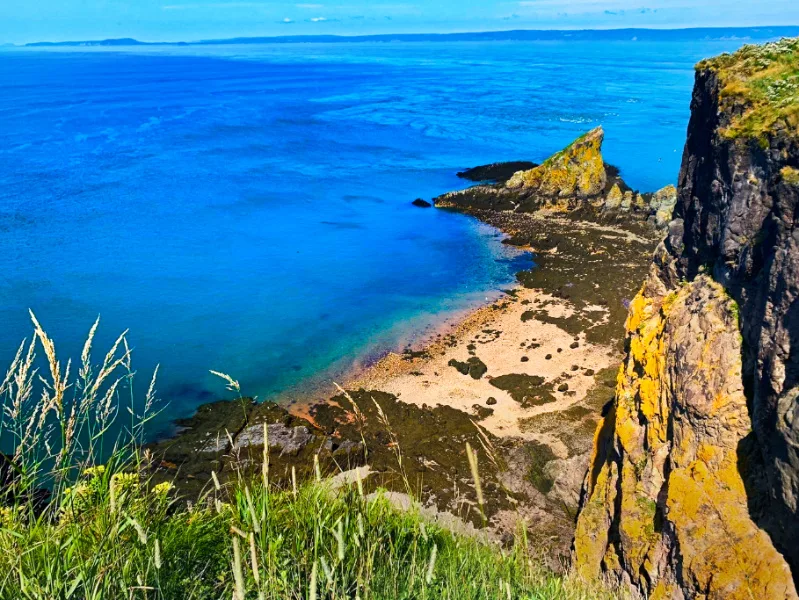 Hall's Harbour
About thirty minutes west of Blomidon Provincial Park, you'll find the TINY fishing village of Hall's Harbour. This is one of the best places to experience the changing tides of the Bay of Fundy. Spend some time having lunch at the Hall's Harbour Lobster Pound, and when you're done, see how high the boats have risen… or how much they've dropped!!
There aren't any hotels in the tiny town of Hall's Harbour, but there are some great vacation rental options.
NOTE: if you're going from Hall's Harbour to Margaretsville, be sure you go Rte 359 to Rockwell Mountain Rd and STAY ON Rockwell. DO NOT go on Brow of Mountain Rd/Steadman Rd, as this will lead you to snow mobile trails and not paved/car appropriate roads. Correct Google Maps link here.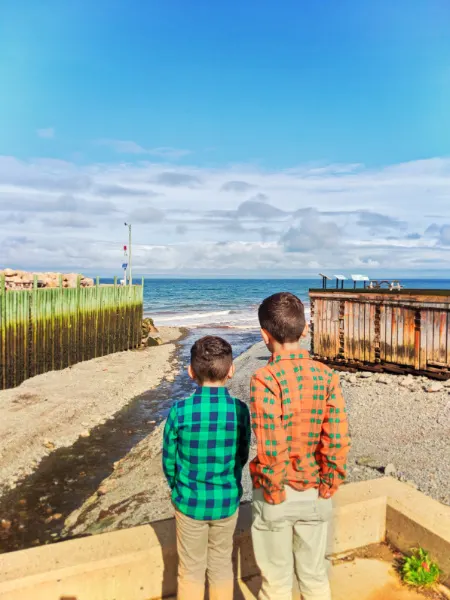 Margaretsville Lighthouse and shore
A sleeping little fishing village on the North Shore of Nova Scotia, Margaretsville is THE PLACE for storm watching on the Bay of Fundy. The lighthouse looks out towards New Brunswick while the beach scoops along the town. There aren't many services here, but there are vacation rentals and fishing boats. It's a great stop along the route between Hall's Harbour and Annapolis Royal.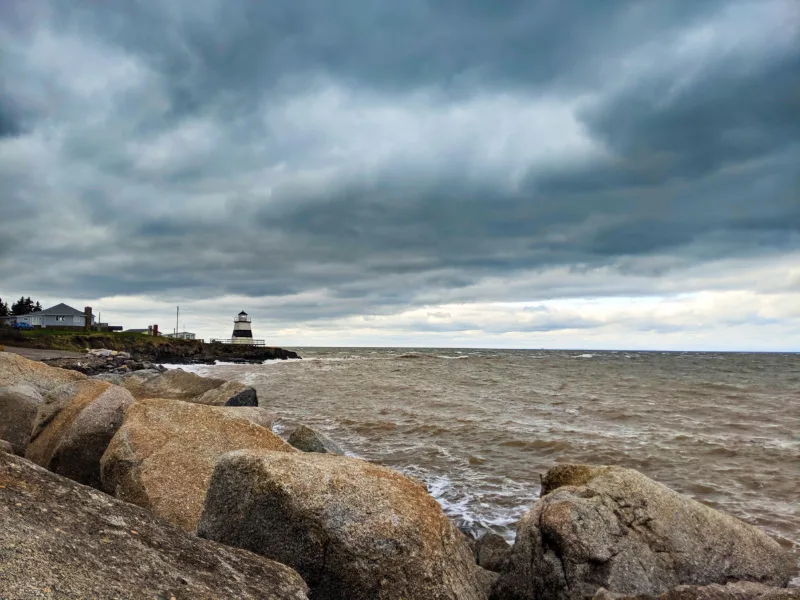 More Bay of Fundy sites for a longer trip
If you've got more than a day or two to explore the Bay of Fundy, the following things to do in Nova Scotia could be added to your itinerary. A word of caution: there are A LOT of gravel roads in this part of the province and many of them cross over snow mobile routes which also populate into Google Maps. Be smart about the adventures you choose to add to your travel plan, and be sure you have the number for roadside assistance…
As we said, be wise as you venture off the beaten path in Nova Scotia. The people are wonderful and helpful, but you don't want to get stuck or lost without a cell signal.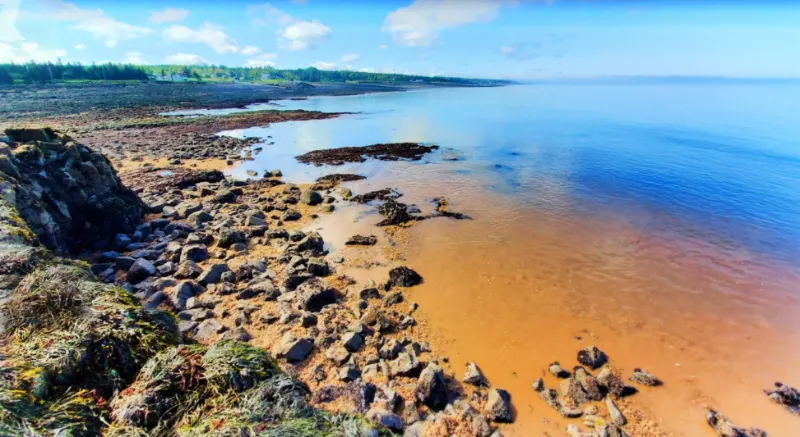 Annapolis Valley Region
Between Halifax and the North Shore is the area known as the Cradle of the Country. Here is where some of the first settlements from Europe were built. There are lots of historic towns and you'll find loads of things to do!
Wine Tasting in Nova Scotia
There are 20 wineries and vineyards in the Annapolis Valley (as of 2022). With warm summers and great soil, Rhone varietals, ciders and more can be found in tasting rooms and small local markets throughout the valley. Book a Bay of Fundy / Wine Region tour here! (not currently available)
Upper Clements Parks – amusement and adventure parks
With the standard amusement park rides and an adventure park, Upper Clements Parks are a great addition to a summer trip. It adds some lighthearted fun to your list of things to do in Nova Scotia. Located just southwest of Annapolis Royal, you can visit June through September. Google Maps link here.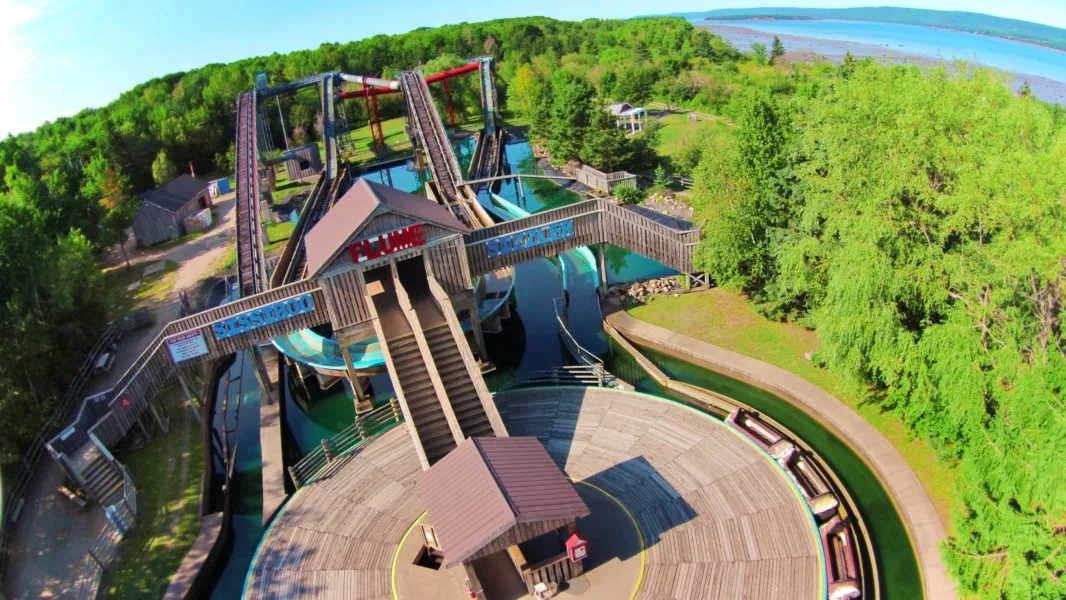 Annapolis Royal historic fishing village
The first town in Nova Scotia, Annapolis Royal has a wonderful feel and fun activities. Summer brings kayaking, whale watching (from the shore or boats!), outdoor dining and lots of arts. Strolling the streets of Annapolis Royal is a must, with its 18th century buildings and parks.
A highlight to the town is the Annapolis Royal Historic Gardens. Similar to the Butchart Gardens in Victoria, BC, this well established English garden is beautiful from late spring and into fall.
Tip: check the website before planning your visit to the gardens in the event they have limited hours or are closed for a special occasion.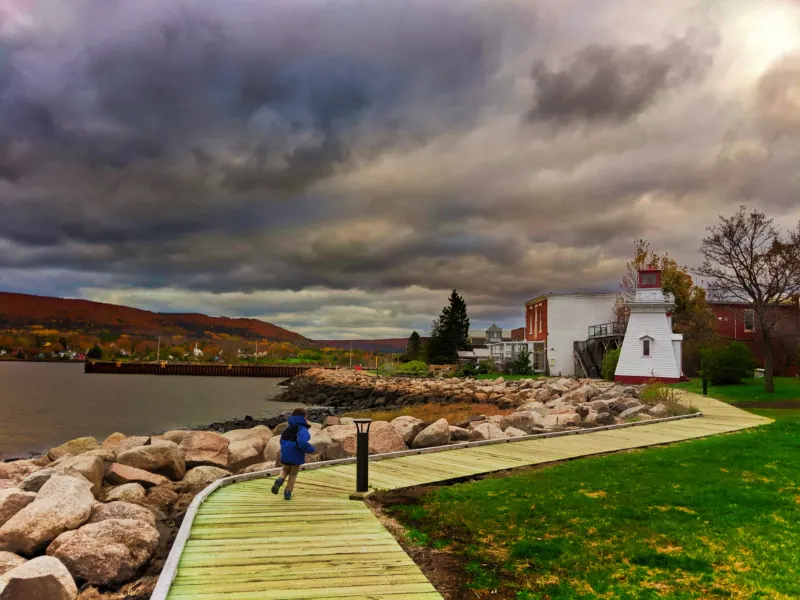 Port Royale National Historic Site
We love living history and the Port Royal National Historic Site is just that. A reconstruction of the original settlement/fort when Nova Scotia was first settled, the fort is perfect to visit with kids or curious adults. It's ten minutes from the town of Annapolis Royal so is an easy addition to your time on the North Shore. Google Maps link here.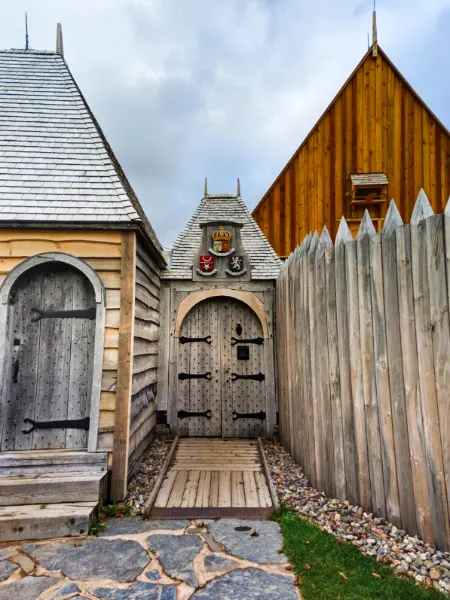 Kejimkujik National Park and National Historic Site
Located inland, Kejimkujik National Park and National Historic Site is a remarkable destination for kayaking, hiking, learning about First Nations culture and more. Hiking trails and waterways are the big draw, so visiting in the summer is ideal, but if you're looking for some of the best fall colours in Nova Scotia, visiting early to mid October is perfect for getting the full experience. Google Maps link here.
Tip: if you're into the stars, Kejimkujik is also a noted Dark Sky Preserve. They have a telescope onsite and regularly scheduled events to help visitors star-gaze.
Best sites of the South Shore, Nova Scotia
Halifax is generally the easiest place to get to when you're visiting Nova Scotia, and the South Shore is very easily accessible from the city. You could take your time stopping in each cove community and it would be amazing, but these are the best things to do and places to visit on the South Shore of Nova Scotia.
Peggy's Cove
Probably the most famous of the fishing villages in Nova Scotia, Peggy's Cove is a small Canadian dream. Complete with a red and white lighthouse, lobster and crab to grab and go, and colorful fishing boats, no visit to Nova Scotia is complete without stopping here. Find a hotel or vacation rental near Peggy's Cove here!
The town is part of the larger Peggy's Cove Preservation Area, and is a wonderful place for viewing wildlife including bald eagles, martins, seals and even whales.
Tip: get to Peggy's Cove VERY EARLY, meaning before 9:00 am so that you miss the crowds. This is a very popular tourist stop, including large tour buses from cruise ships. The earlier the better, or be in Peggy's Cove at sunset.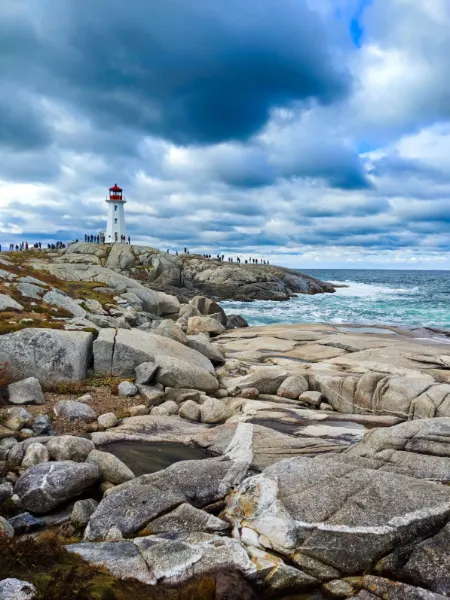 Historic Lunenburg UNESCO World Heritage Site
A UNESCO World Heritage Site, Lunenburg is one of the coolest towns we've visited in North America. Built up a steep hill, it feels like the Nob Hill or Telegraph Hill neighborhoods of San Francisco. Seafood restaurants and maritime shops give it a bustling vibe and make for a great morning stroll / shopping expedition.
A unique gem we enjoyed was Shipwright Brewing Company. Making only small batch beers available ONLY in the taproom / brewery, it's the smallest and most unique brewery we've come across in our travels.
The Lunenburg waterfront is the perfect spot to enjoy the sunshine and get your fill of Nova Scotia's historic (and current) fishing industry. It's here that you can catch a great tour all about the history and hidden gems of this special UNESCO World Heritage town.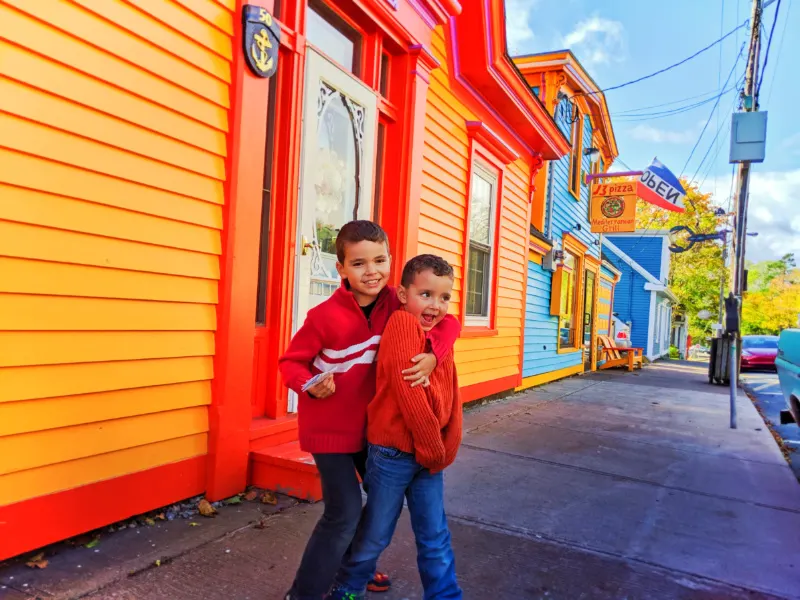 Fisheries Museum of the Atlantic
Located right on the waterfront of Lunenburg the Fisheries Museum of the Atlantic is full of cool fishing artifacts and memorabilia. It includes access to the tall ship, Bluenose II, and if it's a cold or rainy day, it's a great escape from the weather. They do close early October through May, so if this is one of the things to do that's important to you, plan your day appropriately. Book a special museum experience here!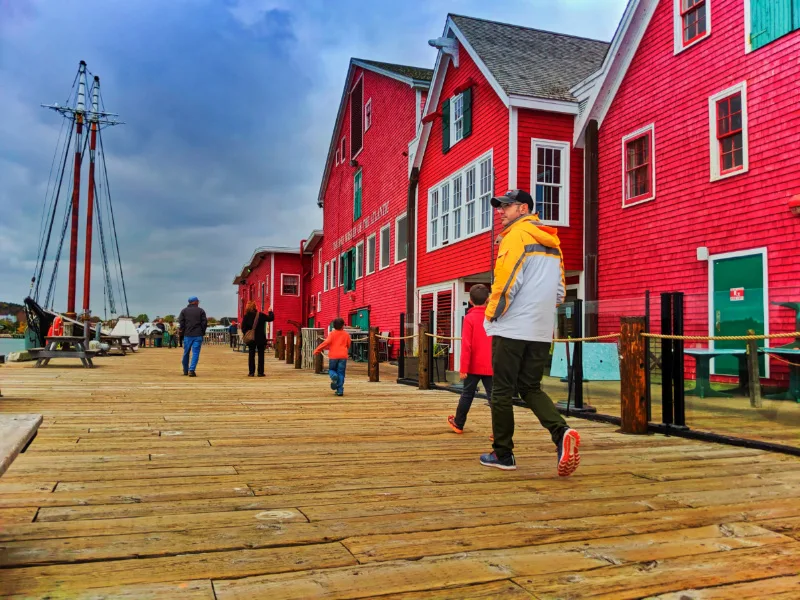 Whale watching out of Lunenburg
We love whale watching (it's the Pacific Northwesterner in us) and go out on adventures whenever we can. Due to its position being quite a ways from the mouth of the Bay of Fundy, whale watching out of Lunenburg is particularly good. IT IS FULLY DEPENDENT ON THE WEATHER.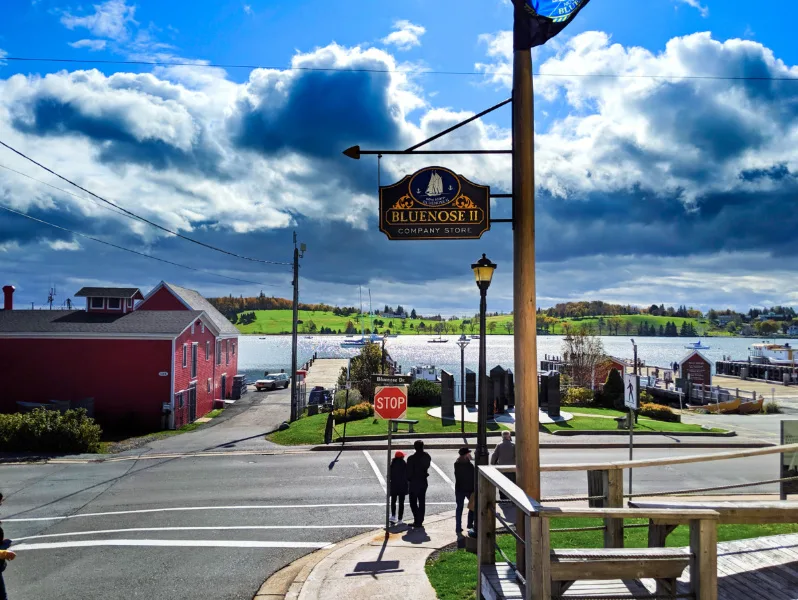 Ovens Natural Park and Thunder Cave
Open May through September, Ovens Nature Park is a private nature preserve used primarily for camping… but it's got some phenomenal features that are cool to check out on a day trip. From rocky outcroppings and tide pools to the Thunder Cave, Ovens Nature Park is ideal for experiencing Nova Scotia's interesting geology and coastline.
Strolling through sleepy Mahone Bay
You have to drive through Mahone Bay on the way to Lunenburg, and if you've got time, this adorable town will steal your heart just a bit. Looking more like a New England town than a Scandinavian settlement, Mahone Bay is full of B&Bs and galleries. It's the Nova Scotia weekend getaway you didn't know you needed.
Tip: if you'd rather just go along for the ride, you can book a tour from Halifax to visit Mahone Bay and Lunenburg.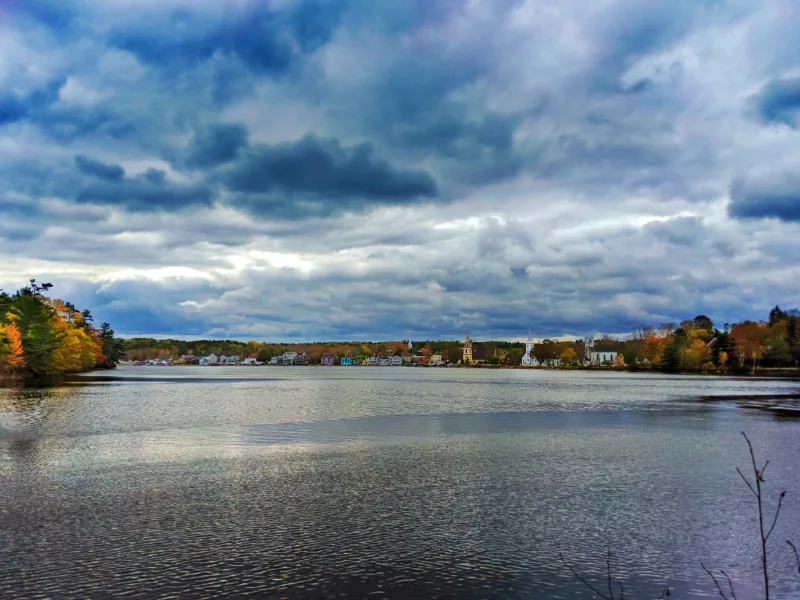 Feltzen South: beach time and boats
We discovered this gem on accident! Feltzen South is an out-of-the-way afternoon stop for relaxing on the beach. Yes, even in fall this is a beautiful place to visit. A small cove/marina makes for some beautiful photos, while a secluded beach is perfect to enjoy with kids. There's nothing else to the town really, but it's worth the short drive for the beauty and solitude of it. Google Maps link here.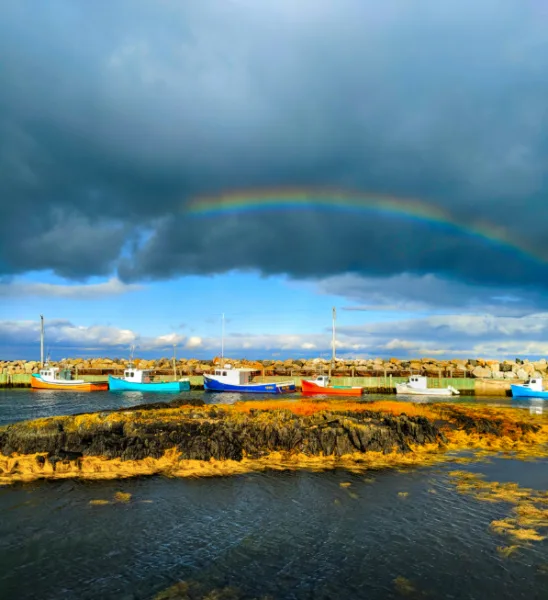 Blue Rocks: the perfect Nova Scotia kayaking destination
Just northeast of Lunenburg is the tiny fishing village of Blue Rocks. Called such because of the shale rock cove, it's the perfect backdrop for watching a Nova Scotia Sunset. In summer, you can rent kayaks or do guided paddling tours for exploring the coves. And this is another spot to enjoy the freshest lobster and haddock on the South Shore.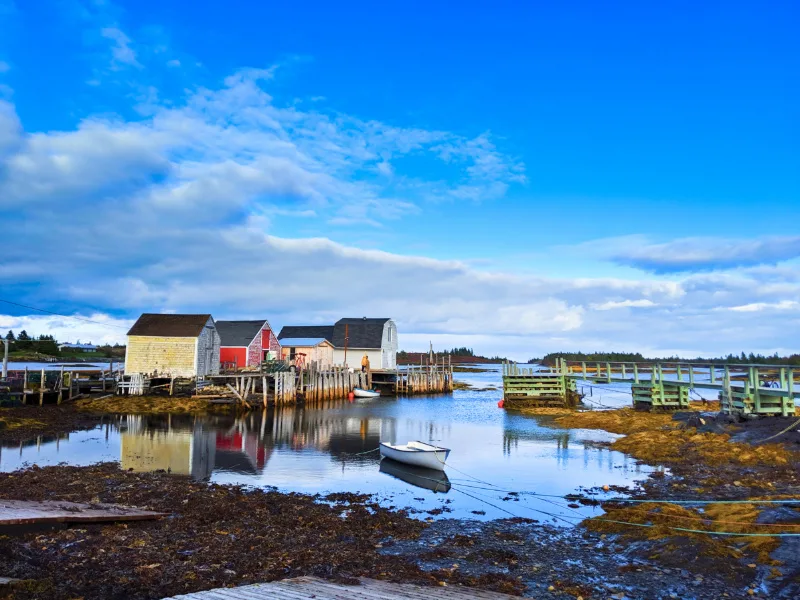 Driving the Lighthouse Route
If you're so inspired after your first experience on Nova Scotia's South Shore, you'll for sure want to return. On your next visit, build a few days into your travel plan to be able to drive the Lighthouse Route all the way to Yarmouth, Nova Scotia. You'll have the chance to visit more than 20 lighthouses, stop into tiny cove communities and fall more deeply in love with the Maritimes.
For more information on the South Shore and the Lighthouse Route, check out this great article that really digs into the region.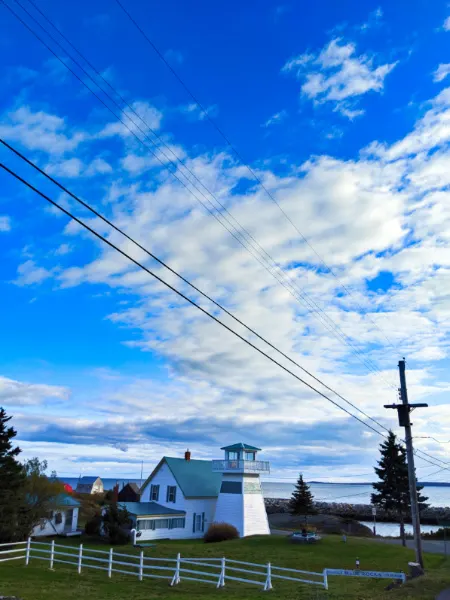 Wow! Are you completely ready for an incredible trip? There are so many things to do in Nova Scotia and each is so unique to the province. If you have any questions, please let us know; we're here to help!
Where is Nova Scotia?
If you still need some info one where it is or how to get to Nova Scotia, this section is for you!
Living in the USA, I know a lot of people who have never been to Canada's Maritime Provinces. Located in the easternmost reaches of our neighbors to the north, the Maritimes include New Brunswick, Prince Edward Island, and Nova Scotia. These provinces are known for their lighthouses, fishing villages and epic fall colors. And that's exactly what we're sharing (and more!).
What time is it in Nova Scotia?
Also, fun fact: Nova Scotia is in the Atlantic Standard time zone. When you're planning your travel and see late flight arrival times, think about what time it is in Nova Scotia and look at the actual duration of travel. That means that it's four hours ahead of Pacific Time in Seattle or Los Angeles, three hours ahead of Montana or Denver, Colorado, two hours ahead of Chicago and is one hour ahead of New York. Crazy to consider that the Maritimes are that far east!
Getting to Nova Scotia
Even though Nova Scotia looks like an island, it isn't. You can drive to Nova Scotia from the United States, crossing the border into Canada from the State of Maine. Drive from the US/Canada border at Saint Stephens, New Brunswick into Nova Scotia at Amhurst and it's about a three hour road trip through New Brunswick. Driving from Bangor, Maine all the way to Halifax is nearly a seven hour drive, but still doable in a day.
Ferries to Nova Scotia
Three ferry boat routes take visitors to the Nova Scotia peninsula. For those of us traveling to Nova Scotia from the USA, there is actually a car ferry that goes from Bar Harbor, Maine to Yarmouth, NS. From Saint John, New Brunswick you can take the ferry across the Bay of Fundy to Digby, NS (closest to Halifax). The third ferry is a very short ride from Prince Edward Island (PEI) to Caribou, NS. Make reservations if you're taking a ferry to Nova Scotia.
Flying to Nova Scotia
The primary airport in Nova Scotia is the Halifax Stanfield International Airport, airport code YHZ. With primarily direct flights from Canadian airports, it usually takes a stopover or two from the USA to get to Nova Scotia. Direct flights from the United States into Halifax (as of 2019) can be caught from Boston, Chicago, Fort Lauderdale, New York City, Newark, Orlando, Philadelphia, St Pete and Tampa, Florida. All major Canadian airports fly direct to Halifax at least four times per week.
Tip: if you can't get a direct flight to Nova Scotia, add a day or two stop-over in one of the major US hubs, such as Chicago or NYC, for added fun!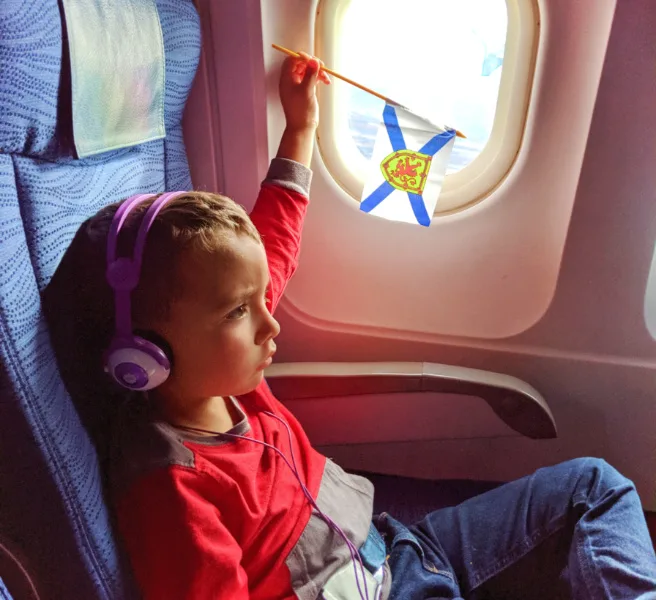 Additional Booking Resources
As you know, we are affiliates with several travel booking services. Feel free to sift through the accommodations and tour services we recommend. We may receive a small commission (at not cost to you) should you book.
Hotels Options
We LOVED staying at our hotel, the Best Western Plus Dartmouth Hotel & Suites!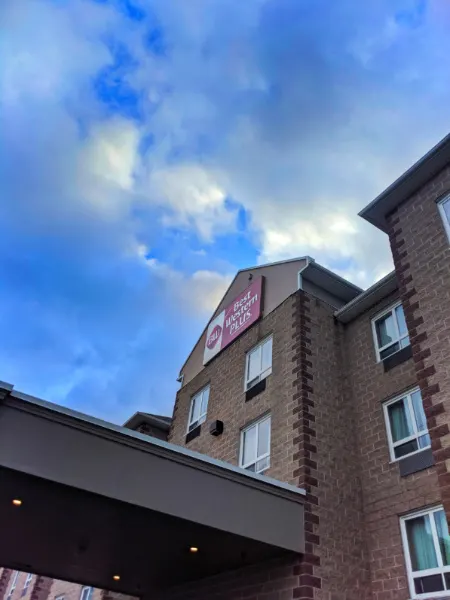 Alternative: there is another BW Plus, the Chocolate Lake Hotel, which is on the downtown Halifax side of the Harbour if you prefer that area for your home base. Book it here!
If you would like to do your own hotel search….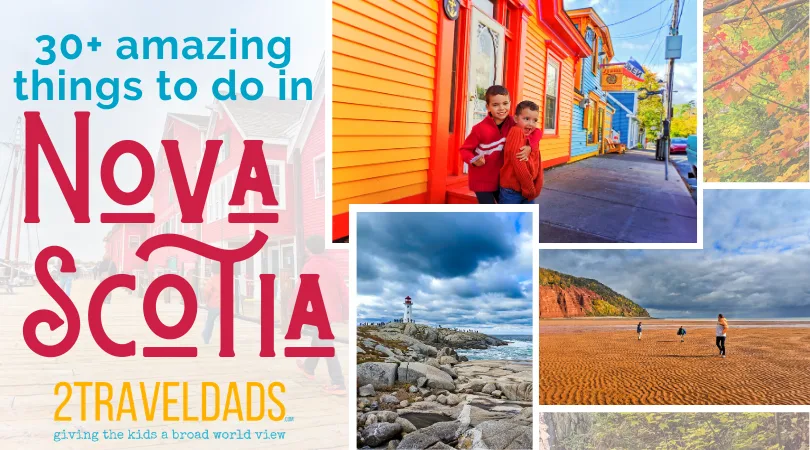 Vacation Rentals
If you're interested in finding a vacation rental in Nova Scotia, we recommend searching through Home Away.
Guided Tours and Transportation
For booking tours both in and out of Halifax, including to Lunenburg or the Bay of Fundy, we recommend going through Viator, as their tour operators are carefully vetted before being added to their booking system. Search for guided tours in Nova Scotia here!
Lastly, to search for flights we always go through Expedia first and then either book through them or direct with the airline if it's a single carrier.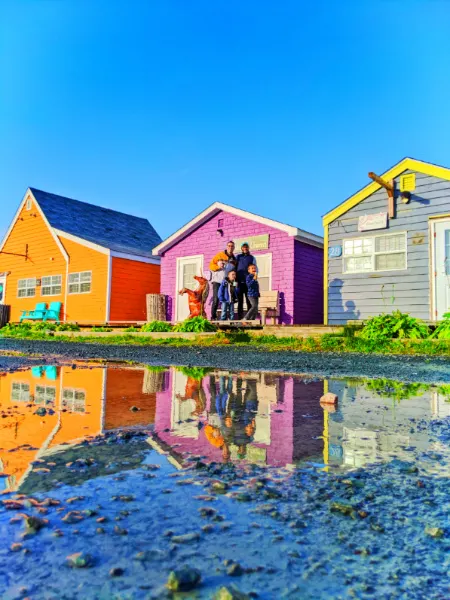 Thank you for following along and feel free to pin this post for when you're planning our your top things to do in Nova Scotia!