New York City is a lot of things, and one thing it's not is boring. Even when visiting NYC with small kids it's fun and interesting. Us Dads were particularly interested in checking out the historic side of New York when we were there and it didn't disappoint. Visiting historic sites in NYC was fun and fascinating, particularly in Lower Manhattan.
New York is one of the oldest cities in the United States, and with that comes some of the most important sites in our country's history. We only visited about half of what we wanted to, but the following historic sites in NYC are plenty for giving you a taste of American history and a feel for the importance of New York through the centuries.
Visiting historic sites in NYC with kids
Before we dig into our favorite historic sites in NYC we want to encourage you to have some conversations with your kids (or whoever is visiting with you) to give a little background or perspective around what you're going to visit. Not everybody knows the history of the USA and to understand the gravity of the sites and stories, you need a little context. Maybe this is a great chance to exercise your research muscles and get to visit some National Park sites!
And although we don't dig into visiting historic Brooklyn or making the trek out to Coney Island in this post, there's a lot of history to explore and learn about just across the Brooklyn Bridge. Lower Manhattan is the historic hub of NYC, but beyond the southern tip of the island there's much more!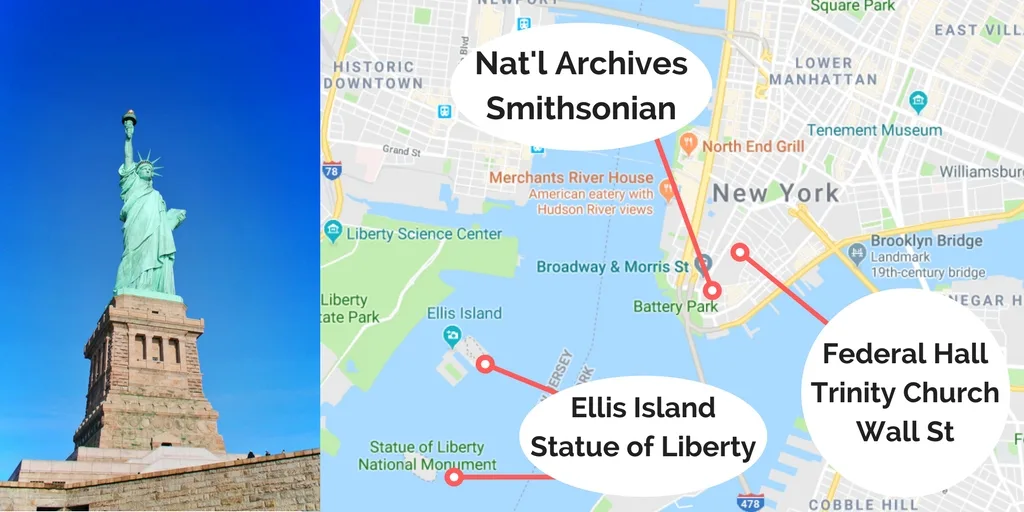 Wall Street and the neighborhood
Wall Street is more than the stock exchange, even though that's a huge part of it. It's the main street of Old New York. The narrow streets are reminiscent of European city streets. The structures are a mix of modern architecture, new Gothic, Greek revival, and just perfect NYC. This neighborhood is just the start of the hidden gems in New York City.
From Bowling Green and the Charging Bull to the random old tavern house that our hotel was built around, the Wall Street neighborhood is unlike any other. Probably what makes it so interesting to walk through and explore is that the sites and names are all ones you've heard your whole life, that you've seen on the news or read about once.
We would happily choose the Wall Street neighborhood as our home base for our next trip to the Big Apple. The historic sites in NYC are largely concentrated here, so it makes for an easy place to start and end your day.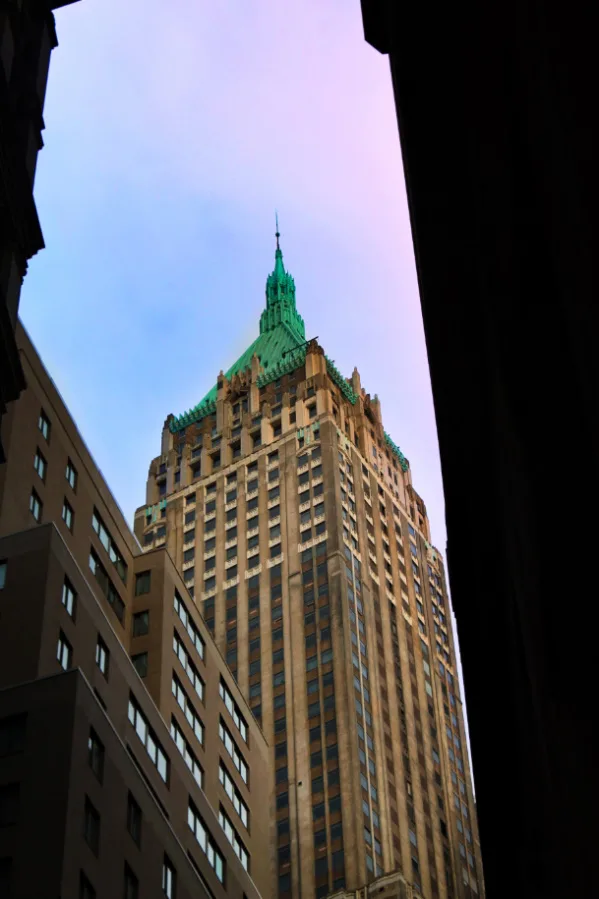 Subway trains in the Wall Street neighborhood include
:
R 1 2 3 4 5 J Z – Primary subway stations to be familiar with are Wall St, Rector, Bowling Green and Broad/Wall.  And know that there is Wall St and Wall St Station (east of 55 Wall).
Check for a hotel on just off the Subway lines:
Single-train sites from Wall Street/Lower Manhattan
Penn Station (1 @ Rector); Union Square (14th via 1 @Rector); Brooklyn ( 2/3 @ Wall St Station); Central Park South (R/W @ Rector East); Herald Square (R/W @ Rector East); The Met (exit 77th via 4/5/6 @ Bowling Green). It's very easy to get to Lower Manhattan from Brooklyn!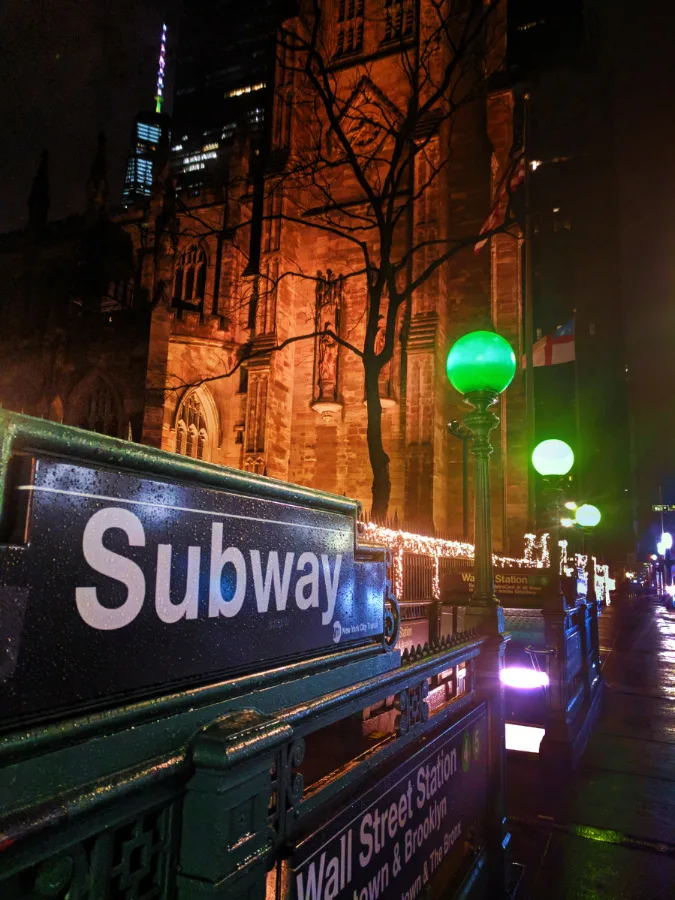 Federal Hall National Memorial
Unless you're researching historic sites in NYC you might not have ever head of Federal Hall National Memorial. "It doesn't sound very exciting." No, it's not exciting but it's interesting and gives you a sense of place in the history of the United States.
Federal Hall on Wall St in NYC was were George Washington, first President of the United States, was sworn into office. It also served as the treasury and other government offices, but what makes it so cool to visit is this strange tingle in your soul when you think about all of the world-shaping people who have walked across that same marble floor. Yeah, try to explain that concept to a little kid. 😉
Best time to visit: visit when Federal Hall National Monument first opens. It's not an immensely popular attraction, but photographing the hall with minimal people makes for some cool shots.
Subway Station:  2/3 trains stop @ Wall St Station which is directly across the street. Wall St subway stop at Trinity Church is one block up.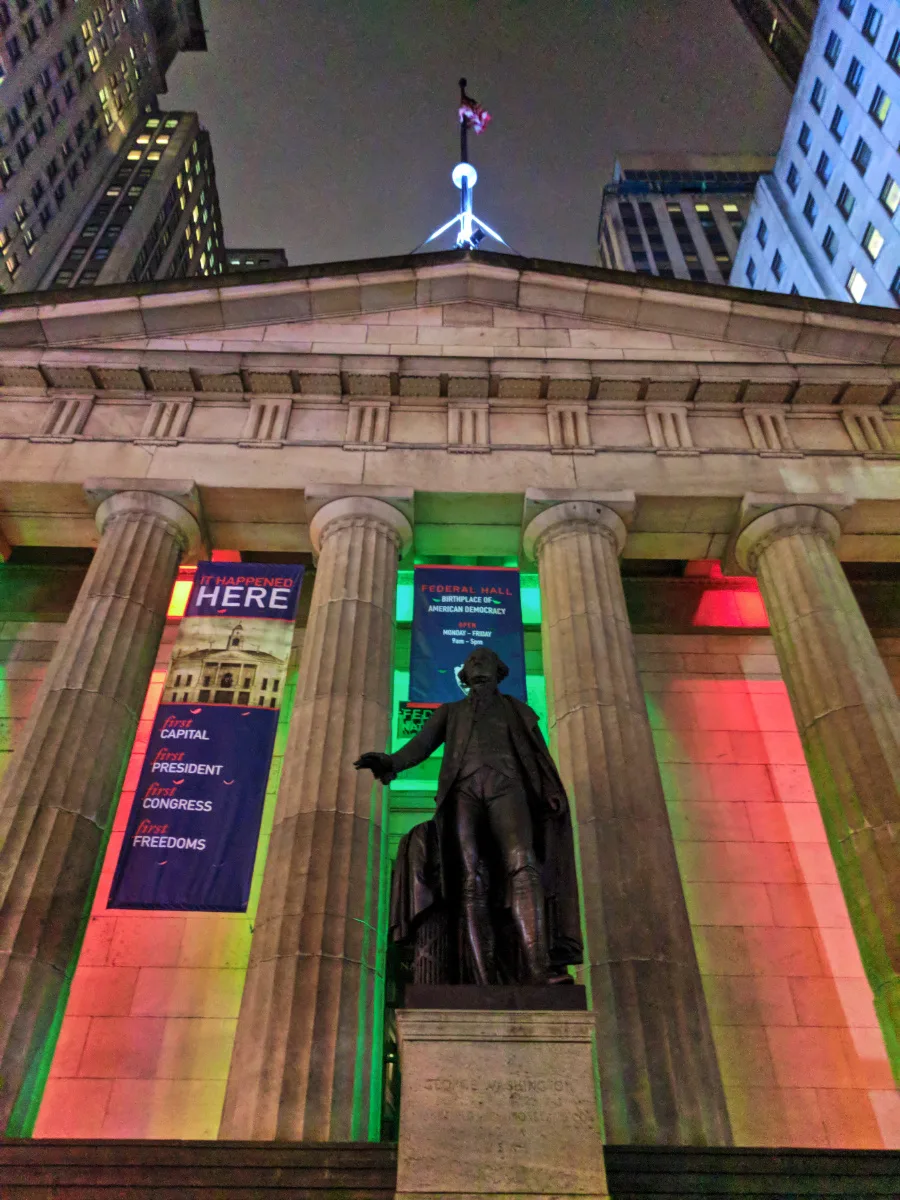 Trinity Church
Before you visit New York and seek out all the historic sites in NYC, rent National Treasure. It's an okay movie, but what's really cool is when they go to Trinity Church on Wall St. It is one of the oldest churches in New York City and has been very well preserved. It is the building with the longest continual use in NYC. The inside is absolutely beautiful and if you're lucky you'll even get to experience the church choir practicing. Services are open to the public too if you're interested.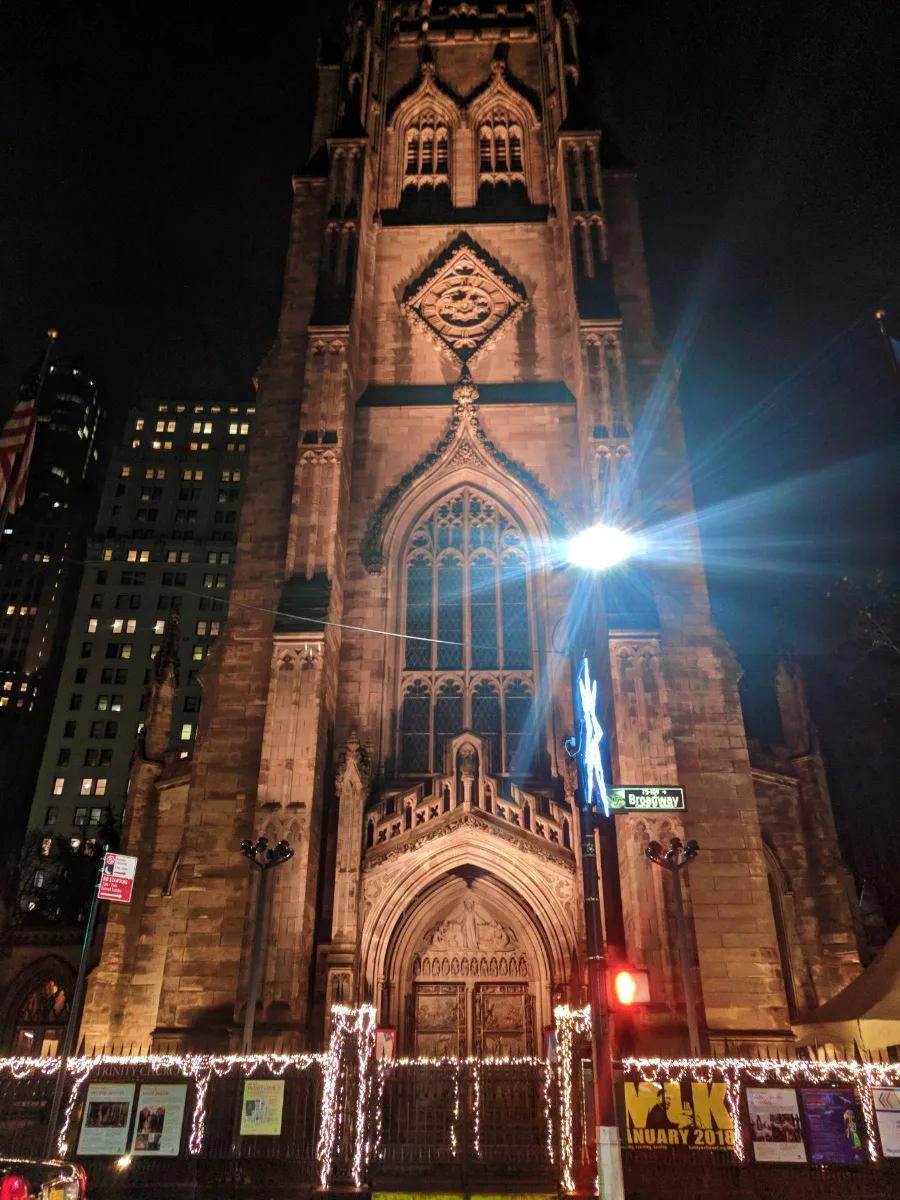 Most of the churches we visit are historic missions so Trinity was very different and the kids noticed. What it did have in common with the missions we've been to is the adjoining cemetery.
Trinity Church Cemetery
Cemeteries are always kind of strange to visit and we don't hit up too many of them with the kids, but this particular one has some iconic graves. Rapidly becoming one of the most popular historic sites in NYC, the Trinity Church cemetery is the burial ground of Alexander Hamilton, a man of both great historical and Broadway significance. Robert Fulton, the inventor of the paddlewheel river boat, and several other historic figures are also buried here.
Tip: check the schedule either at the church or online and try to get onto a guided tour. The tour covers both the old church and the cemetary, so it's a great way to learn a little extra while checking out this wonderful historic site.
Subway Station:  4/5 trains stop at Wall St and the exit/entrance is directly outside of Trinity Church.  Rector station is one or two blocks west for 1/R/W.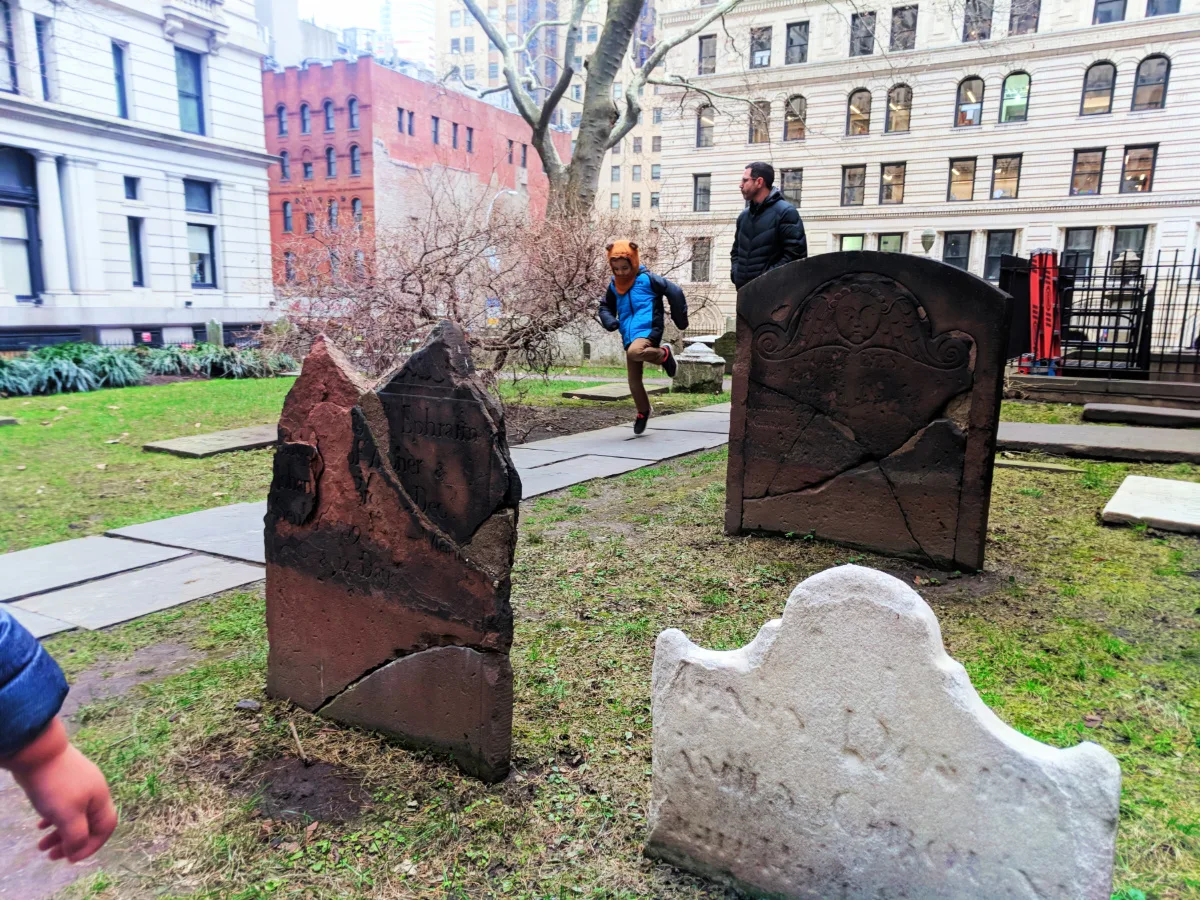 National Archives and the Smithsonian Museum of the American Indian
We didn't plan on visiting the National Archives when we were in New York, but then we realized that the Customs House, a beautiful historic building in itself, is also home to the Smithsonian Museum of the American Indian. Wow. What a place.
We've talked to the kids a little bit about their heritage but not a tone. Visiting the Smithsonian Museum of the American Indian opened up a whole new conversation with the kids and they were able to put together what heritage is in relation to their own lives (or at least our oldest did).
Highlights of the Museum of the American Indian included the performance hall which was full of traditional clothing and headdresses, displayed to showcase many of the tribes of North America, including our tribes: the Lakota and Blackfoot; and the artifact rooms.
Tip:  if you haven't talked to your kids about or if you have a visitor from outside the USA, giving a brief history of the decimation of the native tribes is very important before visiting the Smithsonian Museum of the American Indian. The exhibits do not give much history or context when it comes to how tribes were relocated or exterminated. Those conversations are very important to have and keep in mind when visiting a museum like this.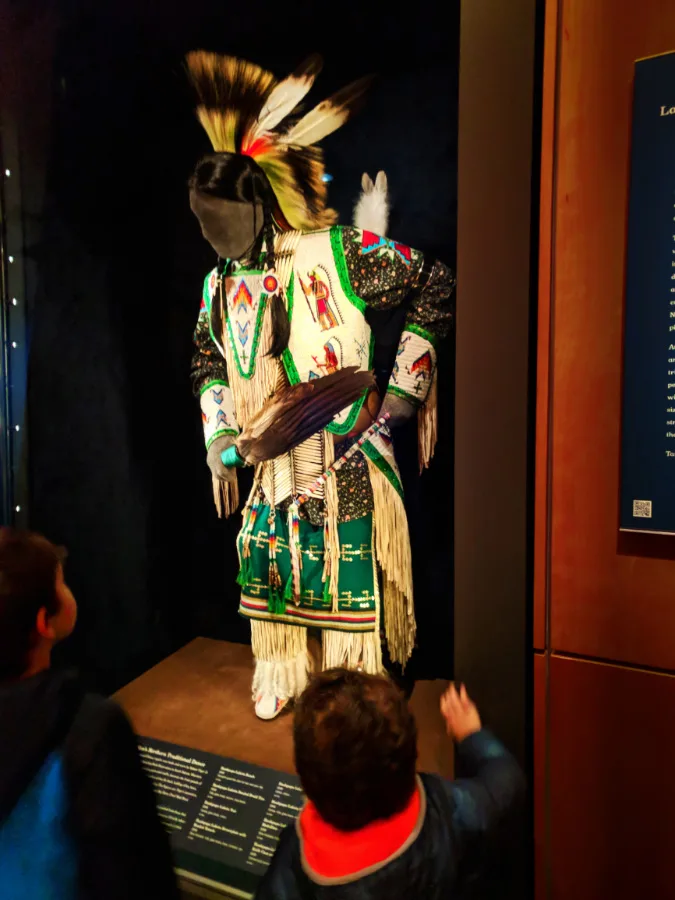 Also in the Customs House building is a branch of the National Archives.  If you visit the Archives in Washington, DC you'll get to see the Declaration of Independence and the Constitution. The collection here at the NYC National Archives is not as famous or comprehensive and is much more functional, particularly relating to immigration history.
Subway Station:  5 train to Bowling Green is right in front of the Customs House building and the South Ferry station is one block away for trains 1/R/W.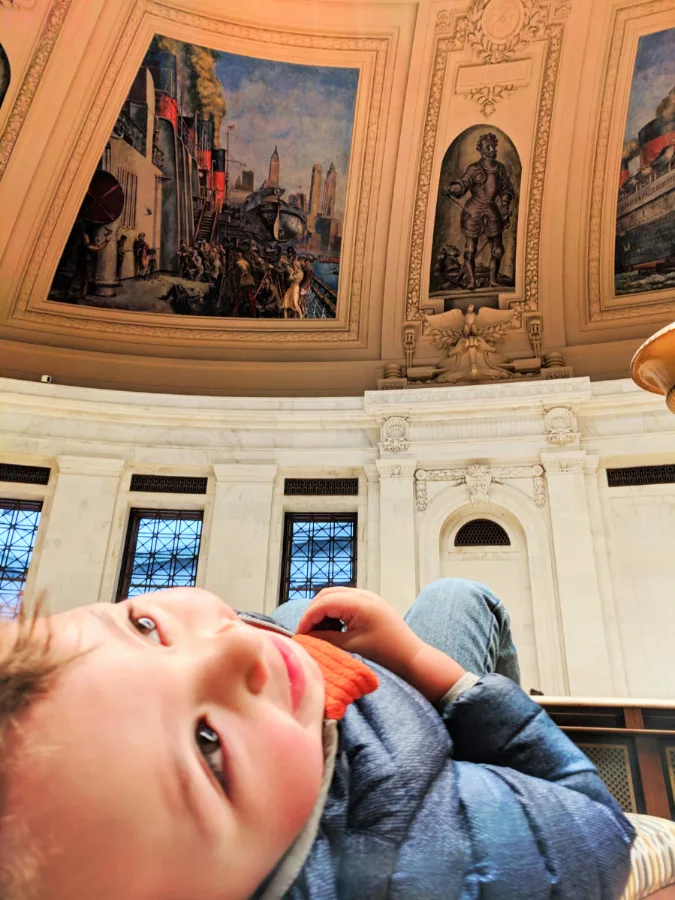 Visiting the Statue of Liberty and Ellis Island
The Statue of Liberty is a bucket list item for so many travelers, both from the USA and internationally, which is why it's one of the best things to do in Lower Manhattan and is a must in NYC with kids.  It's not as simple to visit as you might think though, so be sure to read everything following to make sure you have the best visit… and that you actually CAN visit.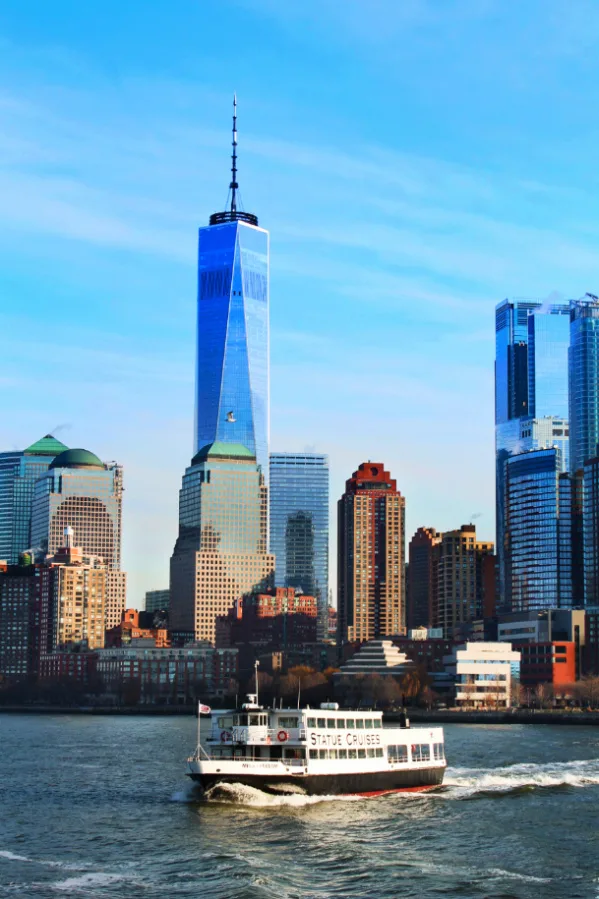 Planning for Ellis and Liberty Islands
While it may seem like an easy task to get yourself out to the Statue of Liberty or Ellis Island, it takes planning.  The big things to know are these:
Statue Cruises is the only authorized vendor to land at Liberty Island – don't book something else
The ticket to visit the Statue of Liberty INCLUDES going to Ellis Island also
If you want to do the Pedestal or climb into the Statue of Liberty crown, that's a separate cost and it sells out fast. Book that online as soon as you know when you'll be visiting.
Get to Castle Clinton to check in for you transportation as early in the day as possible. The security wait could acctually be several hours, as could the ticket purchase line if you didn't get them in advance.
If you purchase a CityPASS, the correct Statue Cruise is a part of that ticket, but you still need to visit the ticket office to convert it to an actual ticket, and that has a very long line too.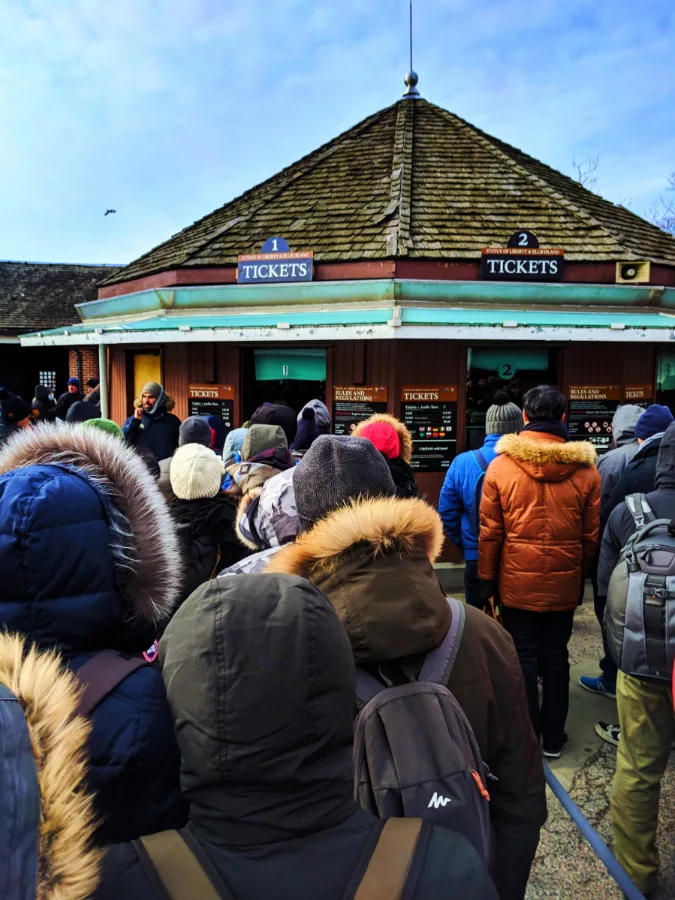 As long as you've planned your visit and are ready to invest a chunk of time, you'll have a great time exploring Liberty and Ellis Islands. Be sure to dress warmly if you're visiting October through April and remember that even if it's a beautiful day, the wind chill on the boat or islands can still be super chilly.
Schedule tip: if you are buying your Statue Cruises tickets in person, know that you can get them and then come back first thing the next day (or even a few days after) and then you'll just have to go through security. You don't have to wait through multiple hours of lines if you don't want to.
Subway stations:  1/R/W to South Ferry at Battery Park or 5 to Bowling Green station are the closest to Castle Clinton, which is where you'll catch the boat to the islands.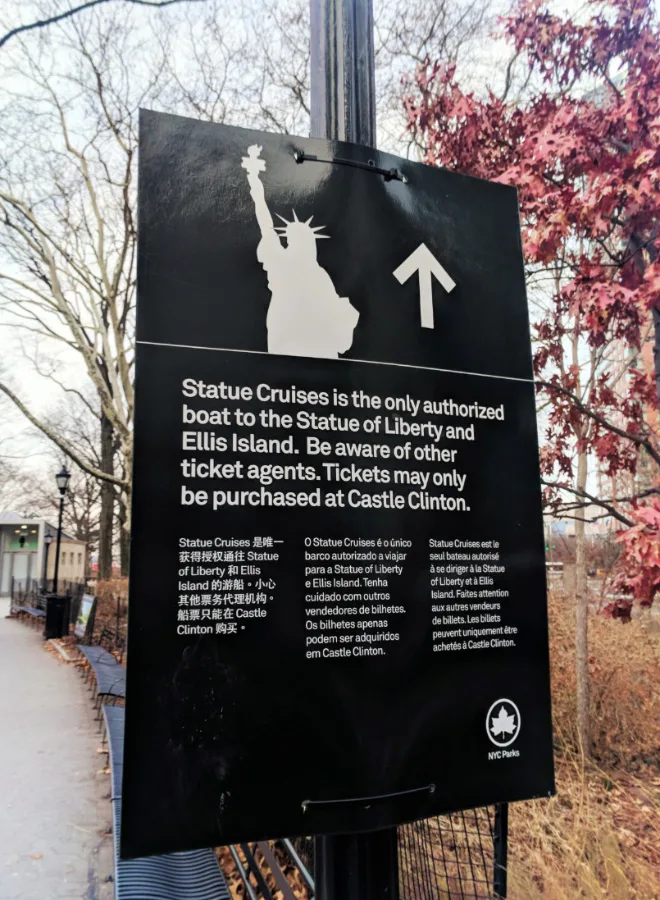 Ellis Island National Monument
I remember visiting Ellis Island National Monument when I was a kid and not understanding it in the slightest. Then I visited as an adult and had the knowledge of US history and immigration, but still didn't totally get it. And then I visited with my family and truly got it. The emotion of being at Ellis Island with my husband and children and thinking just for a moment about the thousands of other families who came through, or parents who came to America in hopes of bringing their kids to the USA… It was kind of heavy to experience.
Also, of all the historic sites in NYC Ellis Island is probably the most relateable and connected to anybody who's family has been in the United States for several generations. While not everyone who immigrated to the USA went through Ellis Island, more than 12 million did.
When you consider visiting Ellis Island with kids, know that there will be much more to check out than you'll probably want to. The best exhibits to do with kids are the ones that they'll most likely understand or engage with. Suggestions:
Baggage room
Registry room
Through America's Gates
Treasures from Home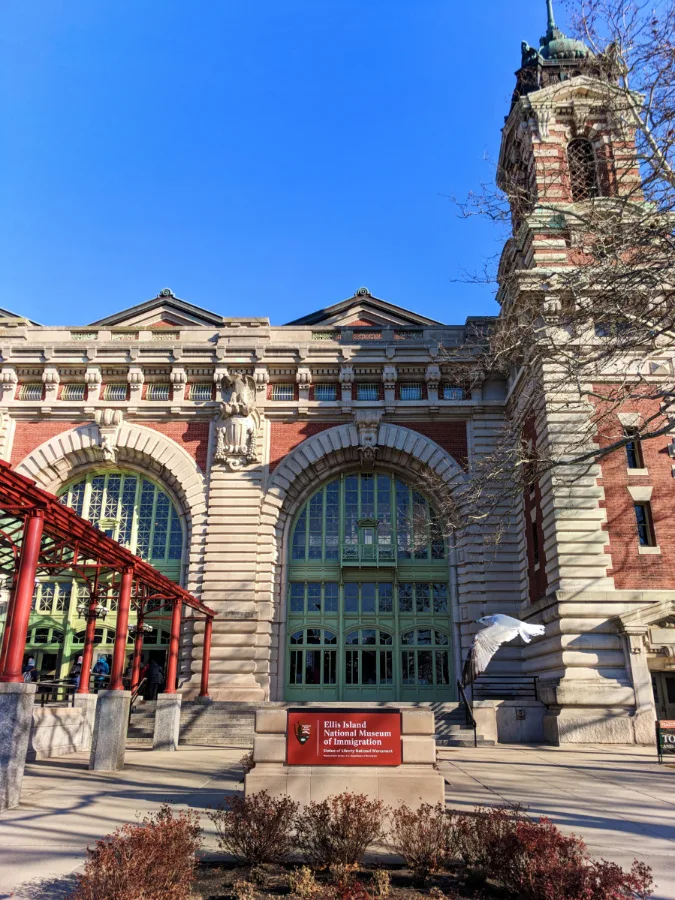 Statue of Liberty National Monument
One day we'll write a more detailed article about visiting the Statue of Liberty, as it is one of the most iconic of the historic sites in NYC… but we weren't able to do two of the sections of Statue of Liberty National Monument, so we'll share more once we've done that.
Visitng Liberty Island is still really cool even if you don't get to do the tours within Lady Liberty. You can walk the full circle of the island, take some amazing pictures, take in the views of New York City, the Brooklyn Bridge, Ellis Island and more. The primary highlight of visiting the Statue of Liberty is truly just taking her in. The site is overwhelming and so special to many Americans, newly immigrated and not.
Tip:  be sure to either complete the Junior Ranger sheets in advance or do it while you're on Liberty Island. Due to the number of visitors, the Park Rangers will not allow you to take Junior Ranger badges in advance of completing the packet.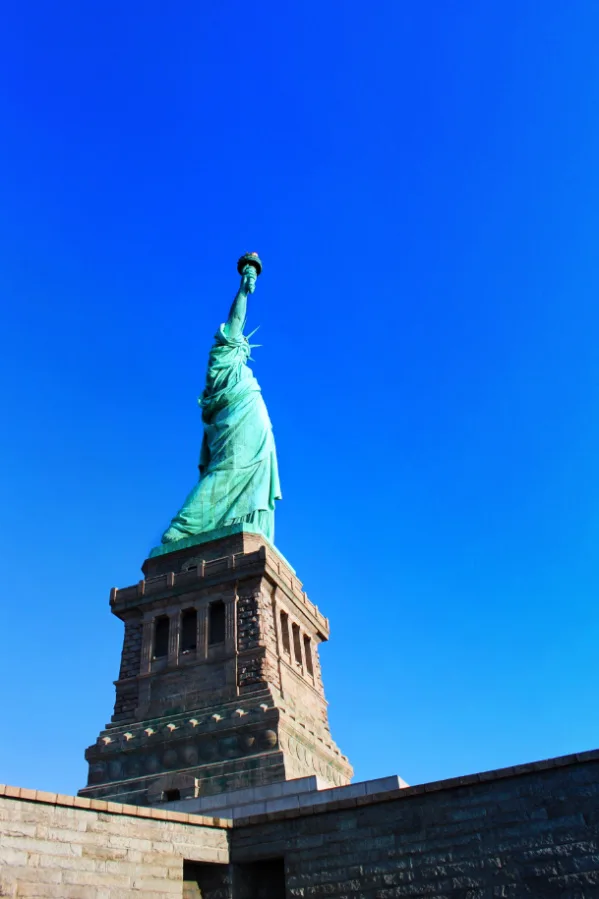 Other NPS or historic sites in NYC that you'll find in the Lower Manhattan neighborhood (or close by) include:
New York City with kids can be kind of an overload, but with some good planning and prioritizing a family trip can be unforgettable. Working in the historic NYC sites is a great way to add variety and learning to a trip to the Big Apple.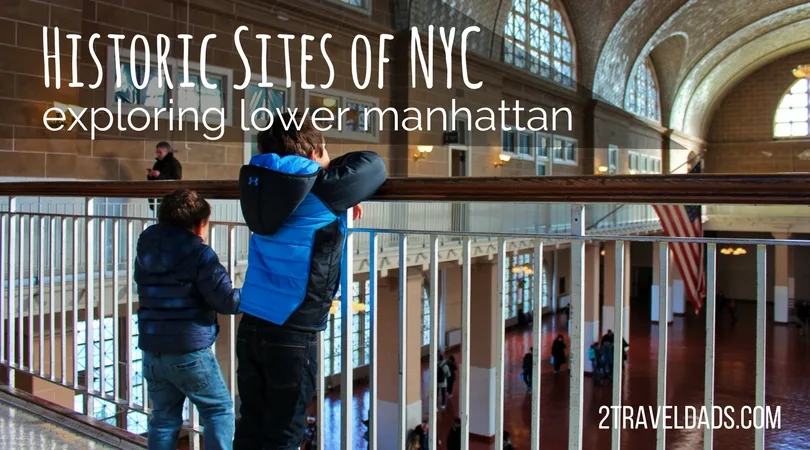 Want to pin this for your own NYC trip planning?  Go for it!