Initially the thought of doing New York City at Christmas with kids felt a bit daunting, and we travel A LOT. Once we started planning and accepted that NYC can't be done all in one trip, particularly with kids, we started to get excited…
Our goad with doing NYC over the holidays was to experience the iconic sights and holiday vibe that New York is famous for. I'd say we accomplished it! From seeing the sights of historic Lower Manhattan to taking in a Broadway show, we did it all. And here's how you can do it too… on a budget!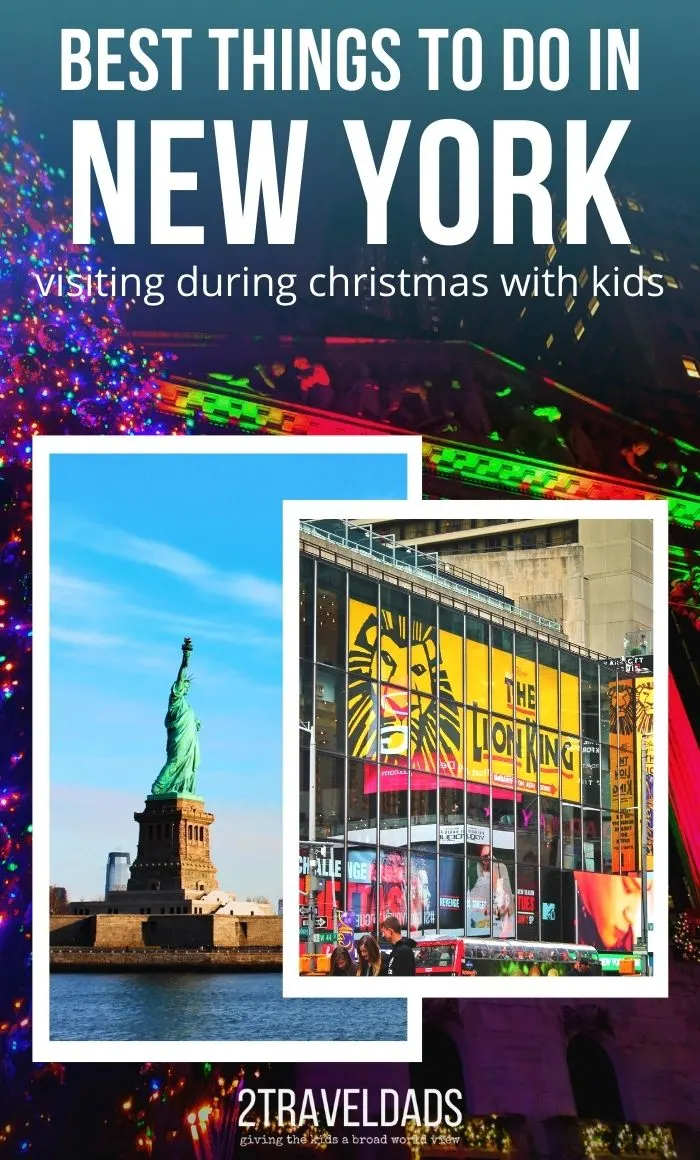 Getting Around New York City with Kids
Even with the amazing subway system in NYC you'll still walk a lot. If you're visiting NYC at Christmas with kids, you'll need to be sure everyone has good, warm walking shoes and warm jackets, hats and gloves. New York in winter is really freaking cold, and because you'll be walking so much, you'll need to be prepared.
Doing the NYC Subway with Kids
We arrived in Manhattan via Penn Station from JFK and rushed through the crowds of New Yorkers on the way to the Number 1 train to head downtown. We opted for the unlimited ride Metro Cards since we're in NYC for five days and will be riding the subway a lot.  Once on the train we told the kids to hold on and away we went! They totally dig the subway and ride it like pros.
Tip: keep your kids IN HAND as you go through stations because there are a lot of people moving very quickly and it's easy to get separated. NYC at Christmas has a lot of extra people and EVERYONE is in a hurry.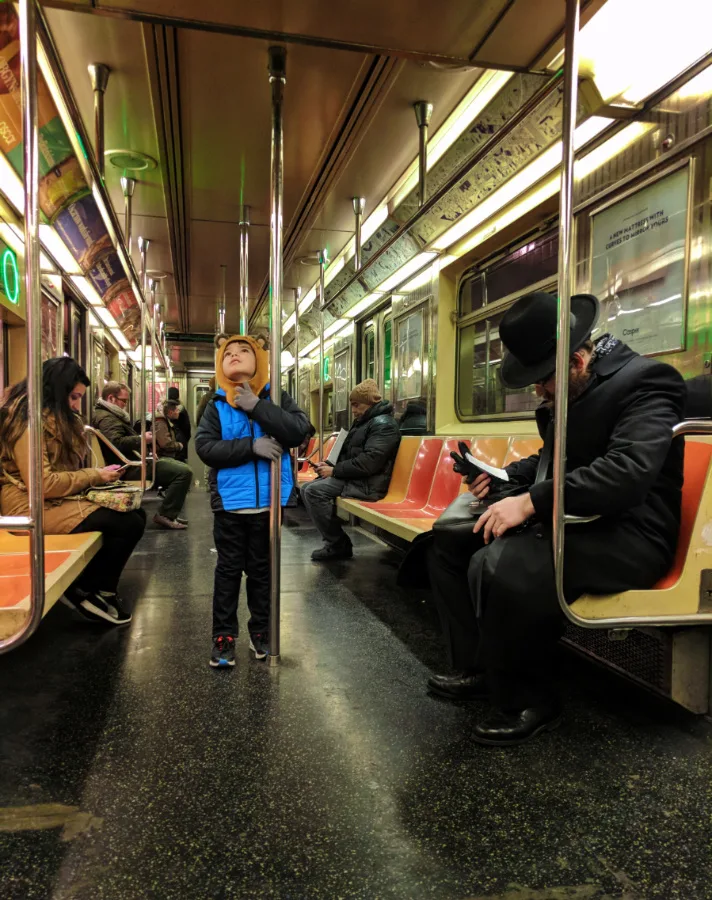 Staying at the Holiday Inn Manhattan Financial District
After flying into Newark (EWR) and then riding the train into the city, we arrived at the Holiday Inn Manhattan Financial District. We got off the subway at the Rector station and right around the corner from it was out hotel! Upon arrival they provided us with a goody bag of drinks and snacks (perfect because the kids were hangry) and put us up on the 44th floor.
Note: the Holiday Inn Manhattan Financial District is the tallest of the brand… in the world. It's actually really cool and we had a great view to Ellis Island and could watch the Staten Island Ferry.
Book the Holiday Inn Manhattan Financial District here!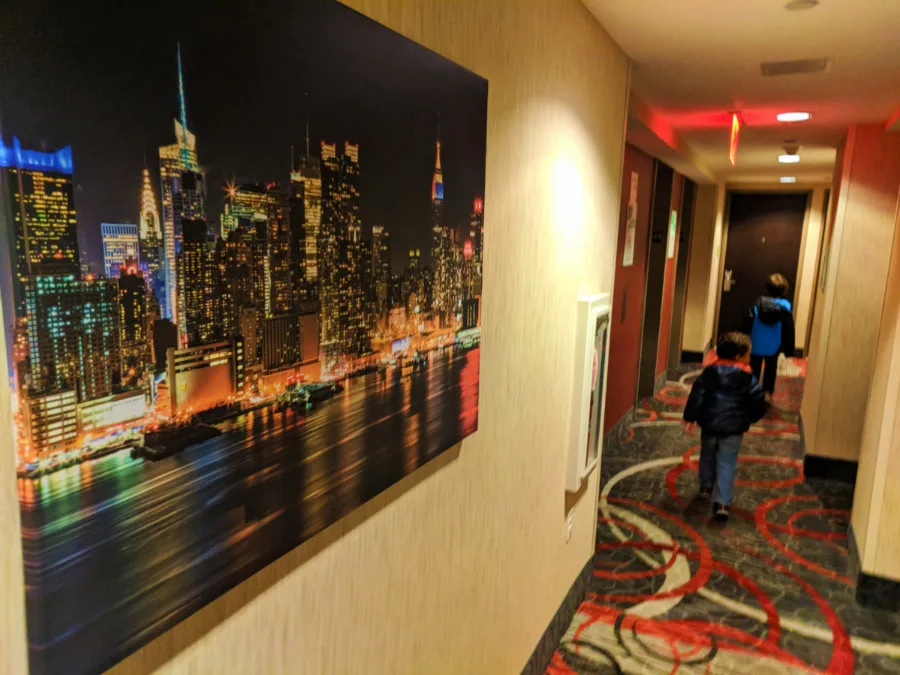 Our room was very nice with enough room for the four of us, but it was not so big that we just wanted to lounge. It's NYC, so small rooms are a given. Really though, our room was perfect for us and the staff was really helpful, both in fixing out reservation (wrong room type) and helping us make Christmas in NYC happen.
They got our reservation switched around for us so we had a room with two beds, they checked up on us, they held our Christmas presents we had delivered and then they gave me supplies to wrap gifts in the lounge area after the kids went to bed. They were awesome.
Also, there is lots of great dining in the immediate area near the Holiday Inn Manhattan Financial District, including great NY pizza and a really cool restaurant/beer garden called Clinton's Hall that we enjoyed.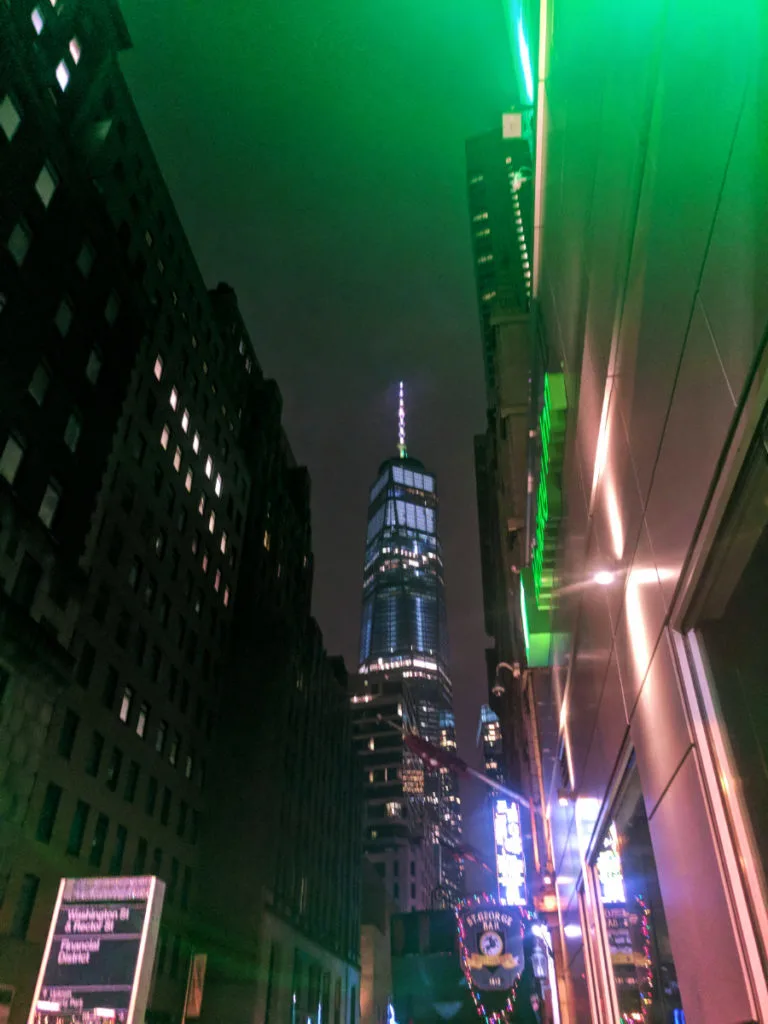 Other Budget NYC Hotels We've Stayed At
I'm such a sucker for brand loyalty. I love having consistent experiences, so every time I go to NYC, whether it's with the family or for work, I stay at an IHG property. Besides the Holiday Inn Financial District my other two picks are both IHG hotels: EVEN Hotels and Holiday Inn Express.
EVEN Hotels are known for their on-property gyms and in-room fitness solutions, but they are also very nice and one of the more spacious NYC hotels I've stayed at.
Book the EVEN Hotels NYC Time Square here!
Holiday Inn Express in NYC is great because the always include breakfast (sometimes that's super helpful when you're traveling with kids) and they are consistent with amenities and conveniently located.
Book the Holiday Inn Express NYC Chelsea here!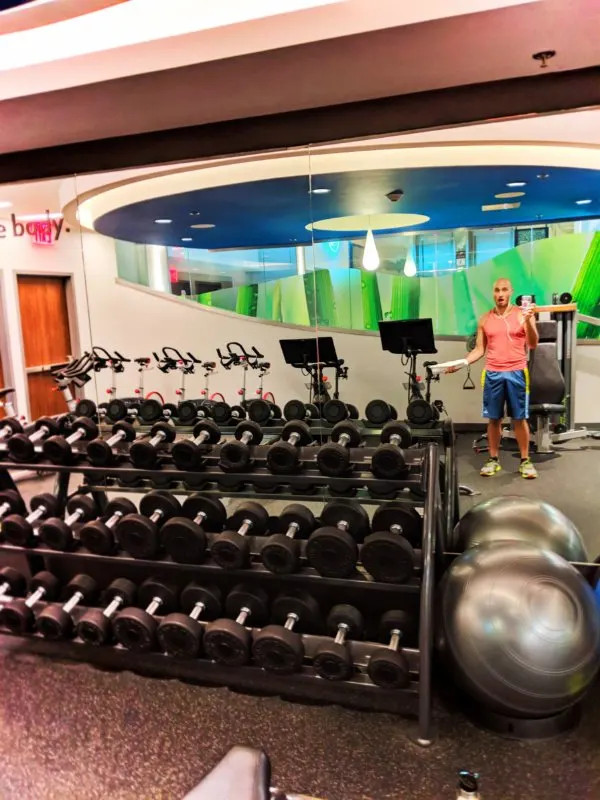 Our NYC Bucketlist Things to Do
NYC at Christmas is just as fun and busy as you would expect it to be. Just because it's busy doesn't mean that you need to skip the fun things to do and top tourist sights.
We set the day aside to hit the big NYC holiday sights. After riding the subway from the Financial District to Grand Central Terminal, we strolled along Park Ave and then up 5th Avenue. We checked out all the Christmas trees and window displays, we watched people skate in Rockefeller Center, we got pretzels and walked through Central Park. It was so much fun! It was also so very freezing cold that we sought warm refuge in the subway.
Our NYC bucketlist with kids is organized by neighborhood: Uptown, Midtown, and Lower Manhattan. Midtown is the busiest neighborhood in NYC at Christmas, so heading up or downtown is a great way to escape the crowds.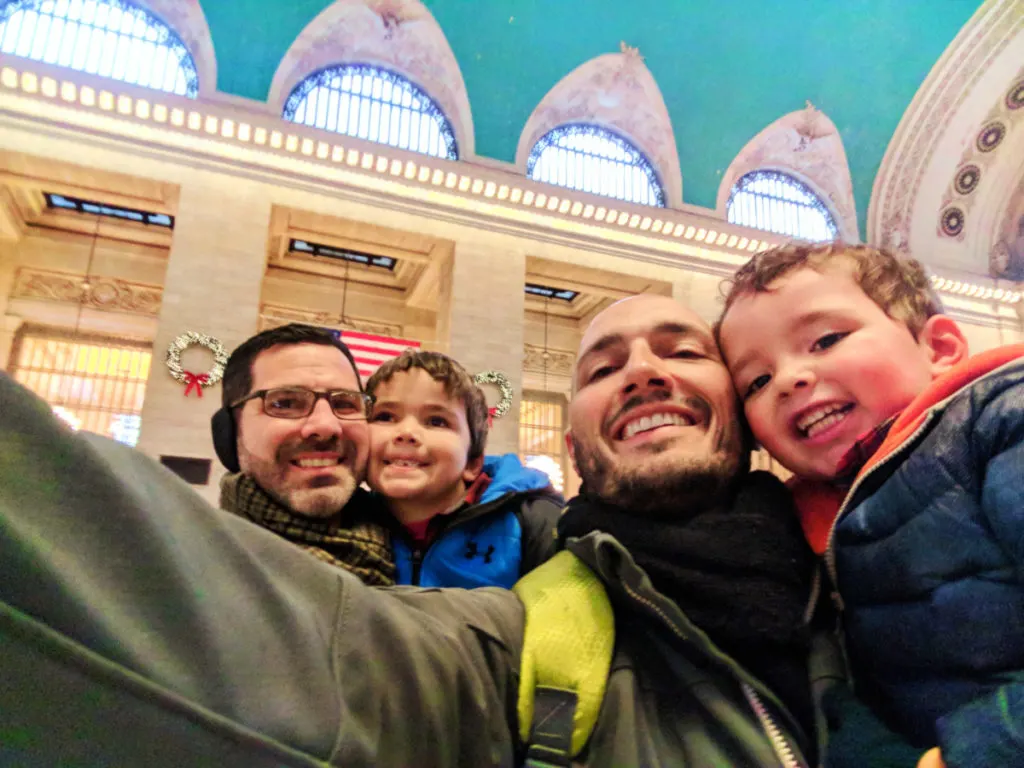 NYC CityPASS: the Best Money-Saving New York Tip
New York City was the first place we ever used a CityPASS. I've seen then advertised a million times and for lots of locations, but never did we get one. Doing NYC at Christmas, we new that things would be busy and that we wanted to be sure to do everything we wanted.
The NYC CityPASS is good for nine (9) days from its first use, so if you are going to be in New York for a while, you can space out your activites.
Included with the NYC CityPASS (from their website):
Empire State Building 
American Museum of Natural History 
The Metropolitan Museum of Art 
Top of the Rock Observation Deck  OR   Guggenheim Museum 
Ferry Access to Statue of Liberty and Ellis Island  OR   Circle Line Sightseeing Cruises 
9/11 Memorial & Museum  OR   Intrepid Sea, Air & Space Museum 
The savings if you were to do one of each of the options is over $90 USD (2021 prices) so it's totally worth it.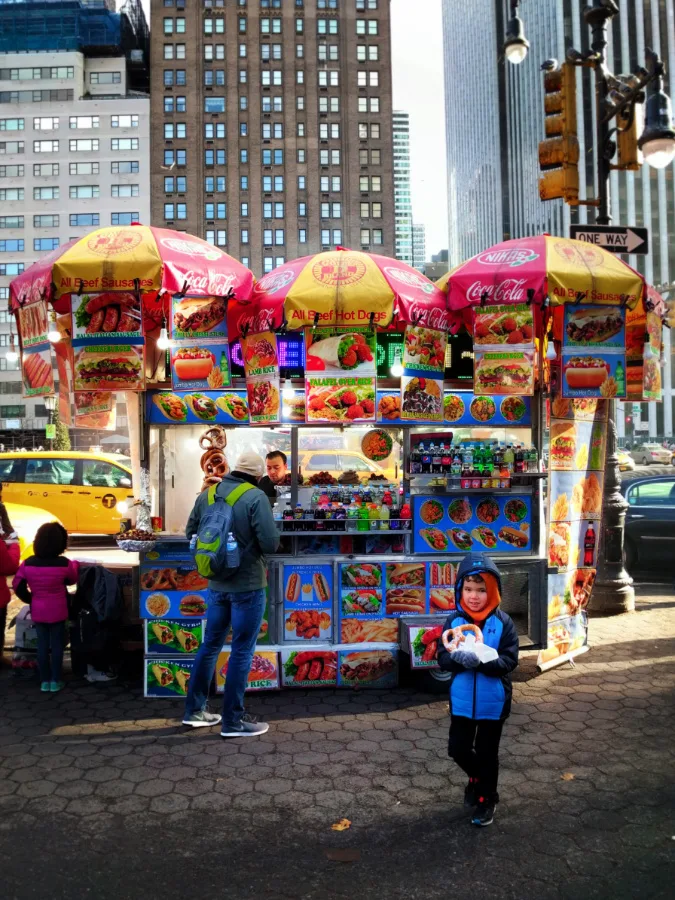 Visiting the American Museum of Natural History
I'll say it upfront: we did not get to meet Dr. Ross Geller. It was heartbreaking, but still awesome.  We used our NYC CityPASS for entry into the American Museum of Natural History.  If you don't have a CityPASS admission is by suggested donation.
But OMG, we've been to the Denver Museum of Science and Nature, the La Brea Tar Pits and more and this was for sure the best collection of dinosaur bones and displays we've seen. The real show-stealer: the titanosaurus. OMG.  Huge dinosaur!
Beyond the dinosaurs the Museum of Natural History is really awesome. It's very different from what I expected. It's very similar to the Academy of Arts and Sciences in San Francisco, but different. The Museum of Natural History is really truly focused on teaching the story of earth from start to present day, and it's done in an incredible way. From the Big Bang to dark matter via the planetarium, there's so much to discover. Can't wait to return!
Tip:  allot three hours to explore the Museum of Natural History with or without kids. You never know how much you a craving to learn until you're smack dab in the middle of a science paradise.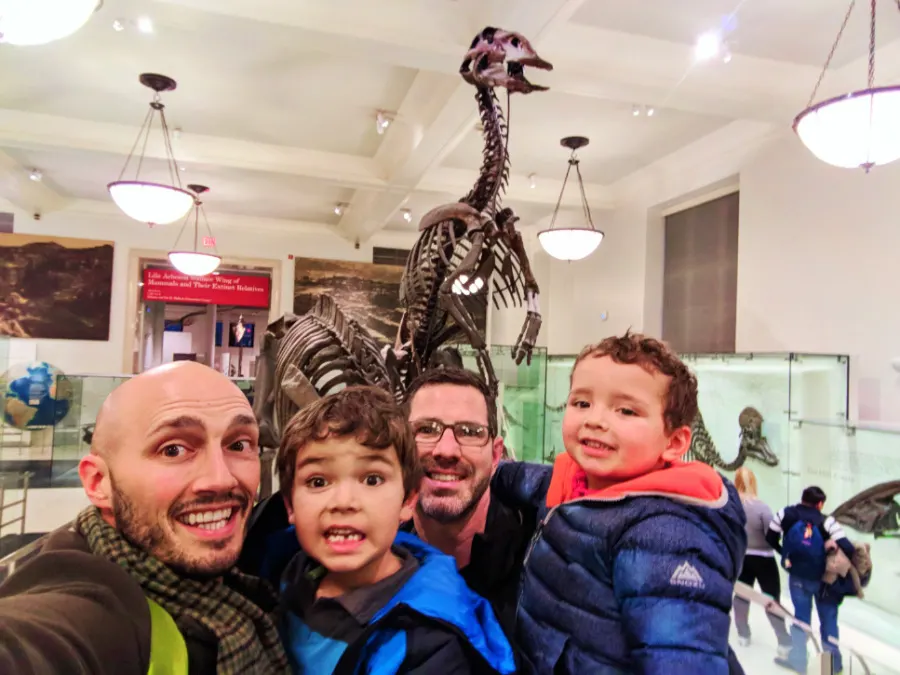 Ice Skating in Bryant Park During Christmas in NYC
Ice skating at Bryant Park needs to be on your NYC at Christmas plan. It's iconic and so much fun.
We waited for what seemed like forever because we were so cold, but we got to rent skates and try ice skating with the kids in Bryant Park. It was just what we'd hoped it would be. There was music playing, an awesome Christmas Tree, hot cocoa… It was just what you picture when you think about skating in NYC during the holidays.
Here are our tips for having an easy, fun ice skating experience in NYC:
Go early in the day
Budget for $20+ per person for skate rentals
Bring gloves for holding onto the rail or if you're on the ice
Be patient with kids, being a physical support who's also calm and fun
Winning tip: skate backwards if you can while teaching kids to ice skate. You can face them and make them feel more confident, and watching their faces helps you gauge how they're doing and where their struggling or afraid. It's so much easier than just holding hands.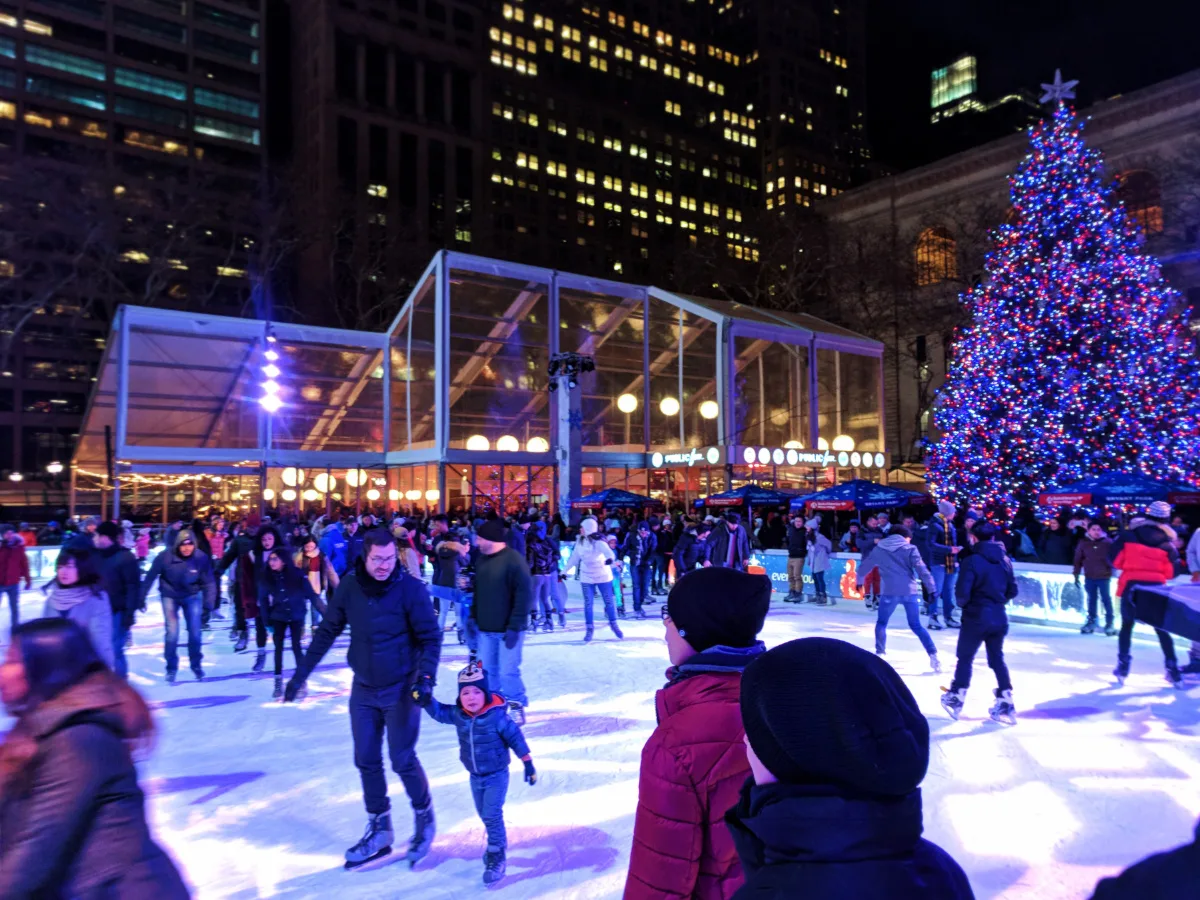 Going to Top of the Rock / 30 Rock and Midtown
So, why did we do Top of the Rock instead of the Empire State Building when we visited NYC at Christmas? We wanted to get the view of New York City that INCLUDES the Empire State Building. It was so beautiful and so cold.
Here's how you visit Top of the Rock in NYC:
The whole production of getting to the Top of the Rock was a bit much, but it's NYC and everybody wants to hit the Top.  We accessed Top of the Rock with our CityPASS, which was a huge value, as on its own going to the Top will cost a family of four $120 or so.
Get a CityPASS to save money on most of the big things you'll want to do in NYC
Arrive at the Top of the Rock entrance on 50th and get in line
When you get to the ticket counter you can either accept the next available time slot OR you tell them when you want to come back
Tip: we got tickets for sunset and came back before dinner. It was cold but the colorful sky and the view were incredible.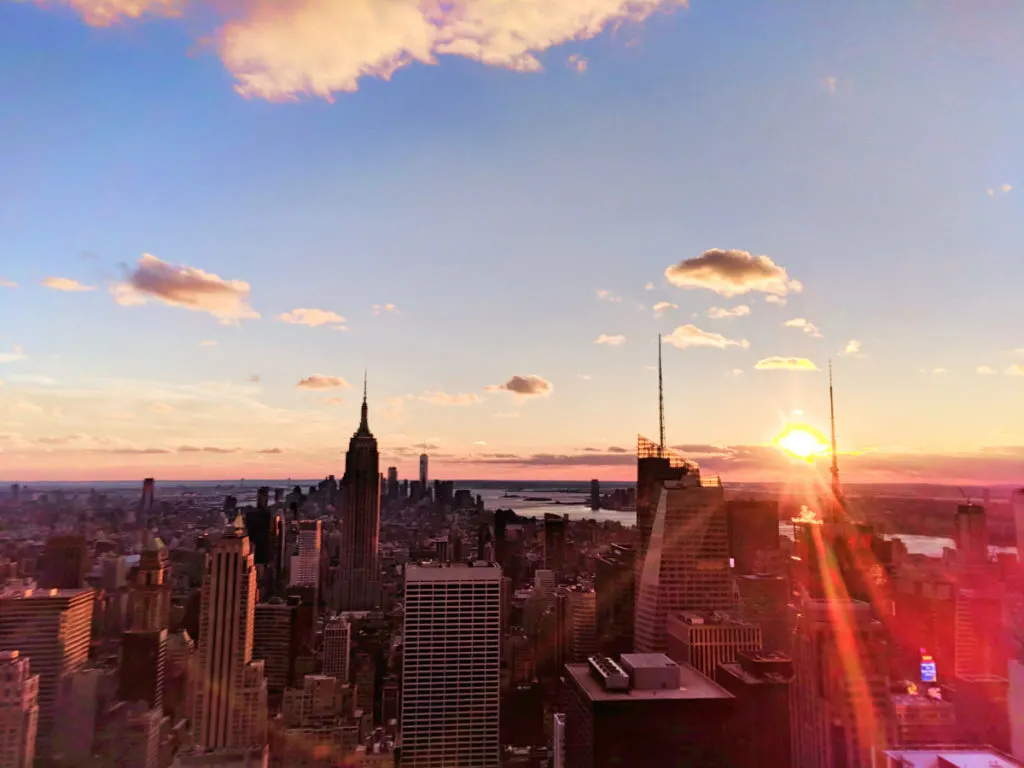 Times Square and Broadway: a touristy must
We had no intentions of visiting Times Square because it's that pit of tourist despair… But we did and it was actually much cooler that expected. Between the incredible advertising screens and the Broadways show signs, we were twirling and snapping pics. The kids were seeing the spectacle that is out-of-place super heroes and Sesame Street characters.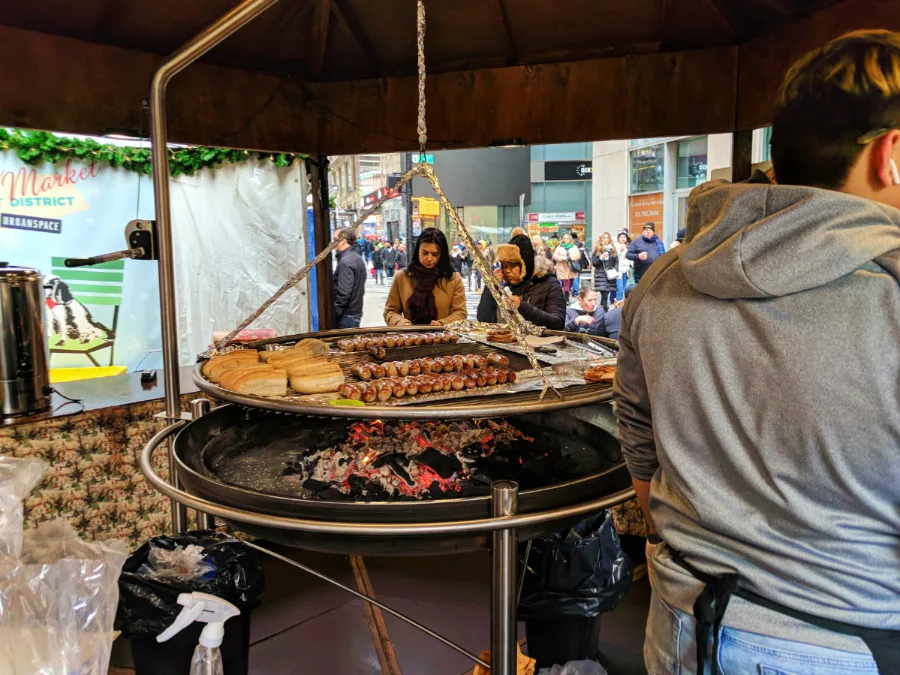 Seeing the Lion King on Broadway
We've seen our share of shows but nothing compares to the day you take your kids to a Broadways show and you watch them be completely enamored. The Lion King on Broadway is incredible. We enjoyed it so much that when we left we actually looked for tickets online to see if we could squeeze in one more showing while we're in NYC. The performance was amazing and the kids loved the dancing.
Parent tip: allow yourself to cry if you must. Something about hearing and seeing the Circle of Life unfold before you… and then watching Mufassa die… it's all too much and it's amazing.
Besides the fact that I'm a mess when we get to have special moments with the kids, we've got some tips to share for having your first Broadway experience with children.
Tip 1:  arrive early to have time to chill out and check out any cool merch
Tip 2:  get your pics done before the curtain rises because you can't snap pictures during the performance
Tip 3:  bring ear plugs if you have a kid who's sensitive to noise. We were worried that we'd actually have to leave mid-show, but we were in Row G and made it all the way with complete happiness!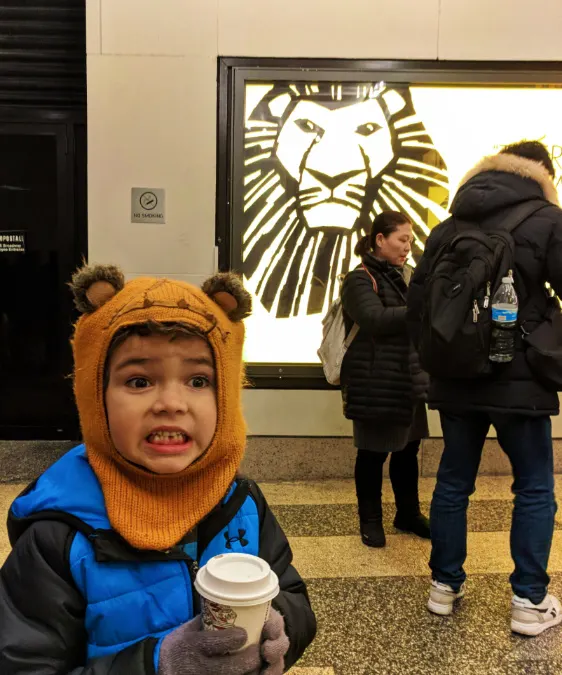 Iconic Meal at Katz's Delicatessen
 This spot, Katz's Delicatessen, is amazing. From salami hanging everywhere to the crazy busy counter lines, it was a sight to see. It was a combination of spectacle and actual NYC. Dinner was really good with the kids enjoying their food of choice, hot dogs, and us have lox and pastrami. Overall, it was a great experience and totally different from any Christmas activity we've ever done.
Note: you can get your order to go or sit down, but either way you need to know what you want and how you want it. They move fast and you need to move fast too.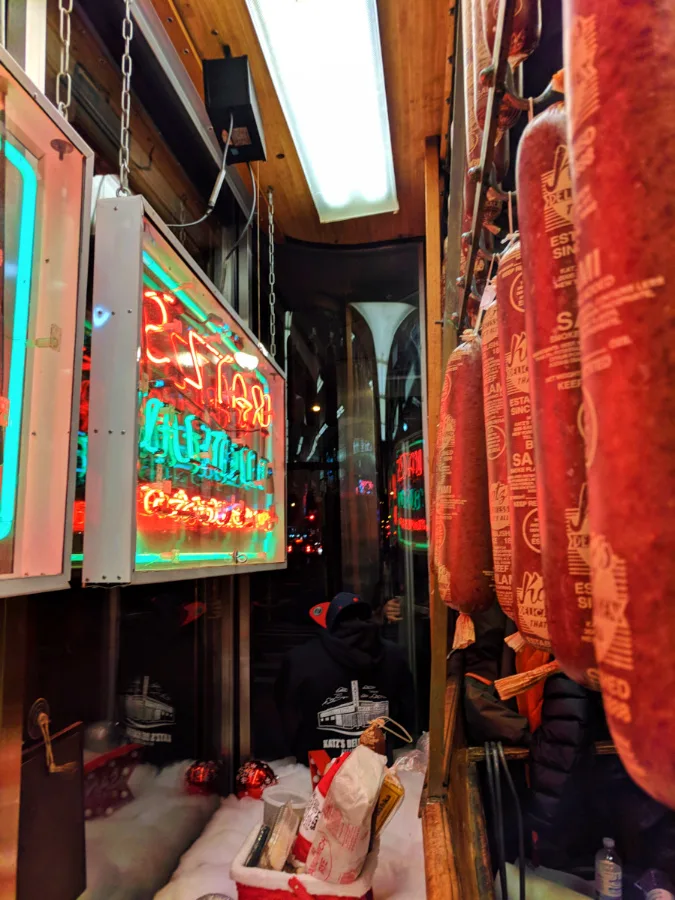 Exploring Wall Street and Lower Manhattan
When we were first booking our NYC holiday adventure with IHG Rewards points, we landed on the Holiday Inn Manhattan Financial District. We were initially excited about the location of our hotel because it's so close to the dock where you board the boat for the Statue of Liberty and Ellis Island, as well as the Staten Island Ferry, but after just a few hours in Manhattan it turns out that the location is actually awesome for more reasons.
We're a few blocks from the Trinity Church (think National Treasure and hidden passages), Alexander Hamilton's grave, the New York Stock Exchange, Federal Hall and more. Wandering the streets at night was really cool and exactly what I needed to be reminding of why NYC is so cool.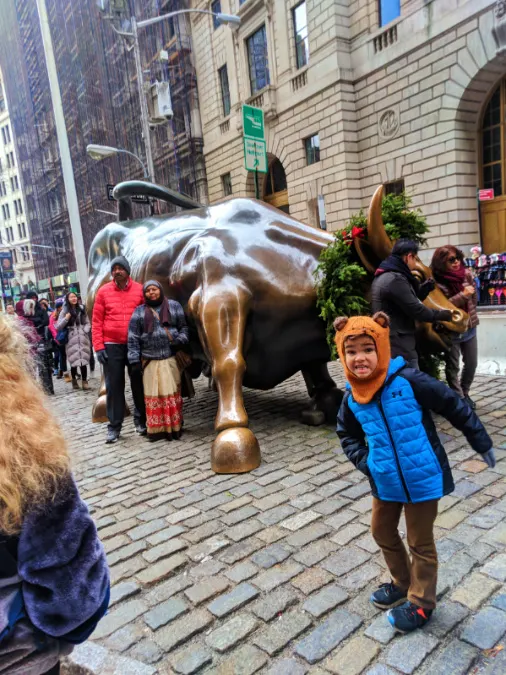 Exploring of Wall St with the kids is always fun, and let's just say the art and architecture are a hit with kids and dads. The bonus of visiting NYC at Christmas and wandering Wall Street in the morning through is, for sure, getting to sit in Trinity Church and listen to choir practice. It was wonderful.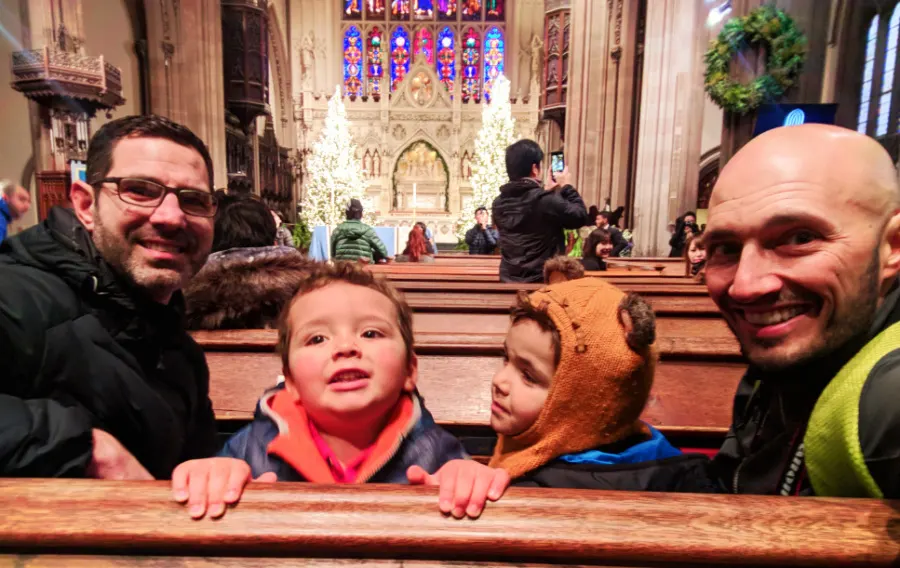 Museums and National Park Sites in Lower Manhattan
After breakfast we headed down to get our tickets for the Statue of Liberty. If you didn't know, it's a hallofaloo like none other. As soon as we had our dates for NYC confirmed we tried to book our reserved tickets but it was too late… so we planned to get them same day.
While we could've done it, the security and ticket lines were too long, so we used our CityPASSes to get our tickets and go back first thing the next day so that we only had the line to board our boat to wait in. Besides the ticket fiasco, we had more happening in Lower Manhattan. We went through the small museum at Castle Clinton National Monument and learned a bit about how Manhattan has changed shape over the years.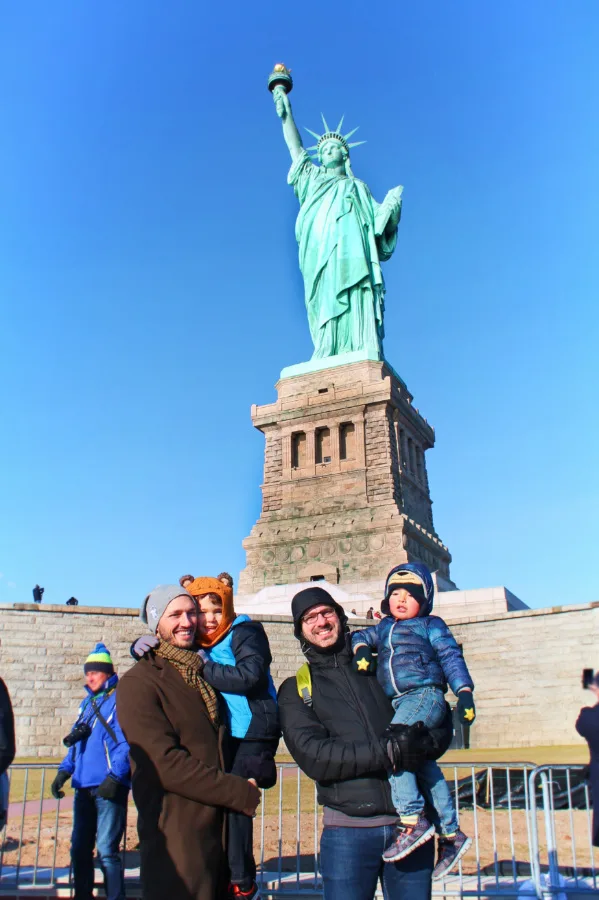 Then we went to the National Archives at the old Customs House… where we found the National Museum of the American Indian. Part of the Smithsonian network of museums, there is no admission charge and it's fascinating. There is a really wonderful collection of artifacts and pieces from countless tribes around the USA and South America. There was also a large section of modern Native art.
Following some history, art and architecture, we popped up to Federal Hall National Memorial: the site of George Washington's swearing in as President, site of the first Congress and so much more. It was neat to explore and learn more about NYC's history in the founding of the United States, but it wasn't a huge hit with the kids. Oh well, we'll visit again when they're older and understand better.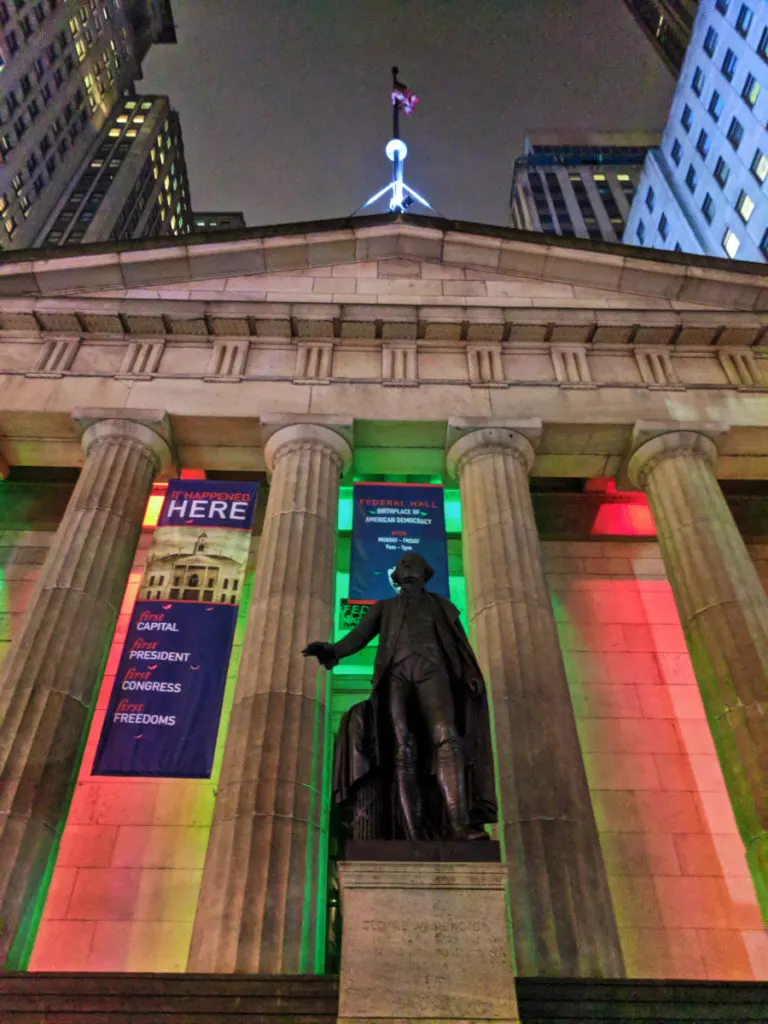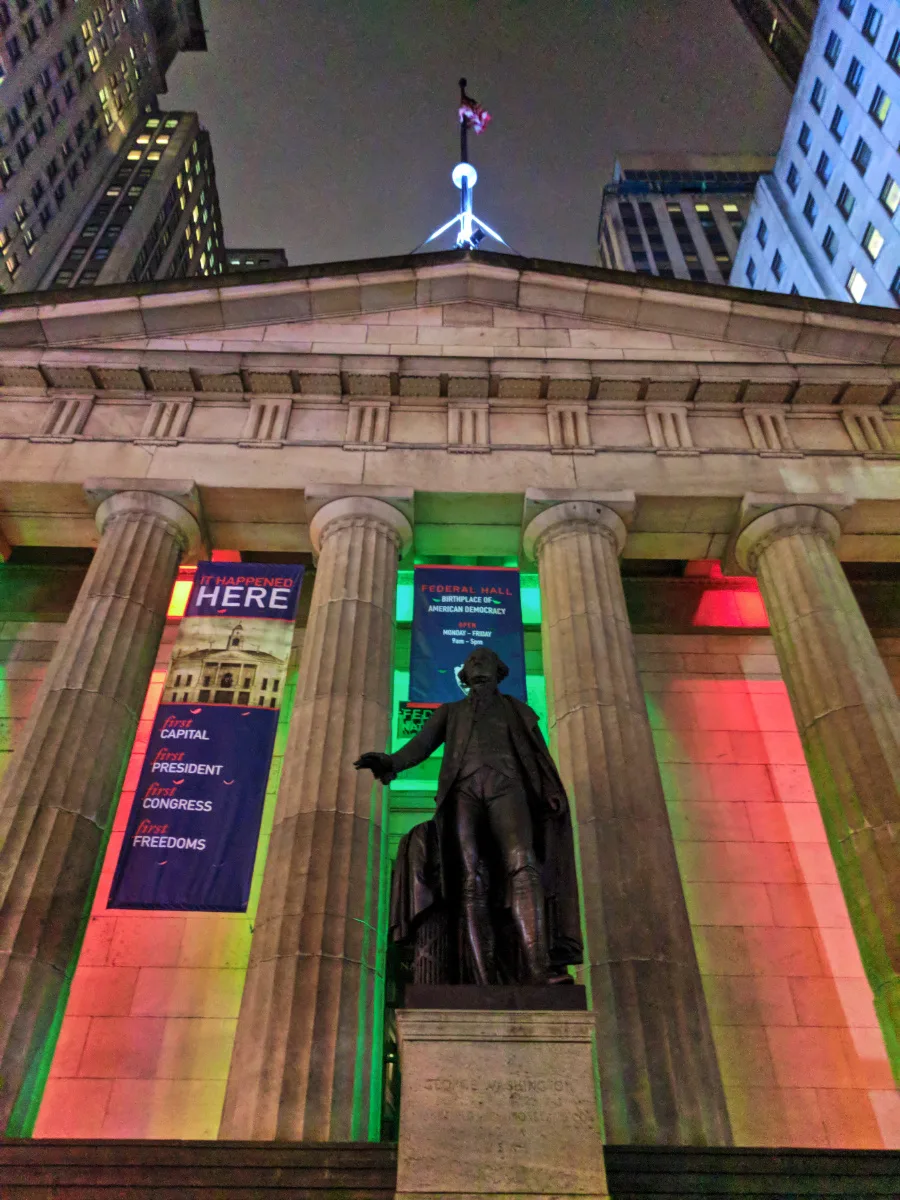 Family friendly beer garden style dining: Clinton Hall
I love finding fun dining options with the kids. Right across from our hotel, the Holiday Inn Manhattan Financial District, we found the coolest place with the best kid atmosphere. Clinton Hall is a beer garden/hall the not only has great beer, but great food. And fun.
There is a really cool heated outdoor patio area with oversized Connect Four, Chess, Jenga, putt-putt and more. It was the play time the kids were needing. The food was delicious too, with fun and interesting burgers. Good prices for NYC.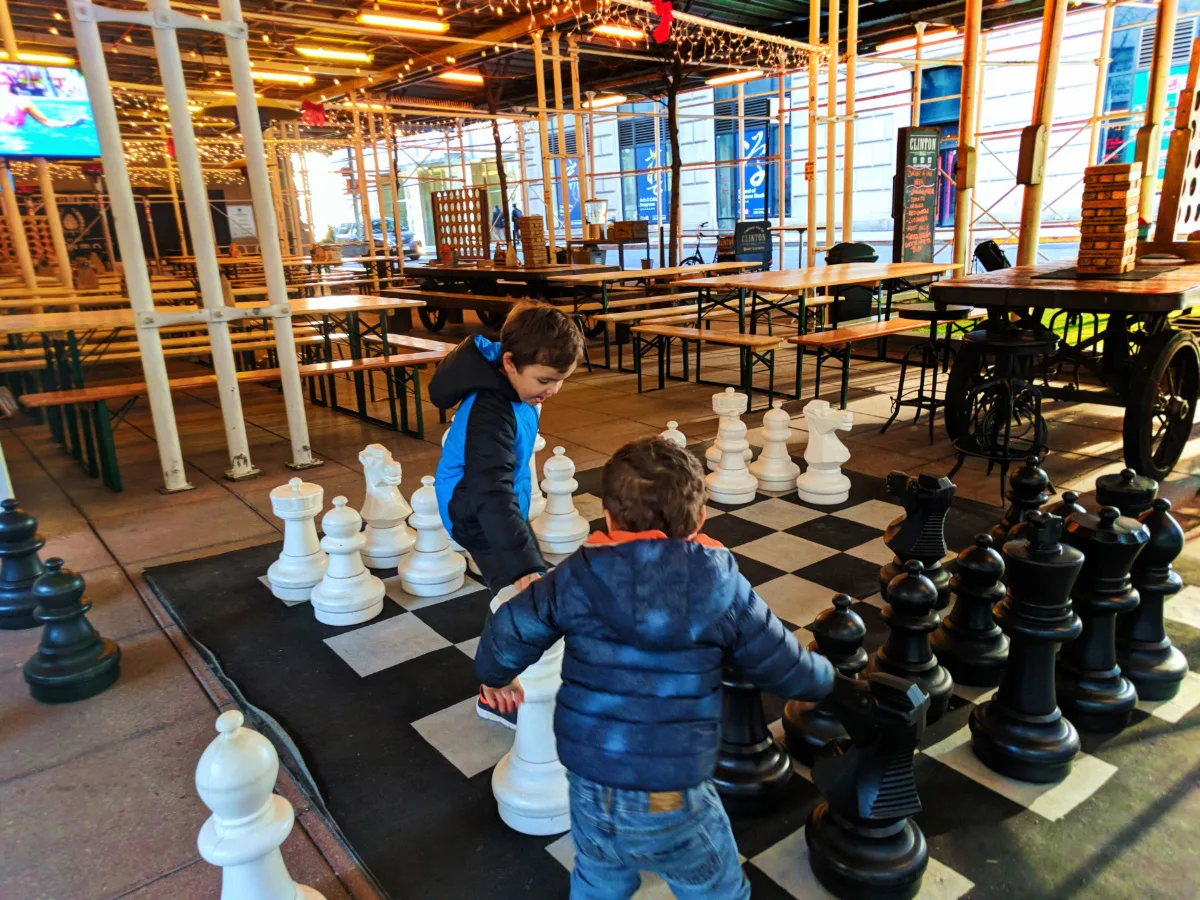 Seeking out bagels. …and some tips.
New York is known for a few different food, one of which is NY bagels. Being our first breakfast in NYC we immediately went looking for bagels. One of our friends had a recommendation for the Wall St area and we headed right for it:  Leo's Bagels. 
Yes, they were delicious and they we totally different when compared with bagel shops at home in Seattle. First off, delish; secondly, here are our tips:
when ordering for smaller kids, DON'T get NY bagels toasted because they are intense to bite into.
when ordering for adults… if toasting the bagel, prepare for a shredded mouth-roof
BIG TIP:  if you say "Two regular coffees…" you're going to get a disaster in a cup, aka coffee with cream and sugar. "Regular" coffee does NOT mean black coffee. Huwhatttt?!?!?!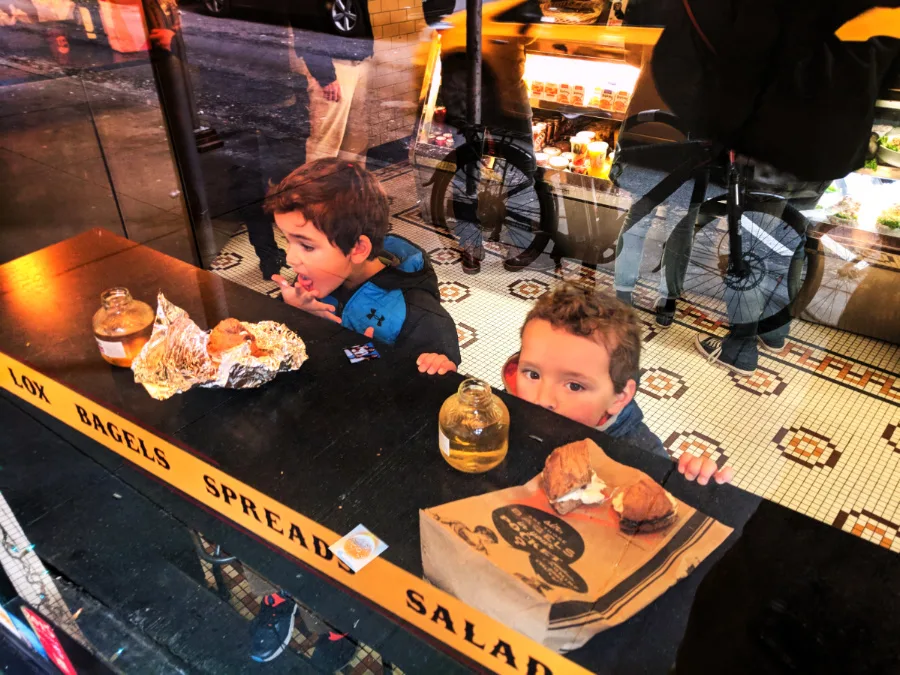 We've got more New York City fun to share, including how to enjoy the Brooklyn Bridge and fun free things to do around Manhattan. If you have any questions about visiting NYC at Christmas, about planning a trip to New York with kids, or anything about Lower Manhattan (my favorite neighborhood), send us a note or leave a comment!