Have you ever been derailed in your travels because of a natural disaster? We got caught in between two parts of a Glacier NP forest fire and it was tough to sort out. We did it though, and this is our story and some great tips for how to adjust plans if a camping trip gets ruined, particularly due to a natural disaster.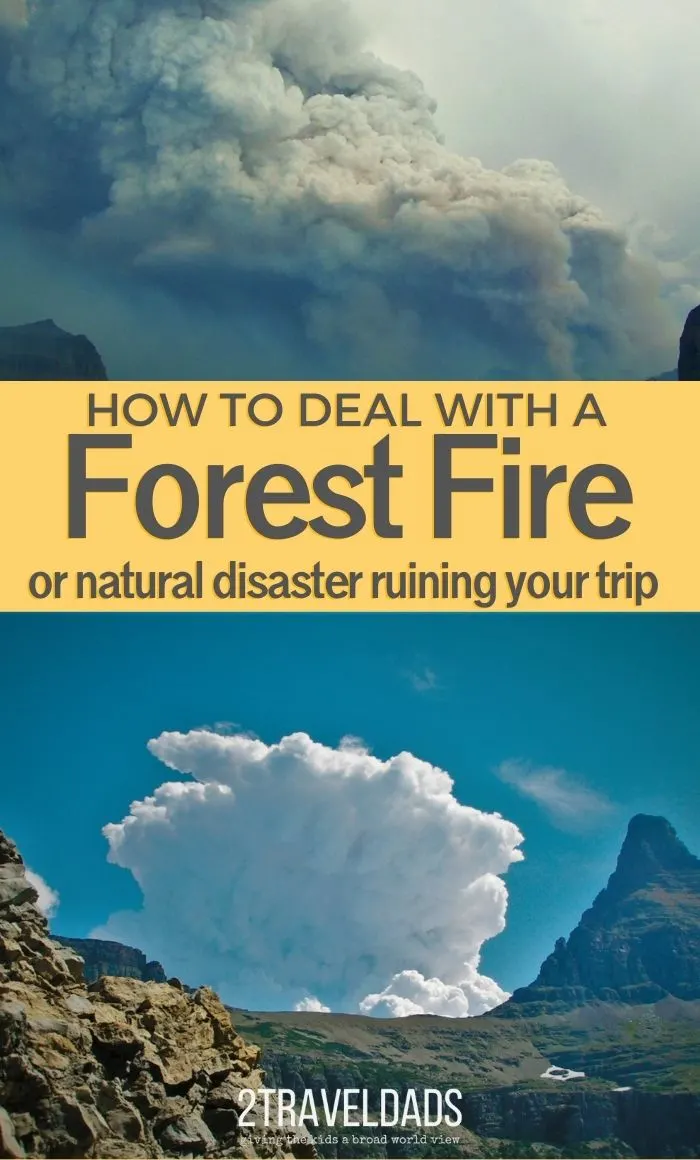 "The best laid plans of man…" I hate that phrase.  It is so heavy with impossibility.  But it's true.  Did you read about that time we got to Venice, Italy we were tired of being foiled at every turn, so we just had to go with the flow and be okay with it… in the dumping rain for days?  Well, that life lesson came into play last visit to Glacier National Park in Montana:  forest fires at every turn.
Impending Natural Disaster: forest fire at Glacier National Park?
As we headed north from Yellowstone National Park we kept seeing enormous plumes of smoke in the distance, from forest or brush fires.  None of them were where we were headed, but each was a reminder of the dry summer and high winds that had been plaguing the western United States.  No worries though, the mountains are typically a nice, cool respite from the dry and dusty plains. 
The closer we got to Glacier National Park and started to wind away from the Blackfoot Nation (Indian reservation) we noticed the air getting thick and the light becoming a bit yellow.
Tip:  you can check weather and fire reports online, so if you think there's risk of encountering a fire, you can plan appropriately… most of the time. Weather apps have this added to their features these days.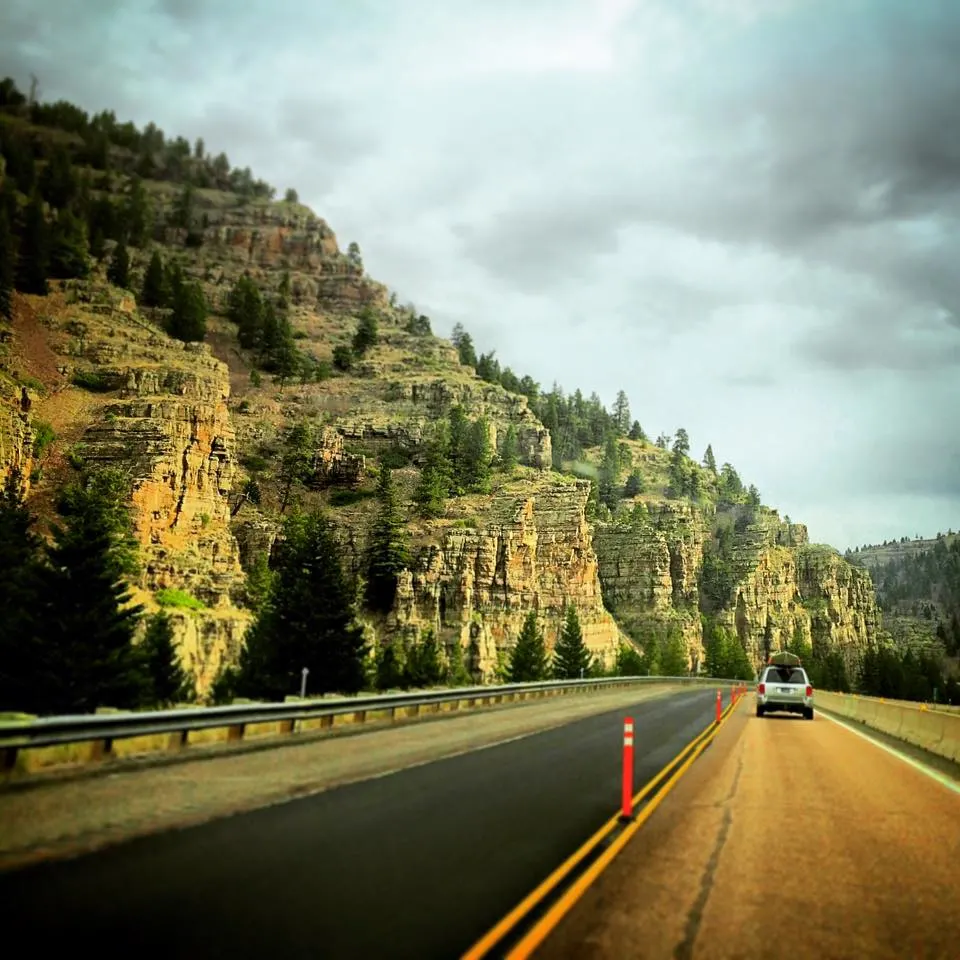 A few more turns on a winding mountain road and boom.  The floor of the St Mary Valley was completely socked in.  Smoke.  We headed towards the entrance to Glacier National Park and were met, not even inside the gates, by two rangers. 
Apparently on this day, the Reynolds Creek Fire, deep within Glacier National Park, had spread and was quickly working its way through the passes and up the hillsides.  The Park was closed at this entrance and although accessible in other areas, everybody needed to be aware of the danger and impending closures. 
Tip: before ever leaving on a road trip or visiting a new destination, it's always a good idea to research the area and understand its geography, from main road leading to and from there, to seasonal happenings, such as natural disasters or even large festivals.
We were directed to another entrance of Glacier National Park, to the north at Many Glacier, but were given the disclaimer that the campground was full and that area might close.
Well crap.  You know when you're a 13 hour drive from home with a toddler and an infant and there's no place for you to stay?  Yep.  That was us.  
Our oldest looked out the windows from the backseat and let out a "It sure is smoky!" as we drove on.  He didn't realize what was happening, either the danger in the Park due to a natural disaster or that we didn't have a place to sleep.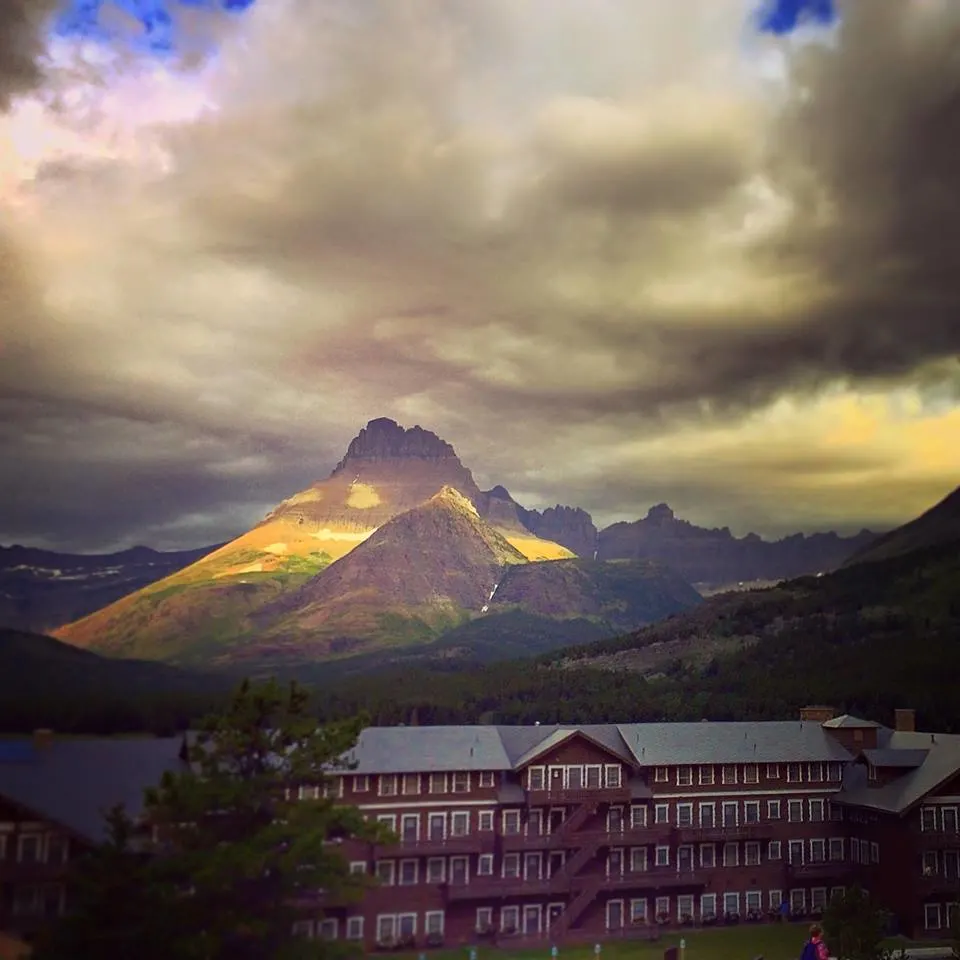 As we moved onto Babb, MT and the Many Glacier entrance to the Park, we saw that the air was clear and the trees were green.  How very encouraging!  And then we got to the gate: "Yeah, we're sorry, but the campground is full and campers may have to leave to accommodate the fire fighters…"  And the glimmer of hope faded.
When you've been in the car for a long time and have nothing to think about but despair and lunch, you need to just plug on and find some happy.  In hopes of some different information we made a quick stop at the ranger station.  Yeah no, same story: "There's no room, buh bye." 
It's tough to accept an answer like that.  In a final last act of disbelief that we had to end our vacation a week early, we took a drive through the campground.  The mood:  somber.  The faces:  stoic.  The sites:  all full.
We don't like to take advantage of other peoples' misfortune, but are happy to accept if somebody wants to help us out in a time of need, and that's what happened. 
A group of hikers who'd been all over Glacier National Park was almost done packing up their camp when they saw us driving by slowly.  We weren't the only ones prowling the camp, but they picked us to flag down.  We were so thankful.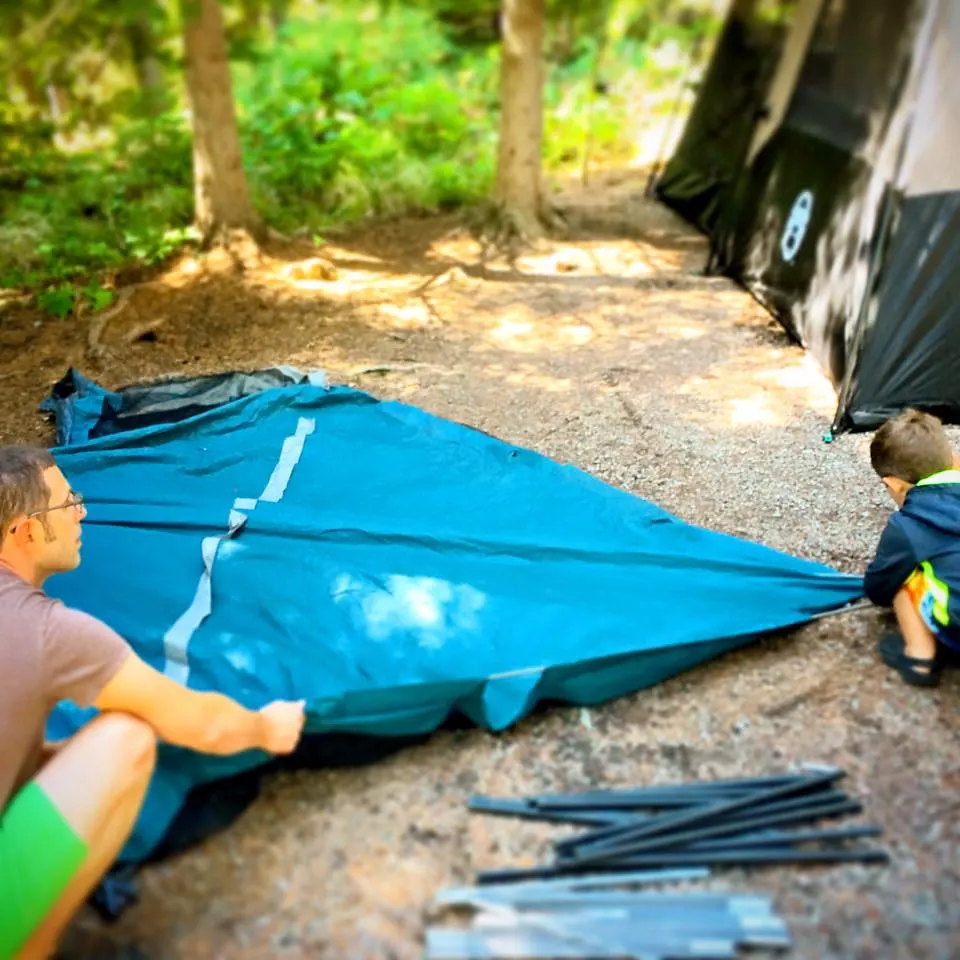 This group was in a very bad situation:  the prior day they'd parked a car at LoganPass and done an amazing hike through Swiftcurrant Pass back down into the campground on the other side.  In the course of their hike the forest fire had grown quickly and the roads in the Park were now closed.  They had a National Park Service ranger escorting them back to their car via the west entrance of Glacier National Park…far away.  Like several hours' drive away.
We couldn't say no to taking over their site and they headed off to end their trip early.  As we set up and each day we were there, we were told that we may have to pack up or share our site with Park staff or fire fighters.  That never happened, but there was always the chance that our now relaxing vacation could shift without notice. 
We were fortunate and able to camp here for five days, enjoying hikes, the lake with boat tours, and wildlife, albeit with the hum of forest service helicopters always in the distance.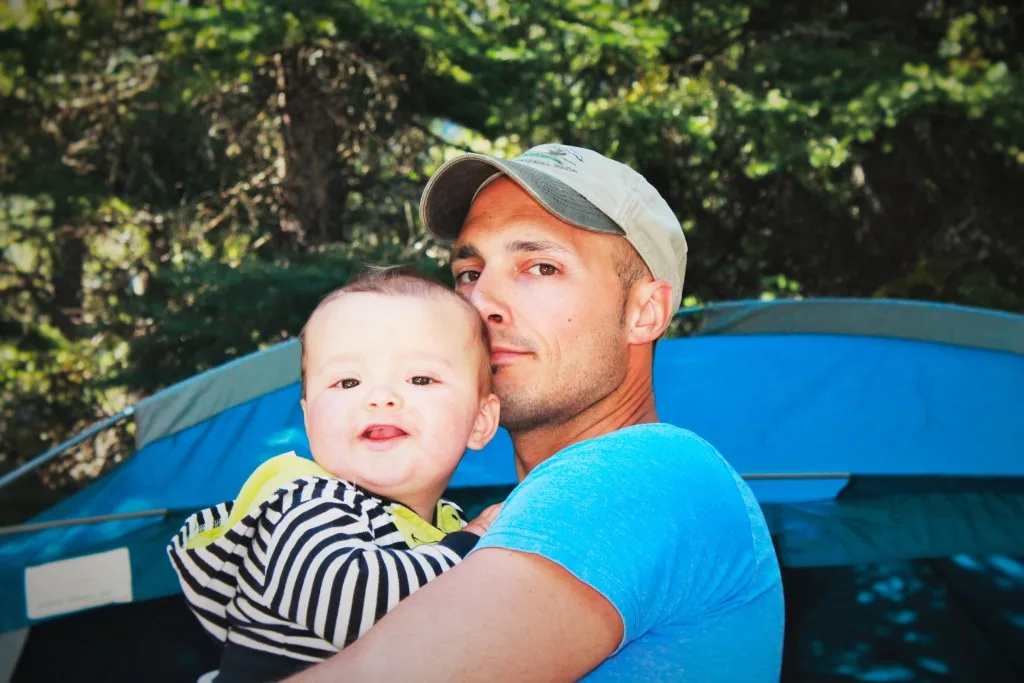 When we left, we had to drive through the smoke and see hundreds of fire fighters camped out along the highway, but we were still able to really have an amazing time in Glacier National Park.  The kids had a great time and were unaware of the potential danger lurking on the other side of the mountain.  Because of the fires, our trip was limited and many of our planned activities cancelled, but all in all it was still great.
I think that's a testament to a great park:  no matter where you are, it's amazing, fun and beautiful and you don't realize that you've been foiled.
And the moral of the story: don't lose hope in front of your kids; things will work out…or you'll figure out something.
How to Proceed With Caution During a Natural Disaster
What did we learn about being on the road during a natural disaster? While a forest fire, however humongous is it, isn't the same as a devastating earthquake or hurricane, we gleaned some useful tips to share and be ready for unpredictable situations in the future.
Traveling and facing natural disasters happens all the time, including the following events:
Hopefully you won't face anything like these natural disasters while traveling, but you should be prepared just in case.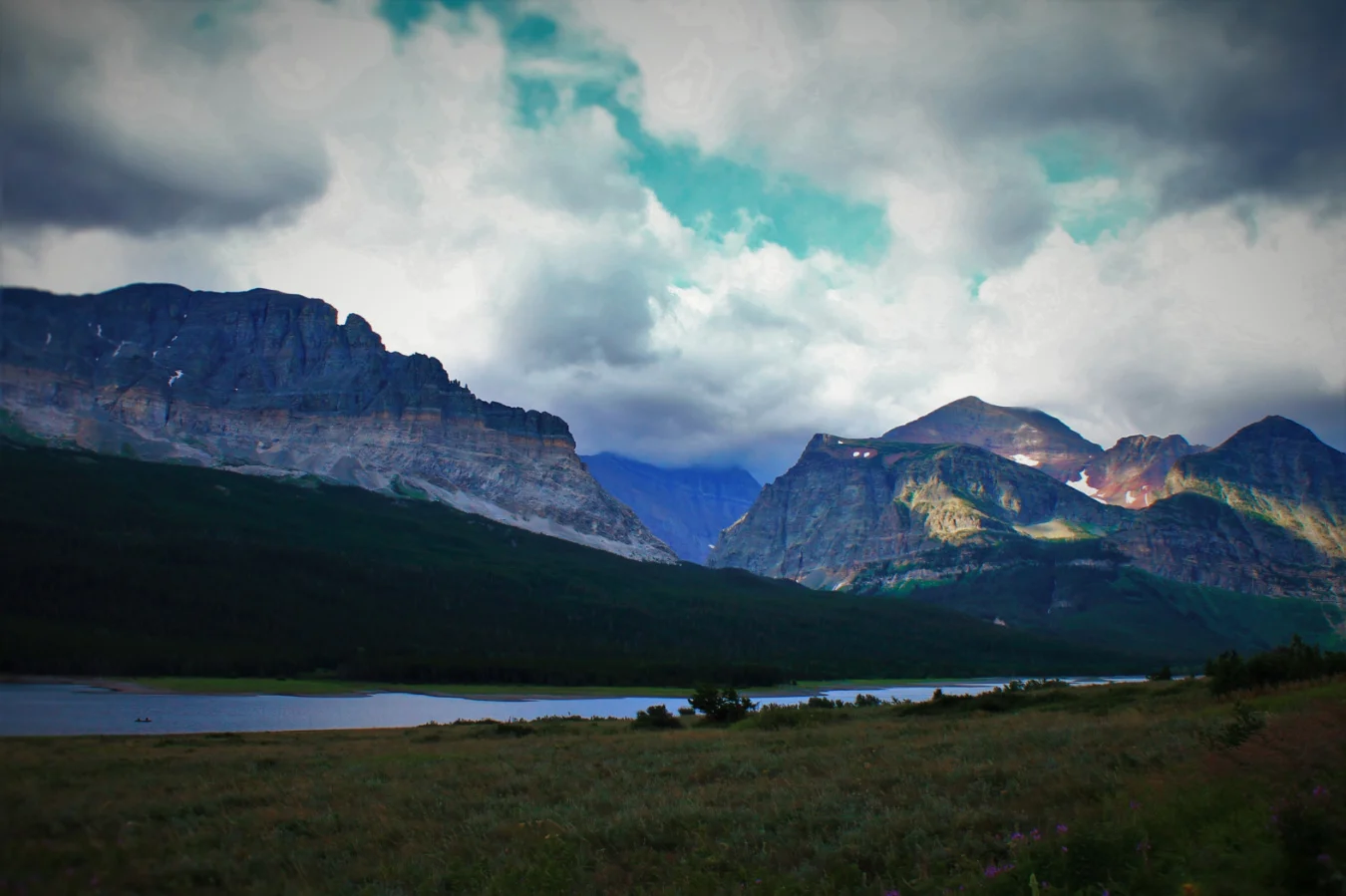 Research Your Destination
Before you even hit the road, do the footwork to find out as much as you can about your destination. Is it prone to forest fires or natural disasters? Are certain highways or main thoroughfares routinely closed during the season you're visiting? What accommodations could be good backups?
Even if you're not traveling to a dangerous place or during a disaster season (like hurricane season in the Florida Keys) you should still get familiar with the area as best as possible. You don't have to study maps until you know them by heart, but understanding what towns are nearby or where else you can go is helpful.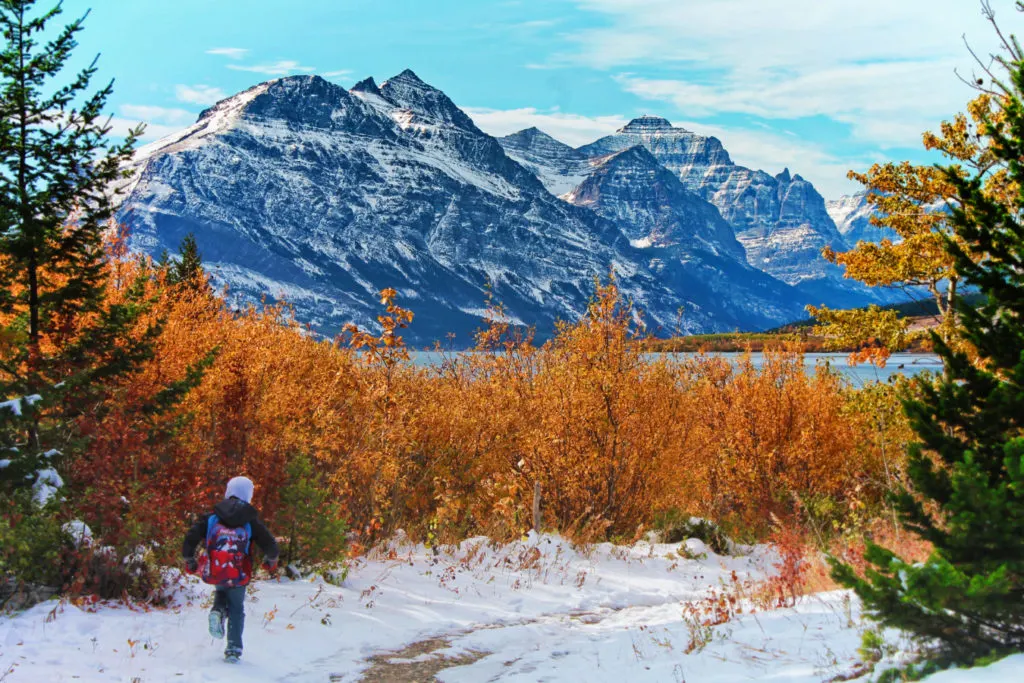 Collect Offline Information
No, I'm not 100% reliant on my smart phone. Before we leave on a road trip I have a printed itinerary, a list of the addresses and phone numbers for everywhere we're staying, and I have back-up-plan ideas for each destination on our route. I have this both on paper and in my phone.
An easy way to collect offline information is in a small notebook with one page per travel day with notes, either back-up-plan notes or ideas for what to do or where to eat along your trip. Being prepared like this is helpful not just if you encounter a natural disaster during travel, but if you just need a little guidance in the moment for what to do next.
Tip:  it's a smart idea to write down on paper some back-up-plan phone numbers when you're traveling, just in case you can't make it to your destination.  In our case, we could've called ahead to see where we might find a place to stay.  Even if you don't have data service on your phone, you may be able to make calls still.
Also, if you're traveling someplace that's rather remote, it's a good idea to download offline maps for the area. You can do this within Google Maps or other mapping apps. It's the MOST HELPFUL tool when you're out of cell coverage.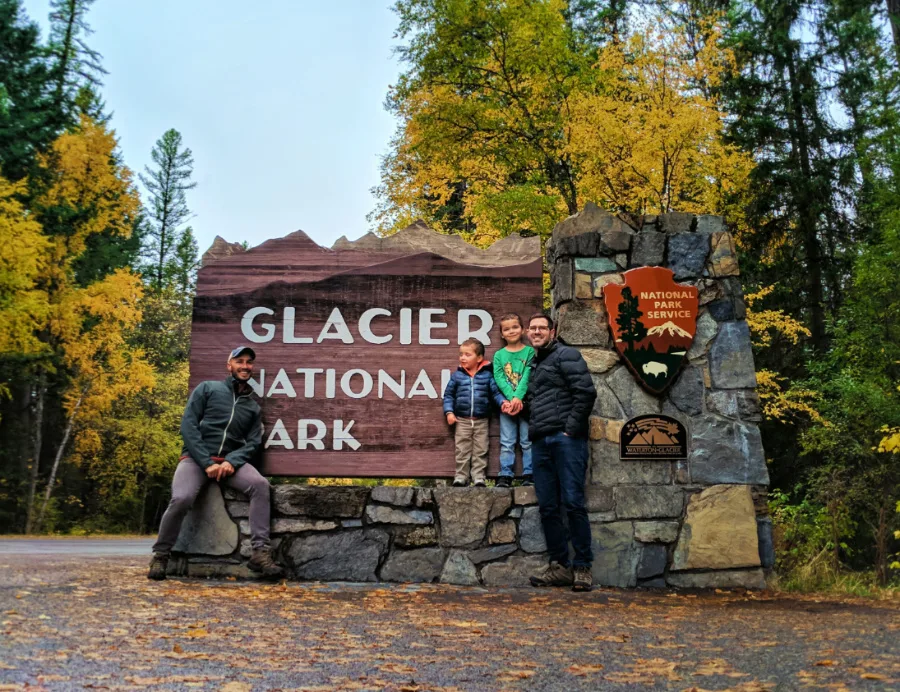 Accept Unusual Help and Be Ready to Offer the Same
Until you've been anxious in a strange, uncertain situation like a natural disaster while traveling, you may not fully understand what this means. When services shut down unexpectedly or roads are closed late at night, you may need help when you don't want to ask for it.
While it's always a good idea to be cautious of strangers, sometimes believing that good intent is at the heart is the way to go. When a natural disaster hits during travel, heroes show up in unexpected forms. It may be that a business lets you in to use the phone or welcomes you to park your camper in their parking lot overnight.
When it comes to areas where forest fires hit, you may find temporary campgrounds, both for travelers and for fire support staff. We've seen this at Glacier National Park, Olympic National Park and at Mount Rainier National Park: campgrounds set up in a field as a place to relocate transient campers while an area is temporarily unsafe.
Tip:  is a campground ever REALLY full?  In a time of need, there is always a solution and there's usually friendly folks on the look out to help. When it's a natural disaster situation rangers and visitors are very ready to help other travelers in ways that you wouldn't normally see. ASK FOR HELP if you're in a pickle.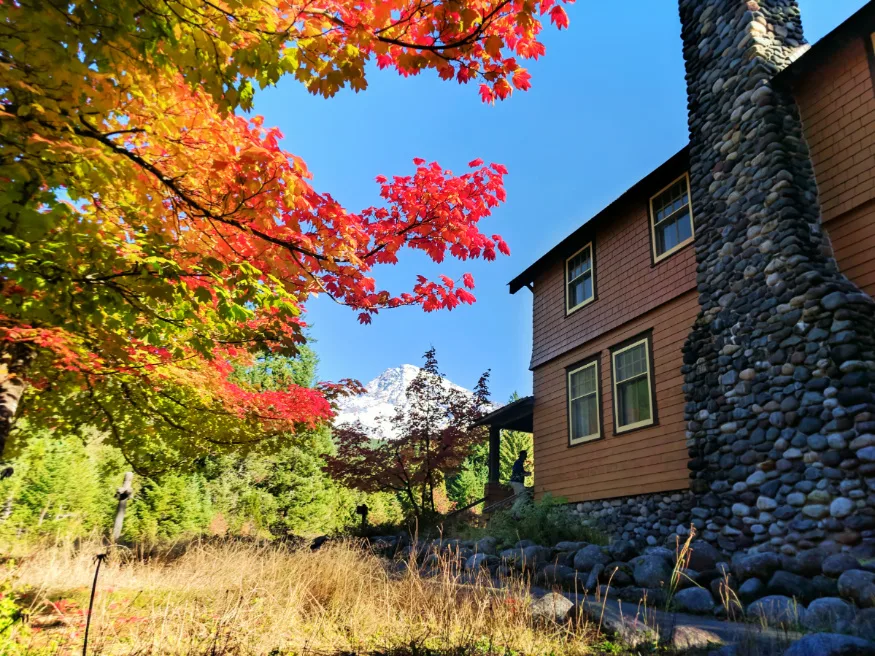 Suggest Alternative Ideas
If you're traveling and a natural disaster happens and YOUR SAFETY isn't compromised so you can continue on your trip, suggest to your traveling crew or family some alternative plans. For example, we were visiting Kings Canyon National Park when a snow storm rolled in and closed the roads into most of the park. We adjusted our plans and headed to Yosemite National Park early.
Another way you can adjust your plans based on if there's a disaster or forest fire in your destination is to change the type of trip you're doing. Yes, you may have a car full of camping gear, but if the weather or other disasters, or say the air quality from forest fires is bad, you may need to find a hotel. Making a change as big as turning a camping trip into a resort stay may have a big impact on your budget, so be prepared to alter other aspects of your travels to save your trip.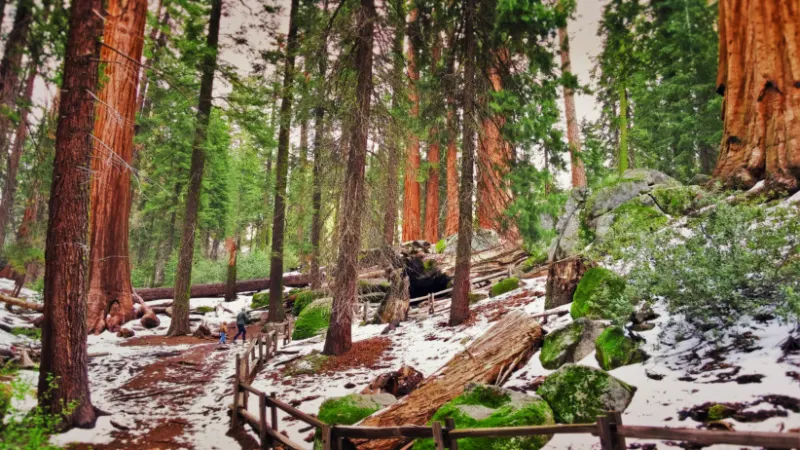 Keep a Positive Outlook in the Face of Disaster
This is the most important tip for dealing with a natural disaster or forest fire when traveling. Keeping a positive outlook will help to keep tensions low in many cases. True, some of your family may just be mad about things and no amount of smiling and alternative plans can help that, but it usually is effective for at least keeping the kids happy.
If your flights are cancelled or your campground closed, finding another more exciting option can turn attitudes into joyful memories. We're never a fan of having to drive when we had plane tickets (coming back from Hawaii and doing a road trip from Portland to Seattle in the middle of the night…) but if you can work things out, hooray!
Tip:  being stuck in a place doesn't have to be bad.  We were able to explore the Many Glacier area in depth and have some amazing fun with the kids.  Enjoy being stranded if you can.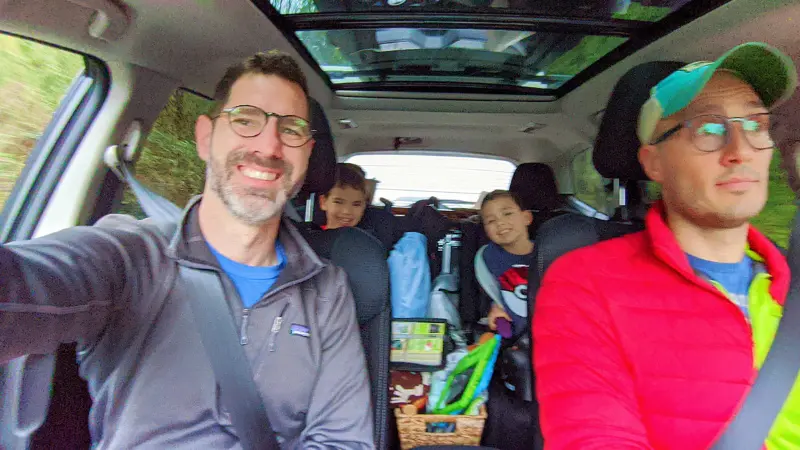 Hopefully you won't be in any situation like these, but if you are, now you have some ideas for how to navigate the uncertain terrain of traveling during a natural disaster. We did a pandemic road trip and it was very much like this: we had to be flexible and had to have back up plans for each day.
A good attitude and solid pre-trip notes will go a long way!