Glacier National Park: when a forest fire foils you
"The best laid plans of man…" I hate that phrase.  It is so heavy with impossibility.  But it's true.  Recently, we wrote an article about traveling in Europe and that by the time we got to Venice we were tired of being foiled at every turn, so we just had to go with the flow and be okay with it.  Well, that life lesson came into play last month when we were taking the kids to Glacier National Park in Montana:  forest fires at every turn.
Did we even get to Glacier National Park?
As we headed north from Yellowstone (check out that blogseries) we kept seeing enormous plumes of smoke in the distance, from forest or brush fires.  None of them were where we were headed, but each was a reminder of the dry summer and high winds that have been plaguing the western United States.  No worries though, the mountains are typically a nice, cool respite from the dry and dusty plains.  Well, as we headed north towards Glacier National Park and started to wind away from the Blackfoot Nation (Indian reservation) we noticed the air getting thick and the light becoming a bit yellow.
Tip:  you can check weather and fire reports online, so if you think there's risk of encountering a fire, you can plan appropriately… most of the time.
A few more turns on a winding mountain road and boom.  The floor of the St Mary valley was completely socked in.  Smoke.  We headed towards the entrance to Glacier National Park and were met, not even inside the gates, by two rangers.  Apparently on this day, the Reynolds Creek Fire, deep in the Park, had spread and was quickly working its way through the passes and up the hillsides.  The Park was closed at this entrance and although accessible in other areas, everybody needed to be aware of the danger and impending closures.  We were directed to another entrance of Glacier National Park to the north, but were given the disclaimer that the campground was full and that area might close.
Well crap.  You know when you're a 13 hour drive from home with a toddler and an infant and there's no place for you to stay?  Yep.  That was us.  Our oldest looked out the windows from the backseat and let out a "It sure is smoky!" as we drove on.  He didn't realize what was happening, either the danger in the Park or that we didn't have a place to sleep.
Tip:  it's a smart idea to write down on paper some back up plan phone numbers when you're traveling, just in case you can't make it to your destination.  In our case, we could've called ahead to see where we might find a place to stay.  Even if you don't have date service on your phone, you may be able to make calls still.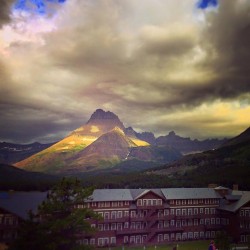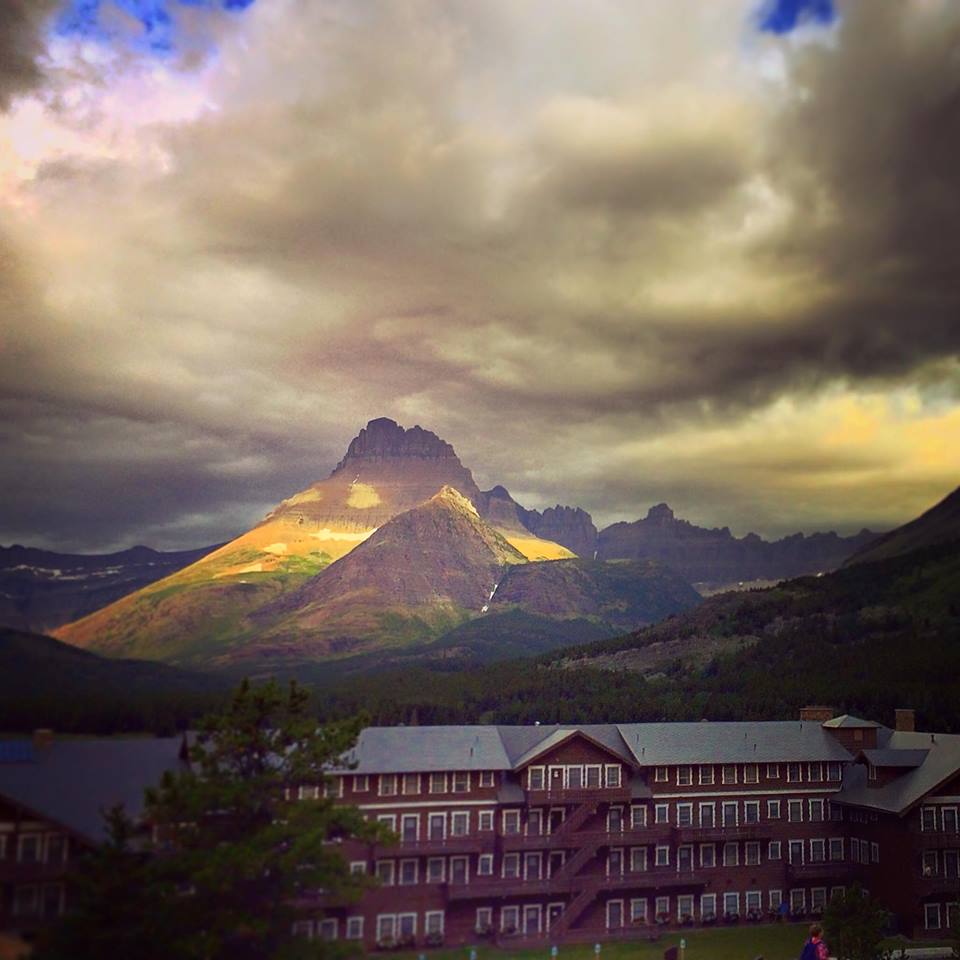 As we moved onto Babb, MT and the Many Glacier entrance to the Park, we saw that the air was clear and the trees were green.  How very encouraging!  And then we got to the gate: "Yeah, we're sorry, but the campground is full and campers may have to leave to accommodate the fire fighters…"  And the glimmer of hope faded.
Did we give up hope?
When you've been in the car for a long time and have nothing to think about but despair and lunch, you need to just plug on and find some happy.  In hopes of some different information we made a quick stop at the ranger station.  Yeah no, same story: "There's no room, buh bye."  It's tough to accept an answer like that.  In a final last act of disbelief that we had to end our vacation a week early, we took a drive through the campground.  The mood:  somber.  The faces:  stoic.  The sites:  all full.
Tip:  is a campground ever REALLY full?  In a time of need, there is always a solution and there's usually friendly folks on the look out to help.
We don't like to take advantage of other peoples' misfortune, but are happy to accept if somebody wants to help us out in a time of need, and that's what happened.  A group of hikers who'd been all over Glacier National Park was almost done packing up their camp when they saw us driving by slowly.  We weren't the only ones prowling the camp, but they picked us to flag down.  We were so thankful.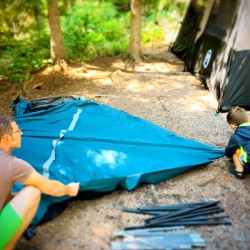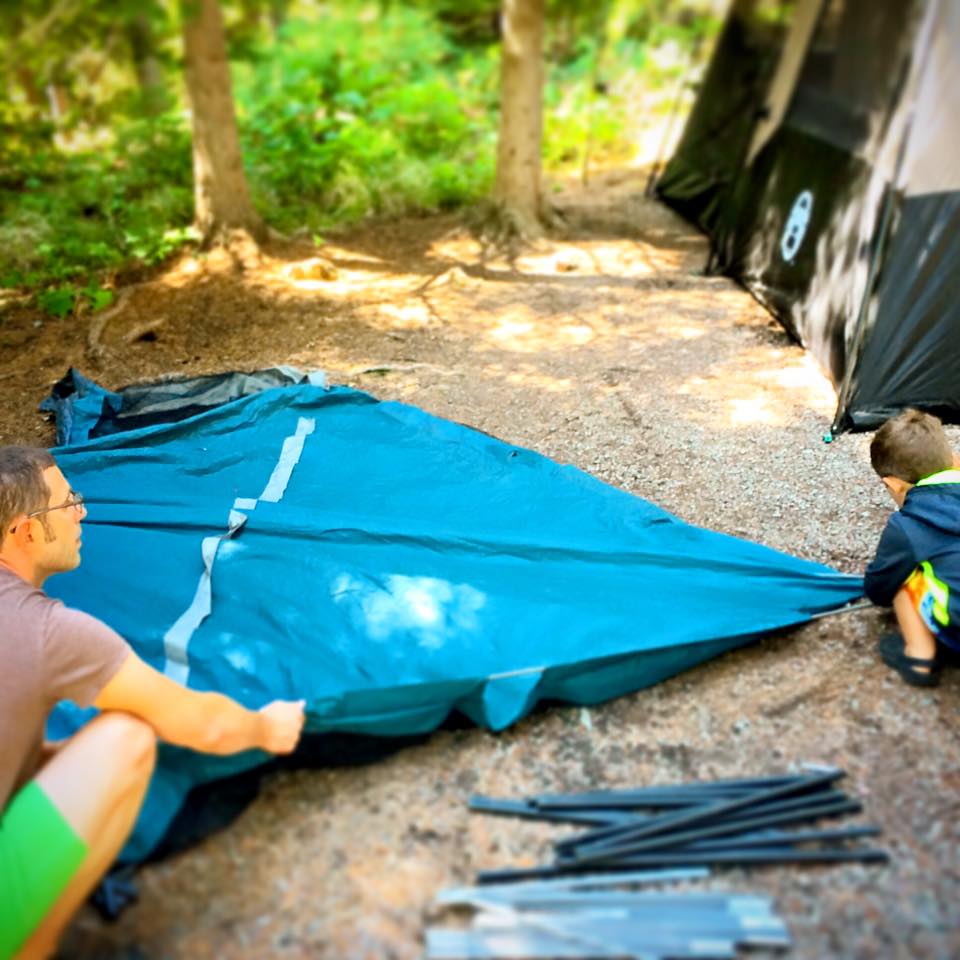 This group was in a very bad situation:  the prior day they'd parked a car at LoganPass and done an amazing hike through Swiftcurrant Pass back down into the campground on the other side.  In the course of their hike the forest fire had grown quickly and the roads in the Park were now closed.  They had a National Park Service ranger escorting them back to their car via the west entrance of Glacier National Park…far away.  Like several hours' drive away.
We couldn't say no to taking over their site and they headed off to end their trip early.  As we set up and each day we were there, we were told that we may have to pack up or share our site with Park staff or fire fighters.  That never happened, but there was always the chance that our now relaxing vacation could shift without notice.  We were fortunate and able to camp here for five days, enjoying hikes, the lake with boat tours, and wildlife, albeit with the hum of forest service helicopters always in the distance.
Tip:  being stuck in a place doesn't have to be bad.  We were able to explore the Many Glacier area in depth and have some amazing fun with the kids.  Enjoy being stranded if you can.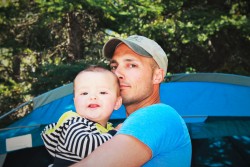 When we left, we had to drive through the smoke and see hundreds of fire fighters camped out along the highway, but we were still able to really have an amazing time in Glacier National Park.  The kids had a great time and were unaware of the potential danger lurking on the other side of the mountain.  Because of the fires, our trip was limited and many of our planned activities cancelled, but all in all it was still great.
I think that's a testament to a great park:  no matter where you are, it's amazing, fun and beautiful and you don't realize that you've been foiled.
And the moral of the story: don't lose hope in front of your kids; things will work out…or you'll figure out something.