Puerto Rico is a fantastic destination in the Caribbean that is easy for Americans to visit. Historic streets, beautiful tropical jungles and perfect beaches make San Juan and the surrounding area perfect for a short (or long) trip. The 5 day Puerto Rico itinerary includes top picks for things to do and see, most of which you won't even need a car for!
Whether your goal with visiting San Juan and the surrounding area is to be immersed in history or to explore the only tropical rainforest in the United States, this easy 5 day Puerto Rico itinerary is perfect for the best of both worlds, and you can easily add to it if you'd like to explore the south and western shores too.
Jump to 5 Day Puerto Rico Itinerary!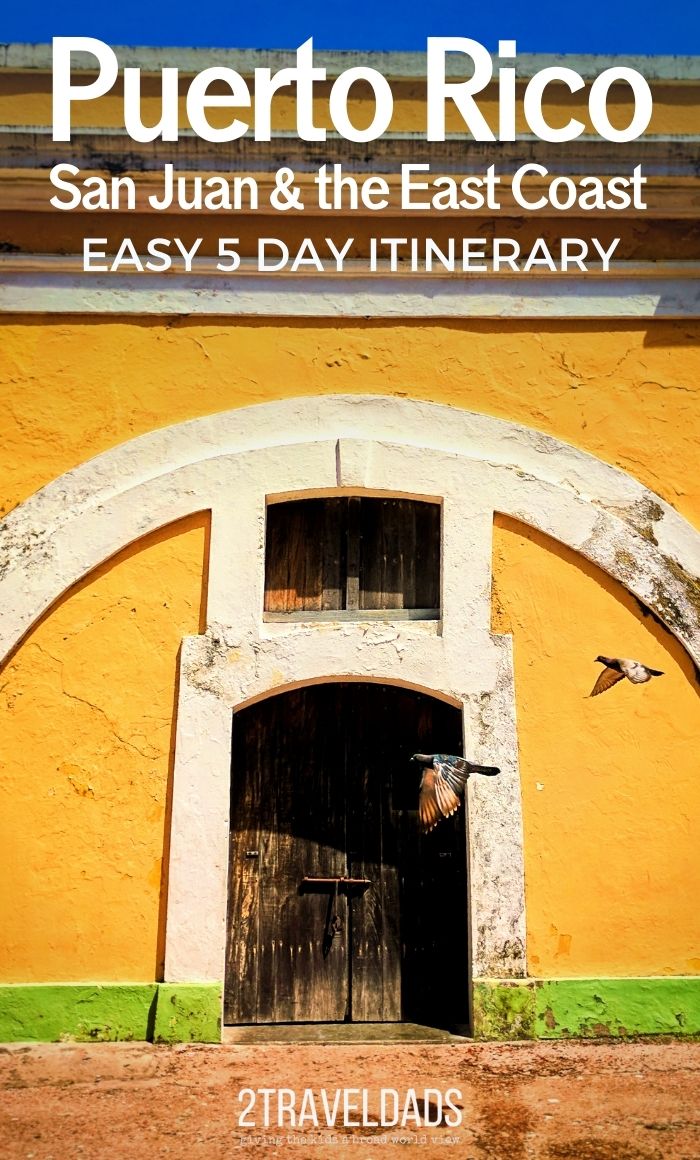 Where to Stay in Puerto Rico
Our 5 day Puerto Rico itinerary includes both historic San Juan as well as the beautiful eastern shore of the island. For the best experience, we recommend splitting your time between the two areas. Two or three nights in each place should be plenty of time to explore and relax. Puerto Rico is a great warm, winter destination for families, so if that's your travel time, book as far in advance as you can!
Accommodations in Puerto Rico are fairly affordable, particularly in comparison with Hawaii or the Florida Keys. You can enjoy beautiful places to stay on a smaller budget, whether that be a hotel or resort, or if you find a vacation rental.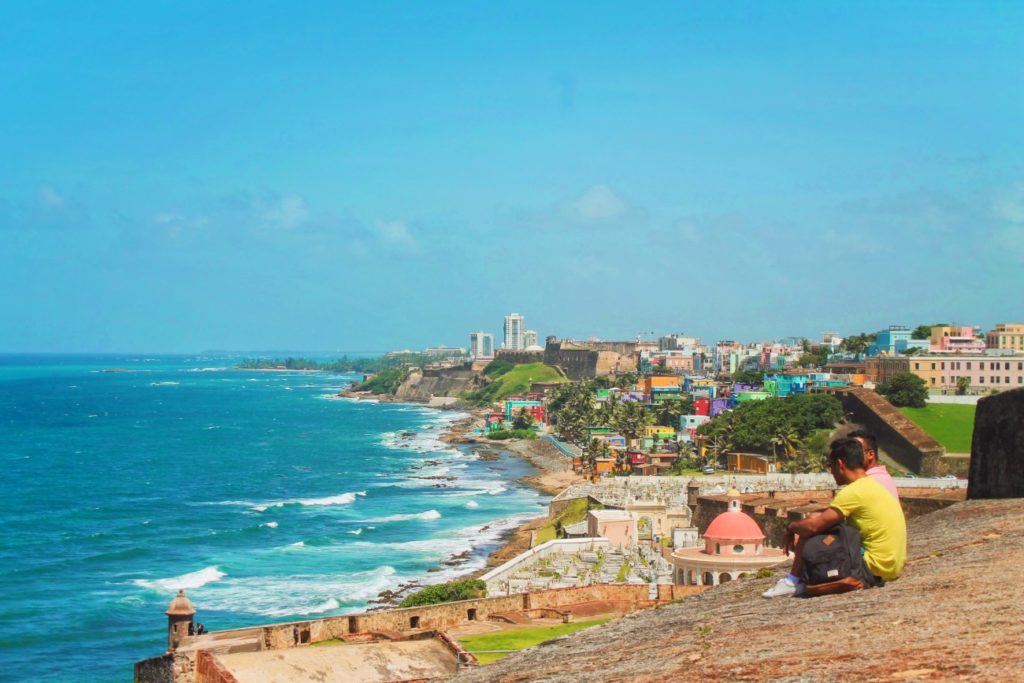 Accommodations in Puerto Rico's East Coast Region
We love the east coast of Puerto Rico because there are so many things to do in nature, so staying on the east coast just makes sense for making the most of our time there. Fajardo is a good sized town with lots of options when it comes to accommodations. A balance of hotels/resorts and vacation rentals make it a good home base for exploring the beaches as well as the rainforest.
Check out hotels and vacation rentals on Puerto Rico's east coast below!
Where to Stay on the Coast of Puerto Rico: El Conquistador Resort
Our first pick for where to stay in Puerto Rico is El Conquistador Resort on the east coast of the island. Located in the town of Fajardo, El Conquistador is a large, beautiful property with hotel rooms looking out across the Caribbean. Hurricane Maria all but destroyed the resort, but after several years of rebuilding and refreshing, it's open again (May 2021).  
Book the El Conquistador Resort here!
We enjoyed countless moments of wow and relaxation, including time on El Conquistador's private island, Isla Palomino, with snorkeling and kayaking in the Caribbean, an afternoon at Coqui waterpark directly on-property, pool time, beach combing and great food and drinks.  
Oh, and a spa day with a stellar hot stone signature massage. And you can't forget walking the beautiful grounds looking for wildlife. I had a six foot iguana walking below my balcony.  Love it here!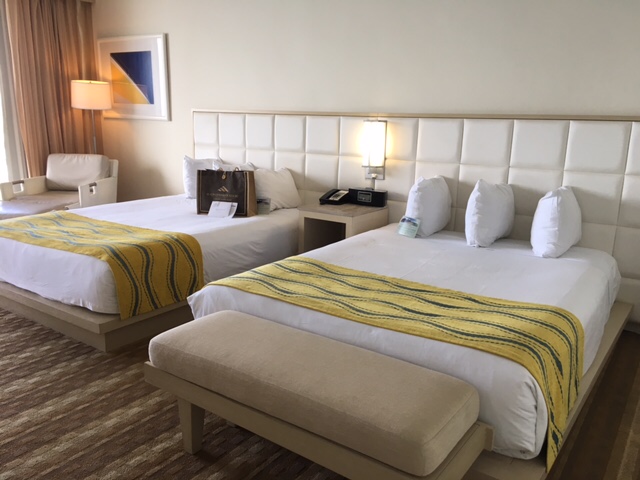 Where to stay in San Juan, Puerto Rico
The city of San Juan, Puerto Rico is amazing. Such a beautiful place and it's surrounded by water. We can recommend two neighborhoods for where to stay in San Juan: directly in Old San Juan and then Condado. Old San Juan is incredible to explore on foot and is where you'll find the city wall and forts. Condado is across the lagoon and is where you'll find cutting edge restaurants and, if it's your thing, nightclubs and stuff.
Condado is also where you'll find more of the major travel brands, which is important if you're looking to find a place to stay in Puerto Rico using point for travel.
Staying at the Condado Plaza Hilton in San Juan
The public spaces of the Condado Plaza Hilton are so cool, and so are the rooms. Built in the sixties and recently renovated to reflect how awesome and chic the 60s were in the Caribbean, the Hilton Condado Plaza is a fun place to stay.  Love it!
The view from our room was awesome too as we looked out across the Atlantic Ocean, over the pools and eastward at Castillo Geronimo (an abandoned fort).  The staff was attentive and the mofongo and sofrito at the cafe in the lobby are killer.  A great home-base for exploring San Juan, Puerto Rico, the Hilton Condado Plaza is just far enough from the historic Old Town that you get to see more of the city, but not so far away that it's inconvenient.
Book the Hilton Condado Plaza Hotel here!
We'd happily book another stay at the Hilton Condado Plaza, equally for the quality of the hotel stay and its location.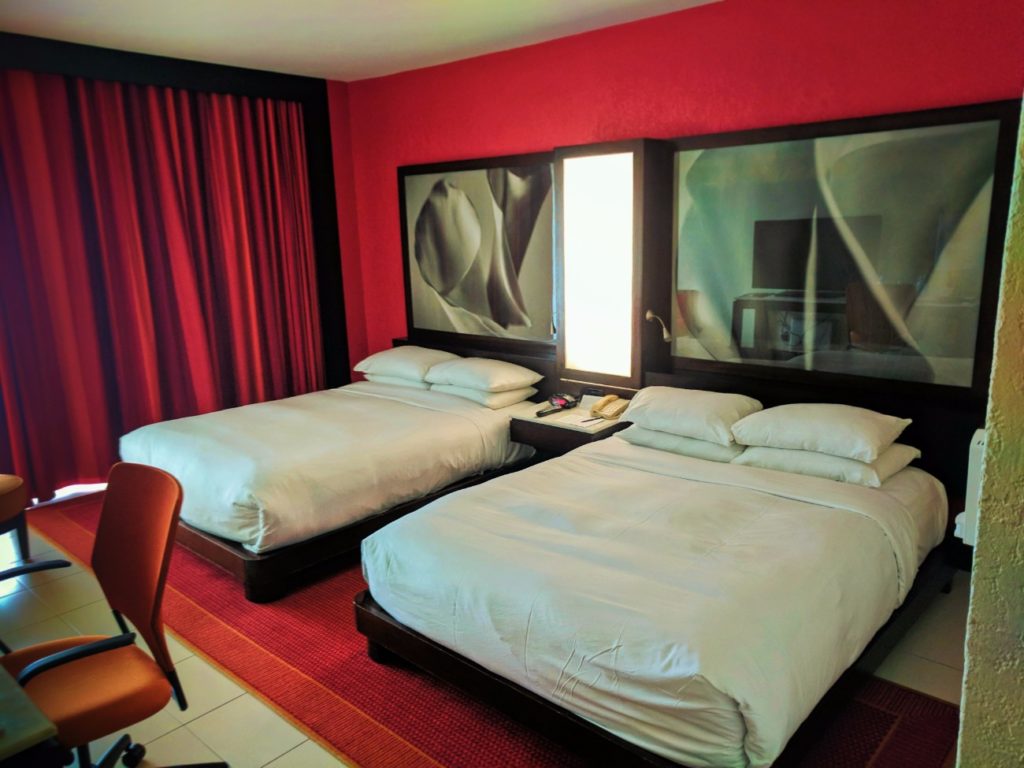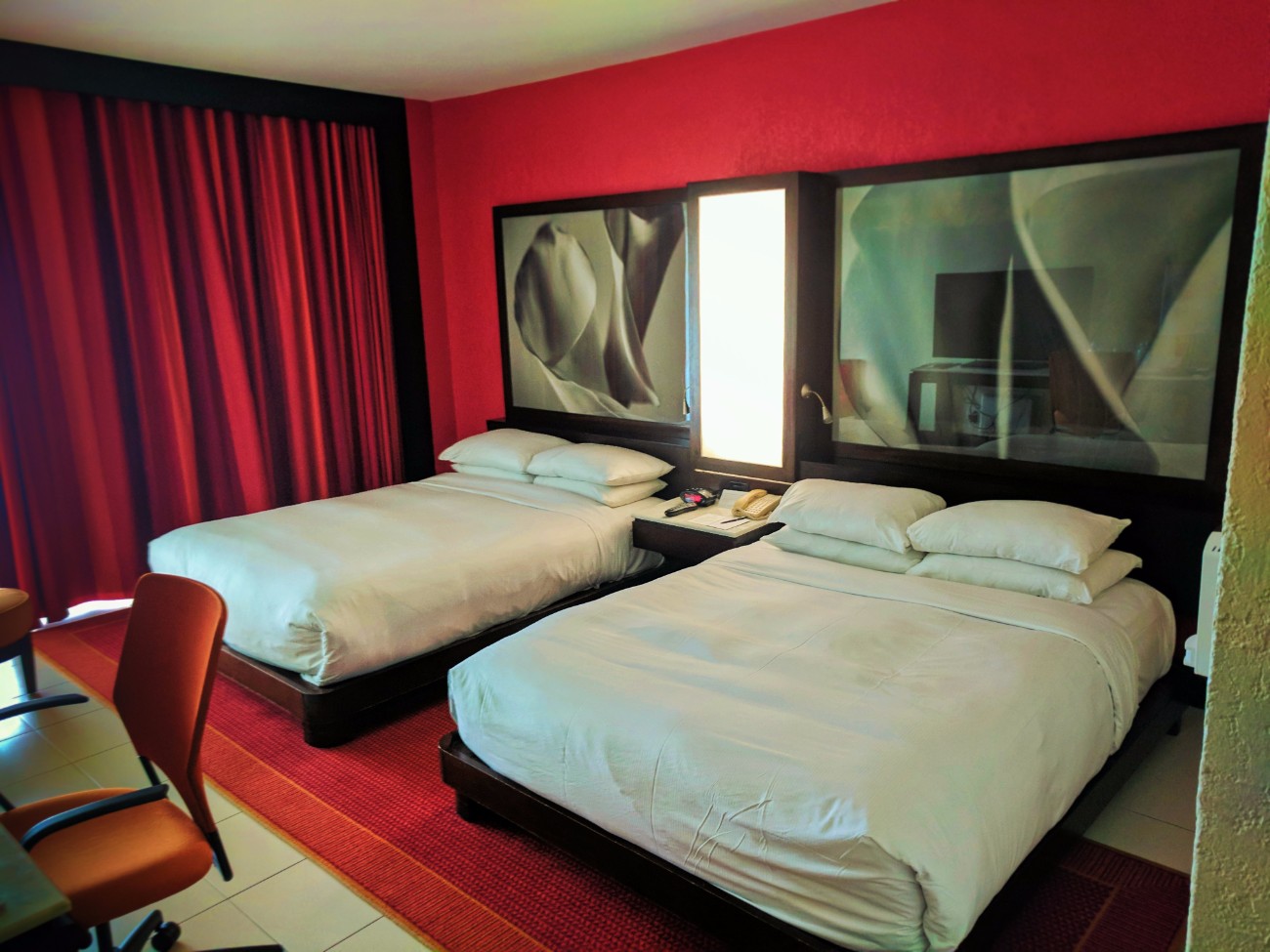 5 Day Puerto Rico Itinerary – travel plan
Time to see all the cool, fun things to do in Puerto Rico! This 5 day plan starts on the east coast and is all about the unique nature you'll find. After a few days of exploring, hiking and swimming in the Caribbean, we head to historic San Juan, Puerto Rico for delicious food, biking and enjoying one of the most beautiful National Parks in the United States!
Because San Juan and the surrounding areas have so many unique places to explore, our 5 day Puerto Rico itinerary is set up with two big activities each day. You can easily fill the time between these with swimming, relaxing at the beach or hotel, or exploring on foot.
Day 1: East Coast Outdoors
For your first day, our 5 day Puerto Rico itinerary takes you right to the beach. The island is truly beautiful everywhere, but the beaches are such a highlight it's best to start here. We'll finish out the day with a wonderfully unique activity: bioluminescent kayaking!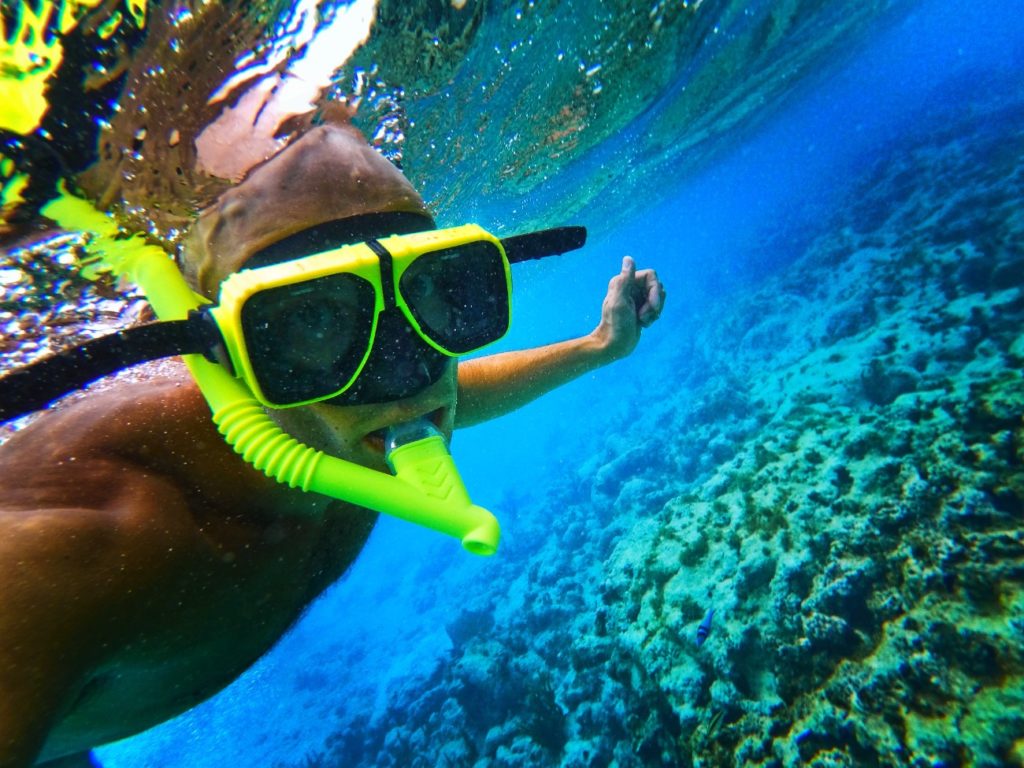 Snorkeling on the East Coast, Puerto Rico
Do you ever go snorkeling and then pop immediately out of the water because you realize that there is a school of stingrays right below you?  Or do you track a large fish with your eyes and then discover that it's a reef shark once you look underwater?  Or how about do you ever dive down to bring up a huge conch shell only to find that it's inhabited by the biggest hermit crab you've ever seen?  Yeah, that was my first, second and third experience snorkeling in Puerto Rico.
There are plenty of public beaches (Playa Publica) between San Juan and the east coast towns, so pull off wherever for a relaxing beach time. Be aware that there are strong currents on the north shore of Puerto Rico, so swim with caution.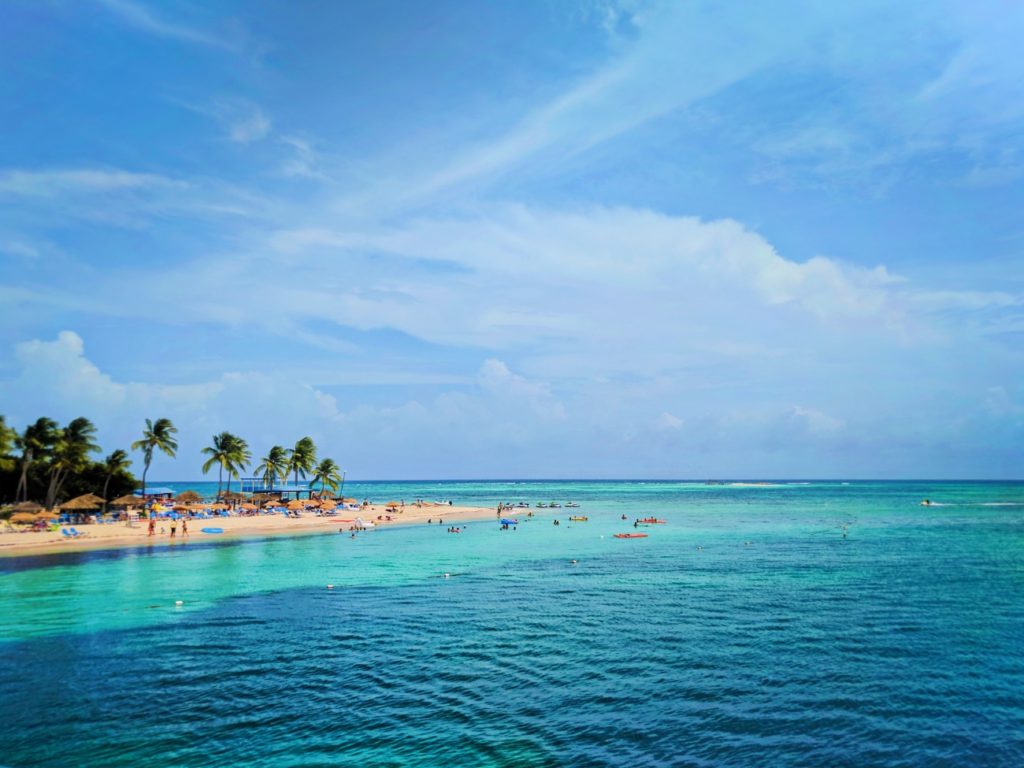 Staying at the El Conquistador in Fajardo, we actually had access to a private island that was amazing, Islas Palimino y Palominita.  Really beautiful places to snorkel, and the smalled of the two islands was actually "that same god-forsaken island" that Jack Sparrow was left to die on in Pirates of the Caribbean.  So cool!
While you can always stay on the main island of Puerto Rico, there are some smaller, dreamy islands just off the east coast: Culebra and Vieques. Reach both islands via ferry out of the town of Celba. Since it's not a short trip, we'd recommend adding a few days to your Puerto Rico itinerary to include either of these.
Bio-luminescent Kayaking on Bio Bay
We go kayaking a lot and this topped it all.  The bummer about bio-luminescent kayaking is that you can't really get pictures of the experience or even begin to capture its magic unless you have a very special camera or a very steady hand with a Night Sight enabled phone.  
Paddling through mangrove tunnels in the pitch black and then dangling your feet in the water as it lights up was just beautiful and totally unforgettable. We do a lot of bioluminescent kayaking in Florida but this is very different, particularly because of the mangrove tunnels, which might actually be my favorite part. Because the goal is seeing bioluminescent, it's very dark unlike night kayaking in Key West (which is awesome too!).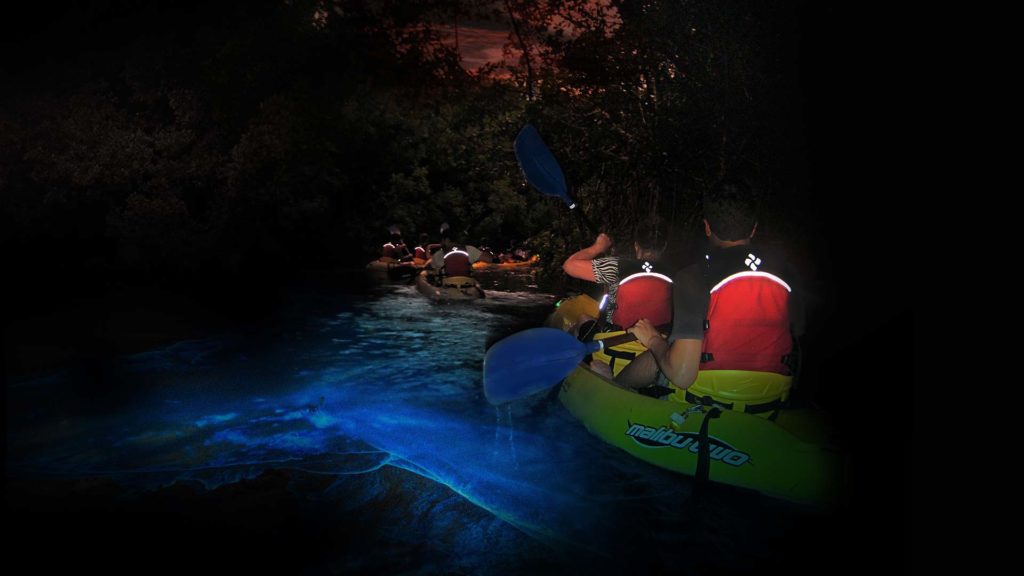 You'll want to use bug spray before arriving, as calm water and warm weather are mosquitoes' favorite environment.
The experience of bioluminescent kayaking is incredible though and you'll be so glad you did it!
Not staying on the east coast bust still want to do bioluminescent kayaking in Puerto Rico? Here are three places you can experience this unique wonder of nature in PR:
Bio Bay – Fajardo, east coast
Mosquito Bay – Vieques, east coast detached island – several tours available
La Parguera – Boqueron / Ponce, south western coast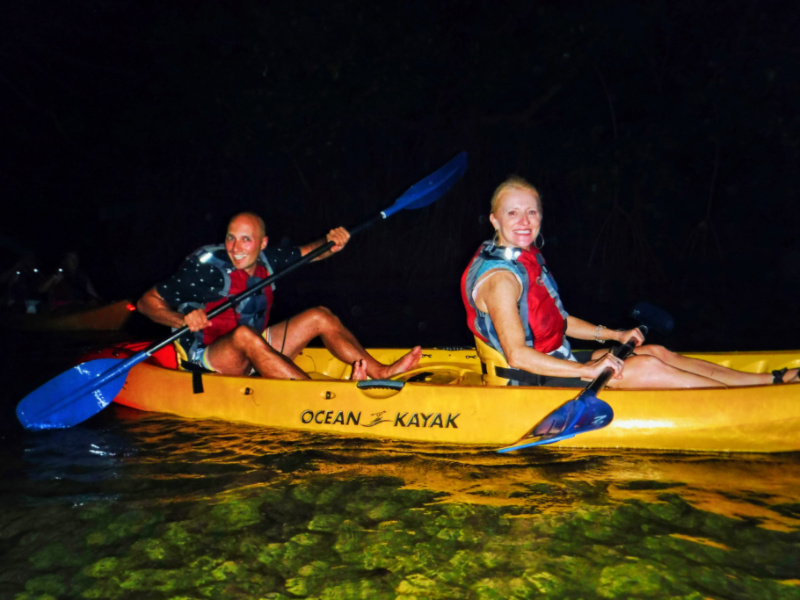 Day 2: Hiking and Sightseeing in El Yunque
Day 2 of our 5 day Puerto Rico itinerary is really fun! Today we explore the tropical rainforest of El Yunque and finish the day with relaxing. Hiking and swimming in the jungle may wear you out a little, but you'll recover just fine for the next day's activities.
When you're done in the El Yunque National Forest, head back to your hotel/resort or the beach to unwind from the day.
Exploring El Yunque National Forest
After renting a jeep during some free time, we headed away from El Conquistador and up into the mountains.  El Yunque National Forest is so beautiful to explore.  Stop into the Visitors Center for a quick lesson in the rainforest and a stroll through the canopy on an elevated walkway.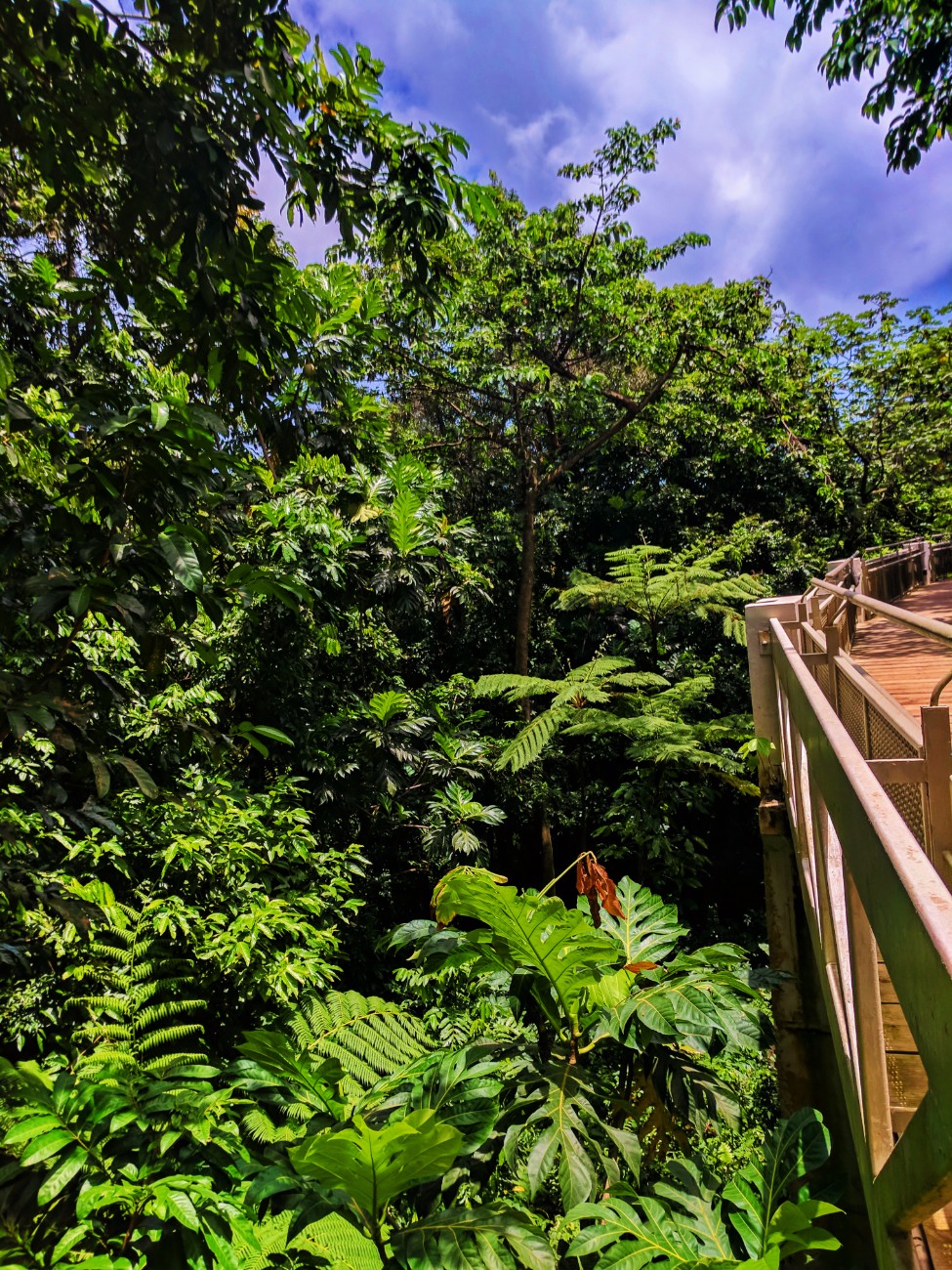 There are several waterfalls along your drive to stop at and enjoy. You may not be able to park directly at the viewpoints or trailheads, but you can park safely off the road for most points of interest.
For the best El Yunque experience, hike through the rainforest to La Mina Falls. It's a fairly easy trail and it's absolutely beautiful. There's nothing like jumping into the splash pool of a waterfall in a tropical rainforest.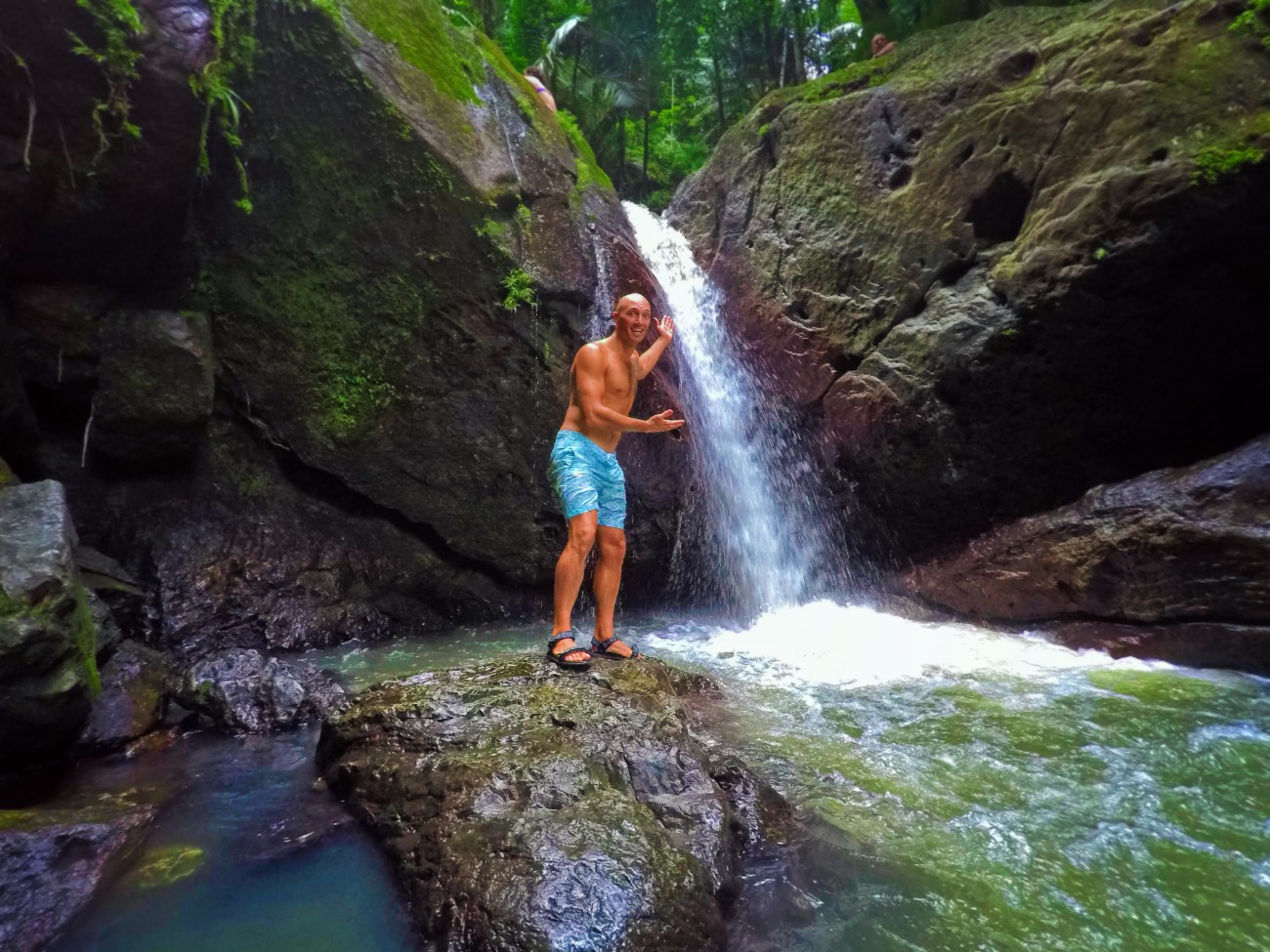 If you don't feel confident driving on the mountain jungle roads of El Yunque, consider booking a guided tour of El Yunque National Forest. Better safe than sorry and it'll still be incredible.
El Portal Visitors Center and canopy walk

Yokahu Tower – view point and photo opp
La Coca Falls – viewing and short trails
La Mina Falls – hiking through the rainforest, waterfalls and swimming in tropical splash pools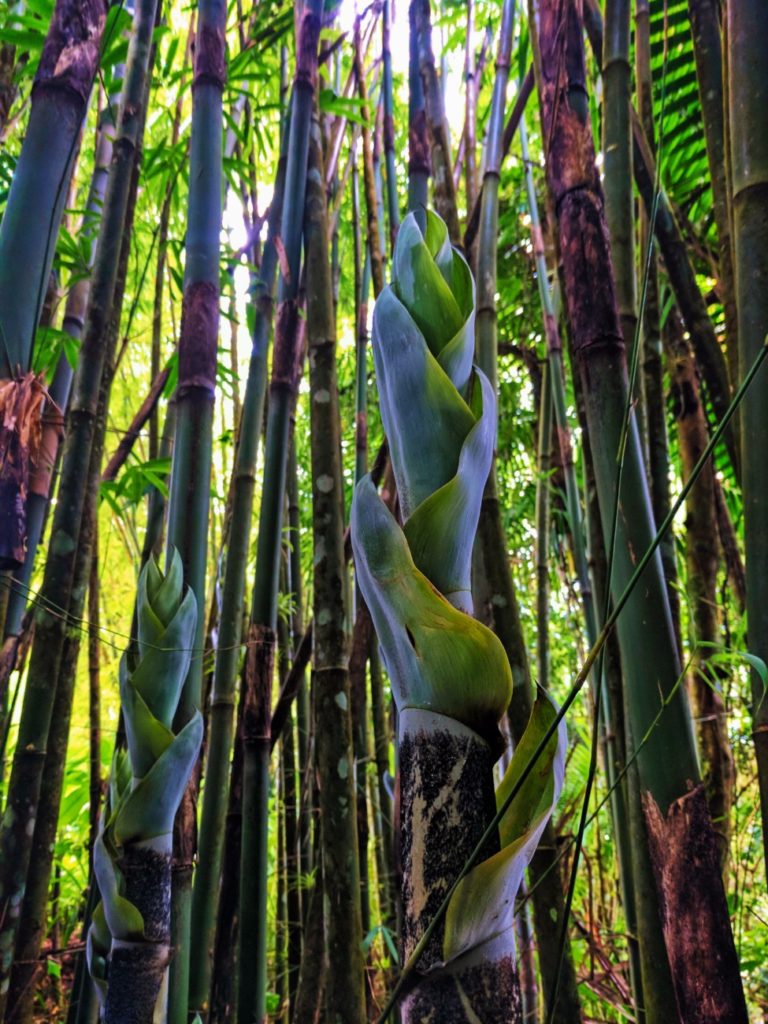 Resort Time and Beach Sunset
Something we love about visiting tropical destinations like Puerto Rico is getting to have lots of beach and pool time. Even though day 1 of our 5 day Puerto Rico itinerary was all about the beach, there's no shame in adding it to day 2 as well.
If you're leaving the rainforest late, try to make it to the beach for sunset. Playa Escondida at the northeast corner of the island faces west, so makes for a beautiful sunset.
Another option is to just head back to your hotel or resort to enjoy pool or spa time. It's rare that we get to have a spa day when traveling with kids, but when we can make it happen we do. Enjoy a nice dinner afterwards and get ready to head to San Juan tomorrow.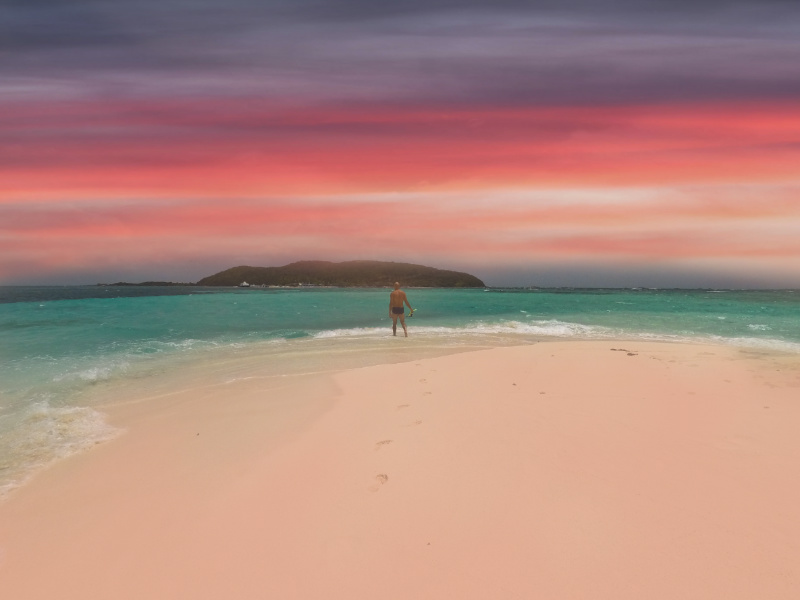 Day 3: Biking San Juan, Puerto Rico
Biking is a great way to explore a new city. For day 3 of our 5 day Puerto Rico itinerary we're biking around town and enjoying the beautiful city from end to end. San Juan is actually the best city I've ever biked in as it has lots of designated, clearly marked bike paths both alongside and apart from traffic. We enjoy biking in Seattle and our hometown of Saint Augustine, but San Juan takes the cake.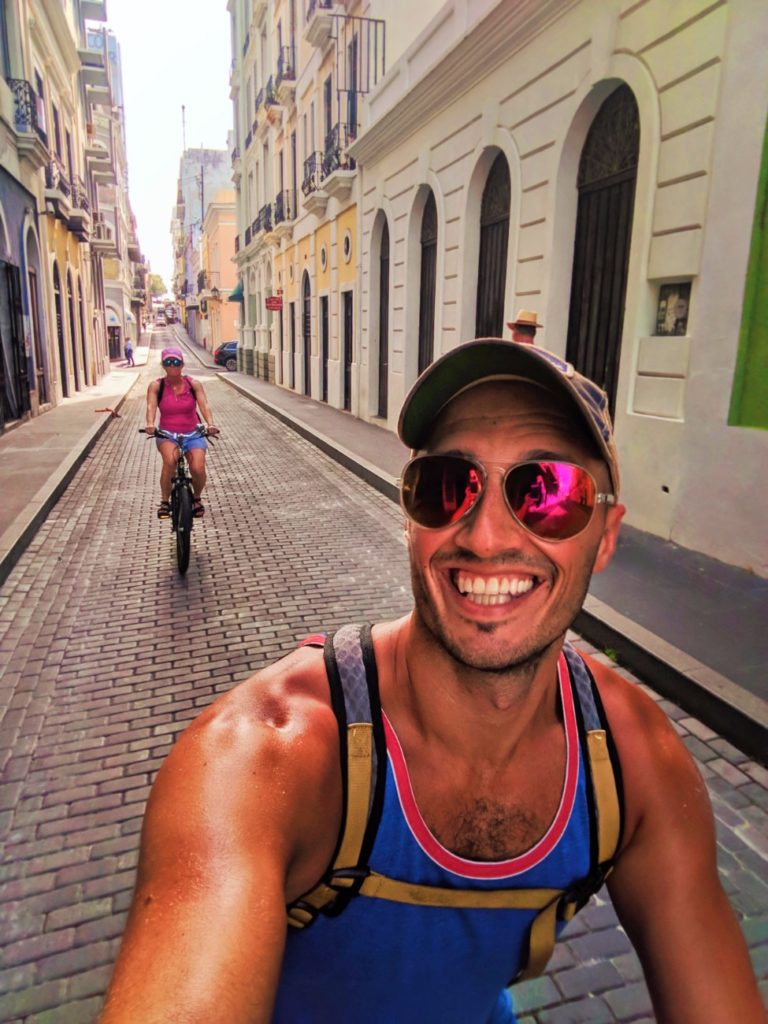 Starting at Condado Beach, rent bikes and make your way west, going with the flow of traffic until you're on the parkside bike paths. Make stops at San Cristobal and El Morro before riding through the Paseo de la Princesa and along the harbor docks. As you cross back over to the lagoon side, visit the MADMi museum and Jaime Benitez Lagoon Park before you return your bikes.
This can be an all day activity or as little as two hours. Enjoy the stops along the way and find delicious snacks. It's easy to add beach time or SUP on the lagoon if you like.
End your day with dinner in the Condado
Visiting San Juan National Historic Site and Forts
Whether you do it as part of your biking route or if you visit in the afternoon, San Juan National Historic Site is amazing. We live in Saint Augustine where we have the Castillo de San Marcos, Fort Matanzas and Fort Frederica all close by, but El Morro and San Cristobal are way more amazing.
El Morro, the westernmost fortress, is a bit similar to Fort Jefferson at Dry Tortugas National Park, in that it has tunnels, a lighthouse, and gorgeous tropical waters crashing into the base of its stone walls. El Morro is grand and very much the Instagram-worthy fort, but Castillo de San Cristobal is much more spooky and fascinating, with walls and narrow paths to climb.
The entire area is remarkable and by far one of the coolest places I've ever been.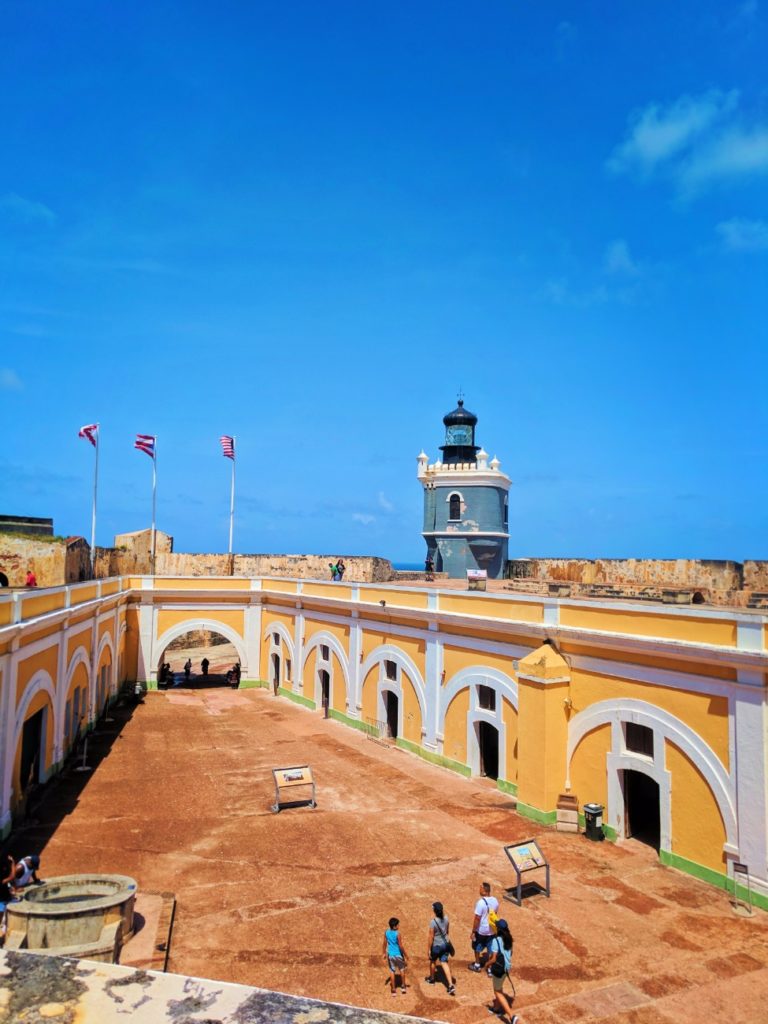 Day 4: Guided Tours in San Juan
After spending several days exploring Puerto Rico on your own, today's the day to get a different view of San Juan, both from the water and with a guide. Depending on what you've already done or added to your Puerto Rico itinerary, there are several good tour options for the afternoon (or all day) to help you get a different perspective.
Kayaking on Laguna Condado in San Juan
Begin day 4 of our 5 day Puerto Rico itinerary with kayaking on the Condado Lagoon. A shallow lagoon full of wildlife, it's located between the hotel district of Condado, the government center, and Old Town.
Kayaking on Laguna Condado is one of the best things to do in the morning in San Juan, as it's not too hot yet and the sunlight is still low, making for better photos. Either take a tour from Jaime Benitez park or rent your own kayak from one of the many vendors in the Condado neighborhood.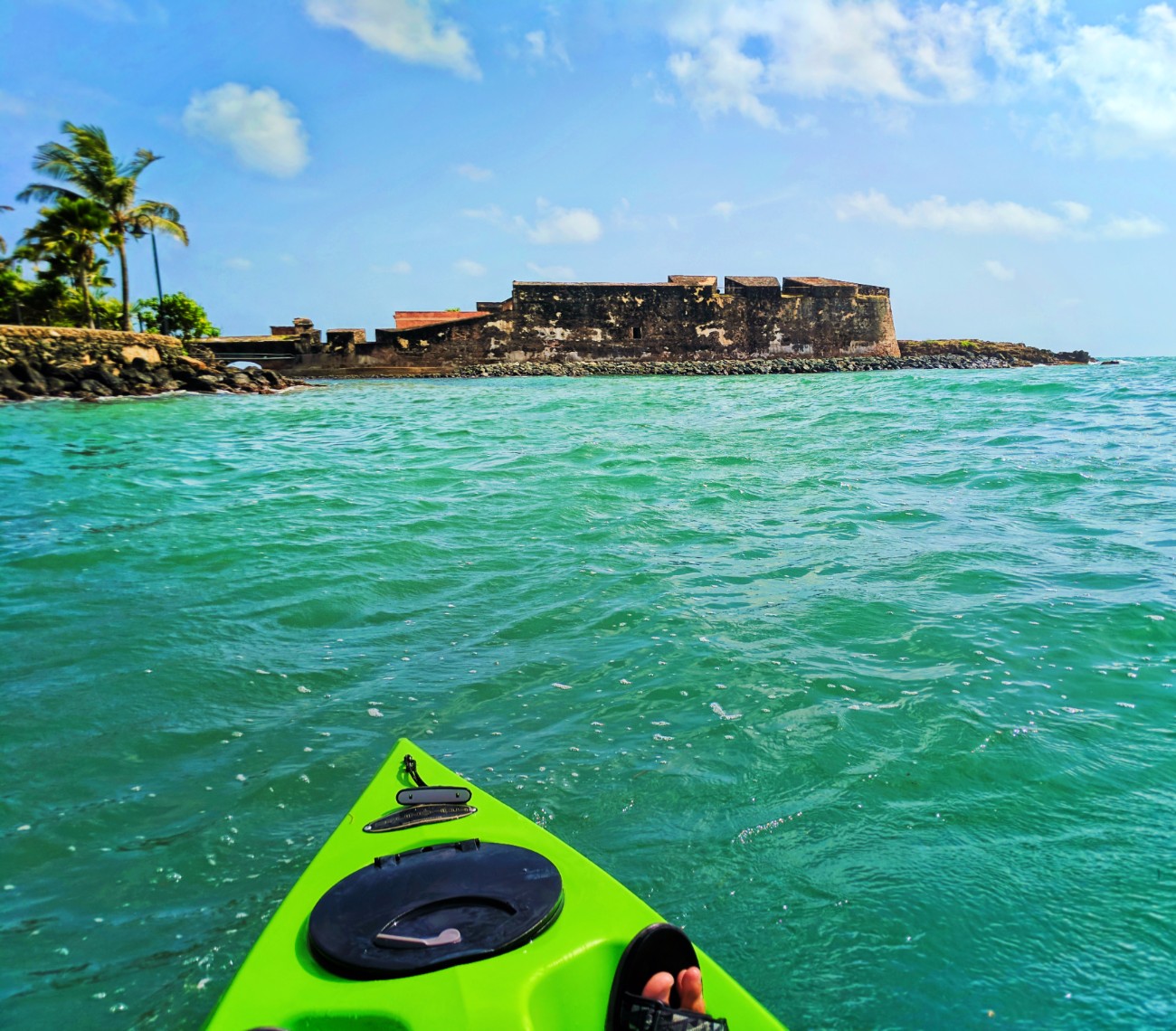 Top Tour Recommendations for San Juan, Puerto Rico
I love doing guided walking tours, and our kids are really patient and open to them too, so visiting San Juan is a great time to book one. By now you've seen a good portion of Old San Juan, but did you research the history or find out anything about current life in the city? That's why booking a guided walking tour is a great idea.
And if you're into ghosts or the paranormal, and old city like San Juan, Puerto Rico is perfect for you. Ghost tours are a popular nighttime activity and a great way to get the darker side of the city's history. Their availability changes often, so if a ghost tour isn't available online when you visit, check in-person for one. Book a walking tour here!
Another option for a guided tour is going just out of the main city towards Guaynabo or over to Loiza (African town). For visitors that haven't gotten enough snorkeling yet, a guided snorkeling tour to the reef is a fun choice too. Book a snorkeling tour here!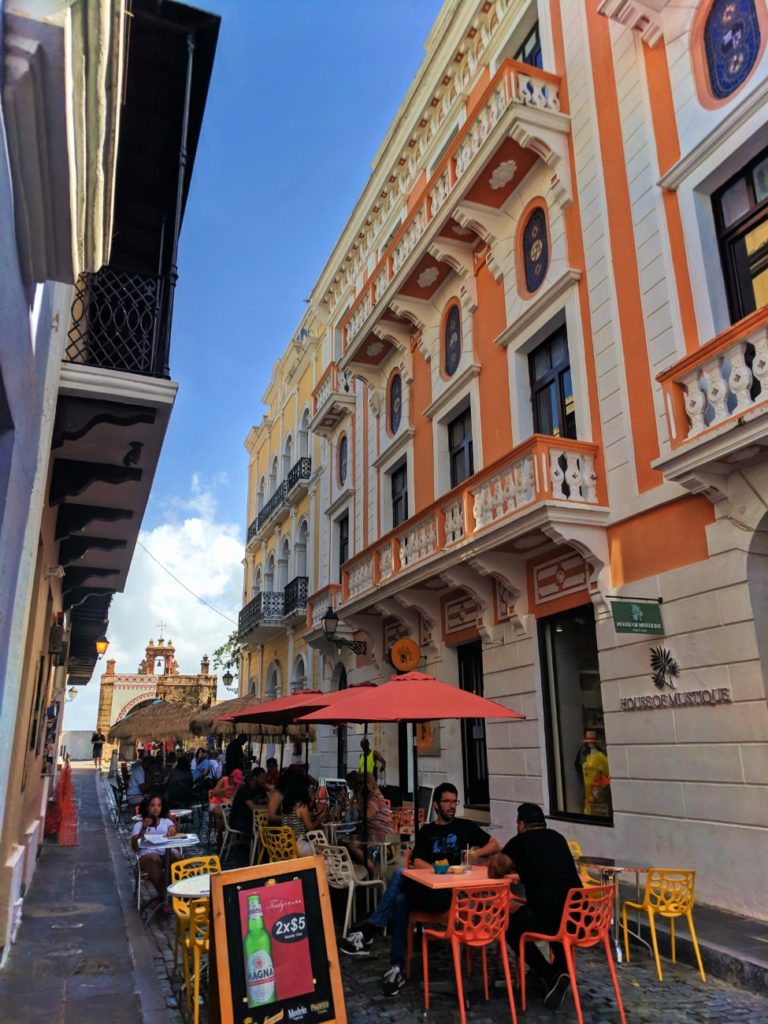 Day 5: Relaxing Around Old San Juan
For your final day in Puerto Rico, plan on just relaxing, whether for you that means walking through Old San Juan and driving coffee at a sidewalk cafe or visiting museums you didn't get to already. Most visitors take afternoon or evening flights out of San Juan, so you may too and will have nearly a full day to do whatever you like.
We recommend walking or taking a cab/Uber wherever you want to go IN the city, as you won't want to go too far if you're traveling back home on this day.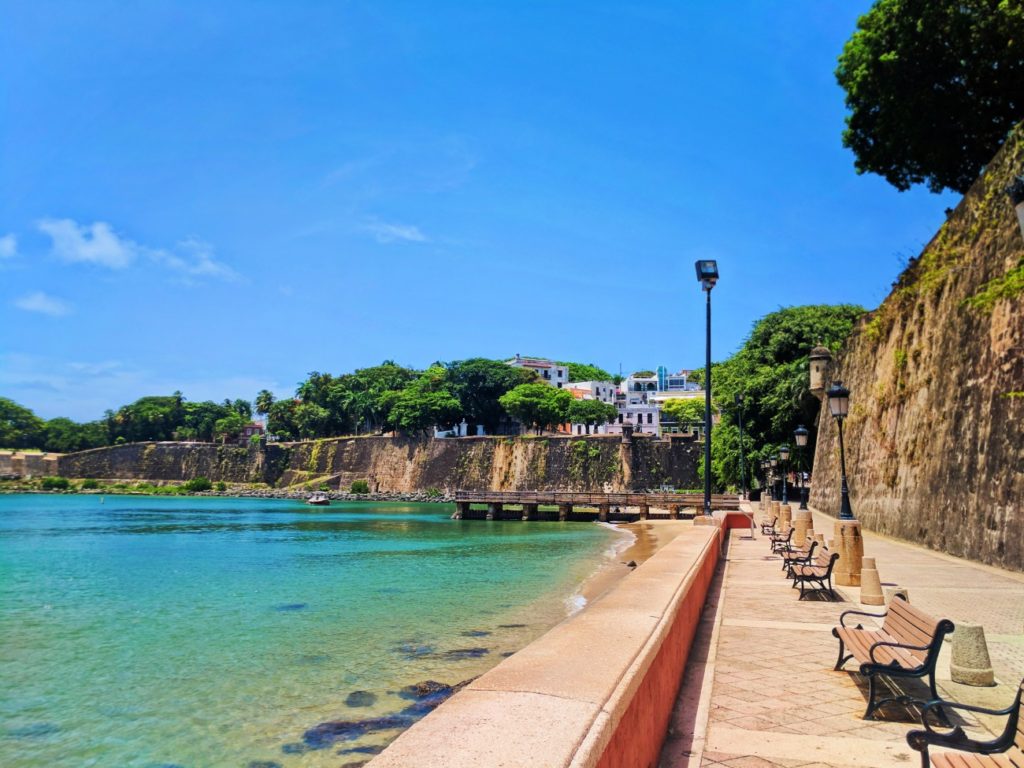 Adding onto your 5 Day Puerto Rico Itinerary
If you are lucky enough to have more time on you trip, add a few days on the south shore in the city of Ponce or on the West Coast in Mayaguez. Puerto Rico is a very interesting, beautiful island and exploring beyond the main tourist areas is a great idea.
We mentioned above that you can add a trip to Culebra or Vieques to your Puerto Rico itinerary. If you do, allot at least two nights / 3 days in your extra destination. The wildlife and black sand beaches you'll find are worth your time.
As you get farther from San Juan, know that Spanish will become the primary language. In San Juan and on much of the eastern shore of Puerto Rico, most people speak English as their first or second language, so it's very easy to get by if you don't speak Spanish. As you go further away though, be prepared to use your Spanish and be extra courteous with the people who are being patient with you and your lack of good Spanish speaking skills.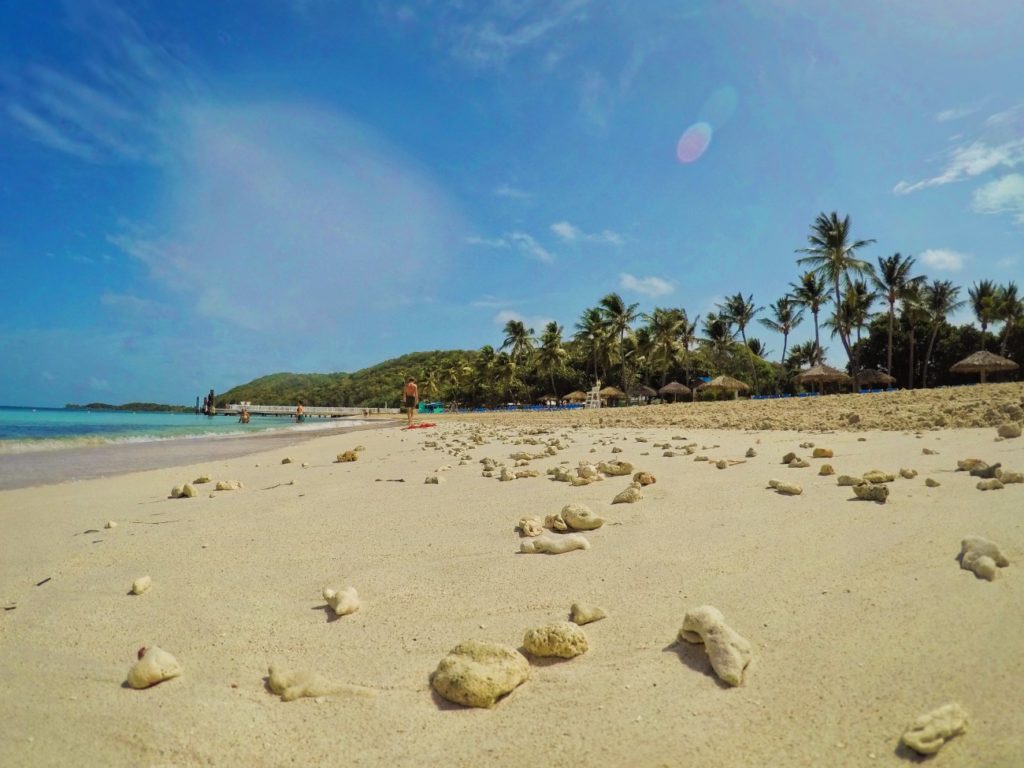 I'm so excited for you to do our 5 day Puerto Rico itinerary! If you have any questions about visiting Puerto Rico or need help researching additional activities or where to stay, always feel free to leave a comment or send us a note. We're happy to help!