Historical sites rock for family travel.  Well, most of the time. No, all of the time.  Here's why:  they're a snapshot of a moment in time that we'll never experience again.  Sometimes those sites are really well preserved and you can step back in time with little use of the imagination.  Heck, sometimes there are even folks in costumes to help you imagine.  And then sometimes you visit an historical site that is…gone.  And that's Fort Frederica on St Simons Island, Georgia.  
Where did it go?  If it's gone, should you still visit it?  We'll help with some answers and tips for visiting Fort Frederica in the Golden Isles of Georgia, but let's just say first that it is totally worth the stop and even something you should carve out time for…as long as you've already had a beach day.  Anyways, keep reading because yeah. 

Where'd Fort Frederica Come From?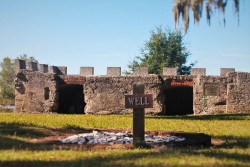 In the early 18th century, the British, Scottish and Germans joined forces to build a fort and town on St Simons Island, Georgia.  Why?  Because the Spanish were hanging out to the south in Florida and were enjoying their position of control on certain shipping lanes.  The history of Fort Matanzas down in St Augustine is that it kept switching hands between the Spanish and other countries.  Not so the case up north, as the British maintained control of Fort Frederica and the Golden Isles consistently.  The fort and town functioned until there was a mutual understanding of who was in control of Georgia and Florida and the fighting subsided.
Fun fact from the National Parks Service:  Frederica's soldiers attacked the Castillo de San Marcos (St. Augustine, FL) in 1740. The Castillo is also a National Park Service site.
Where'd Fort Frederica Go?
Peace spread through the Southeast.  With peace between the British and Spanish came the disbanding of the army in the area.  With no troops and no reason to stay, the town emptied and then over time disintegrated into ruins, leaving only a few fireplaces and part of the actual coquina fort. In 1936 it was declared a protected site and then became an actual National Monument in 1945.
Another site to see:  the Bloody Marsh is between Fort Frederica and the rest of St Simons Island's sightseeing areas.  If you want to check out a battlefield (and more Spanish moss) make a twenty minute stop here too.
What is a visit like these days?
Approaching the gate to Fort Frederica National Monument, you're faced with none other than Spanish moss.  Everywhere.  It's probably the main reason that we love the South.  As you walk through the breezeway of the visitors center, you step into, what we would call a ghost town.  We say "ghost" because the town is gone.  There are foundations of a clearly planned out town, but ALL of the buildings are gone.  At the end of Broad St lies Fort Frederica.
Fort Frederica is only one building now.  There are no bastions, no barracks.  There's not much left except for one building.  It's still cool to visit though.  Our oldest thought it was nifty like Castillo de San Marcos in St Augustine, but his attention wavered once he went in and out of the small fort once.  There were cannons too, but not at cool as others he'd seen at the Castillo or Fort Matanzas.  These ones were painted for preservation's sake and not as interesting in craftsmanship.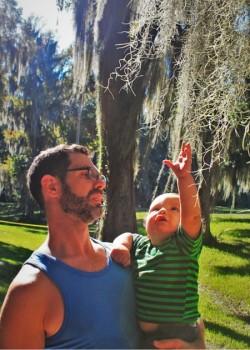 The most exciting part of the whole compound is actually the wide open spaces between the Spanish moss draped trees.  We enjoyed being able to relax and sit in the shade while the kids played.  The setting was perfect for an afternoon of family travel and relaxation.
Neat to see:  there are display boards throughout the grounds, highlighting what each of the building foundations is from.  There are also street signs in the middle of the fields, as you can easily tell where the town's roads were, both from the layout of the foundations and the neatly planted (now enormous) trees.
Is a day at Fort Frederica worth the time?
Yes, but only if have an unplanned afternoon on St Simons Island and you've had your fill of beach time.  The historical factor is great and it's a completely different experience than you'll get at the other colonial forts in the southeast.  We're not going to say that it's the coolest place we've ever been, but it beats a day walking through a suburban mall.  If you're not into history, Fort Frederica is ideal for strolling and capturing all kinds of pictures of the beautiful park, and for the relaxation factor. Fort Frederica is one of the most relaxing historical spots in all of Georgia.  No joke.  Utter chillness flows through the shade and the Spanish moss.
 You can get to the fort either by car or bike.  We had a great time
biking across St Simon's Island
to get there and it's our solid A+ recommendation for anybody else wanting a fun day out in the fresh air.
See what other cool things there are to do on St Simons Island beyond Fort Frederica.  The Golden Isles are great for family travel, and the mood is very relaxed everywhere.  Go explore and see what other sites catch your fancy.