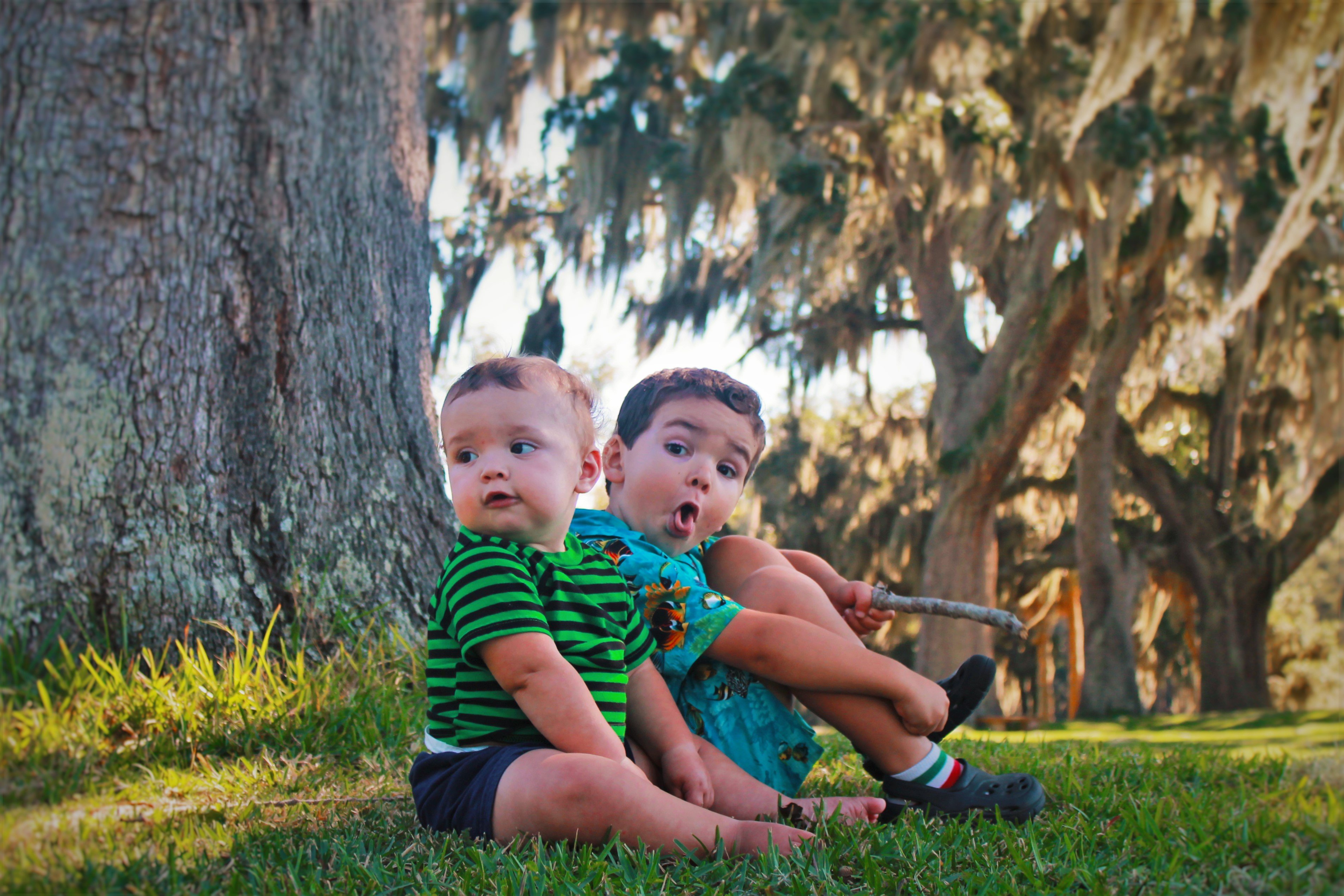 The southeastern United States is a really fascinating area.  It's got the colonial and Civil War history; it's full of tidelands, swamps and interesting wildlife; and its own past is a varied collection of maritime lore and people.  As you stroll through the village area of St Simons Island, it's got that quasi-Caribbean feel with the Spanish moss dripping everywhere and the wrought iron accents on the homes and buildings, but there is a lot of nautical nuance to each area.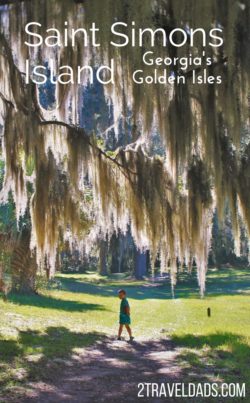 We'll tell you about just a few aspects, because St Simons Island is best seen in person.  Trust us, you'll want to spend at least a few days there by the time we're done… And you'll want to sit under the Spanish moss as the wind gently moves it back and forth and you might end up spending a lot of time napping and you'll love it.  Really, it's an ideal family travel destination.

Locale of Saint Simons Island
One of the four Golden Islands, St Simons Island is located in the southeastern-most part of the State of Georgia.  It's practically Florida.  Okay, it's not.  It's actually very much Georgia and has that laid back Georgia feel.  It's very easy to visit if you're heading to either Savannah or Jacksonville, Florida.
Saint Simons Island is an easy drive off Interstate 95, about an hour north of JAX.  If you just want to fly directly in, Brunswick, Georgia is the regional airport offering flights to NYC, Atlanta, Miami and more.  It's not difficult to get to at all, but if you're not aware of just how simple a visit is, you might not plan it.  Just sayin', super simple and an amazing bang for your travel buck.
History of St Simons Island
Dating waaaaay back into the minus-20th century, St Simons Island was inhabited by several native tribes.  The 16th century comes along and the Spanish do their Florida thing.  The French do their Carolina thing.  The British do everything… Basically, St Simons Island becomes the border between everybody and the Spanish.
That's why Fort Frederica was constructed.  This project brought England, France and Germany together because, well you know, those Spanish folk with their armada and soldiers and endless flow of funds…  Anyways, the fort served its purpose well, guarding the north and securing Georgia as a British territory.  There was a bit of fighting, both on St Simons Island (the Bloody Marsh) and southward, but peace came and the fort faded into the past.  
There are several plantation sites on St Simons Island too, but we weren't able to access any of them.  We saw their long entry paths, like tunnels through the Spanish moss, but that's it.  On our next trip we'll coordinate some site visits, because that's a whole different side of history that is fascinating in its own way.
Tip:  For more information about seeing historical sites in person, peek at our blog post on Fort Frederica.
Life on St Simons Island today
When you drive across the inland waterway and marsh, you kind of don't know what you'll see next.  As you've come from either Florida or northern Georgia, the highway isn't much to look at and doesn't offer a lot for the imagination.  As soon as you're on St Simons Island though, you can feel the vibe.  There is such a mix of residents, from older, long term folks to transient, seasonal vacationers.  There are vacation rentals, timeshares and some really beautiful resorts.  We stayed at the King and Prince which was right on the beach, and it was top notch.  Beyond the resorts, the village and boardwalk are hoppin' too, as is the tiny airport.  
Tip:  it's a pretty flat island and is perfect for biking.  We picked up our bikes at Ocean Motion and got completely outfitted with kid trailers, helmets and bike locks.  It was a perfect way to explore St Simons Island.
St Simons Island is also home to fancy golfing.  We say fancy because we don't golf, so any golfing seems fancy.  While we were there, the whole island was prepping for the RSM Classic (PGA Tour) and you could tell it was serious business.  The King and Prince Beach and Golf Club (not the host of the RSM) is a beautiful course nestled among the marshlands, and everybody we met on the island asked if we were going to have a tee time there…so it must be good.
There's also good food.  Like, really good food.  There is a bit of a seafood industry on the island and the small restaurants, as well as the more upscale ones, know how to do seafood right.  We enjoyed several meals at Echo Restaurant and got to enjoy the best foods we've ever eaten (our article is a must read for foodies).
Tip:  even if you're not staying on the beach, take time to visit the King and Prince and Echo Restaurant for at least one meal, as they've nailed southern coastal cooking and have the most awesome and diverse menu to suit any member of the family.
Maritime sites of St Simons Island
When life revolves around the sea, a town will take on a certain feel.  There's of course a marina and a pier on St Simons Island, but there are other landmarks that truly tie the town to ocean life.  On the island they range from narrow fishing bridges to sand bars the community hangs out on at low tide.  And then there are other, more storied sights…
The Spirit Trees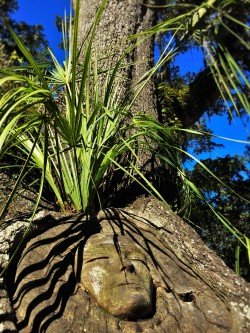 When we first heard about the spirit trees we thought it was a reference to a native or Wiccan belief or lore.  Nope.  It's in reference to the trees used for building the mighty ships that sailed out of St Simons Island, which were oaks, and now there are many oaks with somber faces carved into them, as symbols of mourning for the many lives lost at sea.  The carvings are beautiful and a wonderful memorial.  And the trees they're in are dripping with our favorite, more Spanish moss.
Tip:  explain to kids ahead of time what you're going to see, because for a kid the tree spirits might seem a bit creepy.  Our son wouldn't go near them, but we thought they were cool.

Where to find them:  here's a map showing the many locations of the spirit trees.  The map is from the man who carved them, Keith Jennings.
St Simons Island Lighthouse
So the lighthouse was built in the early 1800s…and then destroyed during the American Civil War.  It wasn't until 1872 that the current structure was put up.  And today it's the perfect step back in time.  It's funny actually, you can tour the keeper's quarters and they're set up just as you'd expect to find them, frozen in time…except for the iPad interactive guides in each room so that you can explore the different aspects of 19th century life.  iPads:  so yesteryear.
Climbing the lighthouse on St Simons Island is a lot easier than the one in St Augustine.  While the St Augustine light has 219 steps, the St Simons light is only a 129 step journey.  Gotta say, the 90 step difference is noticeable.  And you know, when you get to the top, the view is just as spectacular:  the sea, the town.  It's all beautiful.
Tip:  next to the lighthouse there are two parks, one a playground and the other a water park complete with waterslides.  If you're having a very grown-up trip and you're with little people, spending some time at either park is a great idea and fantastic way to show kids that you're thinking of them too.
Where to stay on St Simons Island
While there are oodles of options for accommodations, we've only experienced one, the King and Prince Beach and Golf Resort.  So yeah, we don't really need to try any other places, as the K&P was really amazing and accommodating.  It's directly on the beach and has a great assortment of pools and amazing food.  Maybe on a future visit we'll try another resort, but we don't need to.
Tip:  the King and Prince Resort is great about providing all kinds of deals, both on and off season, so depending on flexibility for travel, it's a great option for any budget any time of year.  And it's a beautiful property in an ideal location.  You can't go wrong.
St Simons Island is a great place to head with a family, with friends or for a couples getaway.  It's a really cool destination with tons of options for any mood and level of energy.  The nautical feel of the whole island is a great break from city life and so different from a mountain escape.  St Simons is amazing and we'll be back again.  And again.
Want to pin it for your own Golden Isles family travel planning?  Go for it!!!