Visiting Cumberland Island National Seashore is a truly unique and amazing experience. Most people haven't even heard of it, and those that have likely haven't gotten to explore it yet. Cumberland Island is really special and also rather complicated to visit, so this guide answers all your questions about what to expect and how to visit Cumberland Island NPS.
When you're planning a Georgia Coast road trip or visiting to North Florida, it's easy to include Cumberland to your itinerary. You just need to plan it appropriately. And that's what we're here for!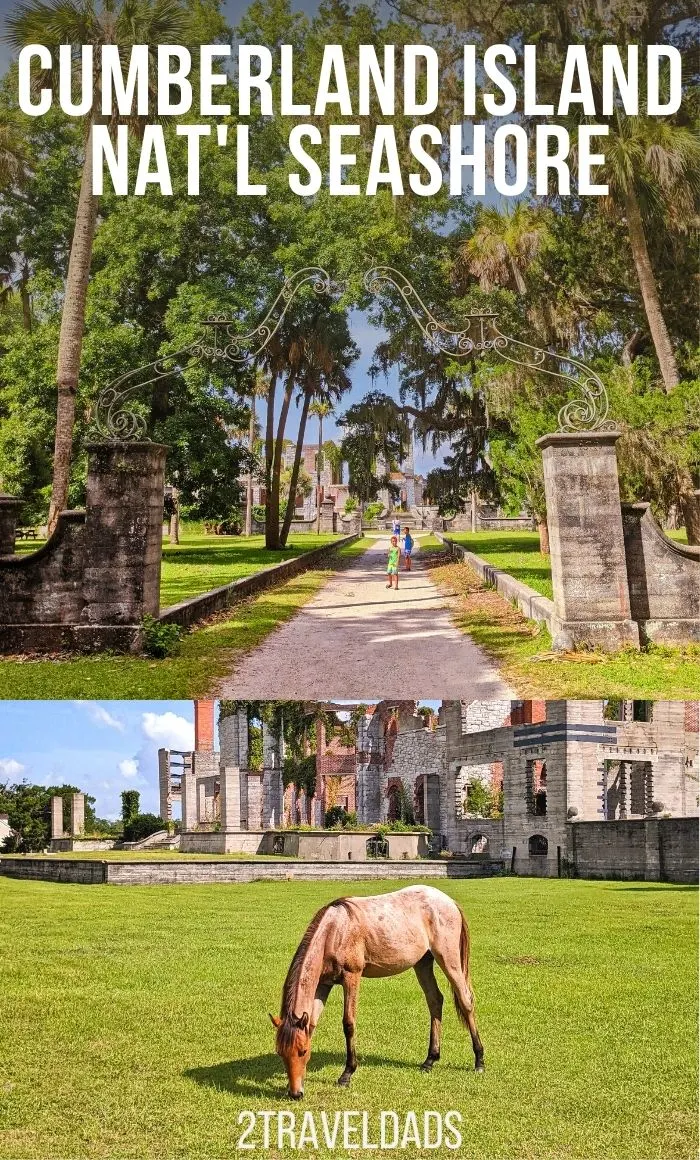 The History of Cumberland Island
Cumberland Island was first settled by the British in the 1700s with the constructions of military fortifications, but then farmers/plantation life came to the island in the 1750s. Previously, indigenous peoples had occupied the island (I couldn't find info on whom). Over time, more settlers, including the Carnegies came to Cumberland Island, forming a community, including the first African Baptist Church. Horses were brought onto Cumberland as a part of the working farm system in the 1740s and then they became feral over time, including more horses being brought to the island in the 1800s.
In 1884 the Carnegies built the Dungeness Mansion, and then in 1889 started building another huge home, the Plum Orchard Mansion. In the nineteen-teens they decided to stop calling Dungeness their home away from home and then in 1921 the Plum Orchard Mansion was moved away from. Eventually, nearly everyone moved off the island.
In 1972 the National Park Service took control of Cumberland Island, establishing it as a protected area, both for historical purposes and to preserve the delicate environments and species found there. In 1982 they further protected the wilderness areas. Cumberland Island National Seashore has been its name ever since and now visitors are welcome to roam the island and observe the beautiful horses and nature.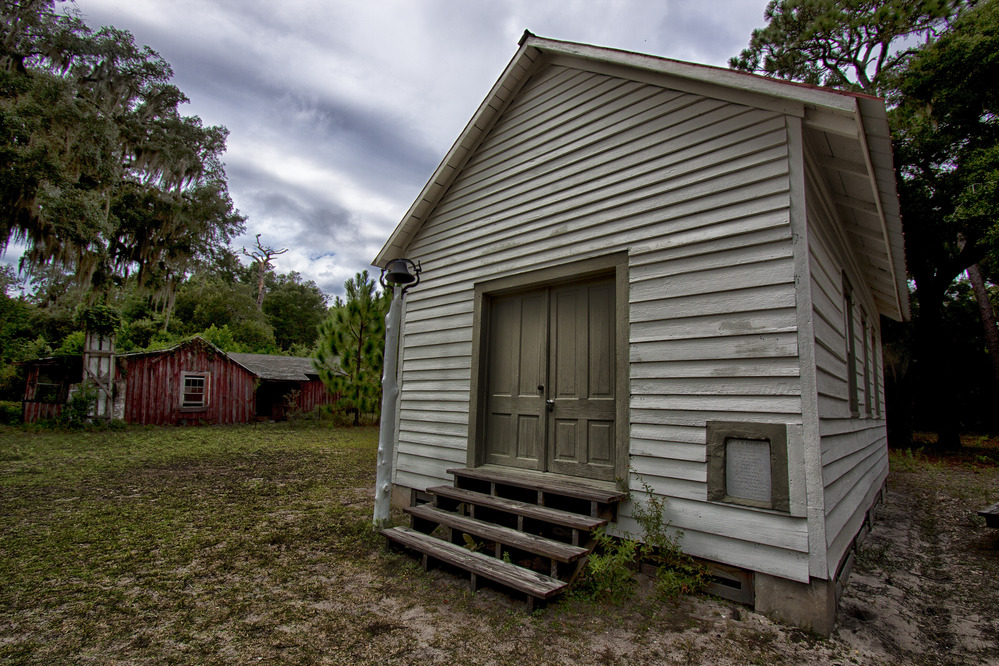 Location of Cumberland Island National Seashore
Either the last or first stop on a Georgia Coast road trip, Cumberland Island is located at the southernmost point of coastal Georgia. The St Marys River separates Florida and Georgia, and it's in the town of St Marys that you catch the ferry out to Cumberland Island National Seashore.
Located about thirty minutes north of Jacksonville, FL and about 1:40 south of Savannah, it's an easy destination to plan for. If you're flying to the start of your coastal Georgia trip, you can fly into Jacksonville (JAX), Brunswick-Golden Isles Airport, or Savannah-Hilton Head International Airport (SAV).
From Atlanta, Cumberland Island National Seashore is about a five hour drive, so you'll need to spend the night nearby before visiting the island, as the first ferry leaves at 9:00 am.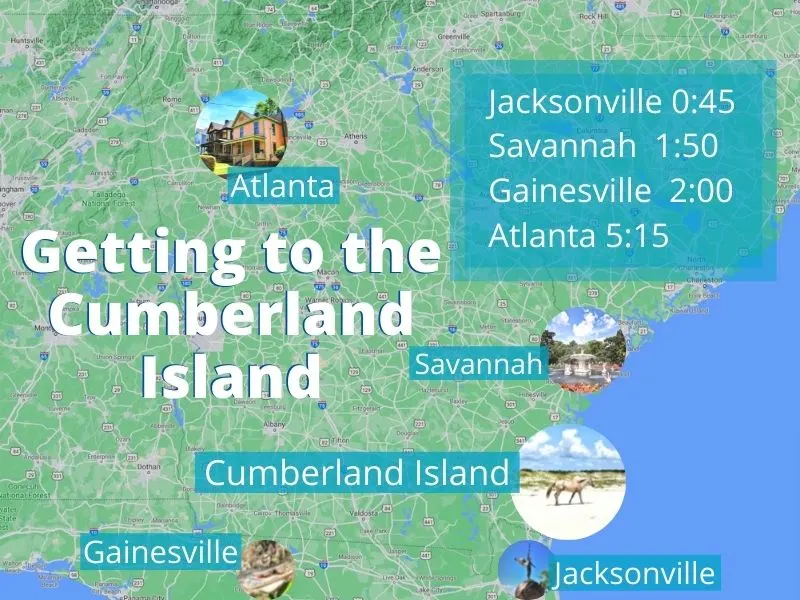 How to get to Cumberland Island
Access to Cumberland Island National Seashore is quite restricted. Excepted for very few private vessels, guests can only visit the island via a passenger ferry from St Marys, Georgia. You can bring all your beach gear, coolers, bikes and more on the ferry but you'll be responsible for managing it and toting it wherever you go.
Parking for the Cumberland Queen, Princess or Lady (the ferry boats) is located across the street and to the west of the Visitor Center. DON'T park on the street, as you'll be ticketed and towed.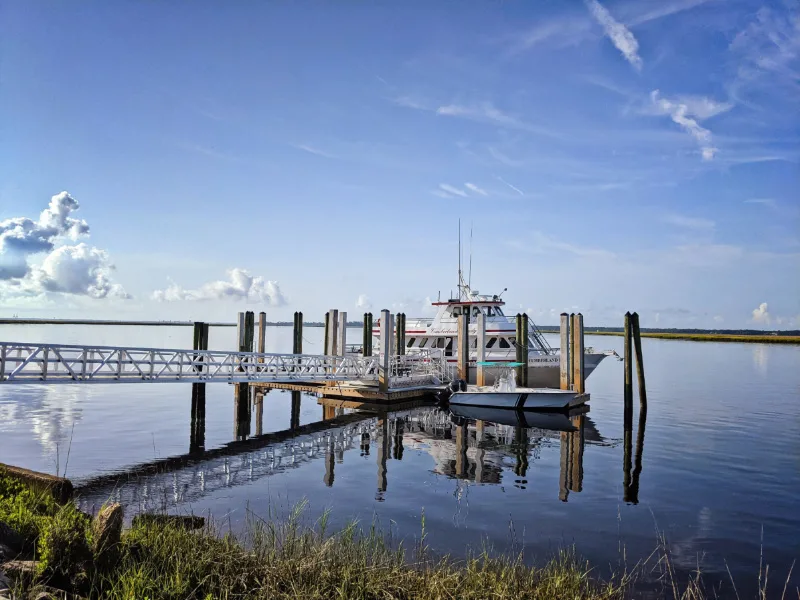 Reservations for the Cumberland Ferry
As soon as you know that you'll be visiting Cumberland Island National Seashore, you should make your ferry reservations. Because it is a walk-on passenger ferry, you reserve per person. It's important to note that you have to book BOTH your passage to AND from the island.
There are two ferries from both St Marys and the Cumberland dock each day, so be sure to reserve the boats you plan to be on. 
Top recommendation:
 the 9:00 am ferry to the island
The 2:45 pm ferry to St Marys
You could to the 11:00 am and 4:00 pm boats, but then you'll be there for more of the heat of the day, which can be stiffling. If you'd like to have the most time possible, do the 9:00 am and 4:00 pm boats.
If you plan on bringing your own bike onto Cumberland Island, you need to clarify that when reserving and there is an additional fee. You also need to clarify if you're camping so there is both enough room for your gear and so that you're dropped off at the correct ferry dock.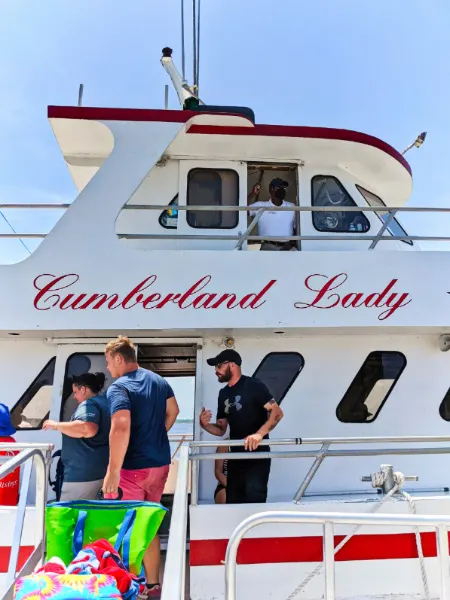 What to Wear to Visit Cumberland Island
This is not a fashion article, so just listen to this advice and then make it your own. When you visit Cumberland Island, you want to be comfortable and cool. Unless you're visiting in winter, it gets very hot on the island. While there is a fair amount of shade all around the island, there are times when you'll be very exposed to the hot sun. Also, depending on recent weather, there may be mosquitoes.
Dress in very light clothes, both in color and in weight. Protecting yourself from too much sun exposure and bitey bugs is important to ensure you enjoy your time. Yes, you'll still want to wear a swimsuit of sorts for your beach time (it's a National Seashore, remember?) but keeping as covered as you can is helpful.
Also, bring sunblock and bug spray just in case. Our preferred bug spray is Repel Natural because it's effective and is mostly just essential oils. You'll be glad to be protected!
When it comes to shoes, I think good flip flops or sturdy sandals are fine. You're not climbing any mountains and the ground is fairly level everywhere, so you don't need hiking boots or heavy shoes.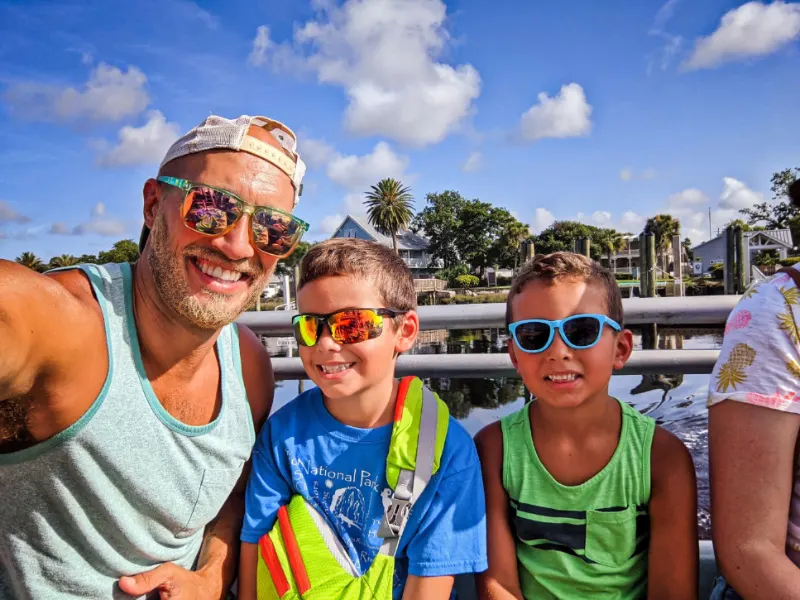 Things to do at Cumberland Island National Seashore
Something wonderful about Cumberland Island National Seashore is that it's much more than just a beach. Yes, the beach is gorgeous and pristine, but there is so much more to do and see! If you want to visit all of the sites around the island, you'll need to either be on the guided tour or bring a bike, as walking the whole island in one day isn't realistic.
Wild Horses of Cumberland Island
Let's be honest, this is why you want to visit Cumberland Island National Seashore. Yes, there are wild horses (feral) roaming the island and yes, they are everywhere. It's really remarkable to wander the many paths through the live oak forest and across the dunes, and see horses grazing everywhere.
The best place to sit and enjoy the horses roaming the island is around the Dungeness Ruins area. Here you'll find benches and plenty of shade, and the surrounding grassy fields are a favorite hangout for much of the herd. And wild horses grazing in front of crumbling ruins is pretty incredible to see and photograph.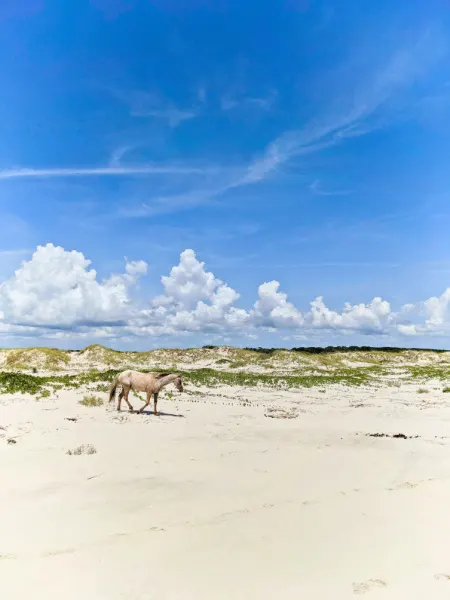 Safety with Wild Horses
The horses are wild though, they are not tame and NOT for petting or riding. We talk a lot about wildlife safety in National Parks, and while a gentle looking horse may seem harmless, they are not to be approached, because the do kick, charge and bite.
Another thing to keep in mind with the wild horse population is that they are reproducing more and more, without more space for them to move into. It's actually become a problem through the years, with some horses not getting the nutrition they need and wild horse populations growing making foraging more difficult. The National Park Service does NOT manage the wild horse population, but closely monitors it and the impact it has on the island.
Note: if you're doing a road trip all the way up the east coast, Assateague Island National Seashore also has wild horses, and the same safety rules apply.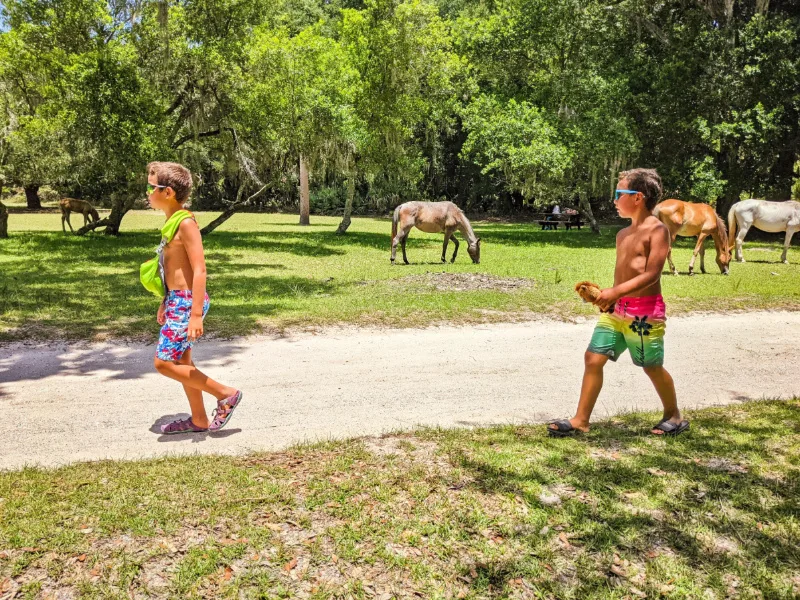 The Carnegie Mansion, aka the Dungeness Ruins
The famous Carnegie family built the Dungeness mansion on Cumberland Island in 1884. They visited several times a year for weeks at a time. It was an incredible house. Over time though, they abandoned it and it fell into disrepair.
In 1959the Dungeness Mansion caught fire and burned to the ground. Well, all the wood and interiors burned, but the brick and stone work remained mostly intact. Season after season of sun, wind and rain have hacked more and more away at the ruins and the forest vines have started to take it over.
Today, the Dungeness Ruins are cool to visit and walk around, flanked on all sides by wild horses and open fields. Be sure to walk the path down towards the marsh area where there are more ruins, more horses and lots of shade to enjoy.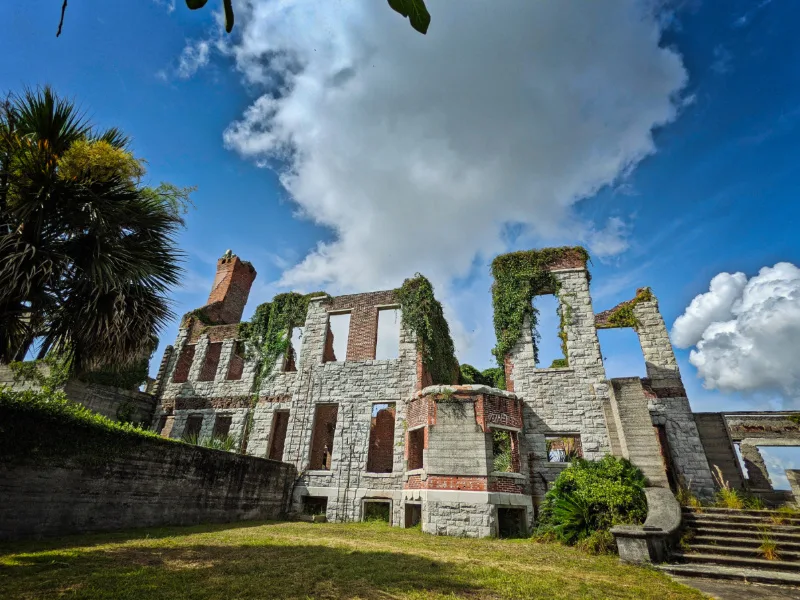 Abandoned Buildings and Cemetery
Beyond the Dungeness Mansion itself, Cumberland Island is scattered with lots of other abandoned buildings and even a cemetery. Near the mansion you'll find an old greenhouse, barns and other out-buildings, some still in good shape and used by the National Park rangers for maintenance purposes. There is also an old laundry building with potable water and restrooms for public use.
Near the dock, there is a small museum with bathrooms and a cooling room. Yes, a cooling room. It is literally a small air conditioned room that's sole purpose is to prevent visitors from overheating.
At the north end of Cumberland Island you'll find a settlement, the First African Baptist Church and the Plum Orchard Mansion. To visit these sites you'll need to bring or rent a bike, or book the Legacy Tour around the island. It's quite a distance from the Dungeness Ruins to the first Black church, so visiting MUST be planned.
Enjoying the beach at Cumberland Island National Seashore
While we really enjoy shady walks on a hot day, they aren't for everyone, especially if you're not accustomed to the heat. To access the beach at Cumberland Island National Seashore, you do have quite a walk to conquer. There are several beach access points via different trails, but none are close to where passengers get off the ferry.
The easiest beach access on Cumberland is at the southern end of the island. Head from the ferry dock to the south past the Dungeness Ruins. From there, you'll have a walk past the barns and cemetary and then through the live oak forest… and then along a hammock (forest) boardwalk and then through hot sand until you cross the dunes. Yes, it's a trek and even if you're used to the heat it's intense.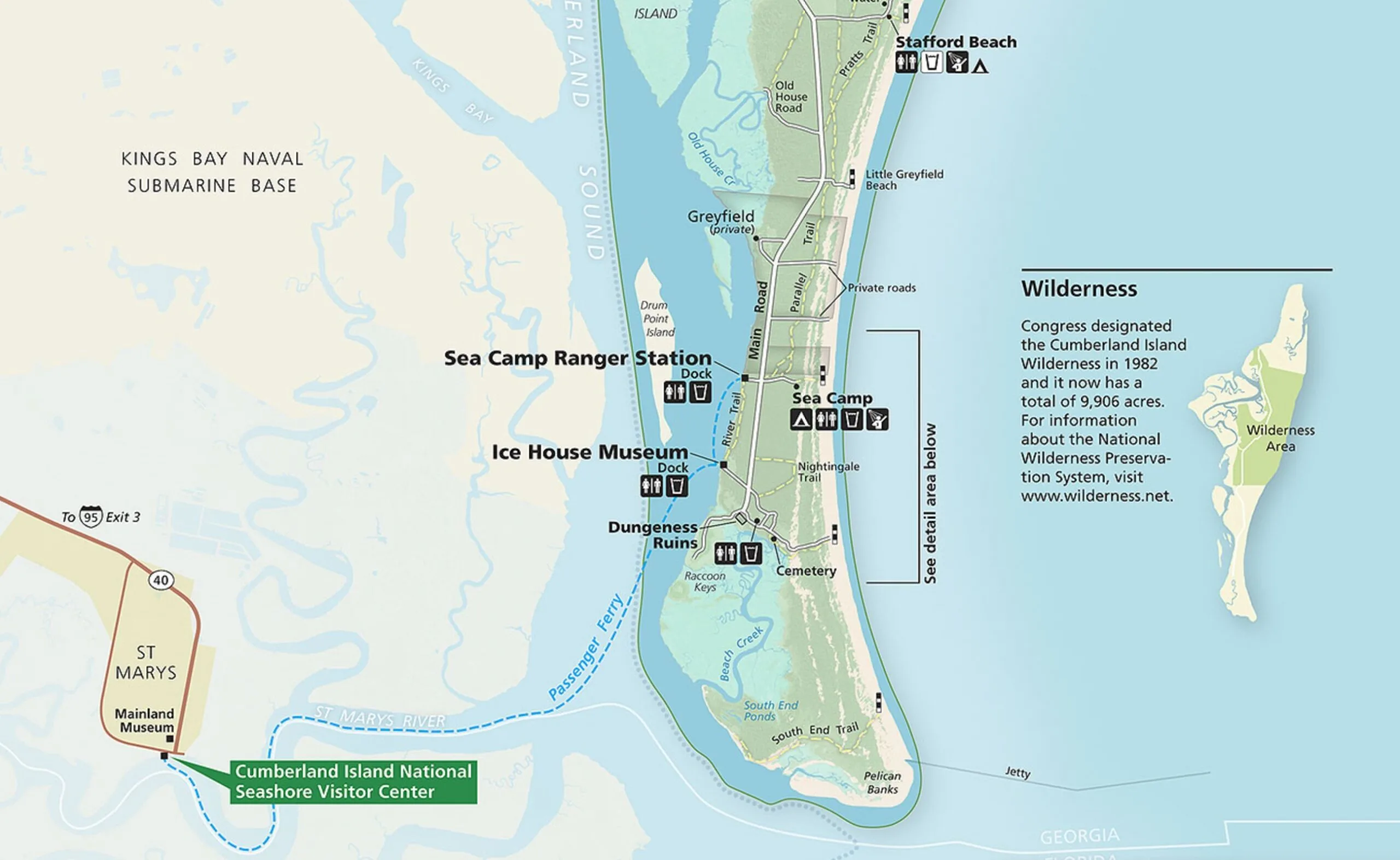 Fill your waterbottles before heading to the beach, as there is no water near the beach access points. Once at the beach, it's a pristine expanse of fine sand and random driftwood. Beachcombing is actually allowed at Cumberland Island National Seashore. If you find shark teeth or empty seashells you're welcome to collect them. 
Note: most National Park beaches prohibit beachcombing of all sorts, so Cumberland Island's policy is an exception.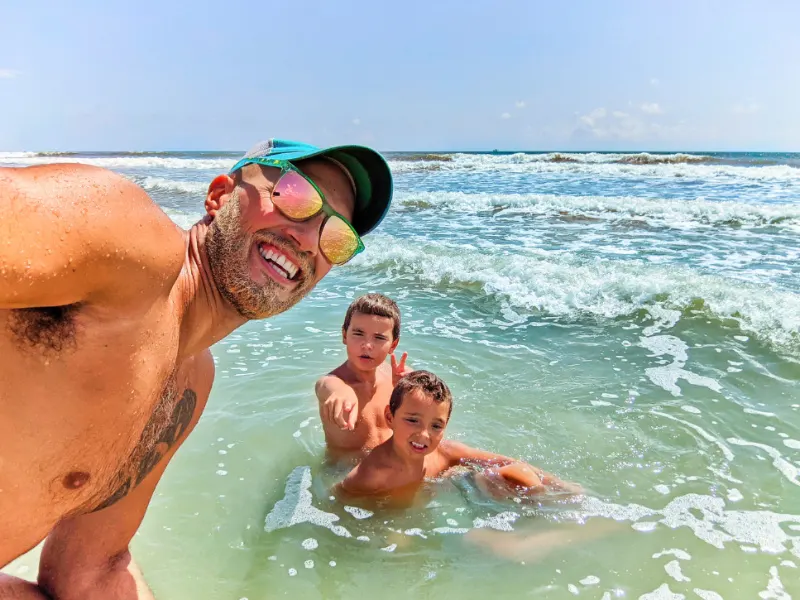 What to Bring for a Cumberland Island Beach Day
As I said, you'll need to bring plenty of water on your walk to the beach. If you're planning on spending lots of time and swimming, you may want to bring a beach blanket, beach umbrella and even a picnic lunch. The trek to the beach is a long one and it's not easy to tote lots of gear, so be smart about what you're bringing.
I recommend a broad-wheeled beach wagon to tote everything. You'll be able to bring this onto the Cumber Island ferry and having it will ensure that you have enough water and snacks for a long day. So, here's your Cumberland Island Natioanl Seashore beach list:
Beach wagon
One large FULL waterbottle per person
Snacks or lunch
Beach umbrella or shade
Beach blanket
Reef safe sunblock
Pack smart and you'll have a great time. Pack too much or not the right things and you may be uncomfortable.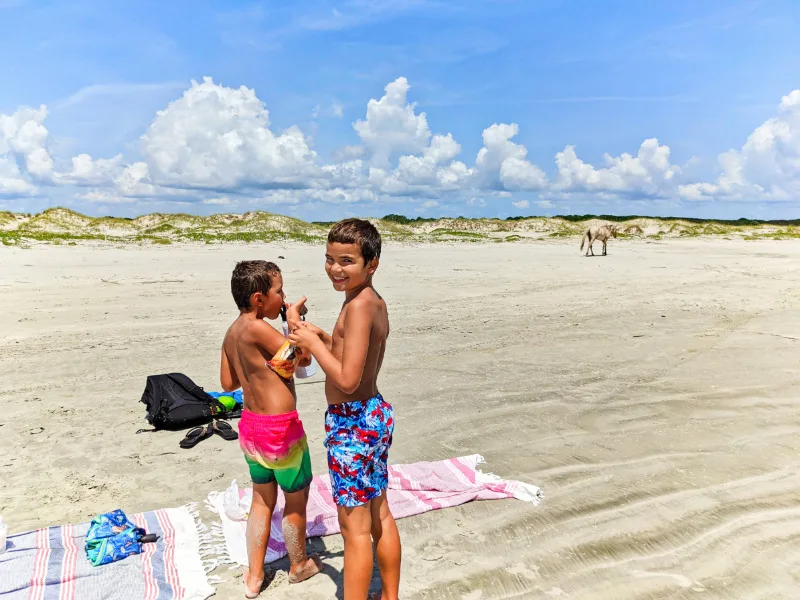 Legacy Tour Around Cumberland Island
The best way to experience as much of Cumberland Island National Seashore as possible is to do the Legacy Tour. This is a vehicle tour all around the island, visiting the Dungeness Ruins, the Plum Orchard Mansion, the settlement, and going to the places with the most horses. You do need to book this in advance because it fills up, but on occasion there will be spots available to get day-of. 
The Cumberland Island Legacy Tour is done in an enclosed, air conditioned van, so it's a pleasant way to see the sights and stay cool.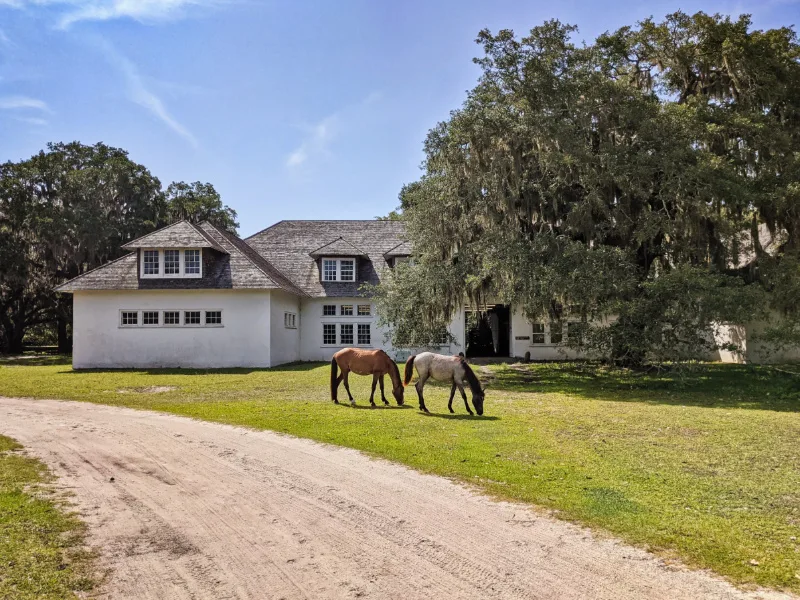 Bike rentals on Cumberland Island
Yes! You can rent bikes on Cumberland Island! We've rented bikes at ruins in Mexico because it makes getting through the long pathways much easier, and it's the same here on the island. Rented by the day, you can reserve a bike in advance and pick it up at the Sea Camp dock. It's $16 per day (2021) and must be returned before leaving the island. If you want to bring your own bike, it's a $10 fee in addition to your ferry passage.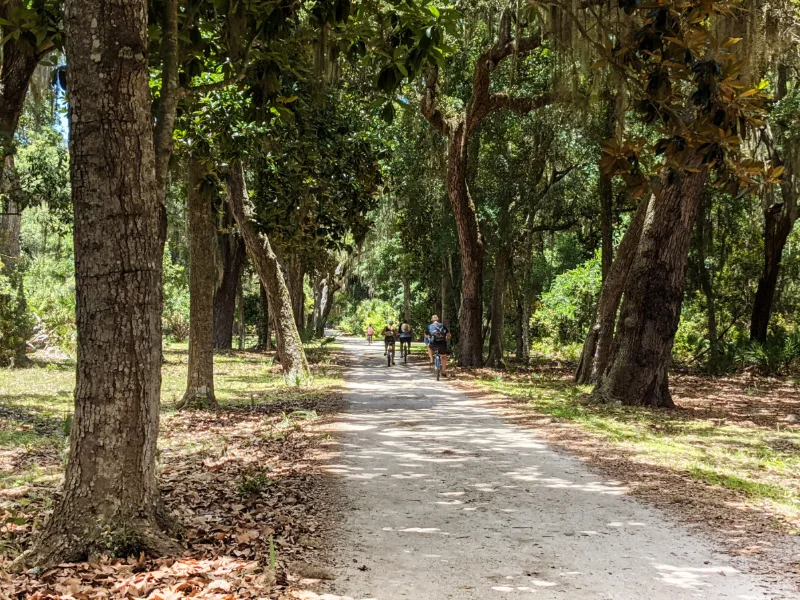 Where to stay for Cumberland Island National Seashore
Because Cumberland Island National Seashore isn't an overnight destination for most visitors, you'll need to book a hotel nearby to get to the ferry early on your scheduled day. The town of St Marys has some hotel/inn options, but nearby Brunswick, Jekyll Island, St Simons Island or even Jacksonville have plenty of choices.
We really like Jekyll Island and Brunswick for being a homebase when we're visiting Coastal Georgia. With both independent and travel brand hotels, you can find good deals with nice accommodations easily. Find a local stay here!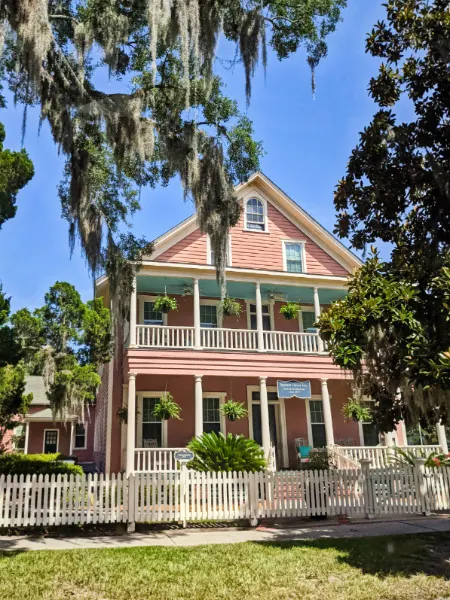 On-Island Accommodations: the Greyfield Inn on Cumberland
I didn't include it initially when I published this article because it's such an extravagant dream, but there is also an inn on Cumberland Island. The Greyfield Inn is location ON the island just north of the ferry dock and ranger station. Guests can book a minimum of two nights at this gorgeous B+B style inn with rates starting at $695 / night. The rate includes transportation to the island, your meals, bike rentals, kayaking gear and island tours.
Note: if you are booking a stay at the Greyfield Inn, on top of the room rate and taxes, there is an automatic 18% service charge, and alcoholic drinks aren't included. That means that if you're staying 2 nights (minimum) before taxes, your cost will be $1640 for 2 people. Additional people are an additional cost.
Camping on the Island
You can also camp on Cumberland Island. That takes significant planning and gear though. You need to reserve your camping permit in advance and cannot camp for more than 7 days. See the Camping Rules and Restrictions page from the National Park Service for the most up-to-date details.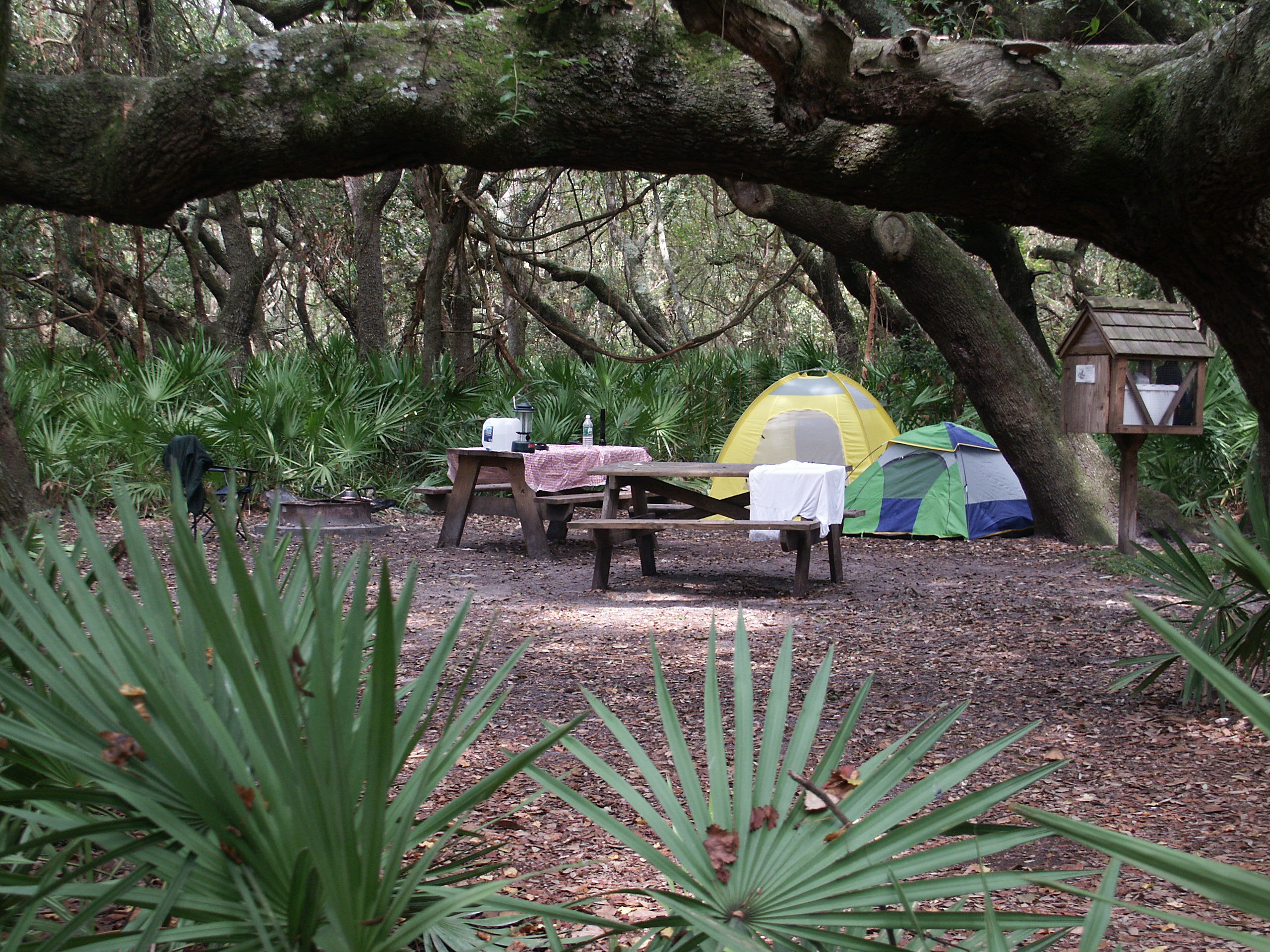 Top Things to Know for Visiting Cumberland Island National Seashore 
Ready to visit Cumberland and have a memorable experience? Here are the top thing to know before you show up at the ferry dock in St Mary's Georgia:
Clear your whole day for your visit
Reserve BOTH your passage to and from the island
Bring sun protection
Bring any food you'll need
Bring refillable water bottles
Plan your sites and time to be able to do everything you want
Cumberland Island National Seashore isn't just a "show up and go" type of National Park site. It takes planning and being prepared, so take the time to plan the trip you'll love!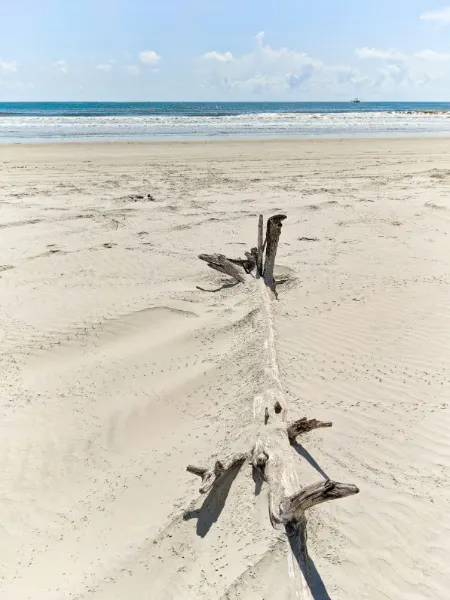 If you have any questions about visiting Cumberland Island or any place on the Georgia Coast, from Jekyll Island to Savannah, please let me know by leaving a comment or sending us a note. We're happy to help!