There are so many great things to do on a North Florida vacation, from Jacksonville to Daytona Beach and inland! We love to explore Florida, not just because of its sunshine, but because of its beautiful nature, fascinating history, and cool cultural finds. Living here means that we get lots of visitors, so this is the road trip plan we give them when they visit us and want to have fun in North Florida.
From tip to tip, Florida has some wonderful places for family travel just perfect for exploring seeing a different side of the state, but the North Florida coast is really a gem. This vacation plan is ideal for a balance of seeing the sights and getting plenty of time to relax on the beach.
Check out our fun collection of even more Florida trips to do!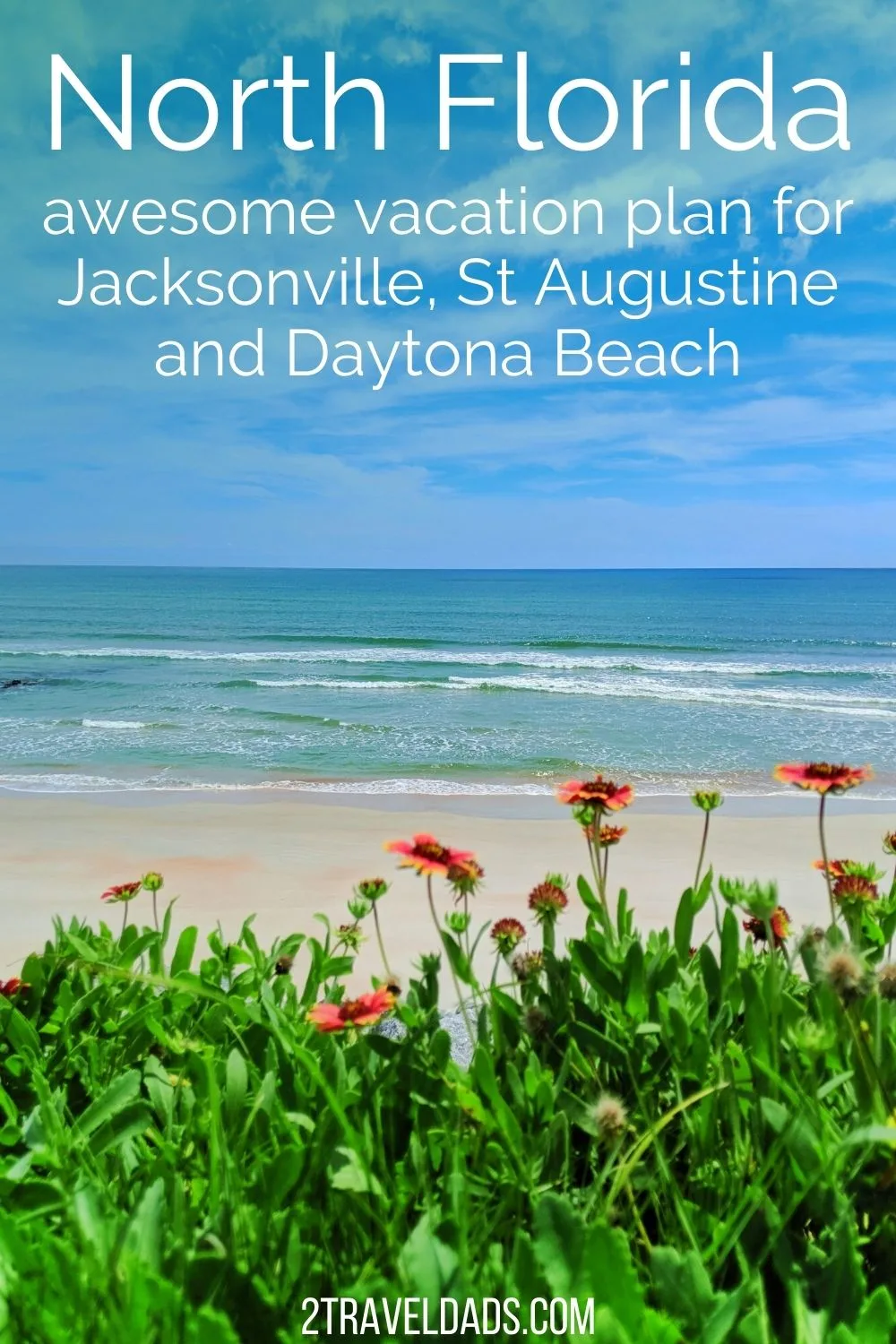 How to Get to North Florida
To begin this awesome North Florida vacation, fly into Daytona Beach or Jacksonville airports, pick up your rental car and use either of these cities as a starting point for your North Florida trip. When you book your rental car remember that you can always return it to a different location, but you'll usually save money by returned your rental vehicle to the original location.
Both Jacksonville (JAX) and Daytona Beach (DAB) are very easy to fly out of as they're both small and yet far-reaching airports. JAX has direct flights from (DAB flights in BOLD):
Atlanta – ATL
Baltimore – BWI
Boston – BOS
Charlotte – CLT
Chicago – ORD and MDW
Dallas – DFW and DAL
Denver – DEN
Detroit – DTW
Fort Lauderdale – FLL
Houston – IAH and HOU
Las Vegas – LAS
Miami, Florida – MIA
Minneapolis – MSP
Nashville – BNA
New York – JFK and LGA
Newark – EWR
Philadelphia – PHL
St. Louis – STL
Washington DC – DCA and DUL
One other option for starting your North Florida vacation is to fly into Orlando (MCO). You can fly direct to Orlando from nearly anywhere in the USA, and there are tons of international flights into MCO as well. Getting here is much easier than you might've thought!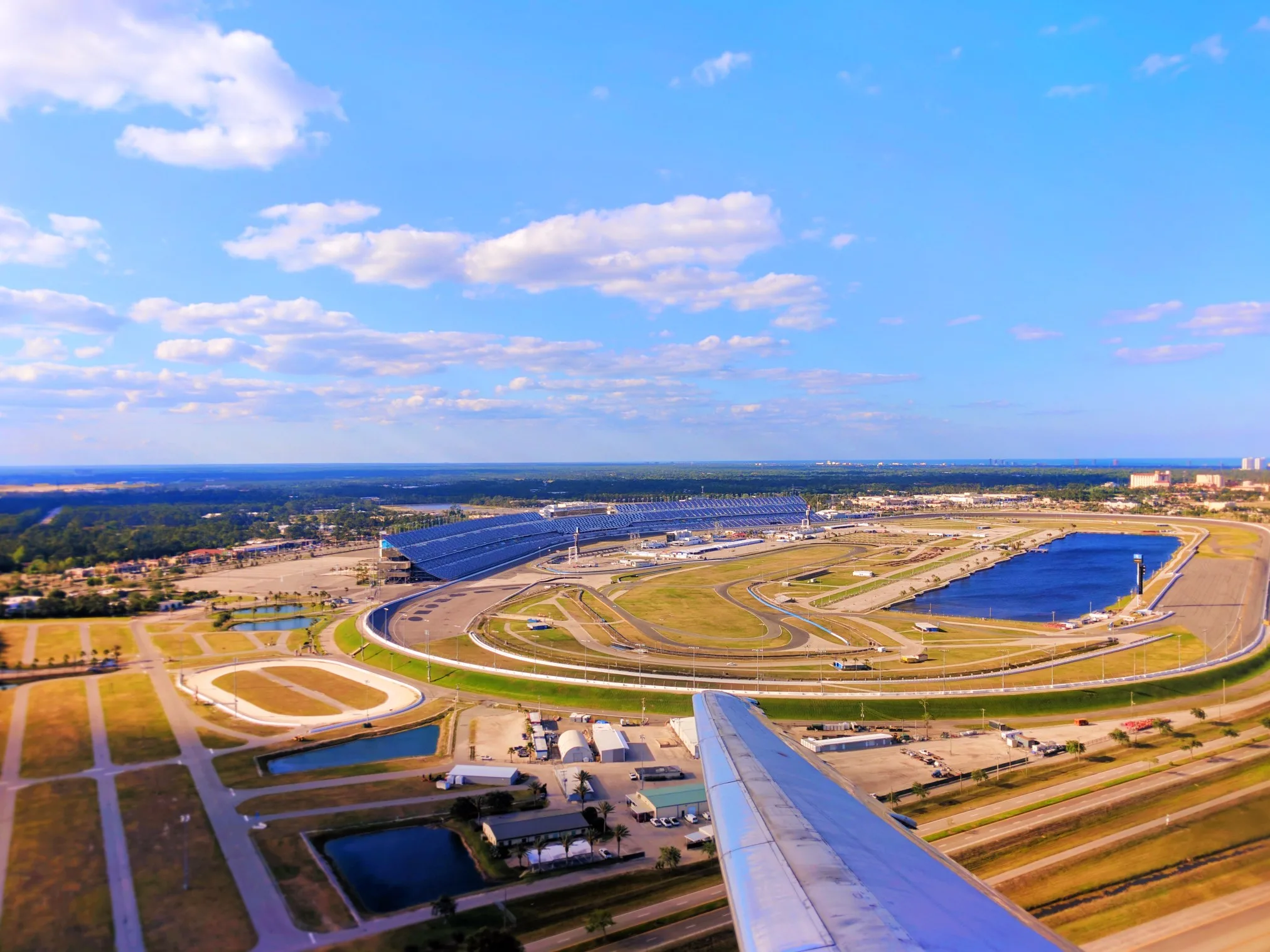 How much time do you need for a North Florida vacation?
Like with any destination, a North Florida vacation can be as long or short as you like. Ideally, a full week is enough time to get in both sightseeing and relaxing on the beach, but depending on your ideal activities/plan, you can always trim it up or add on.
I think the ideal North Florida vacation will have 3 days in the Jacksonville area, 2 days in Saint Augustine, and then 3 days in Daytona Beach and exploring within an hour of there. Because these three hub cities are each only an hour or so apart, you won't waste time in the car and can have full days of fun or chill vacation activities.
Need to plan a short Florida trip? Fly into JAX and just do Jacksonville and Saint Augustine. Daytona is beautiful, and the Daytona area portion of this Florida east coast trip is awesome, but it also stands well on its own and can be saved for a different vacation.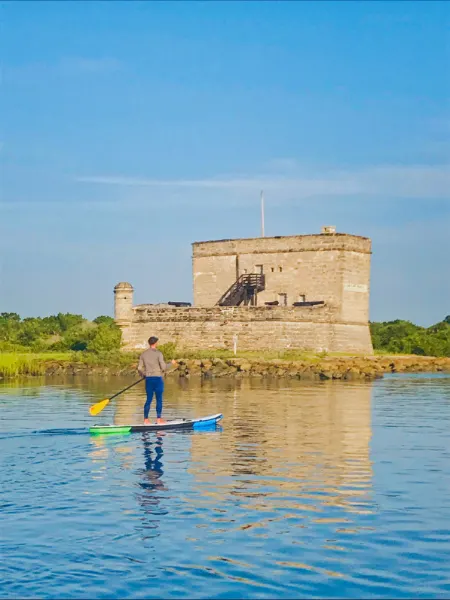 When to Do a North Florida Vacation
We're really fortunate here in North Florida, as we don't get a ton of big storms or ragingly hot weather. Year round, it's lovely here, even in January when the temps can drop into the 40s and 50s. Spring and fall are the best times to visit if you're not into heat and humidity.
Truth be told though, summer is great for a North Florida vacation. Because of our awesome beaches and springs, it's easy to cool off, and we have a nice consistent breeze keeping thing much more bearable than inland, like in Orlando. Even though summer is technically hurricane season, you'll have better chances avoiding tragic weather visiting Jax and Daytona Beach than doing a Florida Gulf Coast road trip.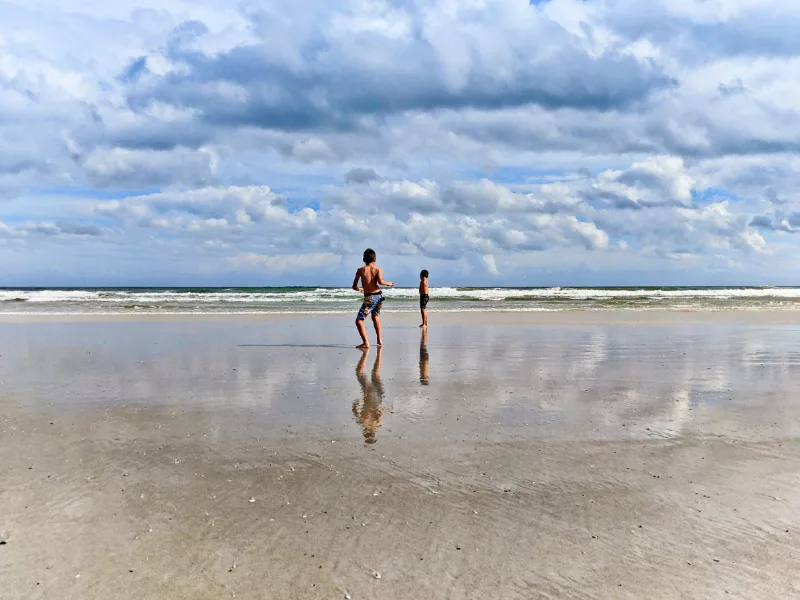 Where to Stay in North Florida
As you plan your trip to North Florida, you'll see that you can stay anywhere from directly on the beach to the I-95 corridor. Since we are all about the beach and waking up near the water, we always recommend staying as close to the beach as possible, especially in Jacksonville.
Jacksonville Hotels and Vacation Rentals
Being the largest city in the United States (by land mass) searching for a hotel in Jacksonville will give you a broad range of accommodations and locations. You could very easily stay downtown on the river and enjoy the city life, or you can find a beachfront hotel or vacation rental. Staying downtown isn't our top pick unless your goal with visiting JAX is dining out, seeing a show and checking out museums, and that's NOT what this itinerary is.
Our top pick for staying at a beachfront hotel in Jacksonville is the Casa Marina (see below) as it's vintage and beautiful. A close second, and this is for the resort type vacation plan, is the Margaritaville Jacksonville Beach. This hotel is on the beach and has everything you need in any season.
Vacation rentals in Jacksonville are a great option, and stretch from up on Amelia Island all the way down to Mickler's Beach. You'll find a broad range of styles including little beach cabins and sprawling ranch houses with pools. Consider the number of people you have traveling with you and how much time you'll actually be at the vacation rental. We book vacation rentals for their evening space, as we're most often only there for the evening when the kids go to bed until breakfast.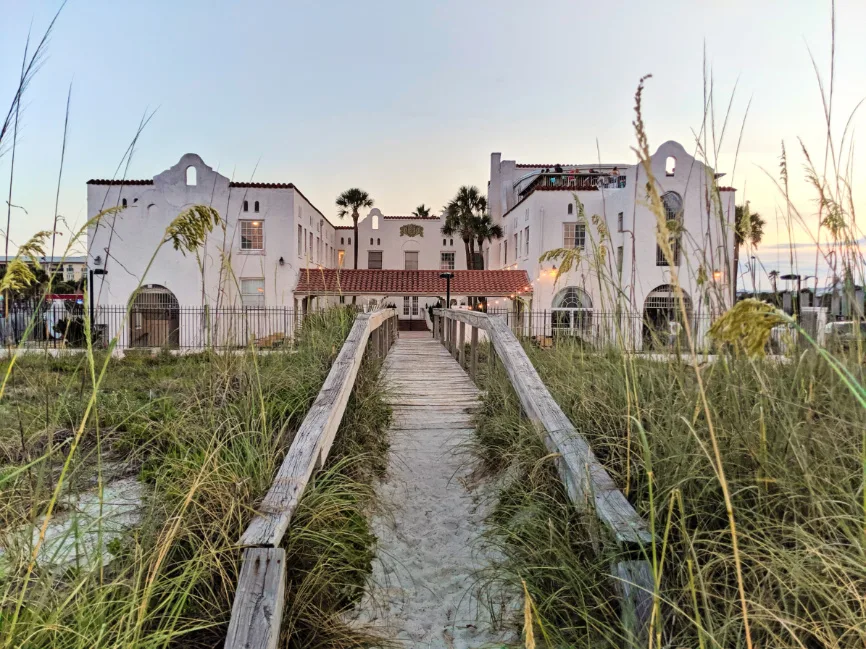 Where to Stay in Saint Augustine
In Saint Augustine, you can either stay at the beach or choose from any number of unique hotels or B&Bs in the historic downtown area.
Check out our full guide to Where to Stay in Saint Augustine!
You'll find that very near the historic downtown area there are both national travel brand hotels, like Best Western and Holiday Inn, and then in the historic quarter you'll find a brand new Renaissance Hotel by the Castillo de San Marcos and a Hilton Hotel directly on the waterfront. Because St Augustine is the oldest city in the USA, the hotels on the waterfront and downtown are all unique and fit into the historic feel.
What's really cool about staying downtown on your North Florida vacation is the bed and breakfast options in St Augustine. There are some really cool places to stay in the historic district, including the St Francis Inn, The Collector Inn (adults only) and the Bayfront Wescott House. If you're visiting in the busiest season, Nights of Lights (Nov – Jan) you'll want to book your St Augustine B&B as far in advance as possible!
If you want to keep with the beach accommodations like in Jax Beach, you can stay at Vilano Beach, St Augustine Beach or down in beautiful Butler Beach. Vacation rentals are big in these areas, so you'll have no trouble finding great places to stay. Things to consider when it comes to beach vacation rentals in Saint Augustine is which side of Highway A1A they are on. We actually own a vacation rental in Butler Beach and our guests have to cross the two-lane highway to the beach, but that also makes the stay much more affordable since it's not direct beach access. The extra five minutes of walking is a great way to save money on an awesome vacation rental.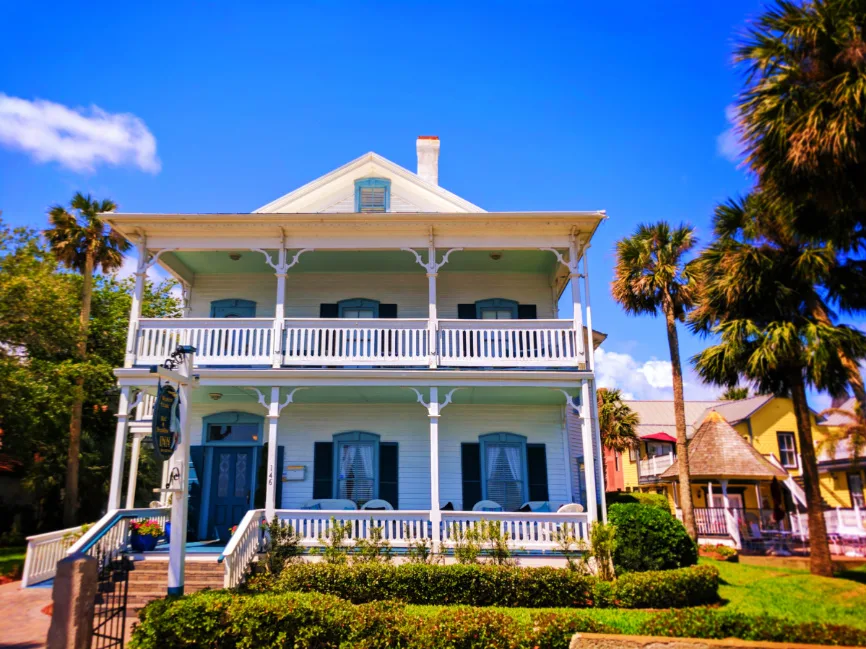 Best Places to Stay in Daytona Beach
Daytona Beach and the surrounding area is a bit different. Because Daytona is also a great home base for exploring Florida's freshwater springs and visiting NASA or doing bioluminescent kayaking, wherever you choose to stay you'll be convenient to at least a portion of your plan. Staying at the beach in Daytona is nice too, but it's not required.
You'll find every major brand of hotel along Dayton Beach, and then some very unique properties. We enjoy staying just outside of the busiest area by the pier, so the Daytona Beach Shores neighborhood and south to Ponce Inlet is our preference. If ever you wanted to stay directly on the beach, Daytona is the place for it. I love driving the main stretch of A1A and looking at the many pink and tiki-themed hotels. There are nice, classy places too though, so choose a spot that is right for your travel style.
We really enjoyed staying at The Shores Resort Daytona Beach. Having a large balcony overlooking the ocean, and then being able to go down to the pool and splash pad area for sand-free fun, and then walking directly onto the beach… It's a great place to stay. More bonuses of staying at the Shores Resort include a spa on-site, restaurants, and even fire pits for evening s'mores by the beach.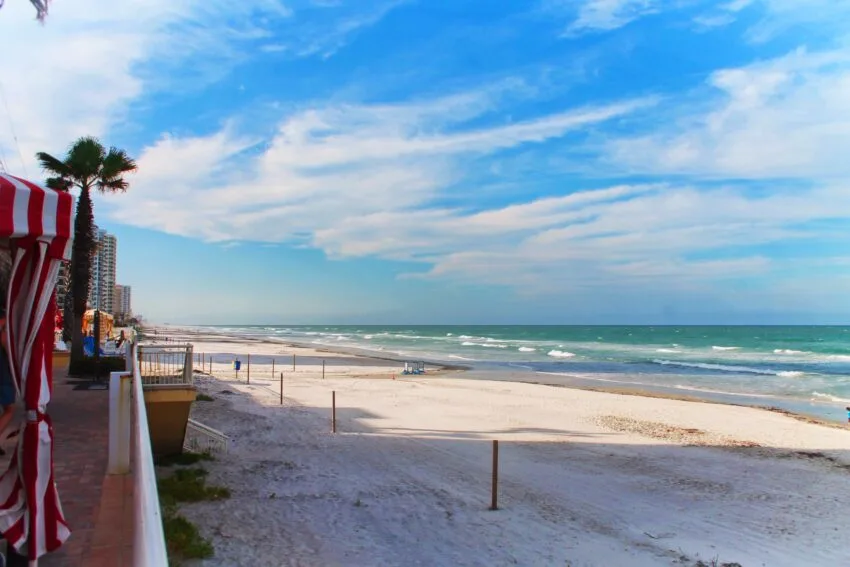 3 Days in Jacksonville to Start
Jacksonville is the largest city in the USA by land mass, so of course there are tons of things to do in JAX. If your North Florida vacation is beginning here, you'll loves starting off with beach time and exploring the quiet side of Florida. Staying directly in Jacksonville is a good idea if you want to do a city visit, but for our vacation plan, we recommend staying in Jacksonville Beach.
Casa Marina and Jacksonville Beach
Back when New York and Hollywood were all flash and glam, Jacksonville Beach was the spot where the elite escaped, and the Casa Marina Hotel hosted them all. Spend a day or two in Jacksonville (Jax) Beach and enjoy the relaxed vibes of the now-trendy beach town, while staying in a vintage hotel room at the Casa Marina just over the dunes. Is the Casa Marina haunted? Hard to say, but the kids loved the roaring twenties feel … and we could've sworn we heard unexplained footsteps in the hall …
Spend one or two nights relaxing in town, visiting some of the most delicious north Florida restaurants. Consider taking a surfing lesson; JAX Beach has mild to medium waves and is perfect for beginners. The quiet beach and perfect sunsets are just a few of the reasons to love Jacksonville Beach and why this is the ideal start to your North Florida vacation.
Besides the main beach access, there are other spots to enjoy the beach, including our favorite camping spot, Hanna Park just north of Atlantic Beach. You'll find kayaking, fishing, bike trails and beach access and on days when the main beaches are busy, Hanna Park's beaches are still quiet. Nearby to Hanna Park is the Jacksonville Arboretum and Gardens, which is a perfect little break from the beach without going too far.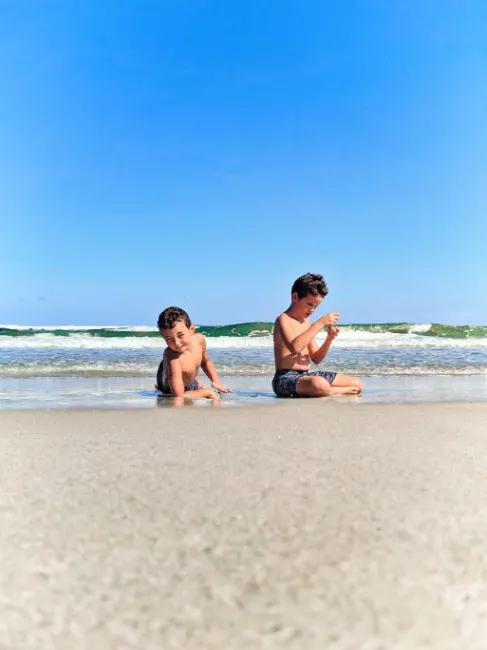 Visit Amelia Island and Fort Clinch State Park
Head north on the AIA Florida's Historic and Scenic Byway to the tiny village of Mayport. Here you can say hi to one of Florida's many lighthouses (one of the red ones) and then catch the tiny St Johns River Ferry to the north side of the waterway. A short drive through Big Talbot Island State Park and soon you'll be on the famous Amelia Island. While much of the south end of the island is resort space, such as the Ritz Carlton and Omni Resort, the north end includes the seaside town of Fernandina Beach.
Up in Fernandina Beach, enjoy the cute shops and ocean-view dining and then head to Fort Clinch State Park. Some of the best beaches in Florida are here on this part of the island. Here you'll find a really impressive Civil War era fort, museum, kayaking trails, and lots of bike paths, both for mountain biking and gentle beach cruisers. In addition to the really cool fort, the beaches of Fort Clinch State Park are wonderful for shark tooth hunting. Walk the shell line looking for lemon, sand tiger, great white and mako shark teeth.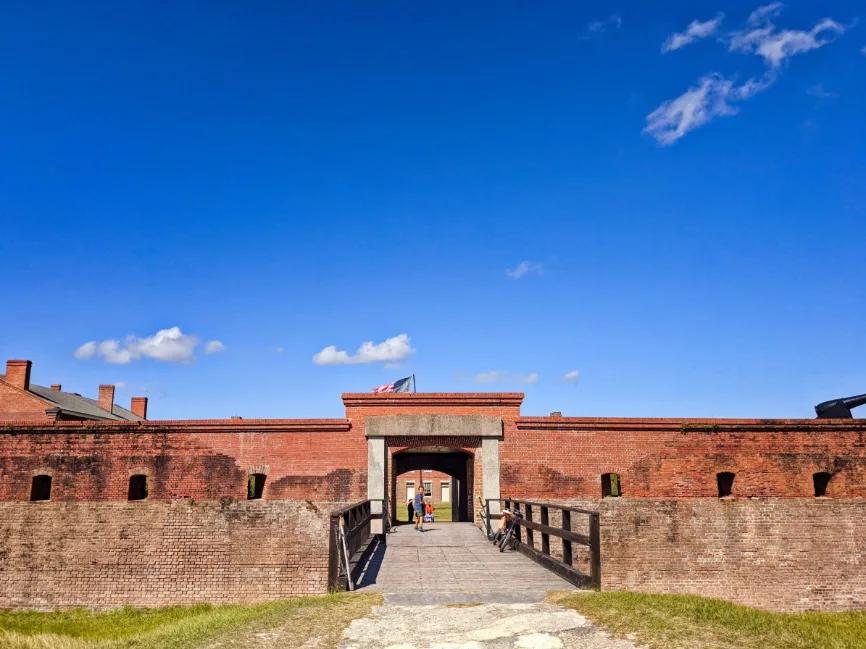 2 Days on Florida's Historic Coast: St Augustine
Fun fact: did you know that the oldest city in the USA is in Florida? It's true, and we love living here in St. Augustine, both for the beaches and for a flashback in time / cool activities with kids. We have several podcast episodes all about our hometown, so give them a listen before visiting.
Saint Augustine Podcasts:
Since we live here, we write a lot about Florida's Historic Coast. Check out our complete guide to Saint Augustine to answer any questions.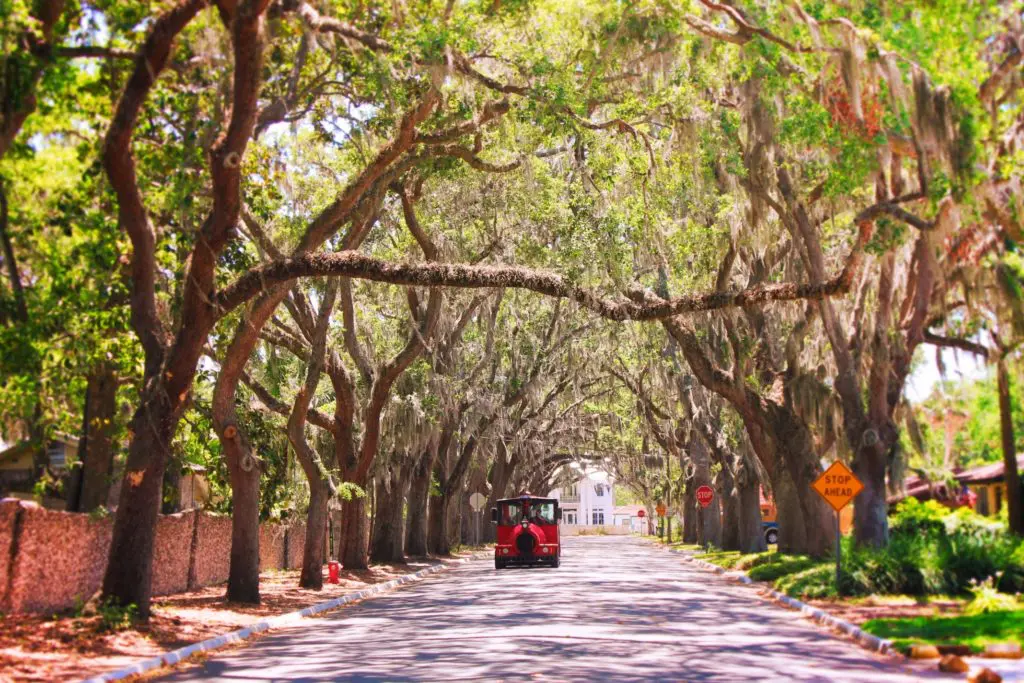 Historic St. Augustine and the Castillo
We kept returning to St. Augustine because it's the most captivating city we've been to in Florida, and maybe the most fascinating city in the USA, and now we live here! St. Augustine (founded in 1565) is the oldest city in the USA, and includes an 18th century Spanish fort, the Castillo de San Marcos, delicious Florida food and great museums for kids. Saint Augustine is the perfect destination for families who like to add a bit of history and education into their vacation, which we do whenever possible.
Tip: if you're traveling with kids, the St. Augustine Pirate and Treasure Museum and Old Jail are really cool. If you want to do a guided tour to see much of the town and visit several sites, plan a hop-on-hop-off trolley tour of Saint Augustine (book here).
Being a historic town with all kinds of crazy stories, Saint Augustine does several different ghost tours and ghost hunts. We've done them and they're pretty cool and really interesting, but not the best thing with young kids. Great for adults though! And it's funny, a lot of guests that stay in our vacation rental leave notes about doing the ghost tours and loving them, and a lot of people book them through us, so clearly, they're worth the time (and there's a trolley version too!).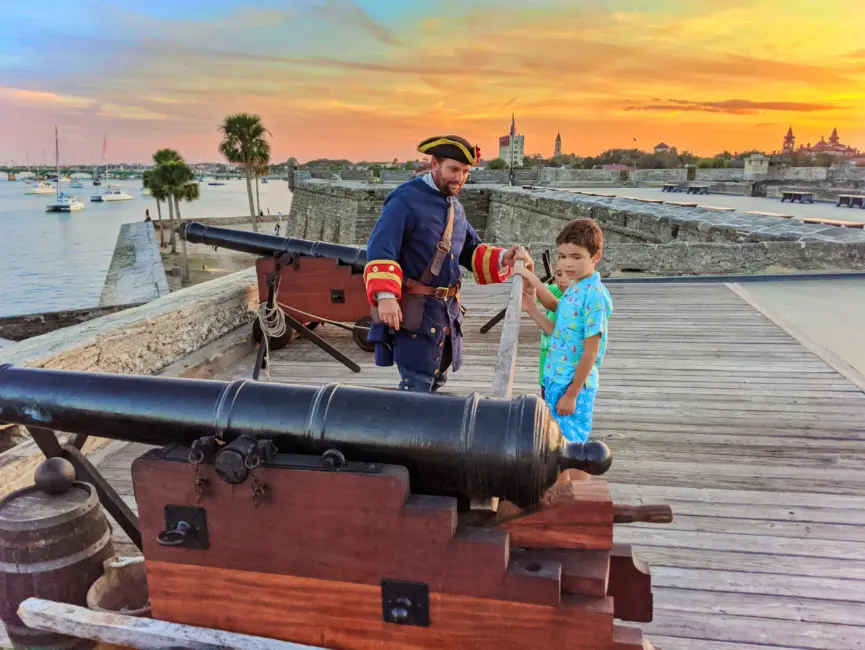 Kayaking Around St Augustine
In addition to history, St. Augustine is a hub for ecotourism. From kayaking to boat expeditions with marine biologists, we've had some incredible encounters with wildlife, all handled in a professional, conservation-first way. Florida's one-of-a-kind natural treasures are alive and well here, and there are many ways to enjoy them before moving onto your next destination.
Our city is beautiful, on land and on the water. There are a number of guides that paddle all around Saint Augustine, so if you don't have your own gear, don't worry. Kayaking from the Vilano Boat Ramp or the St Augustine Marina, you can explore the Seawall to the Castillo de San Marcos and beyond. Going from the Lighthouse Boat Ramp, get great views of the beautiful Saint Augustine Lighthouse and Salt Run to the dunes of Anastasia State Park.
Go kayaking on the Intracoastal Waterway, aka the Matanzas River, from Butler Park West or River to Sea Preserve to have amazing wildlife experiences paddling with manatees, dolphins, sharks and even a stingray nursery (just north of Moses Creek). Sunrise is the best time to see wildlife on the Intracoastal Waterway, so book an early tour or get yourself onto the water as the sun comes up.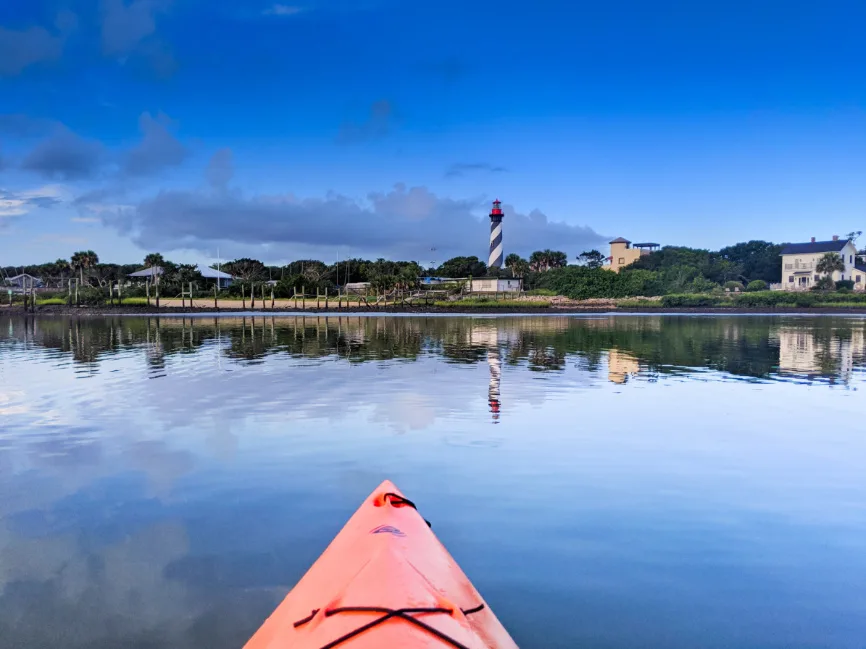 Great Dining in Saint Augustine
You might think we moved here for the food. We've got so many wonderful restaurants in St Augustine, and they aren't all in the historic quarter. While most visitors spend their time walking St George Street and the waterfront, if you head to either Anastasia Island and St Augustine Beach or the nearby Lincolnville neighborhood, you'll find some awesome dining.
Having dinner on the roof at Salt Life or Panama Hattie's in St. Augustine Beach is a must-do for fresh seafood and a sunset view. The Beachside Diner has a great selection of Bloody Marys and brunch. And then A1A Burrito Works makes a killer UFO burrito/torta style sandwich. Or on the edge of the historic district, dig into crab beignets at the Ice Plant at the Saint Augustine Distillery (if you do brunch, get the punch bowl!). There are so many places we can recommend, so check out our full St Augustine dining guide!
Two or three nights in St. Augustine will give you enough time to explore the city and have beach/nature time, or you can take a day trip from JAX or Daytona Beach. Since we live here, we feel like St Augustine is the best spot in North Florida for a vacation, so we don't think any amount of time is ever enough.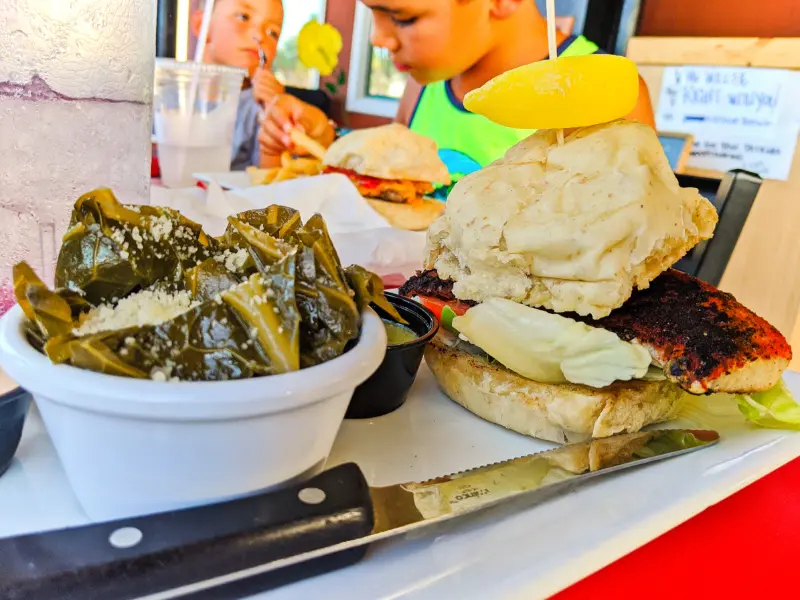 3 Days in Daytona Beach and the Springs
Daytona Beach is so much more than what you think of. It's not all Spring Break and the Boardwalk. Even though we have amazing beaches in St Augustine, we always take our friends and family to Daytona for a day or two when they visit on their North Florida vacation. There are unique sights all along the beach strip, there's great dining on the Halifax River, and just inland a bit, there are pristine natural springs.
Enjoying the Beaches of Daytona
There's a reason Daytona Beach is famous for being a getaway destination. The incredible sandy beaches of Daytona are remarkable. With wide stretches a beach at low tide and medium sized surfing waves on the incoming tide, Daytona Beach is a North Florida vacation dream! If ever there was a place to learn to surf, Daytona Beach is it.
Daytona is also wonderful for beach combing. It's not full of shark teeth like other North Florida beaches, but you can find some pretty gorgeous shells. It's interesting to consider how different the shells are in Daytona Beach versus up in Jacksonville Beach. Just two hours south and they are must more tropical looking than up north.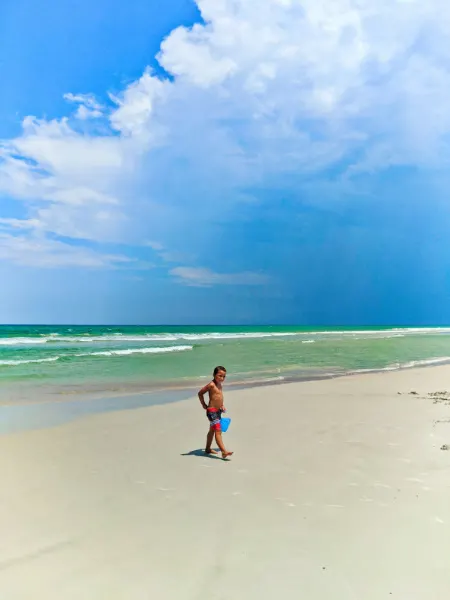 Ponce Inlet: Beyond Daytona Beach
Just south of Daytona Beach is the Ponce Inlet. This may be our kids' favorite place in all of Florida (besides our own beach). Don't let the village's small size fool you; plenty of fun experiences await. At 175 feet, the Ponce Inlet Light is the tallest lighthouse in the state, and kids and adults love the challenge of climbing the 203 steps to the top to check out the gorgeous view.
Nearby is the Ponce Inlet Marine Science Center. From rays and fish to sea turtles in the turtle recovery unit, visitors get to check out a unique blend of an aquarium and hospital. While not as big as the Turtle Hospital in the Florida Keys, it's an interesting visit.
Ponce Inlet also offers kayaking opportunities and beach access. You can either do a tour or bring your own gear, but enter the inlet at the boat ramp across from the lighthouse. Paddle out via SUP or kayak to the Disappearing Island or head into the maze of mangroves. We've seen everything from sting rays to manatees, and even sea turtles all right here!
At just a fifteen minute drive, Ponce Inlet is a great day trip from Daytona Beach and it feels a world away.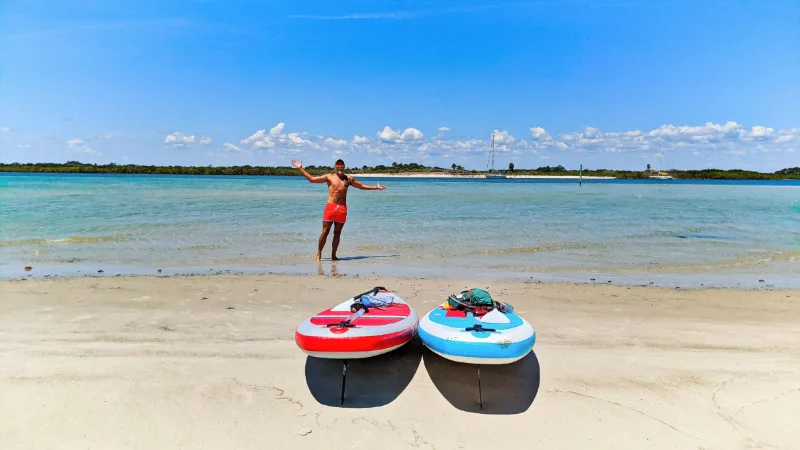 Daytona Inland Day Trips: Florida's Freshwater Springs
Don't feel pressured to leave the beaches, because they are gorgeous and there's no shame in having beach time be 100% of your North Florida vacation… but should you want to see another side of Florida, plan a trip to one of the more than 1000 freshwater springs. There are several that are less than an hour from Daytona Beach, so you can visit in the morning and then still have beach time later in the day.
De Leon Springs and the Old Spanish Sugar Mill
Florida is home to more than 1,000 freshwater springs, but De Leon Springs has something extra special: the Old Spanish Sugar Mill. Located near a real-life Fountain of Youth in De Leon Springs State Park, the Sugar Mill is a great family dining experience in Florida. The restaurant's staple is DIY pancakes; each table comes with a griddle, allowing you to cook your own pancake breakfast with homemade batters.
Tip: Plan your dining at the Old Spanish Sugar Mill in advance so you can arrive early enough for a table
After your meal, head out for a hike through the Florida forest within the state park or take an eco-tour from the headspring down the St. Johns River, scoping out manatees, alligators and all kinds of birds. You can also rent or bring your own kayaks to paddle on the river.
Nearby, the town of DeLand is a quaint little slice of historic Florida. Pay it a visit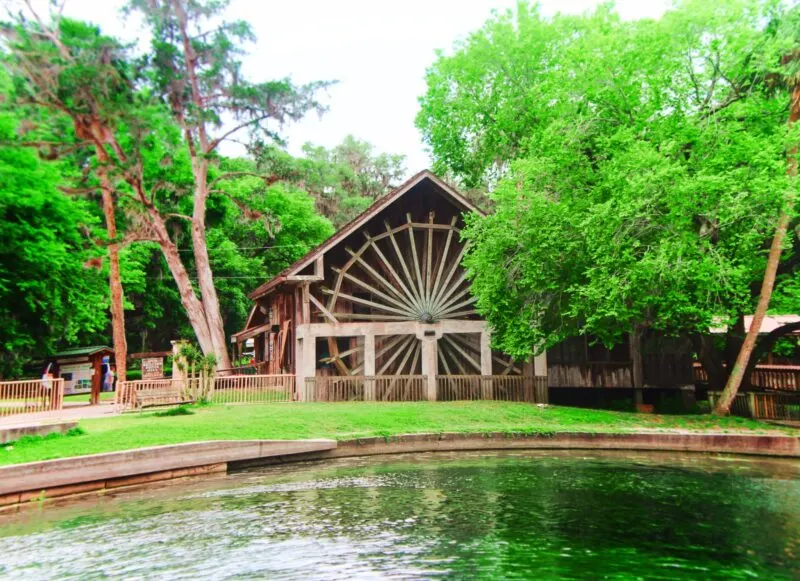 Blue Spring State Park
It seems that no matter how many times we visit Blue Spring State Park, when we leave we're always thinking about our next visit. Manatees are a unique Florida treasure, and there's no better place to see them than at Blue Spring; if you visit during the winter months, you're likely to see hundreds of them.
Visiting in the off-season (non-manatee time of spring through fall) is also wonderful. Florida's freshwater springs are always warm, with Blue Spring being a consistent 73 degrees, so swimming in the off-season is awesome! The kids did get a little spooked by the enormous Florida Gar (a large fish) in the springs, but splashing and watching turtles makes it all worthwhile for them.
Travel plan: Book a paddle boarding tour for a unique, respectful experience observing manatees in the water. You cannot swim with them at Blue Spring, but they are very curious and friendly creatures that love to say hello to visitors.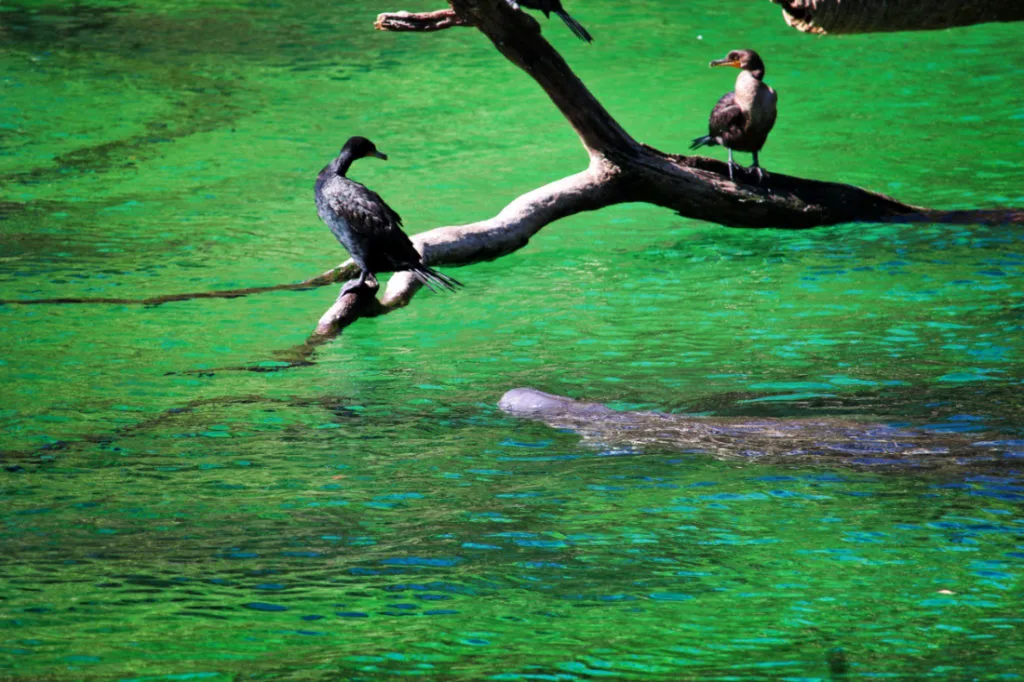 Are you excited to come visit and explore everything from Jacksonville to Daytona? I know you'll love our little slice of Florida.
Use this North Florida vacation plan for an easy and fun trip exploring the coast and some of the best of Florida's freshwater springs.