We've been to Congaree National Park several times now and each time is a different experience. One of the newer US National Parks, it's one that's still not gained popularity the way Glacier NP or Everglades NP have. There aren't a ton of things to do in Congaree National Park, but you'll see that planning a visit is very much worthwhile and you'll love it.
Thinking about the most common questions we've gotten about visiting Congaree National Park, it seems that most people are just unfamiliar with both what and where it is. It's more than a plot of land somewhere in the South, so we'll share all the details about what makes it fun and special. From birdwatching to one of the most unique phenomena in the South, synchronous fireflies, we've got the scoop on what to do at Congaree and how to plan your trip.
If you have additional questions or suggestions, please leave a comment or send us a note. We love to help others plan their travels, especially to a place as special as Congaree National Park!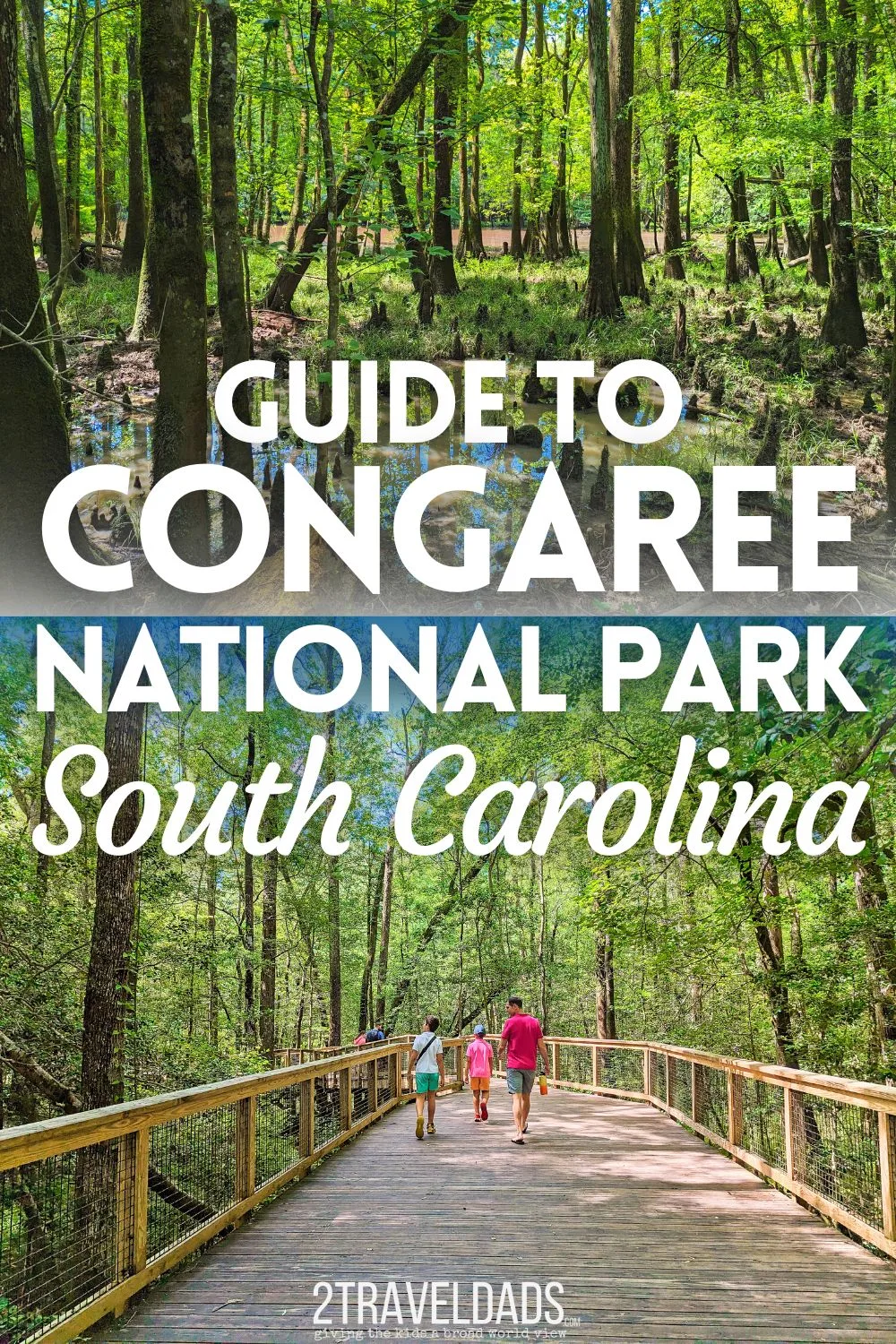 Where is Congaree National Park?
Congaree National Park is in the geographic center of the state of South Carolina. It's about a half hour from the capital city, Columbia SC, and about two hours from Charleston on the coast. From Atlanta it's about a three hour drive, and from Savannah it's 2.5 hours. As you approach Congaree, you'll go through cotton fields, forests, and cross a lot of slow moving rivers. And that's what Congaree National Park is all about: slow moving flooded forests full of life!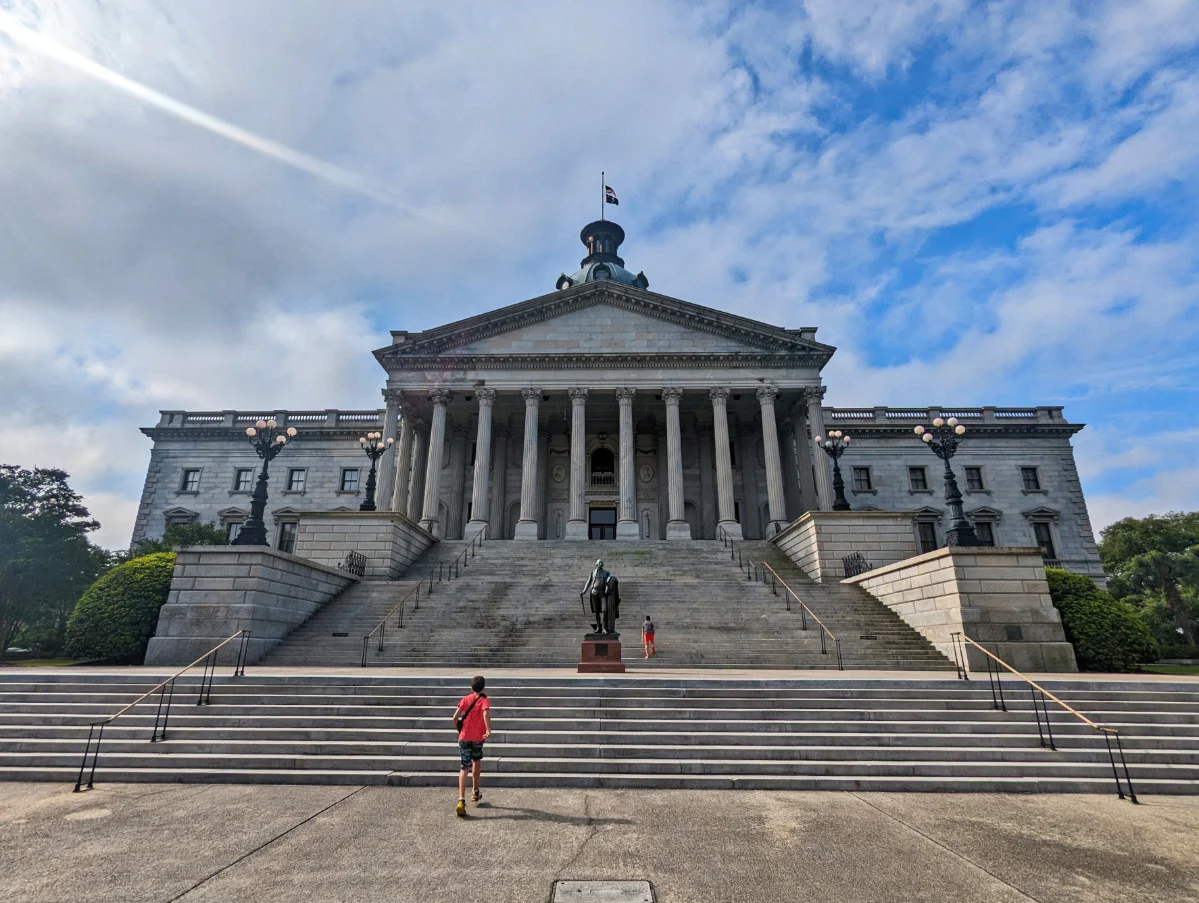 Getting to Congaree NP
It's very rare that I get to share this when it comes to writing about our National Parks, but you can actually TAKE THE BUS to Congaree National Park! It's one of the few National Parks that actually has public transportation that gets you there. The COMET bus #47 actually goes all the way to the Visitor Center from the eastern side of Columbia (state capital). From downtown Columbia, you can catch the 401 to the 45 to the 47 bus. The trip will take about 2 hours to get there by bus, but if you're a student or don't want to rent a car, this is a great option. And it's only $2.00.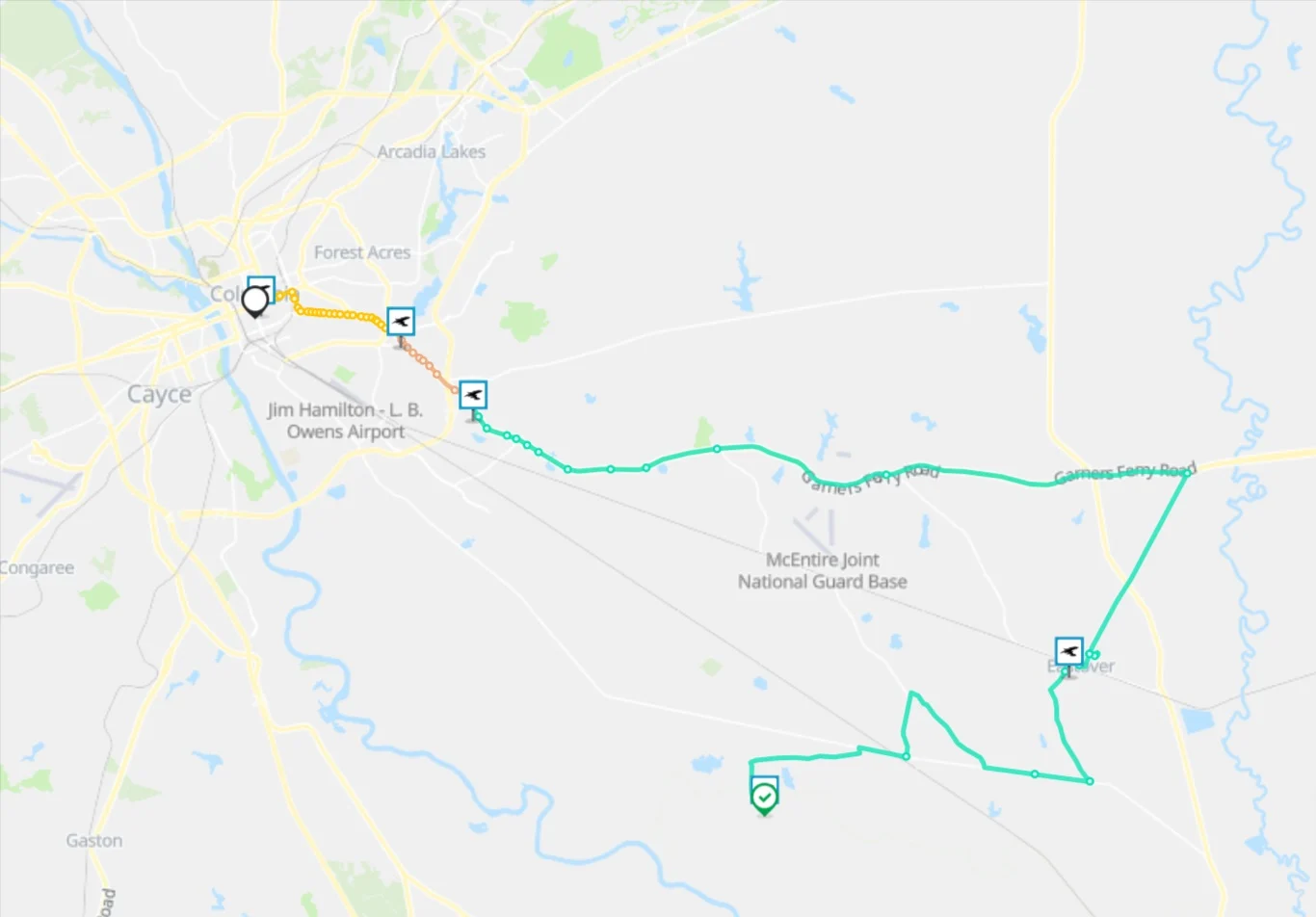 You can also just drive, as Congaree National Park is only about 20 minutes off the freeway and really easy to get to. On a busy day, such as a weekend or summertime visit, you'll see that parking at the Harry Hampton Visitor Center is VERY limited, so plan to get there early or at the end of the day.
Where to Stay Near Congaree NP
If visiting Congaree National Park is the main purpose of your time in South Carolina, we recommend either camping in the park or staying in Columbia, SC (half hour away). We had a wonderful stay at the Hotel Trundle in Columbia SC. It was beautiful and perfect for a family of four for several days. There are lots of good options in Columbia, as it's both a college town and the state capital.
If you're stopping at Congaree NP on a road trip, this is an easy stop between nights in Columbia and Charleston, SC or Savannah, GA.
Camping in Congaree NP
Yes! Even though it's a very small National Park there is camping! Recreation.gov manages the camping reservations for both the Longleaf Campground (drive up sites) and the Bluff Campground (hike-in). If you're camping, know that there are minimal services and not a lot of camping spots. Also, for the Longleaf Campground at Congaree NP, you can't drive directly to your spot, but to the parking area and then you have to cart your gear to your campsite.
Why is Congaree National Park Special?
Congaree National Park, located in South Carolina, is a distinctive destination for swamp lovers. One of its most remarkable features is its old-growth bottomland hardwood forest, which is one of the largest and most pristine of its kind in the United States. The park's ecosystem thrives in the floodplain of the Congaree River, resulting in an abundance of diverse plant and animal life.
REALLY tall bald cypress and water tupelo trees are some of the most common, creating an otherworldly atmosphere. Exploring the park's boardwalks and trails provides visitors with an immersive experience in this unique forest, where they can witness the fluctuation and flow water over the land.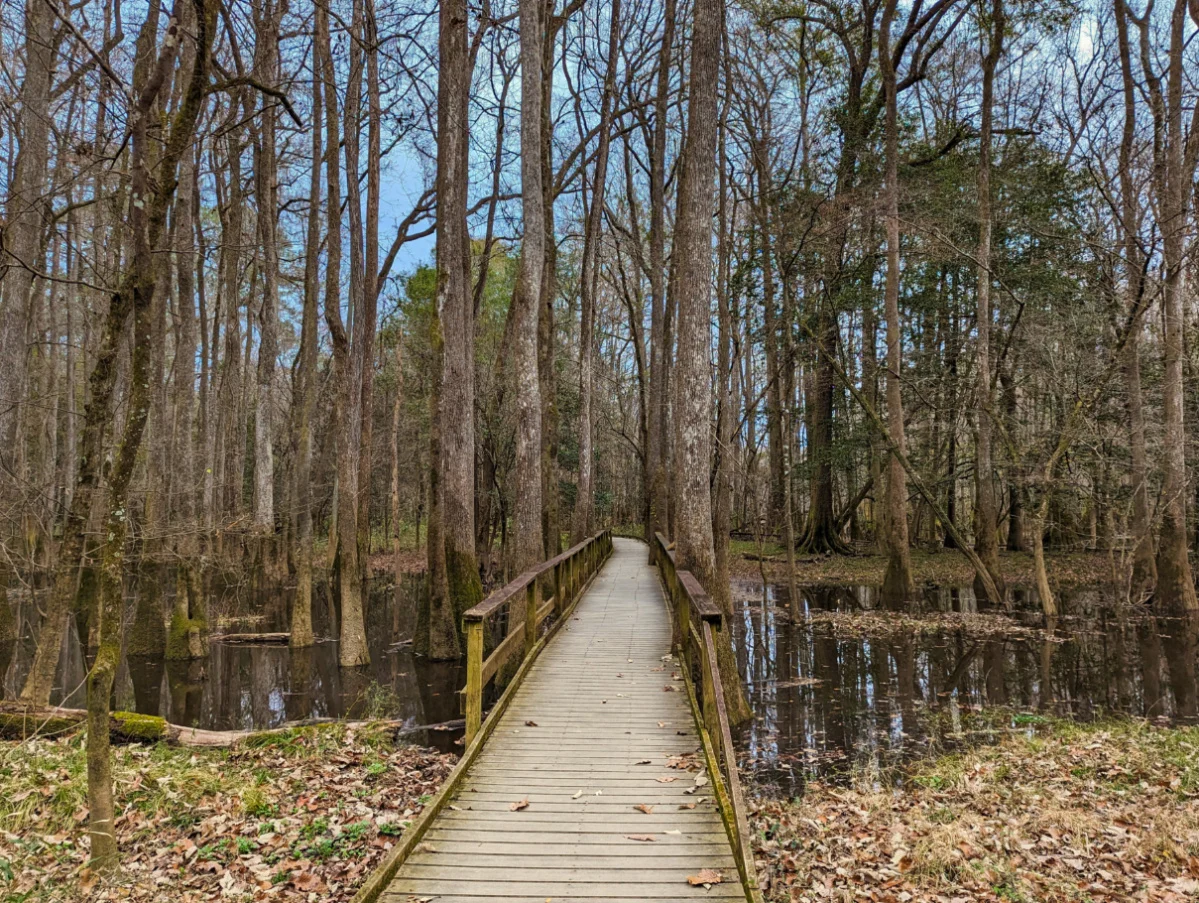 Another intriguing aspect of Congaree National Park is its significance as an International Biosphere Reserve and a Globally Important Bird Area. The park serves as a critical habitat for numerous bird species, including the endangered swallow-tailed kite (we have them at our house in St Augustine!) and the yellow-billed cuckoo. Birdwatchers flock to the park to observe the impressive array of birdlife.
The park's Dark Sky designation makes it an excellent location for stargazing and, wait for it, watching the synchronous fireflies! Really, this swampy National Park is such a special place!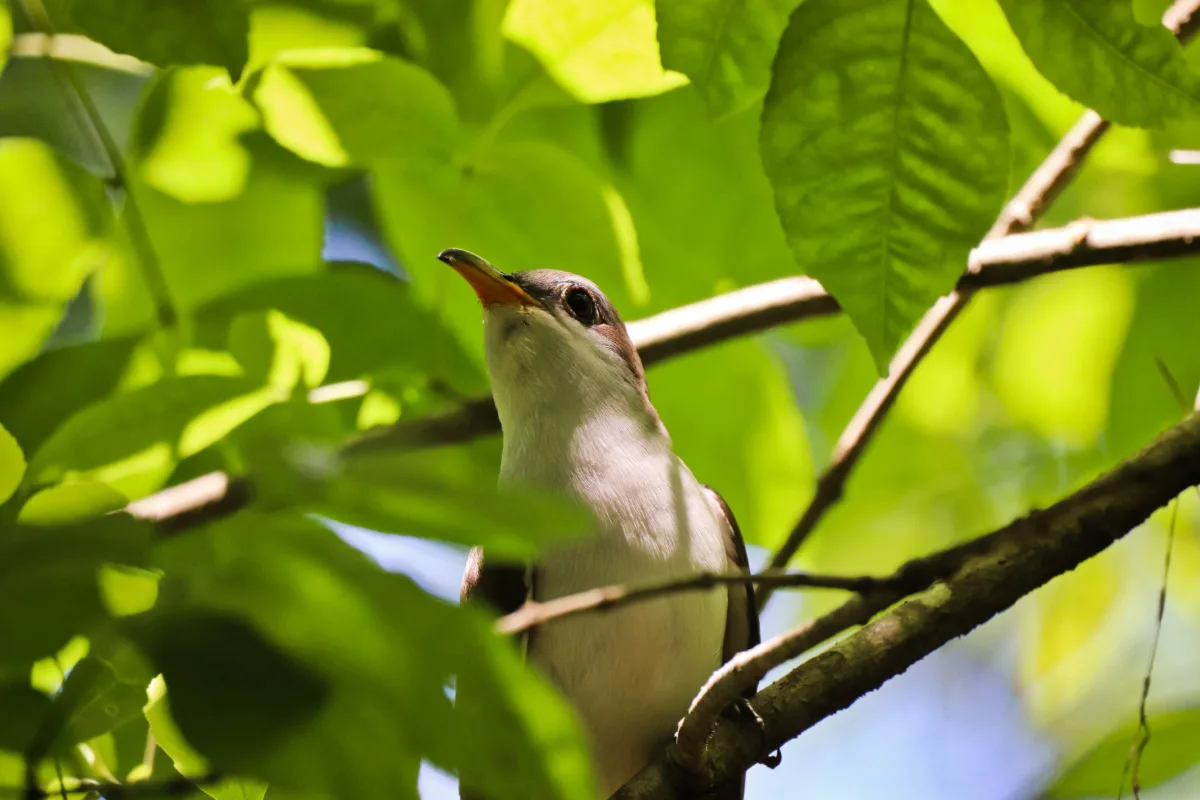 Things to Do in Congaree National Park
So what is there to do in Congaree National Park? It's a park for walking and wildlife watching mostly, but we've got some good tips for everything you might want to do. We also have some great tips for photography in Congaree NP.
Exploring the Swamp of Congaree NP on the Boardwalk
We love the boardwalks of Big Cypress National Preserve in Florida, but the huge boardwalk loop here in Congaree National Park is exceptional. Be sure to get the interpretive guide from the Visitor Center to help you understand the many sights and species you'll see along the boardwalk. It makes for a great scavenger hunt with kids.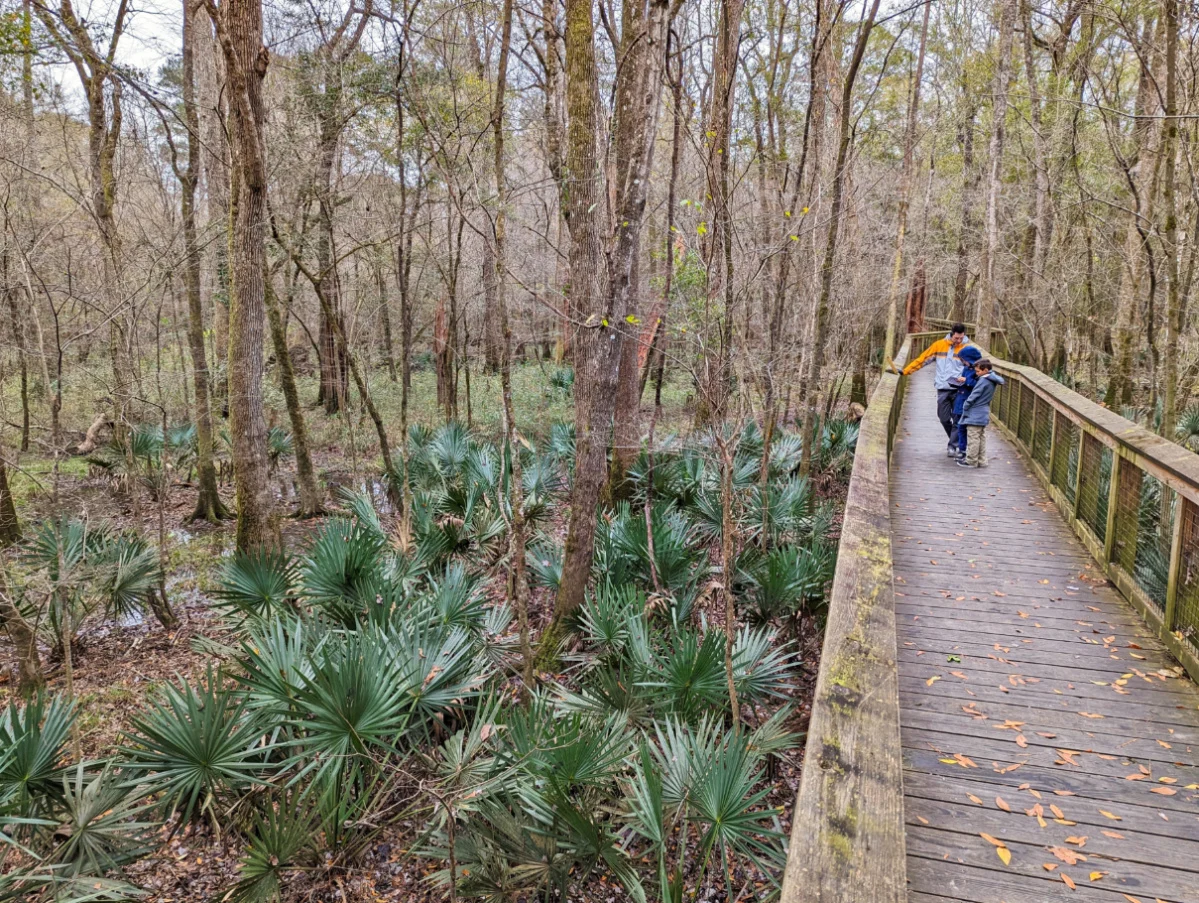 The boardwalks can be a bit slick if you're visiting in the winter or after a rain, so walk carefully and don't run. You'll find lots of spots to sit along the way. DO IT! Sitting there listening to the quiet of the cypress swamp and the birds is amazing. This is also a great way to help your eyes adjust to the shadowy forest for wildlife watching and photography.
The boardwalk loop is about two miles around and is very flat. It's fully wheelchair accessible and there are easy pullouts to pause and let others pass or to pull over and take a rest if you have a stroller or a large group who's visiting Congaree National Park together.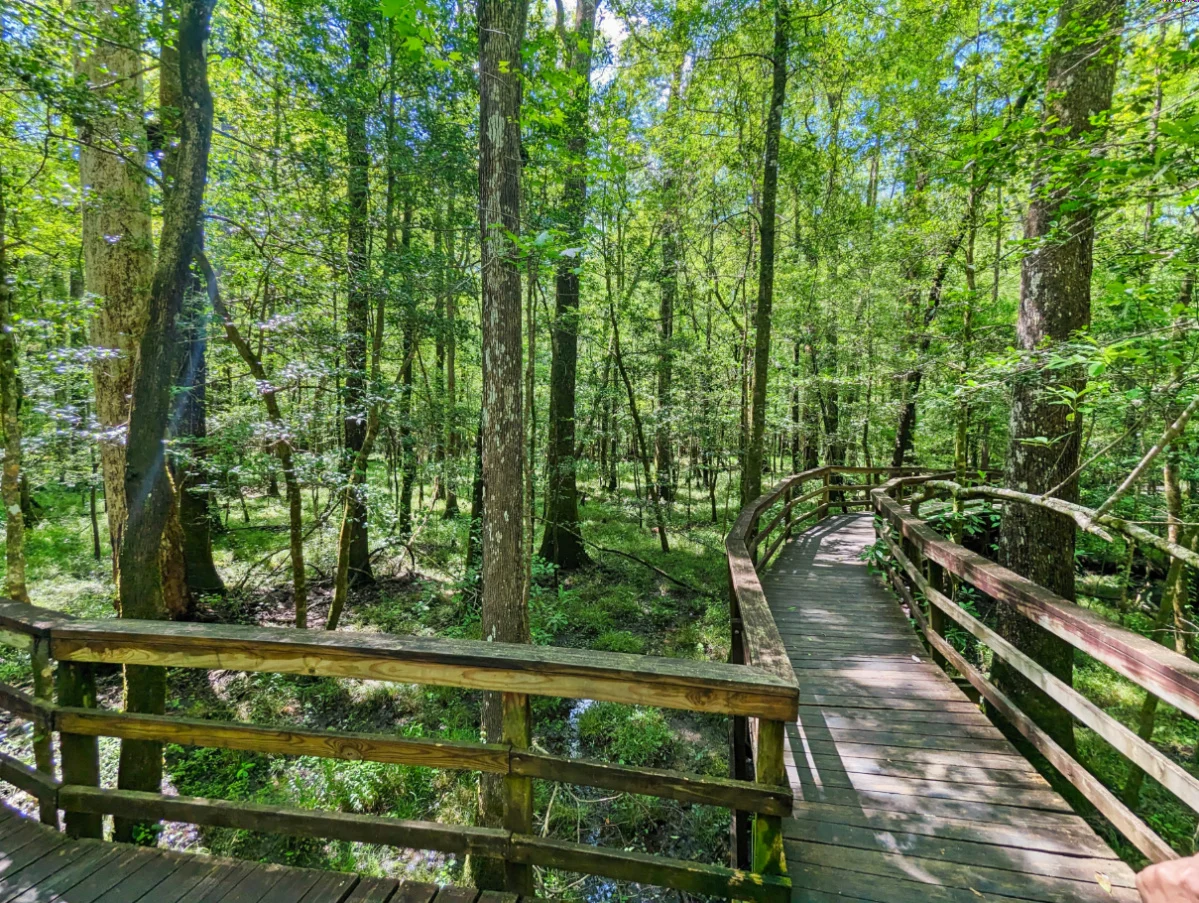 Kayaking and Paddling in Congaree National Park
Congaree National Park offers several access points where you can launch a kayak or canoe to paddle along its waterways. The primary launching area is the Cedar Creek Canoe Trail, which is the most popular and easily accessible route for paddlers. The trail starts at Bannister Bridge and extends for about 15 miles, providing a scenic and immersive experience through the heart of the park's wilderness. To reach Bannister Bridge, you can access it from the Cedar Creek Landing parking area off Old Bluff Road.
Another access point is at the park's Harry Hampton Visitor Center, where you can launch your kayak or canoe into Cedar Creek. The visitor center is located on the eastern side of the park, off Bluff Road. From there, you can explore Cedar Creek in both directions, enjoying the serene and picturesque surroundings.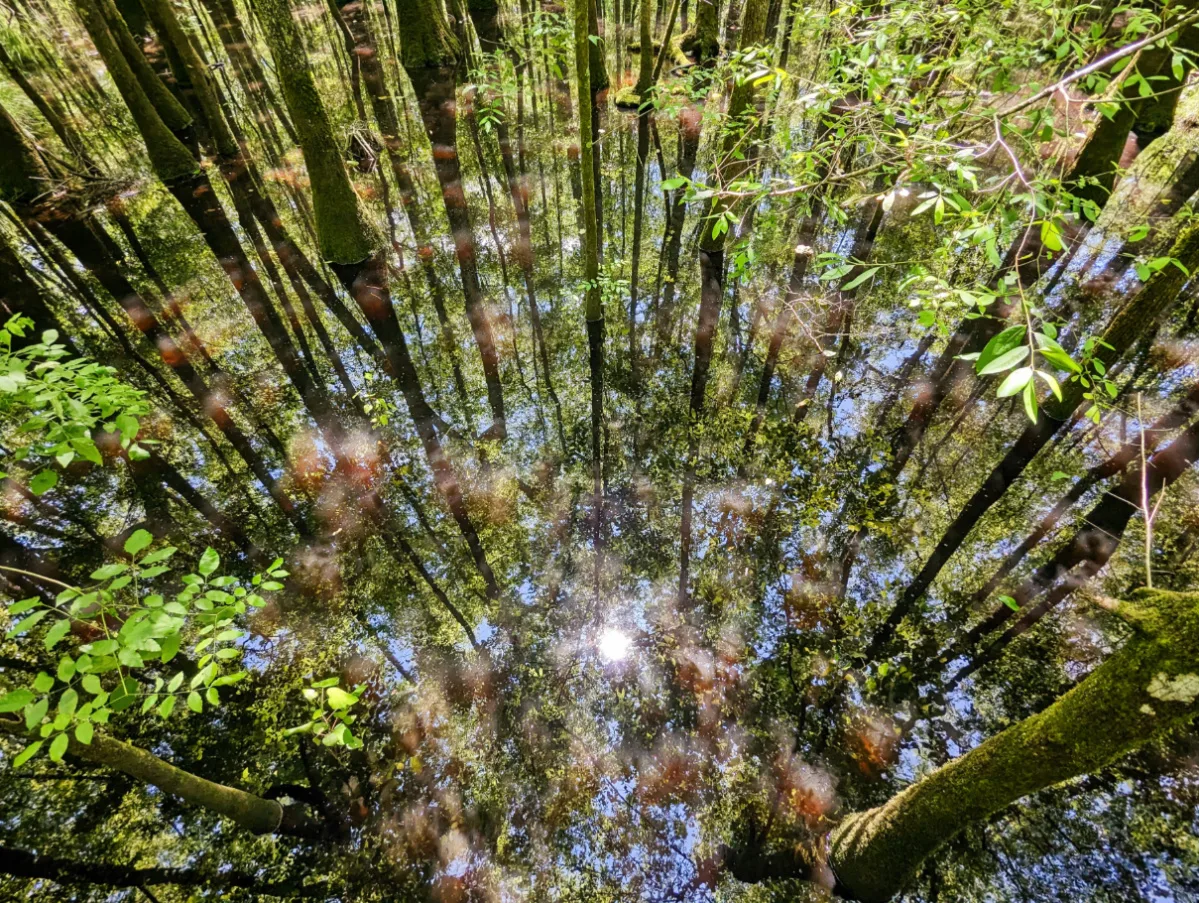 It's important to note that water levels in Congaree National Park can vary significantly, especially during periods of heavy rain or drought. Before embarking on your kayaking adventure, it is advisable to check with the park's visitor center or website for any updates or advisories regarding water conditions and safety.
Remember to adhere to all park regulations, follow Leave No Trace principles, and respect the fragile ecosystem as you paddle through Congaree National Park's captivating waterways.
Book Congaree National Park kayaking here!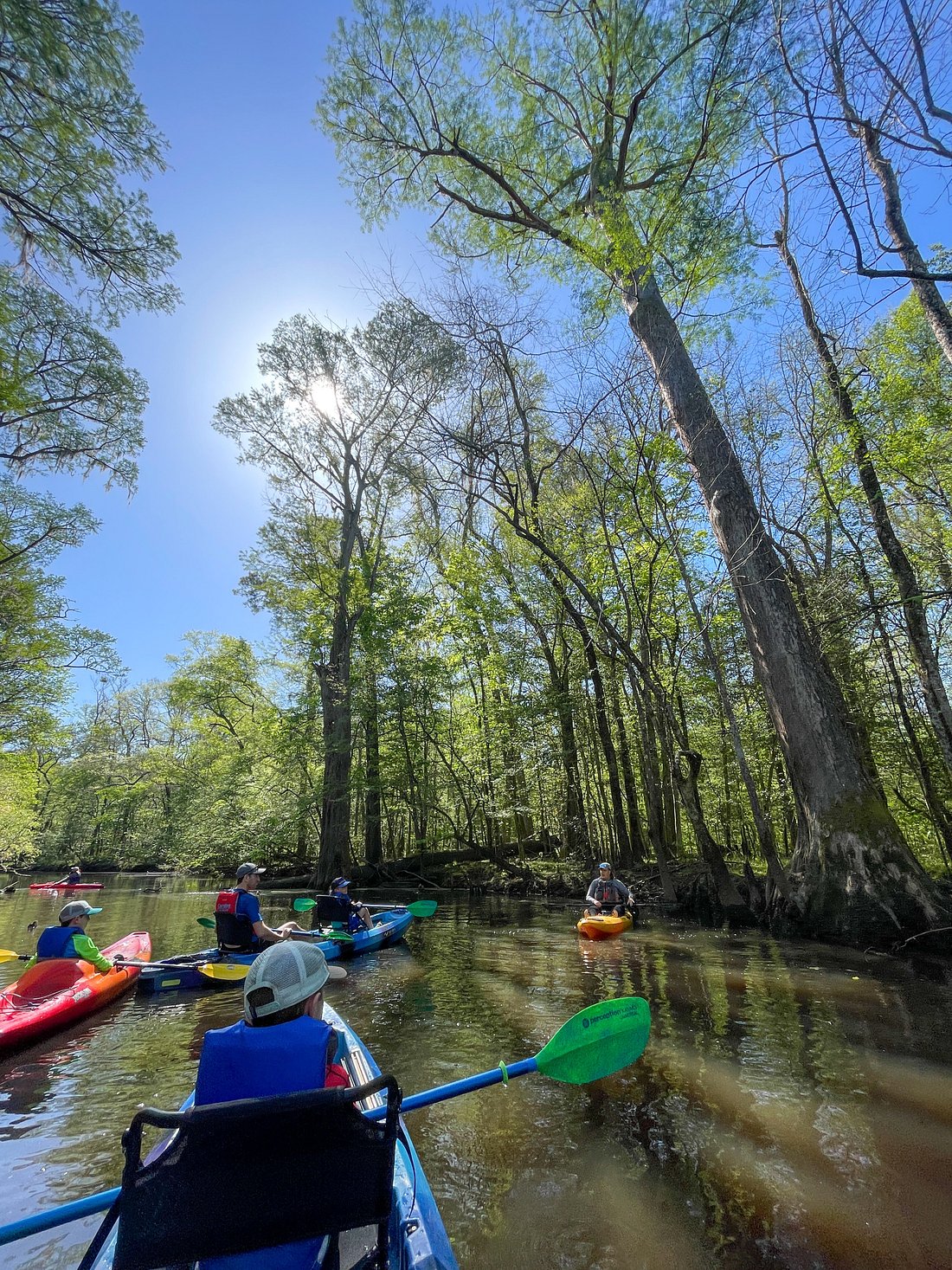 Wildlife Watching in Congaree National Park
Congaree National Park is home to a wide variety of wildlife species. While exploring the park, visitors can keep an eye out for several notable animal species that are characteristic of the Southeast, particularly the swamps around here. Some of the main animals to watch for in Congaree National Park are bucket list beasts for a lot of people, so be respectful of the creatures, give them their space and be nice and quiet.
Check out our article on Wildlife Safety in National Parks!
White-tailed Deer: These graceful creatures are commonly spotted throughout the park, particularly in open areas and along the park's trails.
Bobcats: Although elusive and primarily nocturnal, bobcats inhabit the forests of Congaree National Park. Observing one of these elusive predators is a rare and exciting experience.
River Otters: Congaree's waterways provide a suitable habitat for river otters. These playful and agile mammals can often be seen swimming and foraging along the park's creeks and rivers.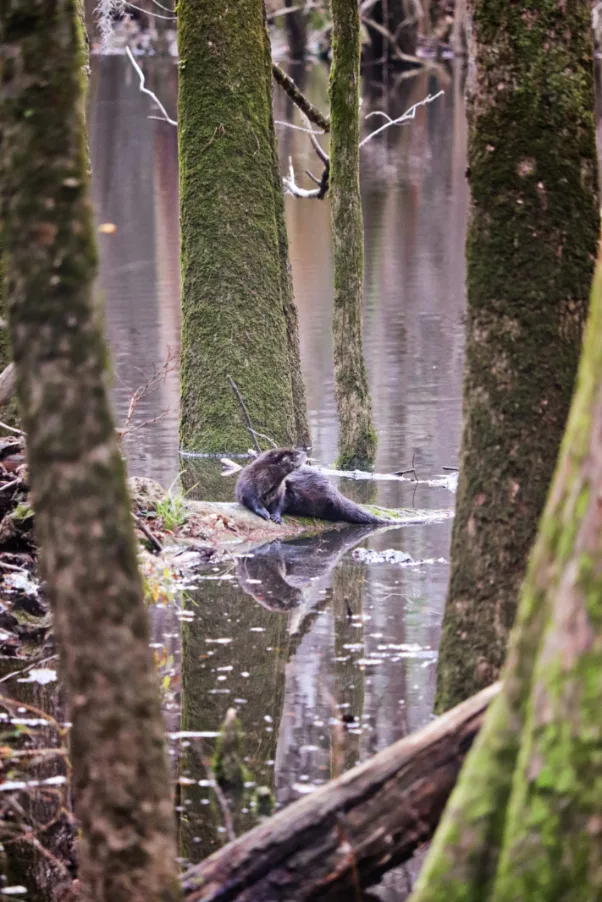 Reptiles and Amphibians: The park is home to numerous reptile and amphibian species. Look out for turtles, snakes, frogs, and salamanders as you explore the park's wetlands and forested areas. And YES, THERE ARE ALLIGATORS. There are also water moccasins, aka cottonmouth snakes. STAY ON TRAILS AND BOARDWALKS!!
Birds: Congaree National Park is a birdwatcher's paradise, with over 200 species of birds documented. Keep an eye out for the colorful prothonotary warbler, swallow-tailed kite, barred owl, and the vibrant red-headed woodpecker.
Insects and Butterflies: The park's diverse ecosystem supports a variety of insects and butterflies. These small but captivating creatures add to the overall biodiversity and natural beauty of Congaree National Park.
While these are just a few examples, the park's unique bottomland hardwood forest and wetlands support a wider range of wildlife than you might see with your own eyes. Remember to maintain a respectful distance from the animals, refrain from feeding them, and observe them from a safe and non-intrusive distance.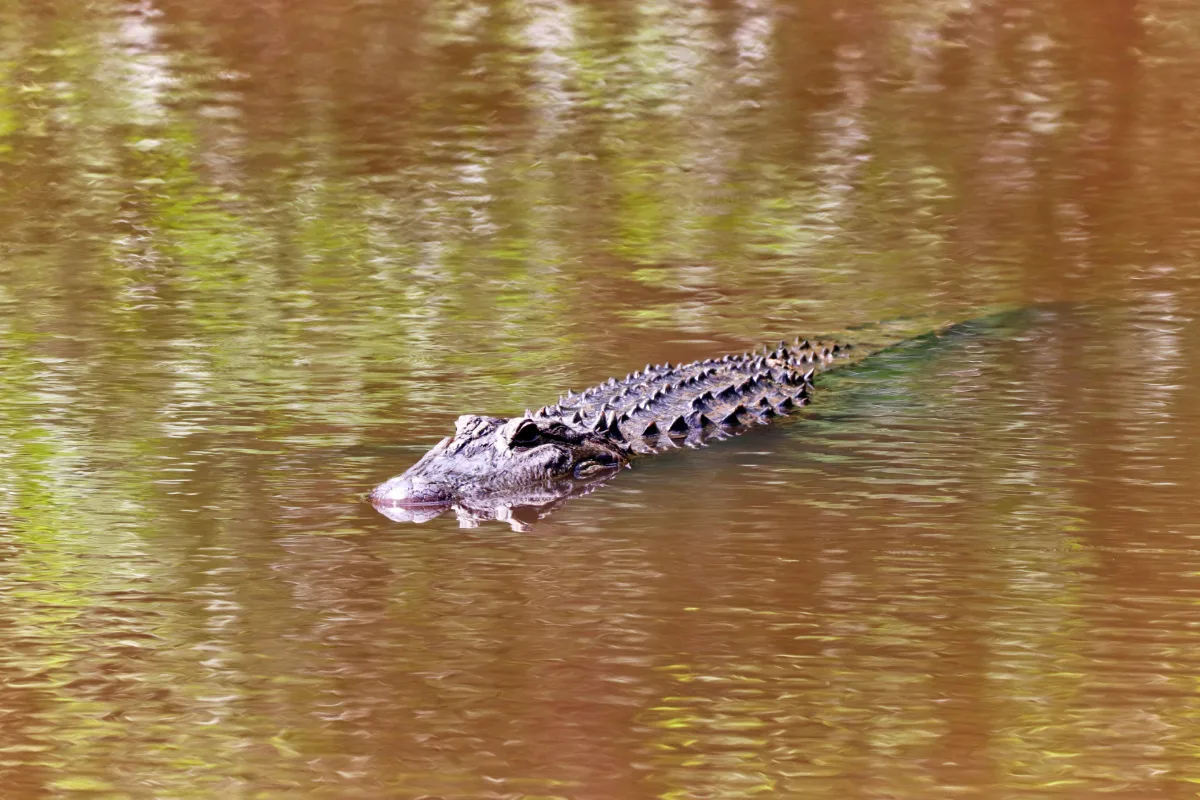 Synchronous Fireflies – How and When to See them at Congaree NP
There are three types of synchronous fireflies that you might see in Congaree National Park. This means that when it's mating season, the fireflies coordinate their blinking butts and patterns to match. This is a rare occurrence in the world in general, and to have three types of insect that can do this together is very special.
If you want to experience these cool bioluminescent bugs, you need to visit Congaree National Park at the end of May or beginning of June. The National Park actually opens up a lottery in February or March for their predicted dates for the phenomena. They may be correct in their date prediction and they may be several weeks off.
If you get to visit Congaree NP for the synchronous fireflies, DO NOT bring a standard flashlight because that will scare them away. Soft red light is recommended to be able to see, and the Park Service has a bit of that installed for safe walking. There is an actual firefly trail you can also do, both for synchronous and normal fireflies, and it's very safe and frequently used by lots of visitors.
PS: photographing fireflies is really difficult, but if you have a quality video camera/phone on the right settings, you may be able to get video of it!
I think we've probably answered most questions you have about visiting Congaree National Park by now. I hope you decide to add it to your Southeast road trip or if you're visiting Columbia, SC. It's a beautiful place, and unlike any other National Park we've visited.
If you have any additional questions or have tips from your own visits, we're always happy to share more. Please leave a comment or send us a note so everyone can plan the best possible visit to this awesome place!