Columbia, South Carolina is a great city to visit with kids. It's full of history, there's nature just outside of downtown and it's a wonderfully inclusive place. Staying at the Hotel Trundle in downtown is a great way to both be in the middle of the best things to do in Columbia SC and to have a unique, trendy/cool stay. We loved the decor, the staff and our room, so let me tell you all about it!
And if you have any additional questions or you would like to add your own suggestions for either staying at the Hotel Trundle or in downtown Columbia SC, please leave a comment or send us a note. We're always happy to share more and help others plan great travel experiences.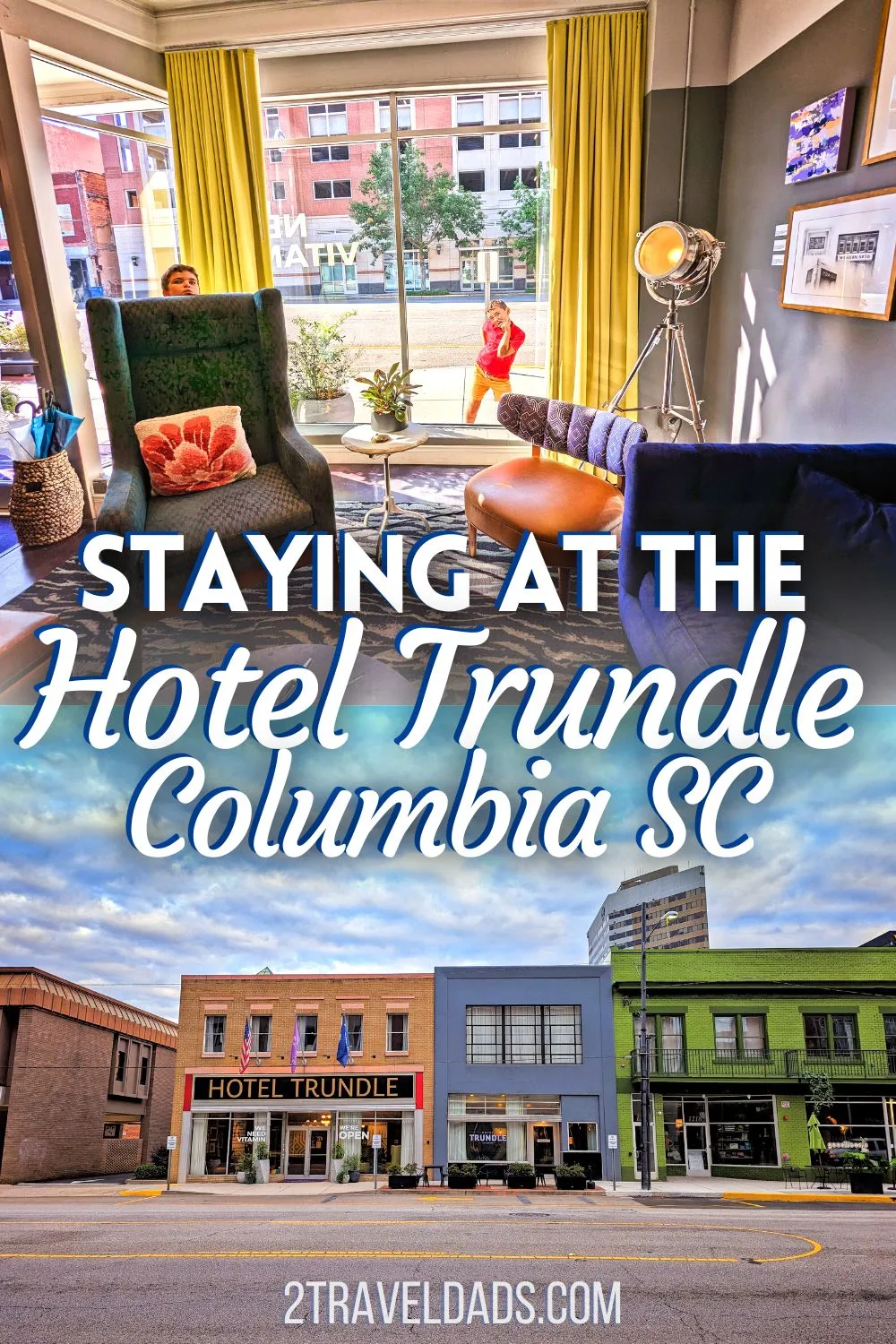 Why Choose Hotel Trundle in Columbia SC?
We always look for hotels that are just a bit different or can offer our family more space for longer stays. The Hotel Trundle in Columbia SC totally fit these requirements. The rooms are really spacious with good functioning space for families, and it's decorated in the most interesting way. I would say the decor is a combination of mid-century modern with Great Gatsby style plus unicorns and Pride.
Really, the Hotel Trundle is very unique and really is a fantastic example of the type of city Columbia is. As you walk around the city you'll see that it's a combo of historic buildings and modern touches, like lots of street art and trendy bars. That's what the Hotel Trundle is too! It's delightful.
Already know you want to stay? Book the Hotel Trundle here!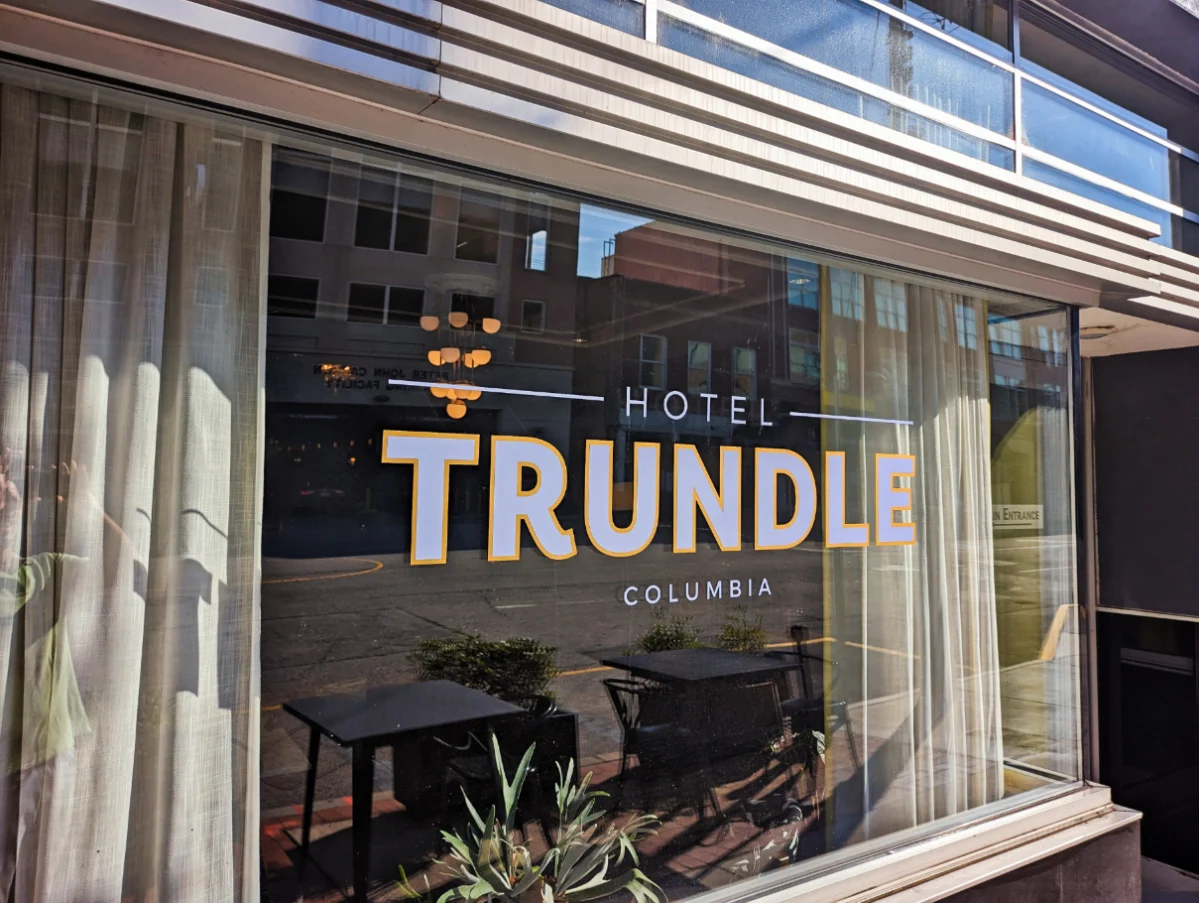 What Are the Accommodation Options at Hotel Trundle?
For the different type of rooms at the Hotel Trundle in Columbia, you've got a few options that vary both the bed type and the amount of space. For the most simple accommodations, you've got the Trundle King or the Double Queen. These are basic rooms decorated with a clean industrial feel and offer standards like in-room coffee, bathrobes, slippers and general good vibes.
There are also suites and extended rooms. The suites aren't necessarily separate rooms, but just larger rooms with seating areas. The extended rooms are really cool though, and they're very unique. Extended rooms are our top pick for staying at the Hotel Trundle.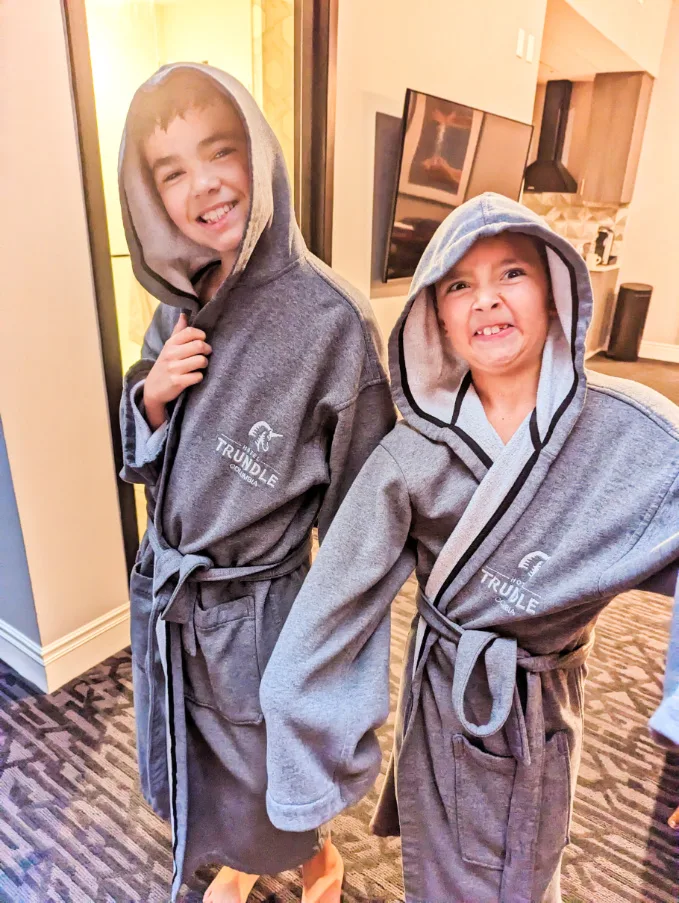 Top Pick: Queen Extended Room
The reason I really like the queen extended rooms at the Hotel Trundle is because of the expansive layout. Our room entered into a kitchen space and then there was a dining space, followed by a whole living room. That then extended into a complete bedroom setup offering privacy while still being in the flow of the rest of the suite. Even though it's not a suite, it really felt like one.
Also, because the hotel occupies several historic buildings that were industrial (auto parts manufacturing) there are a lot of brick walls and strangle spaces. The Hotel Trundle uses all of this unique space to create trendy apartment style hotel rooms. And if you don't have windows because of where your hotel room is within the historic building, you have amazing skylights! It actually took us two days to realize that our room didn't have windows because of how well laid out everything is and how much natural light comes from the skylights.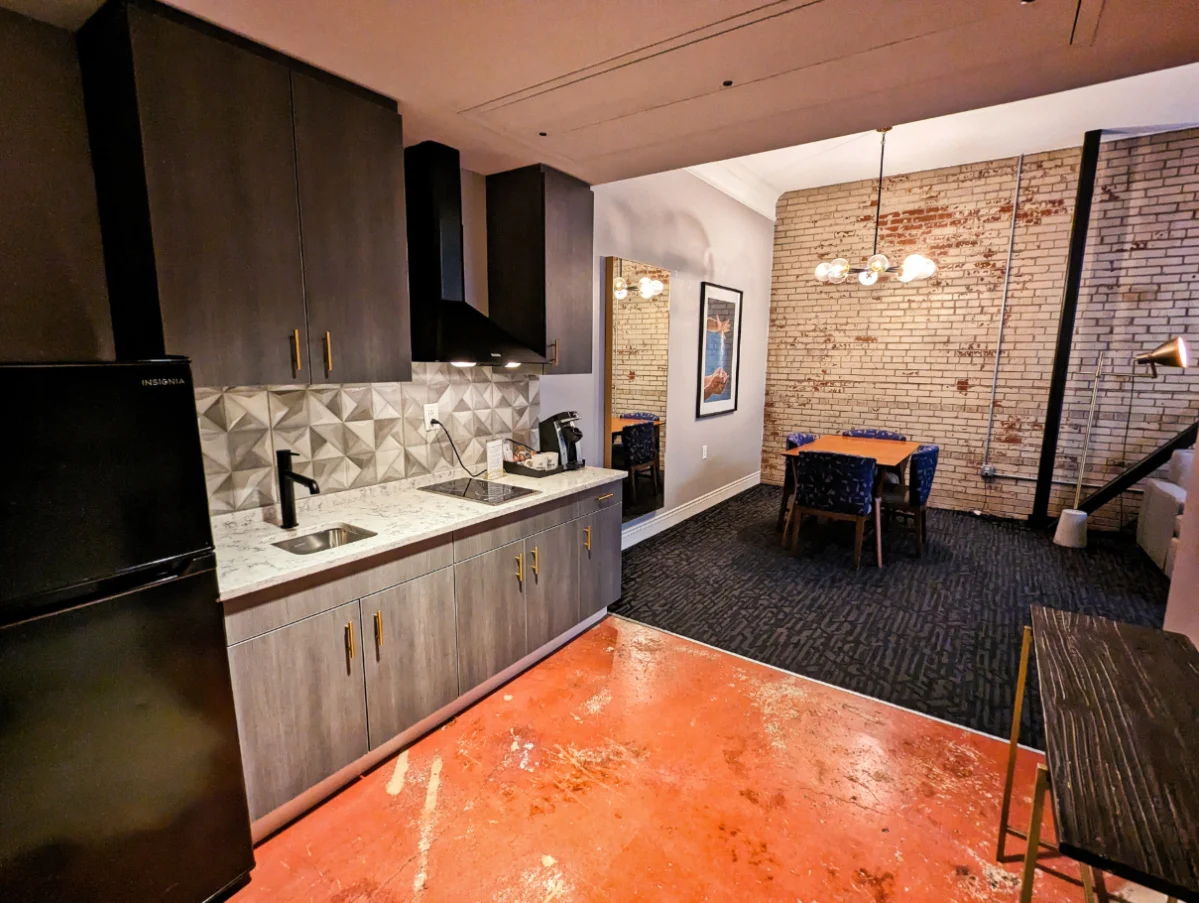 Check in / Check Out at the Hotel Trundle
I think the lobby of the Hotel Trundle is my favorite feature. It's beautifully decorated with lots of plush seating, unique art, books, a coffee bar area and a gorgeous front desk. When you arrive, there is temporary parking out front and then check in is a breeze. The front desk agents have lots of information about the hotel, its services and the surrounding area, so if you have any questions, ask!
A nice touch to check-in is a welcome beverage. From local draft beer to wine and bubbles, there are quite a few offerings upon arrival. If you would like to enjoy another beverage during your stay, the front office staff will get you set up and they can bill additional drinks to your room. At this time (Spring 2023) there aren't kid/non-alcoholic beverages available except bottled water.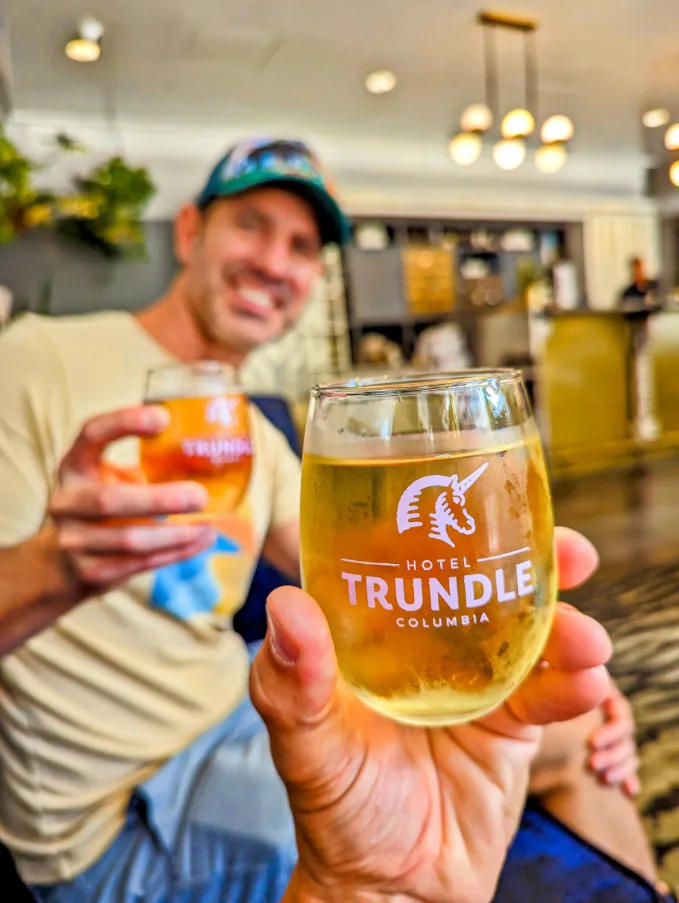 Hotel Trundle Amenities
When you're converting historic buildings into beautiful hotels, you have to be creative, especially when you're limited in how you can renovate and what space is available. The Hotel Trundle has partnered with a local cafe to offer breakfast service each day. You'll get a text message with a link to complete your order the night before and then it gets delivered on time the next day. This is great since they don't have a kitchen on the premises.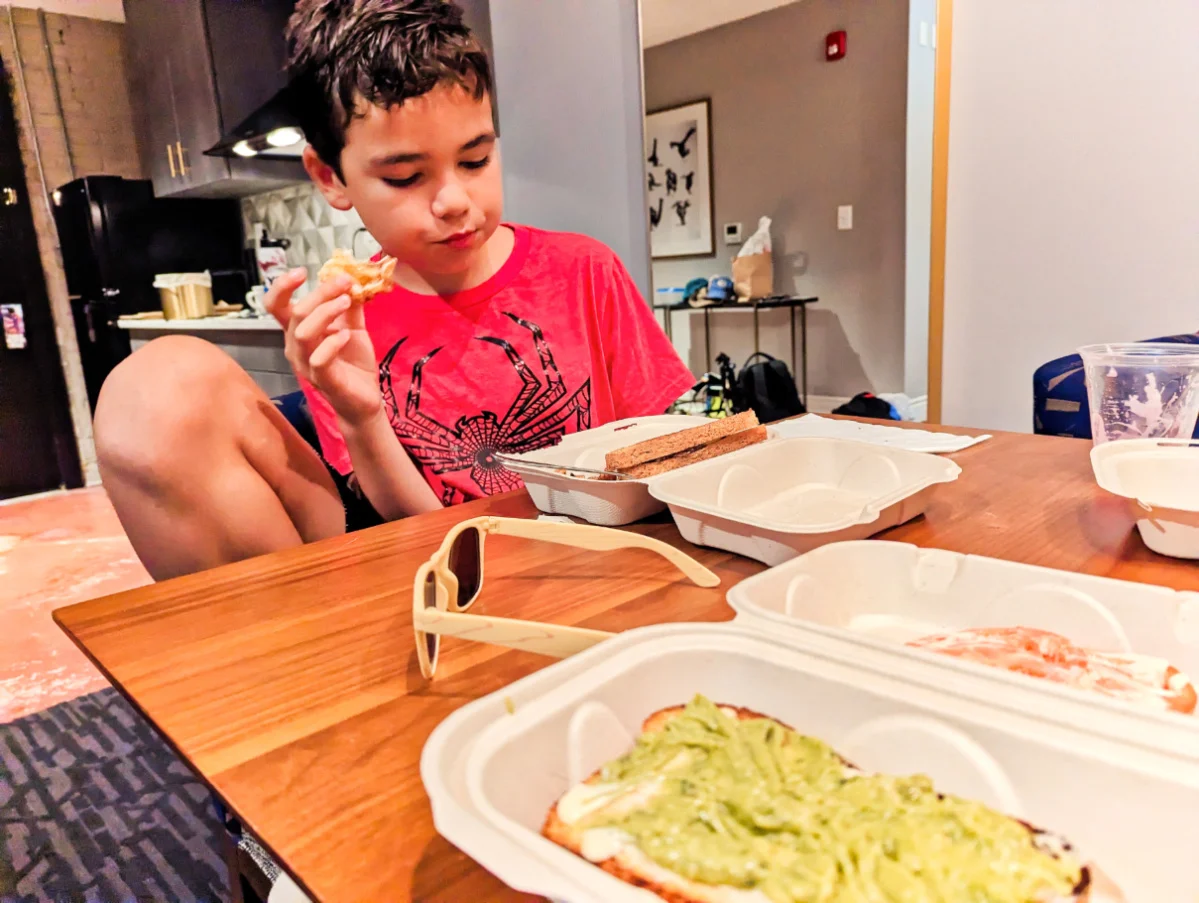 Also, in the lobby there is coffee and tea all day long in a quiet nook area which is also a great work space if you need. Wi-Fi is complimentary (thank goodness that's a standard nowadays) and strong, and if you do need anything during your stay, you can either text the staff or swing by the front desk for help. The Trundle may not be the Chateau Lake Louise or Disney's Animal Kingdom Lodge, but it's very mellow and anything you need is easily handled. They're wonderful.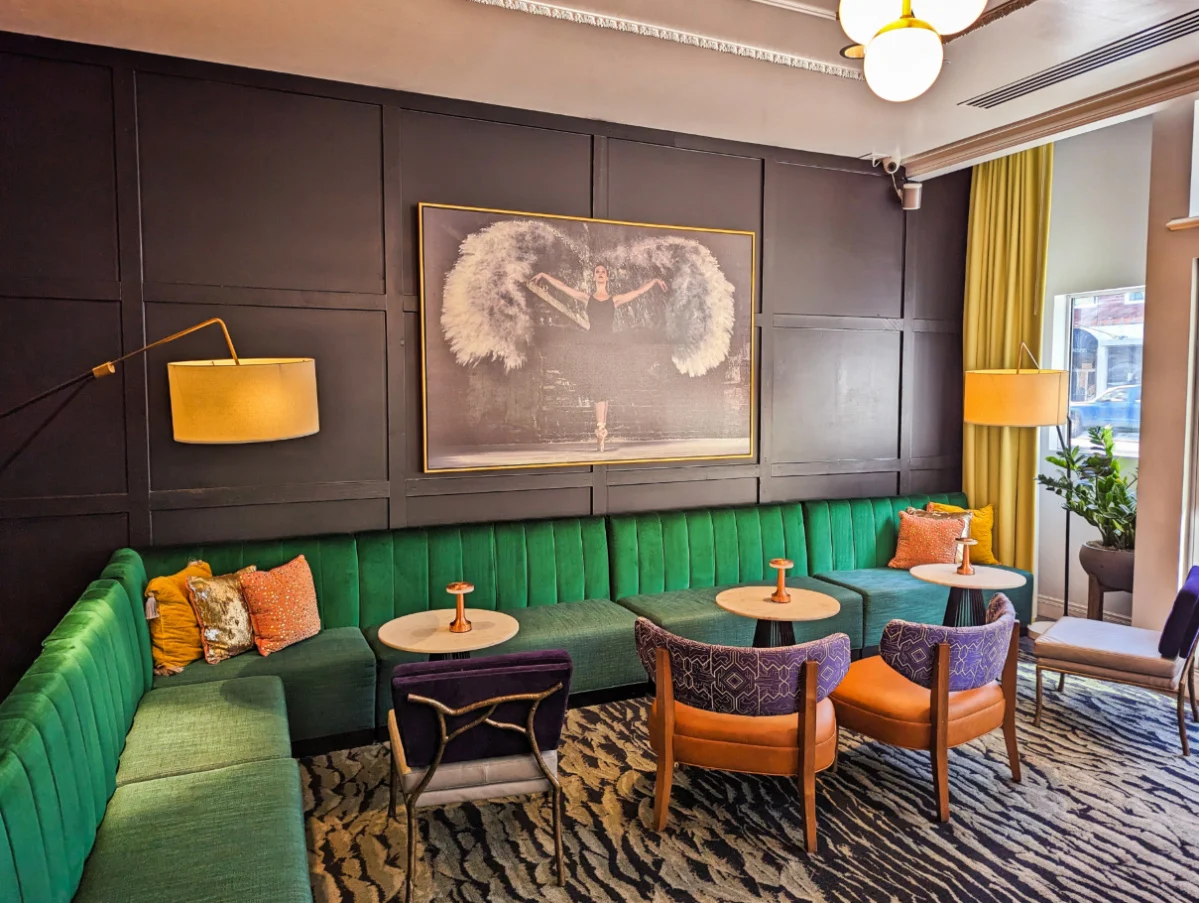 Fitness Center at the Trundle
There is a fitness center on property with cardio equipment, free weights, a universal tower and ample space to work out. The fitness center is well maintained, stocked with towels and a water cooler, and there's a television if you need it during your workout. Also, the wall separating the fitness center from Sumter Street is floor to ceiling glass, so the people walking by are good inspiration to always be focused on your workout.
The only thing missing is a pool. Unfortunately there is no swimming pool or spa at the Hotel Trundle, but thankfully you can go jump in the river if you really need to cool off in water.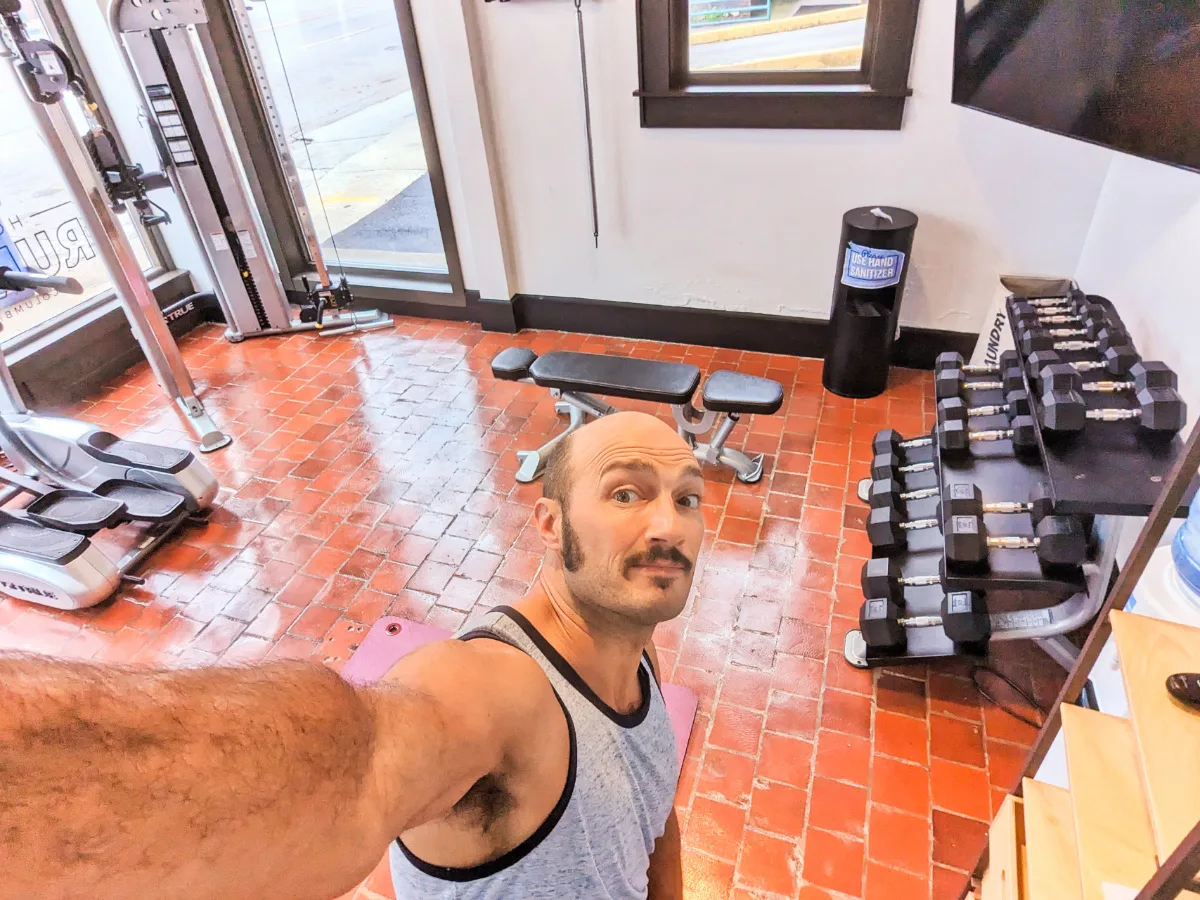 Where is the Hotel Trundle in Columbia?
The Hotel Trundle is located smack in the middle of downtown Columbia, SC. It's located on Taylor Street at Sumter (two of the main streets in town), just off Main Street. It's easy to find and there is temporary parking out front to make checking in quick and painless. The location is great for walking to restaurants, and then if you're in town on business, most of the corporate buildings downtown are no more than a 10 minute walk away.
Already know you want to stay? Book the Hotel Trundle here!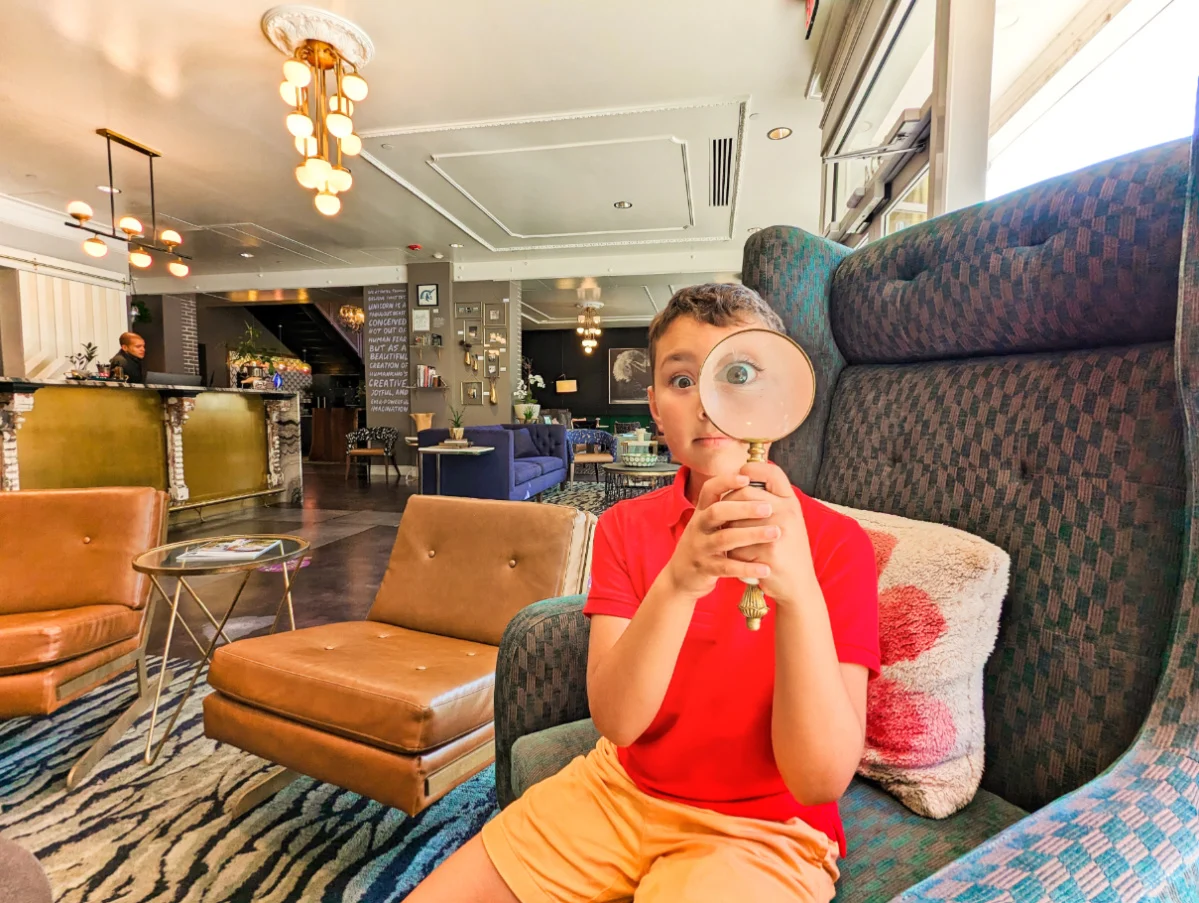 Can I Walk from the Trundle to the University of South Carolina Campus?
Yes! If you're in Columbia to do a campus visit or are seeing friends or family away at school, the University of South Carolina campus is less than a 15 minute walk from the Hotel Trundle. It's 15 minutes on the dot from the hotel to the Horseshoe (USC quad), and just another five minutes or so to many other campus buildings. I would recommend staying at the Trundle Hotel for parents looking to check in on their kiddos but also who want to have a nice trip to Columbia.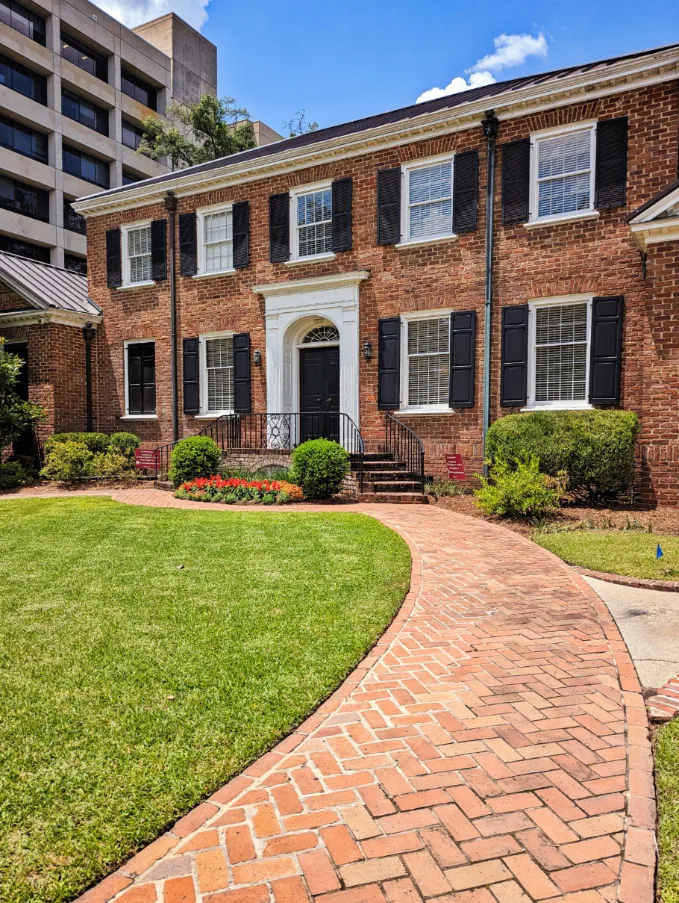 Transportation To and From Columbia Metro Airport (CAE) to Hotel Trundle
The airport code for the Columbia Metropolitan Airport is CAE. You can drive or catch an Uber back and forth, and it's only about 18 minutes away. Easy for early morning departures. When it comes to getting to Columbia, there are daily direct flights from the following cities: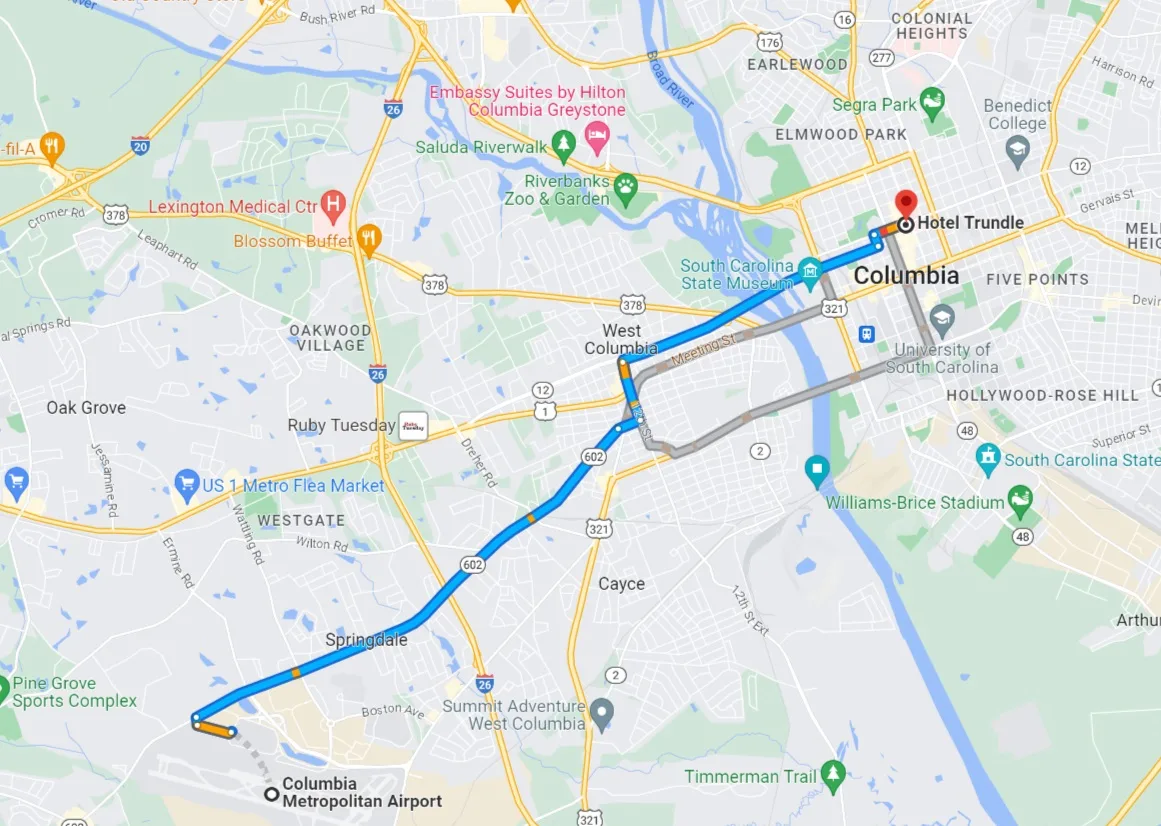 Parking Details at Hotel Trundle
Should you be arriving in your own car or getting a rental, there is self-parking on site at the Hotel Trundle. It's $18 USD per night (Spring 2023 rate) and is quasi-secure. The parking is outside on property and is openly accessible from the street. The area is monitored, but parking is at your own risk as it is a city with its own issues. We didn't have any problems during our four days at the Hotel Trundle, but use your best judgment.
Ten Fun Things to do at/near the Hotel Trundle
First off, you should check out our complete article about all the fun things to do in Columbia SC, because the city really is awesome and is great for both education and enjoying the outdoors. When it comes to things to do nearby the Hotel Trundle, these suggestions are easy and perfect for experiencing the best of Columbia.
Enjoy vintage pinball and games at Transmission Arcade
Go bowling and have a drink at The Grand on Main
Check out the surprisingly famous art works at the Columbia Museum of Art
Do a guided (or self-guided) tour of the South Carolina State House
Rent a bike a go for a ride around the city
Pay a visit to the Riverbanks Zoo and Gardens
Walk the Three Rivers Greenway boardwalk along the Saluda or Congaree Rivers
Find dinner, drinks and dessert in the historic building of the Congaree Vista neighborhood
Tour the Robert Mills House and Gardens (walkable, 10 minutes)
Plan a day trip into Congaree National Park (or nighttime for fireflies!)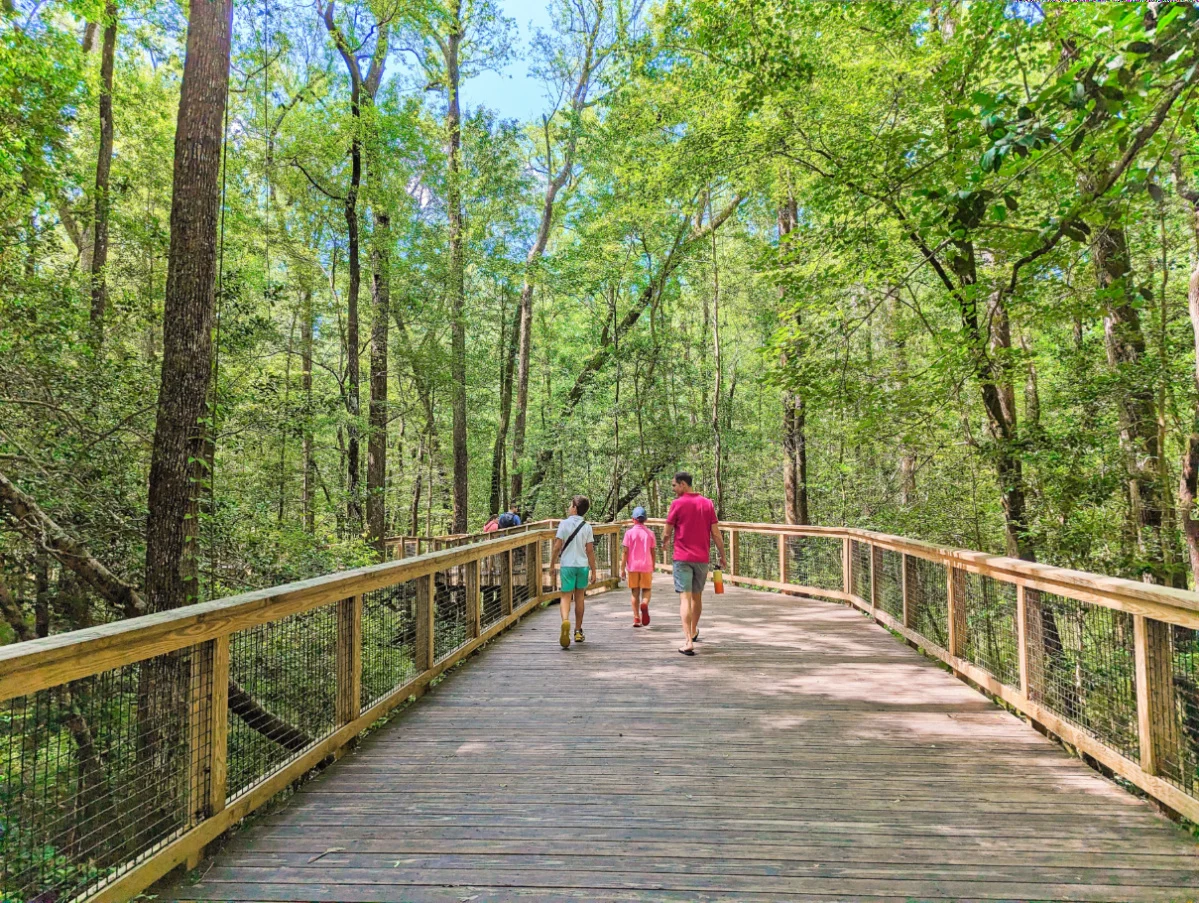 As you can see, we loved our stay at the Hotel Trundle in Columbia SC. We would happily stay again, and plan to head back for a holiday visit. The location, the staff and the whole experience was top notch.
If you have any questions about staying at the Trundle, visiting Columbia, SC or exploring Congaree National Park, please let us know. Leave a comment or send us a note. We're always happy to help!