The Fairmont Chateau Lake Louise was the first fancy hotel I ever stepped foot in in my entire life. I was a little kid on a camping road trip through the Canadian Rockies and we went in to use the restroom while visiting Lake Louise. I knew then that it was a gorgeous place that I wanted to stay at someday, and now I have. I've got all the details about staying at the Fairmont Chateau Lake Louise, including great ideas for exploring both the immediate lake area and more of Banff National Park.
Have you stayed at the Fairmont Chateau Lake Louise or just visited? It used to be much easier to pop in and check it out, but in recent years with the growing popularity of both the Chateau and Lake Louise in general, it's much more controlled now. And that's why you can just plan to add it to your top-shelf Canadian travel list! We stayed here as a part of our Rocky Mountaineer Journey doing the eastbound First Passage to the West train from Vancouver to Banff.
I hope I do the property justice as I share, but if you have any questions that I don't answer, of if you want to make a comment about your own experience, please leave a note below or contact us. We're always happy to share more!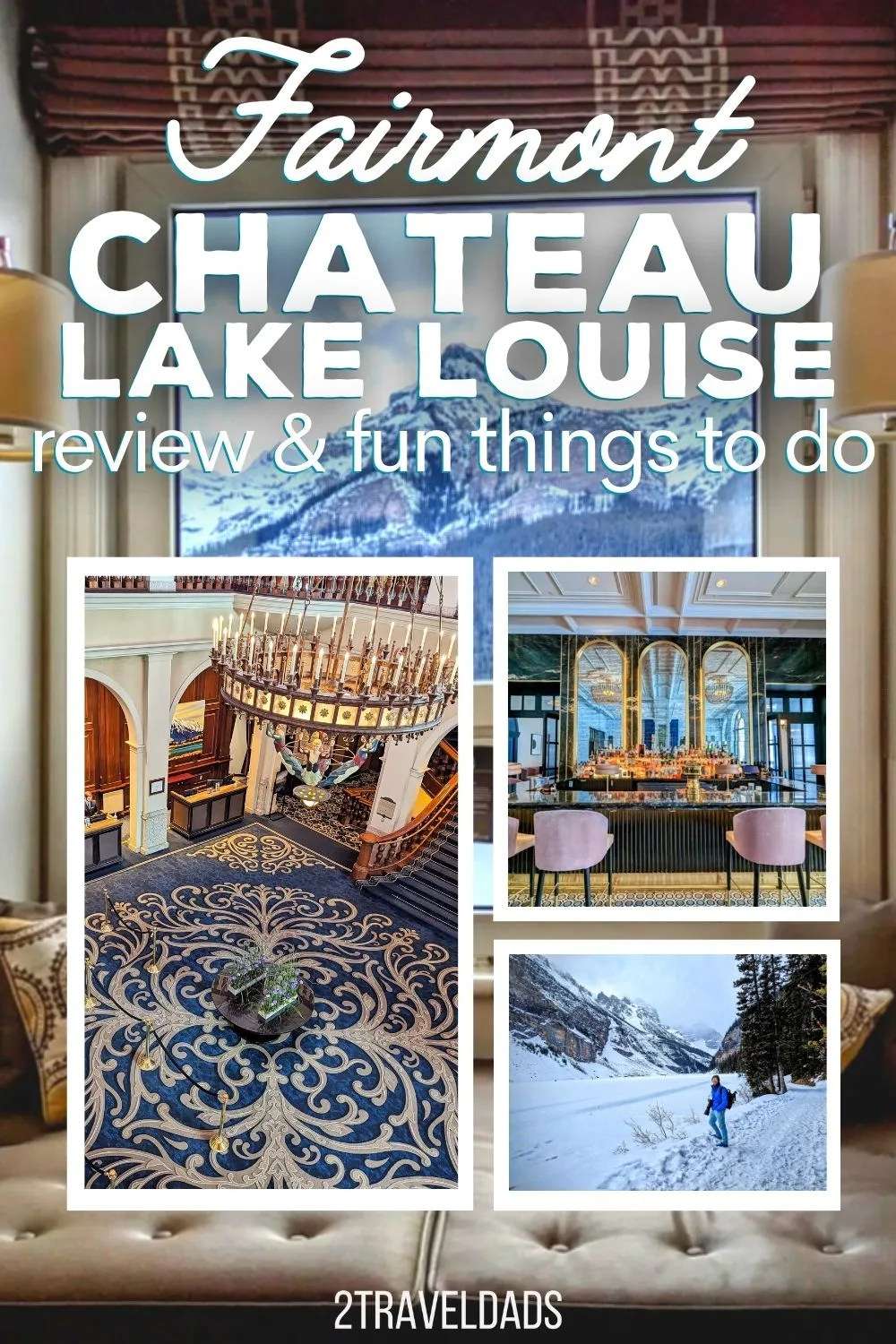 What Are the Accommodation Options at the Chateau?
As you look at booking the Fairmont Chateau Lake Louise for your trip to the Canadian Rockies you've not got a ton of options for room types, but you'll love them. The standard Fairmont rooms are not huge, but they will certainly do if you're looking for a comfortable room that is nice like you'd expect of a Fairmont. The rooms at the Chateau Lake Louise mostly vary by the view that you can book, but then they do also have some wonderful junior suites.
For guests you're visiting in winter/early spring, a larger room may be worth the upcharge if you plan on having lots of time in the room. The junior suites are significantly larger with a separate seating area. When you're booking a hotel at this price point and expectation of luxe and service, the difference is room rate isn't as much as you might expect. I think when you're already booking in this budget zone, the step up isn't that much more.
Book the Fairmont Chateau Lake Louise here!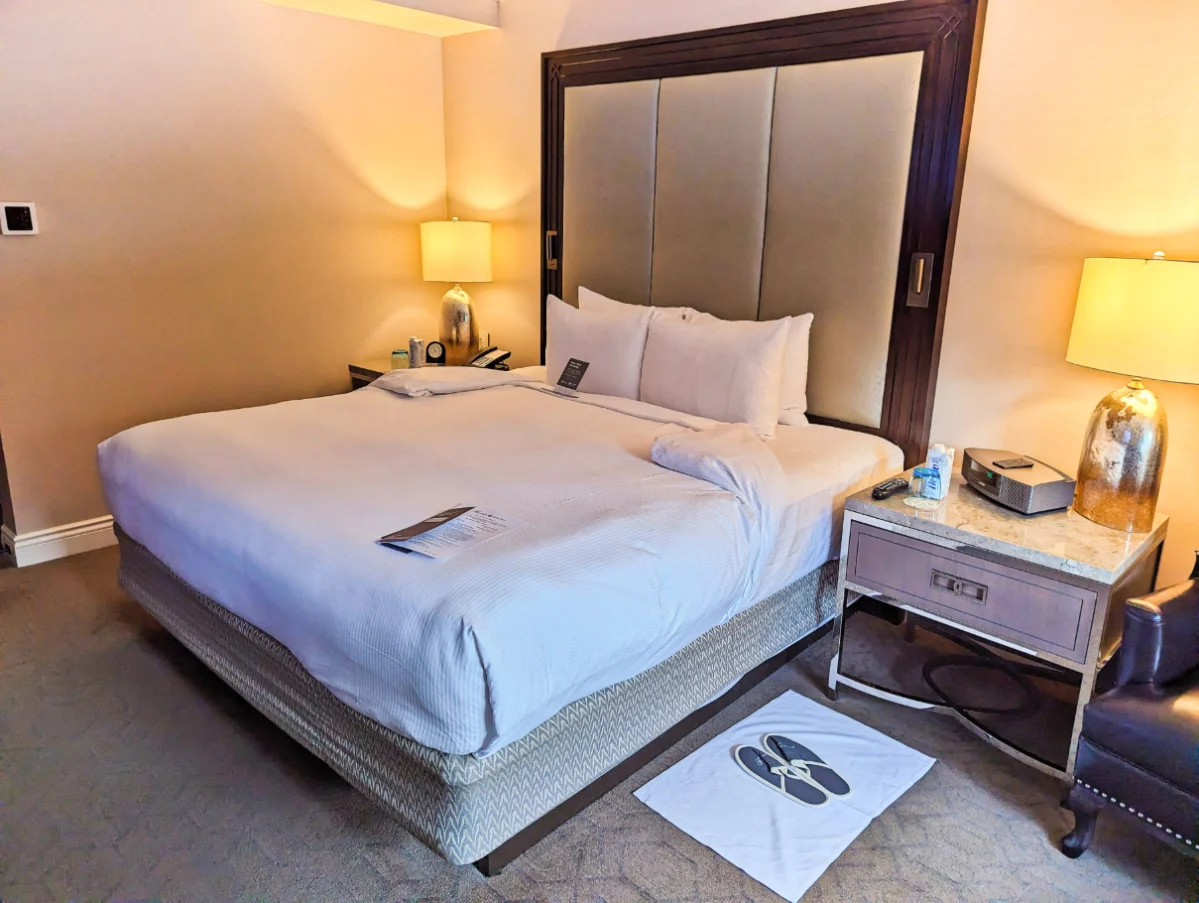 Top Pick: Fairmont Gold Lake Louise View
If you're staying at the Fairmont Chateau Lake Louise, you might as well go for the gusto. To me, this is a bucket list hotel experience and the way we generally operate for travel budgeting, we spend more for the more grand experience if it's less than 20% more than what we've already planned. For us, this means longer excursions sometimes, better seats or an upgraded hotel room. If you opt for the Fairmont Gold rooms at the Chateau Lake Louise, in addition to having a lush room on a high floor with a view, you also have access to your own check-in experience and perpetual drinks and snacks in the Fairmont Gold Lounge (details below).
As I said, if you're going to be planning a stay of this caliber and really leveraging your time at the hotel, it's worth it to book the upgraded experience. At the Fairmont Chateau Lake Louise is really is top notch.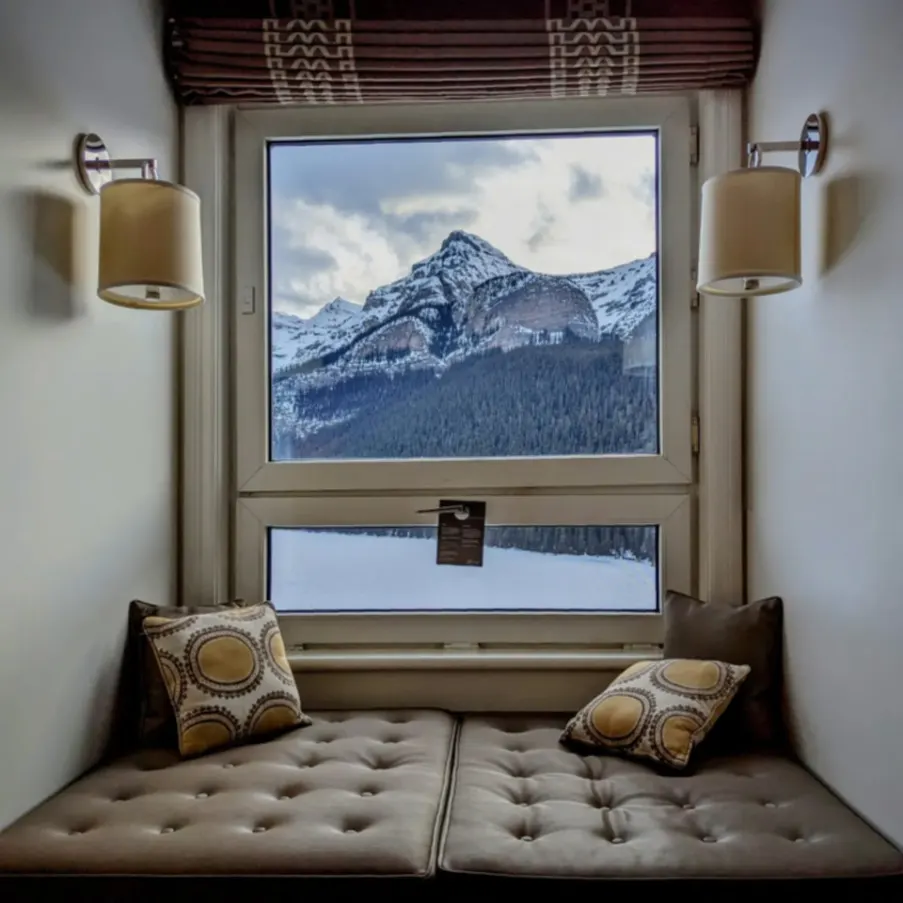 Check in / Check Out at the Chateau Lake Louise
I love grand hotel lobbies and the Fairmont Chateau Lake Louise certainly has that. Check in is simple here, and the goal is to be seamless from arrival to departure, so if you have any questions or needs, ask when you're first arriving. That way the hotel staff has the opportunity to take care of whatever you need.
If you are arriving as a part of a tour group (we arrived with the Rocky Mountaineer guests) a hotel representative will likely have your key packets made and provide you with information about the hotel without having to manually check in. If that's not the case for your travel party, don't worry, they're an efficient bunch.
Check out is as easy as just leaving or you can stop by the desk. Having worked in many hotels, I really appreciate how buttoned-up Fairmonts run.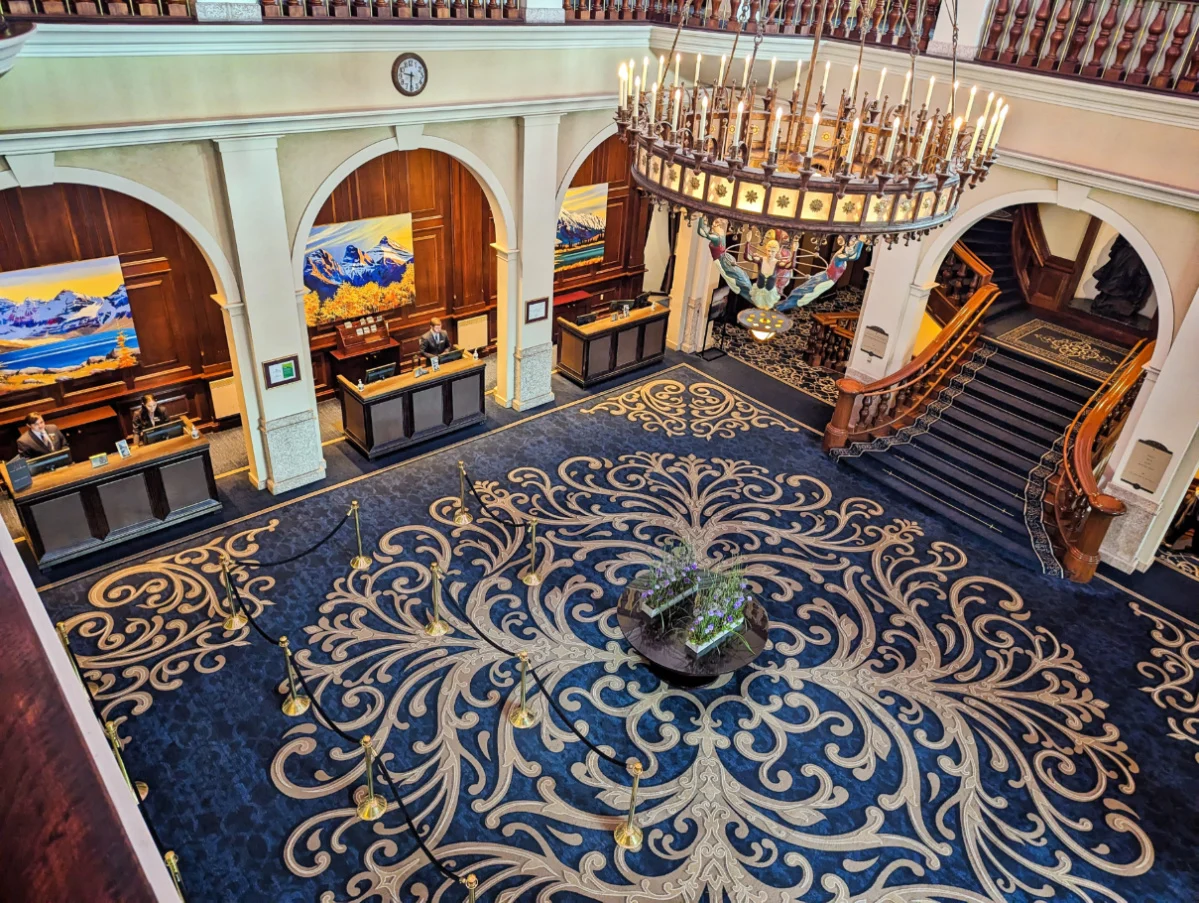 Fairmont Chateau Lake Louise Amenities
Top shelf hotels tend to have many amenities standard hotels do not, and the Fairmont Chateau Lake Louise surpasses even what we found at the Fairmont Hotel Vancouver or Fairmont Palliser Hotel in Calgary. Here, in addition to what we dig into below, the Chateau Lake Louise also has a children's area, guided nature walks, snow cleats (during winter months), a "living room" space full of books and games in a beautiful setting, and daily presentations about the history of the Chateau. We were able to take advantage of each of these, except the children's area. Amazing!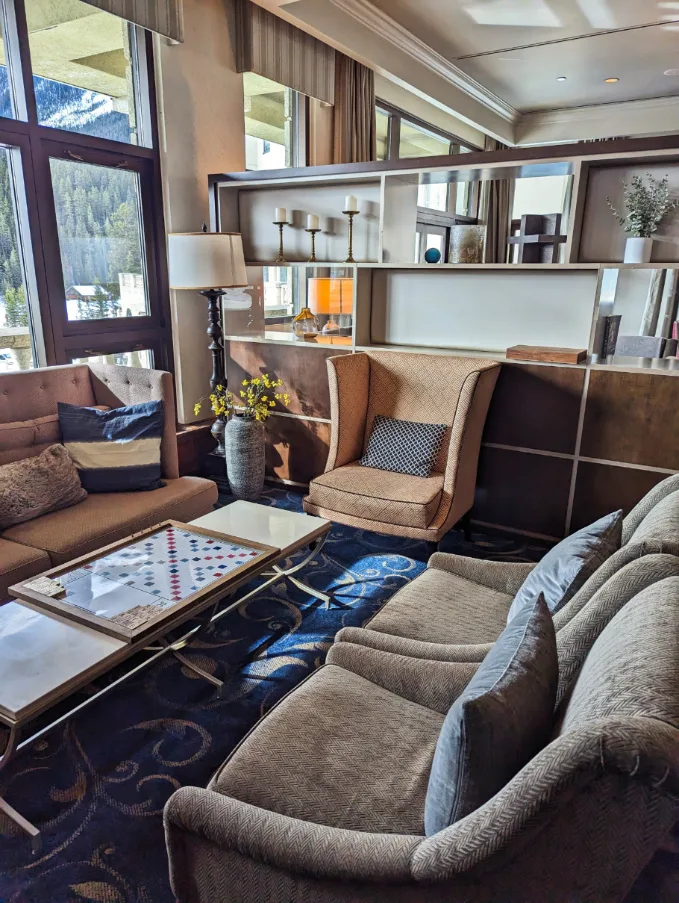 Pools at the Chateau
Currently (2023) there is a big project happening at the Chateau Lake Louise. They are constructing outdoor thermal pools and a whole wellness area for the resort, but in the meantime, guests only have access to the indoor pool and hot tub. It's a wonderful set up with the swimming pool being quite large (and adults only at the end of the day) and the hot tub also being huge.
In the pool area there is also a co-ed steam room. There is an attendant at the entrance to the pool area too, providing towels and is available in case you need anything else.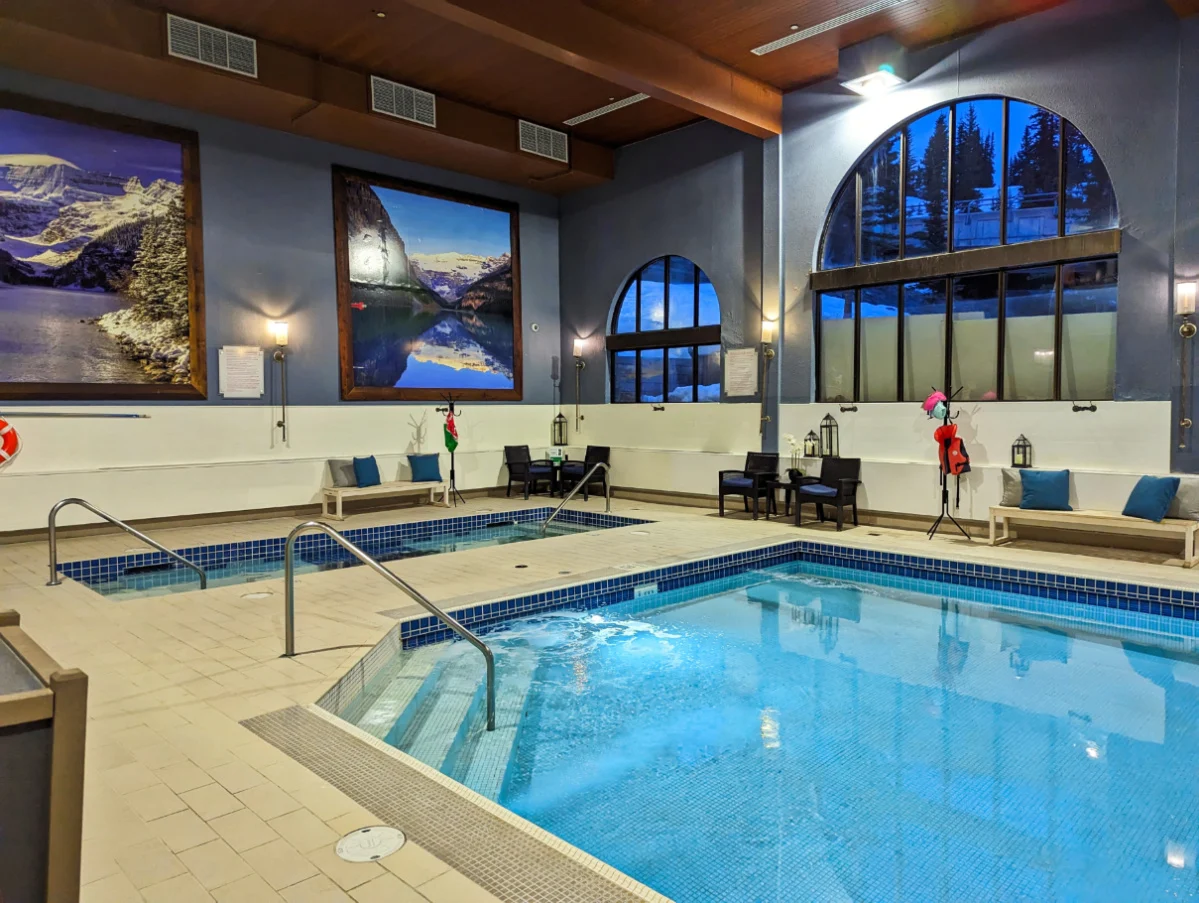 Fitness Center and Spa
The fitness center at the Fairmont Chateau Lake Louise is not as large as others I've used, but it's well maintained and has ample equipment. If you're there planning to do some lifting or cardio that ISN'T on a machine you'll be hard pressed for space if there is anyone else in the fitness center, but it'll do. You're on vacation and hopefully are getting in some hiking, so you don't need to spend a tons of time in here.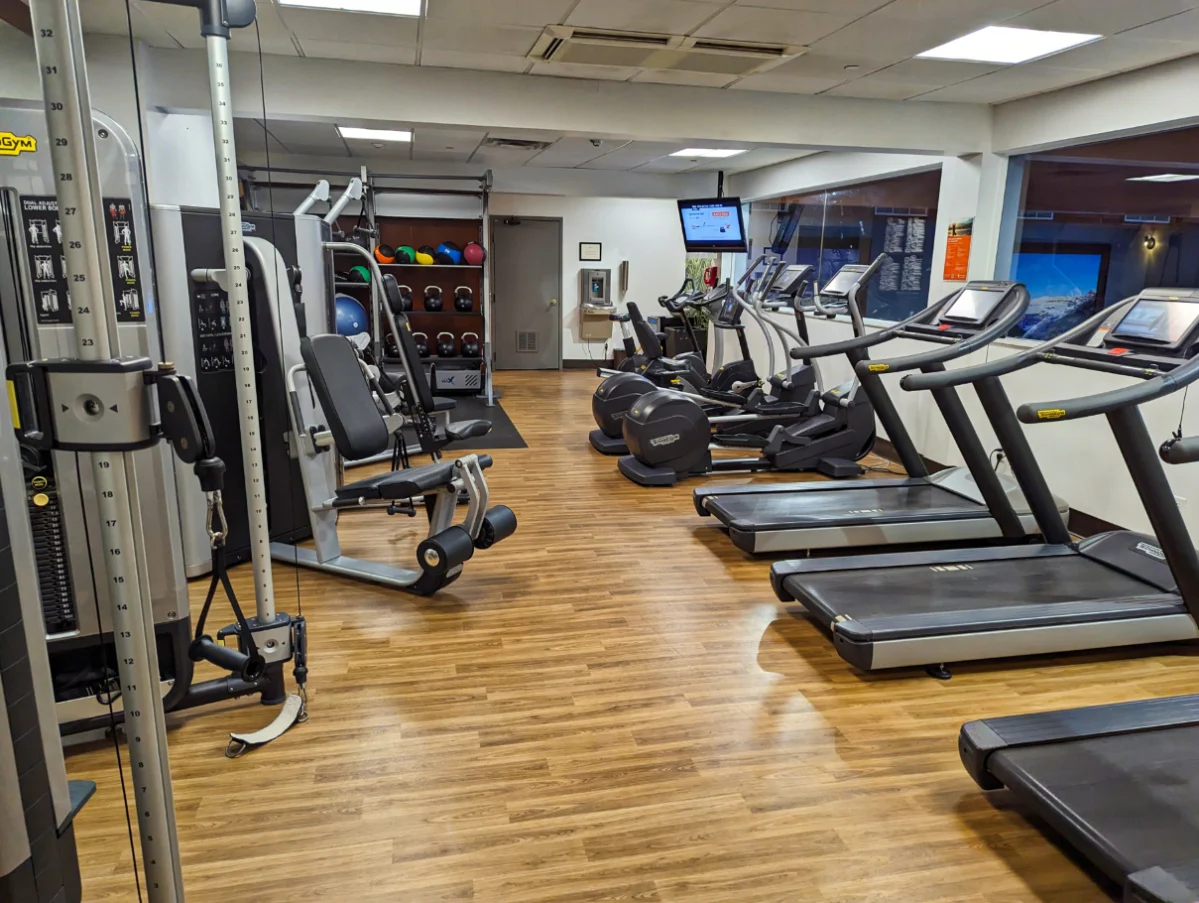 The spa at the Chateau is located on the lower level of the hotel, away from the fitness center or gym, which is very different from the Fairmont Palliser setup where they all exist in close proximity in a health quadrant of the hotel. The spa here is actually quite large and includes a salon, as well as quiet relaxation space for before/after treatments. I need to work spa time into our travels…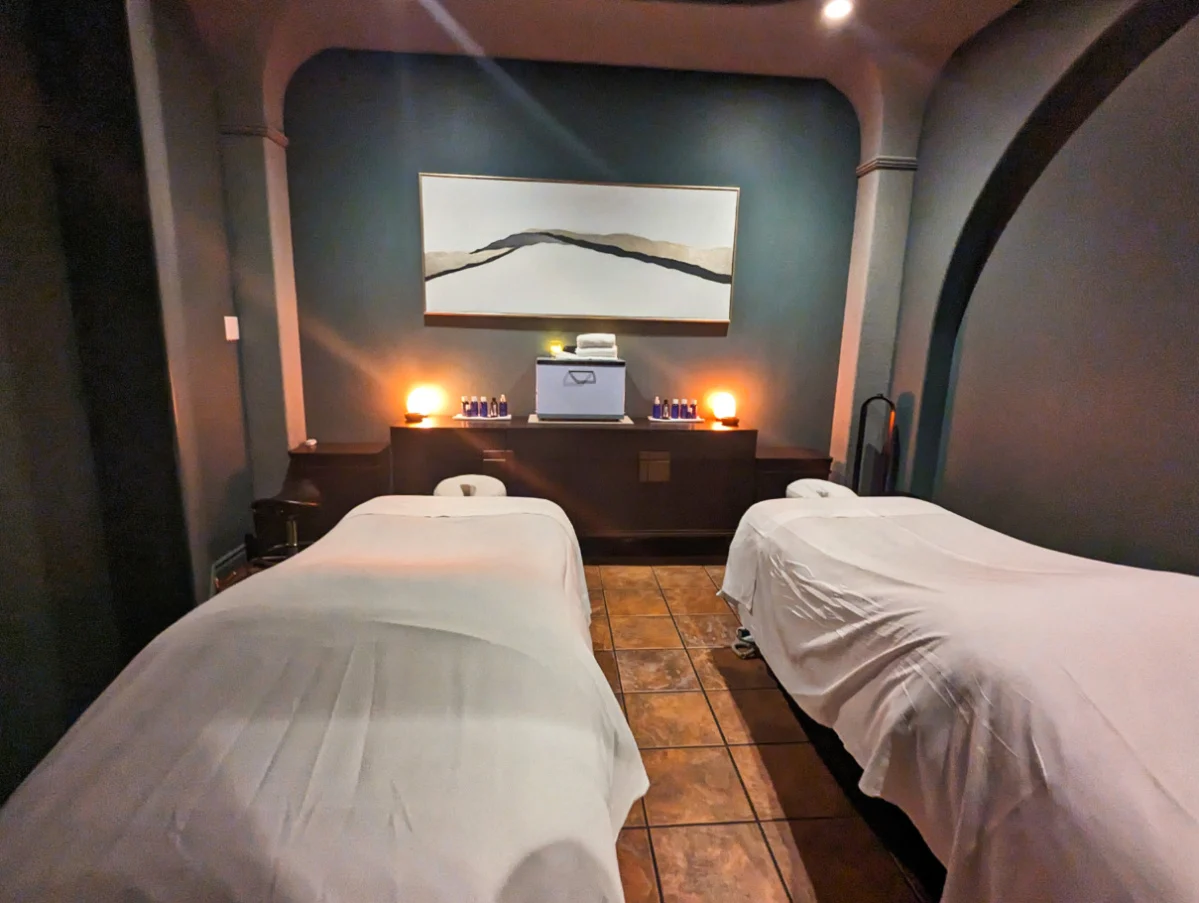 Dining at the Chateau Lake Louise
Most hotels only have one or two restaurants, but the Fairmont Chateau Lake Louise is full of them. I think the expectation when somebody checks into the Chateau is that they don't need to leave for the duration of their stay, and why would you want to… If you're doing the Canadian Rockies road trip and this is your premium destination for the plan, be sure to enjoy the different dining options here at the Chateau, as they'll be one of the highlights of your trip.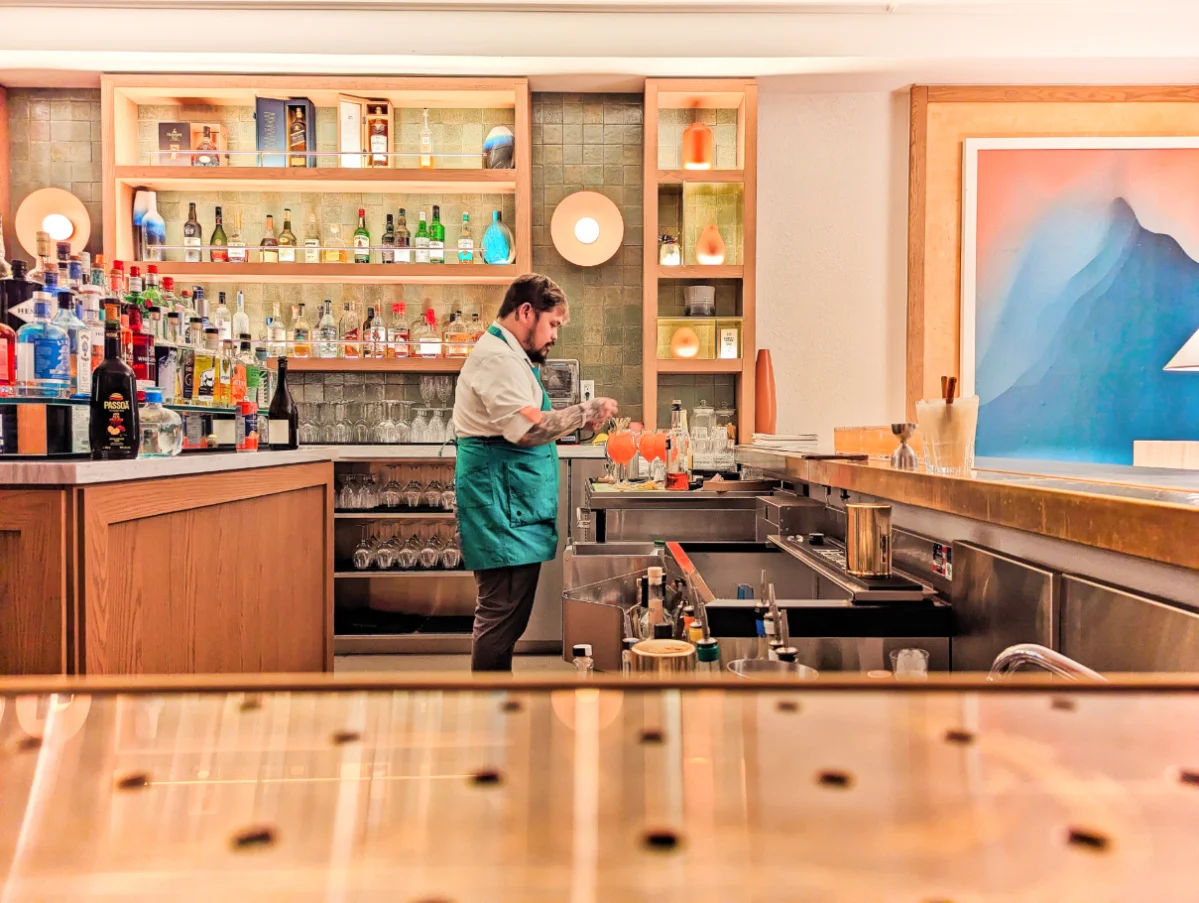 Simple Grab-and-Go at the Guide's Pantry
Not all dining at the Chateau Lake Louise has to be fancy, so if you just want to grab food to take on a hike or enjoy by the lake, the Guide's Pantry is an easy place to pop into. You can grab coffee and pastries or lunch items to go. Also, they do have alcohol if you're looking for drinks to enjoy in your room.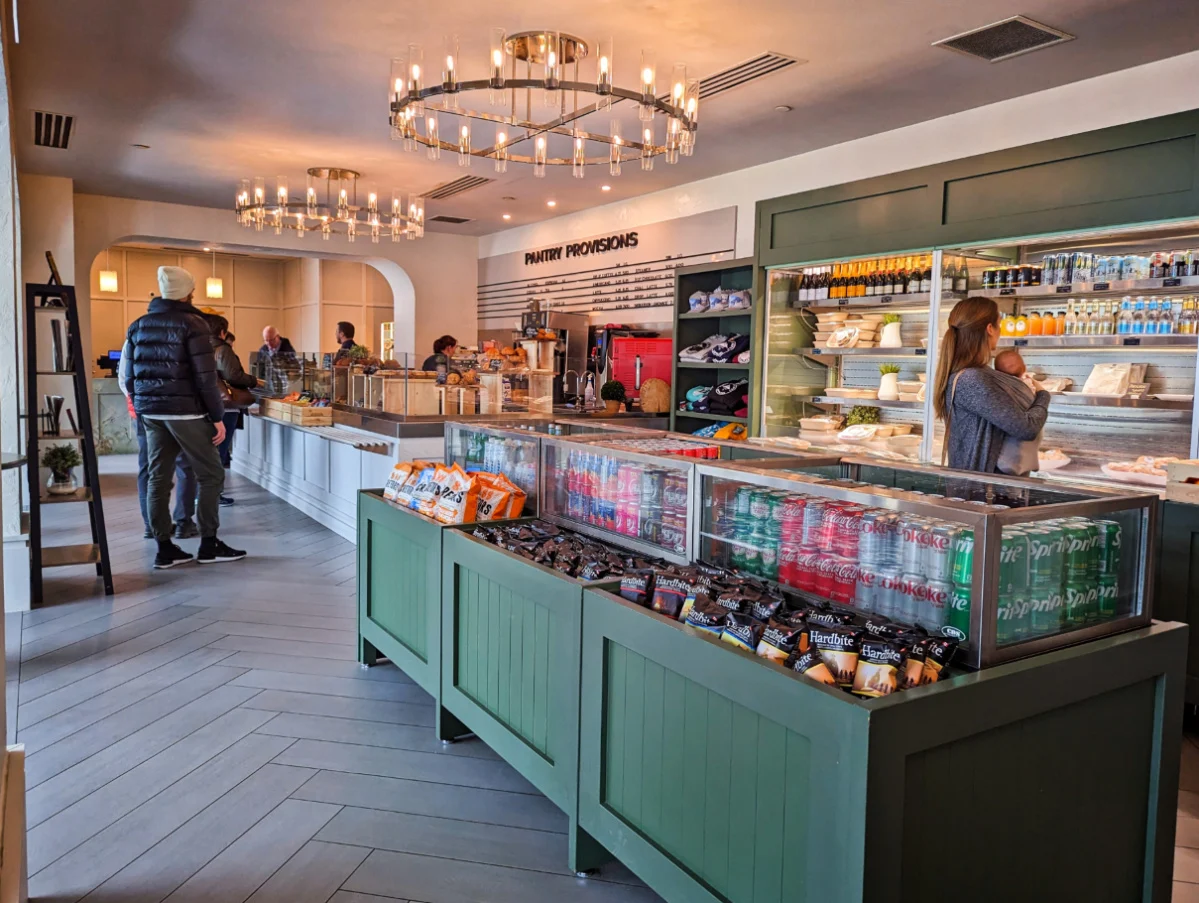 Easy Snacks, Apps and Cocktails at the Fairmont Gold Lounge
Since we had access to the Fairmont Gold lounge while staying at the Chateau Lake Louise, I think it's worth sharing what's available. Each morning there is a continental style breakfast with a server available for any special requests. Both sweet and hearty snacks are available throughout the day, with canapes in the afternoon.
There is also an honor bar system in place at the Fairmont Gold lounge. There are premium spirits and mixers and you can make your own drinks. You then complete an honor bar form and leave it, and that will be billed to your room. There are plenty of tables and cozy nooks for relaxing, and the lounge is open late so it's a great place to end the day.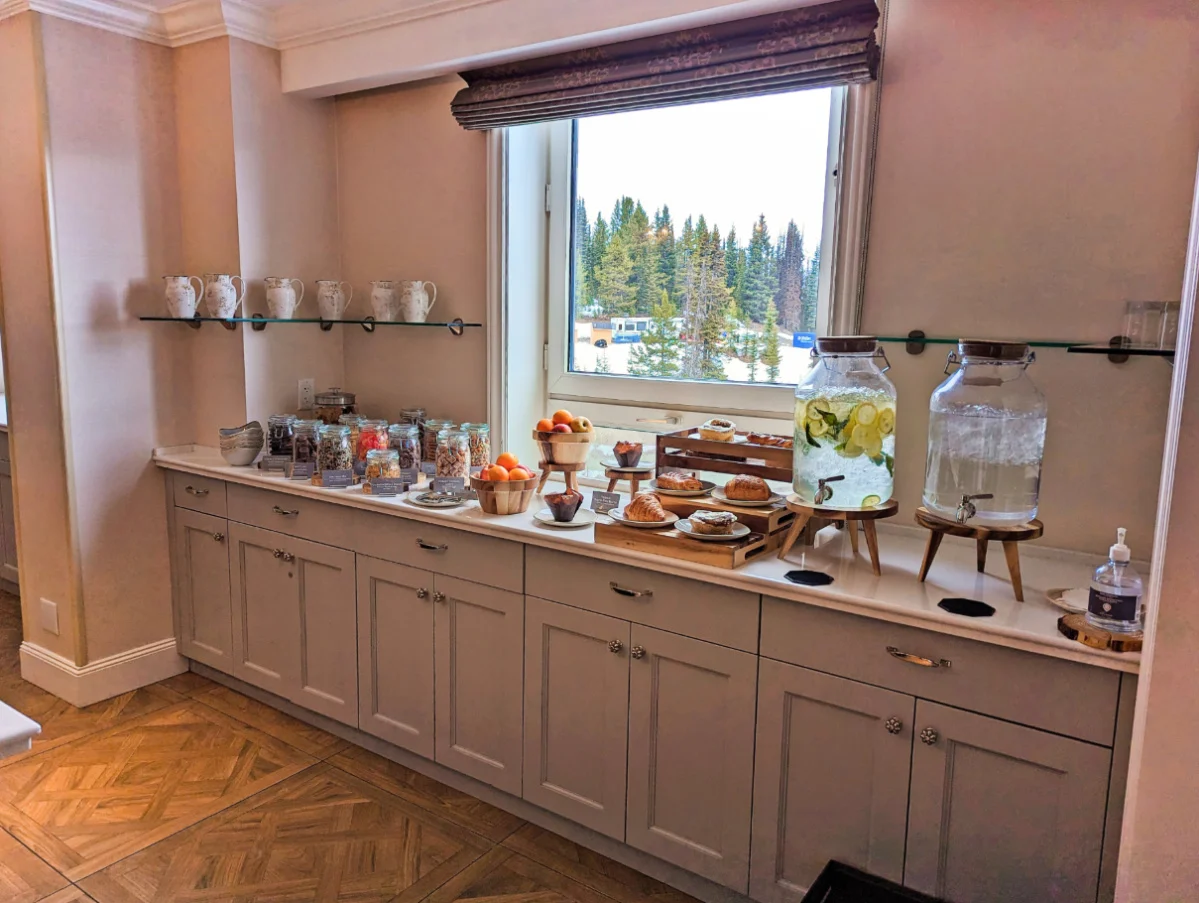 Cocktails at the Fairview Bar
The Fairview is my favorite cocktail spot at the Chateau Lake Louise. The Fairview is loaded with unique cocktails and the setting is really beautiful. My favorite cocktail is the Alpenglow, because it's just delicious and it has chartreuse. Here's you'll find drinks unique to the Fairview Bar and also a selection that are Fairmont standards. I love it all.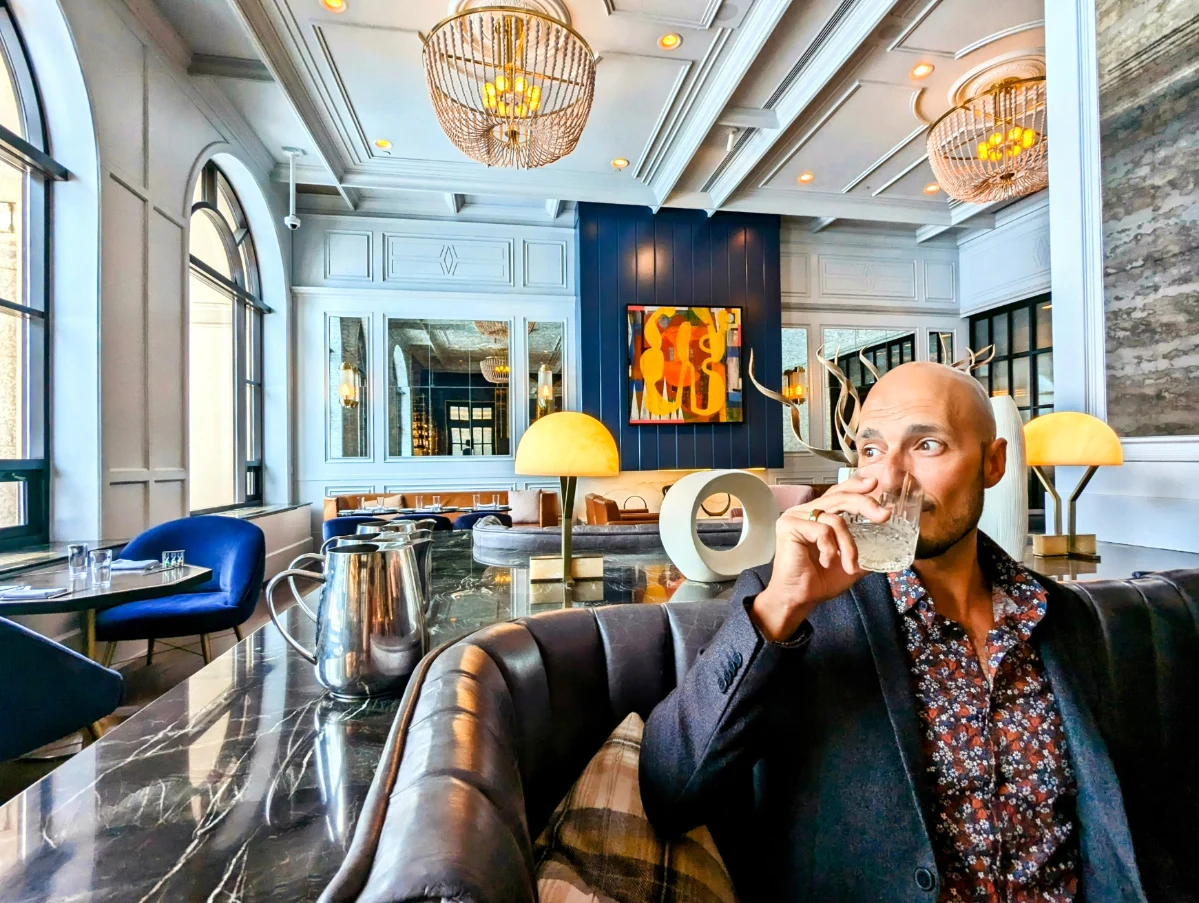 Afternoon Tea at the Fairview
I love having afternoon tea, whether it's in London, UK or Victoria, BC or here at the Chateau Lake Louise. Afternoon tea is an amazing selection of tiny sandwiches, scones, meat canapes and desserts. It's a fun variety. At the Fairview Restaurant, you'll also have a whole tea menu to pick from. I loved the mint tea from Lot 35 (the Fairmont brand) and got a kick out of the tea timer and its different hourglasses.
Something I was impressed with for the afternoon tea was how accommodating the kitchen was for allergies and dietary restrictions. In our group we had gluten-free, vegan, vegetarian and other dietary requirements and they were ready and able to suit everyone's needs. Fantastic service!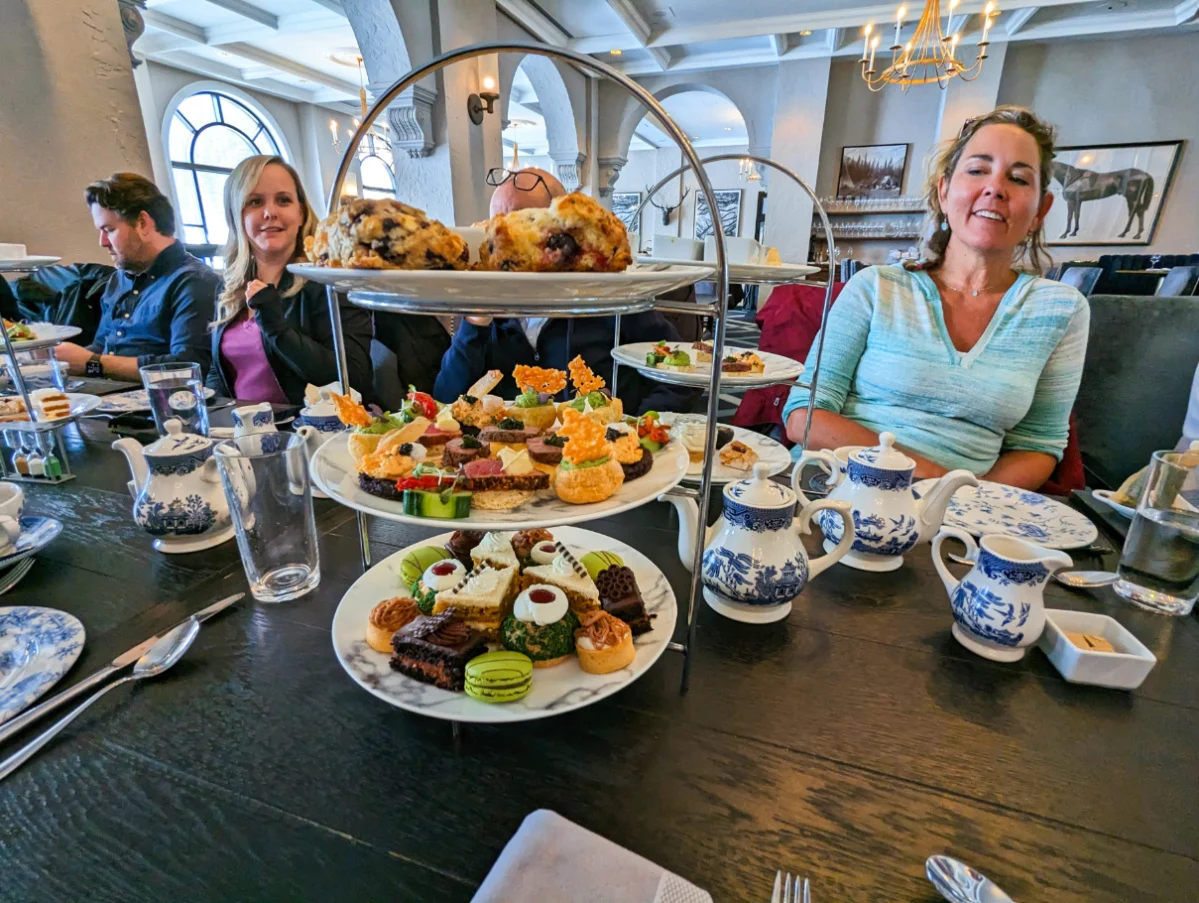 Book the Fairmont Chateau Lake Louise here!
Stores on Site at Chateau Lake Louise
I was surprised at the number of and types of shops on property at the Fairmont Chateau Lake Louise. Whether you need the travel basics or you're looking for cowboy boots for going on a trail ride in the Canadian Rockies, there's a shop for it at the Chateau. There's also a Goodies shop, a musk ox wool shop and more. I try no to shop a lot when I'm traveling because then I have to bring it home, but if you are inspired, there are some unique finds.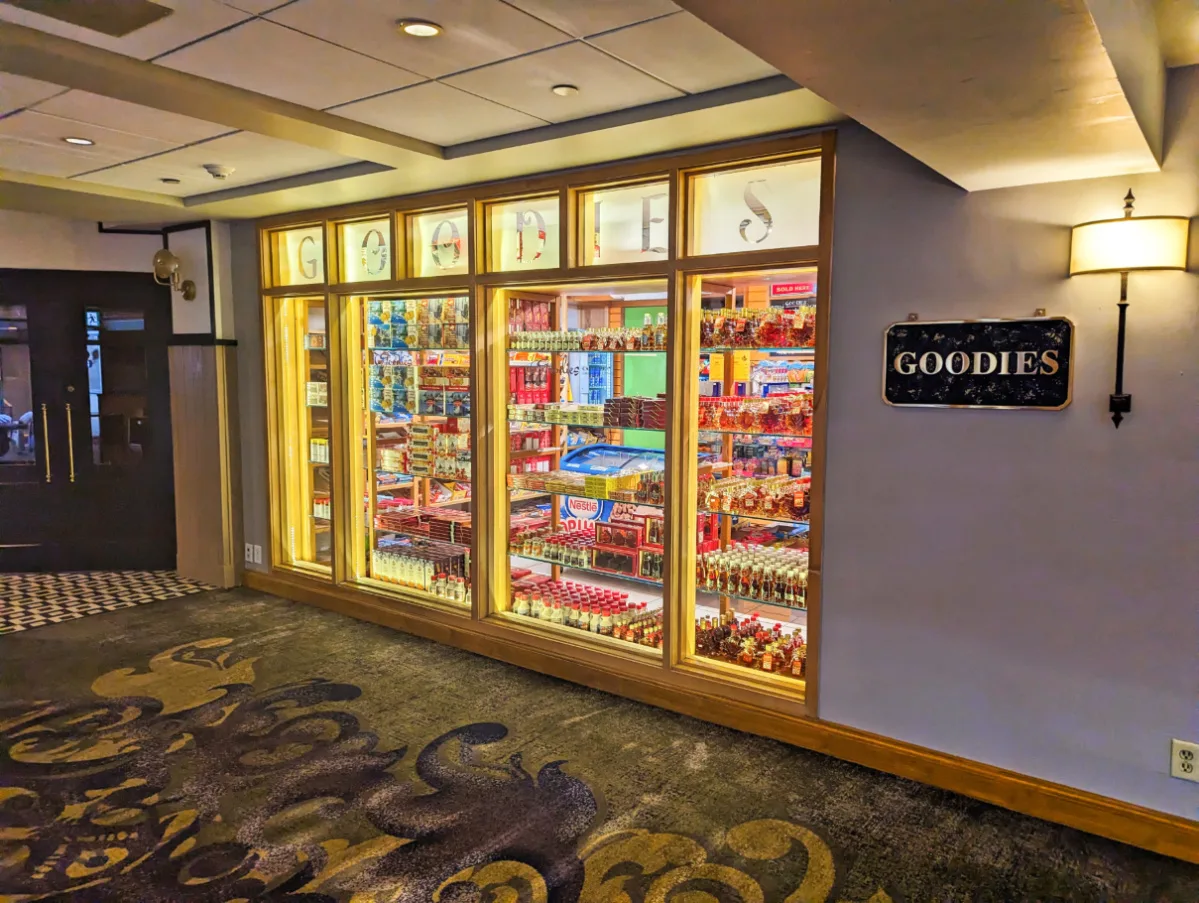 Where is the Fairmont Chateau Lake Louise?
As you can imagine, the Fairmont Chateau Lake Louise is directly on the shore of the world famous Lake Louise. It's about 40 minutes drive from the town of Banff and just a few minutes closer to the beautiful Emerald Lake in Yoho National Park. When it comes to getting from the airport in Calgary, YYC, it's a little over two hours to the Fairmont Chateau Lake Louise.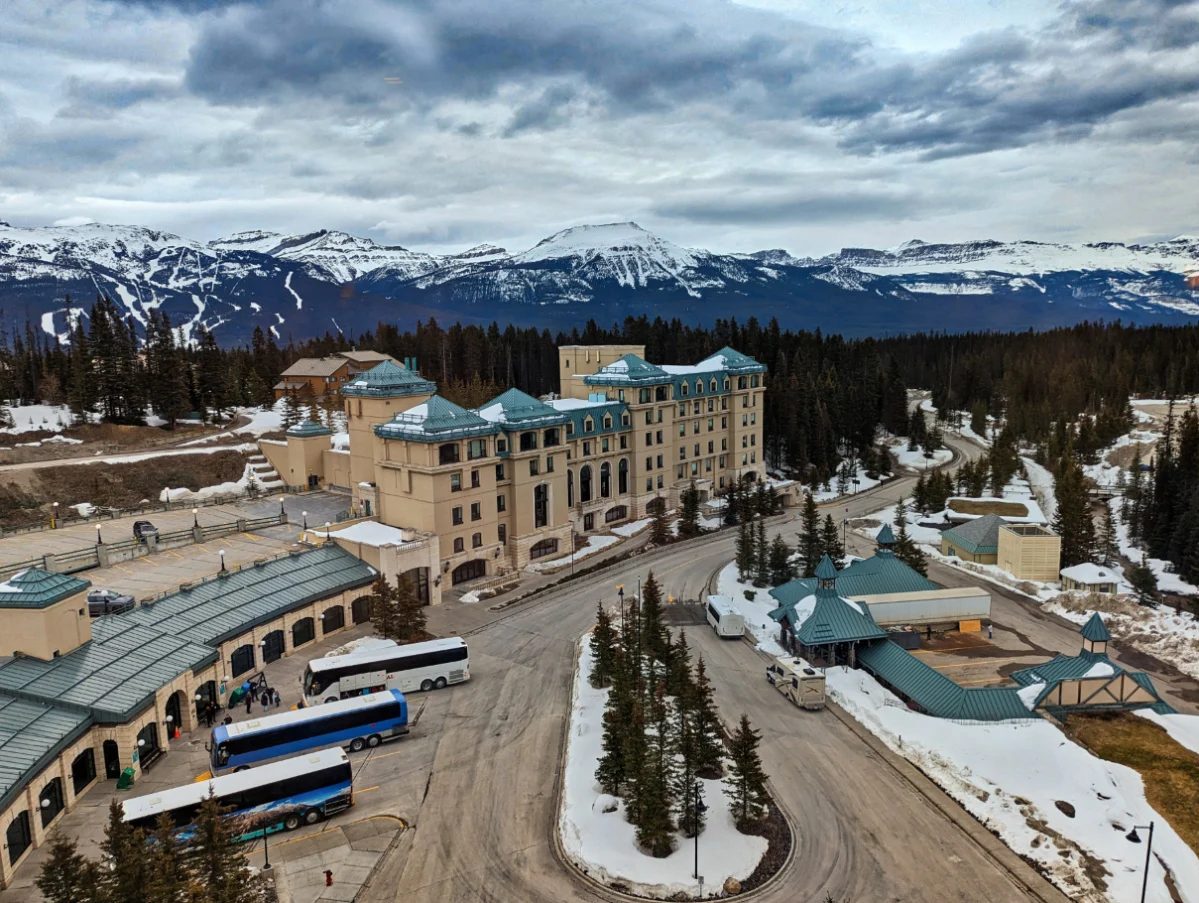 Transportation To and From Banff or Calgary
I think the best way to get from Calgary to the Chateau Lake Louise is in your own rental car. If you get it from the airport, you can usually arrange it to be returned to a different destination, such as Lake Louise or downtown Banff, or you can actually just keep it and enjoy an amazing Canadian Rockies road trip.
Other option for getting to the Chateau Lake Louise from Calgary is the Brewster Express. This motorcoach goes between Calgary International Airport or downtown Calgary to a variety of stops in Banff and to Lake Louise. The Brewster Express bus actually continues all the way up to Jasper if you do want to plan a trip to a variety of locations without a car.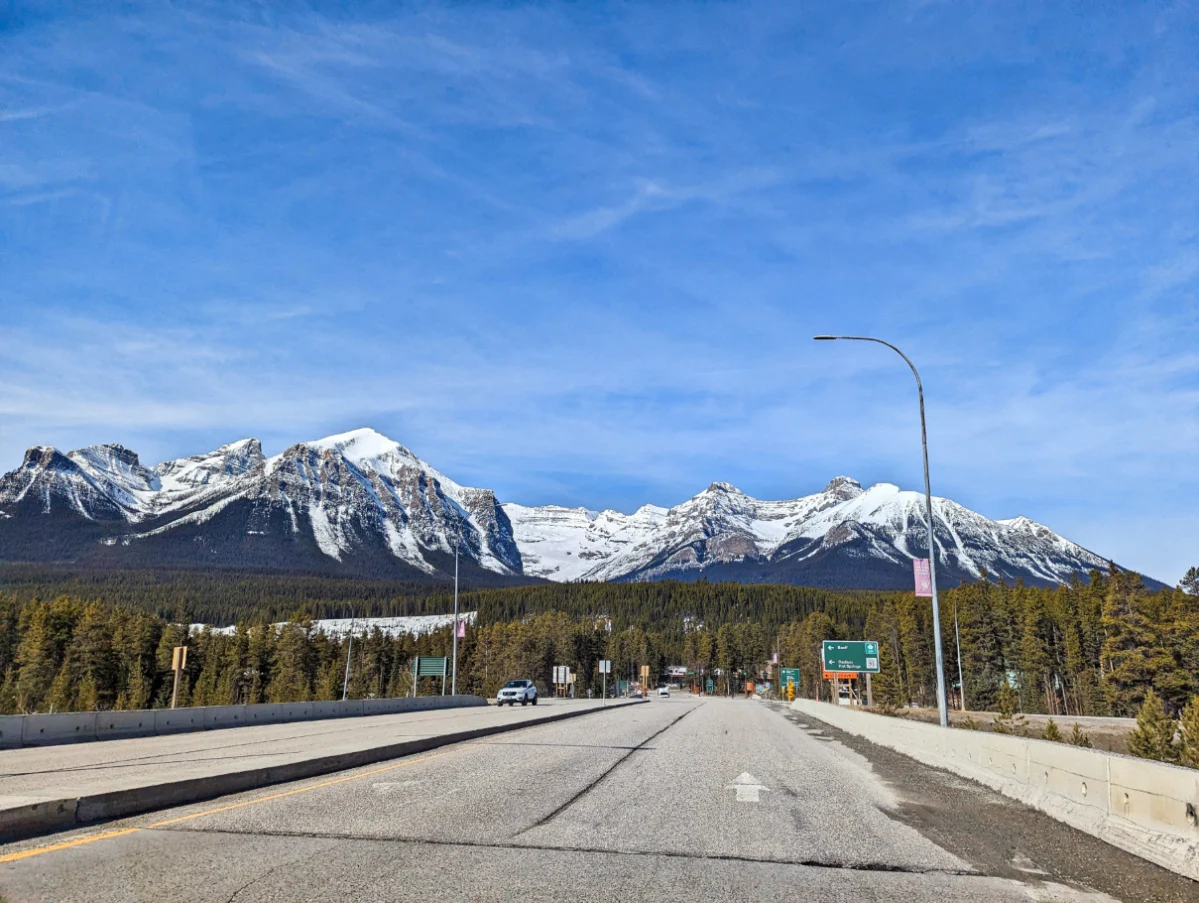 Parking Details at Chateau Lake Louise
There is parking available at the Fairmont Chateau Lake Louise. Self parking is $30 CAD per night and valet is $45 CAD (2023 prices). Of course you have in and out privileges, so if you're exploring over several days you'll be able to come and go as you like with ease.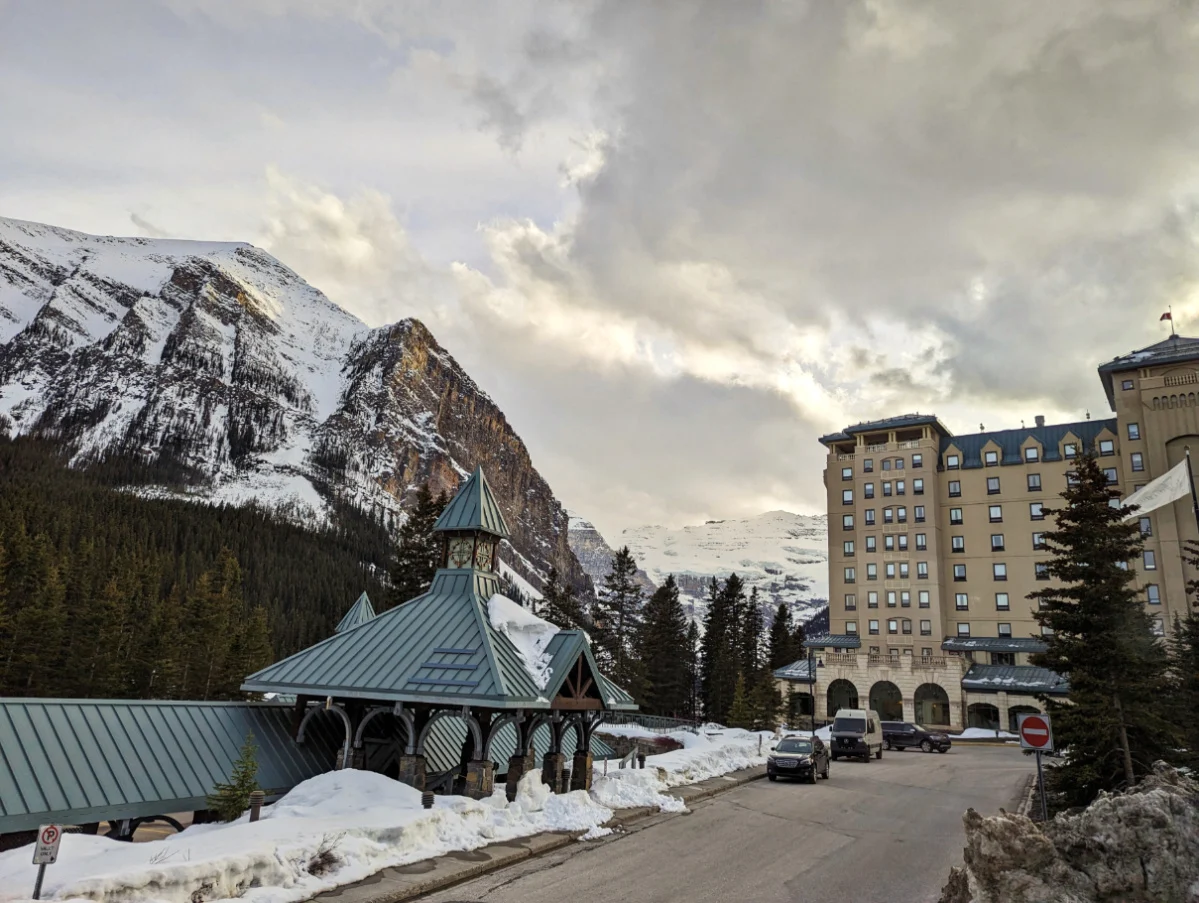 Renting a Car at the Chateau
There is actually a Hertz rental car location at the Fairmont Chateau Lake Louise. We rented a car here during our stay and the team made it so we could actually return it to the Banff Springs Hotel location, so it was an easy transition from Lake Louise to the actual town of Banff. If you've rented a car to get to Lake Louise and around Banff National Park, you'll be able to park it on property should you plan on keeping it.
Note: you cannot always do a one-way car rental, so only count on that if you've pre-booked that. Because they have limited needs and keep limited inventory at both Chateau Lake Louise and the Banff Springs Hotel locations, one-way rentals aren't always allowed.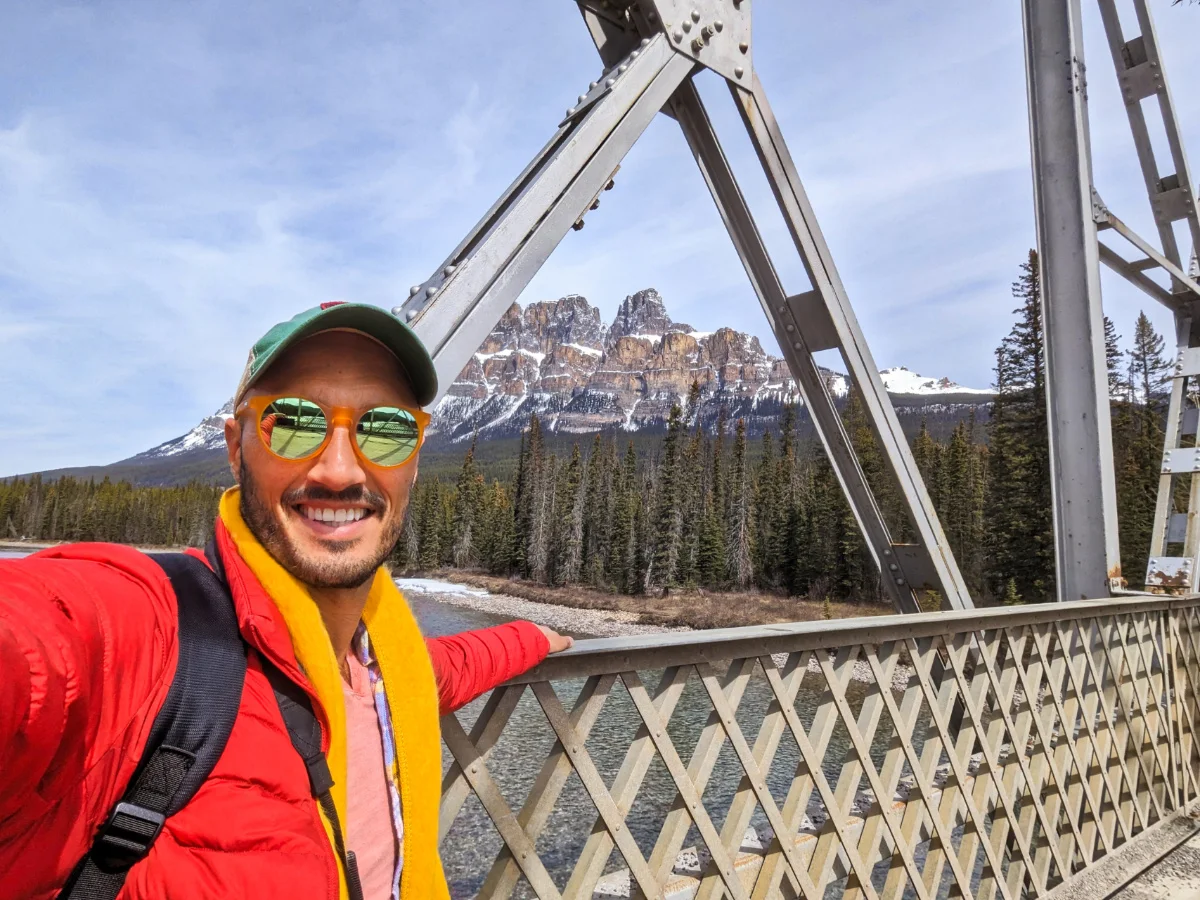 Can I Hike from Lake Louise to Moraine Lake?
Two of the most beautiful lakes in Banff National Park are fairly close to each other: Lake Louise and Moraine Lake. And guess what! You can actually hike from one to the other! Yes, it's a 13.5 mile hike and it's considered to be very difficult (both for the distance and elevation change). I haven't done this full hike, but I've done the first few miles from Lake Louise and the first few from Moraine Lake, but never the whole thing. That's one of my Canadian hiking goals.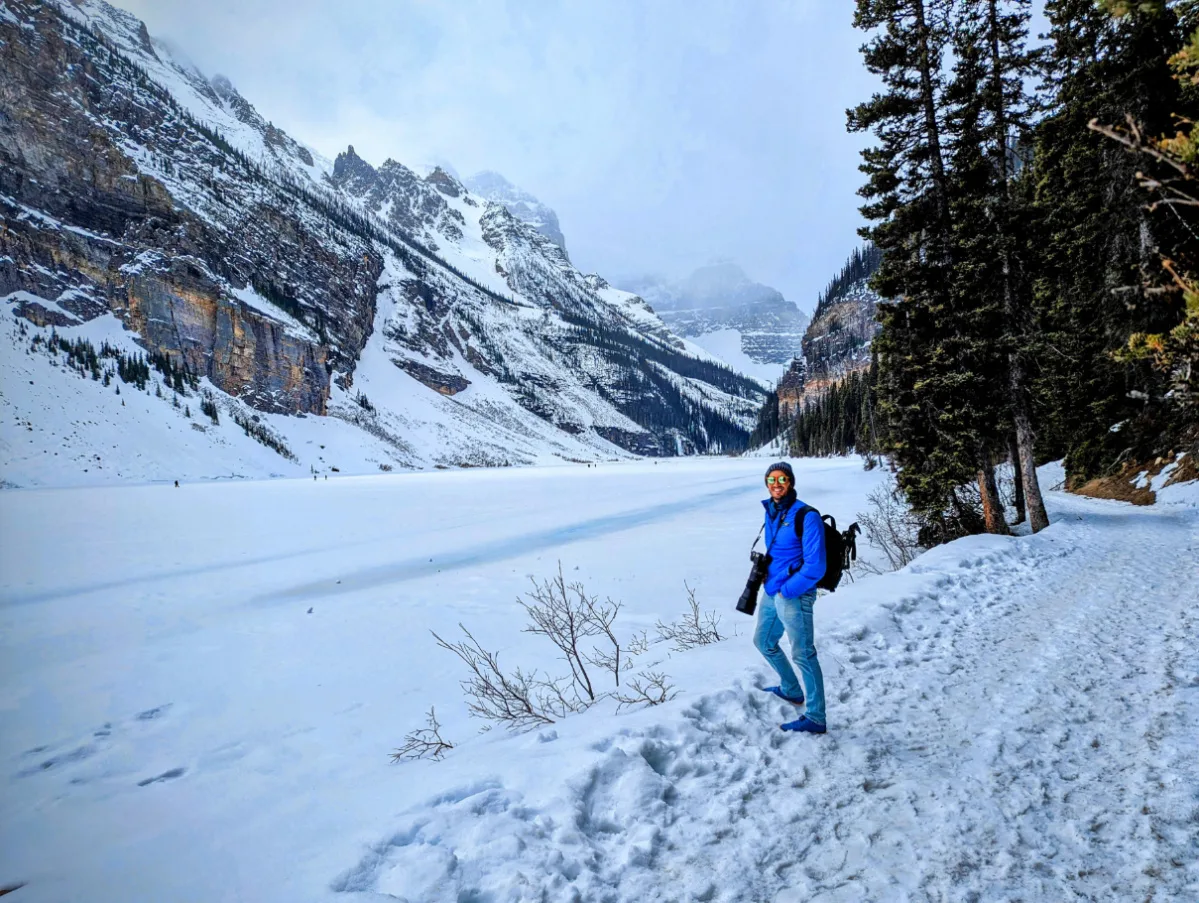 Thirteen Fun Things to do Around Lake Louise
Simple list of 10 things to do near the property or in the relative area of the property. This may include outdoor activities, museums, parks, famous sites or neighborhoods known for being an interesting place to visit.
walk the Lake Louise lakeshore trail, the west side is open through all seasons
enjoy afternoon tea at the Fairview (see above) where you'll have wonderful views
enjoy an afternoon at leisure around the Chateau, including games and guided walks
Banff National Park exploration: Lake Louise is located within Banff National Park, and there are endless opportunities to explore the park's beauty and wildlife. Some of the most popular attractions include Moraine Lake, Peyto Lake, and the Banff Gondola. Visit Johnston Canyon and the Bow Valley Parkway for beautiful sights and more wildlife watching.
plan a spa day (or a thermal pool day when they open)
rent a car (on property) and explore nearby Yoho National Park – I love Takakkaw Falls, Emerald Lake and the Natural Bridge areas.
Canoeing on Lake Louise is a popular activity, offering stunning views of the surrounding mountains and glaciers. You can also go out on other lakes, including venturing to Kananaskis Country.
Skiing and Snowboarding at Lake Louise. The Ski Resort is one of the largest and most popular ski resorts in North America, offering over 4,200 skiable acres and 145 runs.
During summer, Lake Louise is surrounded by some of the most beautiful hiking trails in the Canadian Rockies. Some of the most popular hikes include the Plain of Six Glaciers Trail, the Lake Agnes Trail, and the Beehive Circuit.
Ice Skating during the winter months, the frozen surface of Lake Louise becomes a picturesque skating rink, with stunning views of the surrounding mountains. The lake starts to thaw in April though, so if you want this special activity, you have to be at the lake when it's the slow season.
Fishing in the nearby rivers and lakes is a popular activity, with opportunities to catch rainbow and brook trout.
Horseback Riding is available just off property on the way down the hill from the Chateau. Explore the backcountry around Lake Louise on horseback, with guided tours available for all levels of riders.
Rock Climbing at Mount Rundell and others. The surrounding mountains offer a range of rock climbing opportunities, with guided tours available for all skill levels.
So if you're not convinced to plan a stay at the Fairmont Chateau Lake Louise, at least plan a visit. It's such a beautiful hotel and getting to stay there is really an exceptional experience. If you have any questions about the Chateau, exploring Banff or Yoho National Parks, or anything else relating to the Canadian Rockies please leave a comment or send us a note. We're always happy to share more and help plan travels!