I've been to Vancouver BC countless times and have stayed in many hotels. Staying at the Fairmont Hotel Vancouver is, I think, one of my favorite hotel experiences in Canada. Between the city views and the wonderful indoor pool and restaurant, the Fairmont Vancouver, also known as the Castle in the City, is just wonderful.
We stayed at the Fairmont Hotel Vancouver for the start of our Rocky Mountaineer journey on the train from Vancouver to Banff. If you're doing the train, starting here really is a great way to get into that luxury state of mind. I'll share all about the accommodations and service, and then you can decide if the Fairmont Hotel Vancouver is the right choice for your trip.
Keep in mind that there are actually several Fairmont properties in Vancouver, BC. In addition to the Fairmont Hotel Vancouver (the castle), there are also the Fairmont Waterfront, Pacific Rim and Airport (YVR). We're talking about the one in the heart of downtown.
If you have any questions or want to share your own experience and recommendations, please leave a comment or send us a note. We're always happy to share more, especially if it means helping others plan unforgettable trips.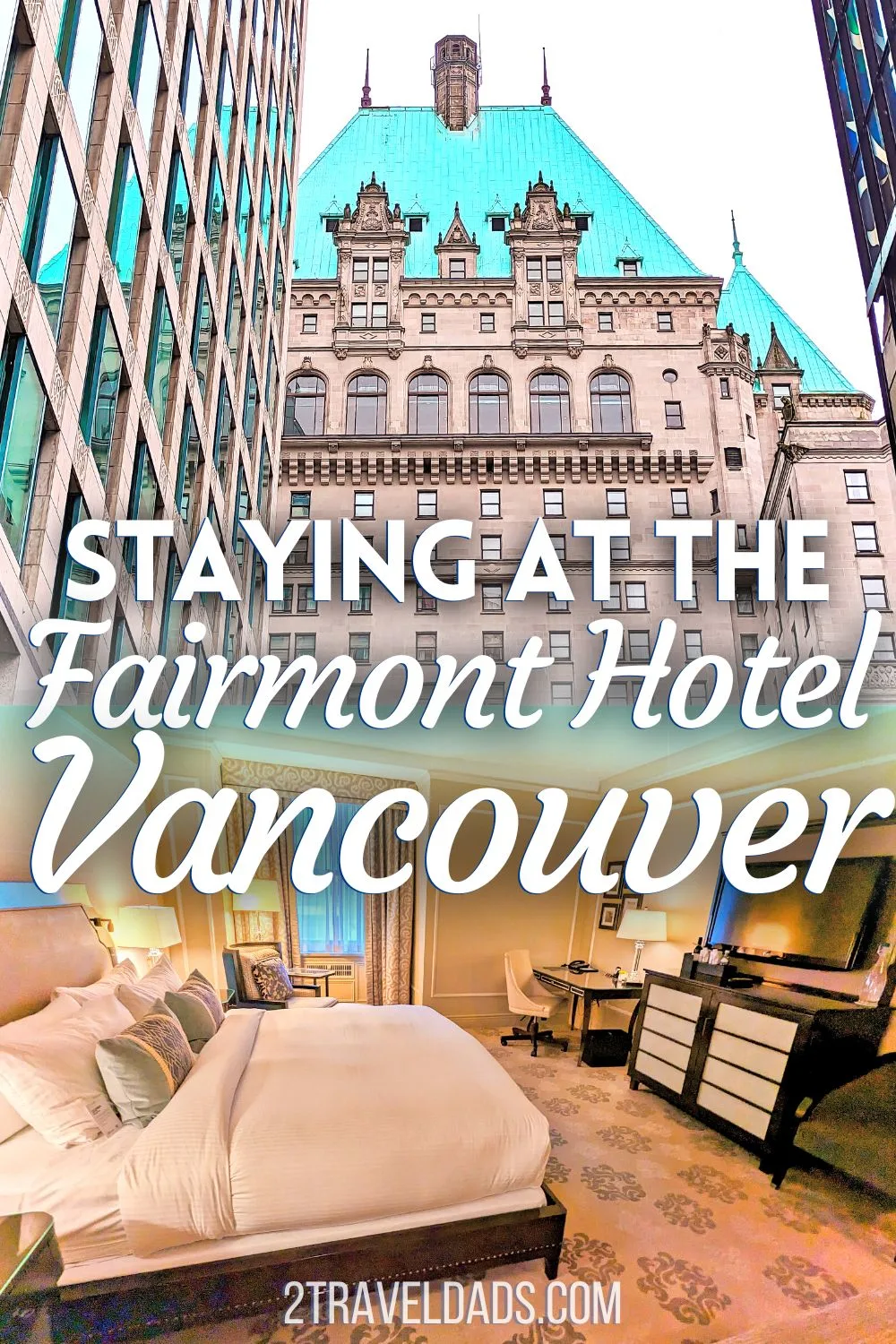 Accommodation Options at Fairmont Hotel Vancouver
If you've stayed in a Fairmont hotel before, you may be familiar with the different types of rooms, which also can vary per property. At the Fairmont Hotel Vancouver there are two primary room types: Fairmont and Deluxe. These can come as two queens or as a king room. Additionally, you can level up your hotel room by booking a suite or Fairmont Gold. For us, we're usually good with a basic room type unless we know we'll be in the room a lot or will have to spend daytime working in the room.
If you're interested in booking a Fairmont Gold hotel room, this is a premium room with quite a few amenities included, such as access to the Fairmont Gold Lounge, dedicated concierge, daily deluxe European breakfast and more. We had a Fairmont Gold stay at the Chateau Lake Louise and it was wonderful having the additional amenities and lounge, but not required.
Book the Fairmont Hotel Vancouver here!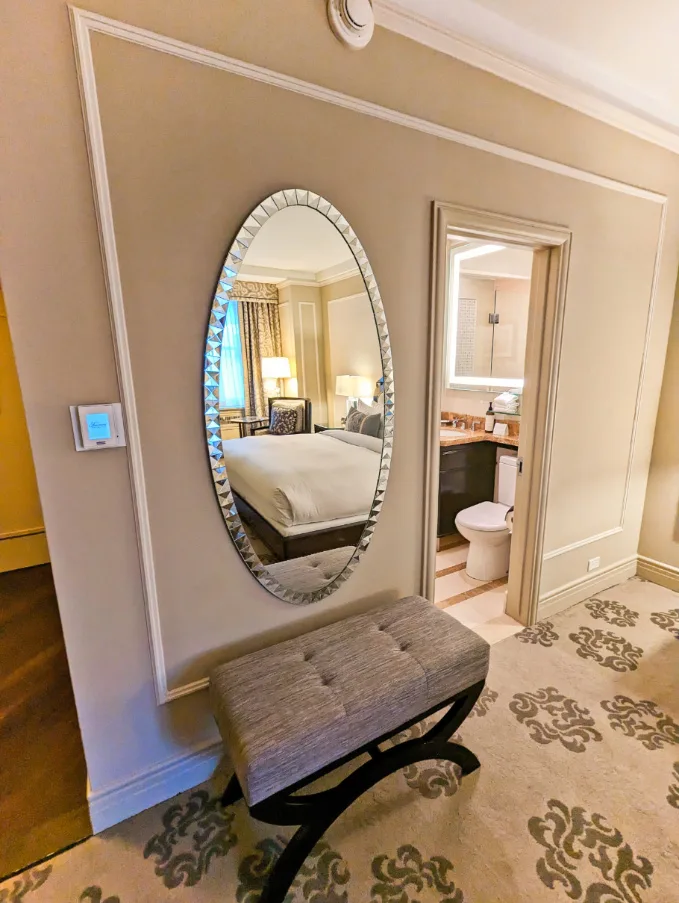 Top Pick: Fairmont Deluxe Room
Like I said, for us a standard Fairmont room is perfect. We tend to not spend a ton of time in hotel rooms, so we don't need a lot, but here at the Fairmont Hotel Vancouver, a standard room feels palatial. The reason I say to opt for the Deluxe room if you can, is because those rooms are on the top floors and really have wonderful city views. I loved looking out the window and seeing the gargoyles on the corners of the Fairmont Hotel Vancouver!
Other elements of both the standard and deluxe rooms that we enjoy are the bathrobes and slippers found in the closet (a luxury hotel must!) as well as the La Labo line of bathroom products. I expect top drawer touches when we're at a very nice hotel, and the Fairmont Vancouver delivered.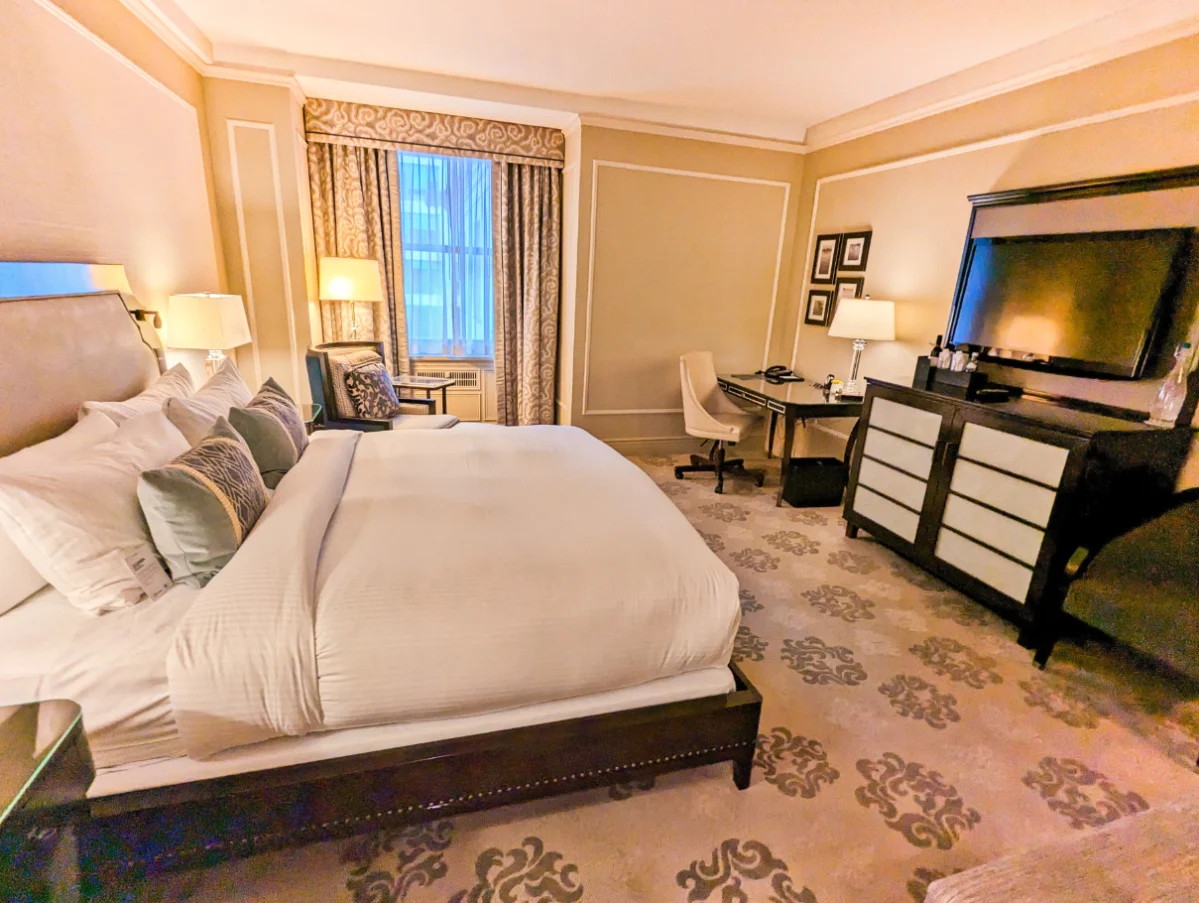 Check in / Check Out at the Fairmont Hotel Vancouver
When you arrive at the Fairmont Hotel Vancouver you'll pull into the covered drive-through arrival area. This is great, particularly in winter and spring when there tends to be a lot of rain or snow. Bell staff and doormen greet you, and it's up to you if you choose to accept their assistance. Help is always nice when you're traveling with a lot of gear or luggage, so be ready with a cash gratuity as a thank you (but it's not required).
The front desk is not a large one, so check in is quite intimate. A seamless experience, we arrived before check in and were granted access to our room ahead of schedule. I really liked the wooden keys the Fairmont Hotel Vancouver uses!
Note: if you're arriving as part of a group, be sure to inquire with the front desk about group check-in details, such as the Rocky Mountaineer check-in for the morning of departure.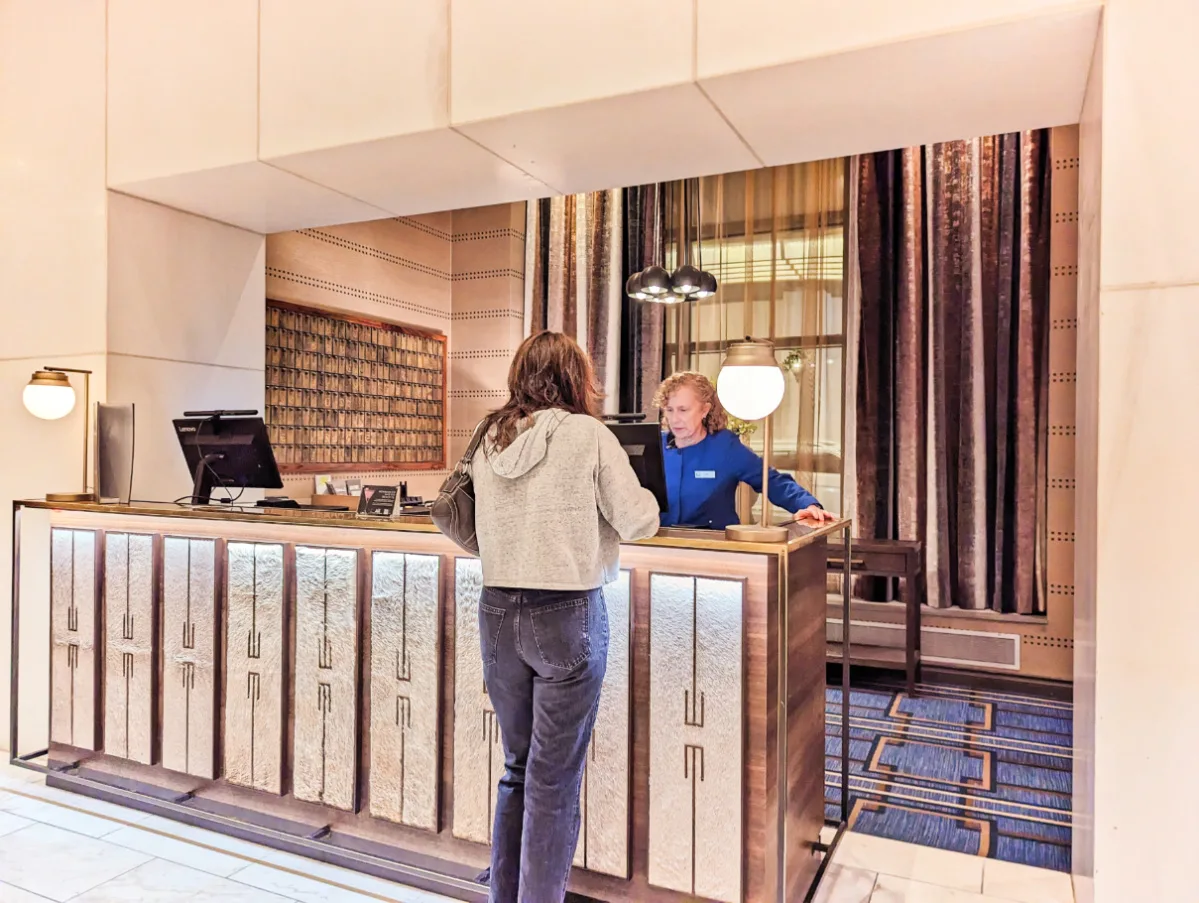 Fairmont Hotel Vancouver Amenities
Part of being a luxury hotel is having the amenities and options to support extra special stays. For us this usually means a quiet retreat space within a property or extra services that are unique to the hotel itself. At the Fairmont Hotel Vancouver, there is the whole gamut of bonus features.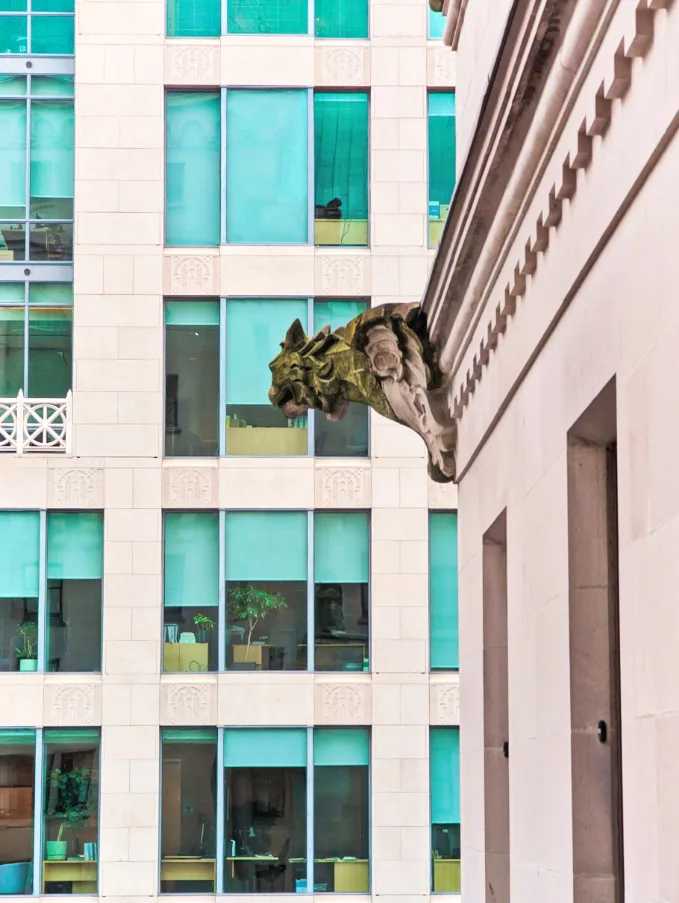 Pools at the Fairmont Vancouver
Being in Vancouver, having an indoor swimming pool only makes sense. The pool area of the Fairmont Hotel Vancouver is quite large and unique. It's nearly Olympic size and is perfect for lap swimming or relaxing. There is no hot tub/jacuzzi, but there are two small putting greens for anyone not in the mood to swim but up for practicing golf. There are also lots of lounge couches and on a cold Vancouver day, this is a great place to relax.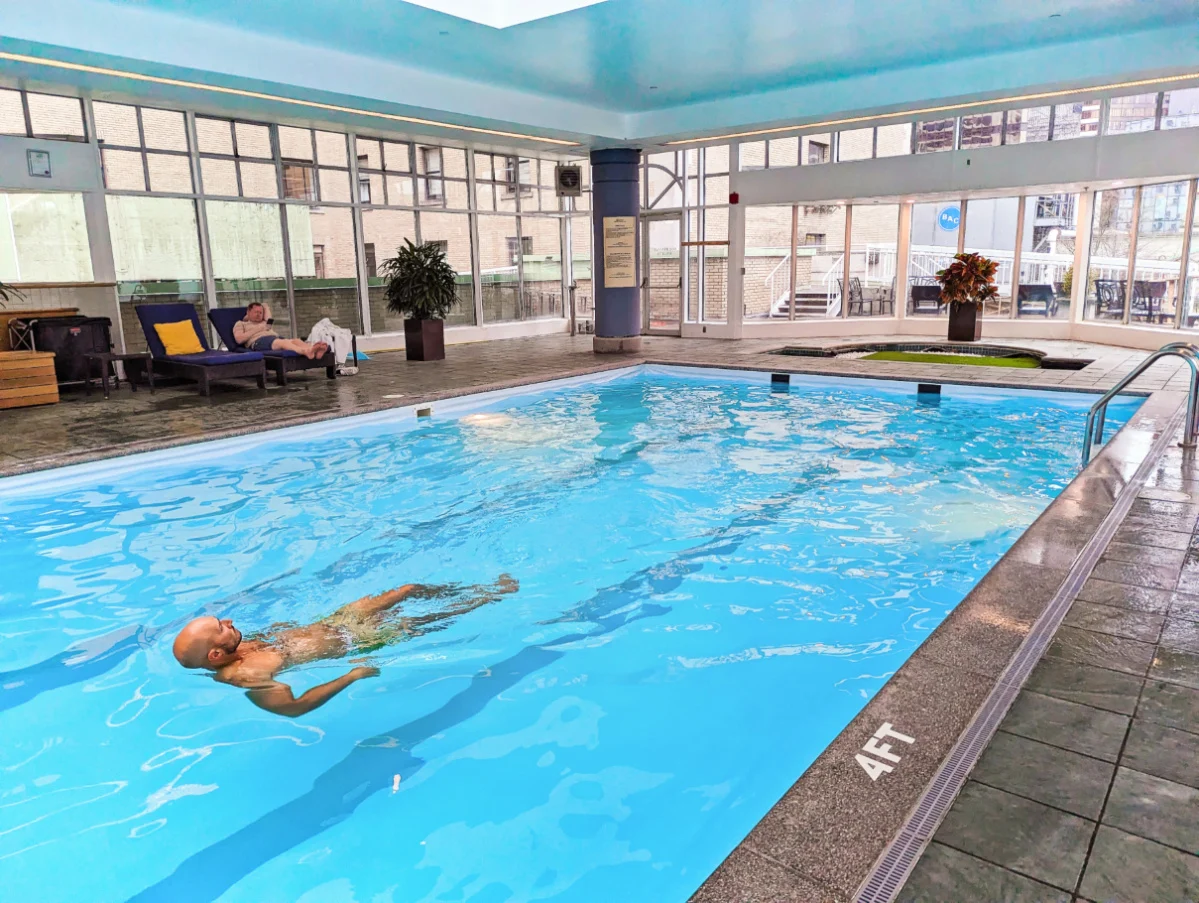 Fitness Center and Spa
I like the layout of the fitness center (aka fitness centre) here at the Fairmont Hotel Vancouver. It is very near the pool and is large enough to accommodate many guests at once. It's actually split up into sections for weight lifting, fitness machines and cardio. Attached to the gym space are the changing rooms and showers, including a dry sauna in both the men's and women's locker areas.
I didn't get to spend any time at the spa, but the Fairmont Hotel Vancouver is home to the Absolute Spa. Here they do much more than massage, but also everything from facials and microdermabrasion to pedicures. You name it. Reminder to me: spa day on our next trip.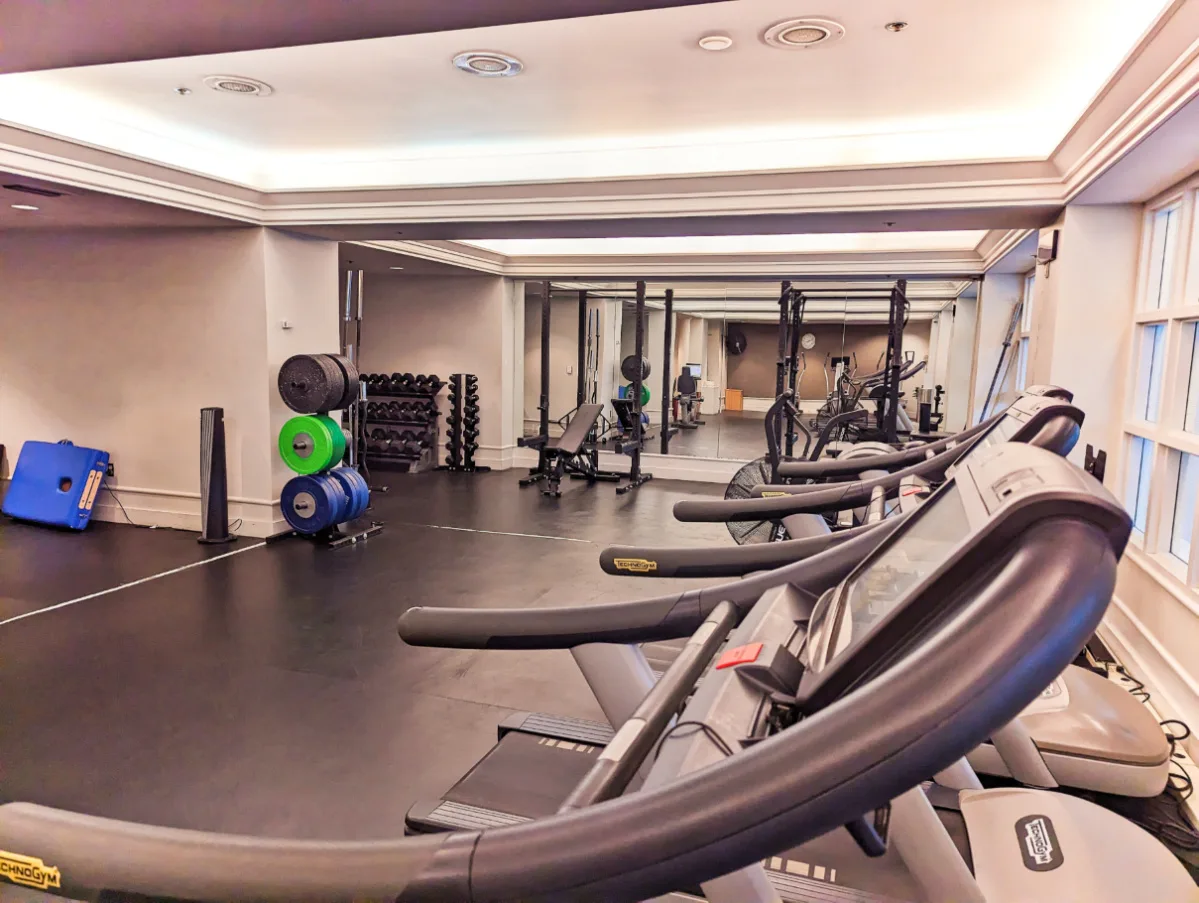 Dining at Notch8 in the Fairmont Vancouver
There is just one restaurant at the Fairmont Hotel Vancouver, Notch8. This is where you'll be able to get meal service all through the day, where you'll find afternoon tea and it's the place for some pretty wonderful cocktails. It's a very different atmosphere than the rest of the hotel, with the lighting being quite low and the decor dark and rich. The rooms and hallways at the hotel are so bright and springlike, so Notch8 is a stark contrast.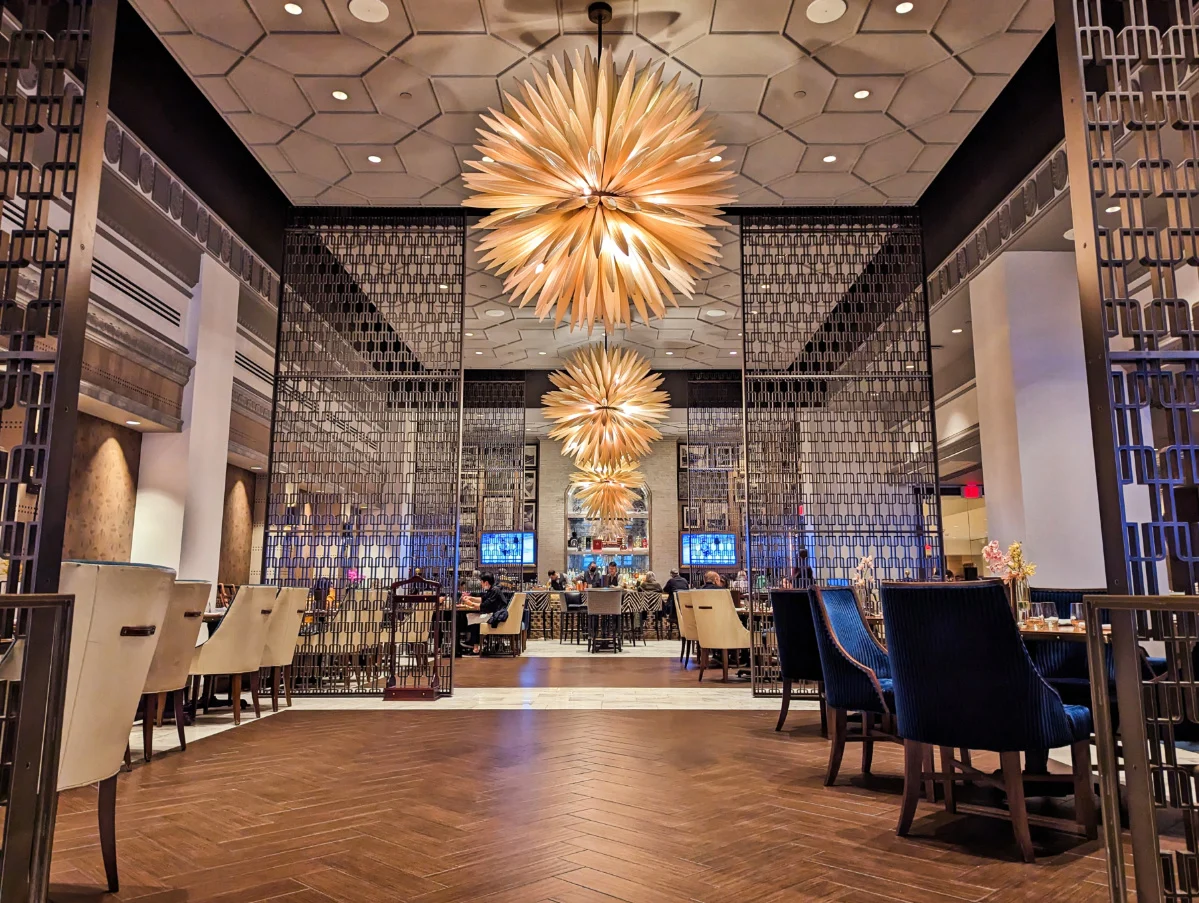 Stores on Site at the Fairmont Hotel Vancouver
As is a standard with the brand, there is a Fairmont Store at the hotel. Here you can find Fairmont branded items, like bathrobes and other signature offerings, including some of the in-room products. There are also clothing items and other who-knows-whats you might want. The thing that people shop for at the Fairmont Hotel Vancouver though are actually the super fancy store experiences.
I'm not fancy, so shopping in the arcade area of the hotel is above my paygrade, but for those that want to do some super high end shopping, there are Gucci, Omega, Louis Vuitton and Dior shops. "Really top drawer…"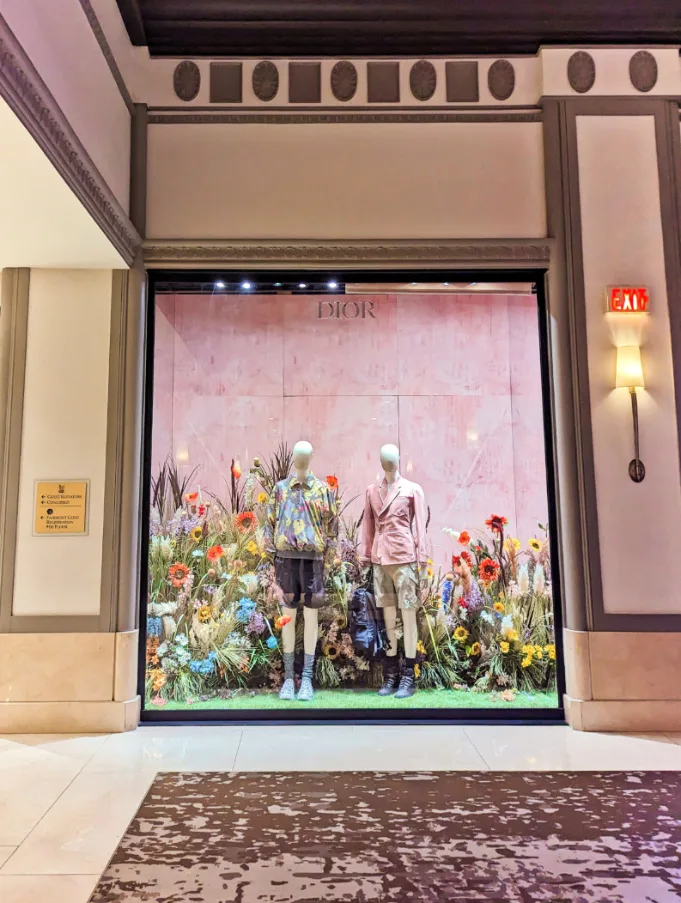 Where is the Fairmont Hotel Vancouver Located?
As I mentioned at the beginning, the Fairmont Hotel Vancouver is located directly downtown. The other brand locations in the city are down on the waterfront (both the Pacific Rim and Waterfront) and then at YVR airport. The hotel drive-through entrance is from Hornby Street exiting to Burrard Street, and then the main pedestrian entrance is from Georgia Street. It's pretty easy to find, just look for the patinated green castle roofs.
Transportation To and From the Fairmont Hotel Vancouver
If you're just visiting Vancouver as a prelude to a larger trip, or when you first arrive in general, it's about a half hour from the airport (YVR) and around 50 minutes driving from the US/Canada border at the Peace Arch entrance from Washington State. For guests staying at the Fairmont Hotel Vancouver in connection with an Alaska cruise, it's about a 5-8 minute Uber ride or a 15 minute (or less) walk to the Canada Place Cruise Terminal.
We stayed at the Fairmont before departing on the Rocky Mountaineer train from Vancouver to Banff. The Rocky Mountaineer has its own terminal just east of downtown, which is about 15 minutes' drive from the hotel. On rainy days, plan for a few extra minutes to get there wherever your destination in Vancouver may be.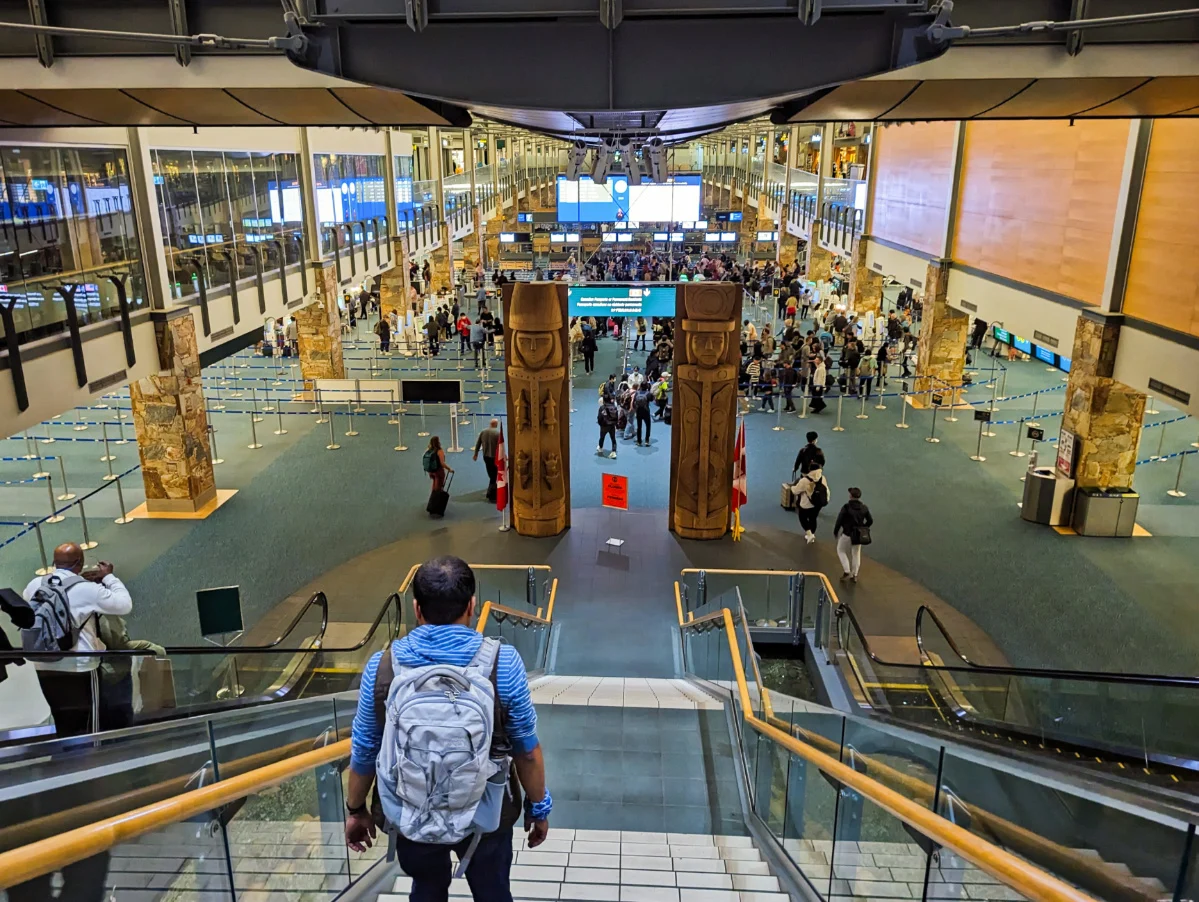 Can I Walk from the Fairmont to Stanley Park?
I am a big walker when I'm in a city and much prefer walking to taking an Uber or Lyft. And that includes going sightseeing around a town. When you're in Vancouver, a visit to Stanley Park is a must. You can easily walk to the park in less than 25 minutes, and then the walk all around the park will take you a whole lot longer. To do the walk from the hotel, around the Stanley Park Peninsula and back will take about two and a half hours. Add a stop at the Vancouver Aquarium or lunch along the way and you've got an all day plan.
Tip: if you don't have a ton of time but want to enjoy active sightseeing, rent bikes for exploring Stanley Park.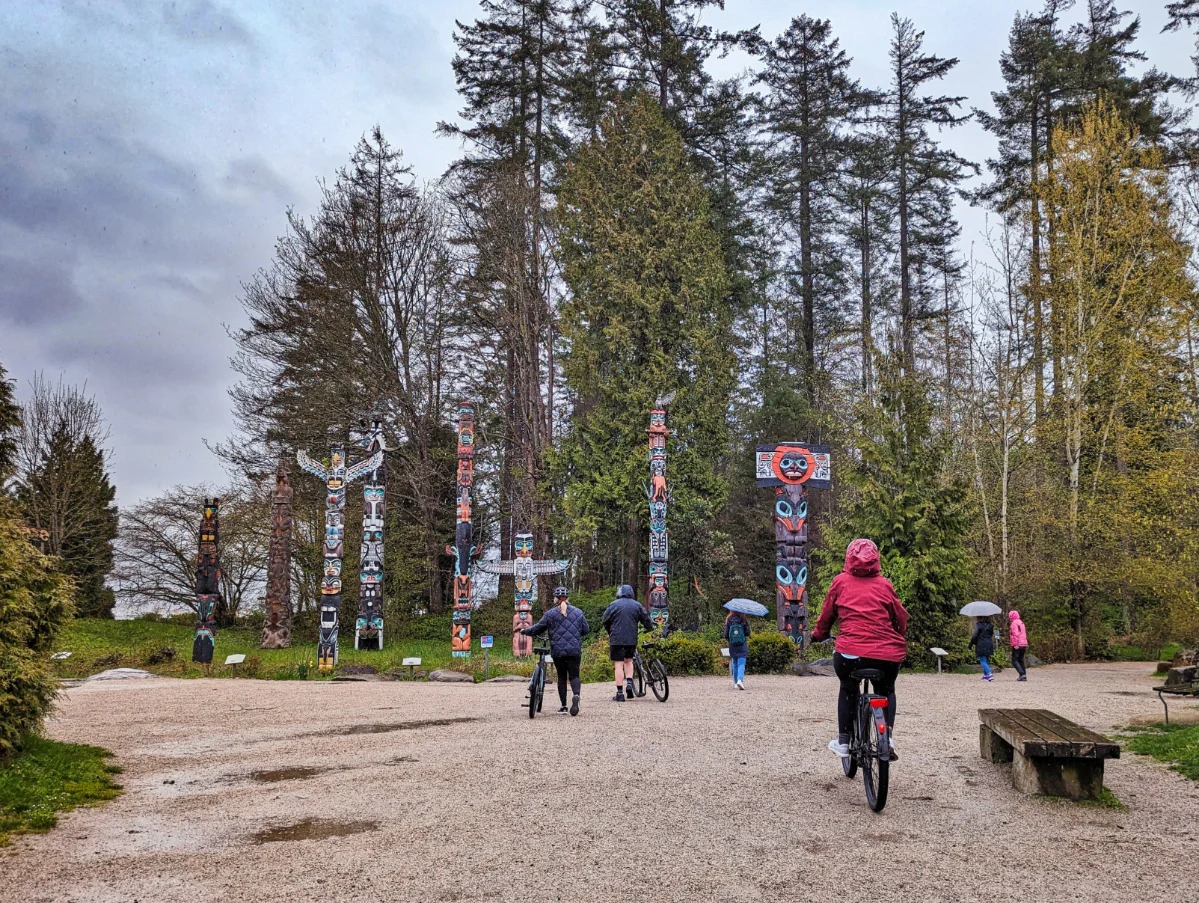 Parking Details at the Fairmont Hotel Vancouver
Whenever you have a car for a downtown hotel experience, in nearly any city, you will have a premium for parking. There are a few options for overnight parking at the Fairmont Hotel Vancouver. At the time of booking you can set up self-parking for your reservation for $62 CAD per night with in and out privileges. Valet parking is available without reserving it for $75 CAD per night, and this also comes with in and out privileges. If you want to see if you can get a better deal, there are other parking garages and street parking options within several blocks of the hotel, but you're not guaranteed success or too much better of a deal. (parking prices are as of May 2023)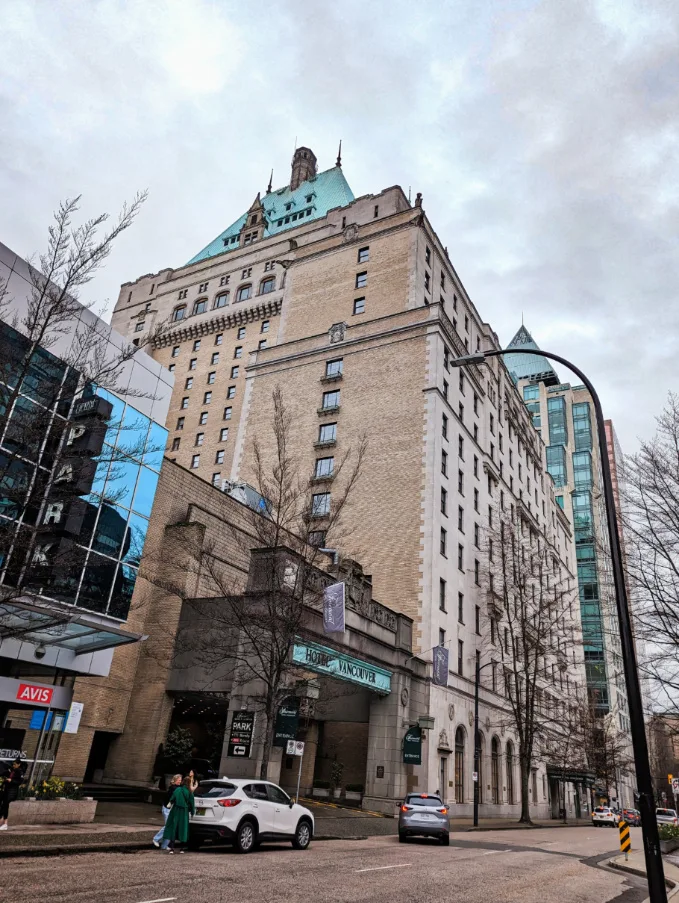 Check out our reviews of the Fairmont Chateau Lake Louise and Fairmont Hotel Palliser in Calgary too!
Ten Fun Things to do Near the Fairmont Hotel Vancouver
Even though it's nice to get to a beautiful hotel and then collapse into the bed, ordering room service and enjoying the mini-bar, you're in Vancouver! You need to get out and explore! We love Vancouver, just like we love Calgary, AB and Halifax, NS. It's a fun city full of art and history and diversity. If you don't have plans already, or need some fun things to do in Vancouver, here are our top picks for what to do when you're there.
Visit Stanley Park and the Vancouver Aquarium
Walk the English Bay Seawall
Have a night out in Davie Village (the gayborhood)
Rent bikes and ride around the city
Go whale watching (we love the Prince of Whales)
Ride the False Creek Ferry around downtown
Appreciate First Nations Art and History all around Vancouver (love the Bill Reid gallery)
Visit the Granville Island Public Market
See the mountain sights of Vancouver, including Capilano Suspension Bridge, Whistler and Grouse Mountain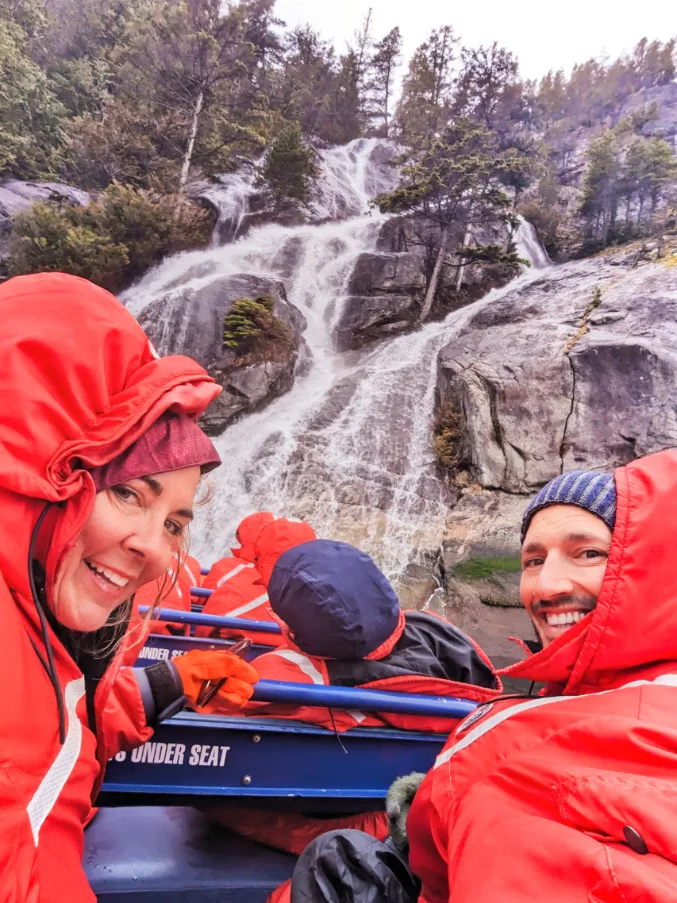 Clearly Vancouver is a place we love to visit, and staying at the Fairmont Hotel Vancouver really is a luxe way to do it. If you're planning a trip on the Rocky Mountaineer or just want to add some city time to a visit to Whistler or a Canadian road trip, a stay here is a great way to experience the best of Vancouver, BC.
If you have any other questions or want to share your own stories, please leave a comment or send us a note. We're happy to share more and help plan an amazing trip to British Columbia!