Let me start by saying that there is more to the Canadian Rockies than just Banff. Don't get me wrong, Banff is gorgeous, but there really is so much more, including the areas outside of the National Parks. I've doing the Canadian Rockies road trip six times at least, and I've done the train from Vancouver to Banff on the Rocky Mountaineer. These sights are some of my favorite in Canada and I'm excited to share how YOU TOO can plan to check them all out!
On this road trip through the Canadian Rockies, we're going to visit some beautiful towns, some unique waterfalls and spend time enjoying the many bodies of water in the Canadian Rockies. As you plan your lodging along this road trip route, be open to staying places that aren't in the middle of the action. This will save you a lot of money and in some cases, you'll actually enjoy the area even more than the more famous towns.
If you have any questions or want to make your own suggestions for interesting sights and hikes along the way, please leave a comment or send us a note. We're always happy to share more!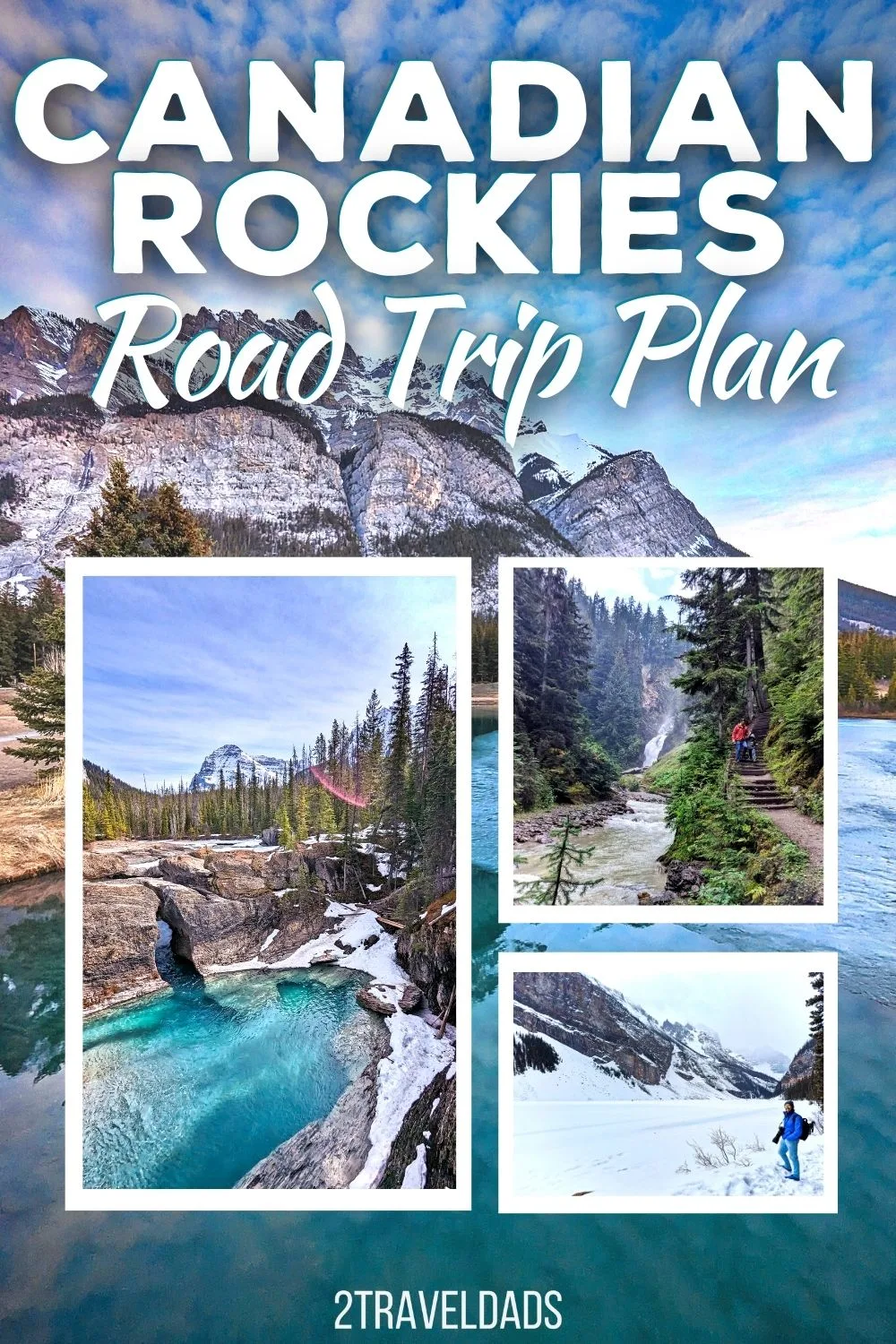 Starting the Canadian Rockies Road Trip
Start:  Fly into Calgary, AB (YYC) and head right out of town. If you need to spend the night here because you're arriving late, that's fine. The drive for the first leg of this road trip is fairly short and easy. And honestly, Calgary is one of my favorite cities in Canada. It's known for the annual Calgary Stampede but it's so much more than that. Check out our weekend guide to Calgary for ideas!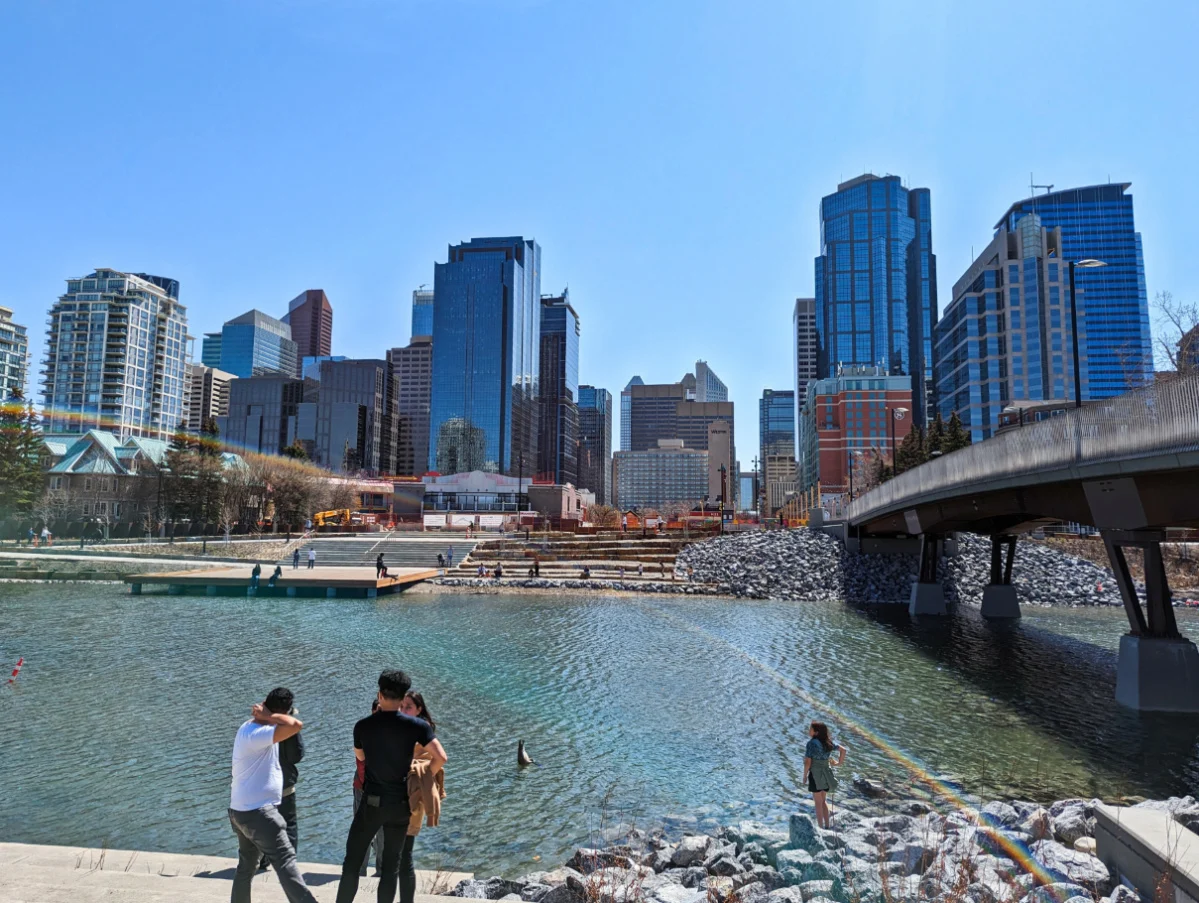 Sleep in:  Calgary or Canmore – we've stayed in both cities. I like staying in Calgary for the wonderful restaurants and just its general metropolitan feel, but I also like Canmore because it's a low-key version of Banff.
Day 1: Canmore and Kananaskis Country
No, we're not going into Banff National Park yet. Today is all about Canmore and exploring the foothills of the Rockies. Begin with a morning paddle on Barrier Lake outside of Kananaskis (great with kids!). The turquoise mountain water is just the start of what you'll see on this road trip. From here, grab a picnic lunch and head to Grotto Canyon for a unique hike through the forest (guided hikes available), narrow gorges, and across all kinds of rocks to petroglyphs and epic walls. You may be tired after the hike to make your way to downtown Canmore for an early dinner or a float on the Bow River. Don't miss the sun setting over the Rockies.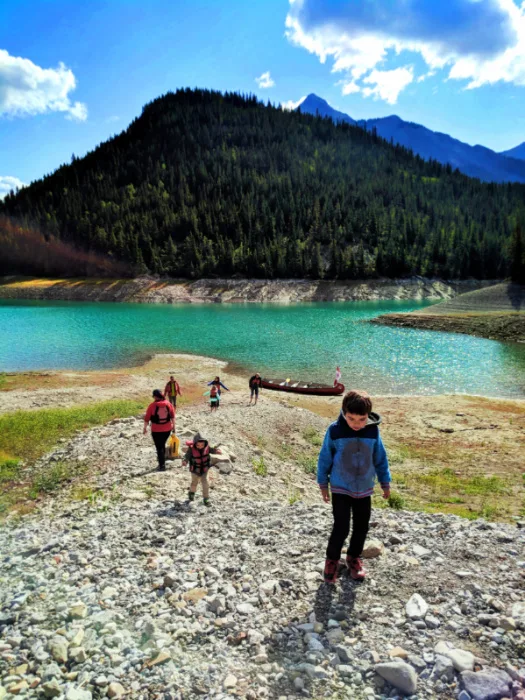 This part of the Canadian Rockies road trip is nicely condensed, meaning that you can easily pop around the Canmore and Kananaskis areas for your different activities and you won't be spending a ton of time in the car. There are lots of hiking options, but you'll also find some great guided tours here. We've done guided hikes to caves, guided canoeing and much more here.
Sleep in:  Canmore – We enjoyed the MTN House by Basecamp in Canmore, which is just across the Trans-Canada Highway from the downtown area. Huge rooms and awesome views make it a great option, and you can use IHG points for it (love using points for travel)
Day 2:  Banff National Park – the Heart of the Canadian Rockies Road Trip
Wake up early and head into Banff National Park. Because Lakes Moraine and Louise are so popular, you'll need to arrive VERY early if you'd like to see or hike around either of them. They truly are gorgeous and it's worth it, but if you miss out getting there VERY early you won't get a chance to see these famous lakes. Peyto Lake is another jaw-dropping sight, with the bluest water I've ever seen.
After you're done at the lake, head to Johnston Canyon to hike through the gorge with icy blue and green water churns below you, spilling falls over falls. End your day of exploring around the town of Banff making stops at the Vermillion Lakes and Bow Falls. Have dinner downtown.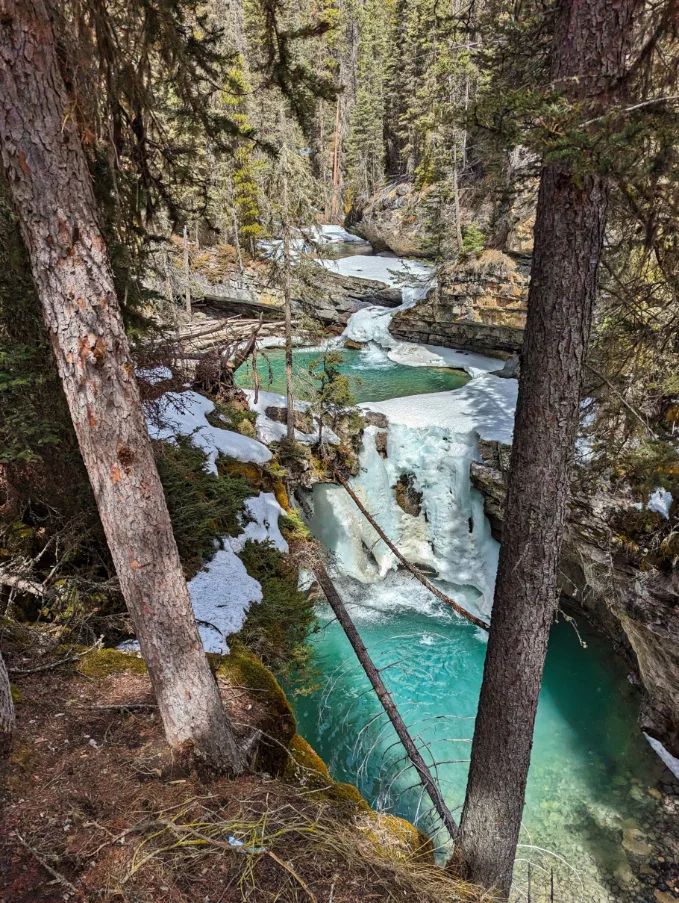 Sleep in:  Banff or Lake Louise Village – downtown Banff is actually full of small hotels and vacation rentals. We LOVE LOVE LOVE the Mount Royal Hotel downtown Banff. The rooms are large and most have gorgeous views. And then the highlight really is the rooftop hot tubs at the Mount Royal. It's great for families or couples doing the Canadian Rockies road trip. Find a Banff hotel here!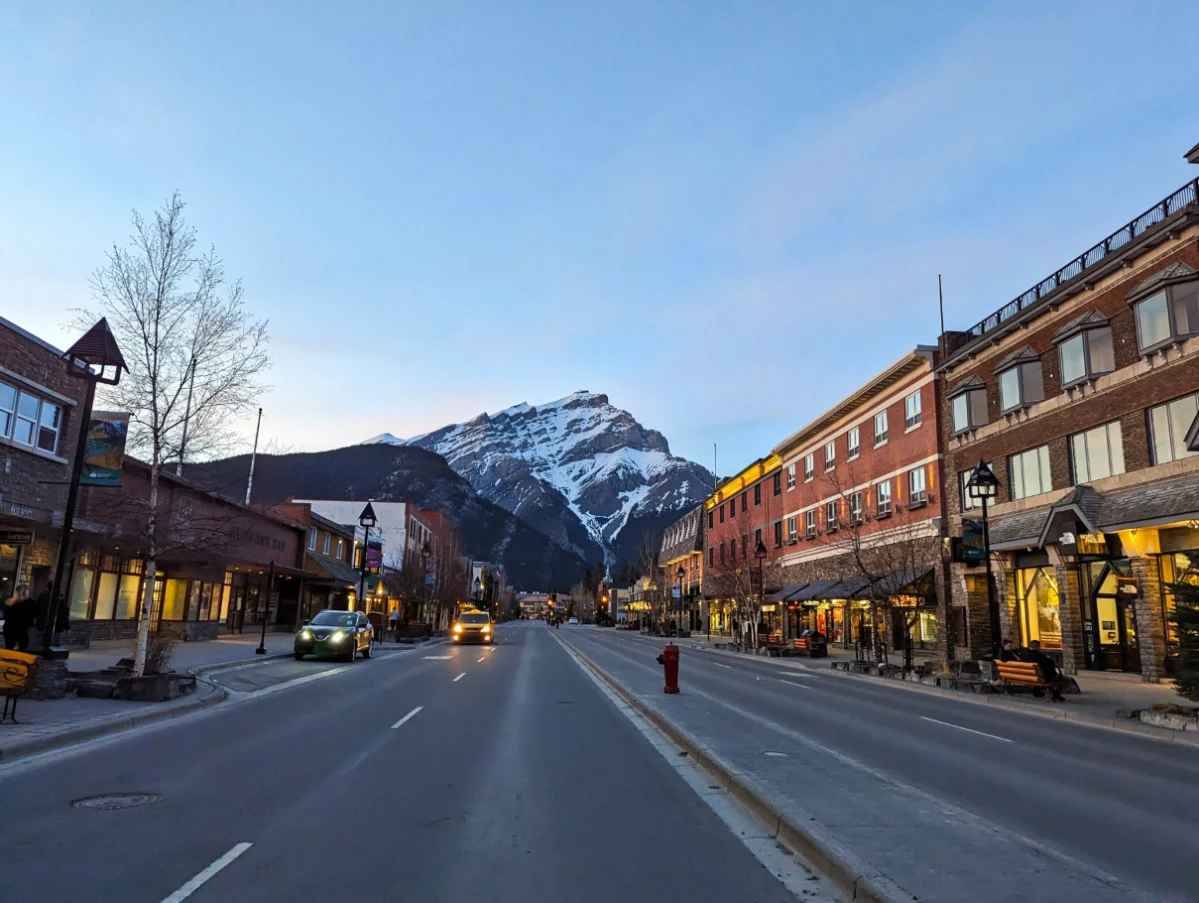 Day 3:  Kootenay National Park and Radium Hot Springs
Drive west through Banff National Park to Kootenay National Park. This is a picnic day, so be sure to have lunch ready to roll with you. Being a lesser visited area, there are some rugged sights to see, starting with a stop at Marble Canyon. The nearby Paint Pots are fascinating and if you like, you can hike to them from Marble Canyon. Hop back in the car and drive a bit to Numa Falls. As you continue along the Kootenay River, you'll end your day at Radium Hot Springs.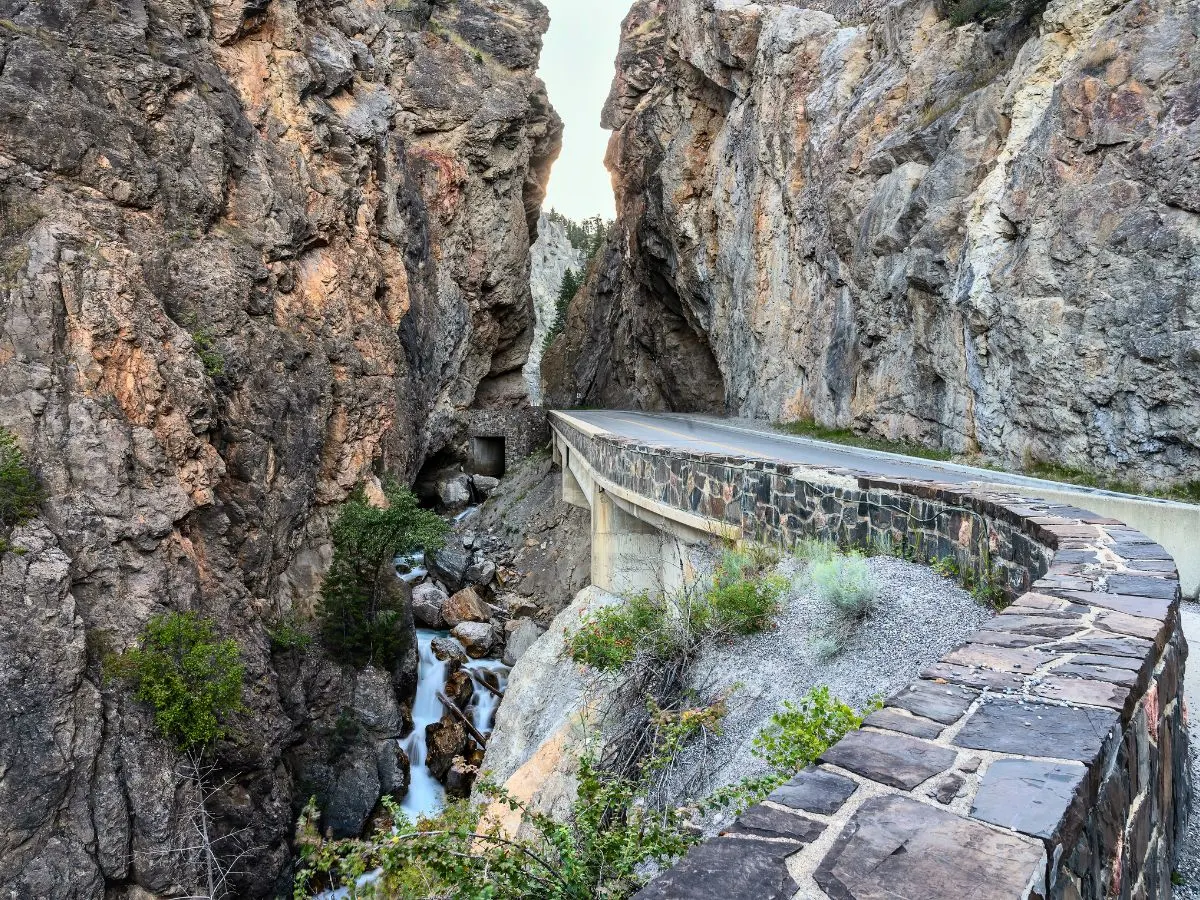 Sleep in: Radium Hot Springs – this is another town that's great for actually just staying an extra day or two. This part of the Canadian Rockies road trip is much less busy that any time you'll spend in Banff or Canmore, and I think it's just as beautiful, but in different ways. If you can set aside an extra day in Radium Springs, do it!
Day 4:  Golden and the Headwaters of the Columbia River
Since you're here you might as well begin the day with a soak in the healing waters of Radium Hot Springs. The springs are built up much like Carson Hot Springs in Nevada or Chico Hot Springs in Yellowstone Country, Montana. You can soak and swim and there are full facilities to take advantage of before getting on with your Canadian Rockies road trip.
After that, head over to Sinclair Canyon for some easy hiking. As you drive north to Golden, watch for bears in the Columbia National Wildlife Area and to the hike to Lower Bugaboo Falls. As you continue on, the braided river guiding you is a portion of the headwaters of the Columbia River which ends at the Pacific Ocean between Washington and Oregon. Walk along the river in downtown Golden and enjoy local beer and music for dinner.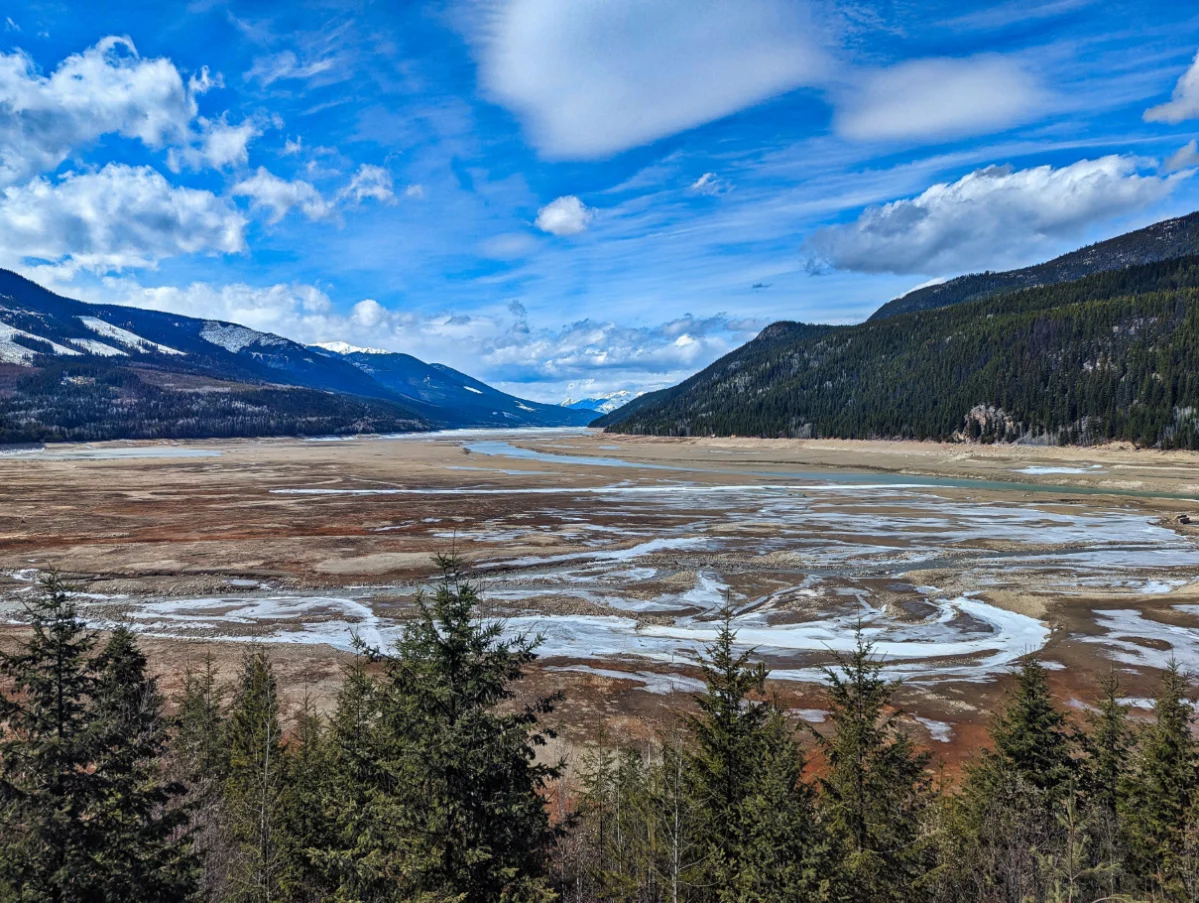 Sleep in:  Revelstoke or Golden, BC – There may not be the beautiful hotels and resorts like you'll find in Banff, but Golden has a few good options for road trippers looking for just a night. If you're actually taking the camping approach to your Canadian Rockies road trip, you'll find more campsites than hotel rooms. Because of the scarcity of hotels though, we also recommend Revelstoke as your next overnight.
Day 5:  Canada's Glacier National Park and Waterfalls
Golden is considered the Rocky Mountain Trench, so today head up out of the trench with your picnic and into Glacier National Park. Start with a simple hike at Quartz Creek to a gorgeous glacial lake. Take it up a notch with another hike, the Great Glacier Trail, located just west of the Illecillewaet Campground. This will take about three hours.
For a relaxing experience in the old growth forest, head just a bit further west to the Hemlock Grove Boardwalk. On your way back to Golden, stop at Bear Creek Falls for a short but beautiful stroll to a roaring waterfall.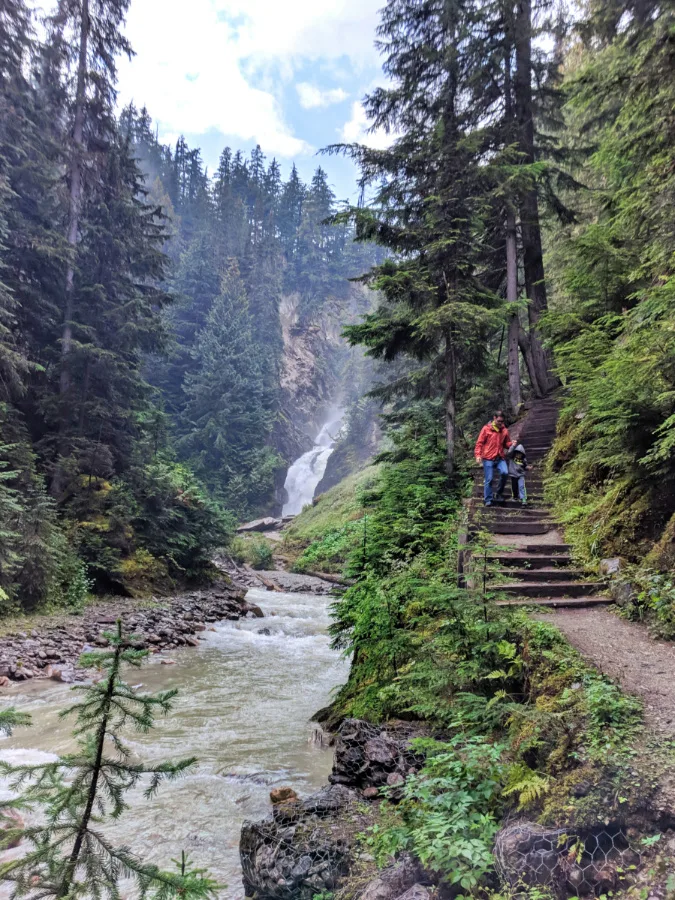 Sleep in:  Revelstoke, BC – most people think of Revelstoke for skiing, but Mount Revelstoke National Park is actually a great hiking destination, and the nearby town has a lot more infrastructure than Golden does. Revelstoke is a better home base in any season than Golden because of its build out to be able to accommodate winter crowds.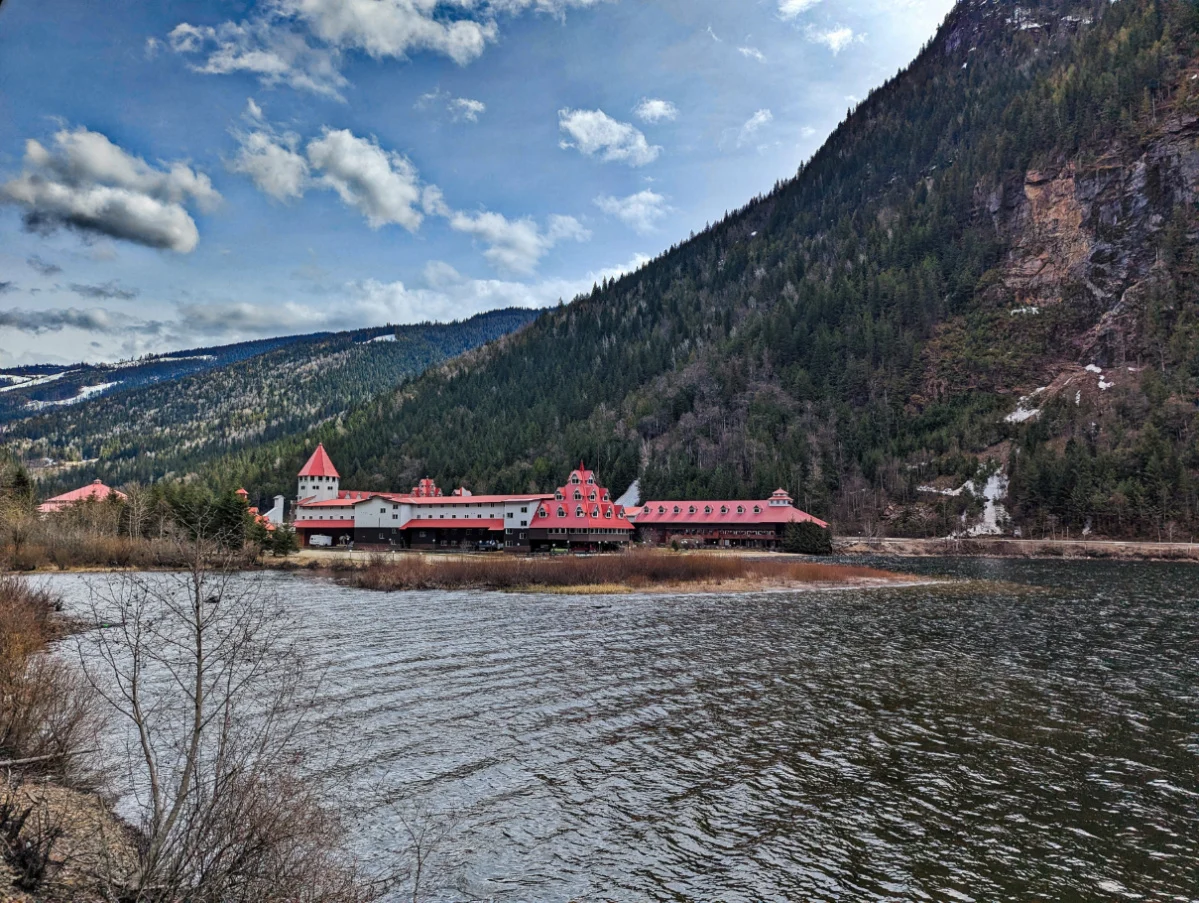 Day 6:  Yoho National Park's Icons
Yoho National Park is up next. Drive to Takakkaw Falls for a breathtaking double waterfall, as well as a variety of beautiful trails along the river flowing from it. Working your way back towards Golden, the next stop is Emerald Lake, which looks like a fairytale, including its lodge. Do the simple loop trail around the lake or rent a kayak or canoe to explore. Enjoy lunch here at the lake before heading to Hoodoo Creek. This is a slightly longer hike, but still doable if you've had an active morning. Finish exploring Yoho National Park with a gentle walk through the woods to Wapta Falls. By the end of the day, you'll be tired but will have loved every minute of Yoho.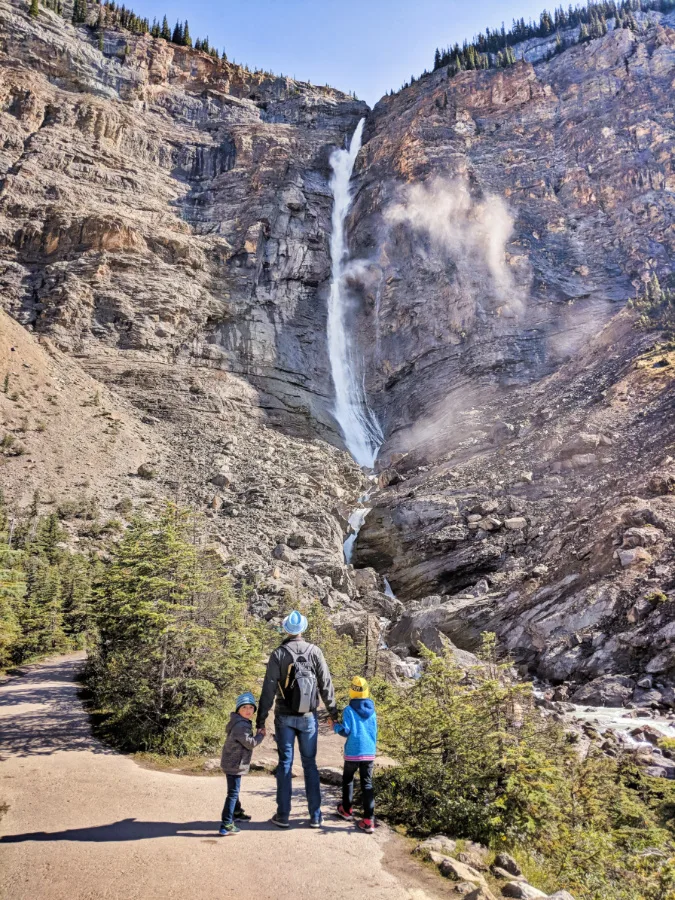 Sleep in:  Golden or head back towards Banff; this decision really depends on whether or not you're adding the trip up to Jasper National Park onto your Canadian Rockies road trip. If you want to throw in a night of luxury before the end of your trip, plan a night at the Fairmont Chateau Lake Louise before you make the drive northward. It's not out of the way and is actually a great place to begin the next day.
Super awesome Canadian Rockies road trip hotel option: stay at the Emerald Lake Lodge! This beautiful hotel is both fancy and rustic, and it's set on the most beautiful lake in Yoho National Park!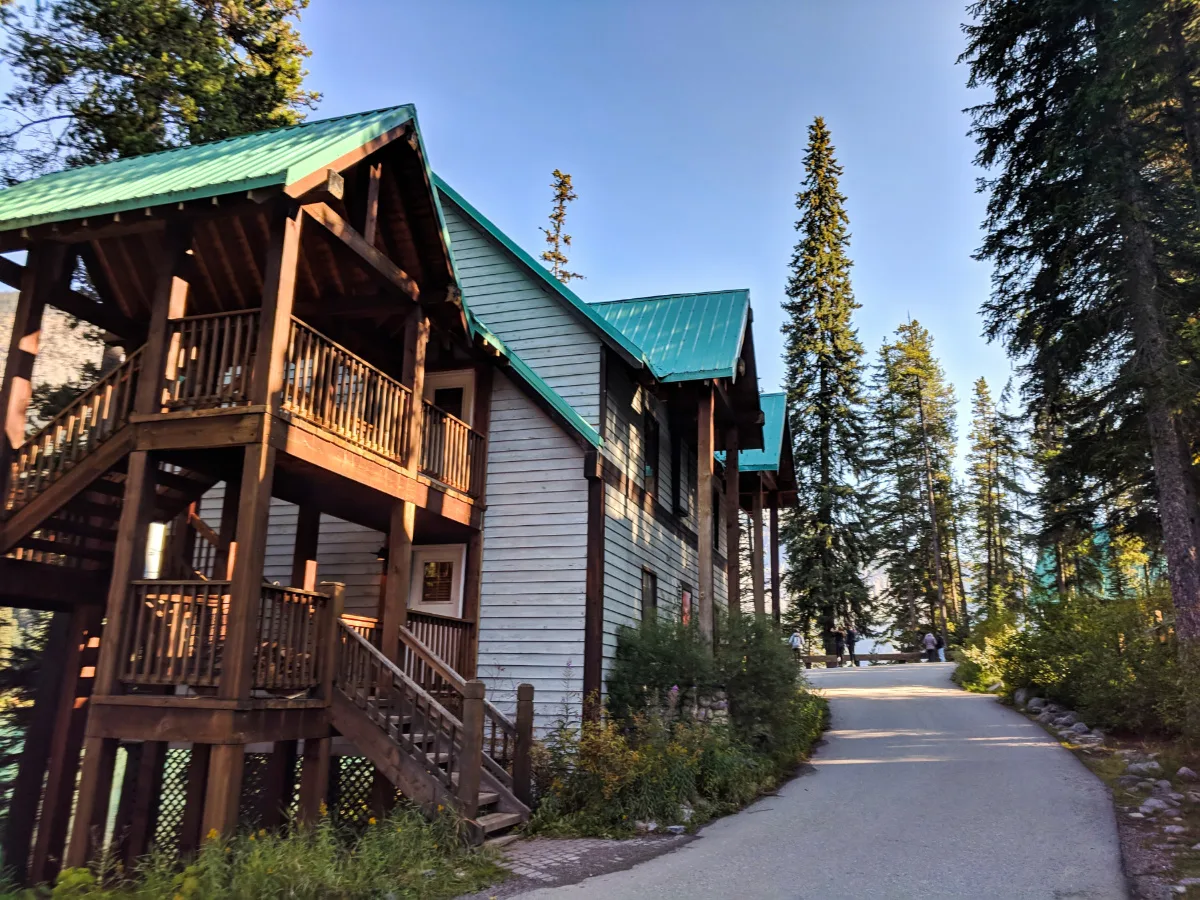 Bonus Canadian Rockies Road Trip Extension: Jasper National Park
This is an optional day. If you don't want to make the journey up to Jasper National Park, head back to Calgary or spend more time in Banff.
If you choose to head north to Jasper National Park, leave early so you can still catch wildlife doing their morning routine along the Icefields Parkway. One day catching the big sights of Jasper will be good, but consider this day a preliminary research trip for your next visit.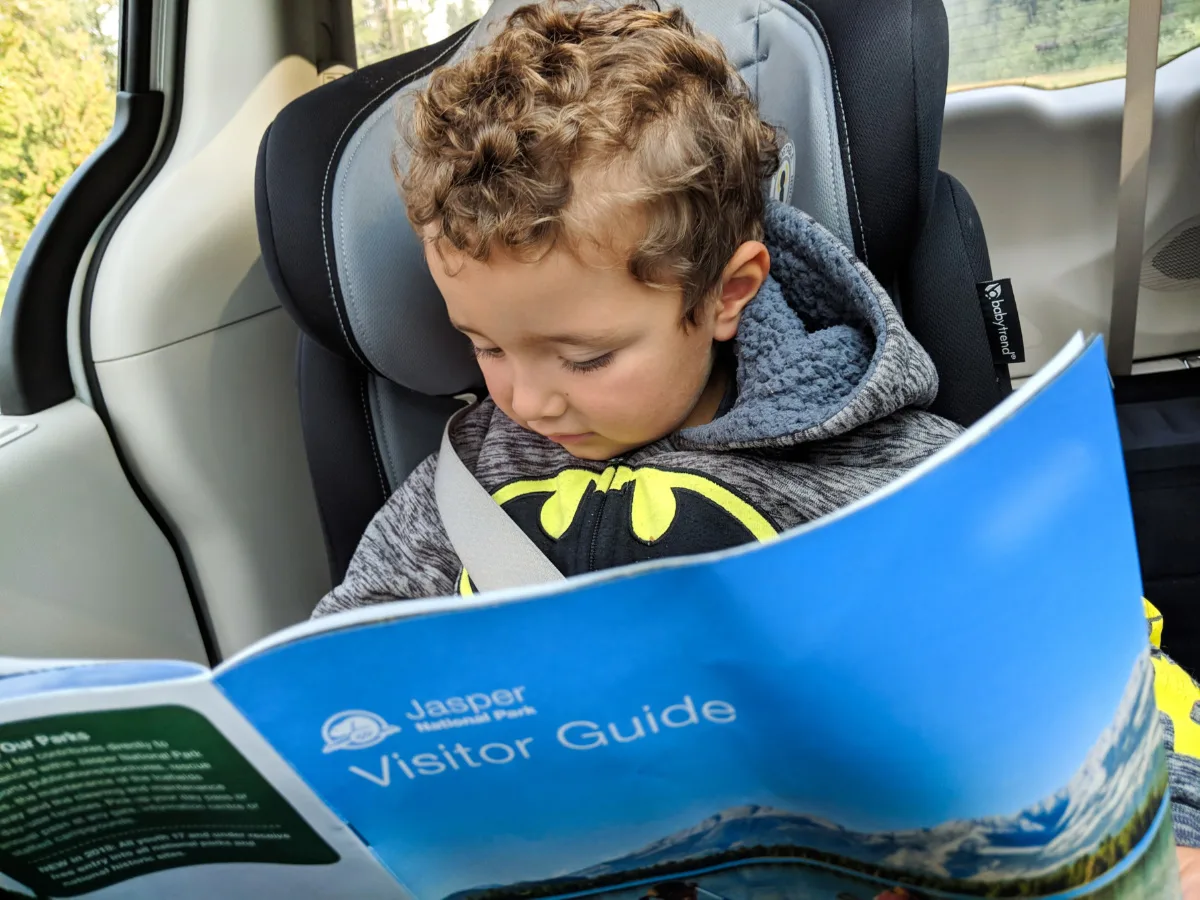 Start with an easy stop at Athabasca Falls where the Athabasca River plunges 75 feet. From there continue north for a hike at Valley of the Five Lakes. The colors will astound you. This is as far north as we'll go, so get back in the car and make your way to Sunwapta Falls, which isn't as big at Athabasca Falls, but is beautiful as it crashes down a horseshoe gorge.
End the day in Jasper with a walk on the Columbia Icefield Skywalk, which may be terrifying if you're afraid of heights. As you wrap up your day in Jasper, if there's time, make stops at the many points of interest along the way, or visit some of the sites in Banff National Park that you didn't get to on your first drive through it.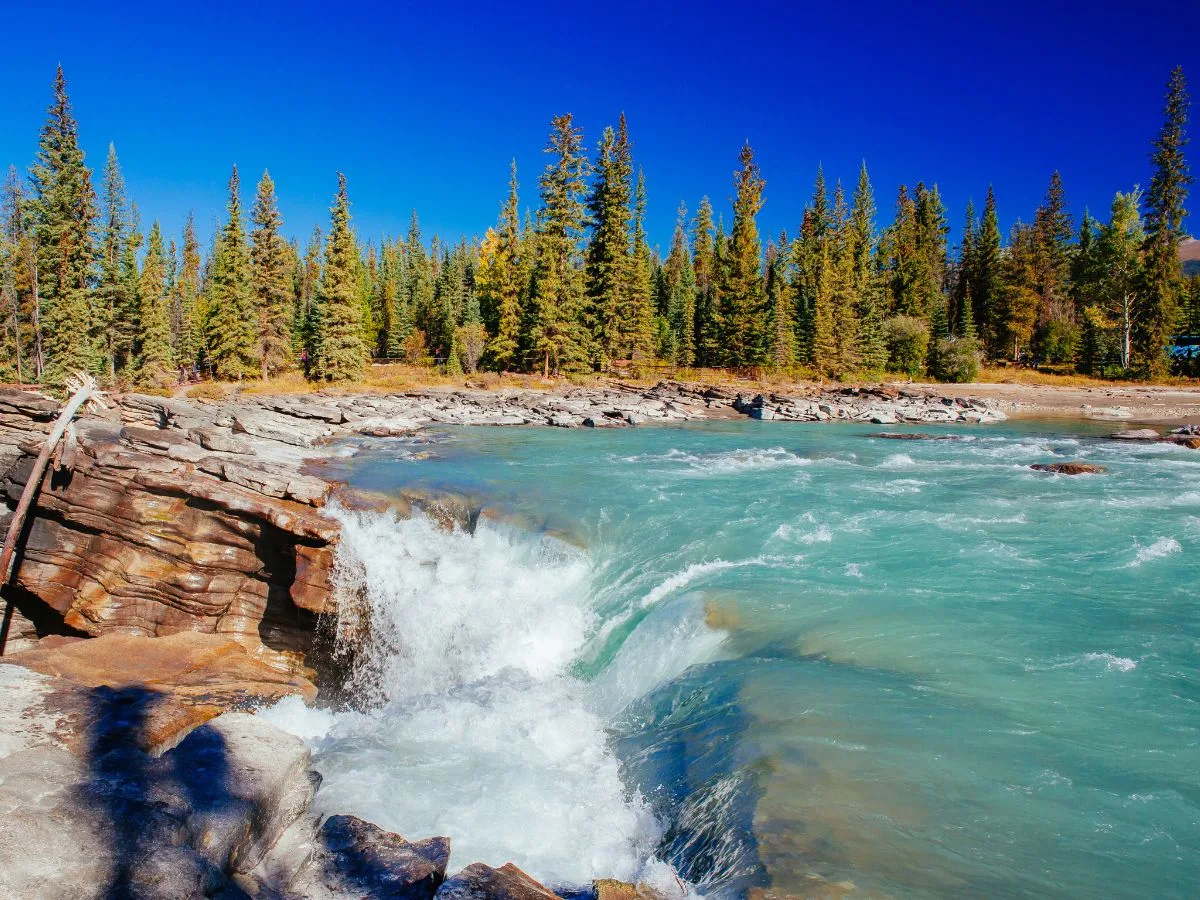 Sleep in: Canmore or Calgary – you've had an amazing Canadian Rockies road trip. Spend you last night or few nights someplace that you can relax before flying home. Canmore is a good final destination because it's so quiet. Calgary is great because it's got so many restaurants and it's a very different view of Canada. Check out our review of the Fairmont Palliser Hotel Calgary.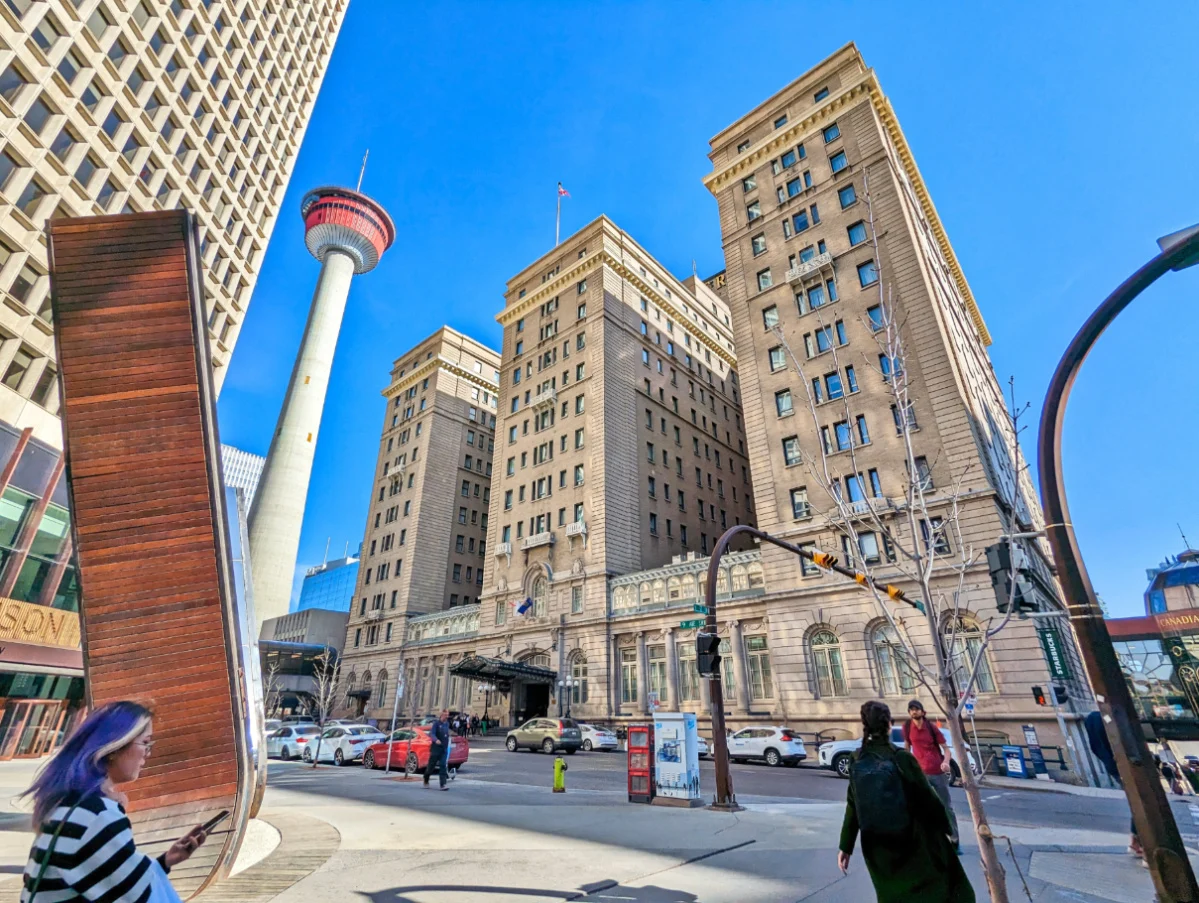 Ending the Canadian Rockies Road Trip
Fly back out of Calgary (YYC). If you would like to add onto this trip even more, you can head south from Calgary and visit Waterton Lakes National Park and then continue down into Montana to visit the USA's Glacier National Park. Really, this road trip through the Canadian Rockies can easily take you through a large portion of the United States' Rockies too. And it's all worth exploring!
Should you feel like you need more Canadian road trip adventures when you've completed this itinerary, you can structure your travel to head westward to the BC coast. Here you'll have lots to do an see in Vancouver, the Sunshine Coast and, of course, Victoria and Vancouver Island. We love British Columbia and it's such a diverse place to explore that it's worth its own trip.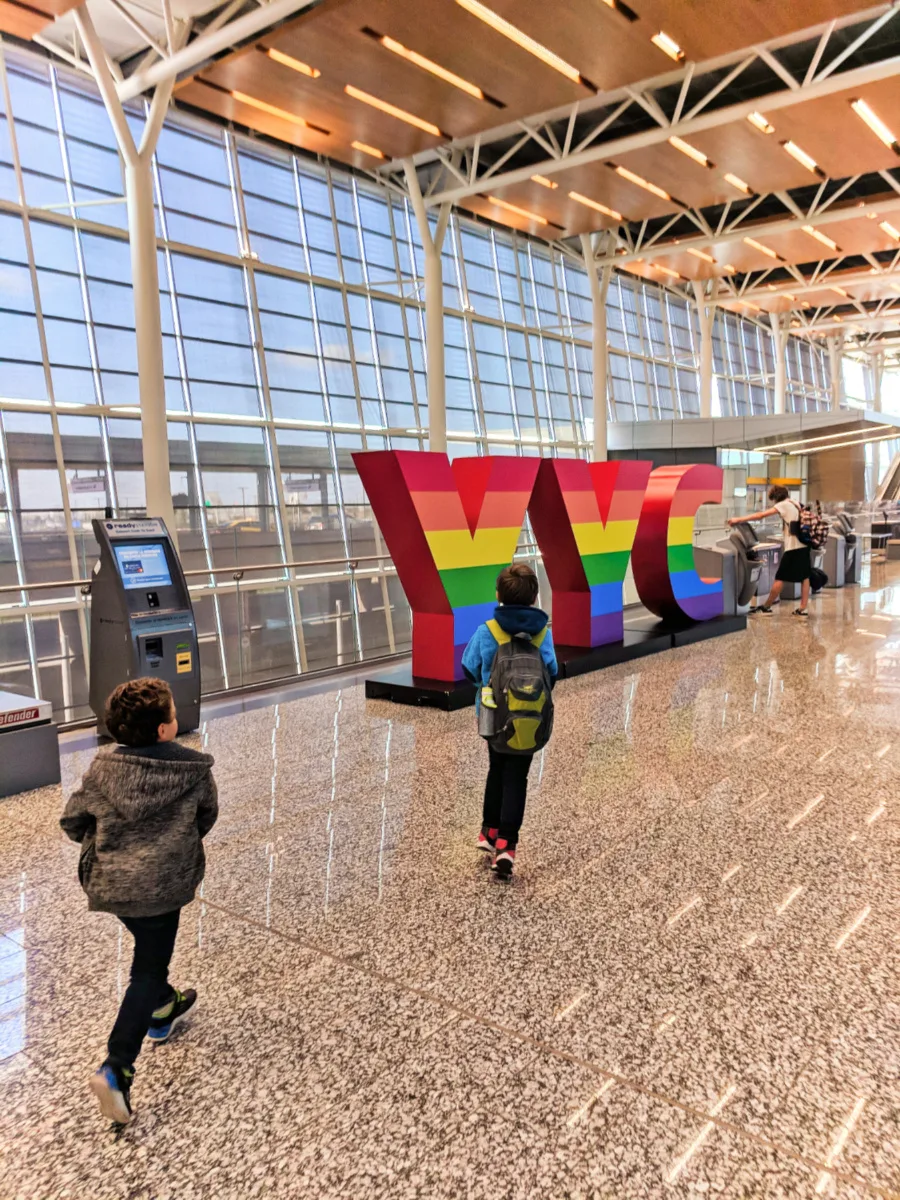 I hope you're inspired and excited to plan your own Canadian Rockies road trip. It's great to do from mid-spring to late autumn. You'll probably score some snow if you go early and you'll catch fall colors if you goin in October. If you have any questions or want to add your own suggestions, please leave a comment or send us a note. We're always happy to share more!