Rocky Mountaineer is such a mystery to those who've heard of it but not yet been on one of their journeys. I'm excited to share all about my experience on this luxury train 'First Passage to the West' journey through Western Canada, and also lay out the details of planning your own adventure. From our start in Vancouver to ending in Calgary for our flight home, I've got the full scoop on what to expect and how to make the most of a Rocky Mountaineer train trip.
Have you done this luxe vacation in the Canadian Rockies or just heard about it from others? If you have any questions about the experience, what additional activities to do with your time in Canada or just want to share your own train travel experience, please leave a comment or send us a note. We're happy to share more or help others plan their Rocky Mountaineer trip.
This travel journey was sponsored by Rocky Mountaineer.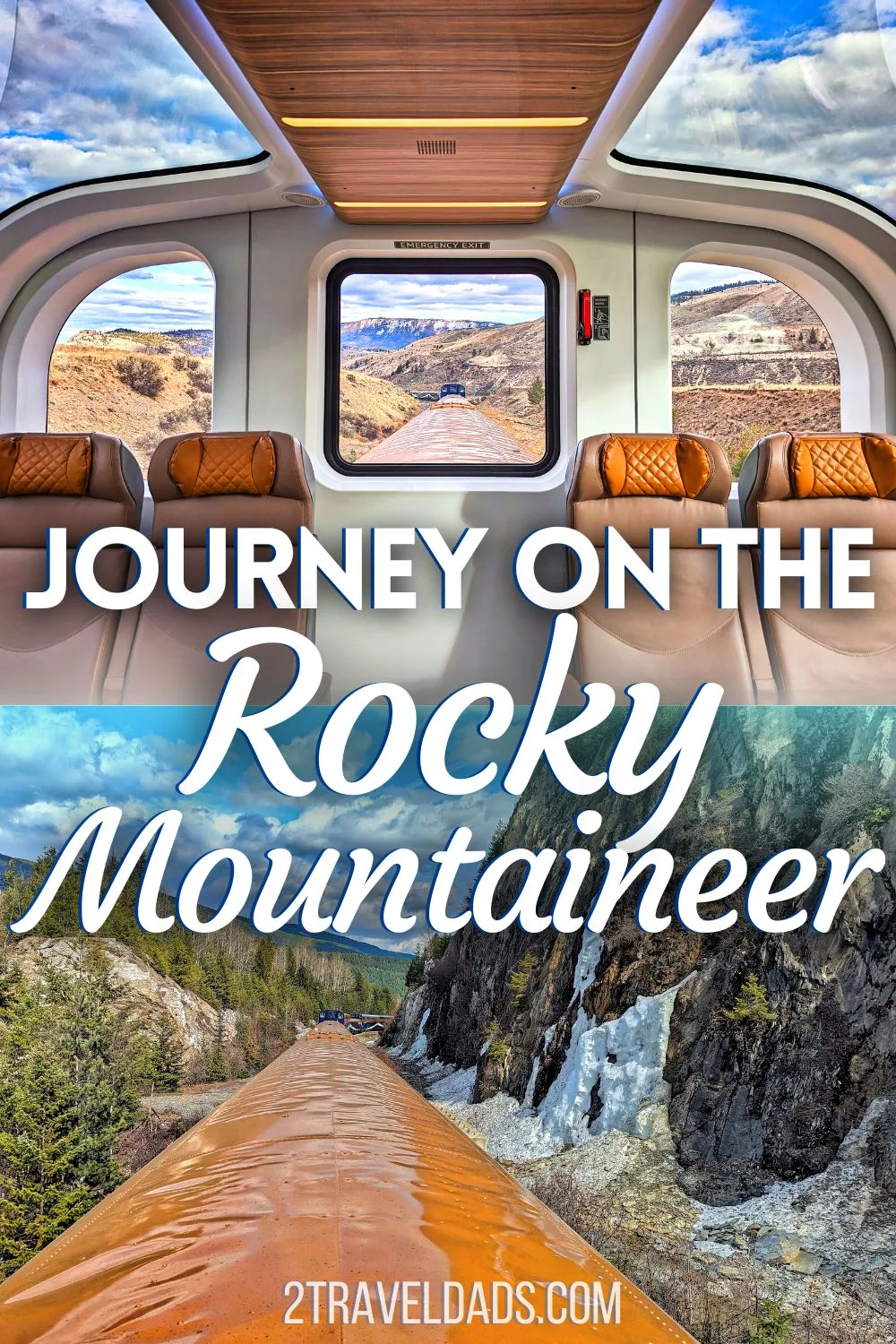 What is Rocky Mountaineer?
I am really fortunate because I get to travel a lot, and my family usually gets to come along, but we're more often than not doing a road trip or traveling locally. It's a lot of staring at the road and managing how much tablet time is acceptable on a car trip, and it's often not a lot of great meals on the road. The Rocky Mountaineer is 100% different and really is the most unique vacation.
Not that any one type of travel is better than another, as each has its purpose, but a luxury train has been MY bucket list trip. I get to enjoy the journey and not just drive. I get to have nice meals while watching nature pass me by as we head into the Canadian Rockies. It's a trip where you don't have to manage the plans, the timing or the kids (unless you bring them along). This is the ultimate recharge.
As you make your way from Vancouver BC to Calgary AB on Rocky Mountaineer's First Passage to the West route, guests get to stay in beautiful hotels each night (not sleeping on the train), so really, this trip is ALL about the journey. It's awesome.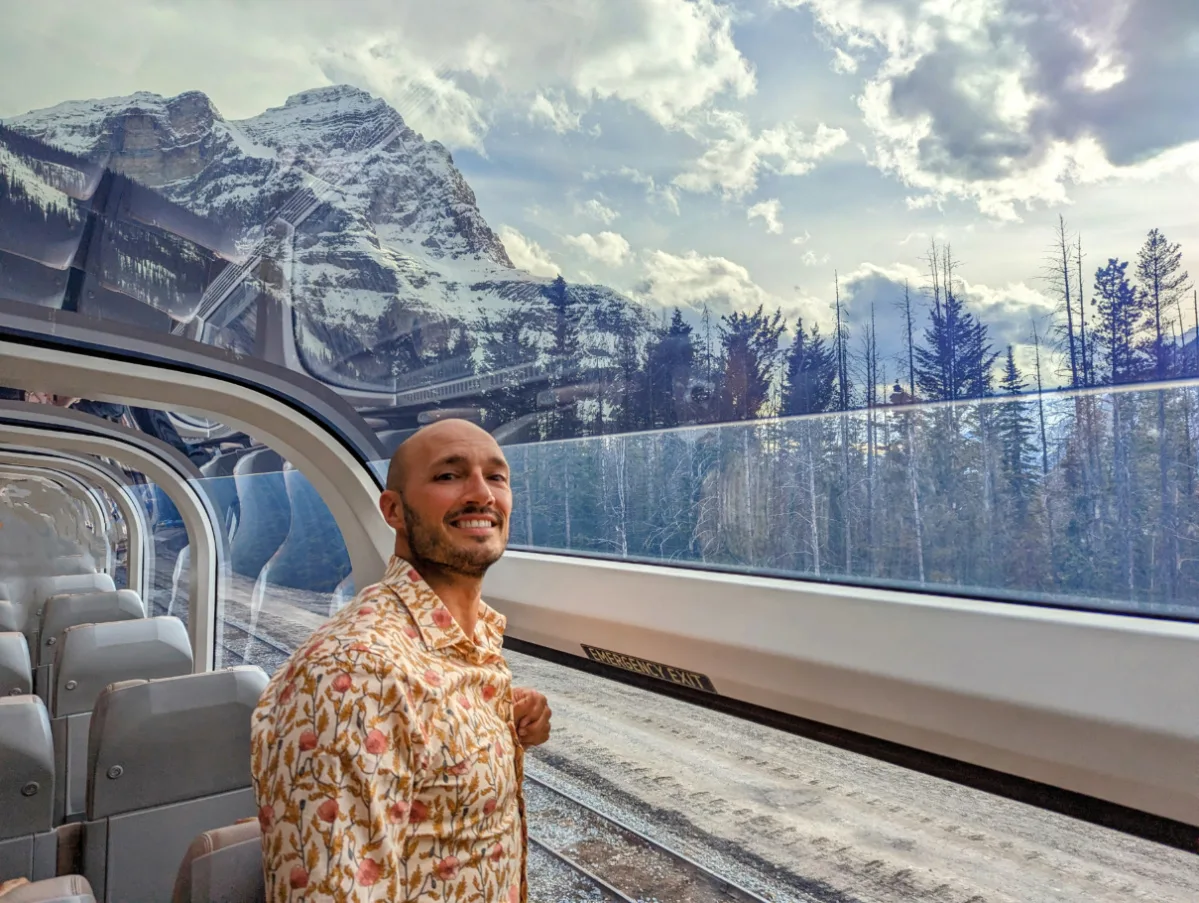 The Train Travel Plans
There are several routes and options to customize your journey with Rocky Mountaineer. It's not the type of train system that you would use to commute from city to city, but it's a luxury train that provides a unique passage for sightseeing and getting to a unique final destination. There are three different routes in Canada and one in the USA.
In Canada, the Rocky Mountaineer route options include First Passage to the West, Journey through the Clouds, and Rainforest to Gold Rush. Each is a bit different in terms of scenery and midway stop, but they all start / end in Vancouver BC (the start/end destinations are up to you!). The First Passage to the West route journeys between Vancouver and Banff National Park with Lake Louise as an optional ending point (just short of the town of Banff). The other two Canadian train routes can either start/end at Jasper National Park in northern Alberta.
The Rocky Mountaineer route in the USA is called Rockies to the Red Rocks. This luxury train trip goes between Denver, Colorado and Moab, Utah. You'll cover a lot of ground and amazingly different sights on this route, and your overnight stop is in the beautiful town of Glenwood Springs. This is a great opportunity to enjoy both the Denver area and Utah National Parks!
I think the Rocky Mountaineer experience in the USA is quite different from what you'll see on the Canadian train routes. I want to do them all!
Tip: as you plan and book your Rocky Mountaineer journey, seriously consider adding time in the start or ending destinations. Maybe for the additional time on the West Coast, you can visit Vancouver Island and Victoria BC. If you want to add another level of adventure to the Red Rocks destination, plan to complete the epic biking trail through Utah.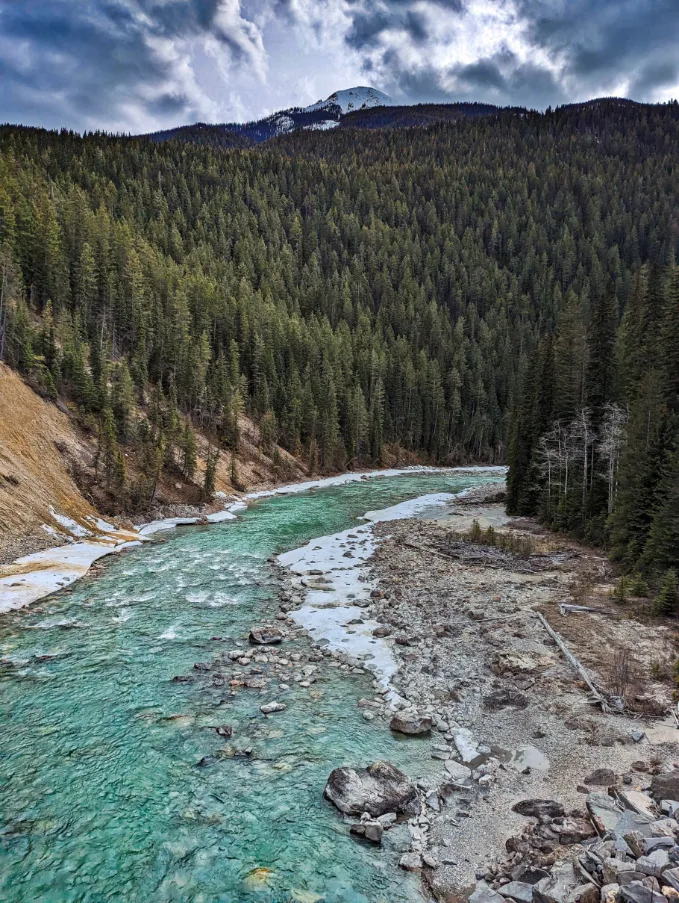 Onboard Rocky Mountaineer
As soon as I shared that I was heading out on Rocky Mountaineer I started getting questions all about what it's actually like aboard the train. "What is the food like? Is there wifi onboard? Do the seats lay down flat?" I've got all the answers for all these questions and more.
If you have additional questions or want more specific information than provided, please be sure to leave a comment or send us a note. We want to be helpful so you can plan an awesome train adventure, but we also think it's important to leave a little mystery.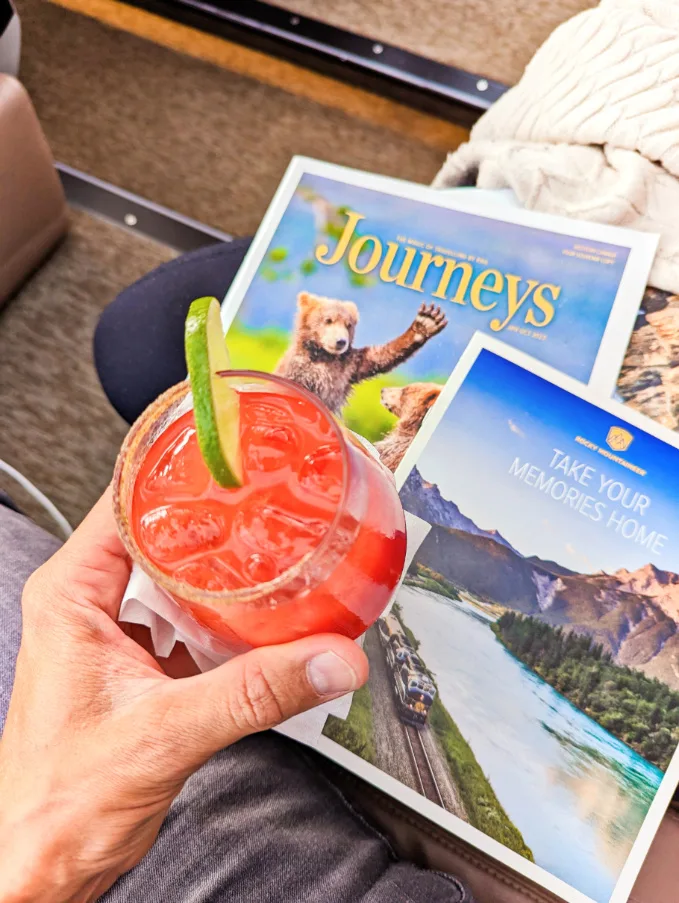 Rocky Mountaineer Service Levels
Because the Rocky Mountaineer is a luxury train experience, there are different levels of service you can book. Not every train ticket is the same, but the courtesy and sights are, so if you are just looking to enjoy a train journey and don't know really what the differences in the experience are, we've got you covered.
GoldLeaf Rocky Mountaineer Service
The GoldLeaf Service is one of the two types of service levels on the Canadian routes for the Rocky Mountaineer. With GoldLeaf Service, you will be in a bi-level glass-dome coach. You have an assigned seat in the upper level of your train car. Your seat has all sorts of controls for reclining, lumbar support and a seat heater. The dining tray is located in your armrest and you have a standard electrical outlet for your seat.
The upper level of the GoldLeaf Rocky Mountaineer car also has enormous windows that curve to the ceiling, making it amazing for seeing the mountains and trees as you travel. The level of tint of the dome observation windows can be controlled by your host to limit harsh sun on really bright days, keeping the car more cool.
The other thing that makes the Rocky Mountaineer GoldLeaf service an elevated experience to SilverLeaf (which you can read about below) is the way dining is done. For GoldLeaf meal service (breakfast and lunch), dining takes place in the lower level of the coach and is done in two seatings, with half the guests going to the lower level dining area and then swapping with the other half after the meal. Although dining is on the lower level of the train car, don't worry, you can still enjoy the views through the oversized train windows.
Other perks of the GoldLeaf Service include premium wines and cocktails, snacks such as pastries and cheese service, and additional  Rocky Mountaineer team members for questions and conversation.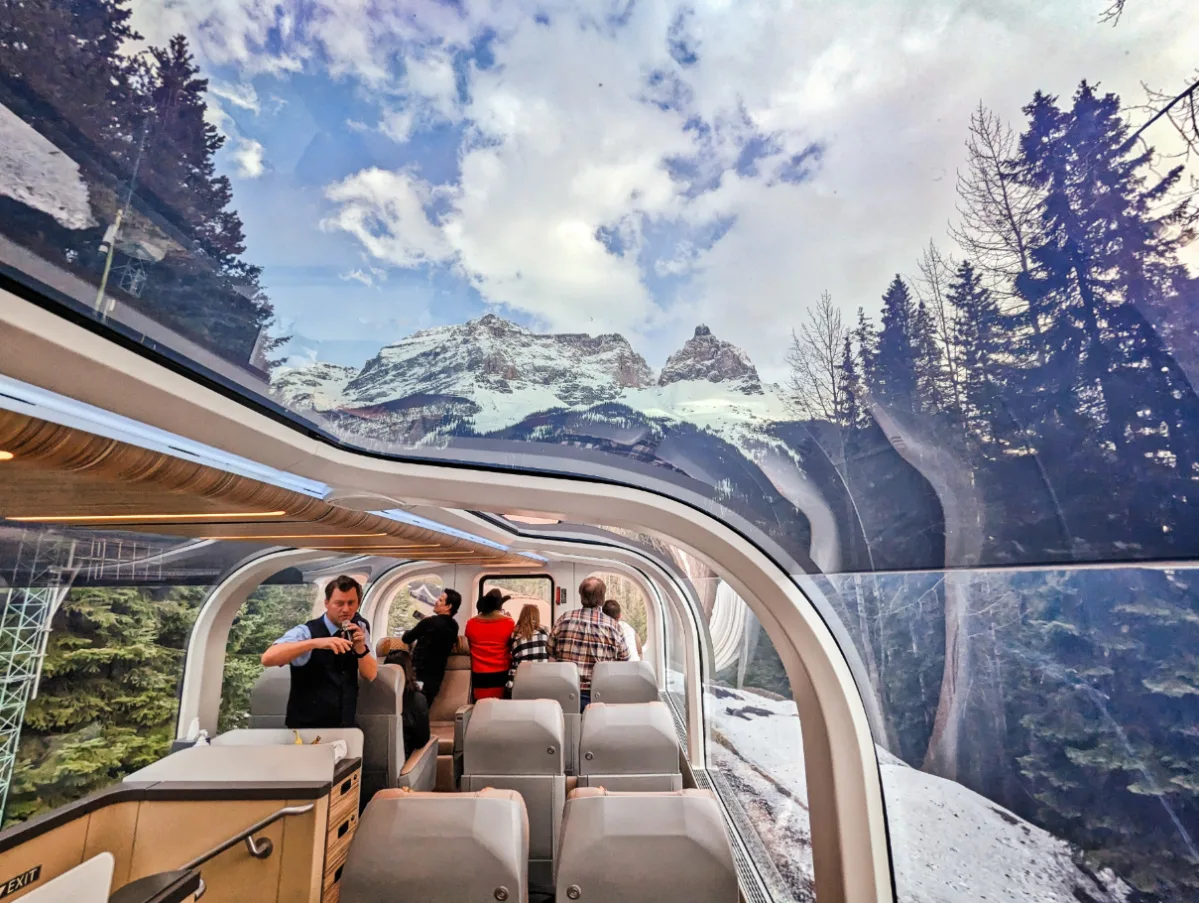 SilverLeaf Service Passage
As I mentioned, the courtesy and sights are the same if you book SilverLeaf Service on the Rocky Mountaineer, but there are some key differences. The train cars for SilverLeaf are single level, so there isn't an upper observation level and separate dining area, but the windows are HUGE and they too curve up to the center of the train. I really like the open feeling so much height gives on the Rocky Mountaineer journey.
The seats on the SilverLeaf coaches are also different. You are a little more limited on the personal seat adjustments you can do:you can shift the seat a bit, but you lack the optional heated seats and lumbar adjustments in GoldLeaf. Also, there is a tray that comes down from the seat in front of you, much like an airline seat, instead of coming up from the armrest.
The most significant difference between Rocky Mountaineer GoldLeaf and SilverLeaf Service is the dining set up. As I mentioned with the GoldLeaf, you have a separate dining area and get to go between upstairs and downstairs.With SilverLeaf, all dining and drinks are done at your seat with your Onboard Hosts attending everyone instead of being at a dining table.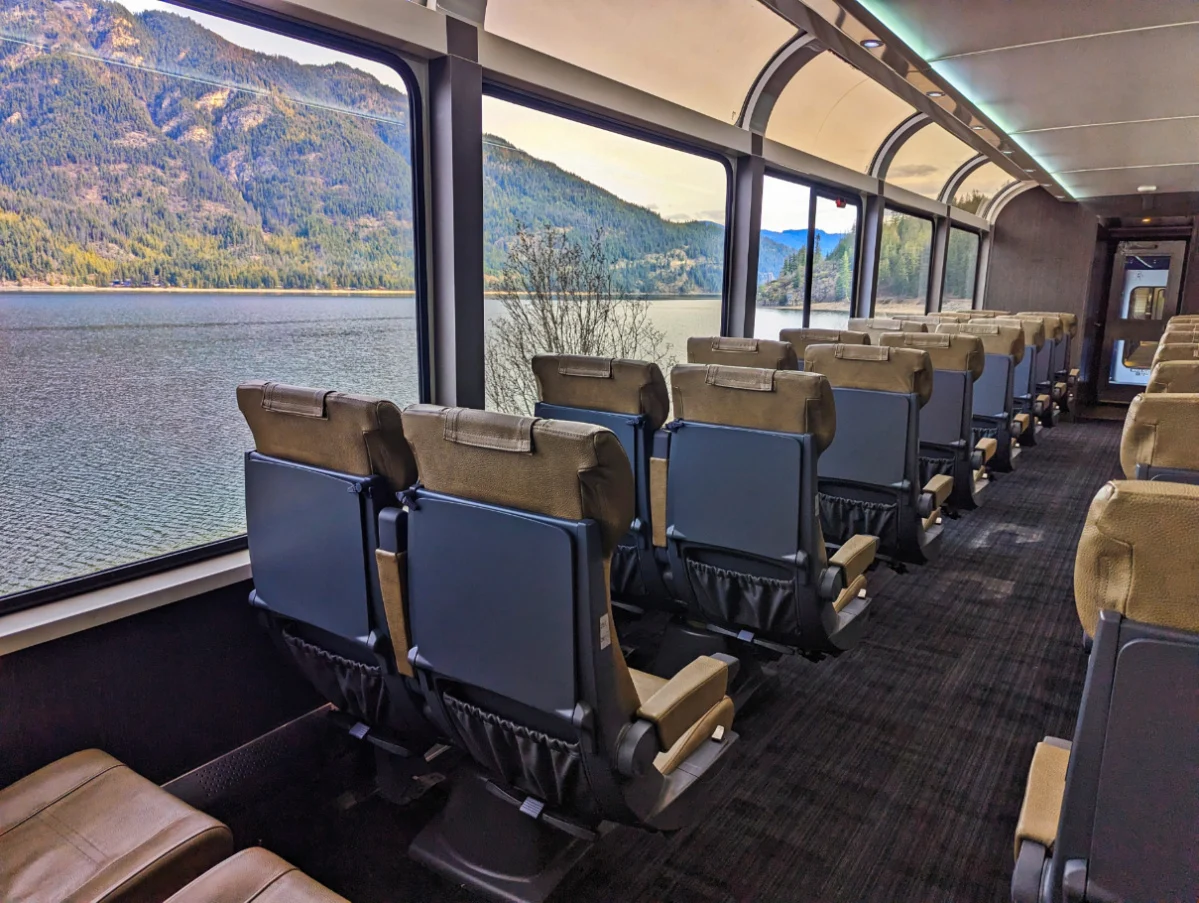 Should you Choose Silver or GoldLeaf Service?
Ooh, so here's where the decision about which type of fare to purchase comes down to the budget you're working with. Riding the Rocky Mountaineer is a bucket list adventure, for sure, so most guests do choose the GoldLeaf Service to simply have all the stops pulled out and enjoy themselves to the max. The differences really are in the way dining is done and whether or not your train car has two stories or not.
The price difference of GoldLeaf vs SilverLeaf is not as much as you'd think, with the cost difference being $500-$700 more for the GoldLeaf. Why I say that's not "as much as you'd think" is because booking the Rocky Mountaineer is already a very premium experience and once you've already budgeted around $2000 per passage ($1500 USD per person is the lowest cost I've found), the bump up in ticket class may not seem like so much.
Note: I am not here to tell people what is costly and what isn't, as travel budgets and travel value is different for everyone. The Rocky Mountaineer experience is so unique and special in both classes of service, so do what's right for YOUR budget and travel style.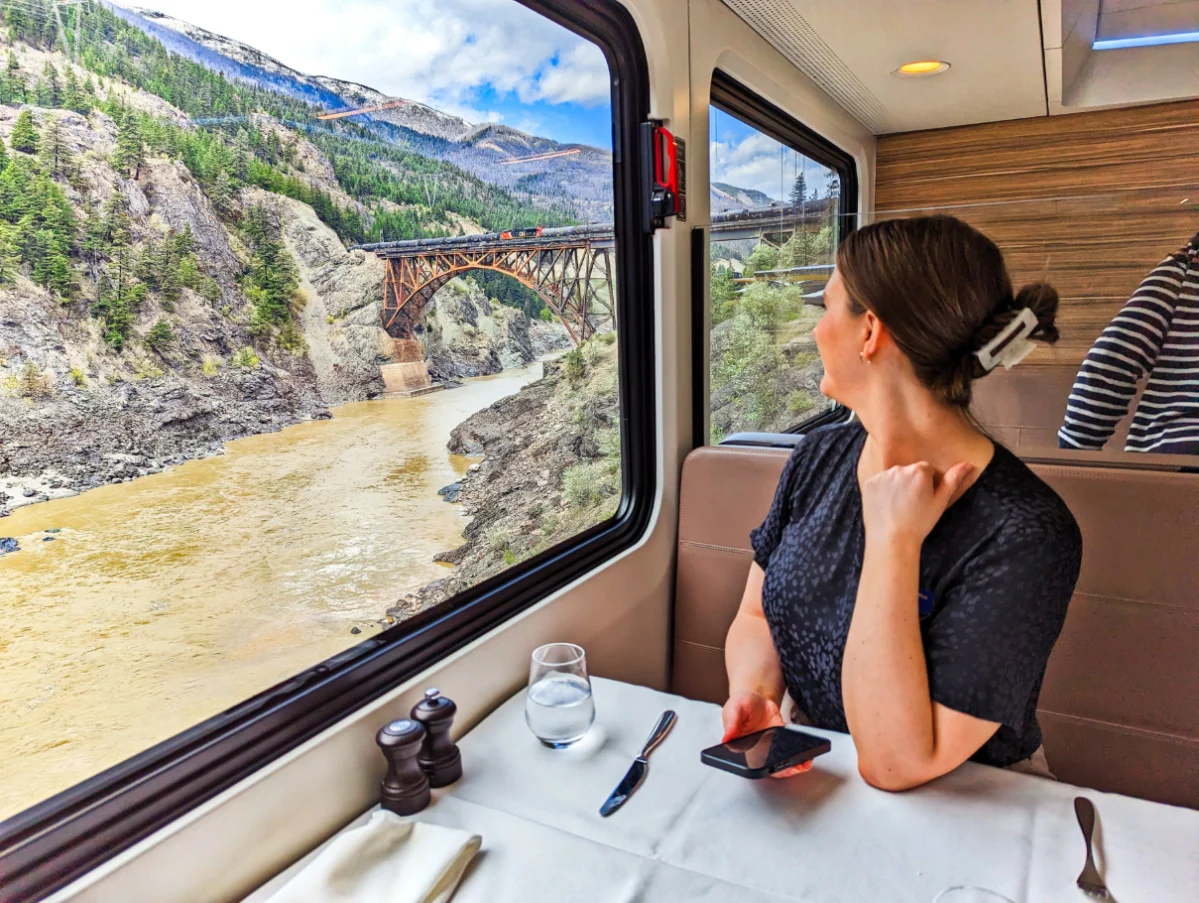 Dining Onboard Rocky Mountaineer
Ahh, dining aboard the Rocky Mountaineer is the most common question I get. Everyone wants to know how the menus work and what items are available. Don't worry, I have the answers, but take the specifics to what we ate with a grain of salt, as the menu aboard the Rocky Mountaineer changes with the availability of locally sourced produce and products. 
To start the day, morning pastries and coffee service begin soon after leaving the Rocky Mountaineer station. This is followed by breakfast on the lower dining level for GoldLeaf and at your seat for SilverLeaf. There are more options on the menu for GoldLeaf passengers than SilverLeaf. We enjoyed eggs benedict, lemon pancakes, beautiful avocado toast and salmon lox.
For lunch, we ate some pretty delicious meals, including glazed pork tenderloin, locally sourced steelhead, steak and dungeness crab ravioli. And the desserts matched the creativity and deliciousness of the main courses.
Note: if you're traveling on with a food allergy or sensitivity, tell Rocky Mountaineer at the time of booking. They are well equipped to provide the same high quality meals to guests with limitations as guests that are able to just order from the provided train dining menu.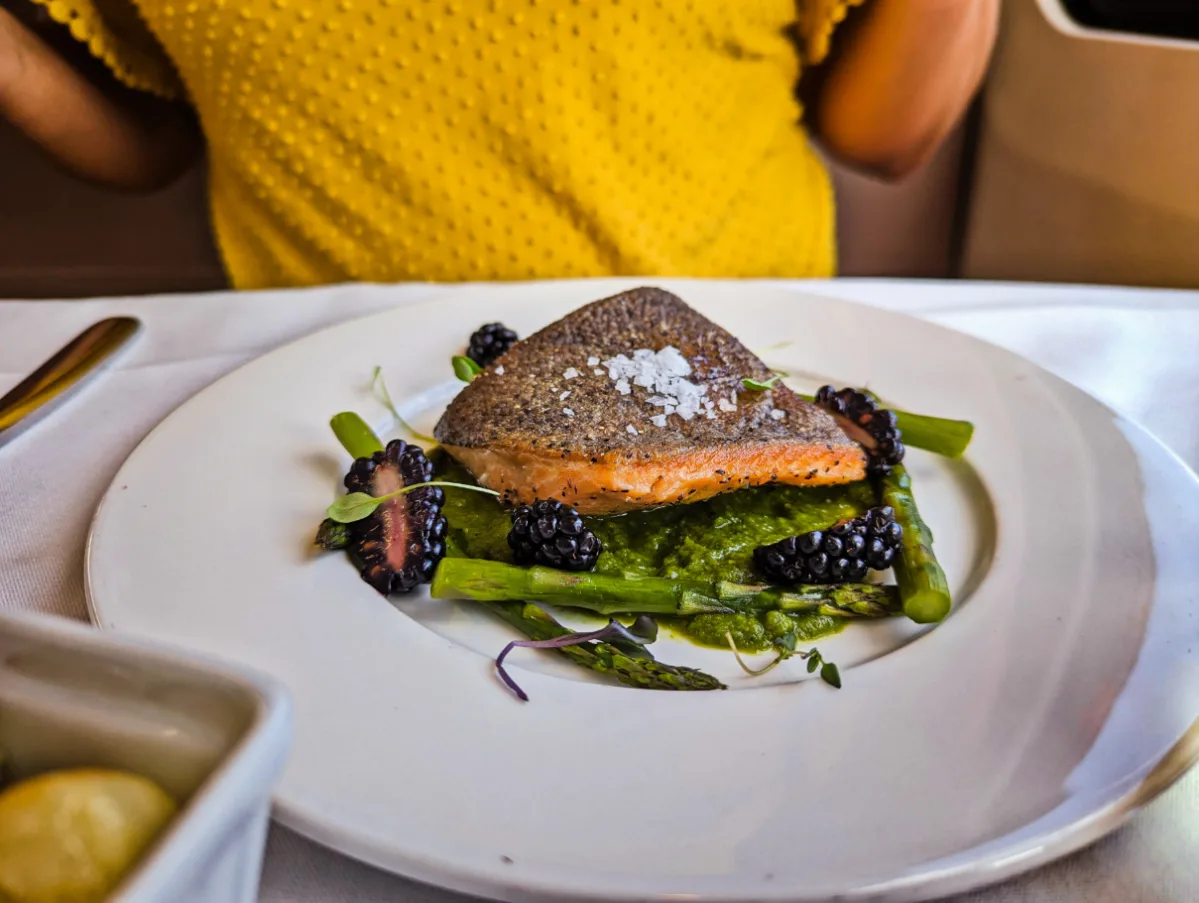 What Do You Do Aboard the Rocky Mountaineer Train?
Because the Rocky Mountaineer runs on shared tracks, meaning that freight trains also run on the same lines, there are times where the train has to slow or even stop to allow other train traffic to proceed, depending on the priority of the other trains. This means that your time on the Canadian Rocky Mountaineer train each day could range from 8 to 12 hours, depending on the route. On the U.S. route between Denver and Moab, the travel days are shorter, so you may only be en route 5 to 8 hours per travel day. This is a lot of time, and it's very relaxing, but many people do need additional stimulation.
While you're traveling, the Rocky Mountaineer hosts share lots of information and history as you go. They help guests spot wildlife along the route and they answer all kinds of questions to help pass the time. We learned about the towns we were passing through, about the history of train routes in Canada (on First Passage to the West) and even about the wildlife we were seeing.I think the most fascinating part was learning about how train operations actually work, particularly when it comes to track switching and shared lines. The incredible scenery was constant, and I was definitely occupied by all the views the entire journey.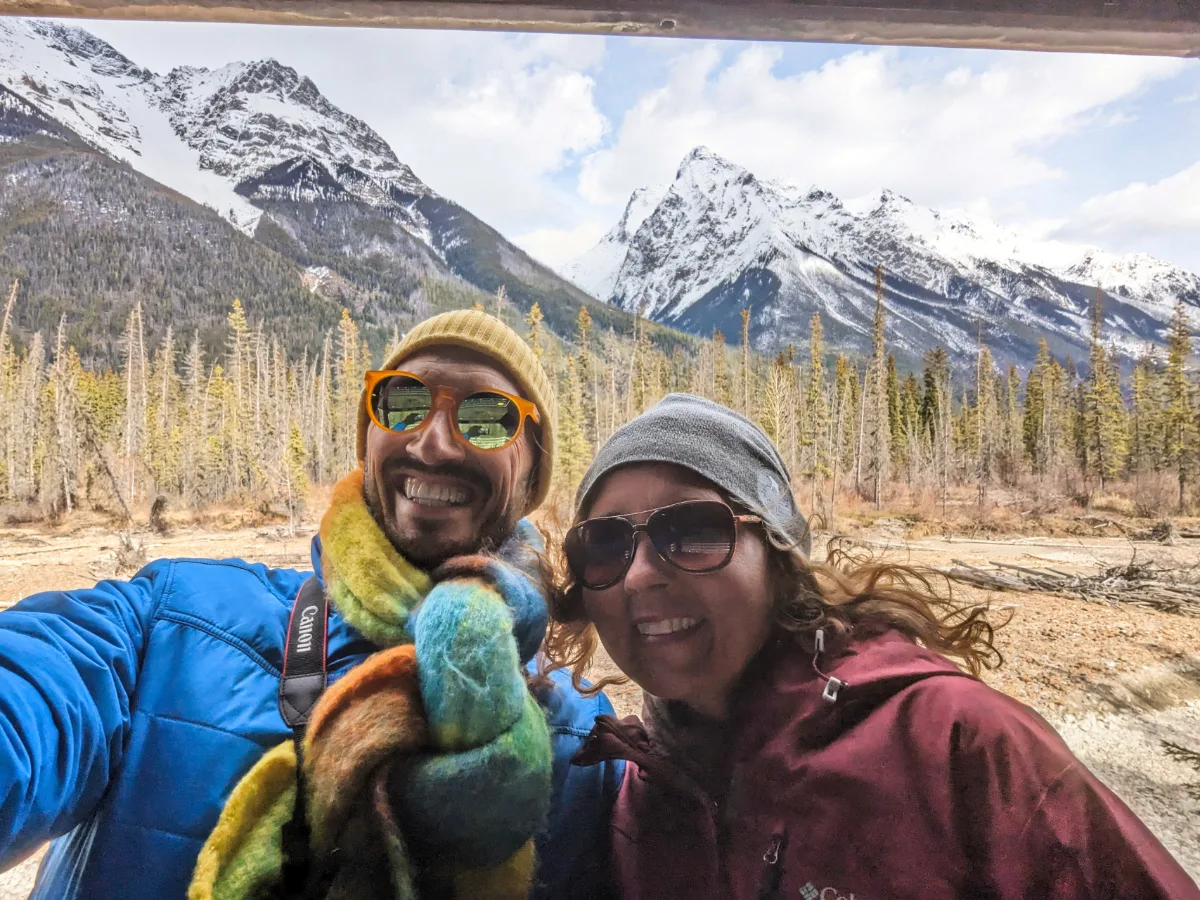 So, what can you do if you feel you need to plan more activities during the Rocky Mountaineer travel time? A lot of guests travel with books and small games in the event they want to add that sort of fun. There is NO WIFI on any of the Rocky Mountaineer trains, and cell service is very poor to non-existent along most of the routes. But, part of the beauty of this trip is really getting to unplug and be present with your surroundings, so no WIFI didn't feel like a huge miss.
I also loved the social atmosphere of the trains, we ended up leaving with so many new friends.
My favorite thing to do on the Rocky Mountaineer is to switch things up and spend time outside. GoldLeaf coaches have an outdoor platform, while SilverLeaf has a smaller outdoor viewing space. This is a great way to take in the views up close and personal, boost your energy if the train is making you sleepy, or if you tend to get motion sickness. I also really loved taking photos from the outdoor platform area.
Note: you cannot move between train cars. Your car is your car. If you're traveling in a group, as long as you book your passage together, you'll be with each other for the journey, so you shouldn't need to move cars.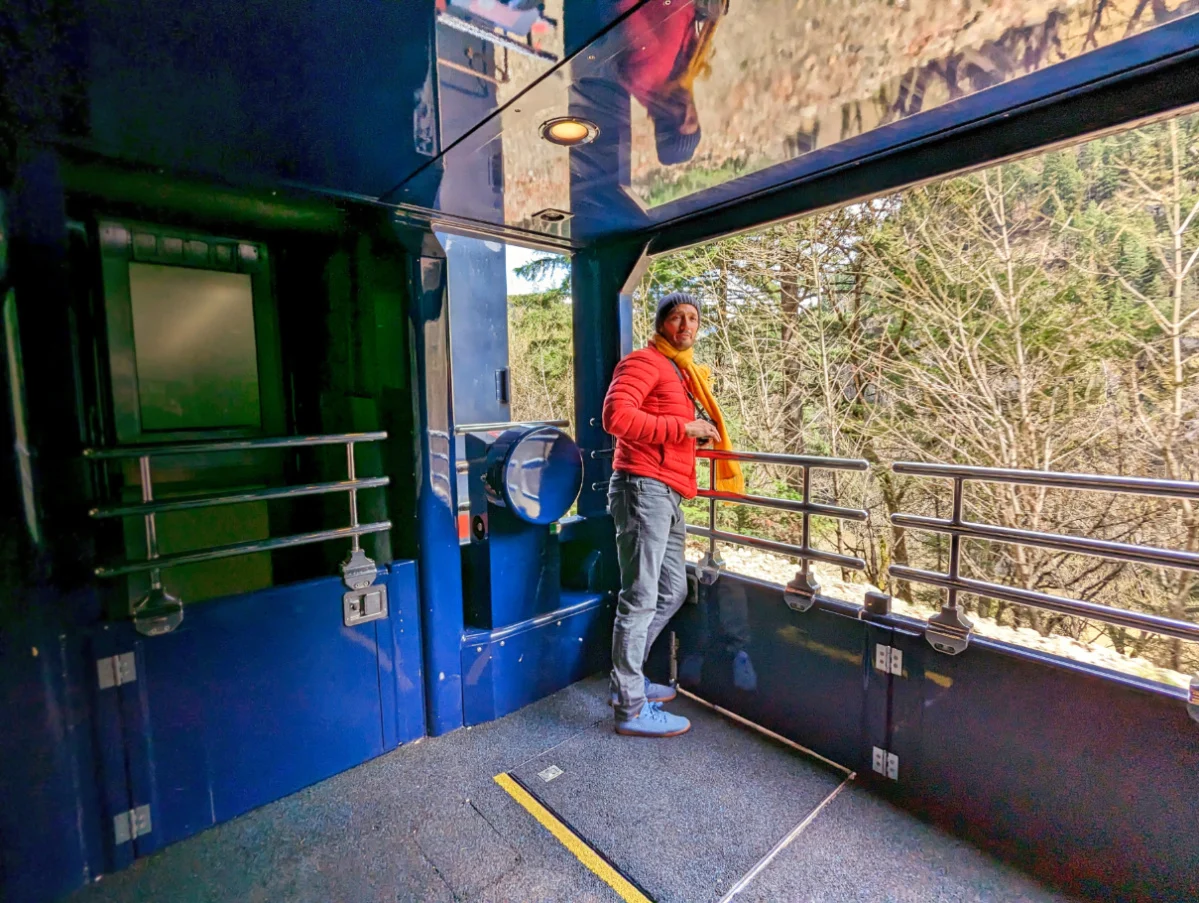 Frequently Asked Questions About the Rocky Mountaineer
Wow, I received so many questions from people when I first announced that I was embarking on my Rocky Mountaineer First Passage to the West journey, from Vancouver to Banff. I piled them up and have all the answers for YOU!
What is the Rocky Mountaineer train?
The Rocky Mountaineer is a luxury short-route train operator that showcases the unique landscapes of the Canadian and American West.
Is the Rocky Mountaineer wheelchair accessible?
Yes! There are lifts for both getting onto each class of train passage and, on GoldLeaf, an elevator to get to the upper observation area.
Can kids ride the Rocky Mountaineer?
Yes! While the Canadian train routes are longer than the US route, children are welcome aboard. Each day is quite long, but if a child is patient and able to manage having long train days, this can be an unforgettable family trip. It may be better suited for older children or kids that are quite easy going. There is no children's rate or alternative kids menu items.
What is the shortest or longest route on the Rocky Mountaineer?
The shortest Rocky Mountaineer train route is the Rockies to Red Rocks route between Denver, CO and Moab, UT. The longest is the Rainforest to Gold Rush which travels for three days between Vancouver and Jasper, but any route can be turned into a round-trip and the Canadian routes can be made into circle journeys.
Can I choose what hotels I stay in?
Yes, you can. Just like planning any travel, you can always choose budget or nicer properties, and you can book your hotels before or after on your own or through an agent. The hotel in Kamloops (Canadian routes) is assigned post-booking and is included in your general Rocky Mountaineer passage. Examples of hotels you may choose to stay in as a part of your journey may be the Fairmont Hotel Vancouver, Chateau Lake Louise, Mount Royal Hotel in Banff, Fairmont Palliser in Calgary or on the US route, you can enjoy the Hoodoo Moab Hotel. There are more options too, of course.
If I am on the First Passage to the West, can I end my journey at Lake Louise or must it be Banff?
You can either end the journey at Lake Louise or continue to the town of Banff for the same cost.
How do they deal with allergens aboard the Rocky Mountaineer?
If you have an allergy or food sensitivity, you should let your Vacation Consultant know when booking, and you can remind your onboard hosts when you arrive. Menu alternatives are available and they are very good at making accommodations.
Will I see wildlife from the train?
While the very nature of wildlife is to be wild, there are quite a few species you can see from the Rocky Mountaineer. From countless bald eagles to bighorn sheep and then sometimes moose or bear, wildlife may wander around your route and the onboard hosts make every effort to communicate between cars to help guests spot wildlife from the train.
How much is each type of passage on the Rocky Mountaineer?
Prices vary depending on the route and availability, but SilverLeaf Service can start at $1500 USD per passenger and Gold Leaf at $2000+, adding on days and premium extensions continues to build the final price.
Can I do the Rocky Mountaineer as a round trip experience?
Absolutely! You can either book passage back and forth on the same route, or for Canadian train routes you can do a 'Circle Journey' taking two different routes and ending in your original destination.
Does the Rocky Mountaineer go to Calgary or Waterton Lakes National Park?
At this time (2023) the Rocky Mountaineer travels between Vancouver to either Banff or Jasper, but not Calgary or Waterton Lakes National Park. These destinations can be added to your trip via motorcoach or renting a car.
What routes does the Rocky Mountaineer train operate on?
The Rocky Mountaineer train runs between Vancouver, British Columbia and Banff, Alberta via Kamloops, BC; it also operates between  Vancouver and Jasper National Park in Alberta via either Kamloops or Quesnel, depending on the specific route chosen. In the USA it operates between Denver, CO and Moab, UT.
What is the best time of year to take the Rocky Mountaineer train?
The Rocky Mountaineer operates April through October, both for its US and Canadian routes. For the Canadian routes, snow can be on the ground into June in some areas, so if you want to really hike and explore the destinations, visiting after the snow melts and before it falls again is ideal. For the Denver to Utah route the very beginning and very end of the season is best for both weather and smaller crowds in your destinations.
How long does the Rocky Mountaineer train journey take?
The base train routes, in both Canada and the USA, take two days on the train. These can be elaborated on by adding days in the start or end destinations, or by doing a round trip or circle tour.
What are the onboard accommodations like on the Rocky Mountaineer train?
When you ride the Rocky Mountaineer, there aren't "accommodations" per se, but different sorts of train cars you can choose from when you book (GoldLeaf versus SilverLeaf). You DO NOT SPEND THE NIGHT on the train, but hotel accommodations are booked for you. 
What kind of food is served on the Rocky Mountaineer train?
I like to think of the menu aboard as Canadian fusion food. The chefs work to prepare meals that showcase local products, from the Rockies to the Pacific Coast.
Are there any special requirements for passengers on the Rocky Mountaineer train?
If you're traveling from the US to Canada or vice versa, you'll need a passport for crossing the border to your point of origin. You'll need to clear customs as a general rule when flying into either Rocky Mountaineer country. There are no COVID requirements for boarding the Rocky Mountaineer at this time (May 2023).
What are the luggage restrictions on the Rocky Mountaineer train?
Besides the standard luggage safety restrictions you'll face in travel, there aren't major luggage restrictions for the Rocky Mountaineer. When you travel on the train, your luggage is actually transported separately, and it will be waiting for you in your hotel room at each destination, or if you're ending the ride and going off on your own, at the train station. Otherwise, you are welcome to bring a personal item (such as a backpack) that you can store under your seat.
Are there any discounts or promotions available for the Rocky Mountaineer train?
Rocky Mountaineer may make discounts available via travel agents or booking deals on their website, but there isn't a general discount program for booking passage on the train. You can sign up for alerts on their site to let you know if Rocky Mountaineer is launching a promotion.
Can I bring my own food and drinks on the Rocky Mountaineer train?
You can bring snacks or a water bottle if you like, but onboard Rocky Mountaineer, your food and drinks are provided. You cannot bring your own alcohol on the train for consumption during the journey (and you won't need to given it's included and service is steady!)
Are there any stops or excursions along the Rocky Mountaineer train route?
The excursions and sightseeing opportunities when you're on a Rocky Mountaineer journey come at the start or end destinations. You're welcome to explore the town where you have your overnight stay, but there aren't any other stops along the way for exploring beyond the tracks. The train hosts do a great job at storytelling and giving you a heads-up on upcoming photo opportunities, and can't-miss sights. 
What is the cost of a Rocky Mountaineer train ticket?
Depending on the Rocky Mountaineer route, the number of days, the add-ons and when you book it, a journey on Rocky Mountaineer can range from $1500 USD to $4000 USD. It really depends on how you build your trip.
How do I book a ticket for the Rocky Mountaineer train?
Passage on the Rocky Mountaineer can be booked directly through their website or through a travel agent. I love trusting more complicated or costly trips to professional travel planners, and they do not cost YOU anything extra to use their services.
What is the cancellation policy for the Rocky Mountaineer train?
Be sure to look at the Terms and Conditions when you book your trip, but in general, no changes or cancellations are allowed within 15 days of your departure. This window may be longer for certain bookings, so be sure to confirm the exact cancellation restrictions before booking.
Would you do another Rocky Mountaineer journey?
Yes! In a heartbeat!
I hope this is all helpful for planning a trip with  Rocky Mountaineer. I think it's an amazing experience and highly recommend it. Yes, it's a very different sort of travel, but it's uniquely wonderful in so many ways. 
If you have additional questions, please leave a comment or send us a note. We're happy to help you plan unforgettable travel memories!