We have ended up in Denver for work many times, and we're always sure to have great weekend plans for Denver or going up to the Rocky Mountains. It's easy to add a few days to a work trip or plan a quick getaway to the Denver area, as there are lots of ways to explore the city or the unique nature and small towns on a weekend trip. These weekend plans for Denver and the nearby mountain towns are just what you need for a fun, easy trip!
With some really interesting museums, plenty of kid-friendly activities and unmatched outdoor experiences, extra days around Denver are a must, so grab our weekend plans and enjoy! Take a look at our top picks to make the most of staying through the weekend or going beyond the Mile High City to the mountains.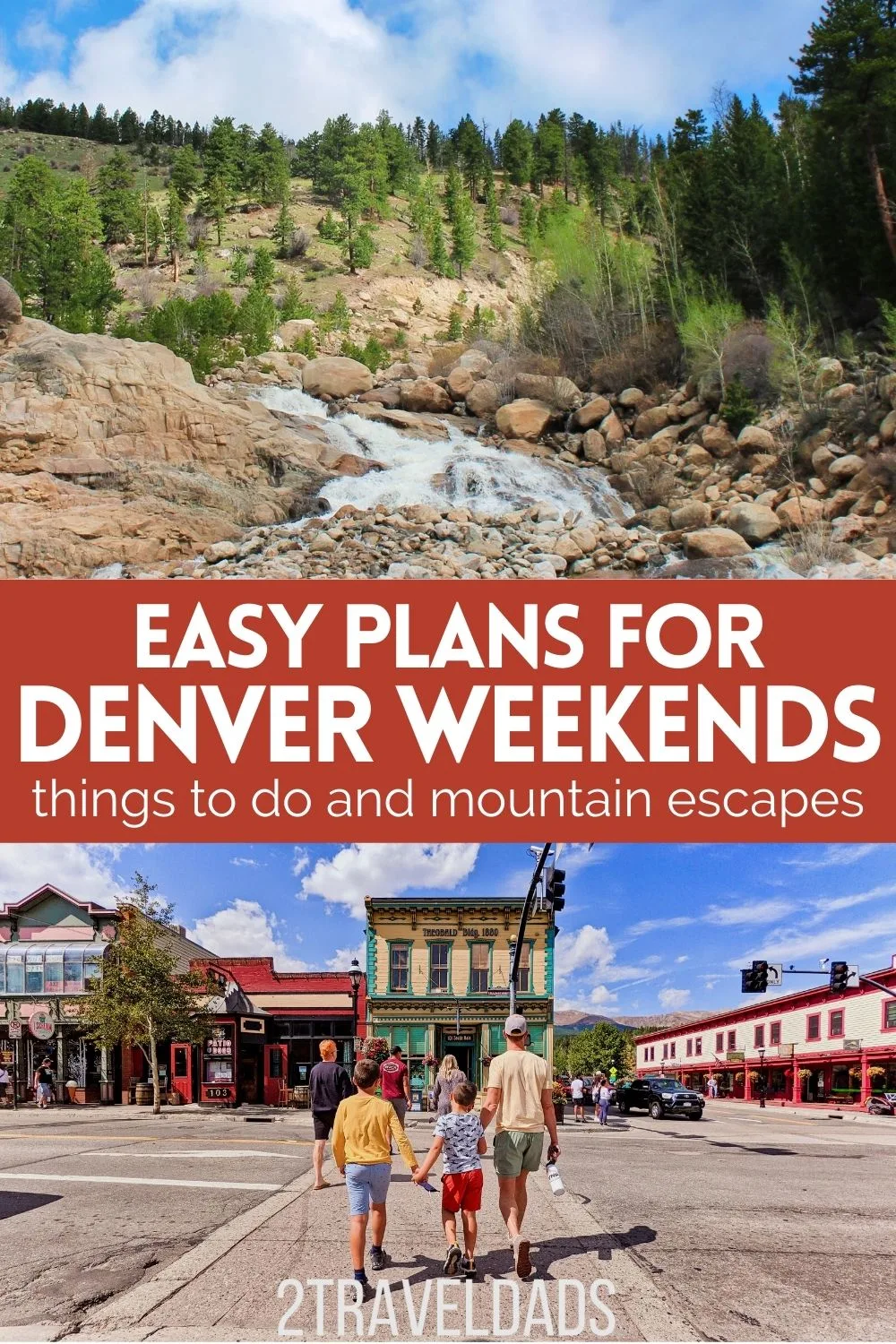 Nearby Denver Hikes with kids
Because so many of our trips to Denver are for work, we look for the simple to get to outdoor spots that will pack the most fun without a long drive, and because weekend plans are usually what we need we're very careful to use our time wisely. We've got two must-do hikes that are great for kids or adults… and they're just outside of downtown! For more hiking, check out the options for Rocky Mountain National Park and Breckenridge.
Finding fossils at Dinosaur Ridge
Nothing makes a business trip more fun than getting to bring the family along and explore with them after-hours. Just beyond downtown Denver is the small town of Morrison. Here you'll find the Dinosaur Ridge National Natural Monument. With two small visitors centers (exhibit areas) you can approach the Ridge from the east or west. Hiking along the paved road, you can see fossilized dinosaur tracks, all kinds of cool geology in the bends of the earth and even dinosaur bones still contained in the hillside.
Dinosaur Ridge is great for getting some outdoors time as well as inspiring young kids to grow their interest in science and the world just beyond the city. Since it's just outside of the city, Dinosaur Ridge is a must for weekend plans in Denver.
Note: if you happen to find a fossil that is small enough to pick up, go ahead an examine it and then put it back. Dinosaur Ridge is a National Natural Monument site and everything within it is protected.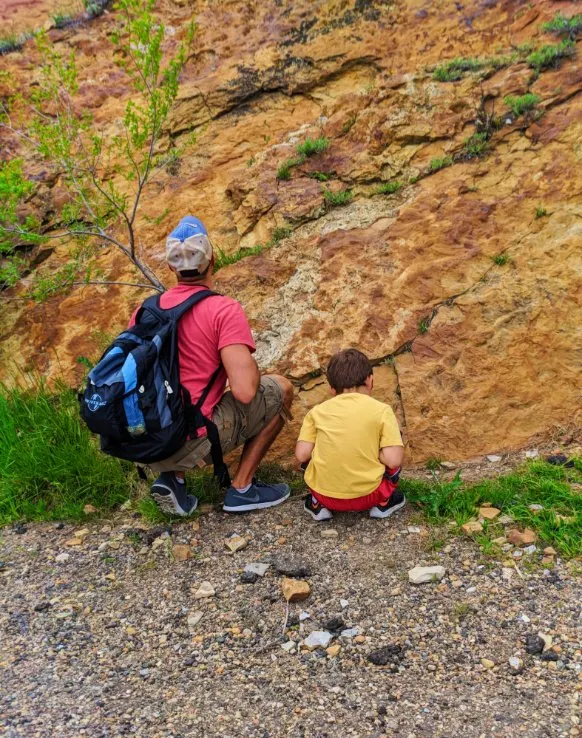 Hiking at Red Rocks Park
Right next door to Dinosaur Ridge is Red Rocks Park. The landscape is dramatic and colorful. The wildlife is abundant and beautiful. And it's just 20 minutes from downtown Denver. Starting from any number of trailheads, hiking at Red Rocks Park is fairly easy and makes for an easy afternoon escape.
One trail that's simple to access and offers beautiful views of the red rocks is the Trading Post Trail loop. At around 1.5 miles, the loop trail takes you into one of the smaller red rock canyons and then across the sandstone tables. It's an easy and beautiful hike to add to your Denver weekend plans. The rocks maintain a lot of heat and the wind can be a bit drying, so be sure that in addition to your camera, bring plenty of water to keep you hydrated along the hike.
Tip: if you can plan it just right, the Red Rocks Amphitheater brings in some incredible headliners for awesome outdoor concerts.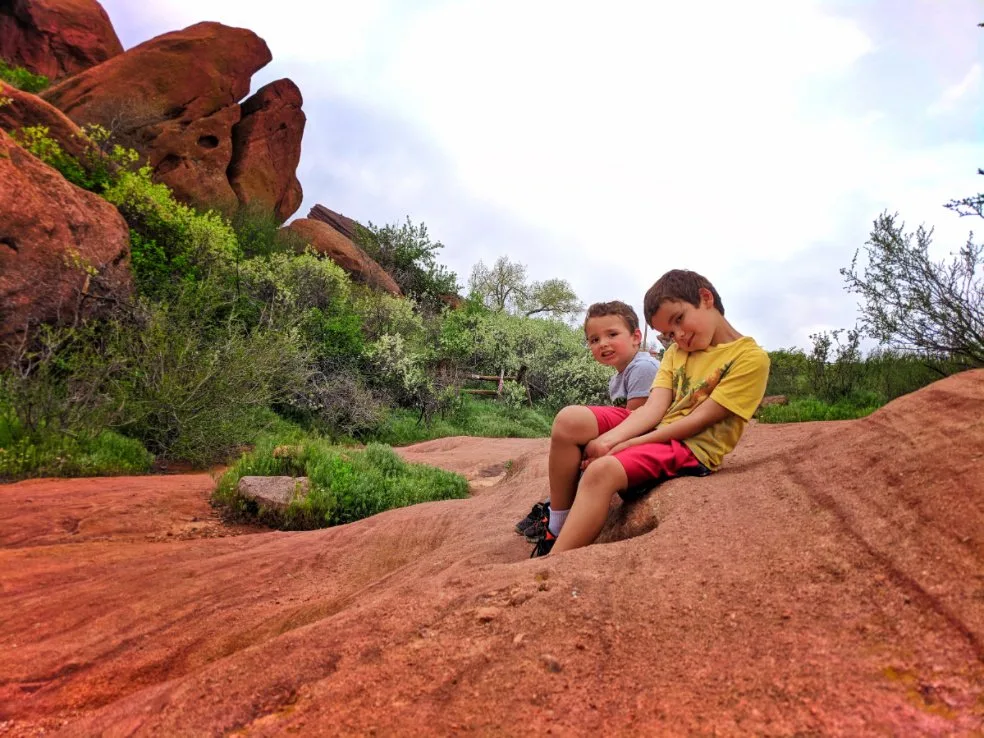 Museums for Your Denver Weekend Plans
Whether the weather is the hot hot summer or the snowy chilly winter, the Denver area has some really great options for museums and indoor fun with kids. It's easy to plan or be flexible with extra days when there are so many good options for the family. Because of operating hours, have museum visits be part of weekend plans in Denver instead of afternoons so that you don't have to feel rushed.
Denver Art Museum with Kids
This was the first art museum we've done with the kids that they truly loved. Actually, it was difficult to convince them to leave. The Denver Art Museum has several areas dedicated to families where kids can get creative, make art and play. There were also several exhibits, particularly the current Stampede show that did a great job at captivating the kids' attention. For adults, rotating exhibits and a really wonderful collection of Western and Midwest art make it a unique art museum to visit. Definitely worth adding to an extra day in Denver.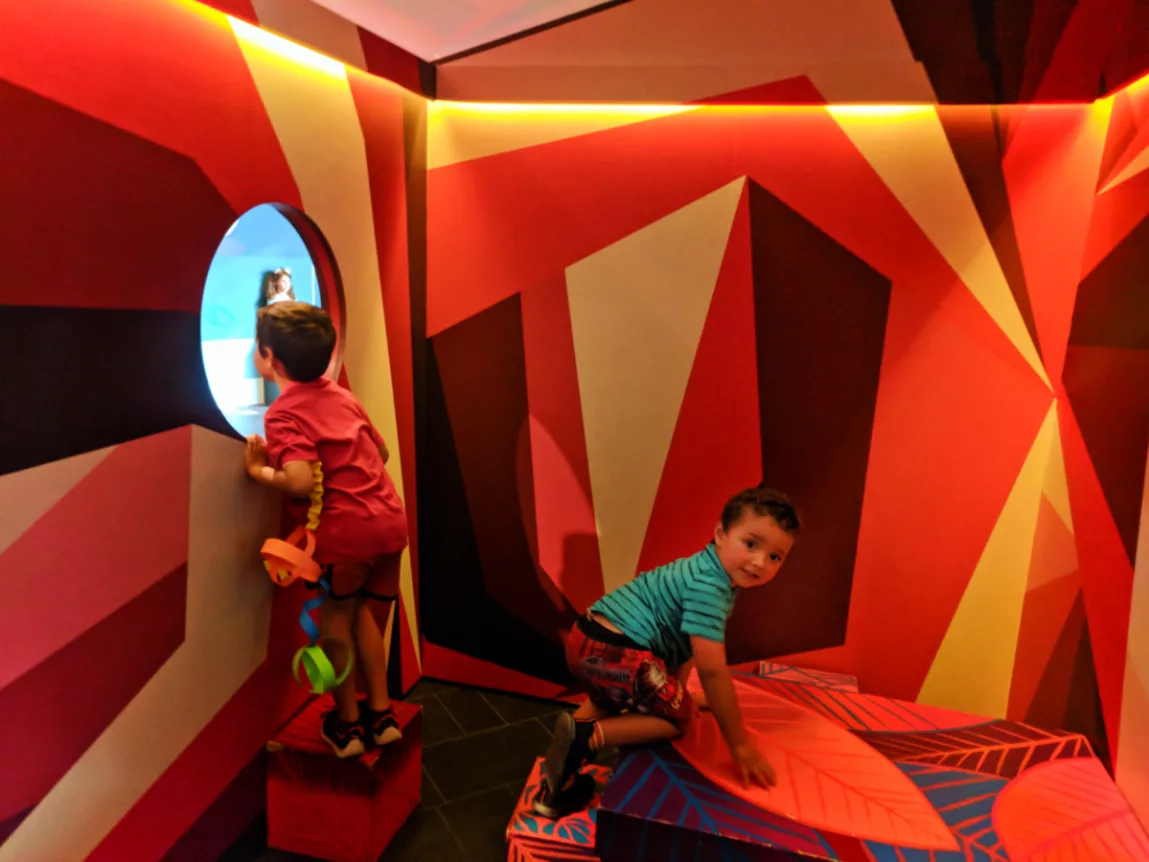 Visiting History Colorado on the Weekend
Located very near the Denver Art Museum and Public Library, History Colorado is tons of fun to explore, particularly on a hot afternoon. From civil rights history in Colorado to kid-spaces all about life in the old west, an afternoon in this continually updated museum is a fun family activity.
Of all the history and state museums we've visited, History Colorado was one of the most engaging ones for our kids. They enjoyed it as much as the Denver Children's Museum (but not as much as the Museum of Science and Nature, which is very busy on the weekend).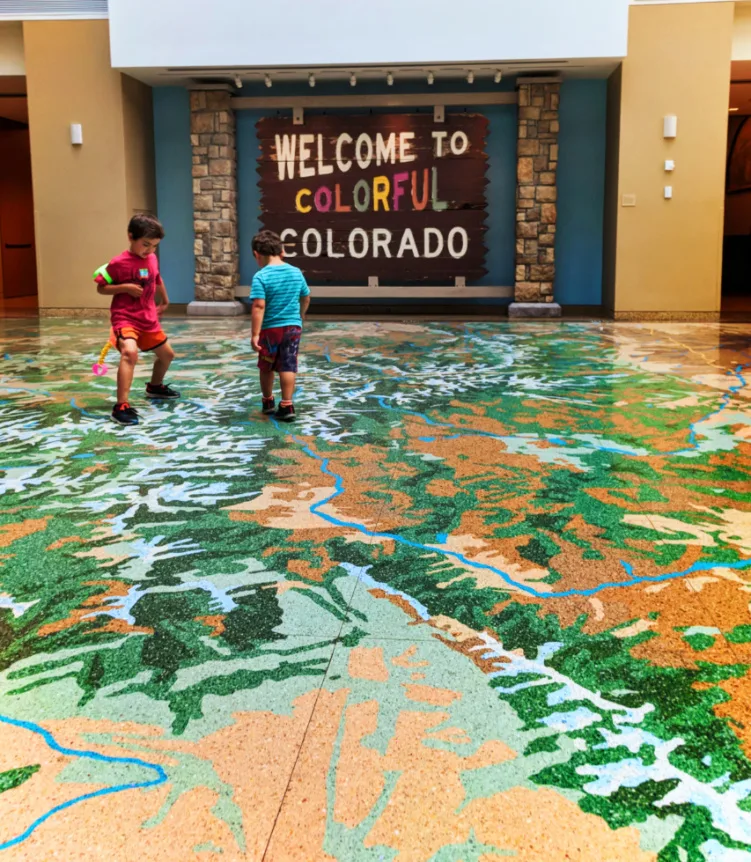 Visiting the Denver Zoo
We don't recommend many zoos, but we do recommend the Denver Zoo, especially if you're considering the Zoo or the Downtown Aquarium. A very spacious and well planned zoo, the exhibits are some of the best we've seen with LOTS of information and staff to answer questions and teach about the many species at the Denver Zoo. Add the zoo to your weekend plans in Denver, but also be sure to get there early enough for good parking. It's a popular spot!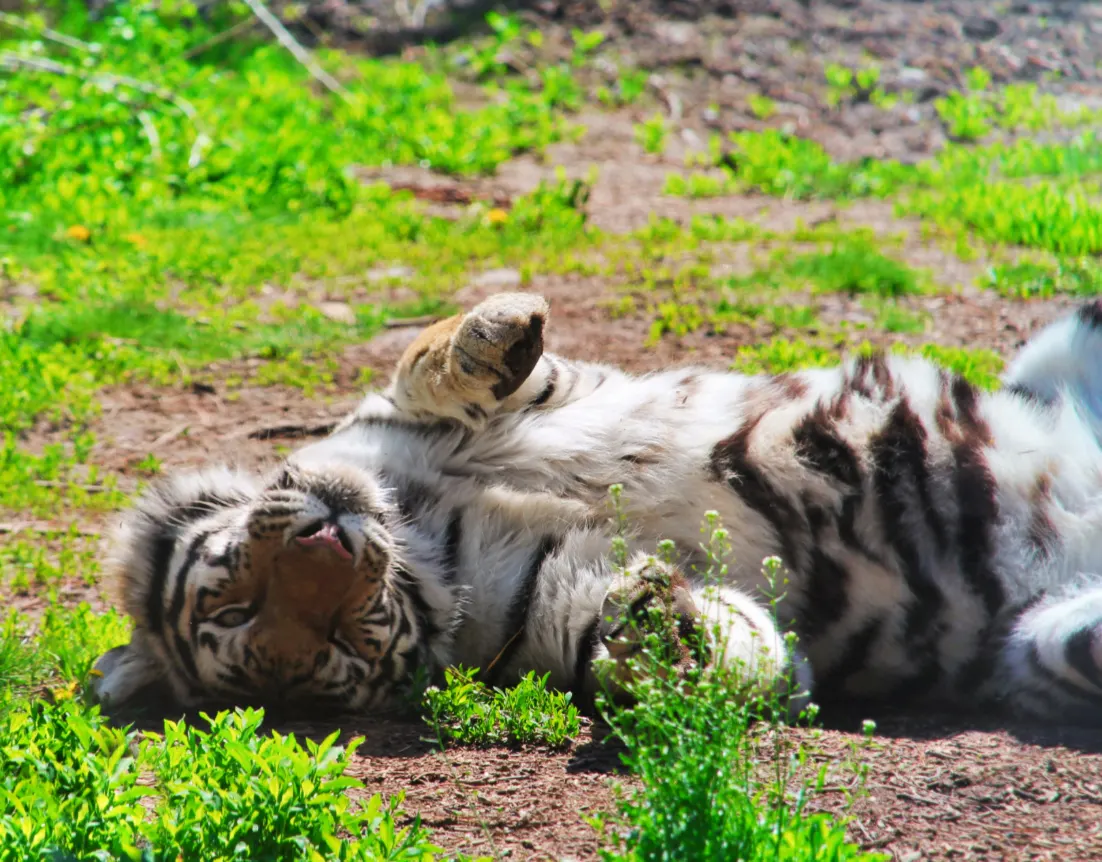 Denver Children's Museum
Typically we won't tell people "You have to visit X Children's Museum. It's just the best!" but we've said this to countless people upon hearing that they're visiting Denver. The Denver Children's Museum is nonstop fun and a great way to show your kids that you want them to enjoy their time in the city just as much as you. With climbing and science, mock storefronts and bubbles, kids (and parents) love hanging out at the Denver Children's Museum.
Tip: if your family is easily overwhelmed in a busy, active place, check in advance for days with low-sensory hours. These are great times for experiencing all the fun in a more controlled environment.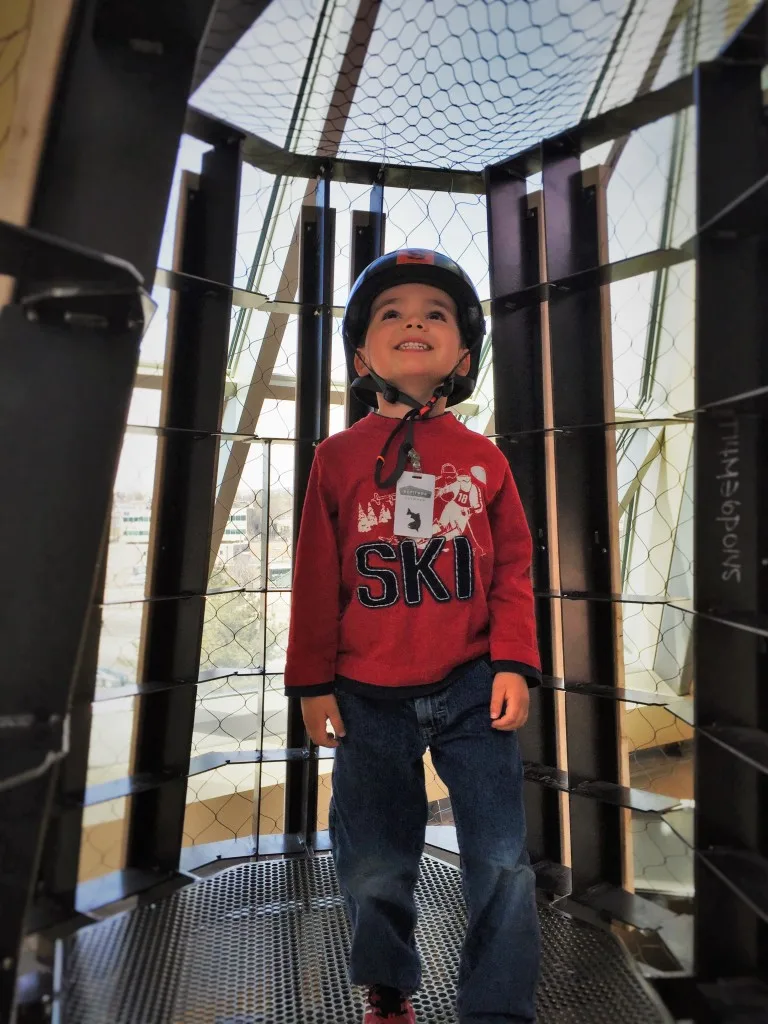 Denver Food for the Non-Foodie
When you travel a lot for work or when you've brought the kids along, it's nice to be able to enjoy meals that are both fun and unique. Denver makes that easy with all kinds of cutting edge and family friendly dining. Exploring the food scene is a great way to add fun to your weekend plans in Denver.
Our favorite destination for dinner in Denver (say that five times fast) is Avanti F&B. A grand conglomeration of food truck inspired vendors, there's something for everyone and every dietary need. We explored the many options in their reclaimed shipping container booths and then headed outside for stadium style seating with a perfect view of downtown Denver. Delicious and fun with kids.
A must-visit in a strange part of town, but one we've been back to several times is Four Friends Kitchen. It's not too far off the freeway from the airport, so if you need a great recommendation before or after a flight, Four Friends is it! You also can't go wrong with Snooze AM Eatery. There are several locations and they make amazing, creative pancakes and breakfast cocktails. Yes, Snooze is a chain, but it's done really well and in a unique way that brings us back whenever we're in Denver (or Tempe or Atlanta…)
Our other favorite spots for delicious Denver dining (again with the tongue twisters) were Steuben's Uptown and Osteria Marco. Steuben's was ideal for signature Denver tastes, like green chili burgers and fresh food options for kids. Osteria Marco filled our need for quality Italian with a slice of Colorado, including delicious house-cured meats.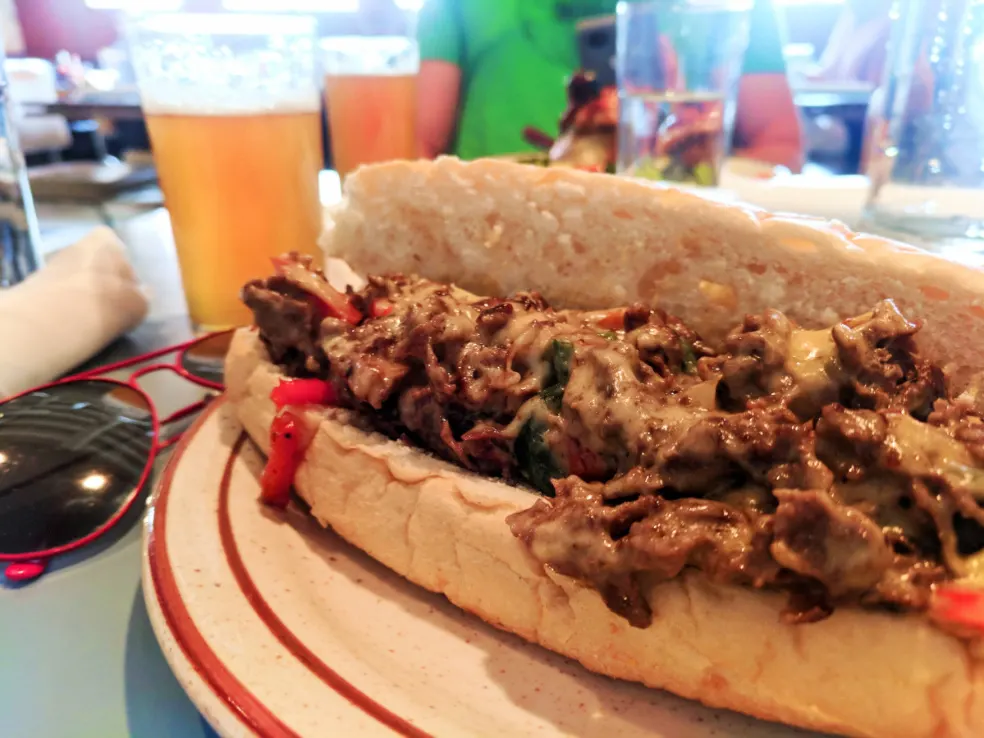 Where to Stay in Denver for a Weekend Getaway
We've stayed several places around Denver on weekend getaways, but our favorite of all time was actually a beautiful bed and breakfast in the Historic District. The Capitol Hill Mansion is a gorgeous 1891 mansion that was a private residence and then became the Buena Vista Hotel. Today, it's separated into suites and has a wonderful outdoor space for guests. We had the Bluebell Suite and it was perfect for our family of four. We'd happily return anytime!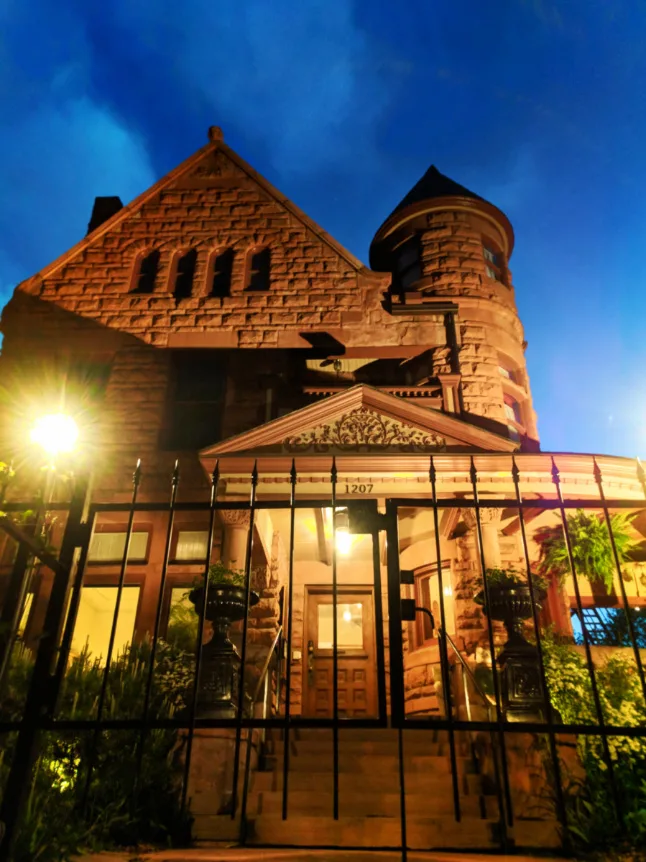 Weekend Plan: Denver to Rocky Mountain National Park
To really experience Colorado at its best and take an easy break from the city, just a short drive from Denver is either Breckenridge or Estes Park, Colorado. Both towns are really cute, walkable, and have unlimited nature just beyond their downtown. Estes Park has the bonus of Rocky Mountain National Park at its edge. At just an hour and a half from Denver, this is an easy weekend plan near Denver that you'll love.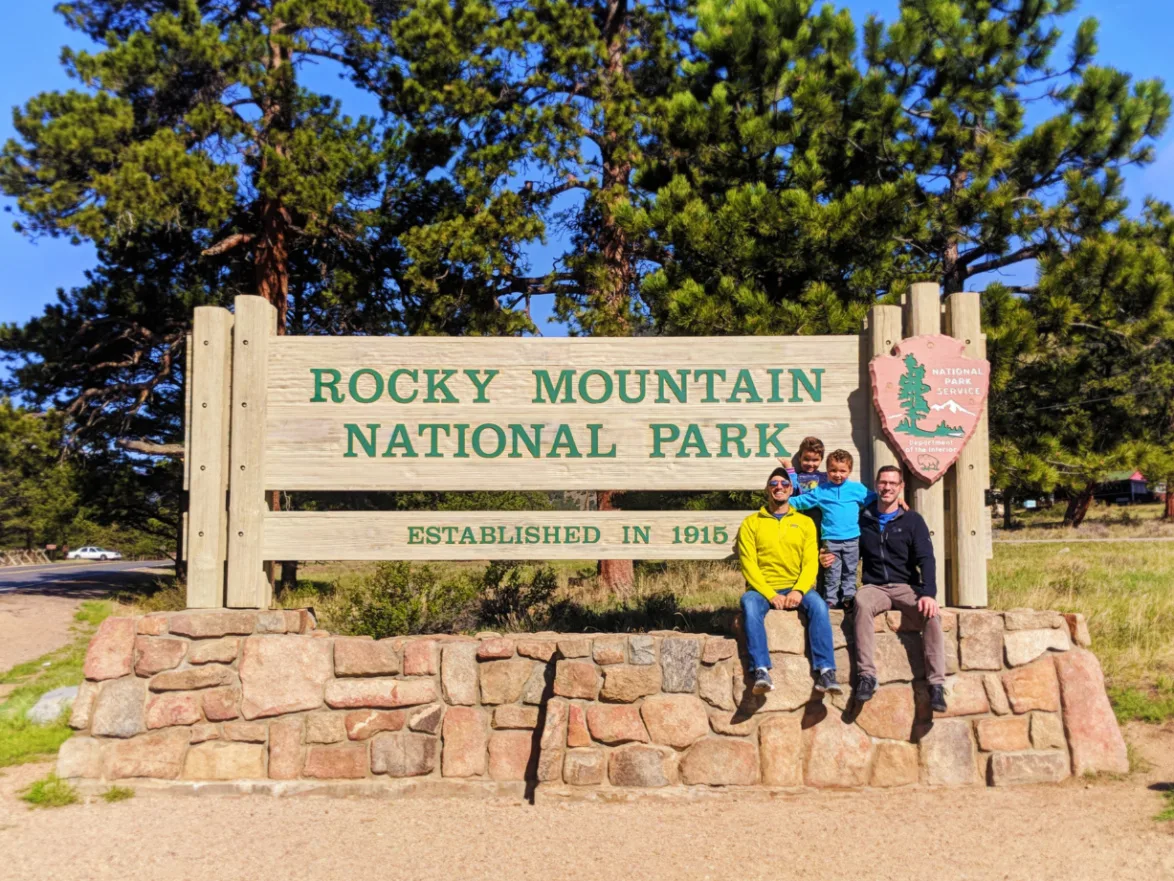 Exploring Rocky Mountain National Park
We visit every National Park we can and yet it seems like it took us forever to visit Rocky Mountain National Park. Wow, it's gorgeous! It's a blend of the Yosemite Valley's granite peaks and cliffs and the meadows and wildlife of Yellowstone National Park.
Driving into Rocky Mountain NP
With two different entrances on the Estes Park side, driving into Rocky Mountain National Park is very easy. There are ample pull-outs and trail heads to help you enjoy the park and watch for wildlife. If you are heading up in elevation, know that much of the road going through the park is along steep mountain sides, so drivers who are afraid of such driving conditions should still to the low roads where there is still plenty of fun and beauty to be had.
Tip: all of the area around Estes Park is elk territory and they have the right of way. Be very cautious and watch out for individuals and herds of elk wherever you may be.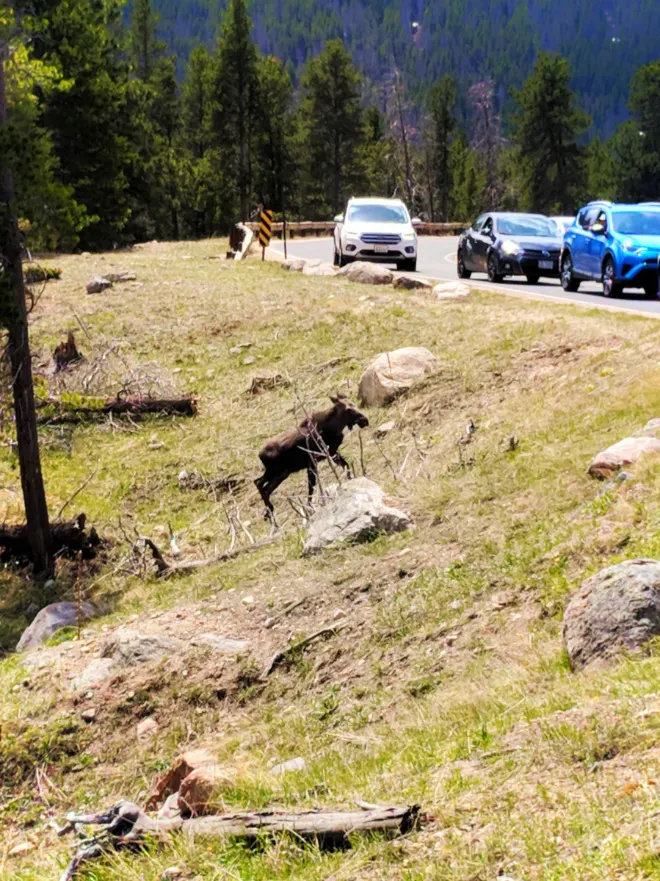 Great Rocky Mountain National Park Hikes with Kids
A few easy hikes to do on your weekend away are very close to the entrances of the park. Top picks for easy and awesome Rocky Mountain National Park trails are: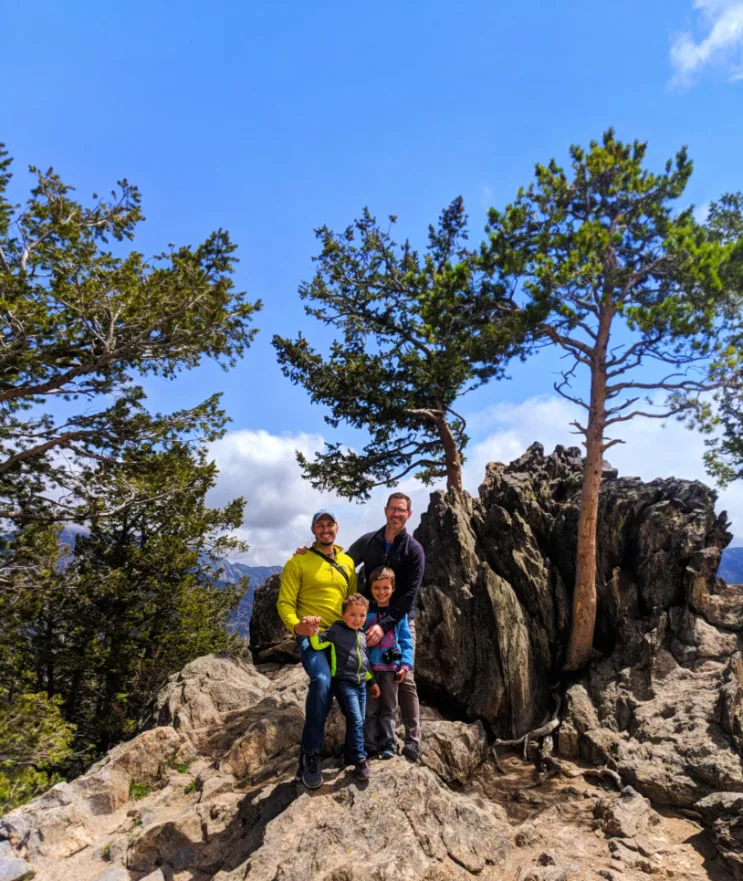 Guided Tours of Rocky Mountain National Park
Sometimes it's nice to go on a guided tour instead of driving yourself. When you plan your weekend in Estes Park, look into a Green Jeep Tour, or any other number of tours, for exploring Rocky Mountain National Park. Riding in an open-air jeep you get unobstructed views of the park and lots of opportunities for wildlife viewing. When it comes to safety, I particularly appreciated being on a guided tour so that I could enjoy the sweeping views while somebody else drove. Really, it was a great addition to our extra days around Colorado.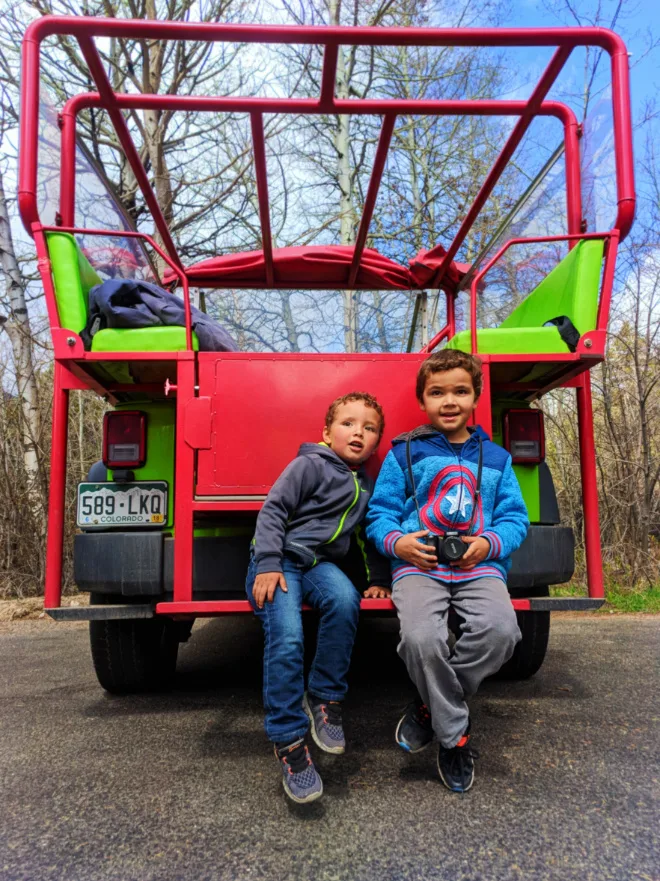 Exploring downtown Estes Park
Set at the entrance to Rocky Mountain National Park it's the perfect small town for getting away from it all. Our kids aren't big into window shopping and strolling just for the sake of strolling, so Estes Park was a great surprise for them. With lot's a beautiful wildlife sculptures, actual live elk wandering, vintage candy shops and a river winding through the town, it felt more like one big park than a downtown.
What really made it fun for our family was the scavenger hunt set up by the town. From one end to the other, 12 small bronze pikas are hidden through the town. Pikas are tiny mountain creatures that live in the vulnerable alpine ecosystem of Rocky Mountain National Park, and the town of Estes Park has established this great activity to bring awareness to their plight and give kids something exciting to do when they visit.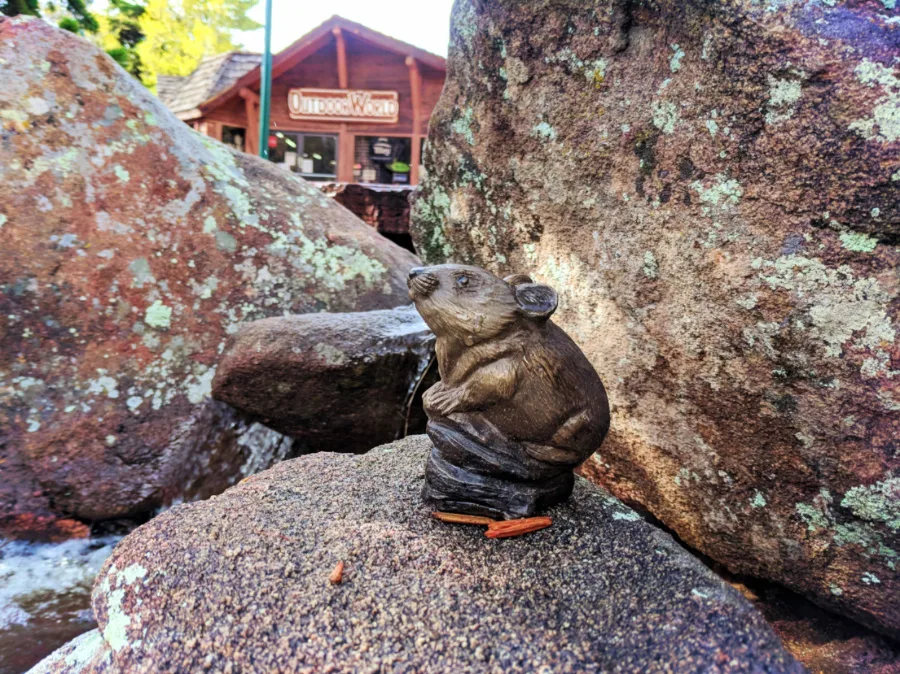 Where to Stay in Estes Park
Being a top escape for Denver families since the 50s, there are lots of small inns and lodges. There are also some grand choices for every travel style. The famous Stanley Hotel, the inspiration for The Shining, looks out over the town of Estes Park and is a picturesque historic hotel. The YMCA of the Rockies, while it sounds like an odd choice, is a huge resort bordering Rocky Mountain National Park and it's full of cabins or lodge rooms and endless family activities.
Tip: if you choose the YMCA of the Rockies, carve out some time for an outdoors survival class with the kids. It's both really fun and informative (and you get to build forts in the forest).
We very much enjoyed our stay at the McGregor Mountain Lodge, just outside the north entrance of Rocky Mountain National Park. A collection of beautiful cabins built in the 1950s, it's ideal for a family weekend outside of Denver. Kitchens, fireplaces and wandering elk, you can't go wrong with a getaway here.
Tip: places like the McGregor Mountain Lodge have long time return guests that may book far in advance, so as soon as you know you get to have bonus time in Colorado, book your stay.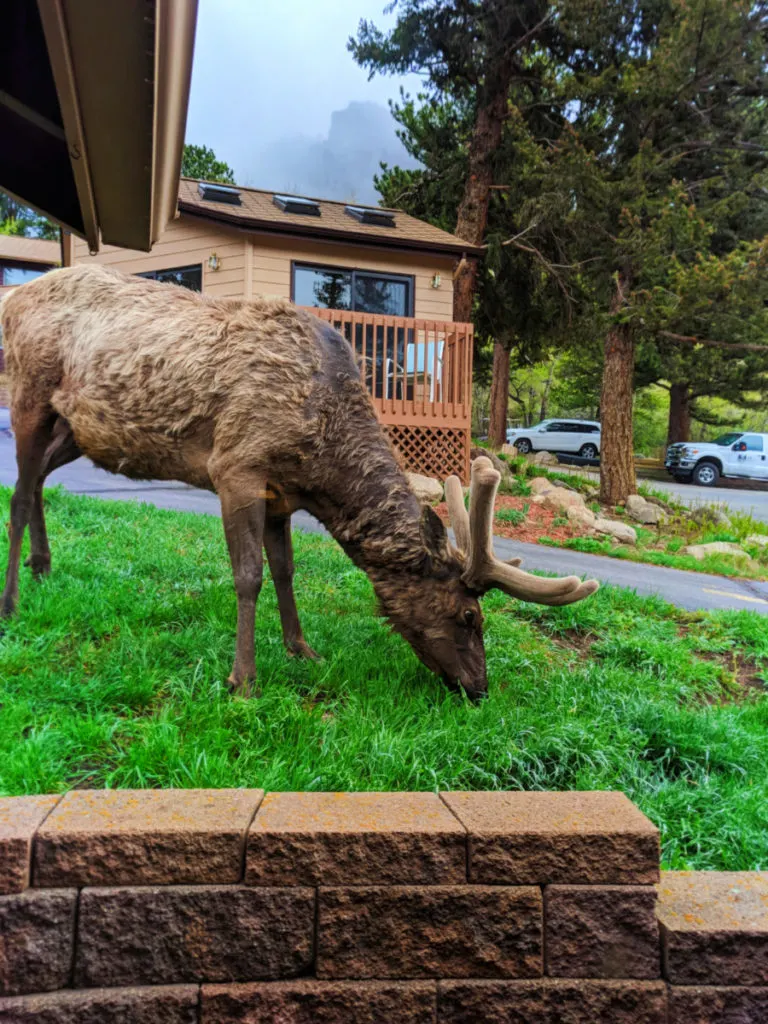 There are also lots of beautiful vacation rentals in Estes Park and around Rocky Mountain National Park. Whether you're looking for a simple cabin, a historic lodge or a luxury mountain villa, you'll find them all! Check out our top picks through VRBO (since we're always planning trips and saving things for later). My favorite, and we haven't gotten to stay there yet, is the MacCracken Homestead, which is currently a vacation rental but was actually built by the first park ranger of Rocky Mountain National Park!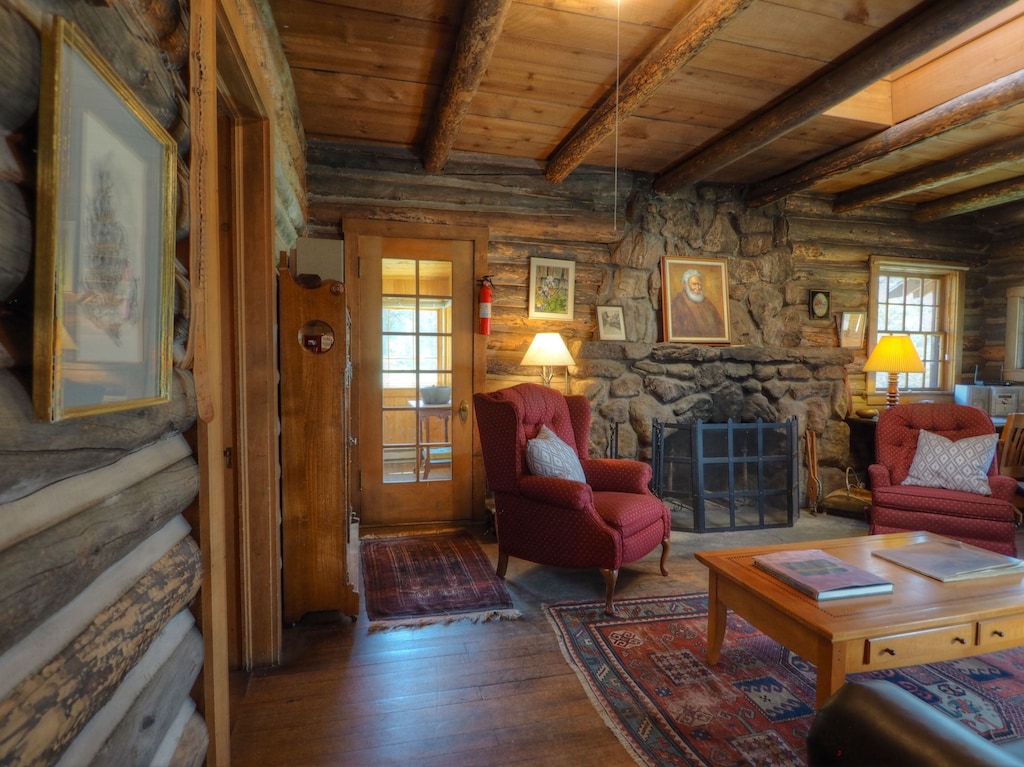 Weekend Plan: Getaway from Denver to Breckenridge
Just a short drive, about an hour and a half, is our next pick for a great weekend getaway from Denver: Breckenridge! There are so many things to do in Breckenridge, whether you want to go hiking or just enjoy the historic downtown. What I love about Breckenridge for an easy weekend getaway near Denver is how the town itself is an attraction, and then you add the ski resorts with their scenic chair lifts or alpine coaster and then it's even more fun.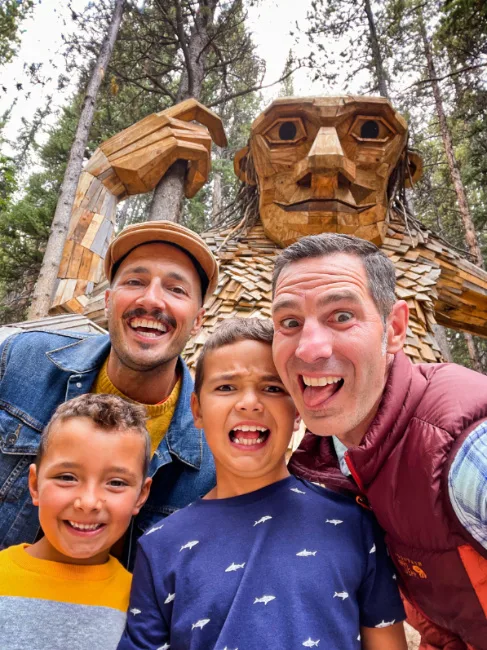 Easy Outdoor Activities in Breckenridge
On the drive to Breckenridge you'll go through several cute historic towns, include Georgetown and Idaho Springs, and they're worth stopping at for sure, but once you're in Breckenridge you'll have plenty to keep you occupied. Walking downtown is fun and beautiful, with lots of historic buildings and museums, but then also the Blue River flows right through the center of town.
Just beyond downtown Breckenridge you'll find the Sawmill Museum, which is a quick but pretty stop for a little history, and then the the Washington Mine & Mill is nearby too. For a really cool tour and gold panning, visit Country Boy Mine and go a thousand feet into the mountain where you actually can use the Widow Maker jackhammer and see gold veins still in the mountain.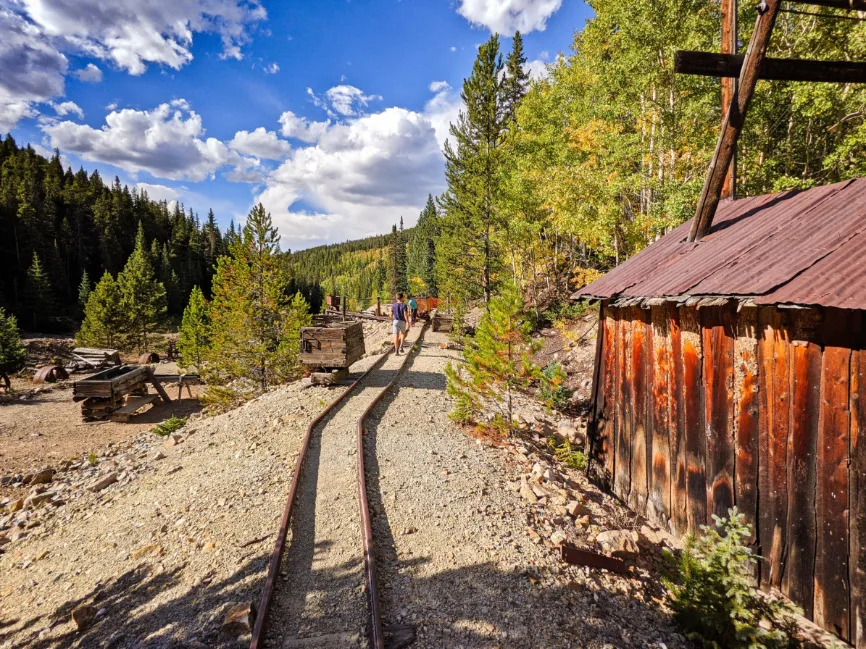 If hiking is the weekend plan for your Breckenridge getaway, we have some awesome trails to recommend. BE CAREFUL when it comes to the elevation though, as altitude sickness is a real thing and just a short trip up to 10,000 feet and hiking at 12,000 feet will really have an impact on you.
Our favorite trail in Breckenridge is the Upper Mohawk Lake Trail in White River National Forest. While this trail really is a challenge if you're not yet acclimated to the elevation, if you are use to it this is an incredible journey into Colorado's alpine wilderness. For an easier hike, the Blue Lakes Trail is also gorgeous and much easier both on the knees and if you're not used to the elevation.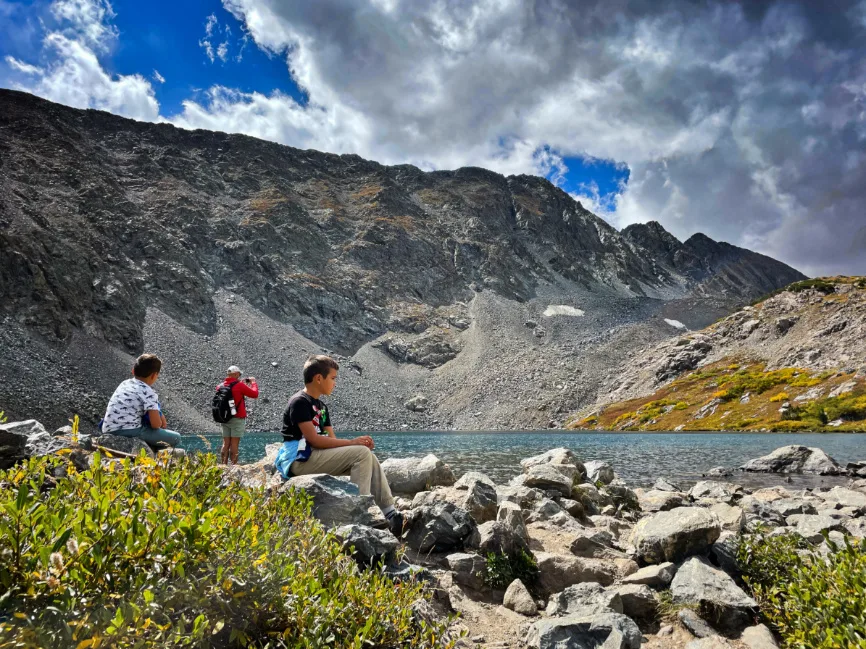 Where to Stay in Breckenridge
As you start to plan a weekend getaway to Breckenridge, you'll see that the accommodation can drastically vary, with a lot of options being in the top of what we'd consider the family price range. There are some great choices though, especially if you're visiting Breck when it's not ski season.
If you're looking for a Breckenridge vacation rental, you'll see that there are a lot of cabins and lodges (more expensive) available year round. These are good if you're planning a trip with quite a few people. There are some vacation rentals that are in the condo areas of Breck, and that's where you'll find the better deals, and most of them come with amenities, like hot tub or pool access.
Check out our short-list of nice Breckenridge vacation rentals!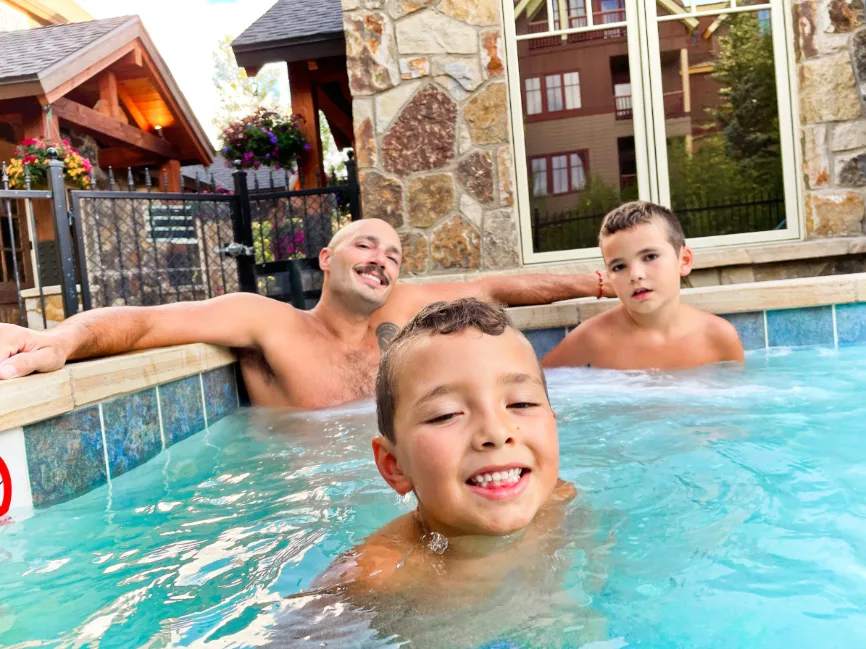 My top pick for Breckenridge is one of my buddies properties: LOGE Camp Breckenridge! We love LOGE Camps and have stayed with them in Bavarian Leavenworth, Westport on the Washington coast, and in Bend, Oregon. LOGE Camp Breckenridge is located on the east side of town, just outside of the main historic area. It's a great place to stay if you're planning on exploring nearby Frisco or doing a lot of outdoor exploring.
So are you ready to plan a fun weekend getaway to Denver or go exploring in the nearby mountain towns? Even though we were just there I'm always ready to go back.
Be sure to check out our awesome 4 Day Denver Itinerary if you plan on just sticking around the city. You'll have fun no matter what you plan though. Be sure to leave a comment or send us a note if you have any questions about things to do in Denver, Estes Park or Breckenridge!