In summer there are so many things to do in Breckenridge, Colorado that you'll wonder why everyone thinks of it as a winter destination. From the picturesque historic town to the epic hiking trails, there are tons of wonderful activities in Breckenridge in summer.
We have loved visiting Colorado forever, but it takes visiting someplace new to really feel refreshedly excited. Yes, that's a word, and that's how we feel about Breckenridge. Thinking of planning a trip to this historic mining town turned world-renowned ski destination? Here are our top picks for things to do in Breckenridge during the summer months.
Check out our article all about Altitude Sickness and acclimating to the high elevation of Breckenridge.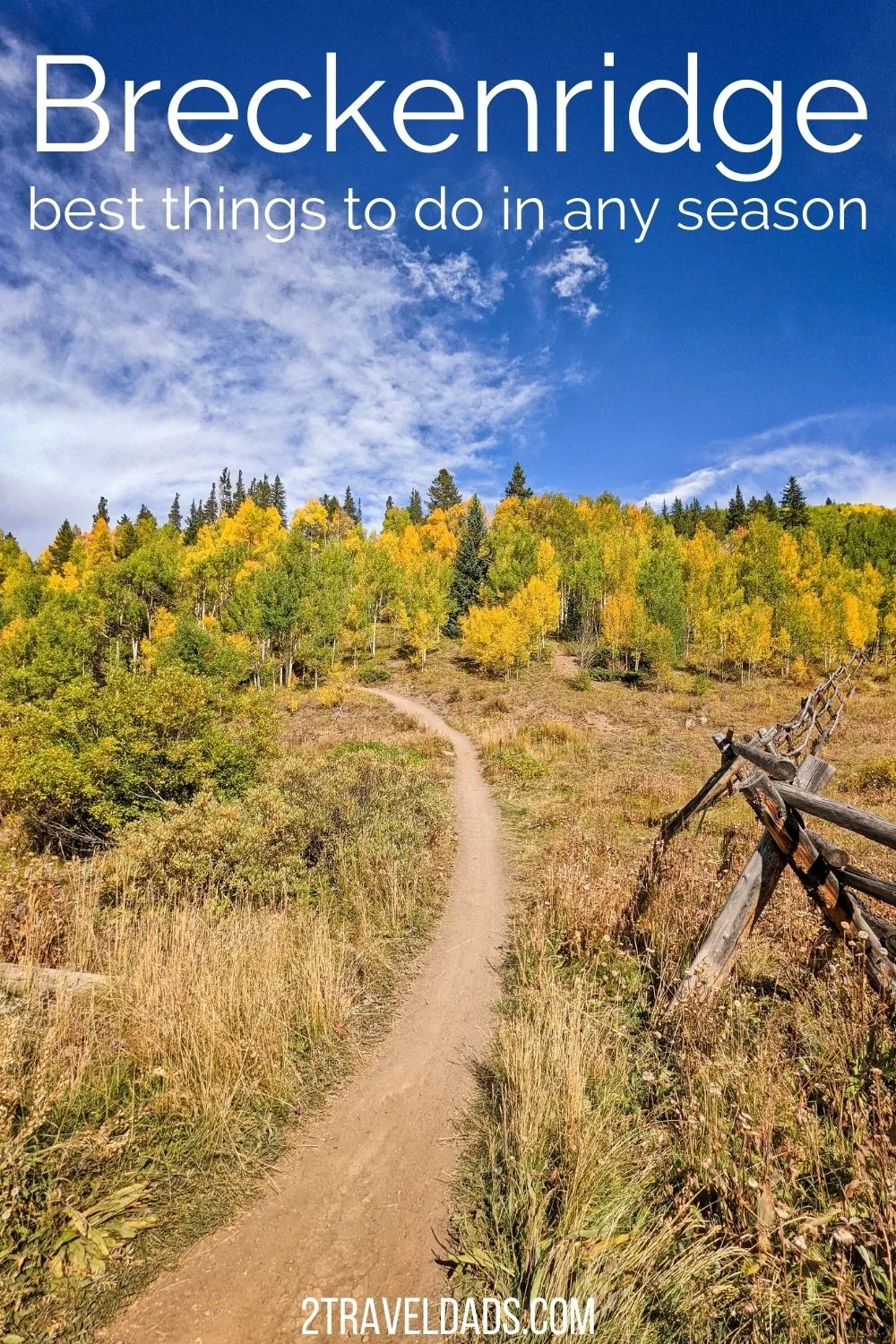 Best Things to Do in Breckenridge
Being built as a mining town in the 1850s, Breckenridge has an old west charm mixed with the colorful style of Victorian San Francisco. Being a very walkable town, it's fun to just stroll, but then it also has great things to do in any season, not just in winter when it's a full blown ski town. Whether you want to do epic outdoors activities or just relax, there's something for everyone.
I think you'll find that four to six days is plenty of time to enjoy most of the town's highlights, but there are enough cool things to do that you could stay longer. If you're visiting during ski season, plan to have enough time to get your snow play in AND to enjoy the town and nearby things to do (many are winter-friendly activities too).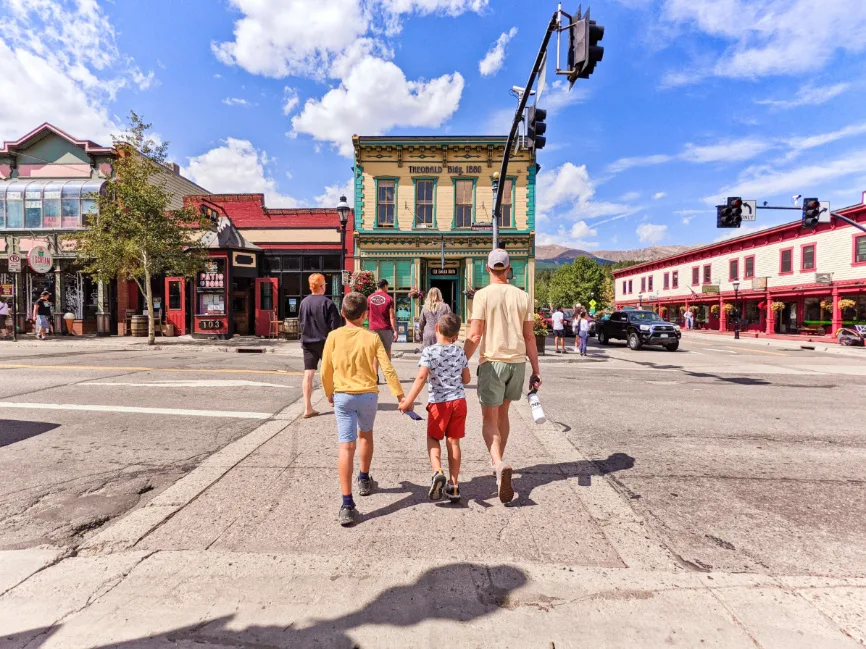 Explore Historic Downtown Breckenridge
Because Breckenridge has so many ski-centric hotels and vacation rentals very near the downtown area, it's easy to simply walk along the historic Main Street and surrounding side streets. Main Street has classic building facades and historic structures filled with shops and restaurants. Peppered between the many old buildings are parks and colorful alleyways with benches.
At the south end of downtown there are several arcades of shops and restaurants just before the historic district, so if you are looking for easy access to great food, right at the edge you'll find plenty. Once in the historic district, you'll find a sub-district called BreckCreate. This is a small artist area with studios and public space, perfect for enjoying Breckenridge culture and life.
And like with lots of historic towns there are ghost tours in Breckenridge! We haven't done one here, but we always enjoy them when we do. Book a Breckenridge Ghost Tour here!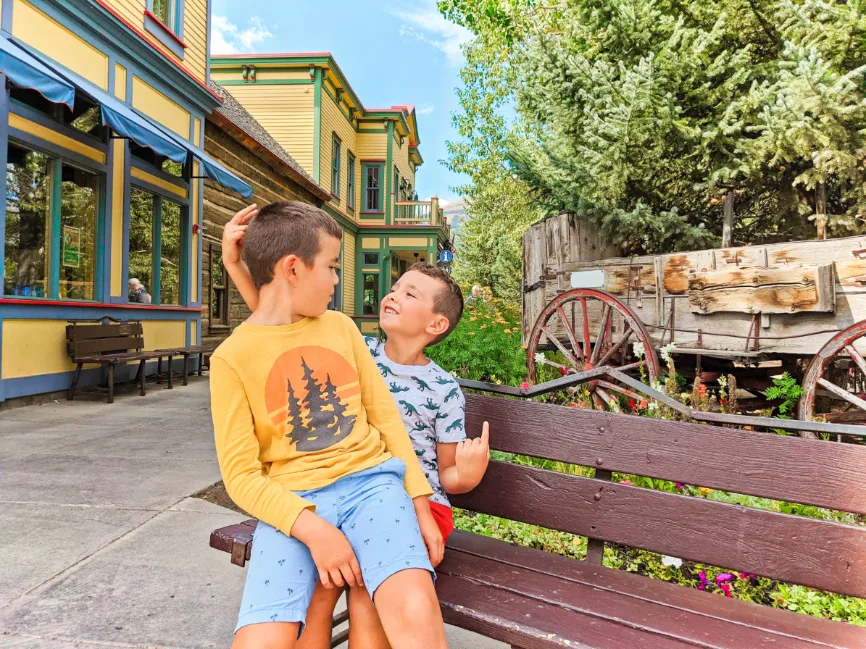 Stroll the Riverwalk and Alpine Garden
Downtown Breckenridge is built on the east side of the Blue River which runs through town. Stretching nearly the length of the city, the Riverwalk is another wonderful place to relax and enjoy the town. You'll find footbridges and park spaces all over, so it's a great afternoon activity to just wander. There are also fewer people in the Riverwalk area than a block over on Main Street, so it's a fantastic way to avoid crowds.
A bonus find along the Breckenridge Riverwalk is the Alpine Garden. Full of native plants and exhibits, you'll actually walk through the Alpine Garden if you're walking along the river, even if unintentional. In late summer it's at its peak with lupine, daisies and so much more.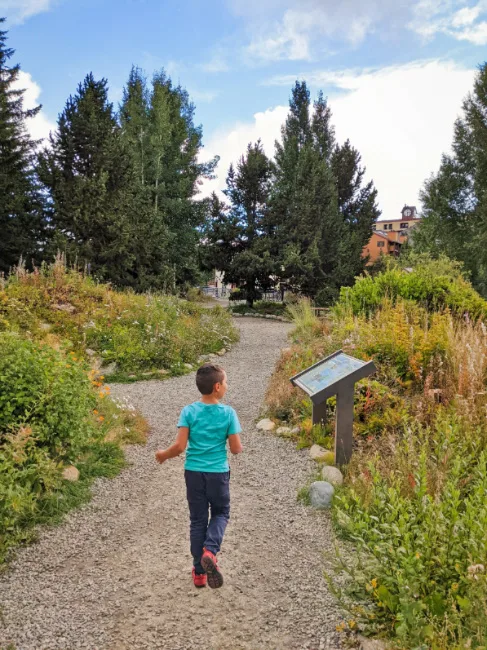 Best Museums in Breckenridge
One of the best things to do in Breckenridge is visit the free museums. There are three directly downtown in the historic district, and each offers a different look into the founding and growth of this region of Colorado. For an easy introduction to Breckenridge history, stop into the Visitors Center and go through the mining exhibits and VR displays. It's very kid friendly and is small enough to only be a short stop.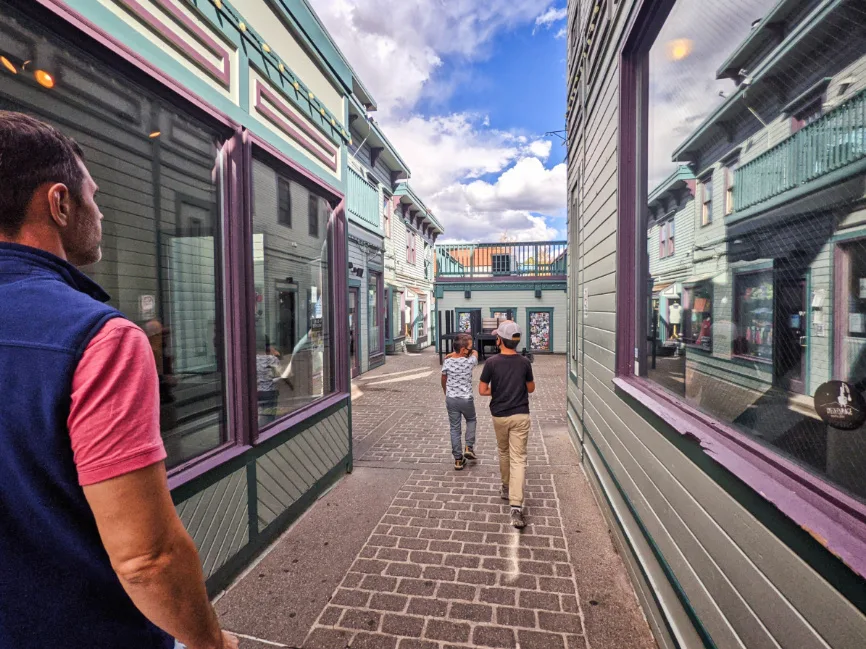 Barney Ford House Museum
Just a half block off Main Street, the Barney Ford House Museum is a quaint, beautiful historic home. Barney Ford built the house in the 1870s after moving to Colorado and making a small fortune off of hotels and the like. What's really amazing is that Barney Ford became a successful business man in Denver and then Breckenridge after escaping slavery on the east coast. He built a whole life in town and was an important figure until his death in 1902.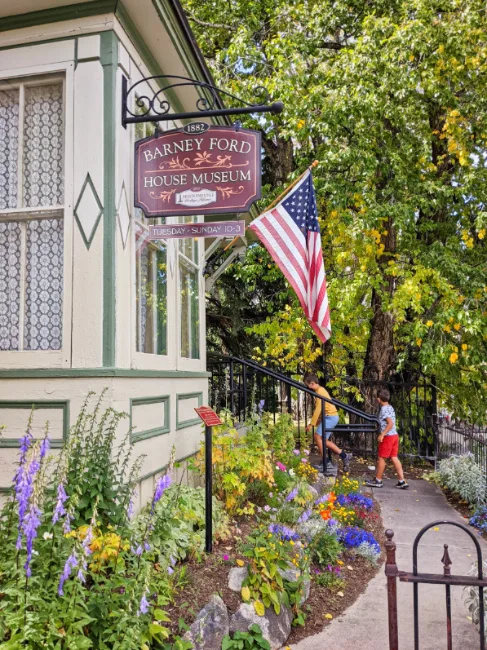 Edwin Carter Museum of Taxidermy
The kids loved visiting the Edwin Carter Museum. It's not just an old historic house, but is actually a museum all about taxidermy and the process of preserving creatures for display. There are lots of taxidermized animals in the Edwin Carter Museum, but what's really fascinating are the exhibits about how it's done.
Allow about a half hour to check out the museum and watch the video presentation. It's worth the stop, especially if you've got kids with you.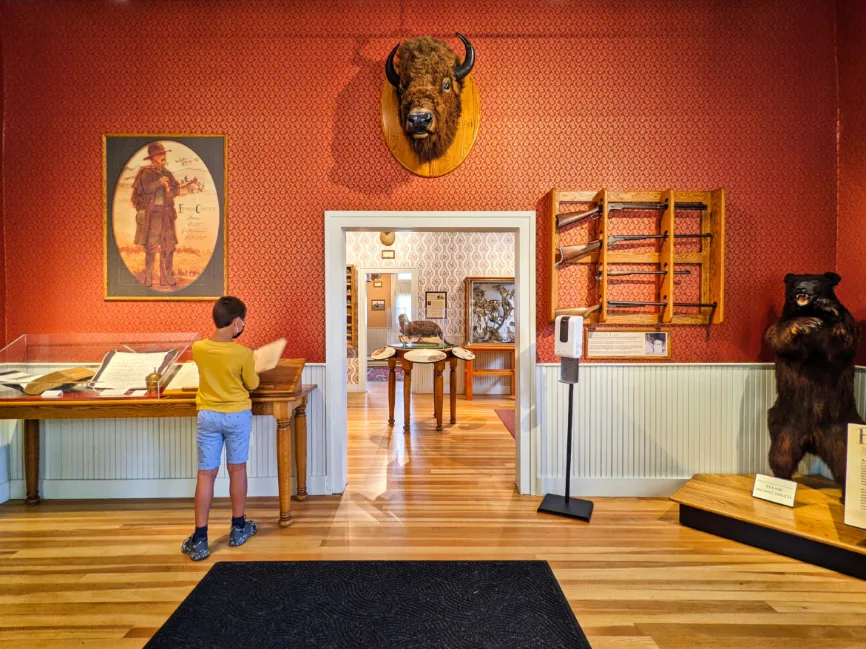 Sawmill Museum
Located just outside of downtown off Boreas Pass Road, the Breckenridge Sawmill Museum is all outdoors. It's a collection of mill machinery and exhibits set at the foot of an aspen covered hill. The setting is beautiful and the exhibits are pretty interesting.
This is a short visit, about fifteen minutes, and is easy to add to a visit to High Line Railroad Park or if you're heading up Boreas Pass Road for an afternoon hike and a view of Breckenridge.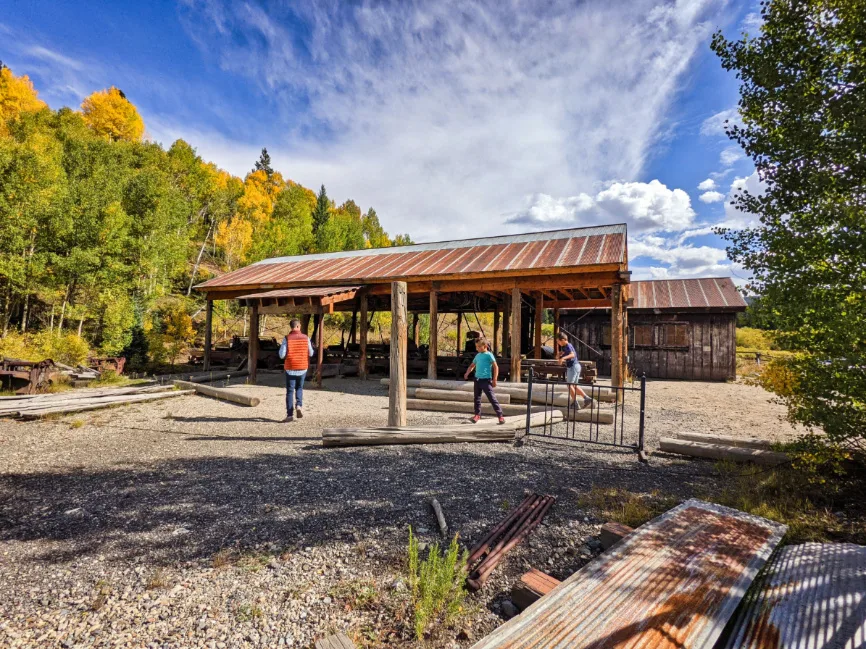 Horseback Riding in the Rockies
We love riding horses and do it whenever we're in the Rocky Mountains, whether it's one of our things to do in Big Sky, MT or if we're exploring Glacier Country, we always try to get on the trail. Riding horses is one of the best things to do in Breckenridge in summer because you get the views and outdoor experience of hiking, but without the exhaustion that sometimes happens at higher elevations.
There are some beautiful valleys and ridges to explore in Breckenridge, and depending on your riding skill level, there are both short and full day rides.
Note: it is customary to tip your trail guide. As a former horseman myself I know how much the additional gratuity is appreciated, especially as the season starts or winds down.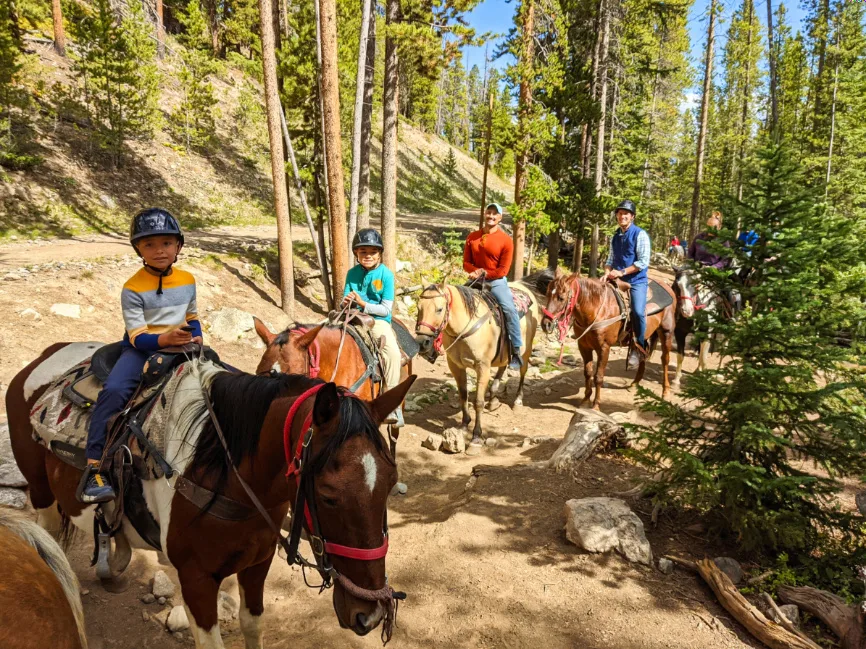 Breckenridge Stables
Located just outside of downtown Breckenridge, just up the ski slopes in the summertime, Breckenridge Stables does a variety of horseback riding tours. If you aren't a frequent rider, we recommend the 90 minute tour through the nearby National Forest. The guides are really knowledgeable and can give you a great perspective and experience during the hour and a half ride.
If you're visiting during the winter months, you can also visit Breckenridge Stables for sleigh rides. What an awesome way to get out in the snow if you're not a skier! (Check out our article about sleigh rides for more info about what to expect)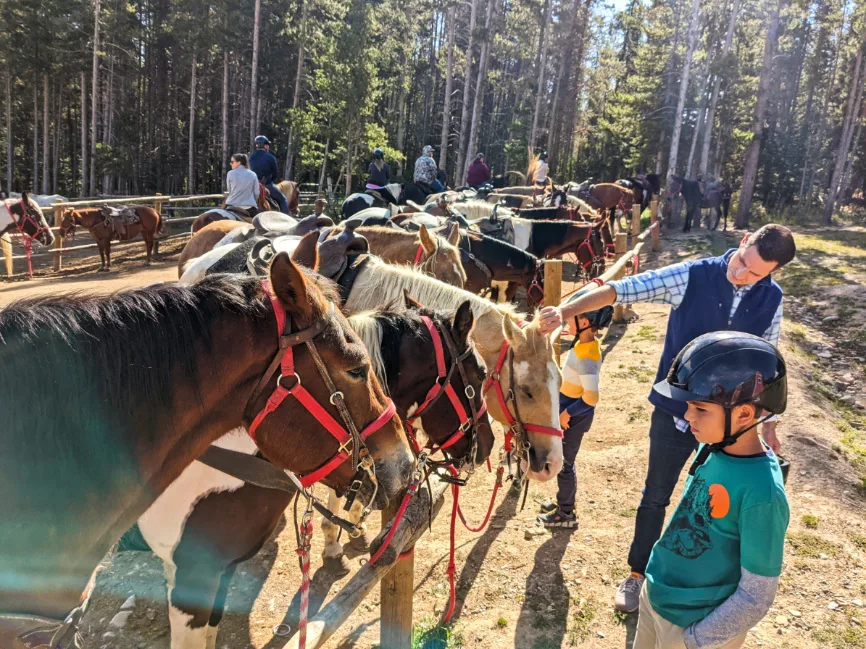 More Breckenridge Horseback Riding Options
There are actually a few stables and ranches to hit the trail with. Both in Breckenridge and very nearby you'll find horsemen who do day trips and even cattle drive adventures. American Safari Ranch and Rusty Spur Ranch both do single day rides or do shorter excursions if that's what you're interested in.
American Safari Ranch is open year-round, so you should be able to reserve rides for whenever you visit. Rusty Spur Ranch closes for the winter, but reopens in May as the snow starts to melt.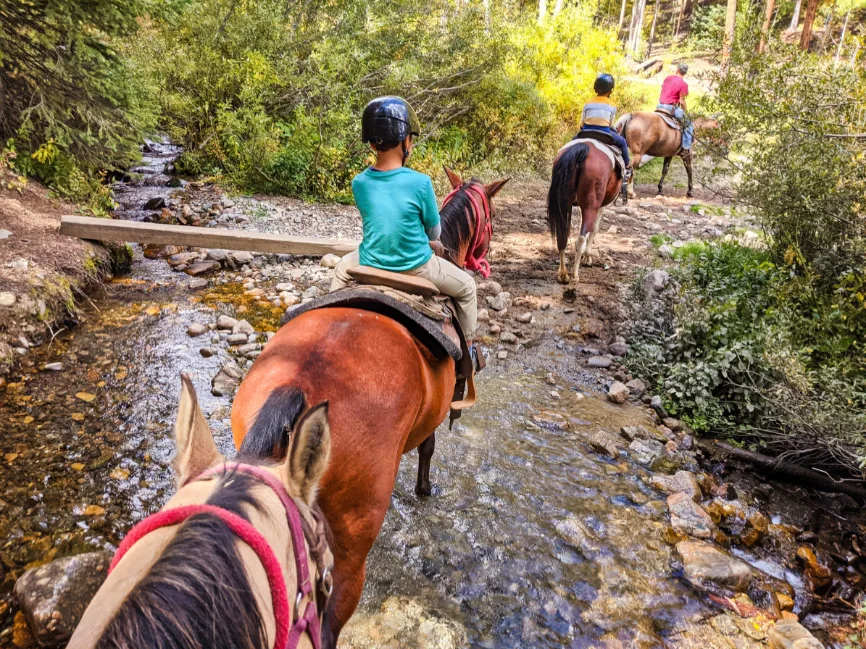 Beautiful Hiking in Breckenridge
Hiking is one of our favorite things to do in Breckenridge! The surrounding mountains are absolutely breathtaking (literally) and are full of wildlife. With quite a few really great trails beginning very close to downtown (within 10 to 20 minutes away), it's very easy to plan a few hiking days or afternoons for your Breckenridge travel plan.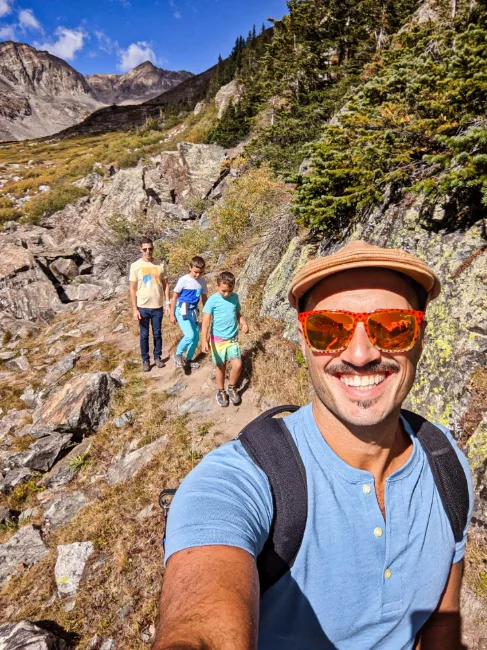 Blue Lakes Hikes
There are actually a few trails that go from the Blue Lakes trailhead. The easiest is the Blue Lakes Waterfall trail that goes down through the valley following Monte Cristo Creek. The mellow path winds around several small subalpine lakes and past creeks flowing through the stubby forest. It's the perfect Colorado hike with kids.
The other great hike from the trailhead goes up around the larger of the Blue Lakes. A manmade lake supported by the Upper Blue Dam, the lake is surrounded by steep cliffs and alpine forest patches. This trail is actually rather a technical one that can be difficult for kids, but it's beautiful. What makes the trail harder than the Blue Lakes trail in the valley is the rough rock areas the path crosses. At times, the trail path is uncertain, but since you know you're hiking around the lake, it's easy to figure out. We loved this trail despite its difficulty.
Note: the final stretch of the road from the Blue Waterfall Trail to the base of the dam may be closed. If it is, park and walk the dirt road to the main trailhead.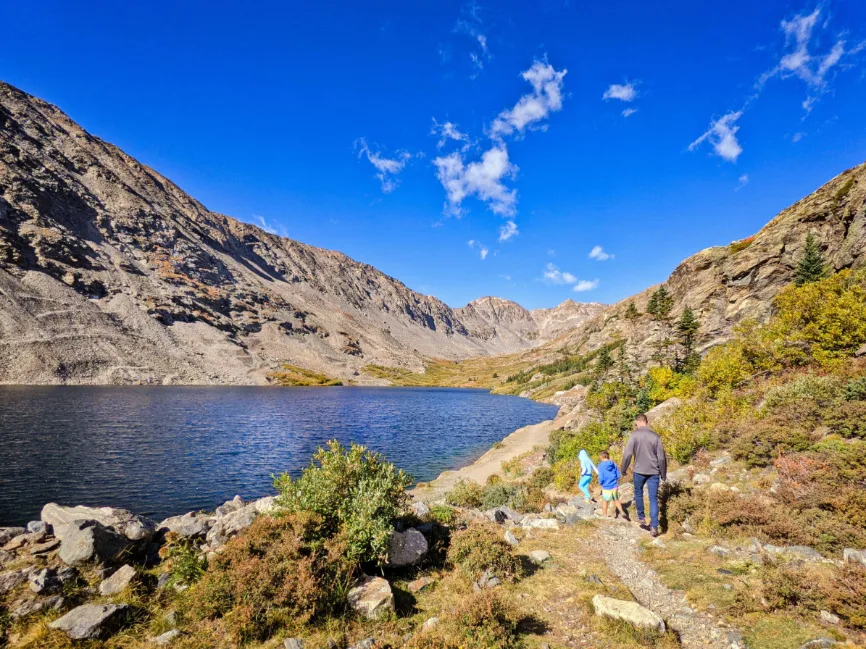 Spruce Creek Trails
About ten minutes from downtown Breckenridge, the Spruce Creek trailhead is the starting point for several hikes and mountain biking trails. The primary Spruce Creek trail is quite beautiful and not too difficult as it moves through the forest. The forest here is mostly evergreens, so it's not a great spot for fall colors, but when you get to the Meadow Lakes area the aspens start to appear and they're amazing as the colors change.
This can be done as a loop or an out and back trail. For doing the Breckenridge Spruce Creek trail as a loop, after the Meadow Lakes you can return along the dirt road through the forest, crossing Spruce Creek several times. You can also go on the Wheeler Trail heading north just at the Meadow Lakes to cross the valley and then join up with the dirt road very near the parking area.
To really make the Spruce Creek hike exciting, continue onto the Mohawk Lakes Trail (see below).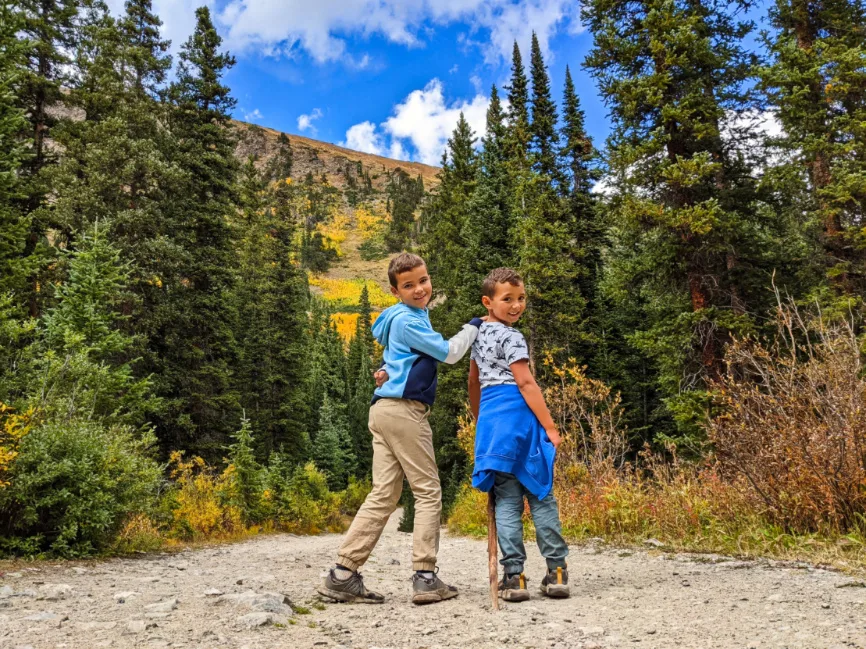 Mohawk Lakes Hiking
One of the best things to do in Breckenridge, the Mohawk Lakes trail is astounding! Starting from the Spruce Trail is our recommendation, as the road to the specific Mohawk Lakes trailhead is really awful and has insane ruts and troughs that could really damage your vehicle. So yes, do the Spruce Creek trail to the Mohawk Lakes trailhead.
As you start hiking to Lower Mohawk Lake, you'll get the chance to see Continental Falls from several viewpoints. Along the way, watch for old mining equipment and structures, including cable cars and log cabins. Climbing up, the trail gets rather difficult with quite a lot of switchbacks, but as you go the views get better and better.
Note: this trail is difficult, but if you take your time and hike safely, it's doable with kids (even enjoyable!).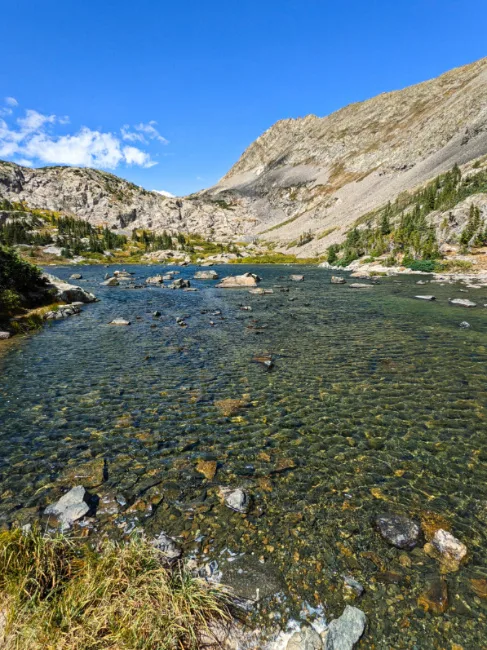 Once at Lower Mohawk Lake, you have several options for picnic areas among the huge boulders and streams. It's really beautiful and is a great place to relax and enjoy the sweeping views. But wait, there's more!
Hike about a half hour further up a much less intimidating series of switchbacks to get to Upper Mohawk Lake. This is the most perfect, quintessential alpine lake. The dark turquoise water, avalanche chutes and wildflowers are just what you'd hope for.
All along the hike watch for marmots, pikas, birds and mountain goats. We saw a small herd of mountain goats watching us as we hiked, and we even collected small tufts of their fleece along the trail.
Allow five hours to do this complete hike from the Spruce Creek trail head to Upper Mohawk Lake and back.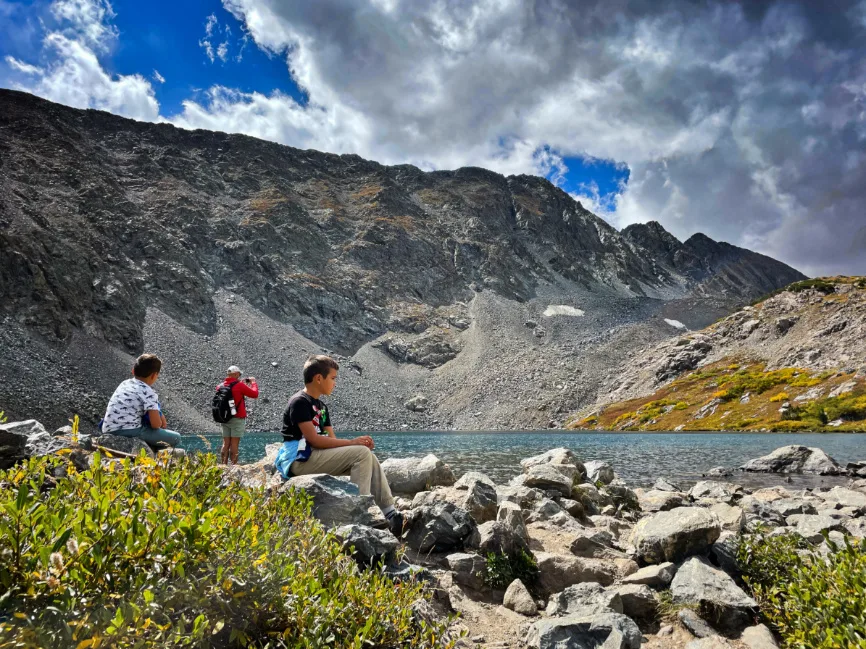 Aspen Alley and Fall Colors
Fall colors are one of our favorite things to travel for, and Colorado doesn't disappoint. Enjoying fall colors is one of the best things to do in Breckenridge. When it comes to fall colors in Breck, they begin in mid-September and are done by early October. Aspen Alley is the perfect place to enjoy the fall colors. Going from Boreas Pass Road, just past the Breckenridge Sawmill Museum you'll find the Aspen Alley trailhead.
The trail starts rather steep and is shared with mountain bikers, but as long as you're paying attention and are ready for a moderate to challenging hike (because of the elevation) you'll love it.
There are several trails right at the Aspen Alley trail head, so park in the parking area and either head up the hill for the the rest of the Illinois Creek hike (see below) or go around the bend and down for Aspen Alley. You don't have to do the full hike to enjoy the colors, but doing at least two miles in total is best. If you want, you can even go all the way down to the Sawmill area on the trail if you have somebody that can fetch you at the bottom.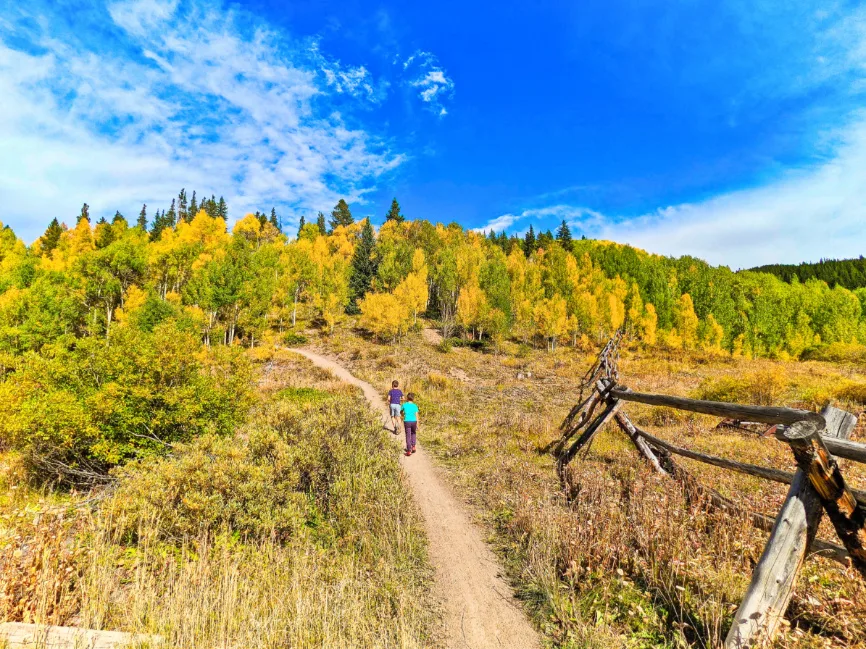 Illinois Creek Trails
If you are looking for beautiful, easy hiking in Breckenridge, the Illinois Creek trails are perfect, particularly the South Illinois Cree trail. With virtually no elevation gain, the Illinois Creek trails are a great walk in the woods, including beautiful aspen trees and a creek. For the easiest trail, follow the path at creek level from Railroad Park.
For a little more of a challenge, but still not bad, take the high trail from the main Illinois Creek trail and head up the hill a bit. It's a great trail if you just want some exercise but not too tough of a climb.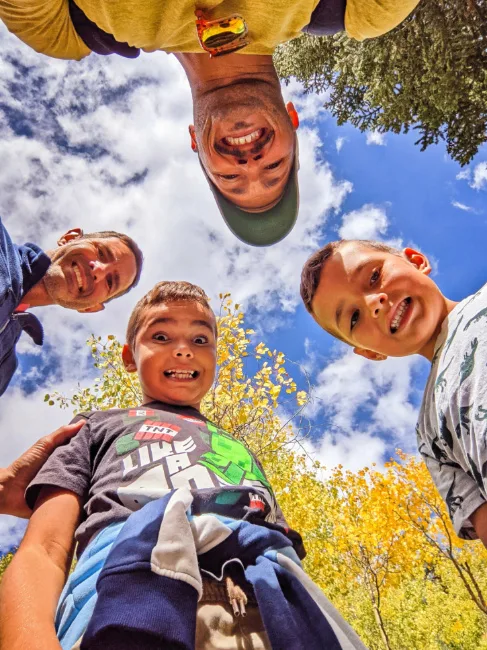 Unique Sights in Breckenridge
While many of the fun things to do in Breckenridge echo common mountain retreat activities, there are lots of unique sights and activities too. You'll find that nearly everything you'll want to do in Breckenridge is accessible on foot or via the free transportation around town, so you might as well enjoy it all!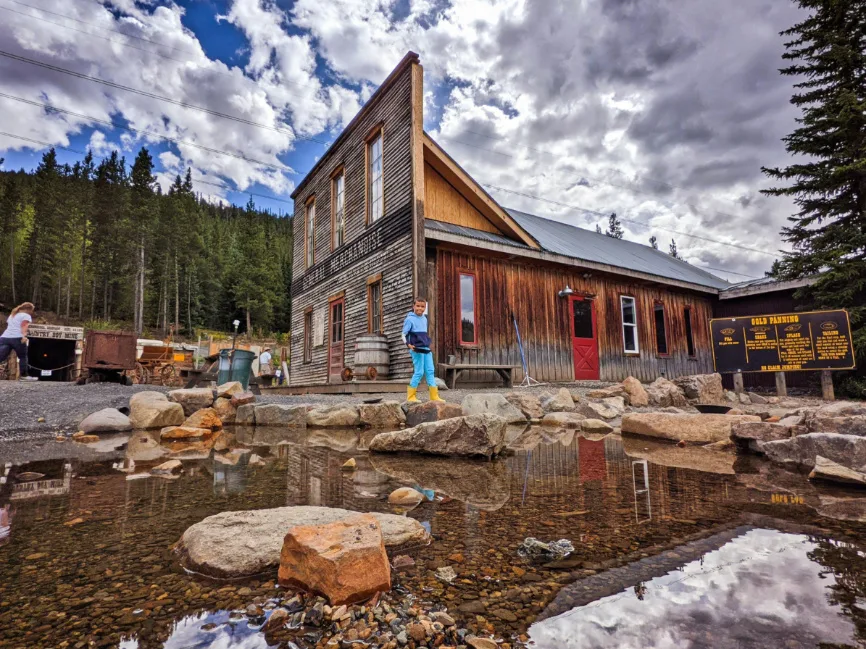 Tour the Country Boy Mine
Yes, this is totally a gold mine and yes, you can even see gold in the mineshaft! We really enjoyed doing the guided tour of the Country Boy Mine. It's very near downtown and is a great activity in any weather (because it's underground). From getting the history of mining in the area and getting to pan for AND FIND GOLD, it's a unique thing to do in Breckenridge and is great with kids or just adults.
Consider your audience before visiting the Country Boy Mine though. The tour goes a thousand feet into the mountain and it's not for people who are easily claustrophobic. It's well lit and there are lots of stops on the tour, but if you're not into being underground, this is not the activity for you. Book the Country Boy Mine Tour here!
Note: if you want to check out a mining site and get some good history, but not go deep underground, visit the Washington Gold and Silver Mine site. It's pretty cool and is much less stressful to visit.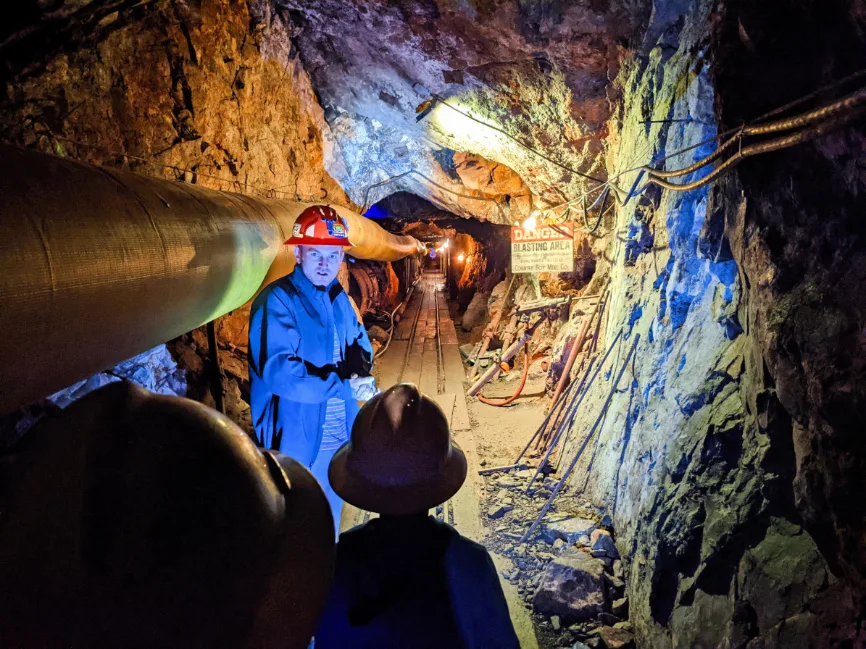 Visit the Breckenridge Troll: Isak Heartstone.
Just beyond downtown you'll find the Troll. Yes, a huge wooden troll named Isak Heartstone. He is really impressive and adorable. He's called Isak Heartstone because while he is primarily made of salvaged wood, he does have a heart behind it all made of stone.
To visit the Breckenridge Troll, head up Boreas Pass Road, just beyond Railroad Park. There is a paid parking lot, then you head into the woods. There are clear trail markers and a perfect stone path leading to the troll. This is one of the best things to do in Breckenridge with kids.
Note: the Isak Heartstone troll was designed by artist Thomas Dambo, who has more trolls all around the world, from botanical gardens in the USA to installations in Europe, the Caribbean and China.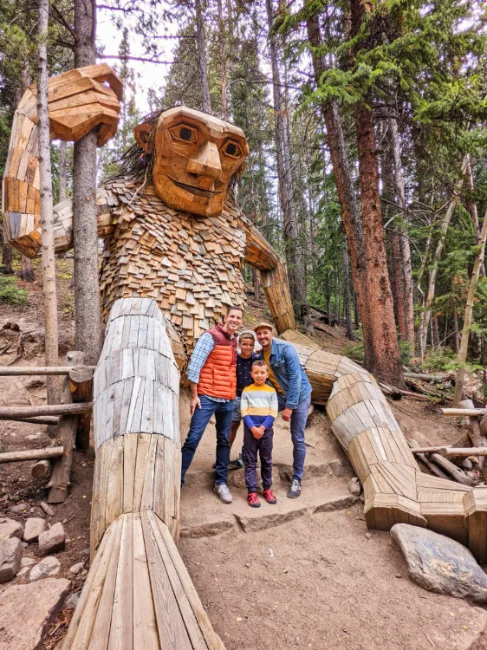 Enjoy a Scenic Chair Lift
You can catch the gondola from downtown to take you up the mountain to the Peak 8 ski area, and here you'll find a great collection of fun summer things to do. Epic Discovery Park is where you can start a variety of activities, including doing a scenic chair lift. We love doing summer chair lift rides because the views are fantastic and quietly soaring through the air is always a pleasant experience.
Fill out your waiver and get your ski lift tickets for a ride up the mountain. You can either just ride and enjoy the view or ride up and then hike back down. There are hiking trails leading from the top of the scenic lift back down to the Epic Fun area, or there are biking routes. Hikers need to stay on their appropriate trails for both their own safety and that of the mountain bikers coming down the steep hills.
Cost: $23 USD per person (2021)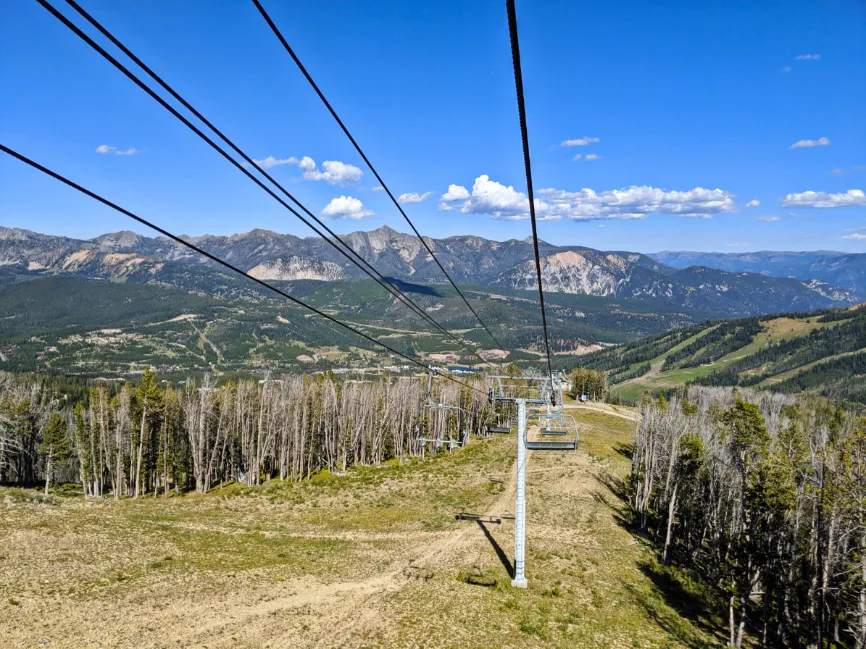 Do the Alpine Coaster: the Gold Runner
I didn't think this was going to be that cool, but we really enjoyed doing the Gold Runner Alpine Coaster. Going out of the Epic Fun Adventure Park at the Grand Colorado Resort, the Gold Runner takes riders up the ski hill on a tow line and then lest them run free on the track back down the hill. You can control your speed with brakes as you coast back down the hill, enjoying the forest as you go.
While the Gold Runner Alpine Coaster was fun, I wanted it to be longer than it was. It only takes about five minutes in total from start to finish, and at a price tag of nearly $30 dollars, I wanted a bigger helping of fun. I still recommend it, especially if you are an adult without a child in lap (I had to go slow because I had our youngest with me) because you can go remarkably fast and it's pretty cool.
Cost: $29 USD per adult, $15 USD per small rider accompanying adult (38″ – 53″ tall)
Height requirement: Kids over 54 inches can do the Gold Runner Alpine Coaster on their own.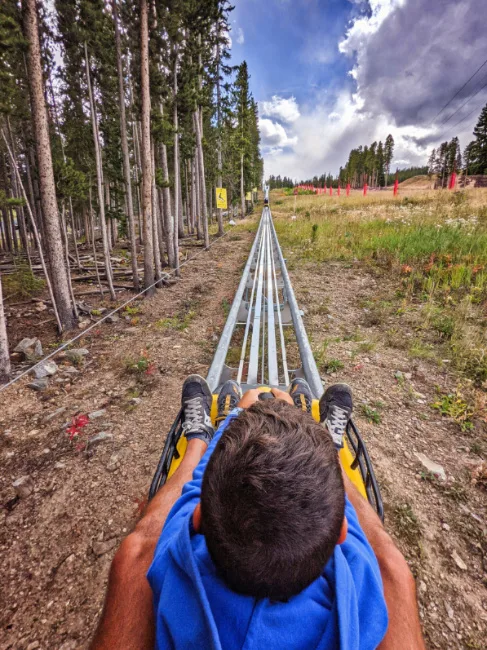 Race Down the Alpine Slide
Similar to the Gold Runner Alpine Coaster in Breckenridge, the alpine slide is another fun experience going out of the Epic Fun Adventure Park. This is the one that I recommend over the alpine coaster. The Alpine Slide includes a chair lift ride and you are much more open to speed and adventure than the coaster.
With the alpine slide, you do have brakes, but they are less effective than on the alpine coaster, so you have a more consistent fast speed going down the hill. This resort adventure takes longer than the alpine coaster and has a more fun edge to it, so it's more worth the money than the alpine coaster.
Cost: $29 USD per person, 1 per sled
Height requirement: 48″ inches to ride solo, 35″ – 47″ rides only with a 16 yo driver or older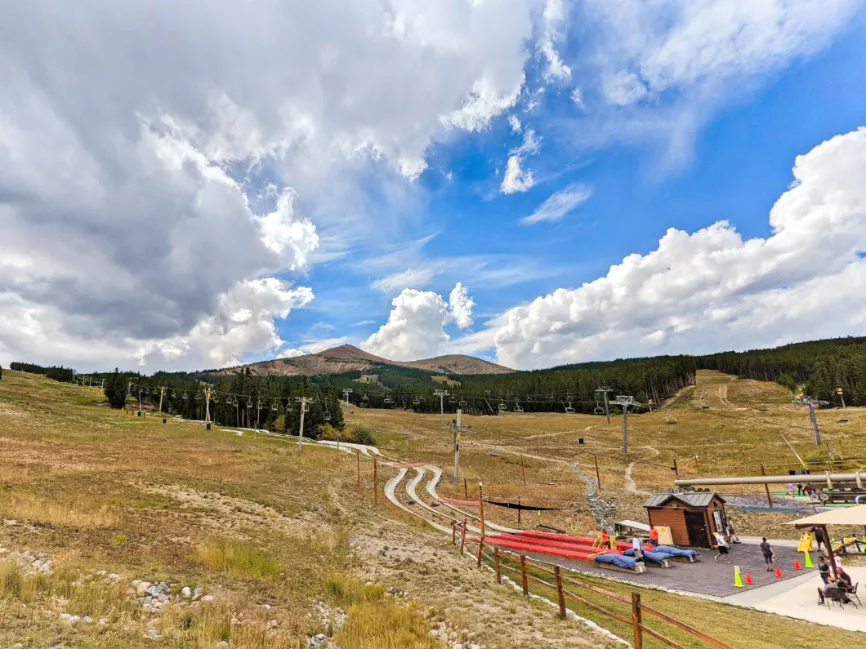 Breckenridge Beverages to Try
Before you plan your pub crawl tour of Breckenridge, please READ OUR ALITITUDE SICKNESS BLOG POST. The nearly 10k foot elevation of Breckenridge is no joke and drinking alcohol at such a high elevation has an impact. I'm not saying that you'll get extra loopy because of the elevation, but that if you're not acclimated and drinking enough water or getting enough salt, you'll get a really bad hangover VERY quickly and you won't have a swift recovery.
Having said that, visiting the unique brewers and distillers is one of the best things to do in Breckenridge.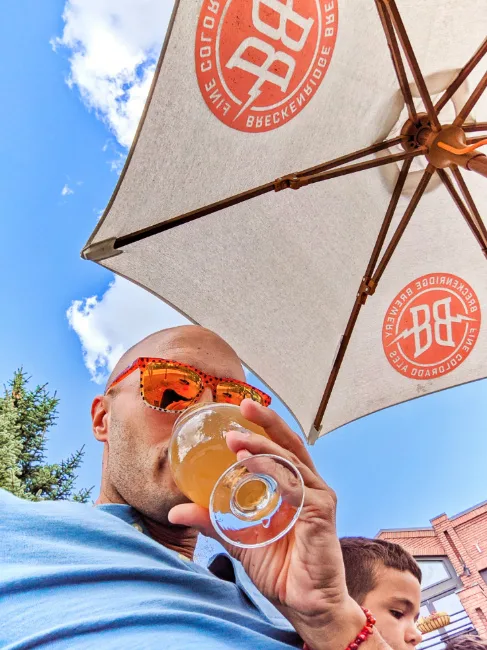 Continental Divide Winery: the World's Highest Elevation Winery
To be honest, I had low expectations of wine coming from something in Colorado, especially having spent so much time in the Santa Maria Valley wine country and Washington wine country and loving that, but Continental Divide Winery actually makes some pretty wonderful wines. They use grapes grown in both Colorado and Napa, so have got fruit bringing in attributes of both regions.
Our favorite wine, unanimously between the two of us, was the Chardonnay. It was interesting and not funky. "Not funky" is how I say that a wine from an unusual place (like wine from Colorado) is good and tastes like any other standard elevation winery. Continental Divide Winery actually had several really good wines, so bravo to them for cracking the code for higher elevation fermenting and bottling.
Note: Continental Divide Winery has a variety of tasting prices vs just paying a flat tasting fee. For two mixed tastings (four good pours) it was about $40.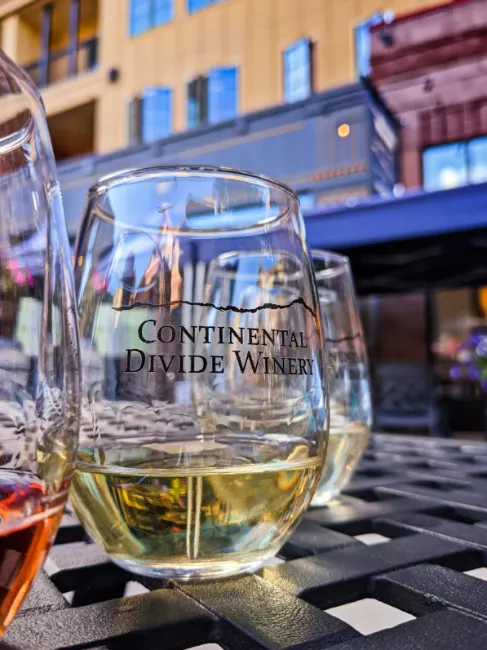 Breckenridge Distillery: the World's Highest Elevation Distillery
Located directly downtown in the historic district, one of the best things to do in Breckenridge is paying a visit to the Breckenridge Distillery. It's small but surprisingly they offer quiet a few types of locally made spirits. The vodkas were really smooth, the bourbons were interesting and delicious.
My favorite spirit from Breckenridge Distillery is the Espresso Vodka. I know, that sounds ridiculous, but it was so very delicious and you could taste the quality. Nothing about it, or any of the spirits we tried, was metallic or unpleasant. Of all the distilleries we've visited, including our local one in Saint Augustine (which we visit often) Breckenridge Distillery makes the most flavorful and smooth spirits of any.
Cost: your first two samples are free, but after the 3rd sample they charge $1 per taste, and then they have specialty liquors with their own fee.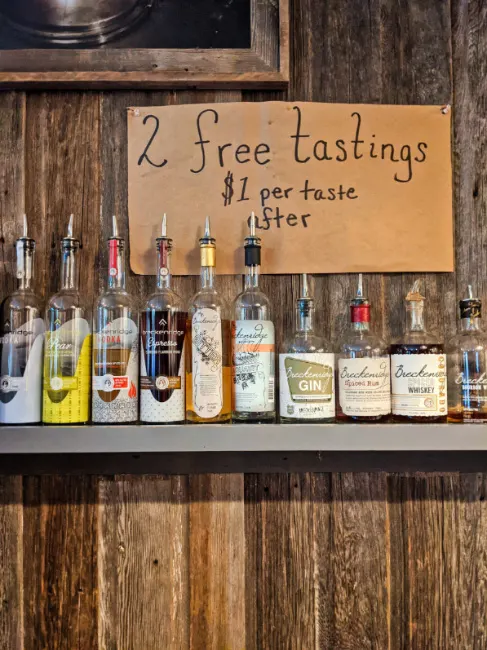 Breckenridge Brewery and Pub: the 3rd Highest Brewery in the USA
Just at the edge of the historic downtown, the Breckenridge Brewery and Pub is both a good brewery and a quality restaurant. The beer highlight for me from the Breckenridge Brewery and Taproom was their hazy ale. It was the perfect IPA/juicy beer and had all the boldness of West Coast breweries (Icicle Brewing in Leavenworth is our favorite west coast brewer).
Plan to visit the Breckenridge Brewery and Taproom for lunch or early dinner. They have outdoor seating options and a fair amount of indoor seating too. Remember that if you're visiting a brewery or drinking alcohol at high elevations like Breck, you'll need to give yourself time to process the alcohol and you'll want to chase each drink with water and eat something salty. I'm just looking out for you!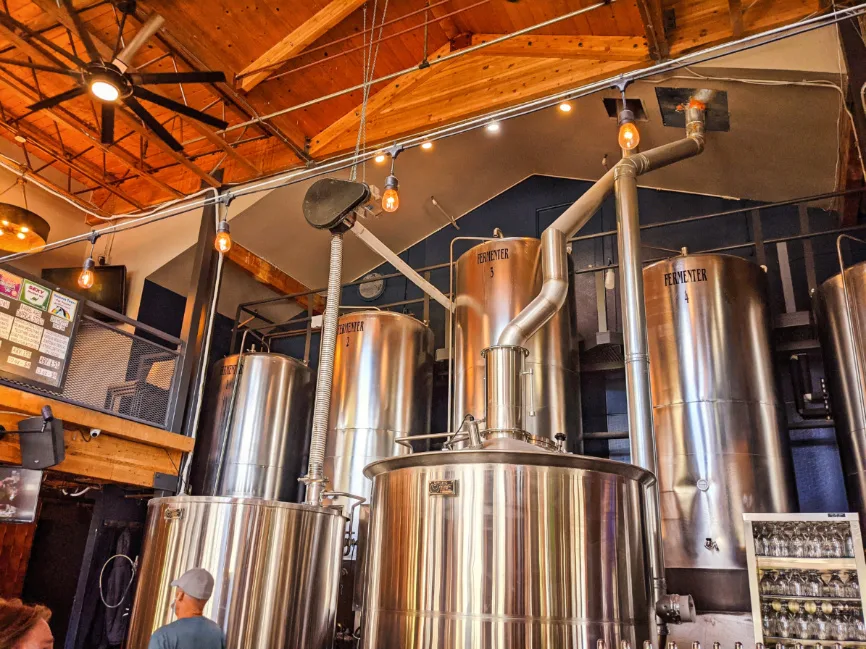 Where is Breckenridge?
So where is Breckenridge exactly? It's actually not too far from Denver. Less than two hours from the Mile High City, Breck is an easy weekend trip or addition to a visit to Denver. It's just as from from Denver as Estes Park or Colorado Springs (a few minutes more to Breck). If you're thinking about going to Vail, CO or Breckenridge, Breck is about 15 minutes shorter of a drive.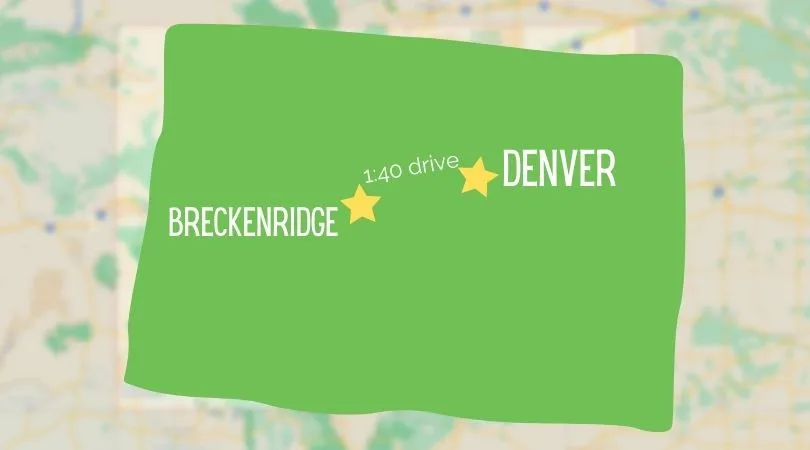 How to Get to Breckenridge
Driving yourself, you'll take Interstate 70 heading west out of Denver, and then Colorado Highway 9 to the south a bit. It's an easy drive, but you will hit some steep grades on the interstate.
Along the way, you'll pass through Morrison where you'll find Red Rocks and Dinosaur Ridge, Golden, Idaho Springs and Frisco. There are lots of great stops on the drive to Breckenridge. If you can plan your time to be able to stop in Idaho Springs or Georgetown, you'll find really cool old mining towns that are charming and fun.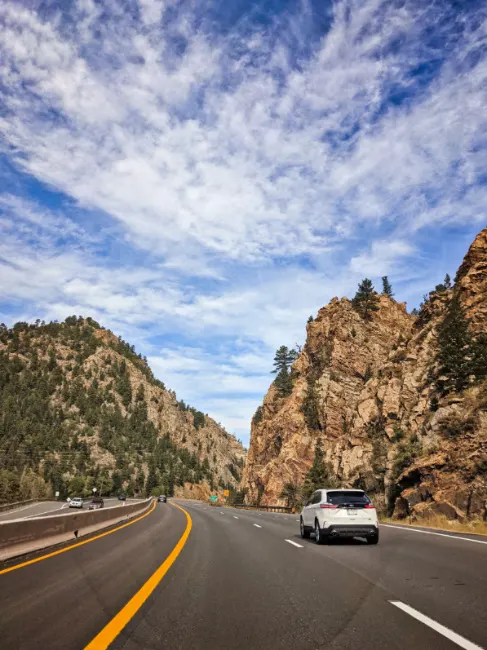 Shuttle to Breckenridge
One of the really wonderful and convenient things about visiting Breckenridge, Colorado is that there is actually a shuttle that goes from the Denver airport (DEN) into Breckenridge. Yes, it will still take nearly two hours to get from Denver to Breck, but the convenience and cost savings may be worth it for you.
To get to Breckenridge via a shuttle, book it in advance through either one of the independent companies or through the resort you're staying at. Mountain Shuttle or Summit Express can get you there for around $60 per person (and sometimes less).
Once in Breckenridge, the Free Ride bus system will get you nearly everywhere you need to go in town.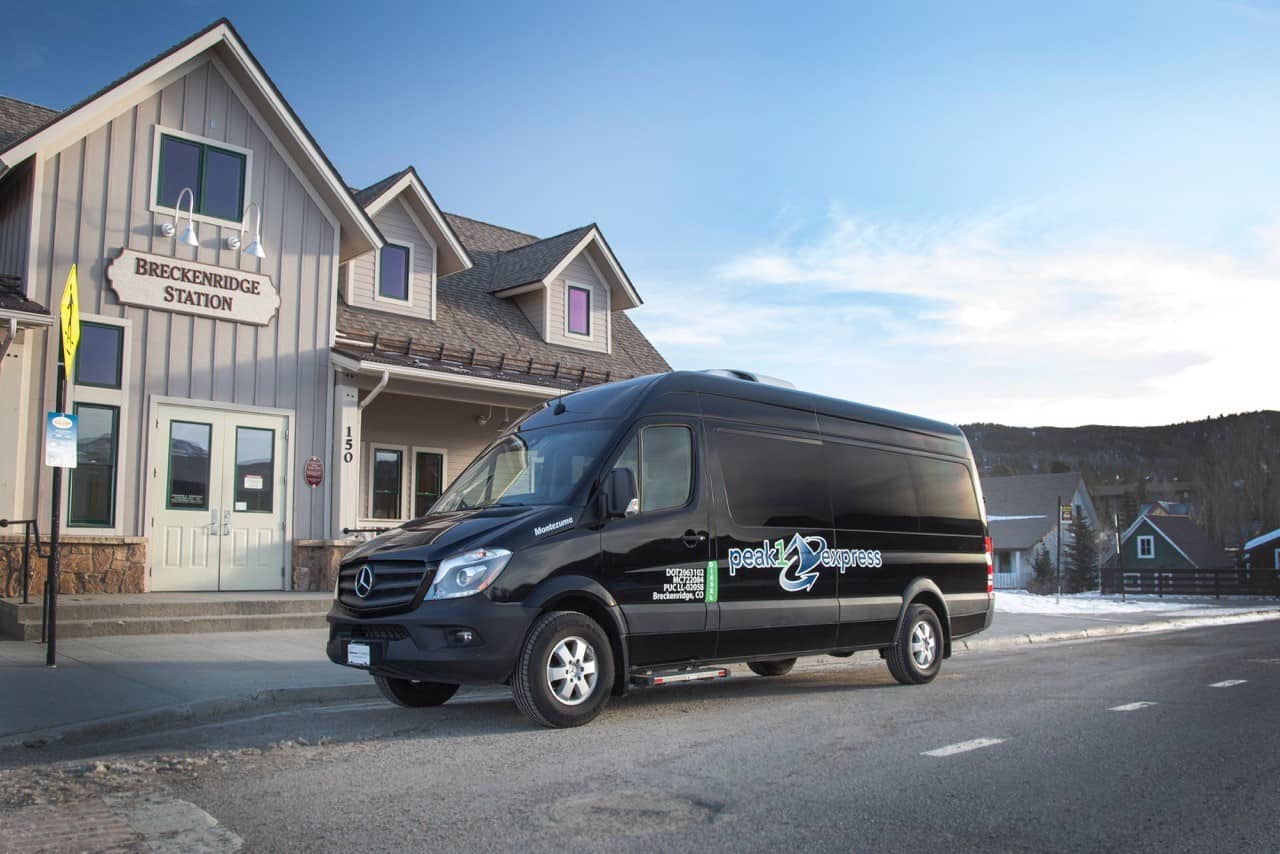 Need-to-Know Parking in Breckenridge
Like most cities and towns, there is a parking system in Breckenridge. If you've got your own vehicle when you visit Breckenridge, you won't need it often, and usually only to do things far outside of town. If you do drive a car into the downtown area, there are lots of small parking lots and some street parking. You can either pay with a card at the meters or you can use the Breck Park app (Google Play / iTunes).
Because Breckenridge is so walkable, very few people drive downtown so if you choose to do so, you'll find that parking is a breeze.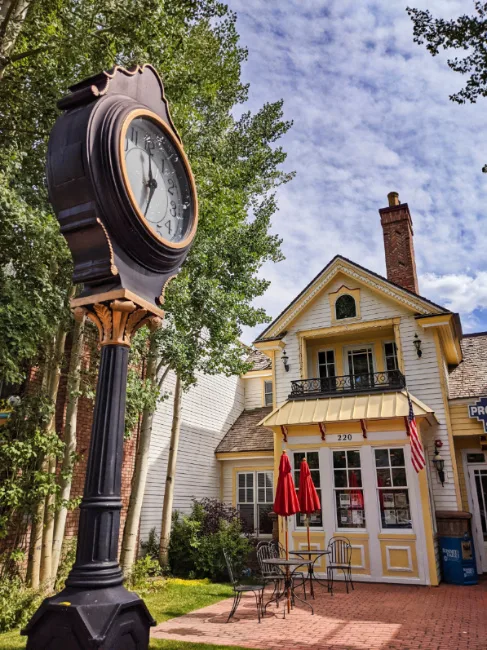 When is the best time to visit Breckenridge?
So when IS the best time to visit Breckenridge? Well, that depends entirely on the things to do in Breckenridge that interest you. If you're into hiking and enjoying the Colorado blue skies, visit from May to September, as the weather is best. Breckenridge actually gets about 300 days of nice weather each year, so summer is ideal to catch some of that.
But then if you're visiting Breckenridge in winter you'll also probably get some gorgeous weather. Once the snow falls, it's fluffy and beautiful, and then throughout the winter the continual refreshment of snow drifts and fields make the perfect ski environment… and this is where it's extra important to use sunblock.
Spring starts in April with May and June being the most thawed, but still a bit cold. You can expect surprise snow throughout spring because Colorado can be a bit wild like that.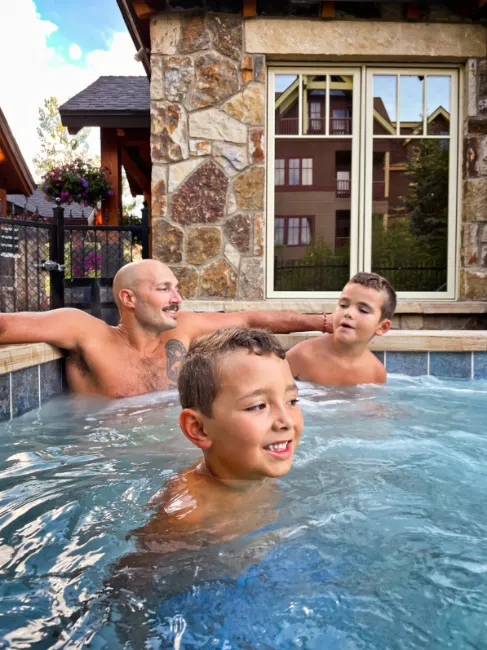 Fall Colors in Breckenridge
Leaf peeping is one of the best things to do in Breckenridge, with fall colors starting to set in during the second week of September. The autumn foliage turns fast though, so when you start to see the aspens changing to yellow, you know that you only have about a week to ten days to enjoy the leaves, and with so many aspens, Breck is one of the best places for fall colors in the USA.
When the fall colors start to set in is very much dependent on the type of summer Breckenridge has had and when the first cold snaps hit. An early frost will get things moving and the colors changing, but also sustained warmth will make leaf peeping start a bit later. You can usually check online to see when the leaf predictions are guessing peak color will be.
Something to take into consideration if you're visiting Breckenridge in fall is that the summer season ends with the second weekend of September. Saturday is busy, and then Sunday is silent and many of the tourist activities (like scenic lifts and resort services) stop. They start up again about two months later when ski season begins.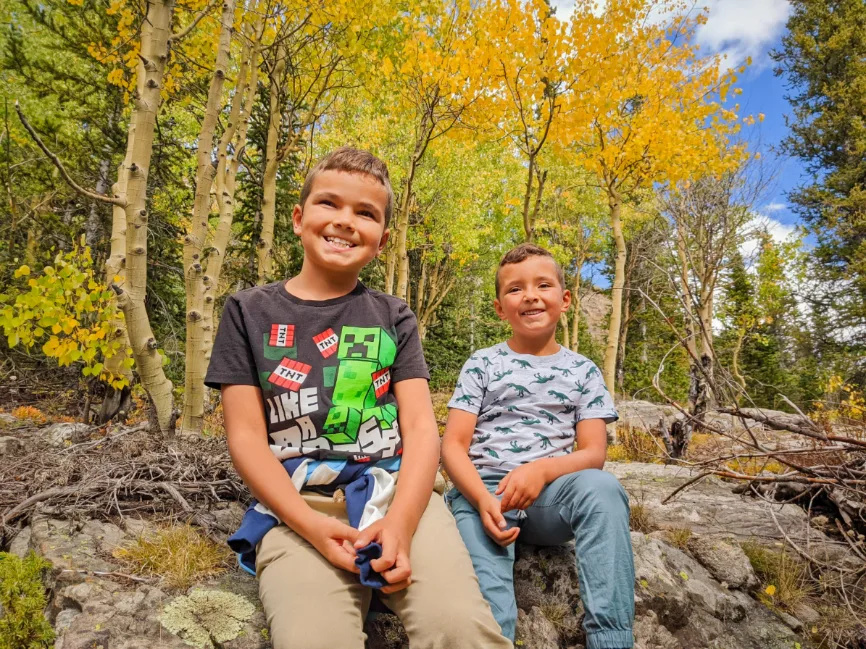 Winter / Ski Season in Breckenridge
When mid-November hits and the snow starts to fall, Breckenridge comes back to life. Like skiing in Vail or up in Whistler BC, Breckenridge seeing a huge influx of population once the slopes open.
One of the most remarkable things about Breckenridge in terms of its snow season, because of the layout of the town and how the lift lines, slopes and resorts are all set up, much of the town is actually Ski-in/Ski-out, meaning you can leave from your snow-time rental on your skis, catch the gondola up the mountain, and then ski home. This is a rather premium feature of town, but the resorts that are clustered around the historic district have facilities and staging areas in place to make sure visitors can enjoy the ski experience as much as possible.
So, are you ready to take a trip and enjoy the best things to do in Breckenridge? As always, if you have any questions, we're happy to answer and if we don't know, we've got resources to reach out to. Happy traveling!