Let's just be cheesy up front and quote some Johnny Mathis: "Just hear those sleigh bells jingle-ing, ring-ting-tingle-ing too; Come on, it's lovely weather for a sleigh ride together with you." Well, it is lovely weather whenever we visit Leavenworth, Washington and we did go on a sleigh ride even though it wasn't even the holiday season anymore.
Is a sleigh ride a good way to spend an afternoon or is it not worth the time? Well, here's where you'll be torn. If somebody asked us if we'd do a sleigh ride again, we'd say yes, especially if the kids are with us. It's a great family travel activity, and it is a lovely thing to do with a significant other.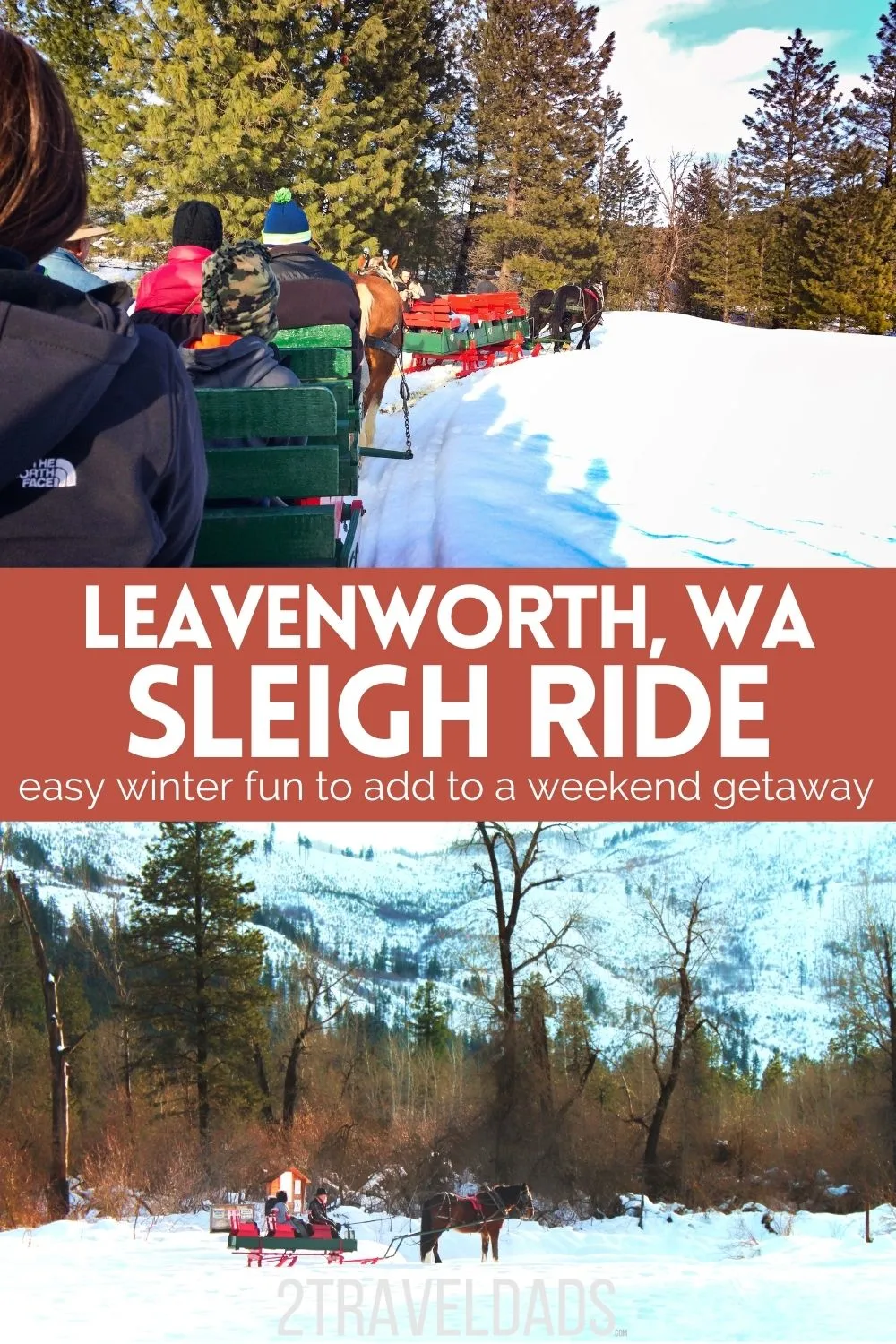 If you've got kids with you and you've got the chance to go explore the snow, a sleigh ride may be just the ticket! We were welcomed by Icicle Outfitters and Guides in Leavenworth and would be happy to join them again for such a tour in Leavenworth.
What to Expect on a Leavenworth Sleigh Ride
Some people need to know just what to expect when they're planning travel activities. Sleigh rides aren't cheap, so yes, it's a good thing to know what's in store and set some expectations.
Checkin at Leavenworth's Icicle Outfitters Sleigh Ride
As with any tour, you need to be courteous of the other guests AND the tour operator and arrive on time. Be sure that you've either paid or provided a tour voucher ahead of time to make the transaction portion of the outing smooth. If you're visiting Leavenworth on a winter weekend, you'll find that the town is rather busy, so you'll need to reserve your sleigh ride in advance or run the risk of not getting to ride.
A sleigh ride includes minimal instructions for the guests, but you've got to get situated and the horses need to know that they're not going to start off with somebody falling out of the sleigh. Wouldn't that be the worst way to end a fun weekend in Leavenworth? Falling out of a sleigh? No thank you. Also, it's easy to get caught up wandering through Leavenworth at lunch time, so keep a wary eye on your watch so you don't miss out.
Tip: if you want to hear about the area or hear cowboy stories, get a seat in the front. If you want to just look at the scenery and take pictures, sit in the back. If you're in a private sleigh, enjoy!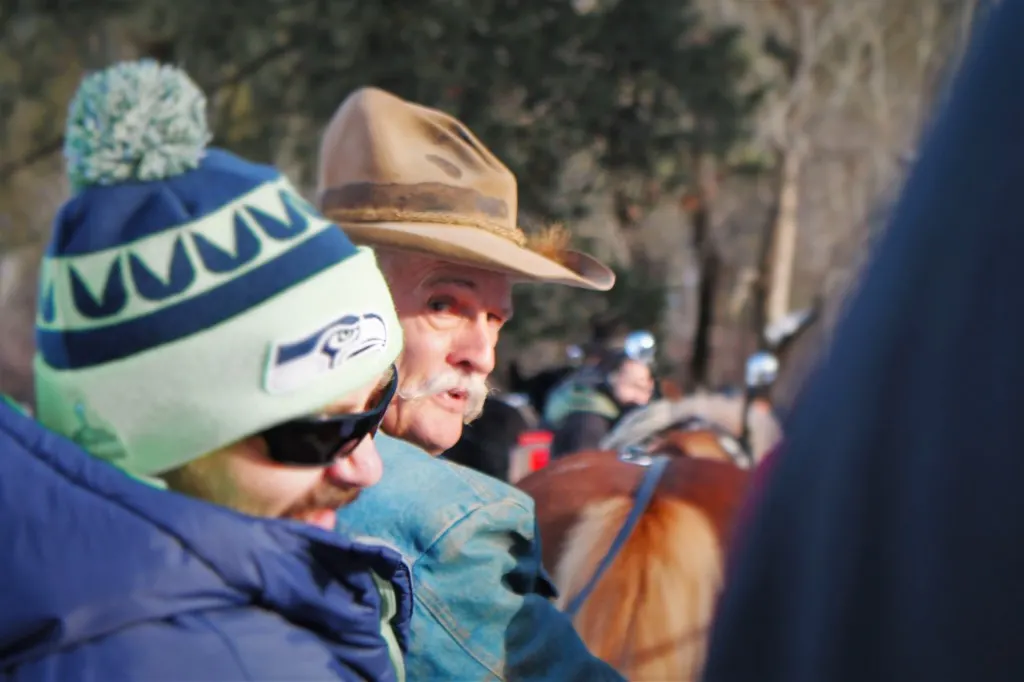 Is a Sleigh Ride Thrilling or Mellow?
We'll tell you now, a sleigh ride tour is not a thrill like going horseback riding on a really enthusiastic horse. It's much more chill and meant to be a relaxing excursion. To dispel any preconceived notions based on fabled Christmas carols, snow isn't flying all around as you whip around corners through the woods, at least not during the sleigh ride we did.
Had we not had the fresh, crisp air in our lungs, we could easily have fallen asleep. That's how mellow a sleigh ride is, but it is very enjoyable! And yes, going for a sleigh ride through the snowy mountains is as stereotypical as floating through Venice in a gondola, but relaxing to gain a new perspective is great way to justify an activity like this.
Tip: dress warmly. Remember, even though you're not tromping through the snow, you are dashing through the snow in a one or two horse open sleigh and that is a chilly experience.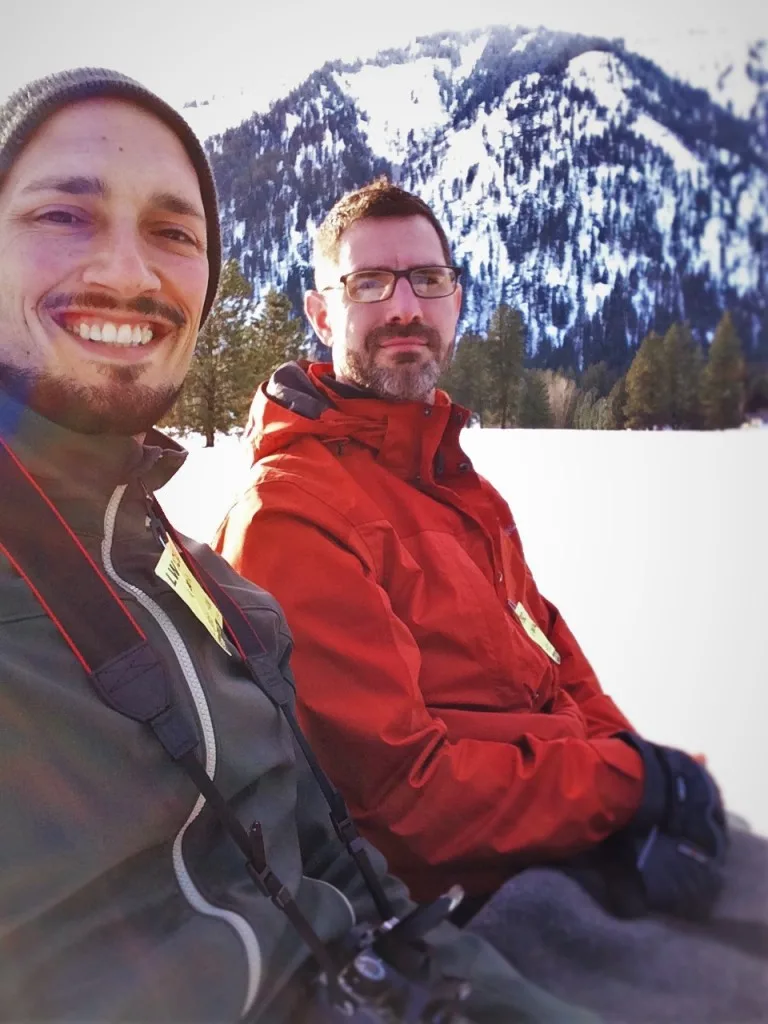 How to Enjoy the Sleigh Ride Experience
When we wrote about cross country skiing we mentioned that you have to stay focused on your path and you don't get to enjoy the view while you're moving quite as much as when you're standing still. Not so with a sleigh ride!! This experience is all about the view.
We loved surveying the land, the river and the mountains from the back of a sleigh. Leavenworth has some of the most gorgeous mountains surrounding it, and the Icicle River is also just pristine. Like with skiing, we got to see the area from a different viewpoint and gained access to some private lands that ran beside the river. It was nice to just hear the river and the… jingle bells.
Tip: take lots of pictures. Yes, enjoy the view, but also take pics. We say to take lots because you're moving and sometimes photos can be a bit blurry. Also, if you're using a manual camera, be aware of the white balance as you photograph the winter landscape.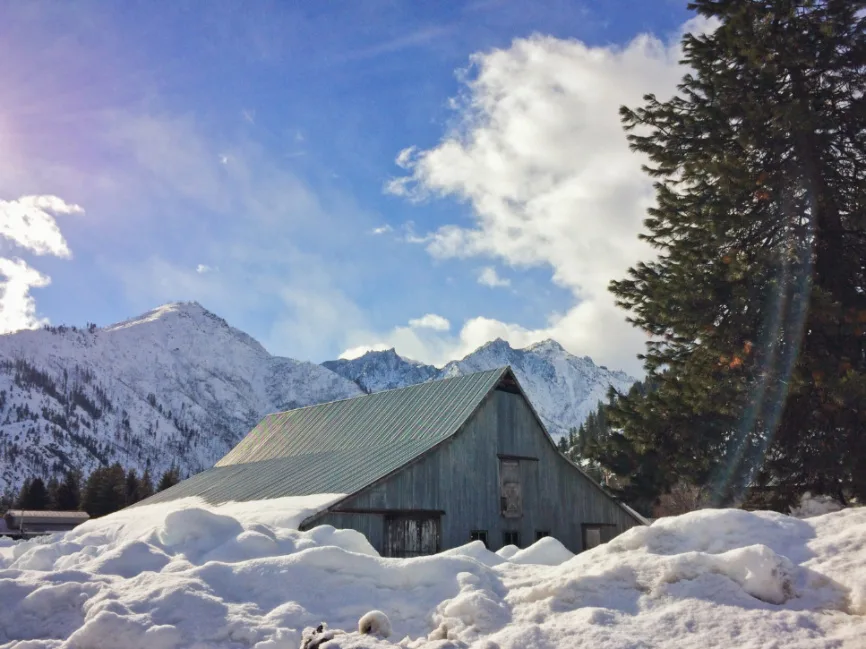 Meeting the Horses
I know that for me, if I see a horse I have to meet him/her. Having worked with horses in a past life (or career) I'm drawn to them and love to show them gratitude for letting us harness their strength and calm nature. If you're doing a sleigh ride with kids, this may just be the highlight of the day for them.
Previously we've written about animals being kept in an inappropriate environment for human exploitation (see our post on the Georgia Aquarium). That's very much NOT the case with Icicle Outfitters. The horses used for tours here in Leavenworth are very well maintained and are visibly healthy, which I am qualified to say due to my experience with horses and horse tourism. They also have appropriate space and the work seems well distributed, ensuring that they are neither over-worked or left to boredom.
Tip: always, always, always ASK before petting a horse or any other animal that's not your own pet. Horses that work with tourists are usually very chill and like people, but you don't want to irritate the one that likes to kick or nip. Also, it's just plain respectful to the horsemen running the tours.
After your sleigh ride, you may be inspired to get even more into the wintery spirit. Be sure to also pay a visit to the Leavenworth Reindeer Farm. It's less than 10 minutes away and is a wonderful place to visit with or without kids!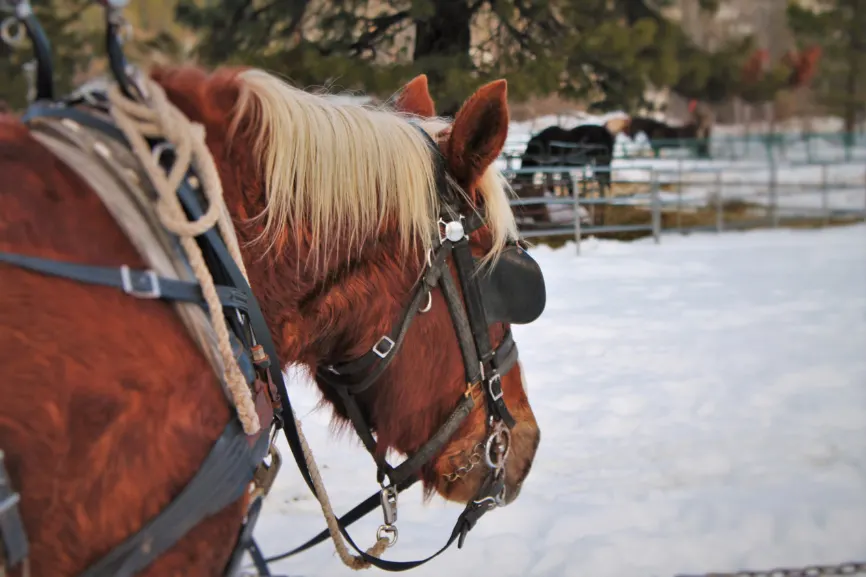 Tipping Tour Guides and Horsemen
America is the land of tipping and gratuities. If you are visiting the USA from a place where tips for meals and tours aren't standard, please consider that you're now a guest in a culture where they are. I know, that sounds borderline rude to call this out, but as somebody who's worked in the travel industry in many different roles, tipping is what makes tourism jobs financially doable for many.
Also, and this is going to sound rude too, many tour operators and staff have preconceived notions about visitors from other countries not appreciating them or respecting their jobs due to experiences being stiffed on tips. It's totally true that tipping isn't required, but I'll tell you, unless there is a sign posted stating that tips are not accepted (typically due to unions) it is the expectation that tips are given.
I actually was contacted by our guide after a fishing excursion once letting me know that my tip wasn't sufficient. It's beyond ridiculous that this is the culture and pay structure in American tourism, but it's how it is currently.
Tip: (ha ha, see what we did there?) If you're uncomfortable tipping face to face due to the culture you come from, there are often tip boxes you can discreetly leave a small thank you in.
Tip 2: if somebody doesn't do a good job or is rude, ignore everything we just said about tipping. Yes, it's expected, but only for a job well done.
Suggestion: on an involved tour, such as a horseback ride or guided hike, an ideal gratuity is $5 per half hour per person (but typically no more than $20). If you feel that's overly generous, cut it in half, as anything is always appreciated.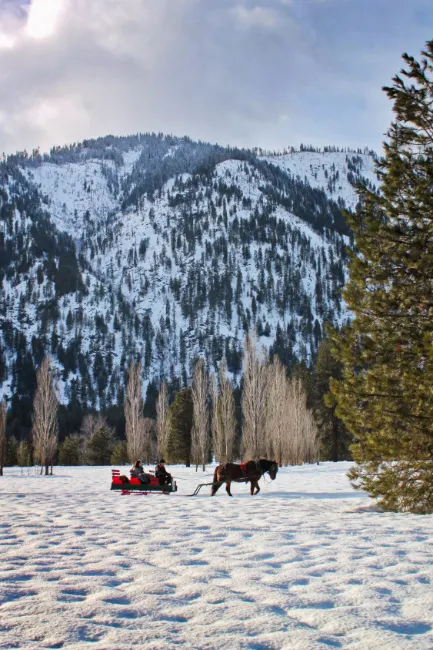 So, what do you think? Would you or your family find value and create some nice memories on a sleigh ride? Probably so! Is it a once in a lifetime opportunity not to be missed? Maybe, if you're from someplace that's really warm and doesn't ever get snow. Would we go again? Totally, but only if we have the kids with us, as a sleigh ride is a great family travel activity.
Other Fun Leavenworth Things to do In Winter
In general, doing a sleigh ride in Leavenworth will only take up about an hour of your time. So what are you going to do for the rest of you day? Here are five great suggestions to enjoy winter in Eastern Washington that will really make a brisk, snowy day top notch:
Leavenworth in winter is wonderful and we know you'll have a blast! As always, please let us know if you have any questions or suggestions to add. Send us a note or leave a comment. Happy traveling!