Lake Chelan is decidedly the most family friendly wine destination in Washington. I've decided this after visiting Woodinville, Yakima, the Olympic Peninsula and the Tri-Cities. There are lots of things to do at Lake Chelan that aren't wine related, and plenty to keep you having fun or relaxing in any season.
Very near Leavenworth, Washington, Lake Chelan is a great weekend trip or you can spend a whole week exploring the lake, hills and canyons around the area. Lake Chelan is great for hiking and seeing a completely different side of Washington State. This is the place where playing in the outdoors meets enjoying agritourism in the sunshine.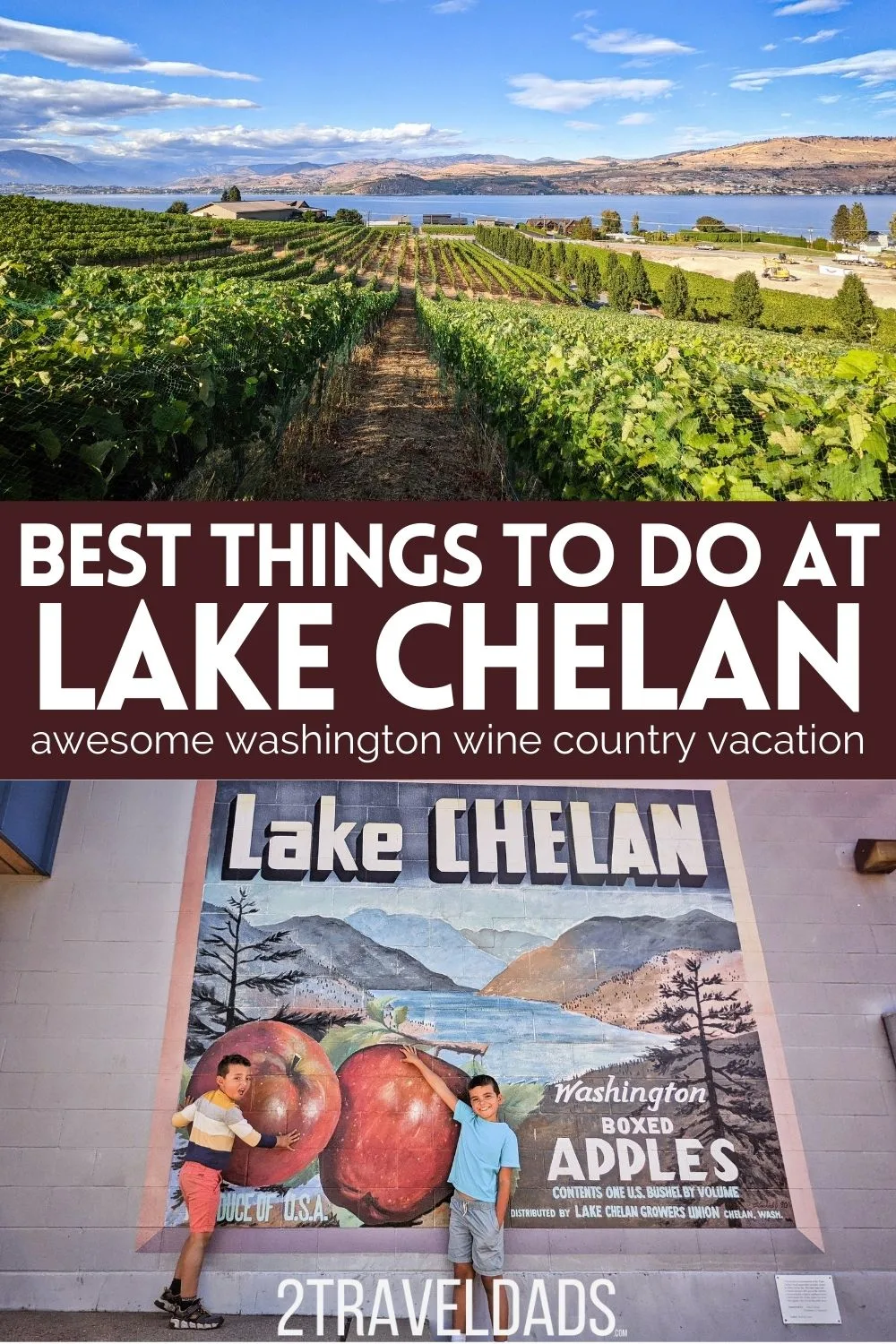 Best Things To Do at Lake Chelan
Okay, you ready for a great collection of things to do in any season at Lake Chelan? Having visited in summer, fall, and winter, I'm confident you'll be able to create a really fun, interesting trip the whole family can enjoy. We're breaking this down by activity type, whether it be out in nature, family friendly wine tasting or getting onto the water, you'll be able to pick and choose great activities all around the Lake Chelan area.
Family Friendly Wine Tasting at Lake Chelan
We get a lot of questions and comments about family friendly wineries and doing adult things like this with kids. Sometimes people are coming from a place of curiosity and sometimes judgement, but we're always happy to share how we visit wine country with kids. There are many great things to do at Lake Chelan that relate to the wine industry, and it's not all drinking wine from 9 to 5.
Something to note about wine tasting in Washington State: wineries and distilleries cannot give away alcohol so there is always a tasting fee. Some tasting fees are small and are cheaper than a glass of wine, and some are more costly and are made back / waived with the purchase of wine at the tasting room. There may be a minimum purchase to get tasting fees waived, but it usually works out that you'll make back the cost of the fee with a bottle purchase.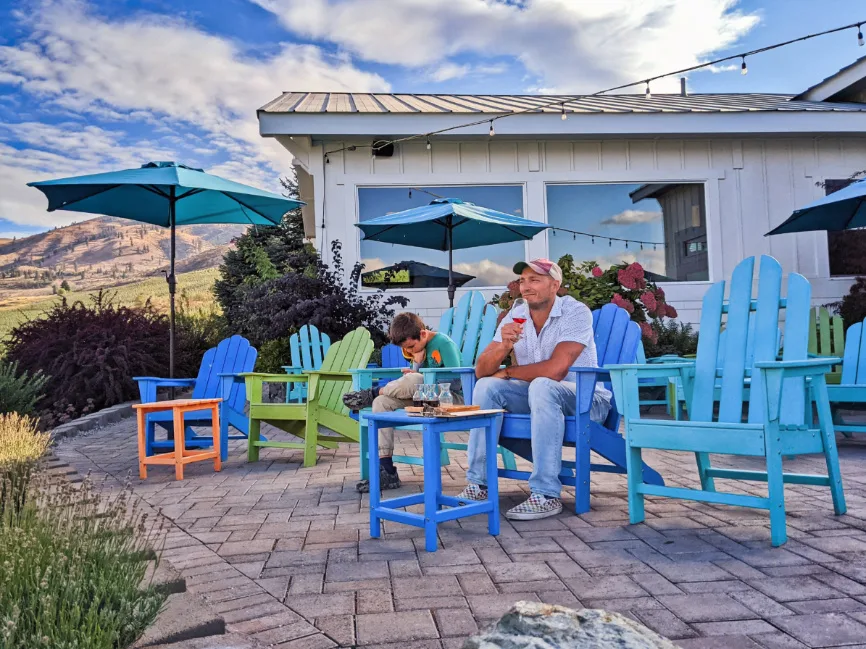 Nefarious Cellars
Yes, the wine is good, but so is the view! Nefarious Cellars tops our list of favorite family friendly wineries to visit at Lake Chelan for a few reasons:
Great outdoor space, both a tasting lawn AND a play area for kids
Vineyards on property to explore (with permission)
Wonderful wines, particularly the rose
Perhaps the best view from a winery overlooking Lake Chelan
In addition to these elements, visiting Nefarious Winery is one of the best things to do for several days even, as they actually have a vacation rental ON PROPERTY. You can stay at the winery in their two bedroom vineyard cottage and have a magical, family friendly wine country getaway.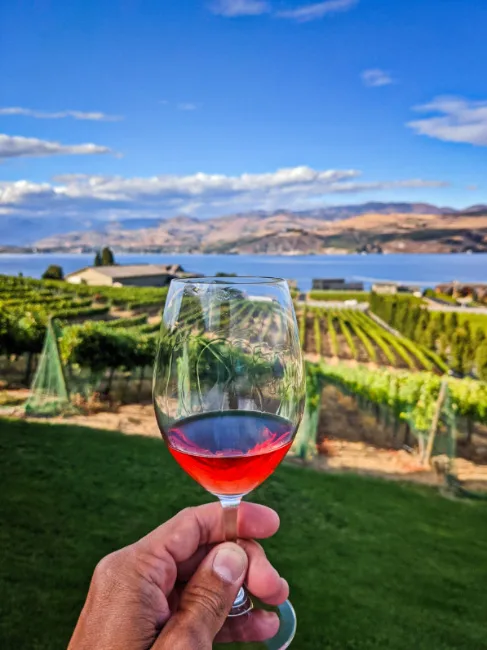 Fielding Hills Winery
Right next door to Nefarious Cellars is Fielding Hills Winery. They may not have a playground for kids to get out their energy, but they have the perfect lawn and shady places to relax for families. Whether you stay in the tasting room or head outside, Fielding Hills Winery is beautifully set up to visit for great wine and views.
To keep the wine tasting experience mellow and not too crowded, Fielding Hills asks visitors to reserve their tasting times, but they also accept walk-ins. They have snacks and kid-friendly beverages available, so visiting in the afternoon before dinner is ideal.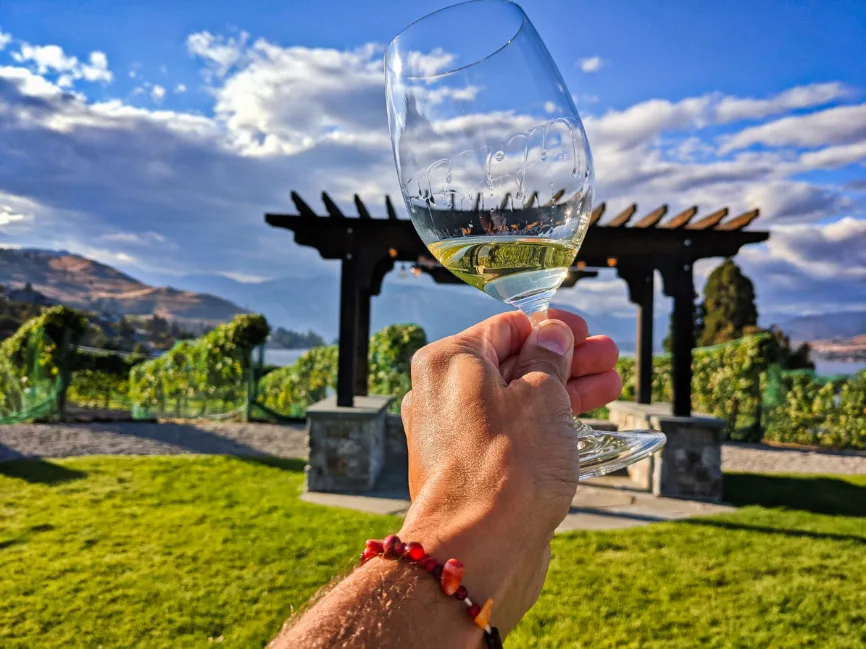 Visiting Tunnel Hill Winery
I love all the fun outdoor spaces that Lake Chelan wineries have set up. Tunnel Hill Winery is another one that has a play space for kids, making a stop here both a fun and easy thing to do when you visit Lake Chelan. It's located just of Highway 97, so as you drive down the mountain towards Lake Chelan, you'll actually come to it before any other wineries.
While doing a full wine tasting is restricted to the patio area and tasting room, adults are welcome to grab a glass of Washington wine and head to the lawn space where there is seating, shade and a play space for kids. Note: tasting reservations are suggested to prevent over-crowding.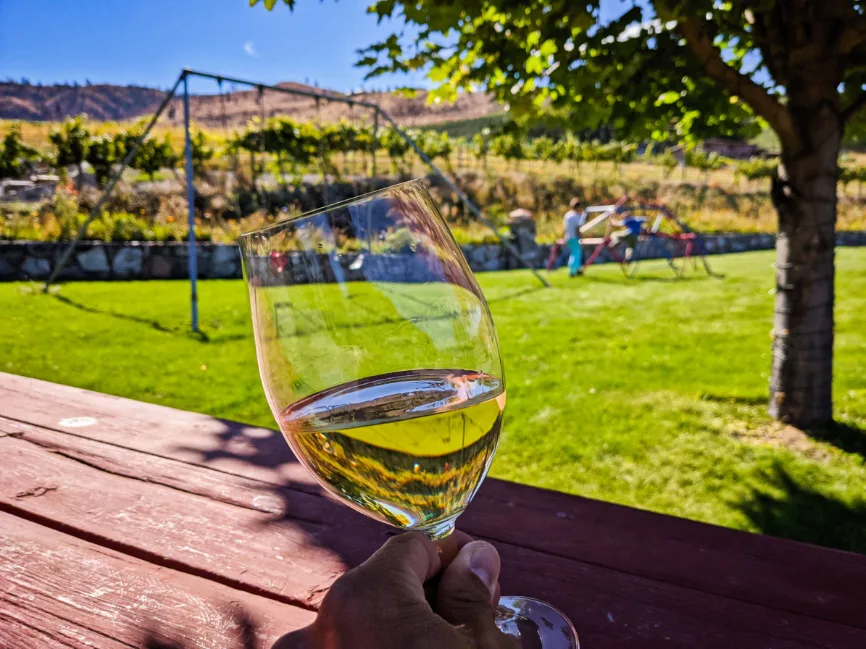 Afternoon at Tsillan Cellars
Tsillan Cellars is a wonderful place, and visiting is one of the best things to do, especially if you're also hungry. Located overlooking Lake Chelan, Tsillan Cellars has a tasting room, wonderful restaurant, a wine patio, coy ponds, and vineyards to explore. Spending an afternoon at Tsillan Cellars is an easy way to enjoy the views of Lake Chelan, have great food and dip your toe into Eastern Washington wine culture.
Get your tasting tower and head out to the lawn or the patio to enjoy. Kids can feed the fish in the pond or play on the lawn. There are lots of options to make a wine tasting at Tsillan Cellars family friendly. Bonus: located adjacent to the Tsillan Cellars tasting room is Sorrento's Ristorante, which has delicious Italian dishes with a view.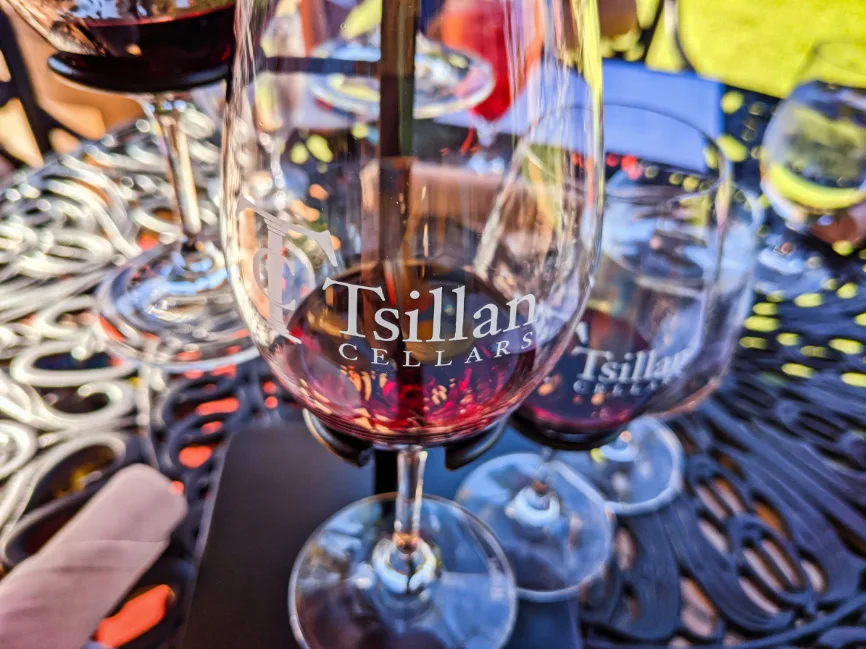 Farm Wine Experience at Lagriöth Winery
One of the newest wineries in Washington State, Lagrioth Winery is a part of Chelan Valley Farms. The passion project of science folk turned farmers, the owners of Lagrioth have studied the region, the agricultural products and the environment to create their wines. Jeana and Chad, the owners, have both studied and worked within wine culture, including Jeana using her chemistry background interning with Bogle Vineyards.
Since Lagrioth Winery is just starting out (Fall 2021) they are only offering a few wines through their tasting room and online ordering. The rose was my favorite, because I'm always a sucker for rose, but they have release that, a chardonnay and a red blend, and there are more varietals to come! The tasting room is located at Chelan Valley Farms so it's easy to visit with kids and enjoy the orchard, lawn and tasting room all at once.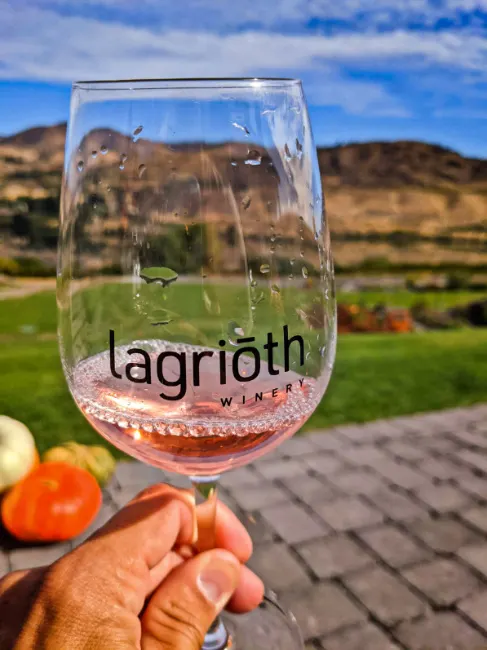 Evening at Vin Du Lac Winery
Sunset over Lake Chelan is gorgeous, and there's no better place to experience it than at Vin Du Lac Winery. Located on the slopes on the north side of Lake Chelan, Vin Du Lac Winery has been serving up Washington wine since 2002, making it one of the older wineries in the Chelan area. Whether you want to do a full tasting, grab a glass of wine or enjoy apps or dinner through the bistro, Vin Du Lac is lovely.
They're got cornhole setup on the lawn and plenty of Adirondack chairs around the property to make a visit relaxing and family friendly. If you area planning on bring a group to Vin Du Lac, like with most Lake Chelan wineries, they do encourage people to make a reservation for tasting.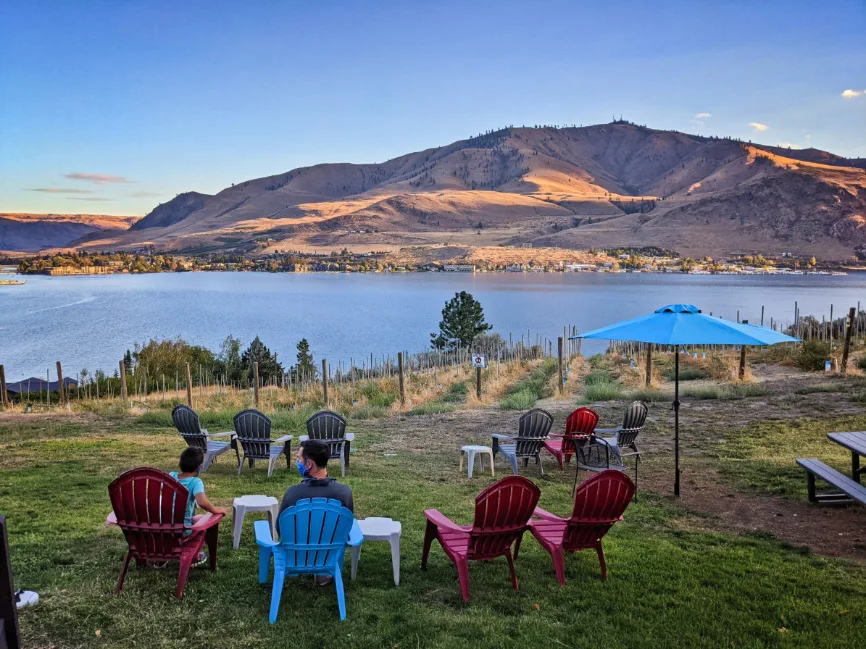 Family Afternoon at Lake Chelan Winery and BBQ
Located on the north side of Lake Chelan as well, Lake Chelan Winery is so much fun to visit with kids! Whether you want to do a tasting or enjoy their outdoor barbecue patio, or even dine in the vineyard, there are lots of options at Lake Chelan Winery. You can even do a behind the scenes winery tour! Since there are all kinds of things to do in the area around Lake Chelan Winery, located in Manson, planning a stop here is easy… and will probably just happen, even without planning.
So, you can visit the tasting room and then because it's a great experience, just head out back. Here you'll find the whole barbecue setup: BBQ in the Vineyard! Enjoy cornbread, ribs, grilled chicken, corn on the cob and lots of wonderful Lake Chelan Winery wines. There is play space for kids, vineyard rows to stroll through and chairs for relaxing. What a wonderful place to find yourself on a Lake Chelan afternoon or evening!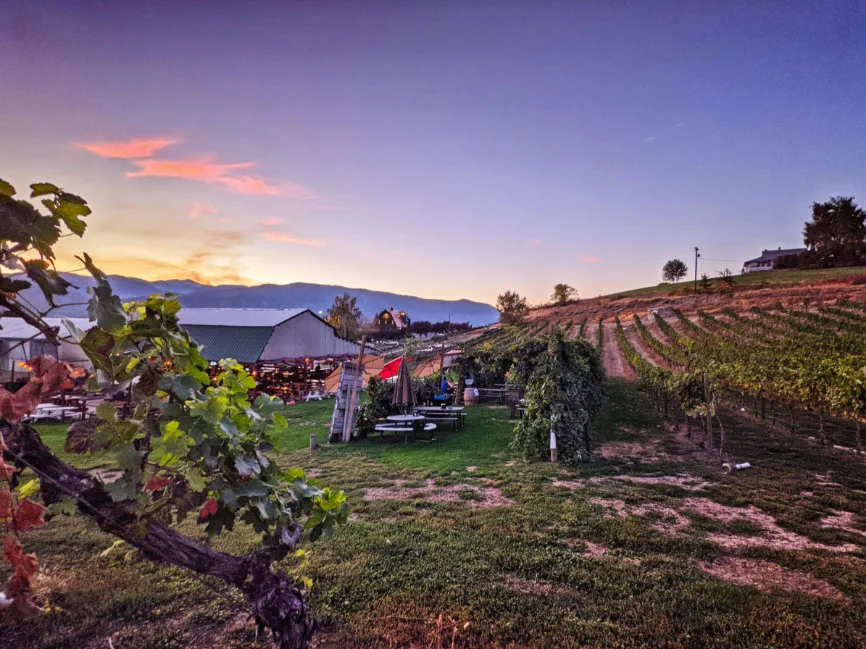 Farm and Agriculture Things to Do at Lake Chelan
We enjoy visiting farms and participating in agritourism just as much, and often more, than visiting museums and amusement parks. Visiting a working farm may not be as exciting as visiting Disneyland or Universal Orlando, but kids really enjoy the open spaces, animals and picking their own fruit. Adults, well, we enjoy all of that and more!
Many of the best things to do at Lake Chelan center around farming and agriculture. Taking time to be a part of the farm culture is a wonderful way to immerse yourself and your family into the Lake Chelan way of life.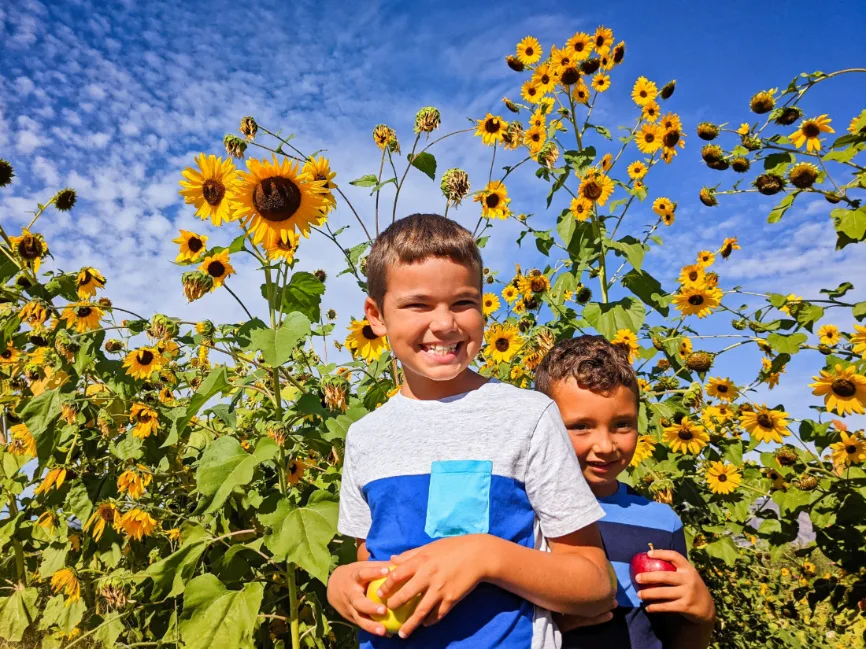 Visit Chelan Valley Farms: U-Pick, Animals and Wine
We spent quite a bit of time here at Chelan Valley Farms, both for the awesome U-Pick areas, as well as wine tasting. If you plan one super local thing to do at Lake Chelan, make it a visit to Chelan Valley Farms. We've done a lot of agritourism in California because it's such a great way for kids to learn about where their food comes from, but never before have we been to such an interactive, food-forward family farm as Chelan Valley Farms.
In fall, you can visit for apple picking, finding the perfect pumpkin or touring the property. You'll find dogs, goats, chickens and even angora bunnies. When it comes to the U-Pick options, apples of several varieties are available, as well as U-Cut flowers and pumpkin hunting. Chelan Valley Farms also does CSAs, different sorts of classes (including flower arranging), and is open for events.
Want to do a farm stay? Me too! Chelan Valley Farms has opened their guest house and you can now plan a trip to Lake Chelan and actually stay on the farm and enjoy a few days of farm life (including the hard work if you're interested). This is one of our favorite Pacific Northwest farms to visit!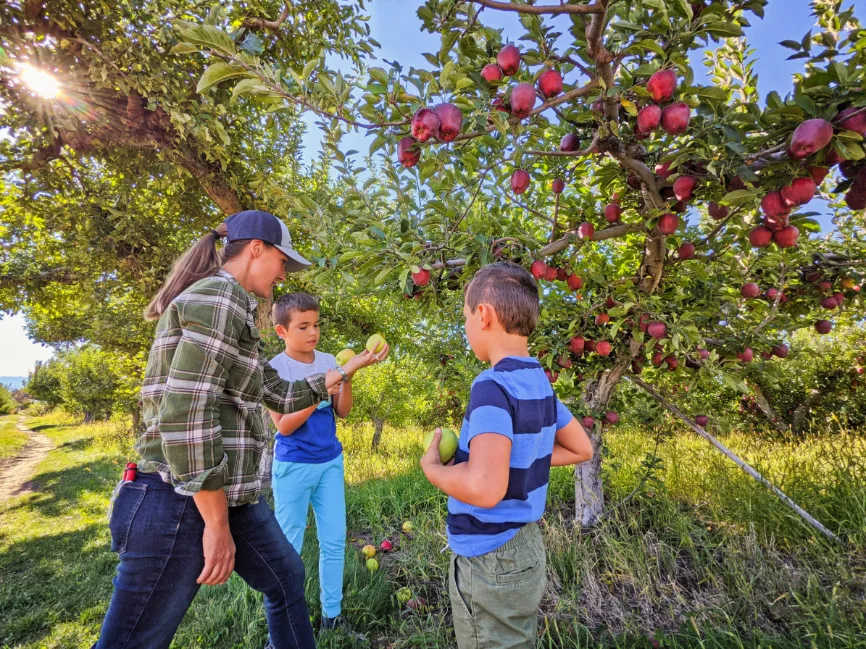 Downtown Chelan Farmers Market
One of the most fun things to do at Lake Chelan is support local farmers, and the downtown farmers market is a great place for it! Running from May through October, the Chelan Farmers Market is easy to add to your trip. It takes place from 4pm to 7pm downtown near Local Myth Pizza and the Riverwalk Inn.
There is also a farmers market in the town of Manson on the north side of the lake. This usually happens during the spring and summer months on Wednesday and Saturday mornings.
Visit a Chelan Farm Stand
There are some wonderful farm stands throughout Eastern Washington, and the Lake Chelan area is no exception. The easiest to visit during spring and summer months is the Sunshine Farm Market. Bringing in produce from all over the region, they are a great stop right off Highway 97 near Tunnel Hill Winery. Another farm stand is at Blueberry Hills in Manson where you can get local apples and even peaches.
As you explore the area, you'll find more farm stands, but like the fruit they sell, they're seasonal, so stop in whenever you see one open!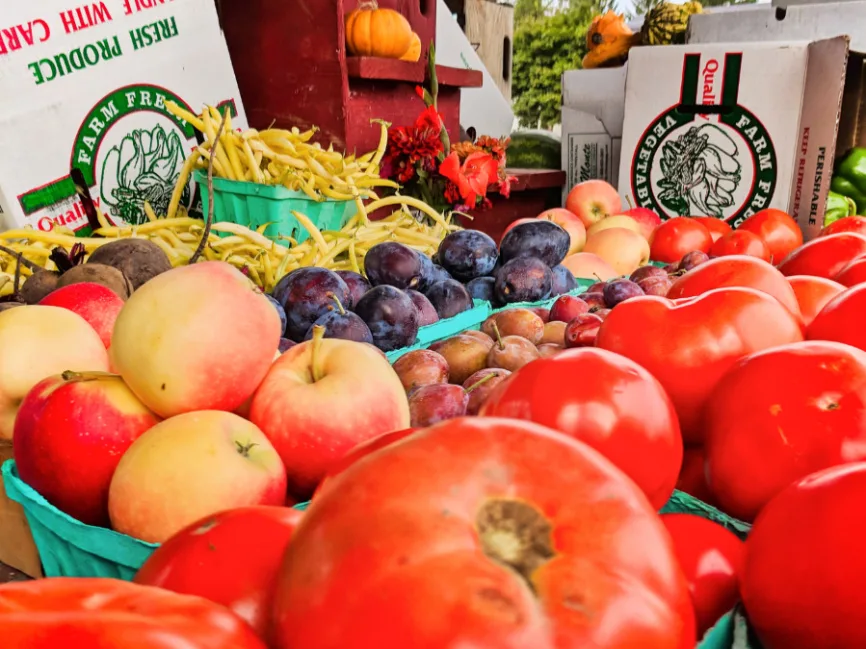 More U-Pick and Public Farms to Visit
There are a few other fun farm options when you visit Lake Chelan. One of the best things to do is U-Pick. In addition to stopping into Chelan Valley Farms for apple picking, in Manson you'll find Blueberry Hills Farm where you can pick blueberries, raspberries and blackberries (all seasonal, from late spring through summer).
Across the Columbia River, you'll find the Lone Pine Fruit Stand, where you can stop in for produce and farm products year-round. Check with them before showing up for U-Pick, but in the past they've had U-Pick fruit opportunities, but like all farm experiences and crops, it's dependent on weather and crop yields.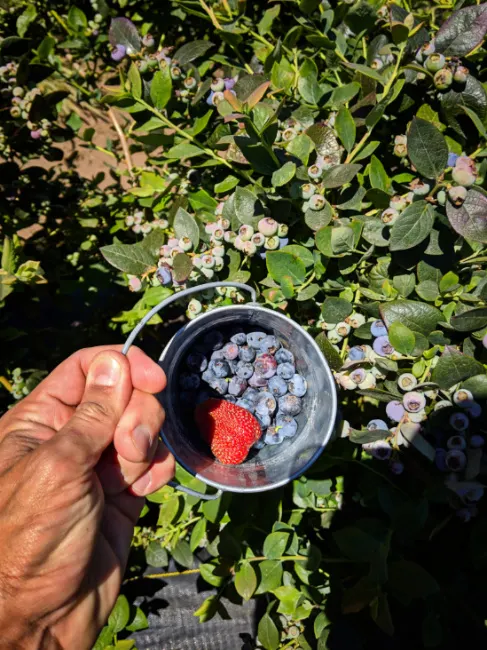 Hiking and Outdoor Activities at Lake Chelan
Eastern Washington is a very different sort of beautiful than hiking at Mount Rainier National Park or spending time on the Olympic Peninsula. The hills around Lake Chelan have some beautiful trails, offering views of the expansive lake, the Chelan River and the rugged peaks of the Cascade Mountains. Of all the things to do at Lake Chelan, hiking is one of the best for enjoying the outdoors and appreciating the varied landscape of the area.
Nature Hike at Lake Chelan State Park
A day at Lake Chelan State Park is one of our favorite things to do when we visit. They have camping too, so if you really want to enjoy the state park, plan to actually stay there! If you are doing just a day visit, start with some time on the beach, enjoying the crystal clear waters of Lake Chelan, then have a nice picnic or barbecue in the day use area. From there, it's time to hit the Little Bear Trail up into the forest.
This is an easy trail at just 1.8 miles, but it's really beautiful and interesting. With exhibits and story displays about the wildlife of Lake Chelan State Park, this is a great hike with kids. There are wild walnuts, berries and flowers all along the trail, so keep your eyes peeled!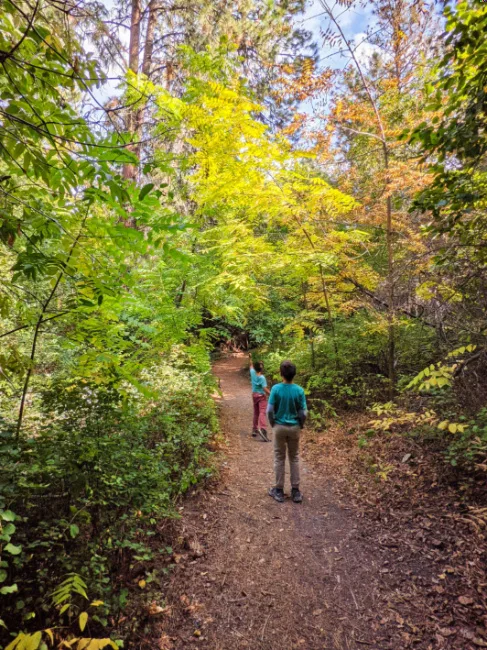 Hiking With Kids Near Chelan
When you're visiting Lake Chelan, you're surrounded by mountains and hills. While in the heat of summer a long hike something sound amazing, there are some wonderful short hikes very near to the towns of Chelan and Manson. You don't need to drive way out into the hills to get into nature, as there are several trailheads within five minutes of downtown.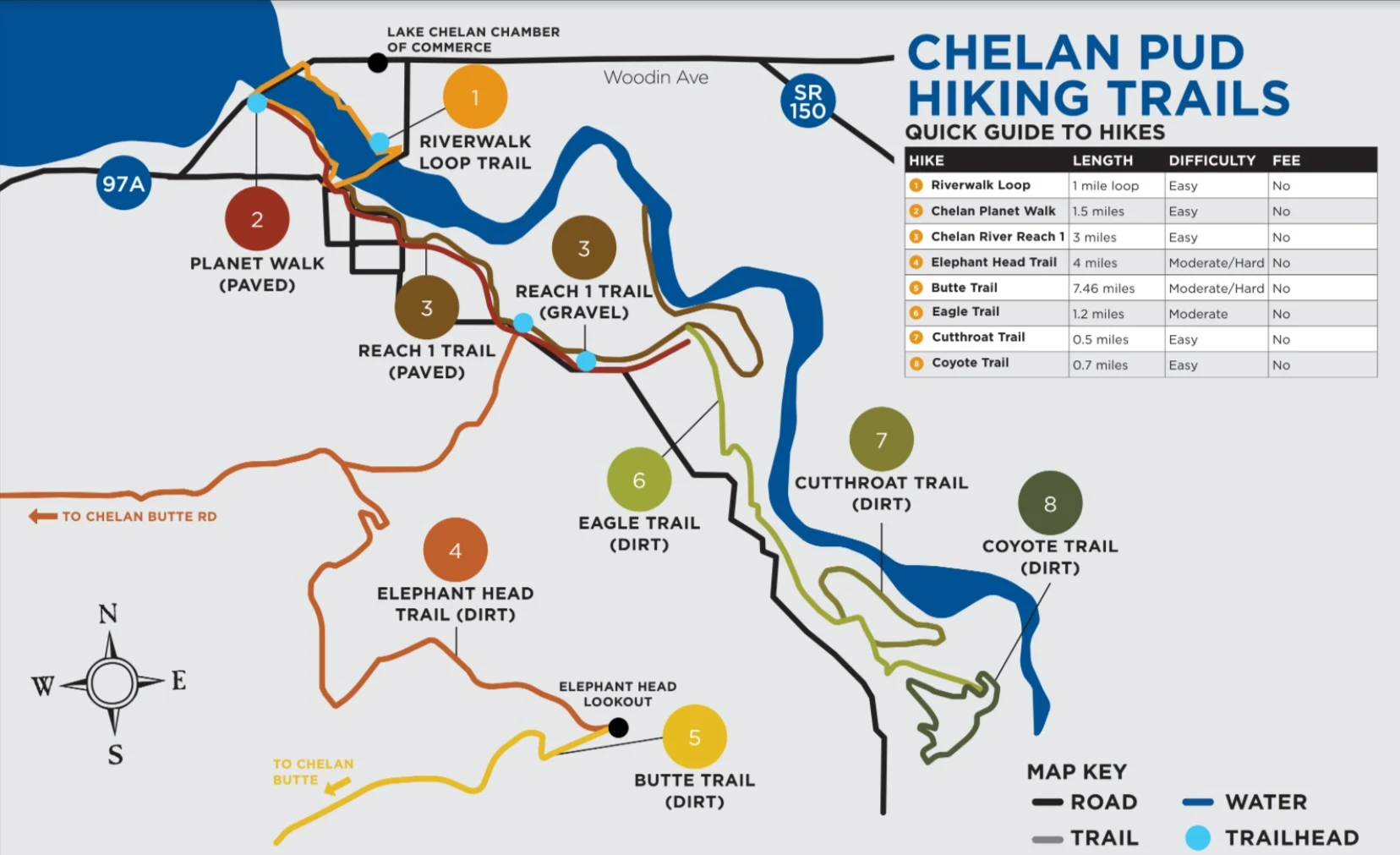 Chelan River Gorge Trails
For a really easy and beautiful hike, the Chelan River Reach trail begins on the Riverwalk on the edge of downtown, and then goes along the Chelan River after the damn where it winds through the gorge area.
You can also do this trail from the Chelan Butte Trailhead parking area. From here, you'll find down the hills to the river, where you can take any number of trails either to the west along the bend of the river or to the east along the gorge valley floor. Both options are beautiful. This trail is short at just over a mile and a half whether you're doing the route from the Riverwalk or parking area back.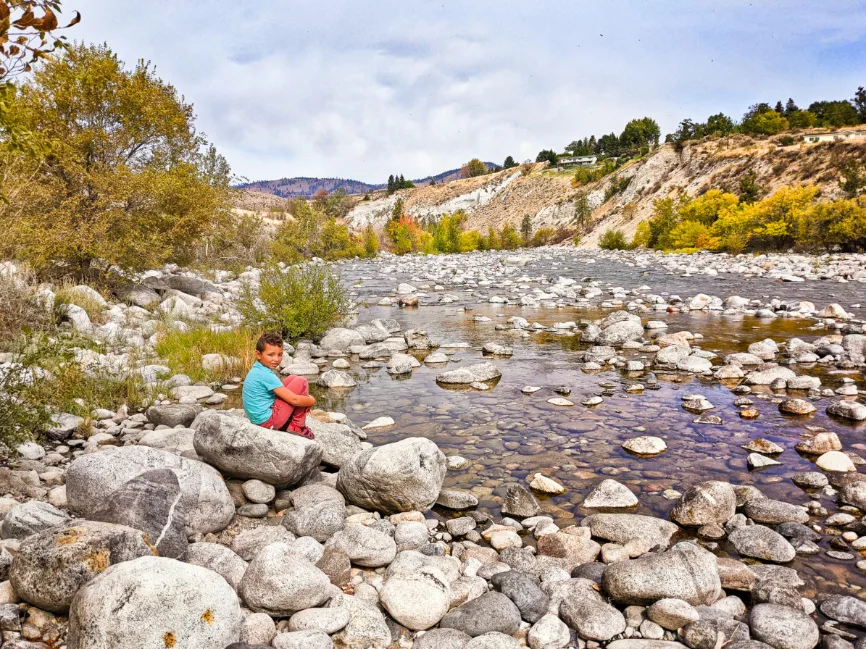 Fourth of July Mountain Trail
Another great hike that is a bit more difficult, but still not a hard hike is the Fourth of July Mountain trail. This goes out from just past Manson (Google Maps link here) and gets you one of the best Lake Chelan views around. The trail is 2.8 miles and you climb around 1200 feet. Besides the last little stretch, it's a pretty easy climb.
Even though the trail itself is dusty, the wildflowers and Eastern Washington views make this hike one of the best things to do at Lake Chelan. Start your hike in the morning to beat the heat and bring plenty of water and snacks. You'll have a great time and will love the views across beautiful Lake Chelan.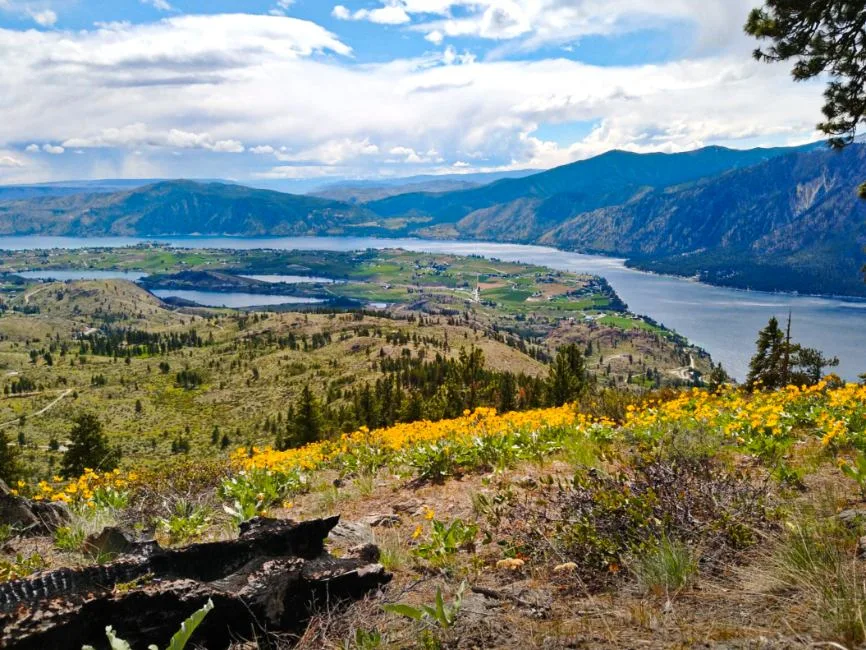 Nature Trails on the Columbia River
Just down the hill from Lake Chelan is the Columbia River. Stretching from its headwaters up in British Columbia and winding down through Washington, eventually forming the border between Washington and Oregon, cutting the Columbia River Gorge all the way to the Pacific Ocean. In Chelan, the Columbia River is wide and calm with areas of wetlands and shoreline to explore.
The best place to wander the river's edge is at the Beebe Springs Natural Area. About ten minutes from downtown Chelan, this preserve has trails, exhibits about wildlife in the area, and art installations. The trails are very level and are loops, so they are easy to navigate with any age. The highlight of the Beebe Springs trails was the sculpture titled The Chief by Smoker Marchand, which is a tribute to the eleven indigenous nations of the area.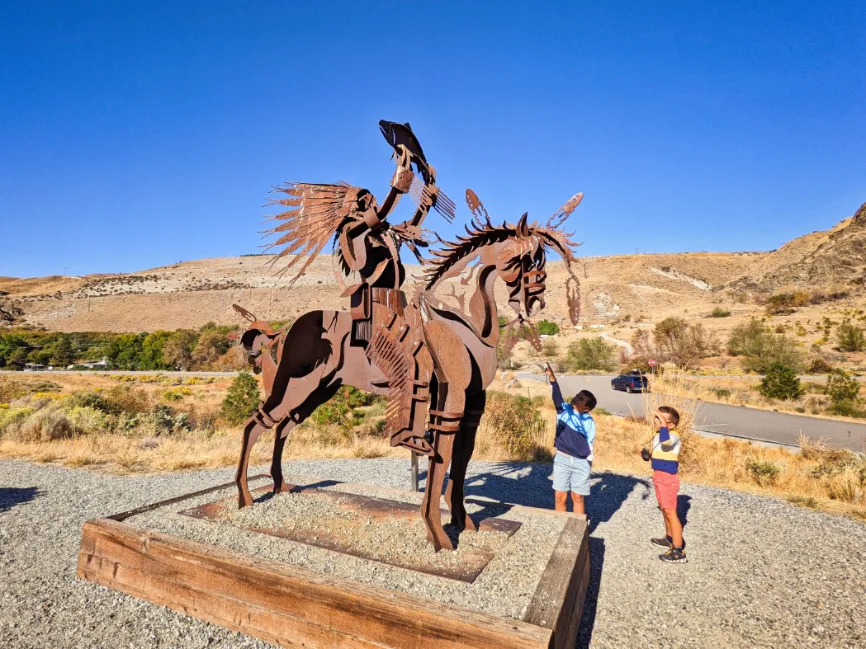 Another area to enjoy the beautiful Columbia River is at Powerhouse Park. While the trails are limited to short walks for river access, this is one of the most beautiful, quiet areas in Chelan. Picnic areas, fishing holes and even a designated swimming spot make this a great place to cool off in summer or relax any other time of year. Google Maps link here.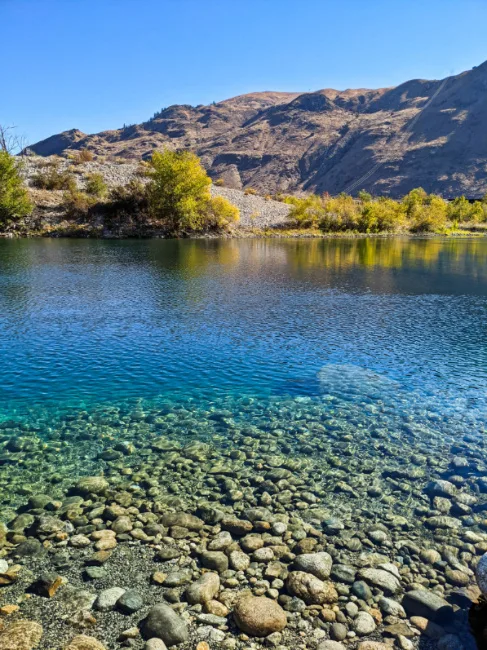 Best Ways to Get on the Water at Lake Chelan
You can't rightly visit a lake region without getting on the water in some way. Boating is one of the best things to do at Lake Chelan in summer or fall. Even in spring you can enjoy getting out on the lake, but it'll be a bit chilly with the breezes and cool weather.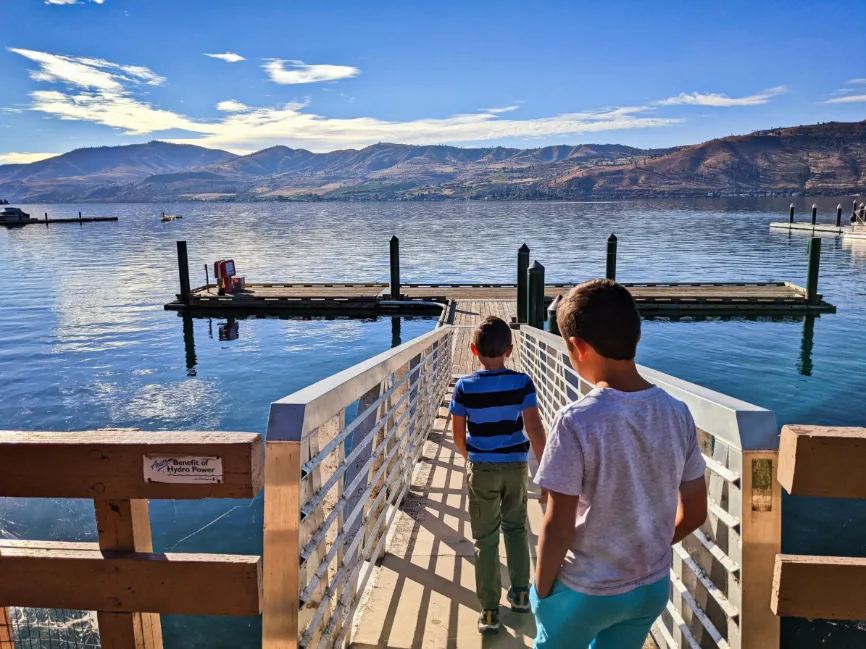 Boating in Lake Chelan
Boating means different things for different people, but at the heart of it is getting on the water. There are lots of wonderful places for boating in the Pacific Northwest and Lake Chelan is one of them. With three very easy to access public launch areas (and a few more for grander plans), Lake Chelan is an easy place to put in your own boat. From Lake Chelan State Park, you can easily head up-lake towards the Stehekin area, enjoying the mountains and cliffs as you go.
From the Manson area, you can launch from Old Mill Park and cruise the shores taking in the vineyards and orchards as far as you can see. If you just want to launch from downtown Chelan, that's an option too with the public boat launch being just two blocks off the main drag, Woodin Ave, in Chelan. All launch sites have a launch fee, and you may need to pay for parking as well, so be aware of the rules before you hit the lake.
Renting a Pontoon Boat at the Lake
We rarely rent power boats of any sort, but one of the best things to do on Lake Chelan is have a picnic, so for us that meant using a pontoon boat to cruise the lake, swim and enjoy a picnic lunch. We have Washington State Boaters Licenses, but if you don't you can purchase a temporary license when you rent your pontoon boat. Safety and rules discussion WILL happen, whether you're a frequent boater or not.
For a fun day out on Lake Chelan on a pontoon boat, here's what you need:
sunblock
towels
cold water
sunglasses
snacks without plastic wrappers
a good playlist
Even though it can get hot out on the water at Lake Chelan, it can get breezy too. You'll want to be sure to not lose anything off the boat, including food wrappers, hats, or any other trash or loose items.
Renting a pontoon boat can be pricey, but they also hold 10+ people. For an affordable, fun pontoon boat outing on Lake Chelan, go in with friends or family and do a half day rental. You can cruise the lake, making stops to jump in and swim, you can enjoy a picnic, and spend the day taking in the views.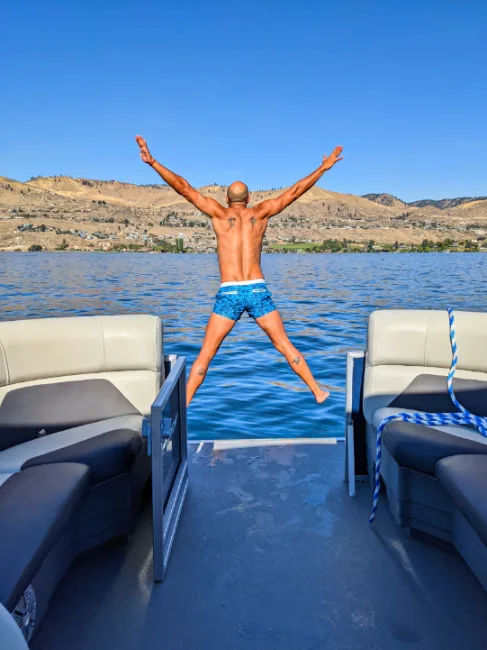 Best Places to Kayak or SUP Around Chelan
Crystal Clear waters make Lake Chelan ideal for kayaking or stand up paddleboarding. While it's always our favorite to have our own gear with us so we're not restricted to paddling in set areas, Lake Chelan is one place that renting a kayak or standup paddleboard is just fine for exploring. The main area visitors like to paddle is directly off of downtown where Lake Chelan ends.
Rent a kayak or SUP from Lake Rider Sports Chelan, located right by the bridge and then paddle around the shore line and down-lake towards the dam along the Riverwalk. The water is calm and beautiful. Pay attention to markers though, as dams can be dangerous areas for paddling. Paddling here is very similar to kayaking in the Tri Cities in relation to dams and being surrounded by vineyards.
At Lake Chelan State Park, you can rent gear as well. Bare Foot Watersports rents kayaks and SUPs, and the shoreline around the state park is really perfect for paddling. For a longer paddle, most likely via kayak, head west from the state park launch towards 25 Mile Creek. Watch for wildlife along the shore including bears, otters and deer.
If you have your own gear, put in at the state park or the main Chelan boat launches both downtown or at Old Mill Park (Manson). You can also head to nearby Wapato Lake for paddleboarding or Chelan Falls Park to paddle on the Columbia River. So many options all just minutes from downtown Chelan!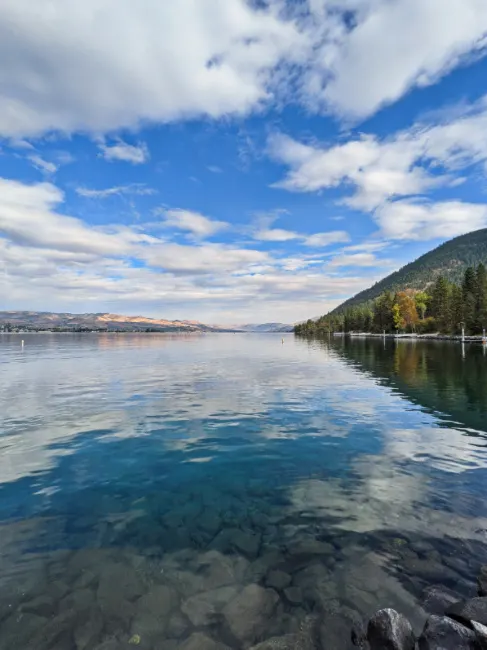 Fishing in the Chelan Area
Besides Lake Chelan itself, there are several other lakes and rivers in the area. Before we get too much into it, ALWAYS be sure that you are fishing is approved areas using the correct gear and that you're licensed properly for your fishing plans. Check the Washington Dept of Fish and Wildlife for maps and requirements. Also, the local tourism board has lots of information about fishing, both locations and regulations.
In addition to fishing on Lake Chelan year-round, there is also local fishing on Wapato Lake, Antilon Lake (with an earthen dam, by Fourth of July Mountain), Roses Lake (by Chelan Valley Farms), the Chelan River and the Columbia River. Of course the types of fish you can go for vary by season and location, but you can fish for rainbow trout, salmon, bass and even sturgeon. ALWAYS pay attention to what is catch-and-release vs keep.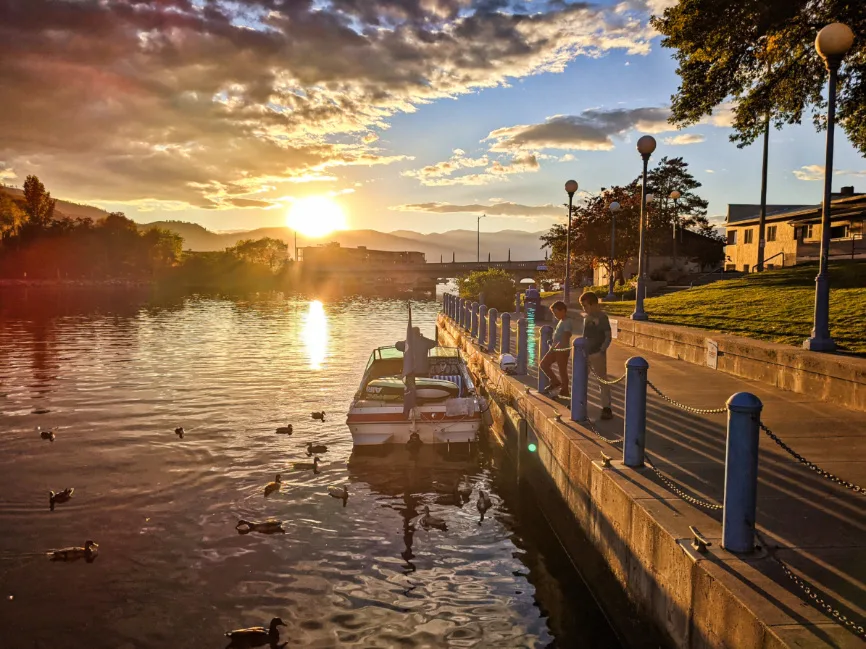 Lake Chelan Boat Tours
If you're not interested in boating on your own, there is always the Lady of the Lake, a tour boat that actually serves as passenger ferry service from the town of Chelan all the way to Stehekin, which is its own experience. Daily service year round is a full day activity, but if you have the time and are interested in seeing the pictographs, Rainbow Falls, or kayaking in the upper estuary, this is something you'll want to plan!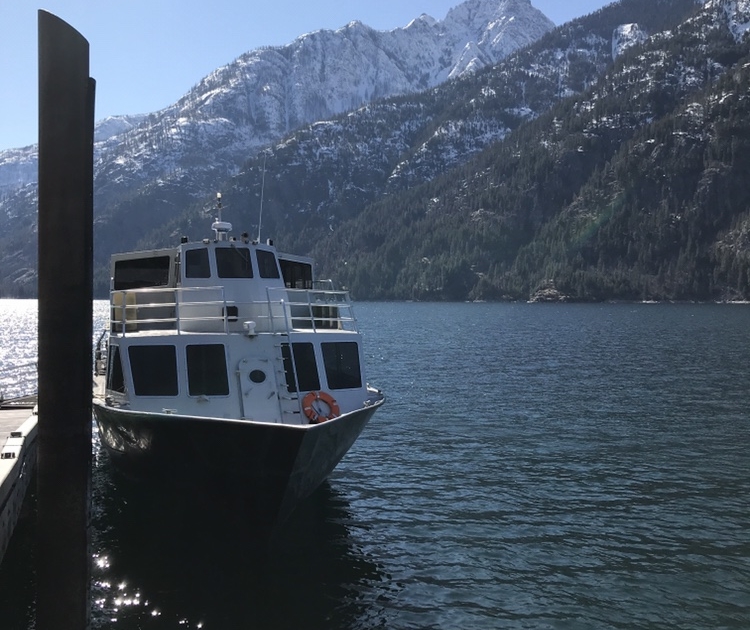 Unique Attractions at Lake Chelan
Because Lake Chelan is a combination of farm country, vacation village, historic center and artsy haven, there are lots of unique things to do at Lake Chelan to appeal to a diverse crowd of visitors. These activities are easy to add to your trip to Chelan, and although some are seasonal, they are fun things to do that are characteristic of the Lake Chelan area.
Slide Waters: our Favorite Waterslide Park in Washington
Ever since I was a little kid, Slide Waters has been my favorite local water park. Yes, Volcano Bay at Universal Orlando is amazing, and Hurricane Harbor at Six Flags is really cool, but Chelan's Slide Waters is wonderful. What I have always appreciated is how clean it is, from the pathways to the water flowing down the waterslides. There is plenty of space to relax between slides and a good amount of small kid waterpark space.
Slide Waters Park at Lake Chelan is open from May through September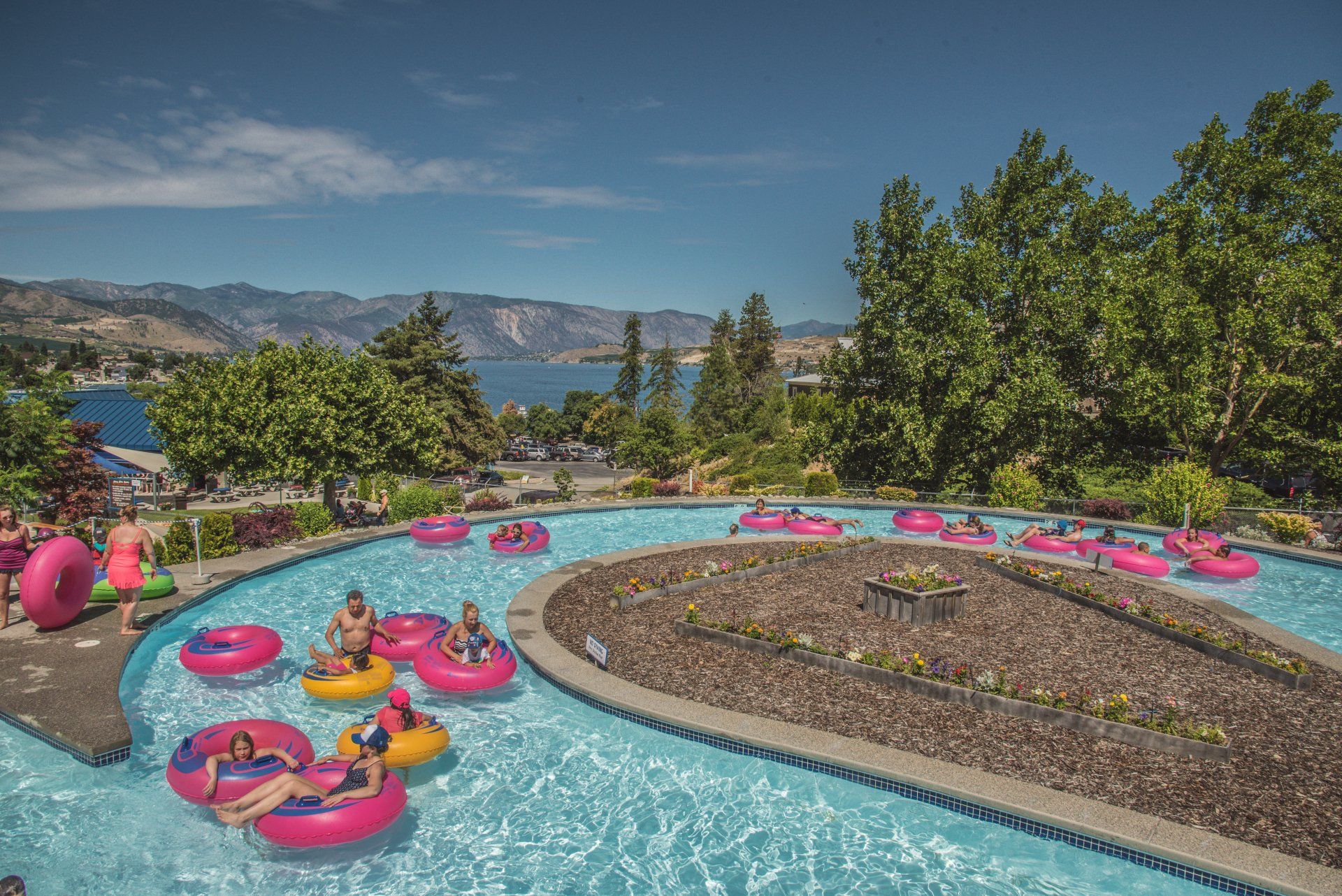 Lakeside Surf and High Trek Chelan
Adjacent to Slide Waters you'll find Lakeside Surf and High Trek Chelan. Both of these park areas have their own cost, but depending on your family it could very well be worth setting time aside to visit. Lakeside Surf is one of the biggest wave simulators I've ever seen. It's kind of crazy. High Trek Chelan is a ropes course and zipline park that's great for big kids or adults that aren't afraid of heights (note that you don't see me on the course).
For a full day of summer fun, plan to visit Slide Waters, Lakeside Surf and High Trek all on the same day. You'll be super tired when it's all over, but you'll have had a blast.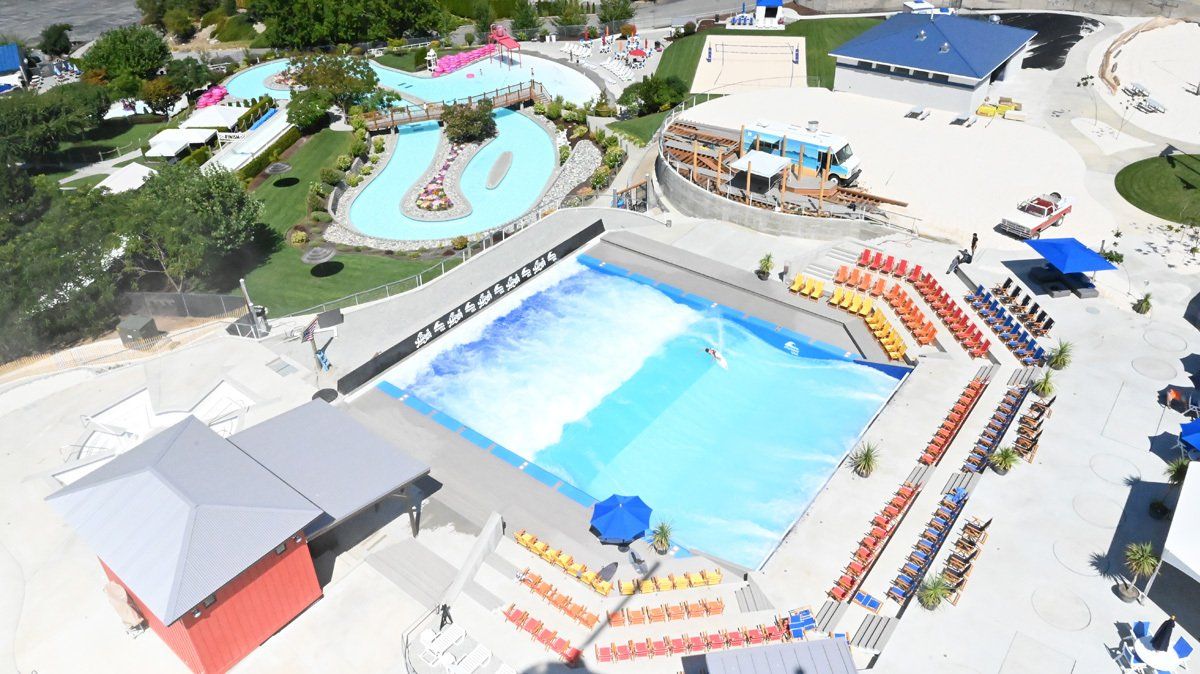 Visit the Chelan Museum for Local History
A stark contrast to the adventure parks of Chelan, the Chelan Museum is a wonderful collection of historic artifacts and stories from the Chelan Valley's past. We're suckers for scavenger hunts, and the Chelan Museum actually has several to choose from. This is always one of our favorite ways to do museums with kids, because it gets them both looking for objects as well as reading signage in exhibits.
When you visit the Chelan Museum, take time to chat with the docents who are hanging out upstairs. They have great stories and love to tell visitors all about their home. And you can make a donation too, which is always appreciated.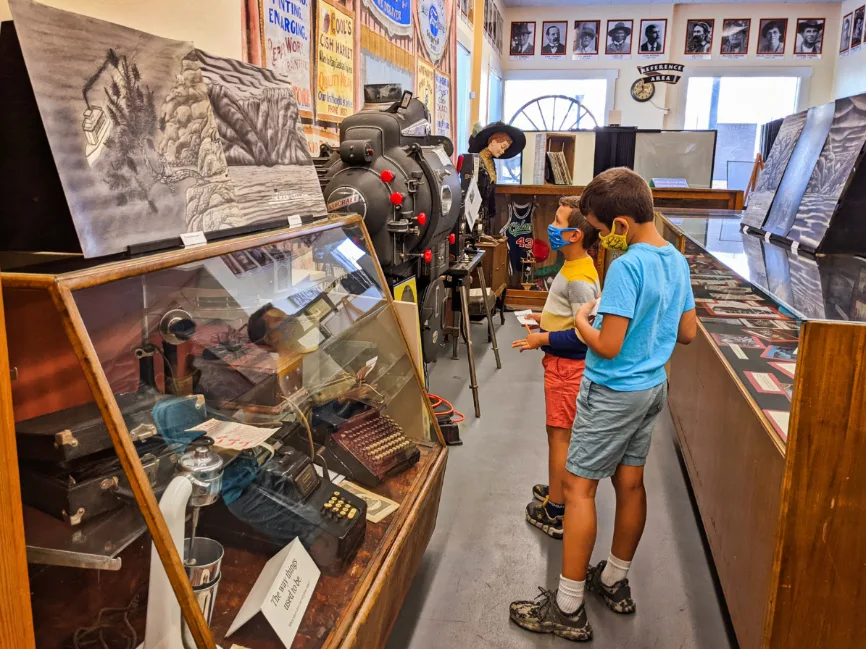 Wander Downtown on an Art Scavenger Hunt
Downtown Chelan is pretty cute, I have to say. With loads of restaurants, cafes and shops, no doubt you'll end up walking along Woodin Ave at some point, but you can plan for it too. Stop into the Visitor Center and get a map of public art in Chelan. From murals to sculptures, you'll be able to see all kinds of art by local artists, both commemorating the history of the Chelan Valley and the nature you'll find in the surrounding hills.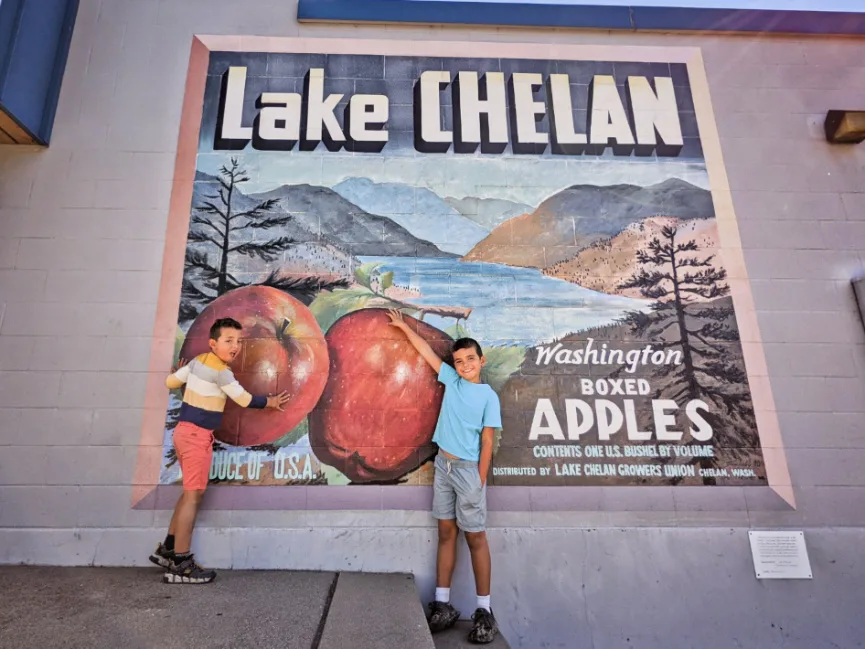 I hope we've answered all of your questions about the best things to do at Lake Chelan. We tend to spend 3-4 days in the area, relaxing and playing in the Eastern Washington sunshine, but you could easily spend a whole week, especially if you're planning on fishing each day.
As always, if you have any questions about visiting Lake Chelan, Manson, or the rest of Eastern Washington, please leave a comment or send us a note. We're happy to help you plan a fun trip to this beautiful place!