Have you ever wanted to visit a reindeer farm? I hadn't until we did, and now it's one of my favorite travel experiences with kids. The Leavenworth Reindeer Farm is a wonderful place where farm living meets the magic of Christmas and preserving a part of nature whose habitat has been lessened more and more over time. Visiting the Reindeer Farm is one of the best things to do in Leavenworth.
To be clear, the Leavenworth Reindeer Farm is not a zoo, but is a farm and has become a part of local Leavenworth's sustainable living and economy.
No, these reindeer aren't pulling Santa's sleigh (even though in winter you can do a sleigh ride in Leavenworth) but they are just the thing to put you in the Christmas spirit any time of year. Along with losing track of time downtown Leavenworth at Kris Kringle or the Nutcracker Museum, visiting the Reindeer Farm is probably the most Christmassy thing you can do in Eastern Washington.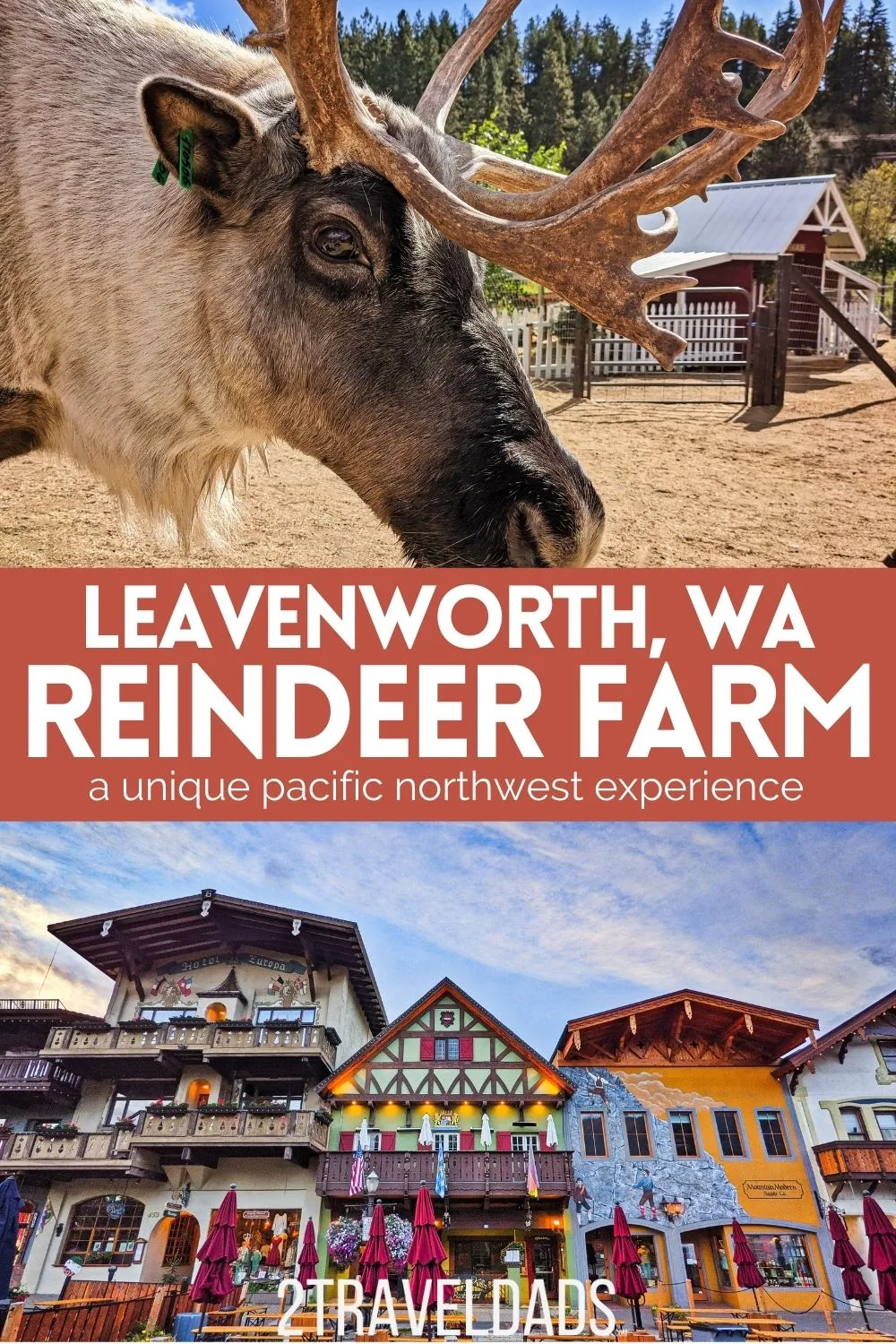 Things To Do at the Leavenworth Reindeer Farm
Because Leavenworth is a town with truly different seasons, the Reindeer Farm varies their hours and activities based on the flow of tourist and the season. During peak times, they may be open for visits from 9:00 am until 4:30 pm PST, but this can change depending on the time of year and day of the week.
A visit to the Leavenworth Reindeer Farm typically takes an hour to 90 minutes. Our family was there for nearly two hours, but that's because we have a mild reindeer obsession… and there was cocoa and farm animals and such…
Note: walk-in visits are not accepted. You do NEED TO MAKE A RESERVATION TO VISIT. Tours are conducted every 30 minutes or so, but they do book up, so make your reservation as far in advance as you can!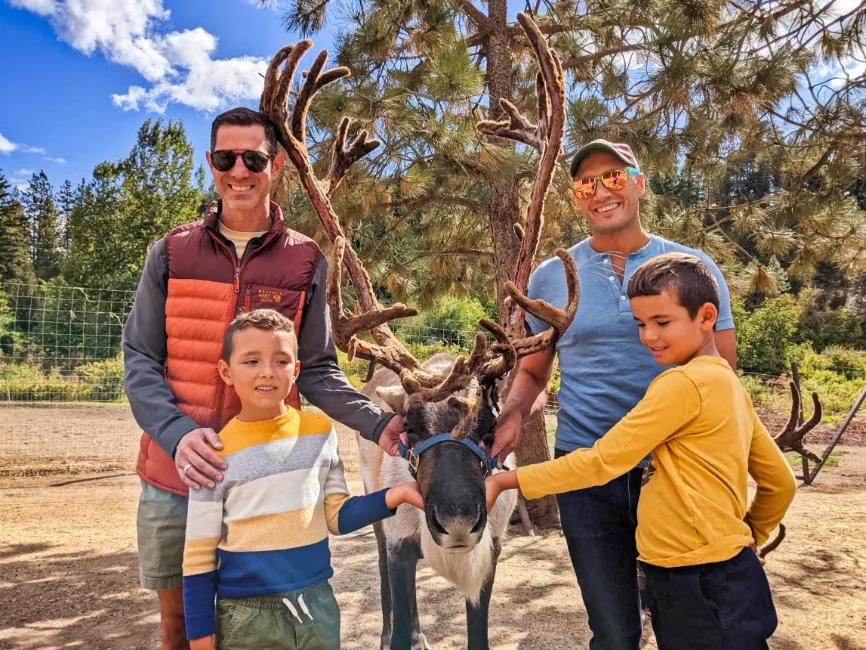 Meeting the Reindeer
Let's be honest, that's why you're here! Meeting the animals at the Leavenworth Reindeer Farm is really special, equally for adults and kids. Because the reindeer are free roaming in the pen, it's very important to stay aware during your visit, and to adhere to the directions and safety information provided.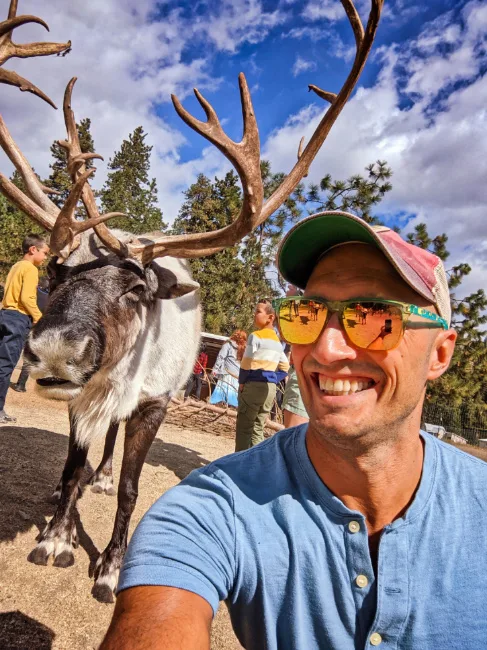 Arrive at the Leavenworth Reindeer Farm at least ten minutes before your scheduled tour time so you can enjoy the farm grounds, and then go through orientation. After you go through orientation, you'll be allowed into the reindeer pen (expanding in 2022!) where interacting with the animals is simple and exciting. The primary interaction comes during feeding the reindeer, either a specially made pellet snack or fresh leaves and branches.
It's really amazing as you're feeding the reindeer just how strong they are. You can be holding a branch and a reindeer will legit come from across the pen and rip it out of your hands. Many of the deer are mellow and even shy, but when they see a perfect salad bar (like fresh foliage) they can't help themselves.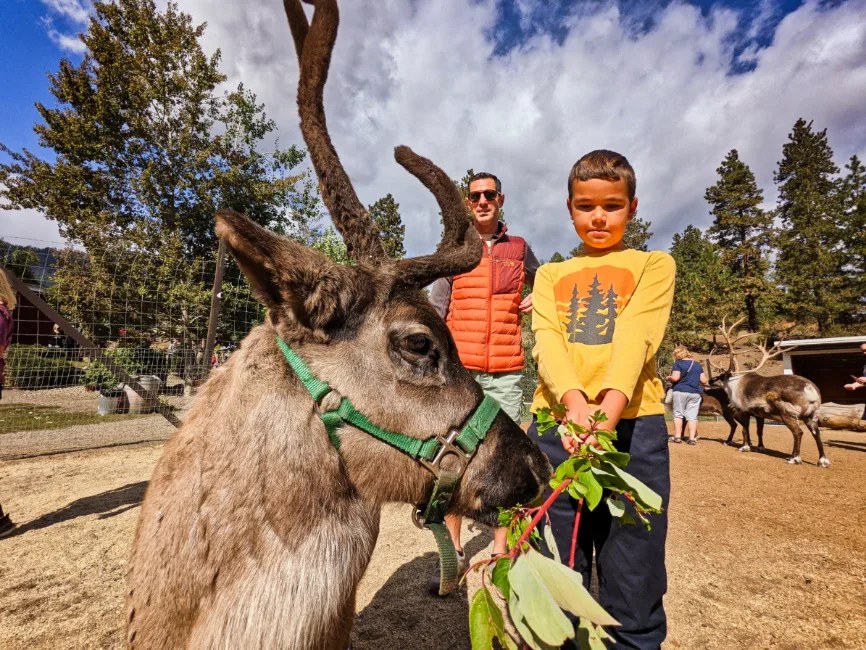 Safety at the Leavenworth Reindeer Farm
Despite their thick fur and adorable fuzzy antlers, reindeer have the potential to be dangerous. They stay very calm, but you still need to be aware of how they move and what they don't like. These simple tips will help you stay safe and enjoy the Leavenworth Reindeer Farm as much as possible:
always pay attention to what animals are around you
if you're close to a reindeer, use your hand to shield your eyes from antlers
don't surprise a reindeer by touching them aggressively and without notice
keep your hands low (unless shielding eyes) so the deer don't think you're a threat
wear close-toed shoes… cuz reindeer hooves
If you can manage yourself well and pay attention to your surroundings, you're sure to have a wonderful visit to the Leavenworth Reindeer Farm!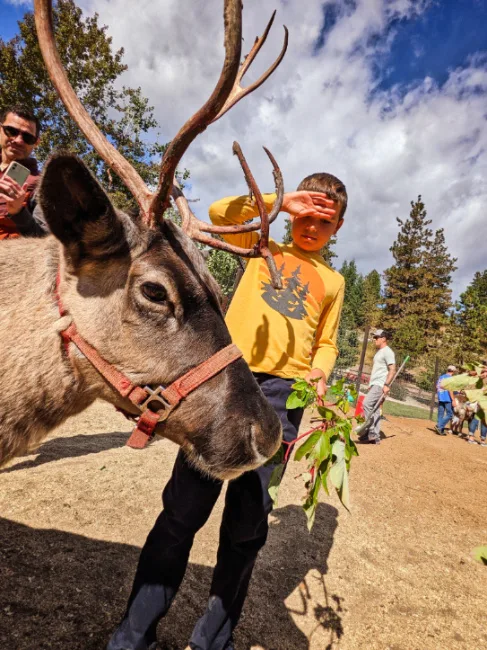 Learning About Reindeer: Science and History
I love talking to farmers of all sorts, whether it's chatting with winemakers or learning about sustainable farming at Lake Chelan, hearing from farmers is a great way to get insight into what they do. Animal husbandry is a very interesting topic to discuss with farmers, so we really enjoyed the orientation at the Leavenworth Reindeer Farm. While the most important part of it was the safety discussion, learning about the plight of the reindeer was also fascinating.
Reindeer, aka caribou, used to roam as far south in North America as Washington State, so they are actually native to the plains near Leavenworth. With westward expansion, hunting and settlement, the caribous' range got smaller and smaller, to now being in just Alaska and northern Canada. The herds that once would wander into Eastern Washington long ago now only make it as far south as parts of British Columbia.
Note: did you know that a migrant group of animals is a "herd" and a static group of animals is called a "population"? The more you know…
The other side of the orientation discussion that was really interesting was the science of antlers and how reindeer antlers grow. The velvet and shedding process can be observed on the reindeer nearly year round, with males and females losing their antlers at different times. Really amazing creatures!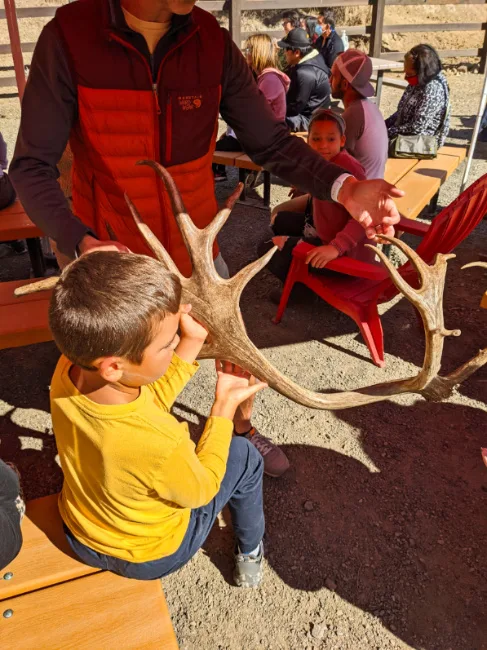 More Farm Animals to Meet
A total bonus of visiting the Leavenworth Reindeer Farm is the rest of the farm animals. Bunnies, chickens, a turkey and cats all roam around the farm. Staff are happy to help visitors meet the many animals. Feeding chickens and bunnies is a great way to spend a little time before or after meeting the reindeer. If you're bring city kids to the Reindeer Farm, this may be just as big of a highlight as meeting the deer themselve.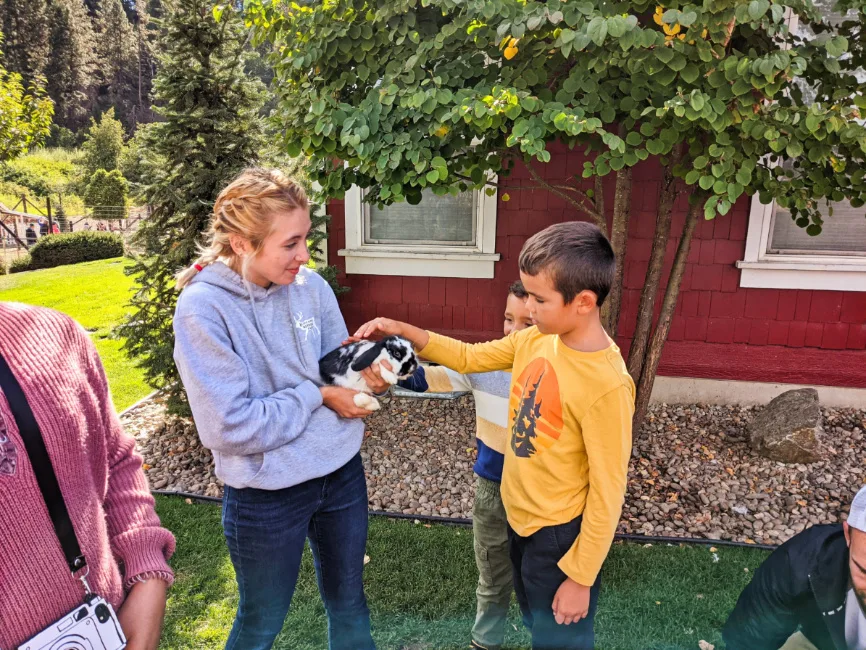 Shopping at the Leavenworth Reindeer Farm
Who cares if you're visiting the Leavenworth Reindeer Farm in summer. You may just need a storybook, stuffy or ornament to help you make it through until Christmas. In all seriousness, the shop at the farm actually has wonderful reindeer themed items and ornaments. Leavenworth naturally feels like a holiday destination, so leaving with a reindeer souvenir makes sense. No judgement.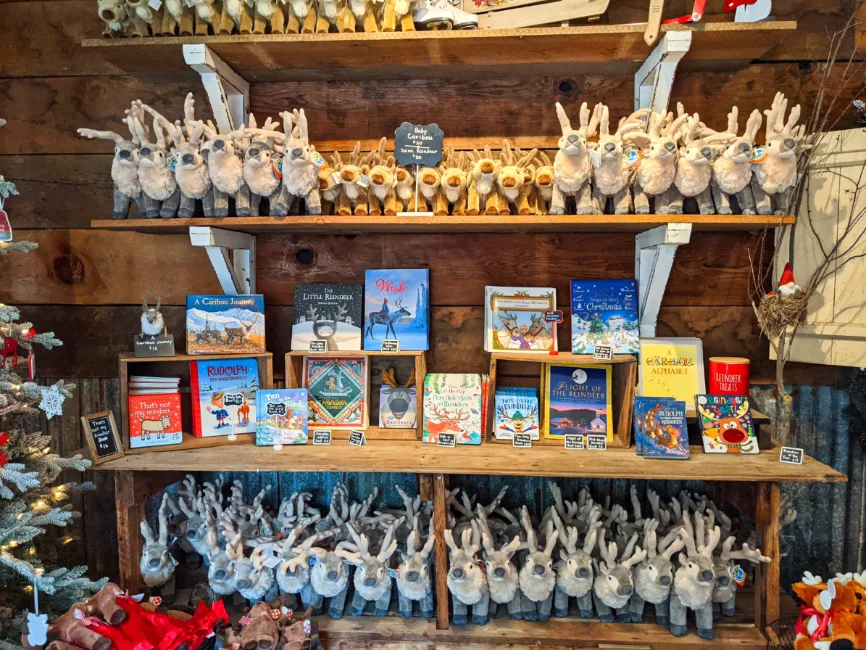 Where is the Leavenworth Reindeer Farm?
Located just outside of downtown, the Leavenworth Reindeer Farm is five minutes from everything. It's located on the Chumstick Highway, which you'll probably end up on at some point, as there are some great hikes and beautiful views to seek out on the Chumstick. This is the scenic route to Lake Wenatchee or the road you'll take if you're visiting a vineyard out in Plain, Washington.
There is plenty of parking at the Leavenworth Reindeer Farm, so don't sweat it. If you're visiting in winter, the road is one of the first to be plowed, so is easy to access even when it's snowy and a complete winter wonderland.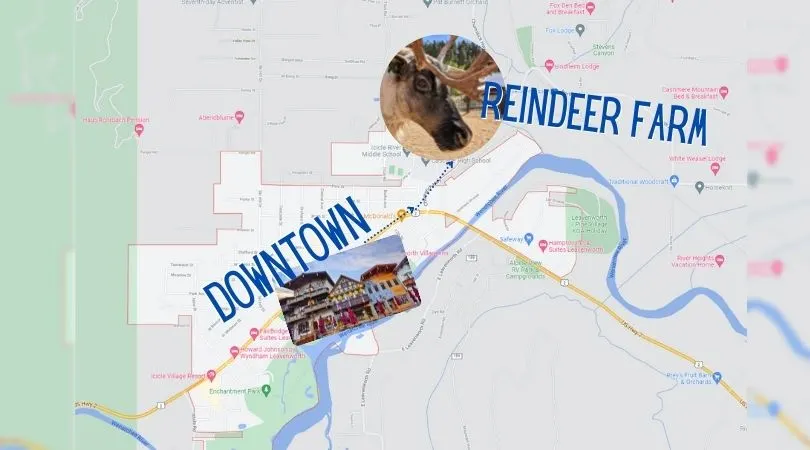 Things To Do After a Visit to the Leavenworth Reindeer Farm
Time to keep the Christmas spirit rolling! When you're done at the Leavenworth Reindeer Farm, head downtown for a Bavarian afternoon. Even in summer, you can visit the Leavenworth Nutcracker Museum for a dose of Christmas memorabilia, and I'll tell you, the collection is really remarkable.
Another must-stop is at the Christmas store: Kris Kringle. Year round, Kris Kringle is the go-to place for decorations of every style and budget. Whether you're looking for a Leavenworth themed ornament of have been collecting Christopher Radko or Old World Christmas ornaments for years, you'll find EVERYTHING here. The staff loves the holiday and are happy to help carefully package items for safe transport.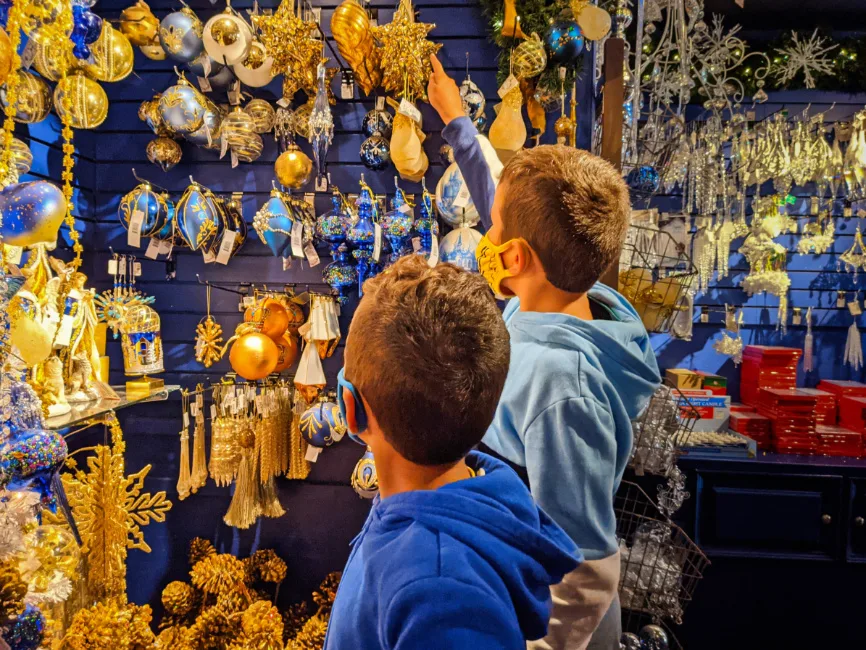 In winter, other interesting holiday-type ideas include going for a sleigh ride or hitting the local cross country ski paths. Since Leavenworth is nestled in a river valley, the views from the snow-covered trails (December through March) are beautiful and unlike anything you'll find in the Seattle area or on the Olympic Peninsula.
Year round, but extra nice in winter, you can also do a horse-drawn carriage ride through the Bavarian core of downtown Leavenworth. This tour takes you through the main street and side streets, where you can just enjoy the beautiful atmosphere and listen to stories (and travel tips) from your driver. The carriage ride is managed by the Leavenworth Reindeer Farm too, so this is a great way to continue to support this wonderful local business.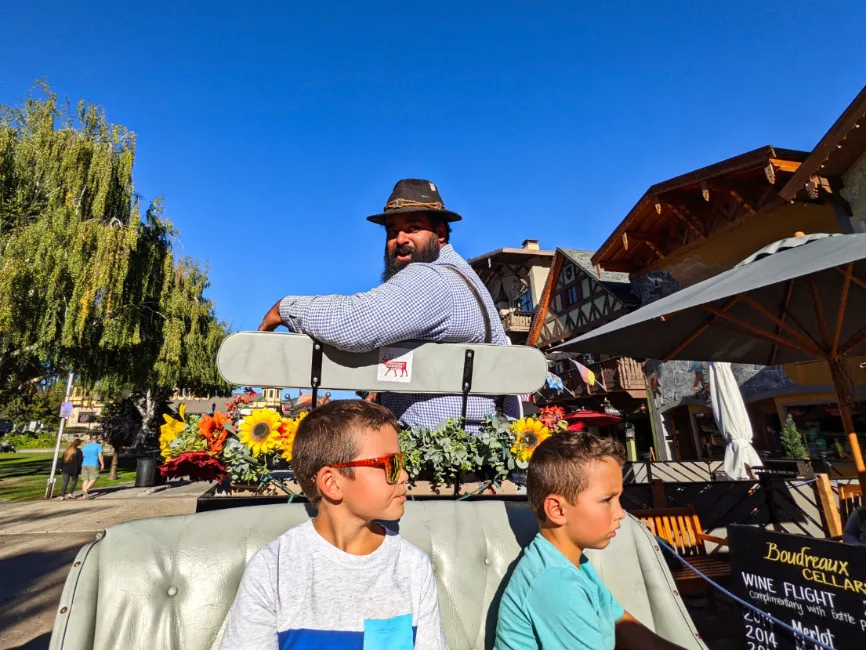 5 Reasons to Visit the Leavenworth Reindeer Farm
If you're still not convinced that you need to visit the Leavenworth Reindeer Farm, let me give you a few more reasons that you should:
the Leavenworth Reindeer Farm is a family run, local business
the Woodland Caribou is endangered and the Reindeer Farm actively works with other farmers to promote genetic diversity in breeding
visiting with kids is a great way to show them a really majestic animal up close and inspire their love and care for animals
the experience of interacting with reindeer is very unusual, and the Leavenworth Reindeer Farm is run by people who love the animals very much, and they are raised in an ethical, sustainable way
when else are you going to get to see reindeer in such a way, unless you're trekking in the tundra or visiting Finland?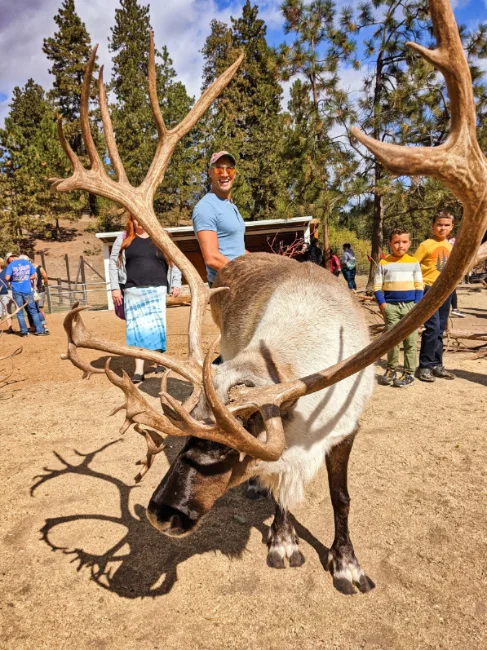 Where do THESE Reindeer come from?
I mentioned above that the Woodland Caribou (the reindeer) are an endangered species. At the Leavenworth Reindeer Farm, they both bred there and cooperatively sired with other reindeer farms. Like with any endangered animal being bred for either captivity or release and restoration, genetic diversity is always a concern. To keep the genepool broad, it's important for the Leavenworth Reindeer Farm to partner with other members of the RFA (Reindeer Farmer's Association) and ROBA (Reindeer Owners & Breeders Association of America).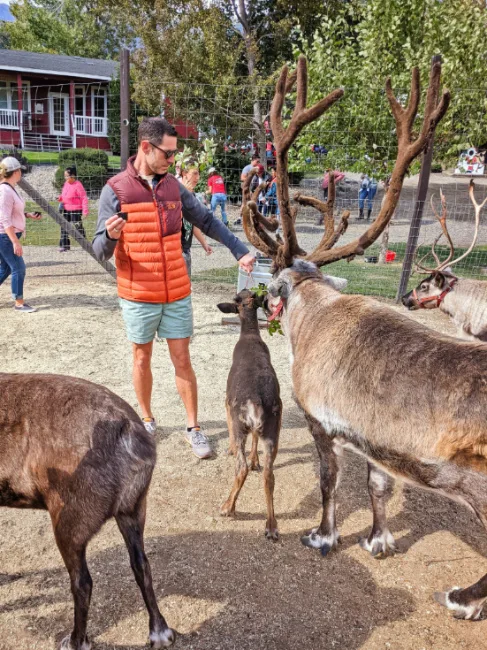 Is this a GOOD place for animal tourism?
Animal tourism is a very difficult topic to approach, and we do it with caution. Reindeer are an ideal example of animal tourism that can be done well and with the best interest of the animals in mind. Because of habitat issues and the woodland caribou's range being so changed in the last two hundred years, a spacious farm that shows care and concern for the animals is the best place to help the population, even if these particular living creatures cannot be reintroduced into the wild at this time.
The Leavenworth Reindeer Farm is actively expanding the space for the animals and they are very attentive when visitors are interacting with them. Between the visible interactive care and the healthy diet, a visit to the Leavenworth Reindeer Farm is, in our educated and experience opinion, a very good animal tourism activity.
We choose to participate in select animal tourism activities because it is how our kids have developed a lot of love an interest for wildlife and conservation. We, of course, always prefer to observe wildlife IN the wild, but that is not always possible. In light of inspiring future generations to do better, we choose opportunities like this to engage in animal tourism, and always with research and caution.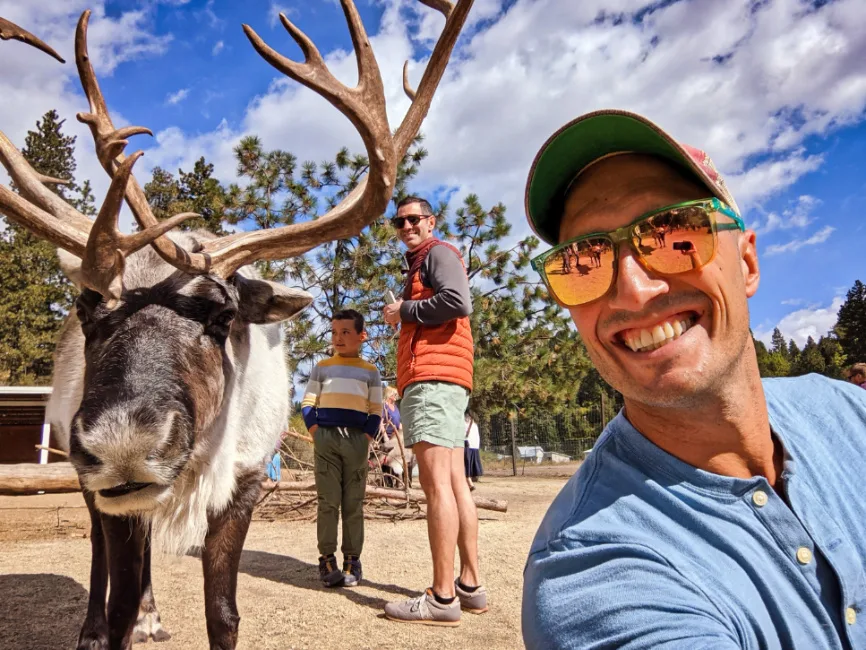 If you have any questions about visiting the Leavenworth Reindeer Farm or any other activities in the area, we're always here to help. Please leave us a comment or send us a note!
Also, please feel free to check out more of our ideas for visiting Leavenworth and Eastern Washington: