As we stay in more and more hotels it becomes clear what we like and don't like, what is good for family travel vs couples travel, and what's just awesome.  We decided to sneak away without the kids (really, it's not our norm) and enjoy a dads weekend across the mountains at the Sleeping Lady Resort in Leavenworth, Washington.  
It is a beautiful, relaxing, fun destination/property and we really enjoyed being welcomed to the Sleeping Lady Resort. It's the ideal collection of comfort, art and fancy.  And it's in the woods.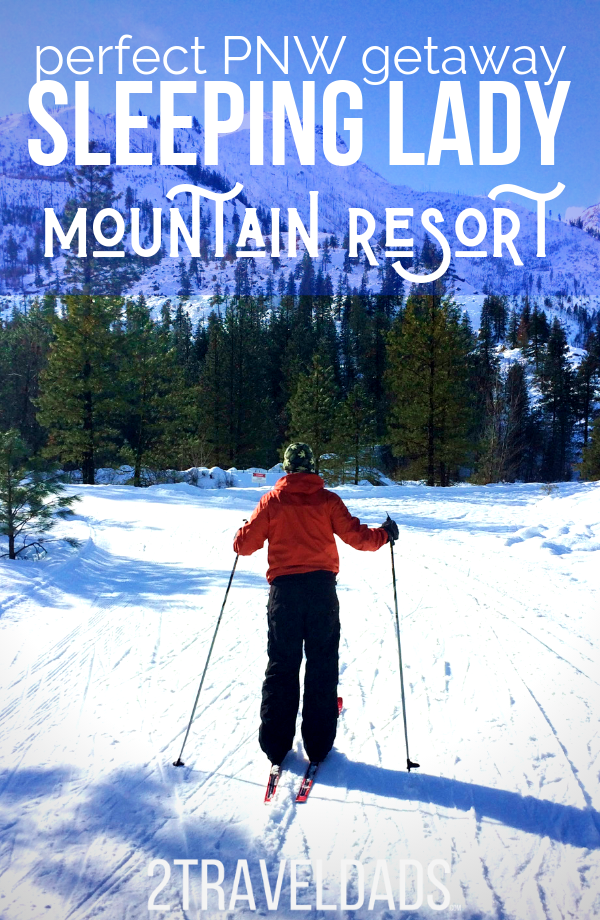 Overview of the Sleeping Lady Resort
When I hear "resort" I automatically think margaritas and a pool, and then of course cocktail service by said pool.  The Sleeping Lady Resort in Leavenworth is a different type of resort.  It's clearly built and run by those who love nature and being immersed in it.  The lodging is spread across the large property with cabins in nice little clusters.  There is a fitness facility and spa rooms, there's a sauna.  You know the usual resort things.  But there's more to it.  Since the resort also functions as a retreat/conference space, there are meeting areas, performance spaces, an outdoor stage, a movie theater… There's so much there.  
Had we known about the Sleeping Lady when we got married, we would've done it there.  All of these wonderful facilities are filled with unique, Pacific Northwest art, woodsy touches, and warm finishes, all which beg you just to chill out and enjoy nature, inside or out.  The mood is perfect for either family travel or a romantic getaway.  Oooh, maybe even a solo-travel weekend for me…
Besides just being a beautiful setting, there are pools, outdoor activities, and a play barn, but more on that later…  Something we really enjoyed at the Sleeping Lady was doing the Art Walk.  There is so much art placed around the property that you can actually get a map from the front desk and go from site to site.  Some of the pieces are small and easy to miss, while others are grand sculptures, all reflective of the surrounding environment.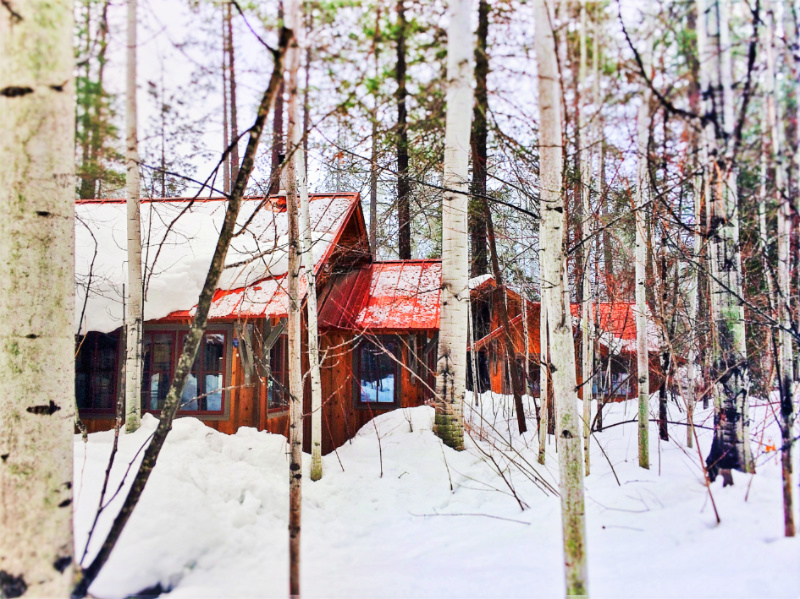 Accommodations at the Sleeping Lady
I love a room that feels cozy even when there's not a fire burning in it.  Between the warm wood finishes and the heated towel racks, cozy was everywhere.  Our room would've been perfect to bring a little person along.  It wasn't big enough for us and both kids (as we know we need more play space IN the room), but it had a wonderful sleeping nook with the cushiest twin bed, perfect for a four year old (and now I'm sad again that we didn't bring the kids).   
Anyways, we had ample space for our special anniversary getaway and it was perfect.  Something else that was great besides the general impression of the room was that there was no television.  That could be a downer for a lot of people, but do you really need one when you're staying out in nature?  If you can't break free, the wifi signal was pretty strong and very consistent, so there you go.
Tip:  there are board games that you can borrow to just relax and stay nice and quiet in the woods.   We are particularly good about bringing our own cribbage board and cards, as we can do that anywhere.
In our post about the Hyatt Olive 8 in downtown Seattle we mentioned bedding and how you can tell the quality:
questioning means you don't like it

no thoughts means it's fine/nice

want to know more about it and buy it for your own home means that the hotel has created sleeping-gold and they're to be commended.
The Sleeping Lady Resort did the last one there.  We took pictures of the sheet labels to research and make our bed as perfectly as they did.  The maker:  Comphy Co.  Material:  polyester microfiber.  We have microfiber sheets at home but they're not nearly as magical as the Sleeping Lady's.  MUST GET NOW!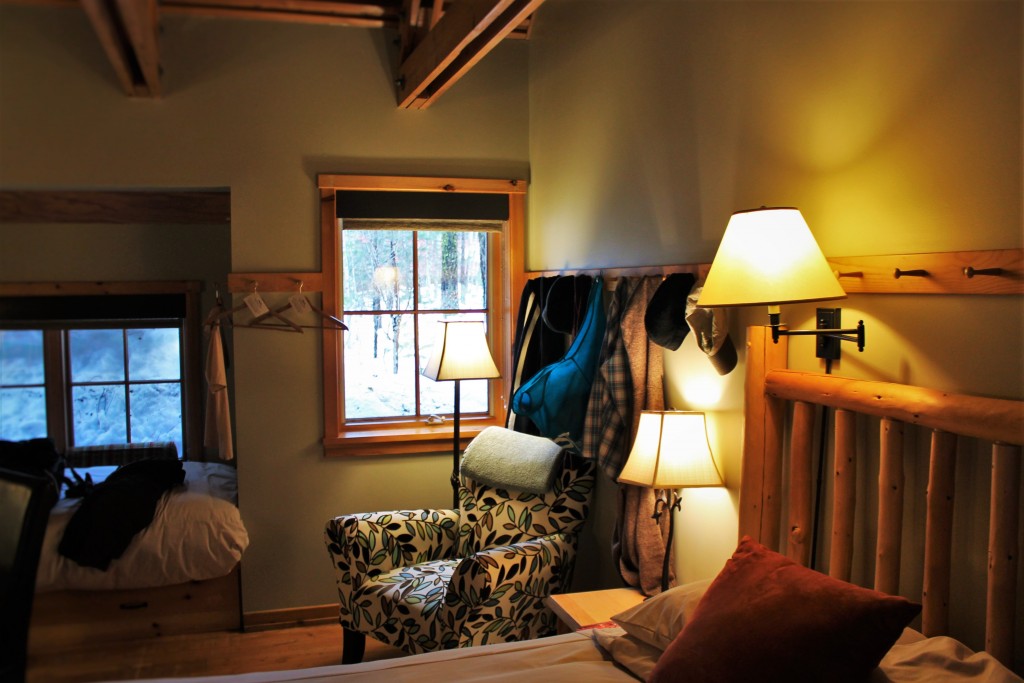 And you know what else we love, don't you?  You know we're addicted to bathrobes.  The robes at the Sleeping Lady Resort were great.  The double lining made them quite cushy and the fabric itself was already wonderfully soft.  What elevated the robe experience though:  heated towel racks.  They're not just for bath towels.  They're for robes before you make a mad dash through the cold to the hot pool.  Besides getting the wonderful sheets, I'd really love to install heated towel racks in our master bathroom at home.
In addition to the above mentioned features, there are also lots of windows in each type of room.  The windows are all dressed with both privacy and blackout roll-screens, which is great since you probably aren't at the Sleeping Lady Resort to put on a show for the neighbors.
Tip:  don't forget that privacy shades do provide SOME privacy, but not complete privacy.  Basically, if you're running around naked, best to probably pull the blackout shade too.  Just sayin', you know, it's a family resort.
The pools at the Sleeping Lady
Oops!  We let it slip above that there's a hot pool!  Secret's out now.  There's no hot tub, but there is a large pool built to look and feel like a hot spring.  It's located up the hill from the cabins, and past the Grotto, and above the cool swimming pool.  The hot pool is great because it's so quiet being apart from everything, but then also because there aren't jets to turn on and RUIN the hot tub experience.  
There is a shelter by the hot pool for hanging your towels and robes, but it's NOT a changing room.  The sauna is close by if you need to pull a full Clark Kent.  The water is an ideal temp (we were guessing around 102) to get right into without feeling like you're being boiled alive.  And it's saline!  There was no chlorine smell or feel when we got out, which was a big win. The hot pool may be the reason we said that the Sleeping Lady in Leavenworth is one of the best ski resorts in the USA.
We didn't get to swim in the cool pool…as it was January when we were there and there was 3 feet of snow surrounding the pools.  I'm sure the cool pool is a lovely experience too, but we can't say for certain.
Tip:  don't forget your pool towels when you head to the rockery to swim.  There isn't a pool shed or attendant there to provide towels (at least not in winter).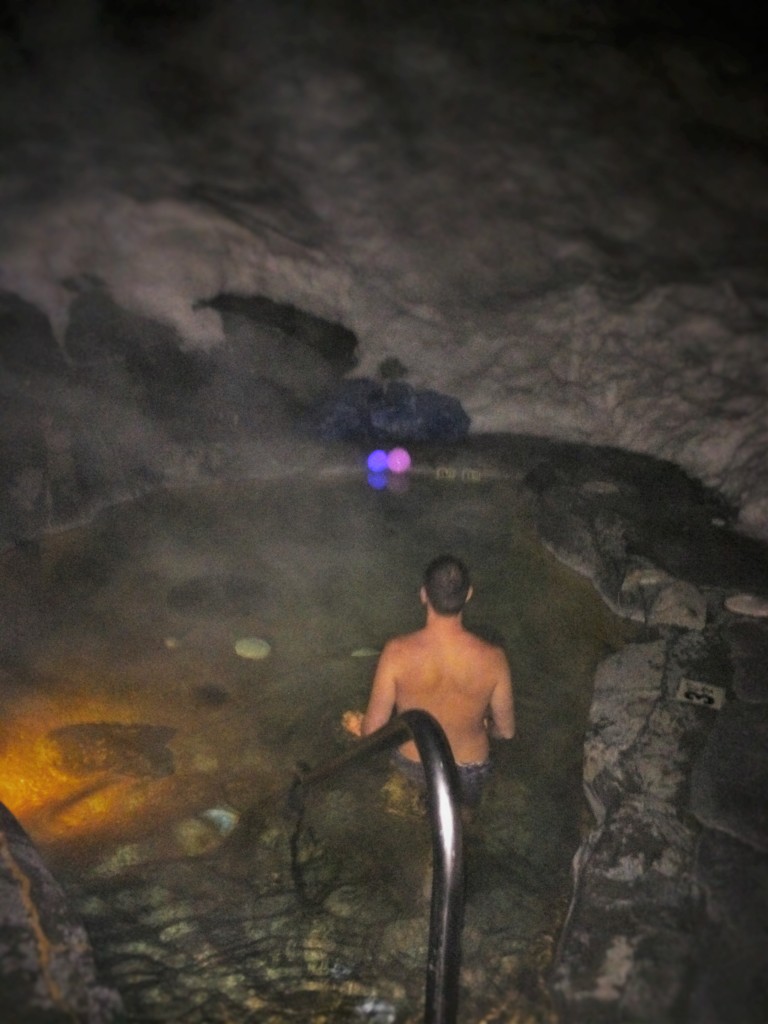 Fun stuff at the Sleeping Lady
We mentioned the Play Barn before.  Sounds weird, huh?  It's so cool.  Inside there is a pool table, ping pong, couches, a huge drop down cinema screen and… wait for it… a stage with a puppet theater.  This was the biggest kicker that made us sad that we didn't bring the boys.  At home we have a collection of Folkmanis Puppets and well, that collection was dwarfed by the awesomeness that is the zoo of woodland creatures at the Sleeping Lady Resort.  The boys will love this when we bring them back.
Beyond the Play Barn, there is a grand selection of board games around the property.  The Sleeping Lady lobby has a bunch to borrow, and the Grotto Bar has some more fun, more adultish games for while you're having a tasty beverage.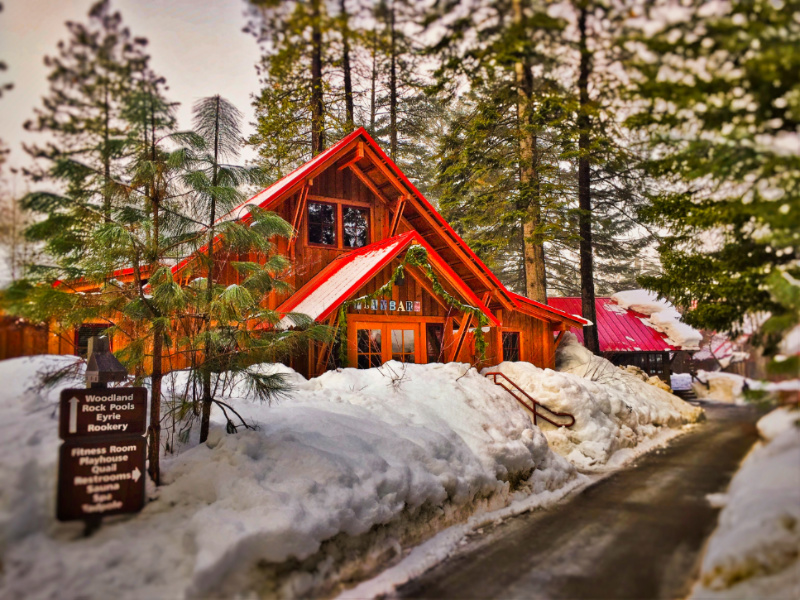 There is also a volleyball area out by the meadow, but well, we didn't really want to show up other guests with our mad snow-volleyball skills, so we didn't jump onto the court.  Past that though, there is a huge organic garden and greenhouse.  I am a gardener, so when we return during sunny weather, I'm going to love strolling through and getting new ideas for both what to grow and how to manage a space like that more organically.
Tip:  don't forget about the art walk we mentioned above.  It's a great way to both experience the outdoors and have a fun scavenger hunt.
At O'Grady's Pantry and Mercantile you can get set up with some more adventurous fun.  We opted for cross country skiing, but they rent snow shoes too.  Right next door to the Sleeping Lady Resort is the adjacent to the Icicle Trail, which is part of the Leavenworth Nordic Trail System.  
For us it was just right, as it was our first time trying cross country skiing.  The trail was well used with some set tracks which proved useful for gumshoe skiers.  There are also plenty of short downhills perfect for getting a quick thrill and testing you skiing mettle.  I'll admit it:  I fell a significant number of times.  But it's all good, as there was beer to help me chill out afterwards.  
Tip:  be prepared to be tired whenever you have a snow day.  Playing in the snow is a lot like playing in the sand, where the extra give of the ground causes your body to work harder than you realize… causing you to require a hot tub or tasty beverage at some point within the hours to follow.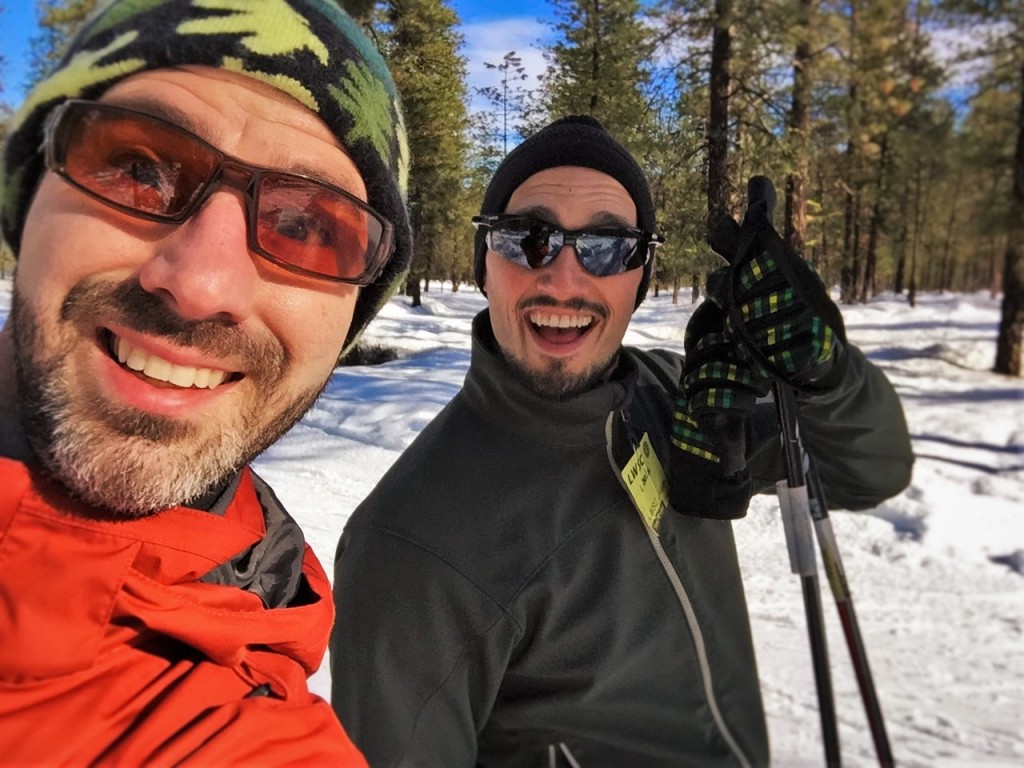 Dining at the Sleeping Lady Mountain Resort
There are three restaurants on property at the Sleeping Lady, which is surprising as everything is so well nestled into the woods that you'd never know.  
Kingfisher Restaurant
Guests at the Sleeping Lady resort get to enjoy the Kingfisher Restaurant and Wine Bar for breakfast and dinner, there's O'Grady's for all three meals (they close a bit early though), and then the Grotto for beverages and lighter fare.  
See what we loved at the Kingfisher Restaurant… 
Tip:  take advantage of the Kingfisher, as it's an unusual dining experience and the food is excellent.  Why is it unusual?  You don't order from a menu but you get to experience a CLASSY buffet style dining room.  We had a wide variety of fish, beef and vegetarian dishes, as well as some really wonderful breakfast options.
And the desserts were stellar.  The citron posset was, hands down, the best pudding/creme type dessert I've ever tasted, and that includes some incredible crème brûlées and panna cottas.  I love my puddin'.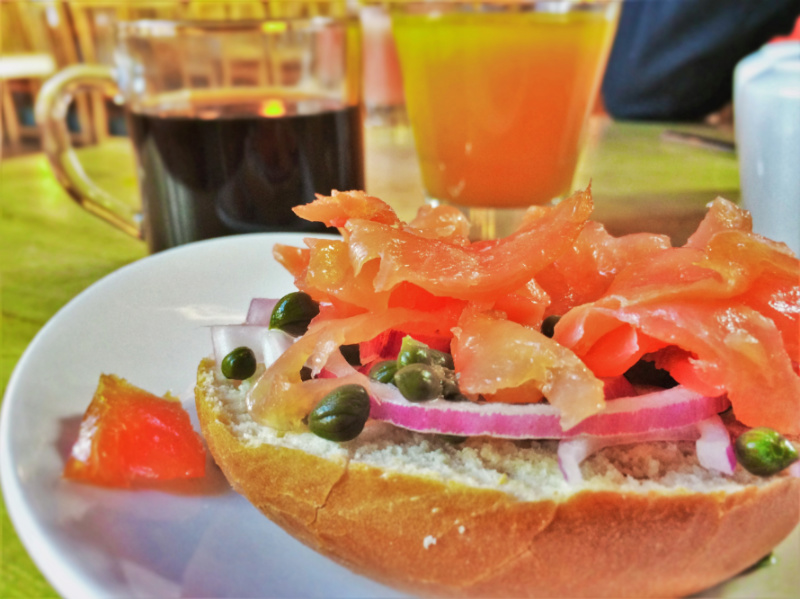 Relaxing at the Sleeping Lady's Grotto Bar
The Grotto Bar is exactly what you'd want to find at a mountain resort. Inside it's got the log cabin feel, with nooks and a fireplace, with games, and a drink menu to make you not want to leave. The Grotto also has a large outdoor patio complete with fire pit (but it was so snowy it wasn't lit, but they did offer to do it for us).  
The town of Leavenworth
Oh you cute little manufactured town, you!  We love Leavenworth for a wide range of reasons.  I think it's best to share a little history and then give our top tips.  Leavenworth was a logging town that was failing.  As the jobs left and economy fell, the town hired a PR firm to save it from turning into a ghost town.  
They all worked together, refaced most of the buildings, added lots of fun character touches, changed many business approaches and created a new destination:  Little Bavaria.  It's amazing.  The town is adorable and had you not known the history, you might think that it was historically an actual Bavarian settlement.  
And Leavenworth is an incredible Oktoberfest destination if you're in Washington in September and October!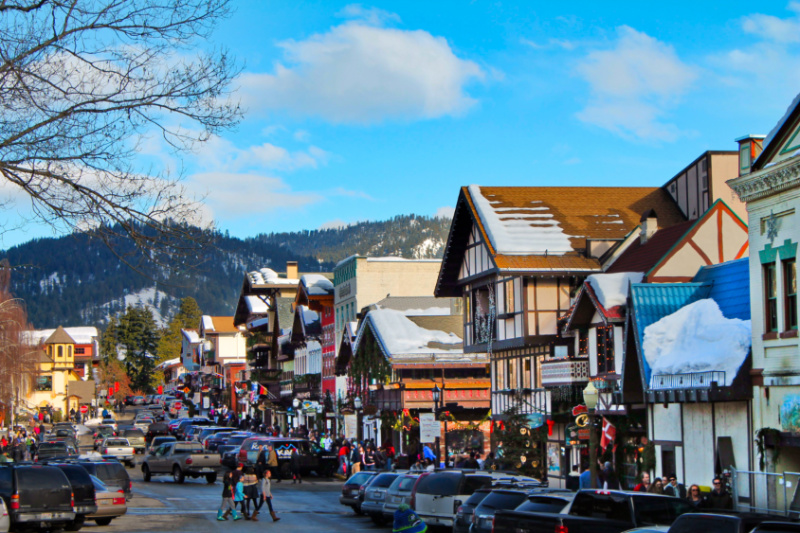 Having said that, here are our top things to do in Leavenworth:
Drink Beer – the Icicle Brewing Company is incredible, offering award winning microbrews, good food and some quick behind the scenes tours for interested beer drinkers.
Eat Sausages – two great choices, and they're across the street from each other, are Munchen Haus and Sausage Garten.  Both have a variety of sausages/wursts and a heaven of mustards.
Pretend It's Christmas – between the Nutcracker shop… and Nutcracker museum, and then the countless ornament and kitschy shops, you can get into the Christmas spirit when it's 90 degrees outside.
Raft/float the Wenatchee – the river that winds through Leavenworth it so chill.  I've rafted, kayaked and floated it.  It's best to work with a guided service to ensure the most safety, since there are a few spots with up to class 2 rapids.  Remember that this isn't a winter option, but then why would you want to be on the water in the snow?
Go Hiking – there are oodles of places to hike, including up the mountain to the east of the town along a really nifty aqueduct, but our favorite is hiking along the river, off Icicle road just past the Sleeping Lady Resort.  Hiking is best in the summer because of the amazing collection of wildflowers in the Cascade Mountains, but snow is pretty too.
Go Skiing – directly in Leavenworth (adjacent to the Sleeping Lady) is the Leavenworth Nordic Trail System.  That's idea for cross country skiing.  If you want more hardcore downhill skiing and snow boarding, head west on Highway 2 up to Steven's Pass.  It's a great ski area with wonderful facilities, a smooth chair lift and a variety of slopes for all levels of skiers.
Have a Sleigh/Hay/Carriage Ride – this is the activity for when you're like "um, what should we do?"  It's the perfect way to relax, be in the fresh air and see the outskirts (or even downtown) from a different point of view.  Sleigh rides are of course limited to the winter… when there's snow.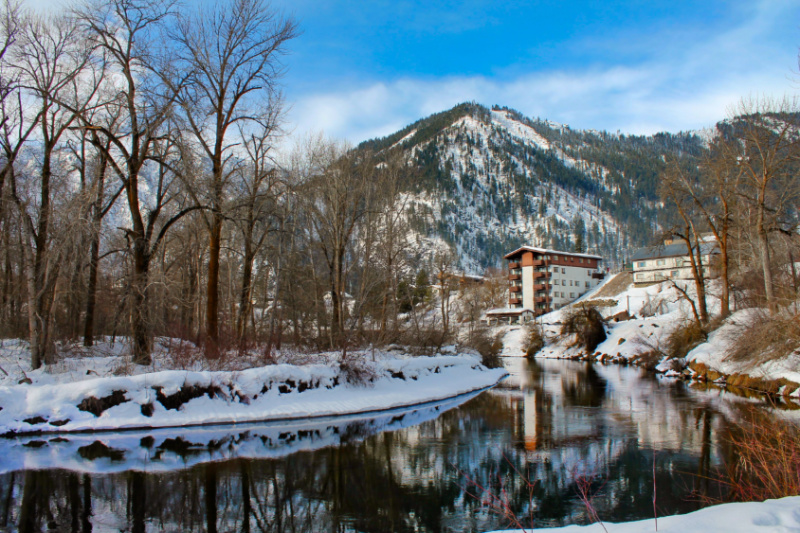 As you can see, we really love staying at the Sleeping Lady Resort.  The facilities and food are really wonderful, the service is incredible, and the activities keep us on the move. It really is an ideal family travel or couples resort.
If you have any questions about staying at the Sleeping Lady, send us a note or leave a comment. And feel free to pin this for your own travel planning to Leavenworth, Washington!