Over the years we've had several trips and shared lots about the Santa Maria Valley in California. This is one of our favorite places on the Central Coast, and not just as a road trip stop, but we love visiting for the outdoor experiences and agriculture, the California agritourism, in the area. The Santa Maria Valley also is its own AVA, meaning that it's a special wine producing region. This podcast and article is all about how YOU can enjoy the Santa Maria Valley wine culture, both in person and from wherever you are.
I interviewed two seasoned Santa Maria Valley (SMV) winemakers, Norman Beko (Cottonwood Canyon Winery) and Wes Hagen (J. Wilkes Wines), and we discussed everything from what makes the SMV a special region for growing wine grapes, to how visitors can tour Santa Barbara County Wine Country during the Coronavirus pandemic. These winemakers and their teams are working hard to keep the wine culture alive and available.
Be sure to check out our complete articles all about Agritourism in the Santa Maria Valley, as well as our guides to visiting the SMV, during times of social distancing and during normal life!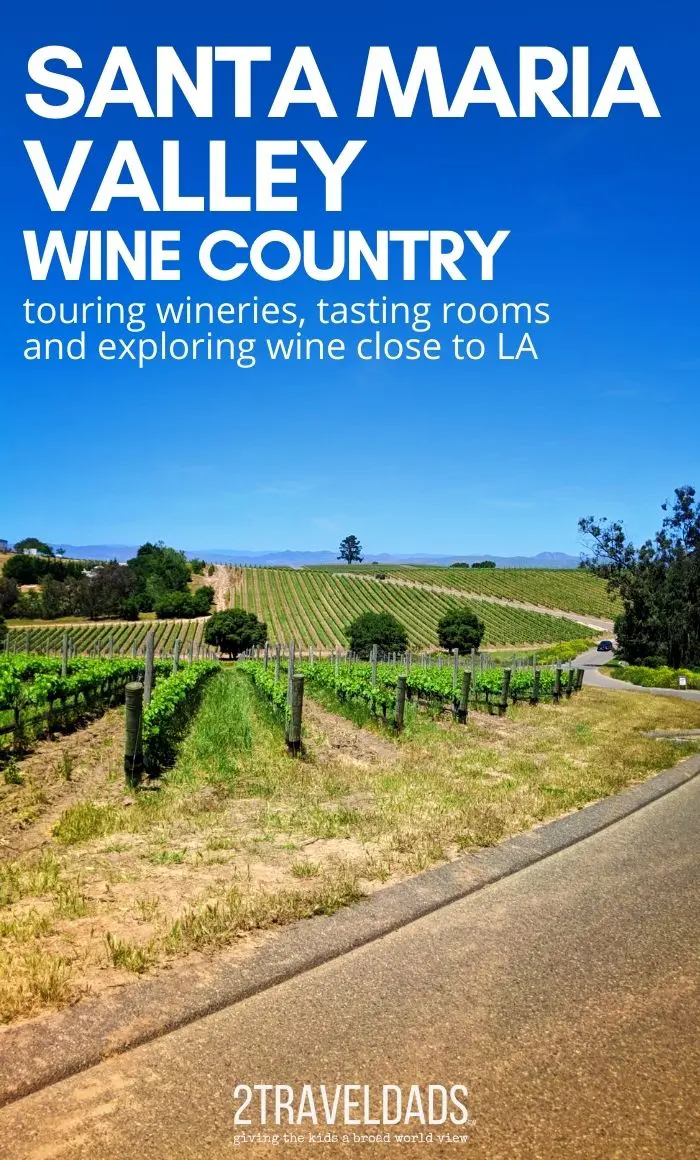 Listen to SMV Wine Country Podcast Episode
What Makes the Santa Maria Valley AVA a Unique Wine Region
Being located near the coast and between both east/west and north/south mountains, the climate stays remarkably cool for being a central/southern California area. When it's blazing hot in Los Angeles, it's nice and cool in the SMV. When it's cold and foggy up in San Francisco, it's warm and pleasant down in Santa Barbara County. This is the ideal climate for growing chardonnay and pinot noir grapes. Nearly 80% of the wine grown in Santa Barbara County is chardonnay or pinot.
Fun fact: the Santa Maria Valley was the third AVA established in the USA, just after Napa was established.
The soil in the Santa Maria Valley is very sandy, due to tectonics upheaving the seafloor a long time ago. Add to that continual sand being blown in from the dunes and beaches just to the west, and you've got extremely sandy soil. Since the soil is so loose, it prevents the grape vines from really taking hold and growing vigorously. This produces smaller fruit with tighter clusters, thus making the grapes of the SMV AVA very unique and flavorful in their own way. "It might not be as curated as Napa, but it's also not as expensive."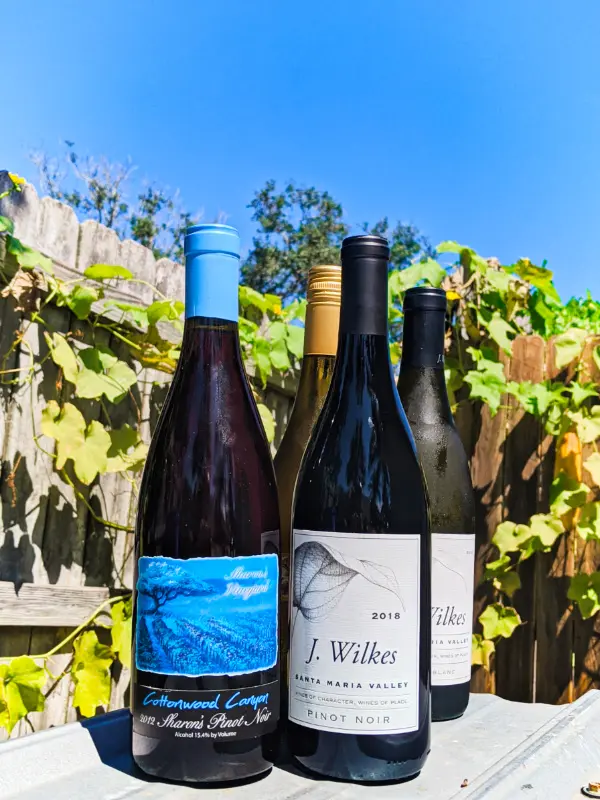 Managing a Central Coast Winery
Norm, of Cottonwood Canyon, shared that the special climate that makes the grapes so special and of such a high quality is also the stumbling block of growing in the Santa Maria Valley. The persistent moisture means a lot of costs for vineyards to keep away the mildew that destroys crops. Despite the moisture problem, Norman
There are less than 6 days a year that have temperatures over 90. 350 days of the year between 65 and 85 degrees, which is perfect for both growing grapes AND enjoying everything in the outdoors. In September there are usually a few heat spikes, which is what really develops the wine grapes and their complexity. Most grapes have been picked by October 1, with the exception of a few chardonnay and Syrah grapes.
2020 saw a lot of forest fires in California, but the Santa Maria Valley wasn't impacted by the smoke. This means that in addition to being able to create their own wines, vineyards in the SMV have gotten to supply winemakers from other parts of California with grapes, making Santa Maria Valley wines even more widespread.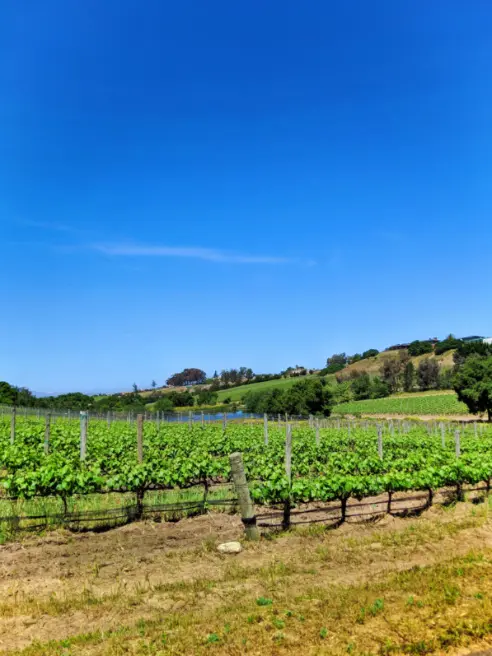 Working on Becoming Los Angeles' Wine Country
The Santa Maria Valley is a wonderfully unassuming getaway destination. Our family has enjoyed it because it's so easy and relaxed, but with outdoors and food experiences that are top notch. While Temecula, CA is doing a great job promoting their wine industry and sharing their destination, the Santa Maria Valley is set up for the same sort of getaways with exceptional wines.
If you've ever lived in the Los Angeles area, you know that your plans are determined by the traffic flow when you get in your car. And THAT is why I think the Santa Maria Valley is going to quickly grow into LA's wine country rather quickly:
travel beyond Santa Barbara (city) is much more calm
smaller crowds and social distancing are easy and are the standard
the quality of wines and dining are remarkable, even to the untrained palate
the cost for accommodations and experiences is much less than other LA getaways
the temperatures in the summer are 20-30 degrees less than the Los Angeles area
The Santa Maria Valley is the perfect escape from the heat if you're in Los Angeles. It's closer than other Central Coast wine hot spots and the temperatures really are refreshing.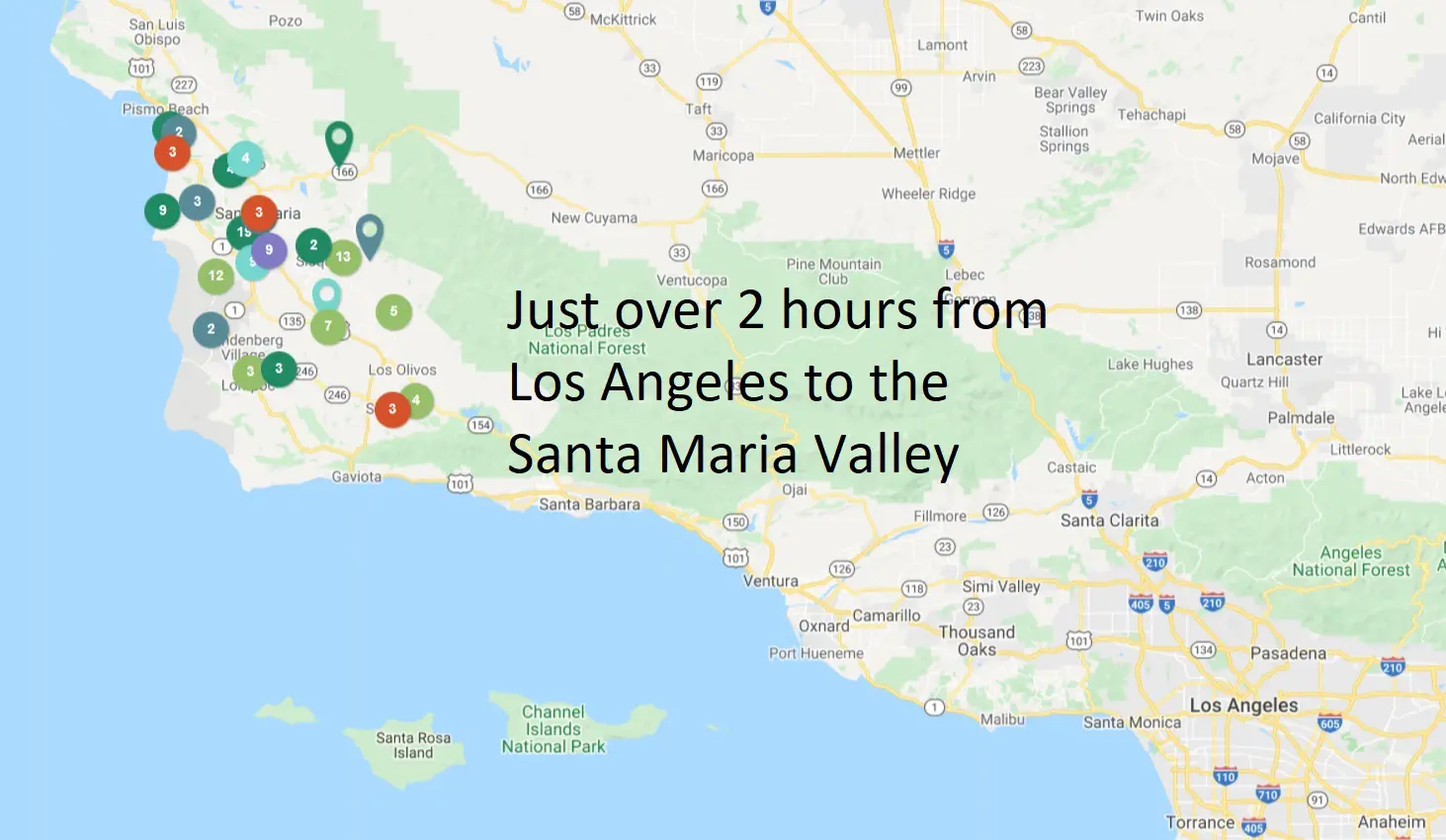 Cottonwood Canyon Winery in Santa Maria
Cottonwood Canyon Vineyard & Winery is located about 19 miles from the beach, at about 500 feet elevation. They have been operating for more than thirty years and what started as about 500 vines of chardonnay per acre has grown to more than 4400 vines per acre. With the life of a producing grape vine being about 30 years, Cottonwood Canyon is getting to replant a significant about.
Guests are welcome to visit Cottonwood Canyon Vineyard and Winery for tastings and to tour the grounds and wine caves. It's a beautiful set up.
One of the things that makes the wines here at Cottonwood Canyon so different is that Norman, the winemaker, adds nothing to the wine while it's fermenting and doing it's thing. He only opens the barrel once and the only thing that's added are sulfites at the end of the process, to prevent oxidation.
When it comes to the property at Cottonwood Canyon, they've really got a beautiful winery. Endless rows of wine grapes, a tasting room, outdoor space for relaxing in wine country, and even an amphitheater make it a destination, and not just for a wine tasting. They do winery weddings and are booking into 2022 already! Crazy!
Norman Beko's Winemaking Style: age worthy wines
Norman shared that something particularly interesting about his winemaking style is how he works with the grapes' hangtime to develop the fruit. Norman says he makes "distinctively different, age-worthy wines." Norman says that he lets the grapes do the work. For example, Cottonwood Canyon Winery makes a Syrah that ages for 40 months in an oak barrel and is only opened once. The natural acidity aids the wine making process.
Comparing SMV wines to long established French wines provides an easy to understand example of the difference in how the grapes and wine make process impact the flavors. Norman's Santa Maria Valley wines hold their fruitful notes more prominently than French wines. This is one of the aspects of California winemaking that both receives criticism and what truly sets it apart from traditional wines.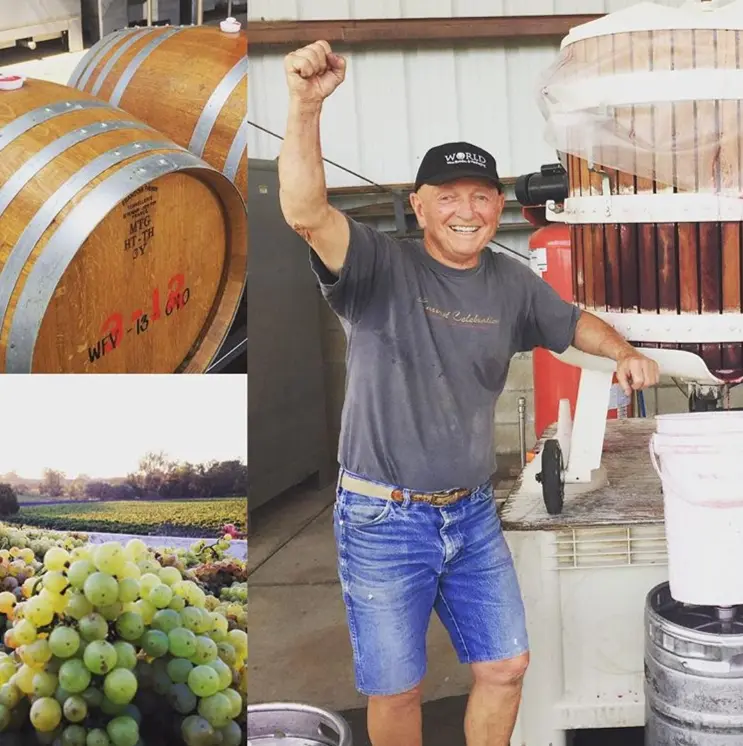 Visiting Cottonwood Canyon During Social Distancing
While normally all of the fun features of an estate winery are half of the visit to Cottonwood Canyon, during the Coronavirus pandemic, this are being managed quite differently. Visitors to the Santa Maria Wine country are limited to the ways they can enjoy wine tastings and where they can do it.
How Cottonwood Canyon in managing visitors to Santa Maria Valley wine country while social distancing is the norm, has shifted. Those setting the rules for restaurants and wine tasting and such have determined that when doing a tasting, a new glass must be provided for each sample. For a small wine tasting operation, this isn't sustainable because washing five or six wine glasses per individual wine tasting would require more staffing and funds than can be maintained. Also, social distancing must be maintained.
Cottonwood Canyon Winery has the space to successfully manage 150+ socially distant wine tastings at a time, but that can't last through the winter when the temperatures begin to drop. With all of the patio and open air space, it's ideal for enjoying Santa Maria Valley wine country. But, to adjust to the demand, the rules of social distancing, and the changing weather, the tasting room is offering glasses or bottles to enjoy while at the winery. And then of course visitors can purchase wine to take away with them.
Normally wine cave tours and education are a part of the visitor experience and business, but without these during the pandemic, Cottonwood Canyon has opted to develop their wine clubs a bit more.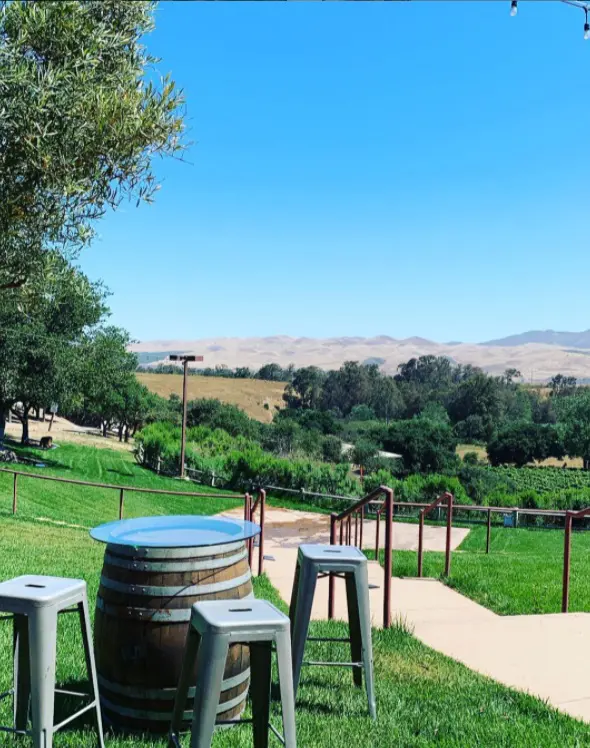 Cottonwood Canyon Wine Club: sign me up!
In an effort to get great wines to people who aren't able to travel currently, or who just love good wine, Cottonwood Canyon has set up a variety of wine programs. The Connoisseurs Club includes wines no younger than 10 years old, while the standard wine club allows members to purchase their favorite wines at a discount. Other benefits of joining the wine club include complimentary tastings when you're at the vineyard and discounts for wine purchases, both online and in person.
J Wilkes Wines around Santa Barbara County
Wes Hagen has been working in the Santa Barbara County wine region since the 1990s, and to quote him, in 2020 he's "finally starting to wrap [his] head around what it takes to make wine in the Santa Maria Valley." Growing grapes on seabed rock AND the constant influx of sand from the Guadalupe Dunes has a huge impact on the flavor found in the SMV grapes. Wes says that the wines he makes are "elegant wines with intense flavors."
Here in the USA, 85% of wine sales are thought to be consumed within 48 hours or purchase. With that in mind, Wes takes an approach to wine making that makes beautiful, good wines available to the public without the need to cellar it for long. Particularly since the Miller Family of Wines, who owes J Wilkes Wines, supplies many restaurants and consumer businesses, they have to take a different approach to producing and selling wine during the Coronavirus pandemic.
People still want wine and are buying it, but for a winery like J Wilkes who does so much of their business by supplying restaurants and bars, they've had to pivot to sell wine differently.
Miller Family of Wines and Wine Clubs
Since tasting rooms and restaurants started shutting down, the Miller Family of wines has branched more into wine club and direct-to-consumer sales. While this might not sound interesting to somebody who doesn't work in wine, it actually is really cool! With all the changes, creating an affordable wine club is a great way to continue to share and grow the business.
The Miller Family Wine Club is a monthly membership for under $40. They'll ship three bottles of wine to anywhere in the USA that allows California wine to be sent. They're shipping high quality wines, scoring 90+ points, which is really cool (if you're into wine).
Wine Tasting in Santa Barbara
The other way J Wilkes (and Wes himself) is keeping the winery going through the Coronavirus pandemic has been through outdoor tastings and wine education. Online, Wes has been sharing stories and knowledge of wine with people, helping them learn and love Santa Maria Valley wines even more. Through their Facebook community, wine education and enthusiasm has kept things rolling and staying interesting.
At the tasting room, which is actually located in downtown Santa Barbara at 35 State Street, they the ability to keep the wine tasting culture alive. Between ever-changing restrictions and a flexible crew, visitors can enjoy the tasting room experience while still social distancing and adhering to public guidelines. Between being able to offer food and time to relax, J Wilkes' tasting room is keeping wine culture alive on the street. "Every wine deserves an hour of delicious things, and people and love."
Ideas for Food and Wine Tourism in the Santa Maria Valley
In addition to the many wineries in the Santa Maria Valley, there is also the Alan Hancock College, where the share wine education, including food and wine pairings. From this program and beyond, local chefs develop their knowledge and skill when it comes to making local wines shine. The "Agribusiness" program at the college is "designed to train students to evaluate the sensory components of different styles of wines from several grape-growing regions and to plan and prepare specific dishes that complement each wine." There is actually a complete Viticulture and Enology program at the college. Also, Cal Poly is close by up in San Luis Obispo, so even more talent comes down to the SMV.
This dedication to creating complete experiences where wine is involved comes through in the many remarkable restaurants in the Santa Maria Valley. Towns like Orcutt, Santa Maria and Nipomo are great places to enjoy fresh takes of food and wine due to the local educational programs AND the rate of growth in the area.
While wine destinations like Napa or Sonoma may take years to gain notoriety or even for a chef or winemaker to get a change at running their own operation, the Santa Maria Valley is the perfect spot for newcomers to grow in the wine culture.
"Can I participate in grape harvest?"
From time to time vineyards will welcome guests to help harvest, often by sending out notices to wine club members. If you would like to participate in harvesting grapes, the chance may come up, but it's not for the faint of heart or weak of back. Picking fruit is a romantic notion but the reality is that it's very hard work. Norm of Cottonwood Canyon shared an experience of inviting guests to participate in harvest, and after a bit, they gave it up in applause to the agricultural workers who do it every day.
Yes, there are interesting ways to participate in wine making culture, but they are few and few between. The best ways to find opportunities come from joining mailing lists and wine clubs. Direct messages and requests from the wineries themselves are key to participating in the craft of Santa Maria Valley wine culture.
If you're looking for common annual experiences, like Spring Barrell events, remember that group events are limited to small numbers. With COVID concerns still not tackled fully, it's likely that large fastivals and wine events will be on hold or scaled down for the rest of 2020/2021.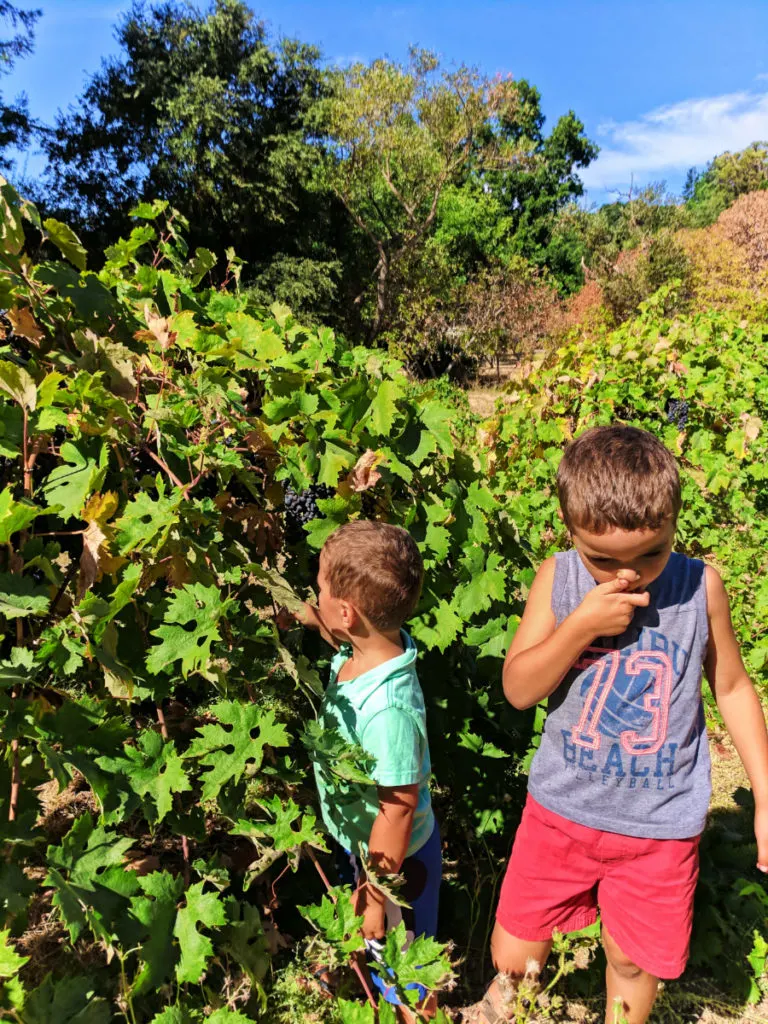 Resources for Planning a Trip to Santa Maria Valley Wine Country
Of course we're always a resource here at 2TravelDads, but also, the Santa Maria Valley tourism website is a great resource. They've got itinerary ideas, maps such as the Foxen Canyon Wine Trail, and all kinds of info about enjoying the food and wine culture of the area.
As Wes mentioned in our podcast session, he and many others who work in wine are happy to help visitors plan their experiences. Wine education is at the heart of many operations, especially at Cottonwood Canyon and J. Wilkes, so tapping the people who are creating the culture is genius.
In the meantime, check out the Santa Maria Valley swirl machine to get a pulse on your own style for enjoying SMV wine.
Thanks for hanging out with us. It was a pleasure to dig into Santa Maria Valley Wine Country with Wes and Norm. Reach out to any of us with inquiries or requests relating to the SMV, and as always, please let us know if you have any questions!
What do you want to hear about from us on our podcast? Please leave us a comment below or send us a note with your questions and what you'd like to hear. We are excited to share!
If you'd like to visit our specific podcast host page, feel free! There are lots of options to subscribe to the 2TravelDads Podcast.