A very unique road trip to plan is driving El Camino Real to visit California missions. Between historic chapels and gardens, so some of the most interesting small museums, this road trip is a great way to understand California's colonialist history and influences. Getting to travel all over the place we see all kinds of unusual sights. The kids love the time we get to spend in National Parks or at the beach, we dads like to explore cities a lot, and then we try to incorporate historical sites when possible. The California missions have proven to be both cool to visit with kids and totally educational.
We've gotten to visit several of the California missions and have the goal to get to all of them in the next few years. We're going to share just a few of them that we've done with the kids, as not every one is easy to get to or truly unique. Hopefully you'll be inspired to seek out a few of the California missions to add to your next west coast road trip.
Check out our Complete California Coast Road Trip for a tip to tip itinerary!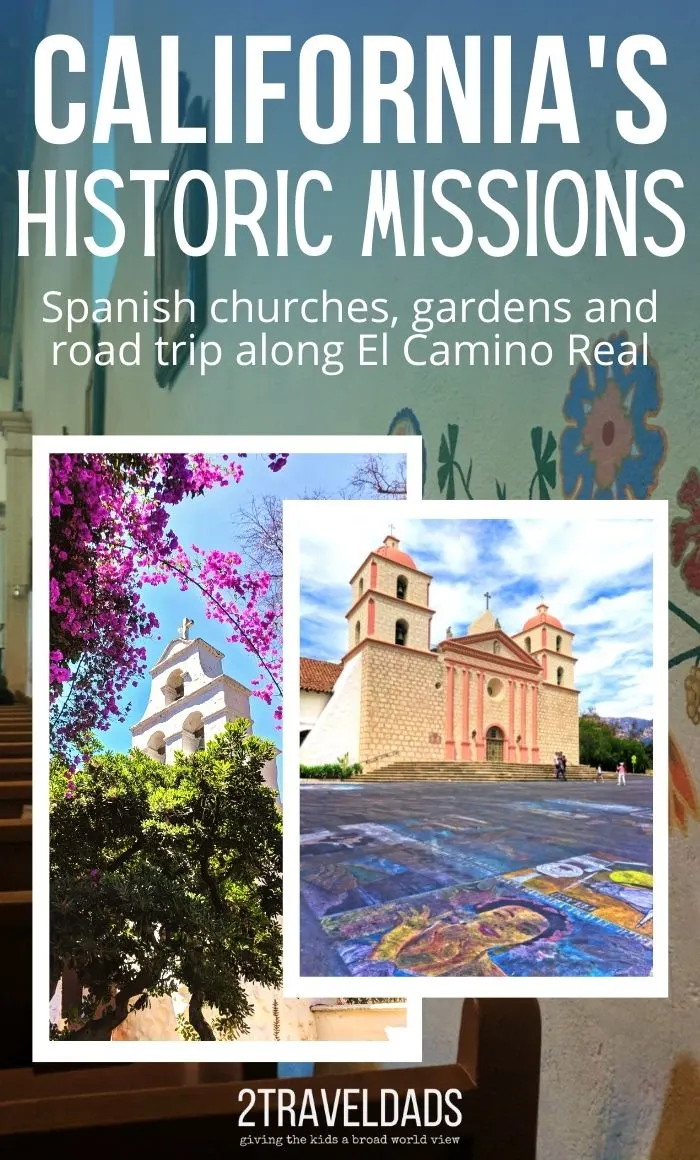 Where to find the California Missions
El Camino Real, the King's Road, stretches from northern California down into Mexico. The California missions are found all along this route. Most of the way follows California Highway 101, but there are some missions located a ways off and you have to trek to them. Starting at the southern border, at the US/Mexico boundary and stretching as far north as San Francisco, you'll find a mission every 40 to 50 miles or so.
Most of the California missions are open to the public either as a museum or as a functioning church space. Before working a visit into your schedule, be sure to confirm that it's going to be open and that you're not visiting during services (unless you want to participate). Also, be sure to check if there are any photography restrictions within chapel areas.
Note:  if you journey into Baja California you'll find more missions, both in small towns and in the larger cities of Loreto, La Paz or San Jose del Cabo.  So much history!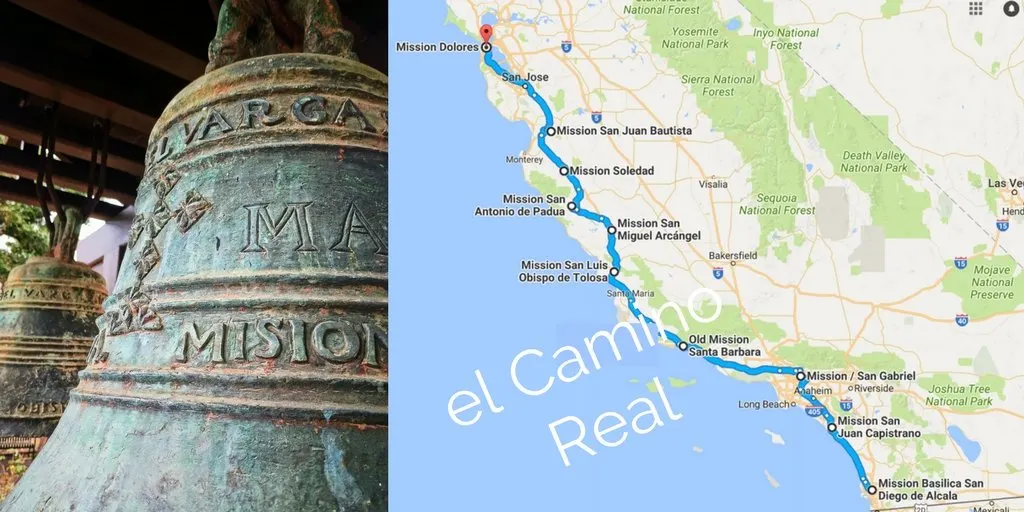 Best California Missions to Visit
We've selected these missions as a plan for this California road trip, as they are the easiest to access and offer the most interest for visitors. There are several missions that you'll drive past (kind of) that you could also stop at, but these ones are the most accessible and unique in our opinion. Having visited many California missions along El Camino Real, we also feel that the history offered by these picks is the most accurate and representative of what really happened as the Spanish colonized California.
San Diego: Mission San Diego de Alcala
San Diego is kind of the go-to spot for beaches, zoos and food, but it's also got some great history. The two prime historic attractions are Old Town San Diego, where you'll find an excavated and restored settlement, including museums and shops, and then Mission San Diego. Of all the California missions, Mission San Diego certainly feels like the most grand.
Located in the Mission Valley, away from the beaches, Mission San Diego has a grand chapel, beautiful gardens and a nice collection of historical pieces to explain the history of the California missions and their founding. It's the perfect first stop on a journey through California's history.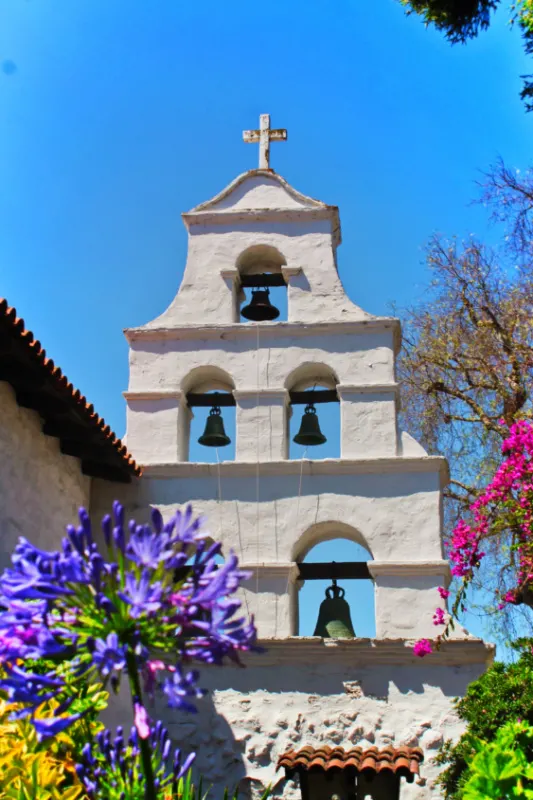 Tip: also stop by Mission San Diego de Alcala at night. The exterior is beautiful and really striking against the black sky (if you're into photography). One of the prettiest stops along El Camino Real.
Plan an hour for the visit, as the museum on site is well put together and has exhibits that kids can understand easily. Between the museum, the chapel and the grounds, this may be your favorite of the California missions, and you've only just begun!
Another fun stop:  Cabrillo National Monument is really cool for lighthouses, tidepools and more California history.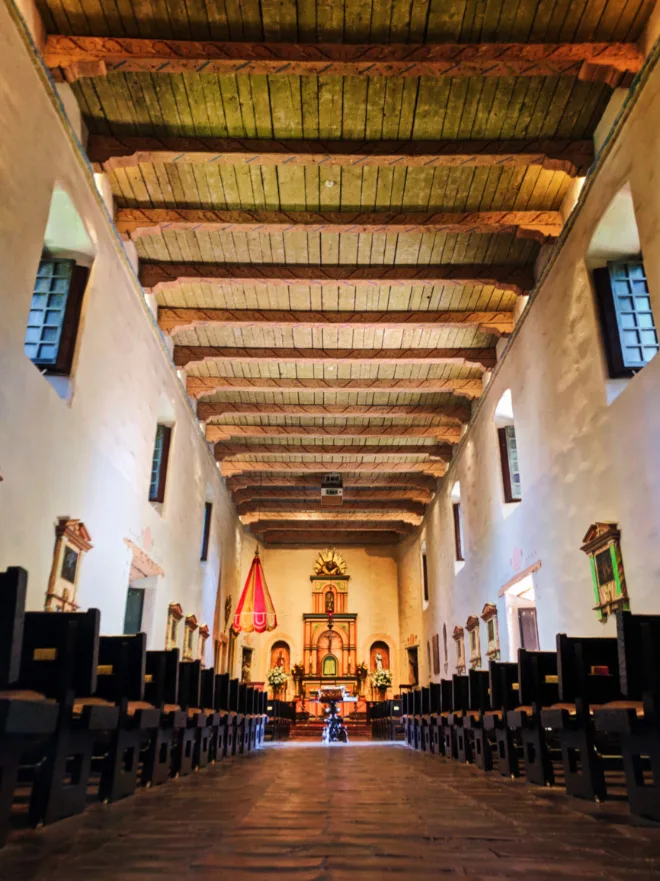 Mission San Luis Rey in Oceanside
As you head north through San Diego County, Mission San Luis Rey is just east of I-5. 10 minutes off the freeway, Mission San Luis Rey is both a museum and an active mission. They hold services, Franciscan Friars are walking the grounds, and local parishioners visit daily. This is one of the best missions to visit along El Camino Real as it provides a very different view of both mission history AND current daily life.
Southern California Coast: Mission San Juan Capistrano
Located between Laguna Beach and Oceanside, Mission San Juan Capistrano isn't just one of our favorites of the California missions, but it's one of the nicest historical sites in California. Located just down the hill from the 5 (Interstate 5), it's not tough to get to. The Mission is located in the neighborhood up from the downtown and there is usually plenty of parking.
Mission San Juan Capistrano was originally founded in 1775 by father Junipero Serra, the guy whose statue you see at almost every mission. Over the years, this mission changed hands several times between Mexico, the State of California, the US Government, a ranch base… and finally it went back to the Catholic Church. It's been destroyed and rebuilt several times and eventually excavated and renovated to the beautiful spot it is today.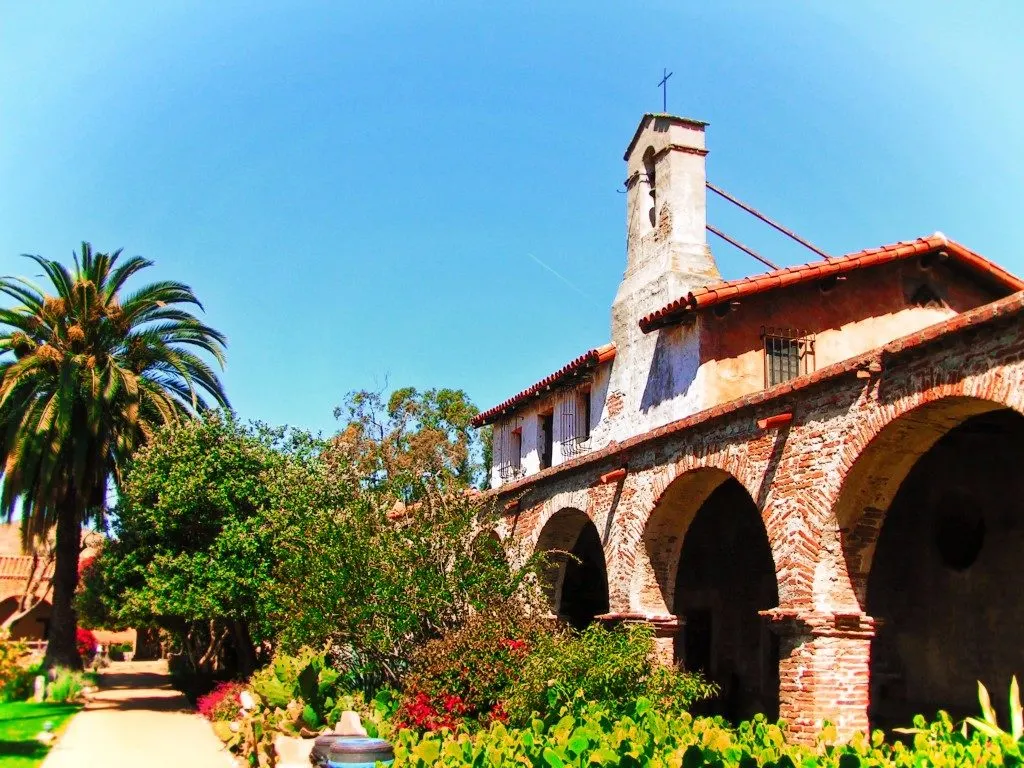 The swallows of San Juan Capistrano are famous, as every March they return to their mud nests, bring loads of photographers and tourists to the area to watch the cool, natural phenomena. If you're planning on visiting Mission San Juan Capistrano with kids, be sure to find and read the book The Song of the Swallows with them before hand. It's great reading for when you're driving El Camino Real.
Tip: for painters and sketchers, plan to spend some extra time hanging out at Mission San Juan Capistrano. Between the ruins, bells and gardens, there are endless subjects if you're an artist.
Nearby stops:  the beach at San Onofre isn't too far south of San Juan Capistrano and there is some awesome surfing to watch (or waves to catch yourself). To the north you'll find Crystal Cove State Park that stretches far up the coast, providing lots of great tide pools and beaches.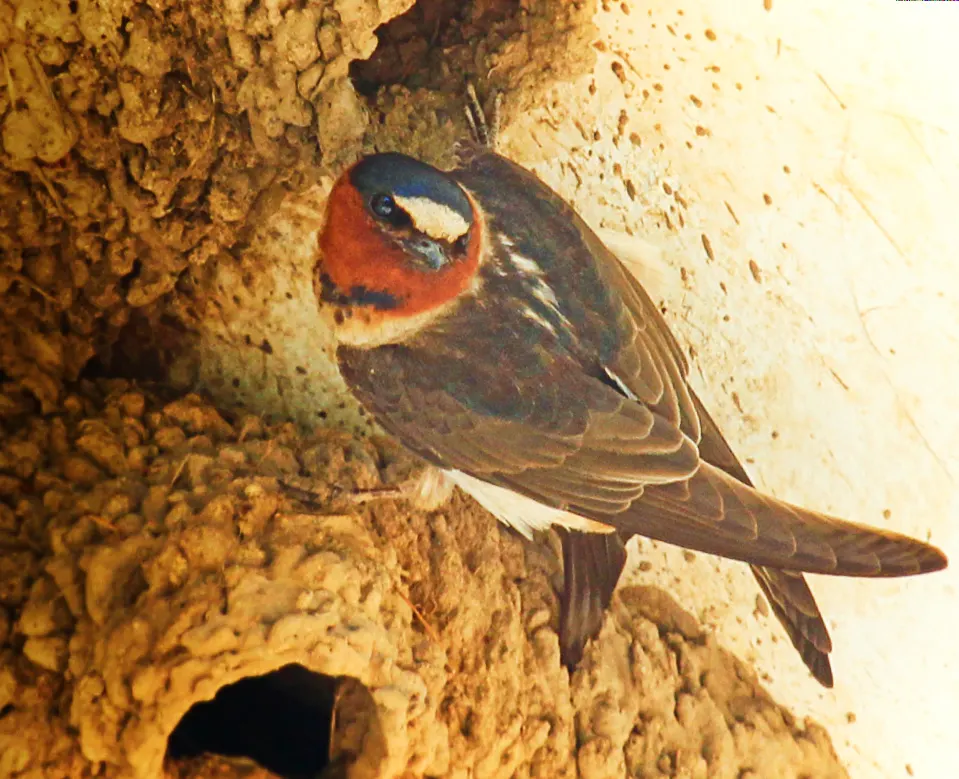 California Central Coast: Mission Santa Barbara
Leaving the SoCal area out of Los Angeles and heading north up the coast, you'll come to the perfect little city of Santa Barbara. A great destination on its own with wine and art and shopping and Channel Islands National Park just off the coast, it's perfect for a getaway. It's also where we'll find Mission Santa Barbara.
Founded in 1786, Mission Santa Barbara is one of the most picturesque of the California missions. It's got a pale pink façade, a small cemetery, flower-filled courtyard, colorful chapel and extensive museum. If you can only visit one of the California mission, we recommend Mission Santa Barbara for the most complete experience. And it's just pretty, and very unique among the missions of El Camino Real.
Tip:  check out these other great things to do in Santa Barbara!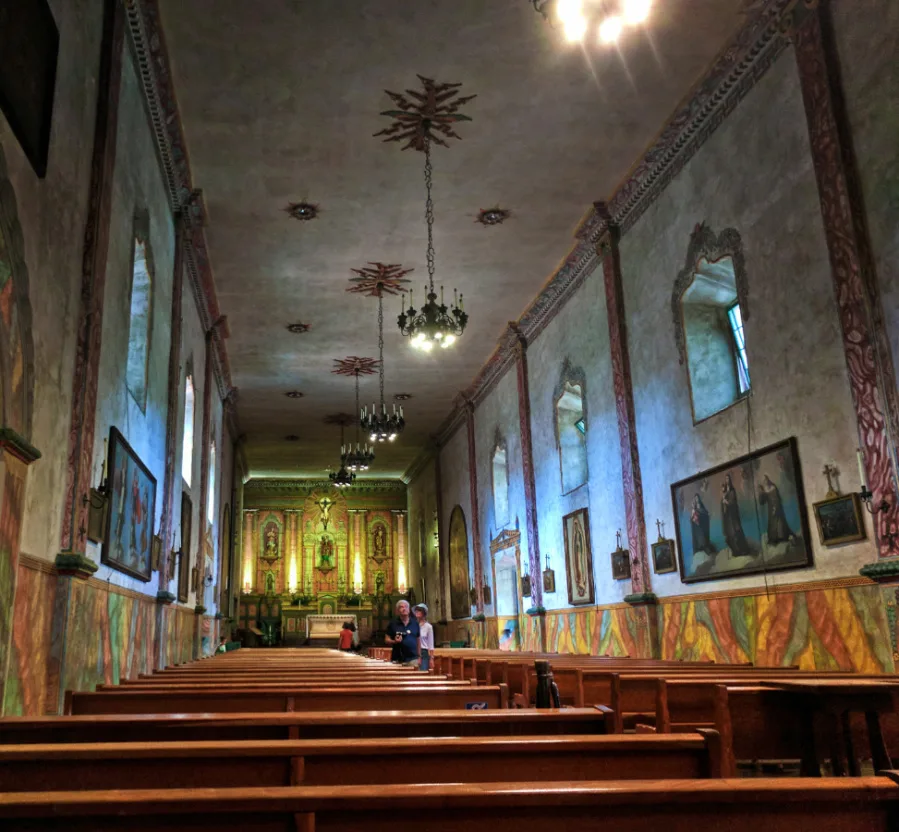 Tip: try to visit outside of mass times as it's still a very active mission with regular services. Parking is limited, so visiting in off hours is a strong recommendation.
Another fun idea: Santa Barbara has grown as a wine destination in recent years. There's always room for wine tasting in any itinerary. Check out some of our favorite Santa Barbara Wine Country stops here and in Santa Maria, California!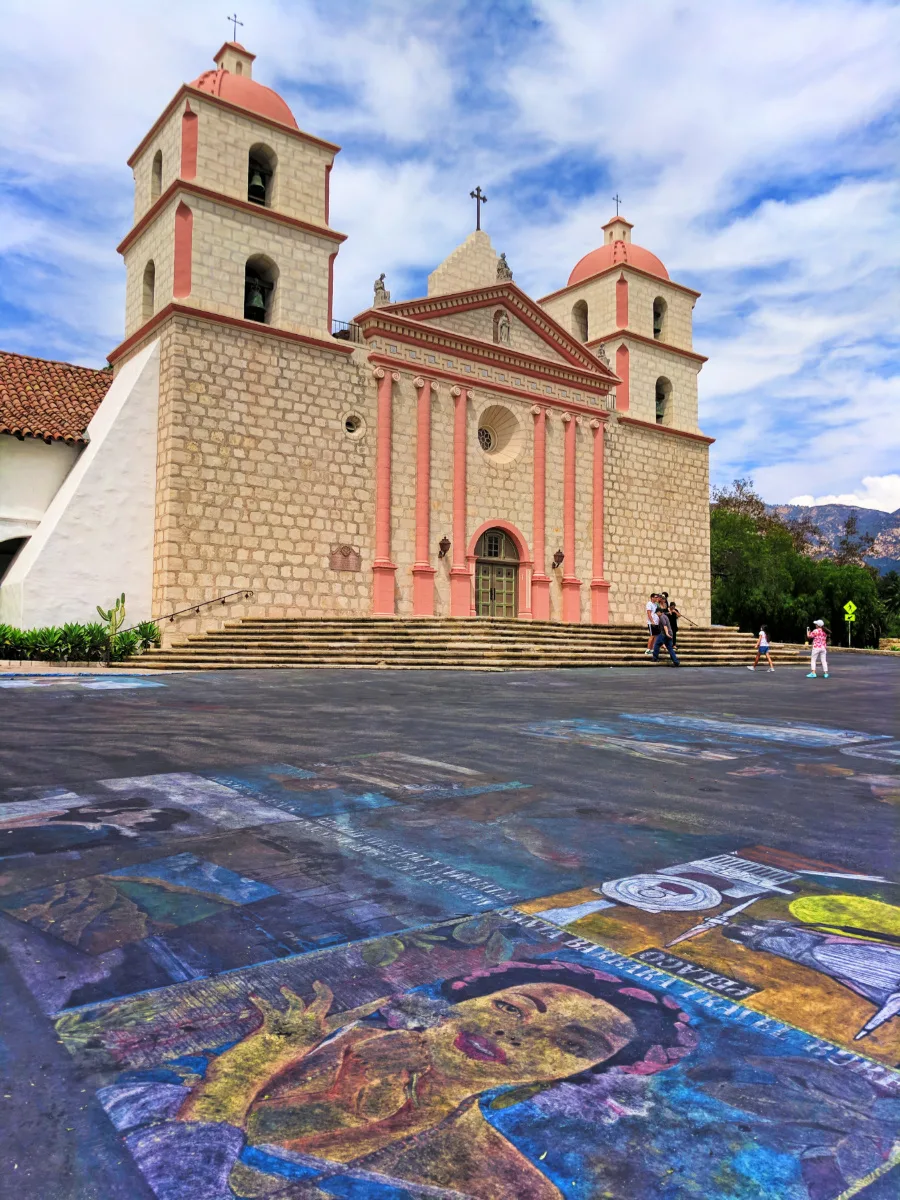 Mid-Coast California: Mission San Luis Obispo
We loved the whole town of San Luis Obispo and its mission was no exception. Found mid-way up California's Central Coast you'll be driving through on any road trip, if you're route is the 1 or the 101.
Mission San Luis Obispo is a small mission, but it's still very active. We visited in September when the grape vines were at their peek and all you could smell was fruit. It was really cool. We were able to join a short tour in the chapel of Mission San Luis Obispo and would recommend trying to do the same. The church has an interesting history, including a few graves within the chapel, so for adults and kids alike, there's something to learn… or think is strange.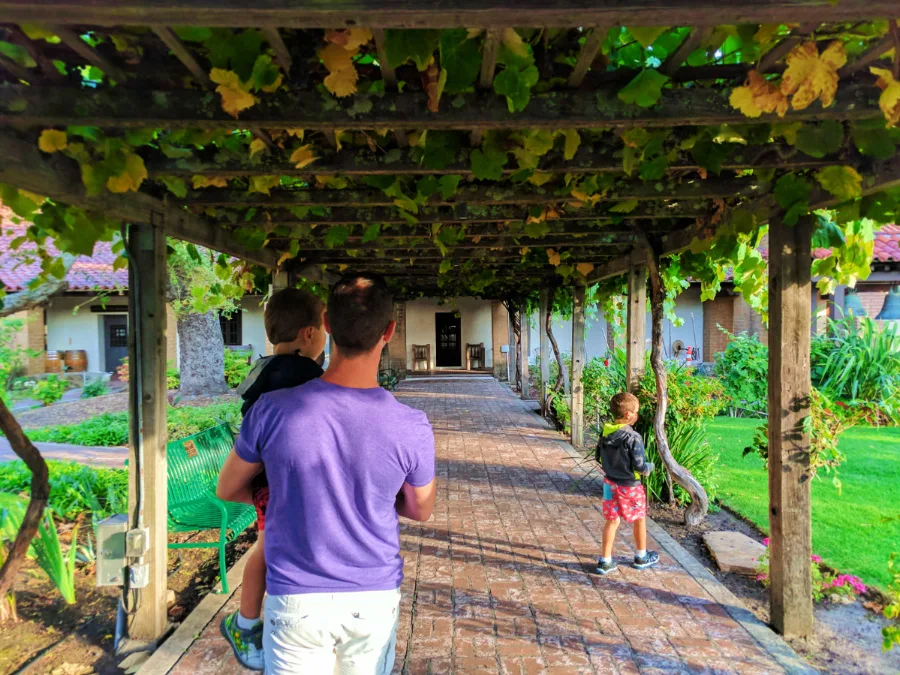 Tip: from Mission Plaza in front of the chapel you can access the urban trail that goes along the creek through town. There is art to check out as well and a nice, new way to experience the city. While San Luis Obispo has modernized quite a bit, there are still lots of charming spots downtown, including some cool alleyways.
Another fun stop:  do a campus visit to Cal Poly SLO. The town and outdoor activities of the area make for an incredible environment for learning… and I wish I would've chosen Cal Poly SLO when I was considering colleges. How cool to go to school in the middle of El Camino Real and with the beach nearby!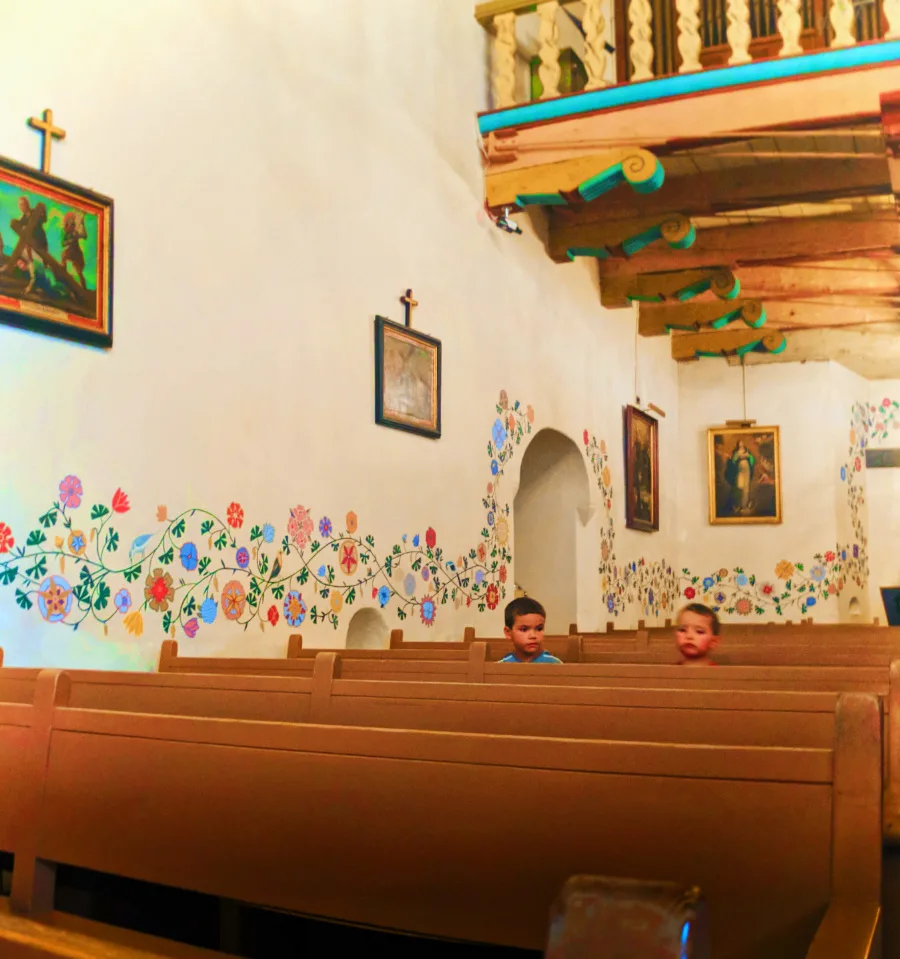 Central Valley California: Mission San Miguel Archangel
Heading inland on the way to the San Francisco Bay Area, you'll find four California missions off the 101. Plan to stop as as many of them as you like, but our top pick is a road trip stop at Mission San Miguel Archangel. We are always happy to stop here, and have several times.
Many of the California missions have seen hard times, between storms and earthquakes, to wars and neglect. Mission San Miguel Archangel reflects all of this while still being an active historic preservation site. I think this is my favorite of the California missions and it's so cool to visit!
This mission has a museum, like most of the others, but it also has some fascinating outdoor displays. Before even entering the mission buildings we were able to learn all about life in California 300+ years ago. Sundials, ovens, millstones and olive presses all are on site for some added education. And here you'll find many bells, like you see all along El Camino Real.
Tip: the cemetery area is also an orchard/olive grove. You'll also access the bell tower area from this spot, so be sure you do explore the full grounds of Mission San Miguel Archangel.
Another fun stop:  Pinnacles National Park is about an hour north of Mission San Miguel Archangel. High chaparral hiking with caves and condors. You can't go wrong.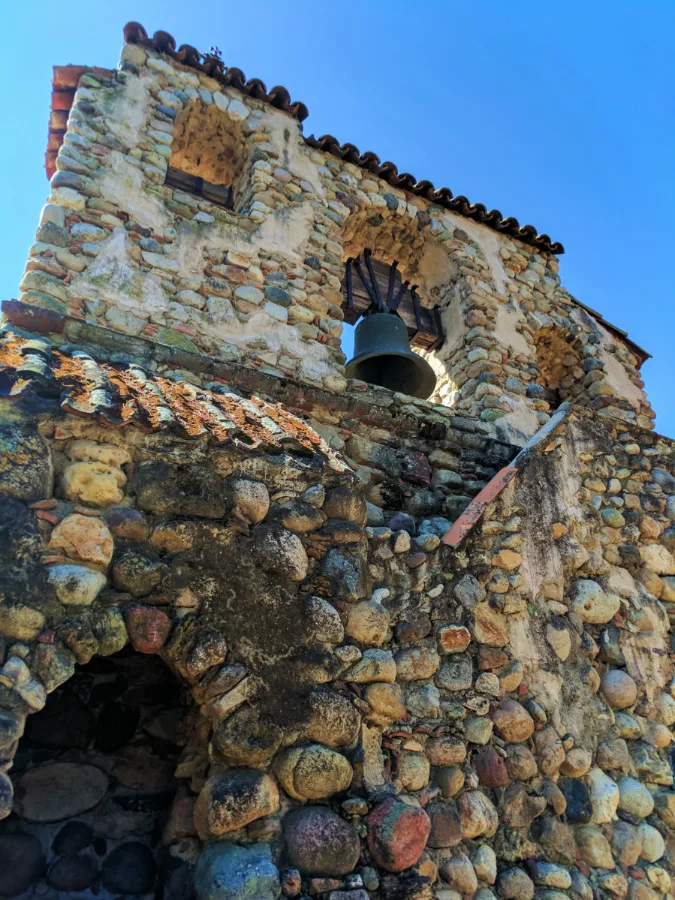 San Jose, California: Mission San Juan Bautista
Just south of San Jose this large mission is adjacent to San Juan Bautista State Historic Park. This is a great stop for a full on lesson about the development and crazy history of California. Also, this mission has lots of open space for kids to run.
San Juan Bautista is more popular than other California missions as it's so close to San Jose and San Francisco. Also, it's a historic park, so people are visiting due to it being more publicized. Visit early in the day for the smallest crowds and most quiet time in the chapel.
Other nearby things to do include the Garlic Festival in Gilroy during July or to head to the coast and visit Santa Cruz and Capitola.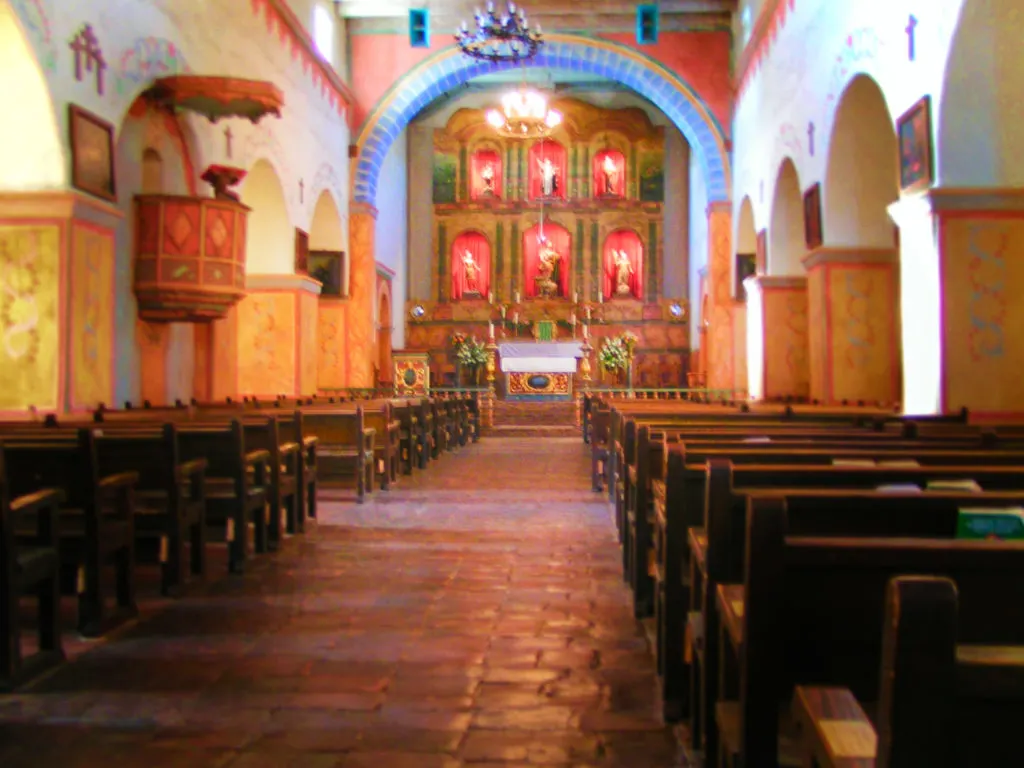 More California Missions to visit
Today there are 21 missions still standing and open to explore along El Camino Real (even though you have to leave the main road). We haven't been every single one, but here's the scoop on what you'll find if you choose to add any of them to your California road trip itinerary.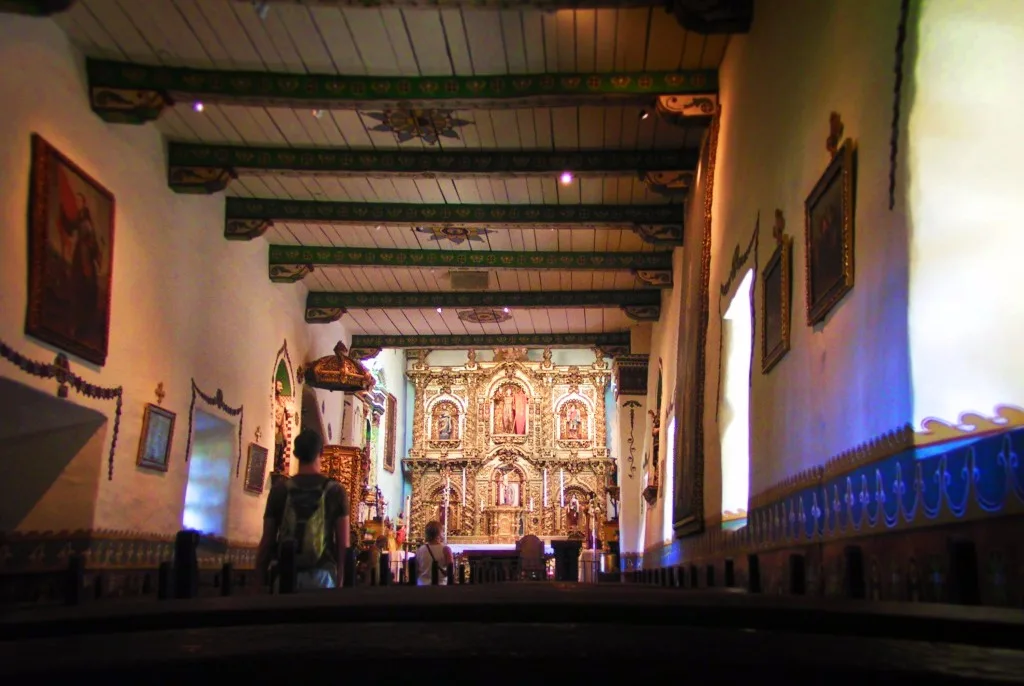 Tips for visiting missions with kids
We've talked about it before, that we're not raising our kids in any religion, but that doesn't mean that we don't teach them about it. Part of giving the kids a broad world view is making sure they understand the histories and viewpoints of the many people they meet wherever we go. That includes Catholicism and it's impact on the United States.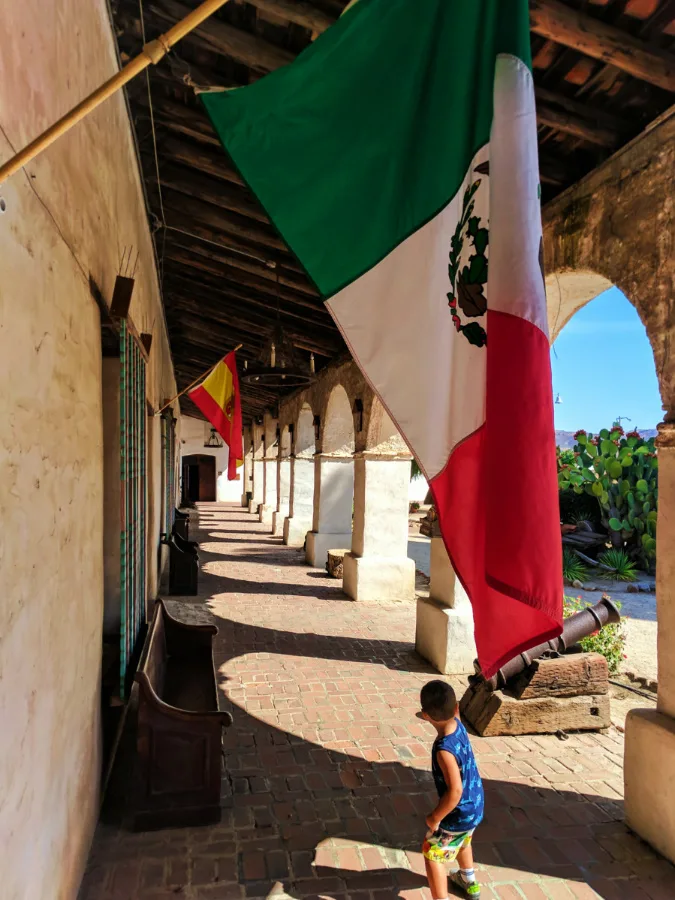 It's up to you how much background to give your kids before visiting a religious site but here's how we do it, particularly when we're driving El Camino Real:
give a short history of the site including what the religion is called
if it's a Catholic site give a heads up about large crucifixes inside
explain how to show respect even if you're not a follower (hats, quiet…)
write down any questions they have that you can't confidently answer
plan your visit around any short guided tours that are available
The California missions are a wonderfully unique experience for any traveler, but particularly for kids. Where else can you get a history, religion, architecture and horticulture lesson? Hopefully we'll be able to visit the rest of the missions in the coming years and that the kids will develop a solid appreciation of history and respect for other cultures as we do this.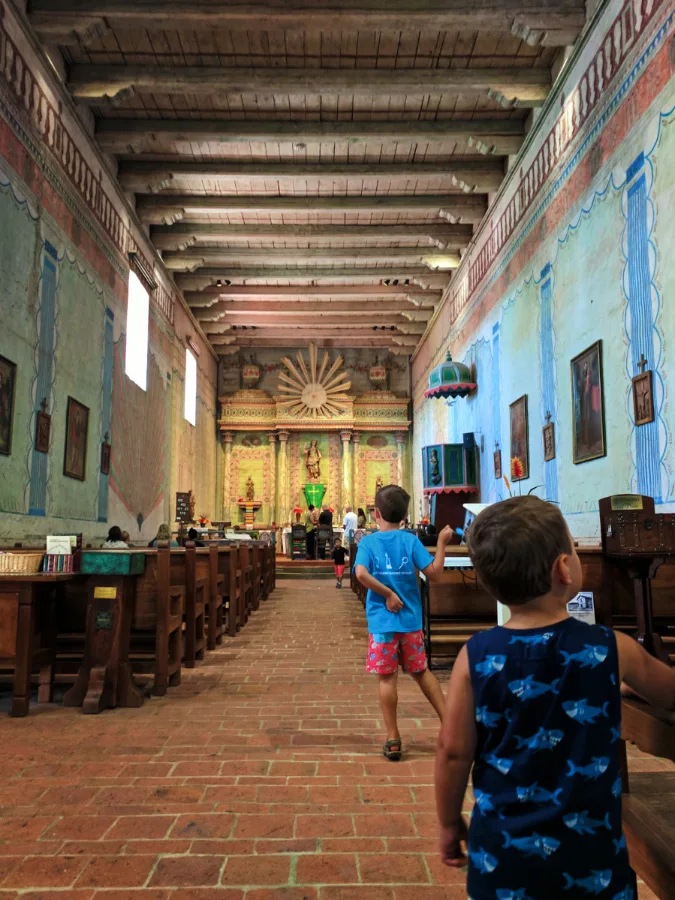 Do you have a favorite of the California missions or any other tips to share? Please tell us so we can keep on traveling and having new learning experiences!
If you have any questions about visiting the California missions, planning a road trip around California or driving the California Coast route, please let us know. You're welcome to leave a comment or send us a note. Happy traveling!