San Diego, California is such a popular west coast destination.  We all love to head to SoCal for the nearly guaranteed sunshine and beaches where you can actually swim.  And the coastal vibe is so different, with bare feet everywhere and flowers blooming on the bluffs year round.  Cabrillo National Monument is a great place to experience that great SoCal feeling.
Cabrillo National Monument is part of the National Parks system and it's perfectly located for an awesome afternoon during a San Diego visit.  Planning a day out at Cabrillo includes everything from lighthouses to tide pools, picnics to National Park Passport stamps.  Yep, our family has favorite activities and Southern California is the perfect spot to do all of them!
Check out our 3 Day San Diego Itinerary!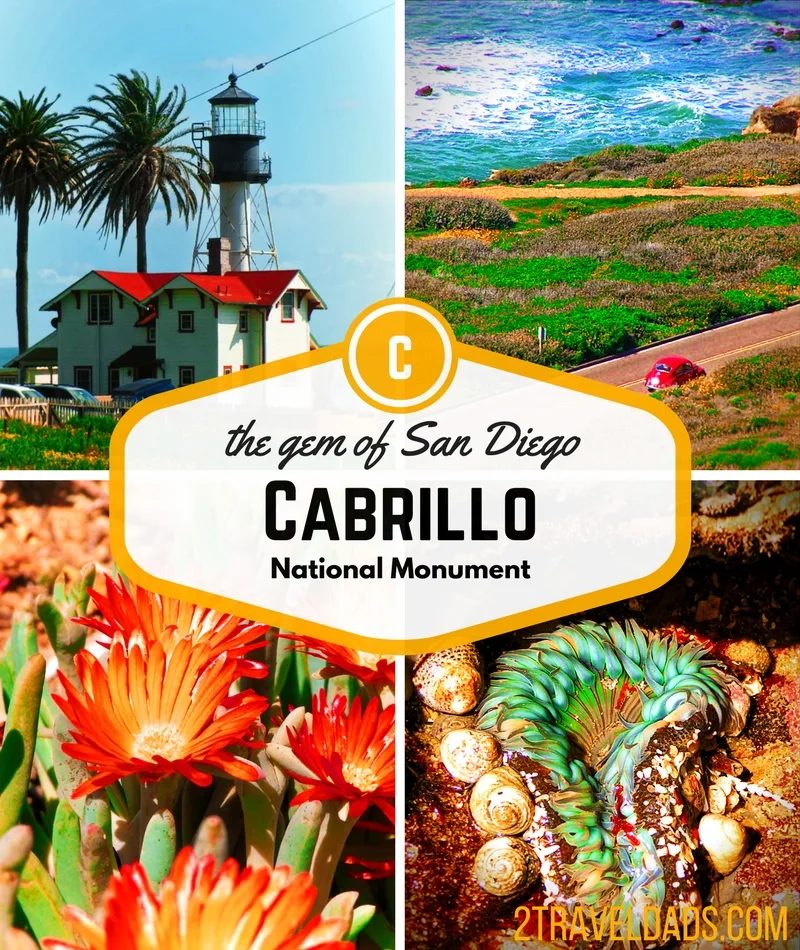 Where is Cabrillo National Monument
A lot of people visiting San Diego are going to be playing tourist in the Gaslamp District or being fancy and lounging on Coronado Island, but there's so much more to San Diego.  The beach neighborhoods are awesome!  Starting at the north is La Jolla (it's own city) with its cove full of seals, then working the way down is Hermosa and the bluffs, and then it's the beaches!
Pacific Beach is wonderful for being chill and just playing in the sand.  The neighborhood leading to the beach is just what you'd expect of a SoCal beach neighborhood.  And then there's Mission Beach, which is full of tourists and there's a roller coaster and such, but still awesome beaches for laying and playing. San Diego is a great family spring break trip idea. 
Cross the channel into Mission Bay and then it's all beautiful homes and slow cars.  But eventually you head to the southern tip of Point Loma and you're at Cabrillo National Monument.  You can see it from the beaches of Coronado Island and you can tell that it's just a beautiful place.
Top pick where where to stay near Cabrillo National Monument: BW Plus Island Palms Resort!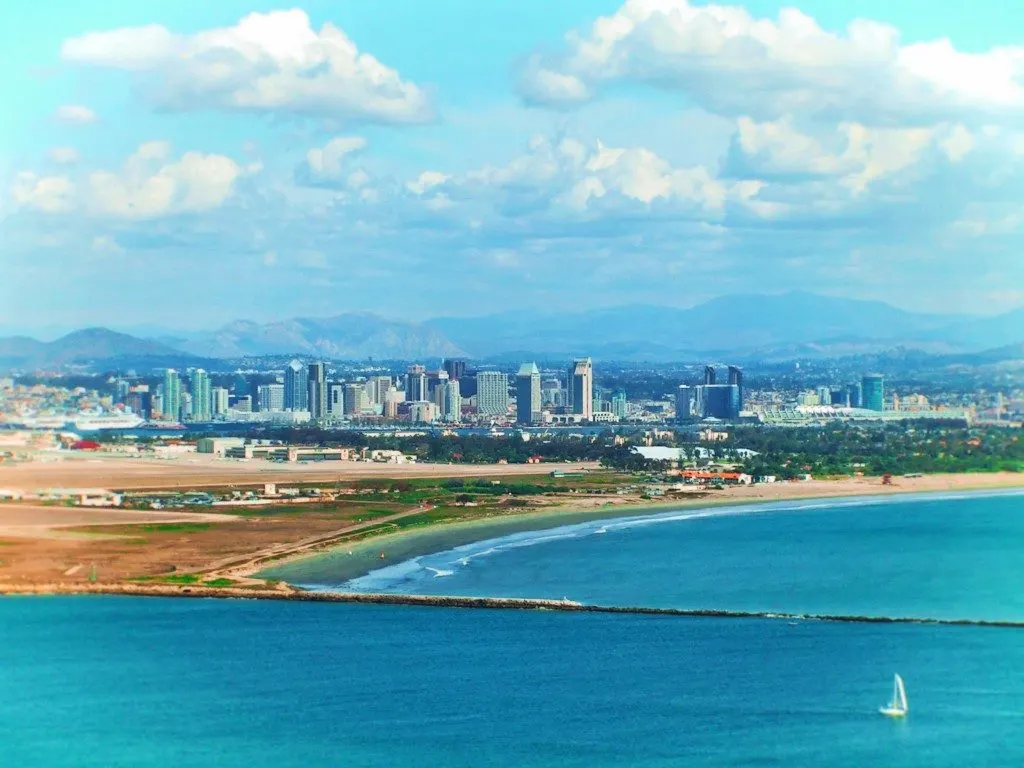 ---
Nearby hotel pick: Best Western Plus Island Palms Resort Hotel!
---
History of Cabrillo
When you first go to the Visitors Center at Cabrillo National Monument there's a large imposing statue of a dude.  That dude is Juan Rodriguez Cabrillo, an explorer loyal to Spain who set out from Guatemala to see what he could see to the north.  Cabrillo and his crew were the first westerners to enter San Diego Bay so they claimed the land for Spain.  
Fast forward out of the 16th century and it's the early 1900s.  Cabrillo National Monument was set aside as a protected area due to its historical value in the settling of SoCal, its local history including the Point Loma lighthouses, and its natural beauty found in the tidepools and sea cave.  Today, they do living history re-enactments to teach about the 16th century exploration of the coast and the Visitors Center is full of historical goodness about San Diego, the military, and the lighthouses.
Tip:  check with the National Park Service before your visit to see what Living History events are taking place while you're there.  Weekends have better chances of cool programs to experience.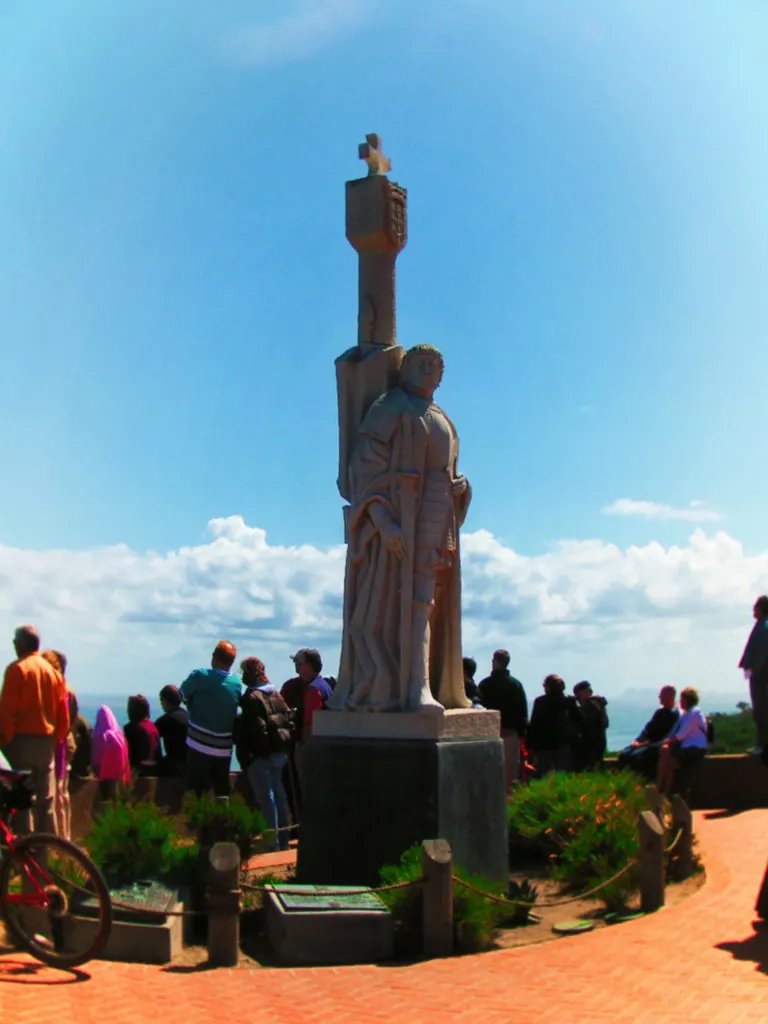 Things to Do at Cabrillo National Monument
There are quite a few things to do at Cabrillo National Monument. Whether you just want to go and check out the view or have a whole day, visiting is easy and you'll have plenty to keep you occupied at Cabrillo.
Visiting the Old Point Loma Lighthouse
There are two lighthouses at Cabrillo National Monument, which is one of the reasons we love this national park treasure. They are very different from each other and today serve different purposes.
The first lighthouse is located at the top of the hill at the near-end of Point Loma. This adorable stubby little lighthouse is a California gem.  Is this not the cutest lighthouse in California?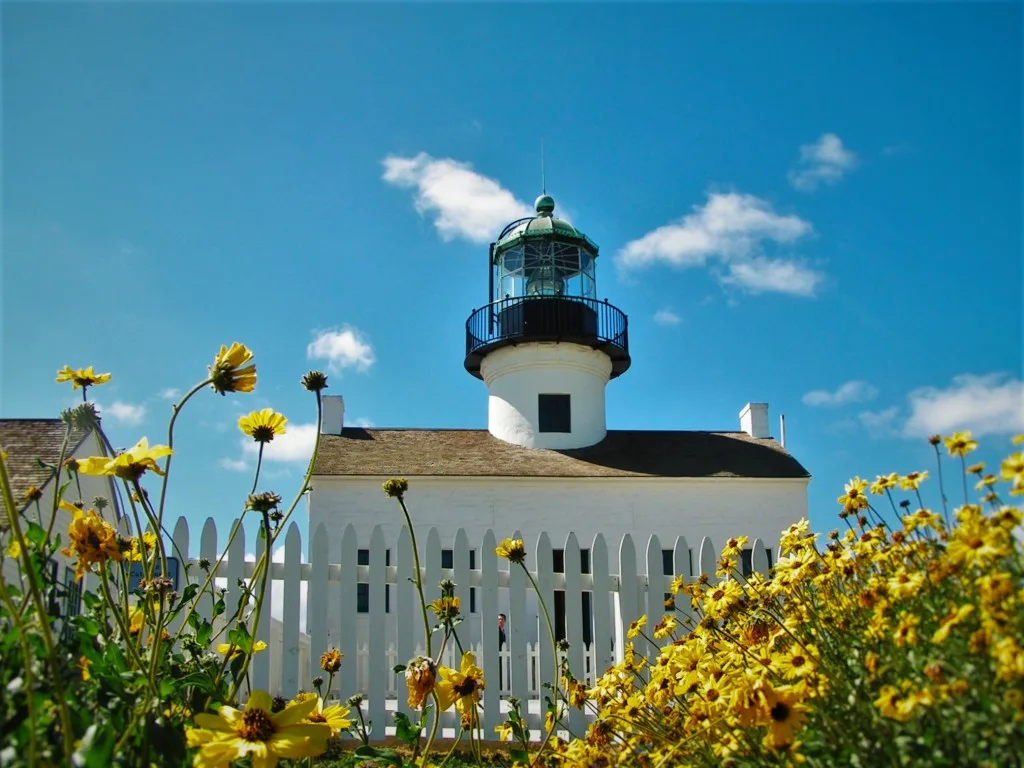 Being protected by the National Parks Service, it's well maintained and open for visitors to explore.  It's been out of commission since 1891… because it was in just the wrong spot and was useless due to clouds and fog always blocking the light.  It worked as a general beacon when it was clear, but that was all.  So they built a new lighthouse and this one became known as the Old Point Loma Lighthouse.
Tip:  ranger led walks and talks are great to teach kids (and adults) about lighthouses and the coastal life.  Cabrillo National Monument does them primarily on weekends, but you can check their website before you visit to see if there is anything special scheduled.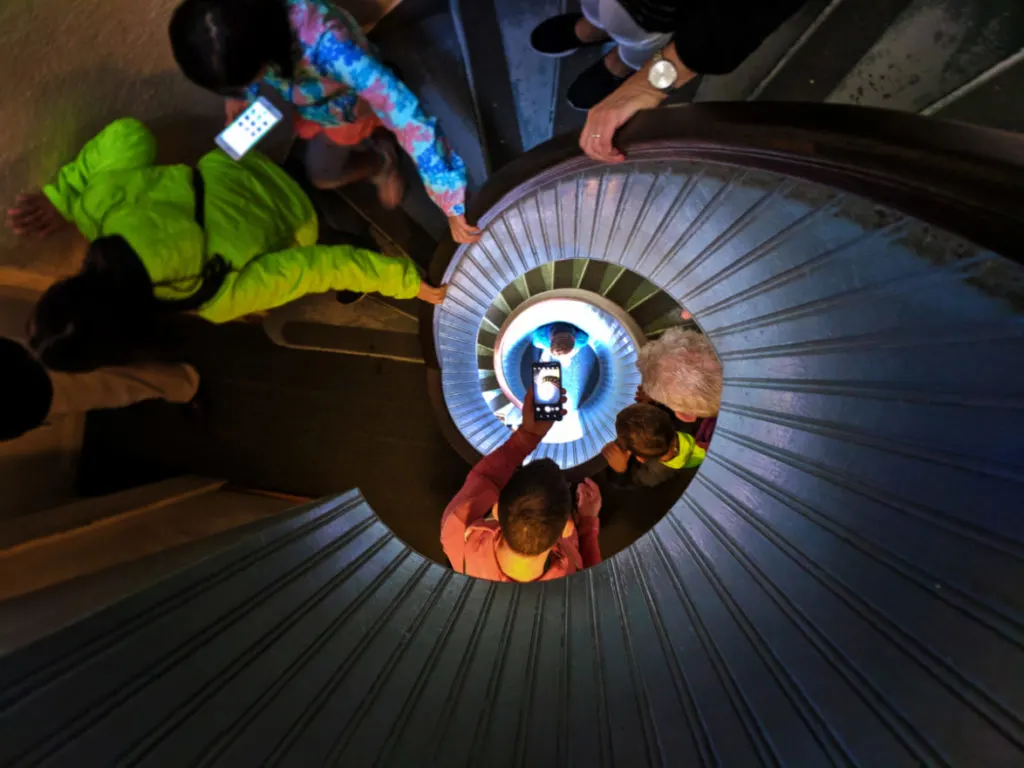 New Point Loma Lighthouse (no public access)
Since 1891.  That's what's considered "new."  The day the Old Point Loma Lighthouse was turned off the New Point Loma Light was turned on.  The old lighthouse was 400 feet above sea level but the new one was built only 88 feet above sea level.  What the?!?  If you've visited San Diego in the winter and spring, you know the fog rolls in but doesn't always sit on the water.  Well, the New Point Loma Lighthouse was able to make it past the low clouds and still be effective.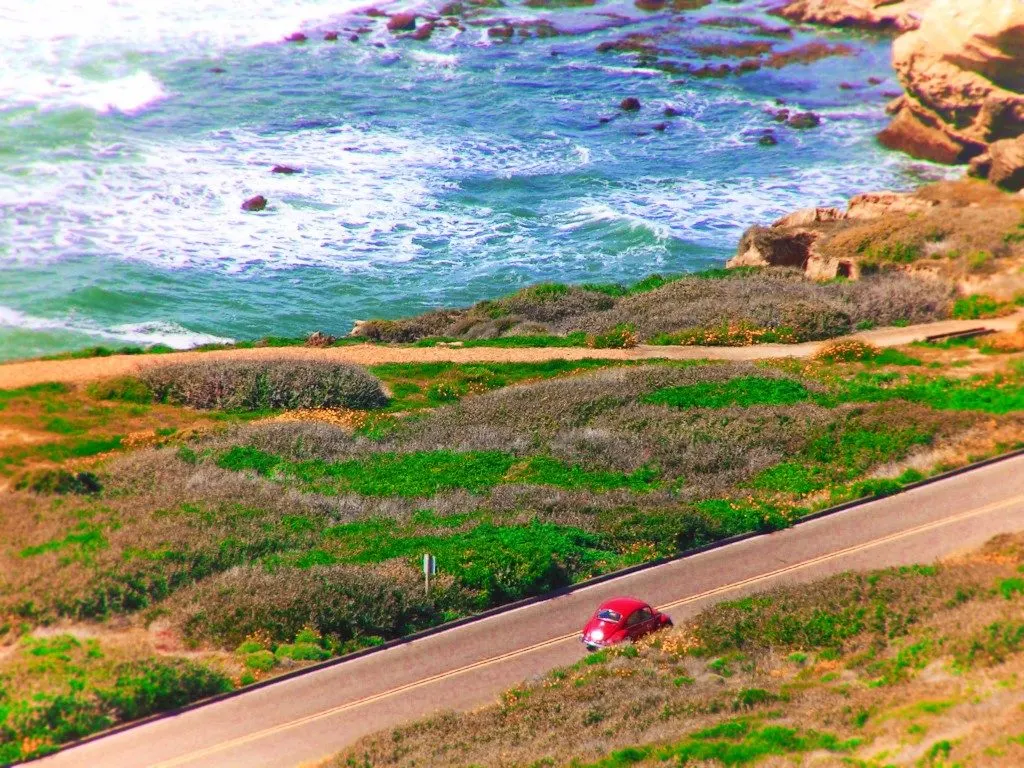 The New Point Loma Lighthouse is still in use today and is fully managed by the US Coast Guard.  You can't visit the lighthouse because it's on an active station, but you can see it from the bluff at the edge of Cabrillo National Monument.  It's a weird lighthouse, for sure, but it's a really cool looking one and the palm trees give it the perfect SoCal look! It's got a metal structure instead of a brick one, very similar to what you'll find in the Florida Keys.
Tip:  if you want a good picnic spot, the bluff above the New Point Loma Lighthouse is perfect for one!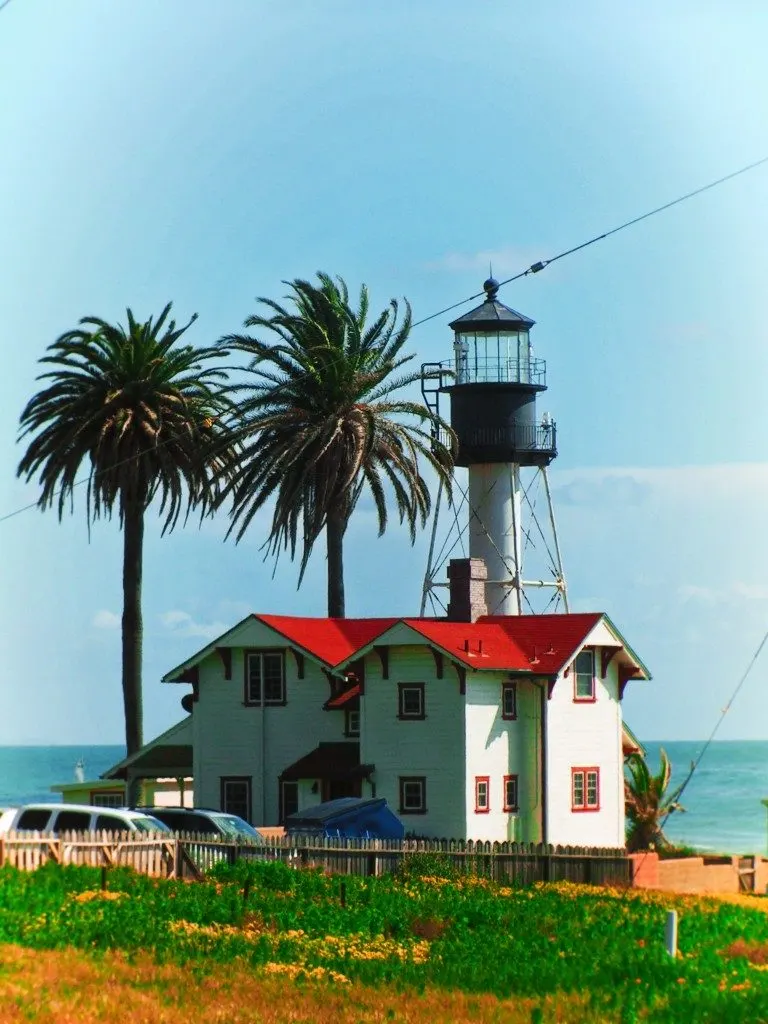 Exploring the Cabrillo National Monument Tidepools
We love taking the kids to tidepools wherever we go traveling.  There is so much life found among the rocks and neither kids nor adults cease to be amazed.  The tidepools at Cabrillo National Monument have a lot of sea anemones and crabs.  We also have seen a sea slug in the Cabrillo tidepools.  So cool!
Tip:  always wear SHOES when you're walking around tidepools.  There are a lot of shells and barnacles and you'll not want to slip out of your flip flops.  This is for both your protection and to protect the sea life living in the tidepools.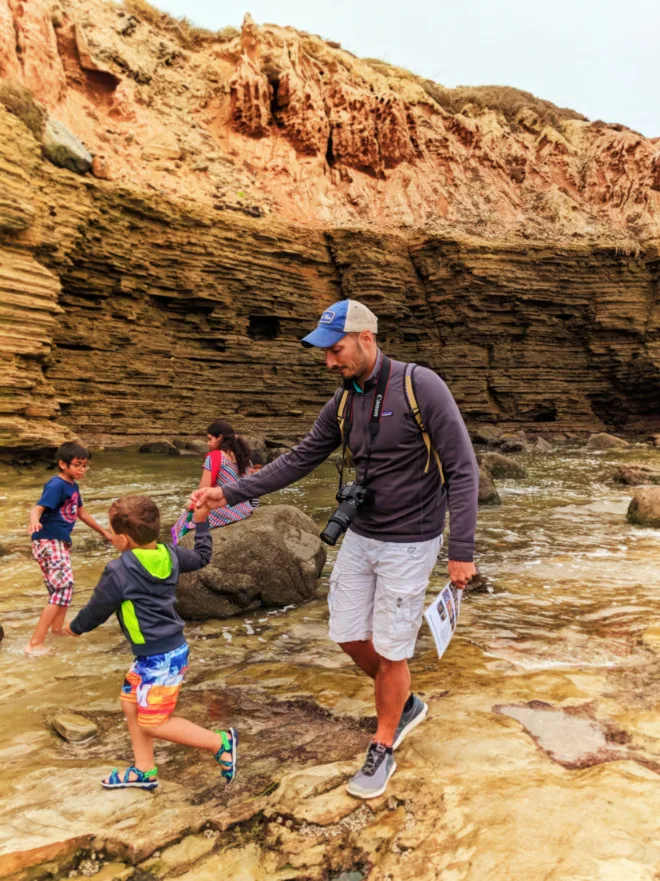 If you head north of the tidepools along the beautiful coastal road, you can visit the sea cave as well.  We had to skip it last time we were there due to conservation efforts closing it.  Check with the Cabrillo National Monument website to see if the sea cave is accessible before you plan your visit.  
If it's not open to the public, spend time instead on some of the trails and checking out the ocean and the really beautiful plant life that grows on the the bluffs:  ice plants, cactus, succulents, flowers of all kinds…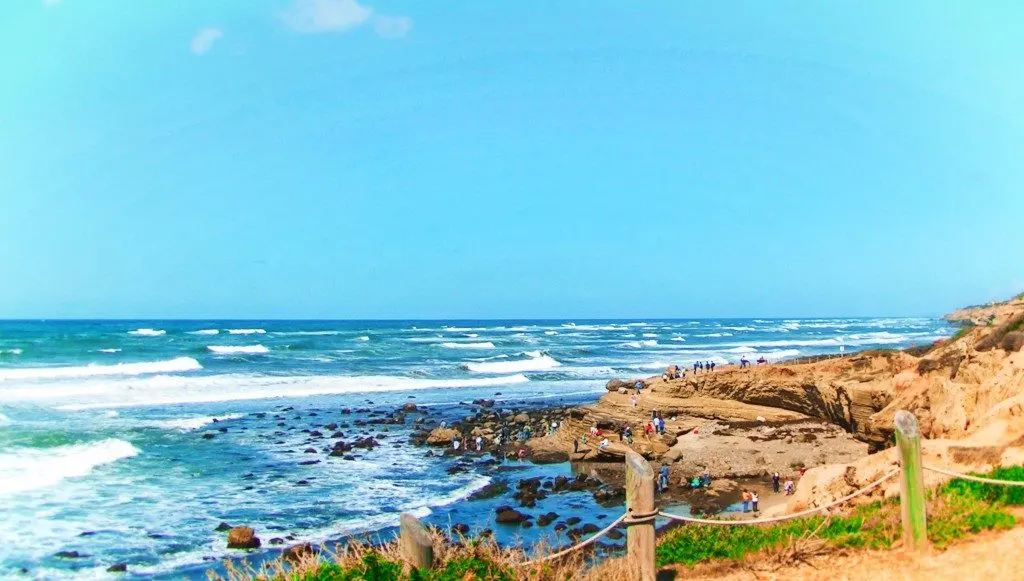 Hiking the Cabrillo Coastal Trail
The Coastal Trail is a pretty easy trail system that goes from the tidepool area to the north cove area. You can park at either end and do the .75 mile hike (1.5 miles round trip). The trail is a combination of stairs, rocks and dirt paths, all of which are clearly marked. As you go, there are quite a few access points to get down to the rocks and enjoy the raging surf at high tide.
Note: this area is very fragile so stay on the designated paths. Also, rocky cliffs are no place to mess around, so be cautious and thoughtful as you hike.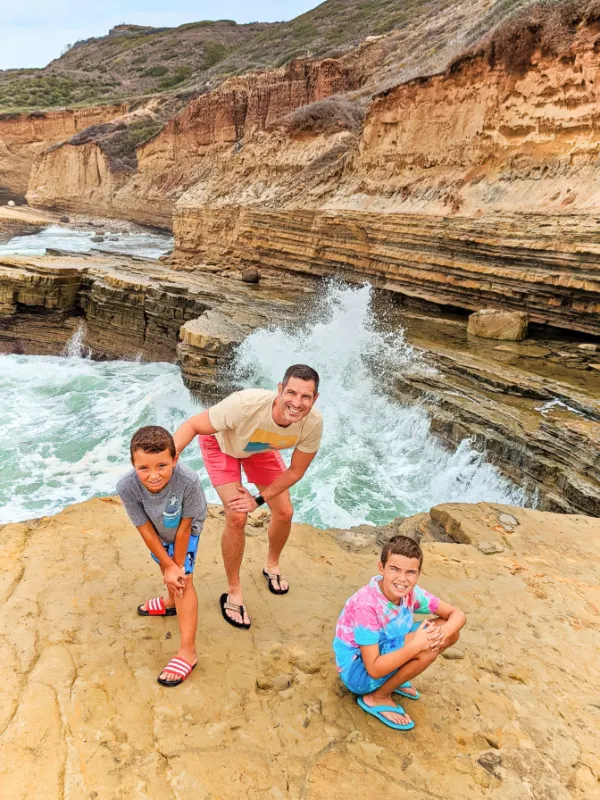 Viewpoints and Picnic Spots at Cabrillo Nat'l Monument
The Visitor Center at Cabrillo National Monument is a great place to visit, both for park information and to get a great view of San Diego. Benches and gardens make it the perfect spot to relax before or after exploring the rest of the park. From here, you can walk to the lighthouse area where you'll find more lookout places and picnic spots. Heading west from the lighthouse, there are nice trails heading to the Pacific Ocean view points.
The best view of the Pacific Ocean at Cabrillo National Monument is from the whale watching viewpoint. You'll find all kinds of information about the different whale migrations that go by San Diego, including how to identify their blows / spouts. With seating, views, shade and a nice trail, this is one of our favorite places to relax at Cabrillo National Monument, and it's a great spot for a picnic.
Other nice picnic spots in Cabrillo can be found as you drive along Cabrillo on the bluff of the west side of the park. There are two parking areas you can stop at and enjoy the view with a nice picnic lunch.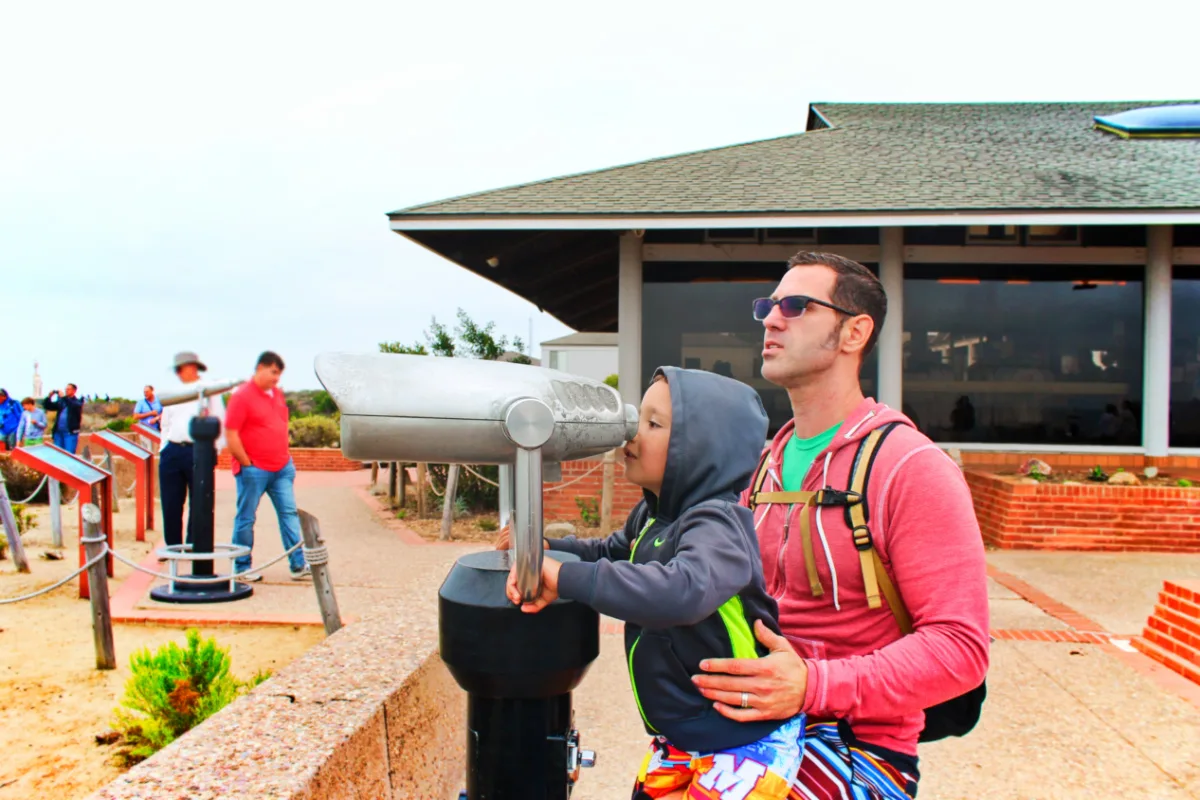 Cabrillo National Monument is a really fun addition to a San Diego visit.  It's perfect for adding some nature into a city vacation as well as getting a dose of history.  Visiting mid-week will always be less crowded than on the weekends, but the weekends do have more programs if you want to experience the educational opportunities.  No matter when you go, you'll have a great time.
For more great San Diego travel ideas: