Balboa Park has long been a favorite spot for our family, and no matter how many times we visit San Diego we always go back. Whether it's a rainy day or the best San Diego weather possible, there is loads to do in Balboa Park.
We tend to spend at least one afternoon visiting the Park, usually doing a museum or two, or spend the whole day wandering the San Diego Zoo. Honestly, you could spend three days just doing everything in Balboa Park, but if that's not what you want to do, choose a few interesting activities and call it good. From scenic walks to fine art, we've picked our favorite things to do in Balboa Park.
Check out our 3 Day San Diego Itinerary here!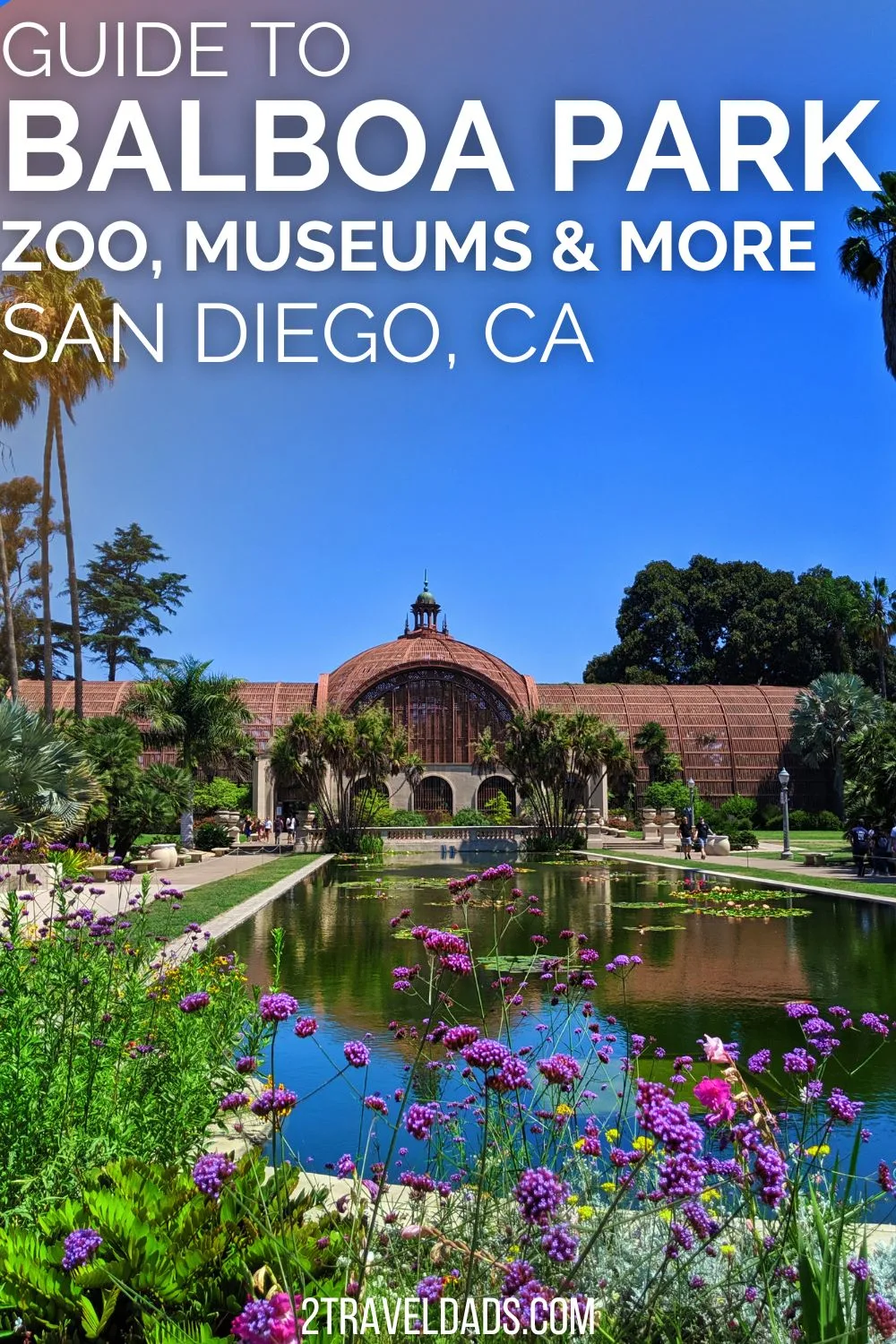 Visiting the San Diego Zoo
I need to start here because the San Diego Zoo is world renowned and it's what many people are visiting San Diego to experience. We are cautious with zoos and recommending them, but we see the value they provide, in preserving species, but more so in developing a love of animals and nature in the younger generations so that they will protect animals and the earth going forward.
With that, you must decide for yourself what value you see in visiting a zoo, and particularly in the San Diego Zoo. It's a very large place and you can spend an entire day there. The cost of admission will make your jaw drop, as it's much more expensive than most zoos, but you're getting a lot more zoo, tours and an incredible experience.
Get San Diego Zoo tickets here!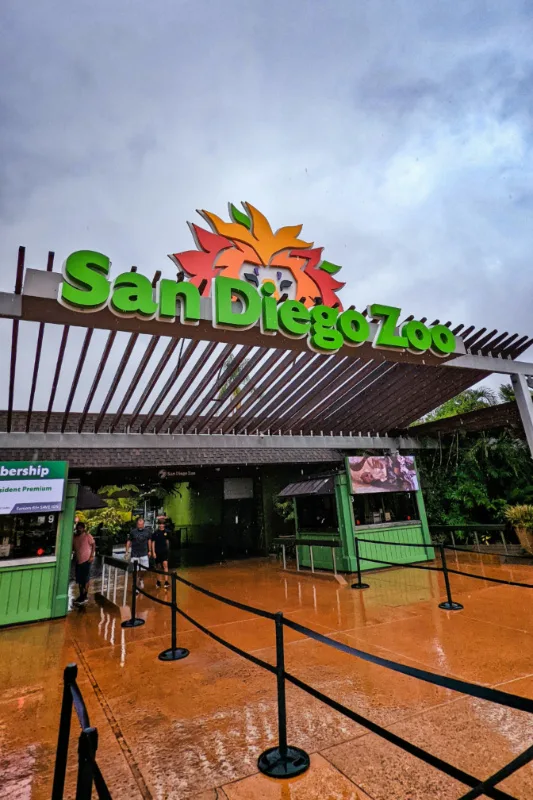 Things to do at the San Diego Zoo
Of course the main activity at the San Diego Zoo is just walking around and seeing the animals in their exhibits, but there is more! Included with your admission to the Zoo is use of the tram system. Whether you want to do the guided tour of the zoo and catch the highlights or if you want to use the hop–on-hop-off bus, they're both included.
Other things to do while you're in the zoo are wildlife presentations, observing or taking part in feed animals and, of course, meals in the park. There are several restaurants throughout the zoo, and if you want to dine high above it all, Albert's is atop the mountain. And weather permitting, there is a sky gondola for getting across the park too.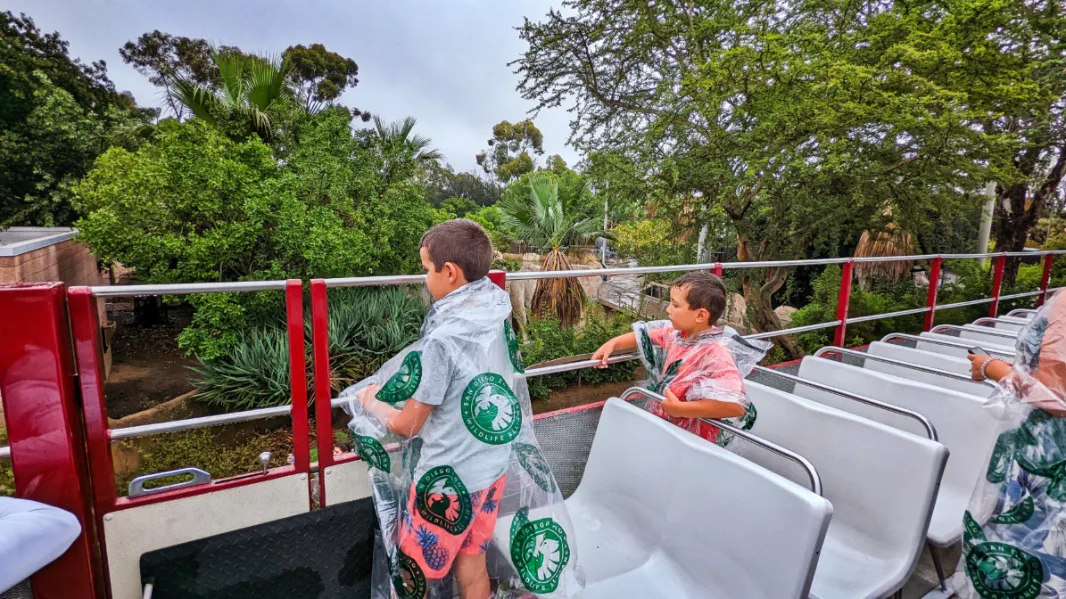 Need to Know for the San Diego Zoo
The San Diego Zoo really is the coolest, but it's not for the faint of heart. Deciding to spend a day at the zoo is a commitment, as it's a ton of walking, a lot of snacks and you will be tired at the end. As you're planning your day at the San Diego Zoo, you'll need to take into consideration the heat (or weather in general), the physical activity and how long the least energetic/enthusiastic visitor in your group can go.
Be sure to bring a day pack to ensure you'll be able to make it through the whole zoo. When packing, plan to wear or bring the following:
comfortable shoes
hats and sunglasses (sun protection is important!)
easy snacks
refillable water bottles
quarters and pennies (for penny press machines)
You'll have a great time if you're well prepared. Highlights like koalas and baboons make it fun for everyone, and then at the end of the day you'll be able to say you did the San Diego Zoo at Balboa Park!
Get San Diego Zoo tickets here!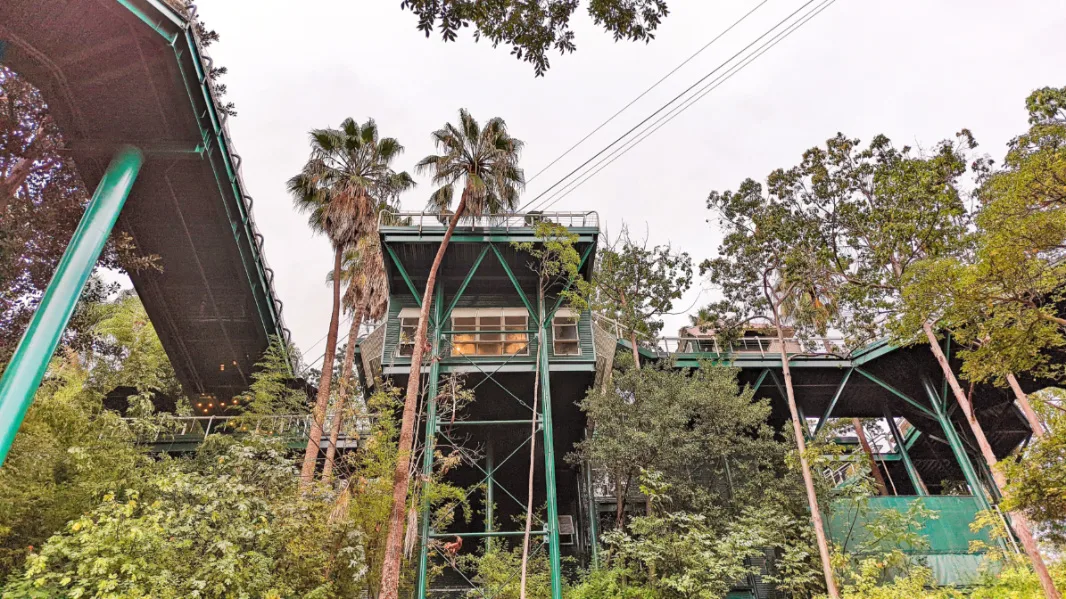 San Diego Zoo Admission
Above I talked about the cost of visiting the San Diego Zoo. I will say, for a big family the Zoo may be cost prohibitive. While it's not as much as a day at Disneyland, you can expect to pay over $200 in admission for a family of four. Yes, I feel that if you can spend a full day at the San Diego Zoo the cost is worth it, but if you only have an hour or two, I don't feel it's a good use of money.
Save yourself a little time by getting your tickets in advance (we use Viator and it's the same cost as at the gate). Admission prices for the San Diego Zoo are: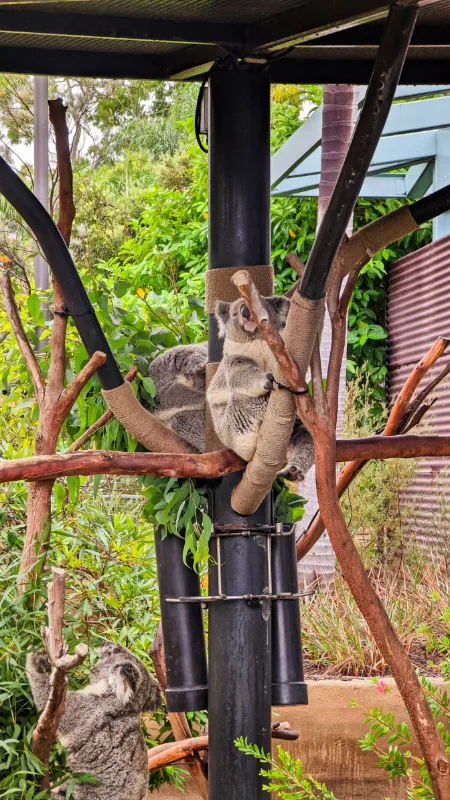 10 Museums in San Diego's Balboa Park You'll Love
Yes, there are more than ten museums and gardens in Balboa Park. You could conquer all of them over time, but for any one trip, these are our favorites that are for sure worth making time for. Enjoy getting your museum on!
San Diego Natural History Museum
We've never met a natural history museum we didn't like, and the San Diego Natural History Museum in Balboa Park is a winner. From fossils and dinosaur exhibits to modern age animal specimens, our kids were into it all. We really enjoyed not just watching a paleontologist work on a large excavated bone cast, but since it's an open lab, we actually got to talk to him and ask ALL the questions. Such a great learning experience!
It's not all fossils though. There are living exhibits with animals native to California and insects too. The San Diego Natural History Museum is designed to captivate all ages and interests. If you're not into science but love jewels, there are remarkable mineral and gems displays on each floor of the museum, integrated with lots of different exhibit areas.
Note: if dinosaurs are the big interest, know that the San Diego Natural History Museum has a much smaller collection of fossils and specimens than the Museum of the Rockies in Montana or the National Museum of Natural History in Washington DC. It's good, but way smaller.
Hours of Operation: 10:00 am – 5:00 pm, closed Wednesdays
Admission cost: Adults $22, Kids (2-17) $12
Included in Balboa Park Explorer Pass: YES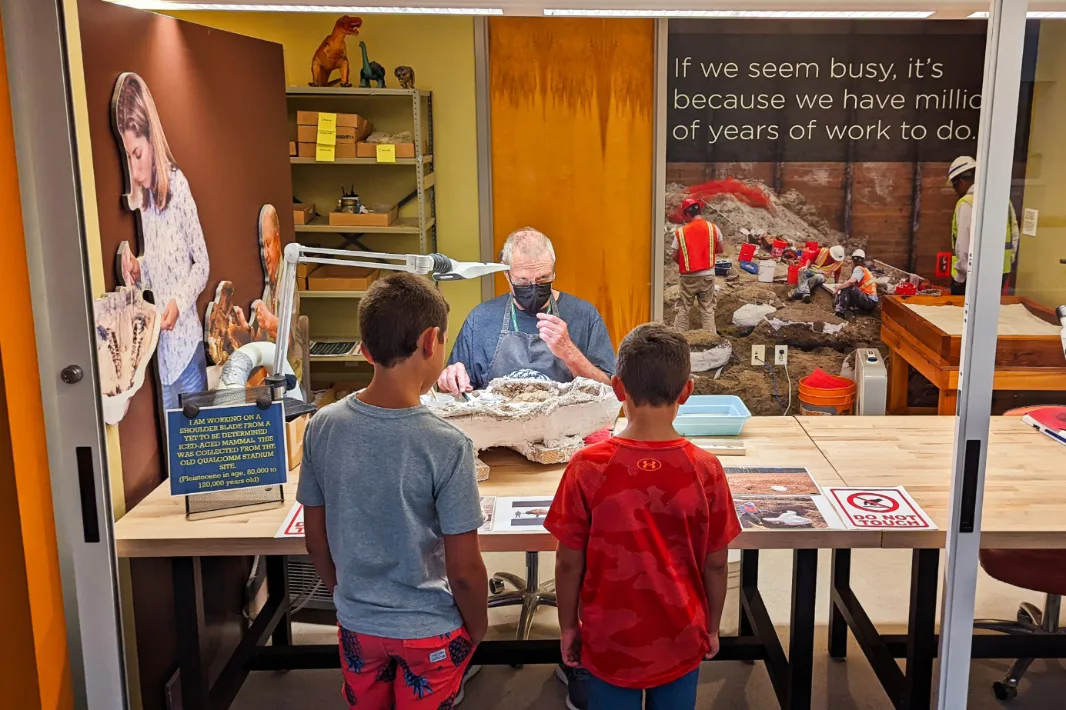 Fleet Science Center
I don't know how often you visit science centers or if you even have, so I'll break it down to just what to expect at the Fleet Science Center. This is an active learning space that's 99% hands on science exhibits. With focuses on electricity, the development and evolution of electrical science and electricity in California, it's great for kids.
There are exhibits about light and physiology too, but most of the Fleet Science Center really is all about electrical stuff. For our kids this was perfect.
Hours of Operation: 10:00 am – 5:00 pm everyday
Admission cost: Adults $25, Kids (3-12) $20
Included in Balboa Park Explorer Pass: YES; IMAX theater is not included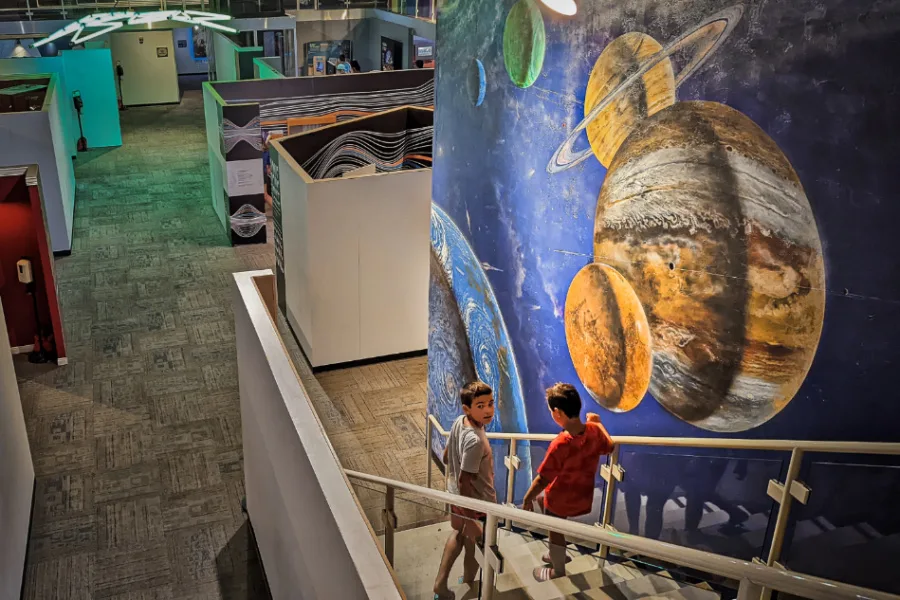 San Diego Art Museum
It's funny, but one of the things I love about the San Diego Museum of Art is that it's NOT huge. Located in the center of Balboa Park, the SD Museum of Art is the perfect collection to experience with both kids and art aficionados alike. The Asian art collection is thoughtfully curated with small and large pieces from a variety of cultures, with many coming from Japan. An afternoon at the San Diego Art Museum is one of the best things to do in SD.
The Renaissance and Classical art spaces are filled with examples of different styles and from varied regions, so you can use the progression through the galleries for easily demonstrating for newcomers how art has changed through the ages. You'll find pieces by world renowned artists, including Monet, Picasso, Rembrandt, Brueghel and more.
Note: the temporary exhibition of Impressionist art is awesome! If you can visit before it leaves the San Diego Museum of Art, do it! (October 10, 2022 departure) Also, the Picasso exhibit was great and really unique for kids (January 2023 departure)
Hours of Operation: 10:00 am – 5:00 pm, closed Wednesdays
Included in Balboa Park Explorer Pass: YES; special exhibitions are not included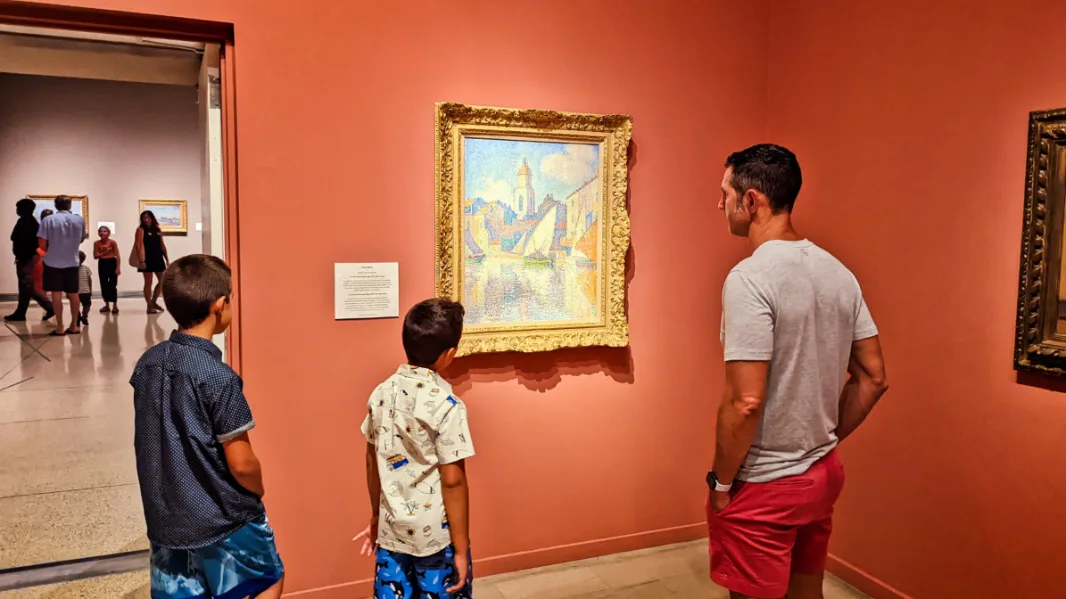 Timken Museum of Art
A much smaller art space, the Timken Museum of Art in Balboa Park is a great stop and only takes about an hour to visit. Donations from private collections make the Timken Art Museum unusual. You can tell as you wander through the galleries how the pieces on display are connected in subject matter and interests, reflecting the tastes of the donors.
Being a smaller art museum (and also not costing anything), the Timken Art Museum is wonderful to visit with kids to pique their interests in fine art. Totally worth the time!
Hours of Operation: 10:00 am – 5:00 pm, closed Monday / Tuesday
Included in Balboa Park Explorer Pass: it's always open to the public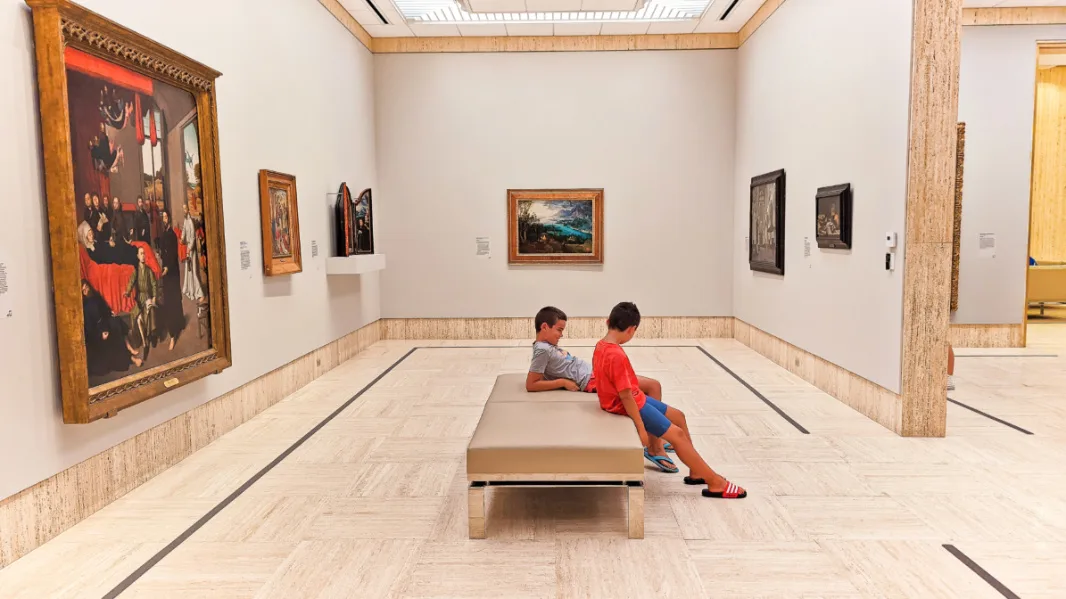 Mingei International Museum
The Mingei International Museum is a wonderful place to have a very different sort of art experience. The ever-changing art collection and exhibits are sourced from artists around the world. It's not all paintings, but the Mingei International Museum also includes found art, fabric arts, practical use art, and a variety of sculptures.
I think, of all the museums in Balboa Park, the Mingei Museum is one of the best to visit with kids. The artistic variety and colorful displays are really engaging and so very different from what you'll find at the San Diego Museum of Art or the Museum of Us. I love it!
Note: there is a café on the first floor of the Mingei International Museum that is open for lunch and happy hour.
Hours of Operation: 10:00 am – 5:00 pm Saturday thru Wednesday, 10:00 am – 8:00 pm Thursday / Friday
Admission cost: Adults $14, kids under 18 are free
Included in Balboa Park Explorer Pass: YES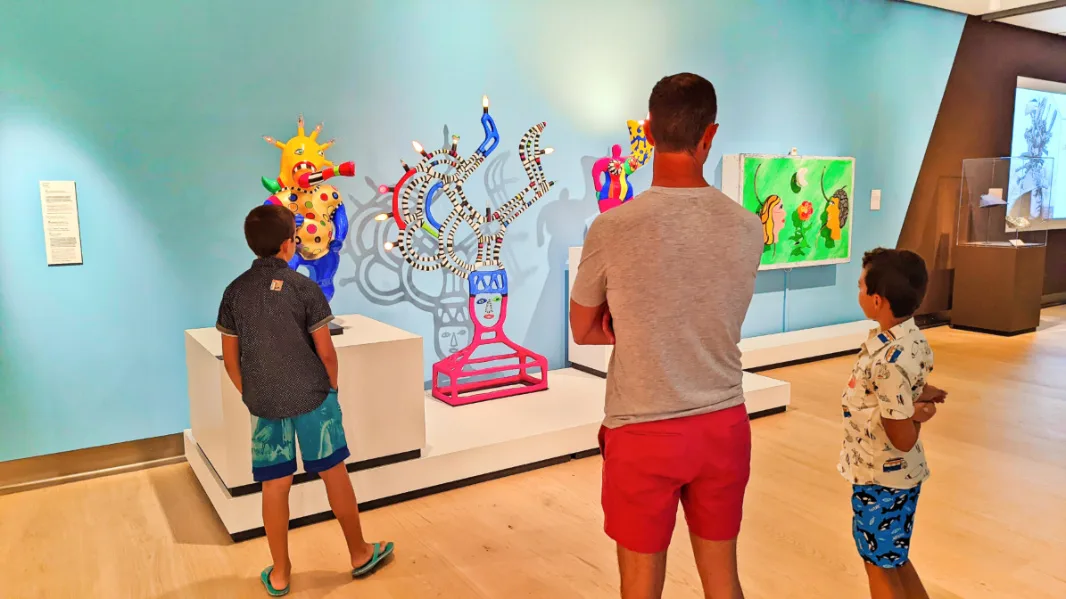 San Diego Museum of Photographic Arts
I am a photographer and have studied a wide variety of art at the university level. The San Diego Museum of Photographic Arts in Balboa Park showed me so much what is possible from different photography techniques and processes. Between traditional methods, like gelatin printing, and modern techniques such as composite photography, this museum showcases the best of what's been and what's possible.
Allow an hour or more to visit the Museum of Photographic Arts. If you're doing Balboa Park with kids, an hour may be a bit too much time unless they are really into reading about theory and composition. It's still cool to see how kids respond to the museum, but maybe less time is better for some families.
Hours of Operation: 11:00 am -4:00 pm Friday / Saturday / Sunday
Admission cost: pay what you wish – please do make a thoughtful donation when you visit. The art and technique displayed is inspiring.
Included in Balboa Park Explorer Pass: YES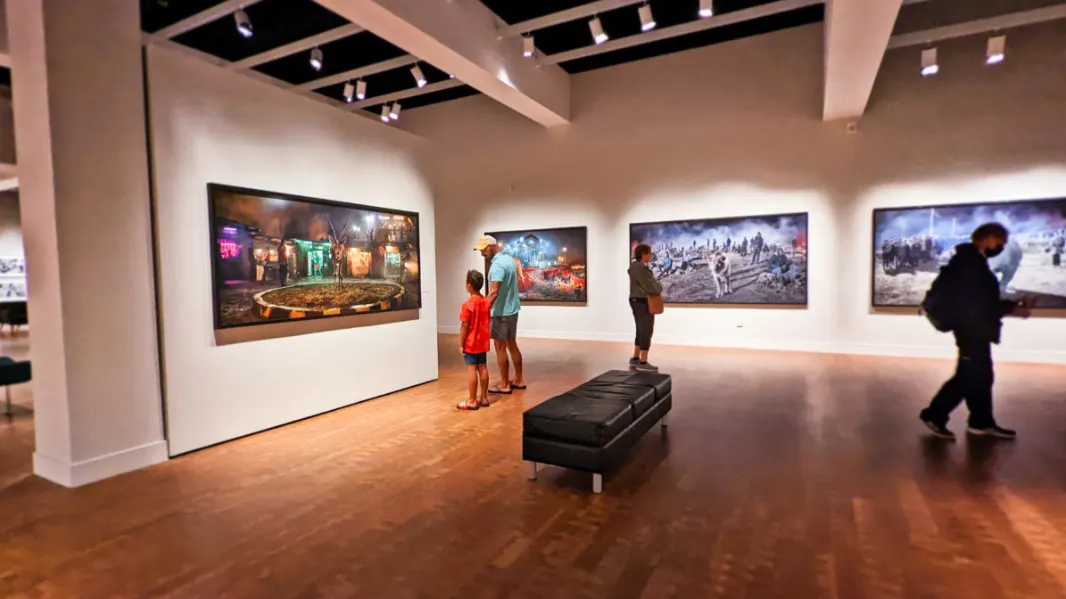 San Diego History Center
If you are planning on exploring San Diego more fully, a stop at the San Diego History Center is really helpful. Showcasing the stories and characters that made San Diego and Balboa Park what they are today, the History Center is an active museum and archival center.
You'll find paintings that are characteristic of San Diego's arts culture, photo archives of Civil Rights, interactive exhibits about migration and colonization… It covers everything.
One of the most unusual exhibits at the San Diego History Center actually focuses on the craft beer industry that has become central to the SD food scene. If you're over 21 and visiting during happy hour, you can even take part in the local beer culture with tastings or by purchasing a pint.
Hours of Operation: 10:00 am to 4:00 pm Wednesday / Thursday, 10:00 am to 7:00 pm Friday / Saturday, 10:00 am to 6:00 pm Sunday; Closed Monday / Tuesday
Included in Balboa Park Explorer Pass: YES; beer is NOT included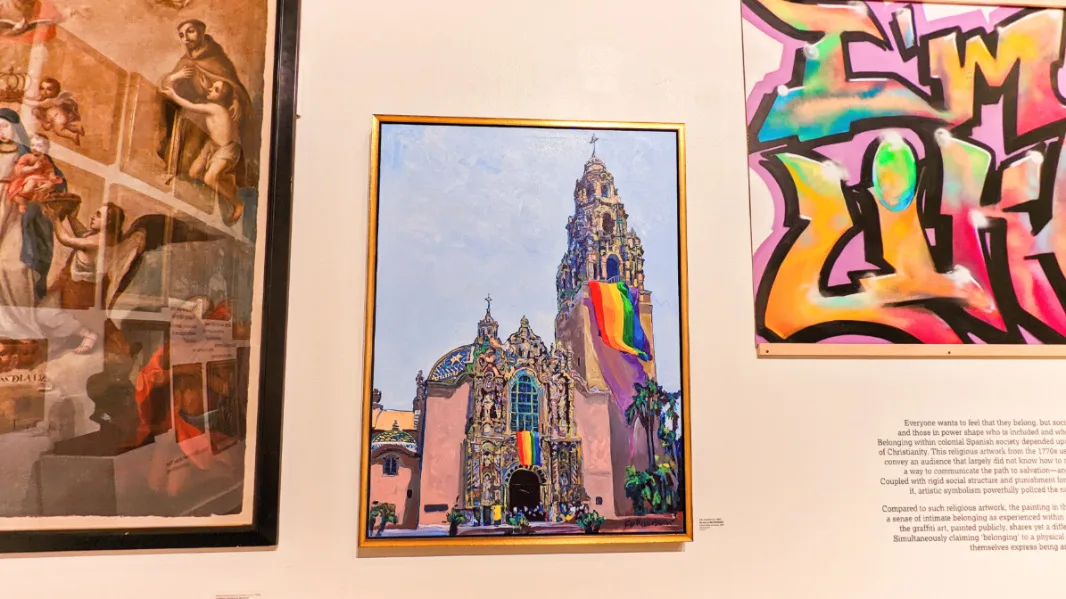 San Diego Model Railroad Museum
Our kids LOVE miniatures and the San Diego Model Railroad Museum is their dream hobby space. We fist discovered miniatures when we did Victoria BC with the kids and visited Miniature World. The SD Railroad Museum is that sort of experience but with SO MANY TRAINS!
Multiple floors and planes of track make this museum of the most unusual things to do in Balboa Park. The displays aren't necessarily geared to any age or interest, so you see all sorts of people enjoying the experience. The attention to detail in each landscape and town is remarkable. I do not have the dexterity or patience to create such an amazing collection of other worlds.
Hours of Operation: 11:00 am – 4:00 pm Tuesday thru Sunday
Admission cost: Adults $13.50, Students (12+ w/ ID) $9, Kids (4-11) $6
Included in Balboa Park Explorer Pass: YES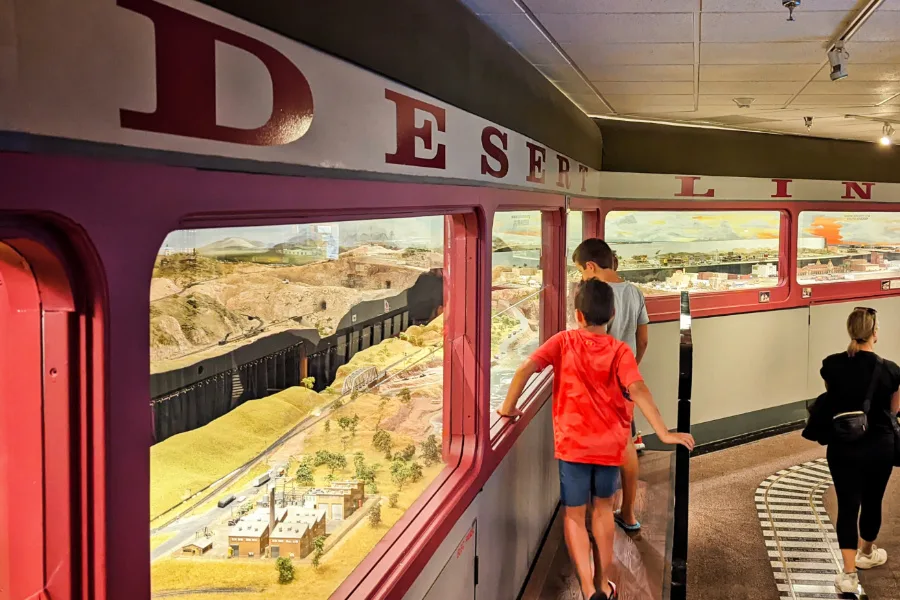 Spanish Village Art Center at Balboa Park
One of the most Instagrammable places in San Diego, the Spanish Village Art Center is where you'll find the colorful, rainbow stone courtyard. A collection of art studios, work spaces and galleries, the Spanish Village Art Center is a great place to visit mid-week. You can watch artists of all sorts at work and chat them up.
We've met potters, painters, fabric artists and glass blowers. While we've never gotten to participate in any of the classes that are offered here in Balboa Park, we've gotten to take part and watch lots of different sorts of demonstrations. The glass blowing is always the kids' favorite.
Included in Balboa Park Explorer Pass: it's always open to the public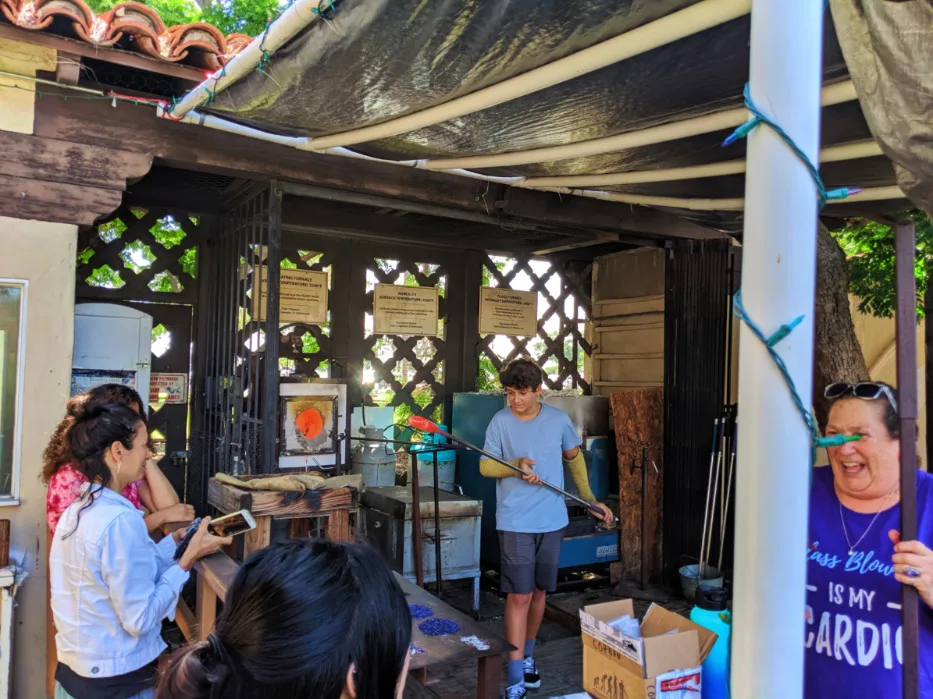 San Diego Air and Space Museum
It's fitting that Balboa Park has an Air and Space Museum, especially since Charles Lindberg's name is on so many San Diego landmarks, including the airport (SAN). Here you'll find WWII planes, spy planes, modern fighter jets, exhibits about the science and history of flight and so much more.
While the San Diego Air and Space Museum isn't as grand as the Smithsonian Air and Space Museum, which is great when you do Washington DC with kids, it's an awesome collection for aviation nerds like us. Just checkout the map below for a taste of what you'll find.
Hours of Operation: 10:00 am – 4:30 pm
Admission cost: Adults $23, Kids (3-11) $13
Included in Balboa Park Explorer Pass: YES
Gardens in Balboa Park
Even if you don't intend to explore the gardens of Balboa Park, just walking into the complex will bring you into the heart of San Diego's horticultural center. Rose gardens, art gardens, cultural gardens and all manner of flower gardens fill Balboa Park and make even just a simple stroll a beautiful afternoon experience.
Balboa Park Botanical Garden: San Diego's Conservatory
As of fall 2022 the Balboa Park Botanical Garden Conservatory is undergoing a major renovation. This unique conservatory has been the primary icon of Balboa Park since 1915. Inside you'll find tropical trees, vines, orchids and cactus. There are places to sit and relax, displays about the plants all around you, and it's just an all-around magical place to spend some time. When it reopens in 2023it's going to be THE thing to do in Balboa Park.
Included in Balboa Park Explorer Pass: it's always open to the public (subject to change with reopening)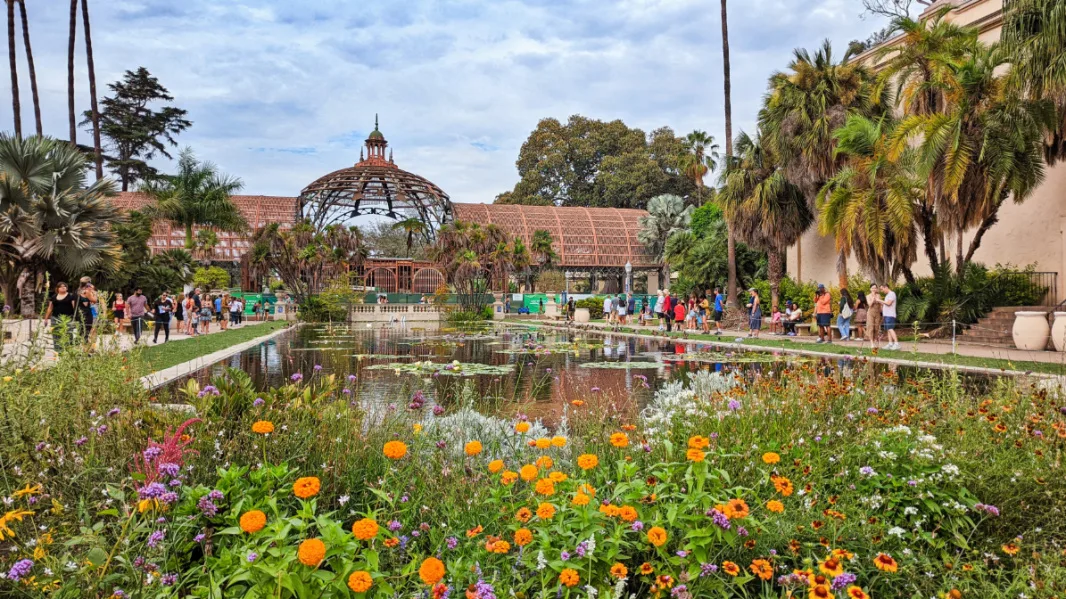 Cactus Gardens
There are actually two cactus gardens at Balboa Park. There is the large one that runs along the eastern side of Park Blvd and then there's the Old Cactus Garden in the center of the park. Both are beautiful and have a wide variety of cactus specimens.
Even though the walking paths are lined with prickly cactuses of all varieties, the gardens are one of the best things to do in Balboa Park with kids. Families that live in cold northern areas usually don't get to see this many cactus and to the extent (both size and sheer numbers) that you'll see in the Balboa Park cactus gardens.
Included in Balboa Park Explorer Pass: it's always open to the public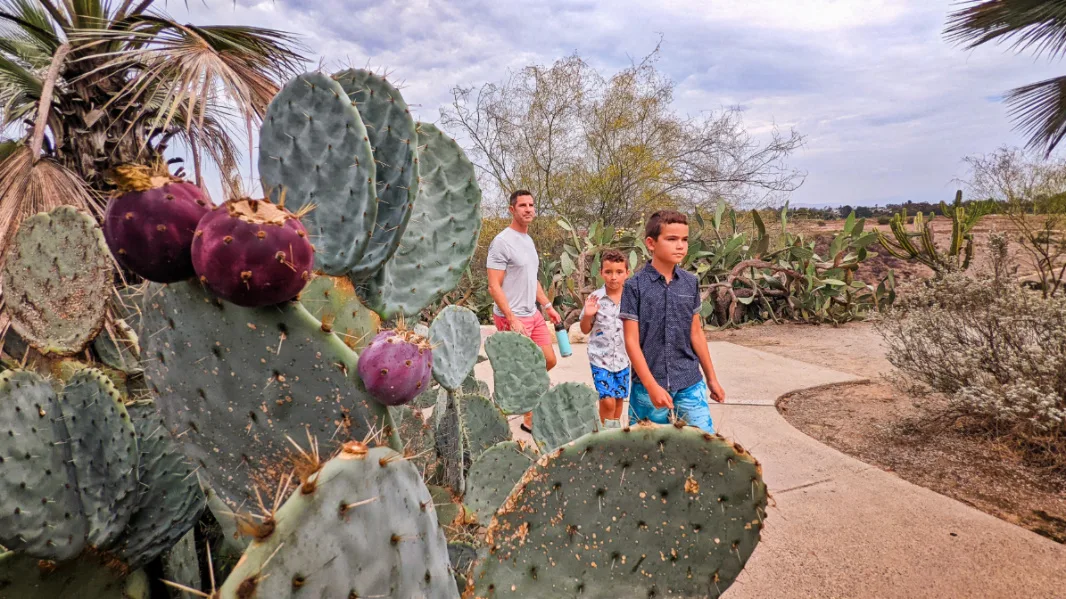 Japanese Friendship Garden
Once upon a time I tried to do a landscaping project inspired by the amazing Japanese gardens I've toured around the world. I do NOT possess the knowledge and skill to recreate a space like the Balboa Park Japanese Friendship Garden. The valley it fills is another world, with sculptures, structures, unique trees and so many flowers in spring and summer.
Hours of Operation: 10:00 am – 6:00 pm, last admission at 5:00 pm
Admission cost: Adults $14, Kids (student) $12, 6 and under are free
Included in Balboa Park Explorer Pass: YES
Balboa Park Lily Pond
Located in front of the Botanical Garden building, the lily pond is a great place to set up a picnic and chill, or just observe the ducks and flowers and move on. The reason I specifically call out the lily pond as a great stop in Balboa Park is because when the conservatory is busy with visitors, you can enjoy the outdoor gardens just as much, but with fewer people.
Also, the lily pond at Balboa Park is one of the most instagrammable places in San Diego. The still water, reflections and colorful water lilies and surrounding flowers make it too perfect to pass up.
Included in Balboa Park Explorer Pass: it's always open to the public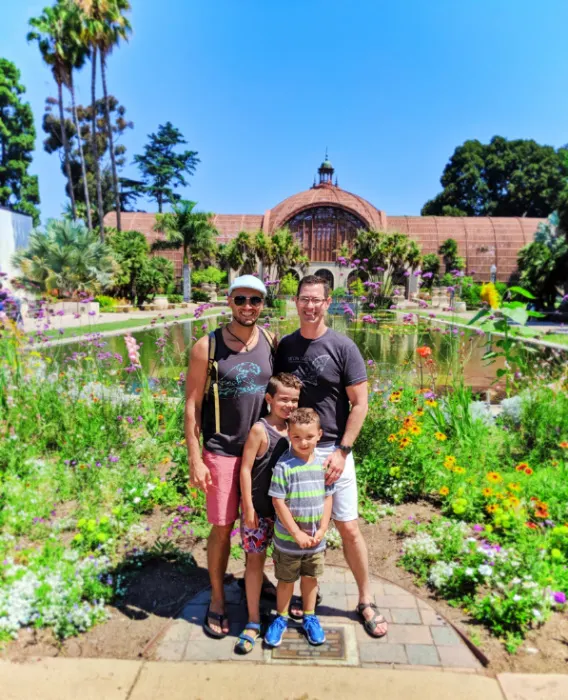 Trails and Scenic Walks in Balboa Park
Just like there are winding walking paths in New York's Central Park, Balboa Park has some wonderful trails. Hiking through the urban eucalyptus forest and palm trees make wandering through Balboa Park's trails a great activity, either in the morning or as an addition to your day of museums.
Palm Canyon Trail
I love this hiking trail. It's pretty easy, but there are a lot of stairs at the start/end. It's beautiful and is about 50% shaded, which is great if you're visiting San Diego in the summer. This Palm Canyon trail is very different from Palm Canyon in the town of Palm Springs. While the latter is in the desert, this one is IN the city and just a wonderful respite from the busier areas of San Diego and Balboa Park.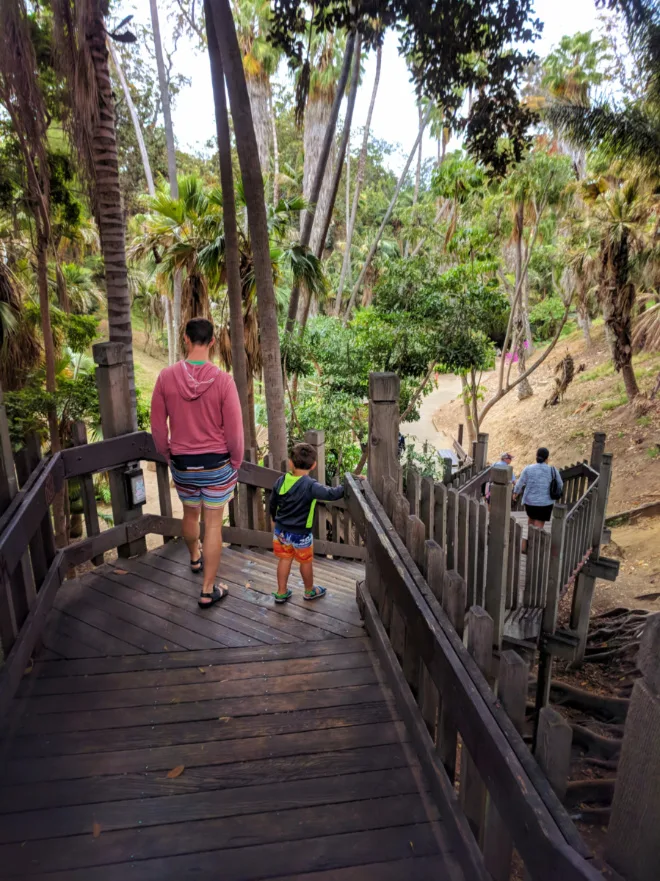 Walking the Prado and Plazas
An easy, pleasant and fully accessible walking route in Balboa Park is wandering through the promenade of the Prado area and all of museum row. With gardens, shady walkways, shops and cultural centers to stop into, and plenty of fountains, walking the Balboa Park Prado is a great afternoon activity. And its free!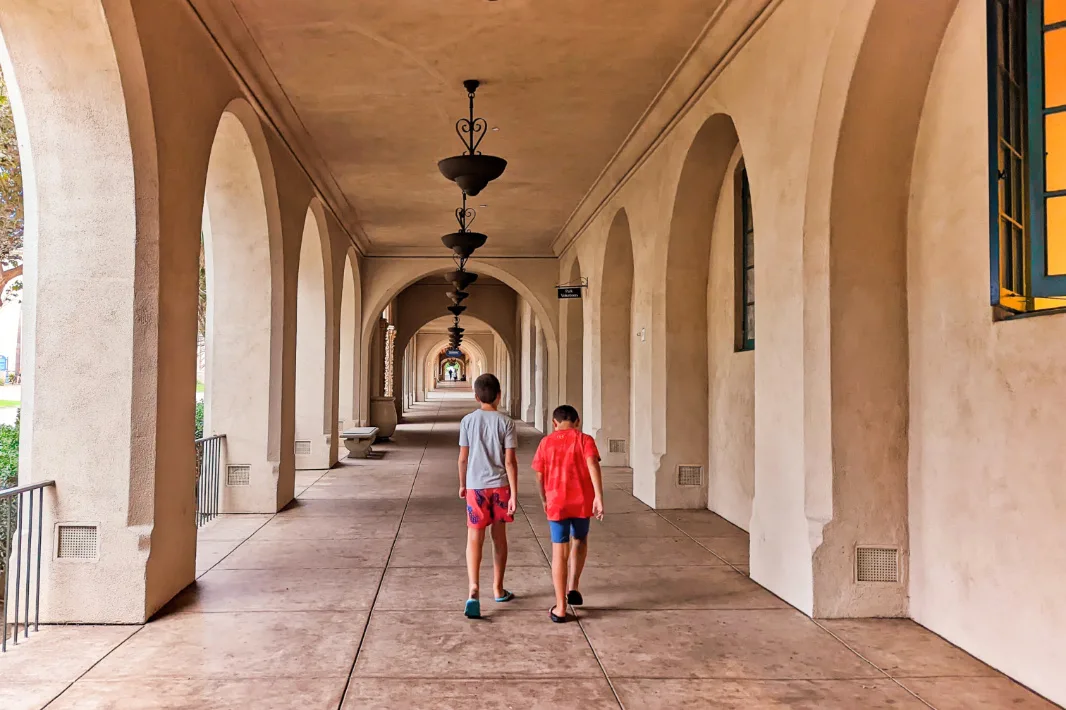 Events and Festivals in Balboa Park
Since Balboa Park really is the heart of San Diego life, we have to talk about some of the public events that happen there. Even though there are lots, including film festivals, concerts, street performance and more, these two Balboa Park phenomena are our favorites.
San Diego Pride Festival
Never have I ever been to a better Pride Celebration than in San Diego. Happening each year in July, the San Diego Pride Festival is wonderfully family friendly and brings out the best of the LGBTQ+ community. It's a very open atmosphere and the city strives to keep it a safe and fun annual event. There are concerts, picnics, a parade (of course), a family area, and so much more. Check out our full article about the San Diego Pride Festival for more info!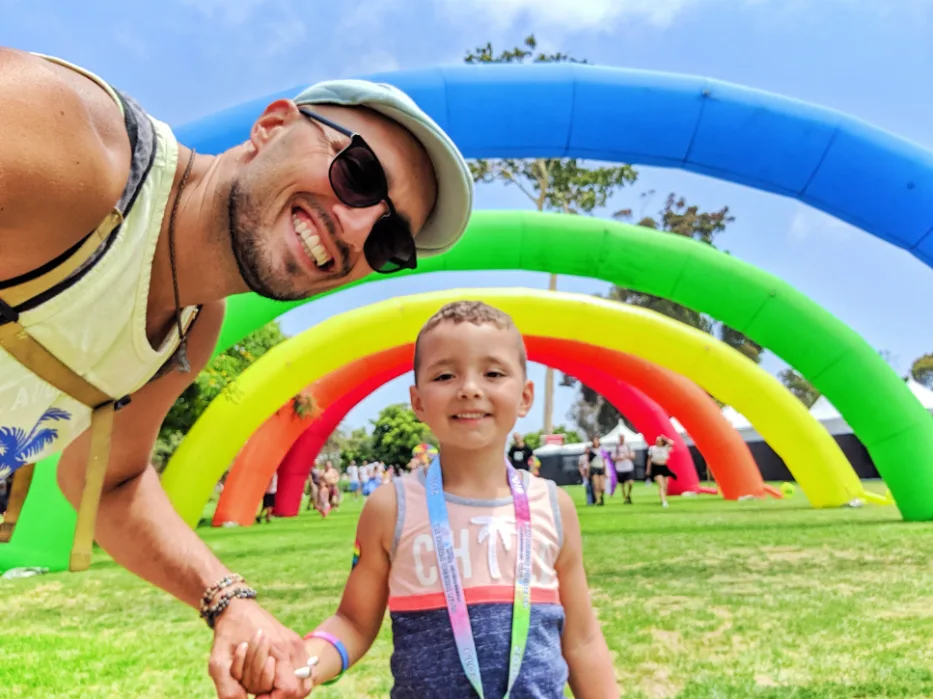 Organ Performances in the Park
I don't have a ton to say about the organ concerts at Balboa Park except for WOW. We've been able to witness concerts and just organ practice many times and it's always impressive. During the summer months, it's not difficult to either make it to a concert or to just happen by when an organist is practicing. I love it!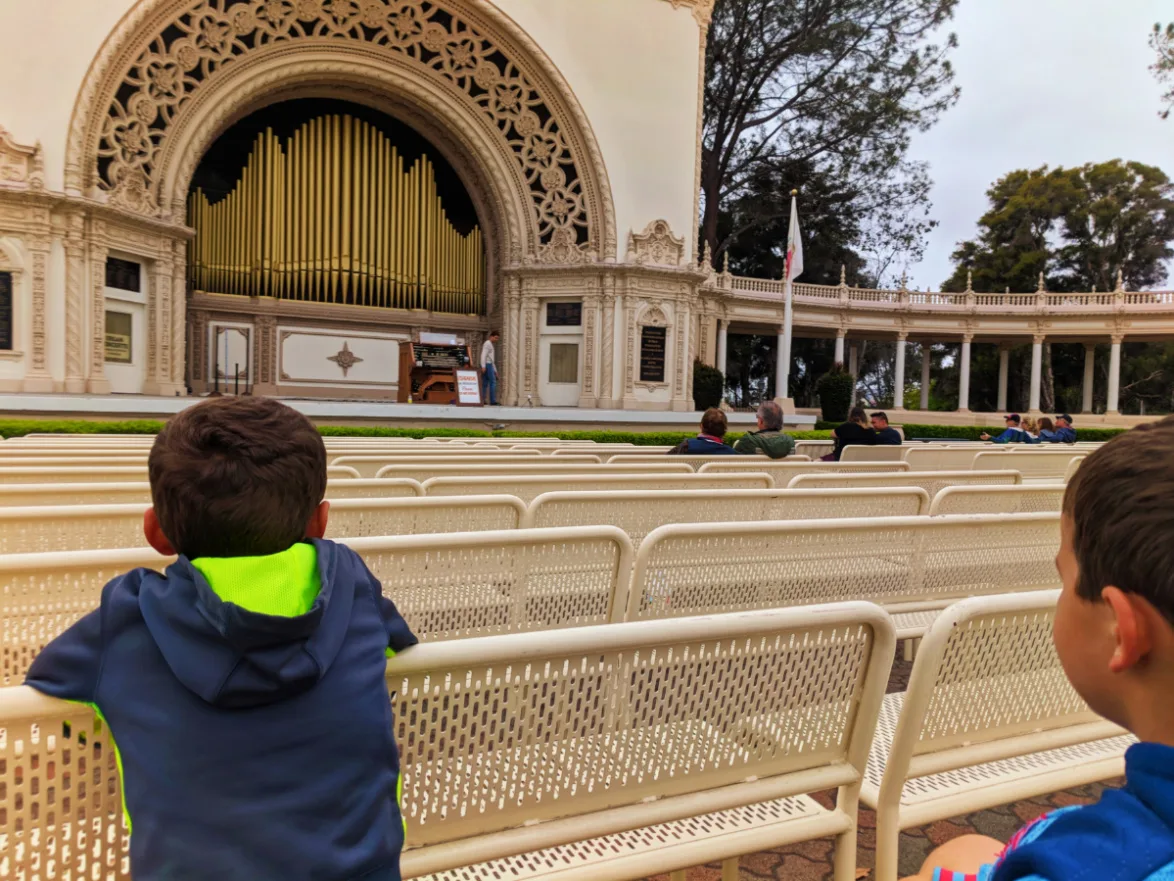 Where to Eat in Balboa Park
There are actually 13 restaurants in Balboa Park, and then a few more coffee and snack carts. Did you know that?! Most are attached to a museum, a few are located within the San Diego Zoo, and they primarily serve lunch and happy hour. We haven't eaten at every restaurant in Balboa Park, but can recommend a few.
Prado Restaurant in Balboa Park
I love the Prado Restaurant. Whether it's a nice day and you get to dine out on the terrace or it's misty and you're inside, you'll love it. The food is delicious and it's in a great spot in the middle of the park. A bonus of dining at the Prado with kids is that they offer regular food, and not just chicken tenders for kids. It's an elevated park dining experience for everyone.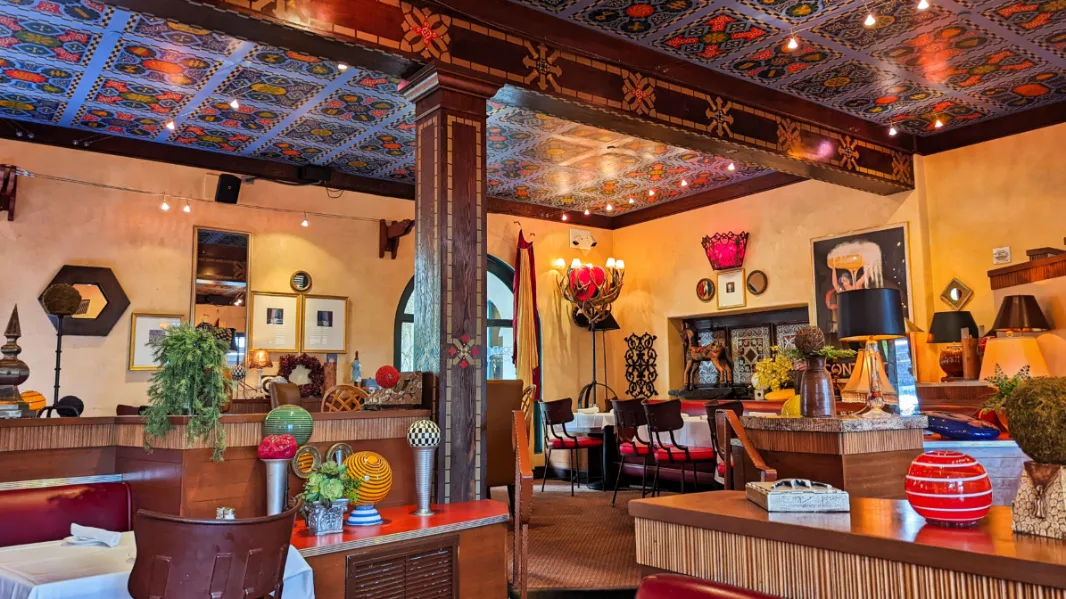 Panama 66 at The San Diego Museum of Art
Located in San Diego Museum of Art's May S. Marcy Sculpture Court, Panama 66 is a fun outdoor dining option in Balboa Park. They offer sandwiches, salads, snacks, drinks of all sorts and are open later than most other restaurants at Balboa Park.
How it works is interesting, as it looks like a place you can just wander up and grab a table, but it's like this:
check in with host (no reservations)
you'll be called to join the order line when there is availability
sit after you order and then it's got table service
The atmosphere is great and so is the food.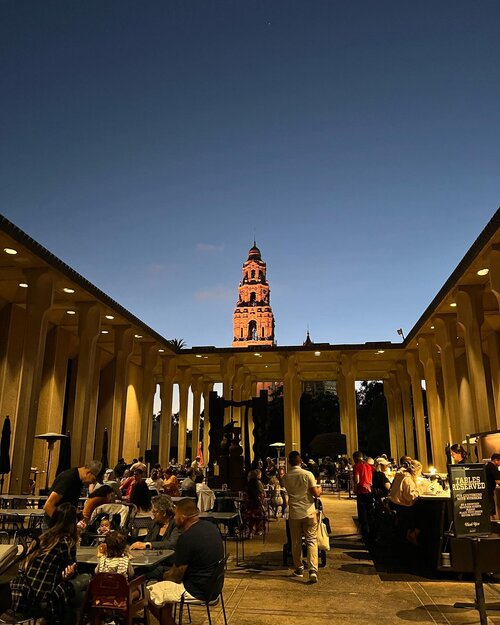 ARTIFACT at Mingei International Museum
I love it here! It feels like a trendy lounge and also a museum. Open for lunch and happy hour, ARTIFACT is mellow and a great break from the busy plaza and Prado areas of Balboa Park. It does close early though, so if you want a meal or a drink, plan on it within lunch hours (11:30 am -2:30 pm daily, closed Mondays; happy hour from 5:00 pm -7:00 pm Thurday/Friday).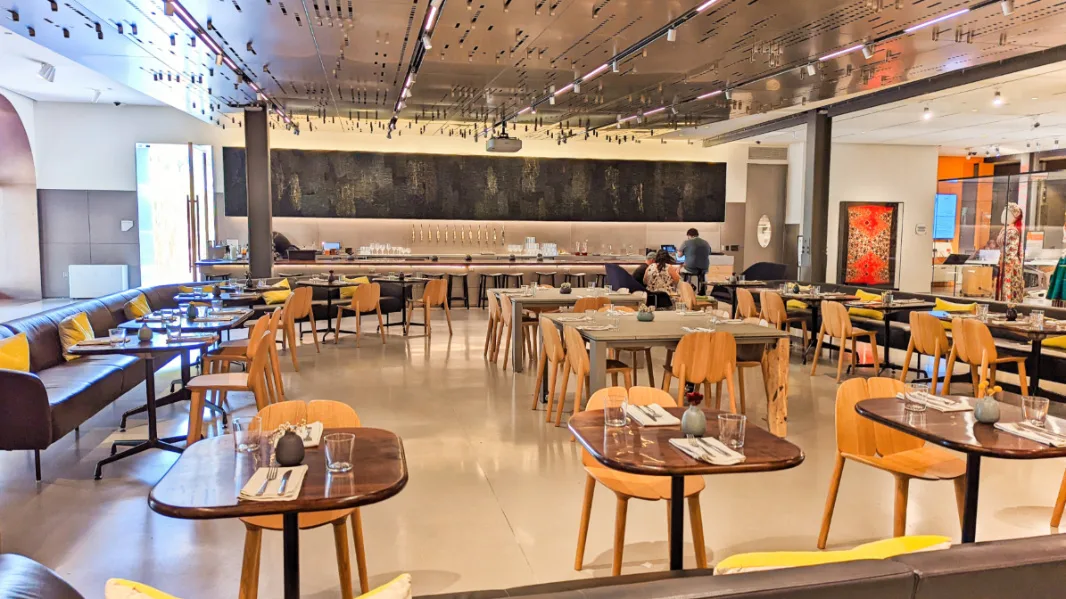 Need to Know for Visiting Balboa Park
Being one of the best public spaces in the United States, Balboa Park attracts a ton of visitors. A TON. Both locals and people visiting San Diego find themselves in Balboa Park for any number of sites or events. October is Kids Free month for SoCal residents and throughout the year you'll find all sorts of free days for the museums. If you just want to walk through Balboa Park and its gardens, that's always free!
Balboa Park Explorer Pass
The Balboa Park Explorer Pass is an incredible value, whether you're visiting San Diego or if you're a resident. By the end of one LONG day, we recovered the value of the Explorer Pass, and if we lived in San Diego we would recover the cost many times over the course of a year. Explorer Pass info here!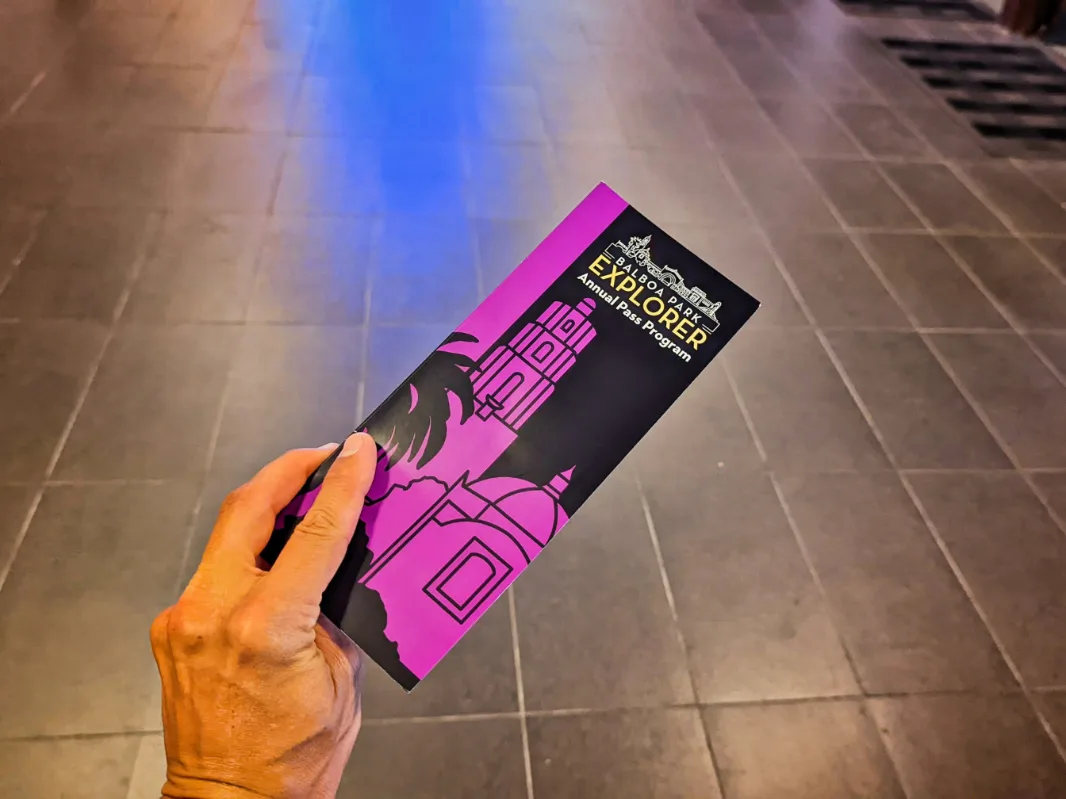 Where is Balboa Park Located
Only being about 15 minutes from the San Diego airport (SAN), Balboa Park is easy to get to. If you're downtown, it's just up the hill ten minutes. The park is adjacent to the Hillcrest and North Park neighborhoods, so there are lots of great restaurants nearby. There are some cool places to stay here too. We really enjoyed staying at the Lafayette Hotel, Swim Club & Bungalows in the North Park neighborhood.
Parking at Balboa Park, San Diego
Parking at Balboa Park is free! There are lots of lots to choose from on all sides of the park, and even ample street parking if you're in the Park Blvd area. The largest parking area is next to the San Diego Zoo, so if you're visiting on a weekend, that may be your best bet to find easy parking.
If you don't want to drive, and Uber or Lyft to Balboa Park is usually pretty cheap (less than $15) from most parts of San Diego (but not the Beaches/La Jolla area).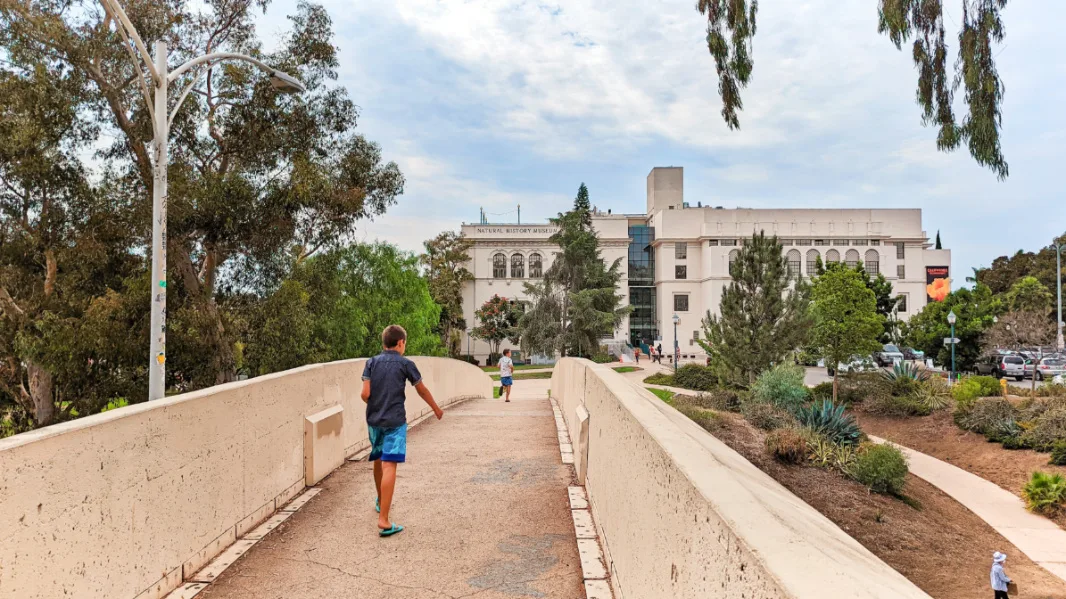 FAQ About Visiting Art Museums with Kids
Just in case you're scanning through and not reading everything, here are the most frequently asked questions about visiting Balboa Park and planning a fun adventure in San Diego.
How can I get my kids interested in art?
Parents can get kids interested in art by finding ways to make it fun and accessible, such as encouraging them to create their own art, playing art-related games, and incorporating art into other activities.
How do I prepare my kids for a visit to an art museum?
Before visiting an art museum, parents can prepare kids by discussing the types of art they may see, the history and culture behind the art, and the museum rules and etiquette. Also consider keeping your plans flexible, as not every museum is going to be every person's cup of tea, child or adult.
What should we bring to the art museums at Balboa Park?
Parents should bring snacks, water, and other necessities, such as a change of clothes or diapers, as well as any museum-specific items, such as strollers or baby carriers.
How long should we spend at the exhibitions and art museums?
The length of a museum visit will depend on the age of the children and their attention spans. It is often helpful to plan for shorter visits and to focus on a few key pieces or exhibits.
How can we engage KIDSA with the art at a museum?
Parents can engage kids with the art by asking open-ended questions, encouraging them to describe what they see, and pointing out interesting details or connections to other subjects. If you're visiting multiple museums at Balboa Park (or wherever you are), think of similar pieces you all have seen or how different each museum is and talk about it.
What if my child touches the art? (Oh no!)
Parents should emphasize the importance of not touching the art and remind children of the museum rules and etiquette. If a child does touch the art, they should inform museum staff immediately. Keep in mind that some museums will have kid-centered areas or exhibitions that encourage touching art, but only do that if it's really clear that you're supposed to.
What if my child gets bored or restless visiting the museums at Balboa Park?
Parents can plan ahead by bringing activities, such as sketchbooks or games, to keep kids entertained, as well as taking breaks to walk around or explore the museum's other features.
---
I hope this answers all your questions about Balboa Park. Clearly it's a favorite place for us and we've been countless times. We really enjoy spending time in San Diego and return often. If you have any questions or your own tips, please leave a comment or send us a note. We're happy to share more!