We get a lot of questions about attending Pride events with kids. This year we flew to California and did the San Diego Pride celebration and had a great time. We're going to answer all of your questions about what to expect at a Pride festival as well as how to attend a family-friendly Pride celebration, such as San Diego Pride.
This year we have really put a focus in our lives and on the blog regarding sharing why pride is still important and how you can support your local LGBTQ community. There's more to it than just attending Pride parades and parties, so we want to encourage you to check out our full article about why Pride still matters and how you can be a part of it.
And now for San Diego Pride festival…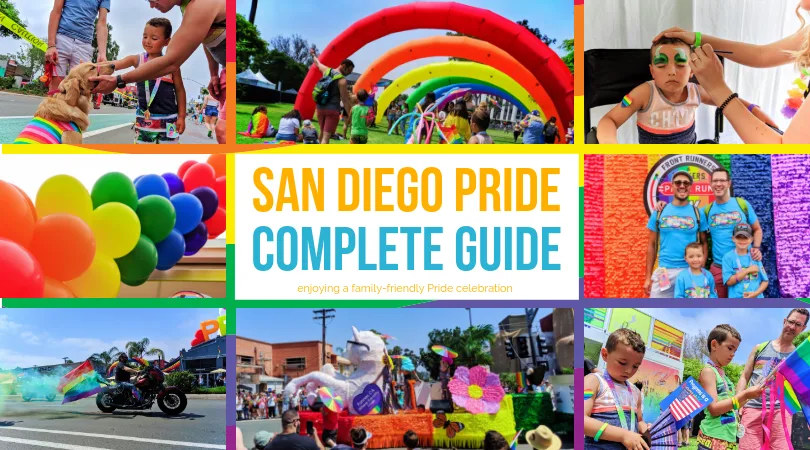 ---
Check out the nearby, vintage Lafayette Hotel, Swim Club and Bungalows for a great stay!
---
When is San Diego Pride
San Diego does it's Pride celebration each year in July. They start at the end of June with smaller functions and events supporting some different groups within the LGBTQ community, with the main celebration and festival happening the second weekend of July.
While this specific dates can vary, the primary San Diego Pride events are always in July. Most other Pride parades and celebrations take place in June, but San Diego likes to be different. Look at the complete San Diego Pride calendar for events throughout the year.
Tip: if you want to participate in Pride events in the winter, Palm Springs likes to do their celebration in February. Check out our guide for an awesome weekend in Palm Springs.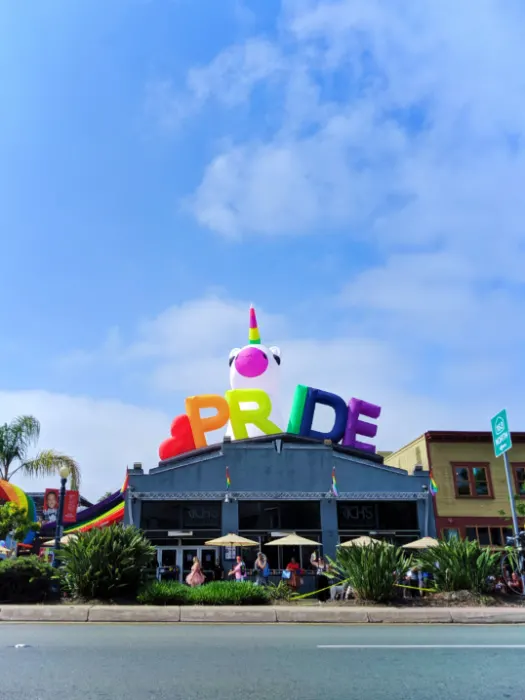 Where is San Diego Pride held each year
If you're familiar with San Diego then you know that Hillcrest is the neighborhood to find all things fun and rainbow. It's the heart of the LGBTQ community and one of the most diverse parts of San Diego. Of course San Diego Pride would be held here.
The man Pride Parade route goes along University avenue but also will turn towards Balboa Park. We love spending time at Balboa Park general but when San Diego Pride happens, it turns it into the pride festival grounds. 
Getting to San Diego Pride
There's no easy way to say this, but getting to San Diego pride is actually the most difficult part. Starting early, crowds begin to line up both at the end of the parade route in Balboa Park as well as along University avenue and at the start area for the annual Pride 5K. What that means, is the traffic is going to be a pain from very early on the main day of the San Diego Pride festival.
We recommend taking a Lyft or riding a bike or scooter to the Hillcrest neighborhood from wherever you are staying. Between traffic and trying to find parking it's definitely the best option. Also, bus routes will get you fairly close 2 either University avenue in Hillcrest or Balboa Park, at least on one side of the park.
Tip: use a ride sharing app to get as close to San Diego Pride activities as you can. You will thank us later.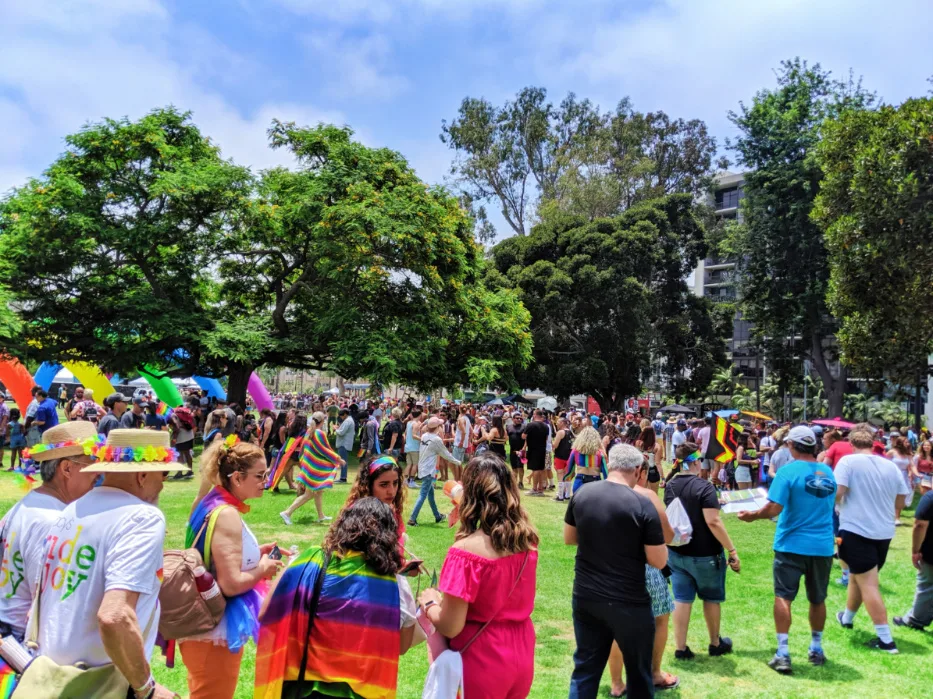 Parking near San Diego Pride activities
Parking is extremely limited anywhere along the parade route or directly adjacent to Balboa Park. Because it is such a large Pride celebration, many of the streets surrounding the Pride Festival area, the Pride 5K route, and the Parade route will be blocked off and you will be unable to park where you plan. There are a few pay to park garages just off University, but some of those will fill extremely early and/or charge a premium price for the day.
If you do choose to drive to the Hillcrest neighborhood for San Diego Pride festival be very careful that you observe all parking signs and don't end up either getting towed or getting a ticket. And that's why we say to use ride-sharing. Check out San Diego Pride's own parking resources for more information.
Family-friendly San Diego Pride events not to miss
San Diego pride is definitely one of the most diverse collection of events. Leading up to the big Pride weekend, you'll find different fundraisers and small events to celebrate the many facets of the LGBTQ community. Be sure to check the San Diego Pride Festival calendar on their website in advance to find interesting and supportive events that you want to be a part of.
Whether you're looking to support local businesses with shopping events, enjoy the arts community through exhibitions or theater, or if you want to dine around at LGBTQ owned restaurants, San Diego Pride season is a great time to do that and discover new favorites.
Note:  we try to support our LGBTQ community year round, not just at Pride, and encourage you to do the same!
The reason that we are so excited to share about San Diego pride is because of the many Pride celebrations around the United States San Diego has the best collection of family-friendly activities we seen. If ever you were excited to attend a festival or Pride parade with kids, this is it!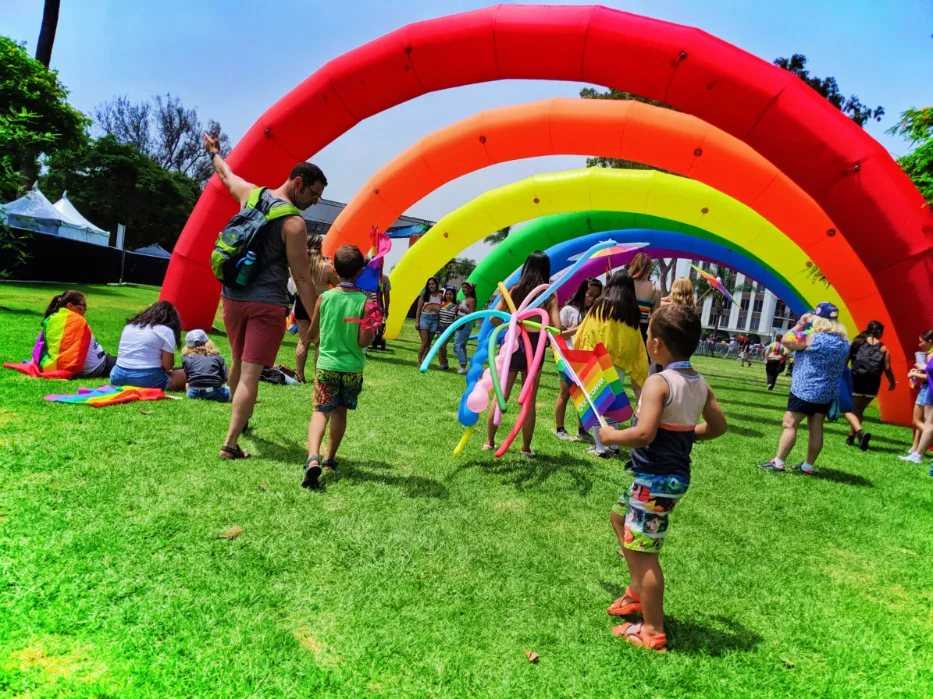 San Diego Pride Parade
We'll just start with the Pride Parade because that is everybody's favorite event. Beginning late morning and continuing for a surprisingly long time, the San Diego Pride Parade is quite be colorful celebration. The main Parade route goes along University avenue, as I mentioned, and because they close the street going both ways there's plenty of space 4 sitting or standing if you are at the pride parade with kids.
there are lots of people who show up with lawn chairs and blankets for sitting on, but then there are lots of others who like to stand and or walk the parade route. Whatever works for you is fine. some people will also get there early enough to set up sun shades or umbrellas, hope you don't necessarily recommend that due to how it takes over a lot of valuable sitting and standing room. 
having said that, be sure that you are prepared for a toasty day. Make sure you have lots of water and sun protection to enjoy the San Diego pride parade with kids. When the pride parade is all done it's easy to head down to Balboa Park to enjoy the pride festival.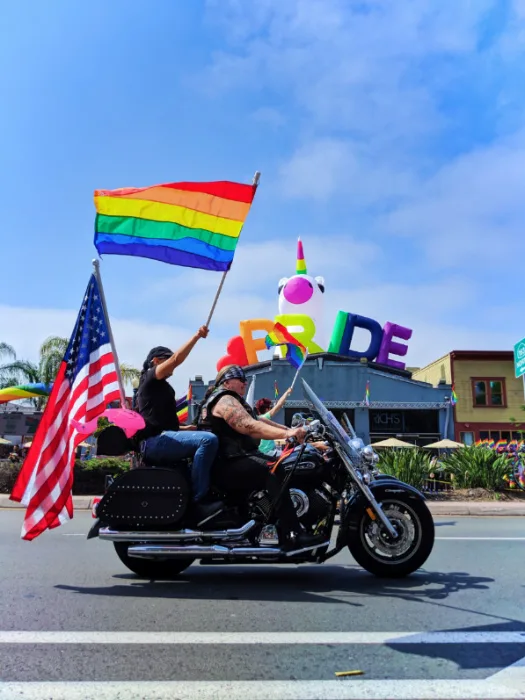 Pride 5K run and walk
This was our first time doing a 5k or organized run with the kids. It was a blast! Even though we did have to pay for entry for all four of us, the money went to a good cause supporting LGBTQ youth and support in San Diego. We can get behind supporting that any day and are happy to donate! 
The San Diego Pride 5K route is very flat. The terrain makes it easy, whether you are in shape or totally out of shape and just want to have fun. The San Diego Pride 5K is definitely the most fun organize race event that we have done. The whole 5K route was lined with the community supporting and cheering everyone.when the kids saw the finish line they got a boost of energy and that paired with everybody cheering for them made that last little stretch both the most exciting and the most tiring because we all had to run at top speed to catch the kids.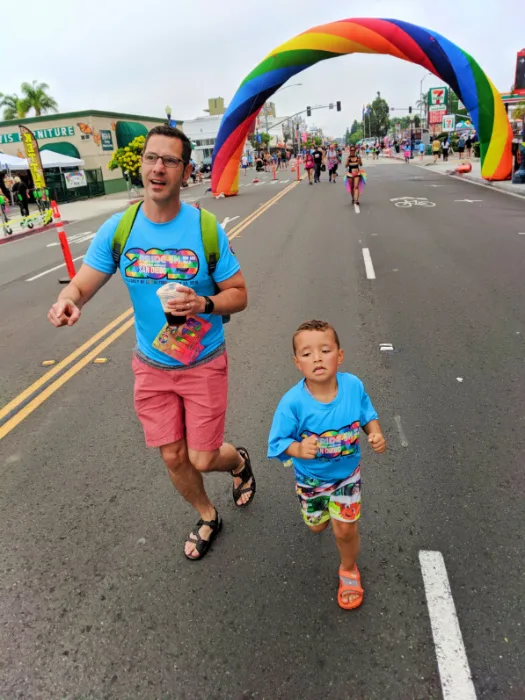 Pride 5K information
Be sure to register for the pride 5K as soon as you know that you are going to be in San Diego for the event. The cost is about $50 per person, and that comes with a registered running tag, a San Diego Pride 5K shirt, and a medal. There are swag bags as well, but supplies are limited so be sure to arrive early or run fast to get your swag!
Website here:  San Deigo Front Runners
Pride Festival Children's Garden
what are the coolest things at the San Diego pride festival is the children's Garden. This is a spot for lgbtq families like ours to go with our kids and have fun together doing carnival style games and enjoying arts and crafts. Kids can earn tickets for prizes, can do face painting, or even hang out for a drag queen story hour.
something particularly great about the children's Garden setup is that they do a registration and check-in process to ensure that kids are being managed properly and safely. The only adults allowed in are the ones who are there with their own children. Even the fenced off area around the children's Garden is covered in a way to provide privacy two families enjoying themselves at the San Diego Pride festival.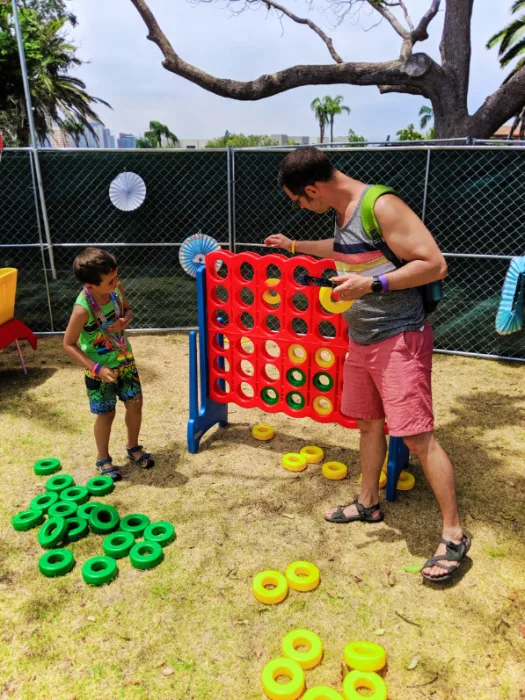 All the Drag Queens and food trucks
You can't talk about gay pride without including drag queens and food. In addition to the pride parade being loaded with drag queens on floats and cars, they Grace The Pride festival on stages and by mingling with guests. Even though drag is not a part of every single person's life in the lgbtq community, drag performers AR extremely important to both the gay rights movement and to the support of culture that exists today. You don't have to be gay or go to every drag event to be supportive and enjoy both the art and performance of some of the most incredible drag queens in the USA.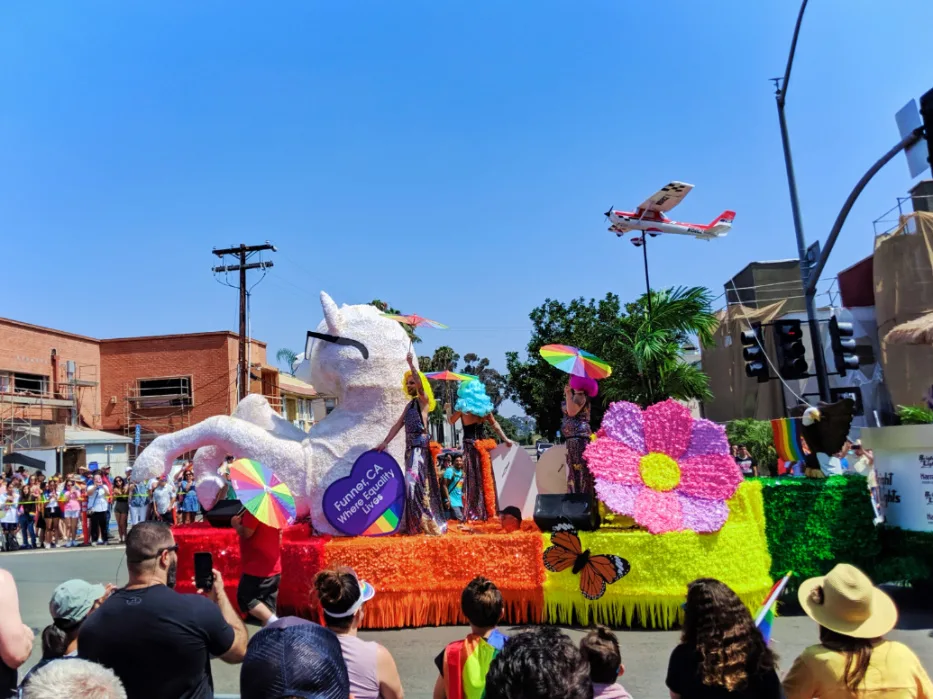 And food trucks too. Any good festival has lots of good food. In the San Diego Pride festival is definitely the place for tasty snacks. Between the festival vendors and local food trucks, you'll find plenty of options to keep you going all day long at San Diego Pride.
Bonus: five quick tips for planning an awesome San Diego weekend
And just like how we didn't visit San Diego with the sole purpose of going to Pride and being done, neither will you! San Diego's one of our favorite cities to visit with the kids and every time we go we find new things to do.
These are five quick tips for planning an awesome San Diego weekend:
Choose a hotel that's in the location you want to be based out of – if you're mean activities for the weekend include Beach time, you'll want to be close to the beach neighborhoods. Keeping in mind though, that San Diego Pride events mostly take place in the Hillcrest neighborhood. We visited with our Best Western friends and stayed at the Best Western Island palms Resort Hotel & Marina. It was a beautiful place in a really cool location on Shelter Island.
Eat all the good food – whether your trip to San Diego focuses around fish tacos or going to a different Santana's location for each meal, you'll have plenty of good food. If you want something iconic and over-the-top, check out Hodad's in Ocean Beach. The wait might be long but the food is crazy and a bit of an icon in San Diego.

Plan some beach time – you think that would be a no-brainer for anybody visiting San Diego, but a lot of people go down and hit downtown and whatever their main function is and then fly right back out. San Diego has some wonderful beaches, with Pacific Beach being our favorite.

Take time to just stroll – whether you are staying downtown and need to stroll the waterfront, or you take our recommendation and say on Shelter Island and enjoy the amazing promenade available, or if you choose to stay up by Balboa Park, San Diego is a great walking town for exploring the neighborhoods. We're not saying that you need to walk from one neighborhood to another because that will take forever but explore wherever you are staying on foot.

Enjoy the culture and history of San Diego – from Old Town San Diego State Park to the floating Maritime Museum at the Embarcadero, there are lots of great ways to dig into San Diego's history. One of our favorite spots is Mission San Diego de Alcala. It's beautiful and was the first mission in California.
For more fun ideas with kids in San Diego, check out this great article from our friends at Travel Mamas!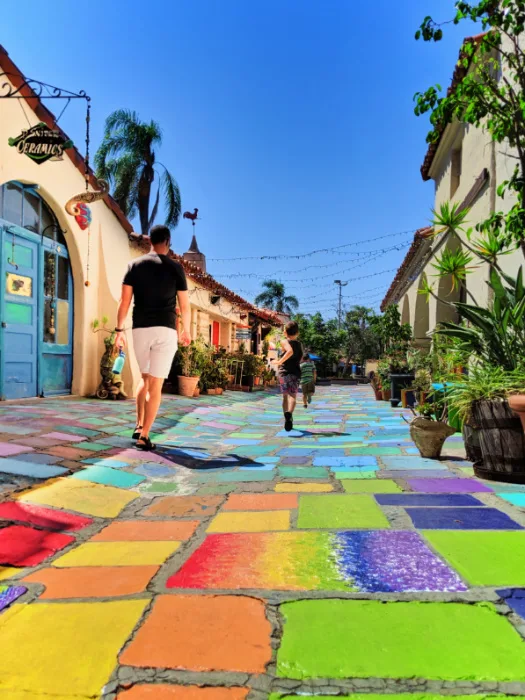 Well, there you go! You've got all the information you need for participating in or attending San Diego Pride. The Pride festival is awesome and the feeling of that amazing, supportive community makes it a very special place. The activities all around San Diego will make sure that your vacation is awesome.
If you have any questions either about Pride festivities or visiting San Diego, feel free to leave a comment or send us a note. We also have other articles highlighting our favorite things about San Diego, including doing San Diego on a budget.
Looking forward to seeing everybody's pics an awesome stories from next year's San Diego Pride! 
For more great San Diego travel ideas: