We've been so lucky to get to have many trips to the Florida Gulf Coast, and with each one we try to stay in interesting or unique hotels or resorts, like the Sundial Beach Resort on Sanibel Island. Since it's not a hotel, but is truly a resort in the sense that it offers all kinds of amenities and activities, it's the perfect home base for a vacation to Sanibel or the Fort Myers area.
Our review of the Sundial Beach Resort is based on five days / four nights there and taking advantage of as many on-property offerings as possible. Hopefully you'll see the value we found in staying here for our Sanibel Island trip, and if you have any questions about booking it or anything else Sanibel / Captiva related, please leave a comment or send us a note.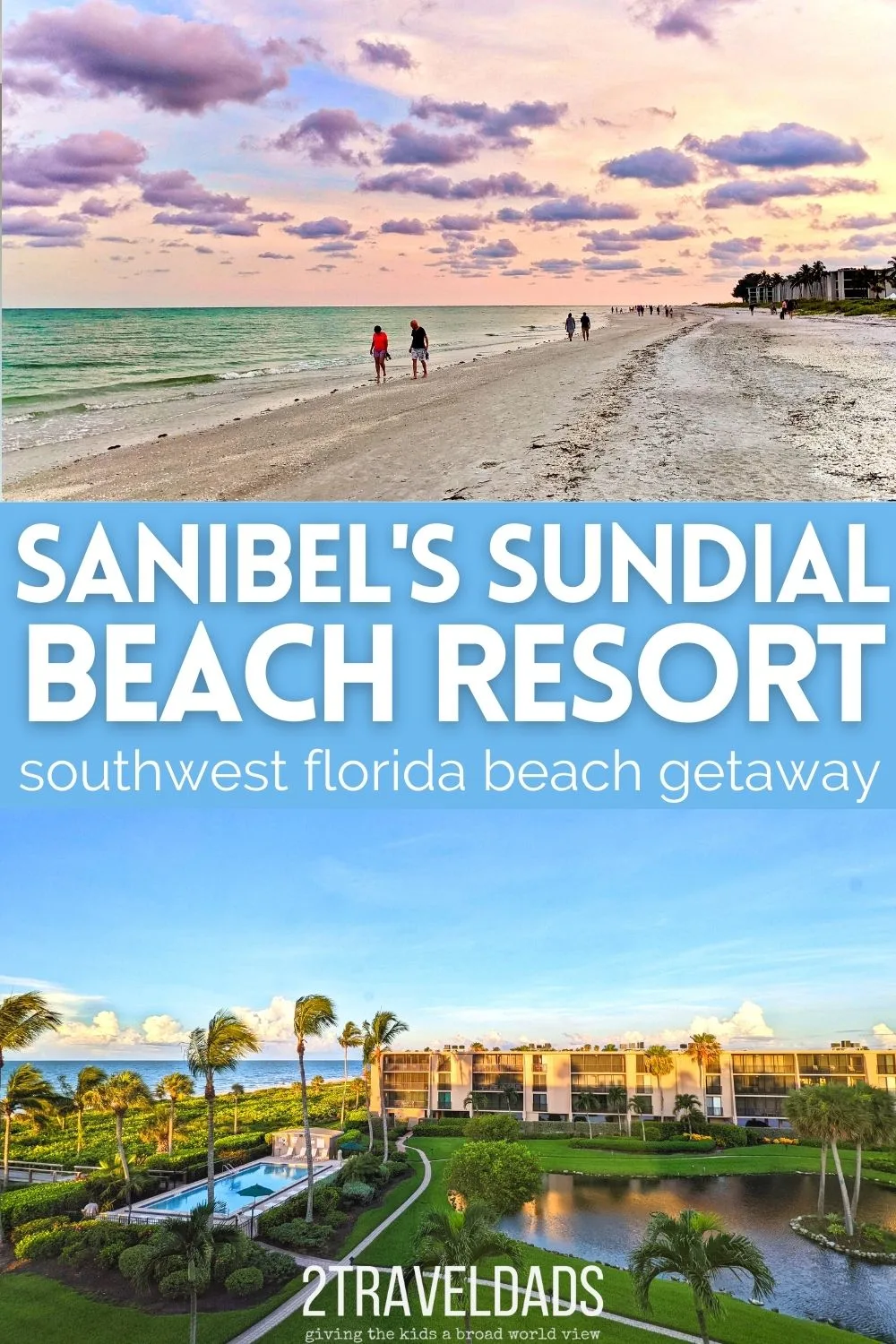 What Are the Accommodation Options at the Sundial Beach Resort?
Since the Sundial Beach Resort is intended for a multi-day stay, the room options are much more suited for leisure time vs regular hotel rooms. Even the most simple room option, the Studio, is spacious and has a kitchenette and plenty of room for a family of four to function (inquire to be sure the room you book sleeps 4 and not just 2, which it should with the sleeper sofa).
For more space, the Sundial Beach Resort has the following options:
Studio
One Bedroom Suite
Two Bedroom Suite
Three Bedroom Suite
All room types have either a balcony or patio, some on the interior / garden facing parts of the property, and some with ocean views. The One Bedroom Suites have sleeper sofas, so depending on if you have a King or two Doubles, it can sleep up to six people.
The two and three bedroom suites do NOT ALL have sleeper sofas, but have separate bedrooms so there is ample room to sleep. Most rooms DO have the sofa beds, but be sure you've booked that before counting on it.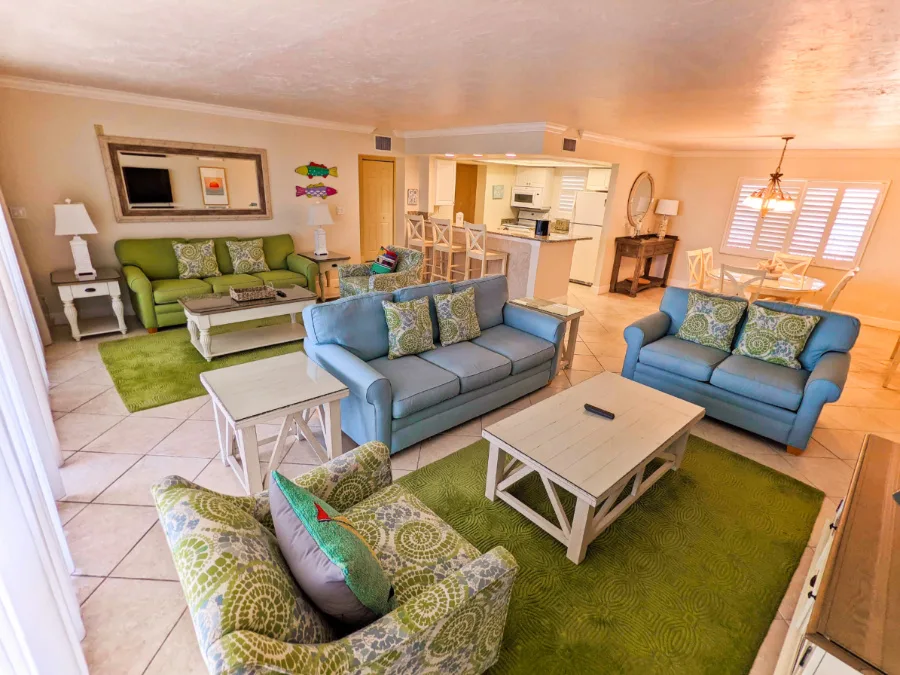 Top Pick: Two Bedroom Suite
OMG, we could've stayed here forever and ever. With a large full kitchen, including a breakfast bar, full sized dining room, double living room (two separate seating areas), a kids room with two queen beds and our huge king room with our own bathroom, vanity and walk-in closet, it was amazing.
Did I mention the huge balcony with a dining table and chairs, as well as a lounge chair? Fully screened in, the balcony also has a fan to keep the air moving since the screen blocks most of the wind. Every night we were able to sit outside and watch the waves and storms roll by, and then head inside to relax before going to bed. Such a wonderful hotel suite.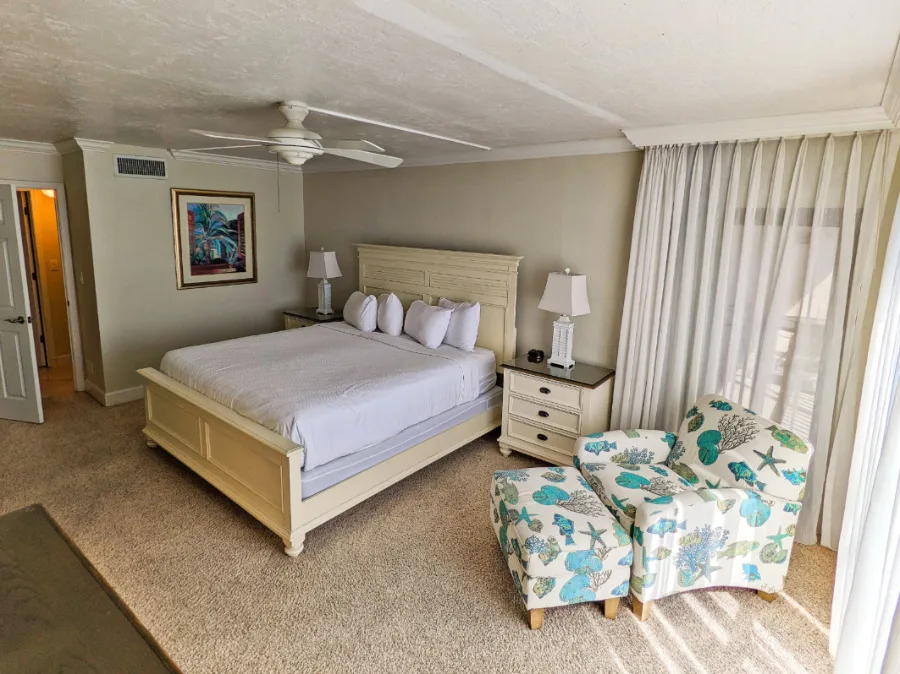 Check in / Check Out at the Sundial
Just like any hotel, you will need to check in via the front desk in the lobby. Check in isn't until 4pm, but if you arrive early you'll have full access to resort amenities. They'll provide wristbands for your family, which you'll need to wear whenever you're taking advantage of the pool, fitness center or beach equipment.
As soon as your room is ready you'll get a phone call to let you know. Unfortunately, the Sundial doesn't give you pre-keyed packets for when your room is available, but if you're already checked in, they are really fast about giving you your keys when you stop back by the front desk.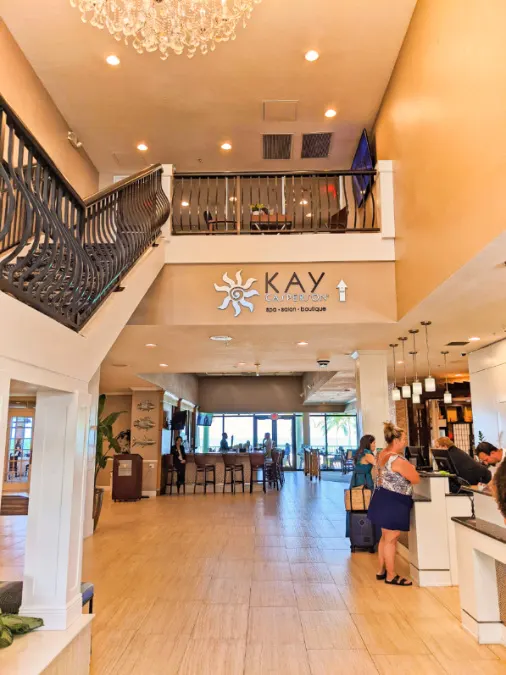 Sundial Beach Resort Amenities
Amenities are what make a resort a resort. The Sundial Beach Resort is very similar to the Naples Grande Beach Resort to the south in its offerings, but one thing it has that the other doesn't: it's ON the beach and you have direct access to the sand. That on its own is the only amenity we ever need.
Sanibel Island Beach Access
Depending on your room type, you can walk directly out to the beach or you'll have a short path to the sand. Once there, the Sundial Beach Resort provides beach chairs, beach towels, beach umbrellas and staff for questions and recommendations. The chairs and umbrellas are set up by the primary beach access point by the main pool, but they're easily accessible with a two minute walk from whichever path you take to the beach.
The beachcombing on Sanibel Island is epic, and the beach here at the Sundial Resort is awesome. So many different sorts of shells, including conchs, welks, rock oysters and more make it some of the best sand for finding unique pieces of nature. There is even a seashell cleaning station.
Note: while Sanibel Island isn't known for being the best shark tooth beach, if you are lucky, you'll find one or two. To the north, up at Caspersen Beach in Venice, that's really an amazing place to find shark teeth.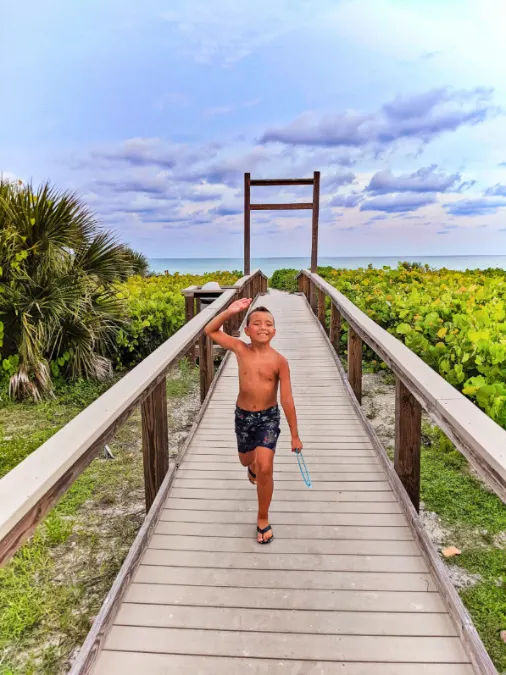 Pools at the Sundial
There are actually five (5!) swimming pools at the Sundial Beach Resort on Sanibel Island. The main pool is the most fun with a waterslide (intended for kids) and recreation staff leading games and stuff, but each pool is beautifully maintained and peaceful.You'll find cabana tents for rent around the main pool, but there are plenty of lounge chairs as well. There is just one hot tub on property, but it's so warm on Sanibel you probably won't even use it.
And I know it's not everyone's jam, but there is actually a full recreation staff onsite at the Sundial Beach Resort, including at the pools, to lead activities and games. If you're into group activities with strangers, then take advantage of it. It's vacation camaraderie at its best. If you like to go it alone, just do Bingo and win yourself a poolside drink. Don't forget that there's foosball too, just in case you really have awesome skills from childhood that you need to revive.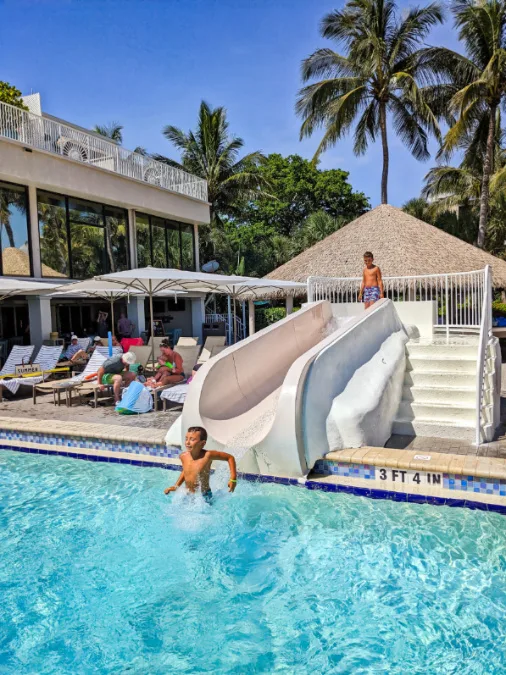 Complimentary Bikes, Kayaks and Paddleboards
That's right! If you're staying at the Sundial Beach Resort, there are complimentary bikes, kayaks and paddleboards for guest use. There are great, paved paths on Sanibel Island so the Resort has made it easy to explore them by providing bikes for guests, including kid bikes with training wheels.
You knew we'd talk about kayaking, as it's one of the best things to do in Southwest Florida. Paddling in the perfect waters of the Gulf of Mexico is so much fun, and you'd be surprised how close to shore the wildlife comes. We've seen both dolphins and manatees just off the beach, so being able to paddle there with them is extra special. Be sure you're wearing your resort wristband to check out paddling gear, and then you'll just be paddling off shore so you don't need to worry about getting lost.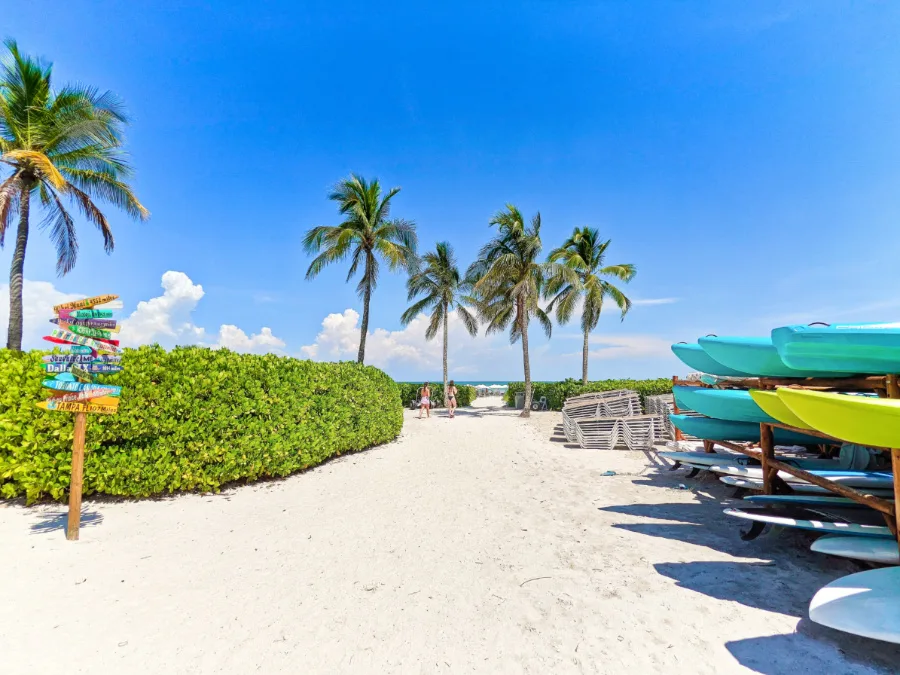 Kids Club – Turtle Scouts Kids Camp
We rarely take advantage of kids clubs when we stay at resorts, as there's so much else to do and explore. We've done it at Disney's Aulani in Hawaii and down in Cabo San Lucas, but nowhere else really. And here on Sanibel Island, there is TONS to do and kids club could totally be skipped and nobody would be any the wiser, but… they actually have really great programming here.
From teaching kids how to and about beach fishing to guided beachcombing, Turtle Scouts is more than just a clubhouse where kids just go play video games while parents lounge by the pool. They have set crafting times, there are sports clinic sessions, and just lots of other fun activities.
Note: you need to sign up for activities in advance, as some things, like beach fishing, take planning and gear. Also, certain activities may be canceled due to weather.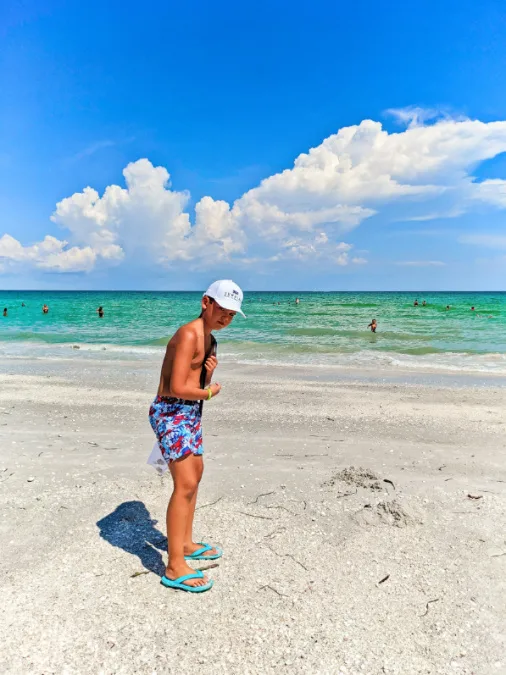 Fitness Center and Spa
There is a great fitness center at the Sundial Beach Resort. It's located below the lobby of the main building and is right by the main swimming pool. There is plenty of cardio and a fair selection of weightlifting equipment. There's ample floor space for stretching and independent cardio, but it's not quite a full studio like the 8000 square foot fitness center at the Naples Grande to the south. Still quite satisfactory though.
You'll also find a full spa onsite at the Sundial Beach Resort. The Kay Casperson Lifestyle Spa and Boutique is full-service and offers nearly every spa treatment you'd expect. A beautiful setting above the main lobby, it's easy to pop in for whatever sounds good (appointments required).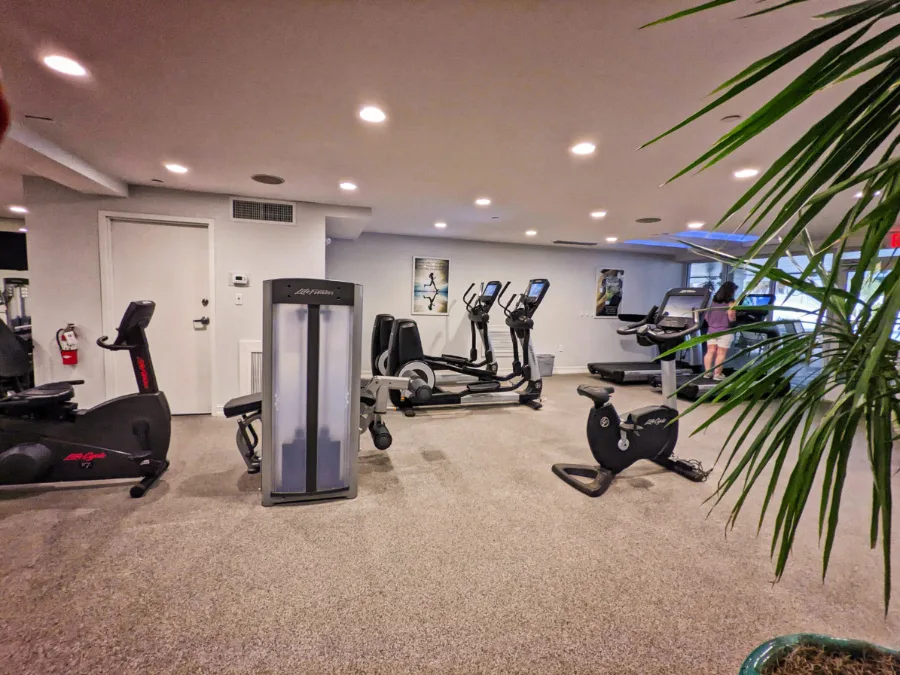 Dining at the Sundial Beach Resort
Sanibel is full of great restaurants (loved Mudbugs!), but you can also just dine on-property at the Sundial as well. There are five dining options at the Sundial Beach Resort on Sanibel Island:
Slice of Paradise (pizza parlor style dining)
Sea Breeze Cafe – all meals, deck
Shima Japanese Steakhouse AND Grab and Go
Turtles Tiki Bar – poolside with food and drinks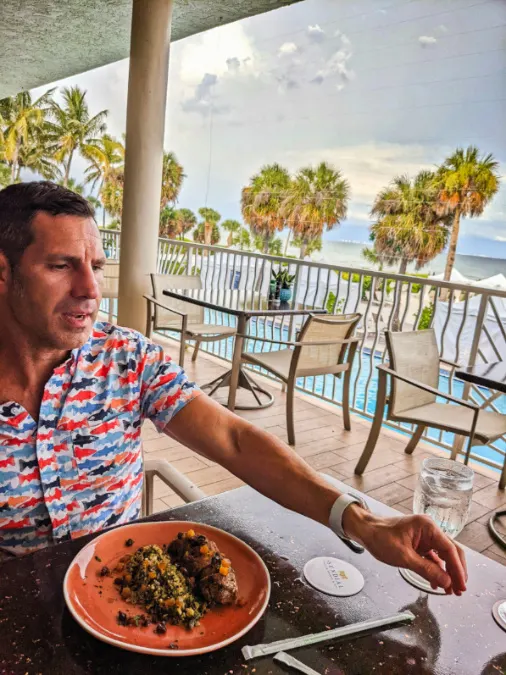 Sea Breeze Cafe: Top Pick at the Sundial
While all five dining options at the Sundial Beach Resort are good, the Sea Breeze Cafe is our top pick. It's casual, but nice. It's got a beachfront deck, a bar and serves breakfast, lunch and dinner. The atmosphere is nice and the food is good. You'll actually do the Seabreeze for the morning buffet (can be included with your stay), but then other meals are just like any other restaurant service.
I actually stole a recipe from the Sea Breeze that I make at home now: cold sweet potato salad with grilled chicken and a citrus vinaigrette. I loved it and happily think of staying on Sanibel when I make it at home.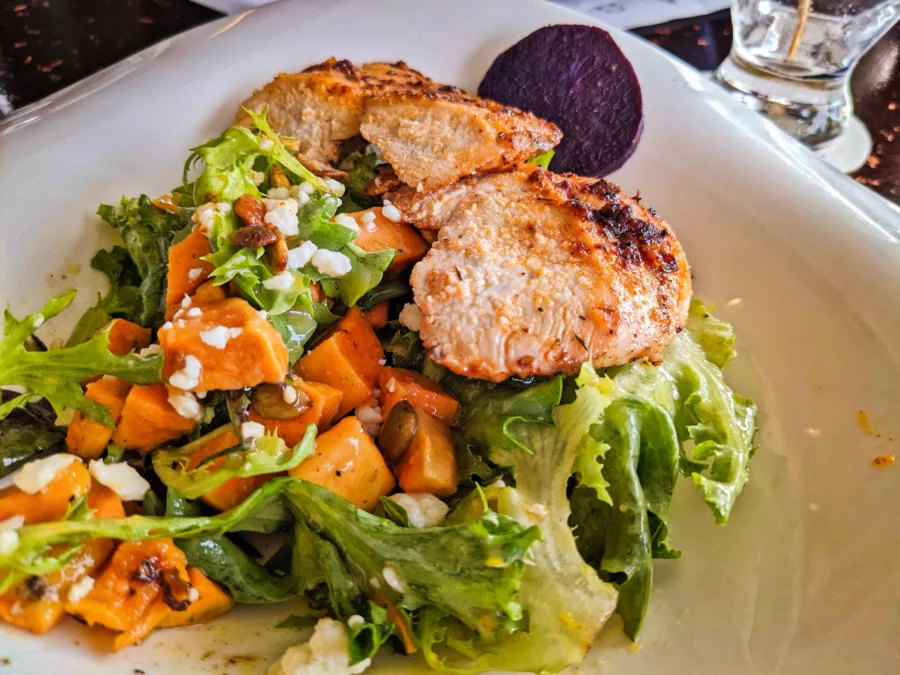 Easy Meals at Shima Grab and Go
For us, Shima Grab and Go was a winner. Our kids LOVE sushi, so being able to take lunch to go and have it be the delicious sushi from the primary fine dining restaurant, Shima Japanese Steakhouse, that was a hit. It's pricey if you're grabbing lunch for kids (especially if they're not big fans of sushi) but for our family it was a good option.
Note: the hours are dependent on Shima Japanese Steakhouse being open too, so double check hours before you plan it as your food option.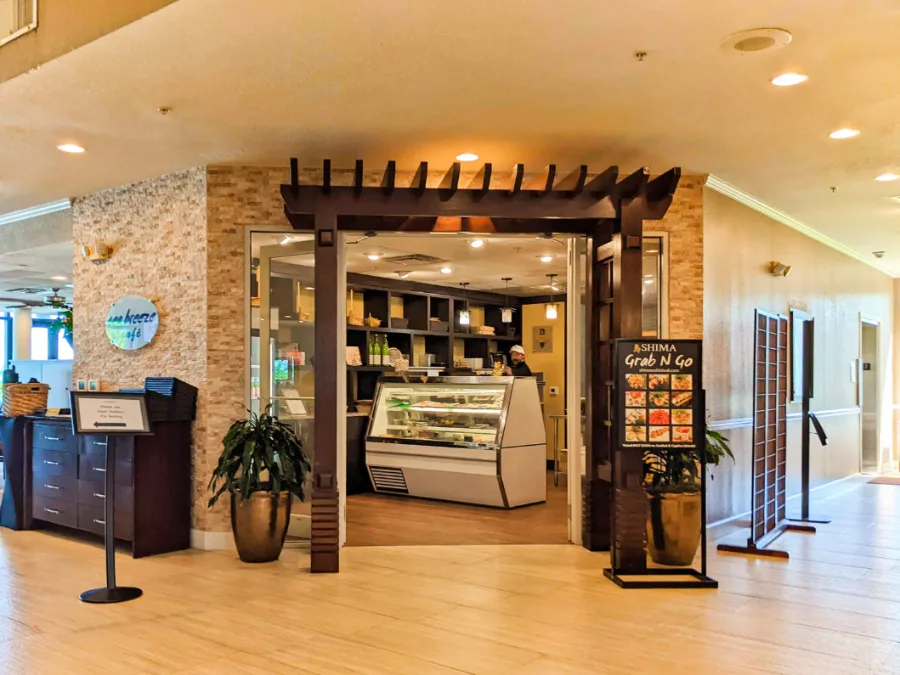 Cocktails at Turtles Tiki Bar
Yes, the pool bar wins for the best cocktails at the Sundial Beach Resort. I also like that they have a full menu (seafood heavy) that is very different from both the Sea Breeze and Shima, so it's a good spot to mix up the dining.
Our favorite cocktail from Turtles Tiki Bar was the top shelf margarita. I know, that sounds not super exciting, but when you're getting ready to walk the beach and you want an adult beverage, a well crafted margarita with a Grand Marinier floater is perfect.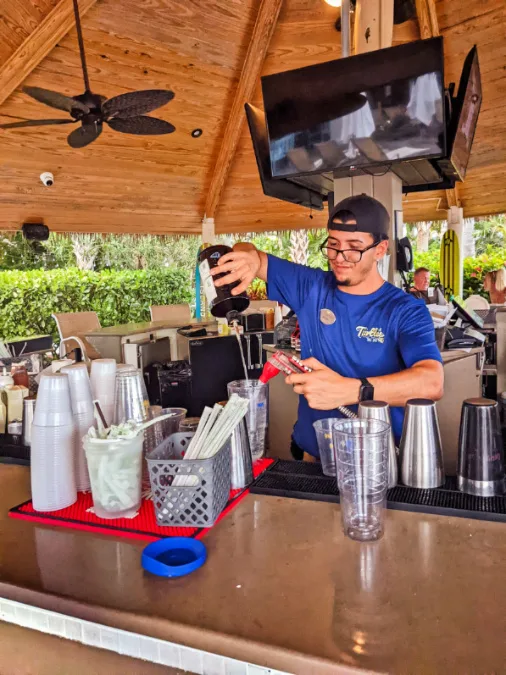 Where is Sanibel Island?
The Sundial Beach Resort is located at the southern end of Sanibel Island, just to the west of the city of Fort Myers. It's about 40 minutes from Southwest Florida International Airport (RSW) and about two and a half hours south of Tampa. It's very easy to plan a vacation to Sanibel and explore more of Southwest Florida. Just know though, that each time you leave the island, you'll pay a toll to get back onto it.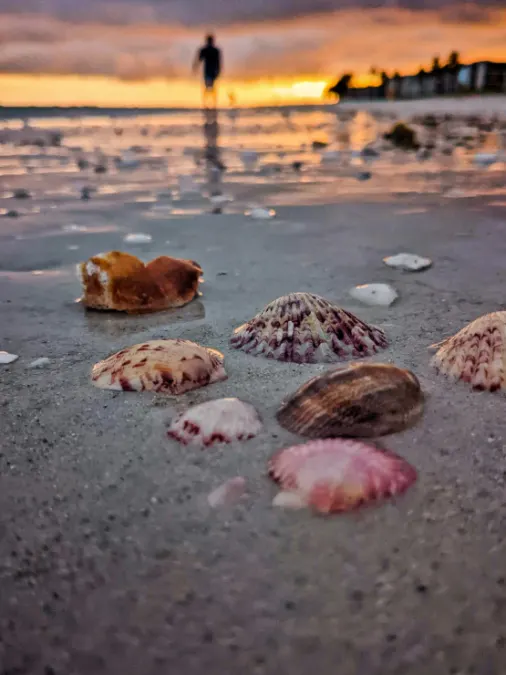 Transportation To and From RSW to Sanibel Island
Typically, we recommend having your own vehicle for exploring Southwest Florida, which includes Sanibel, Fort Myers, Naples, Marco Island and the Everglades. If you're planning on checking into your beach resort on Sanibel and never leaving, you don't need a car, and there are bikes to get around the island, but for most visitors, a car is needed.
If you opt to be car-free you can get an Uber or Lyft from RSW to Sanibel Island. It'll cost you around $60+ each way, but may work out in your favor over the cost of a rental car.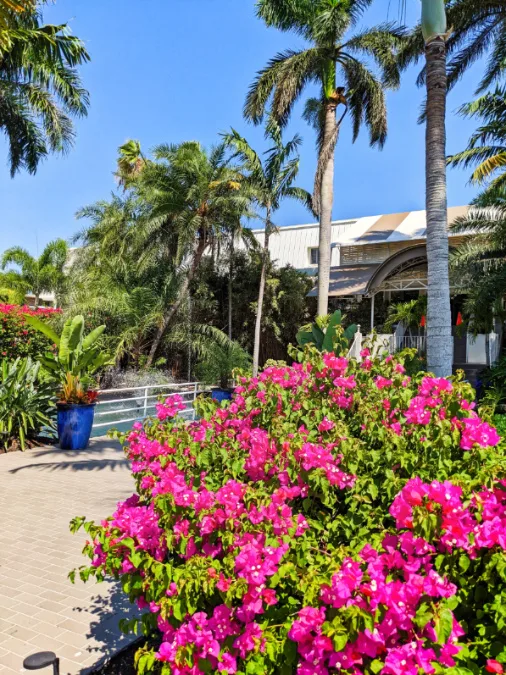 Can I Walk from the Sundial Beach Resort to the Lighthouse?
Yes! Sanibel Island is very walkable, either on the sidewalks or the beach. The famous Sanibel Lighthouse (the Point Ybel Light) is a ways away, at 3.2 miles from the Resort, but you can enjoy the hour long stroll early in the morning to enjoy sunrise at the lighthouse. Between the two points, you'll find the townsite of Sanibel Island as well, so if you're not walking on the beach you can just stroll through and grab a coffee and enjoy the Florida Gulf Coast laidback lifestyle.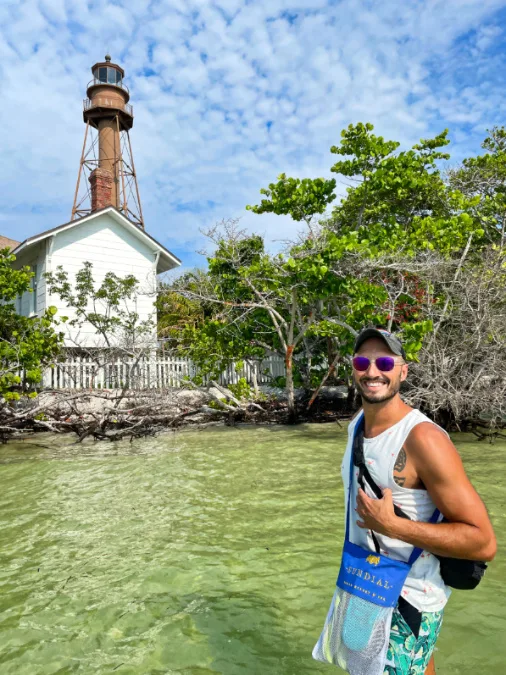 Parking Details at the Sundial Beach Resort
Upon arrival at the Sundial Beach Resort you'll be given a parking pass to display in your vehicle. Parking is included, and it's conveniently located at each building. Most units have designated parking spots that can fit two cars. There is also open parking at the main resort building.
Ten Fun Things to do on Sanibel Island
Yay! Time to explore Sanibel and Captiva islands! It's such a beautiful spot and is such a quiet slice of the Gulf Coast. Keeping with the thought of not having to leave the island, here are ten easy activities to enjoy, both at the Sundial Beach Resort and around Sanibel.
Beachcombing in the seashell capital of the world
Visit the Point Ybel Lighthouse and beach park
Bike the many paths around Sanibel Island
Enjoy SUP at Blind Pass or Dixie Beach
Take advantage of the tennis courts
Visit the Ding Darling National Wildlife Refuge
Check out the Bailey Matthews National Seashell Museum
See the exotic birds in the aviary at Jerry's Shopping Center (I know, random and weird)
Just relax on the beach and enjoy the quiet waves of the Gulf of Mexico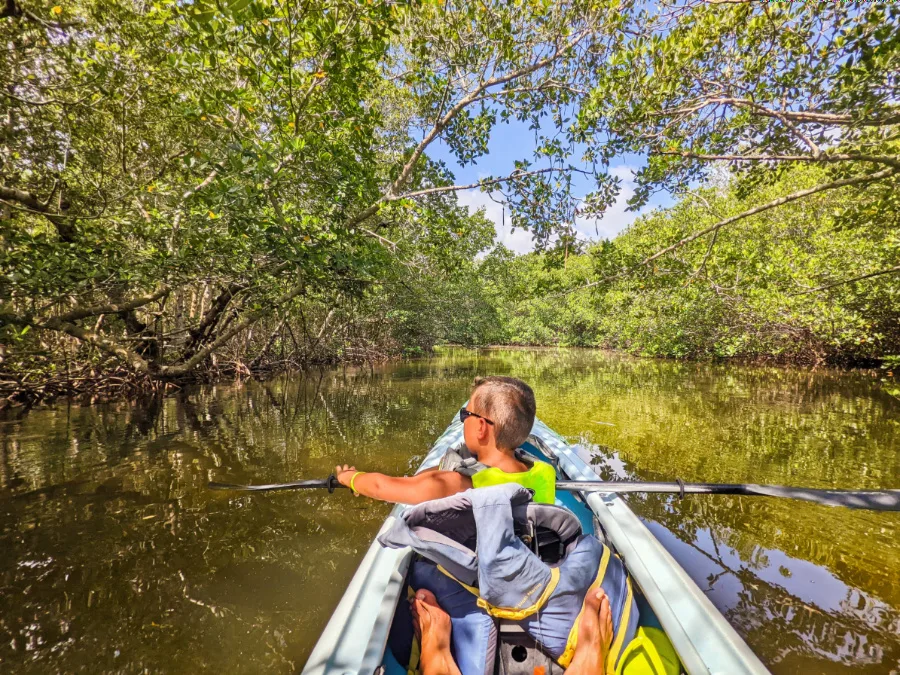 I hope you're excited to plan a visit to Sanibel Island and stay at the Sundial Beach Resort. We really enjoyed our five days there and would happily return. If you have any questions about the resort or need help planning a the Florida Gulf Coast road trip, please leave a comment or send us a note. Happy traveling!