Sanibel Island is such a Florida gem, and it's one of those places that everyone's heard of but not everybody has actually been to. It's pretty awesome, and is a gorgeous getaway on the Florida Gulf Coast, in the Southwest Florida area. Located directly next to the city of Fort Myers, Sanibel Island is an ideal family getaway, and our family loved it.
We've got our top picks for fun things to do on Sanibel and Captiva islands, as well as a few fun ideas in the more broad Fort Myers area. We spent five days exploring and relaxing, but it could have easily been eight. Take a look at our plan for a fun family Sanibel Island trip and let us know if you have any questions. Leave a comment or send us a note so we can help YOU plan an unforgettable trip.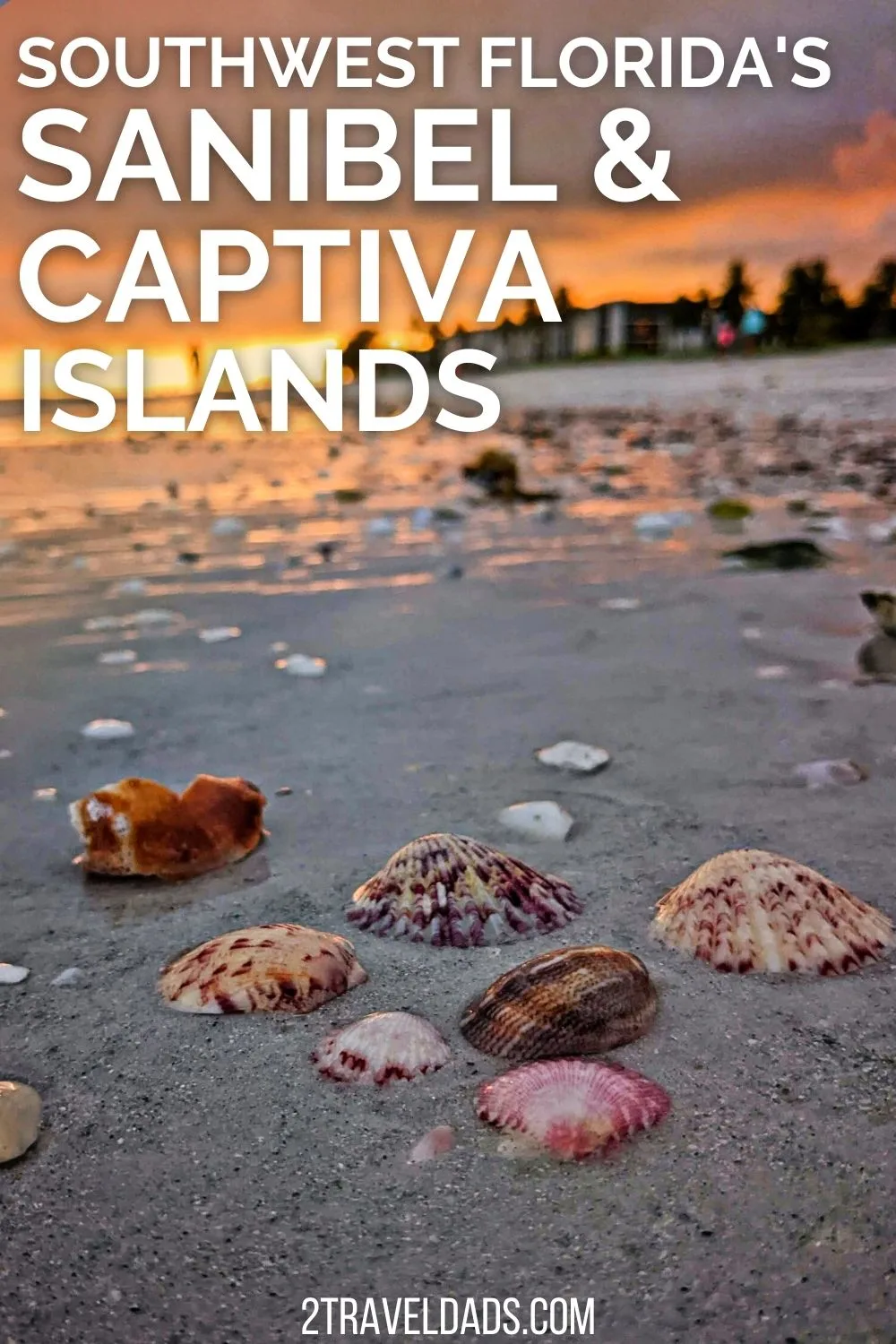 Fun Things to Do on Sanibel Island
Sanibel and Captiva are two of the most beautiful barrier islands on the Florida Gulf Coast. They've got some of the most pristine beaches, not to mention a ridiculous amount of seashells perpetually washing ashore. Just to the north of Sanibel Island is Captiva, which is smaller and just as beautiful. No doubt as you plan you'll pick things to do on Sanibel AND Captiva.
Outdoor Activities on Sanibel and Captiva Islands
The wonderful thing about visiting Sanibel and Captiva is that year round the weather is fantastic. True, if you're from Utah or Colorado you might think it's crazy humid, but give yourself a few days and you'll feel right at home, enjoying all the things to do on Sanibel without a second thought of the Gulf Coast weather. Get outside, enjoy the sand, and don't forget to plan time on the water too.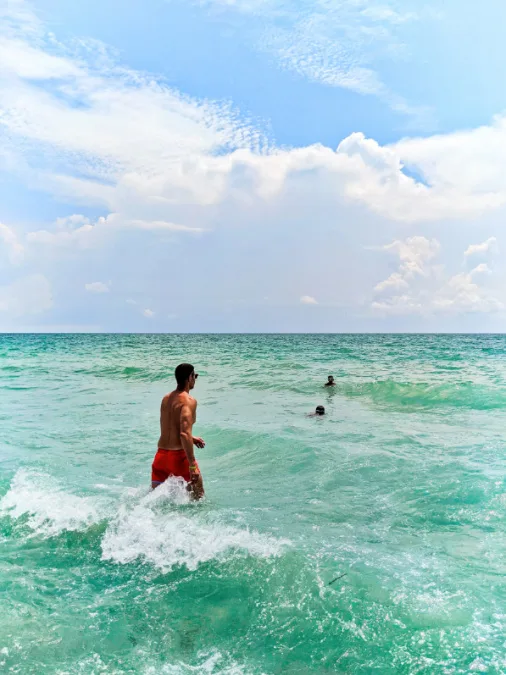 Beachcombing on Sanibel Island
We are such suckers for beachcombing. We live at Butler Beach on Florida's east coast, so spending time beachcombing is a daily thing. Walking the sandy shores of Sanibel Island is one of the best things to do, it's free and easy, and you'll be amazed at what you find. This is, without a doubt, the best beachcombing we've experienced in Florida.
Whether you're hoping to find the perfectly striped red and peach colored cockle or if you're hoping for an epic lightning whelk shell, beachcombing on Sanibel Island is THE thing to do. If you're lucky, you might even find some shark teeth. We've found our share of fossilized sand tiger shark and lemon shark teeth around here.
Tip: we enjoyed staying at the Sundial Beach Resort on Sanibel and they actually had seashell washing stations around the property since the beachcombing is so good there.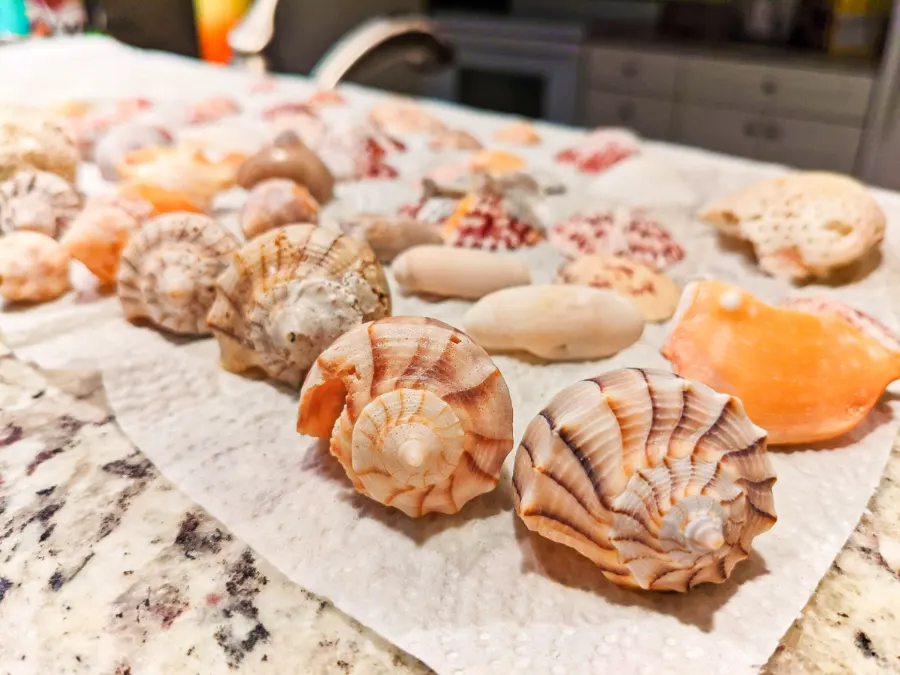 Try Fishing from the Beach on Sanibel
Surf fishing is really fun, and we much prefer it to being out on a chartered boat. We really enjoyed our fishing day out in the waters of the Florida Keys and loved cooking up our catches, but beach fishing is really unique. With fishing from the beach, you've got both the active element of casting out your line continually, as well as being on the sand and getting to play, beachcomb and just relax. Beach fishing on Sanibel is a great family activity.
Note: in Florida adults need to have a fishing license whether you're beach fishing or fishing from a pier. If you're with a guide and they've got the proper licensing, your experience usually covers the need for you to get your own license.
Kayaking in Tarpon Bay and the Mangroves
We've paddled through our share of mangroves, but kayaking in Tarpon Bay and exploring the mangrove channels all around is really cool. If this is your first trip to Florida, or at least to the Gulf Coast, this is a must. One of the best things to do on Sanibel Island, kayaking in Tarpon Bay gives you a totally different perspective of Florida coastal habitats and wildlife.
From the bay to the Commodore Creek Kayak Trail, this is NOT the beachy version of Sanibel you're expecting, but more of the Pirates of the Caribbean jungle style that we love about Southwest Florida. This is a great kayaking experience with kids, especially for the wildlife and the mangrove tunnel.
Check out our full review of this guided adventure on our sister-site, Paddle Your State: Kayaking on Tarpon Bay.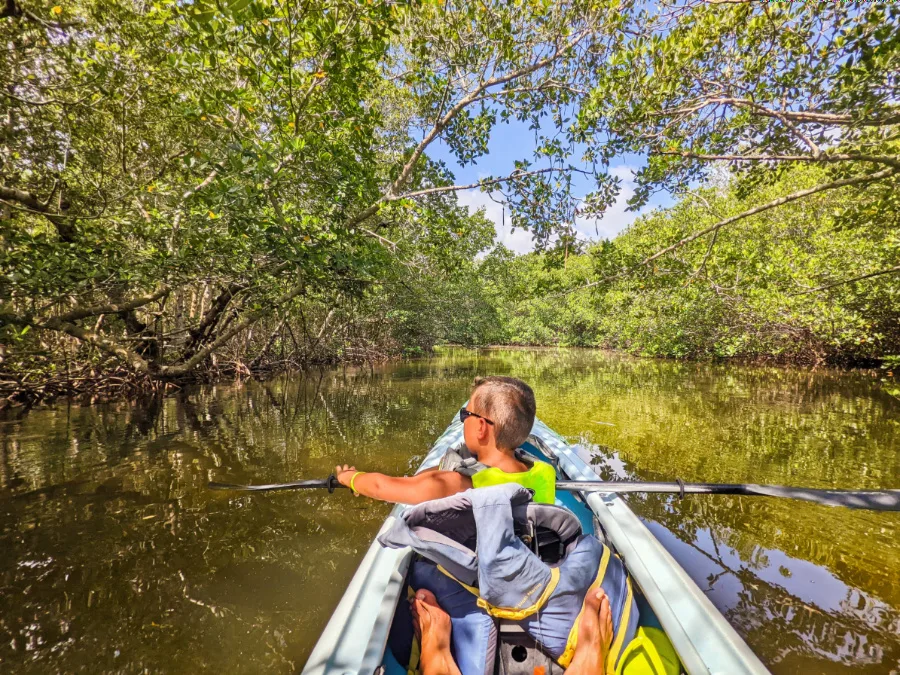 Inland Adventure at Six Mile Cypress Slough Preserve
Do the less than 30 minute drive from Sanibel Island to the Six Mile Cypress Slough Preserve for a COMPLETELY different Florida outdoor adventure. Southwest Florida is home to amazing beaches, yes, but its cypress strands and the forests of the Everglades are really extra cool. We have spent a lot of time in Big Cypress National Preserve and Everglades National Park, and the Six Mile Cypress Slough rivals those sights.
Plan an hour or more to hike the boardwalk (1.2 miles long) and be sure to bring your camera. You'll be watching for alligators, birds of every type, racoons, and more. We even spotted a water moccasin a safe distance away!
There is an interpretive center at the Six Mile Cypress Slough as well, so be sure to stop in and learn about the ecosystem and the local history of the Fort Myers area.
Note: the Interpretive Center is closed on Mondays, so if you visit then, you don't need to add extra time for the museum exhibits.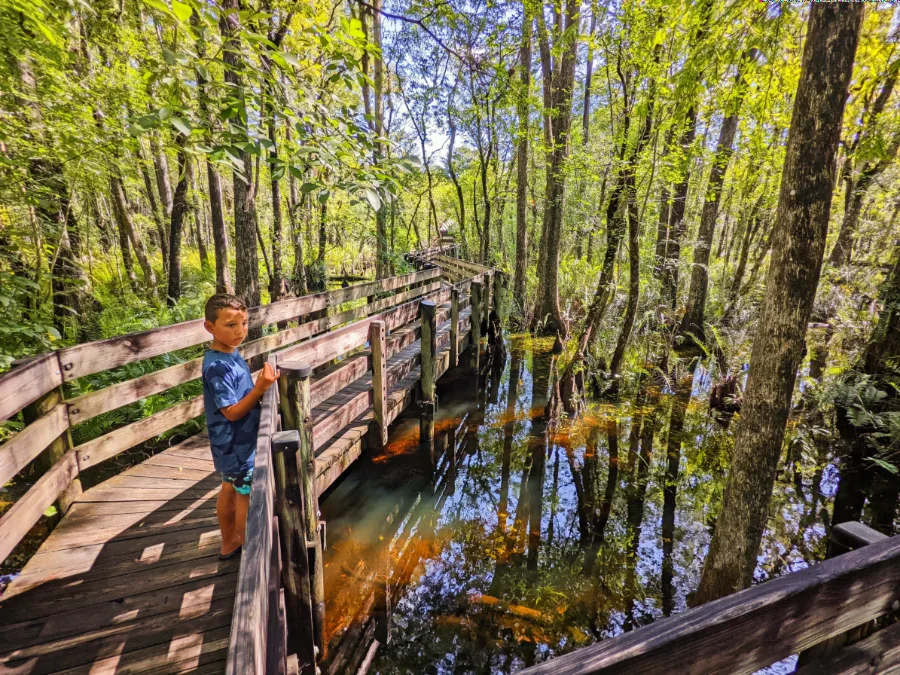 Explore Lovers Key State Park
Just like Sanibel and Captiva islands are beautiful, Lovers Key State Park and its islands are gorgeous too. Located on Estero Bay, just south of the Causeway to Sanibel, Lovers Key has trails, beaches, and an awesome kayaking route for exploring Estero Bay.
With several launches, kayaking or SUP are both very available activities in Lovers Key State Park. If you're not into paddling but want to visit the beach instead, you won't be disappointed. Park at the main beach parking area and hop on the free tram that goes to the South Beach drop off. There are facilities there including a picnic pavilion, restrooms and even a concessionaire.
Tip: if you aren't paddling at Lovers Key but you are walking to the beach instead of doing the tram, be sure to watch for manatees below the bridges. This is the perfect manatee habitat!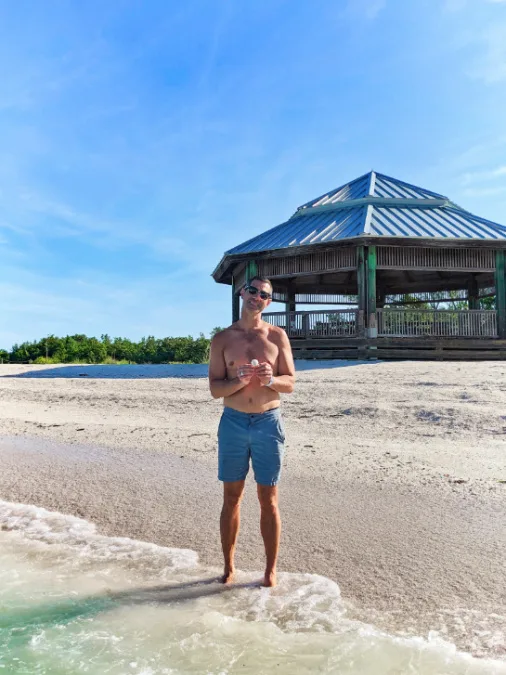 SUP Spots Around Sanibel and Captiva
We tend to travel with inflatable standup paddleboards (SUPs) so that we can get on the water on a whim, and truly enjoying a SUP excursion around Sanibel or Captiva Island is one of the best things to do to get away from it all. If you don't travel with your own boards, don't worry, because you can rent them on Sanibel, Captiva, at Lovers Key, down on Fort Myers Beach, and a variety of other spots in the area.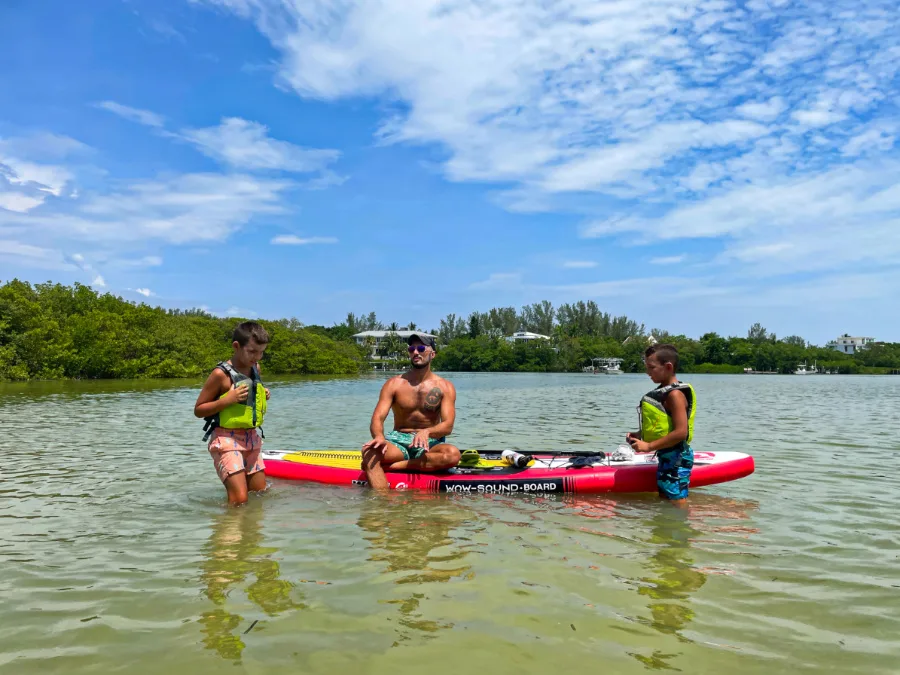 The waters are wonderfully calm on the Intracoastal Waterway between Sanibel and the mainland, but there are a few channels to be wary of, just because they have more boat traffic and strong currents. Here are our picks for easy spots to launch SUPs (or kayaks) around Sanibel and Captiva:
Bunche Beach (SUP/kayak rentals; there are kayak tours here too!
Blind Pass Beach to Buck Key Preserve (launch from Castaways while beach is closed)
Bowditch Point
Port Sanibel Marina
Causeway Islands Park (north or south island)
Sanibel Boat Ramp
Dixie Beach Parking
Wulfert Keys Trail end
Castaways Canoe and Kayak Rental
Adventure Sea Kayak and SUP (Captiva)
Mango's Cafe / Boats and Fun (Captiva)
As with any SUP or kayaking spots in Southwest Florida, you'll want to be mindful of the tides, current, boat traffic and weather. Be safe and enjoy the beautiful waters!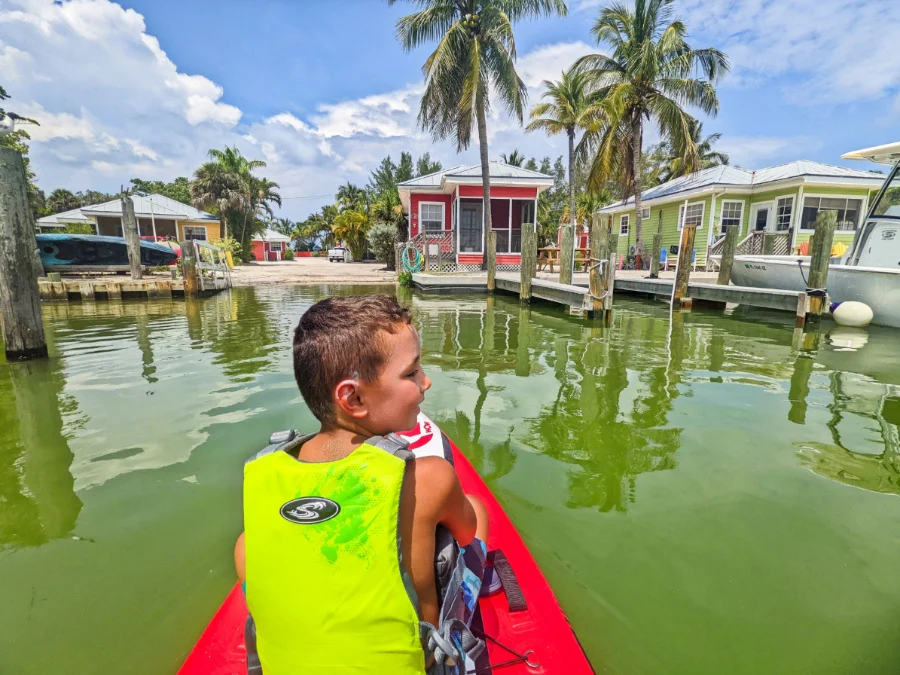 History and Culture Things to do on Sanibel Island
While it's easy just to enjoy all of the outdoor things to do on Sanibel Island, there are some cool historic and cultural experiences to plan for as well. You don't have to spend all your time inside to get a feel of Sanibel's past, but planning these activities is a great way to break up your outdoor time if you're not used to the heat/humidity of the Florida Gulf Coast.
Visit the Sanibel Lighthouse (Point Ybel Light)
We visit lighthouses everywhere we can, from the St. Augustine Lighthouse in our own neighborhood to remote beacons on the Oregon Coast. The Sanibel Lighthouse is one of the most picturesque, and unique lighthouses we've been to. First lit in 1884, it had a keeper until 1949 when it was automated. Today, it's still functioning, but you cannot climb its 127 steps.
What you CAN do though is admire the Sanibel Lighthouse from the beach and the grounds below. There are displays about the history of the Point Ybel Light (the original name for the lighthouse) and plenty of walking paths to enjoy. While there is parking at the Sanibel Island Lighthouse, if you're able to walk from the village area or your resort on the island, do so. I'd say it would be a fun paddle from the mainland over in Fort Myers, but it's four miles across open water if you wanted to kayak to the beach at the Sanibel Lighthouse, so maybe visit once you're already on Sanibel.
Tip: when you walk through the island hammock (forest) to the lighthouse, for another great view and to cool off, head back to the main beach area THROUGH THE WATER! Yes, it's delightfully shallow and you get a beautiful view of the lighthouse.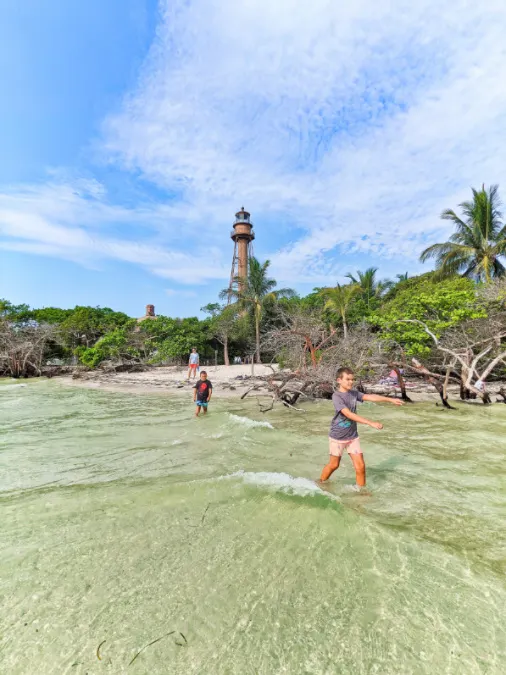 Have Authentic Southern Cuisine at Mudbugs
We live in Florida, so we tend to get a lot of "Florida" restaurant experiences in St. Augustine, where we live, and other places we visit. Mudbugs Cajun Kitchen is NOT Florida cuisine, but is genuine Cajun cooking. It's full-on Louisiana style and delicious. It reminded me of Henry's Louisiana Grill up in North Georgia actually.
With oysters, poboys, Gulf shrimp, gator tail, beignets, gumbo, muffuletta, fried green tomatoes, catfish, etouffee, Creole style everything… You'll love it. Heads up: there is some spice to be had. And dessert too. Mudbugs really is awesome, so much so that we're listing it as one of the best things to do on Sanibel Island.
There is both indoor and outdoor seating, so unless it's wildly busy, they tend to seat guests fairly swiftly. We arrived, were seated, had our amazing food (including crawdads) and were done in about 90 minutes, and that was because we were just hanging out enjoying the atmosphere. We loved the experience!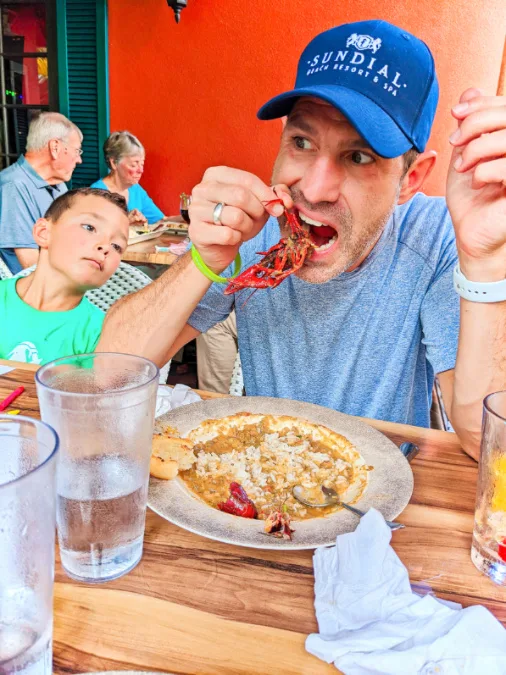 Check out the National Shell Museum on Sanibel Island
I know that it might not sound remarkable to visit a shell museum, but the Bailey-Matthews National Shell Museum on Sanibel Island is one of the best things to do. If you spent any time walking the sandy shores of Sanibel or Captiva, you know that the seashells are epic, both in quantity and uniqueness. The Bailey-Matthews National Shell Museum showcases this so very well. It's science, culture and natural curiosity all wrapped up in one.
One of the coolest and most thoughtful aspects of the National Shell Museum is the live tank area. You actually get to see living, active creatures of all sorts, which gives great context to the shells you see in the displays. Allow yourself at least an hour to explore and enjoy the collections and displays. It's a strangely fascinating museum, and both of our kids loved it (we did too!).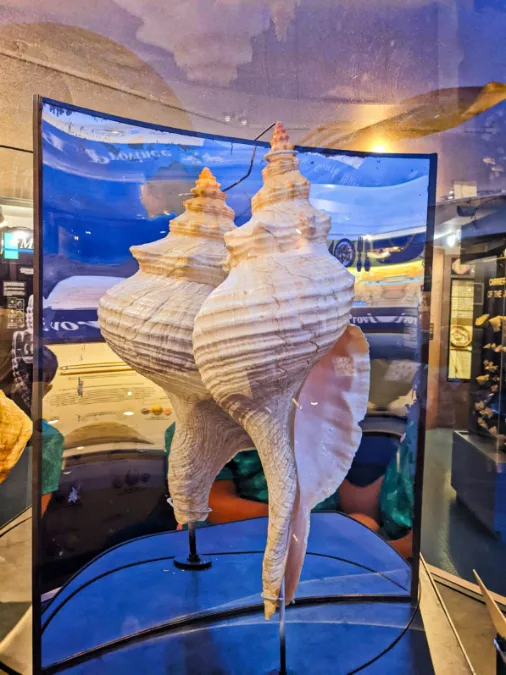 More Fort Myers / Sanibel Area Things to Do
We can't sit still, so of course we recommend exploring beyond the islands of Sanibel and Captiva. You'll have plenty to do there, but there are even more fun things to do back on the mainland.
Visit IMAG Museum of History & Science
I know, we're leaving the island for this, but it's worth the trip ashore. The IMAG Museum of History & Science is really cool with kids. As an adult I really enjoyed the history exhibits all about Fort Myers and the Gulf Coast connections. From Civil War history or the Florida citrus culture, it's a nice way to help kids learn about the area through exhibits and hands-on activities.
FYI: this is a popular field trip and summer camp spot, so if you're there in the afternoon, plan on it being a hoppin' place. Visit at opening for a more quiet experience.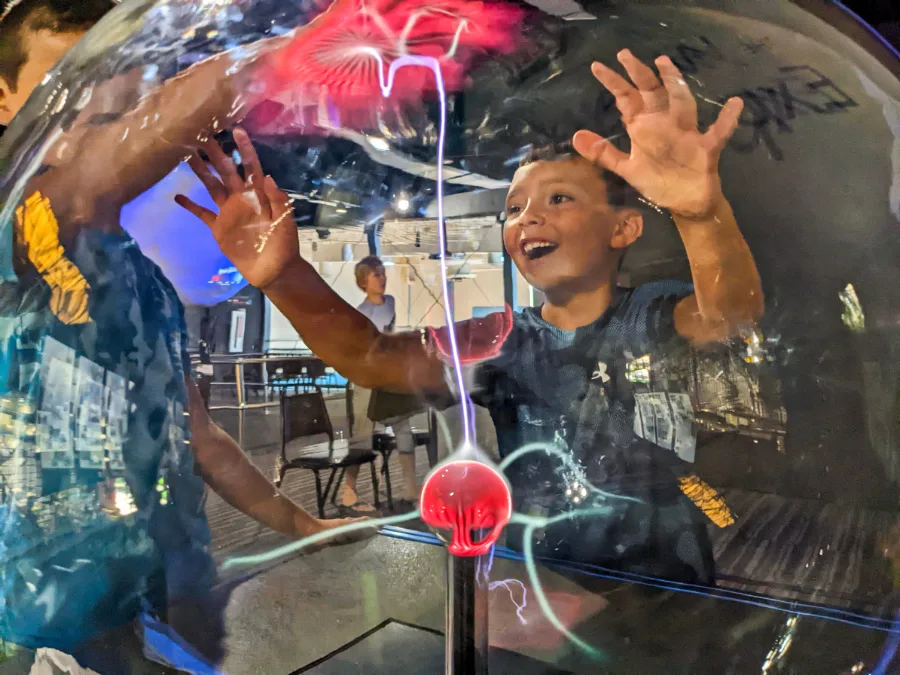 CROW: Sanibel Clinic for the Rehabilitation of Wildlife
Sanibel's CROW Clinic is a unique sort of nature experience. Clinic for the Rehabilitation Of Wildlife. While it is a whole operation dedicated to the wildlife of Sanibel, Captiva and the whole Fort Myers area, the public facing elements are more education focused versus wildlife observation. We've been to the Marathon Turtle Hospital in the Florida Keys and the Georgia Sea Turtle Center on Jekyll Island, and those facilities are set up to show you how veterinarians work with injured wildlife, but here, that's done separately from the public.
If you'd like to visit CROW on Sanibel, you can check out the exhibits about the wildlife and the habitats on the islands, see a few local creatures, and then if timing is right, join a naturalist on a guided hike through the neighboring wildlife preserve. It's a great learning opportunity, but know that it's very different from other wildlife rehabilitation centers.
Visit the Edison and Ford Winter Estates
Florida isn't just a place for sunshine lovers like us to live year-round, but it's also got a long history of being a winter home for lots of historic figures. Did you know that Thomas Edison and Henry Ford had winter estates here in Fort Myers? It's true!
Plan a few hours to visit the Edison and Ford Winter Estates on the Caloosahatchee River when you're in Fort Myers. The houses and grounds are beautiful and they're preserved just like when Thomas Edison would visit for the winter and work in his laboratory. There is a small Ford car museum building, mango trees and a fun scavenger hunt to keep kids interested. We loved it!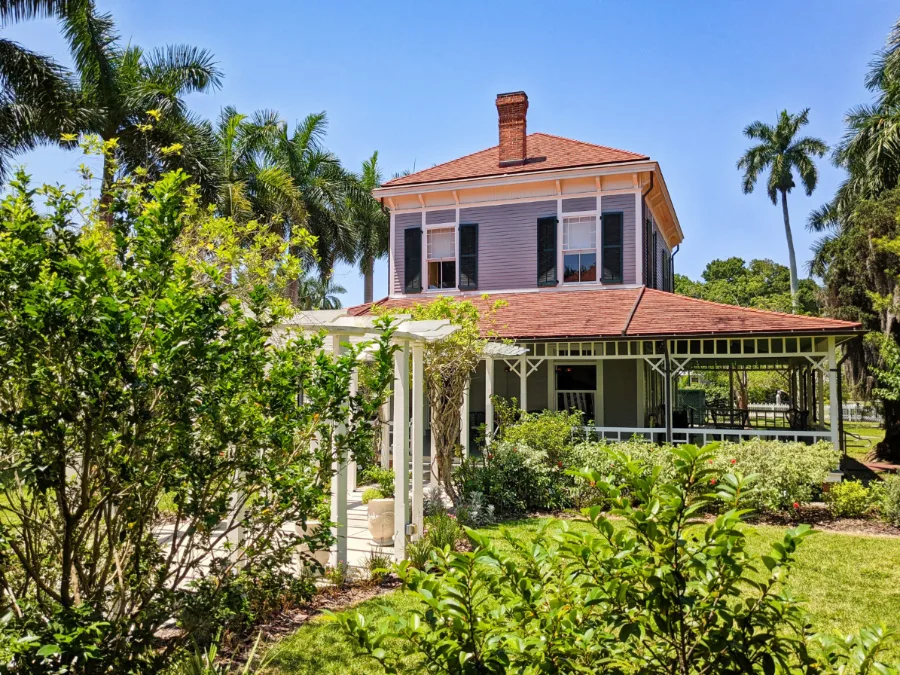 Four Mile Cove Ecological Preserve
On the Cape Coral side of the Caloosahatchee River you'll find the Four Mile Cove Ecological Preserve. Similar to the Six Mile Cypress Slough Preserve, there is a great boardwalk here. It's located just off the river, so wildlife ranging from manatees to alligators, turtles to beautiful birds make it a fun place to explore.
Tip: visit early in the day for the most active wildlife viewing.
Calusa Nature Center and Planetarium
Open Tuesday through Sunday, the Calusa Nature Center and Planetarium is a combination of outdoor science, natural history and trails. You can learn about Florida butterflies and then go for a stroll through the trails. There are lots of different programs going on year-round, so if you're visiting Fort Myers for a week or so, you can even participate in educational camps. It's great for a day visit too, though.
Note: there are two trails that explore the grounds of the Calusa Nature Center as well. So if you want to explore a little extra, go for it!
Need to Know for Visiting Sanibel Island and Fort Myers
Now that you're aware of how awesome Sanibel and the surrounding area of Fort Myers is, are you ready to plan? Of course you are. So, here are the most important things to know for planning your trip to Southwest Florida.
Where is Sanibel Island?
Sanibel Island is located just west of Fort Myers, connected to the mainland by a causeway. Getting here, it's less than three hours from either Miami or Tampa. If you're already planning a trip to the Everglades area, particularly the Gulf Coast 10,000 Islands section, it's less than two hours north. Venice, Florida is also less than two hours away. Naples and Marco Island are a little over an hour to the south.
For those planning a Florida Gulf Coast road trip, Sanibel Island is an easy addition or maybe even the icing on the cake for that travel plan.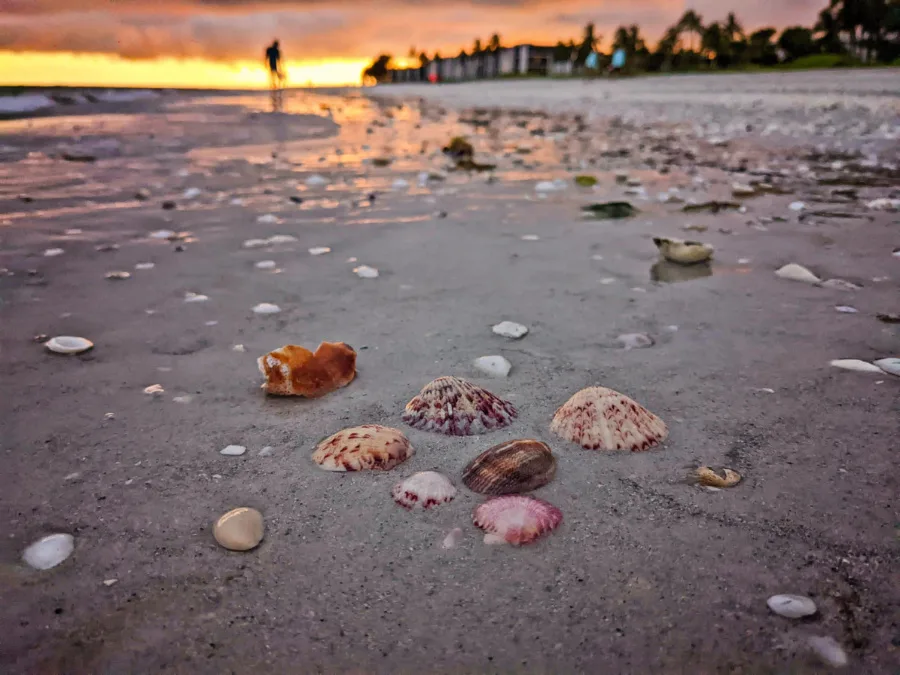 Getting to Sanibel and Captiva
Did you know that Fort Myers actually has a pretty large airport? It's true! You can fly to Southwest Florida International Airport (RSW), located in Fort Myers, from nearly every major East Coast airport and Midwest hubs as well. But here's the exciting thing: there are actually direct flights to Fort Myers from Seattle, San Francisco, Los Angeles and Las Vegas. How awesome and easy!
Note: on this most recent trip, Chris actually flew direct from San Francisco (SFO) to Fort Myers (RSW) to join us after we did our road trip to the Gulf Coast from Saint Augustine.
From RSW, it's about 50 minutes to Sanibel, or even closer if you choose to stay downtown or at Fort Myers Beach.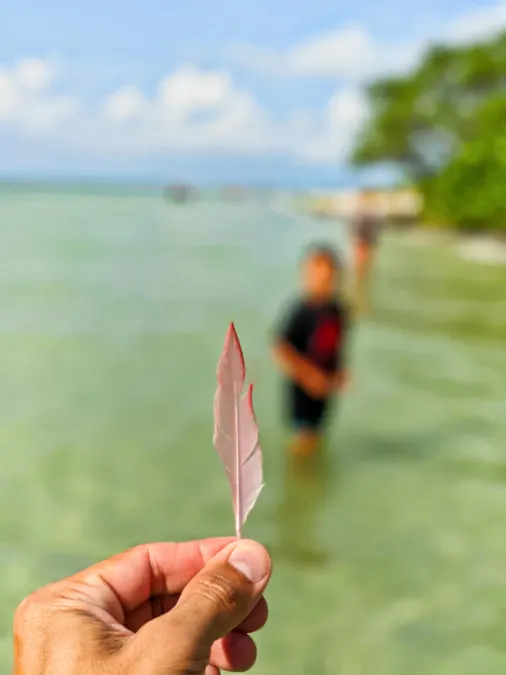 When to Visit Sanibel and Captiva
It's always a good time and there are always things to do on Sanibel and Captiva, and Fort Myers in general. Winter is one of the most popular times for visiting Southwest Florida and much of the Gulf Coast; you'll see an influx of visitors from the north when the temps drop up there. Our favorite times to visit are spring and fall. It's wonderfully warm and if you can visit before Spring Breaks start happening, it's delightfully quiet. Sanibel is pretty quiet even during the busiest times though.
Something else to keep in mind when planning a trip to any part of Florida is the Atlantic hurricane season, which runs from June to November. The chances of a named storm during YOUR specific planned dates is really unlikely, but it's always good to keep in mind.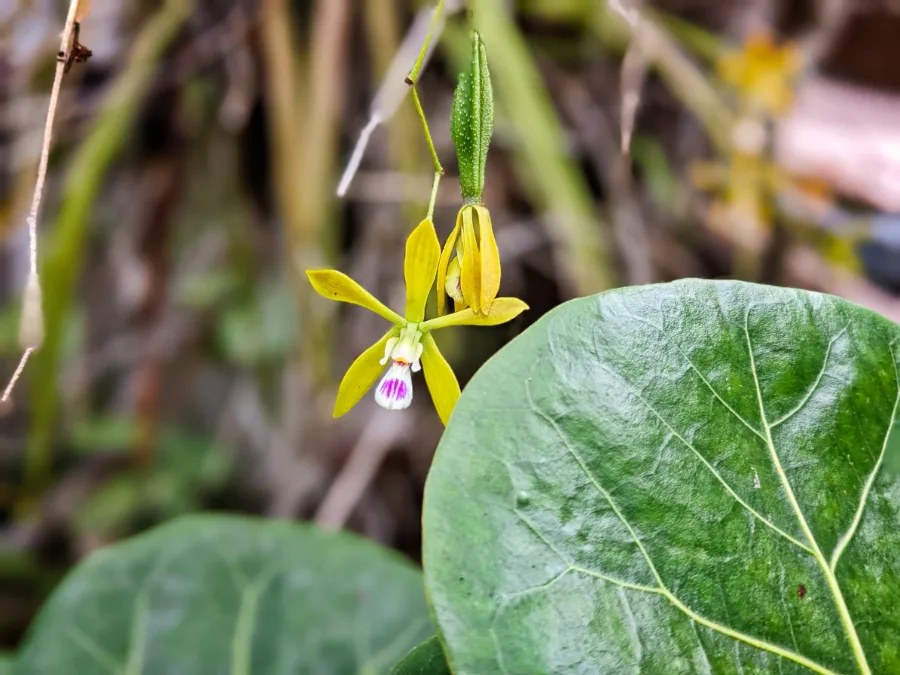 Are the Mosquitoes Bad in Southwest Florida?
We get lots of questions about mosquitoes whenever we write anything about Florida. You know, it's a subtropical state and we do have bugs, it's true. What surprised us about the Fort Myers area, and in particular Sanibel, was the near lack of mosquitoes. We spent time on the beaches, the waterways and even the cypress forests and didn't have a problem. Everyone is different though and some people attract mosquitoes or are more irritated, so take our experience with a grain of salt.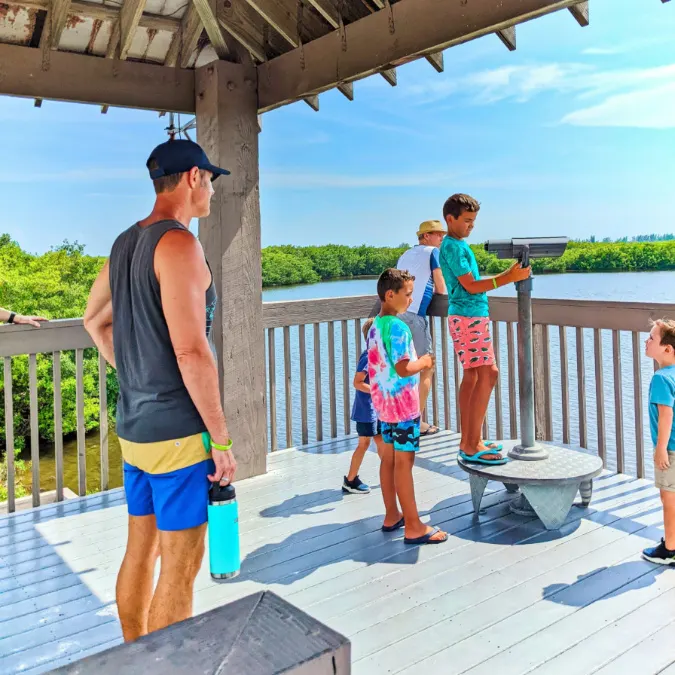 Clearly we enjoyed our time on Sanibel and Captiva. Exploring the Gulf Coast is always a treat and we do it often, so if you have any questions or need help planning, feel free to send us a note or leave a comment. Happy to help!