When it comes to choosing where to stay on the Big Island, we have a couple of picks, but we wanted to share specifically about the Club Wyndham Kona Hawaiian in Kailua-Kona. We enjoyed our stay here very much, had plenty of space and loved the location. We've got the whole scoop on what to expect when you stay here, as well as all the best NEARBY things to do.
The Big Island of Hawaii feels much less touristy than Oahu, and honestly I like the vibe a lot more. It's calm, there is more space, and the towns are pretty cool. The Club Wyndham Kona Hawaiian is on the east side of the island, so you've got easy access to awesome snorkeling, historic sites and, of course, Kona coffee. Check it out!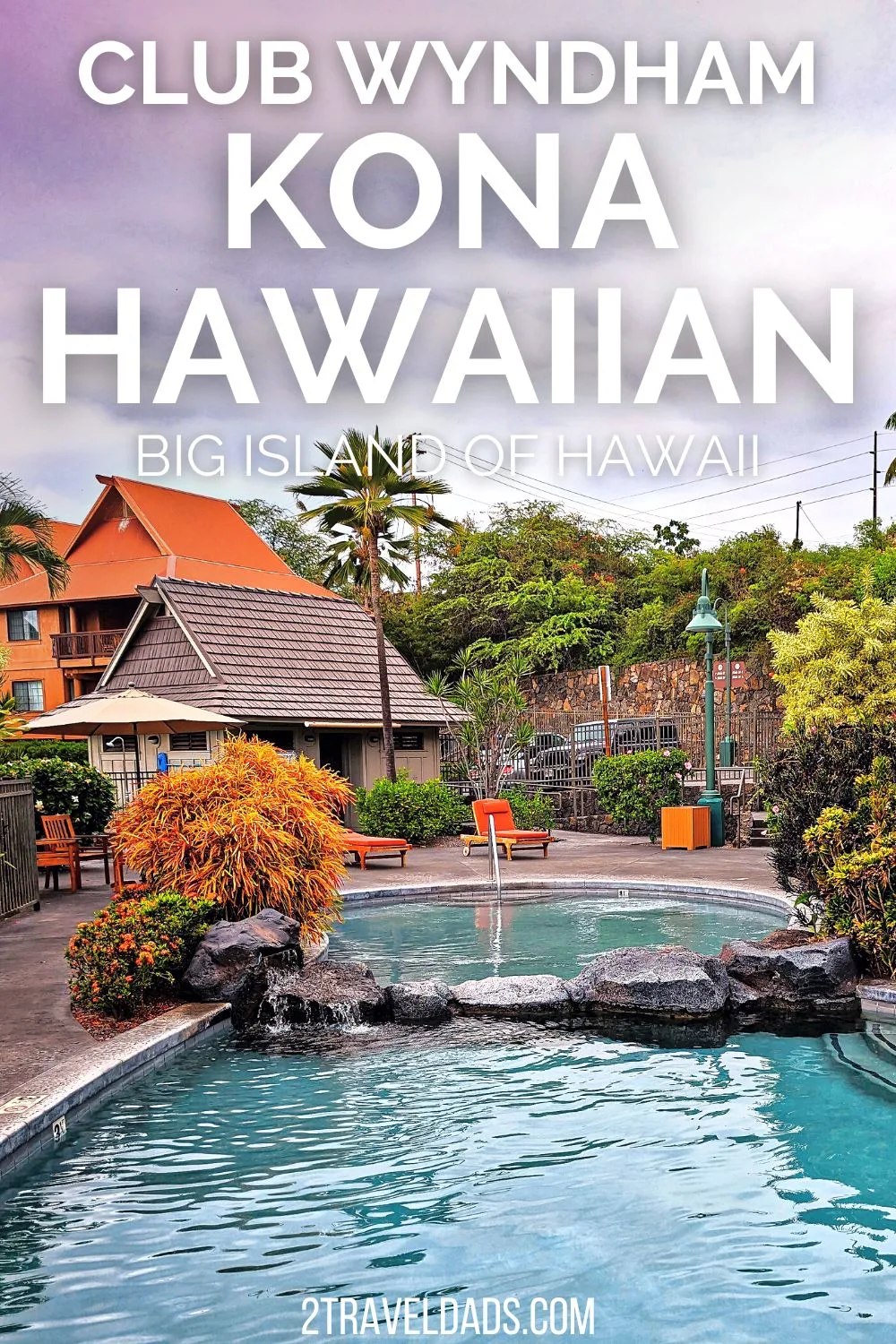 Staying at Club Wyndham Kona Hawaiian
The Club Wyndham Kona Hawaiian is part of a timeshare network, but you can book it as a hotel as well. If you want to stay here using timeshare access, it's a part of RCI and is a Gold Crown property. We'll get more into booking the Club Wyndham Kona as a timeshare stay, but here's a bit about the property first.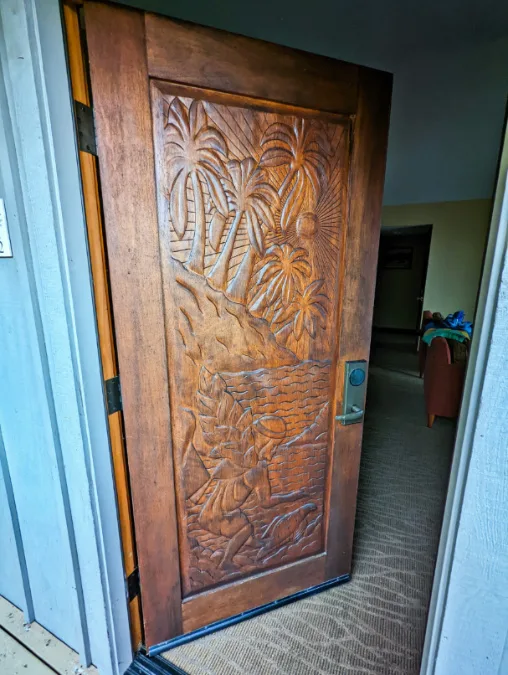 What Are the Accommodation Options at Club Wyndham Kona?
All of the room options at Club Wyndham Kona Hawaiian are two bedroom condos. This means plenty of private space, a kitchen area, a private balcony or patio (lanai), and separate bedrooms. All units can accommodate up to six people with the bedroom setup:
2 rooms with either a king or queen bed
Sleeper sofa in living room
The condos at Club Wyndham Kona Hawaiian also all have two bathrooms and a living area. This is a great option for where to stay in Kailua-Kona if you're a large family or if you're traveling with the grandparents.
The setting is wonderful. The condo buildings are small, and more like bungalows than what you picture for condominiums. Each is encompassed in a garden setting, and it's very quite.
Already know you want to book it? Reserve Wyndham Kona Hawaiian here!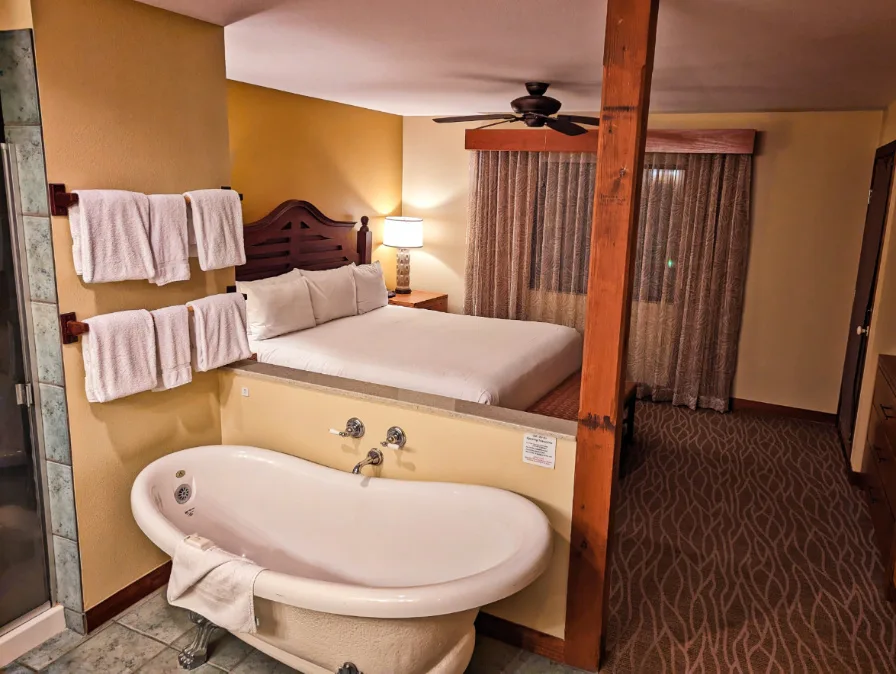 Check in / Check Out at Club Wyndham Kona Hawaiian
The front office space of the Kona Hawaiian is open air and pretty cool. It's reminiscent of the airport in Kona: no doors, just covered breezy spaces.
When you arrive, you will talk with a front desk agent to get checked in, which is very normal… but then you also will need to talk to the "concierge." This is where you'll get a map of the area, get keycard wristbands and be given the option of doing a timeshare presentation. If you don't want to do the presentation, say no, ask for your stuff and go.
Despite clearly communicating that we had a full schedule and were on a work trip, the concierge guy still asked a few times if we could attend a "fractional ownership" presentation. I hate being that guy who has to be pushy, but after a long day of travel, my expectation is that my first no meant no.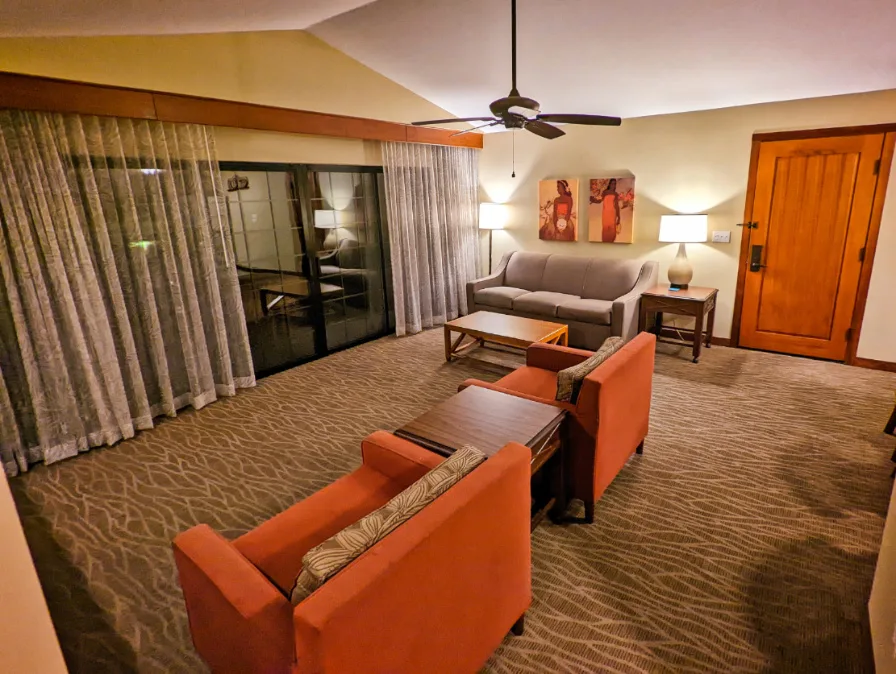 Using the Club Wyndham Kona Hawaiian as a Timeshare
As mentioned, Club Wyndham Kona Hawaiian is listed as an RCI Gold Crown property. The units are very nice and very well maintained as you'd expect of a Gold Crown ranking. Overall though, this is not a resort like you might expect of a Gold Crown listing. The Club Wyndham Kona Hawaiian is truly set up in the style of a traditional timeshare, where you have actual living space vs staying at a resort with restaurants and hotel staff.
For booking the Club Wyndham Kona as a timeshare, it does run off the points system, so if you have points, it's easy and you can make your booking request through the usual RCI process. If you're an RCI weeks member/owner, you will need to go through their conversion process to make it so you can book with timeshare points.
Don't want to go through the timeshare process to book a stay at the Club Wyndham Kona Hawaiian? That's totally fine. They also release available room inventory to Expedia and other booking engines, so you can treat planning a stay here just like any other hotel.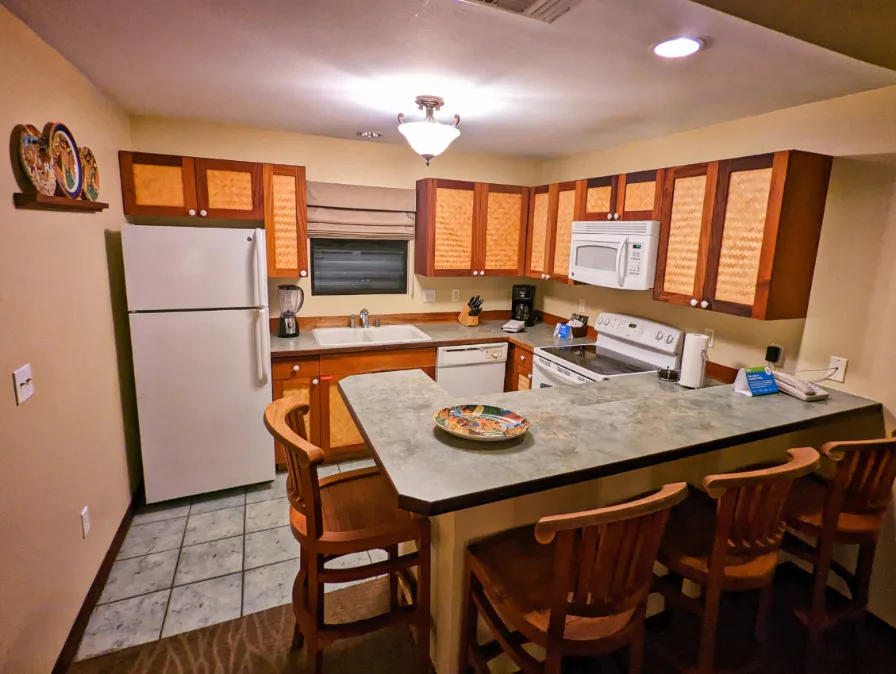 Will I have a Timeshare Presentation if I stay here?
Oh gosh no. Of course there is information available to guests checking into the Club Wyndham Kona Hawaiian in the event you're curious or do want to learn about Wyndham's timeshare program, but it's not required of guests and ideally will not pushed on them at all. It is NOT required and you should NOT feel obligated to participate.
If you'd like to learn more about timeshare ownership and using them effectively, check out our articles all about our own timeshare ownership experiences.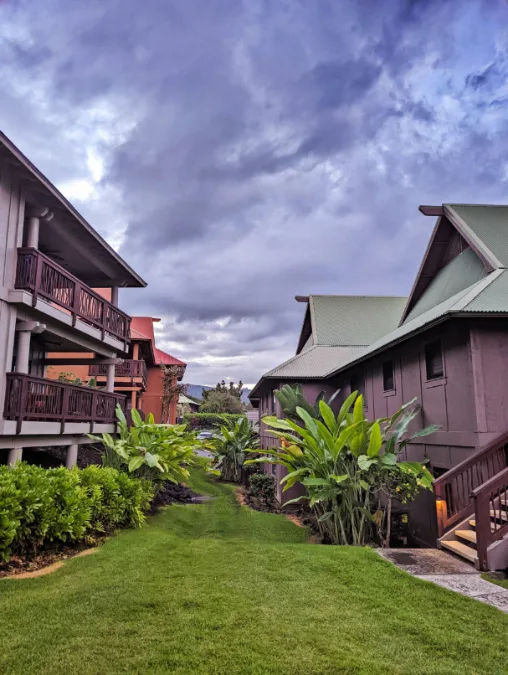 Club Wyndham Kona Hawaiian Amenities
If you notice, we haven't been referring to the Club Wyndham Kona Hawaiian as a "resort" as we have some certain elements we look for in a resort. When I think of a resort I think of a place I can check into and then have everything I need, not have to cook if I don't want, and have several exceptional amenities at my disposal. Club Wyndham Kona Hawaiian is very nice and can be your singular destination if you just want to chill, but it is missing several key elements.
What is missing from Club Wyndham Kona Hawaiian are the following:
Restaurants
Pool service (there are pools, but not poolside anything)
Spa
Beach / outdoor features
Yes, there are lots of restaurants nearby. Yes, you can BYOB to the pool (no glass). Yes, there are spa options in Kailua-Kona. Yes, the beach is a ten minute walk away (to Honl's Beach). These things just aren't DIRECTLY at the Club Wyndham Kona Hawaiian, but it's still a really lovely place to stay.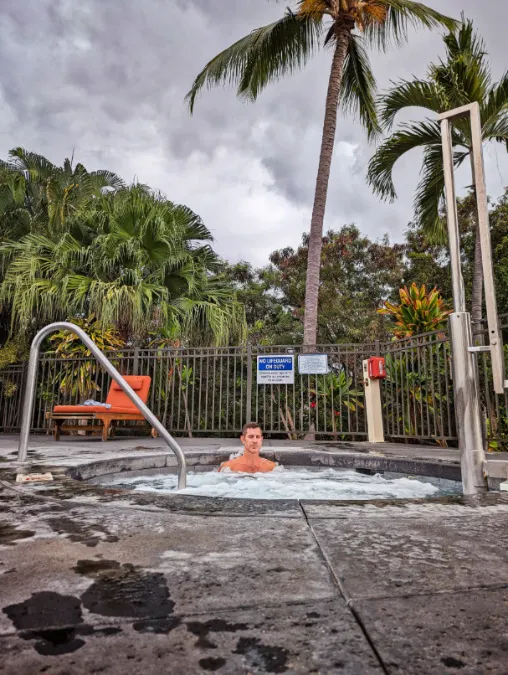 Pools at Club Wyndham Kona Hawaiian
There are two pools and a hot tub at the Club Wyndham Kona Hawaiian. Each has plenty of lounge chairs and restrooms. There isn't towel service, but your rental unit is stocked with pool/beach towels for your stay.
The quiet garden setting of the pool is great for relaxing. And yes, there is an area for kids, so if you don't want to hear children, you can go to a different pool space. The upper pool is split into a shallow kiddie pool area and a normal pool, with the hot tub just off the deeper end. This was our preferred spot.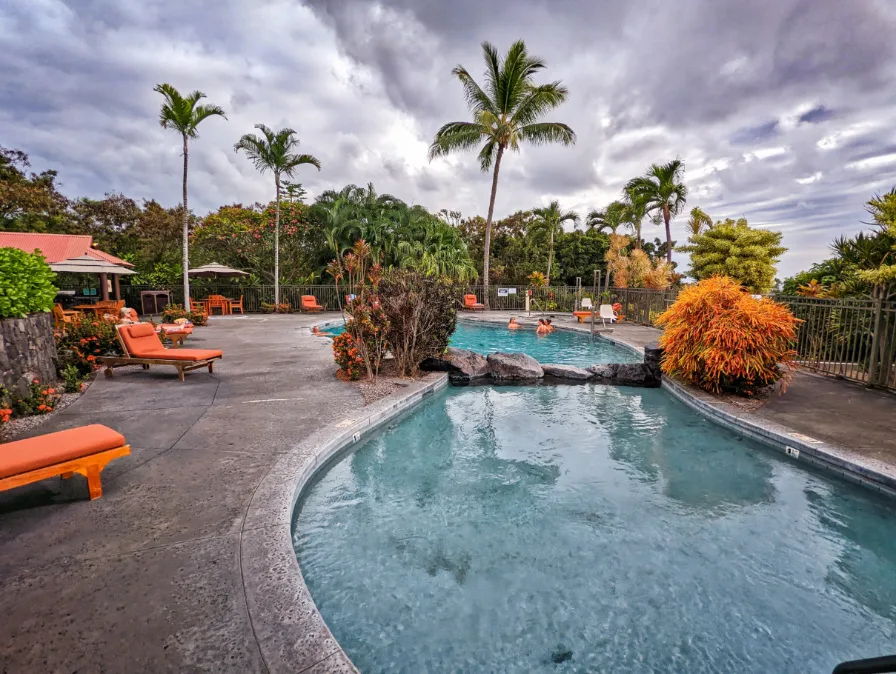 Fitness Center at Club Wyndham Kona
It's not a large fitness center at Club Wyndham Kona Hawaiian, but it's efficient and well maintained. There is cardio equipment, machine weights and room for stretching or doing your own program. Runners will enjoy the location of the property as a fitness bonus, as the neighborhood is very runnable and you can head inland a bit to vary your elevation.
Dining Near the Club Wyndham
While there is no dining directly on property, you will have your own full kitchen stocked with all of your cooking hardware and serve ware. Groceries are up to you to get, but if you're not planning on cooking for yourself, you don't have to worry about it.
There are plenty of dining options in Kailua-Kona if you're not in the mood to cook while staying at the Club Wyndham Kona Hawaiian. Walking into town it's ten to fifteen minutes; driving it's only about four minutes.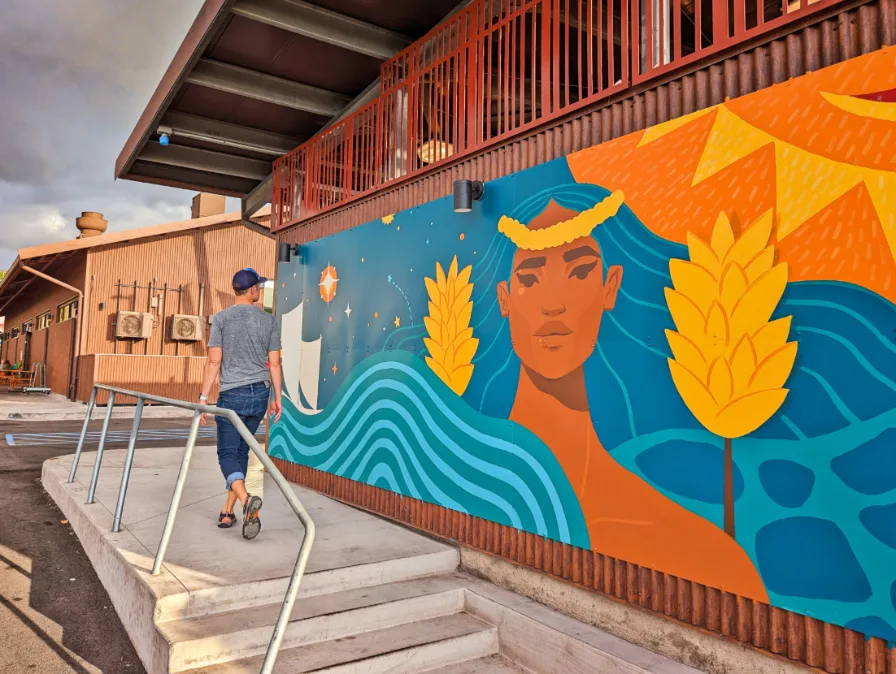 Papa Kona's – Our Top Breakfast Pick
You could've sold us on Papa Kona's for any meal based solely on it being directly on the water in Kailua-Kona, but the food, drinks and service sealed the deal. Located with waves crashing below (and with its own parking area!) Papa Kona's had a great atmosphere and was a really mellow dining choice.
They have their own specially roasted coffee (which is delicious) and is expected for a nice place on the Kona Coast. They also have a really lovely Mai Tai, which goes great with any meal. For breakfast, you can get a Hawaiian standard, Loco Moco, or you can keep it simple and choose from any number of standard options. Go for the Hawaiian option though, whenever you can.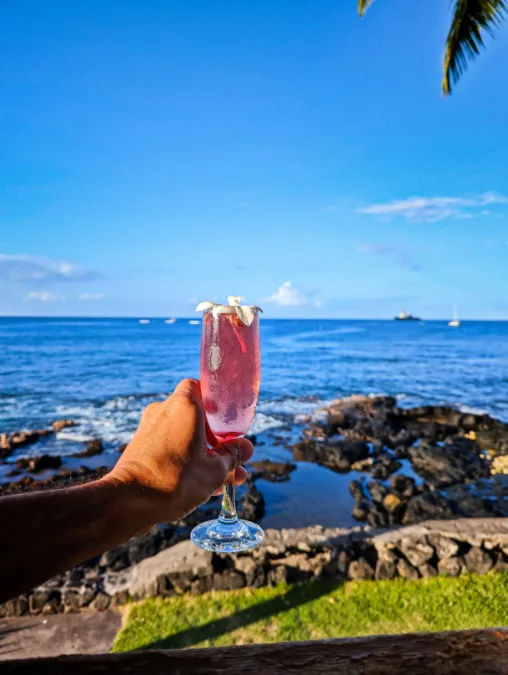 Umeke's Fish Market for Lunch
We were trying to decide what our favorite places to eat in Hawaii have been and Umeke's came up several times. They've got the best poke from a non-poke restaurant, the best lomi lomi, the best fried fish and the best Mai Tai. Umeke's is both a restaurant and a fish market so it's a great place to go whether you want to dine in or get stuff to bring back to make dinner at home.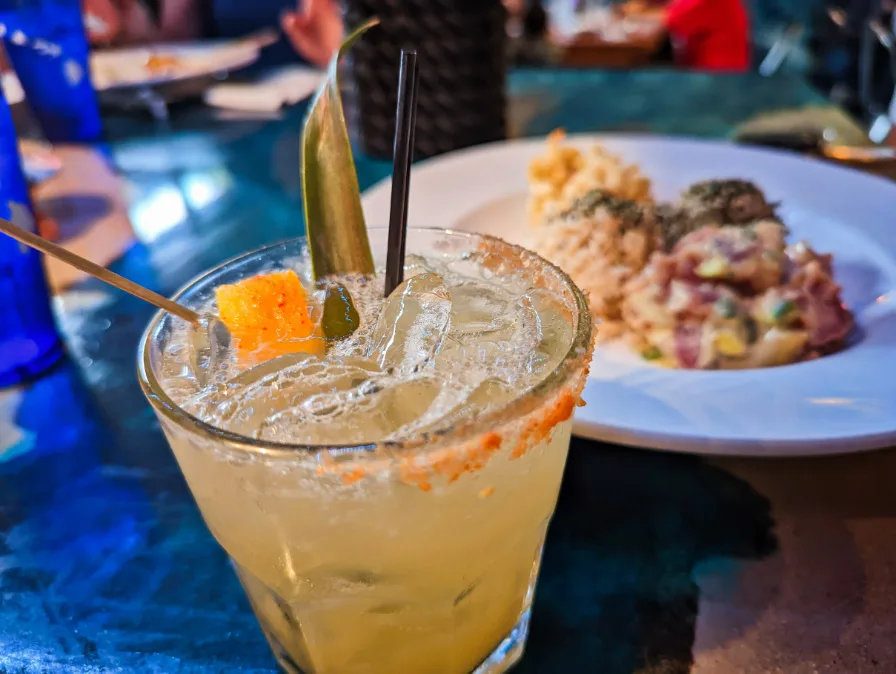 Kona Brewing Co: Is it Worth the Hype?
I love drinking beers from Kona Brewing at home, and their beer selection is even better when you actually visit their brewery in Kailua-Kona. I like their rotating beer offerings onsite at the brewery, and we tried a few that we wish we could get at home. Having said that…
We did not enjoy our food at Kona Brewing Co. We found it to be over-priced and not as good as you'd expect for such a highly rated place. The mac salad was really good, one of our favorites, but their actual entrees were not great. We tried the pork tacos and fish tacos, thinking that would be a good standard. Nah.
Go for the beer, not the food. They may have some other great offerings, but we weren't interested in trying them again to see.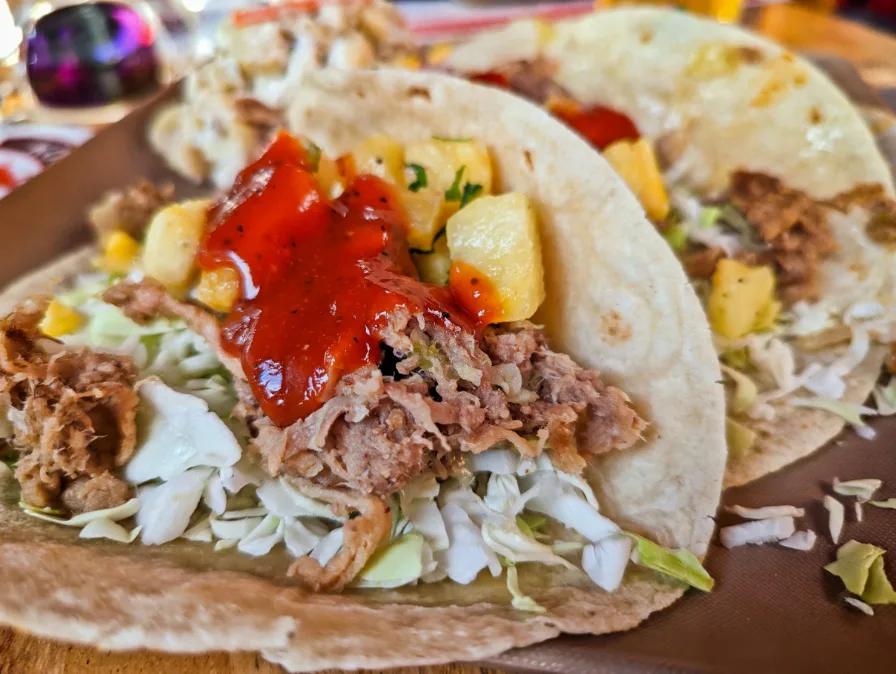 Where is Club Wyndham Kona Hawaiian?
The Wyndham Kona Hawaiian is located just to the southeast of the main town area of Kailua-Kona. It's about a fifteen minute walk into town or a four minute drive. From the Kona airport (KOA), it takes about 20 minutes to get there, and you'll pass several spots that you'll want to stop.
And in case you need a little more info about the Kona Coast, it's on the west side of the Big Island of Hawaii, and then the main town of Kailua-Kona is at the mid-southern end of the Kona Coast. From here, there are two routes you can drive to the east side of the island (the town of Hilo). The drive to Hilo and Hawaii Volcanoes National Park is about two hours from Kailua-Kona, so if you want to experience lava glow in Hawaii Volcanoes NP, do that when you're staying in Hilo as it's much closer and an easier drive home.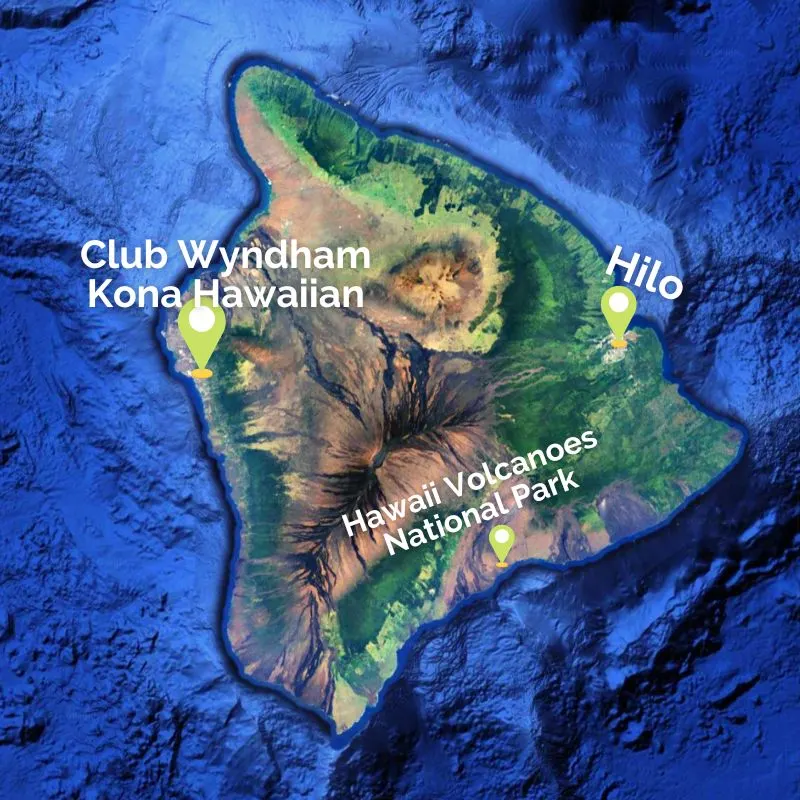 Transportation To and From KOA to Club Wyndham Kona Hawaiian
Unlike some resort destinations, the Club Wyndham Kona Hawaiian is only about 20 minutes from the airport, Kona International Airport (KOA). There isn't a resort shuttle, but you can either take a cab/Lyft/Uber from the airport, or rent a car. I think it's very much worth renting a car in Hawaii.
We HIGHLY recommend renting a car when you come to Kailua-Kona as there is SO MUCH to do all around the Big Island of Hawaii and you'll want to explore beyond the town itself.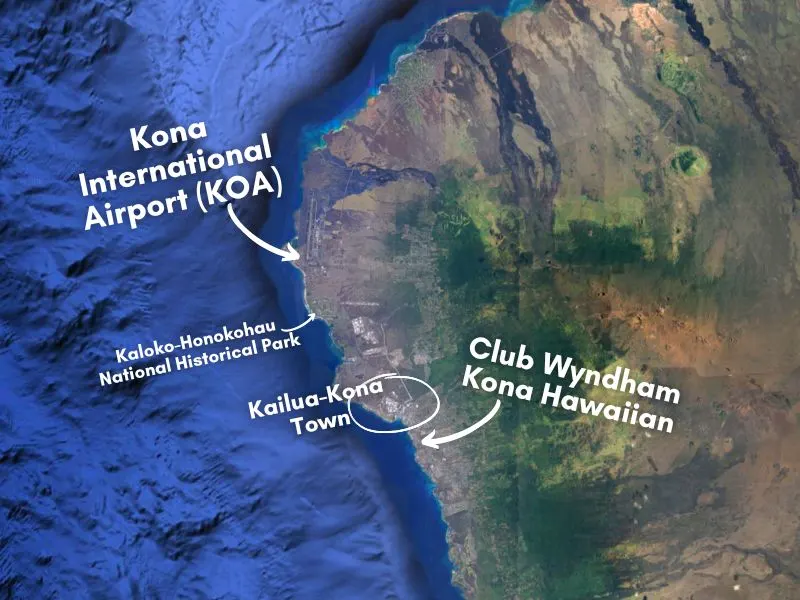 Can I Walk from Club Wyndham into Kailua-Kona town?
It's so easy to walk from the Club Wyndham Kona Hawaiian into the town of Kailua-Kona. Restaurants and sites begin about ten minutes from the property, and then to the end of the main tourist area it's around a 45 minute walk, which isn't bad. Walking into town means being able to stop by shops, waterfront parks and even see some cool historic sites (see below).
For the closest beach access, it's less than 10 minutes walk just to the north at Honl's Beach (pictured below). This is a nice beach park with easy water access and plenty of space. You'll love it!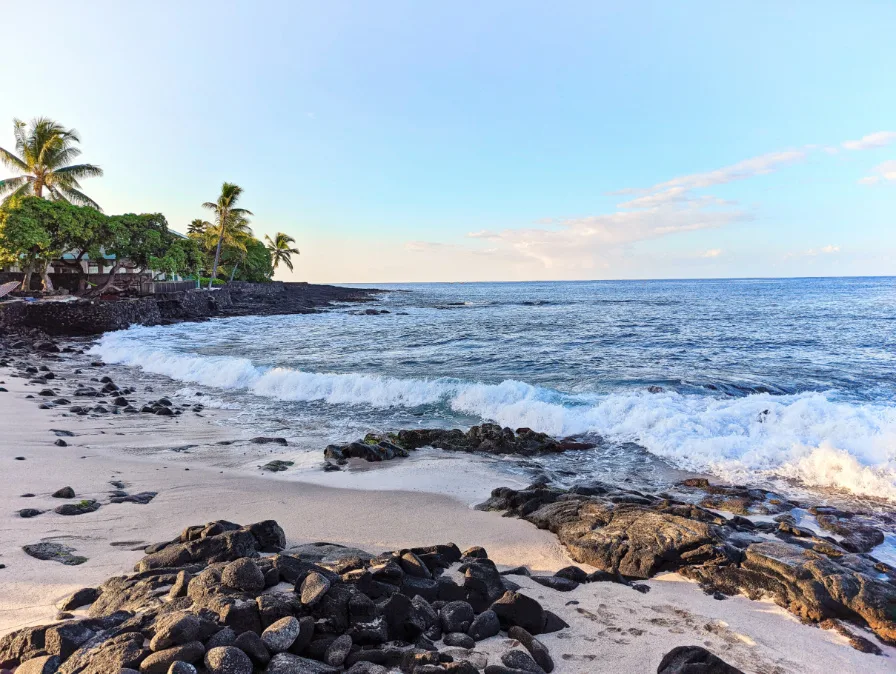 Parking Details at Club Wyndham Kona Hawaiian
When you arrive, you'll need to park by the main lobby building and then get instructions for where to park during your stay. Each building has its own parking spots that are closest to it, so you'll park either just below or directly next to your condo building. Heads up though, if you get back to the Wyndham Kona Hawaiian late at night, you might not get parking right by your building.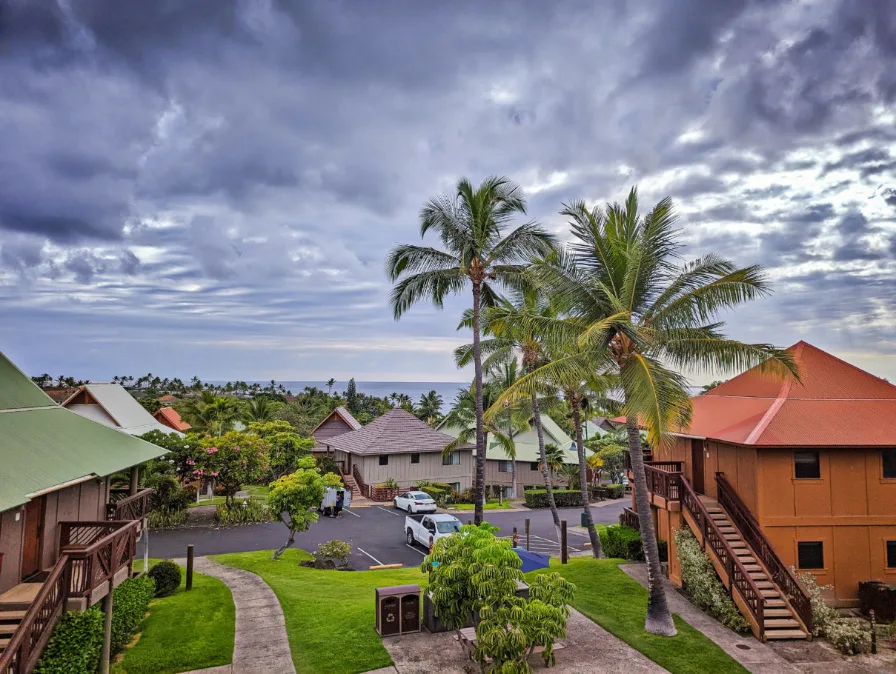 Ten Fun Things to do near Club Wyndham Kona
While I do love to share about the places we stay, as your accommodations really do have an impact on the overall enjoyment of traveling, I love even more when I get to share about our favorite activities and sights to see. Kailua-Kona is a wonderful town to visit and you'll find plenty to do very near the Wyndham Kona Hawaiian, and then short day trips up the Kona Coast are easy too.
While there are tons of unique things to do on the Big Island, here are our top ten picks for fun things to do when you're staying in Kailua-Kona:
Kaloko-Honokohau National Historical Park – TURTLES!
Kamakahonu National Historic Landmark – beach and historic ki'i carvings (tiki carvings)
Mountain Thunder Coffee Plantation – learn about and drink Kona Coffee
Kona Style Manta Ray Snorkeling – leave at sunset, it's amazing – WE DID THIS TOUR
Hapuna Beach State Recreation Area, Waialea Beach – beautiful kid-friendly snorkeling
Makolea Beach – black sand and lava rock tidepools
Walk into Kailua-Kona stopping for snacks and drinks along the way (and the farmers market if open)
Kiholo Bay Beach – crazy drive, but beautiful and amazing snorkeling
Puʻuhonua o Hōnaunau National Historical Park – incredible historic site with many carvings
Hawaii Volcanoes National Park – this is a longer day trip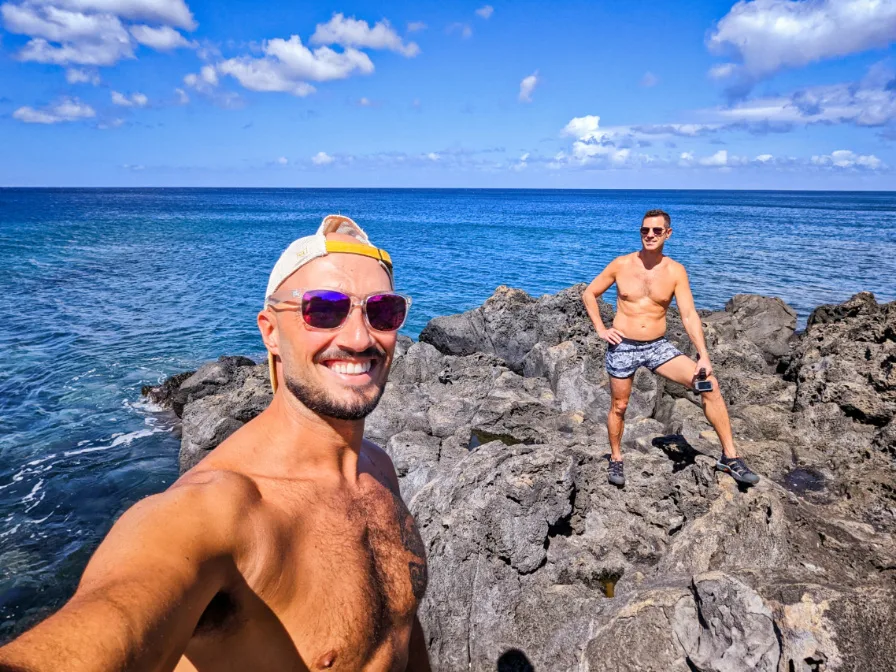 We really enjoyed being based out of Kailua-Kona for exploring the Big Island's west coast. Staying at the Club Wyndham Kona Hawaiian was wonderful for having lots of space and a quiet, relaxing place to unwind at the end of each busy day. We for sure recommend staying here for the comforts of home, but not if you're looking for all the features of a hotel. With proper expectations you'll have a wonderful stay.
Ready to book it? Reserve Club Wyndham Kona Hawaiian here!