The Big Island of Hawaii is incredible to explore and very unique in comparison with the other Hawaiian Islands. With lava flows radiating from the center of the island, you'll find amazingly clear waters all around. We've picked our favorite unique nature and wildlife things to do on the Big Island, and most are great with kids.
While visiting Hawaii is never really a "budget" sort of trip, the unusual landscape and access to beautiful waters make it less costly than some destinations when it comes to activities. You can visit really wonderful natural areas, see lots of wildlife and experience Hawaii by planning your things to do on the Big Island to be mostly outdoors and in state and national parks. Here's how you do it!
Listen to our Hawaii podcast episodes here!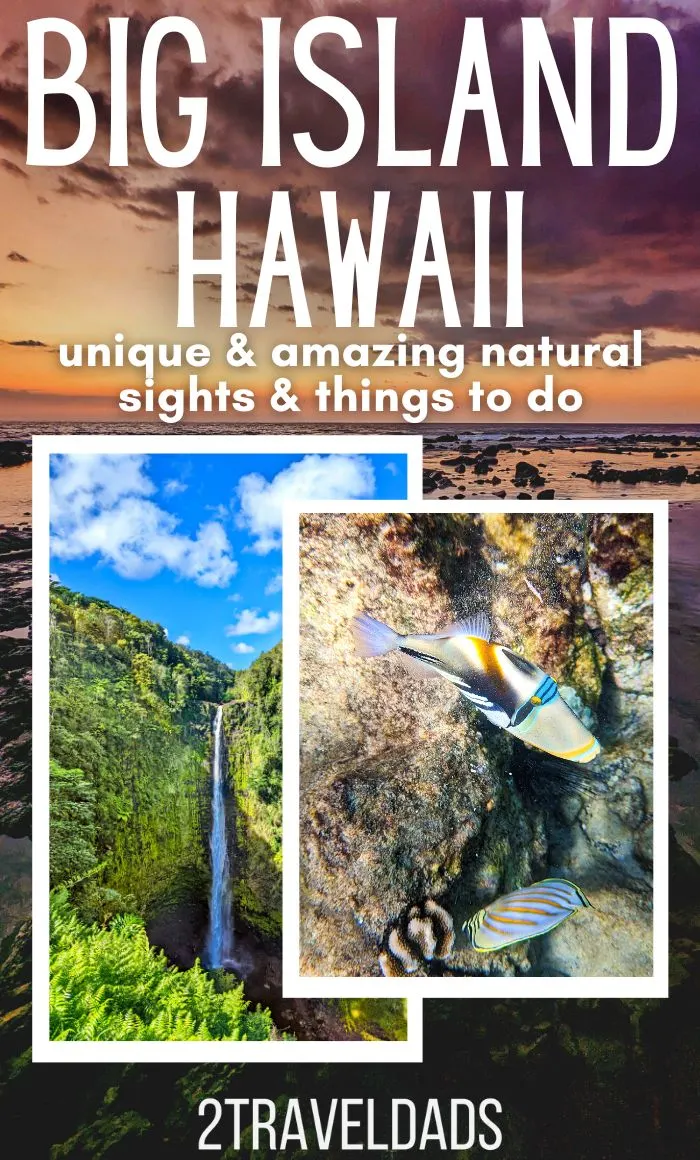 Snorkeling and Where to See Turtles on the Kona Coast of the Big Island
Snorkeling will always be one of our favorite activities in any destination. Whether we're snorkeling in Cabo San Lucas or we're exploring the Florida Keys, we always find time to get under the water and explore. One of the best things to do on the Big Island of Hawaii is snorkeling just off the lava flows. You will likely see turtles and dolphins, depending on the tides, and there's always a unique fish hanging around just below the surface. This is why it's, I think, the best Hawaiian island for families.
If you're not into snorkeling, any of our suggestions are also great for just relaxing and appreciating the truly unique landscape of the Big Island. Where else can you be surrounded by lava flows and watch turtles on the shore? The Kona Coast on the Big Island of Hawaii is THE place!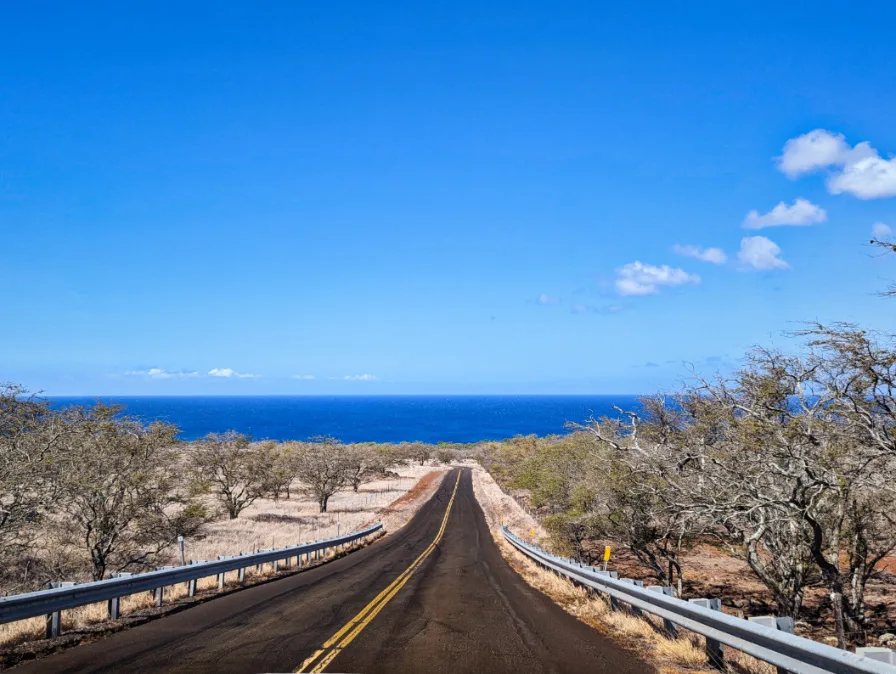 Kaloko-Honokohau National Historical Park – Green Sea Turtle Haven
Kaloko-Honokohau National Historical Park is amazing for several reasons, but the reason I can't wait to return is for the incredible wildlife. Walking on the beach and asking the lava rock tide pools, we saw no fewer than 15 honu (Hawaiian green sea turtles). They are remarkable to watch up close (keeping a safe observation distance). If you can plan your visit at high tide, that's when there are the most honu in the cove.
Have you walked on lava flows before? We've done it in many places, but never on such fresh and frosting-like flows as here at Kaloko-Honokohau National Historical Park. The visitors center is surrounded by lava with nature trails, and then the actual trail to the cove (separate entrance) is also partially a lava path. This is an incredible idea for a first activity off the plane when you fly into Kona (KOA).
Tip: Bring your telephoto lens camera as you need to keep your distance from the turtles but you'll want to photograph them. It's a very unique wildlife opportunity.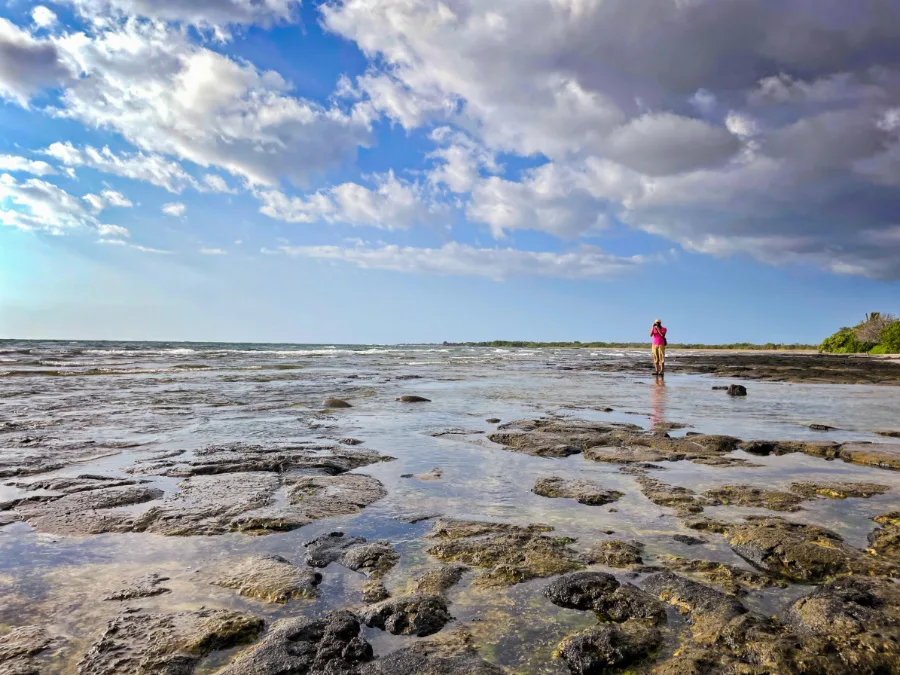 Makolea Beach Kahalu'u Beach Park – Black Sand and Tiki Carvings
Makolea Beach Is a cute small local beach that is perfect for relaxing during a sunset. Makolea Beach at Kahalu'u Beach Park is very unique in that it's got black sand but it's much more coarse than you except. Walk along the beach and explore the tide pools. The park leading to the beach is really cool, having archaeological sites to explore, including carvings, it's the perfect Big Island stop.
The waves crash just being the lava flow, making the pills perfect for exploring with kids. The are schools of colorful fish, urchins and the calm water is wonderfully warm. If you're walking on the lava, remember that it can actually be pretty slippery. It's better to walk in the pools than across the smooth lava.
In addition to a beach, there is an archaeological dig site you can peer into to see some of the amazing discoveries. If this part of the park is open for exploring, check out the traditional Hawaiian carvings, what are referred to as tikis or ki'i, and read up on the historical significance of the Kailua-Kona area for the Hawaiian people.
Tip: this is a great beach if you're staying at the Club Wyndham Kona Hawaiian Resort, as it's just a ten minute drive and is much larger than Honl's Beach, which is the closest to the hotel.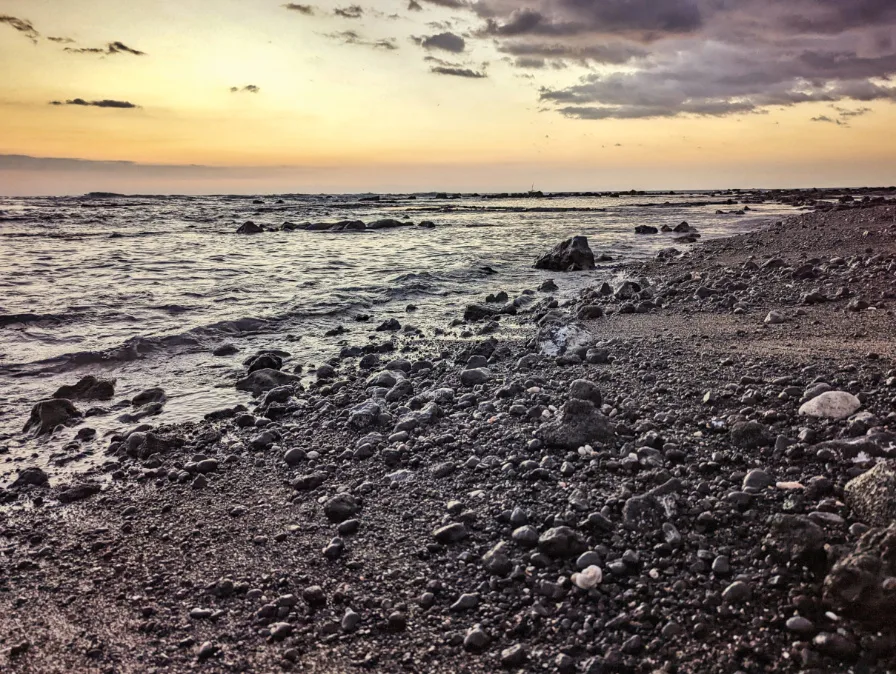 Kapa'a Beach Park – Clearest Water on the Big Island
The clarity of the water at Kapa'a Beach Park is phenomenal and among the most clear we've seen anywhere in Hawaii. You're going to want to jump off the lava into one of the deep areas, but always choose safety first over the thrill of jumping. With a very rocky small cove, the Kapa'a Beach area is great for snorkeling. The waves coming in off the Pacific can be big, so exercise caution on a big wave day.
The road down to Kapa'a Beach Park gives a great view of the cove and lava flow. It's a rugged, beautiful spot with virtually nobody around. There's a great picnic shelter here at Kapa'a Beach Park. With restrooms, picnic tables and an epic view, you can't beat this place!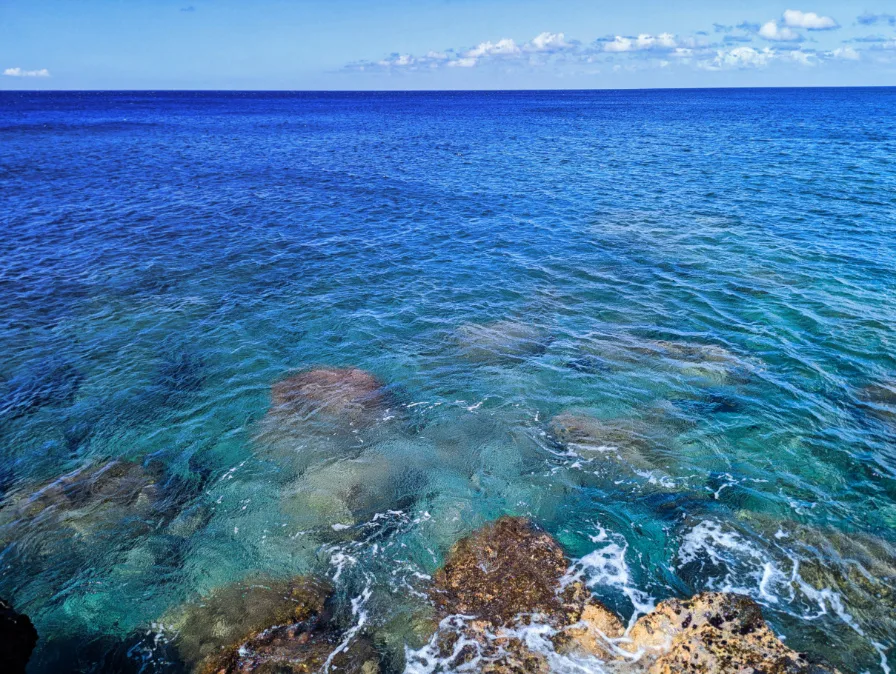 Hapuna Beach State Recreation Area – Waialea Beach
The snorkeling here at Waialea Beach, aka Beach 69, is amazing. There are several beach access points at Hapuna Beach State Recreation Area, but this is the best (IMO). You'll find bathrooms, showers and plenty of parking. The structure of the bay at Waialea is such that you can have a sandy beach day or rocky, clear snorkeling experience. With lots of shady areas and space, this is a great place to spend a long beach day, particularly with kids.
Butterfly fish, red and black urchins and Hawaii's state fish, the humuhumunukunukuapuaa are EVERYWHERE throughout this rocky underwater landscape. You'll love it!
Tip: Arrive early because it's a popular spot. Bring everything you'll need for the day because it's far to Waimea or Kailua-Kona.
For another FACSINATING snorkeling experience, try doing a Night Snorkel with Manta Rays on the Kona Coast!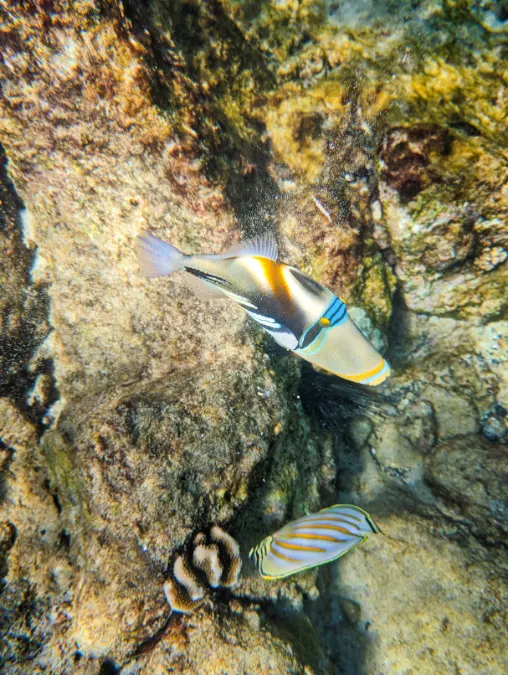 Kiholo Bay Beach – Lava Rock Tidepools
Thank goodness we came here with a big truck. The road down to Kiholo Bay Beach is a beast and if you have a low rising vehicle it's not for you. It's partially paved and then partially lava and 100% rough. All access points to the water at Kiholo Bay Beach are across lava rock. On a calm day, the water is wonderfully clear and the many rock outcroppings underwater make it ideal for snorkeling. Sea turtles and colorful fish abound and make the terrible road worth the visit.
There are lots of tide pools for kids to explore, and a few really good entry points for kids. I think this is a good snorkeling spot in the Big Island of you have young or new snorkelers.
Tip: Wear your keens or water shoes. The lava rocks are no joke and most places to exit the water are on rough rocks.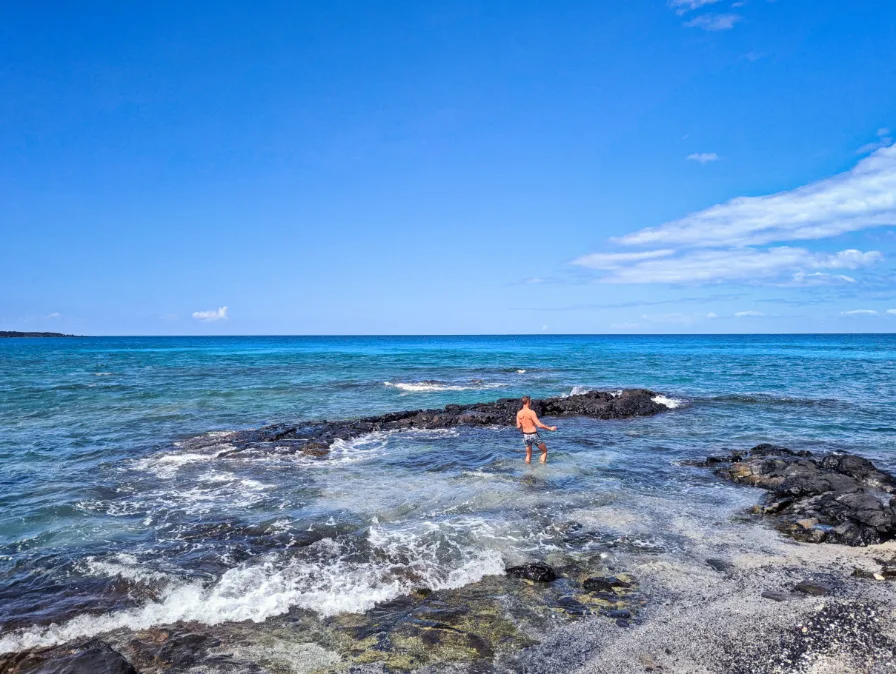 Kahalu'u Beach Park
This beach park south of Kailua Kona is perfect for kids! Reminiscent of Shark Cove on the North Shore of Oahu, Kahalu'u Beach Park has a large breaking wall at the start of the cove so the waves are very small and the water is very clear. Besides the clear water, a highlight of Kahalu'u Beach Park are the actual facilities. This beach park is set up for picnic days and BBQ afternoons, with built in grilling stations.
Tip: If you're visiting in the morning, the cove won't be in full sunlight until mid-late morning, so plan for snorkeling then.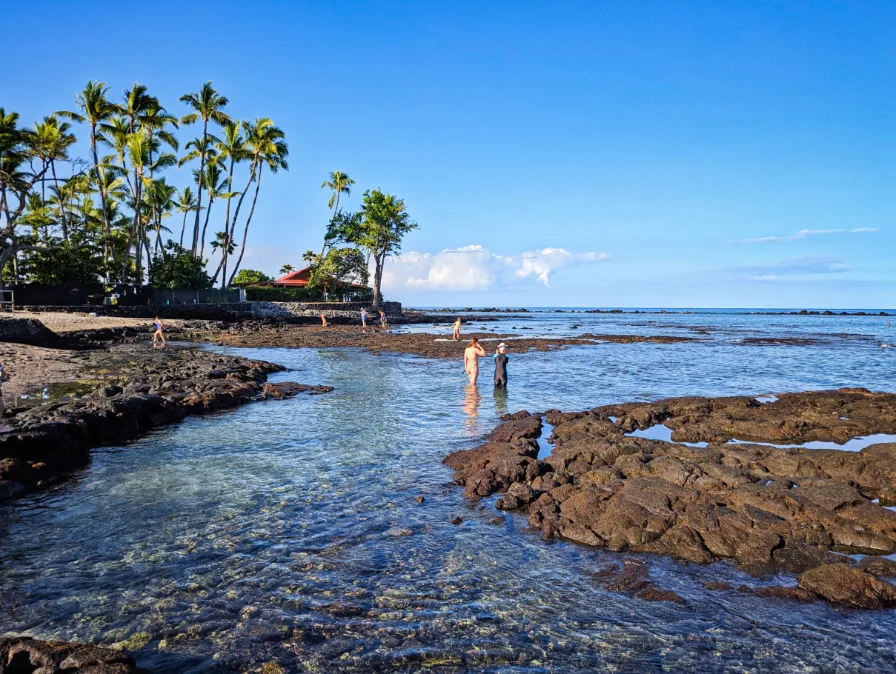 Punaluʻu Beach – Black Sand Beach
Other beaches say they have black sand, but Punaluʻu Beach is THE Black Sand Beach. This beautiful beach park it's work maintained, has beach access for both s swimming and snorkeling, and it has lava cliffs and tide pools, perfect for admitting the deep blue water. It really is a magical place.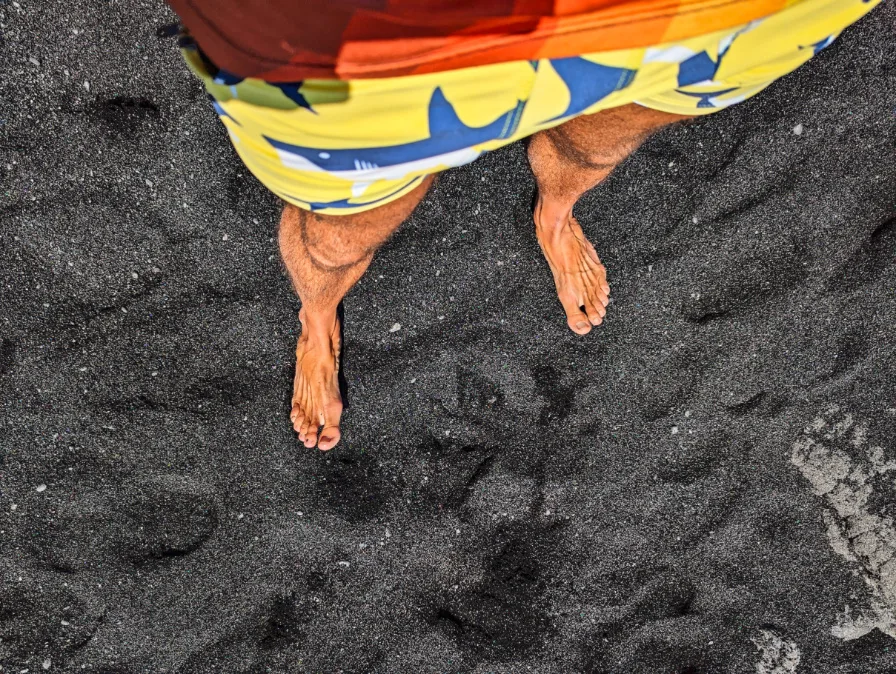 The real highlight, besides the black sand, are the sea turtles. The honu, Hawaiian green sea turtles, haul out both onto the shore and into the tide pools. You can stand on the shore or rocks and just watch them eating, resting or struggling in the crashing waves as they try to come ashore. It's amazing!
Walk the full length of the cove to see as many honu as you can. Watch for them in the water, in the tide pools, and on the sand. Remember to keep your distance and NEVER approach a sea turtles to touch them.
Tip: At mid to high tide you'll see more sea turtles. So if you want to visit for snorkeling, visit during low to mid tide, and for sea turtles mid to high tide.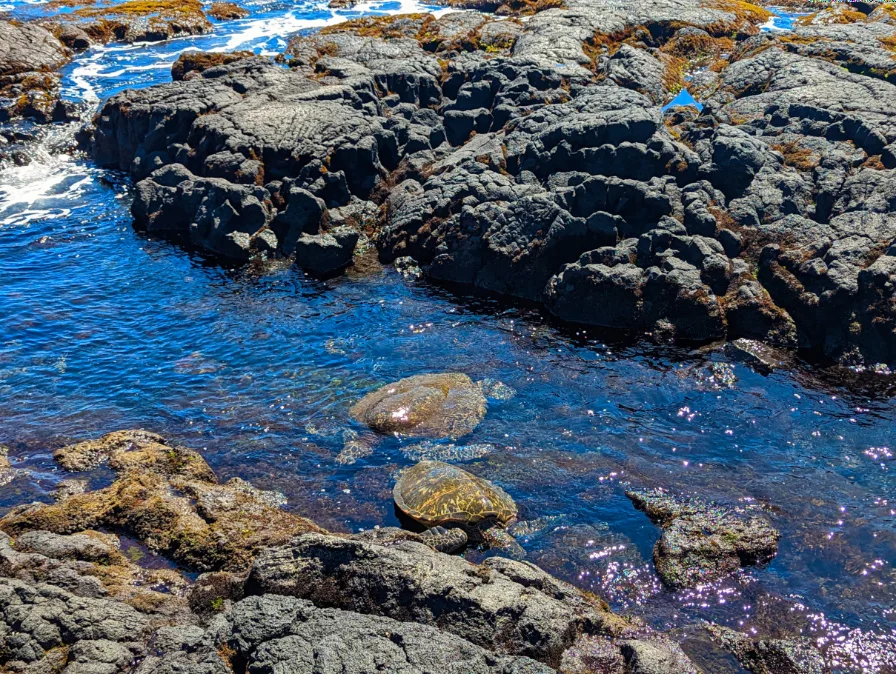 Outdoors Exploring on the Hilo Side of the Big Island
The Hilo side, meaning the eastern side, of the Big Island of Hawaii is very different from the Kona Coast. While the Kona Coast is endless lava flows leading to crashing waves and crystal clear coves, the Hilo side… is the same, but with more waterfalls and less desolate looking lava flows. Both are incredibly beautiful, but just a bit different. Hilo is, for sure, more developed in terms of a planned city and suburb, but still very Hawaiian in all the best ways.
As you go just beyond the edge of town and up the Hamakua Coast, take the scenic route. You'll love the one lane bridges, quiet tropical gorges and the fruit stands. Depending on when you visit, the town of Hilo may be a bit busy (for a Hawaiian town), but getting out of town, especially if you're visiting Hawaii in the fall, is a wonderful, peaceful trip.
Note: if you either don't want to rent a car or don't want to plan your day, you can book a full day tour for exploring the Hilo side of the Big Island.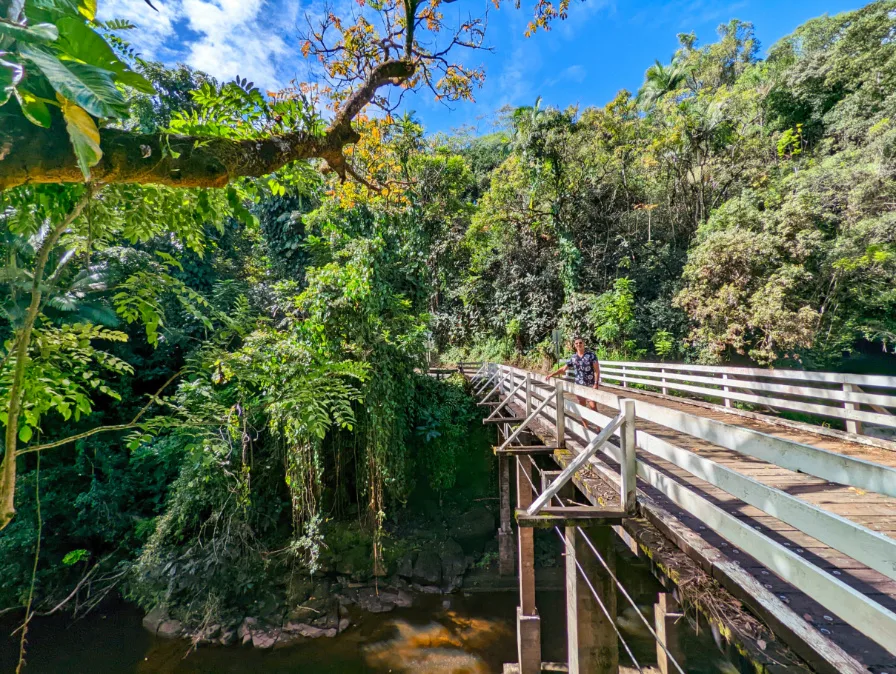 Akaka Falls State Park
The hike at Akaka Falls State Park is gorgeous. It's the perfect Hawaiian waterfall/jungle/botanical experience. About 25 north of Hilo, this is a great morning activity. Akaka Falls is exactly what you expect or would want to see at a Hawaiian waterfall. It's lush, green, and drops hundreds of feet in the tropical forest. The hike itself is extra beautiful, as it's a circular trail (aka loop) and treks through a variety of tropical scenes: valley, cliff, jungle…
Enjoy wild strawberry guavas as you hike. Take in the banyan trees, ginger flowers, heliconia and more. It really is magical. Plan to visit in the morning so the sun is on the waterfall. It is amazing!
Note: there is an entry fee for doing the hike, as it is a state park. There are attendants present to help with the electronic ticket system.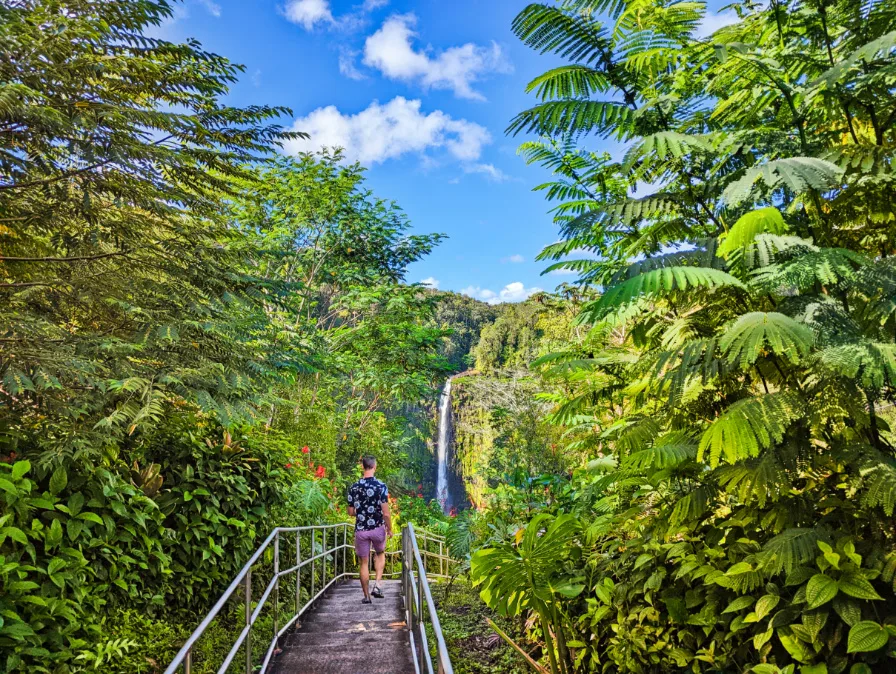 Onomea Bay Trail
Nobody ever accused me of NOT taking the scenic route. And I would veer off the main highway to take the Old Mamalahoa Highway in a heartbeat. This winding road crosses many streams and has some of the most beautiful Hawaiian forest you'll find on the Big Island. The Onomea Bay Trail is THE stop to make though.
Park safely and fully off the road, then make your way down to the cove at Onomea Bay. The trail is easy but a solid slope. Once at the bottom, you can enjoy sitting in a tree and listening to the waves, or head out onto one of the lava outcrops.
Swimming isn't recommended here, as the waves come in hard and strong. This is a great place for a picnic and to SAFELY get splashed by the ocean, but not to jump in the water.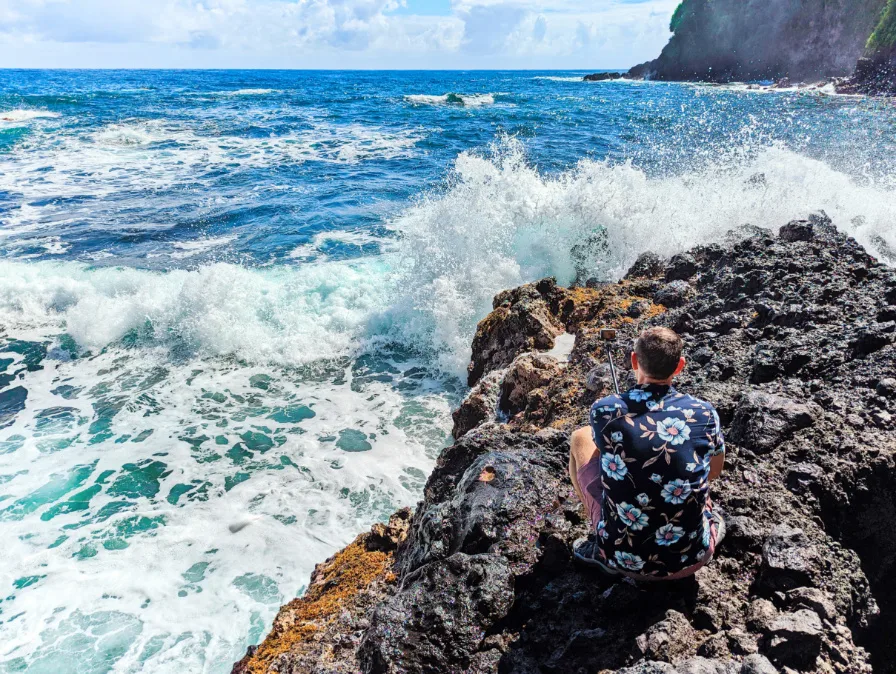 Waiale Falls
If you're looking for a waterfall for swimming in the Big Island, this is it. True, there's a sign starting that you shouldn't swim, but people do it and it's safe as long as you don't swim at the dam overflow. You're there for Waiale Falls though, which is NOT at the start of the trail which is what the sign is referring to. The falls is beautiful!
Hike through tropical grasses more than seven feet tall as you carefully make your way along the Wailuku River. As you get to the end of the trail, cross the river and relax on the island surrounded by flowers and enjoy the beautiful waterfall.
Swimming, as I said, is prohibited at the lower falls, which are located at the start of the trail, but it seems that swimming is fine in the splash pool of the main waterfall. As in all things, be wise and safe.
Tip: Park just off the road, Waianuenue Ave, in the north side of the bridge. Trail access is marked with a sign.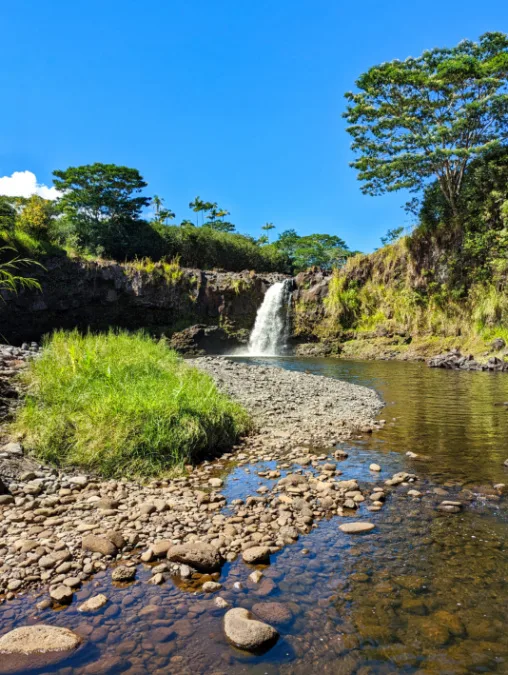 Leleiwi Beach Park (Wai'uli)
This is a fascinating beach so because it's both a great snorkeling five AND it's got a freshwater spring that pours into it. It's just ten minutes from the main areas you'll typically be in Hilo and is an easy afternoon stop. Leleiwi Beach is so unusual!
We always love wildlife encounters and viewing, and it was awesome here. We saw two honus (Hawaiian green sea turtles) haul out on the beach while we were there. They made themselves right at home. We also saw tropical fish and several sea snakes. Really fun beach stop in Hilo!
Something really strange about Leleiwi Beach Park (Wai'uli) is good the freshwater springs mix with the salt water crashing into the cove. The water temps vary so greatly, meaning there are frigid swirls randomly. This also makes the water look very strange when you're snorkeling. The salt water sits on top of the fresh water and it distorts EVERYTHING. It is so weird.
Tip: Park here or in the Richardson Beach Park parking lot and walk over. There is street parking too, but parking lots make the road safer for drivers.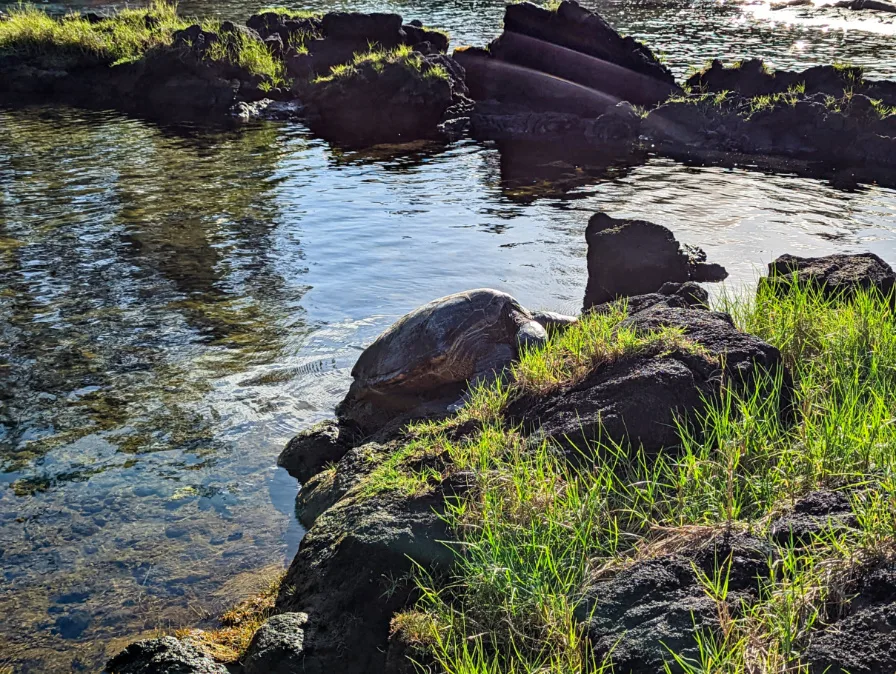 SUP at Reeds Bay Beach
We rented stand up paddle boards from Hilo Ocean Adventures and just popped a block over to Reeds Bay Beach to get on the water. There aren't any waves here really, and the water is beautiful. It's a great place for swimming or setting out on a board.
The paddling at Reeds Bay Beach is very unique. You're not just going out on the bay, but there are actually lots of small coves and nooks to paddle into. Quiet, shadowy inlets and calm rocky shoals make this a great place for wildlife. We saw two spotted eagle rays and a sea turtle during our paddle here.
If you want a longer paddle, go around the point at Reeds Bay and continue onto the Wailoa River and paddle into the state recreation area. It's unusual and beautiful.
Tip: If you're staying at the SCP Hilo Hotel they actually have SUPs you can use as a guest. Easy to put it right here!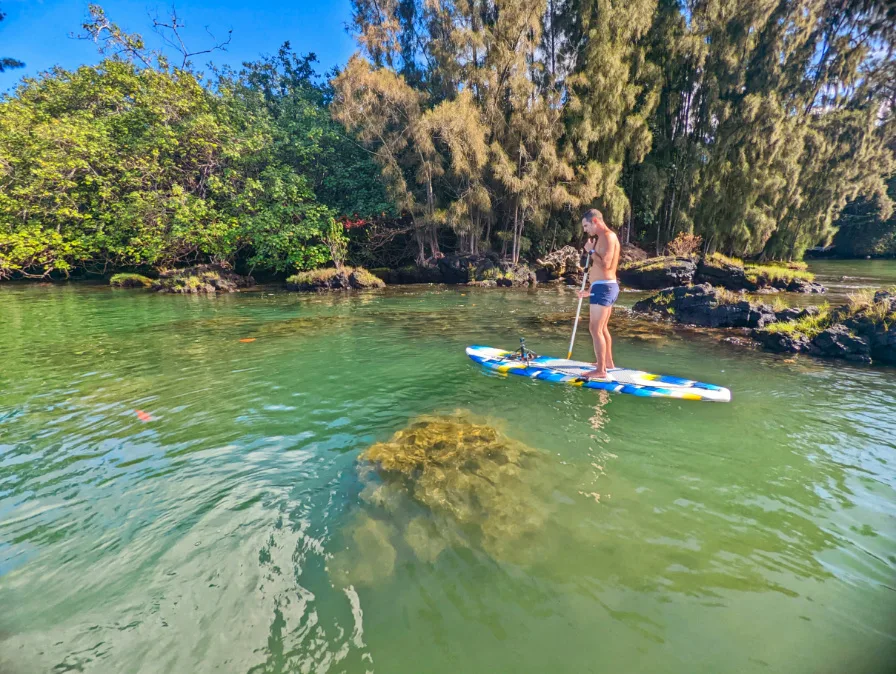 Explore the Wonders of Hawaii Volcanoes National Park
Hawaii Volcanoes National Park is really incredible. We have a whole blog post dedicated to, what I would say, is one of the most unique National Parks in the USA or Canada. Where else can you go and watch an active volcano's lava lake bubble and flow? Where can you go to hike through lava tubes and in the same day explore the coast as the Pacific Ocean crashes below you?
For us, of all the things to do on the Big Island, Hawaii Volcanoes was the most important to us. I'm glad we took the time to visit on two different days and see a completely different side of the park.
Tip: when planning your time in Hawaii Volcanoes National Park, be sure you allow yourself a daytime visit for seeing the sulfur banks and lava tube and a NIGHTTIME visit for experiencing the lava glow and the most amazing stars we've ever seen.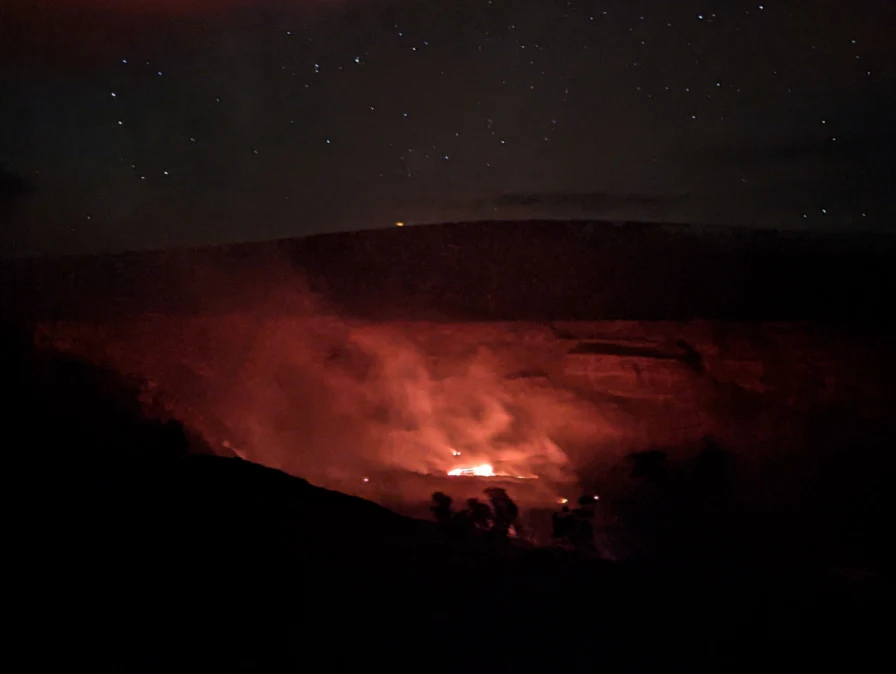 Where to Stay on the Big Island
Besides the airfare to Hawaii, the biggest cost will no doubt be your lodging on the Big Island. It's difficult to find deals, and on the Hilo side there are very few options, despite it being a large town. It's surprising.
So, should you stay in Hilo or Kona? I think splitting your time between the two sides is the best plan, as you'll have completely different experiences.We've created some searchable maps to help find a place to stay, and have our own recommendations as well.
Kona Coast Hotel Options
I love the Kona side of the Big Island, and it actually has more places to stay than on the Hilo side, but it's also a bit more expensive. Here you'll find a few travel brand hotels, like the Wyndham Kona Hawaiian or the Courtyard Marriott, but beyond that the choices foe where to stay are much smaller and either more upscale, or vacation rentals.
Staying Near Hawaii Volcanoes National Park
Before we go, we need to answer the question of where to stay near Hawaii Volcanoes National Park or the beaches and waterfalls. The answer is pretty simple: Hilo or Volcano. There are very limited options for hotels, and you'll actually find many more small inns and B&Bs than hotels. There are MINIMAL travel brand options on the Big Island, so staying in a boutique spot is nearly your only option.
We loved staying at the SCP Hilo Hotel just off the water, and honestly, it's one of the only options like it. As we make return trips, we'll add to our recommendations, but in the meantime, check out the map to see what else you'll find.
So are you totally excited to visit the Big Island of Hawaii? There are so many things to do that are free or cost very little. While the flights to get there and then the hotels are expensive, once you're there you can enjoy all that the island has to offer with very little out-of-pocket expense.
If you have any questions or think there's something exceptional we left out, please leave a comment or send us a note. We're always happy to share more than what we've be fortunate enough to experience.
And please check out our other Big Island and Hawaii articles too:
Kauai is a beautiful island with so many things to do. We've picked our favorite activities and beaches on Kauai to make planning a trip to the Garden Island easy and enjoyable. See what we recommend, including great food and where to stay on Kauai.

---

Visiting Hawaii Volcanoes National Park at night for the lava glow is awesome. Everything you need to know to plan a nighttime trip into the park, including where to see flowing lava, how to photograph lava glow and more.

---

These Scenic Drives on the Big Island of Hawaii are not to be missed. Take in the best sights of the island, including Hawaii Volcanoes National Park, the Waipio Valley and the Kona Coast. Top picks for road trip stops and views of the Big Island.

---