Getting to visit Disney World at Christmas is really wonderful. Even if you're not big into the holidays, it's pretty magical. We've been fortunate enough to get to visit two years in a row and it's just getting better and better. We poured through our pictures and videos and came up with our favorite things to do at Disney World for Christmas, and some of them are kind of surprising.
If you aren't interested in visiting Walt Disney World in the month of December because it's already a busy month, don't worry. You actually have about a two month span that you can enjoy everything Christmas/holiday at Disney World. If you have any questions after you go through our guide and need help plotting and planning your own Disney World holiday trip, please leave a comment or send us a note and we'll follow up!
Check out our First Timers' Guide to Disney World here!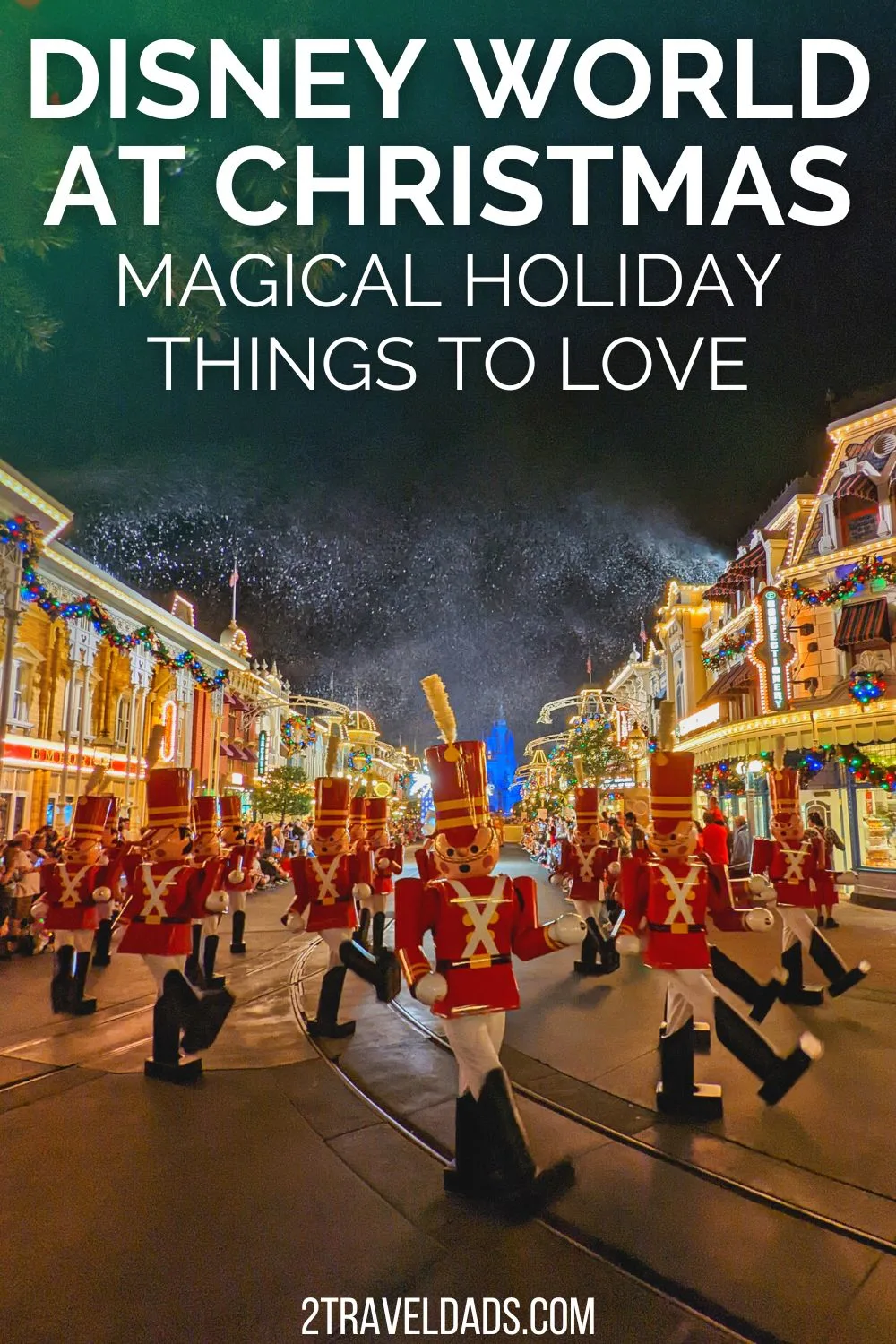 When Does Christmas at Disney World Start?
You'd think that Christmas would start in December, but guess what! Christmas decorations and activities actually start going up and are in full swing at the beginning of November. You can visit just after Halloween and see the beginnings of the holiday decorations, and by the second week of November there are Christmas trees, lights, different music and everything. It's incredible.
So, from the second week of November through the first week of January you can enjoy the Christmas EVERYTHING. The show schedule may change from the start of Disney's holiday season until it's back to normally scheduled programming, but the overall feel is still magical.
Tip: visit in the first week of January for smaller crowds, as people are back to work and school…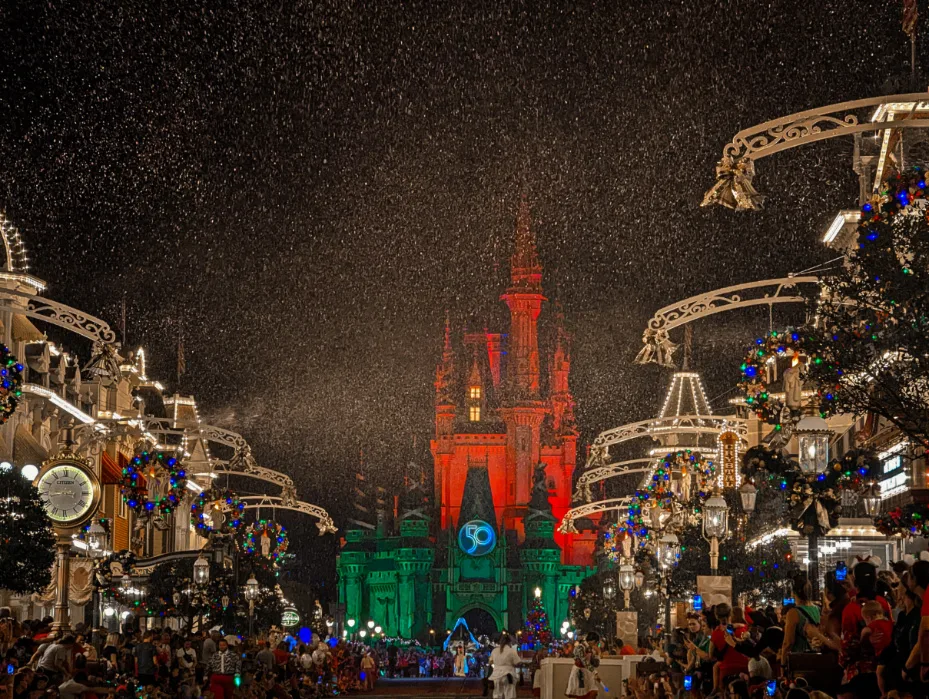 Do all Parks and Resort Hotels Decorate for the Holidays?
Yes, each of the theme parks at Walt Disney World decorates in their own way for the holidays. When you stroll through the land and sea areas of EPCOT, it's not as blatantly done up as Main Street in the Magic Kingdom, but then you get into the World Showcase and you see different Christmas markets and decor, and it's pretty cool. And then Animal Kingdom is VERY subtle in its holiday decorations, but then Hollywood Studios has areas that are dripping with vintage tinsel.
It's the same with the many Disney World Resort hotels. I love how Disney's Animal Kingdom Lodge decorates for Christmas, with gingerbread animals and an amazing tree covered in carved ornaments. Or if you pop into the Yacht Club or Beach Club resorts they're very nautical and refined in the best way. For one of the most fun spots to see Disney Christmas decorations, the Art of Animation Resort is awesome.
I think the most unique place to see Christmas decorations at Walt Disney World is actually at Disney's Fort Wilderness Resort and Campground. Here you'll find the recreation areas decorated with holiday colors and swag, but what's really remarkable is the campground. Guests bring their own Christmas decorations and absolutely go to town decorating their campsites. It's wild!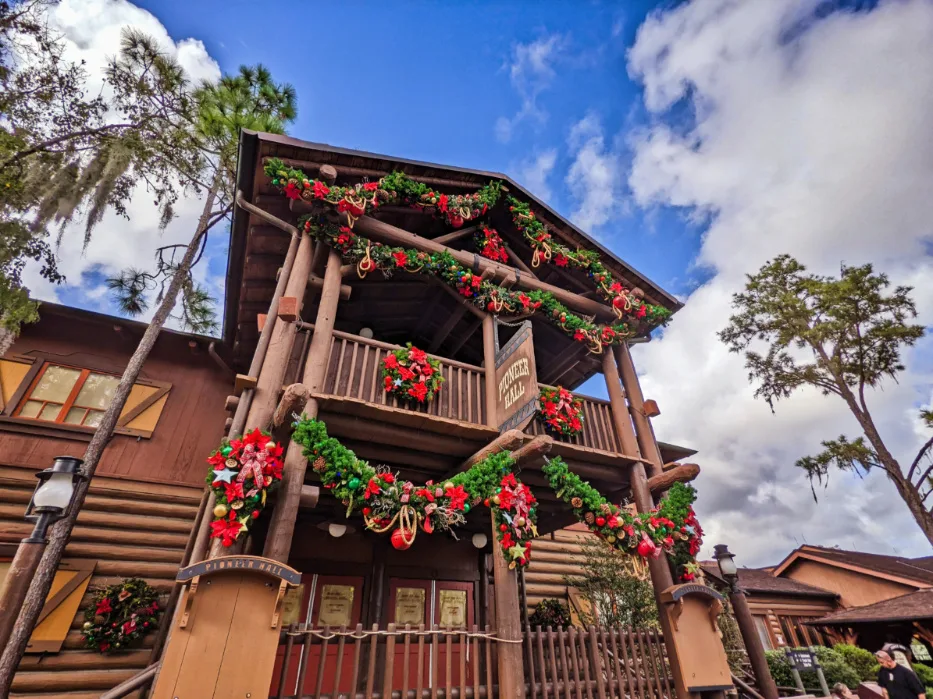 Are Disney World Hours Different During Christmas?
Ooh, yes. This is a good question. During the holidays, Disney theme parks will have varying hours. This is due to a few things, but mainly the Walt Disney World Resort keeps other parks open later if they're closing one for a special event. For example, if Magic Kingdom closes to the public at 6:00 pm for Mickey's Very Merry Christmas Party, then EPCOT and Hollywood Studios may be open until 9:00 pm or later. Schedule variations like this may happen other times in the year as well.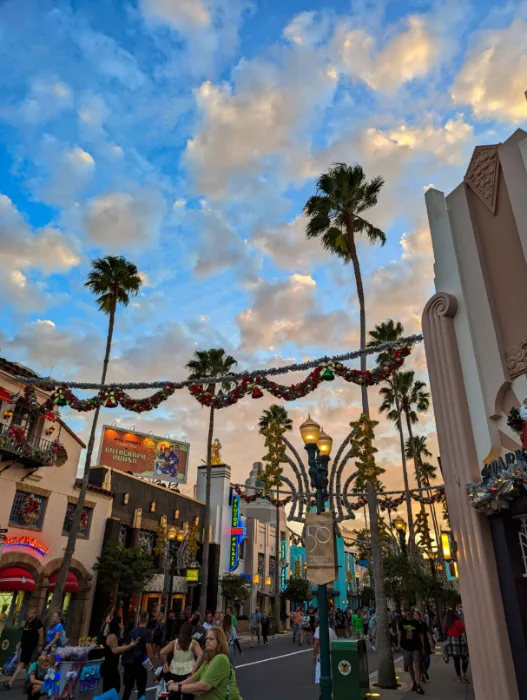 Favorite Disney World Christmas Things Not to Miss
Okay, now it's time to call out our favorite things to do and see at Walt Disney World during Christmas. Our list is not all-encompassing, as we've selected our FAVORITES. These are the holiday elements that we think are worth the time or additional cost to seek out and experience.
Magic Kingdom Christmas Decorations
There's nothing quite like entering the Magic Kingdom (or Disneyland) and coming around Main Street Station for the first time and seeing the Town Square and all of Main Street USA leading to the castle fully decked out in Christmas. Every year it's a bit different but every year it's just as amazing as the last.
I like Christmas, but it's not my absolute jam. Being in Disney World at Christmas is remarkable and totally makes me forget that my standard attitude is Scrooge. The nostalgia of the décor and the AMAZING Christmas tree really do the trick. It's Disney magic mixed with all things holiday.
One of the coolest things about the Magic Kingdom's Christmas decorations is the forced perspective that's used to make everything seem even more grand. The giant Christmas tree, for example, has huge ornaments at the bottom and they get smaller as they go up the tree. This same trick was used with the actual construction of Main Street USA, where the buildings along the street get smaller as they get closer to the castle, thus making the castle seem huge from far away. I love it!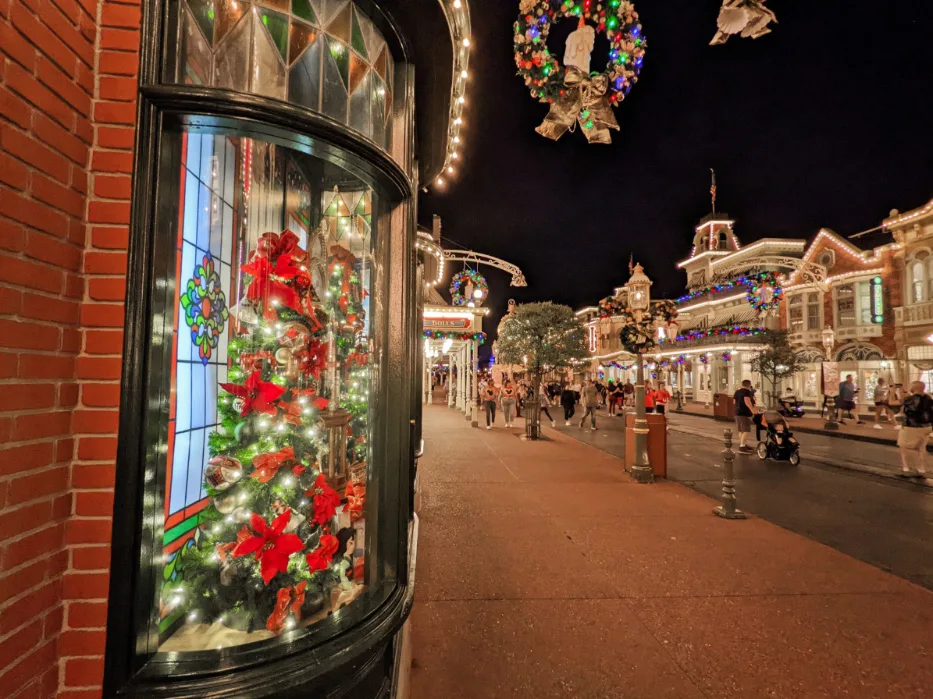 Special Holiday Versions of Rides and Attractions
I love when Disney does temporary updates to rides and attractions. Haunted Mansion Holiday at Disneyland in California will forever by my favorite seasonal change, but in Walt Disney World there are some fun ones too. Some of the holiday overlays only happen for the special events, like Mickey's Very Merry Christmas Party, but then others are always going. The "Jingle" Cruise is festive all day during Christmas at Disney World, but then the Mad Tea Party is only a holiday disco with crazy lights and jammin' Christmas music for the special event times.
The best of the Christmas overlays for rides though is Space Mountain: Holiday Run. Space Mountain in Disneyland is infinitely better than the Magic Kingdom version, mostly due to the awesome music. Well, during Holiday Run Space Mountain in Magic Kingdom has Christmas music blasting through the universe and special light effects making it really cool and much more fun than normal.
Other holiday overlays include the Tomorrowland Speedway Race Through the Holidays with Christmas lights all through the track, and Monsters Inc Laugh Floor where they change up the standup comedy routine to be festive and fun.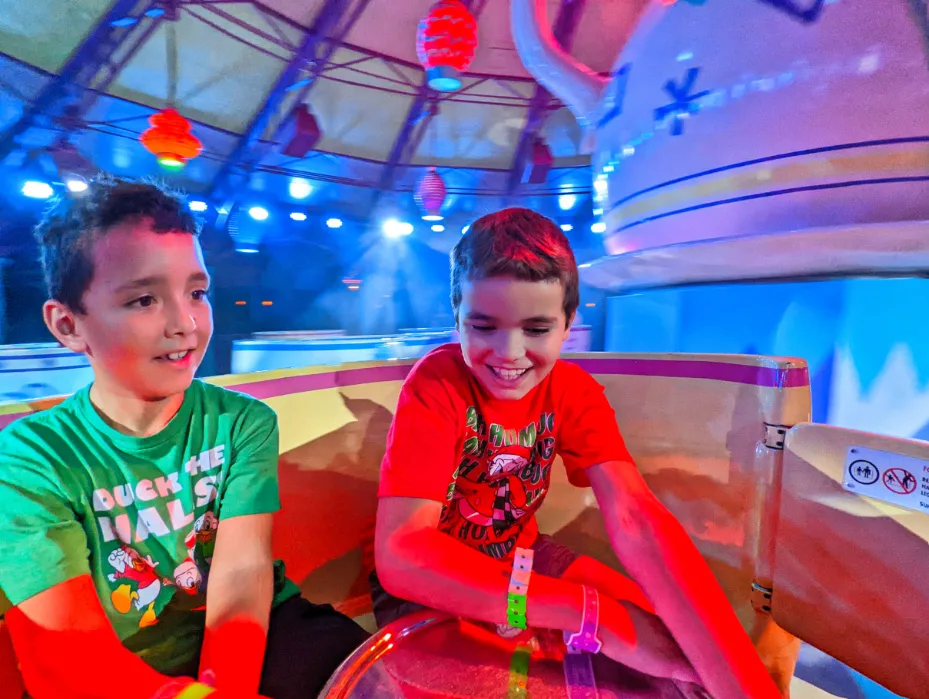 Christmas Treats Everywhere in Disney Parks
We try not to buy extra snacks and sweets when we visit Disney World, both because they're expensive and because they are not very healthy for the most part. But treats at Disney World during Christmas are delicious and unique. If you're visiting EPCOT you'll find seasonal treats from around the world (including drinking around the world). If you're in Hollywood Studios the Frozen Salted Caramel Hot Chocolate from the Back Lot Express is the Christmas treat to get. Magic Kingdom is LOADED with holiday goodies, especially along Main Street.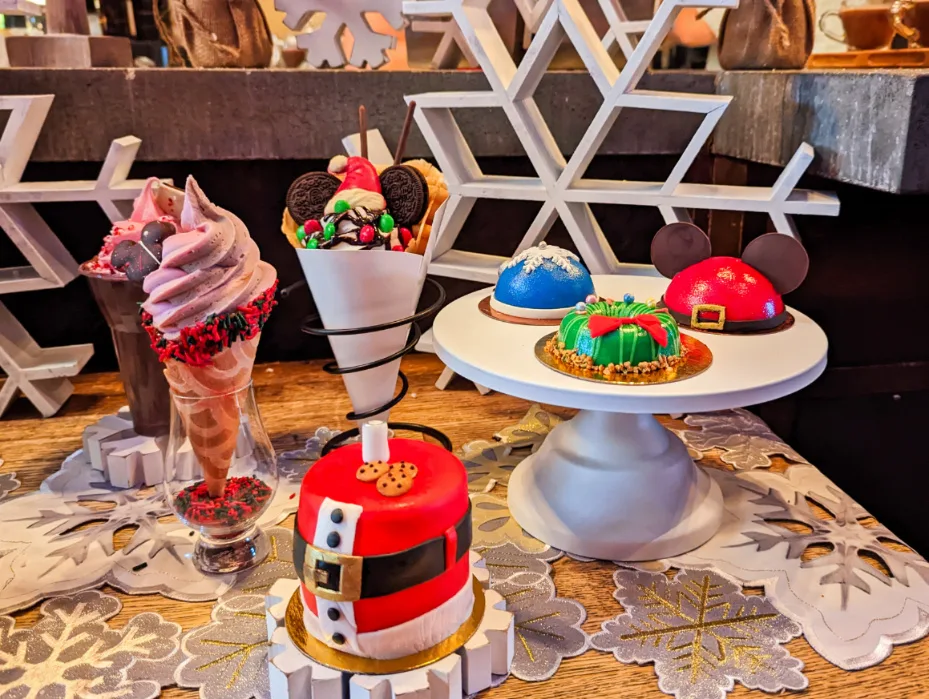 Holiday Parades and Performances
I think when you hear the word "Disney" you automatically think of entertainment and you have higher expectations of what you'll see. When it comes to entertainment in the Disney parks, that is absolutely the case and you expect nothing less than actual magic. The Christmas performances and entertainment in Disney World is top notch.
Of course the afternoon and evening parades are cool with incredible floats and music and such, but if you're lucky enough to see the holiday parade, you'll be even more impressed. Toy soldiers, characters, snow, floats and Santa, all done to the Disney standard+: it's the most magical thing you can do in the Magic Kingdom at Christmas.
The fireworks for the holidays are also different and amazing. I think my favorite thing was actually hearing songs from Muppets Christmas Carol in the mix for the fireworks show. I can't imagine what the nightly Disney Christmas fireworks show costs, but if you're already paying the top-dollar ticket price, it's included and you must be sure to watch it from the Magic Kingdom hub (in front of Cinderella's Castle).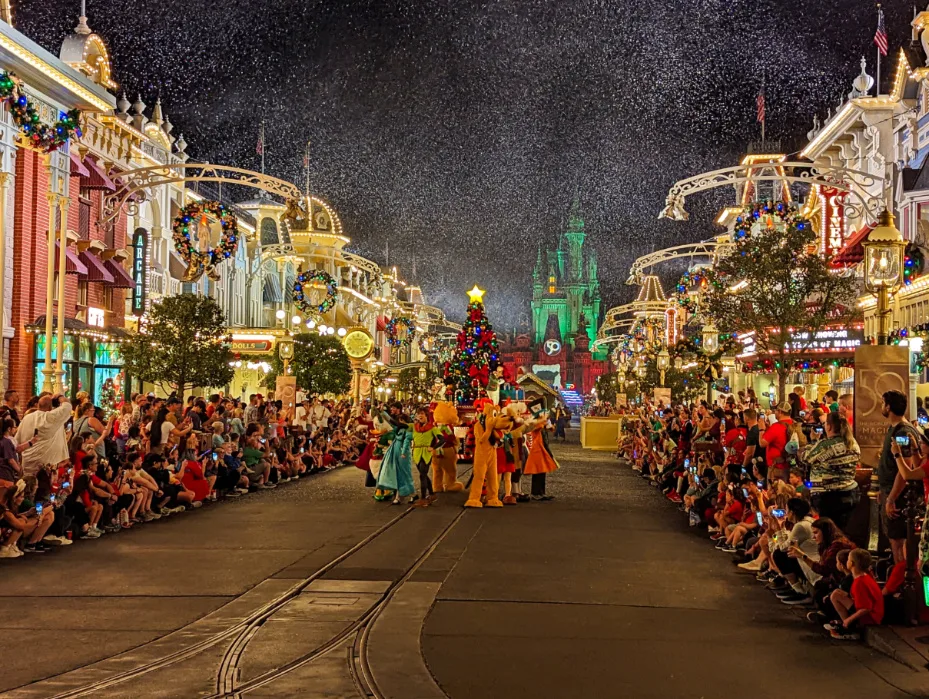 Mickey's Very Merry Christmas Party
Yes, this is a separately ticketed event at Disney World, which a lot of Annual Passholders get irritated at, but it's wonderful. Starting at 6:00 pm on certain days, the Magic Kingdom closes early to the general public and the park becomes Mickey's Very Merry Christmas Party. During this time, the holiday music gets louder, there are more characters out and about, there are continual performances in front of the castle, and then there is a special parade with crowd participation leading up to it.
This is also when certain rides get their Christmas overlay. As I said above, getting to enjoy Space Mountain and the Mad Tea Party with holiday music and lights is so much better and totally worth attending Mickey's Very Merry Christmas Party for.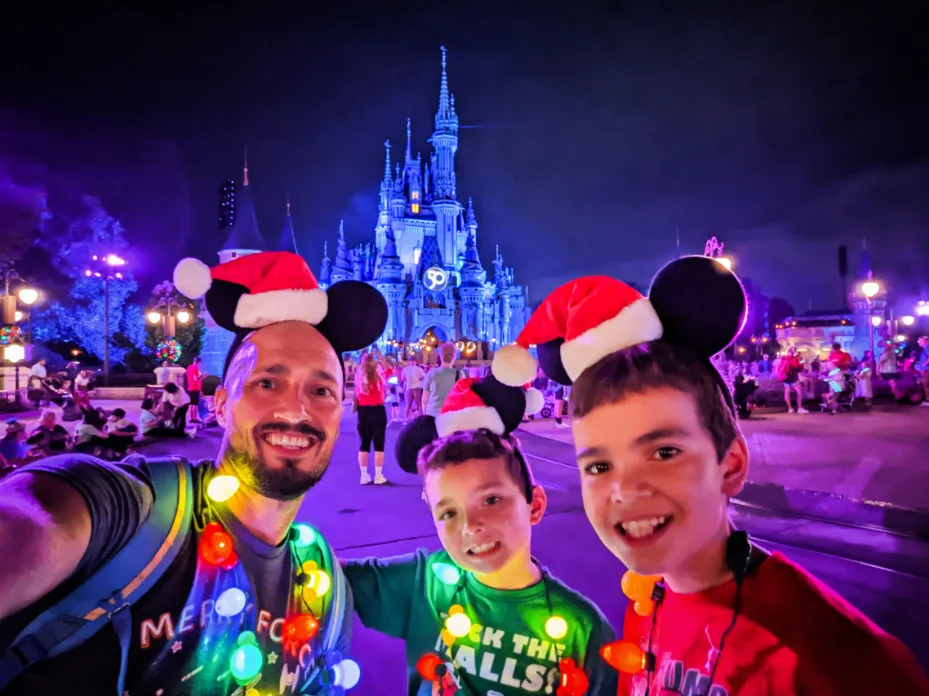 Disney World Resorts' Christmas Trees
It's tough to pick a favorite Christmas tree from the many hotels around the Walt Disney World resorts. The Old Key West Resort is so cute and just like how I want to decorate our house, but then the Polynesian is Christmas meets Tahiti meets Disney and it's so fun. If you have a day where you aren't planning to go into the theme parks, spend some time riding the Monorail between Disney's Contemporary Resort, the Polynesian and the Grand Floridian seeing the hotels' decorations. I'd love to hear which resort hotel is everyone's favorite!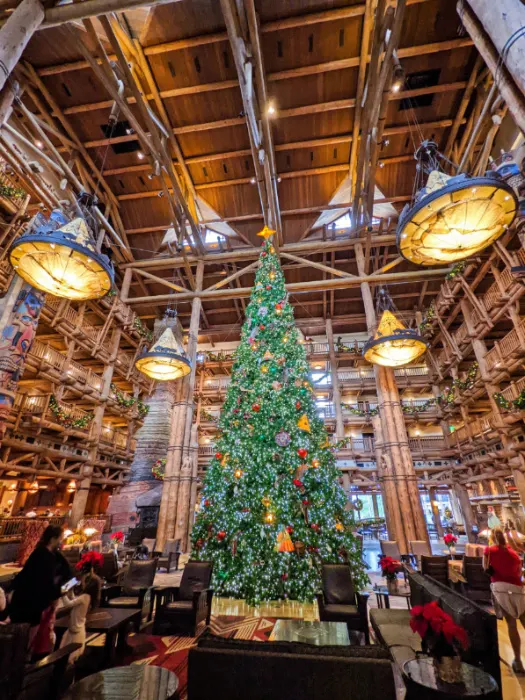 The Grand Floridian Gingerbread House
Two years in a row I have just been amazed at the construction of the Grand Floridian gingerbread house. It's phenomenal. I always think the JW Marriot Plant Riverside in Savannah at Christmas is pretty great, but the Grand Floridian totally outdoes them. It's got electricity and people can go inside it. It's got Hidden Mickeys all over it and the smell is the most Christmassy smell you can imagine.
If you want to get a treat while you're admiring the Grand Floridian gingerbread house, you can get a variety of snacks, and even a miniature gingerbread house to take home. The recipe they use for their gingerbread treats is a honey bread and it's delicious. I haven't tried to duplicate it, but kinda want to.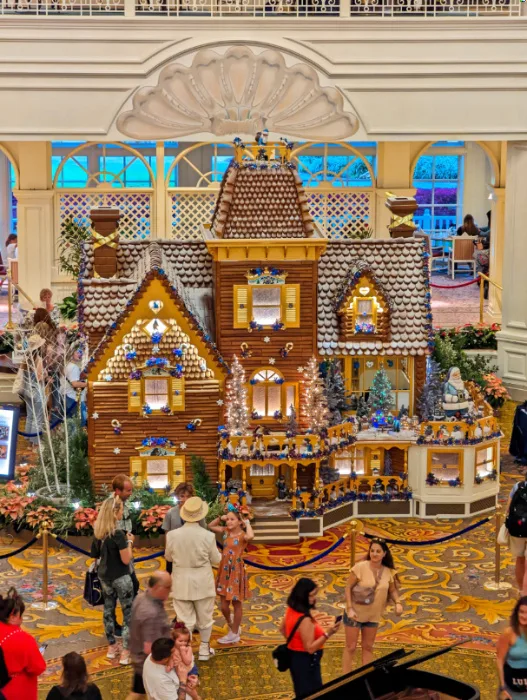 Disney Springs at Christmas
I like to visit Disney Springs with the kids when we're NOT going to the parks because it's got a bit of the Disney feel, but it's really great for window shopping and dining out. Well, during the holidays, Disney Springs is quite done up and really fun. There is a Christmas Tree Trail winding through the area, with trees decorated as different Disney films, like Coco or Moana. You can walk the whole length of Disney Springs and see 20+ trees.
Also, Disney Springs' restaurants and tend to roll out holiday menus for food and drink as well. One really great place to visit for different Christmassy cocktails and apps is Jock Lindsey's Hangar Bar. This is an Indiana Jones themed restaurant with a great covered patio on the lagoon and really great food. The holiday cocktail menu even includes a variety of Christmassy, adult hot chocolates.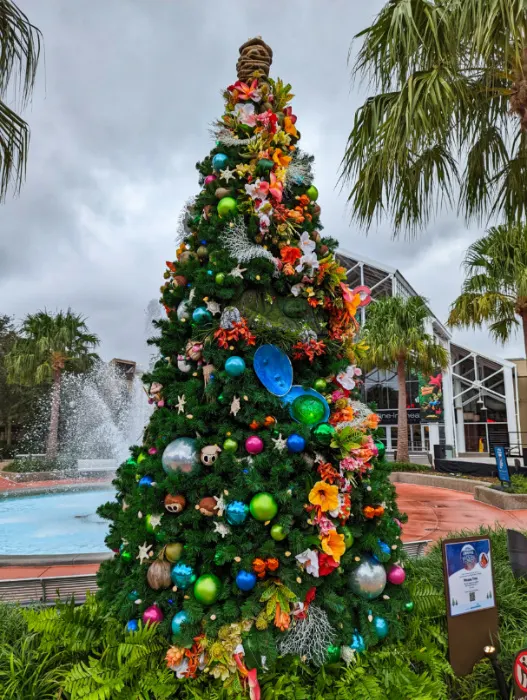 Snow Storms in Disney's Hollywood Studios and Magic Kingdom
Walking through the Sunset Boulevard and Hollywood Boulevard areas of Disney's Holiday Studios is so cool at night! Yes, the totally vintage Christmas decorations are beautiful and are a complete throwback, but the continual light show on the Hollywood Tower of Terror and the snow flurries that roll through the Blvds are the most Christmassy things you'll see.
If you're walking Sunset Boulevard in the evening for the snow and light show, keep in mind that there is a freshly updated Fantasmic! with a line that queues up quite early. If seeing Fantasmic! is a key part of your Christmastime Hollywood Studios visit, plan to wait in line, both because it's "new" and because Studios is busier during the holidays.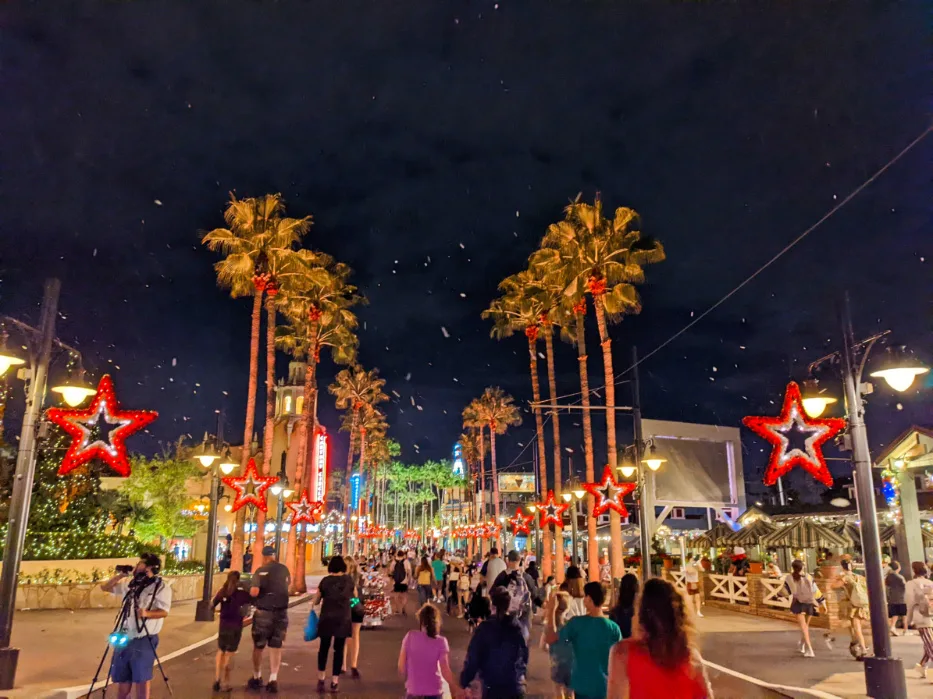 Smaller Crowds in Animal Kingdom and EPCOT
I know this may seem like an odd thing to list when it comes to the best things about Disney World during the holidays, but I feel like it's important to note. Because the Magic Kingdom and Hollywood Studios are so festive and have special holiday things going on, there are fewer people (in comparison) in Disney's Animal Kingdom. EPCOT also isn't as busy as you'd expect during Christmas, but it still attracts a lot of visitors, both for the new Guardians of the Galaxy: Cosmic Rewind and for the international Christmas elements in the World Showcase.
To be clear, there are fewer people than you'd expect, but there are still a lot of visitors in both parks. You'll find that attraction lines will continue to be long for things like Avatar: Flight of Passage and Remi's Ratatouille Adventure but the general space is less crowded than, say, Main Street USA in the Magic Kingdom.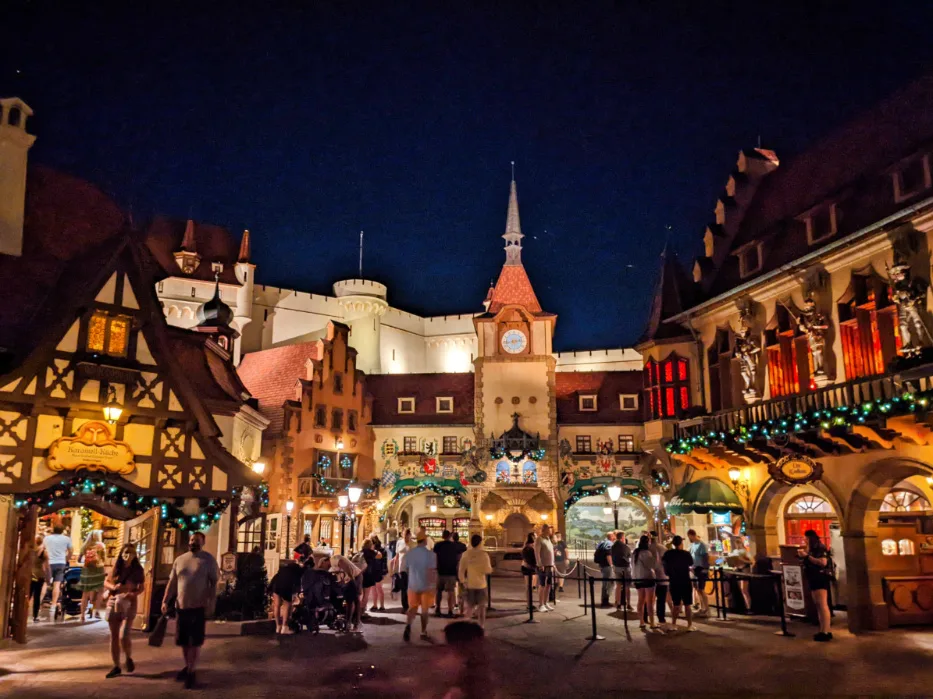 I hope you're excited to visit Disney World during Christmas. The holiday decorations, temporary attraction updates and awesome Christmassy treats make a trip to Walt Disney World extra magical. If you have any questions after you go through our guide and need help plotting and planning your own Disney World holiday trip, please leave a comment or send us a note and we'll follow up!